The Fashion Diva Olivia Palermo's Outfits. Olivia Palermo the American socialite, who was also part of The City series, is very well known for her fashion and style sense. What she wears, and how she carries totally inspire all of us!
Whether it's her street style, or she is at an event, her style makes her stand out among all. Blogger Olivia Palermo surely knows how to win hearts with
Latest Outfits and Styles of Olivia Palermo to Copy
We've brought you her best 30 looks, which will surely give you some style motivation.

# 30: Some Fancy Boots
Winters and a perfect outing look, well a woolen or knit wear cardigan and skirt with some fancy boots is your perfect solution. Outfits with Boots – 60 Cute Outfits to Wear with Boots for GirlsOutfits with Boots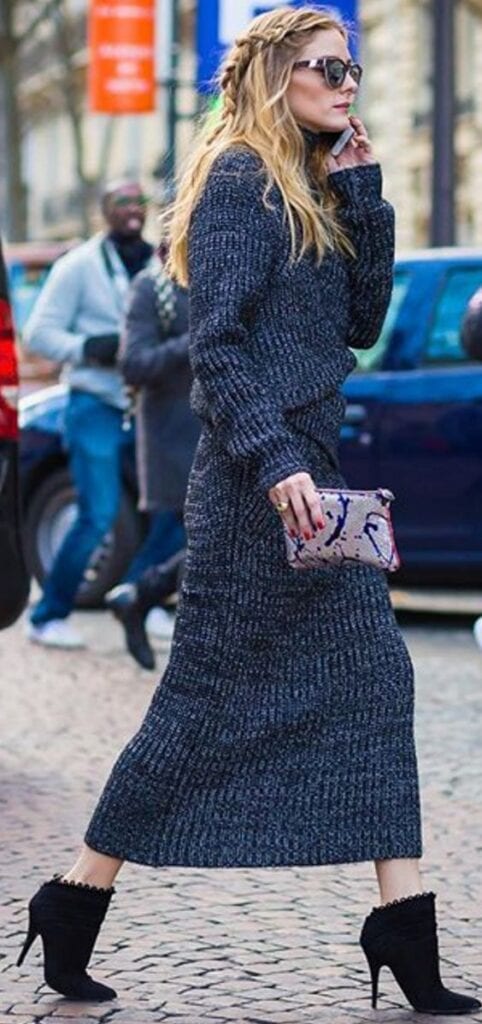 # 29: The Wedding Look
If you're looking how to dress up at a wedding or if you're the bridesmaid, so here is your solution!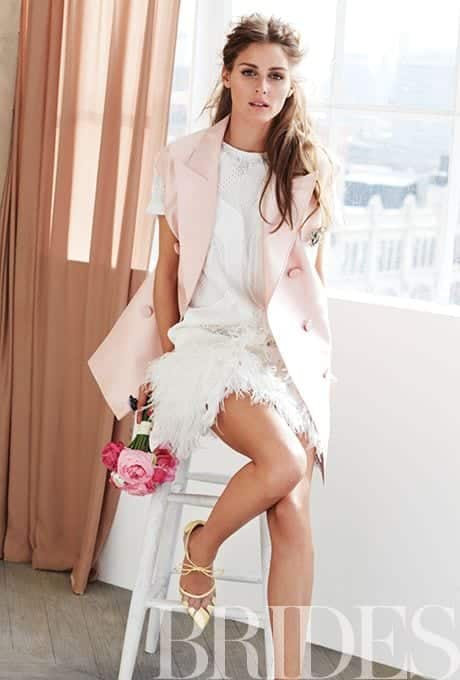 # 28: Faux Fur Coats
Faux fur coats with ripped denim are the perfect combination for winters; pair them up like Olivia for a casual street style. RECOMMENDED: Outfits with Faux Fur Coat – 20 Ways to Wear Faux Fur Coat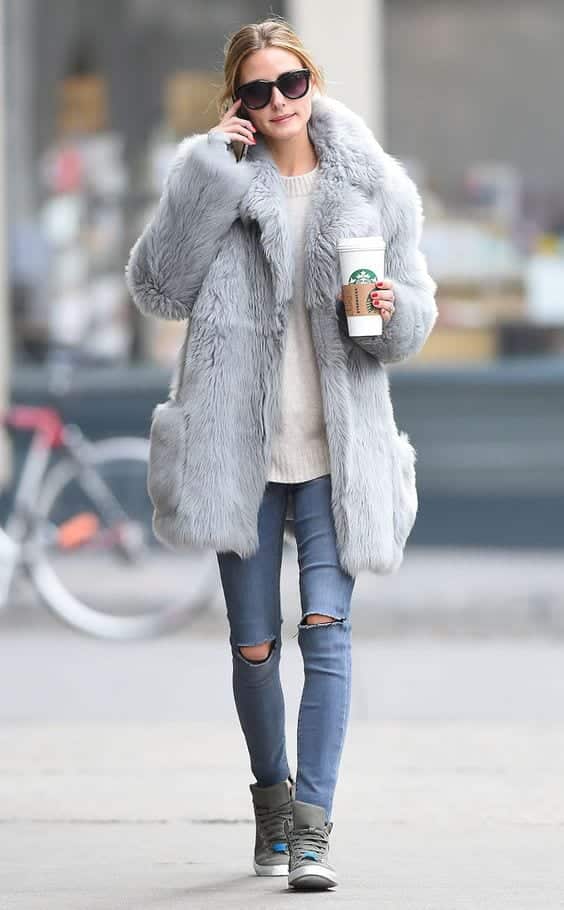 # 27: The Chic Look
Whether it's an all girls party or some semi formal even a silk top and lace skirt combined with some accessory is the right solution.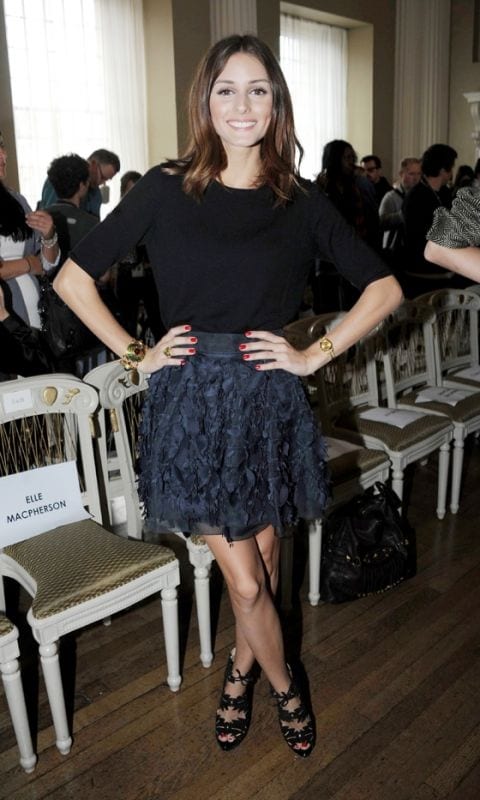 # 26: Funky Dress Up
How about a funky dress with a cool coat? Surely Olivia knows how to carry the look with statement eyeliner.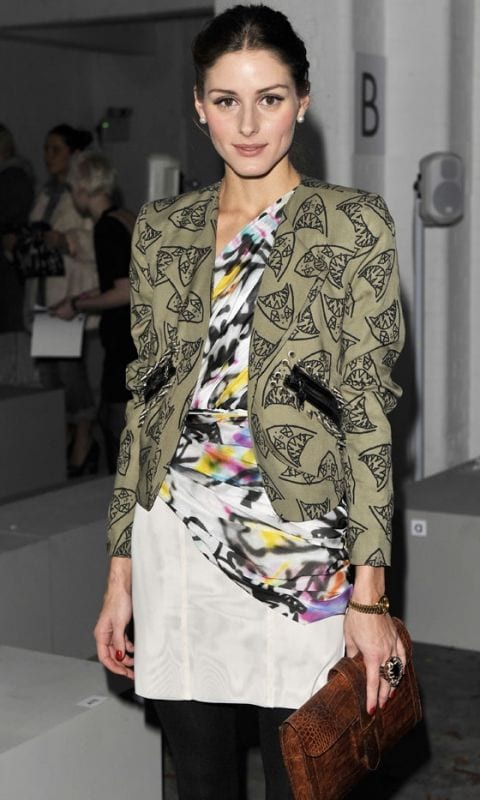 # 25: Keeping It Trendy
Want to give yourself a formal yet trendy look, go for a coat suit with statement shoes and some chunky jewelry to complete the look.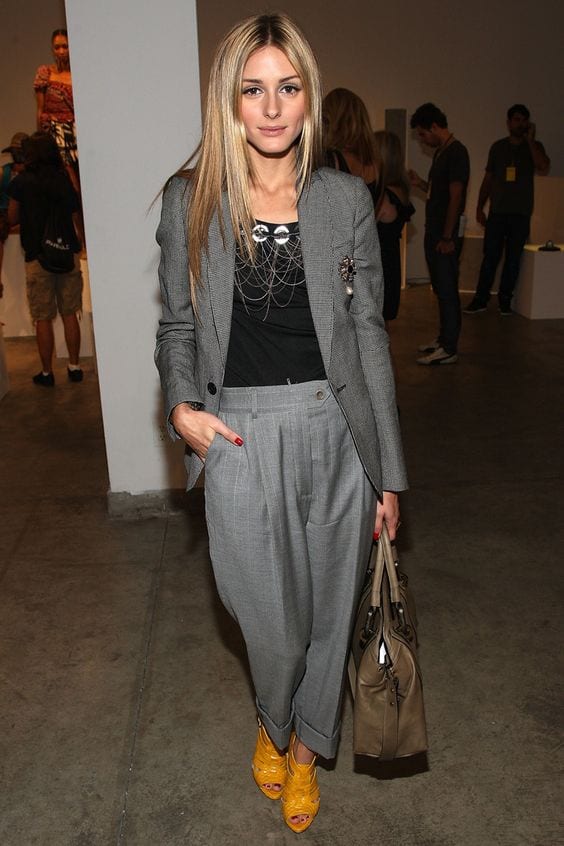 # 24: Olivia's Prettiest Hairstyle
Golden is the ultimate savior. Wear a golden dress and you need nothing else to look fab.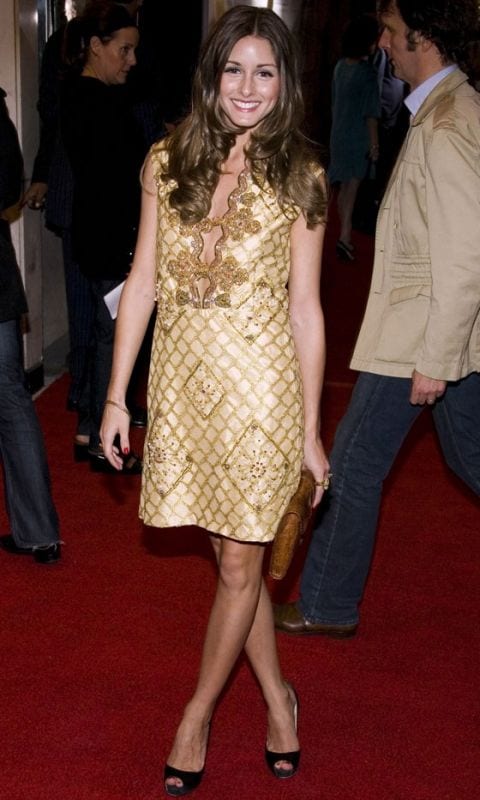 # 23: Floral Frock
A ball or red carpet, a long floral frock is a perfect dress for almost all events. A long frock with hair tied up is chic and super easy to carry.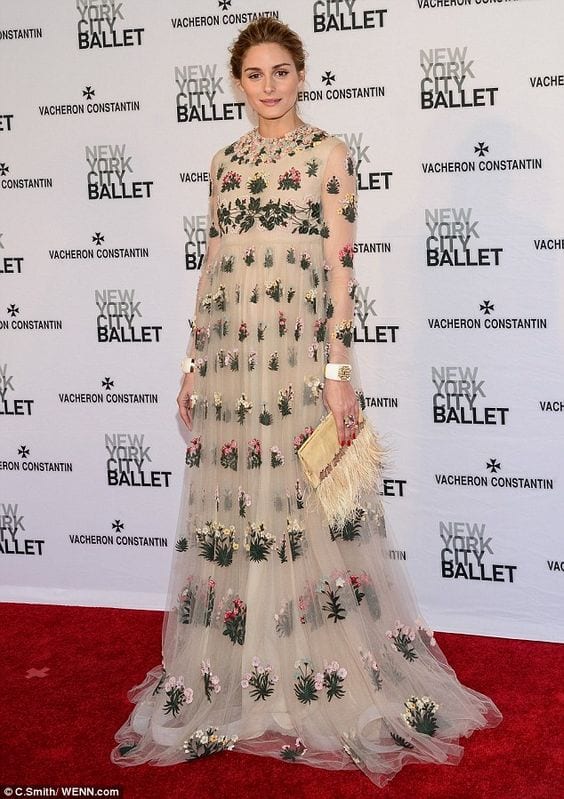 # 22: Long Skirts, Always
Long skirts can be varied according to the event and if they're in your closet they can be used and styled in many ways. Loving her heels!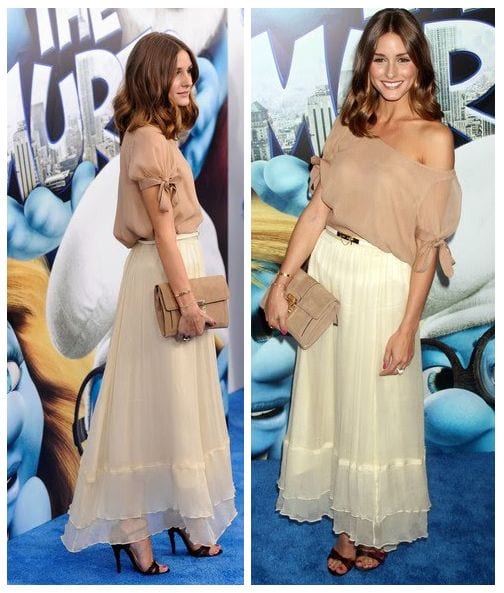 # 21: Some Bold Jewelry
Statement jewelry is the most in thing these days. These can be combined with mini dresses, or simple tee and still make you stand out.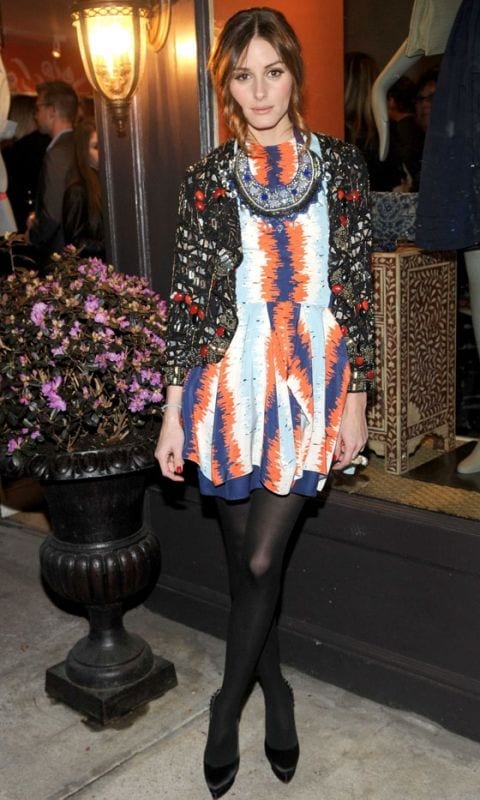 # 20: The Princess Dress Up
Go for a sparkly dress and braided up do to look a princess, like Olivia is seen at one event.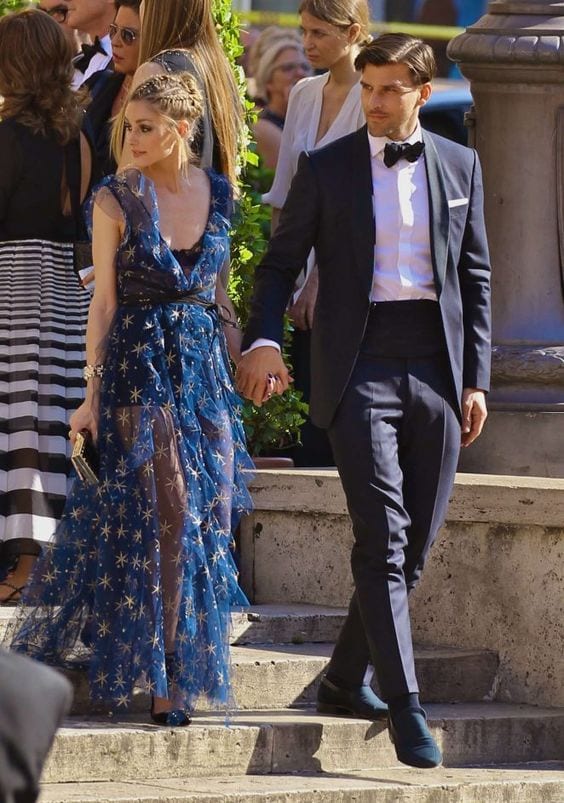 # 19: The Winter Fashion
Long boots, combined with a dress worn over a sweater. What a perfect winter combination, especially with those shoes.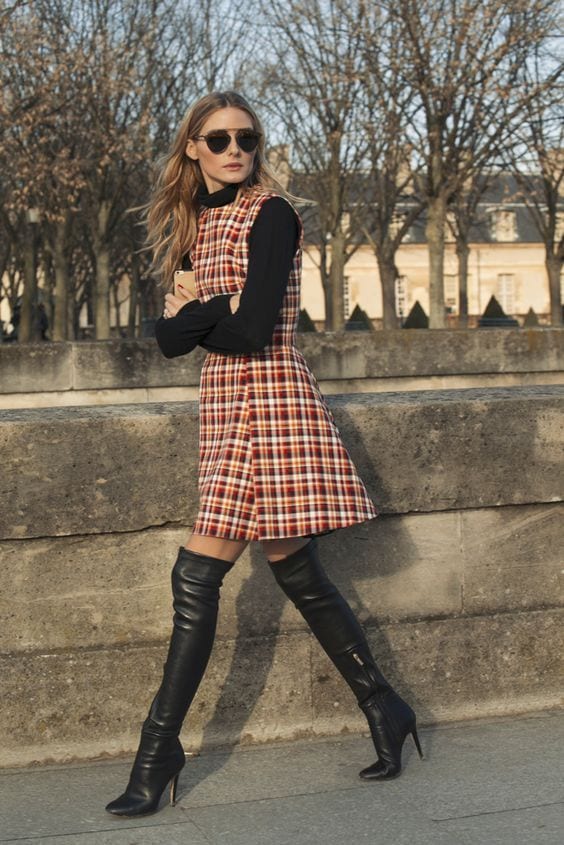 # 18: Olivia Palermo Romper Style for Summers
Romper style dresses are perfect for a casual day out, look stylish and is totally effortless.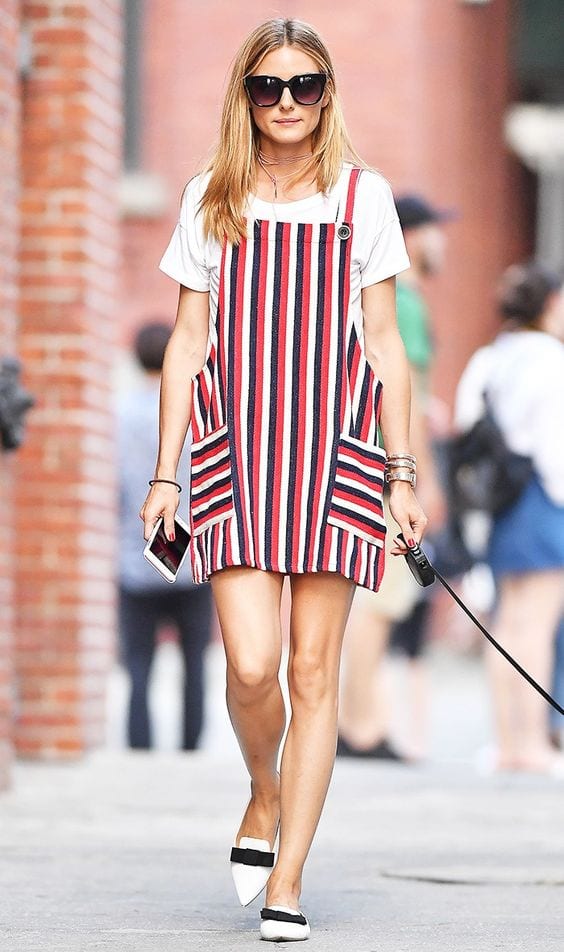 # 17: Colored Long Coat
Sometimes to make a style statement, combine a bold colored long coat with a same themed dress. Here like Olivia wears a green long coat over denim and a blue top.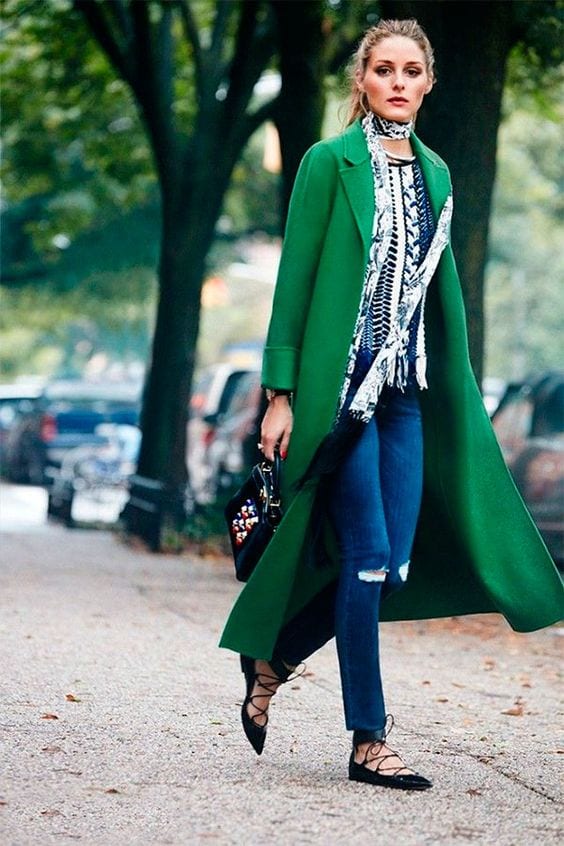 # 16: Go Monochrome
White and black are forever favorites. Combine black and white and you're ready to rock every place.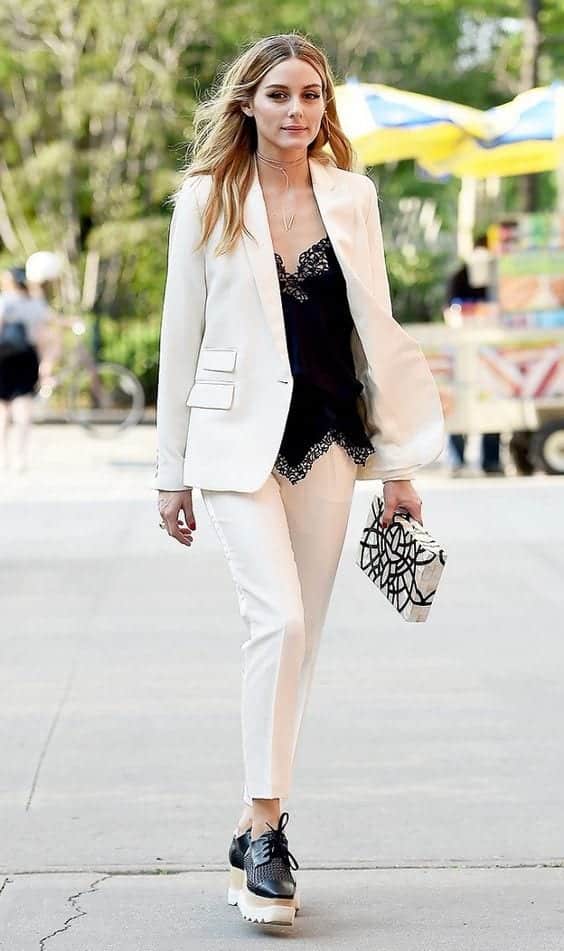 # 15: Converse – The Easy Way Out
Who says converse isn't meant for formal get together? Prove everyone wrong like Olivia. Here are some Stylish Converse High Heels and High Tops For Women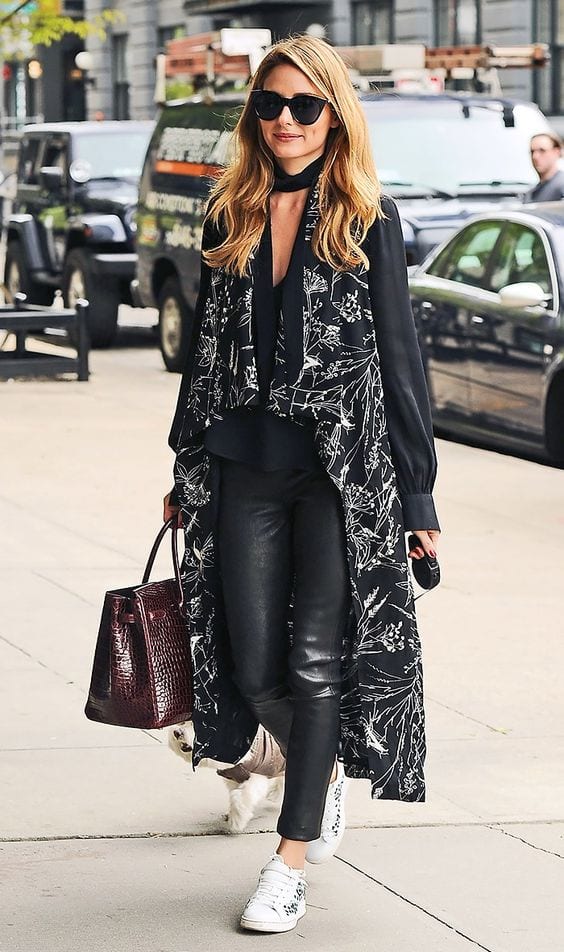 # 14: The Semi Formal Look
Long coats and heels over skinny pants and tee are ideal for semi formal to casual events.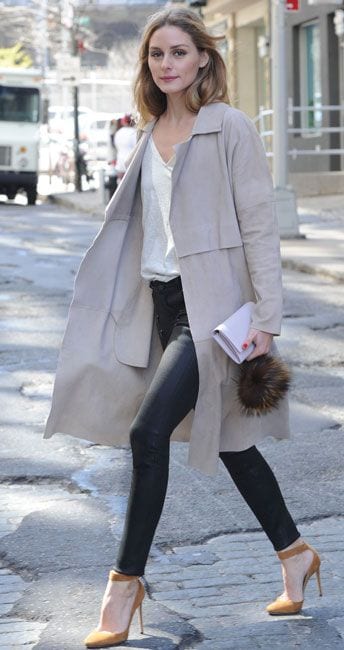 # 13: Skirts and Belts
Skirts, belts and some fancy lace tops is an absolute chic combination to follow!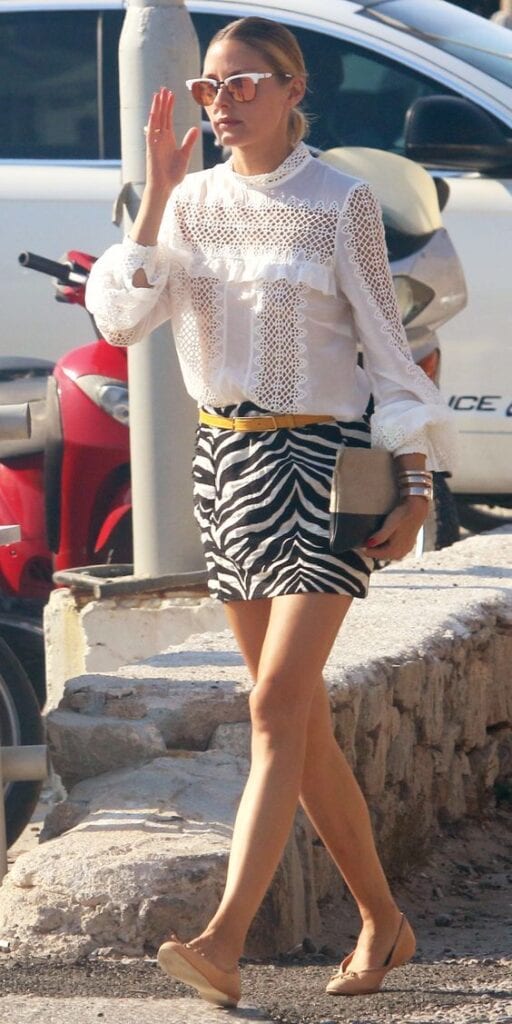 # 12: White All The Way
When in doubt wear white, dressed in all white is relevant for all occasions.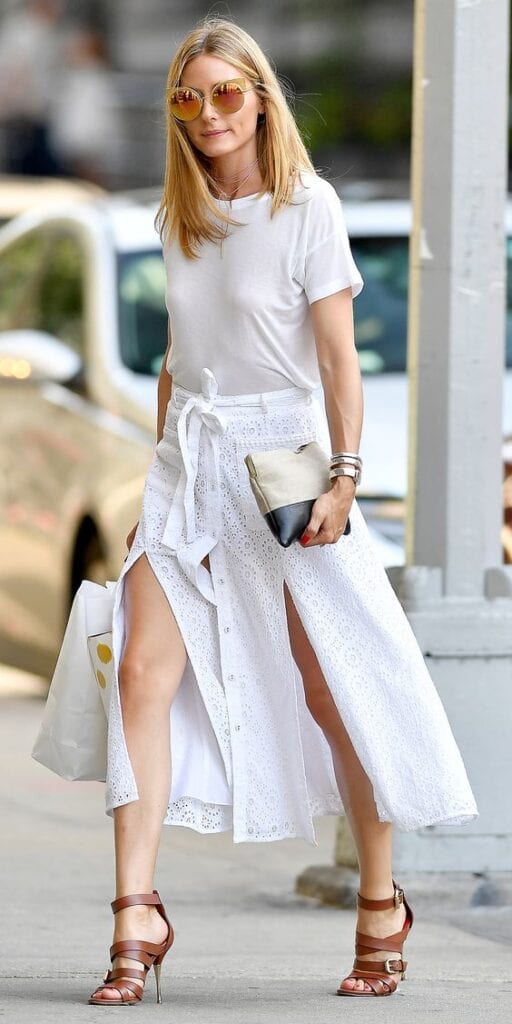 # 11: Black is The Color
Black lace dress with black flats, imagine looking like a bold queen! No one does justice to black outfits like the celebrities do, so if you love black then don't miss out these 25 Celebrities All Black outfits Styles for Fall to Copy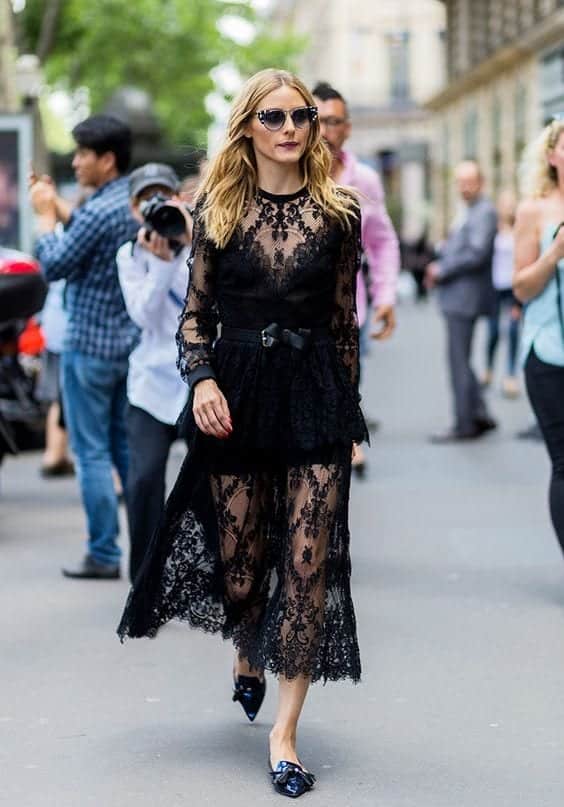 # 10: Olivia Palermo's Sexy Night Out Look
A multi colored flowy dress is perfect for a night out!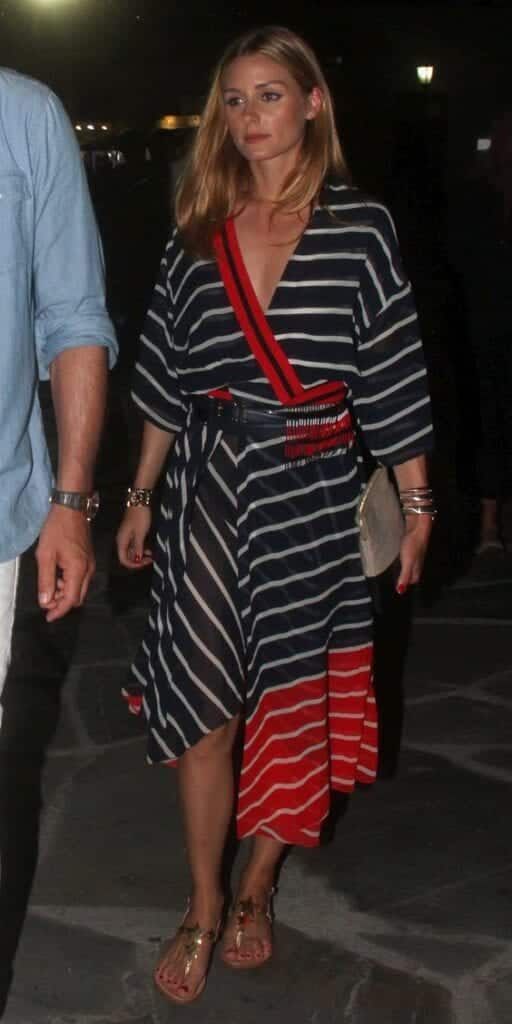 # 9: A Lot of Layering
Cardigan and long coats add lots of layering and lots of style to the dressing. Have a look at these 27 Ways to Layer Your Clothes like Pro-How to Layer Outfits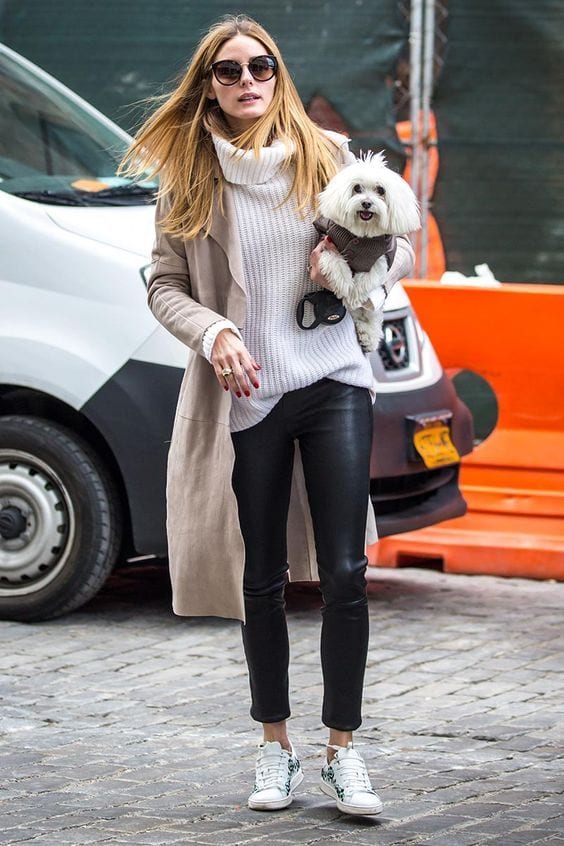 #8: Some Leather Pants
Olivia is seen in leather pant outfits especially in winters!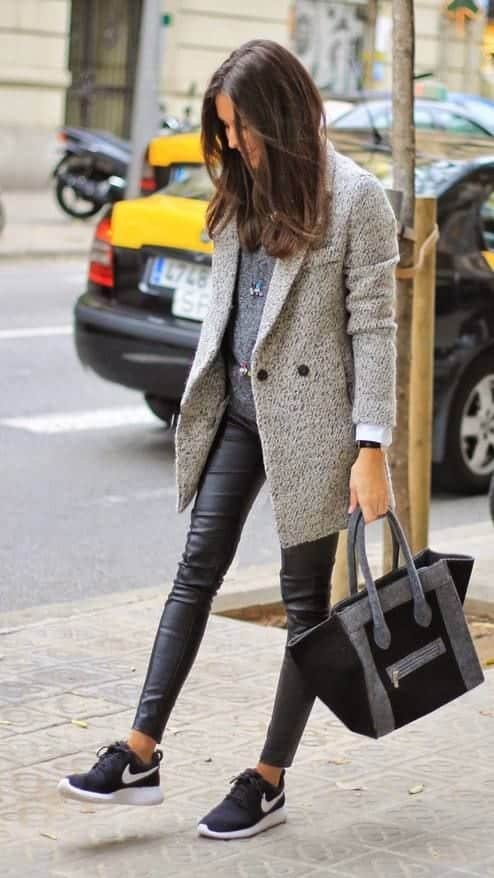 Via
# 7: White and Black for Work
White dress with a little touch of black is always pleasing to the eyes. Isn't it?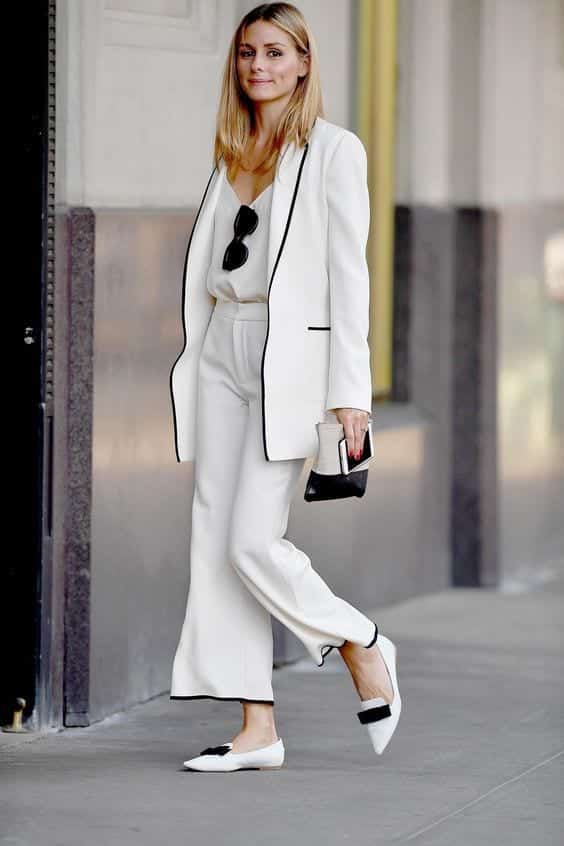 # 6: Skirts, the Style Savior
A long skirt pulled up with a cardigan is a stylish and comfy solution for big events. Here are some Asymmetrical Skirt Outfits-24 Ideas to Wear Asymmetrical Skirts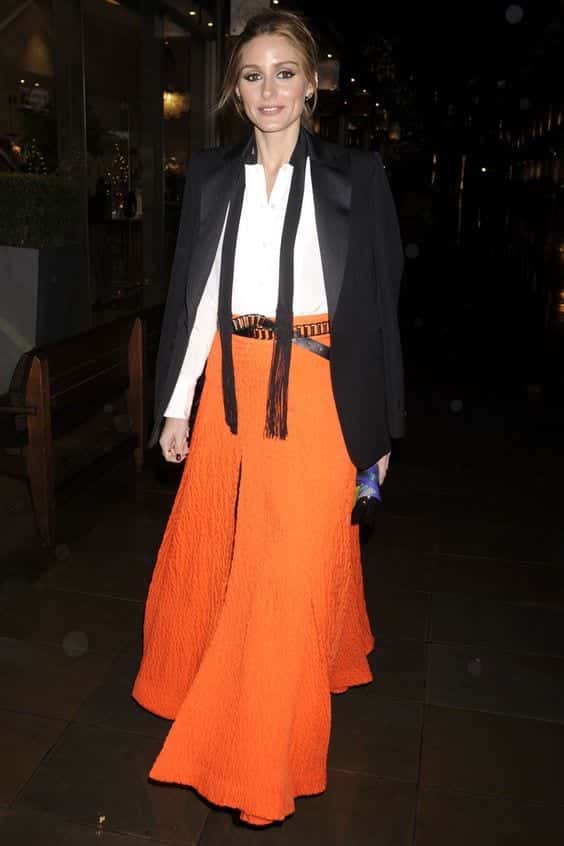 Via
# 5: Balancing it Out
A fancy skirt with a plain top is perfect for family day out.
#4: Denim and a Dash of Color
Combine your denim and top with bold colored shoes, so to make your personalized statement when on a casual day out. For a hotter look, wear this with Denim Studded Shorts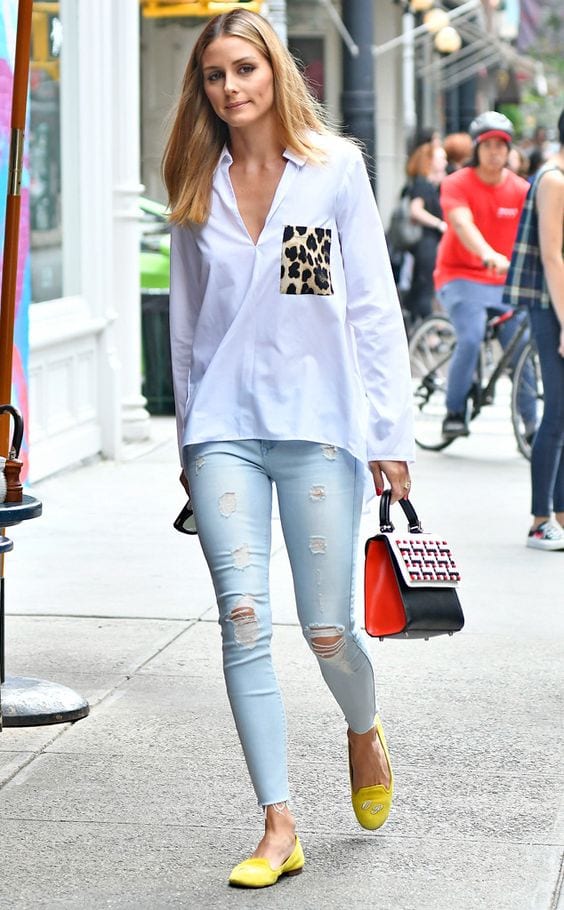 #3: Olivia's Bomber Jackets for Winter Swag
Bombers are growing in their usage and trust me they look fab if carried with style. gear up for winters by checking out these amazing Outfits with Bomber Jackets – 13 Ways to Style a Bomber Jacket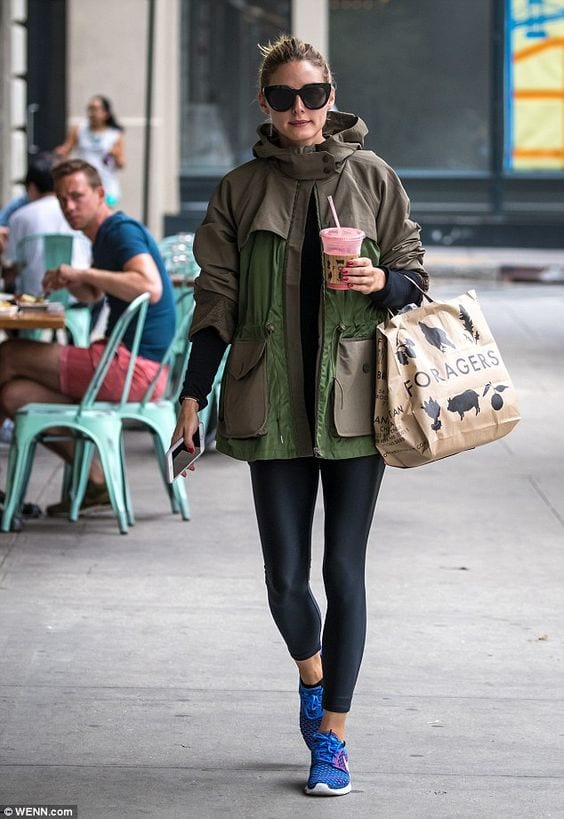 #2: Olivia Palermo's Beach Look
If you're on a cruise or at the beach then why not wear a shirt with a top, and all in monochrome theme. Here are some more gorgeous beach outfits.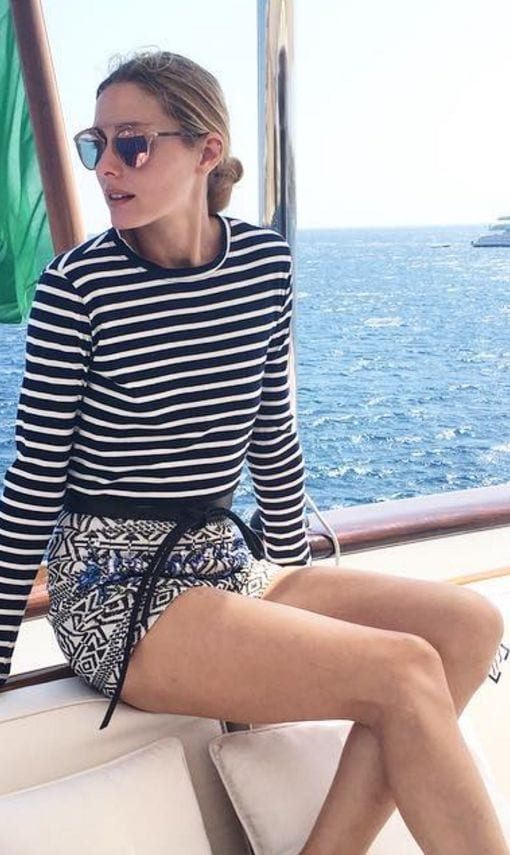 #1: Denim And Bomber Jacket, For the Win
A stylish bomber jacket and classic ripped denim outfits are never fading away!