Male Celebrities Casual Outfits – Celebrities are just like us. But the thing that distinguishes them is that most of them have their stylists with access to the latest fashion trends. Even though we always expect celebrities to be on point, we must understand that they are also real people who must go out sometimes to run errands or walk their dogs.
Therefore, stars rely on more casual, relatable, stylish outfits to always grab your attention for day-to-day tasks. Here we provide 20 male celebrity outfits casual ideas with looks. Let's dive in.
How to Dress Like a Celebrity
Before we get started with the casual celebrity looks, here are some style tips that you can use to dress like a celebrity.
First and foremost, you need to feel great to look great. This is essential because you will not feel confident even if you're wearing a $2000 suit and not comfortable in it. To look your best, you should make choices that are according to your style and comfort.
Try different styles to see the one that feels just right.
Opt for a hairstyle that does not requires high maintenance. You should know how to style short hair to look more casual yet stylish.
Play with different accessories and colours as they can help in amplifying your outfits, making them look more classy. Start with adding simple accessories like a wristwatch or sunglasses. You can further layer on by adding scarves and hats.
Go for a fitted look and not baggy or tight clothes. This will make you appear smart and classy.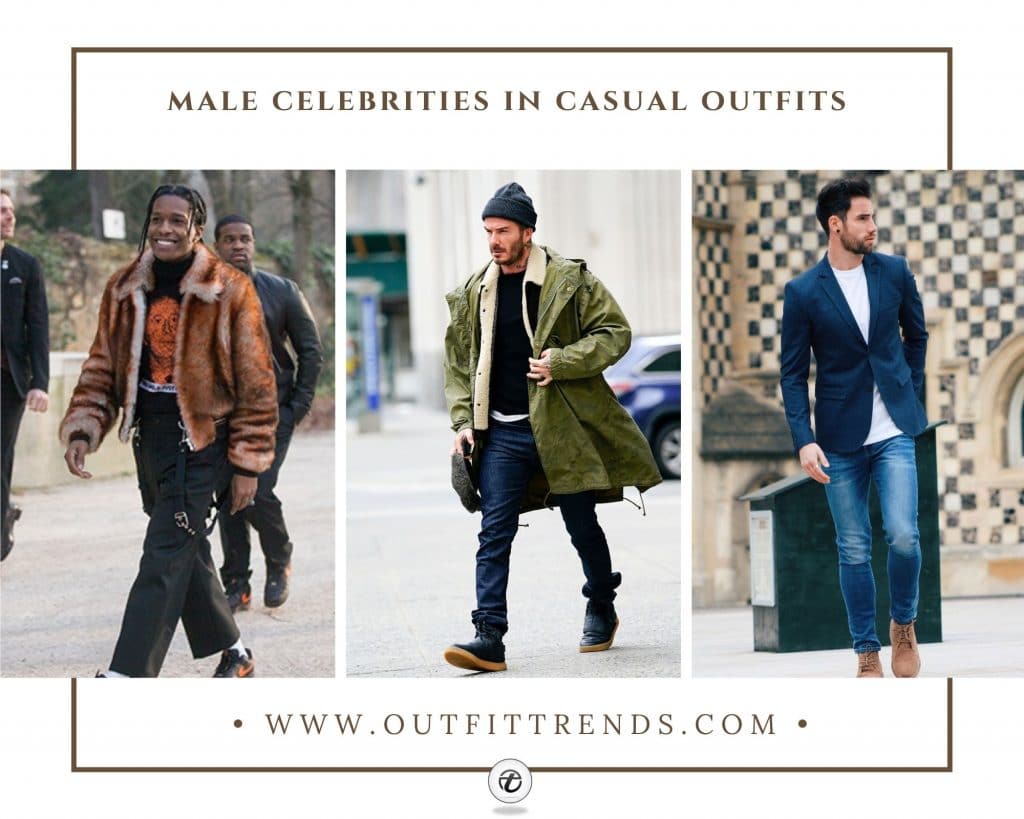 Male Celebrities in Casual Outfit
Putting together a good outfit is not a piece of cake. It takes much more effort in creating the look than it appears. But, this can be made easy, but how? Well, you can take inspiration from stylish male celebrities and make it your own. To help you out with this, we have rounded up some of the best male celebrities casual styles to copy.
↓ 20 – Donald Glover's Versitile Casual Look
He's been a part of the music industry for quite some time and has mastered music, acting comedy and fashion. Donald is considered to be the most versitile celebrities due to his super classy sense of style. He is known to be one of the best dressed celebrities in the industry. Here, he is seen wearing black fitted jeans, white Tee and Brown jacket pocketed jacket to keep it classy yet stylish.
↓ 19 – Brooklyn Beckham's Cropped Denim Look
The denim game is going very very strong right now. Unlike other style rebels of his age, Brooklyn's opts for a more classic look. He likes dressing up with every-men favourite items like T-shits, lace up boots and takes help of the oldest and easiest tricks to look emprically handsome. The denim essentials are definitely worth adding to your closet to create this cool, classic denim look.
↓ 18 – David Beckham's Wet Weather Casual Look
David Beckham knows how to be stylish even with minimal dressing. He likes layering lightweight coat on top of shear lined jackets to keep the look classy. This look is wet weather friendly and can help you in looking your best while staying comfy. Here David can be seen in green jacket coat with offwhite woolen jacket and black shirt underneath. He opted for blue jeans with blue shoes and completed the look with a beanie cap.
↓ 17 – Ryan Renold's Timeless Casual Look
Ryan is a man of many talents, especially style. He is an advocate of timeless looks and loves to sharpen his style and uses standout pieces to create timeless looks. He uses neutral tones to add wonders to pretty much every look. Here, he dresses in caramel tones to keep and the whole look is stylish while being casual. This look is perfect for any occassion, be it formal or casual. Ryan gives major style goals that you caan definitely copy without having to jump out of your comfort zone.
↓ 16 -Justin Theroux's Bomber Look with Accessories
Justin went for a cool all black ensemble and styled a black puffed bomber jacket over a white T-shirt and black skinny jeans and topped the whole look with gray boots. He likes keeping it stylish even when he dresses casual. Justin's casual look definitely shows how to be stylish while staying comfortable.
↓ 15 – Micheal B. Jordan's All Black Outfit
MBJ surely knows how to gain audience's attention with hi casual looks. Here, he opted for polo knit shirt which is more like a sweaater as compared to your standard T-shirt. The best part about this style is that it provides more room to breath while staying classy and stylish. You may also like Black Shirts Outfits for Men.
↓ 14 – Eddie Redmayne Casual Layered Look for Autumn/Winter
Autumn/Winter is here and if anything, autumn and winters have the best styles options you can wish for. Our male celebrities definitely know how to style throughout this season and give us some major style inspirations. Best known for his role in Les Miserables, Eddie is one of the few celebrtities who know how to keep it stylish yet comfortable at the same time. He looks every bit of a star in this classic casual layered look. Here is opted for various shades of gray and a color blocked blue sweater and topped it with grey overcoat and grey and white sneaker shoes.
↓ 13 – David Gandy's Slightly Dressier Smart Look With Casual Footwear
Smart casual outfit for men are one of those styles that truly resonates style and provides a certain degree of sophistication above casual wear. Having said that, executing smart casual style can be a bit of a task and requires some effort. But, you don't have to worry, because David Gandy's got your back. Here, he opted for a relaxed take on the smart casual look using a blue blazer with white shirt underneath, blue jeans and brown leather shoes.
↓ 12 – When to Follow Idris Elba's Casual Look?
This English actor has a career spanned over twenty-five years and the people's magazine labelled him as the sexiest man alive. Elba likes to stick to neutral tones and loves putting a unique spin on the classics by experimenting with different textures and color pallettes. The key here is to not add too much to the look. Elba's outifts are mosty based on neutral colors like grey, white, black and navy. He also likes wearing slim fitted jeans or trousers and adds accessories like flat caps to make the entire look more interesting. You can definitely follow this look if you want to look casual and sexy at the same time.
↓ 11 – Charlie Heaton's Chic Casual Look
The Stranger Thing's actor opts for bold patterned and embroided shirts and eclectic jackets. His style is more on the bolder side and his fashion senses are simply out of this world. His everyday looks are a mix of colored outfits and he likes to play with colors to come up with different chic casual looks. Here, you can see him in black pants with red pattern and blue jacket on top makes the entire look come together.
↓ 10 – Jeff Goldblum's Bold Casual Look For Men Over 50
He might be 68, but he is not afraid to show his daring sense of style. He is considered to be bold because he is not afraid to use colors in ways that make him stand out in any room. Saint Laurent Jackets are a staple in his wordrobe and he knows how to be casual and bold at the same time.
↓ 9 – Johnny Depp's Casual Vintage Style
Depp has been a style icon for so many years. He knows well how to put together an outfit and make it look classy to match every mood. He adds creative vibe to every outfiy by wearing graphic Tee to add more visual interest to the look. He likes adding accessories to amp up the entire outfit. He likes popping wayfarere style glasses to add a touch of intelligence and sophistication to every look, be it casual or formal.
↓ 8 – Zac Efron's Scruffy Look
He is more layered look sort of a person and surely knows how to make his casual look chic and classy. He likes creating winner looks while keeping them classy. Here, Zac opted for a scruffy look, wearing a pair of brown leather boots and blue jeans. He is wearing blue T shirt and topped it with a black bomber jacket and finished off the whole look with an overcoat.
↓ 7 – How to Style Tom's Sporty Casual Look?
This man is known for doing his own stunts in movies and he always trains for the fight scenes. When it comes to styling, Tom likes sporty looks that resonate his personality. Here, Tom can be seen wearing slim fit blue jeans with white Tee shirt and grey jacket to make the whole look come together. For accessories, he went for sunglasses to keep the look super casual yet stylish.
↓ 6 – Evan Mock's Cardigan Hoodie Look For Teenagers
Evan is known for his bold style and his looks are always super classy yet stylish and grab everyone's attention. Here, he went for an offwhite hoodie with a white T-shirt underneath and wore a blue cardigan on top. He also went for caramel colored loose pants to give a more casual vibe and the shoes bring the whole look together.
↓ 5 – What to Wear to Look Effortlessly Classy Yet Casual?
To get an inspiration, here's Kai from Exo who is fond of floral prints and loves playing with different color palletes. He pulls off incredibly difficult looks so easily that they appear effortless. Here he paired floral patterned shirt with check patterned trrousers. For shoes, he went for black shoes that tie the whole look. This look surely shows that you can be casual while taking risks.
↓ 4 – Steven G's Casual Look For Plus Size
This plus sized celebrity surely knows his way around style. He is always seen in neutral tones and adds a pop of color with neon colored pair of shoes. This skilled photographer gives us major styling goal and you should definitely follow this look if you want to look reveshingly classy while staying comfortable.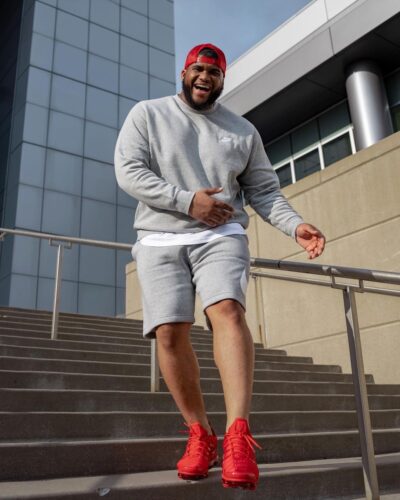 ↓ 3 – Matt Smith's Flawless Casual Look
Matt is currently leadin the ranks by creating balance between fiercely tailored and effortless fashion outfits. He knows ways to maste the three piece suits as well as make casual outfits stand out.
↓ 2 – Travis Scott's Bold Fuse Hip Hop Look
Travis likes to have a creative take on streetwear and provide a perfectly fused hip hop high fasion statement. He loves creating bold varying looks. Here, he opted for white shredded pants wiht white Tee and Check patterned jacket. He amped up the whole outfit using a heavy necklace to give a more hip hope vibe.
↓ 1 – Bad Boy Look
Here's how you can create the best casual look by following this british musician. He has a keen eye for rock with a tempered, casual twist. He likes to portray a bad boy image and his looks very much support his image. He likes simple classy accessories and pairs with electric colored shoes to add a pop of color.
FAQs
Q: Which male celebrity has the best casual style?
Ans: Carry Grant, Denzel Washington, Leonardo Di Caprio and Idris Elba.
Q: How do you dress casual and chic?
Ans: Casual chic attire basically has a mix of different dressy elements which include tailored leather jackets, denim jeans, patterned shirts and accessories.
Q:

How to dress like a celebrity male?
Ans: There are different ways that can help you in dressing just like a celebrity. These include channeling your inner celebrity style, accessorizing, wear fitted clothes and most of all, feel confident in what you wear.
Q: What clothing brands do male celebrities wear?
Ans: Most of the celebrities and influencers have their clothes sourced from their styling teams and stylists. But here are some budget-friendly brands that we've seen the above mentioned celebrities wear quite often: H&M, Zara Man, Nike, Banana Republic.