Fab Outfits for Middle School Dance Competitions- School dances are something you will remember for the rest of your life so make sure you make the most of it. Dance competitions are becoming a popular event and a lot of schools today have dance teams. Middle school dances and the days that build up to the event is full of excitement. It is an opportunity to do what you love and make lifelong memories. The outfit is an essential part of the dance competition. Outfit coordination is just as important as dance coordination and choreography. We will look at beautiful dance outfits you or your child if you are a parent scrolling through can wear to the dance competitions and look the best!
How to Wear Stylish Outfits for Middle School Dance Competitions?
It totally depends on the theme or the color scheme or the type of dance. Different types of dance genres require different outfits. For a hip-hop dance style an oversized shirt with jogger pants and a plaid shirt around the waist looks appropriate and trendy for middle schoolers. Some dance styles such as ballet require leotards and skirts and ballet shoes. Sometimes the dance competitions are a huge event, and the competitions require fancy, sequined costumes to match with the whole team. For such extra events, its important to go all out, and have your hair up in a bun with a sequined or a metallic top and a matching skirt, or bodysuit.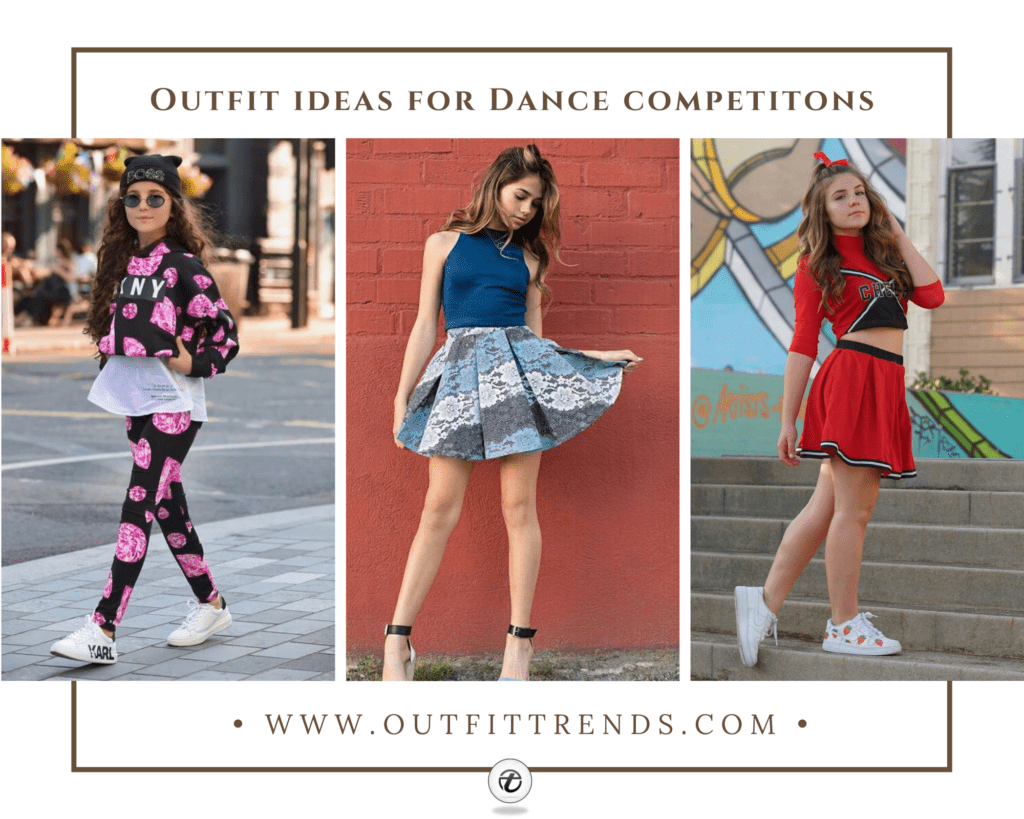 Tips to Wear Stylish Outfits for Middle School Dance Competitions
-Coordinating with your team members if you have a dance team is the way to go. Adds a cohesive and symmetrical look to your dance and the dance looks great too.
– Match the outfits with the dance style. You cant wear an oversized shirt while performing a ballet for a school dance competition.
-Bright colors look beautiful, especially in dresses, bodysuits, and leotards for dance competitions.
-Tie your hair back and wear appropriate shoes for the maximum amount of comfort so you can perform your best.
↓ 24 – How to Wear Stylish Outfits for Middle School Dance Competitions?
Middle School Dance competitions vary in scale these days, they can be massively huge and involve other schools or could be small, within the school. This one is the most basic outfit you can wear if you are performing. Black ripped jeans, jeggings or black tights paired with a white shirt and a cool varsity bomber jacket on top like this one. Sneakers are the comfiest option while dancing as they have a good grip too.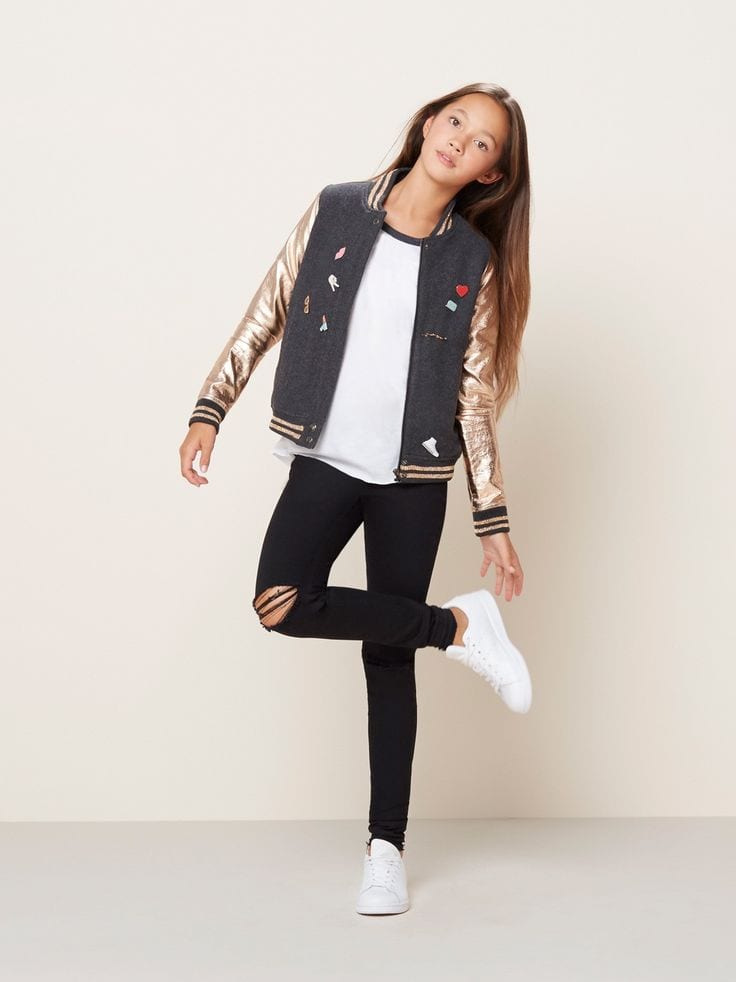 ↓ 23 – What Stylish Outfits to Wear for Middle School Dance Competitions?
Cheerleader outfits are perfect for school dance requirements. Most of the times if you are in a cheer group you will be required to wear this outfit. Red is the classic cheer outfit, and sometimes you can wear this outfit for different dances as well. Wear a matching bow and cute shoes like these strawberry Air Force 1's.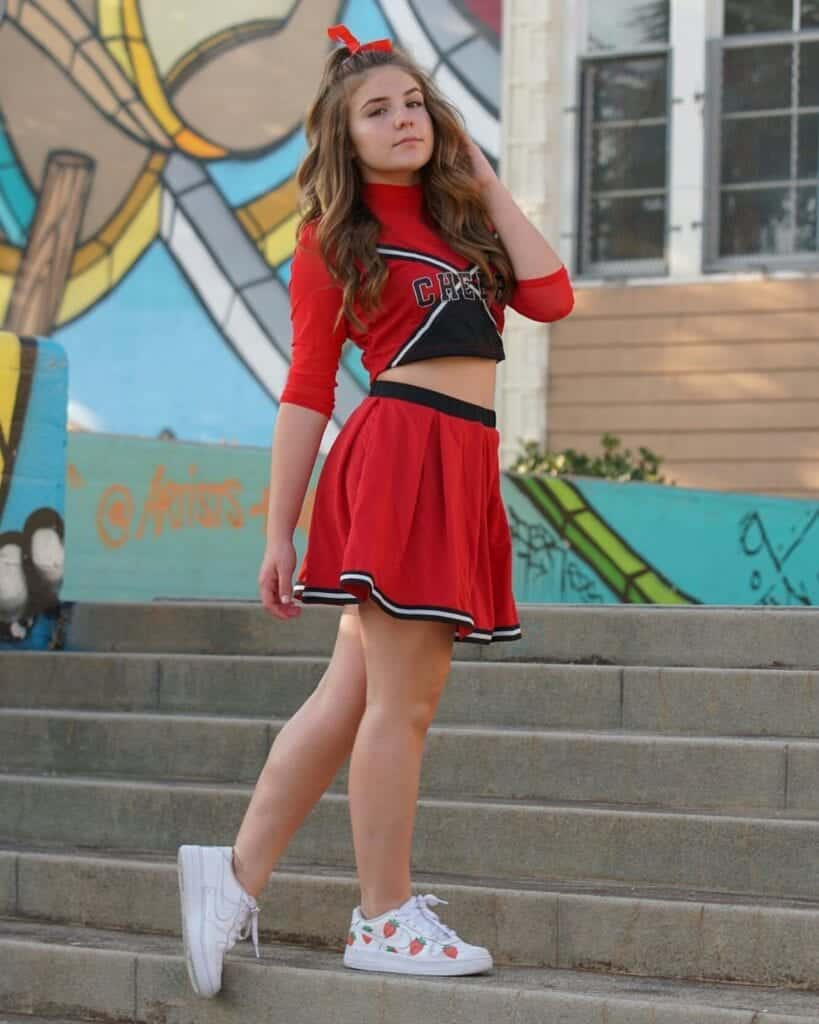 ↓ 22 – Best Outfits for Middle School Dance Competitions
The best outfits for middle school dance competitions especially if they are being held with other schools is a fully sequined outfit like this one. It's totally up to your color preference because these outfits come in all different colors. Here is a red cropped sequin with a balera skirt. Looks gorgeous on the dance floor.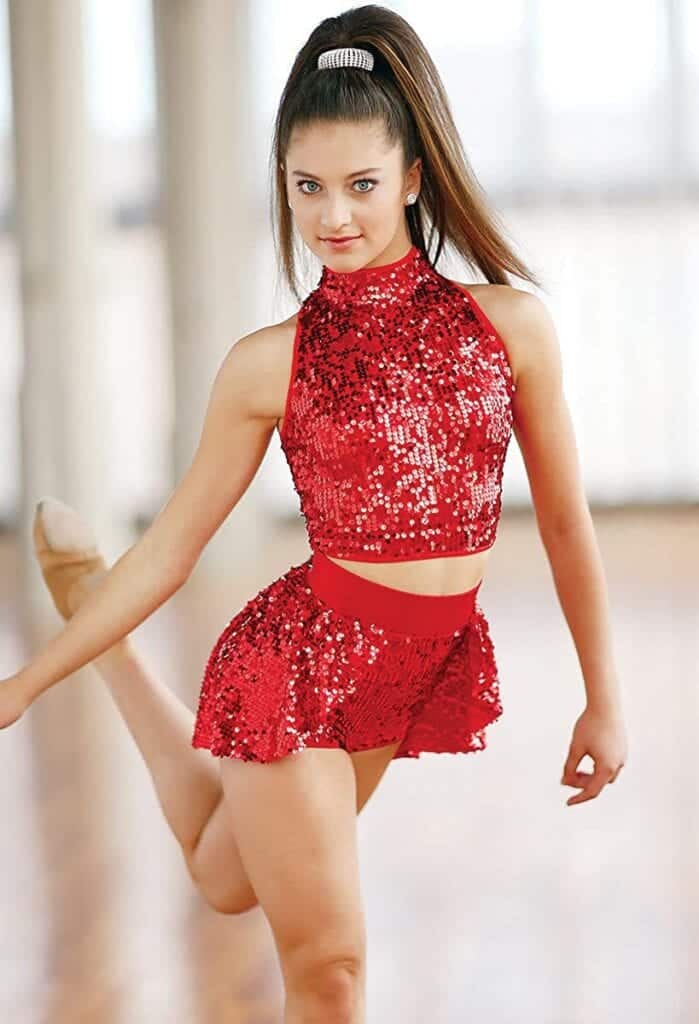 ↓ 21 – When to Wear Stylish Outfits for Middle School Dance Competitions
Coordinating your outfit is key for a team dance, because it looks so much better and beautiful than everyone wearing different costumes. These colorful costumes are beautiful, because they add the most gorgeous colors to your outfit and everyone in the team can wear different styles of the same print. As you can see some are wearing a leotard, some a two-piece set and some a simple flowy dress.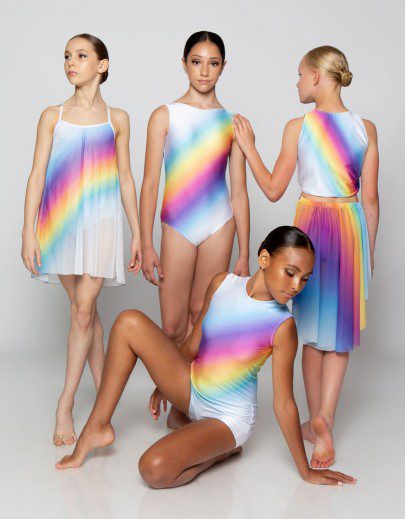 ↓ 20 – Stylish Ballet Outfits
The tulle skirt for the ballet outfit is so cute and elegant. Middle schoolers can opt for a mid-length skirt instead of a very short one for their school performance and wear a tee of their choice with it. Ballet shoes are a must for this dance style.
↓ 19 – Cute Stylish Outfits for Middle School Dance Competitions
Most dance styles require a much more casual outfit, and here is a perfect one you can wear to the dance competition because you might already have all these simple items of clothes in your wardrobe. Light blue denim shorts, paired with a simple comfy white t shirt and comfy baby pink shoes go together so well. For accessorizing you can tie a bandana on your jeans and wear a layered necklace.
↓ 18 – For Boys
Boys can wear matching hoodie and sweatpants set. Instead of a plain black one, go for a little bit of a stylish one that has prints on the sides of the pants and the arm of the hoodie. This outfit looks amazing for hip hop dance styles. You can wear white converse shoes under and maybe even a cap for cool points.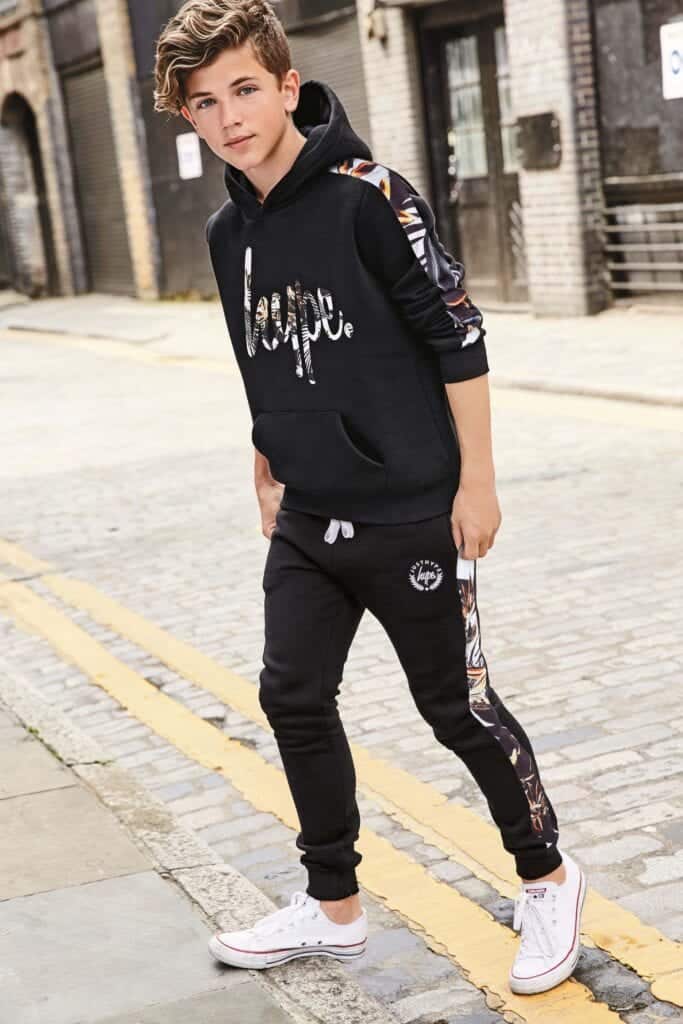 ↓ 17 – Lace Skirt Outfits for Middle School Dance Competitions
Lace Skirts look so cute and elegant. Here is a blue, grey, and white one paired with a blue sleeveless top. You can either wear flats, or converse shoes with this outfit.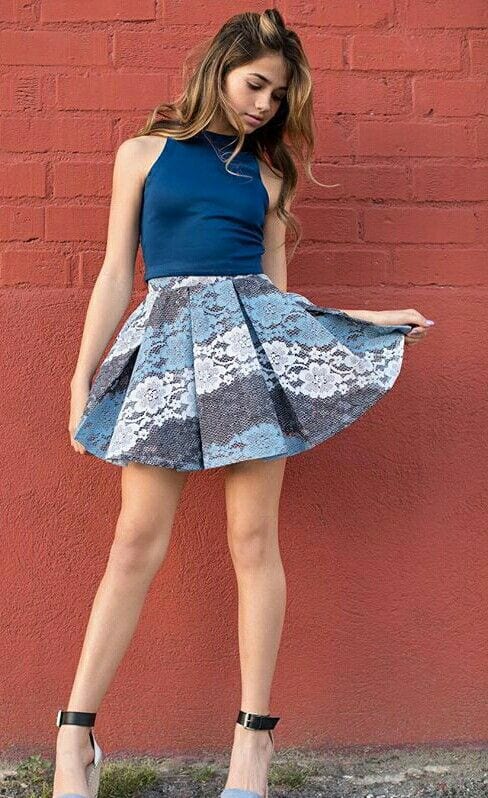 ↓ 16 – Summer Outfits for Dance Competitions
Summer calls for cute skirts and dance competitions. Pair a denim polka dot button-up with a flowy skirt and wear ankle boots or flats. Instead of wearing a bow change things up and wear your hair in a bow! Also, check out 61 Chic Summer Outfits For Teen Girls 2021 – Summer Styles.
↓ 15 – Fancy Outfits
Not all dance competitions are a casual event. Some are super fancy, and if you are going to a one that is, wearing an extra fancy dress is a great idea. The top of the dress is quite beautiful, and the flats are everything! I like how coordinated the outfits are from top to bottom.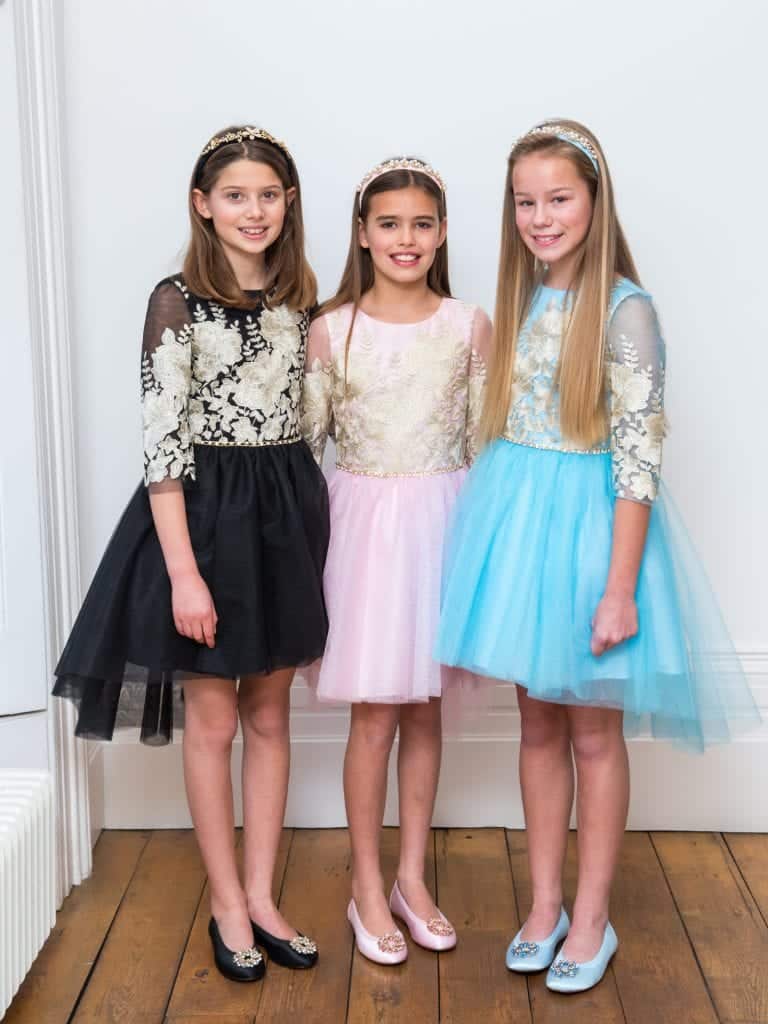 ↓ 14 – Casual Stylish Dresses
Denim rompers look so trendy and fashionable and are perfect to dance in for modern dance styles. You can wear yours with a white shirt under and white converse.
↓ 13 – Swagger Jagger
How about a funky set instead of a plain boring one? This one has pink diamonds all over, making you look fun and boujie all at the same time. A beanie with kitty ears to accessorize and white sneakers. This one is one of my personal favorite looks.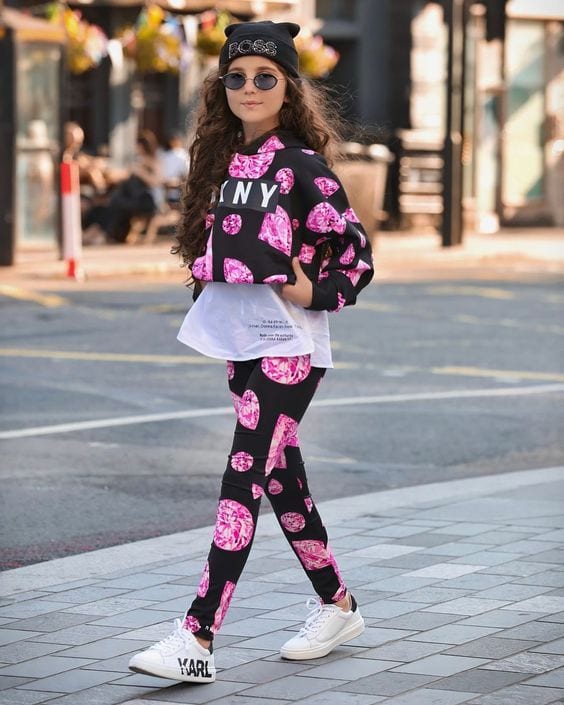 ↓ 12 – Pop Hop Dresses for Dance Competitions
Loving everything about this outfit. The peacock sequin on the spandex jacket, the mesh details paired with black spandex leggings as well as the same foil print on the tights as the jacket looks absolutely amazing. Colors are great to experiment with dance wear. Paired with a knit wear beanie and converse shoes this one is a look to go for to stun the crowds.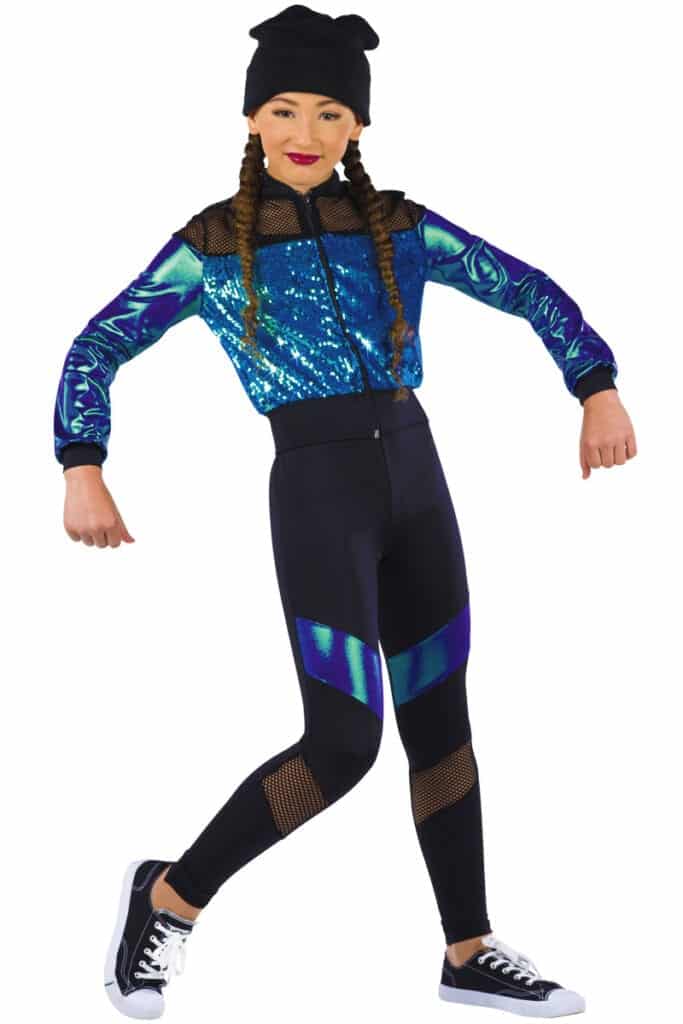 ↓ 11 – Comfy Street Dancer
These types of outfits, as in the tankinis with tights are the top looks for almost all street style dances. They come in a variety of prints and colors, and materials. You can wear an oversized open shirt on top, or around the waist. This stylish outfit is such an effortless way to look put together and comfy.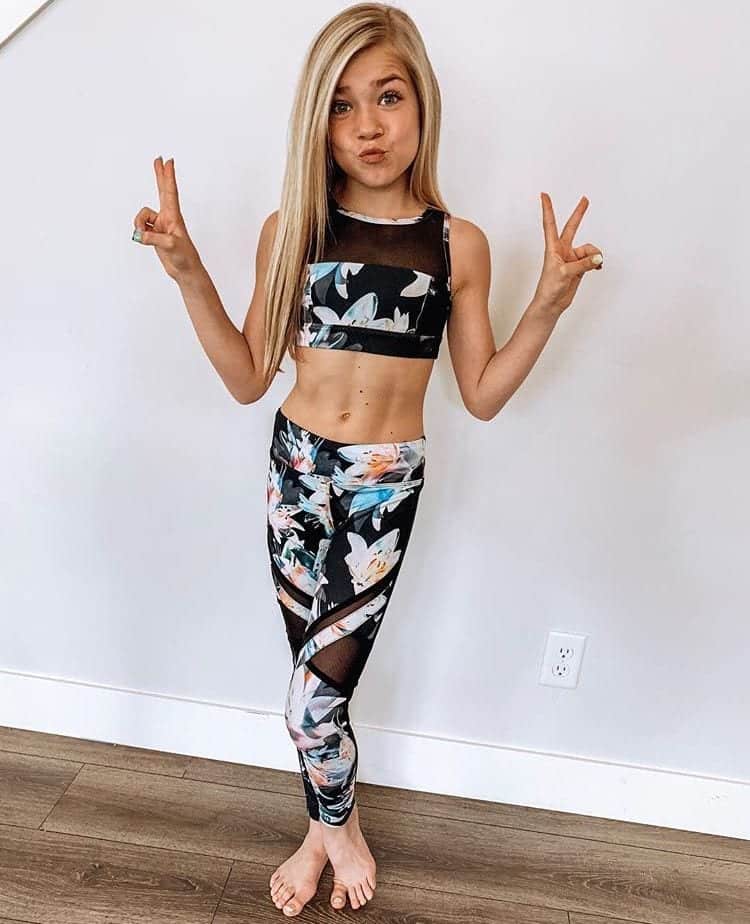 ↓ 10 – Fierce
Gotta love a matching two-piece set, and the cherry on the top is the black sequin which will shimmer under the spotlight making you look like a million bucks when you light the floor on fire with your dance moves.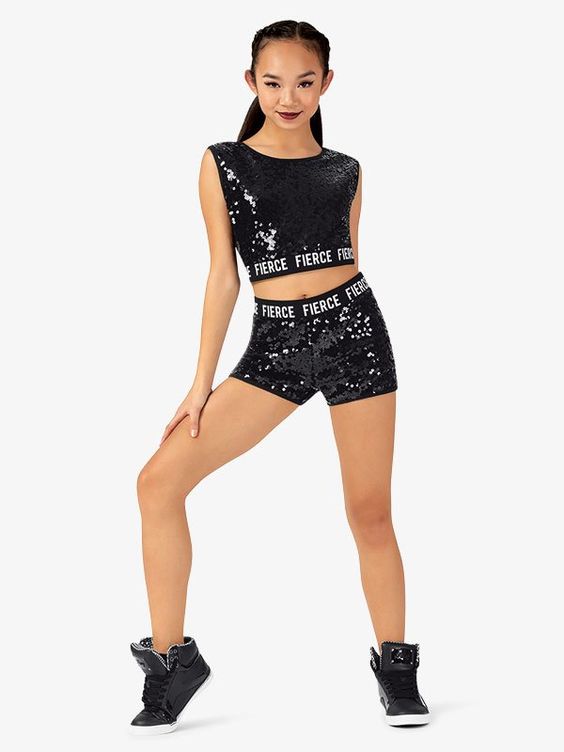 ↓ 9 – Plain Jane Cuteness
Maybe the dance competition you are part of is not very out there and glamorous. You still want to look cute, and its perfect for all the modern dances, because all these clothing items are so in fashion these days. These are high rise straight jeans paired with a flower cardigan which is oh so trendy these days.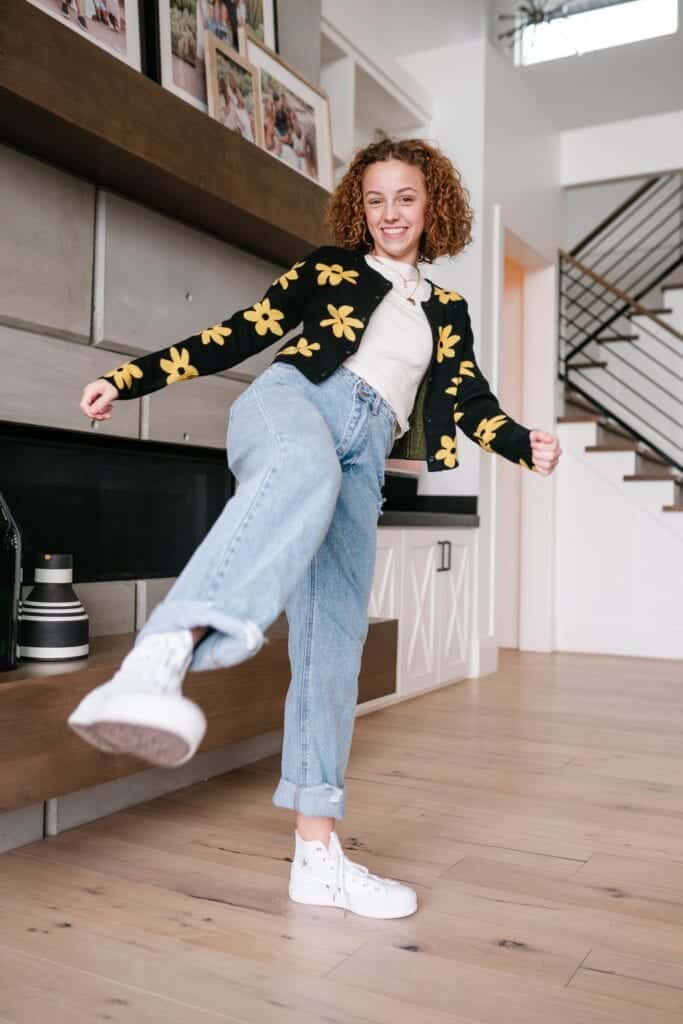 ↓ 8 – Black Stylish Outfits for Middle School Dance Competitions
Are you looking for something a bit more that will wow the crowds with your moves and outfit? Pair a black pleated tennis skirt up with a printed top, such as this leopard print top. If it is a little chilly throw on a cool jacket, such as this ribbed one. This outfit is one of the coolest and you will definitely feel like the trendiest in this one too. Also, check out Curly Hairstyles for Teenage Girls | 25 Best Styles to Try if you have curly hair.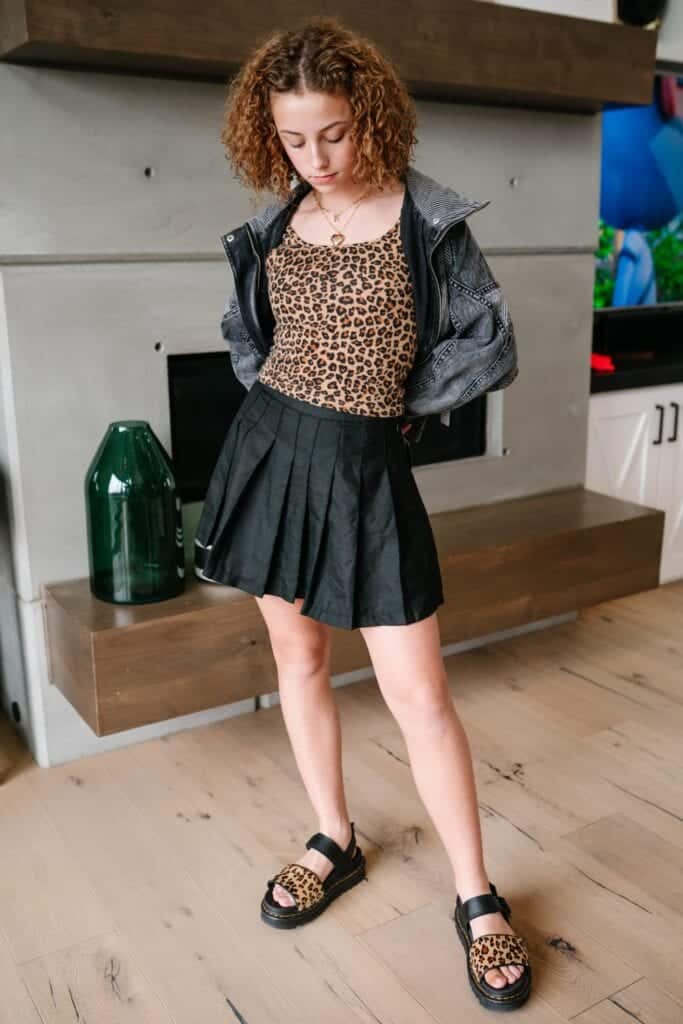 Where to buy: Ribbed Denim Jacket
↓ 7 – Classic Plaid Around the Waist
This one is one of the most well known looks in the dance world. Any casual outfit under and a plaid shirt wrapped around your waist. This element adds all the swag and edginess you need.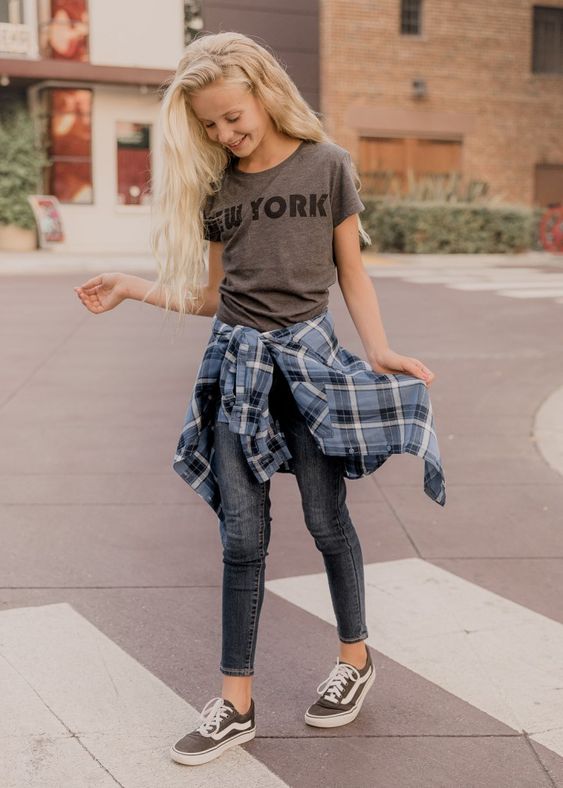 ↓ 6 – Metallic Purple
This purple shade is stunning, and the metallic material makes the entire outfit look way more amazing. The outfit is double lined, and the top is cropped with a cutout at the back.
source
↓ 5 – For Teachers
Middle School teachers can pair a cut white blouse like this with their favorite pair of jeans and comfy wedged sandals. To accessorize instead of wearing the usual small studs big earrings like these would look beautiful.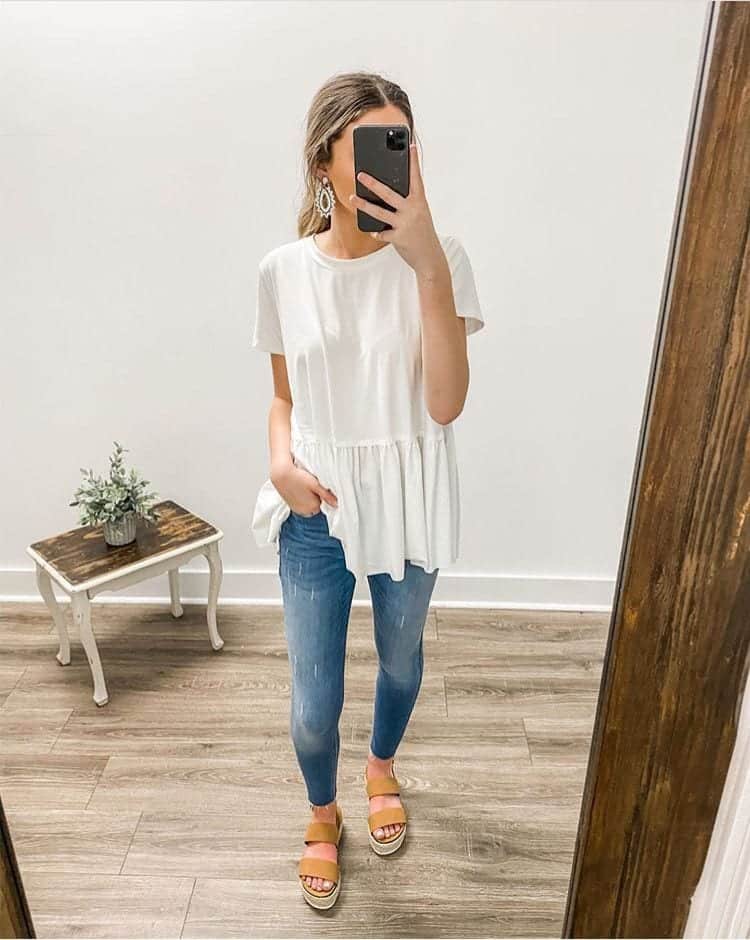 ↓ 4 – Striped Shirt
Are you looking for a trendy outfit? Sometimes you want to look comfy but also very fashionable, especially for a dance competition when all eyes are on you. How about you pair a striped cropped shirt, but not just any shirt but a fitted one with a square neck and low rise skinny jeans and combat boots for the cutest look ever.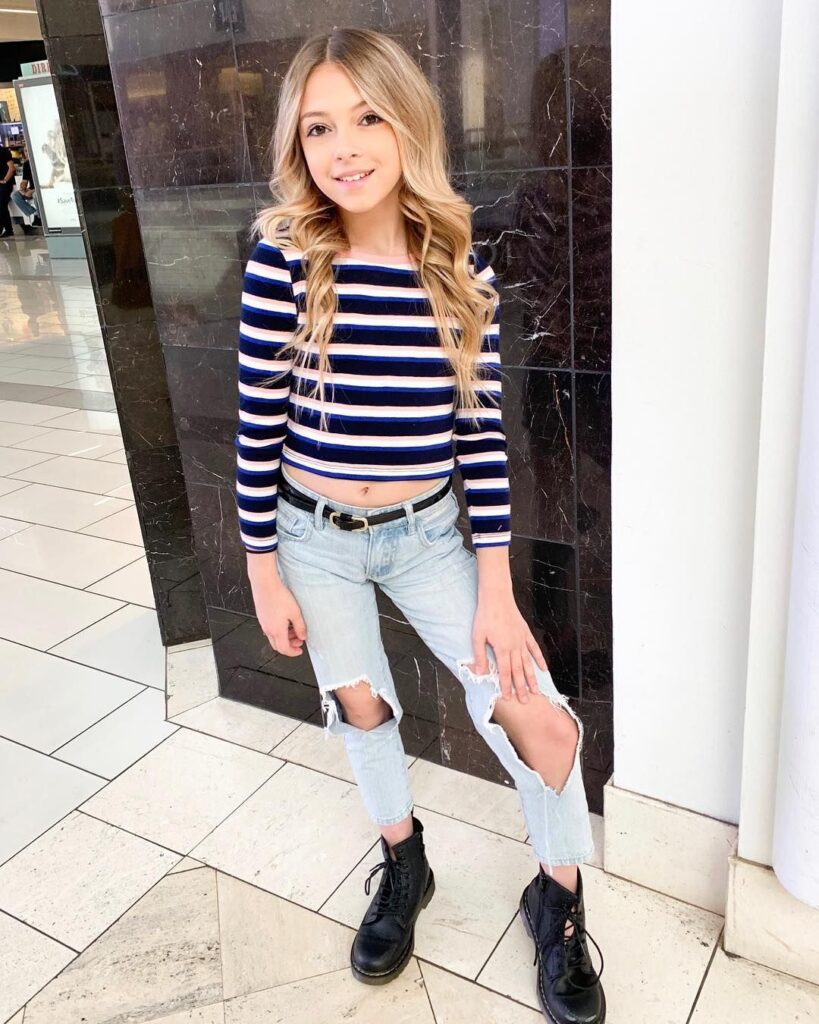 ↓ 3 – Stylish Outfits for Middle School Dance Competitions
Ripped denim jeans with a plain white shirt or a t shirt of your choice will be perfect. Converse shoes look great with this outfit. This outfit is a go to outfit for competitions when you are running short on time and have nothing to wear. You will still end up looking stylish.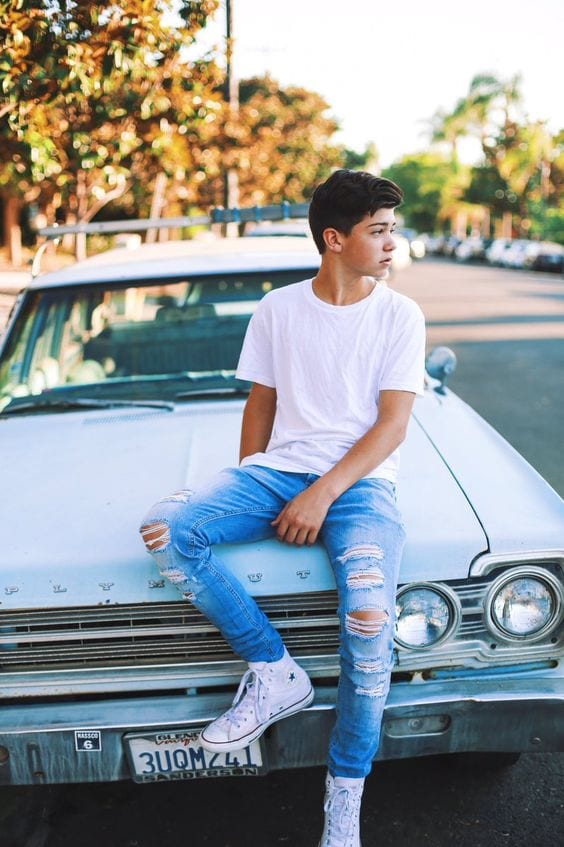 ↓ 2 – How to wear Teal Stylish Outfits for Middle School Dance Competitions?
Instead of a plain solid colored outfit, how about a fully glittery and gemmed outfit. This teal and black combo is amazing, and the details on the skirt and the top are beautiful. Dance teams wearing matching outfits like these will win the hearts of the crowd. If your middle school plans to host a dance competition do opt for an extra glam outfit like this. Kids love colorful, glittery outfits so make sure you get them this for their special event.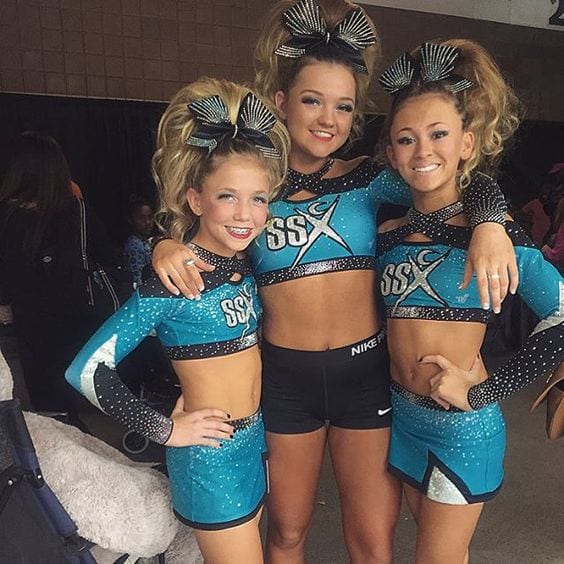 ↓ 1 – Pink Stylish Outfits for Middle School Dance Competitions
Here is a beautiful high low skirt, made with sequin and lace two of my most favorite materials. Skirts like this look graceful for lyrical dance styles, and the skirts flows and glimmers under the lights as you dance. The skirt has a stretchy pull-on waistband to make it comfy and easy to wear.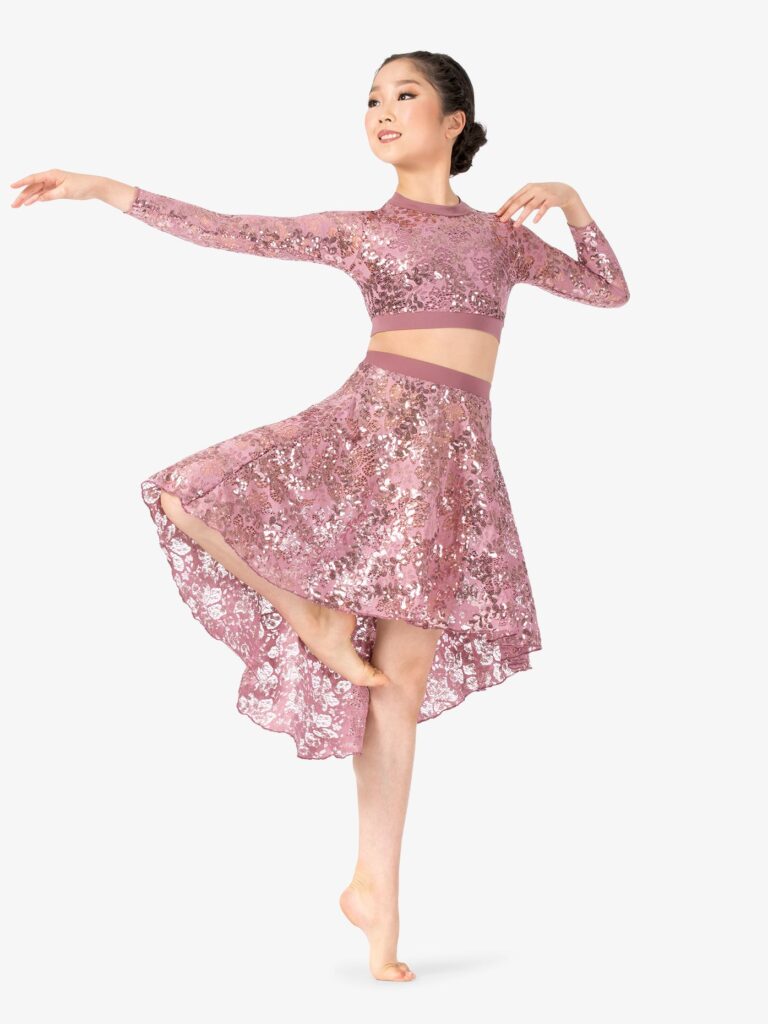 Also, have a look at 20 Best Prom Outfit Ideas for Teen Girls To Try In 2021 for more fancy outfit ideas.
Where to Buy Stylish Outfits for Middle School Dance Competitions
Discount Dance Metallic Set
Move Dance Wear Hetty Teen Ballet Skirt
Dance Wear Solutions Open Back Halter Tee
Capezio Multi Strap Camisole Leotard
Frequently Asked Questions
Q. What are some good outfits for a middle school dance?
A. It totally depends on the dance style or the theme. However, if it's a really casual in school event and your dance style is modern or street style, ripped jeans or tights, paired with a nice shirt, and comfy sneakers is the way to go. To accessorize wear bows, or tie a bandana around your jeans, hair, or neck. You can even add a cool bomber or a varsity jacket on top to add that coo dancer look. For an extra dance competition opt for outfits with lots of colors, sequin, and glitter. There are many beautiful tutus, leotards, matching sets, high low skirts and more available online for your dance competitions. So look your best and rock the show.
Q. What are some outfit ideas for a jungle-themed dance for middle school?
A. Jungle themed dance competitions are so fun, and there are many costumes available online. You could wear lion, monkey, or zebra costumes, or even green outfits with leaves to represent the trees of the jungle. If you are not looking for animal costumes, you can wear brown, and shades of green mix and match outfits. And even add cheetah or tiger patterned paint on your face.