The Ultimate Nap Dress Guide. If you ever watched a Jane Austen film and had serious wardrobe envy over all those long, floaty nightgowns then you are going to love the trend that has taken 2020 (in all its misery) by storm.
Maybe you were the last to notice this particular trend or maybe you were one of the first. Whatever the case, it is extremely likely you have heard about the Nap Dress or at least seen it floating across your Instagram feed. If you haven't, hang tight. This guide is not only going to break down what a nap dress is, but where you can find one for yourself, how you can style it for everyday wear, and where the dress came from in the first place. (We're also including some frequently asked questions at the end of this post so be sure to check those out!)
How to Style a Nap Dress
Let's start off by discussing what a nap dress is. Is it simply a glorified nightgown? Well… yes. And no. The name Nap Dress is trademarked by Hill House Home and it describes a whole line of their products that first came out in 2018. In a way, the Nap Dress is kind of a hybrid. A cross between a nightgown and a dress, a perfect blend of comfort and stylish grace. And it's no wonder why it became such a hot item this year.
With lockdowns and more people working from home than ever before, our wardrobes were in sore need of a halfway ensemble: something we could wear in lieu of pajamas but comfy enough that we feel like we are actually wearing pajamas. And if you ever fantasized about gliding down a dark hallway at midnight with a brass candlestick in hand in a Victorian nightgown, this Nap Dress is everything you've been waiting for.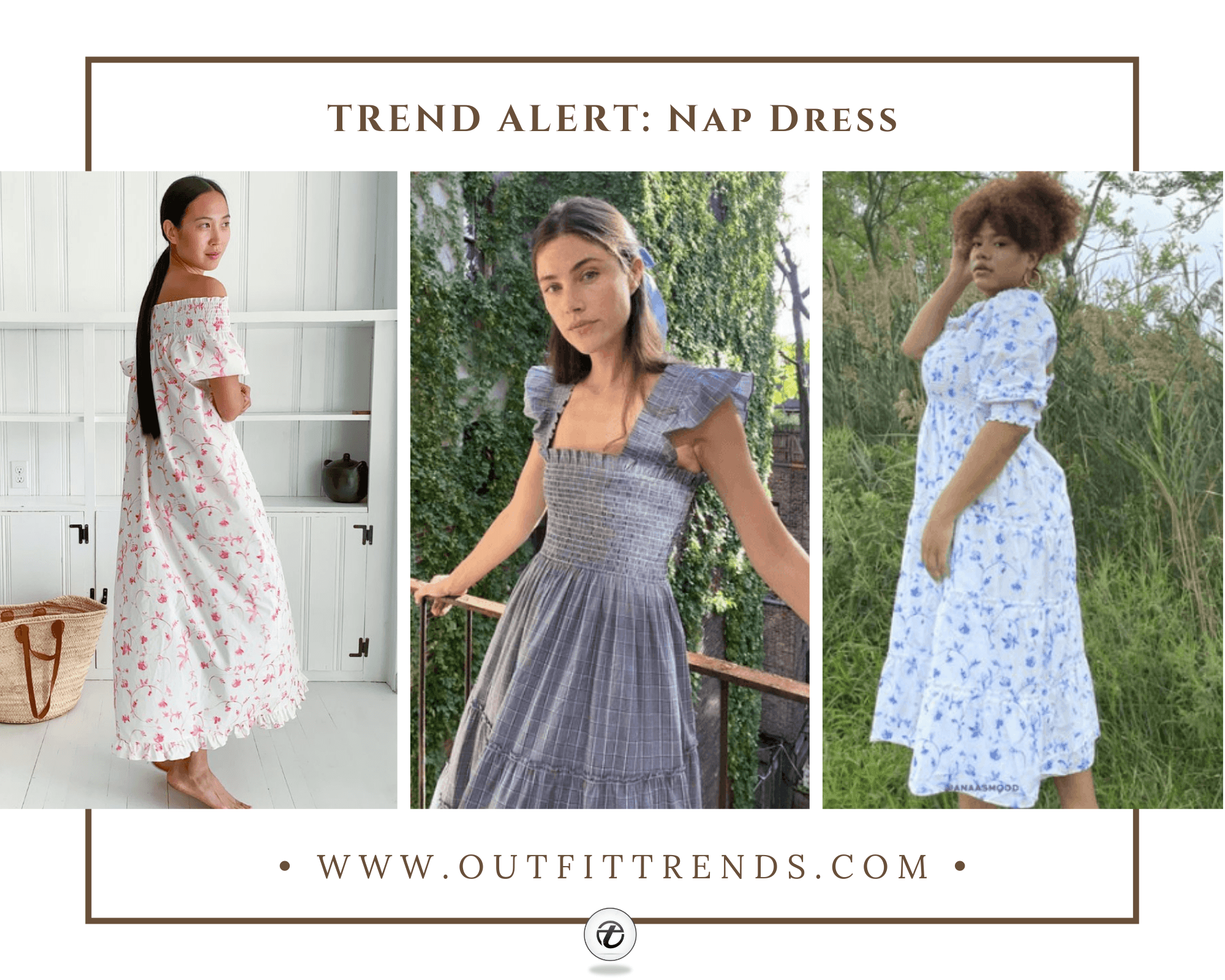 Now, before we show you our top picks for beautiful nap dresses, let's talk about all the ways you can wear one. And no, we don't mean curled up in your cottage bed in a pile of plushy pillows (though, the whole point of this beautiful dress is that you totally can).
We mean styling a nap dress for everyday wear – for brunch dates with your loved ones, picnics with your babies, and birthday parties with your family. We mean long afternoons gardening in the sunshine or strolling about the neighborhood with your husband. How do you style a nap dress for those sorts of occasions? How do you make the Victorian ghost outfit a real and wearable option in the real world? Here's how.
Pair it up with a cardigan. A cardigan has that sweet, grandmotherly vibe, and sometimes we could use a little bit of that in our crazy lives.
For shoes, ballet flats, sandals, flip-flops, and little heels are all lovely options.
To take the nap dress into the realm of street style, try pairing a white nap dress with chunky boots like Doc Martens or Chelsea boots. It's a blend of sweet and edgy that we really like.
Wear with a denim jacket and heels.
Accessorize a nap dress with a fedora or gardening hat. You could go barefoot if you're homebound, or you could slip on some slides for a casual but darling ensemble.
Try an off-the-shoulder option and wear it with statement sunglasses and ankle booties. Perfect for brunch or coffee dates.
Now that we have an idea of all the ways you can style a nap dress, without further ado, let's look at 10 of the most beautiful nap dresses out there, how to wear them, and where to find them.
↓ 10 – The Original Hill House Nap Dress
The original Hill House nap dress is where it all began. Little did Hill House know all the way back in 2018 (you know, pre-2020 insanity) that this innocuous little frock was about to have quite the cult following. The trend picked up speed on Instagram at the height of this year's pandemonium, and now there's no going back.
Here is The Ellie Nap Dress and she is a beaut. You can wear her for any number of occasions, the most basic of which, despite its name, is napping. The material is thick enough that you can also wear the white ones out and about without any issue, just be sure to wear skin-colored undergarments to be safe. You can also find several other colors, prints, and patterns on the Hill House site. The Ellie goes for $125.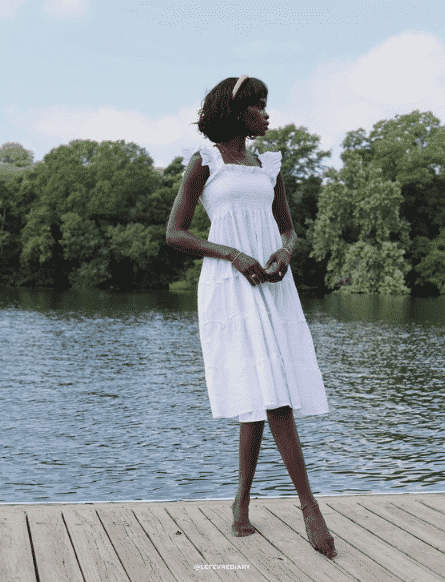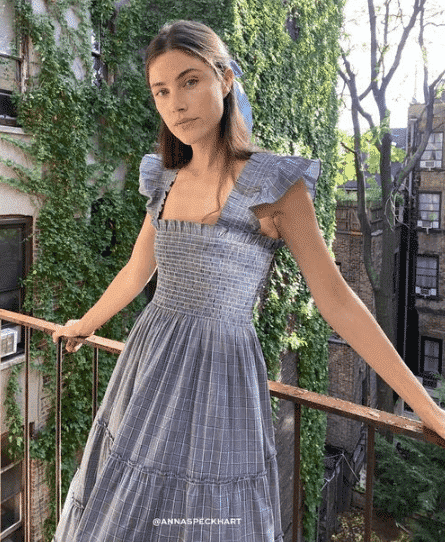 ↓ 9 – The Christina Nightgown
Right alongside Hill House's Ellie is the just as popular Christina. Now, while this particular spaghetti-strap take is classified as a nightgown by its maker, this blogger showed us an array of ways you can wear this pretty little frock so that it doubles as an everyday dress as well! We love!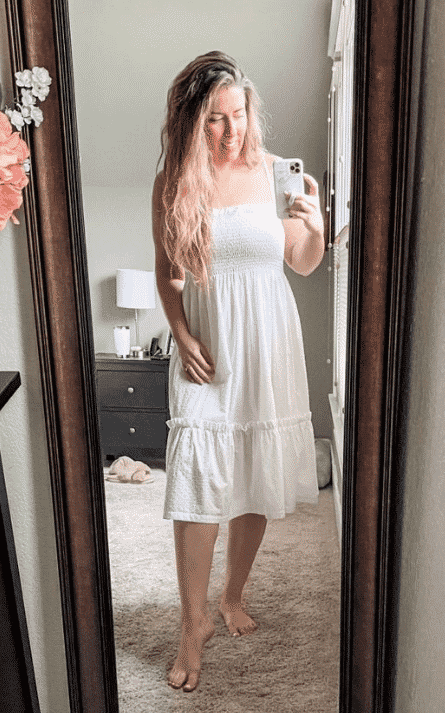 However, if you visit the Hill House site, you'll see that The Christina seems to be currently out of commission, so here are a couple of similar finds for you. This is Joie's Jailene Dress for $89.40. We think this one is the closest to Hill House's Christina, though it's a little longer and features tied straps.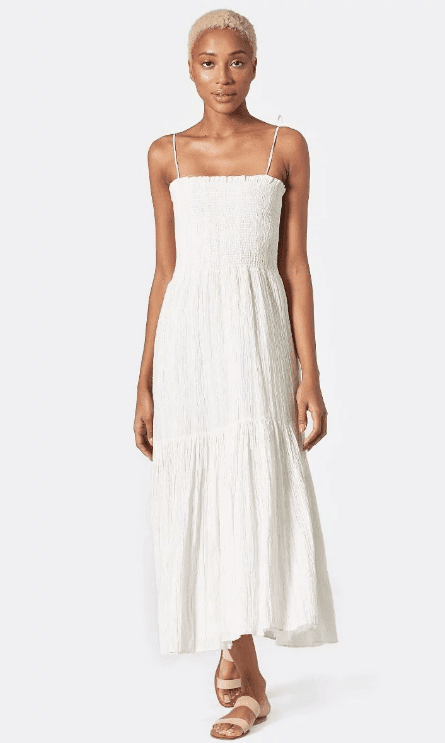 Here is the Neiman Marcus Juliet pleated gown for $142.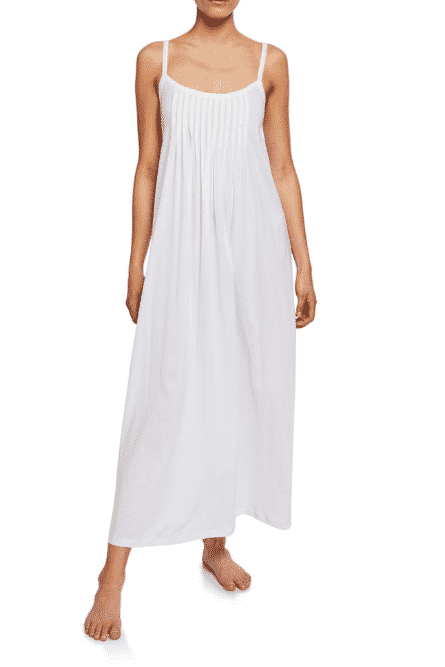 source
And a cute mini option is the Dlaney Mini Dress by Princess Polly. This little frock goes for $38.50.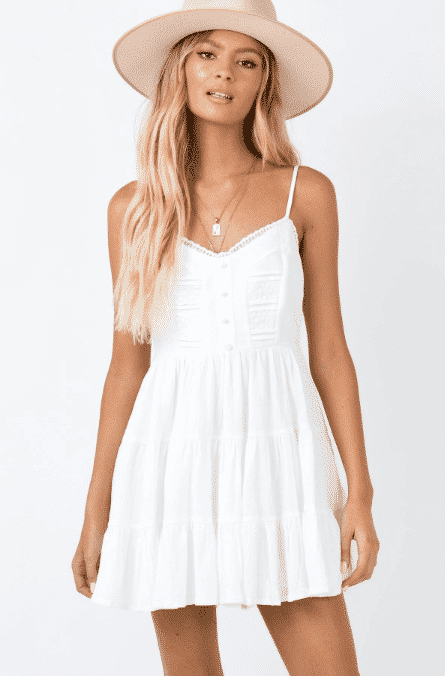 ↓ 8 – Victorian French Style Nap Dress
The Victorian French Style Floral Nap Dress is an absolutely darling take on this trend and can be found on Etsy for $48.75. From its lace detailing to its exquisite little row of buttons and tailored waist, this nightgown/nap dress can be worn around the house, to sleep in, or if you're feeling particularly whimsical, frolicking in your favorite nearby meadow.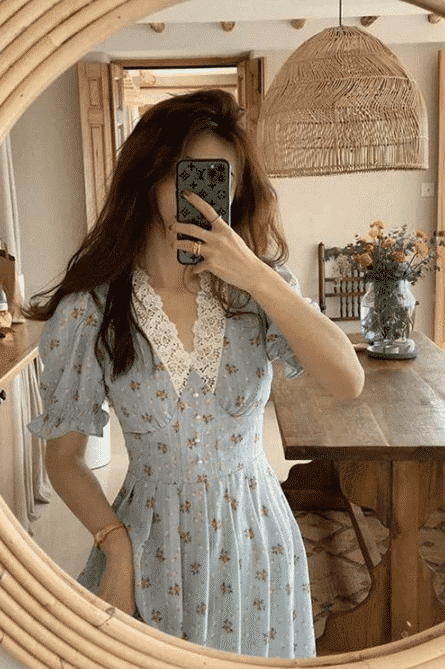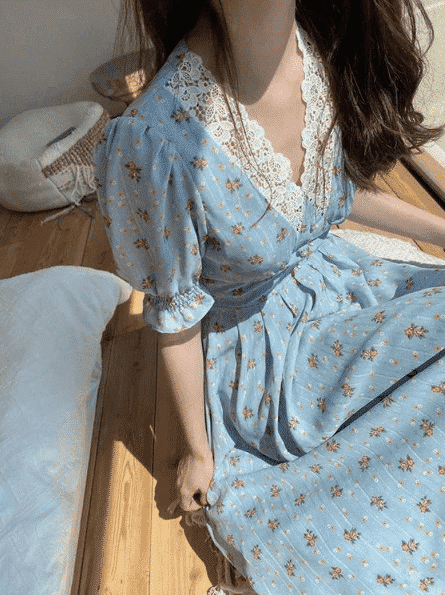 ↓ 7 – The Nesli Nap Dress
Hill House Home did it again, this time with the $100 Nesli Dress, a puffed sleeve frock that has our hearts pitter-pattering. From its ruched bodice to its midi length, this elegant dress will make all your nap dress dreams come true.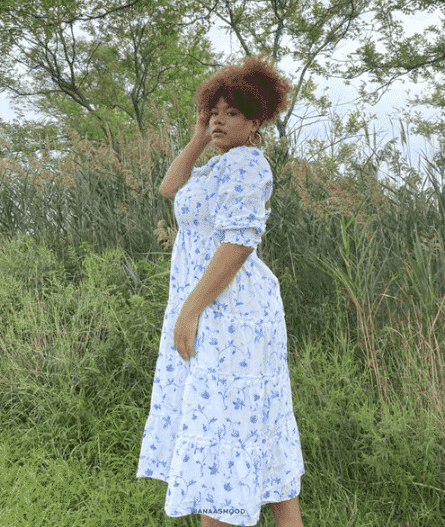 ↓ 6 – Ruffled Nap Dress & Cardigan
It is a truth universally acknowledged that the original Hill House nap dress is not as budget-friendly as one Elizabeth Bennet wannabe would *ahem* prefer. Luckily for us penny-pinchers, there is an option by H&M that does the job nicely.
Take your own smocked frock home for just $59 and pair it up with a soft knit cardigan and Greece slides for a day look we can't help but think our grandmas would admire!
↓ 5 – Budget-Friendly Nap Dress
Prices like these can't help but make our thrifty hearts sing. If you love the nap dress trend and have been wanting to try it, this super affordable option is the one for you! It is a looser, baggier option and can easily be dressed up for a grocery run, coffee with friends, or just a walk around the neighborhood.
You can pair this cute frock with a cardigan sweater or a light jacket or coat. For shoes, you can do a street style look by pairing it with some Doc Martens or chunky white sneakers or just some simple ballet flats. The sky is the limit so have fun with it.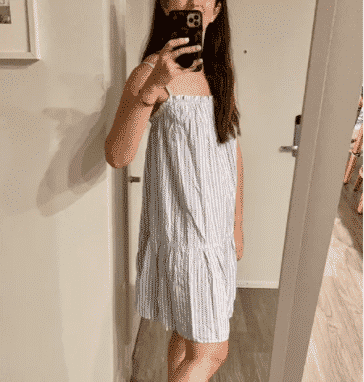 ↓ 4 – Off-the-Shoulder Smocked Nap Dress
And all the penny-pinchers said holla! This SheIn smocked midi dress has us ooh-la-la-ing for days. While this dress is undoubtedly cheaper and of lower quality than it's fellow nap dressing frocks, it is a great option for the gal who knows how to make the most of her simple finds.
From its dreamy long sleeves to its ruched waist, there is a lot to love about this take. Napping in it would make all your Victorian ghost dreams come true. And wearing it out and about will have you feeling like a 1500s peasant out to get her bread… with 2020 taste, that is. Pair it up with a straw purse, cute sunglasses, and some simple sandals or flats to tie the look together.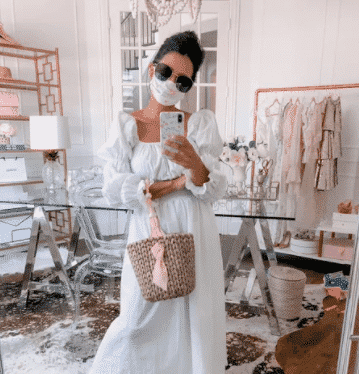 ↓ 3 – Free People All Eyes On You Midi Dress
Now, this is a dress we like to think even Jane Austen would wear, were she suddenly thrust (much to her misfortune) into the 2020 era. Here we have Free People's All Eyes On You Midi Dress for $98.
It's length, low round neckline, and the embroidered bodice has our hearts singing. You don't even need to accessorize this look. Go bare-faced and barefoot if you like… who's judging anyway?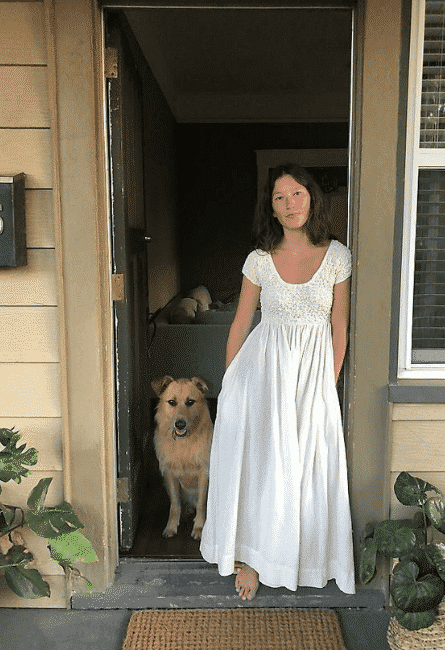 ↓ 2 – Puff Sleeve Babydoll Dress
We did promise to show some examples of how to wear the nap dress out and about (for running errands, going to church, attending a birthday party, that sort of thing) and here it is.
First of all, we have the breathtaking baby blue shade of this dress. It brings to mind the beauties of spring and summer, May flowers and summer showers… all the lovely things.
Then there are the puffed sleeves, the tiered skirt, and the little row of buttons that go all the way up to the neck. Darling! Pair with a fedora hat and beige ankle booties.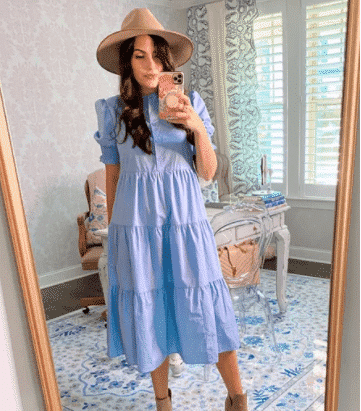 ↓ 1 – Linen Adelaide Dress
There is something so enchanting about a long, loose dress floating around the ankles. After all, we like to think that was the original idea behind the nap dress… not that anyone's asking, but still. This linen dress is all our dreams come true.
Floaty, forgiving, whimsical… you name it, and this dress is probably it. From cuddling with a babe in the nursery to visiting your favorite local farmer's market, this frock will have you feeling feminine, comfortable, and even a little chic.
We love the idea of pairing it with a pretty hat. Try sandals as well or little slip-on shoes if you must brave the great outdoors!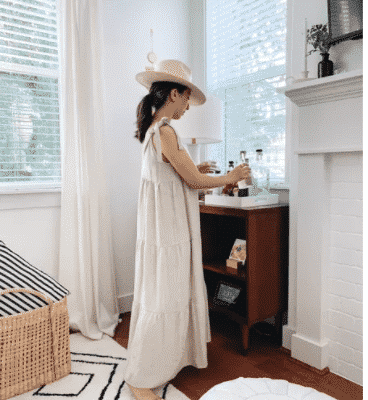 Frequently Asked Questions
Here are all your questions about the nap dress trend answered. Enjoy!
Q.

What is a nap dress?
A. A nap dress is a cross between a nightgown and a dress. It has a distinct housedress feel to it, but this isn't the shapeless kaftan your mom wore to get the newspaper from the front porch. It tends to have some type of structure, whether it's an empire waistline, a fitted bodice, or a tiered skirt. It's typically made of soft, breathable fabric and can be worn to sleep in or wear out like a regular dress. Nap Dress is a name coined and trademarked by Hill House Home and their ruffled sleeve and ruched bodice dress (as seen in outfit #10) went viral earlier this year.
Q.

Where can I buy a nap dress?
A. To buy the original Nap Dress, visit the Hill House Home website to view their nap dress shop. They have a variety of picks to choose from. Have another scroll through this article to find other options as well.
Q.

How to wear a nap dress?
A. A nap dress can be worn to bed, to breakfast, and beyond. You can dress it up for church or wear it around the house. A nap dress looks best when it's simple, elegant design is honored, so there's no need to feel like you have to go crazy with accessories. (But you totally could, if that floats your boat! You do you, friends.) A simple pair of shoes and some type of cover-up (a jacket, a cardigan, even a blazer!) are all you really need.
Q.

When did the nap dress trend start?
A. While the nap dress has been around since 2018, the dress really came into its own this year. And it's no wonder. Lolling about the house with nothing else to do but work, sleep, and fret, it's easy to imagine that we were all starting to feel a little bit like Victorian maidens. (Just us?) The Nap Dress began to pick up steam on Instagram and before you knew it, it's all we could see anywhere. And now you're here and we are here and nobody's mad about it!
We hope you found this article helpful and we're looking forward to hearing your thoughts in the comments below. Had you ever heard of the nap dress? Do you love them as much as us? Which one is your favorite? We love hearing from you!