Bamboo bag outfits. We see them at the beach and pool, structured wooden-looking purses in various shapes, usually round or a half-moon. Now, big designer labels and brands like Yves Saint Laurent are giving them distinction by making them into luxurious fashion pieces.
What are bamboo bags anyway? They are bags and they are made of bamboo, that much is evident. But how did this quirky trend rise to the level of coveted handbag, practically overnight? Well, they have actually been around a lot longer than Instagram would have us know.
Bamboo handbags (also known as birdcage bags) have been around since the 1950s. You can even track down some of the old, vintage bags themselves if you know where to look. In the last few years, brands like Cult Gaia and Vintga reintroduced the bag in a way that felt modern and utterly trendy… and now, we see Gucci and Yves Saint Laurent – among others – adding their own glamorous touch to the item.
No longer just a beach bag trend, these ultra-stylish pieces add major chic points to any look, from casual summer-wear to elegant wedding attire. And in today's post, we will show you 20 ways you can style the bag, as well as tips on where to find your own. Let's get started!
Types of Bamboo Bags
Here are some of the most popular bamboo bags you can check out for yourself!
The Vintga Bag. The most recognizable bamboo bag comes in a half-moon or fan shape. Get the Vintga version for just $37.97.
The Cult Gaia Bag. Cult Gaia is known for a couple of their bamboo bags, specifically this round version. You can get it for CHF182.99.
The Other Cult Gaia Bag. Their classic bamboo Ark bag made waves back in 2017. Lucky for us, it's still a hot item!
The Miuco Bag. This slightly darker 100% bamboo version is very similar to the Vintage and costs about the same.
Another Miuco. This particular version features round handles and is a teensy bit more expensive at $45.99.
Bamboo bags are a popular find on Etsy as well as Amazon so if you haven't found your winner yet, just keep looking! You can get a handmade bamboo bag for a super reasonable price, and they come in a variety of colors too.
How to Style a Bamboo Bag?
When it comes to styling a great bamboo bag, you might feel a little stumped. After all, it's such a distinctive accessory. How do you let it shine and what do you wear it with? Is it just a beach bag? Not to worry, friend. We will answer all these questions and more with these gorgeous outfit picks, showing you just how to style a bamboo bag so you can rock it with confidence. Let's get started!
#20. With Lace Top & Striped Pants
If you love the super birdcage style (that's what we are calling this particular take on the bamboo bag) then you will love the way this gal styled it. This casual-chic look is perfect for brunch dates, charity lunches, and weekend adventures. An eyelet top paired with wide-legged striped pants is not only comfortable but super stylish! Add some statement earrings, oversized sunglasses, and some metallic mules to tie the whole thing together. If you like this look, you must check out my previous post on Striped Suits for Women.
#19. Pretty for Spring Weather
There are really quite a lot of options out there in the bamboo bag realm. Check out this version that features an oversized beaded strap and a smaller design and shape than the typical birdcage style. We love this cheerful spring look made up of a floral dress and nude heels. Plus some bold white sunnies that will tie the whole look together!
#18. With Floral Dress & Sandals
When in doubt, stick to a classic summer or spring look: a floral dress and sandals won't let you down. This color scheme is also perfect for hot days, keeping you feeling fresh and cool no matter how much the temperature rises. Add a cute fedora and your trusty bag and you are a walking wonderland of style and beauty!
#17. With a Cold-Shoulder Top
If your everyday outfit needs a little extra something, add some statement earrings and a bamboo clutch: we promise you won't regret it. A bright yellow top is a perfect way to bring some sunshine into your day; pair it up with jeans for a comfy outfit you can rock with heels or with flats. Target won't know what hit it when you walk in there, strutting your stuff!
#16. Minimalist Style
If you love a minimalistic-style look, check out this one. It's simple but very stylish. Start with a pinstriped button-down and roll the sleeves up to your elbows. Tie a small scarf around your neck and pop on your favorite jeans. You can then add a pair of heels in the color of your choosing, some round sunglasses, and the classic bamboo bag. This everyday ensemble takes minutes to put together but you will feel like a million bucks all day long.
#15. With Bright Colors
If you are a lover of bright colors, then this is the outfit for you! You can wear this outfit any time you are needing a pick-me-up (bright colors can be seriously mood-boosting) and want to feel girlish, stylish, and bright. Simply tuck your favorite colored tee into a shiny, pleated skirt and add gold metallic heels. Some vintage-style white sunglasses and a green bamboo bag will tie this irresistible outfit together.
#14. With Duster Cardigan
We love the versatility of the bamboo bag and all the ways you can rock it. Here's a lady sporting it like nobody's business, pairing it up with a simple black top, patterned pants, heels, and a long duster-style cardigan. Add a couple of long necklaces, a pair of shades, and you, lady, are ready to enjoy those gorgeous warm-weather days in style.
#13. With Colorful Top & Tiered Skirt
How fantastic is this outfit? From that floral halter top (so perfect for spring) to that sky-blue tiered skirt, you just can't help but fall in love with an ensemble like this. Wear it to a summer lunch date, for a spring weekend look, or to a beach party.
#12. With Button-down Top & Shorts
These summer looks keep serving and we are here for it! Here's another fantastic summer (or spring!) outfit we love. Super simple, super stylish: just the way it should be. Simply pair a thin button-down tie-front shirt (opt for linen or cotton) and pair with some striped linen shorts. Lastly, some heels bring the look up a notch as does that fabulous bag! You should also check out these Fresh Outfits With White Shirts.
Shop the look at the links below:
White button-down tie-front top $29.85
Striped linen shorts (similar) $19.99
Platform wedges (similar) $43.98
#11. With an Off-the-Shoulder Top & Jeans
Upgrade any casual outfit with this one simple accessory… yeah, you already know what it is: that pretty little fan-shaped clutch. You can take a basic outfit to wow in seconds with the addition of this bad boy. We love this warm-weather look that won't let you down whether you are headed to a casual party, hanging out with friends, or just running errands. Gosh, we just love all the ways you can rock this bag! For more ideas like these, have a look at these ideas on What to Wear With Cold Shoulder Tops.
#10. With a Cardigan & Skirt
Whether you are in need of a work-from-home outfit or you just love incorporating elegant-chic looks into your everyday attire, this is the ensemble for you. Start with a simple v-neck blouse and tuck into a black skirt of your choice. Add a long chain necklace and a cardigan. Finally, tie the look together with your bamboo bag. You can wear pretty much any shoe with this outfit, from booties to sandals to heels to little white sneakers.
#9. With a Scarf & Wrap Top
To add a chic touch to your bamboo bag, slide a small scarf through the handle and gently knot it, letting the long pieces hang over the side. This is a great way to add a pop of color to your outfit, especially if it's a neutral one. Plus, it's a simple way to disguise the contents of your bag as well.
#8. With a Skirt & Graphic Tee
A less common birdcage-style bag is the black bamboo bag. It brings a new vibe to the look and we dig it! Plus, we just love the edgy combo of a graphic tee with a skirt and heels. Be sure to tuck your top in, add some statement earrings, and you are ready for whatever the day can throw at you (even a day in 2021, which is only marginally better than what 2020 days threw at us).
#7. With a Jumpsuit
Another way you can style a bamboo bag outfit is by pairing it with a jumpsuit of your choosing. So whether you like a cute black-and-white stripe or you prefer a solid color or going all neutral, a jumpsuit is a practical alternative to a dress or even a blouse and pants look. Add some contrasting colored earrings, a cute makeup look, and either sandals or heels to complete the look. And to complete your look, here are the best Shoes To Wear With Jumpsuits.
#6. Casual Work & Weekend Look
From casual workdays to weekend errands, brunch dates, and more, this stylish outfit is perfect. Pop on your favorite white tee and tuck into a pair of ankle-length high-waist jeans. Two-toned block heels, a bamboo bag, and a cute scarf tied around the neck bring the whole look together.
Shop the look here:
Chunky heel two-toned pumps $59.99
#5. Date Night Look
A mini bamboo bag is less common which makes it all the more unique and fun to style! This maxi dress goes from casual to glam with the addition of this single accessory. Add some Aviator sunglasses, some strappy heels, and a swipe of Barbie pink lipstick and you are ready to take on pretty much any event.
#4. With a Dress & Sun Hat
A straw hat is a perfect accessory to pair up with your bamboo bag. Not only are they similar in coloring, but they bring a boho-style vibe to any look. We love this particular combination that is perfect for a date, a party, traveling or visiting a new city. Go for a glam makeup look, black sunglasses, and a sweetheart neckline dress that adds that perfect touch of adorableness.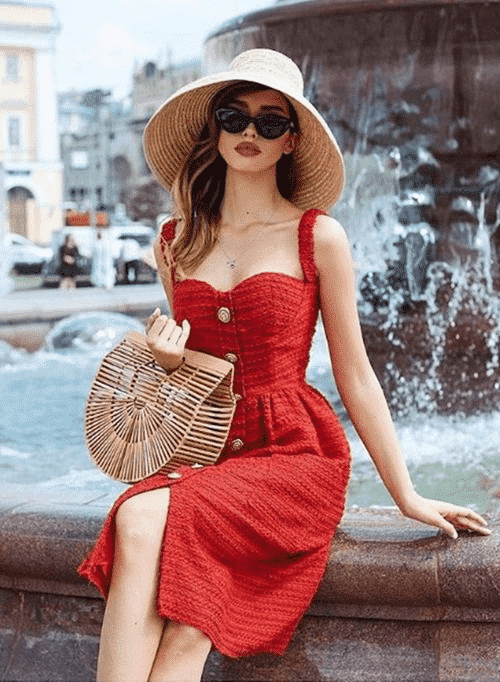 #3. Stylish Vacation Outfit
If you want to bring any vacation look to the next level, a bamboo bag is a great way to do it. Not only is it super trendy and chic, but it's practical too! Stash your sunscreen, a map of the city you are visiting, your makeup bag, and your phone in this all-in-one bag, plus whatever else you need! Its roominess is definitely one of its perks. And remember, if you are worried about things falling through the slats or just don't want certain items to be visible, most bamboo bags come with a separate lined bag that you can stash inside.
#2. Summer Party Attire
Heading to a summer party? When it comes to the perfect look, we have you covered! This super cute dress and sandal combination is a total winner. All you need are the right finishing touches. A tie-front, cutout dress doesn't need much to bring the wow factor. Simply add some colorful statement earrings and accessorize with – you guessed it – the birdcage bag!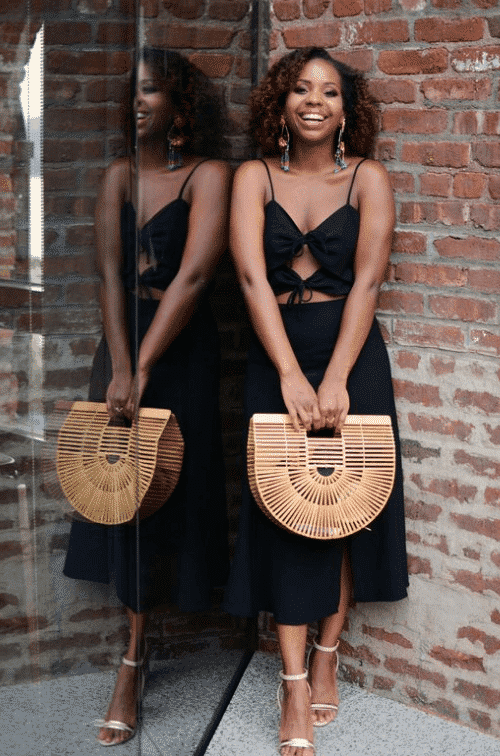 #1. Crochet Dress & Lace-up Sandals
For a totally classic and super stylish beach and pool party look, this ensemble takes the cake. Ditch your usual swimsuit cover-up in favor of a mini crochet dress, worn over your favorite bathing suit. Add some special touches like a wide-brimmed sun hat, some lace-up sandals, and a pair of stylish shades. Last but definitely not least is your bamboo bag where you can stash your sunscreen, a book, or a makeup bag!
Shop the look:
Crochet dress (similar) $17.99
Bamboo bag $63.99
Madewell boardwalk lace-up sandals $59.50
Do you have questions about the bamboo bag and how to rock it? Feel free to let us know in the comments below. We hope you loved these outfits as much as we did and are feeling ready to take on this not-so-new trend in a way that feels fresh and fun and most importantly, like you!
R.H. Elias is a freelance writer, aspiring author, and freelance transcriptionist. She is a homebody all the way and loves curling up on a cold, rainy day with a good book and a warm cup of tea. Her favourite pastimes include reading, writing, and watching period films. She currently lives in Puerto Rico.