How To Wear Sherpa Jackets: Is winter your favourite season, and do you enjoy trying new winter clothing styles? Then here is the time to take out all of your trendiest winter clothes that you've been collecting in your closet. This winter, you choose to wear clothes that will keep you warm while also looking fashionable on you. There are multiple winter clothing ideas that a woman can wear to look super trendy while staying warm in the winter season. Long winter coats, sweatshirts, turtlenecks, and various jackets, including Sherpa jackets, are popular these days. Sherpa jackets are the warmest and most comfortable jackets you should have in your closet. These jackets can match every outfit and can be worn in plenty of different ways. It's also a benefit that ladies of all ages may wear these jackets because they look great on everyone. This article will teach you how to style Sherpa Jackets in different stylish ways.
Outfits To Wear With Sherpa Jackets
Sherpa fleece jackets go nicely with both casual and formal outfits. These coats may be worn to the office or as a party outfit and can make you look flawless. While wearing these stylish jackets, you may dress in different chic ways. Before we get into what to wear with Sherpa jackets, there are a few styling tips and tricks you should be aware of and include in your styling.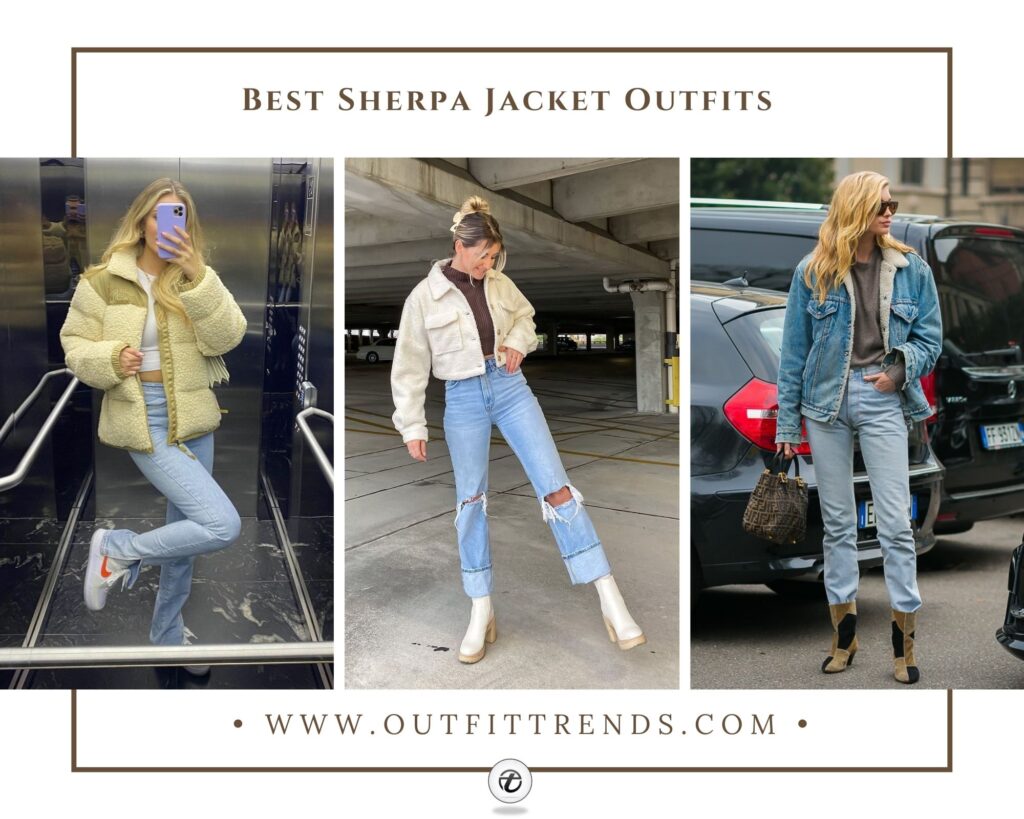 Tips On Styling Sherpa Jackets
Avoid washing your sherpa jackets in a washing machine as this might damage them; instead, dry clean them and try to keep them out of the rain.
Oversized sherpa jackets may not look good on all body types. Choose the most appropriate size for you that will make you look attractive.
If you are purchasing a multicolored sherpa jacket, choose the proper and accurate color for you based on your personality.
If you want to go for a casual style with these jackets, keep your accessories to a minimum, and make your look perfect.
Choose the right shoe for your sherpa jacket outfit. An incorrect shoe choice might spoil your entire appearance. Stick to black doc martens or heels.
Wear various jeans with denim sherpa jackets. You may even experiment with colors by wearing colored jeans to make your outfit stand out.
23 – The Denim Look
Sherpa Jackets exist in different styles, but the most popular is the denim Sherpa. These coats can be paired up with almost any outfit. If you enjoy wearing denim, this outfit is for you. Wear a basic shirt in any colour you like with a denim Sherpa layered over it. Combine it with denim jeans and a stylish pair of boots. You may finish your look with a beautiful purse that matches your footwear.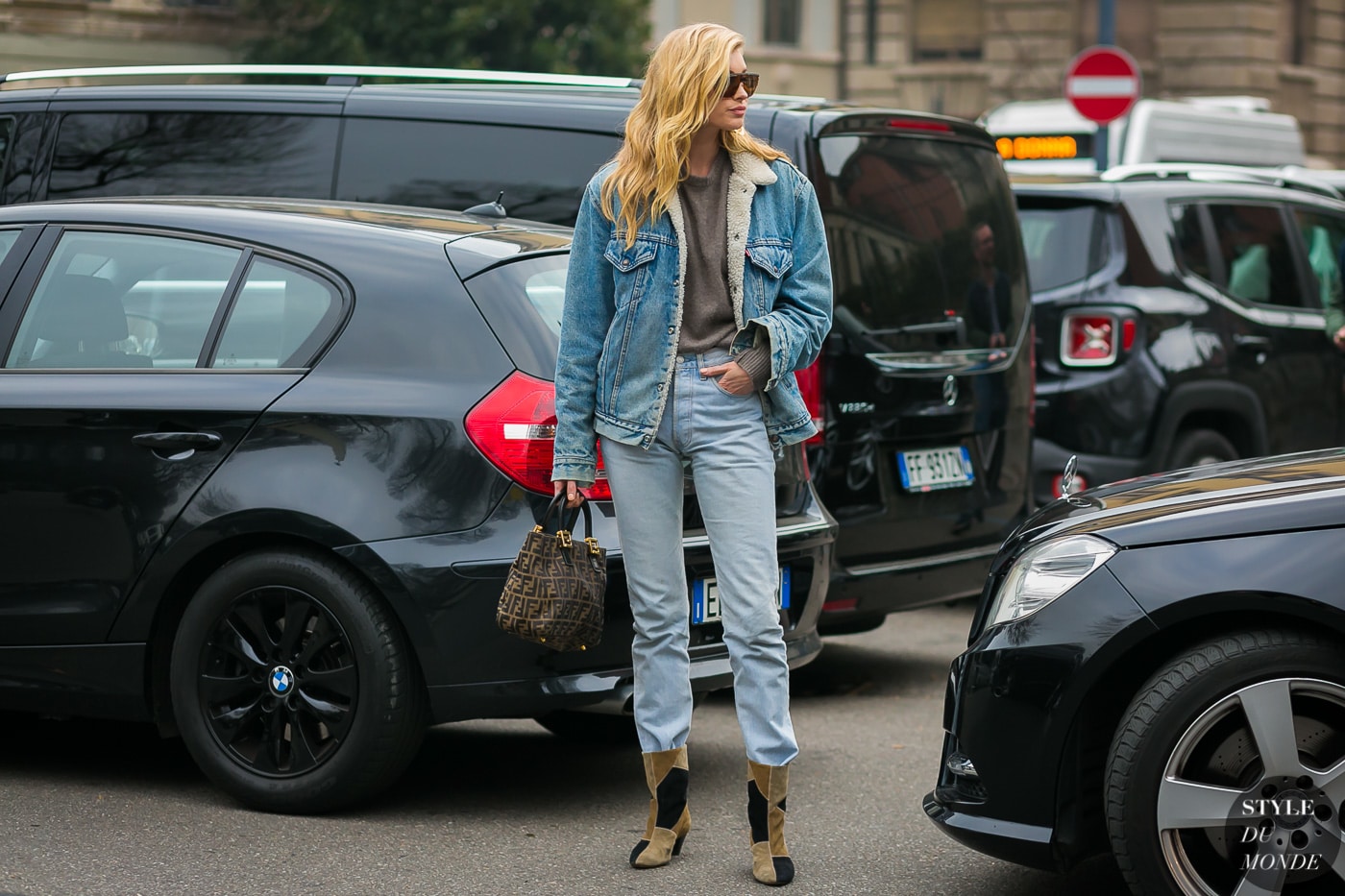 22 – Black Sherpa Jacket Outfit
Sherpa Jackets in black are available in addition to denim. Black looks just as good as denim. Perhaps you could argue that black Sherpa looks better than denim or any other colour. You can pair these cool black jackets with a beige turtleneck or another tee of your choice. This beige top will make your black jacket look more appealing. Wear black jeans to complete the all-black ensemble. Take a black bag that will complement your outfit and pair it with leopard print boots that contrast with your shirt. Your blonde hair will complement your appearance, and you will be ready to go.
21 – The Cozy Winter Outfit
If you have a Sherpa jacket in your wardrobe, you can create a cosy winter outfit look. Wear your sherpa jacket and pair it up with a plain inner in any colour you want. Wear this stunning jacket with blue tights to add a pop of colour. Wear some heavy leather boots with this outfit and a cute wool hat to complete the cosy vibes.
20 – Long Sherpa Coat
If you enjoy wearing long coats in the winter season, check out this long Sherpa coat. Add this lovely full-length Sherpa coat to your wardrobe because it will become your go-to piece from now on. Put on a plain white cropped top or tee with some funky colourful pants because these two will make a great combo. Wear your lovely long Sherpa coat over it. Add a stylish hot red bag to your outfit to add some more colours, and wear some classy studs into your ear, and your look is complete.
19 – What To Wear To A Party?
Who says you can not wear a jacket with a dress? Here is an example of how to wear Sherpa Jackets with a dress. Wear your pretty dress in any colour you want and layer it with a plain Sherpa jacket. There is no need to go overboard with your outfit; just the necessities will suffice. Add a pretty crossbody bag with your attire to make your look more visually appealing. Finally, pair your dress with some pretty high heels, and you are ready to rock the party. This outfit will look great on you, and the Sherpa jacket will keep you warm, making it ideal for winter parties.
18 – Short Sherpa Coat With A Bucket Hat
By uniquely styling your outfit, you can express your creativity. By adding a few items to your look, you can make a simple attire stand out. Here is an example: you can dress up your plain Sherpa jacket by wearing it uniquely. Wear one of your printed sweaters with a pair of matching pants and a Sherpa coat over it. Wear a stylish pair of shoes and a bucket hat that complements your outfit to make it look attractive.
17 – It's Sherpa Season
It is Sherpa season, which means it is winter. Now is the time to put on your Sherpa jacket. If you are not aware of how to wear Sherpa Jackets, have a look at this lovely Sherpa season attire. Underneath your sherpa faux fur jacket, layer any sweatshirt. Wear ripped jeans at the bottom and contrast your outfit with a pair of cool boots. You have the option of keeping your jacket front open or closed. You can dress it in whatever way you like depending on the weather condition and your personal choices.
16 – Sherpa Lined Flannel Jacket
Sherpa jackets, as previously stated, come in a range of designs and patterns, and the lined flannel Sherpa is one of them. These lovely jackets are available for purchase at many brands and may be worn anywhere, including shopping and universities. Wear it with plain or ripped jeans, as desired. It is up to you whether you want to wear it as a t-shirt or an upper. A little hair styling can make you look elegant and beautiful.
15 – With A Matching Hat
Sherpa jackets are also available in a set with a matching hat. You may get these lovely Sherpa fuzzy fleece hoodies, which come with a matching hat. These hoodies are suitable for women of all ages.
14 – The One That Everyone Will Love!
The year 2022 is all about fashionable clothing, and every lady enjoys putting up new and trendy outfits. Try this pretty 2022 outfit with Sherpa cropped tops. Wear your lovely Sherpa top over a warm cropped shirt as an inner top and, wear your jacket with ripped ankle rolled-up jeans. These jeans will level up your outfit, and finish off by wearing a lovely pair of block heel boots that match your coats.
13 – Pink Is My Favourite
Pink is a favourite colour for most ladies, and they prefer to wear it on special occasions. If today is your birthday and you want to wear pink, here is a suggestion. This birthday, wear your pink Sherpa jacket. Combine a plain white t-shirt with a pink Sherpa coat and denim pants for a classy look. Let your hair be free and apply some makeup, and you are ready for your birthday celebration.
12 – For A Coffee Date
Are you wondering what to wear for a coffee date? Then you do not have to worry because we have the perfect outfit for you. Wear a plain white tee and a red and black check Sherpa jacket. Wear your coat with stylish mom jeans. Put on some cool sneakers to complete your look. And do not forget to carry a denim bag to go with your outfit. Your coffee shop outfit is ready.
11 – The Wishing Star Outfit
You can also get this lovely sherpa coat with stars printed on it and can add it to your daily wear. Put a simple top inside this shining star sherpa. Combine it with a pair of basic jeans and, you will be ready to shine like a star. These coats are available in various colors to match your choices.
10 – Peachy Orange
Ladies enjoy experimenting with different hues, and orange is one of them. It is a colour created for women and looks great on women of all ages and skin tones. Put on a pair of basic black pants and a black shirt. Over your clothing, put on an orange sherpa jacket. You are ready to go once you add a stunning watch and some sparkling lip gloss to your ensemble.
9 – When To Wear A Sherpa Sweatshirt?
This sherpa sweatshirt is ideal for those who avoid wearing uppers or coats and for travel lovers. Wear your sweater with black jeans and a pair of matching sports joggers. Wear a plain black cap that fits well with your jeans. You are all set to embark on your journey and explore the forests. This costume will make you feel at ease, allowing you to enjoy your trip as well as the weather.
8 – All White Outfit
Do you have a sherpa jacket in white? Then we have got the ideal outfit for you to create with your white sherpa topcoat. Wear white trousers and a basic white top, wear your top and pants with your Nike fleece sherpa jacket. Wear white sneakers and a beautiful white purse to complete the white vibes in your appearance. And now you are ready to go. This outfit is appropriate for New Year's Eve party or even for dinner with friends.
7 – The Airport Look
You are on your way to the airport and can not decide what to wear? Do not worry your sherpa-cropped jacket will deal with the situation. Wear a plain black cropped blouse with a pair of black pants to complete the look and, put on your trendy sherpa jacket. Wear black and white sneakers to contrast with the clothing and add stylish sunglasses to complete the look. Take your bag and luggage and, you are now ready with the perfect outfit to catch your flight.
6 – With A Crop Top
Cropped tops are popular right now, and we all women love to wear them. Combine a simple white crop top with a lovely lemon yellow faux sherpa jacket. Wear it with a pair of sky blue jeans and stylish Nike shoes.
5 – For Plus Size Women
You may wear these lovely sherpa coats no matter what size you are. Wear your simple grey top with your plain black pants. Wear an oversized black, grey, and white checkered sherpa jacket over it. And you are all set to go.
via
4 – For Women Over 50
Sherpa coats are also available for ladies over the age of 50. Wear a gorgeous beige sherpa jacket as a shirt or top, whatever you want. Then layer it with denim jeans and finish the look with a pair of elegant leather boots. And now you are ready to go.
3 – The Leopard Print Sherpa Jacket
Leopard print is popular nowadays, and sherpa jackets are available in this print. Wear it with a basic white shirt and blue denim jeans, add a fancy belt to your jeans to make them appear more attractive. Complement your outfit with a pair of chic black boots. And your leopard print sherpa attire is complete.
via
2 – With A Long Frock
Wear a denim sherpa jacket over your pretty long frock. Make your hair look nice with some styling, and wear some good-quality leather boots. A basic outfit with a sherpa denim jacket is ready.
1 – With Red Trousers
Have you ever tried a jacket with brightly coloured pants? If you are not, you should try it now. Put on a basic white shirt and bright red trousers. Wear a denim sherpa over the shirt. Wear some elegant brown block heel shoes to complete your Sherpa with a trouser look.
Frequently Asked Questions
Q. Are Sherpa jackets warm enough for winters?
Ans. Sherpa jackets are ideal for the winter since they keep you warm while also looking good on you and can be paired with a variety of stylish jeans and tops such as cold shoulder tops.
Q. Are Sherpa jackets trendy in 2022?
Ans. Sherpa jackets have been the hottest trend in 2021 and will continue to do so. Many brands have introduced sherpa jackets in varieties of new designs, patterns, and colours that we can own and wear in different stylish ways.
Q. How do you wear a Sherpa jacket?
Ans. A Sherpa jacket can use in a variety of ways. You can wear it as a shirt or as a layering piece over your favourite tops. You may wear it with a variety of jeans and even trousers.