Beach family photoshoot outfit ideas: A family photoshoot is something that is very important to us and we make sure we have at least one in our lifetime. Most families like to make their photoshoot memorable by wearing different outfits or by dressing up in matching or themed outfits. Some like to keep it simple and focus on the product. To each their own. Either way, family photoshoots are considered very valuable because they are memories for a lifetime.
So if you ever decide to have a family photo shoot on the beach then this article is what you will need. This article will provide you with 20 of the best beach outfits that you can choose from. There are a lot of different outfits to choose from. Whether you are a family of six, four, or two, or if you like lighter colors or darker colors there are outfits for all in this article. Make your photoshoot memorable by picking the best outfit.
What to Wear for a Family Beach Photoshoot?
It is very important to pack the right things for a day at the beach. Make sure you keep sunscreen in your bag along with a big bottle of water. Water will be your best friend. Pack lunch for yourself and your family because you never know when someone will get hungry and that could really delay your photoshoot. Keep extra clothes in case yours or someone else's are ruined and just make sure to enjoy the photoshoot.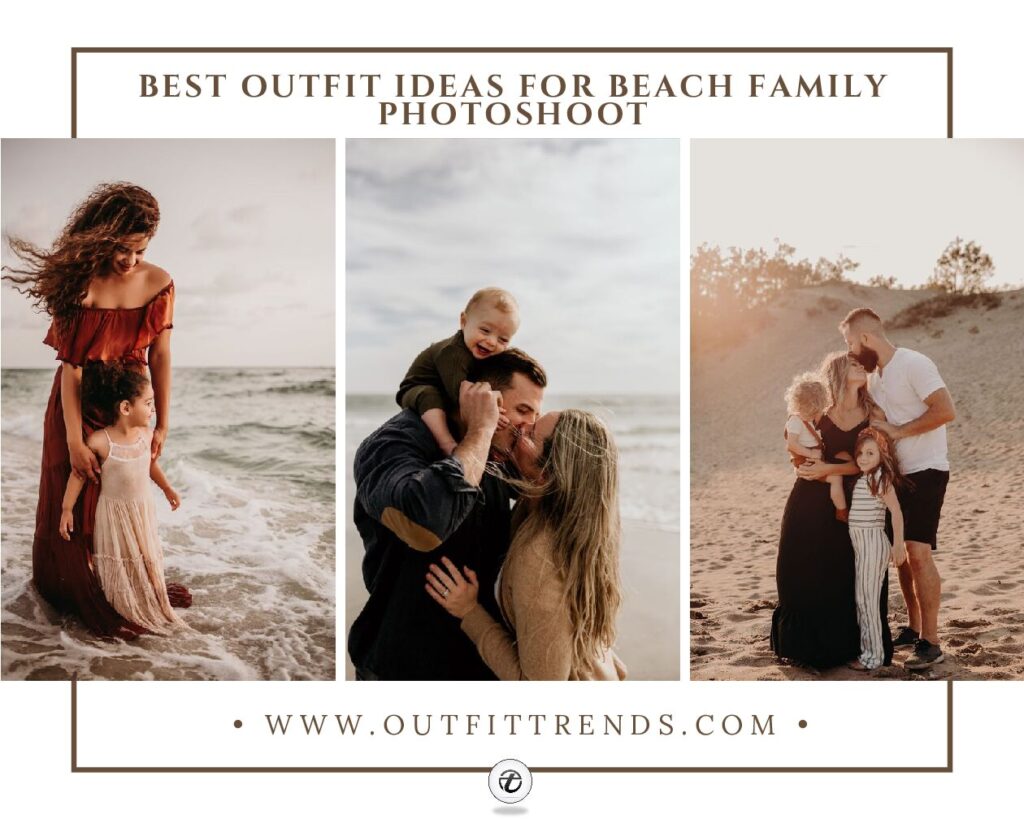 DOS AND DONTS FOR BEACH PHOTOSHOOTS
• DO drink a lot of water.
• DO stay calm.
• DO enjoy the moment.
• DONT get distracted.
• DONT delay the photoshoot, get it over with as soon as you can.
• DONT choose an outfit you're not comfortable in.
↓ 20 – A White Sundress
This mother-daughter outfit is making us cry. This is super duper cute, the daughter is wearing a beige net dress while the mother is wearing a white sundress. Her sundress has very unique detail, on the top, it has a zebra print but in white, and below that it has net designing which looks extremely stunning for a beach photoshoot outfit. This dress can be worn with bright-colored jewelry to make it stand out. Here are 110 Cutest Matching Mother Daughter Outfits On The Internet.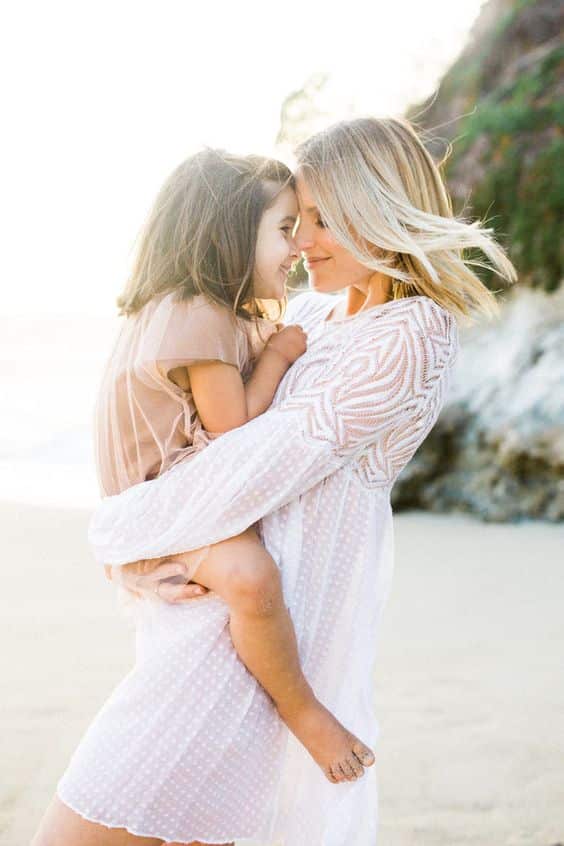 ↓ 19 – Contrast Of Brown, Blue, And White
This cute little family is dressed in a simple yet stunning outfit for their photoshoot. The mother is wearing a simple brown jumpsuit with a white t-shirt underneath and the father is wearing a black shirt with white detail and denim jeans. The baby is also dressed in a white shirt and brown jeans. The contrast of white and brown looks great and brings it all together.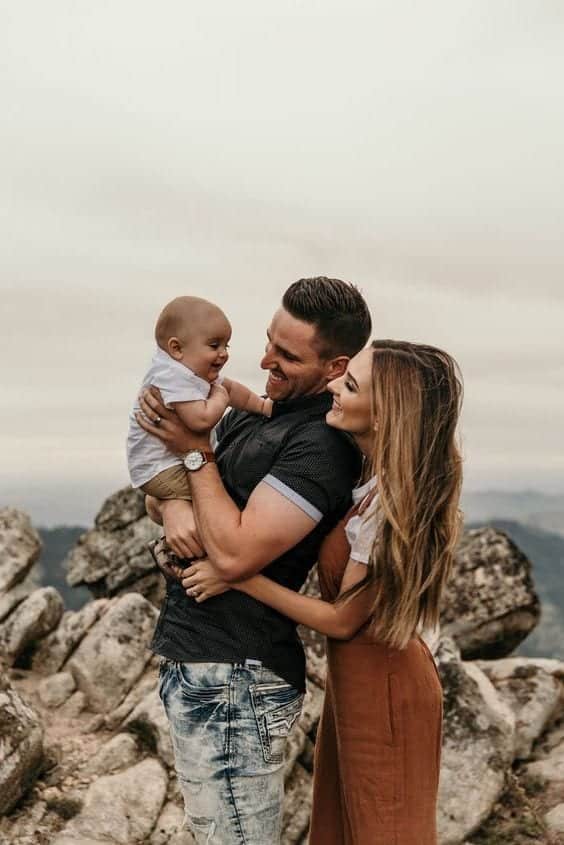 ↓ 18 – How To Style Lighter Colors
This family looks great in their cool-toned outfit. The mother is wearing a plain white stunning sundress which looks so good on her by the way! The baby is also dressed in white and the father is wearing a pastel pink t-shirt with grey shorts. Lighter colors are perfect for the summertime because they look good and feel good too! This family has kept their outfits super simple and if you are somebody that likes simple then you should try this one. Here are some of our favorite pastel-colored outfits for women and for men.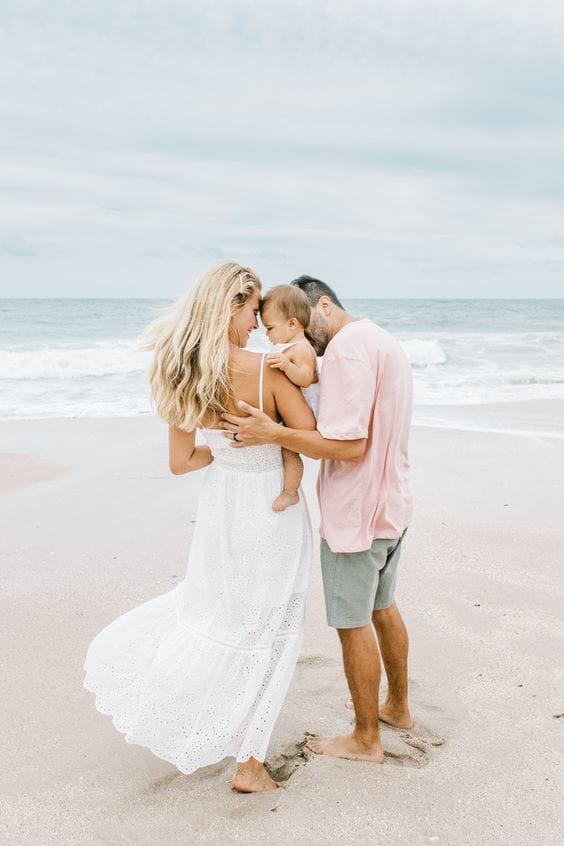 ↓ 17 – All White Outfit
This family looks so chic in their white outfits. White is always a great choice because it looks good no matter what so if you cant pick a color just go for white! The mother is wearing a gorgeous off shoulder white dress with a sunhat while the father wears a peach shirt with white ripped jeans. The baby is wearing a peach and white striped shirt and shorts set with a cute little white bandana.
↓ 16 – Black And White Combination
This black and white color coordinated outfit looks great! The mother is wearing a full length black dress white the father is wearing a white t shirt with black shorts. The baby girl is dressed in a striped jumpsuit and an orange bandana. The toddler is wearing a white shirt with brown dungarees.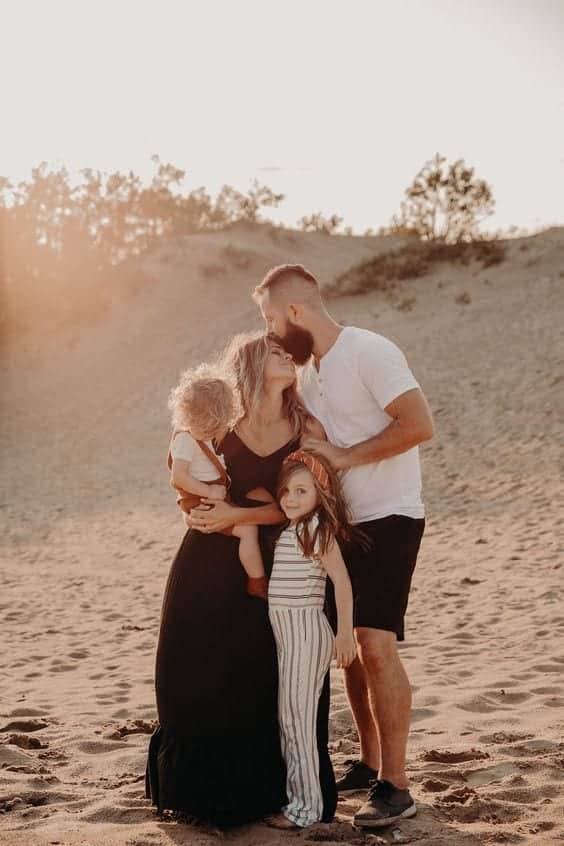 ↓ 15 – White Is Your Bestfriend
The mother is wearing a floral white off shoulder sundress and the father is also wearing a white t-shirt with brown shorts. The baby girl is wearing the cutest pink dress. They all look super cute in their outfits.
via
↓ 14 – What To Wear With Blue for a Family Beach Photoshoot
This family found the easiest way to incorporate blue into their outfits. The father wore a blue shirt with brown pants and the mother wore a blue net long skirt with a white dress. The baby is dressed in a striped beige romper which looks super cute!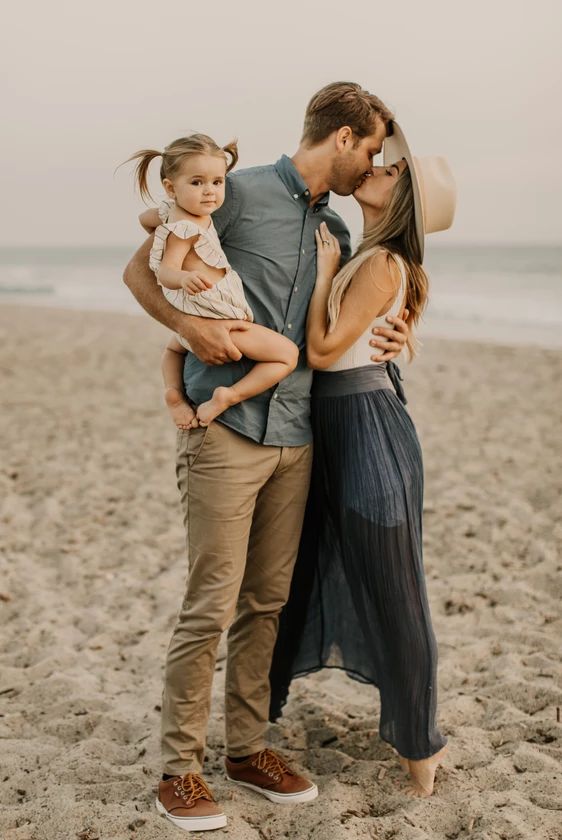 ↓ 13 – Keeping It Simple
This family looks elegant as ever! Both the babies are dressed in white while the mother is wearing a gorgeous green dress. The matching kids' outfits give this shoot an even better look. The mother looks incredible in her green dress, it can be paired with some gold jewelry. The barefoot look is what ties it all together. The three of them look amazing in their outfits so if you haven't decided on an outfit yet then you should definitely give this one a try.
↓ 12 – Wearing A Floral Sundress
This mama and her baby look so good in their beach outfit that we cannot stop staring! The stunning mama is wearing a floral beach dress with a ribbon in her hair which gives the perfect beach vibe to her look. Her straw bag is the best accessory. Easy to carry and looks super cute. The baby is dressed in a yellow floral dress too which makes their outfits matching and even better.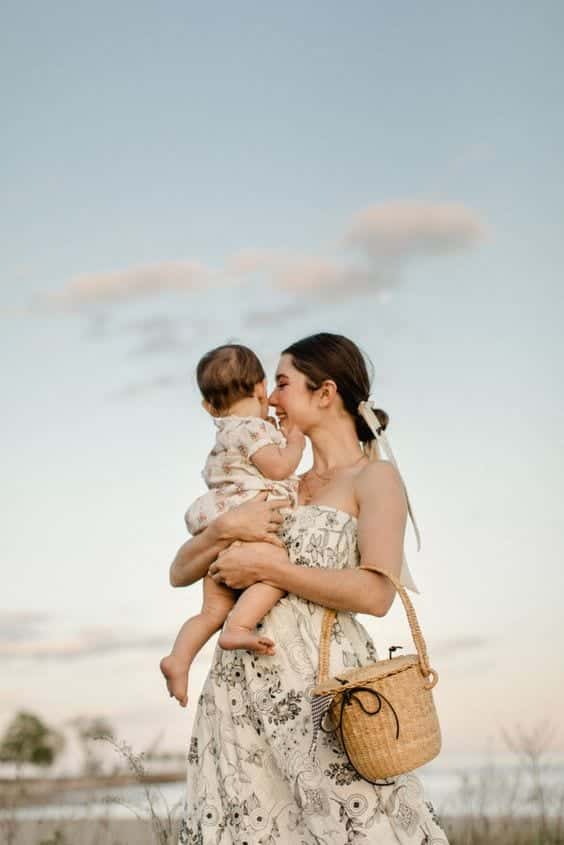 ↓ 11 – The Bikini Outfit
This beach photoshoot looks so perfect. The mother is wearing just a bikini and the son is wearing shorts. This is the simplest outfit for a photoshoot on the beach and it is something that will also look super natural so if you like minimalism then go for it!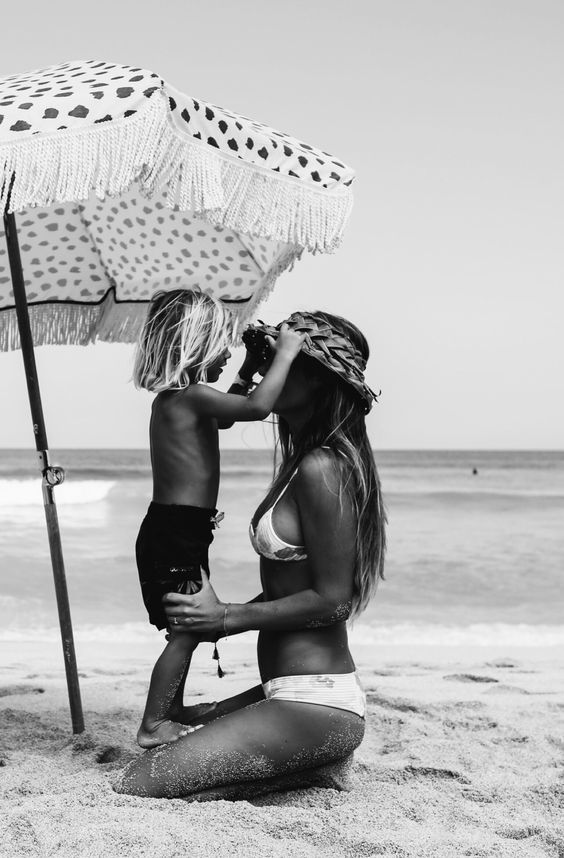 ↓ 10 – Simple Photoshoot Outfit For A Family Of Three
The mother is wearing a light pink off-shoulder top with shorts while the father is wearing a plain white full sleeves shirt with blue denim jeans. The baby is wearing a black and white striped shirt with grey shorts. Their outfits look very comfortable and they look like something that didn't take long to put together. That is how your outfit should be, comfortable, easy, and stunning. This family looks super happy in their outfits!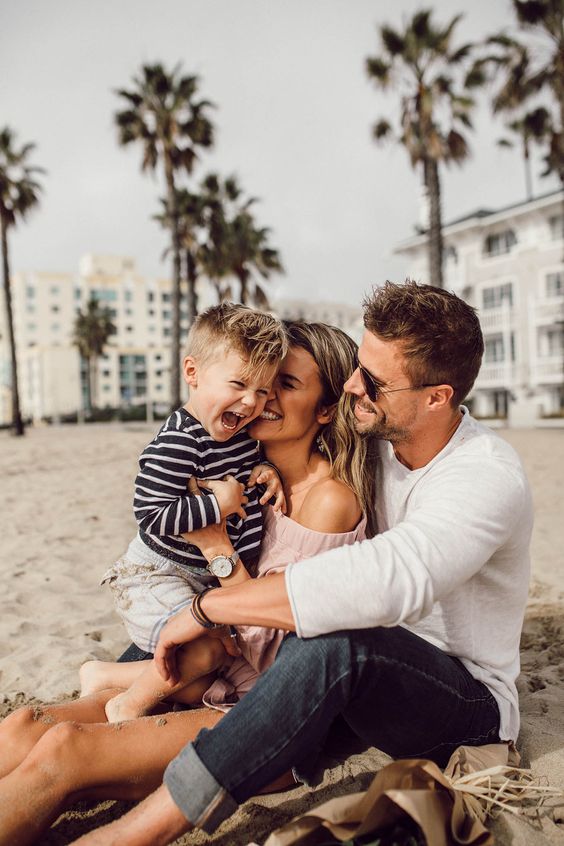 ↓ 9 – Mommy and Daughter shoot
This is one of the prettiest outfits we've ever seen! A matching mommy daughter outfit is always the best. The mother is wearing a rust colored off shoulder dress and the baby girl is wearing a baby pink full length dress. They both look so stunning that we would recommend every mother daughter to wear this for their photoshoot. It is a super simple and easy outfit to put together.
↓ 8 – How To Wear A Pink Dress
The mother is wearing a tea pink full length dress and the daughter is wearing a white dress. This is another mother-daughter outfit that is super cute and easy to wear. You can pair this with extra jewelry and a bag if you want but you won't need much because this outfit looks good even without any accessories.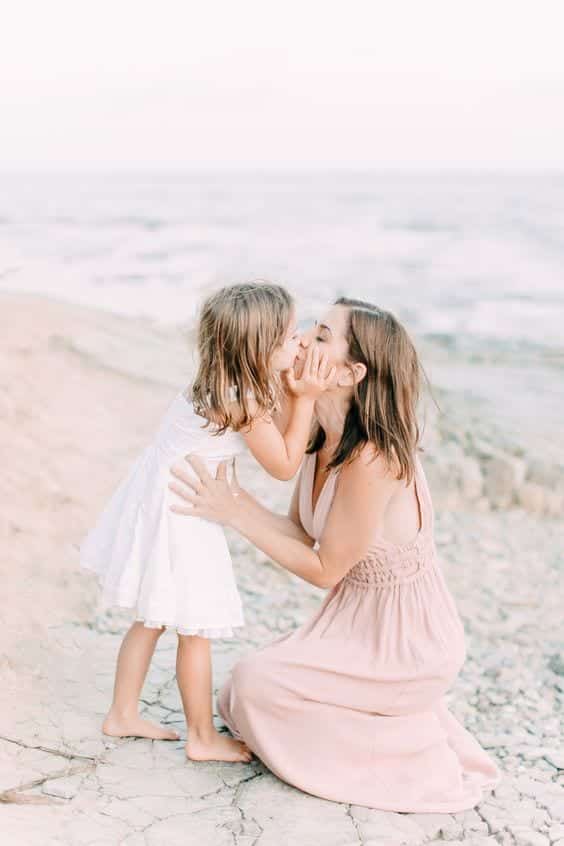 ↓ 7 – Family Of Four
This family of four looks super cute in their matching outfit. The mother is dressed in a yellow printed midi dress while the 2 baby girls are wearing matching striped dresses. The boy is wearing a maroon t-shirt with grey shorts. Its easier to make kids wear matching outfits because you can save time and energy looking for different outfits for all of them and they are also happier wearing matching outfits with their siblings.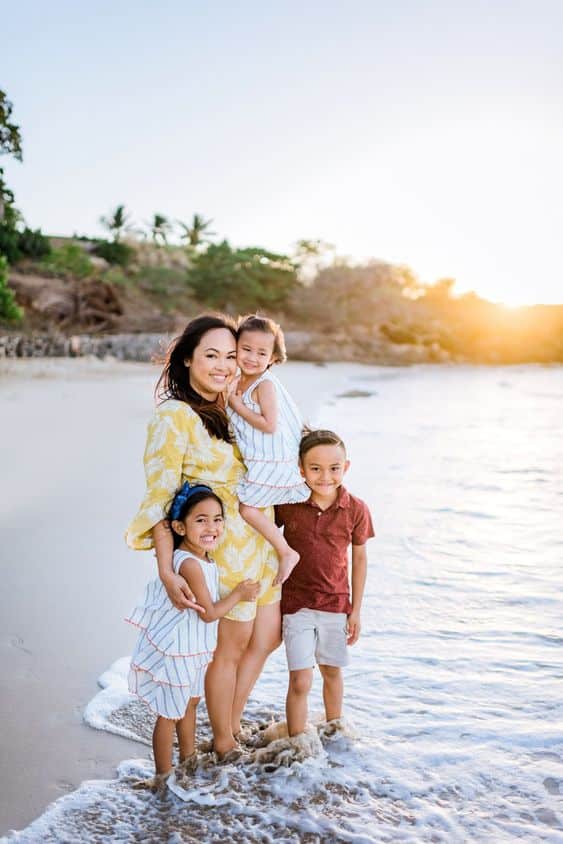 ↓ 6 – Dream Photoshoot
This family is stunning in their white outfits. They look so angelic! The mother is dressed in a white see through gown and is wearing a chiffon pull over on top. The father is wearing a white shirt with grey shorts. The baby is dressed in a pastel blue romper and her hair is in two buns which look adorable! Try different hairstyles for your babies, they look great in a photoshoot.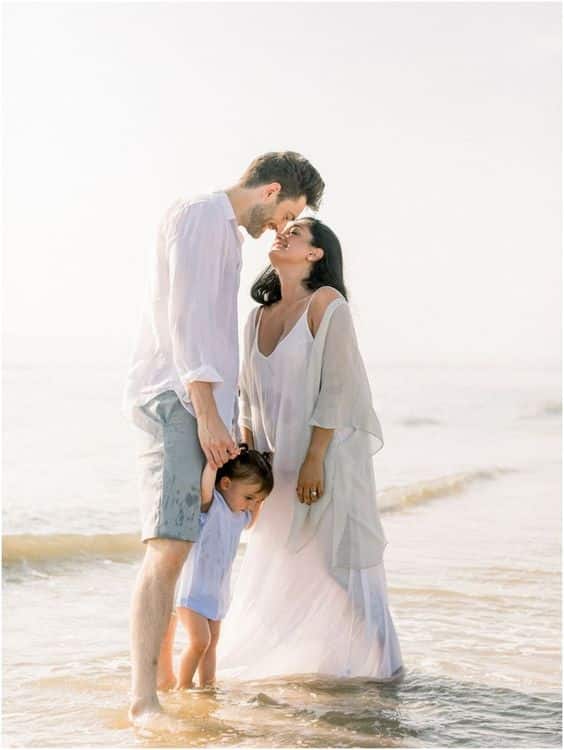 ↓ 5 – How To Wear Darker Colors on the Beach
This family decided to wear browns and darker tones. The mother is wearing a brown sweater and the father is wearing a dark blue shirt. The baby is dressed in a dark green romper. Sometimes darker colors are the way to go. It may seem like for a beach photoshoot you need to dress in lighter colors, no. This family proved that wrong and looked good even in darker colors so try this outfit if you like darker solid colors.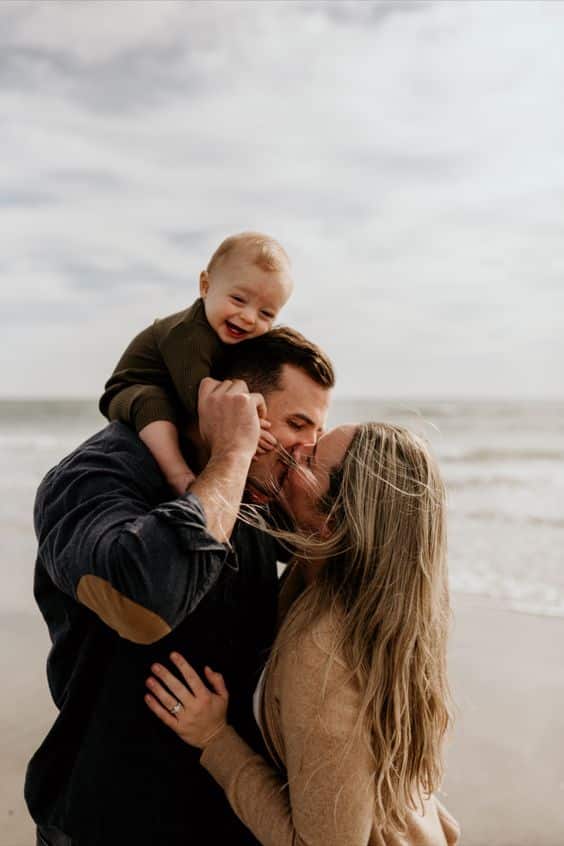 ↓ 4 – Mama And Son Shoot
The cutest shoot ever! Mama wore a long skirt with a half sleeves sweater while the baby wore a t-shirt with denim jeans. This is a super simple outfit yet it looks so good in the pictures. That is what you need to remember, the outfit maybe simple but it wont impact the shoot much so go for what you like.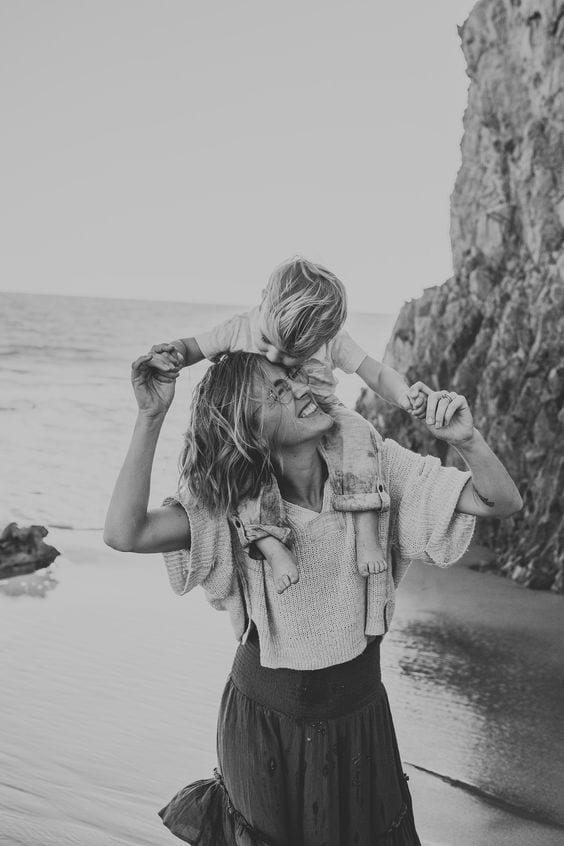 ↓ 3 – Maroon Is The New Black
This family proved everyone wrong by matching in their maroon outfits and still looking good as ever. The mother is wearing a full-length maroon dress while the father is wearing a blue blazer with dark blue denim jeans. The baby is wearing maroon pants with suspenders and a white shirt. The suspenders are great to add to your babies outfit because they are different and look super adorable.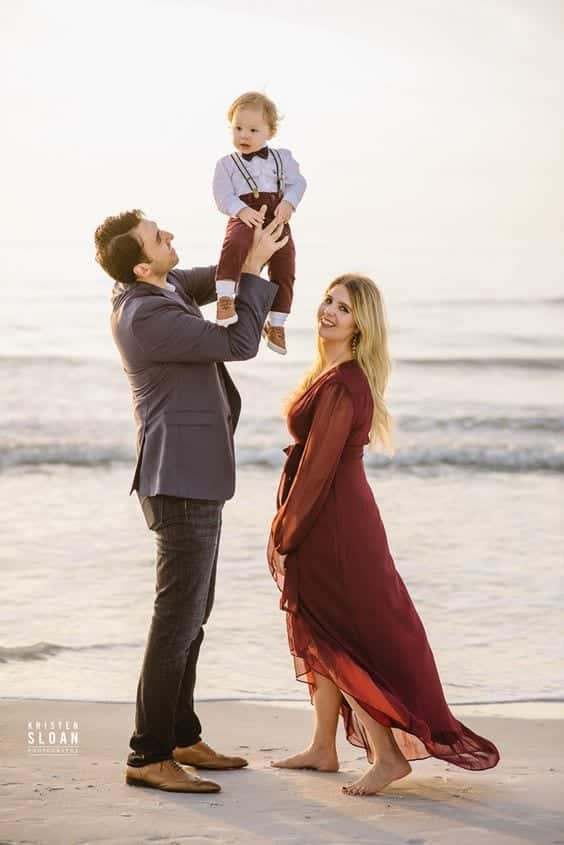 ↓ 2 – How To Wear Brighter Colors
Wearing bright colors such as aqua and pink aren't usually what people choose to wear but this family did and rocked it! If you like such colors then do try this outfit. The father is wearing an aqua colored t shirt and the younger daughters skirt is matching with her fathers skirt. The older daughter is wearing a pink skirt with a white top and the mother is also wearing a white dress.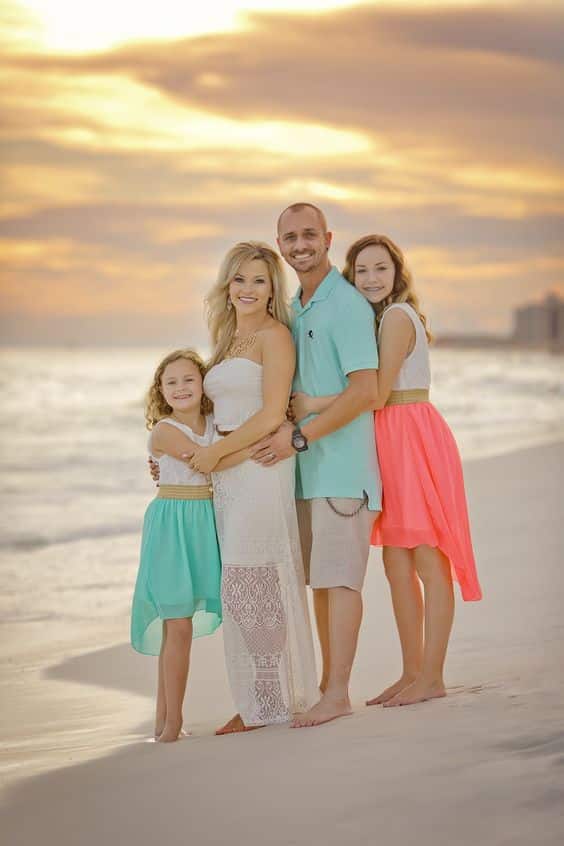 ↓ 1 – A Casual Beach Outfit
This is a casual outfit. The mother is wearing a black top with plain white jeans and the father is wearing a striped shirt with denim shorts. The baby is also wearing a simple dress. They look super cute even with their casual outfits and that just shows that it is not important to have proper matching color coordinated outfits for a photoshoot.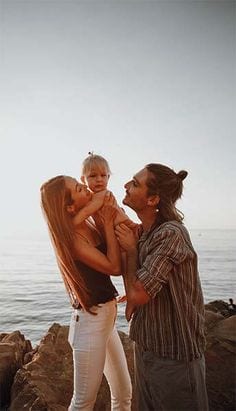 Frequently asked questions
Q. Is a beach photoshoot a good gift for an anniversary?
A. It is entirely up to you because it is your anniversary however, a lot of people find beaches a romantic spot for anniversaries and proposals usually so yes it would be a good gift if your partner has been wanting a photoshoot for a long time then you should definitely do it. Even if they haven't wanted a photoshoot but you want one then you should do it too, it will be something memorable. Something to look back on for years ahead.
Q. Are beach photoshoots boring?
A. No not really but if you yourself are not a big fan of beach photoshoots on photoshoots in general then you may find it super boring. However, family photoshoots might be boring for some people, and for some they might be better than photoshoots with friends. It all depends on your personality and the type of person that you are really. You can make a photoshoot less boring by doing stuff that you like and making it more personalized. That way you wont be bored.
Q. How to have a beach photoshoot with a baby?
A. Babies can be quite a lot of trouble at photoshoots. They can disturb the entire shoot as well as everyone present there if they are not happy. This is why it is very important to make sure the baby is happy at all times during the shoot. You should remember to pack the baby's favorite toys and extra food and water. You should also make sure that the baby is well-rested the night before the shoot. You should also take extra games with you to keep the baby happy. Dress them in comfortable clothes so it is easier to handle the baby.