Club Outfits For Women Over 40- The wave of excitement that flashes right through you as the music kicks in is why you need to go clubbing occasionally instead of spending the weekends alone. So whether you're celebrating or enjoying a night out with your friends, don't let anyone tell you that you're too old for strobe lights and bottle service. Ever.
Of course, you want to look your absolute best, but with age comes the need to always keep yourself comfortable. Regardless, I believe in dressing to your strengths and taking your body into account, but I've always felt that women above the age of 40 always end up looking older than their age, because they decide to wear clothes that don't work with their aura. They stop wearing bright & bold colors or patterns and drown their overall look. Sometimes all it takes is a little reminder (and some creative styling) for us to realize what to wear to a bar is already sitting in our closets. We've rounded up 18 club outfits to make you look ravishing yet elegant!
What to Wear Clubbing For Forty Plus Women
Don't opt for tight clothes or skirts unless you have an hourglass figure.
Don't follow the Fashion trending among the teens/twenties.
Choose an outfit that is polished without appearing overly formal.
Get hip shoes; they can make even a boring outfit look great.
Have fun dressing, and don't forget to leave your comfort zone.
Life is short; wear your party pants!!
↓ 18 –  40 & Fabulous!
First things first, you need to know your style. Nothing is more important than dressing in a way that pleases and represents you. Being well dressed is a talent and can't be done without the injection of Fashion. Rock a basic round-neck frill-hem sleeveless dress with super ease; you can always add a pair of pointy heels and a matching handbag. Let your hair loose for a more laid-back look. (Bonus: Red lipstick will up your game even further.) Here are 20 Ways to Wear Legging when Above 40.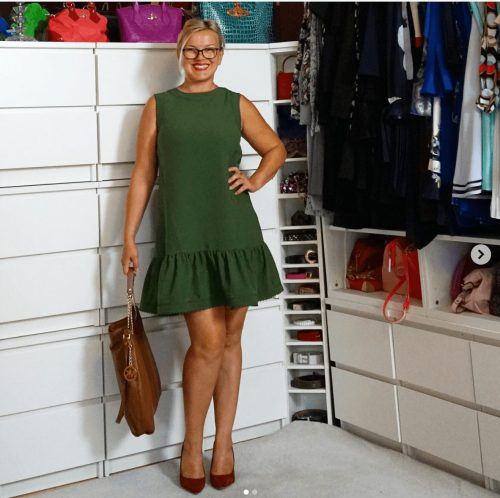 ↓ 17 – Date Night at the Club
Whether celebrating an anniversary or simply spicing up a blessedly-free weekend, test your boundaries. Don't we all need those little shots of self-affirming gorgeousness more than ever? Wear this sleek evening-long dress, which will knock his socks off. (A subtle print goes a long way.) Just be sure to opt for a long-line blazer to pull this look off. Don't forget to add a little sparkle with a statement ring. Also, check out her on-trend shades.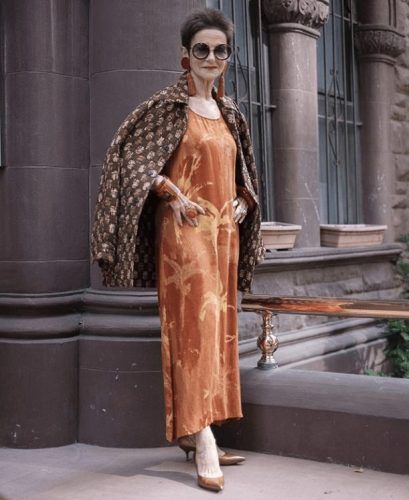 ↓ 16 – Kill It
Open-arm blazers are great when you want to take your outfit to another level, transforming the look. Adding heels and a fun clutch makes this look work for clubbing and just as well for dinner dates. A statement blazer and a bright shoe always go together so well. Also, there's nothing easier than styling an outfit that's purely black and white, both bold and classic. So rock this dress at your next club night and stand out with elegance.
A neutral pink blazer would look just as gorgeous as white. (Oh, and a fabulous metallic clutch, totally on point.) Do try this look as well.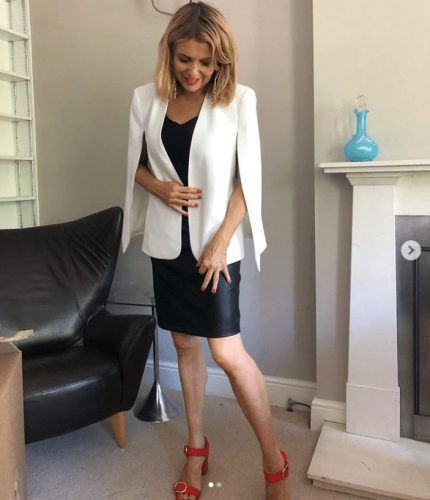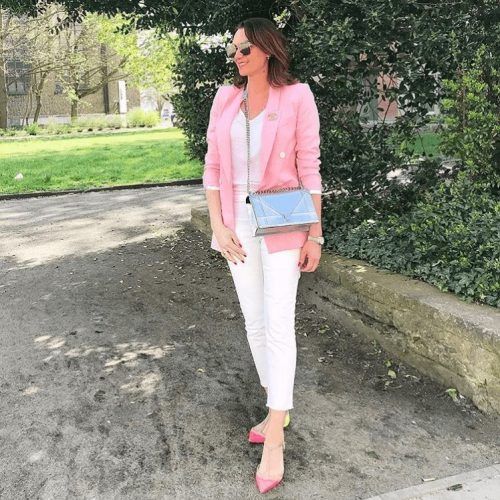 via
↓ 15 – Girls' Night Out
Nothing is better than launching into the weekend rolling deep with your best girl pack. But let's face it, going out with your girlfriends is not just an excuse to catch up and party but rather to show them how stylish you are! And the older you get,, the more you must dress up to keep yourself in the game. So opt for a fancy outfit with a statement neckpiece. Keep low on the makeup, though. Have a look at these 20 Best Dressing Styles for 40 Plus Women.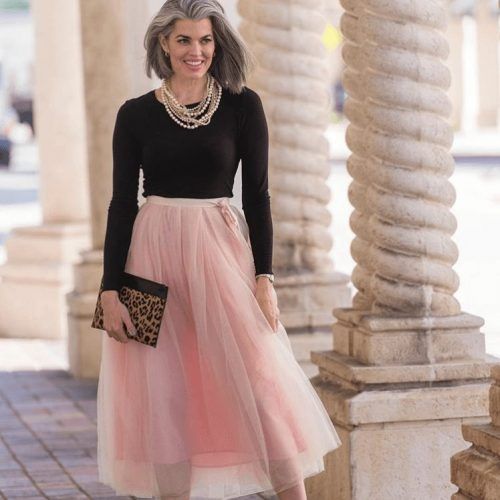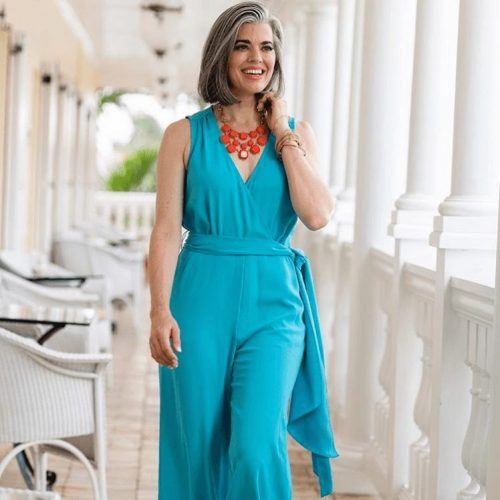 ↓ 14 – Super Casual at the Club
The aim is to look effortlessly chic. (It will take less than 5 minutes to create this look.) A simple way to elevate this black shirt is to wear it with sleek trousers (bonus points if they're silky) and kitten heel mules. The polishedness of your pants will balance out the relaxed feel. If you think the outfit's still missing, layer on accessories like a cool belt or designer bag. Add earrings for a hint of sophistication. But you could always wear a loose floral dress and smile as you go!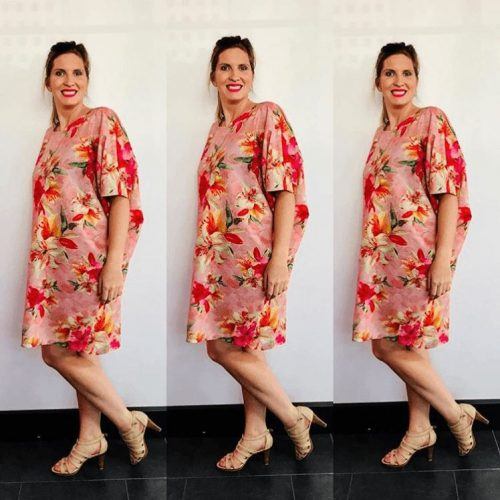 ↓ 13 – Club Outfit with Culottes Pants
Culottes pants are super comfortable yet incredibly bomb, and you can easily pull off this outfit at the club. Don't shy away from volume; wide legs make any outfit a little more fun. Oh, and the cropped hem lets you show off your footwear. (Check out those beautiful nude heels) Pair these pants with a silk shirt, and there you go! Break up the all-white look with an accessory in another color—like a red handbag. You just need a watch to finish this look, to be honest; nothing else is necessary. But to me, everything looks better in red. (wink, wink)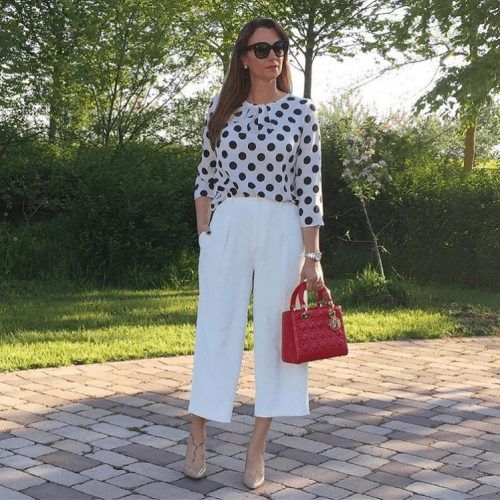 via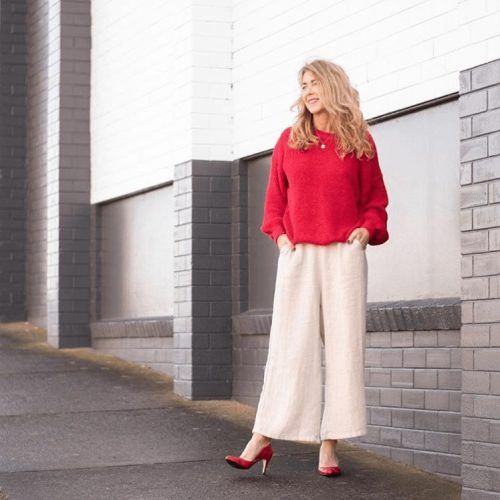 ↓ 12 – 40 Plus Celebrity at the Club
I just added this column to the article to tell wom,en that,t there's no need to over-dress for clubs because even celebrities are apologetically themselves there. The thing is, when you're young, you're unconsciously drawn to things that feel new or different, you try new things to find what suits you, things that make a loud or bold statement, but as you grow older, we realize what works for us and what doesn't and you're more likely to stick to it, you start appreciating simple designs so part of it is that you need to feel more confident in your style and less interested in experimentation. But there's also a fine line between elegance and dressing older than your age. (Bonus: Long boots are a significant plus in your overall look)
Katherine Heigl and Malin Akerman, both in their forties now, look chic yet simple.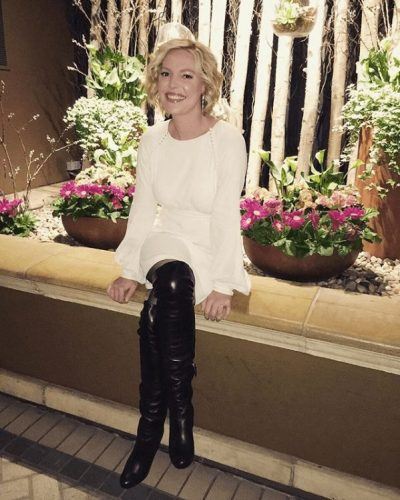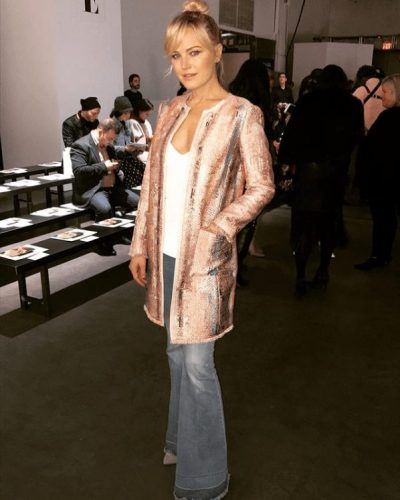 ↓ 11 – Formal yet Chic
Ditch your regular-everyday formal because when you're celebrating with your work friends in the evening, you must try this outfit below. You should totaliment with trends and have fun with Fashion regardless of what your age for a basic just below your pink knee dress. Accessorize with a bold belt and a branded bag. The pieces should coordinate rather than make it look like a cluster. Let your hair loose, and don't forget to re-touch your makeup. Take it up a notch with classy heels (if you can manage to go to work in them). Bonus: grey hair has a particular class to them, so you can always skip on dyes altogether.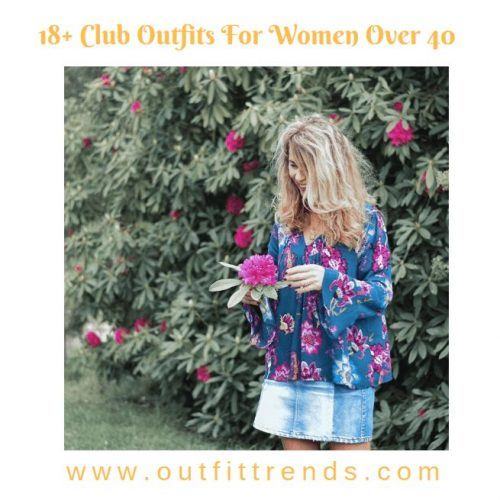 ↓ 10 – Glitz and Glam
There is no doubt that red is the new black. It can be worn entirely monochrome or as pop of color to a minimal look. Only pick those trends that work for you. Pair these red pants with a cute bright printed shirt. The pieces should coordinate rather than compete. Finish with trendy accessories. This chic outfit will be perfect for insta-worthy photos. Here are the 10 Most Productive Hobbies for Women Over 50.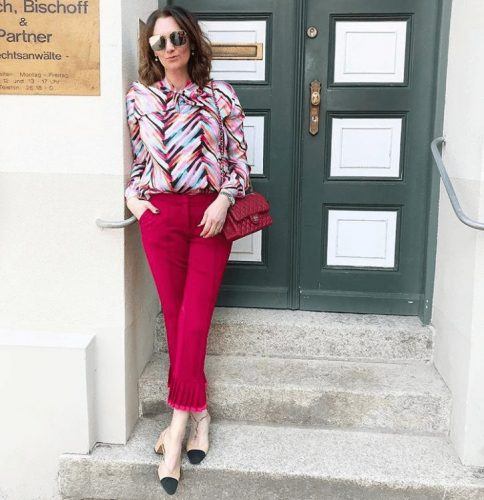 via
↓ 9 – Night Clubs
It's time to vibe. This trendy wardrobe piece makes a statement the second you throw it on, and basically, 'every' woman needs a show-stopping dress for such nights. Try choosing a shiny yet fashionable dress that finishes around knee level. There has to be a mixture of sophistication and fun considering your age. Enhance your overall appearance by opting for a lovely hair-do. (Pro tip: Curls always look great with dresses)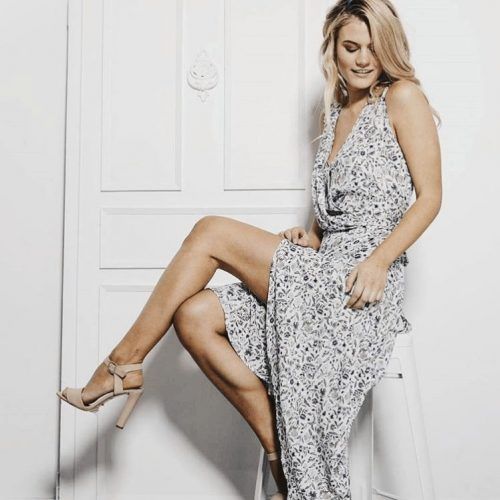 ↓ 8 – Show off your Skin
No harm in letting a little skin show; after all you're going to enjoy (and break a few hearts) because what else are clubs for? To nail the look, try opting for a chic and simple dress with a playful twist, such as an off-the-shoulder design, unique material, or embellishments. For a distinctive take on this look, you should opt for floral trousers. They're going to up your game. (Refer to the image below) Accessorize with elegance. Complete your look with a pair of loop earrings.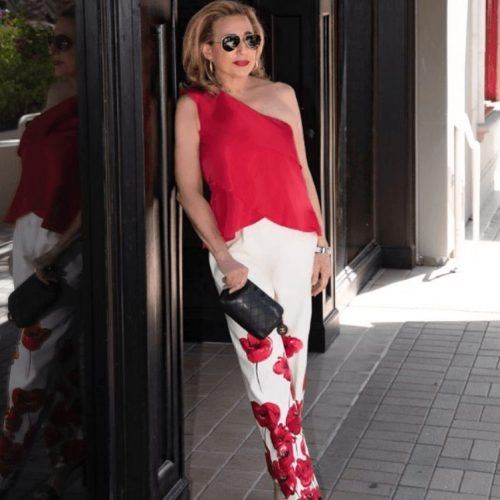 via
↓ 7 – Ageless Fashion
You know how you always loved to experiment but reallis Fashion if not change, newness and experiment? It keeps you youthful (100% guaranteed). There's no need to shy away from vibrant shades. Jazz up this solid style with a statement neckpiece. To nail this look, just be careful not to select a design that's too short or exposes too much Skin. But you've to flaunt your best feature, so go ahead and put on a nice lip shade or style your hair.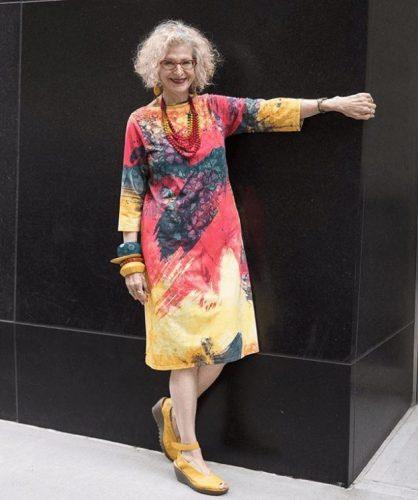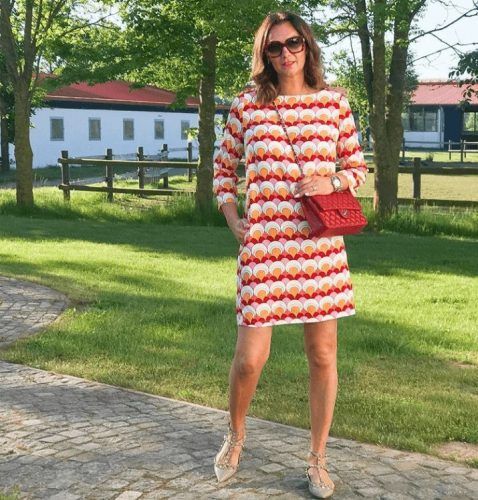 via
↓ 6 – Plus Size 40+
The plus-size fashion industry is moving in a positive direction. Woohoo! You need to find clothes that make you happy. If you want to hide some of the bulges, then shape-wear helps. To nail the perfect evening look, choose the outfit that flatters your shape and shows off your gorgeous curves, such as those with clinched waist. Or wear a belt. Add a cut-shoulder top with a shimmery skirt, and own the look! Patent loafers would give a high-end look. Finish with a swipe of lip gloss, like this one from Fenty Beauty.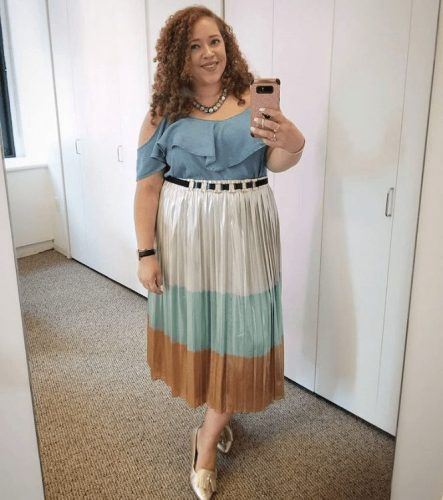 ↓ 5 – Accessorize Accordingly
Throwing on a beautiful scarf or an accessory reallake a difference in your day, which is what I love most about Fashion. Play with accessories like belts, jewelry, handbags, and hats. They can make a real difference to your outfit. ( I love how this woman is carrying herself.) I 100% recommend both the looks for an evening at the club.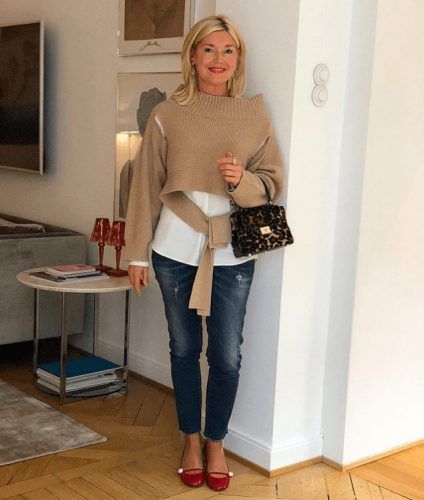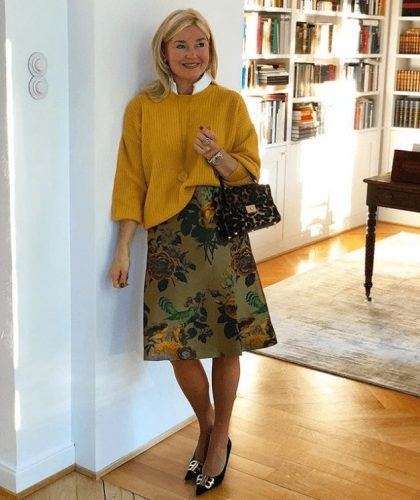 ↓ 4 – Dresses Go a Long Way
When dressing up for clubs, nailing the perfect ensemble can be tricky. To ensure you don't appear overly formal when wearing a long dress, keep any embellishment minimal and select a comfortable style. You will almost always look elegant in a dress, it's super easy to carry, and a pretty pattern will highlight you in the crowd. Statement earrings are non-negotiable.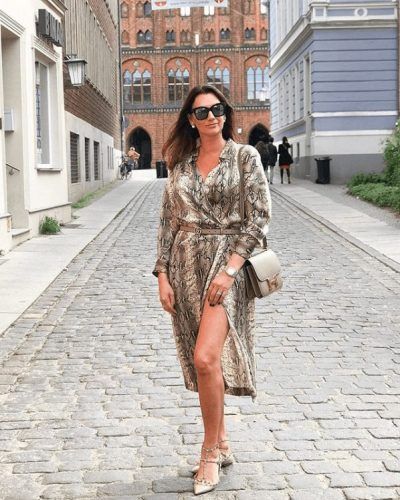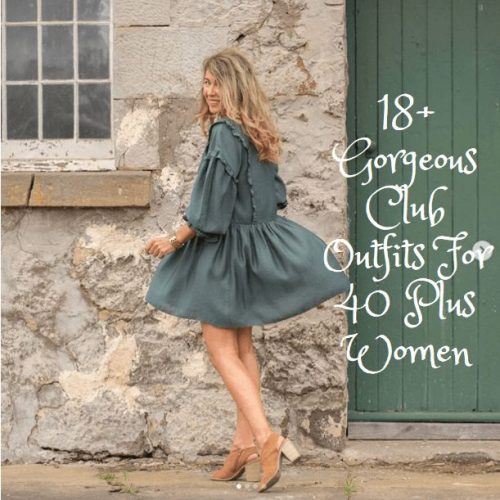 ↓ 3 – Pair with Black
When you're going to a party, and there's a good chance you'll get beer spilled on you, you must dress strategically. Black is the ultimate color for evenings at the club; it will never go out of style. Although I'll prefer it if you opt for colorful accessories, they'll make the outfit look interesting. Finish with a swipe of black liquid liner for a cool-girl vibe. Low-heel ankle boots are perfect for a casual night out; they feel fancy but aren't too dressed up. Wear a scarf to add a subtle volume to your overall appearance. Pearl earrings are a major bonus too. (*Notice the red nail polish, insta worthy, isn't she?)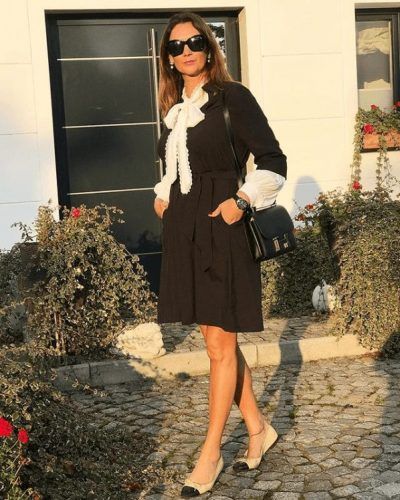 ↓ 2 – Cheetah/Leopard Print at the Club
At times it can be tough to figure out how to wear those tricky animal prints, but it's always nice to be bold and daring. Mixing and matching is now totally acceptable behavior, so go all out. But it's easiest to carry when paired with black. For those loathe to commit fully, rest assured there is a solution: some of the season's greatest accessories come in the spirit of the trend. Wear bright red lipstick to make the color pop.
↓ 1 – You Go Girl!
You're a women let them hear you roar. I genuinely think the biggest accessory a woman carries is her smile. So to begin with, a dressy bag with a chain helps you hold crudités and a cocktail-plus, it lends a cool edge to evening wear. Also, stripes go with everything, they're so simple and they're pretty much the neutral of prints. It will help you pull your entire outfit together so effortlessly. To give yourself a club outfit get-up add a fancy shirt which exposes a teensy bit skin, that's as sexy as it gets. A little party never killed nobody. So good bye my fellow girlies, see you again soon. x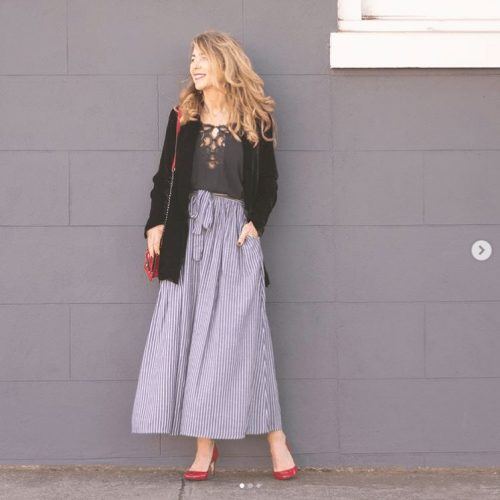 Frequently Asked Questions
Q. What do you wear to a club at 40?
A. The best outfit to wear to a club would be a sexy and sultry dress. Whether it be an A-line dress, a bodycon dress, or a slit dress. A dress should be your number one option. However, if you don't have a dress of that sort or you don't want to wear one then you can also wear a blouse with some formal pants or a sexy crop or tank top.
Q. What should a 40 year old woman wear for a night out?
A. Night outs are something we all want to look good for because they are always the outing we look forward to. We want to dress special and formal for these outings. A black blazer and formal pants would be an amazing outfit and we would totally be living for the boss vibe. You can also wear a jumpsuit with heels. Pencil skirts with collared shirts are also another amazing option that won't let you down.