Casual Work Outfits with Jeans: The must-have of everybody's wardrobe and found in piles are pairs and pairs of jeans. Worn by everybody everywhere, they are recommended highly to be worn for work outfits as well. Exhibiting sophistication and professionalism in an easygoing casual sort of way. For that matter, the essence of jeans is in the way of styling them. Choosing business-appropriate accessories accompanying shoes that go with the outfits all the while playing with different color combinations and there you are with an outfit that's appealing to the eyes.
Jeans come in all shapes, colors, and styles from Flared to wide-leg straight pants from black jeans to one with neutral tones, and from printed to striped. Moreover, the fabric of these jeans is meant to be for all climatic seasons. Therefore, we are provided with a vast variety of jeans to choose from. Aside from that, we are also entitled to a little mix and match there. One pair of jeans can be fashioned into multiple ways, with a creative mind you can create manifold designs. Hence you have attire that's low priced and suit your needs.
How to Wear Jeans to Work?
The beauty of jeans lies in the fact that they can be worn with legit every piece of clothing whatever color they may be in whichever style. Jeans can also be paired with stunning and business wear belts, with minimalistic earrings and necklaces as well as looks perfect with sandals, sneakers, heels you name it.
Where to buy?
Though jeans are readily available everywhere, here are few options I gathered. Here you can find all types of jeans in a variety of colors and styles. Have a look!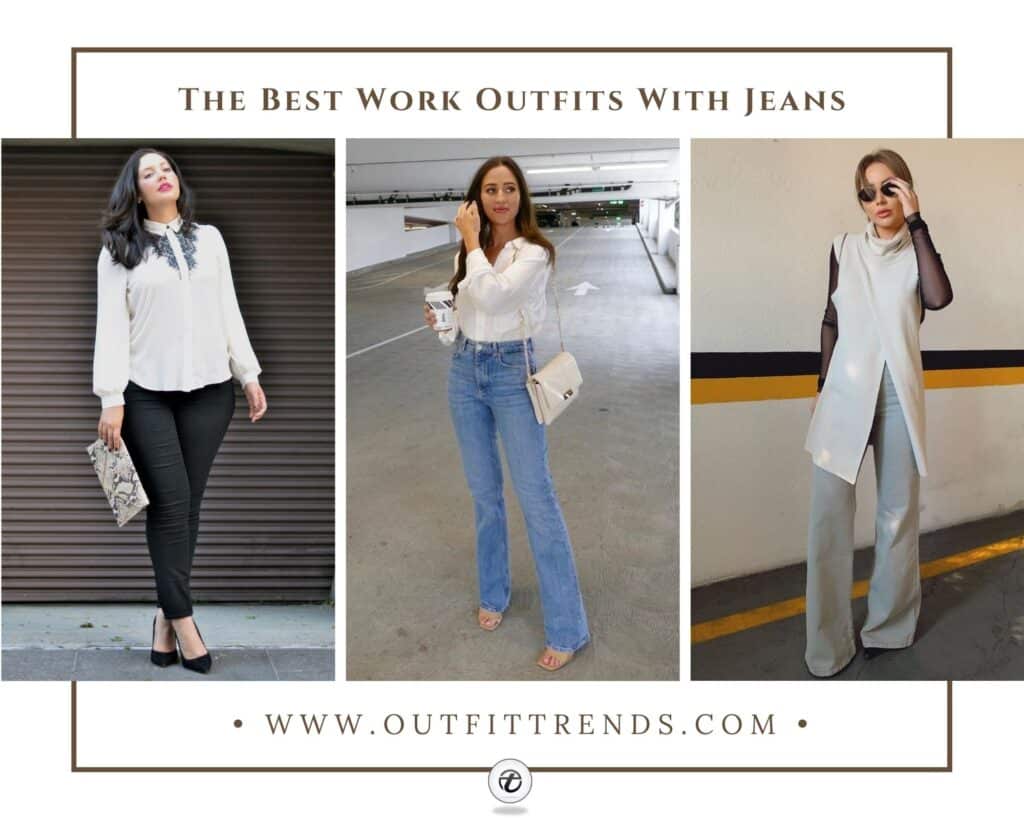 We've been talking a lot about how jeans can be fashioned into work outfits, let's discuss the various styles and dos and don't of styling them accordingly.
↓ 27 – Cool Look for Work Seminars
↓ 26 – Chic and Elegant
White shirts are always worn by professionals because they seem business-fitting to the most. They can be embroidered, voluminous, or ruffled, paired with black or blue denim jeans and some classy sandals to give your attire that elegant look you were looking for.
↓ 25 – All denim
A denim jeans and shirt suit is the new big deal these days. If your boss calls you in for a meeting while you are with friends wearing this suit, don't worry! Get hold of a satin scarf and tie it around your neck. With pencil heels that are pretty or a cute pair of pumps, your colleagues will be awestruck.
↓ 24 – With a Hot Pink Sweater – Tucked In
↓ 23 – White Jeans with Blue Top
↓ 22 – Casual Jean Work Outfits
Mix up your outfit with some greys and blacks. This outfit serves as a statement piece in all its elegance, the grey turtleneck, and the black shirt looks perfect for an important day at work. The flared pants can be worn in grey or blue color with pointed heels or mules and a pair of small hoops.
↓ 21 – Plaid prints for the win
This gingham plaid jeans along with a turtleneck to keep your warm is should be the top seller look of the season. We can wear a black blazer with it to look more presentable or a plain and graceful necklace. For shoes, you can opt for black pumps, flats or black court shoes. Here are some more of our favorite Linen Pants Outfits for women.
↓ 20 – Black is the new Black
Black is the sort of color that looks good in nearly all color combinations, with bold, neutral, and white tones. Consequently, you can get a little innovative on your own, and wear a black shirt and jeans with a white over a shirt or replace the turtleneck with a white shirt. You can also accessorize with pearly white ear studs and black pencil heels or stilettos.
↓ 19 – Oversized sweaters with Jeans
A woven or knit oversized sweater or a turtleneck tucked in the skinny jeans the combination is a gorgeous way of putting all the pieces together. Sure, You can get imaginative with the colors and with the sort of shoes you have to wear. With your bag matching your jeans, shoes or sweater, this outfit is the perfect go-to outfit for work. Do check out this list of the best Ideas On How To Wear Oversized Clothes.
↓ 18 – Dress up with jeans for Work
This stunning shirt with such details goes perfectly with these neutral skinny jeans and adds a comfy touch with the sneakers. Short, white dangly earrings and a watch can be worn on the shirt.
↓ 17 – Casual Work out fits with Jeans and Statement Pieces
The gorgeous shirt with high-waisted flared jeans is the ideal look for presentations at work or for meeting your higher-ups. White flats and a white handbag or clutch can be considered options to be worn with this dress with hair in a high-tail pony.
↓ 16 – Looks for Summer
When it's burning outside and you still have to go I work, this outfit is the one for you through and through. Pair it up with a plain pendant and a bracelet. You can wear skinny or flared jeans as well with the sleeveless top and wearing your hair in loose curls.
↓ 15 – Jeans with Buttoned Down Shirts
These loose shirts can be tucked into your jeans, skinny, wide-leg, flared, or bell bottoms. For a more formal look, braid your hair in a French or fishtail braid and wear small dangly earrings with it. Nude court shoes or sandals can be added to the look. Here are some of my favorite Button-Down Shirt Outfits.
↓ 14 – Ruffles can never go wrong
This all-black outfit is added with a touch of ruffles to it. Ruffled or flounced blouses or uppers are extremely underrated, though they display such sophistication and their aesthetics are on another level. Worn with a matching bag and pencil heels, these will let you leave an everlasting impression.
↓ 13 – Casual Work outfits with printed Jeans
These printed jeans are casual yet the chosen attire seems fitting for an office day. The vivid colors enhance the entire look. To go along with the vivacity, nude earrings can be worn along with black or nude flats.
↓ 12 – Jeans with Blazers
A blazer is a vital part of your professional life, it's the need and want of nearly every woman out there. Black, white, neutral, or grey blazers can go with every one of your outfits. It has various options to consider; cape blazers, colorful blazers, leather blazers and so much more. Additionally, it can be worn with all sorts of tops, shirts, and jeans. This double necklace is a pretty piece to wear with the nude shade blazer, and trying your hair in a neat bun further polishes your look.
↓ 11 – Feat Blouses
These Blouses can be bought in color and paired with black or white skinny jeans to give you that professional touch. The blouse can be worn with a scarf or a muffler in winters, to keep you warm and mark you for trendsetter of the week. A pendant necklace with white earrings and black pumps or wedge heels would be a cherry on top.
↓ 10 – The Sophisticated look
This dapper and without a doubt remarkable top is paired with daily wear jeans and yet the whole look rounded up to be one of a kind. Silver or golden neckpieces with braided hair and matching hair are gorgeous add-ons. These shirts as well can be bought in many colors to look the best.
↓ 9 – Casual Work Outfits with Jeans for Women over 50
This adorable floral blouse screams major outfit goals. It is the perfect definition of a Casual outfit for work, the straight-leg jeans match the colors of the blouse. A matching belt and grey pumps can top it off as well if added. All of you ladies can pull off this look.
↓ 8 – Summer Casual Work Outfits with Jeans
Turn the heat up because this look just might be it. With its statement sleeves and cute design, it is perfect for a summery workday. A matching crossbody bag or a fanny pack can be worn to cater to your needs, along with sneakers or heels. To show off your accessories, bracelets and watches can also be added.
↓ 7 – Turtlenecks are here to stay
This beauty is bound to leave you with lots and lots of compliments and OMGs. The color and the design is single-handedly worth having a look at. Who said you can't dress up at your workplaces, you can and do it better. Wear a golden double necklace and apply some nude nail polish.
↓ 6 – Striped Jeans for a change
Who would have thought that striped jeans and a white buttoned-down plain shirt could look so stunning and up to the mark? The striped jeans are there to show support when you've grown tired of normal pants.
↓ 5 – Casual Work Outfits with Jeans for Plus Sized Ladies
Make a statement with this fashionable lacey top. This top makes your look go from 0 to 100 real quick, if you want a more dolled-up look throw on a pair of pointed black heels and dab on red lipstick of your favorite brand but for a normal workday, you can go with mules. Secure your hair with the help of bobby pins and Voila!
↓ 4 – One with the long coat
I'm obsessed with this look to my very core. The gorgeous blogger has managed to bring about the elegance of this outfit whilst wearing mom jeans. She has worn a turtleneck with a beautiful long coat, a trench coat can also be worn as an addition. Cute huggie or wire hoop earrings can also be added. Here are some more timeless looks created with Long Coats.
↓ 3 – Did you say classy?
The voluminous sleeves and the buttoned shirt is a trendsetter. It says classy all over this picture. If you want to make an impression on your first day or your interview be sure to style this top. The corset details on the jeans and the beautiful pointed heels further add up to the whole look. You can also wear this look with one of the denim Capri jeans and you'll be good to go.
↓ 2 – Jeans with a Sleeveless Sweater
You can wear a sleeveless sweater over a collared shirt and roll your sleeves up. Wear a sweater that looks good with the combination of the shirt along with strapped heels. Wear a small dial watch and grab your favourite pair of hoops.
↓ 1 – Your Go-to Outfit
This blouse is an inspiration for all work outfit-related emergencies and can be accessorized accordingly, with a belt and a nice pair of pointed or strappy heels. You can flaunt them whenever and wherever, so go Style your outfits up, ladies!
Frequently Asked Questions
Q. How to wear jeans to work and look professional?
A. Jeans are the basic fashion staple that everybody owns. They are frequently worn to work on casual and as well as formal workdays.
Flared jeans can be worn with buttoned shirts or sweaters and with block heels or wedges.
As far as skinny jeans are concerned, along with Capri jeans they are usually worn with blazers, either cropped or long, long coats, oversized shirts or knit sweaters. They can be further accessorised with pencil heels, mules or stilettos etc.
Wide-leg jeans are worn with both buttoned shirts and sweaters as well.
Denim jeans are also worn either in blue or black at workplaces.
You can also wear jeans with flounced, puffed up-up, poplin shirt and blouses. 
Striped and plaid jeans are also very much acceptable at the workplace.
Dark-colored jeans are recommended because nearly every color go in combination with the dark colors more.
Q. What are work-appropriate jeans?
A. Funky, distressed and ripped jeans are not considered to be professional, so are avoided. All other sorts of jeans are readily worn by people for instance Wide-leg jeans, skinny jeans and flared jeans.
Q. What to wear with Work outfits with Jeans?
A. You can accessorize with different belts, earpieces that are not too blingy, as well as neckpieces. Shoes worn should be of the sort that compliments the outfit all together, further enhancing the look.
I am a third-year MBBS student. Alongside my studies, I aim to utilize my excellent writing skills and fulfill my childhood passion for creative writing while helping people who need expert writing. But, it is not all boring, as I am always ready to have a friendly chat about various topics and TV shows, especially if you are a FRIENDS fan.