Princess Diana's casual outfits: We all know Princess Diana was the queen of dressing up but what we know better is that her true style always shone through even the most casual looks. Whether it be wearing a sweatshirt with shorts, a blazer with jeans, or a power suit. Diana always looked the best when stepping outside and luckily, her outfits were heavily photographed so we have tons of photos of all the best outfits even today.
It has become easier for us to copy Diana's style since we have all the pictures. Diana knew how to dress, could pull off a black dress, a power suit, sweatshirt and pants, and even a skirt. The princess knew how to make casual outfits look so chic.
There is nothing the Princess did not know how to style. Diana was known as a style icon back in the day and still is! This article includes 20 of the best casual outfits Diana wore during her time so you can choose whichever ones you like and recreate them according to your own style.
How To Dress Like Princess Diana?
Lady Di loved to dress the way she liked and not according to what the society or monarchy expected of her. Her style was a mix of sporty, androgynous, and girly. On some days she wore dresses, on some sweatshirts and on others she wore jeans. However, what made her style stand out was the fact that she always stayed true to her style.
To pull off outfits the way this Princess did you need to make sure you stay true to yourself and dress the way you like. If you like hoodies and sweats, create an outfit from those. Have confidence that whatever you come up with, will look good. Whatever comes from a place of love never fails. Have faith that you will look great and you will always pull off an outfit!
DOS AND DONTS
• DO go through all of Diana's outfits, maybe you'll find one you like.
• DO wear what you like.
• DO choose the outfit you like best.
• DON'T worry about what others think, wear what you like.
• DON'T set unrealistic standards for yourself.
• DON'T compare yourself to others.
Remember that the best part of Princess Diana's outfit is always her confidence and elegance with which she carries herself and I feel that's what we should really be inspired by.
↓ 20 – Striped Sweater Look
Diana wore this super cute pastel pink and blue striped sweater with white skinny jeans. This outfit looks comfortable and stylish both at the same time. It seems like lady Di opted for this outfit after/before a game of tennis, maybe she had to head out somewhere or was coming from somewhere. She also wore pastel blue matching moccasins to complete the look!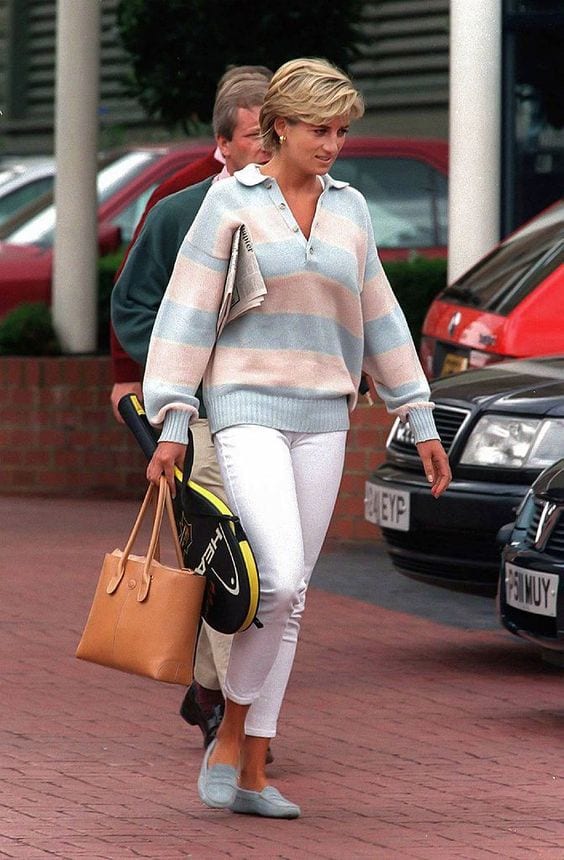 ↓ 19 – Tank Top With Shorts
This looks more like a day out at the beach or cruise outfit. Diana wore a sizzling black tank top with white shorts. She wore a black belt with white shorts well. Di did not forget her sunglasses nor a cute handbag. She carried her white sneakers in her hands as she must've taken them off and decided to walk without them later on!
↓ 18 – Denim On Denim
Nothing beats classic denim on denim outfits. This is one outfit that never fails to amaze us. Diana wore a denim shirt with some denim jeans and white ankle-high sneakers. A perfect look for a day out, brunch or just to run some errands. Diana also never seemed to forget sunglasses, so they are sitting on top of her head. Lady Di seems to be enjoying time with her children in this stunning outfit.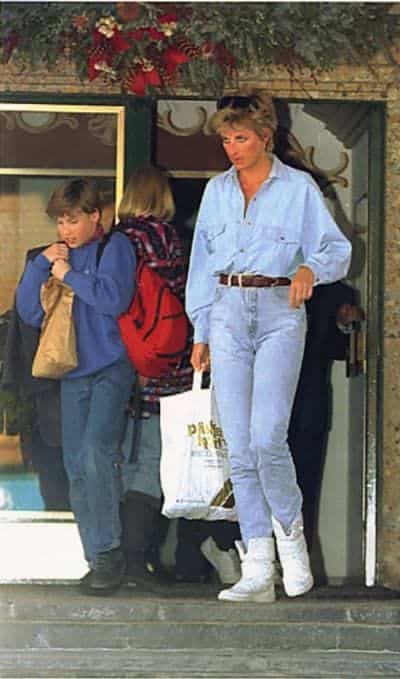 ↓ 17 – Christmas Sweater
A cute Christmas sweater is something everyone loves. Maybe Diana loved them as much as we did which is why she decided to wear one with a white turtle neck underneath and some blue skinny jeans. The classic brown cowboy boots can also be seen. Diana also carried a big brown puffy jacket on her shoulder which matches with the boots. Talk about matching!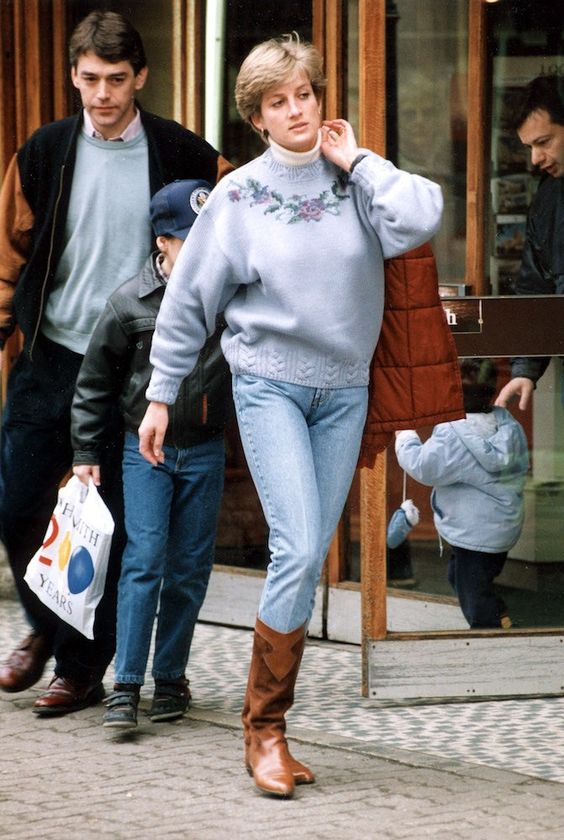 ↓ 16 – Simple Look
This is a simple day-out outfit. A very pretty plain white top with some pastel blue pants. This seems like an outfit perfect for the summertime when it's too hot to wear anything! White and pastels are the best colors to wear around the summertime too. Seems like lady Di was enjoying a day out with family and friends. The bag she is carrying seems to be very intricately designed, it is very pretty and makes her outfit look even more stunning and on point.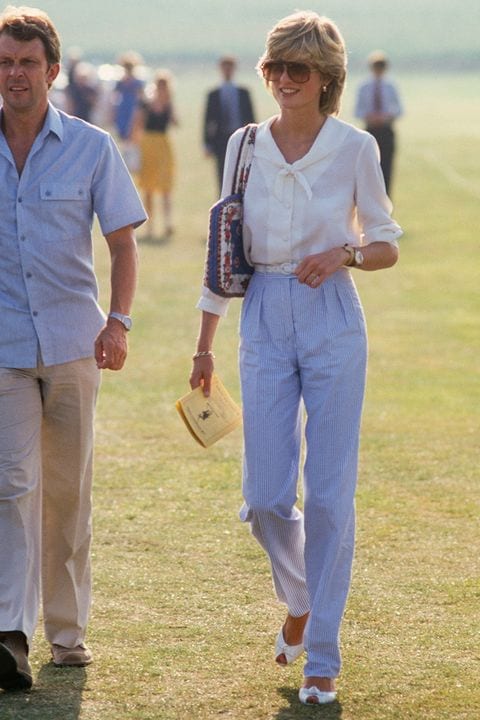 ↓ 15 – Princess Diana Bike Shorts
This outfit looks comfortable enough to be worn after a good game of tennis! We all know the Princess loved to play tennis and had tons of sports outfits. This is one of her best sports outfits, plain white biker shorts and a mint green sweatshirt on top. The sunglasses give this outfit an even cooler look! Here are some ideas on How to Wear Bike Shorts.
↓ 14 – Casual Look With Sweater
This outfit is so stunning, we can only imagine Princess Diana rocking it! A plain white oxford shirt with a black pencil skirt. A red sweater wrapped around her neck and matching red heels to complete the look. This looks more formal than casual but we believe this was casual for the princess as she probably had tons of tasks every day that required them to wear such outfits.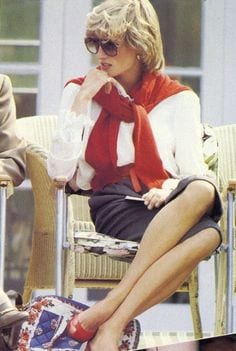 ↓ 13 – Sleeveless Sweater And Skirt
Diana wore a pretty baby pink turtleneck sleeveless sweater with a matching skirt. This outfit is casual and can be worn to lunches, dinners, meetings with friends and family, or just for dropping the kids off at school. Diana looks stunning in this outfit, as the pink floral bag matches the outfit perfectly. Try this outfit if you love pinks florals and skirts!
↓ 12 – How Diana Styled A Black Turtleneck
Diana made the perfect contrast by pairing a black turtleneck sweater with a blue-ish skirt and black stockings. The outfit looks cool enough to be worn out and comfortable enough to be worn just for running errands. Of course, Diana used to wear such outfits just to run the shortest of errands because she was a princess, duh! Here are some more of our favorite Ways To Style a Turtleneck.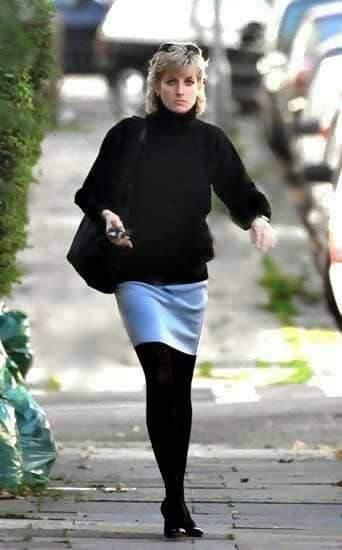 ↓ 11 – Sundress
A sundress is everyone's favorite so why would the princess not be wearing one? Yes, the princess wore this stunning striped sundress with some pretty jewelry to complete the look. She also carried a cute little floral purse in her arms. Sundresses can be worn on tons of occasions, mostly beach days and outdoor events but it is up to you how you want to wear your sundress.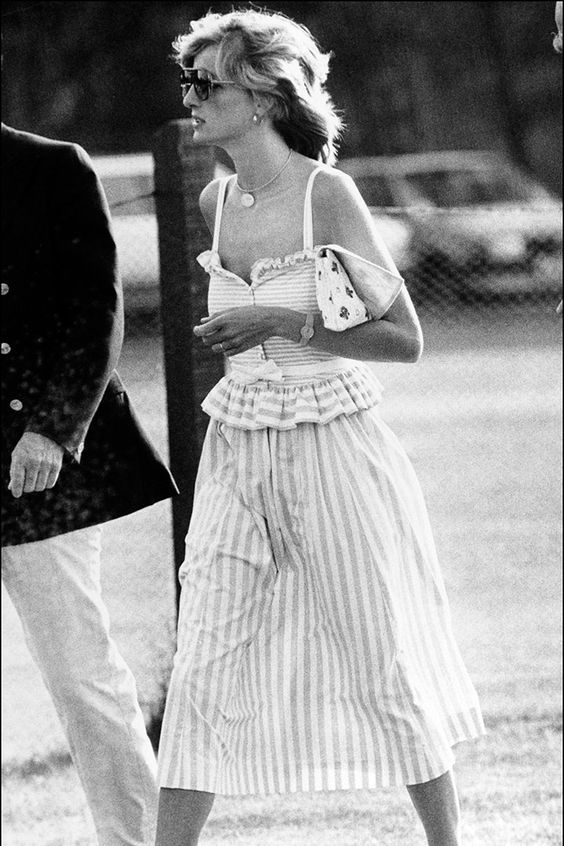 ↓ 10 – How Diana Wore An Overcoat
Lady Di wore this sexy black overcoat with cheetah print on its collar in the most beautiful way ever. She paired a plain white oxford shirt with a black skirt and stockings. She also used a gold chain belt to accessorize the outfit perfectly. This outfit can be worn to a party, a fancy dinner or just to go out and meet your friends! The overcoat makes this outfit look like a boss. No one will dare to mess with you if you're wearing this outfit!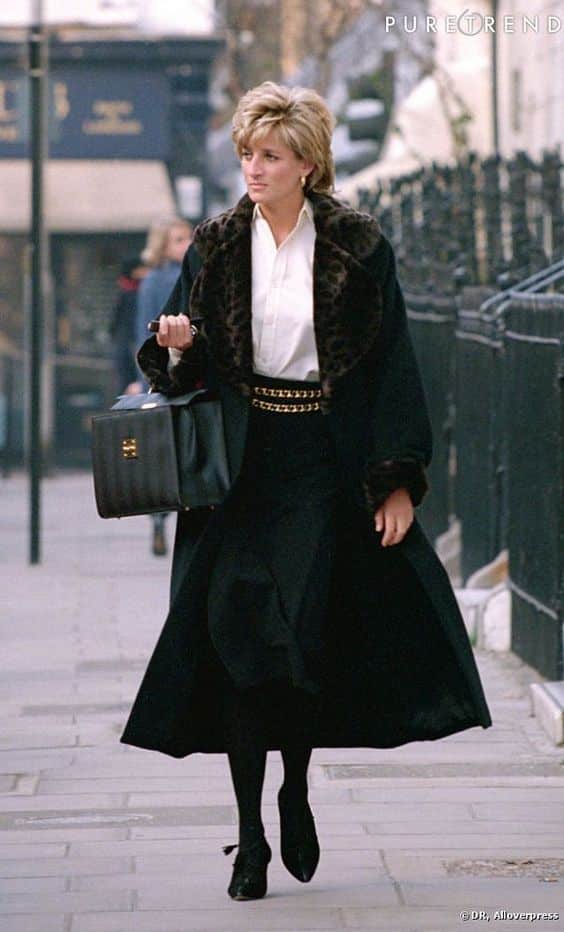 ↓ 9 – White Dress
Diana wore this stunning white dress out and made everybody rethink the way they wear their dresses! Lady Di pulled this look off so perfectly. She paired a striped blue and white scarf with the white dress and then matched the scarf with the sun hat. The entire outfit was in perfect contrast and is easily one of her best outfits. If you are a dress person and need some dress inspiration then this is the outfit for you. This outfit would look super cute on a lunch or brunch date!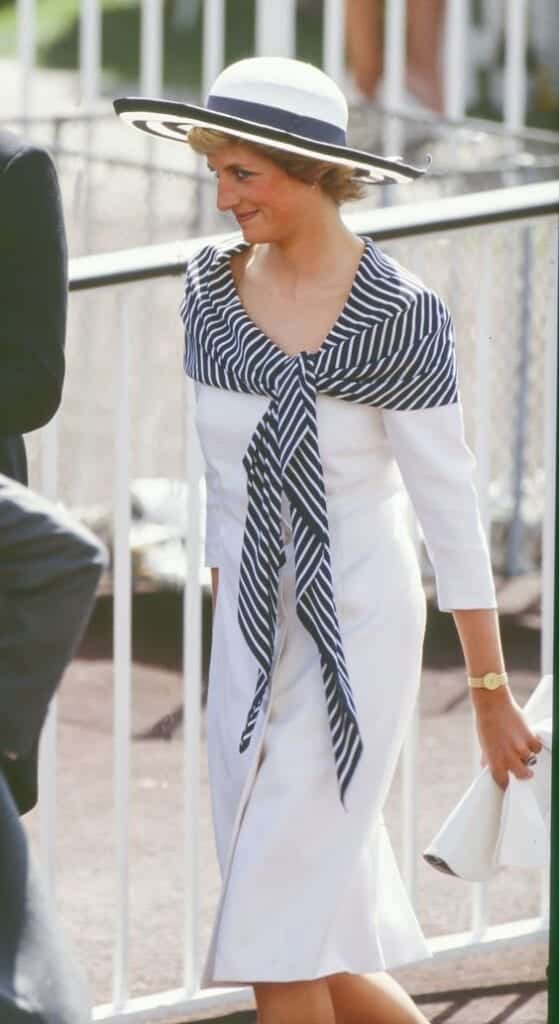 ↓ 8 – Blazer Outfit
We all know Diana knew how to rock all sorts of outfits and one of those was when she would occasionally rock a blazer with a casual outfit. A blazer can easily make a boring outfit into a dope one. Diana paired a white shirt with blue mom jeans and a green-ish plaid blazer. Looking like a true boss, Di rocked this look. The cheetah print sunglasses are what really make this outfit stand out! Blazers are something the princess was not afraid to wear and would usually be seen wearing one. One can never own too many!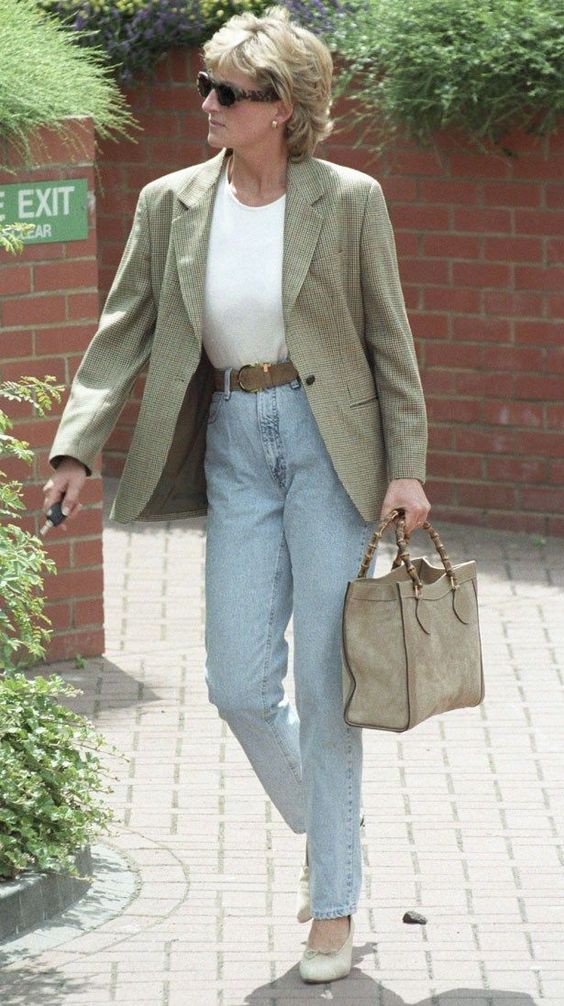 ↓ 7 – Pearls And A Blue Dress
Diana wore this stunning blue dress as a casual outfit. You can wear a dress like this with either sneakers or pumps like Diana did. The pearl necklace on Diana's neck is what really stands out. The pearls give this outfit a much more sophisticated look. This blue dress is one for when you're feeling your best! A blue dress like this can be worn to a lunch date with friends or family or a garden party.
↓ 6 – Yellow Braided Sweater
Diana wore this gorgeous yellow braided sweater with blue and pink lines running along the neckline. She paired this sweater with blue denim jeans and some floral pumps for an effortlessly casual look. This sweater would be perfect for a cute lunch date with friends or just to go out and run some errands. Sweater outfits can only be for the wintertime but if you live where the temperatures are usually low, then give this outfit a go!
↓ 5 – How Diana Styled A White Sweatshirt
Diana styled this white sweatshirt perfectly with matching white shorts for another one of her tennis/gym sessions. This seems to be a super simple outfit and anybody could put it together. This outfit looks super comfortable and something you can reach for whenever you feel like it. You can dress it up or down according to your style. Most of Diana's outfits were sporty so if you like such outfits then you should give this one a go!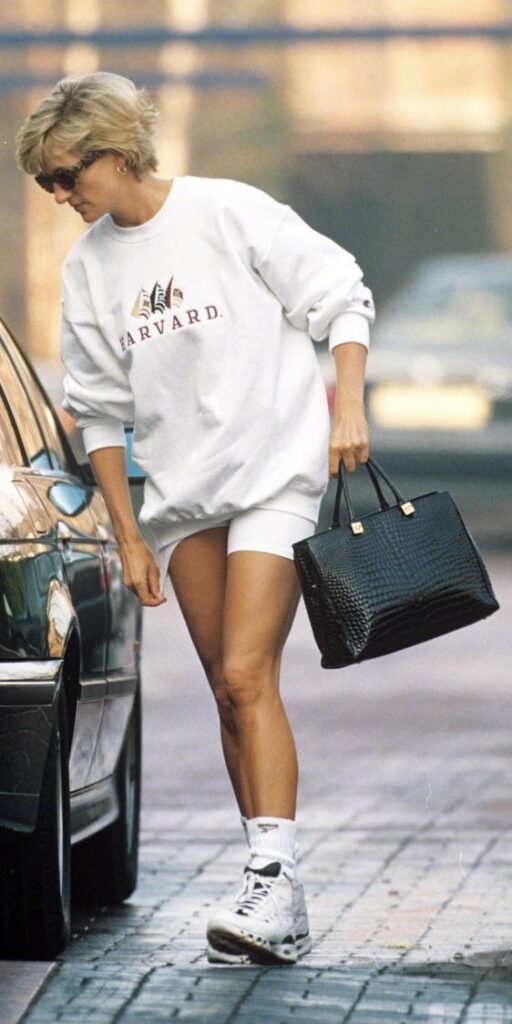 ↓ 4 – Pink
Diana rocked this bright pink sweater with matching white and pink plaid pants. This outfit would be super cool even in today's day and age. Most of Diana's outfits were timeless. Pair this outfit with sneakers if you like or wear white pumps as the Princess did! Di also wore small hoop earrings in gold which complete her look. Pink color seems to always catch the eye, so try this outfit and catch everybody's attention! If you like this look, I highly recommend that you take some inspiration from these Outfit with Pink Sweaters.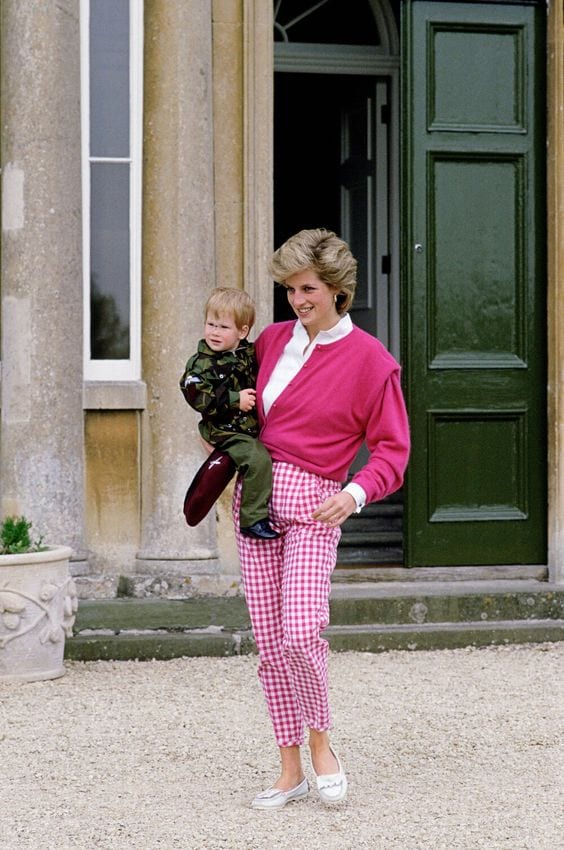 ↓ 3 – Sweatshirt With Shorts
Everyone loves a comfortable outfit especially one that involves wearing a sweatshirt. A sweatshirt with shorts has to be one of the comfiest outfits to ever exist. Diana styled this outfit perfectly as she matched a blue Virgin Atlantic sweatshirt with fluorescent shorts. If you are a shorts person then you should definitely try this outfit.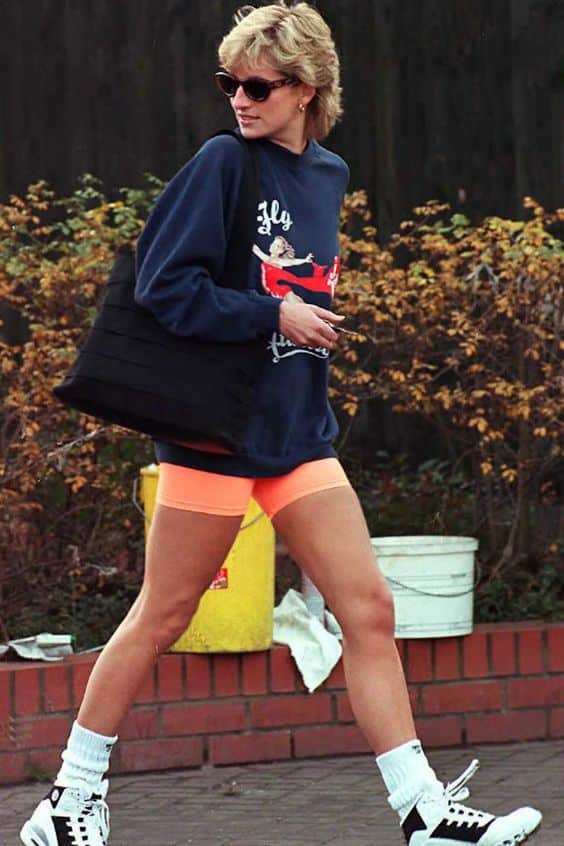 ↓ 2 – Diana's Power Suits
Lady Di really knew how to wear her power suits. Diana is seen with her son Prince William in this image. They seem to be enjoying a mother-son conversation. Diana is wearing a light grey blazer with matching pants with brown shoes and a bag. A power suit that will bring out the boss in you, you can never go wrong with one! Di always knew how to accessorize her outfits best which is why they were always top-notch!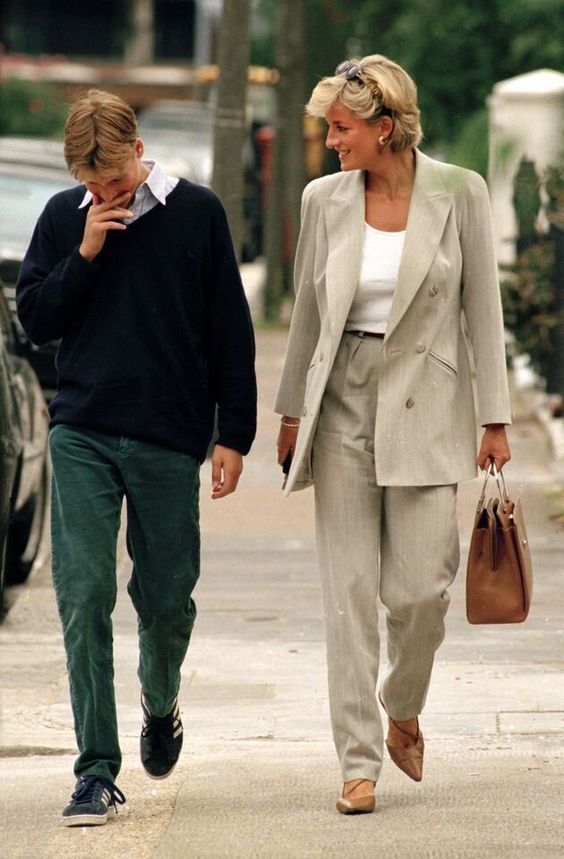 ↓ 1 – Princess Diana Sporty Look
Diana really knew how to mix and match outfits. Just like this one in which she paired a sporty sweatshirt with some denim jeans and heels. How many people have we seen wearing this? Rarely any. This proves that Diana was bold and did not care about people's opinions. You can wear this outfit if you want to wear something different, maybe pair it with sneakers if you're not comfortable with heels.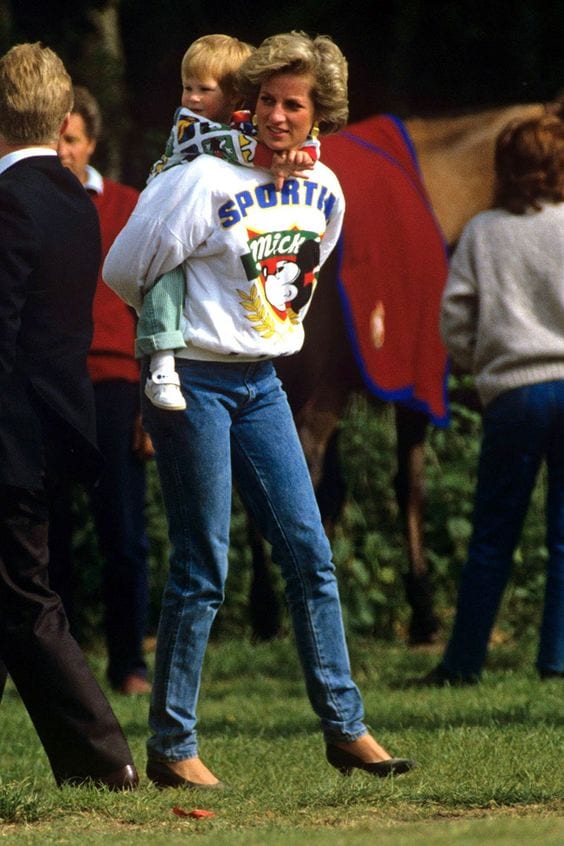 Frequently Asked Questions
Q. How to dress like Princess Diana?
A. There is no way to dress like Diana. However, Diana had a specific style that she incorporated into all of her outfits. We all know Diana liked to dress up however she liked and sometimes it was androgynous too. Di had a sporty style and she used that to style most of her outfits. A sporty twist here and there, she would throw on a baseball cap with a sweatshirt or wear a blazer with jeans but when wearing a dress, Diana carried it perfectly. So you should dress how you want and only use Diana's outfits for some style inspiration.
I am a women's holistic health coach and student that enjoys history, experimenting with makeup and skincare, playing sports, working out, and doing all things adventure-related.