Girls Outfits with White Shirts – Like the speed of light, the trends and fashion statements change but there are some things that have managed to remain constant for eternities. hite shirts paired with anything at all are one of them.
With the benefit of blank statements, white shirts can be style into any outfit be it a knotted white top with classic denim pants or simple dress shirt with boots.The options are simply endless, however, the fact remains the same that white shirts are the ultimate elements that can pull of any glamorous look, given they are paired with the right accessories.
How to Wear White Shirts
Let's start with some basic style tips to go with your white shirts:
If you have a beautiful new skirt that you want to show off then a white shirt will always be the best option.
Add a sleek suit to your white shirt for a professional look.
For a lively look, pair it with bright prints.
They are excellent for layering under or over your outfits.
Use accessories like hats or neck bows to give the same shirt a different look.
For date night, pair it with neat denim jeans to keep things simple but classy.
Don't forget heels if you're wearing the white shirt as a dress.
Use different shades of white for a hot and casual look.
If you find white shirts too sheer, opt for tank tops as inner wear with them.

Here we have listed down 18 outfits that can be pulled out with white shirts. Enjoy!
↓ 18 – Preppy White Look
Pull over a chic white sweater over a plaid shirt with bold colors to pull out this look. Also have a look at 18 best check shirt outfit combinations for girls in all seasons.
Source
↓ 17 – With a Skirt and Sleeveless Jacket for Fall
If you are looking for something more sophisticated and bold, then try this look with a printed, sleek, short skirt with a sleeveless jacket and flats is what you're looking for. Try it. This look is ideal for Fall or Autumn season as the weather starts getting chillier but it's still hot enough to wear your sleeveless outfits.

↓ 16 – Friday Look with a Dress
Friday is the day when the weekend is almost here and you're naturally in  a joyous mood. Make this most of this day by wearing a fun and comfortable outfit like this paired with a printed scarf and plain blue jeans. Some things are best kept classic!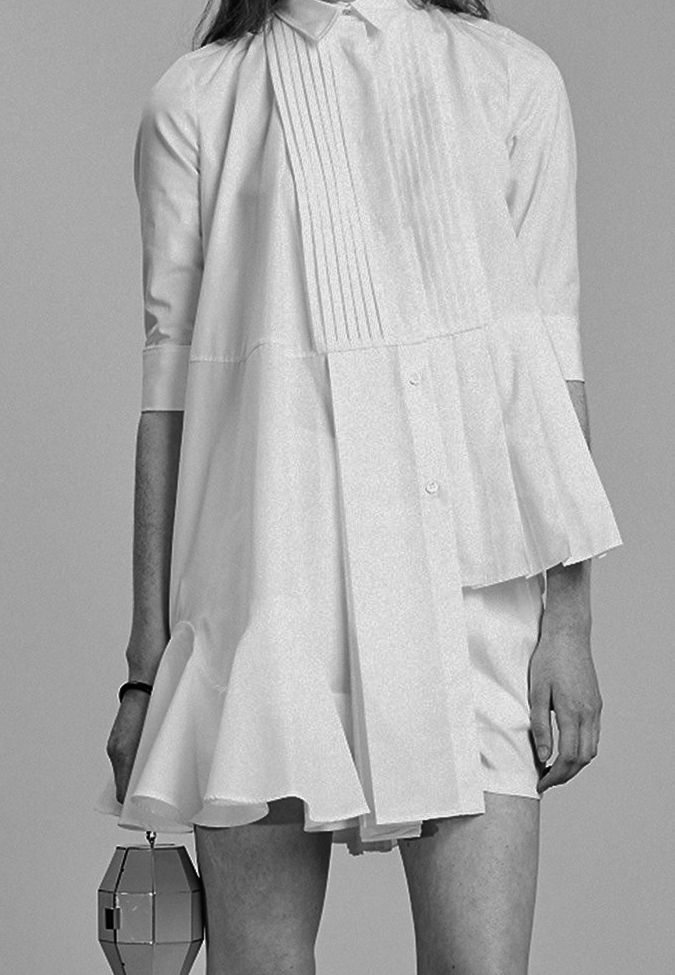 If you're going for a morning brunch, coffee or just some snacks then a white shirt will make you look effortlessly chic and fresh, as proven by Kendall Jenner. She looks radiant as she steps out for a cup of frozen yogurt with her bestie. She tucked her white shirt in with skinny jeans, suede booties, and an eye-catching belt. We're sure you couldn't miss out those statement sunglasses and top knot, so here are 20 Cute Outfits with Top Bun Hairstyle to Compliment Style.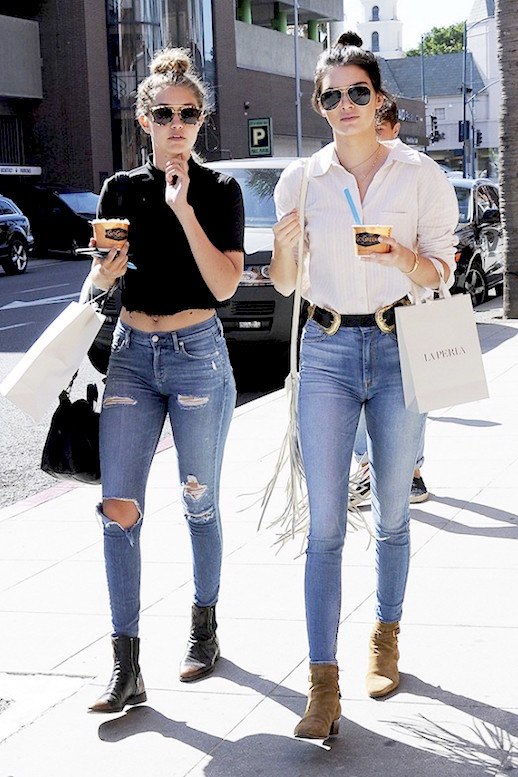 Source
↓ 15 – With a Shirt Dress for a Bolder Look
Nothing beats simplicity especially if it comes with this type of shirt dress that brings sexiness into your fashion statement. Do check out these 60 Beautiful White Nail Art Designs to go with your outfits.

↓ 14 – With Leather Pants for School
Pair your button up white shirt with a pair of serious leather pants and a leather bag to bring out the supermodel in you!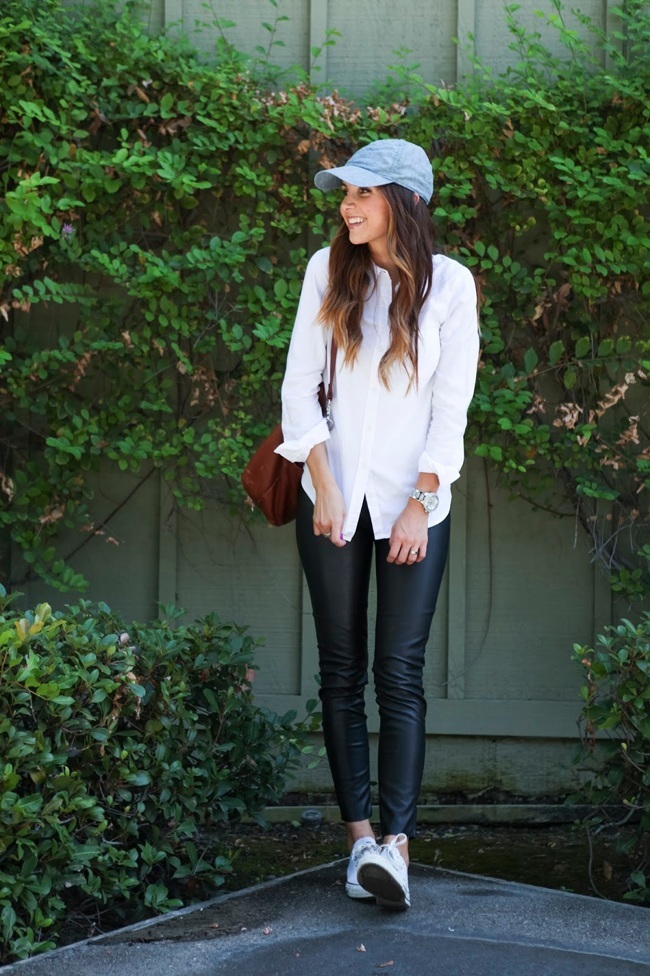 Source
It's always a great idea to add a hat to your white shirt since simple accessories work wonders with them. This is also proven by our favorite style icon, Taylor Swift.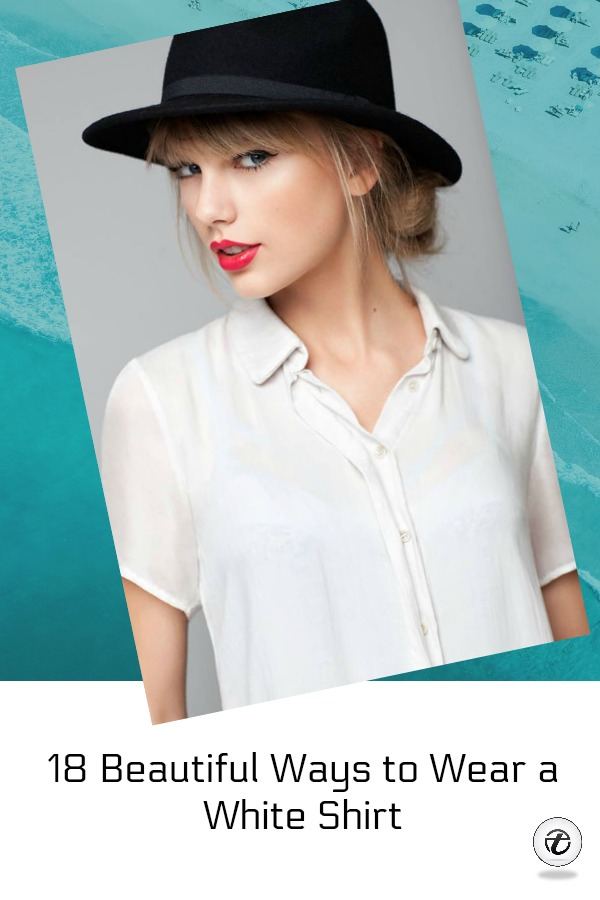 ↓ 13 – Professional Look
White shirts can do endless magic tricks and this outfit is one of them. With a simple pleated skirt and a casual sweater, you can pull off this outfit for work by wearing a collared white shirt.  To make thing more dramatic make a bun! Preppy and professional. For more ideas, have a look at 20 ideal spring work wear outfits for women for an elegant look.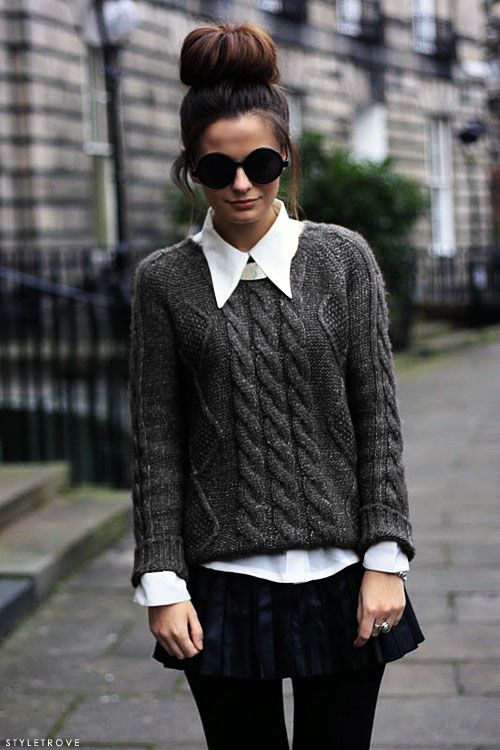 Source
↓ 12 – Boho Look for Winters
Get a boho look with this crew net sweater top and flowy white shirt. Don't forget to wear lots of accessories with it to complete the look. Here are 12 Chic Style Bohemian Outfits Combinations for this Season.

↓ 11 – Street Style in White
Get this sophisticated look with a dash of red lipstick.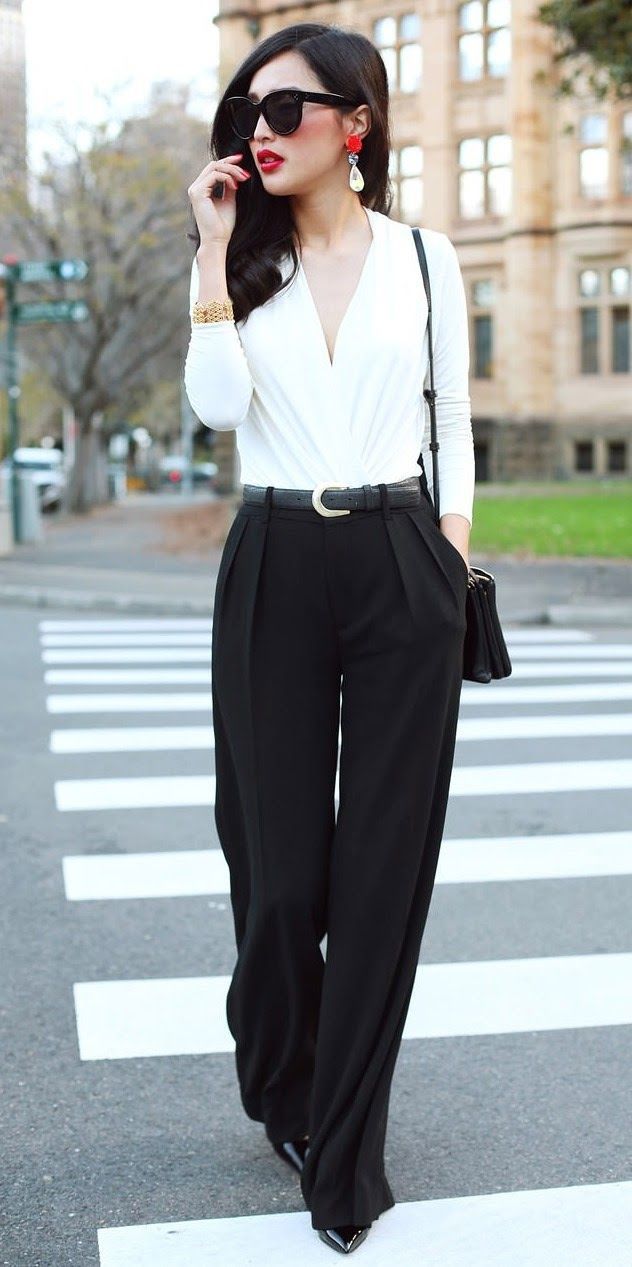 Source
↓ 10 – With a chick leather jacket
Nothing beats a good leather jacket! Check out these Outfits with Leather Jacket.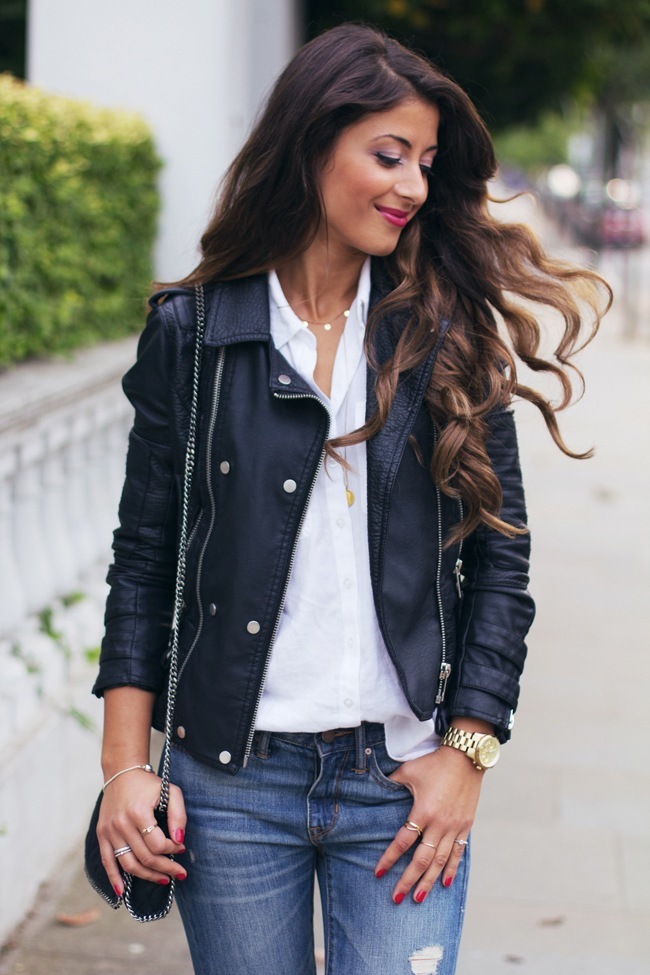 ↓ 9 – White and Yellow for Summers
Bring in some colors to your daily life with these plump yellow heels and blazer. Don't forget the hat to complete the look.
↓ 8 – Casual College Girl Look
Make it casual with this statement simple jeans and a chain bag.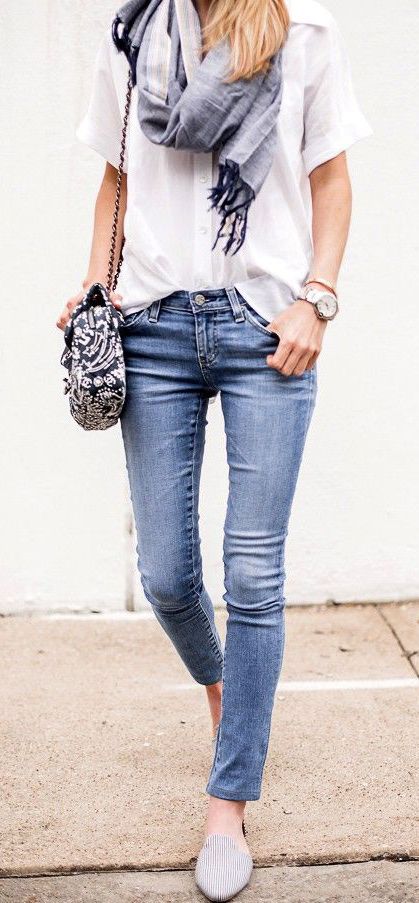 Source
Here's another white shirt outfit for college but this one spices things up a notch and it's inspired by the one and only, Taylor Swift. Knot together the ends of your white shirt at the front and pair it with printed tights. To complete the look, Taylor went for crimson lips and nude heels. The wavy wet hairstyle too looks spot on with this outfit and this is definitely a look you need to try. Here are some more awesome Outfits with Printed Tights & Leggings.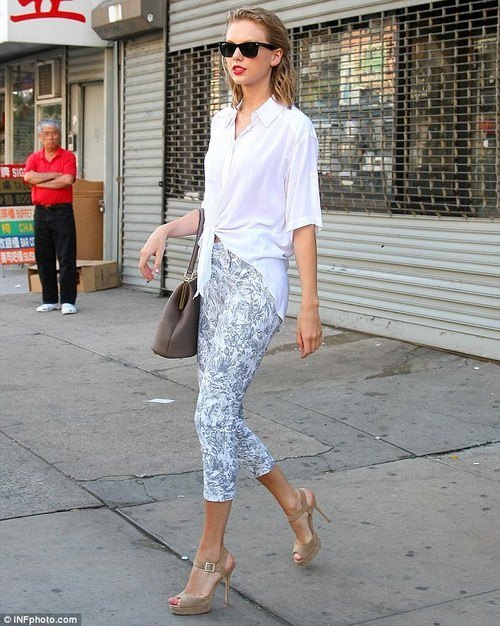 ↓ 7 – The Classic look
Bring the traditional fashion back with these black straight pants and a simple tucked in white button up. Here are 25 Celebrities All Black outfits Styles for Fall to Copy
↓ 6 – Celebrity Style
 Bring out the film star in you with this statement sexy leather jacket and a shirt dress. Don't forget to put on those heels!

↓ 5 – Girl's Night Out Outfit
For a warm and comfy look, give this outfit a try. Also check out these 17 girl's night out outfits.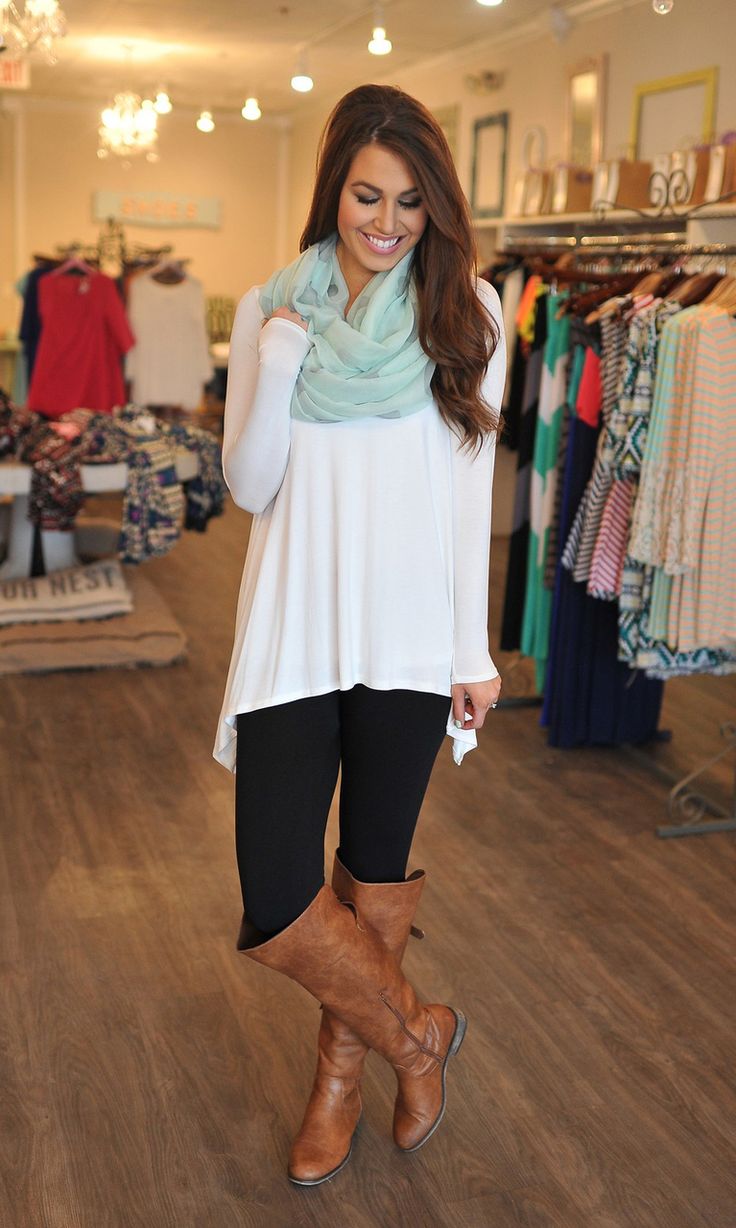 ↓ 4 – With a Blazer and Dress Pants for Work
Have a business meeting or an interview? Try this look!
Source
↓ 3 – White Shirt with Striped Pants
Striped pants like these are great for short girls as they immediately make you look taller, especially when paired with a white shirt. Here's How To Wear A Backward Shirt if you want to try the latest trend.
  Source
↓ 2 – Beige it Up
If you're more into pastel colors then try this look.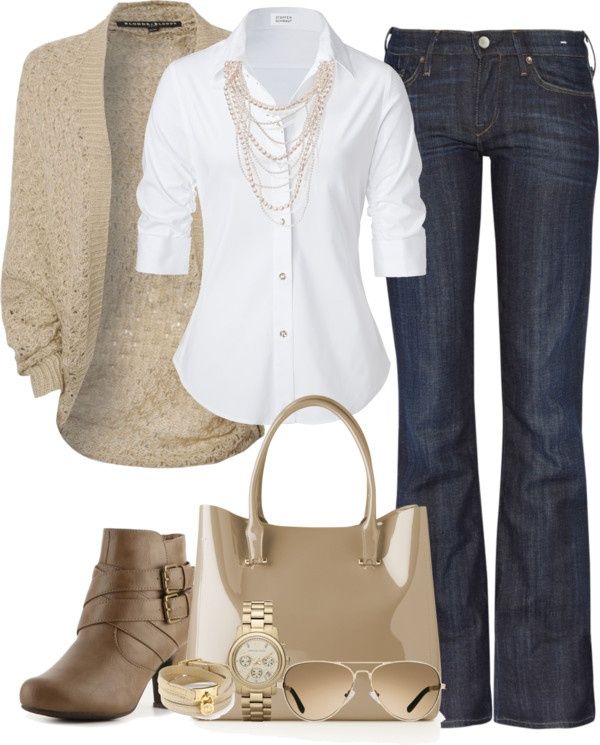 ↓ 1 – The Ultimate Hipster Look
The title speaks for itself, if you're into hippy fashion then try this look.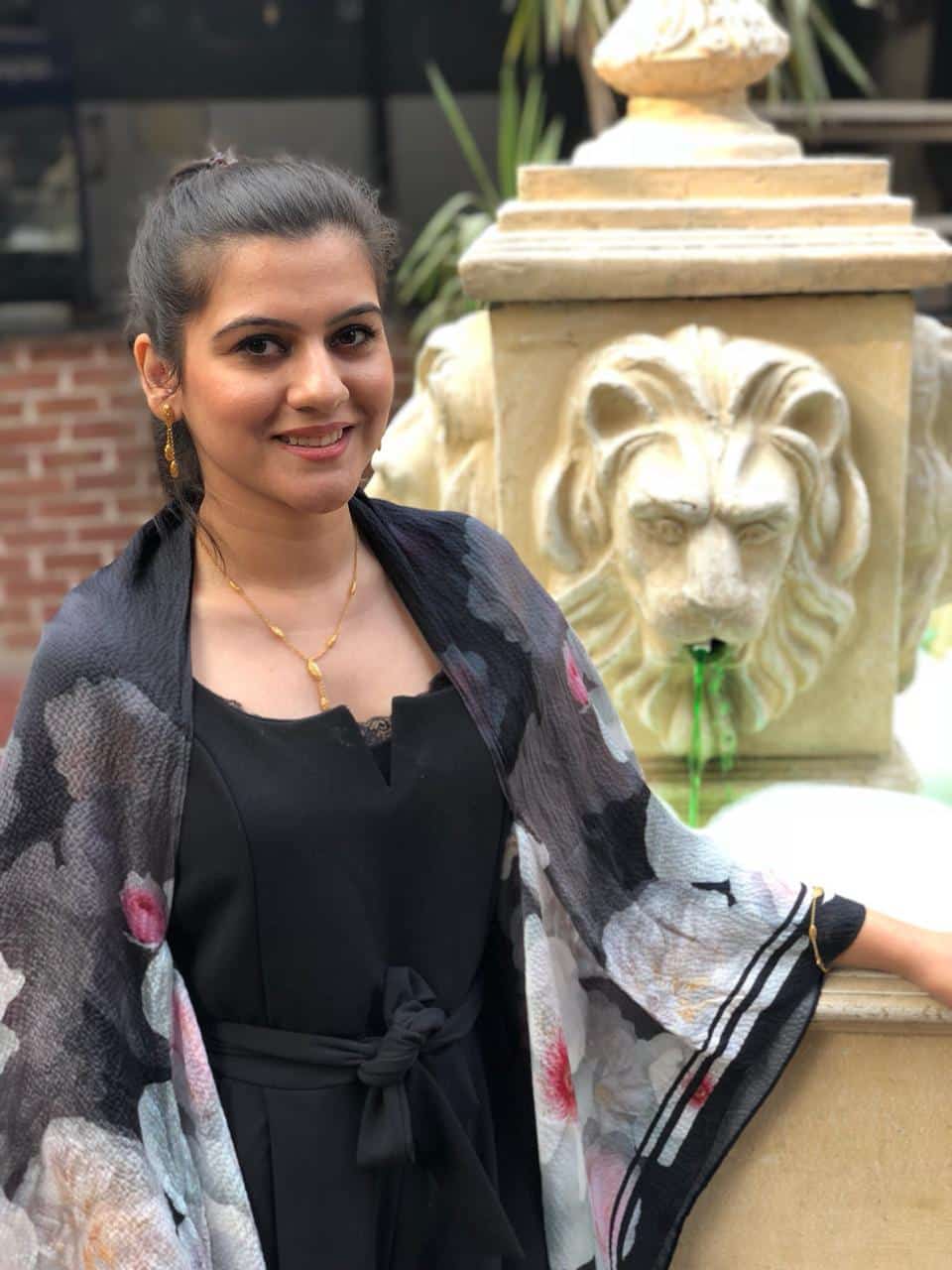 A content writer by the day and a reader by the night – two things that she loves the most. When Zoona isn't writing, she'll either be thinking of what to bake next or where to travel next. When it comes to writing, she has always been a storyteller and one of her short stories was published in 2014 in the Oxford University Press's anthology of contemporary short stories, I'll Find My Way.  Her love for fiction writing also drove her to complete a short course on "How Writers Write Fiction," at The University of Iowa. Her other interests include binge-watching Netflix or online gaming.