What to wear with Pencil Skirts- Pencil skirts are a timeless gem. They work whether you're going to grab a cup of coffee with a friend or simply getting ready for a meeting at work.So if you're looking for a chic and feminine way to amp up your look, here are 25 ways to get that perfect ensemble with pencil skirts.
Pencil Skirts Outfit Ideas
#25- Go Monochrome
Get the perfect cute and flirty look by pairing a black and white striped pencil skirt with a cut out top and silver pointed toe pumps!
#24- Yellow It Up
When going for a bright yellow skirt, take it up a notch by pairing it with a yellow bag and a yellow bandana. With the addition of a funky top and cuff bracelets, you're ready to turn some heads!
Source
#23- Keep It Simple
Whether going out with friends or simply running some errands around town, keep it simple by going for a black crop top and black accessories with an adorable checkered knee length skirt.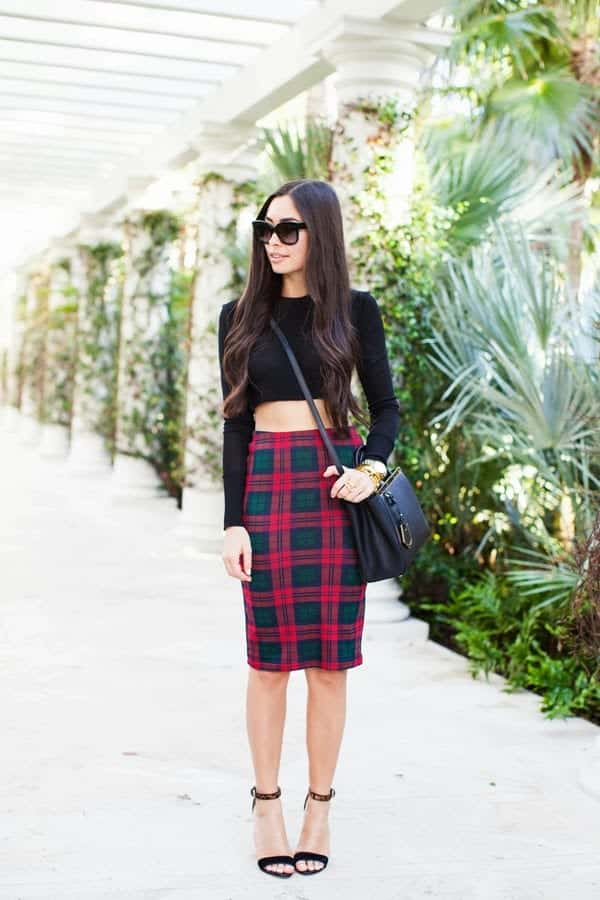 #22- Chic In Neutrals
Who said neutral colors are boring? Grab your go-to white button down with a tan pencil skirt, and nude heels for that classy day look. Don't forget the leopard print clutch for the extra edge!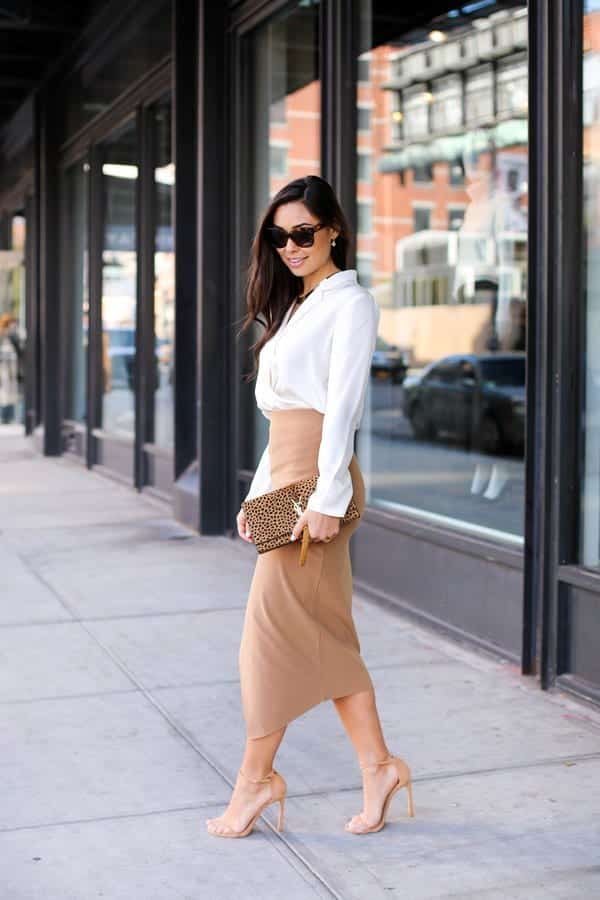 #21- Simply Red
Looking for a way to take your plain black skirt to the next level? Pair it with a red top and black accessories and you're ready for your dinner date!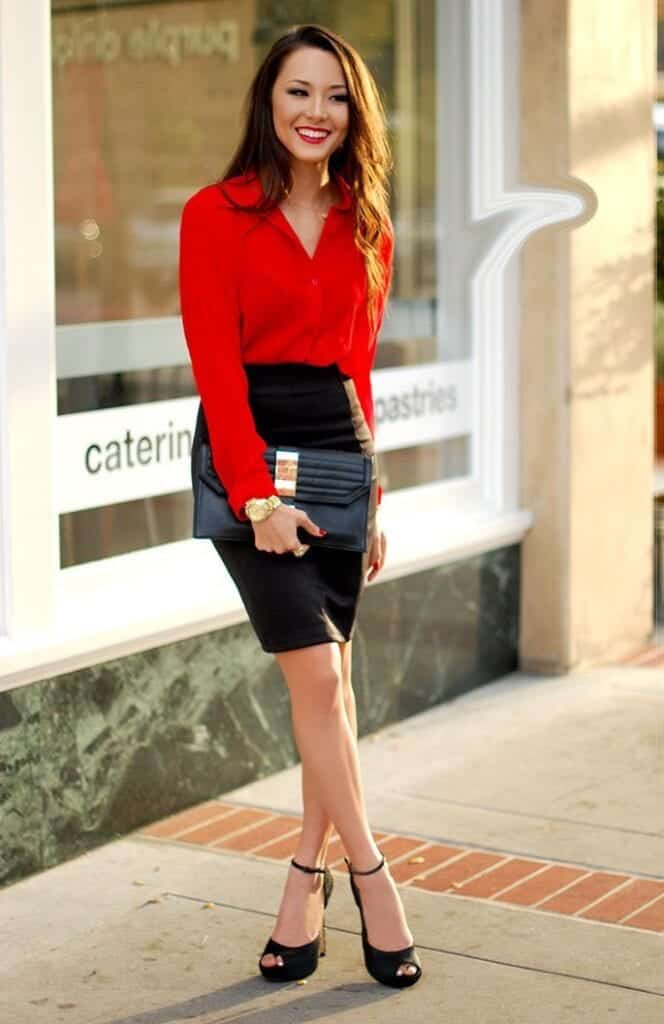 #20- Day-Time Lace – Lace skirts are often worn at night since they are considered a bit formal. To make it day time casual, all you need is a grey t-shirt and you're good to go!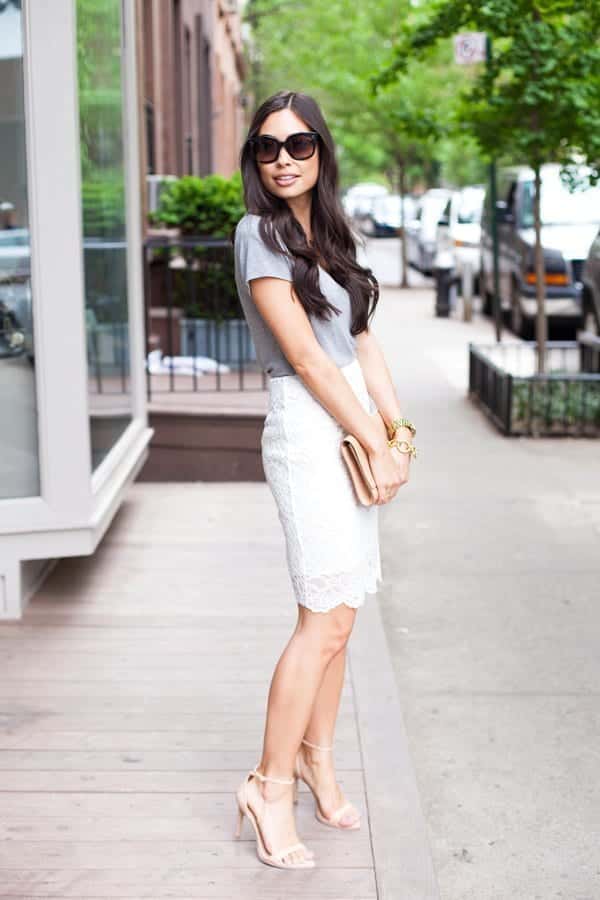 #19- Tribal Prints Done Right
Not sure how to pull off your tribal print skirt? A plain white top and white heels are all you need!
#18- Winterize your Pencil Skirts
Be your own stylist and see which patterns go together. Pair a striped skirt with polka dots and let the magic unfold!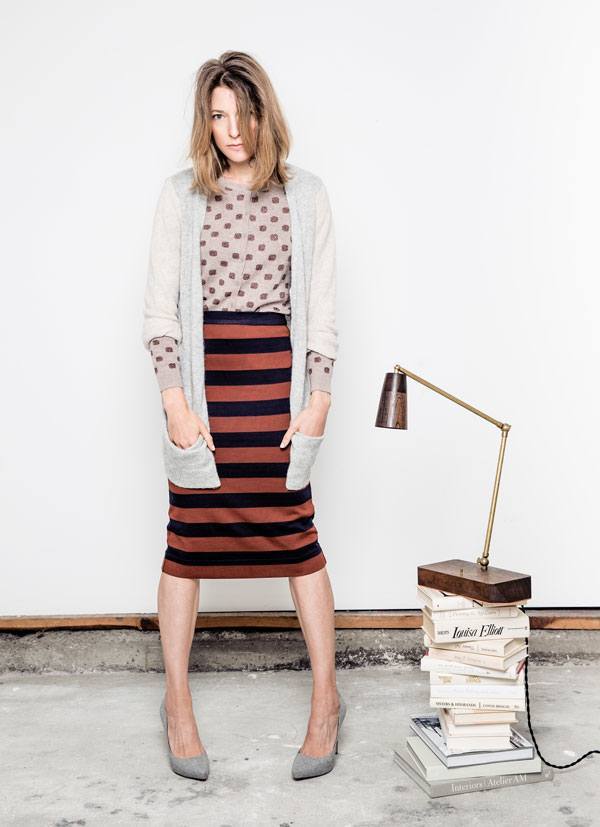 #17- Flawless In Leather
Knee length skirt and a graphic T-Shirt. Looking flawless was never this easy.
#16- Over-Sized Sweater
Looking for comfort AND style? An over-sized sweater and a deep navy blue pencil skirt is the way to go. Modern chic done right!
Source
#15- Bold Patterns
Make a bold patterned pencil skirt work for you by keeping everything else black and simple.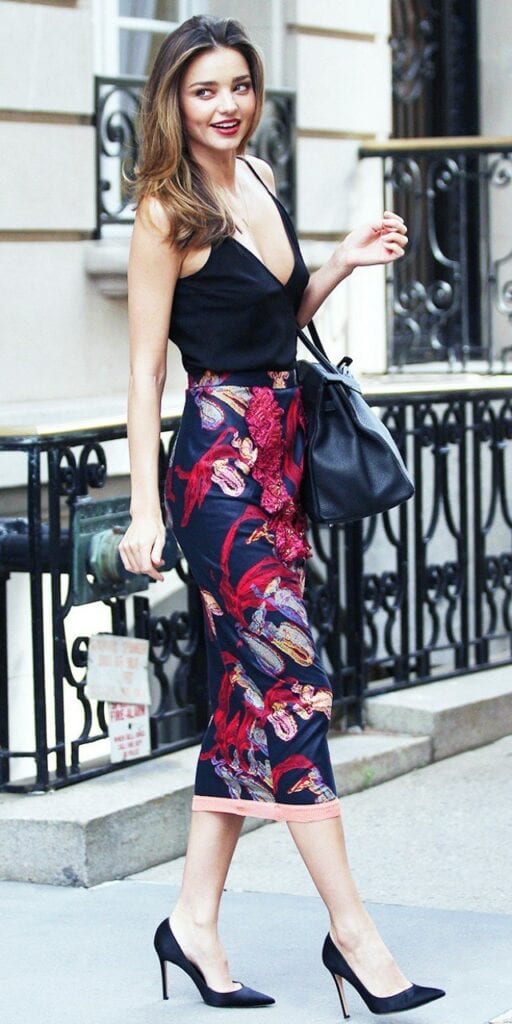 Source
#14- Play With Textures
Create an outfit with one dominant color like burgundy or navy, while mixing with different textures.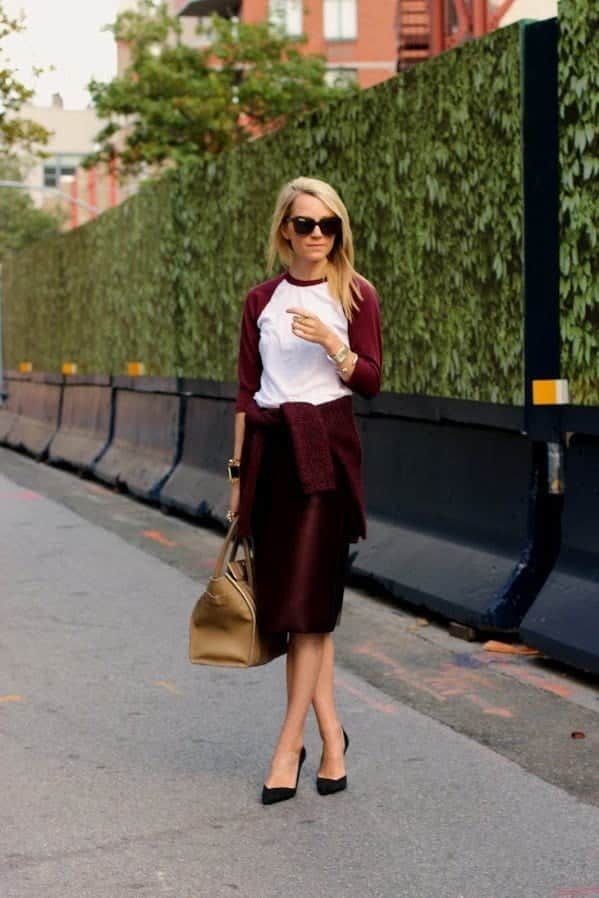 #13- Flirty In Plaid
If you're not ready to give up on your plaid button-down just yet, turn it into a flirty outfit with heels and a black pencil skirt.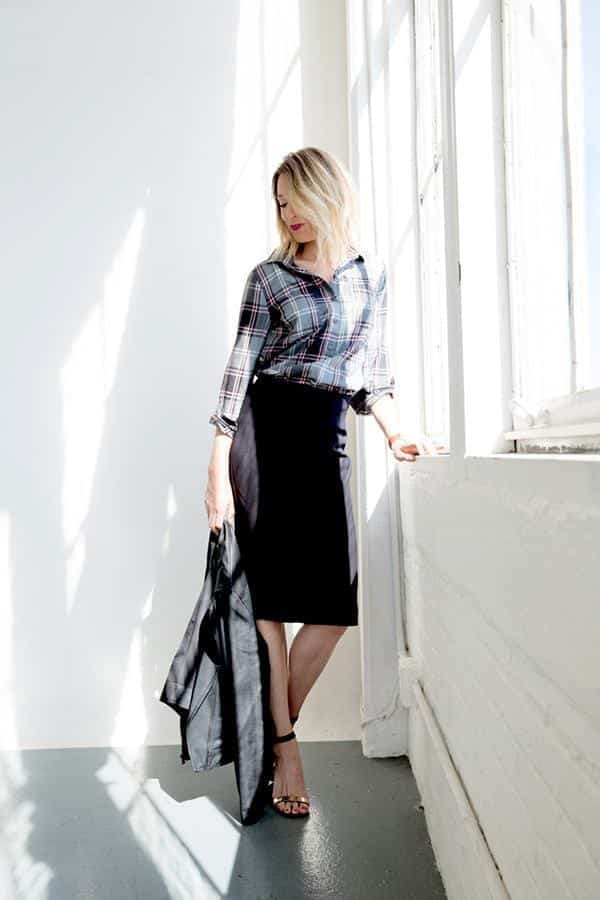 For some more amazing ideas, you must have a look at [highlight]Amazing pencil skirts collection for women[/highlight]
#12- Navy Blue Horizontal Stripes
Keep it classy with a navy striped skirt and beige accessories.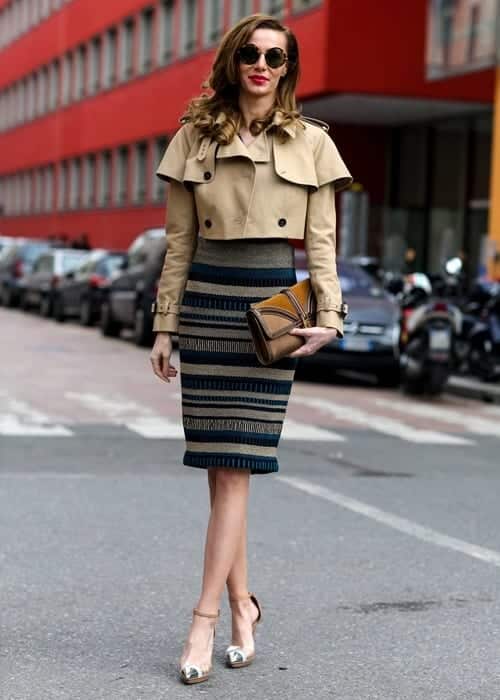 #11- High Street Fashion Look
It's time to pull out that unusual patterned skirt from the back of your closet and pair it with a poncho style top, to get this effortless chic look.
#10- Cute in Blues
Bring a new meaning to 'Monday Blues', by mixing light and dark blue hues for work. With the addition of statement jewelry, give the outfit the edge it needs.
#9- Slay In Suede
Don't hesitate when reaching for a suede pencil skirt, as long as it's the perfect fit; you're ready to slay!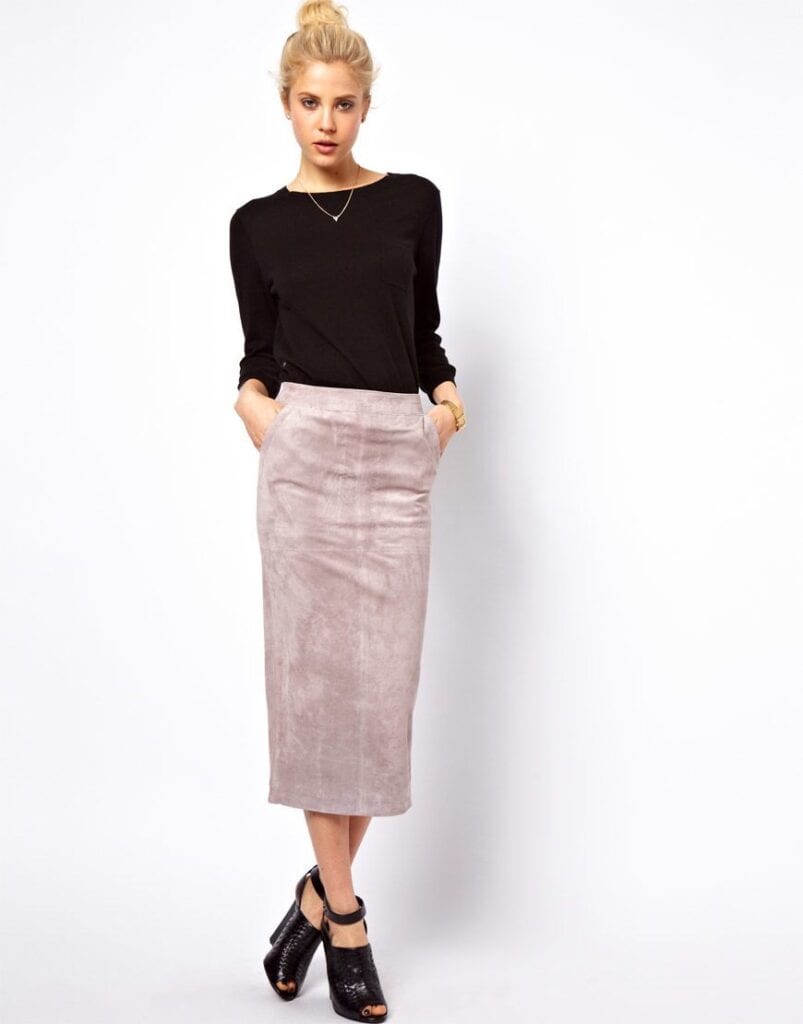 #8- Hot Casual Friday
A chambray blouse and a perforated floral designed skirt for a casual day at work are perfect. And if you're comfortable in heels, go for black leather mules.
Source
#7- Pop Of Color for Fall
When keeping it simple with a black and white striped skirt and white blouse, add a pop of color by wearing bright red shoes and a matching lip color.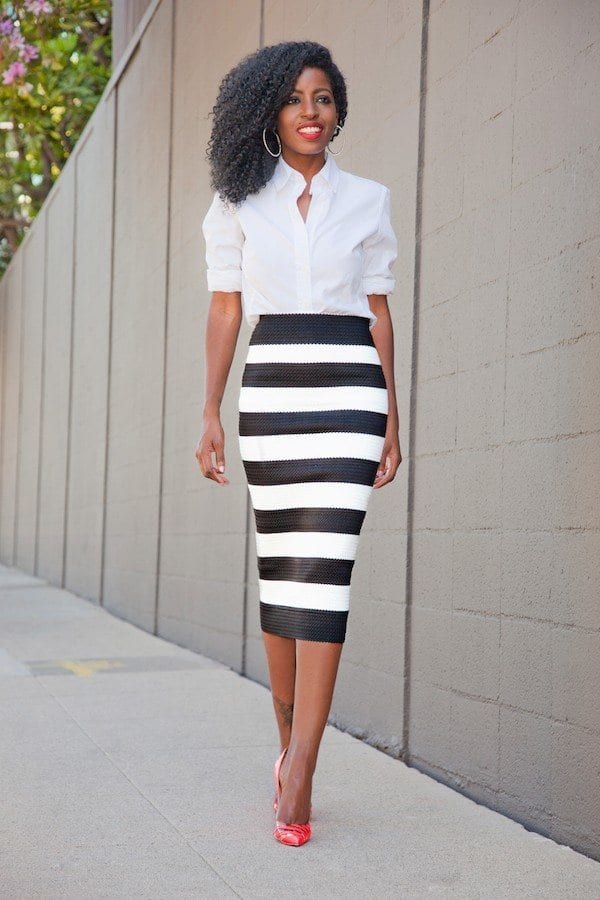 #6- The Professional Outfit
It's hard to create an outfit for work that is both stylish and conservative. This knee length grey skirt and maroon top helps you check both the requirements.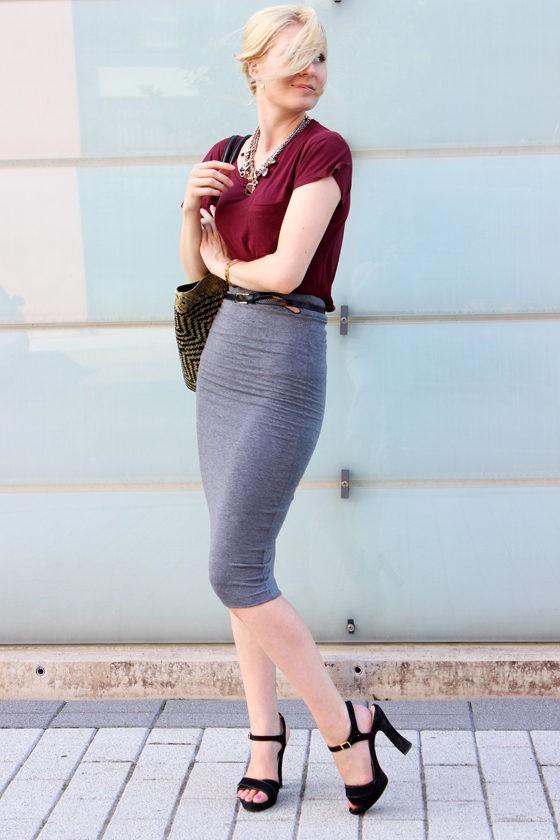 #5- Check Print Skirt for Work
Add a blazer and t-shirt with your check print skirt, and you can pull this off as a day AND evening look.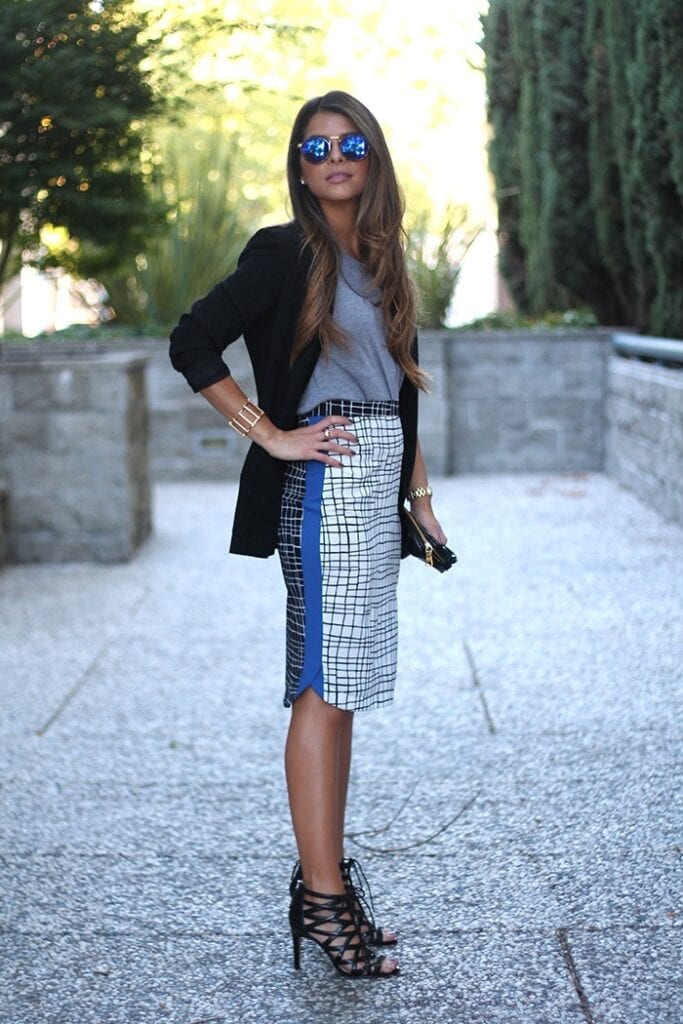 Also check out [highlight]10 matching outfits to wear with pencil skirts for A chic look[/highlight]
#4- Peach, Grey And White for Cold Winter Days
When going for a light colored outfit, add texture with a lace skirt and shiny silver heels.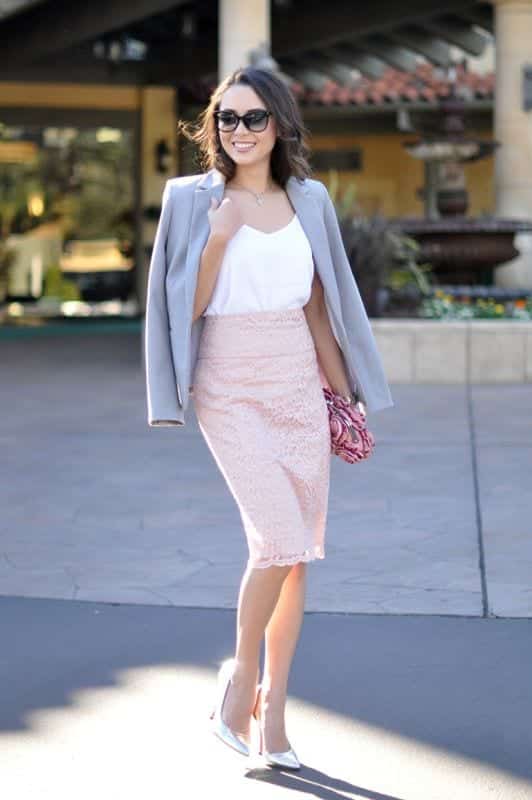 #3- The Hearty Look for Valentines Date
Heart patterned shirts and accessories are not just for Valentine's day. Wear this all red outfit for a fun day out with friends.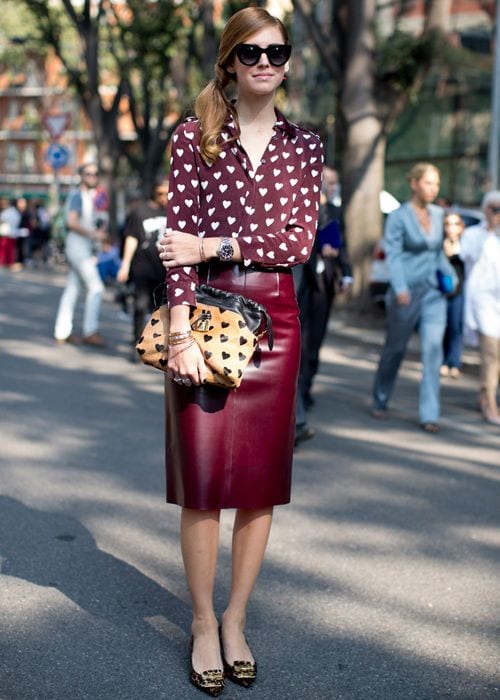 #2- Ebony And Ivory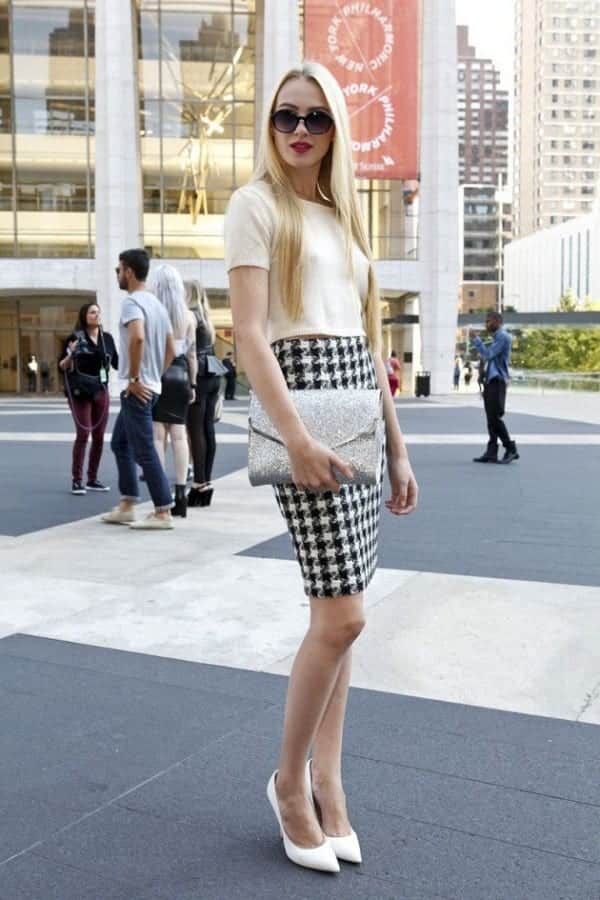 #1- Plaid And Leather
Don't be shy when opting for a skirt with a slit. Wear it with confidence and sunglasses for a day out in town.