How to Wear Peplum Tops. Since Winters are already here and peplum tops are in fashion, therefore, we will talk today about what to wear with peplum tops in winter. This winter peplums are going to make a significant comeback in fashion. Peplum tops have been trending since 2012 and they are the most wearable and followed trend.
Add peplum tops to your wardrobe now as it will be the best choice for winters. They will be available in stores and markets but before purchasing it make sure what kind of peplum top will suit your body type. Most of the girls are not even aware of peplum tops so we will let you know what it is. Peplum has a ruffle around the waistline and is a short top with overskirt. Dior is famous for introducing it.
Tips to Wear Peplum Tops in Winters
Wear a statement jacket over the peplum top. Blazer can also be worn with pants and shorts.
Another option would be to wear it with narrow pants and peplum top with lace on it. Peplums tops are specially designed to celebrate femininity. Any body type can wear them if they are worn the right way. Straight and curvy body both can benefit from it.
For winters it is highly recommended to wear heavy fabric such as leather or wool peplums. Some famous are Tweed Wool Peplum Jacket. There are different colors in peplums. Choose the one that suits you the most. Make a good combination with darker tone peplum and lighter tone pant.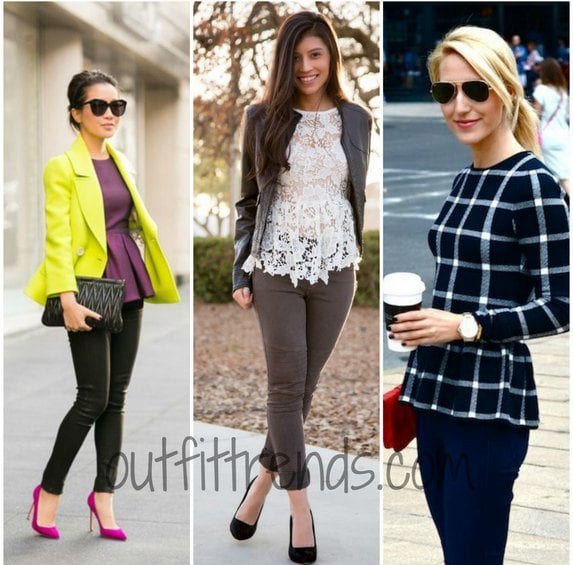 Printed pants are preferable to wear with a light tone peplum tops.
You can wear statement necklace over the top to make it look more classy along with a bracelet or a handcuff.
Peplum tops would go well with flared skirts and thigh high socks in winter. Try wearing an colorful flared skirts with a simple peplum top. Palazzo pants with a peplum would look even better. It can make you look like a diva but it all depends on how you can carry it. If you are good with the selections you can pull it off very well.
While you are looking for a top to wear it in the cold weather make sure you select the best material that keeps you warm. Best advice would be to go for peplum jackets.
It is essential to select the best shoes to complete the entire look. Stilettos or heels would add the cherry on the top. Also, make sure that you don't wear boyish shoes or sandals.
If you are planning to wear a belt make sure it's not over the oversized belt. The thinner the belt is the better it will look. A large belt will ruin the look and will make you look shorter.
Keep the do's and don'ts in mind. Hopefully, you will be able to take enough ideas from the pictures below that have been specially chosen while keeping winters in mind. For sure you will be able to leave a great impact on people if you succeed at styling the peplum top. Let's see the collection now.
What to Wear with Peplum Top for a Chic Look
↓ 15 – Peplum Top with Sweater for Meeting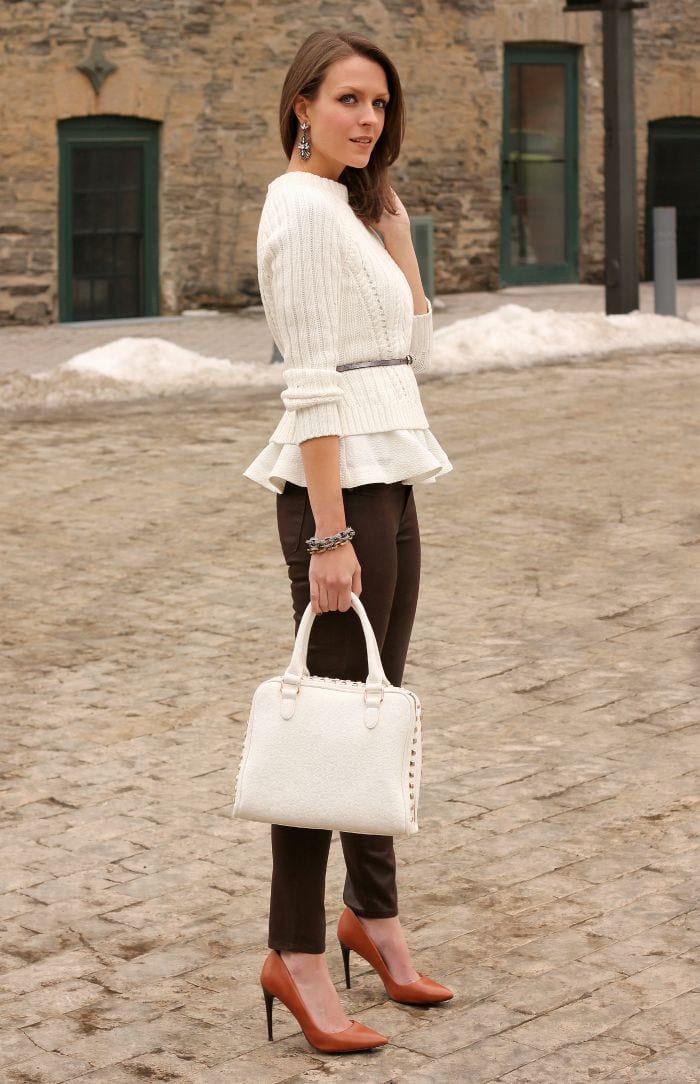 ↓ 14 – Leather Peplum Tops

↓ 13 – Wear Your Summer Peplum Top over a Long Sleeve Shirt in Winter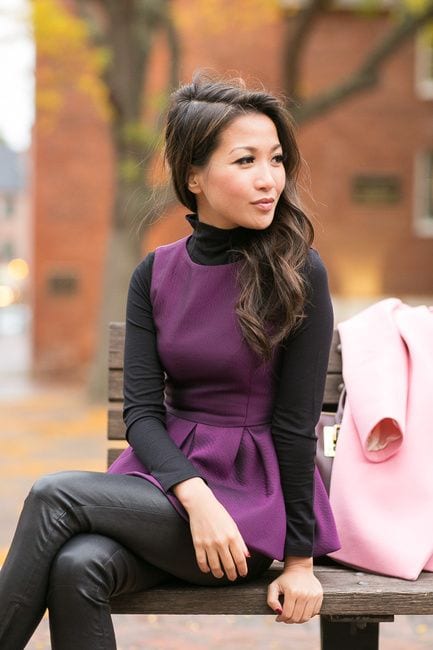 ↓ 12 – Wear Peplum top with Tights on Snowy Days
↓ 11 – Wear Tartan Peplum top with Jeans

For the chillier days, you can add a leather jacket to the peplum top and jeans combination. The edgy and strong vibes from the leather jacket, paired with the feminine peplum top create a very interesting and eye-catching look. You can also check out these Outfits with Leather Jacket-19 Ways to Style Leather Jacket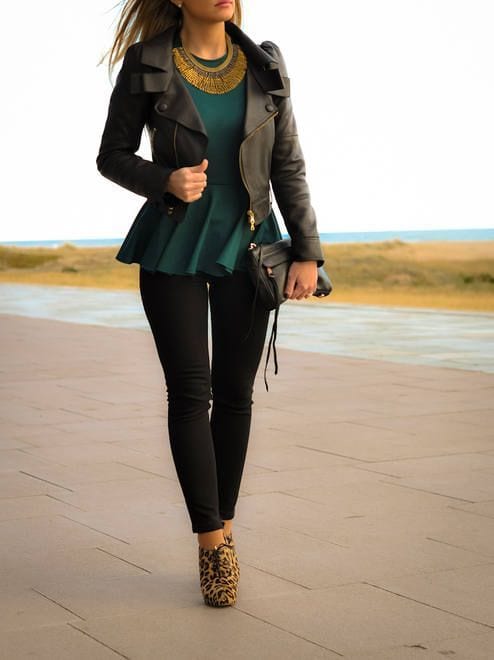 ↓ 10 – Wear Peplum top With Blazer for Workwear

↓ 9 – Cute Red Peplum Tops for School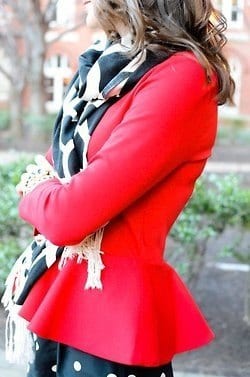 ↓ 8 – How to Wear a Floral Peplum Top↓ 7 – Hairstyle with Peplum Top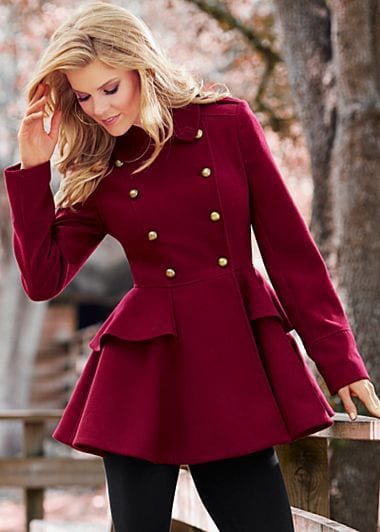 ↓ 6 – Lace Peplum Top↓ 5 – Peplum Jackets for Work
Peplum jackets have been very popular amongst working women lately and we saw a number of newscasters rocking these jackets. And why shouldn't they, these jackets are definitely a hit especially this light rose nude colored one.