Adidas legging outfits. It goes without saying that leggings are a staple in nearly every girl's wardrobe. They are fun, versatile, match with pretty much everything; plus, they are so comfortable. Adidas leggings are no exception. And today we have compiled 22 outfits to show you all the different ways you can wear your favorite brand name leggings without getting bored.
Whether it's a trip to the park with the kiddos, a Target run, or a coffee date with your best friends, these looks will give you a fresh appreciation for the endless versatility of everyone's favorite clothing piece.
Different Ways To Wear Adidas Tights
Let's start with some of the best places to buy Adidas leggings and tights:
The first place is, of course, the Adidas website since you can find the best range here and all the latest products. You can find leggings in the price range of $20 to $40 and tights are in the range of $18 to $150. Their website offers free shopping within the US.
If you're located outside of the United States, the next best place to shop for Adidas products is the Amazon store. You can find many sellers who're offering International shipping and with amazon prime account you can even opt for same day delivery.
ASOS too offers international deliveries at reasonable rates for all countries. The price range for Adidas leggings on their website is between $30 and $95. You can also get many products at amazing discount prices.
Without further ado, let's get started with the outfit ideas!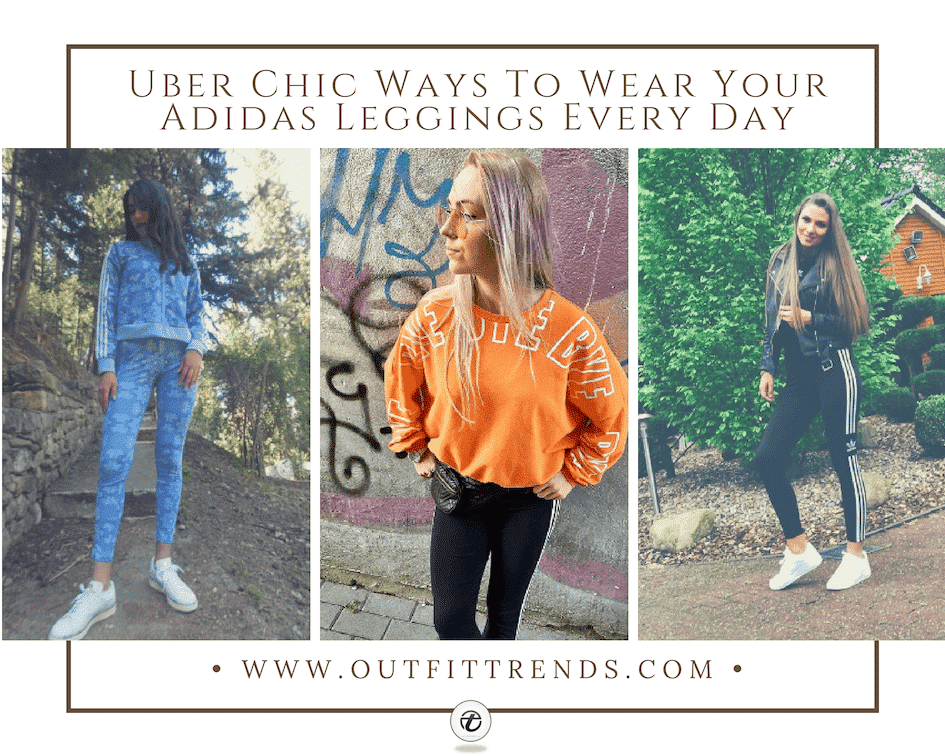 ↓ 22. Fun, Casual Outfit
Sure, you might be thinking, "Well, of course, any look that's fun or casual outfit would include leggings!" but no judgment, sis. We all need some fresh inspiration for spicing up the old leggers. With this look, keep it simple with a knotted long-sleeved top. Let your hair down and accessorize with a pair of sunglasses. For footwear, some Adidas sneaks or lace-up sneakers will do the trick. And, you guessed it, you can't forget those leggings! This outfit is great for running errands or meeting up with your gal pals for lunch. You should also have a look at these 21 Ways to Wear Black Leggings.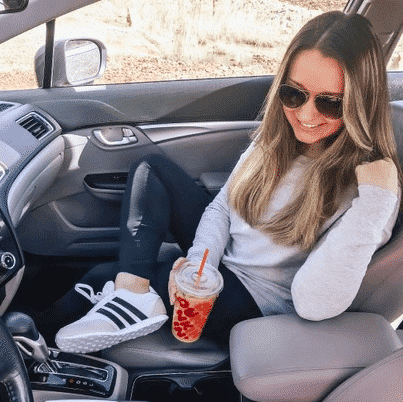 SHOP THE LOOK FOR UNDER $42.00
LC Eyelash Knot Front Top $16.00
Belicia Faux Leather Lace Up Sneakers $25.48
↓ 21. Head-to-Toe in Adidas
If you've got it, flaunt it! Sometimes you have just to pull out all the stops and let that Adidas logo do the talking. We have tagged the specific outfit details below so you can go ahead and rock this look yourself!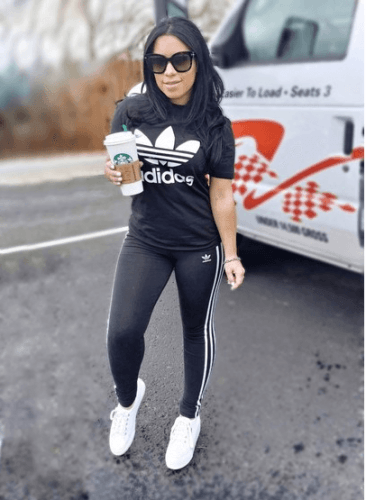 SHOP THE LOOK FOR UNDER $150
Nordstrom Acot Linea Sneaker $80
Adidas 3-stripe tights $26
↓ 20. Plus Size Outfits
Despite being a popular and loved brand, its unfortunate to see that Adidas does not yet cater to plus size women. The largest size they currently offer for women is XXL (20-22) while for men you can find up to XXXL which is why many plus size women choose to shop from their men's collection.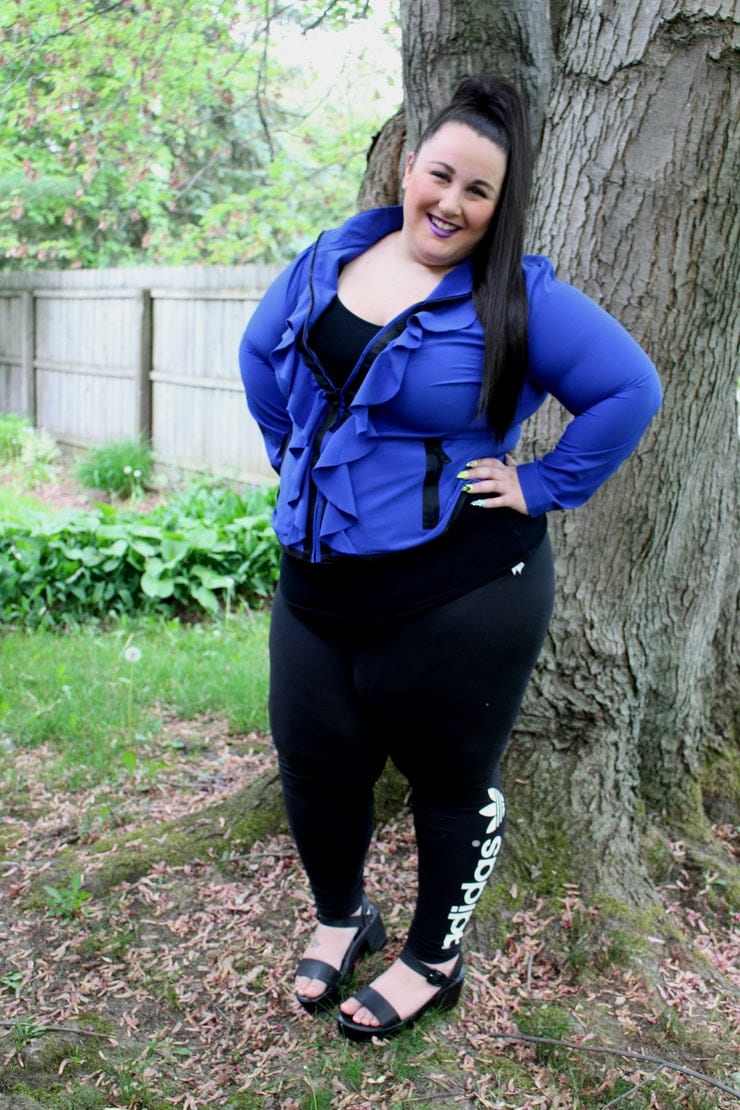 ↓ 19. Gorgeous All-Black Adidas Look
For the girl that loves an all-black (and figure-flattering) look: try this long-sleeved top worn with Adidas leggings featuring their classic three stripes running down the sides. For footwear, these blinged out Nike shoes are gorgeous and stylish. Throw on a denim baseball hat to bring a pop of color to your outfit. Do check out these 30 Cute Outfits with Adidas Shoes for Girls to try this Year.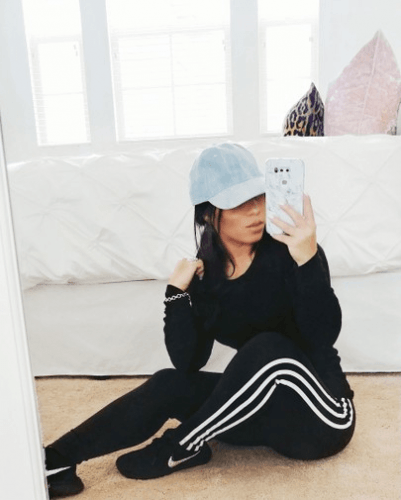 SHOP THE LOOK FOR UNDER $ 250
Madewell Denim Baseball Cap $30
Swarovski Nike Free Running Shoes $165
Three Stripe Leggings by Adidas Originals $15
Nordstrom Long Sleeve Crewneck Tee $39
↓ 18. Jeans, Cap, and Leggings
We adore this outfit. It's likely you have most of these pieces in your wardrobe already, so you will find it easy to pull this look together. Start with a simple white v-neck tee. Over that, pull on your favorite denim jacket and a baseball cap. These leggings are gorgeous and feature some seriously eye-catching mesh panels that wrap around the upper thighs and calves. To finish off the look, grab a pair of sneakers like these Adidas three stripe sneakers. And voila! Accessorize with sunglasses and some clavicle necklaces.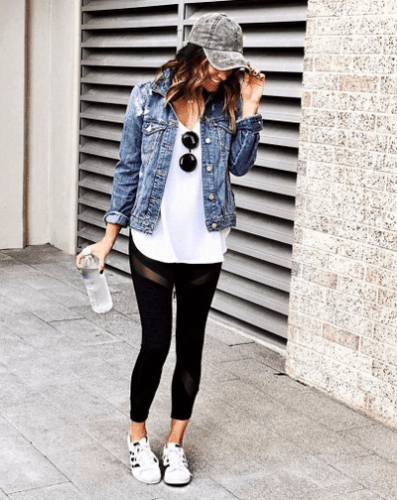 SHOP THE LOOK FOR UNDER $145
NIASHOT Short Sleeve V-Neck Top $9.99
adidas Relaxed Strapback Cap $22.99
Nordstrom Adidas Superstar Sneaker $80
Riders by Lee Indigo Women's Stretch Denim Jacket $29.99
↓ 17. Cozy Winter Look
This is definitely a Target-approved look, we would say! This look is fun and great for a chilly winter day. Start with an off-white hoodie like this Adidas originals hoodie. Wear over your favorite Adidas three-stripe leggings. For shoes, get snazzy with these Yeezy sneaks. Top it off with a white knit beanie and a furry coat.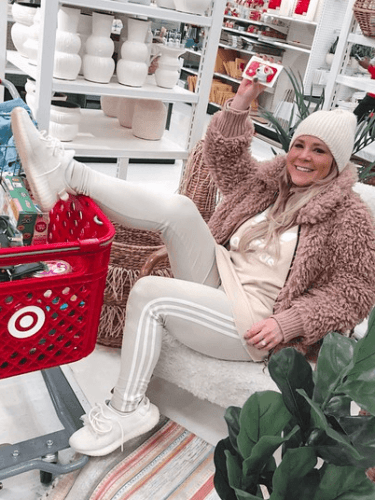 SHOP THE LOOK FOR UNDER $ 500
Adidas Originals Trefoil Hoodie $50
Women's Adidas Trefoil Three-Stripe Leggings $40
Adidas x Yeezy Boost 350 V2 Sneakers $399
↓ 16. Trendy and Stylish Adidas Look
This is a great look for meeting up with friends or going out for lunch with your girlfriend. This white tee is loose and can be worn with one side slightly pulled over the shoulder to add a feminine twist. The red stripes on the short sleeves give this outfit a pop of color. Wear your favorite black leggings and sneakers. Accessorize with some cat-eye sunglasses. Here are some really cool ideas on How to Wear Leggings Under a Dress.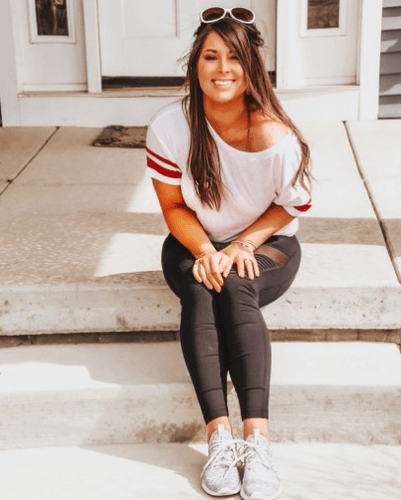 ↓ 15. Super Cute Autumn Outfit
Mix up your leggings game with these leopard print leggings. This is a great outfit for a chilly autumn day when you're out running errands. Simply top your leggings with a white tee and baby pink puffer jacket. For footwear, go for some black Adidas.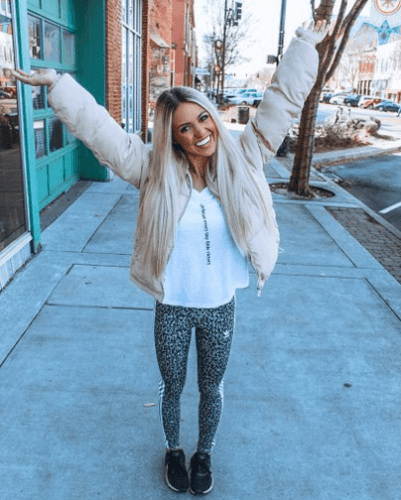 SHOP THE LOOK FOR UNDER $ 150
Adidas Leoflage Leggings $20
Adidas Originals Nmd R1 Sneakers $130
↓ 14. The Perfect Outfit for a Chilly Day
Heading out for a run but the weather is a bit nippy? We have got the outfit for you! This is a head-to-toe Adidas look, so enjoy. Start with this great crop fleece sweatshirt. It will keep you warm and it's ridiculously stylish. Grab your favorite pair of leggings and finish off the look with some all-black running shoes.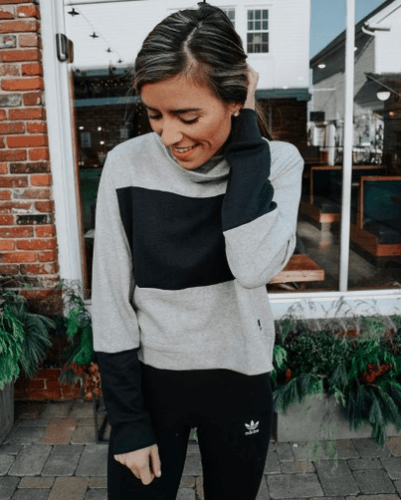 SHOP THE LOOK FOR UNDER $ 260
Adidas Originals Trefoil Leggings $40
Adidas Turtleneck Crop Fleece Sweatshirt $36.30
Adidas UltraBOOST 4.0 Running Shoes $180
↓ 13. Super Trendy, Stylish Quilted Jacket + Leggings
We cannot get over this look and we have a feeling you won't be able to either! This super trendy outfit is great for a wintry morning hike, a trip to the mall, or a breakfast date. (Why not, right?!) This incredible quilted jacket looks so beautiful with Adidas leggings. For an uber chic look, grab some snow boots to shake things up and accessorize with aviator sunglasses. For your top (not pictured) a fitted knit yellow sweater will keep you warm and give you an opportunity to bring a pop of color to your otherwise neutrally toned ensemble.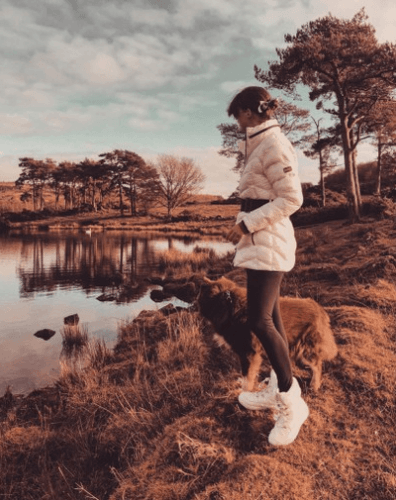 SHOP THE LOOK FOR UNDER $ 270
Barbour Jerez Quilted Jacket $179.68
Adidas Logo Leggings in Black $25.99
Holly Shearling Snow Boots $60
↓ 12. Modest Look
If you wish to create a modest outfit with your Adidas leggings, layering is the best way forward. Or you could opt for baggy tops with your leggings for a chic, sporty and yet incredibly modest look. If you're wearing hijab then black and nude colored will look the best. Here are some ideas: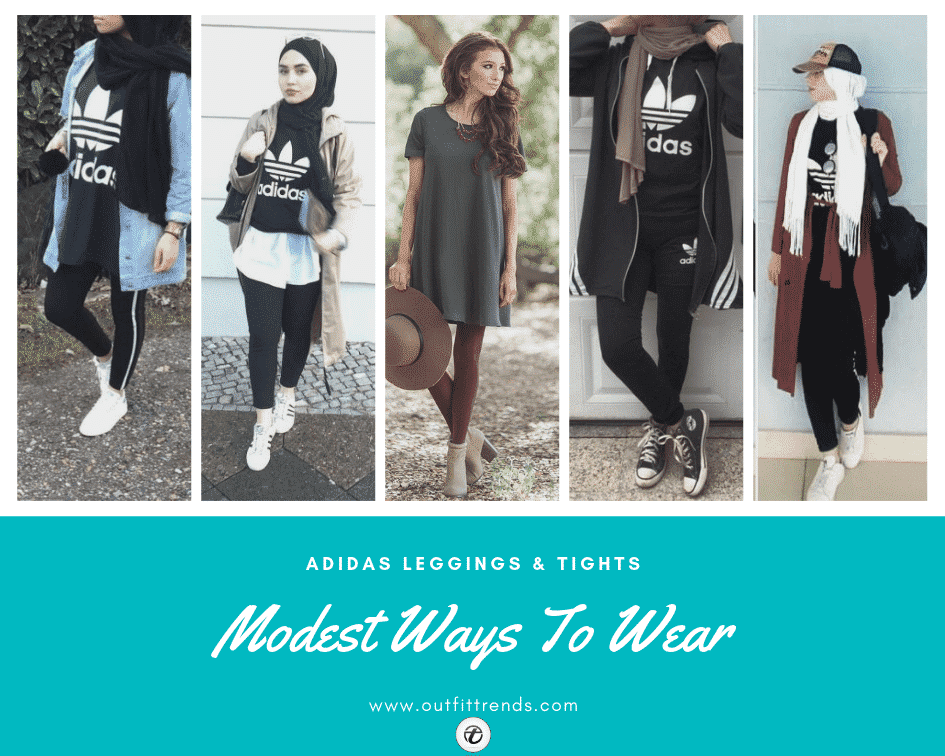 ↓ 11. Bold, Grid-Style Coat
We freaking adore this uber-chic spin on an otherwise (seemingly) basic look. Start with the requisite Adidas leggings, and then add an olive green knit sweater. The coat is the real showstopper with this look so pull out all the stops with this grid-style coat – it's giving us serious clothing envy! For footwear, go bold with a clunky black boot. Last but not least, a two-toned purse rounds off the look and officially seals you as the ultimate fashionista. (Heads up: this is a high-end style look made up of very affordable pieces. Check out the outfit details below to see what we mean!)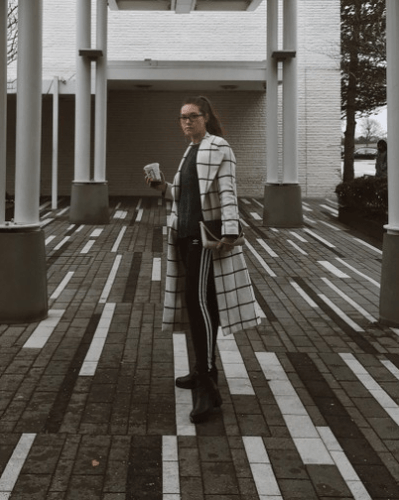 SHOP THE LOOK FOR UNDER $100
Adidas 3-Stripes Leggings $40
Shein Drape Collar Grid Longline Coat $42
Vera Moda Chenile Roll Neck Knitted Sweater $18
↓ 10. Fun, Funky Leopard Print Top
This is a great look for moms running around getting things done with the kiddos! This look requires minimal effort but looks uber stylish. The trick to achieving this is putting together staple pieces that have a stand-out quality (i.e. leopard print top, brand name sneakers, etc.) So why not try it for yourself? Start with a boldly printed crew neck sweatshirt and pair with your favorite pair of leggings – these gray ones are gorgeous. These cute sneakers round off the look; plus, your feet will thank you. Don't miss out these cutest Outfits with Printed Tights.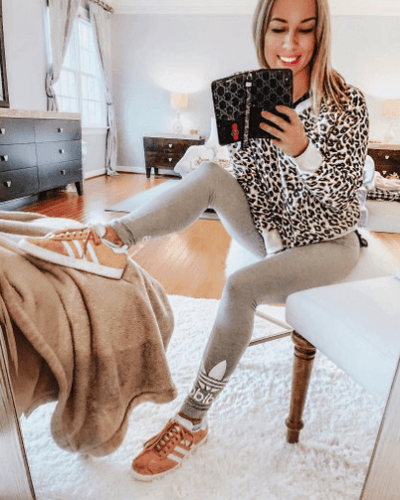 SHOP THE LOOK FOR UNDER $ 75
Leopard Crew Neck Long Sleeved Sweatshirt $15.95
Adidas Gazelle Women's Shoes $34.98
Adidas Trefoil Leggings in Gray $24
↓ 9. Sunday Funday Casual Look
If this look doesn't give you strong weekend vibes, then what are you even doing with your weekends?! We could not resist how cute and comfortable this simple outfit was and we have a feeling you won't be able to either. All you will need are some trusty Adidas leggings and your favorite crop-style hoodie. To keep the ensemble from looking frumpy, opt for a slightly more fitted hoodie instead of an oversized one. Pull up your hair in a half-up, half-down do and leave your face fresh and clean.
Now, who's got the Netflix password?!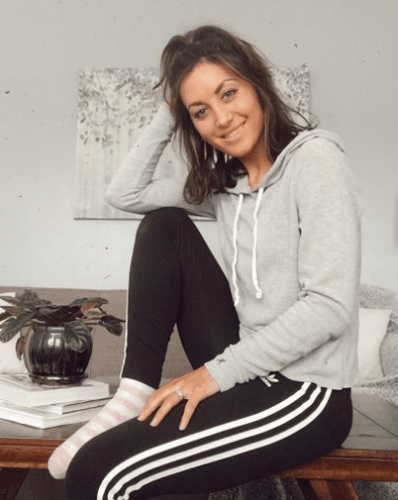 SHOP THE LOOK FOR UNDER $ 60
Adidas Originals 3-Stripes Leggings $25.16
↓ 8. Great Coffee Date Outfit
Here's another easily styled look that works for all your everyday-look needs. Simply throw on some dark blue leggings (these have some bold stripes running up and down the sides, which brings a pop of color to the ensemble) and pair with a simple white tank. Tie a denim jacket around your waist and throw on your favorite brand name sneaks.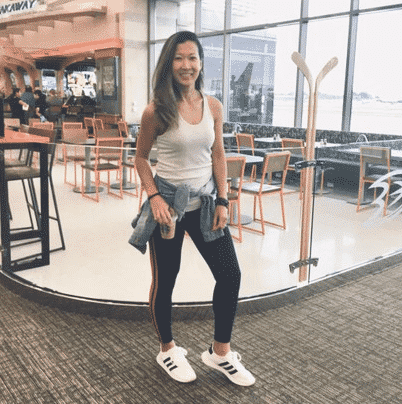 SHOP THE LOOK FOR UNDER $145
Adidas Originals Three Stripe Leggings in Blue and Orange $24
Racerback Tank $7.59
Adidas Originals Flashback $69.99
ASOS Noisy May Denim Jacket $42
↓ 7. Fashionista-Approved Outfit
We love this fuzzy fleece cardigan, especially when worn over some trusty Adidas leggings! Combat boots and loose, tousled hair round off this look and leave you ready for lunch with the besties or a day out shopping.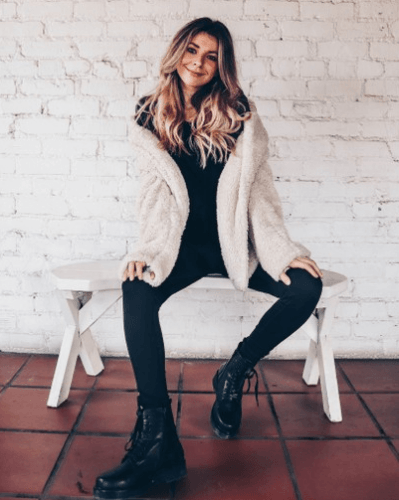 SHOP THE LOOK FOR UNDER $110
HOTAPEI Fuzzy Fleece Jacket $28.99
Adidas Designed2Move ClimaLite Leggings $50
Dayton Combat Boots $30
↓ 6. Sporty Look Perfect For Autumn
We can't think of a better outfit to keep you warm while you hit the trails for your seasonal hike than this sporty, cute look. Featuring a long-sleeved camo printed top and some black leggings, you won't need to add much to keep this outfit looking fresh and cute – especially when you add some autumnal inspired lipstick to the look! Add a fitted fleece vest for warmth (and who are we kidding – some fresh style!) as well as some gorgeous sneaks to finish off the look! Now you're ready to hit the trails!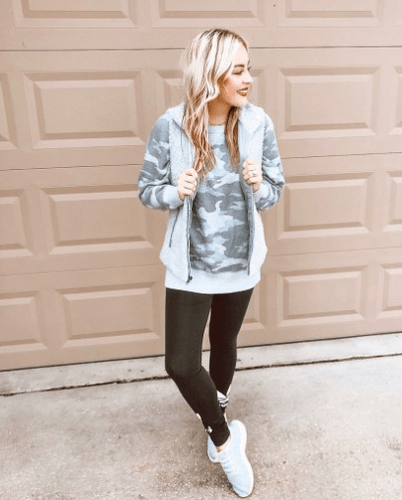 SHOP THE LOOK FOR UNDER $ 200
AE Cozy Ever After Hoodie $19.97
Adidas Tubular Shadow Sneakers $70
↓ 5. Fabulous City Girl Look
We love this city-ready look and want to prove that you will love it, too! Go for a neutral top and throw on a fluffy teddy coat. (Clearly, this outfit is perfect for a warmer winter day or a cold autumn day.) Of course, you can't forget your trusty leggings and Adidas cap. Finish off the look with some Adidas sneaks. Here are 20 Cute Outfits To Wear With White Tights/Leggings This Season.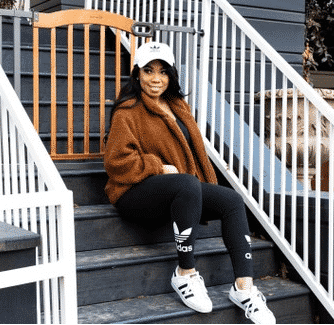 SHOP THE LOOK FOR UNDER $ 110
Zaful Fluffy Zip Up Winter Teddy Coat $28.99
↓ 4. Perfect Gym + Weekend Lounging Outfit
With so many different looks, we would be remiss not to mention an outfit that works for – you guessed it – the gym! This outfit is also great for weekend loungewear. Start with a simple white tee and pair with these dark blue, orange striped Adidas leggings. A brown tote works great for a little gym bag or just a run-around-town bag! Finish off your look with your favorite pair of sneakers.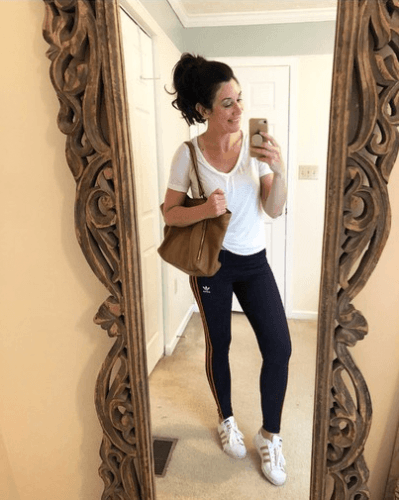 SHOP THE LOOK FOR UNDER $120
Adidas Originals Active Icon Training Tights $24.27 Also Available Here for $39.99
Chico's Women's V-Neck Slub Tee $26.99
Overbrooke Large Vegan Leather Tote $44.95
↓ 3. Perfect For Traveling – Leggings + Cropped Hoodie
This post would not be complete without a requisite travel-ready outfit! Flying is always easier when you are comfortable. And what's more comfortable than some high-waisted leggings and a cropped hoodie? We love the all-black look with white sneaks and denim. You can accessorize this outfit however you please, but we think some simple mini hoop earrings or studs would bring this look together, especially when paired with some trendy eyewear. Pull back your hair in a half-up, half-down do and get ready to hit the tarmac! You'll be ready for takeoff in no time.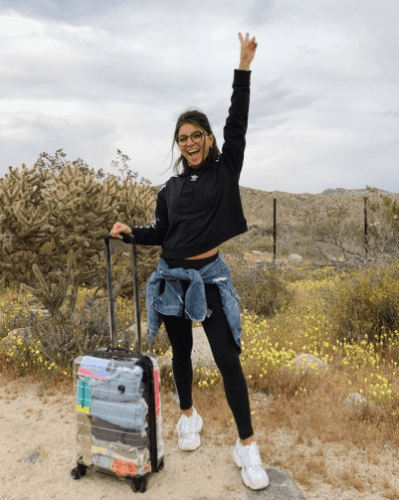 SHOP THE LOOK FOR UNDER $240
Adidas Original Falcon Sneakers $100
Adidas Originals 3-Stripe Leggings $40
Madewell Chunky Medium Hoop Earrings $24
↓ 2. All-Red Trendy Tracksuit
You are sure to draw every eye in the room with this look so we hope you like being the center of attention! This look is such a show-stopper, we admire any girl bold enough to pull it off. This all-red Adidas outfit is made up of a sweatshirt and leggings. Over the top, pull on a knee-length coat. (Style and warmth? Yes, please!) All-black sneakers are the footwear of choice for this ensemble. Tie up your hair in a top-knot and accessorize with oversized sunglasses and purse.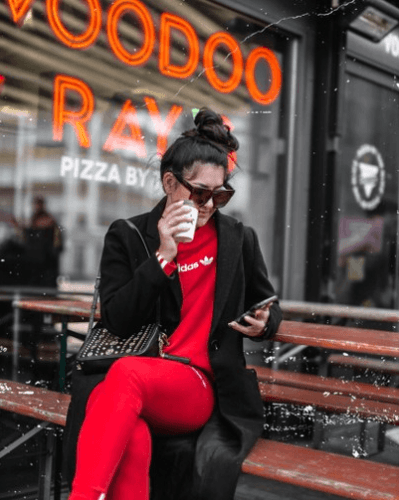 SHOP THE LOOK FOR UNDER $310
Adidas Originals Leggings – Rouge $47.37
Adidas Originals Sweatshirt – Rouge $94.75
Nike Air Force 1'07 Sneakers $118.43
↓ 1. Cute and Comfortable Travel-Ready Ensemble
We have got one more travel-ready look for you. Or, maybe we should say, one for the road! (Literally and figuratively.) This is a great outfit for those days when you know you are going to be on your feet all day. Or maybe you are setting out for a road trip; maybe you are taking a cross-country flight. Whatever the occasion, this outfit will have you feeling both cute and comfortable – a definite positive when you are tired, worn out, and just not feeling the jeans. Grab your trusty leggings and pair with a comfy tee shirt. Over that, throw on a long charcoal gray cardigan like this one pictured. Sunglasses and an oversized tote bag make the perfect accessories, keeping you cute when you least feel it. Last but not least, opt for some sneaks your feet will thank you for! These Nike Air Zooms are sure to do the trick. Happy travels, lovely!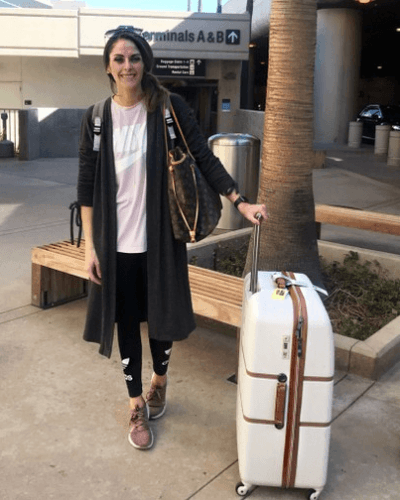 SHOP THE LOOK FOR $340
Nike Essential Tank Top $35.95
Nike Air Zoom Fearless Flyknit $89
Adidas Originals Adicolor Trefoil Leggings In Black $39.48
Women's Adidas By Stella McCartney Ultraboost Shoes in Raw Pink Color $173
R.H. Elias is a freelance writer, aspiring author, and freelance transcriptionist. She is a homebody all the way and loves curling up on a cold, rainy day with a good book and a warm cup of tea. Her favourite pastimes include reading, writing, and watching period films. She currently lives in Puerto Rico.