Cute Outfits with Adidas Shoes for Girls. Adidas, which happens to be one of the best and overtly overrated sports fashion brand in the world, not only rules the preferences of guys but of girls as well, and is becoming increasingly preferred by commoners as well as celebrities who just cannot miss out on including at least one Adidas accessory in their outfit.
Adidas is the largest sportswear manufacturer in Europe and now you are going to love it even more with what we are about to offer. Have a look at these 30 awesome outfits with Adidas shoes including the remarkable superstar shoes, regular sneakers, trainers, joggers, etc, and make your style attractively sportive!
What to Wear with Adidas Shoes – Women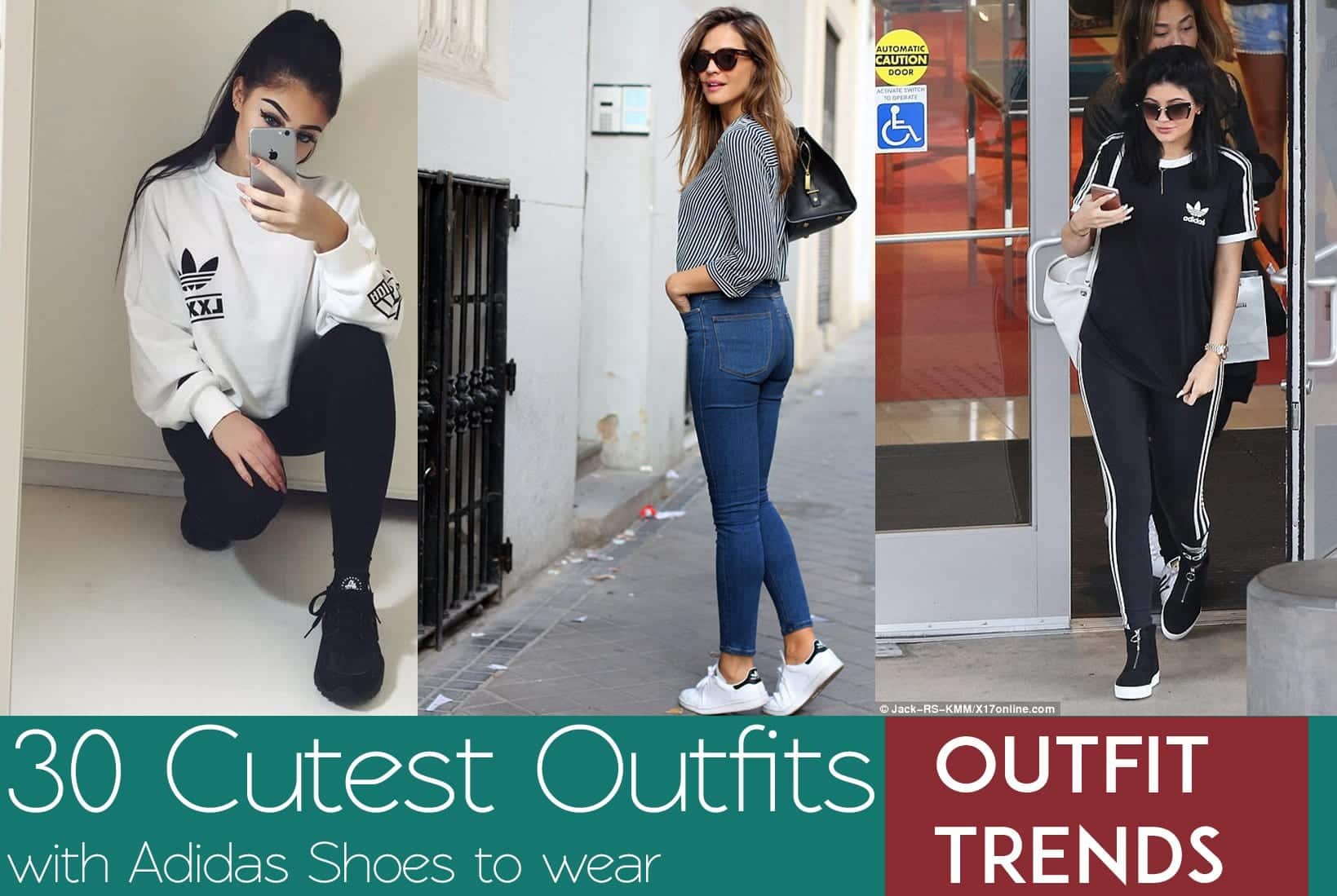 RECOMMENDED: Shoes With Skinny Jeans Women-18 Perfect Outfit Combinations
↓ 30 – Outfit with Adidas Superstar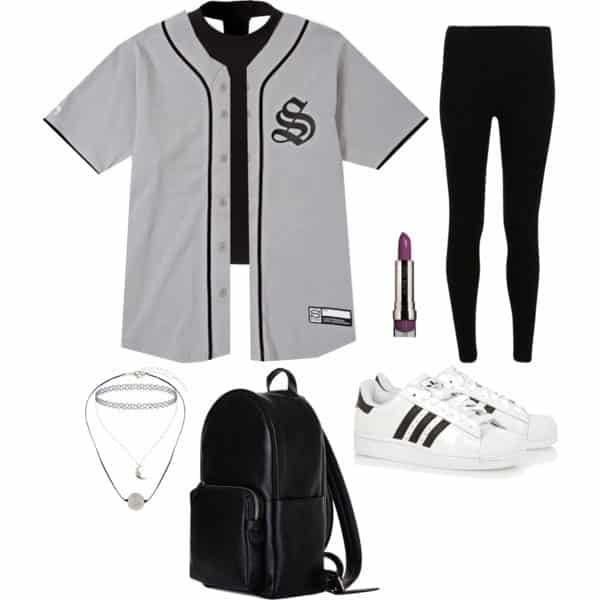 via
↓ 29 – What to Wear with Leggings and Adidas Superstar
A classy and comfortable outfit with Adidas shoes, that includes a lovely winter coat and a catchy inner with skinny tights to go by. Here are 20 Cute Outfits To Wear With White Tights/Leggings This Season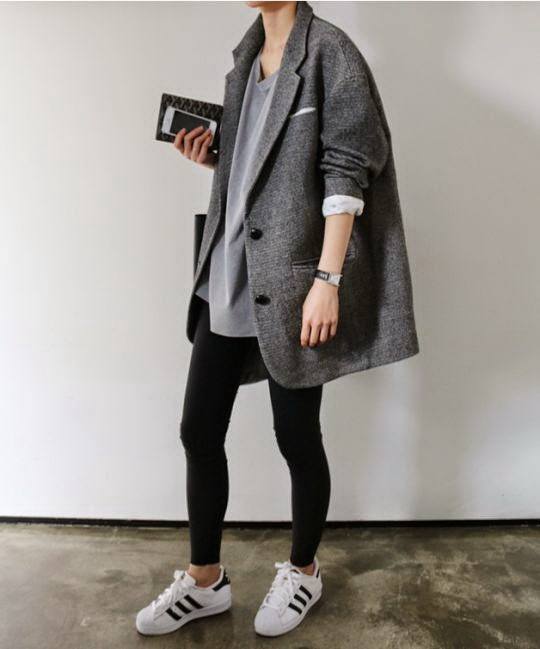 ↓ 28 – Casual Jeans with Adidas Shoes
A casual street style or a summer style with a cool striped top and jeans and a nice pair of Adidas sneakers to add a bit more swag.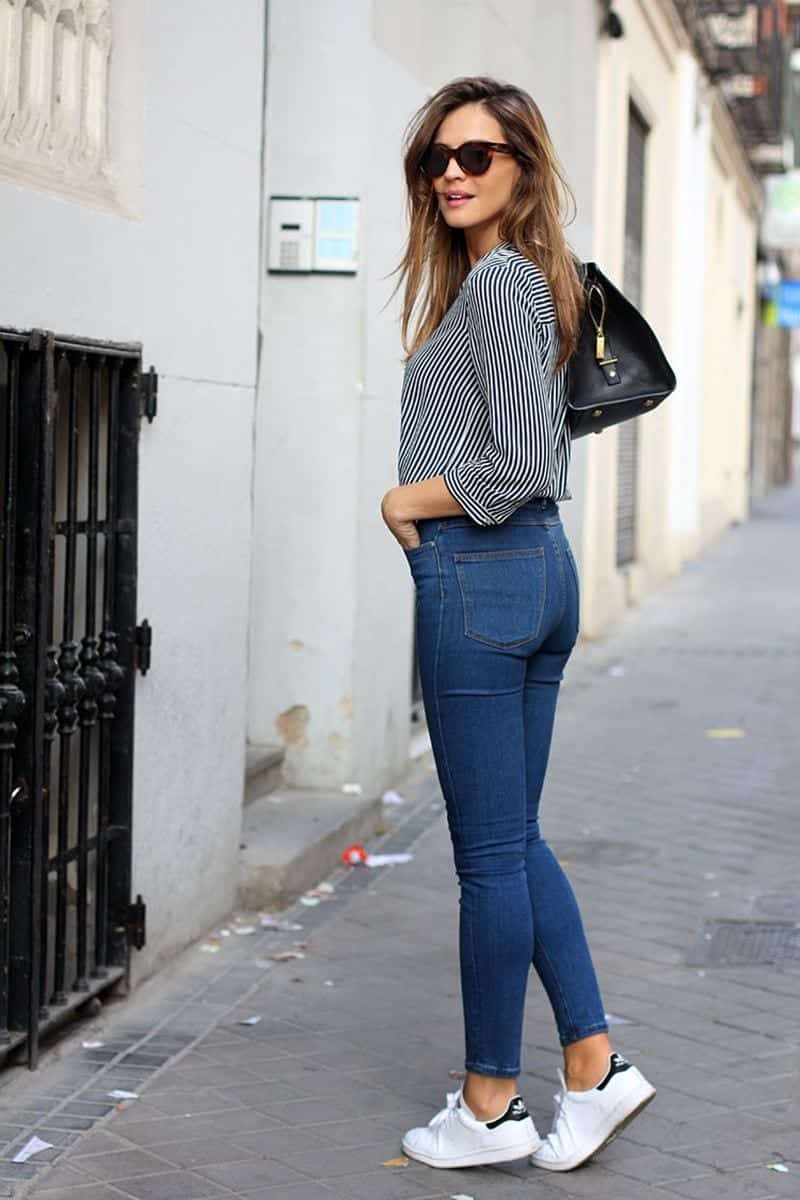 ↓ 27 – Adidas Shoes with Leather Jacket
We all know how leather jackets make amazing addition to any possible outfit and we are here to make it even truer by giving you an idea of how it will fo with best possible Adidas sneakers.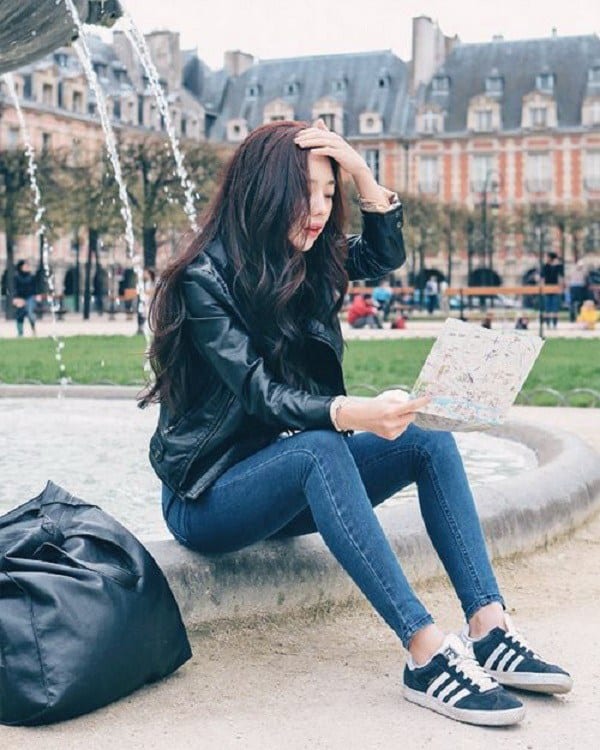 ↓ 26 – Ripped Shorts with Adidas Shoes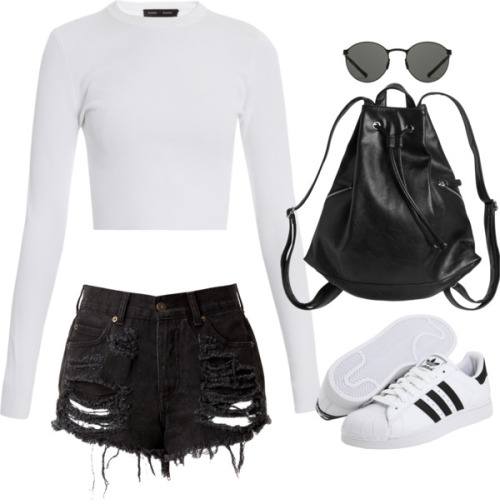 ↓ 25 – Celebrity Style Adidas Shoes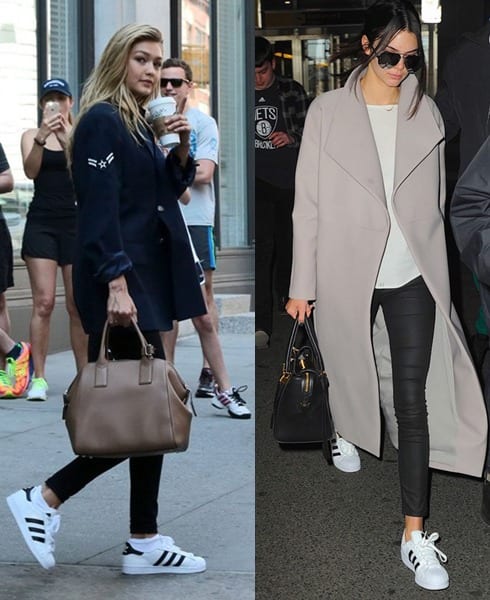 ↓ 24 – Sweatpants with Adidas Superstar
Do have a look at these amazing Girls Sweatpants Outfits- 20 Chic Ways to Wear Sweatpants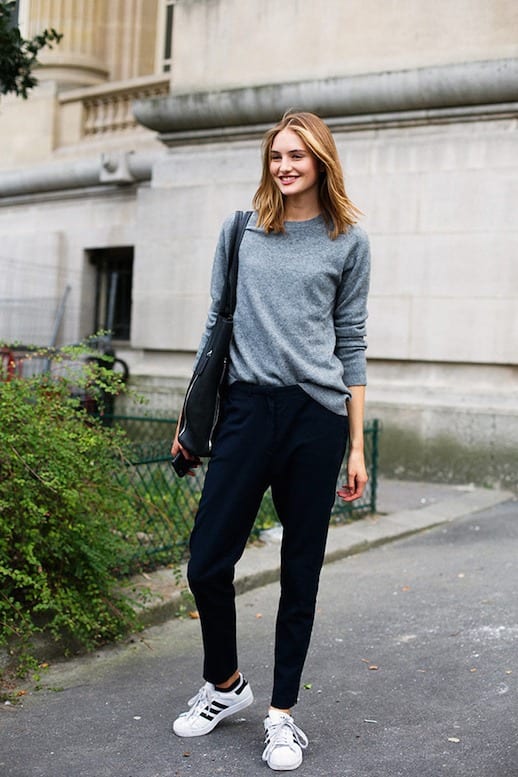 ↓ 23 – Office Look with Adidas Shoes
If your workplace isn't too formal you can easily get off by wearing you adidas shoes with jeans and a tank top, layered with a blazer for the professional touch.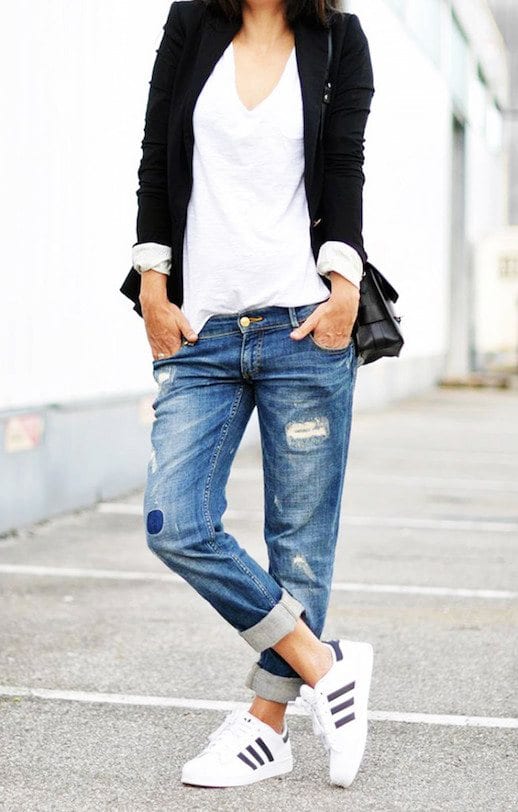 ↓ 22 – Kylie Jenner Adidas Outfit
A celebrity style and none so ordinary as that of the gorgeously sportive Kylie will also come in handy for you to decide your sporty wardrobe this year. So do not miss out 80 Stylish and Hot Pictures of Kendall Jenner In Shorts.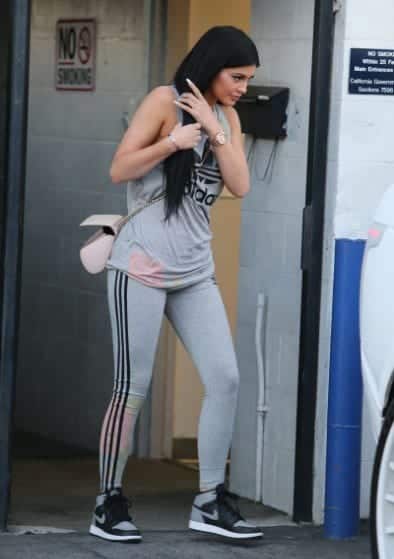 via
↓ 21 – Outfit with Adidas Shoes for Teen Girls
Adidas shoes are surely the most versatile shoes to have in your closet since you can easily wear them anywhere and anytime you want. If you're a young college or school going girl then you definitely need to try wearing skinny cuffed jeans and a flowy blouse with these shoes for an effortlessly cute look.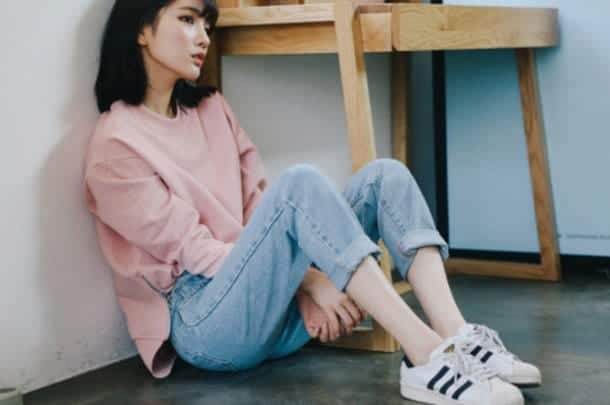 ↓ 20 – Swaggy Look with Adidas Shoes
For that casual laid back look, you can wear your Adidas shoes with pajamas and a complementing tee. Yes, pajamas are no longer just restricted to your bedroom but can be worn absolutely anywhere. For more guidance on this, you can check out 30 Cute Outfits to Wear with Pajamas/PJs to Look Gorgeous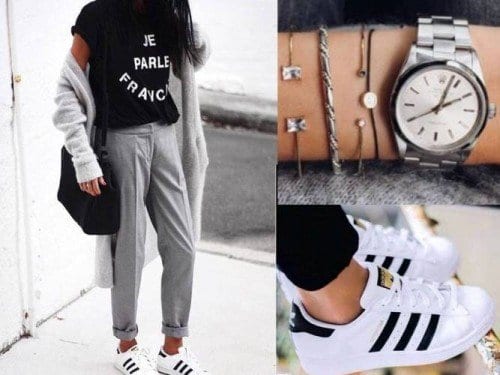 ↓ 19 – Denim Jacket and Adidas Shoes
Denim jacket is also one of the best things for a complete outfit, and a cute pair of Adidas shoes will do the rest.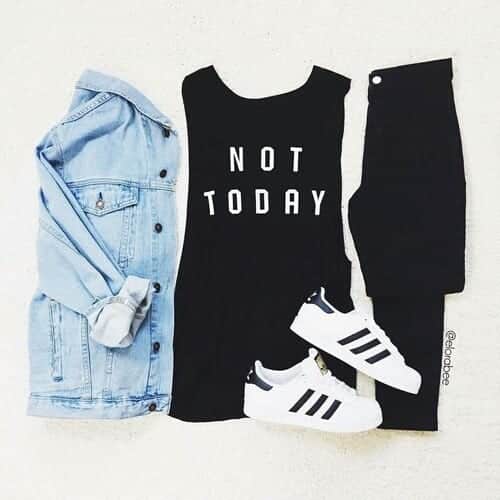 ↓ 18 – Adidas with Ripped Tights for School
Ripped tights are one another new fashion element taking wardrobes by storm and wearing ripped tights with an Adidas sneaker is just way off the edge. If you're getting late for school and can't decide what to wear then this can definitely be your go-to look.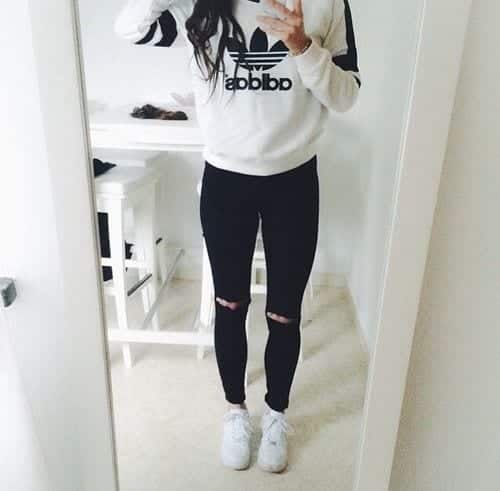 ↓ 17 – Sexy Formal Style with Adidas Shoes
A crop top and Adidas shoes go really well together for a chic but simple look.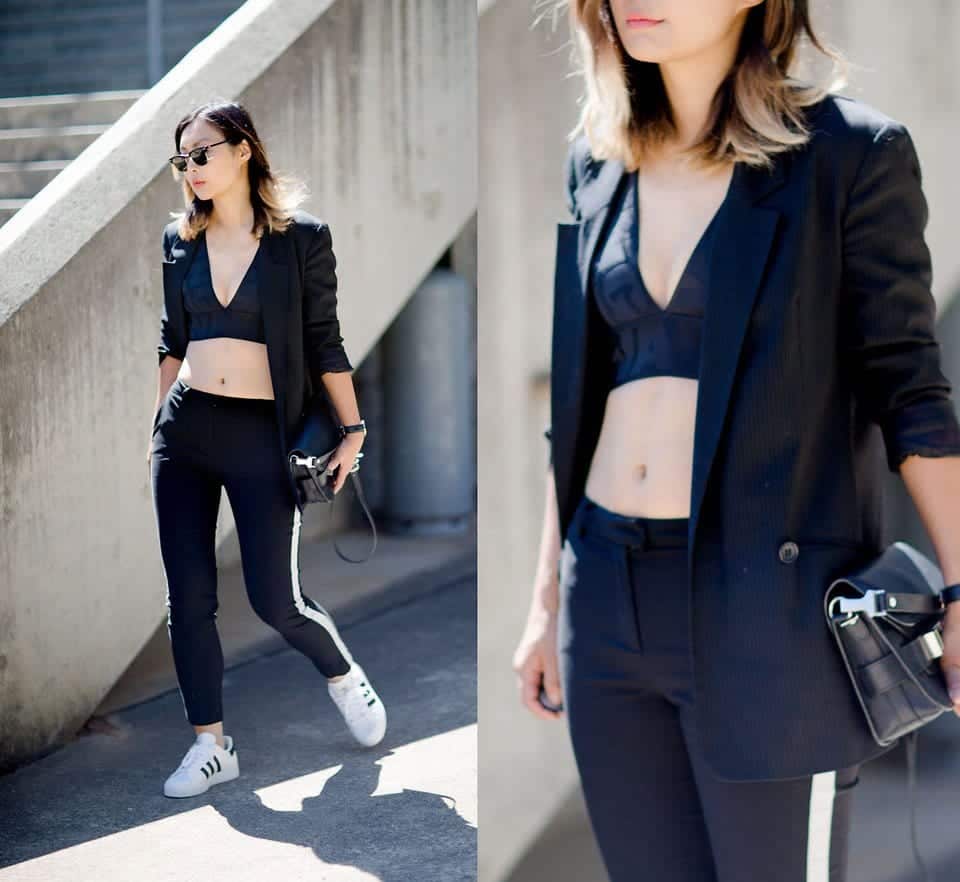 ↓ 16 – Party Look with Adidas Shoes
Ever imagined wearing Adidas shoes with a dress? Have a look at how hot a sweater dress looks with Adidas shoes. The perfect look for party time in Winters. You could also add leggings if you want something more warmer and comfortable.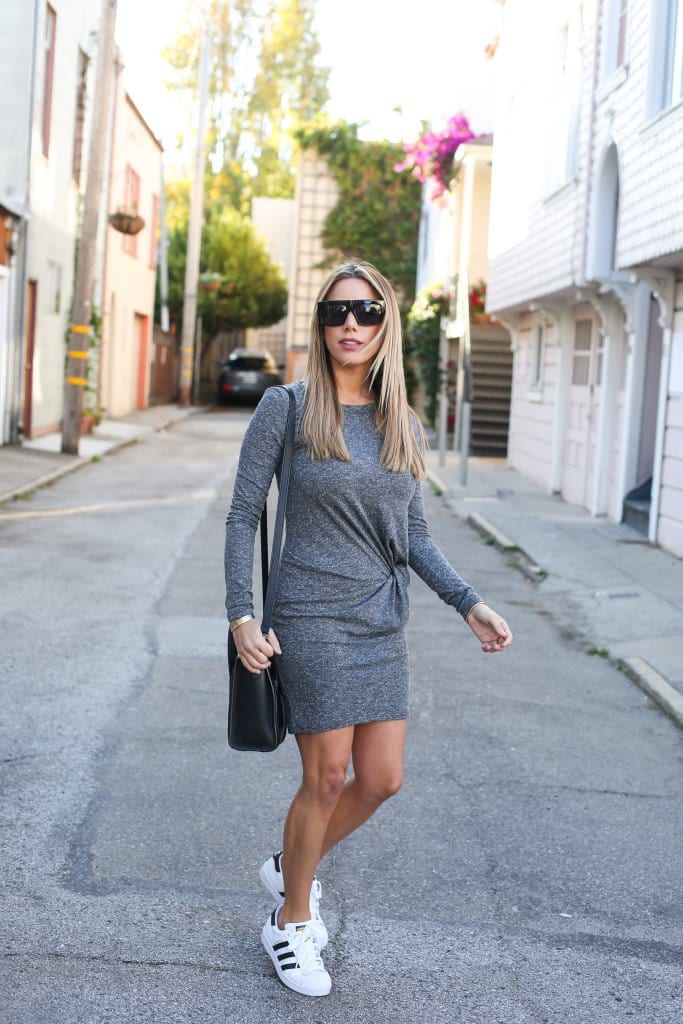 via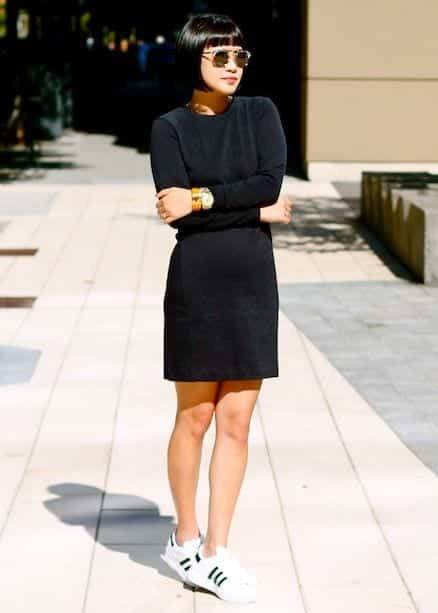 ↓ 15 – Elegant Jeans Style with Adidas Shoes
Wearing an elegant jeans style with sneakers is also quite a fashion trick and now it's possible as well below. You'll also love these 15 Easy DIY Sneakers Makeover for Teen Girls with Tutorials
via
↓ 14 – Cute Shorts with Adidas Shoes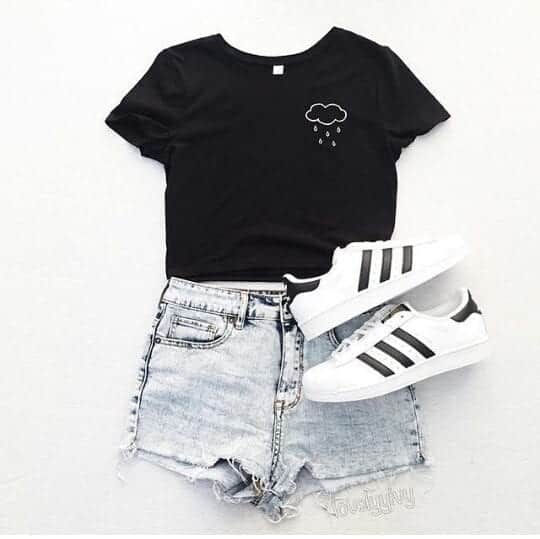 via
↓ 13 – A Girlish Sporty Style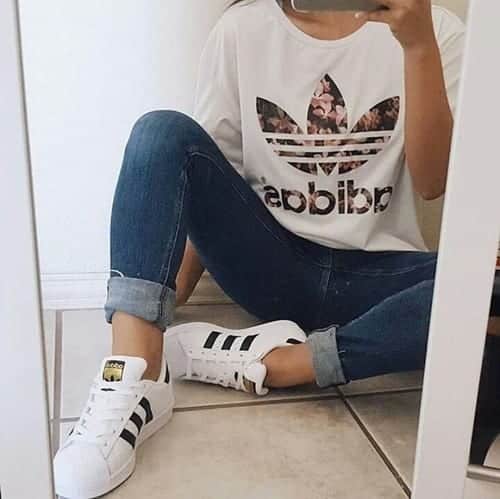 via
↓ 12 – Classy and Sporty Style with Adidas Shoes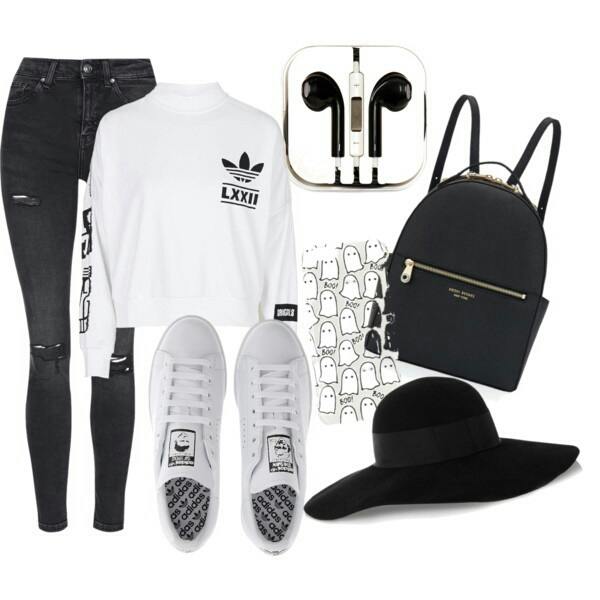 via
↓ 11 – Workout Style with Adidas Shoes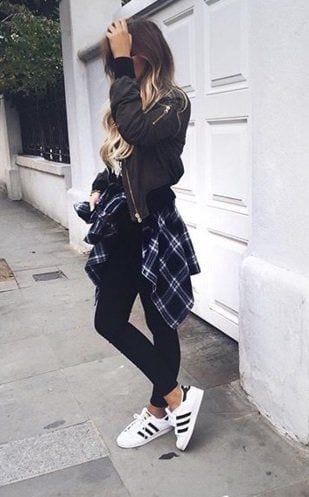 ↓ 10 – All About Adidas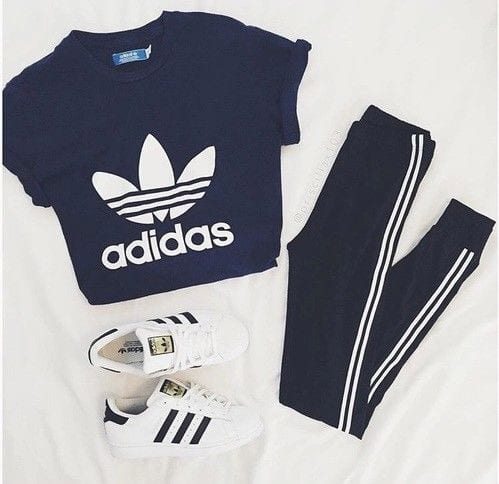 ↓ 9 – Sweat Shirt Outfit with Joggers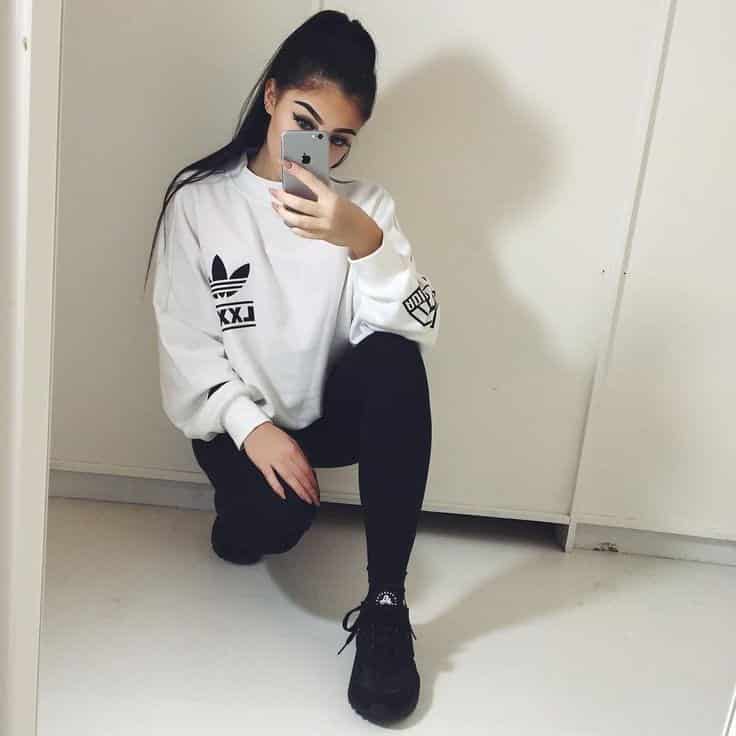 via
↓ 8 – Pretty Jeans Style with Adidas Shoes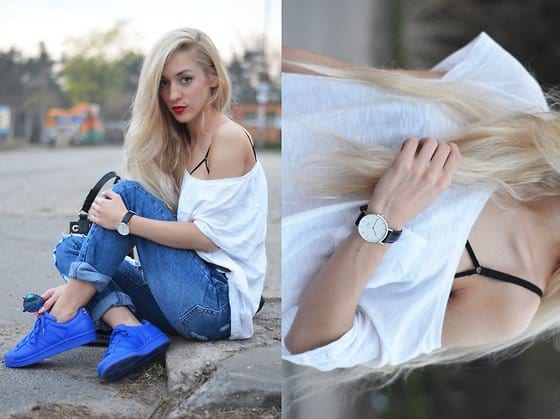 via
↓ 7 – Leather Jacket with Adidas Shoes
A black jeans and leather jacket with your Adidas shoes is one of the easiest and yet the most stylish look. In this all black outfit, you're sure to turn all heads your way without even trying! You can check out these Outfits with Leather Jacket-19 Ways to Style Leather Jacket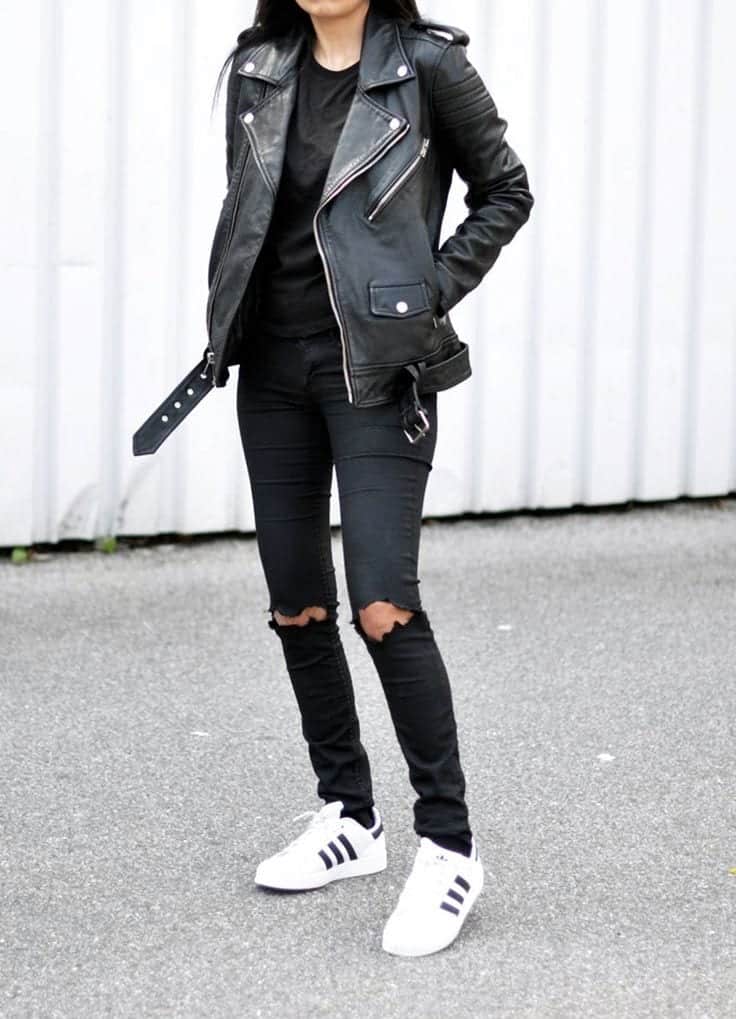 ↓ 6 – Casual Swag Style with Adidas Shoes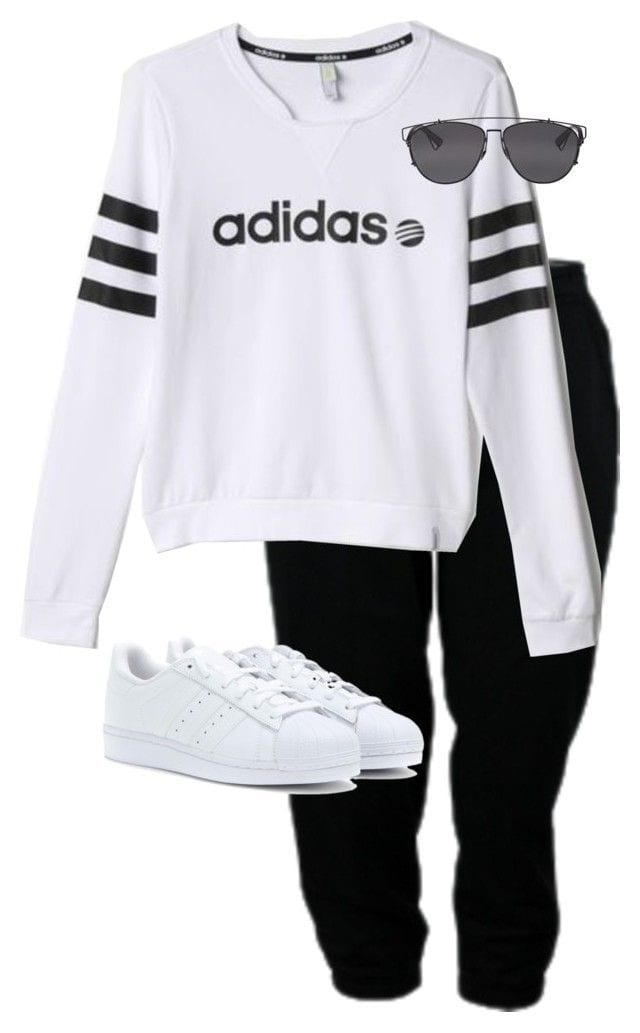 ↓ 5 – How to Wear Adidas Shoes with Jeans
As an alternate, you can also wear your sneakers with suit for work, for best tips on this, check out Womens Suits With Sneakers; 27 Ways To Style Suits With Sneakers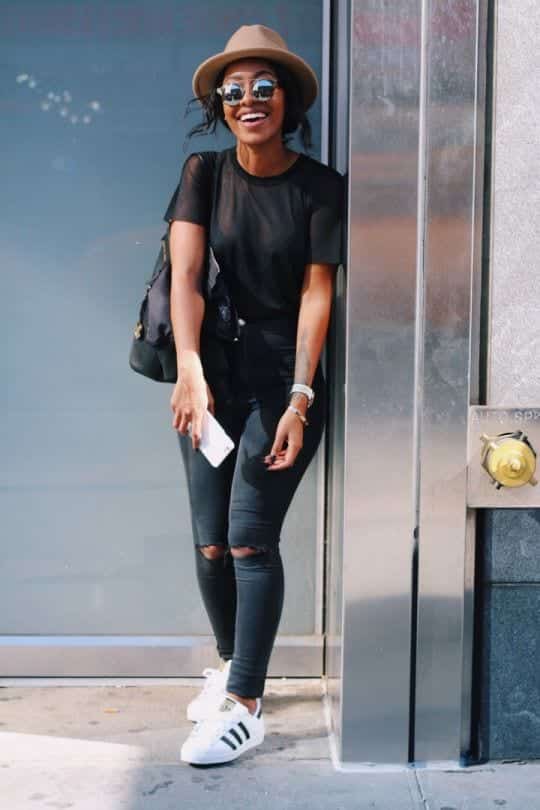 ↓ 4 – Selena Gomez Sportive Adidas Style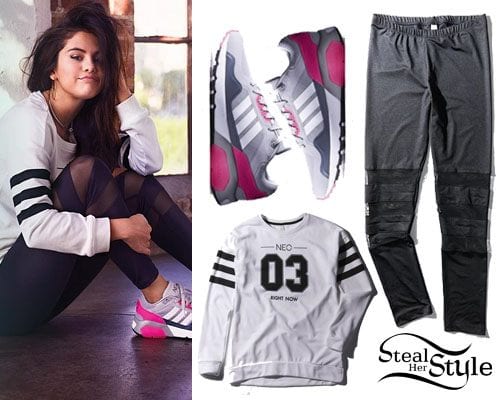 via
↓ 3 – Street Style Look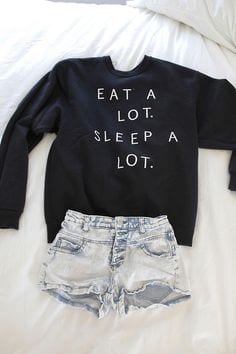 ↓ 2 – Pencil Skirt with Adidas Shoes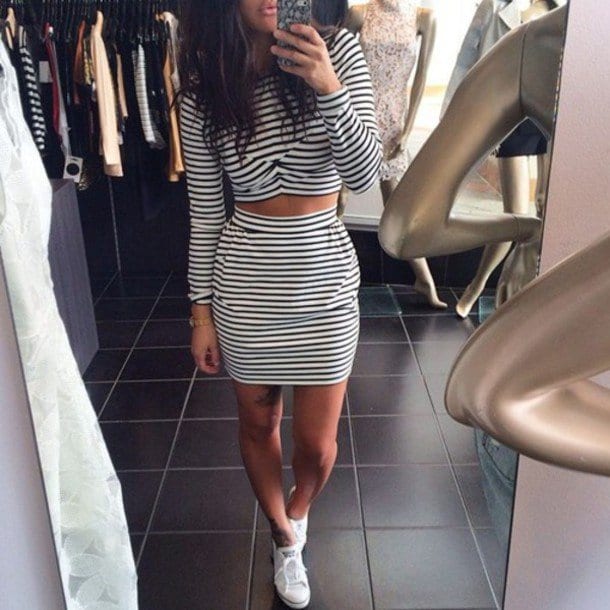 via
↓ 1 – Kylie Jenner Adidas Outfit
Kylie Jenner seems to be a huge fan of Adidas shoes and is often seen wearing them for a casual day out. In fact, it wouldn't be wrong to say that Kylie is obsessed with Adidas shoes. She usually wears them with tracksuits for the perfectly chic sporty look. So this is one Kylie outfit that you can easily copy.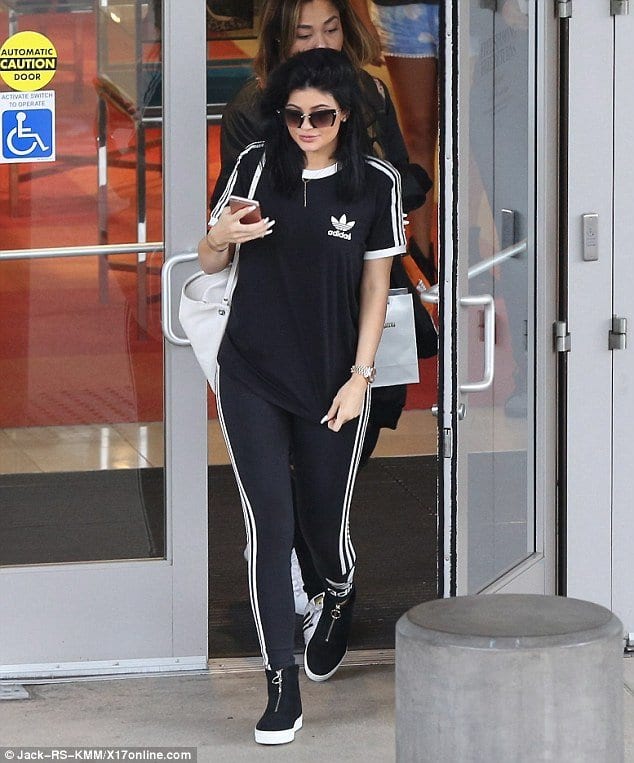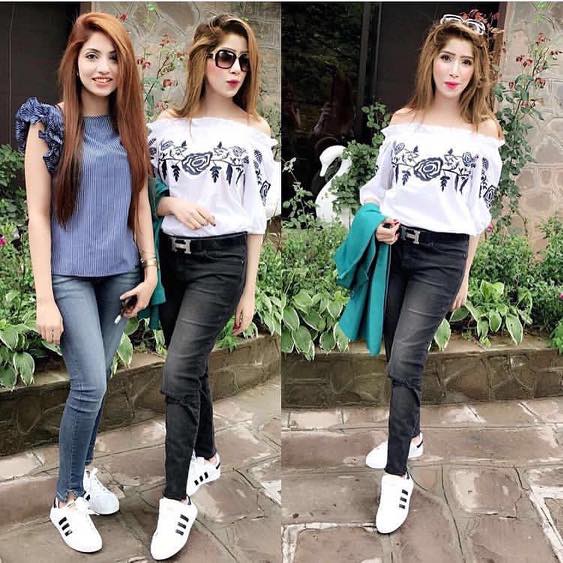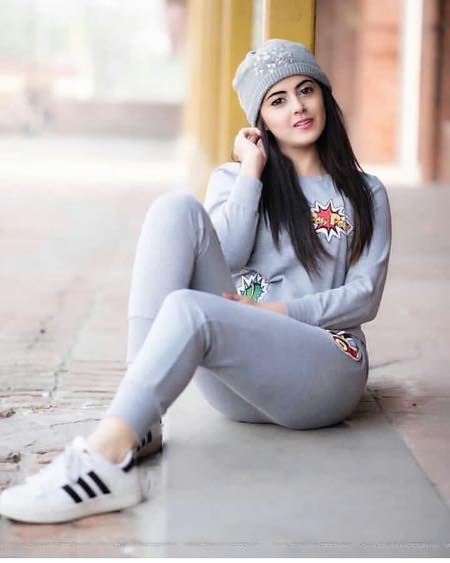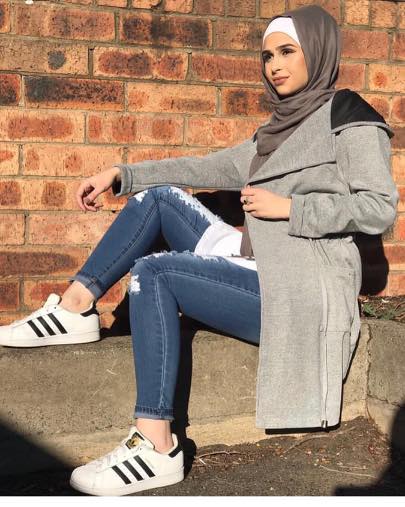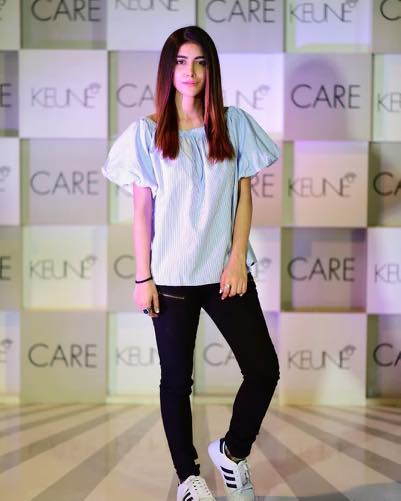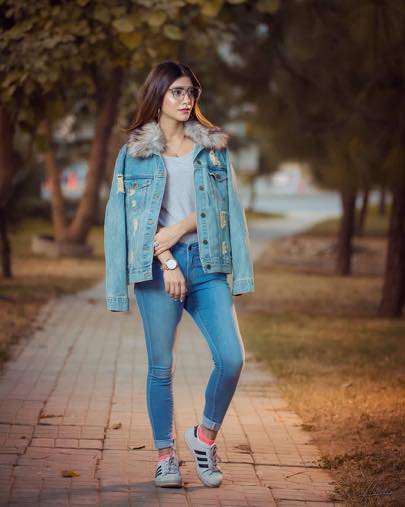 We would like to end with a short note on the best hairstyle to go with Adidas shoes. As you might have noticed in the pictures above, most of the models, bloggers, and even celebrities chose to go for a messy hairdo with these shoes. This is because firstly, messy hair are simply back in style. And secondly, because adidas sneakers give you an excuse to dress down and feel relaxed so you don't really need to put much effort into your hair. You can just be yourself in these shoes and rock your natural beauty!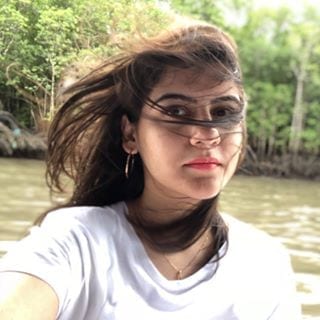 A content writer by the day and a reader by the night – two things that she loves the most. When Zoona isn't writing, she'll either be thinking of what to bake next or where to travel next. When it comes to writing, she has always been a storyteller and one of her short stories was published in 2014 in the Oxford University Press's anthology of contemporary Pakistani short stories, I'll Find My Way.  Her love for fiction writing also drove her to complete a short course on "How Writers Write Fiction," at The University of Iowa. Her other interests include binge-watching Netflix or online gaming.