What to wear with Adidas pants? Adidas pants are part of the athleisure category in the fashion industry, and it is safe to say that it has never gone out of style. It is one of those pieces of clothing that are so versatile and easy to style that they become a staple that is accessible to almost everyone.
It is one of the trendiest items you could wear, making you seem effortlessly stylish and comfortable with whatever you pair it with!
Adidas pants are most widely known due to the classic black and white straight leg style, with the signature three white stripes going down the sides. The colors are basic and neutral, making it an easy-to-style piece that does not require much planning.
The best part is also the comfort, which should never be overlooked when it comes to fashion. This trendy piece allows you to look your best while feeling your best. It is definitely a must-have, as it can work in both summers and winters!
What to Wear with Adidas Pants?
There are numerous options when it comes to making outfits with these classic pants. Since they are also available in different colors besides black, it provides a much larger scope for creativity and styling up these athleisure pants.
You could opt for a tight-fitted crop top or perhaps a tube or a tank top, for a flattering silhouette with the pants, or you could take another approach. This could be with oversized sweaters or matching hoodies, be it cropped or full length.
Puffer jackets also work very nicely with the pants to create an athletic outfit for the perfect winter outfit. The options are truly endless.
Do's and Don'ts of Styling Adidas Pants:
Try to avoid dress-like or flowy cut tops on top of Adidas pants, as the styles may clash and form an incoherent-looking outfit.
Try to opt for vibrant colors that will complement the neutral dark of the pants
If you have a colored version of the pants, try to ensure that the color of the top does not clash, with the pants as it may look very off.
Do try to opt for tight-fitted crop tops or corset tops that will refine your silhouette against the fit of the pants.
20 – V-Neck Black Tank Top Matched With Black Adidas Pants
This outfit is a no-brainer and so easy to style for a casual occasion. Everything in this outfit is easily accessible as all the items are staple pieces that are available in every girl's closet.
The white sneakers match the striped detailing on the pants, and that is why you cannot go wrong with them! This is a casual outfit, but it can be enhanced by the addition of jewelry such as necklaces and bracelets.
19 – Stone Colored Puffer Jacket Over A White Top
This one is for the neutral color pallet lovers out there. The stone colors of the jacket and the cap fit very nicely with the black neutral of the pants and form such an aesthetic outfit, that will definitely get you compliments.
18 – Black and White Top To Match with the Black and White Adidas Pants
This is yet another black and white outfit but towards a more formal side. This outfit is further accentuated by the addition of suede slides and also a black handbag. Yet another easy but stylish option to wear!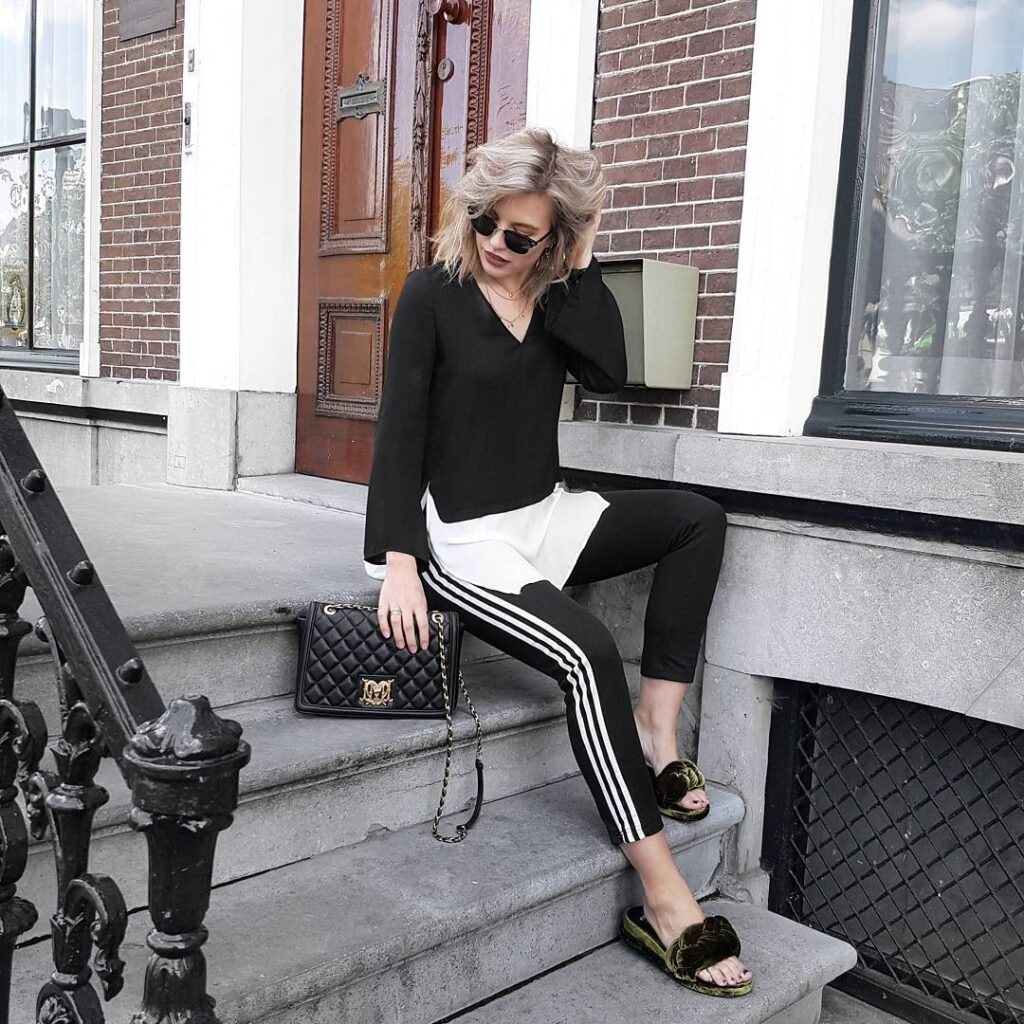 17 – Black Adidas Pants Paired With Matching Black Cropped Leather Jacket
This is for the biker girls who want to add swagger to their outfits while also staying comfortable. This outfit has it all: the leather jacket gives an overall cool-girl vibe while the pants keep you comfortable but don't take away from the snazziness.
The shoes can be either white sneakers as shown, or perhaps even black boots if that is more your vibes. Either way, this outfit is to die for!
16 – Add a Fishnet Under your Adidas Pants and Wear A White T-Shirt Over It
This outfit has so much dimension; it took something so simple and turned it into an interesting outfit with so much to see. The fishnet adds a unique effect that will complement the black of the pants and the white t-shirt provides a simple, clean base to work with. The outfit is further accentuated by adding a black fanny pack and silver accessories.
15 – With Sage Green Adidas Tank Top
When Hailey Bieber does it, you know it is definitely something worth trying. She paired the classic black Adidas pants with a sage green tank top. to add more dimension to the outfit, she paired the white detailing of her clothes with a matching white hoodie that she casually wrapped around her waist. The color carries through to her sneakers and makes it an overall very simple but coherent look.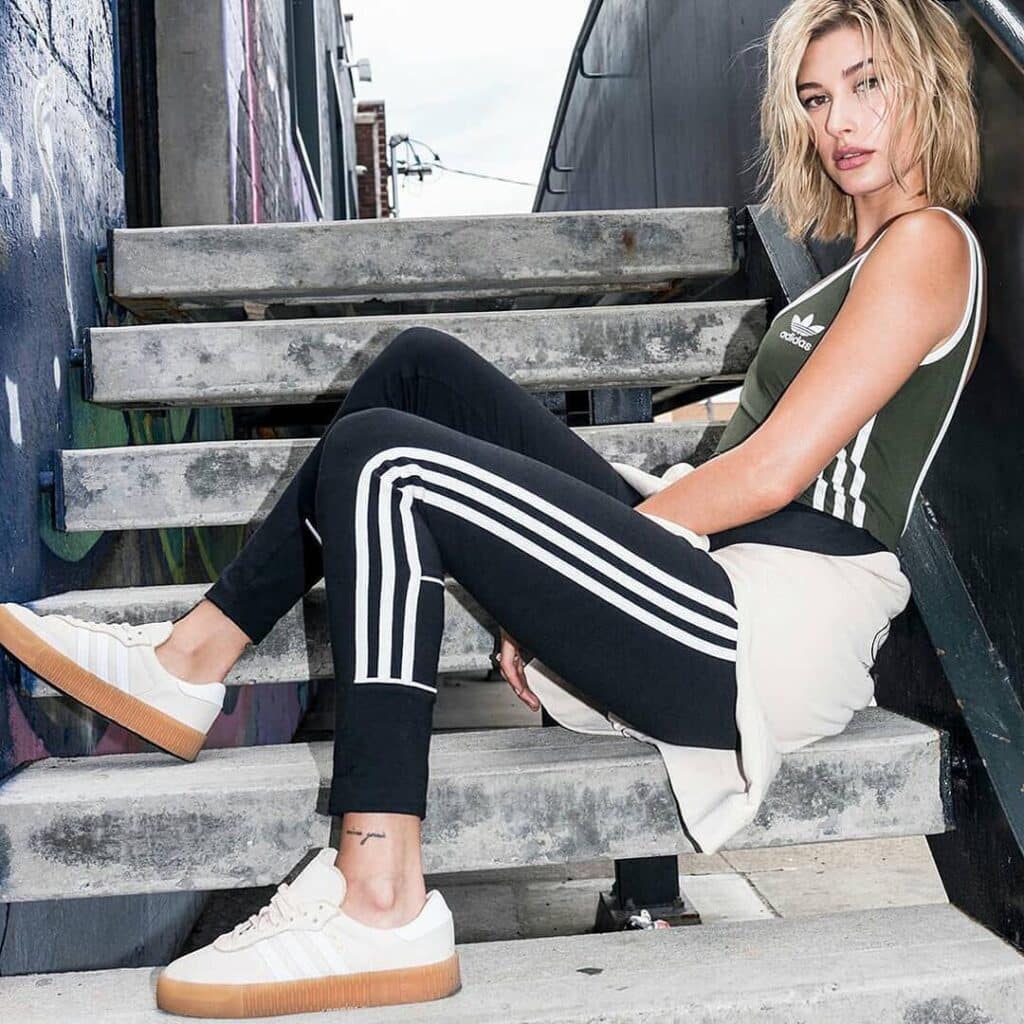 14 – Slate Grey Long Coat To Go With The Black Adidas Pants
If you want to look completely sophisticated and put together but also comfortable at the same time, you must definitely try this amazing outfit. The pants provide so much comfort along with the simple slate grey trench coat.
This outfit is so nice for rainy days and can be pulled off by anyone as it gives off such a sophisticated and flattering look.
13 – Asymmetrical One-Shoulder Crop Top
This is another easy and accessible variation of the monochromatic black outfit that can easily be pulled off by anyone. The ribbed and cropped one-shoulder top brings a youthful aspect into the outfit and compliments the overall athleisure look. This is perfect to wear out on casual occasions with your friends and also if you are simply going for a quick gym run.
12 – With an Oversized White Sweater
This outfit speaks for itself. This is a chic and stylish rendition of black and white outfits with Adidas pants. The white oversized sweater will bring you warmth and comfort and makes the overall outfit more stylish.
The white studded boots add more dimension due to the addition of another texture and the detailing makes it so much more eye-catching. This is a great formal option to wear when you are going out and this seemingly well-thought-out outfit needs minimum effort!
11 – With Tucked In White Fullsleeve Top
Wide-leg pants are so trendy at the moment and these Adidas ones are perfect to style with a long sleeve white top, as shown below. This makes a casual look, but it is also very flattering as it accentuates the waist. This outfit is a no-brainer and must be tried!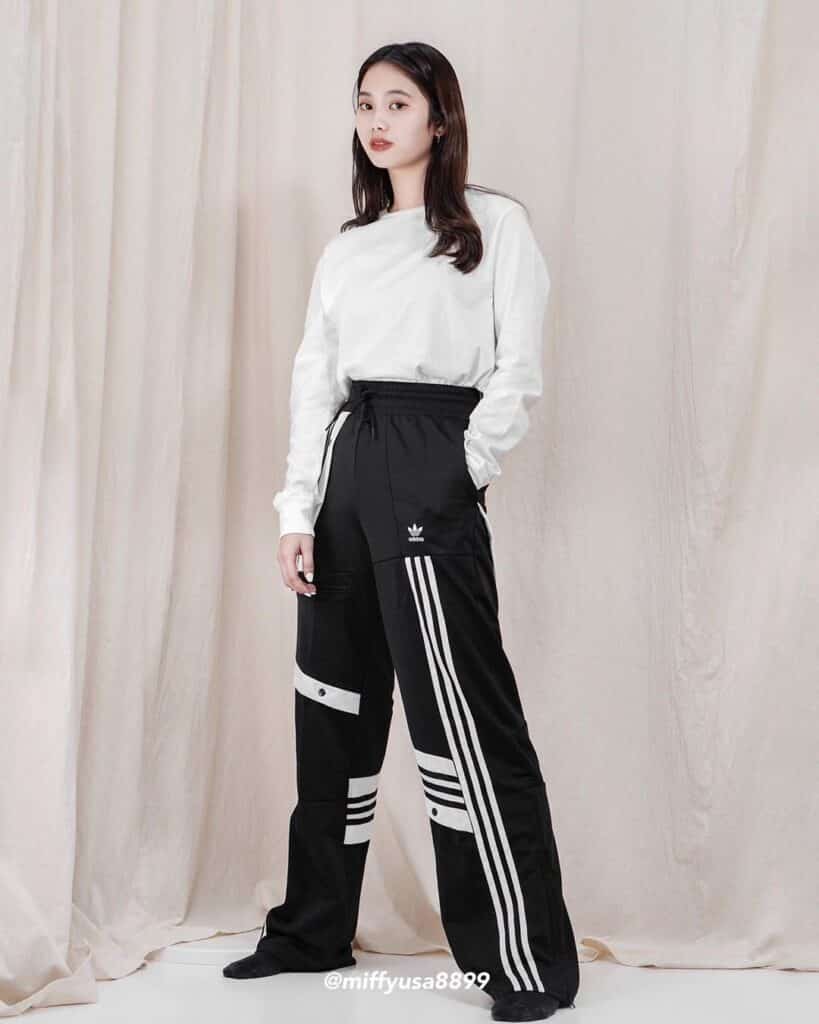 10 – With Red Matching Tube Top
Who says Adidas only comes in their classic black and white colors? You can style this colored version of pants with the classic black base but red lines instead of white. This can be worn easily with a matching tube top to create a very flattering look, hug your curves, and accentuate the best parts of your body.
Here are some more Black Tube Top Outfits that you can try.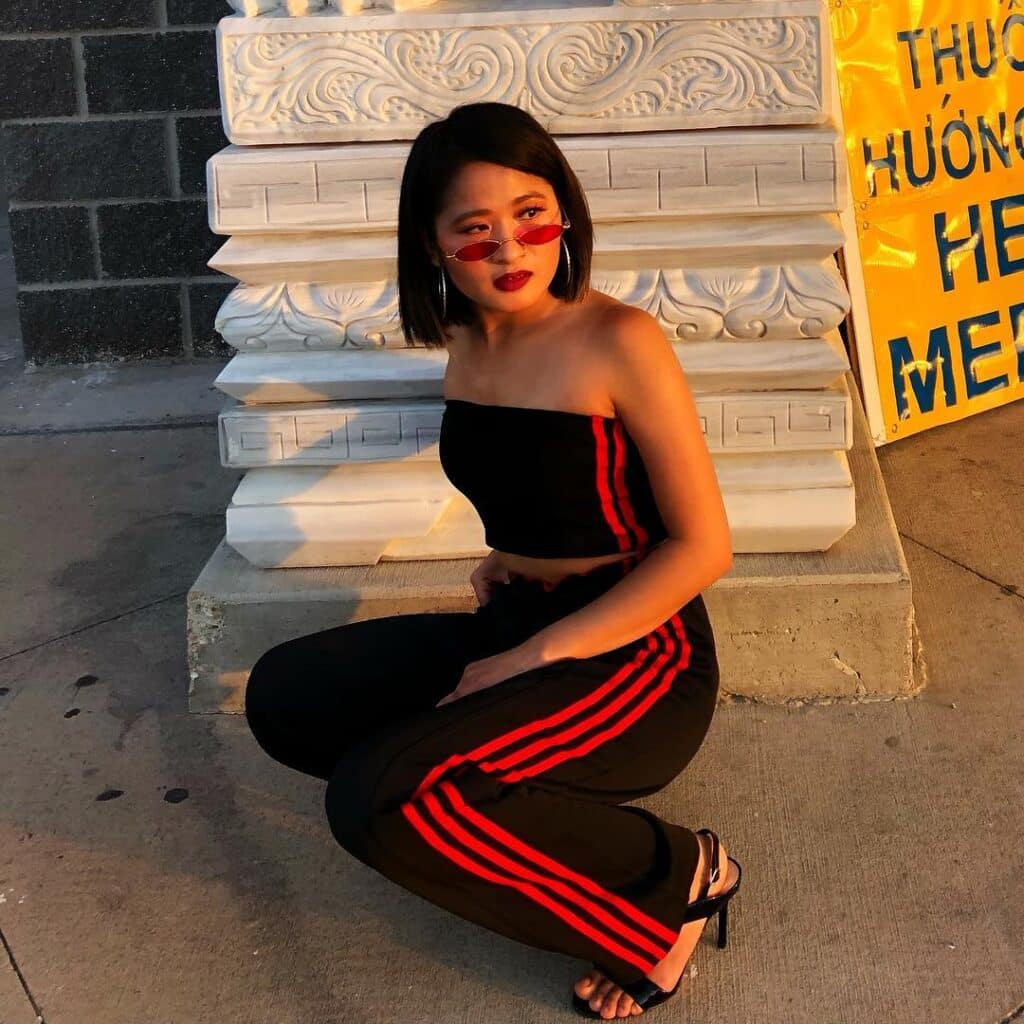 9 – Simple Colorblock With Orange Adidas Pants
This outfit thrives because of its simplicity. The orange pants are vibrant colored and can be color blocked beautifully with a plain simple black top such as this black bralette top. This is a simple and minimalistic outfit to wear and gives off a nice athleisure look, especially when paired with white sneakers.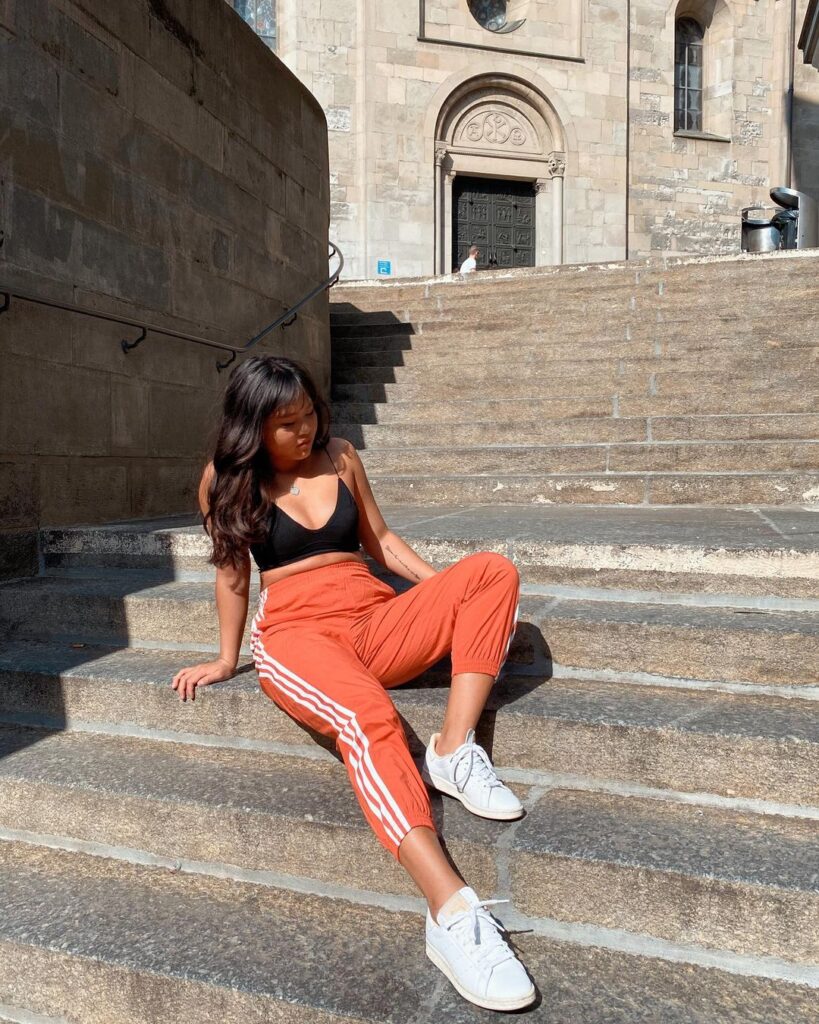 8 – Orange Adidas Pants With White Cropped Top
This is another rendition of the orange Adidas pants outfit, but this time instead of color blocking, you can match the white detailing of the pants to a white cropped top to create a very fresh and youthful outfit with bright and light summery colors.
This can be paired with a light wash denim jacket to enhance the look by adding another element. The denim also adds another texture, making the overall outfit much more unique. The jacket can be draped on the shoulders for a more relaxed and casual look. It is a simple and easy option!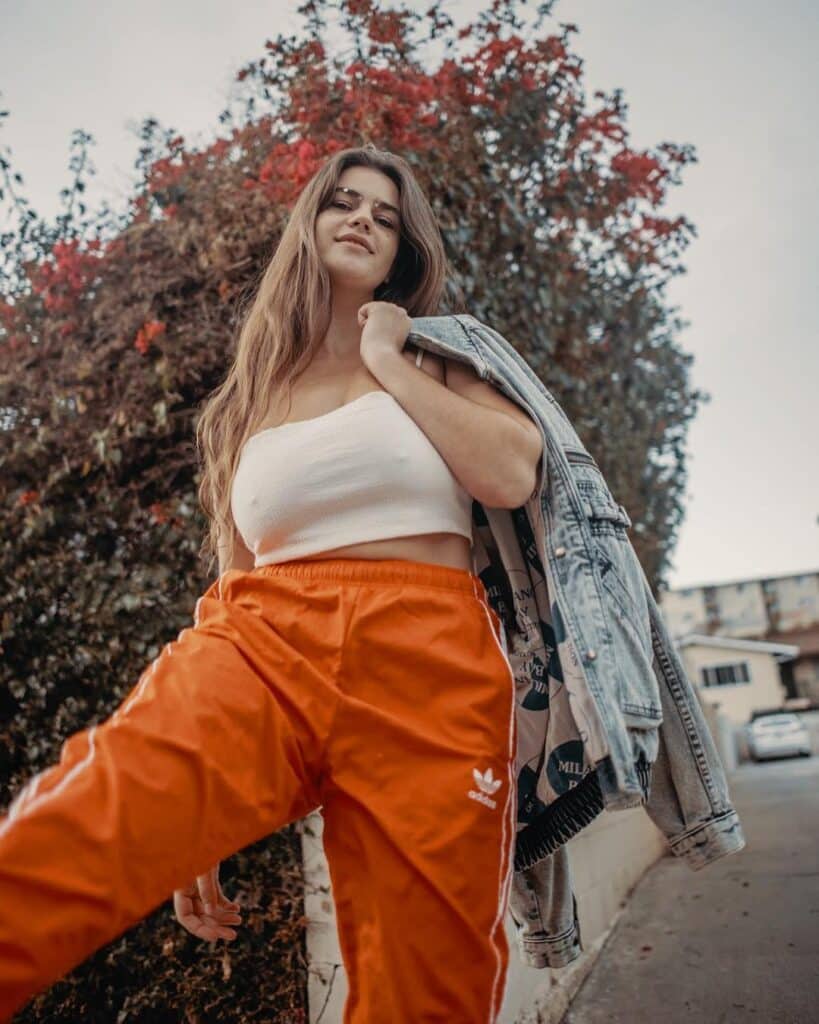 7 – How to Wear Maroon Adidas Pants
This is such a flattering outfit, not only because of the colors but also because of the way the clothing items fit on the body. This is such an easy outfit to style and is perfect to either wear at the gym, or wear on casual occasions when you go out with your friends. This outfit is so stylish, but at the same time provides so much comfort, which is a plus point!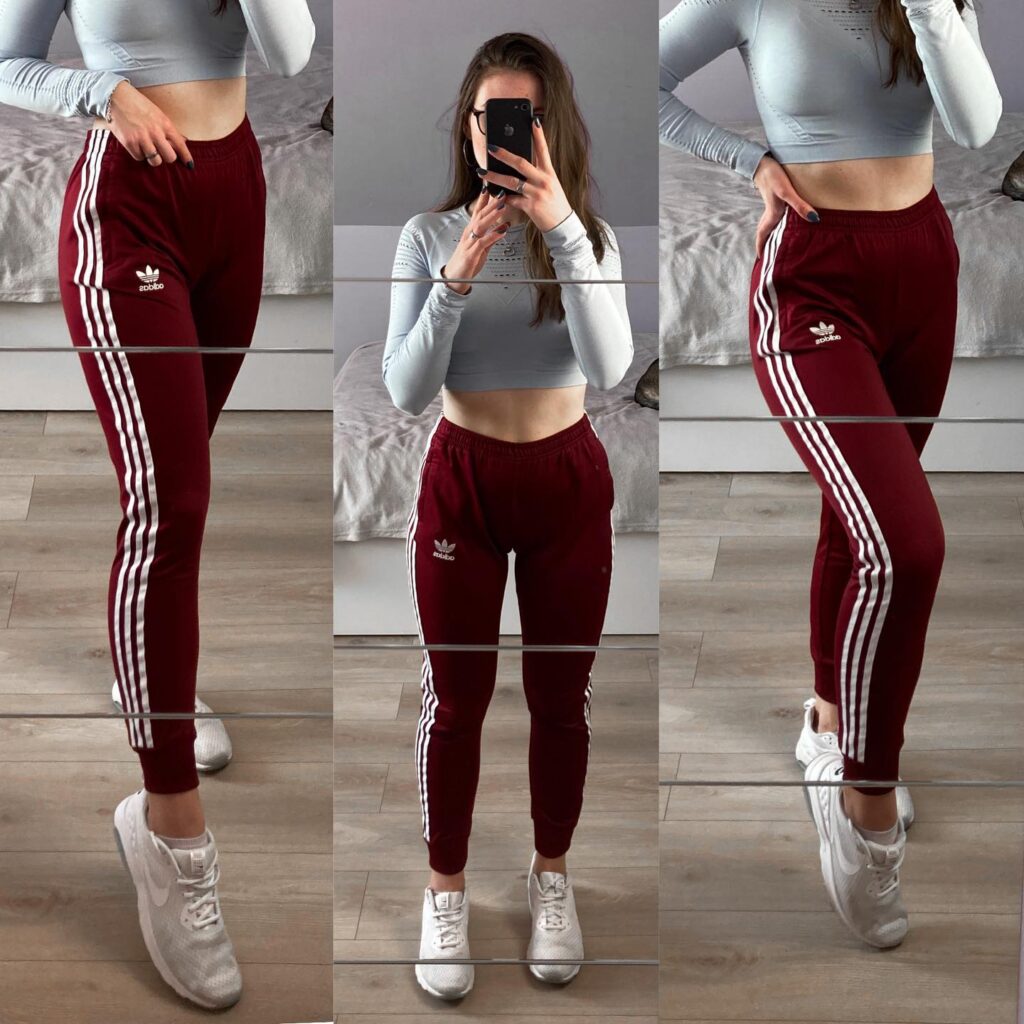 6 – Green Adidas Set
This outfit is so simple and requires you to do nothing but wear it! Sometimes while styling, we can get so caught up with it that we forget that sometimes the easiest thing to do is to just wear a matching set!
This is the easiest and simplest way to wear the set, but it can also be worn by adding a white base. The jacket can be worn open, on top of a white tank top or a white t-shirt. It is simple and so nice to wear at the airport and for a workout or a run. The white lines match perfectly with white sneakers, so that is an easy but effective add-on!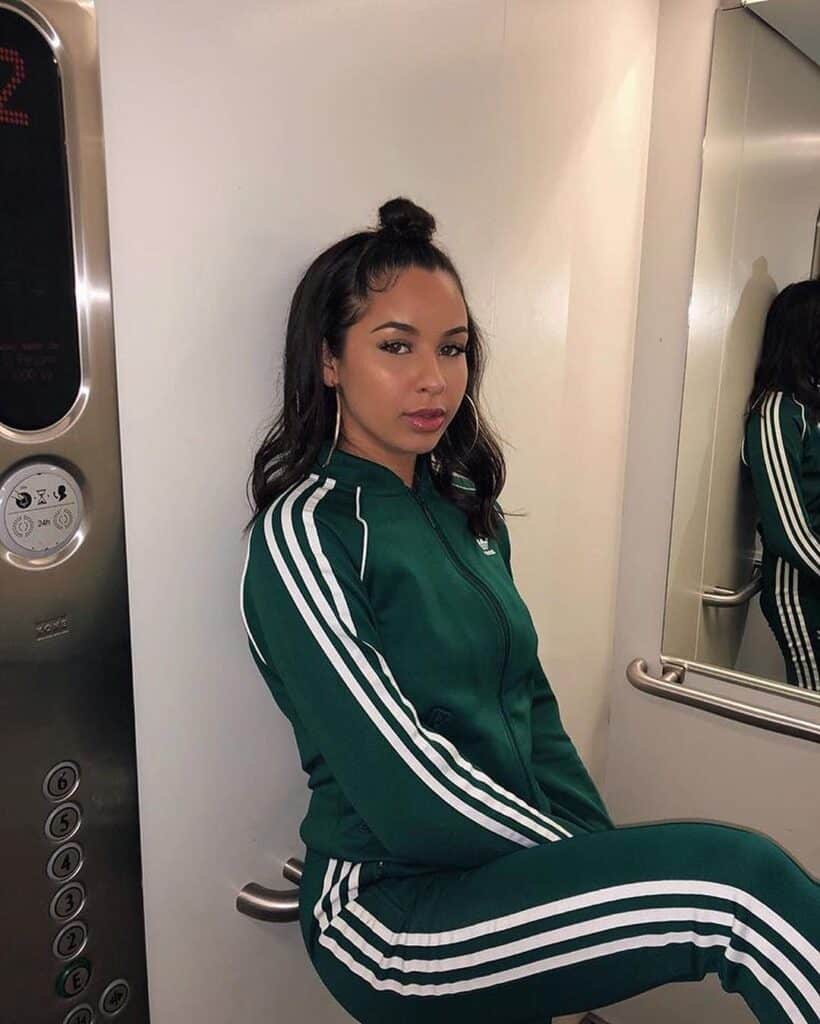 5 – Red Adidas Pants With Matching Slim Fit Red Puffer Jacket
This is such a stunning outfit because of the bold color, but also because of the flattering effect the slim-fit puffer jacket has to accentuate the body's curves. This is a great option to wear when you want to feel your most confident but also when you want to feel comfortable.
To further add a fun element, you can match the stripes with white sneakers. These two colors work perfectly together and will surely compliment all skin tones, so go try it as soon as you can!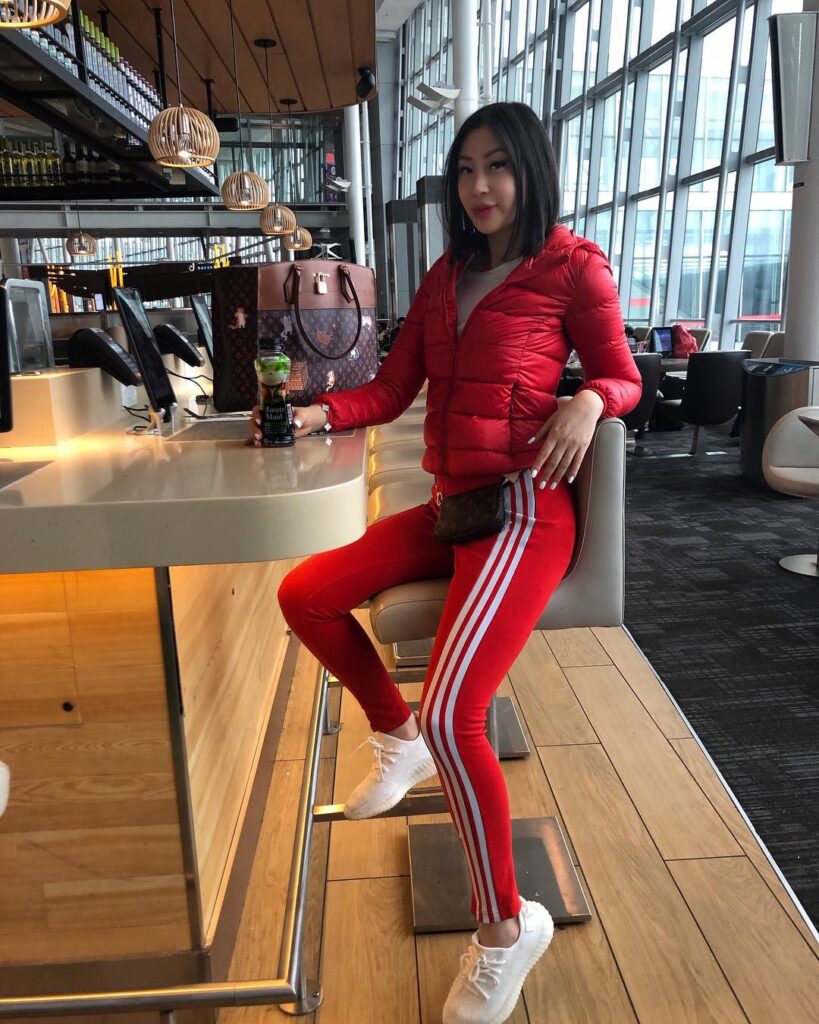 4 – Peachy Pink Adidas Pants With White T-shirt Scrunched Up
This is such a summery color of the Adidas Pants and it goes perfectly in the cropped white top concept. However, this outfit takes a more DIY approach as the top is a plain t-shirt that is scrunched up to form a cute twisted and ruched cropped top.
This is much more interesting and dimensional than a plain and simple ribbed top and so much cuter!
3 – Bright Blue Adidas Pants and White Cropped And Ruched Off Shoulder Top
This is another variation in the Adidas pant outfit with the white cropped top with a slight difference. The top is ruched in the center and has adjusting strings, which make the outfit so interesting and fun to look at.
The top also makes it so much more versatile, giving it more scope to wear it on so many different occasions.
2 – Matching Set: Pink Edition
Pink is the perfect color to wear in any season as it is almost always flattering on all skin tones, so why not work with it in the form of Adidas pants and a cropped matching hoodie? You cannot go wrong with this!
I love how sporty this outfit is and if this is the kind of look you want then do check out these Cute Sporty Style Outfits.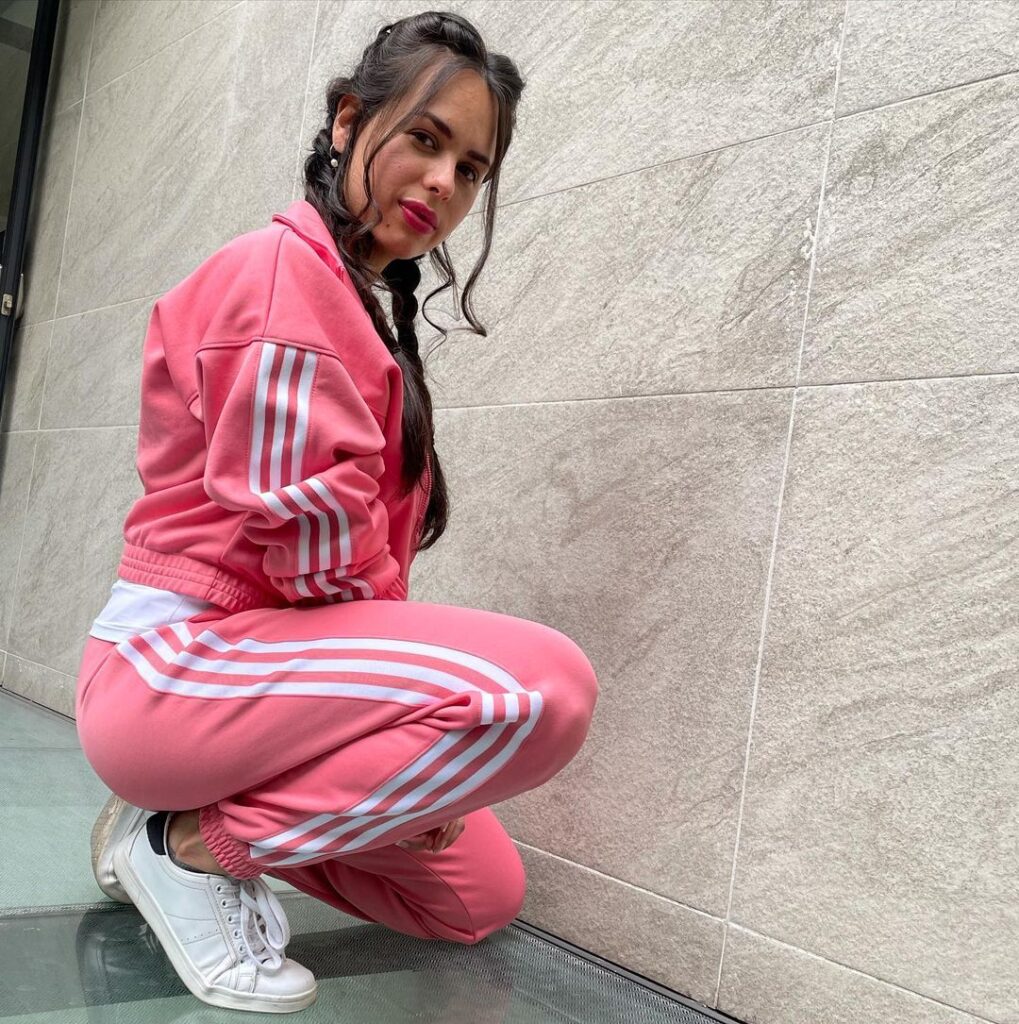 1 – Black And Red Adidas Pants With White Top and Black Coat in Winters
These are a very fun variation of the Adidas pants as they are duo chromed, and they come in the fun colors of red and black. This outfit is for people who enjoy a pop of color in an otherwise neutral outfit.
Pair these pants with a simple white chiffon blouse and have a black coat as a cover-up if it gets chilly. Further, accentuate this outfit with the addition of black leather ankle boots which will lift and enhance the outfit.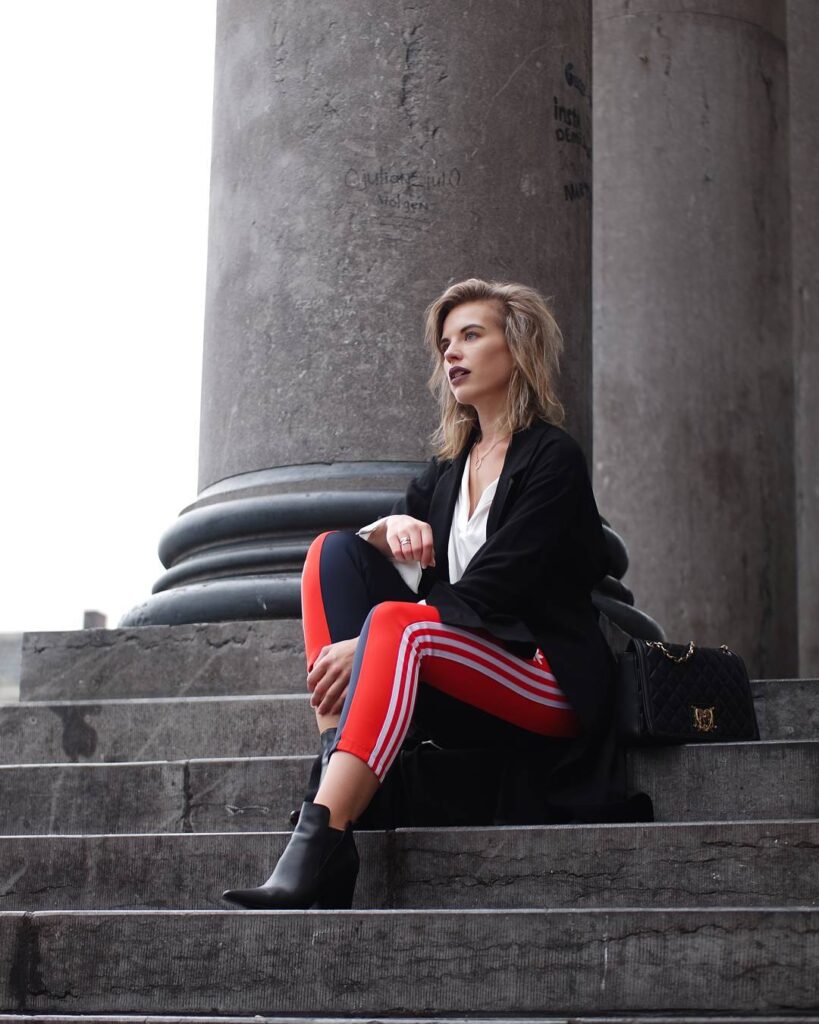 Frequently Asked Questions
Q. Can I style men's Adidas pants?
Yes, absolutely. There is a very minimal difference between men's and women's pants, and some styles are also unisex. So styling them follows the same techniques and guides.
Q. Can I wear Adidas shoes with the pants?
There is nothing wrong with that, it will only follow the prevalent theme of your outfit and make it more interesting and unique. Especially if you are wearing a set! Here are some other Cute Outfits With Adidas Shoes.