Popular Adidas Outfits on Tumblr for Girls. Adidas outfits are surely the newest and the cutest trend now in the current fashion and it always gives off a uniquely powerful essence to all the young ladies, while an attractive sporty look as well. Mainly, Adidas tops and its newly invented shoes/sneakers are held close to the hearts by all Adidas fans out there.
And here is the same for you too. About 50 most popular and also the cutest Adidas outfits are exemplified here so you can some ideas. Available and the most trending on Tumblr and overall in the market as well.
Some Popular Adidas Outfits on Tumblr for Girls
Tumblr has quickly evolved from just another social media site to the most popular fashion website. We've seen girls like Anna Collins go from tumblr to being fashion week's coolest models. There's no doubt that you can find the best fashion advise there. Have a look and maintain your coolest sporty and strong look this year by getting inspired by these Tumblr adidas outfits!
↓ 46 – The Casual Diva
↓ 45 – Chilling
Snapbacks are perfect for a casual look with your adidas outfits. You can get some awesome styling ideas here on Snapback Hairstyles for Girls.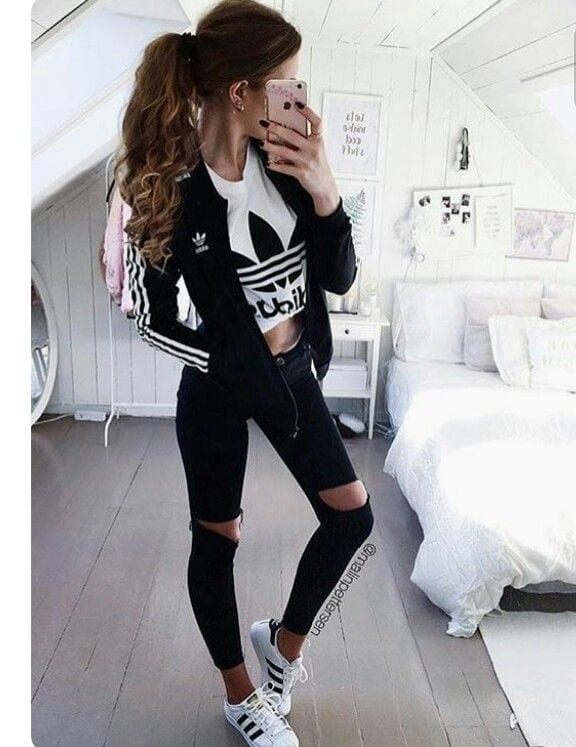 Want to twin with your best friend and have the perfect girls night out? Go for this look.
↓ 44 – Adidas Best Friends
↓ 43 – Comfy Winter Look
For the most comfiest winter look. When all you want is to stay at home all day in your favourite sweater. Adidas will never disappoin.
↓ 42 – Adidas Cap
Top off your outfit with an Adidas cap.
↓ 41 – Your Favourite Jeans and Shoes Go Together
How about a denim on denim kind of day? Here are 30 Cute Outfits with Adidas Shoes for Girls to try this Year.
↓ 40 – Go Off Shoulder
Off shoulders shirts and dresses are trending for every season right now so don't forget to pair them with your coolest Adidas. We love this combination that's classic and simple.You can also check out these 20 Outfit Ideas How To Have Swag For Girls.
↓ 39 – Add a Touch of Plaid
Plaid can always freshen up any of your outfit.
↓ 38 – Pastel Coloured
Of course, Adidas outfits don't just have to be black and white. You can also go for pastel colored ones. Here are 18 Cute Pastel Outfit Combinations and Ideas to Wear Pastel.
↓ 37 – For the Selfie Queens
The washroom selfies or the locker room selfies, nothing is perfect without your Adidas.
↓ 36 – At the Beach
Yes, these shoes are cool even at the beach. Is there any place that you can not wear them too?
↓ 35 – The Classic Black and White
↓ 34 – Summer Casual
↓ 33 – Ripped Swag
Cuff up your ripped jeans and put them on with your Adidas sneakers for the coolest swag outfit. Remember to lay off the socks for this look.
↓ 32 – Rock the Skirt
↓ 31 – Work Outfit
Casual Friday? Try this cute look.
↓ 30 – The Most Beautiful Combination of Printed Adidas Shoes
Do check out these Celebrity Work Outfits for Women.
↓ 29 – Adidas Shoes with Ripped Jeans
↓ 28 – Layering Pros
↓ 27 – Preppy
↓ 26 – Rugged
↓ 25 – Stripes It Is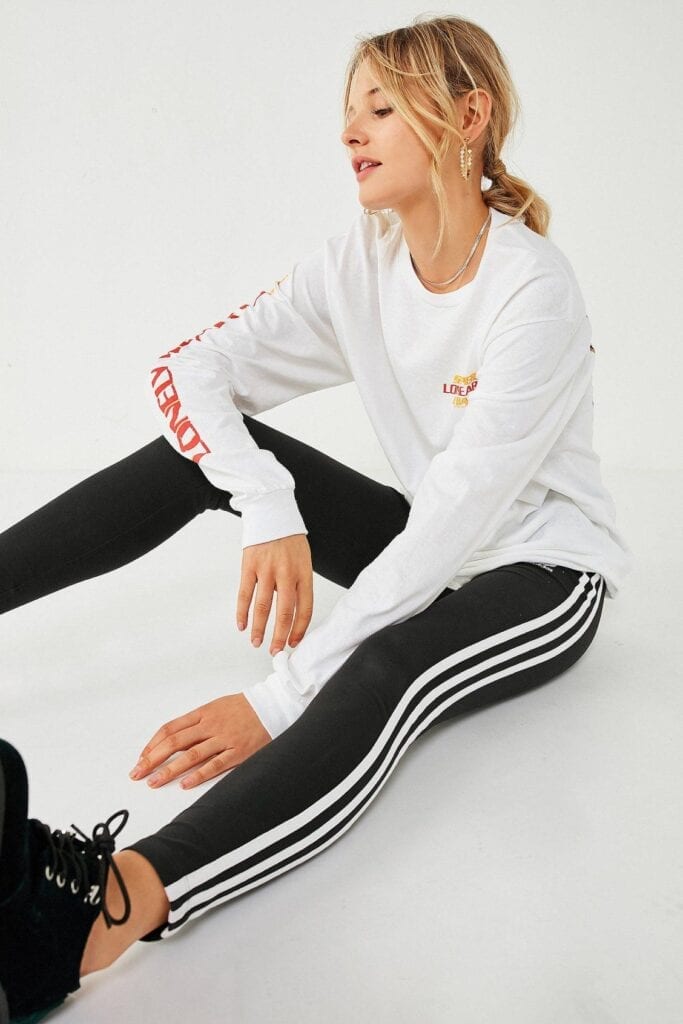 ↓ 25 – Adidas All-Star Fashion
↓ 24 – Adidas Sportswear
↓ 23 – Adidas Superstar Outfit
↓ 22 – Casual Homewear
For more cool and casual home outfits, here are 33 Best Ideas on What to Wear at Home.
↓ 21 – Best for Twinning
There was a time when twinning used to be nerdy but now its cool and you can do it with anyone! Your partner, your sister, your mother, your best friend or even your little baby boy or girl can be your twinning partner with Adidas.
↓ 20 – Hot and Happening
Bella Hadid shows you how to look hot in an Adidas midi dress and sneakers. How about breaking some rules and going for this look instead of heels at the next party?
↓ 19 – Simple and Sweet Adidas Tee
↓ 18 – For Them Windy Days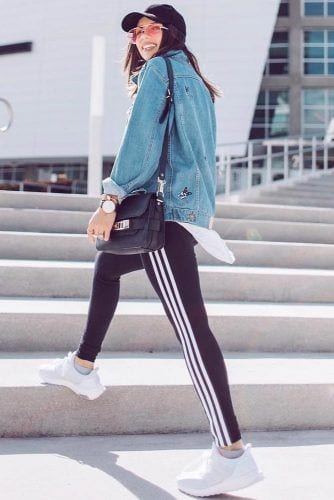 ↓ 17 – Selena's Adidas Executive Collection Photoshoot
↓ 16 – Dapper Street Style
↓ 15 – Winter Adidas Look
Here we see a H&M leather skirt, paired with a red Adidas shirt for an on spot Winter look. In winters, you can easily wear your short Summer skirts by layering them over leggings. This doesn't just keep you warm for those chilly days but also looks great.
↓ 14 – Adidas Sweat Suit
Tracksuits and sweatsuits are no longer just your average workout clothes. They can be your best looking outfits and yes they can be worn absolutely any place that you want to.
↓ 13 – With White Jeans
Who doesn't love wearing white jeans every now and then. And don't they just look their very best when worn with a black and white Adidas shirt?
↓ 12 – Adidas Shirt with Shorts for Travelling
↓ 11 – Casual and Sleek
↓ 10 – Dress to Kill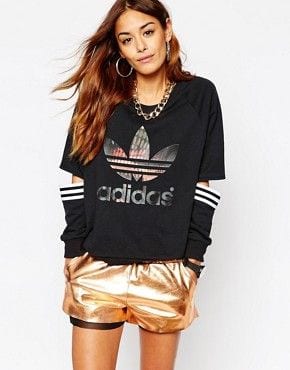 ↓ 9 – Funky And Cool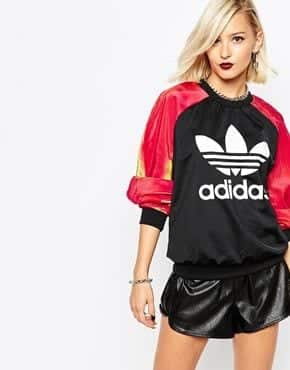 ↓ 8 – For the Hiking Trip
↓ 7 – Weekend Outfit
↓ 6 – Super Sexy Date Night Outfit
Who says Adidas outfits can only be sporty, they can be equally sexy too. Just like this look where Adidas shoes have been paired with a black dress.
↓5 – Swag Look with Adidas Shoes
Adidas superstar shoes are best worn with your ankles showing so why not pair them with cropped leather pants. Check out this post for more ideas on Best Polyvore Outfits with Adidas Superstars for Girls to Copy.
Via
↓ 4 – Street Style
For a sexy street style look, wear your washed denim jeans with an Adidas crop top.
↓ 3 – Adidas Fall Outfit
For a chic Fall look, opt for an Adidas tracksuit for a comfortable and relaxed look that doesn't compromise on style.
↓ 2 – Adidas Legging Outfit
One of the most popular Adidas designs ever, the three-striped legging and matching shirt combo. You can wear this outfit for your morning jog, workout, or even for a trip to the grocery store.
↓ 1 – Kylie's Funky Adidas Outfit
Here we see our favorite celebrity, Kylie Jenner wearing a quirky and funky, but also incredibly sporty Adidas outfit that is worth more than $400! She paired the outfit with white trainer shoes and a super cute top bun.
Caz, aka Vixen, has been freelance creative writing for several years. She has a lot of experience in different fields including high street fashion, tattooing art, and even the gothic and historical costumes. Caz has a Diploma in Fashion and Textiles and also a Bachelors Degree in Historical Costume and Corsetry. Her passion lies with gothic design, corsetry and any other styles considered to be taboo or unusual. Style-wise Caz has a love for Vivienne Westwood and her take on the punk era. Although Caz loves the weird and wonderful, she has a deep love for all fashion and allows this to show through her work.