Pakistani Mother Daughter Matching Outfits- Every daughter has a sacred relationship with her momma, which is above any other relationship. And most of the time, their mommas are their fashion gurus, designing their wardrobes, picking up matching shoes for them, and making them feel super special about themselves.
Dressing up is a part of evoking that confidence, which comes out automatically when you've dressed upright for the right occasion. Pakistan is a country where all occasions are celebrated with festivity and jubilance. And, most of the time, with friends and family all together. Mothers who have to pick up outfits for themselves, as well as their daughters, have to take quite some time to go through the latest trends and styles, which can make the mommy-daughter duo look just exquisite.
Cute Matching Dress Ideas for Pakistani Mother Daughter
Sometimes moms can twin their outfits totally, and for the other times, they go for something that will make both of them look just super cute and the coolest among all. Pakistani moms rarely go for matching prints, but they often go for similar cuts when picking up ethnic outfits. The article is going to help you in picking up yours and your daughter's costumes, which will complement the event and your bond.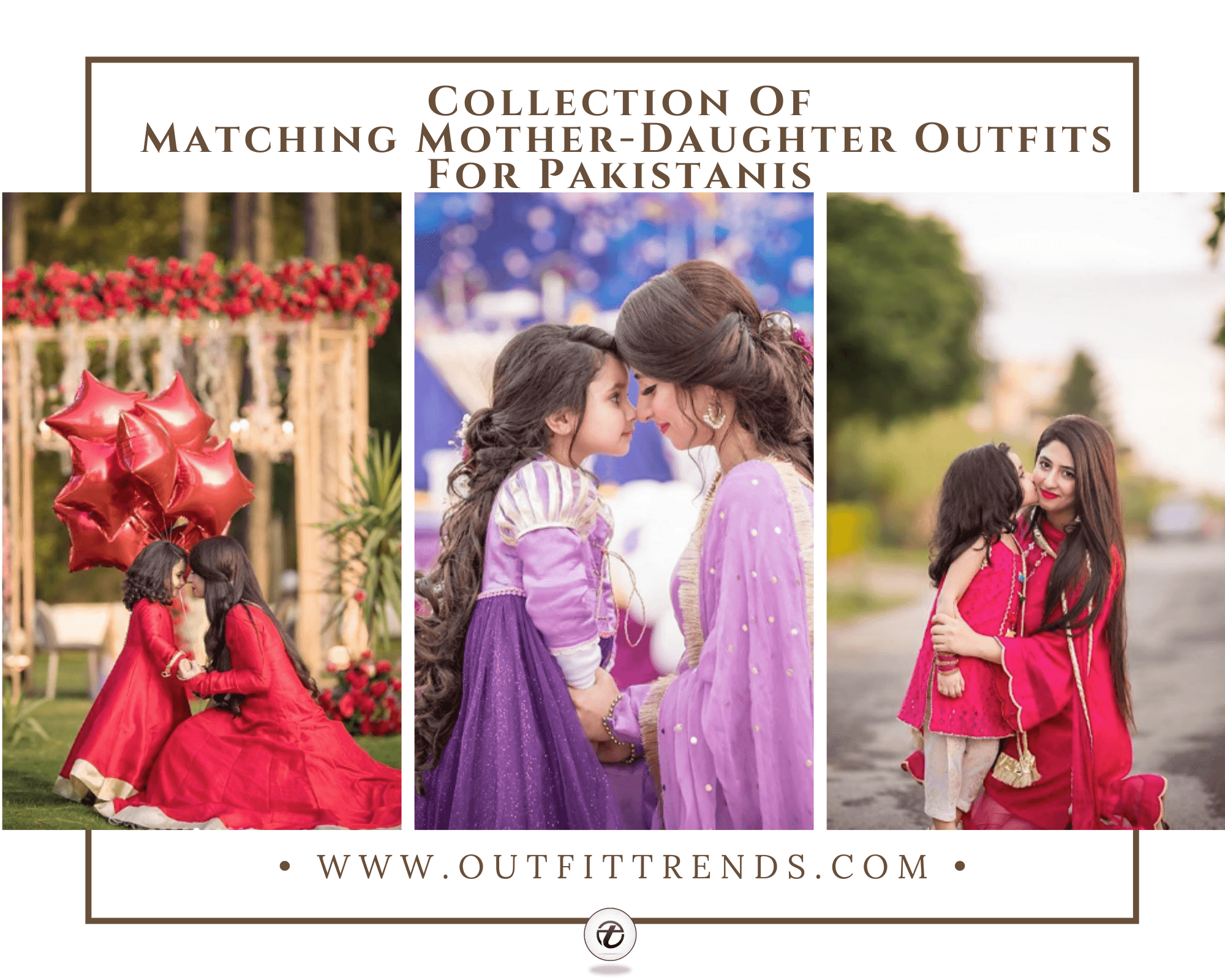 Hey, Pakistani mom's. If you are not buying a ready-made outfit and are going to get yourself an attire stitched, then keep reading. Every time you get your clothes stitched a lot of fabric go to waste. It is time to use it and get your princess a similar outfit to you. Even if the material is less, it's possible that you can get a sleeveless shirt stitched for the little one.
Many brands like Nishat, Maria B, Minie Me, etc. offer matching outfits for mother, and others, so don't miss out on them.
If you can't find your daughter a similar outfit like you, then get her one in matching color and shades.
Radiate lovely vibes by dressing up your little doll just like you on special occasions like Eid and Weddings and let the world know that you are the perfect example for mother-daughter goals.
You can also get matching pj's for yourself and your daughter and have Sunday chillings daughter.
Don't forget to get your daughter matching accessories. It is evident that if your daughter is small, she can't wear heavy jewelry, but still, you can go for similar bangles at least.
It's not necessary to get your daughter an outfit of the same length for twinning. If you are going for a full-length maxi, you still can get your daughter a short robe in the same print and color.
Matching hair accessorize is another adorable way to do twinning with your baby girl.
I would also recommend that you check out these father and son matching outfits.
If I ever have a little daughter, I guarantee you the first thing I will do is get loads of matching outfits for my baby girl and me. Not just costumes but matching shoes, jewelry, hair accessories, and even travel bags. Such a beautiful relationship it is. Ladies, If you have a daughter, I assure you that you will love this blog! So, keep reading as we have 25 great ideas for you.
↓ 25 – Mother-Daughter Twinning In Black
They say mom is a girl's best buddy, and we can not disagree with this. Black is almost everyone's favourite color, and you can't forget it, especially while creating a matching wardrobe with your daughter. Get black Kurti's for both you and pair them up with grey trouser and hot pink dupatta. You can wear this outfit on Occasions like Eid, where you don't want to wear heavy gear. Also, it is perfect for a casual day.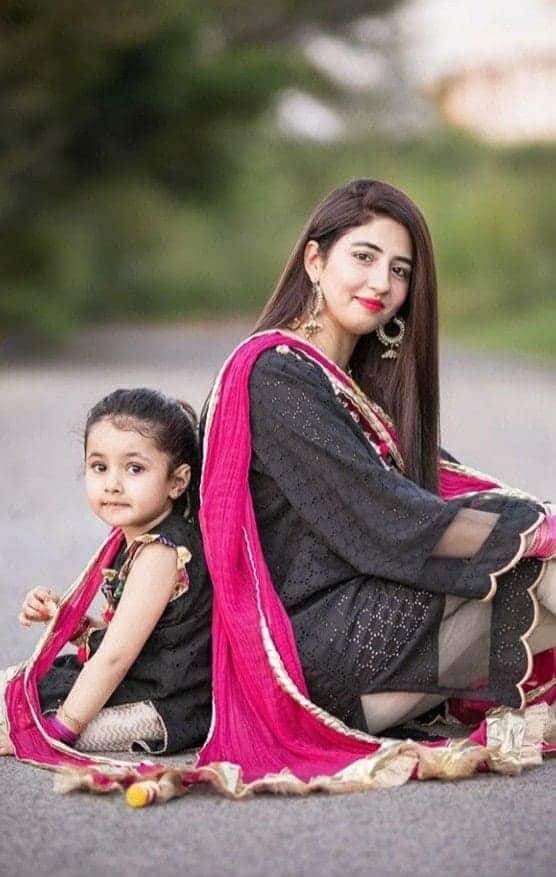 ↓ 24 – Eid Function's Attire For Mother And Daughter
Mama's wealth is her daughter, and this is what only mothers can understand. Wear a pretty light purple gharara yourself and get your piece of the heart a frock of similar fabric. Make sure your baby's outfit is not overly embroidered as it can hurt her. Get her a golden hairband, and she's all set. Now focus on yourself and put on a little heavy makeup as your dress is in light shade. Loose hair curls will complement this look.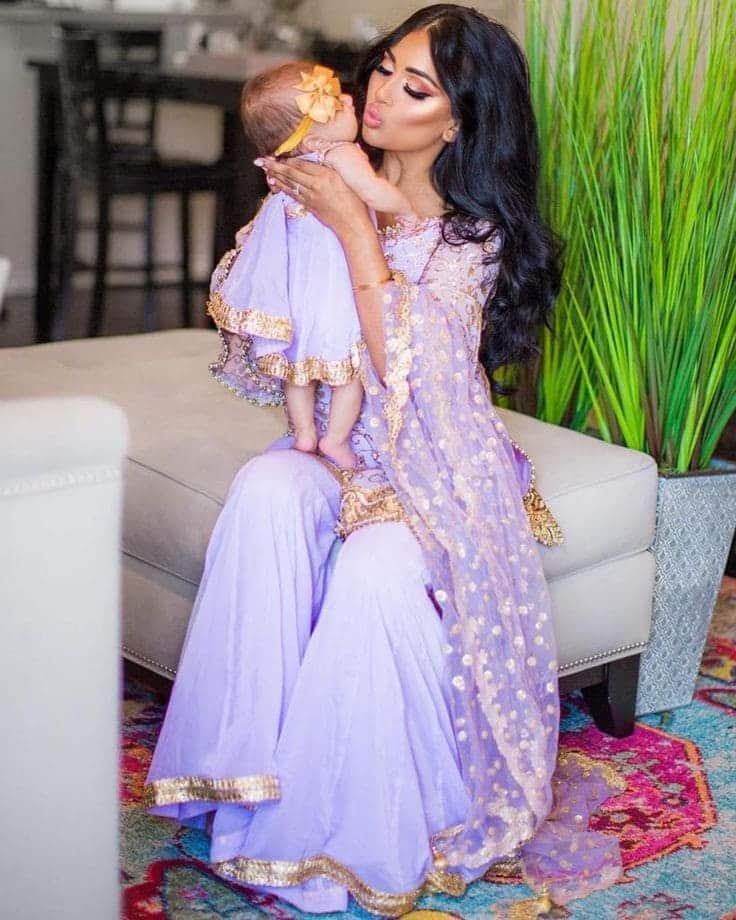 ↓ 23 – Pj's For Mommy And Princess
Ladies, your daughter is the one you can chuckle with, hope and dream with, and love with all your heart. And what day is better than Sunday to cuddle and shower her with love? Buy yourselves matching Pj's and enjoy your weekends at home by loving each other, cooking with each other. Also, watch loads of movies, drama's together and don't forget to gossip. It doesn't matter if your daughter is small, she will still accompany you, and you know that.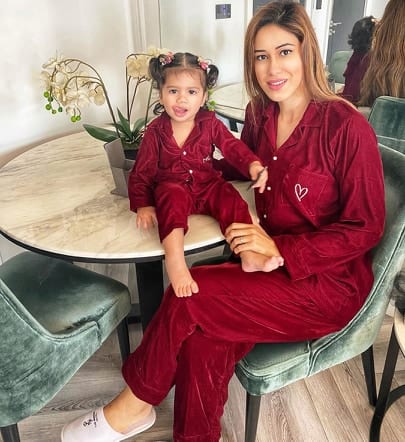 ↓ 22 – Like Mother Like Daughter Goals
Hey mama, your daughter is just a little girl who will grow up to be your best friend one day. Take her to weddings in outfits just like you and let people droll over your love.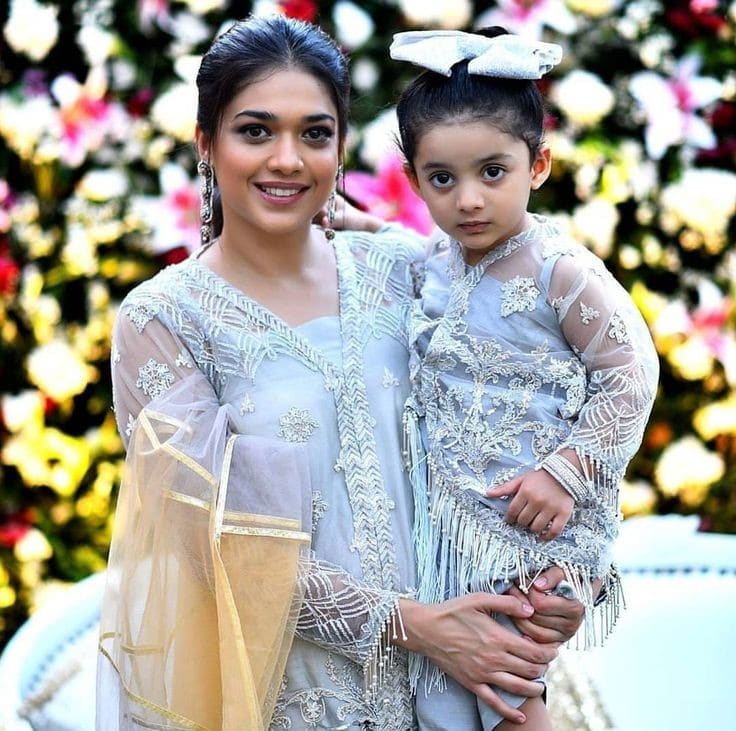 ↓ 21 – Fancy Outfits For Mommy And Daughter
If you are a Pakistani, then you need loads of fancy outfits. You never know about whose wedding you get invited to and on how short notice. Be prepared all the time, especially from November to March. If you have a daughter, the tension doubles because you don't only need one outfit but two. So, what's better than matching with your daughter? There are loads of options that you can try; Kurti trouser, maxi, and dress, lehenga choli, gharara, etc. Girls, you know that a daughter is a miracle that never stops to be miraculous, so take care of her and shower her with love in every possible way you can.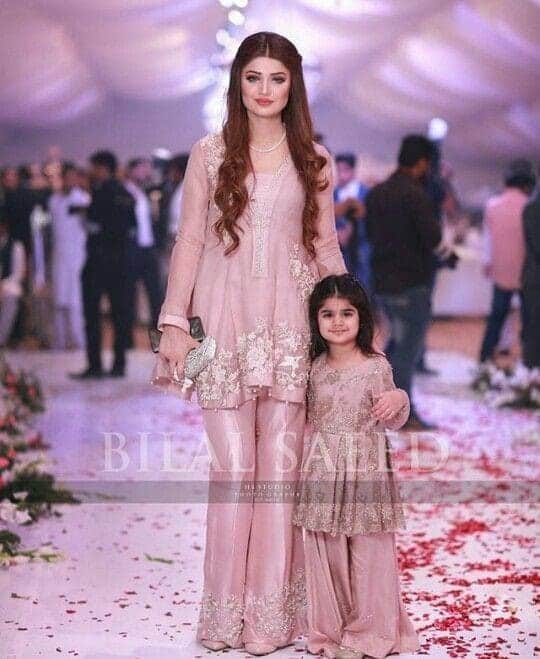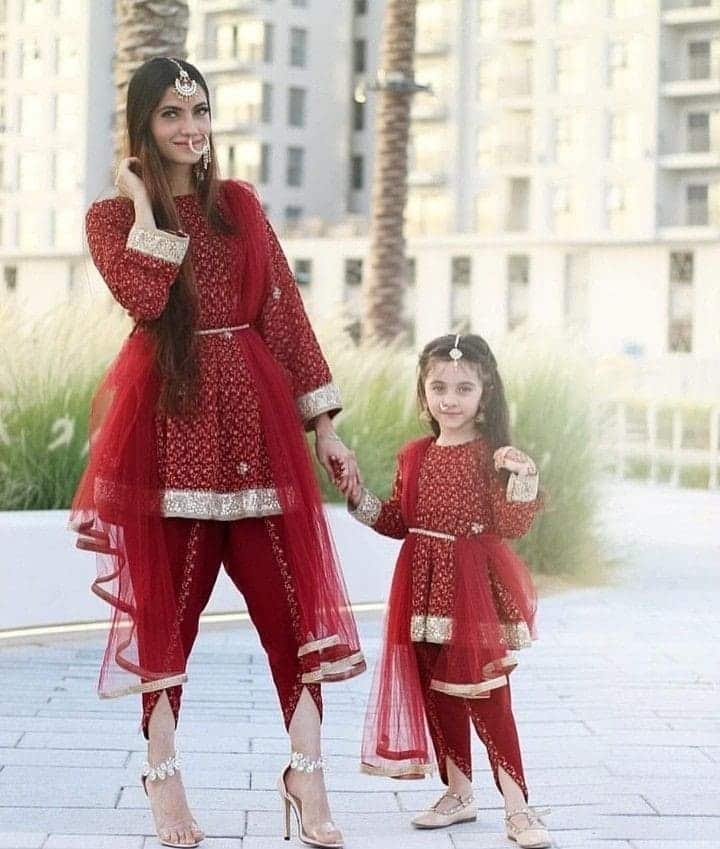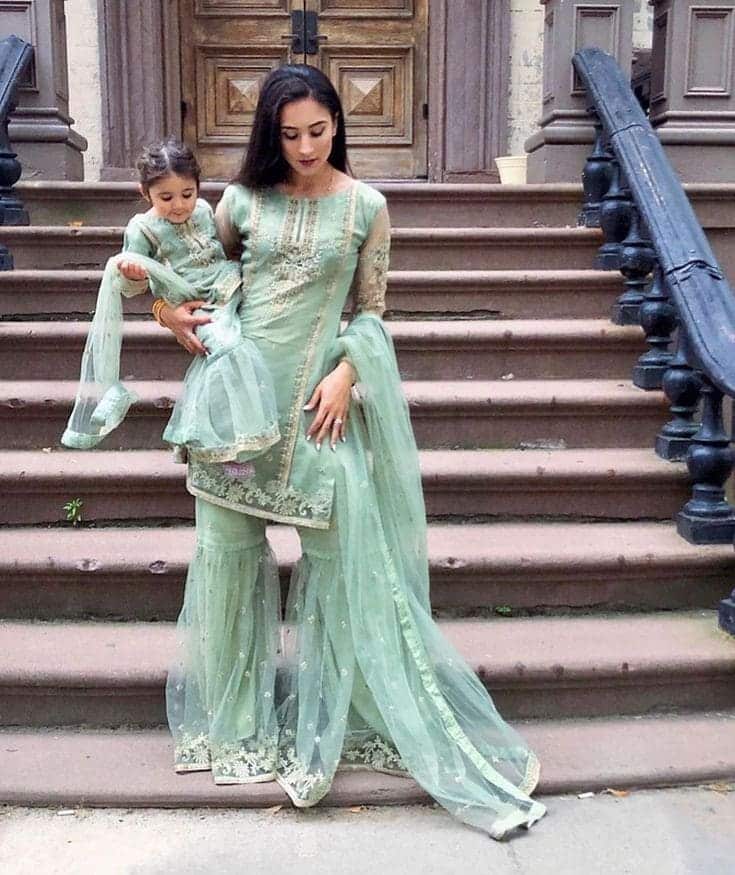 ↓ 20 – Disney Birthday Outfit for Pakistani Mother-Daughter
Little girls love princess-like outfits; also, because such tiny costumes are way too adorable for any little princess to ignore. Momma can match embellished gowns in luxurious clothes with her daughter's Disney princess' style robe and go for some classy diamond style ear studs. A softer makeup look will be ideal for such attire. Have a look at these 30 Trending Party Outfits for Pakistani Girls. 
We love how Aiza khan often wears matching outfits with her baby girl Horaain at a birthday party. They are delightful without any doubt.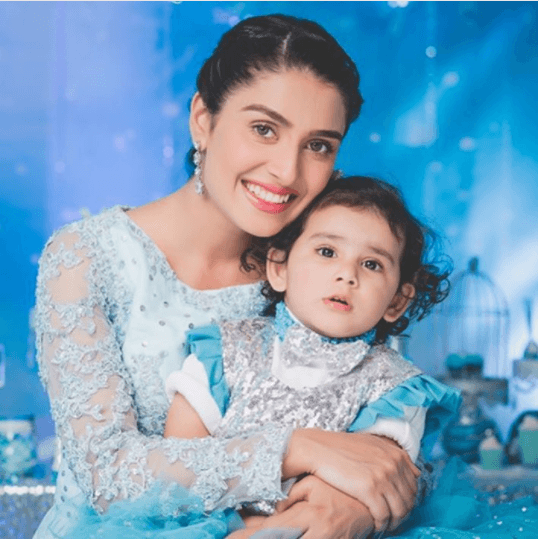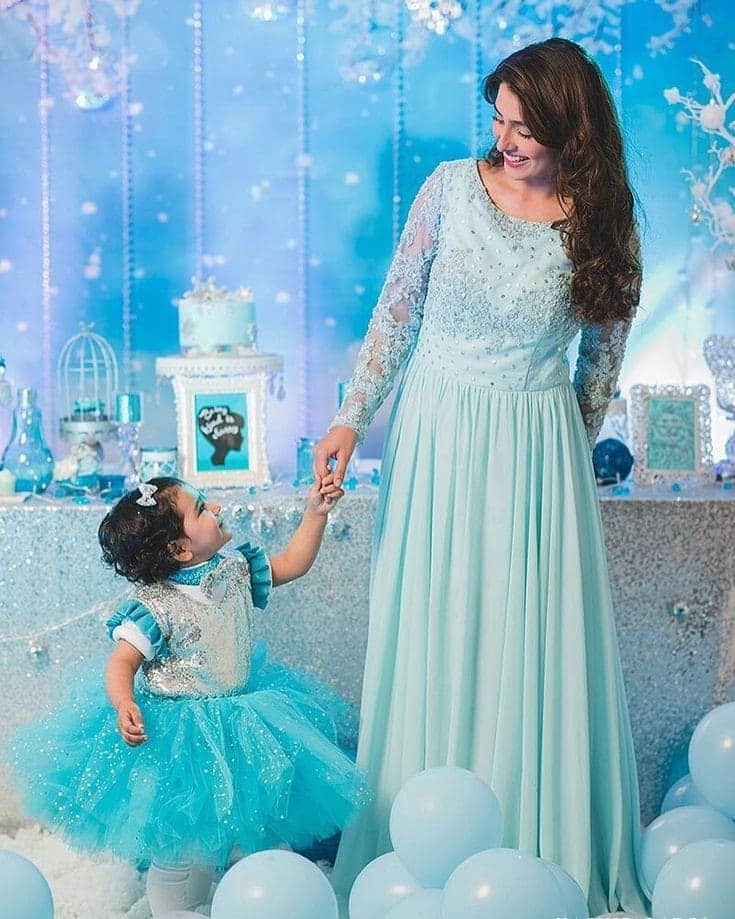 ↓ 19 – Mommy and Baby Girl's Independence Day Attire
Independence Day is celebrated with great enthusiasm, and now mommies don't need to stress about 14th August party wear because there are many outfits in the flag's colors available at different stores. Also, bangles look extremely ethnic, and green and white ones look super cool on independence day. Aiza Khan and Hoorain look decent and patriotic in White Kameez Shalwar with a touch of green. It is essential to keep our children aware of special occasions and important dates of history.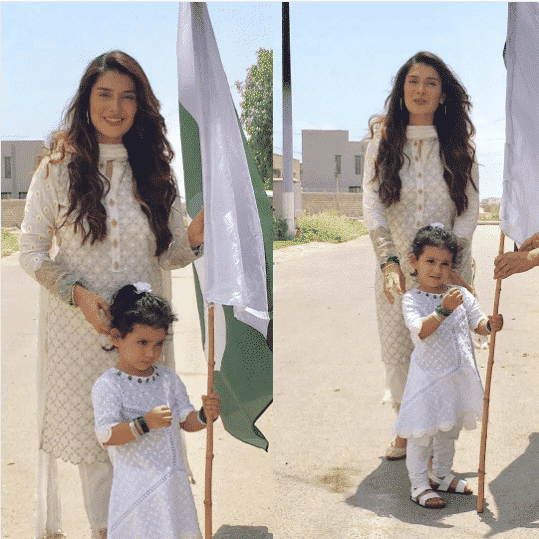 ↓ 18 – Coordinated Eid Attire
Just like Syra and Noori, you can slay the mommy-daughter duo on Eid day in a pretty skirt in cotton with a little embroidery, and moms can go for a light kurta in the daylight. It's both simple and stylish for the festivity of Eid. Don't forget to get bangles matching your outfits as they spice up the Eid look. Check out 15 Ways to Accessorize Eid Dress with Jewellery.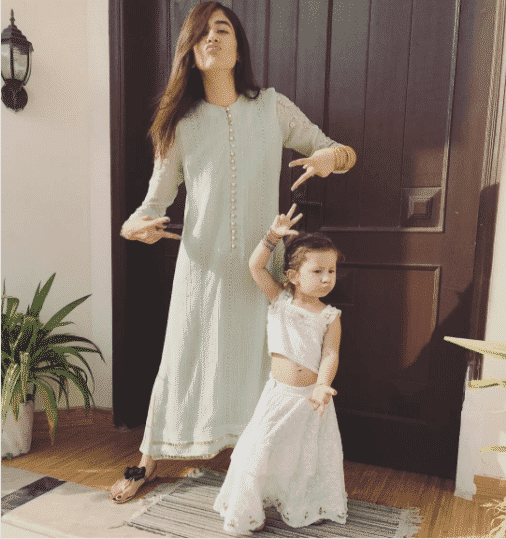 ↓ 17 – Mommy and Daughter Spring Street style
Spring is all about light frocks, and peplum tops in lawn and semi-cotton material and light lemon color has been trending quite much these days. You and your daughter can go for a similar outfit in the spring shades like lemon. Parrot green and bright orange.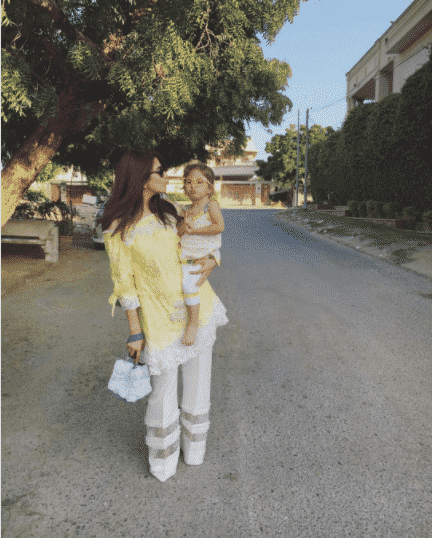 ↓ 16 – Chic Pakistani Beach Attire
Long dresses are just perfect for vacationing around a seashore, and you can dress your little girl in one as well so that she can feel free, and the light fabric will make her feel comfier. Off-shoulders have been trending in Pakistan since last spring, and long dresses with off-shoulder cuts look super cool, especially when you're going for a beach picnic. Here are 30 Best Bridal Shower Outfits For Pakistani Weddings.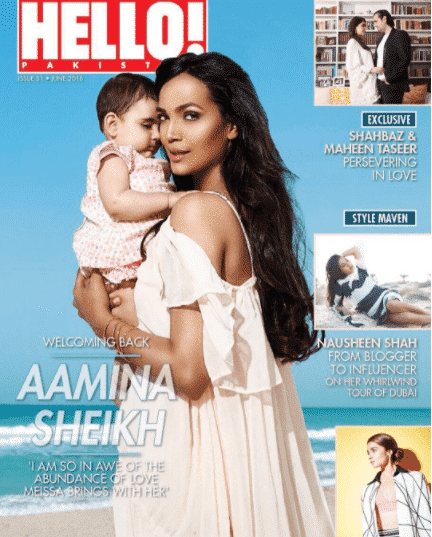 ↓ 15 – Wedding Party Attire for Mom and Daughter
Wedding parties like Walima or After Nikah ones are considered to be quite significant as women are supposed to wear fancy and luxurious outfits. Mom and daughter can go for the same color palette when picking up a wedding outfit with little embroidery and embellishment around the neck. Little girls can go for gharara or palazzo pants, which look extremely beautiful with short Kalidar frocks.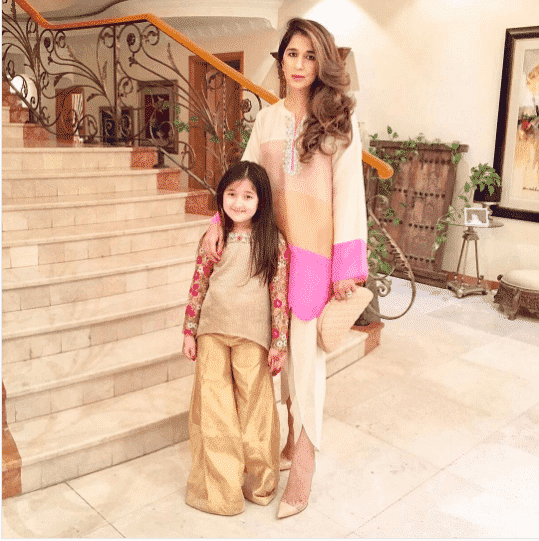 ↓ 14 – Pakistani Mother-Daughter Matching Birthday Dress-up
One of the most important relationships we have is the relationship we have with our mothers. Your mini-me's birthday is a memorable day for you, and you definitely would like to doll-up for the event along with her. A pleated net embroidered frock for you and your mini-me is an extremely cool option considering the trends. Go for stiletto heels with that which will spice up your birthday attire. Have a look at these Classy Outfits for Pakistani Girls with Short Height.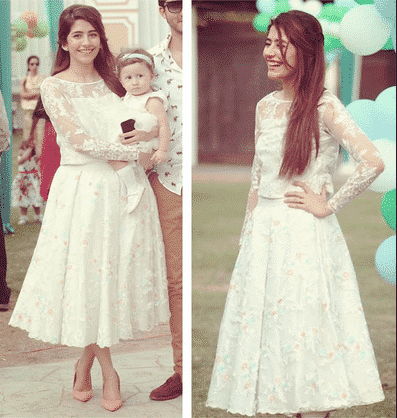 ↓ 13 – Mom and Daughter Travelling Outfits
Little girls are obsessed with funky little frocks, so light cotton frocks seem perfect for them when traveling around, but what about mommies? They can go for striped jeans with casual cotton tops or even tees with some comfy shoes like sneakers or even joggers.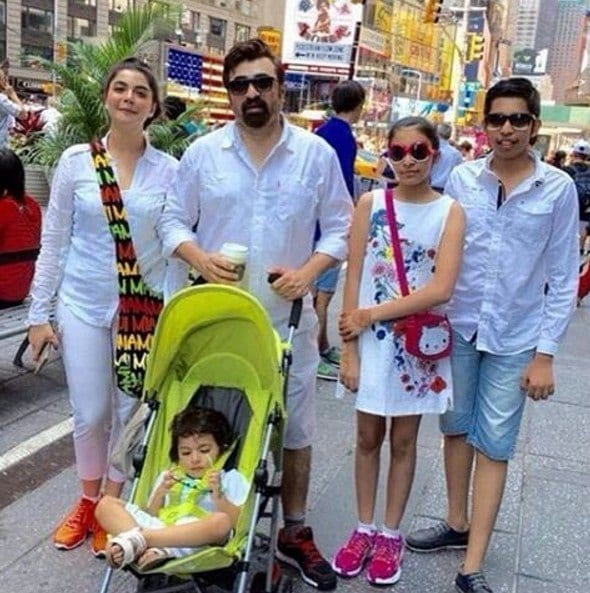 Via
↓ 12 – Mommy and Baby Twinning Outfits For Mehndi
Mehndi is considered to be one of the highly celebrated wedding events which are full of vibrant colors, and you can dress up your mini-me in an outfit just like yours, and similar shades will give make you both look adorable. You can go for organza and Jamawar material with lining in some soft cloth to keep it comfy. For more wedding style inspiration, here are the Best Outfits Of Pakistani Celebrity Couples.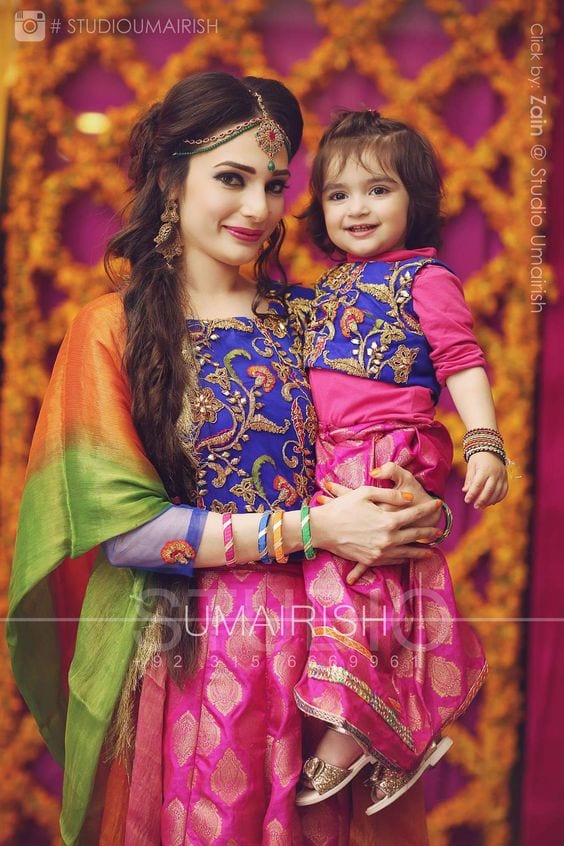 ↓ 11 – Mommy and Princess Glamorous Dress-up
A glamorous skirt is what makes you look perfect for an evening party or a bridal shower. You and your princess can go for matching skirts and tiaras.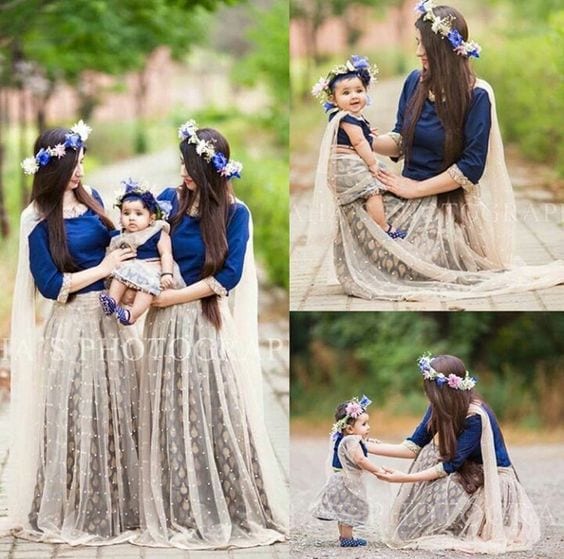 ↓ 10 – Matching Ghagra Choli Outfit
What can make a better duo than a mommy and daughter twinning ghagra and choli with long ever going dupattas and some stylish embroidery and embellishments? Here are 20 Elegant Outfits for Pakistani Women Over 30.
↓ 9 – Pakistani Mother And Toddler Twinning Party Outfits
Party outfit like saree can be twinned with daughter's frock when you go for somehow similar material for both. Momma can twin her blouse with her daughter's frock, or blouse and daughter can twin her skirt with momma's saree. The ensemble will look incredibly stylish.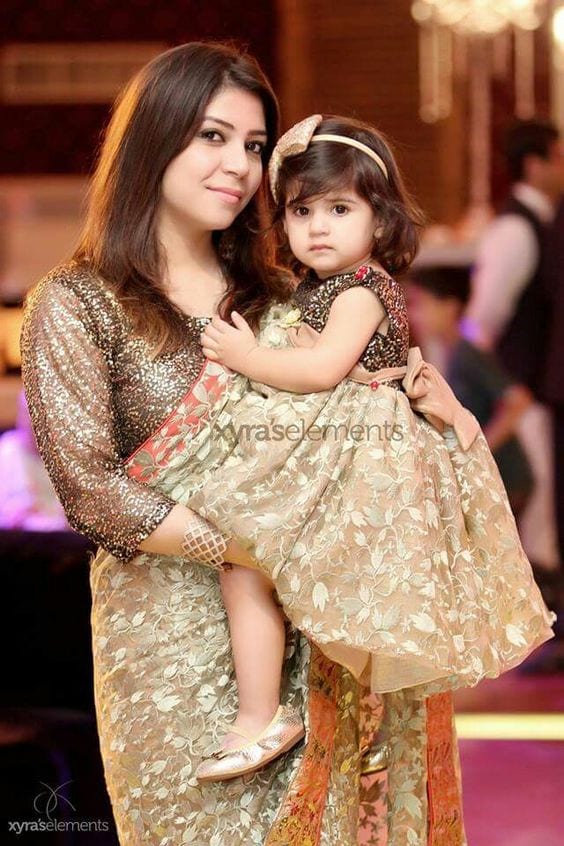 ↓ 8 – Mom And Daughter Semi-Formal Attire
If you want to go for a semi-formal look for a dinner or a brunch, then you may match your kameez with your princess's party dress, or you can even match your bag and heels with her outfit. Here's a vast collection of Curvy Pakistani Girls Fashion.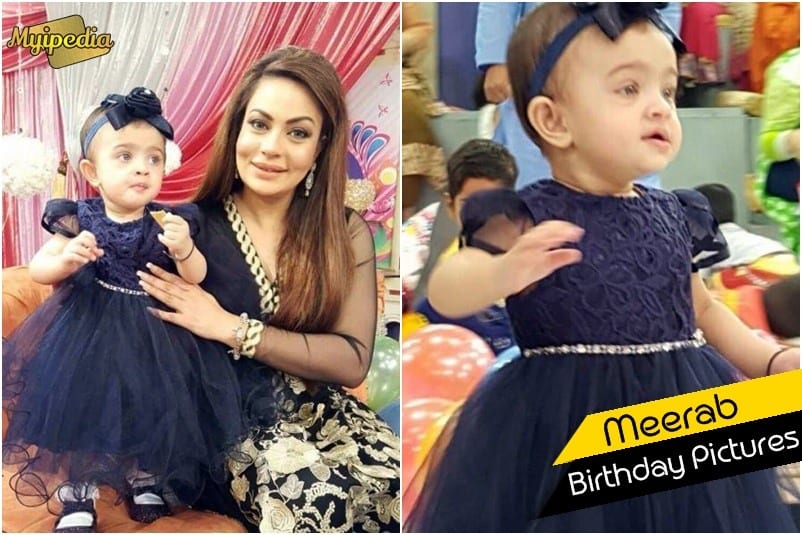 ↓ 7 – Casual Attire For Home
Momma can dress her daughter in a matching peplum top or a super cool floral shirt and herself in a resembling print when they really want to kill the mommy-daughter duo.
↓ 6 – Matching Designer Outfits For Mom And Mini-Me
The classic silk luxury cigarette pants with beautifully embroidered kurtas by Saadia Asad is an ultimate mom and daughter matching outfit choice for any formal event. The collection made every Pakistani mommy's life easier.
Via
↓ 5 – Mom and Daughter Pastel Dresses
Pastel and versatile shades of charcoal and lavender turned into beautiful outfits for Pakistani mommy and daughter are a perfect ensemble. The highly precise applique work with scrupulous embroidery is every mother's dream. Here are 18 Cute Pastel Outfit Combinations and Ideas to Wear Pastel.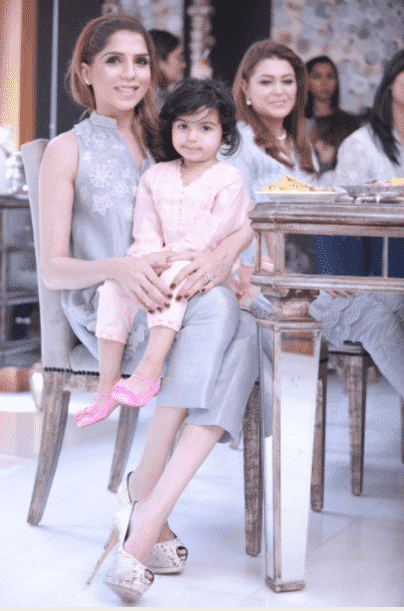 ↓ 4 – Twinning Gharara Outfit
No matter how old she may be, sometimes a girl needs her mom. Gharara pants made in Jamawar, net, or even lawn are just perfect for any formal party, or even dinner, and stunning luxury appliqued kurtas in organza will work as a cherry on top of it.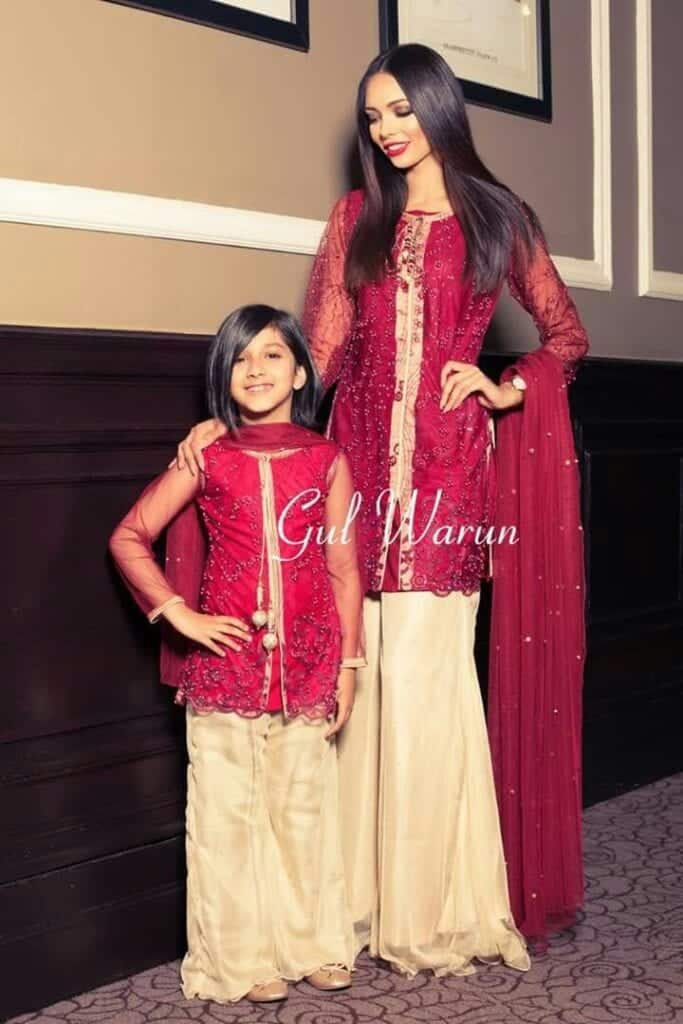 ↓ 3 – Mom And Baby Girl Desi Jeans Outfit
Beautiful peplum tops with skinny jeans look super cool as well as cute when worn by mommy and daughter with multi-color scarves.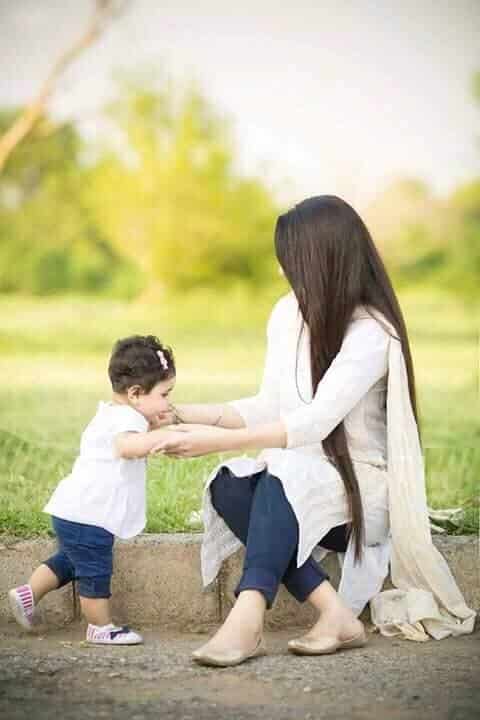 ↓ 2 – Mommy And Daughter Matching Fall Look
Mother and daughter can slay matching capes in winters with matching long boots. Have a look at these Stylish Outfits to Wear with Long Boots This Season.
Via
↓ 1 – Designer Outfits For Mother And Daughter On Eid
When it comes to designer Eid outfits, nothing can beat the exquisite costumes of Maria B.
For Eid 2019 too, Maria B has come up with a fabulous "Araam Bagh" Collection that is all about luxury with comfort. Here's a glimpse of some of her latest outfits that would look great on any mother-daughter duo.