Cute Winter Outfits For College Girls- Looking for ideas on how to dress up for college in cold weather? In winters, it gets hard to stay away from the cold for school or college-going kids. December and January are the coldest months of all.
It becomes necessary for all the kids to do proper dressing in this cold season. Therefore, today, we will talk about some winter outfits for college-going girls. We have put together some of the favorite looks of the winter season for this year. For girls, it becomes essential to dress up well no matter where they are heading to. Many female college students take a lot of things into consideration when they go out, especially when it comes to dressing. You need to add certain items to the wardrobe to look good. You need to spend time and choose what suits you the most.
People living in cold countries have to keep themselves warm. Therefore having warm clothes in the wardrobe becomes a necessity. College-going girls can wear clothes like tights and a long shirt with a sweater, a long coat with jeans, a leather jacket with leggings and high boots, etc. Here are some great looks that you can create with the clothing items that you probably already have:
Best College Outfits Ideas For Winter 
Winter clothing is so amazing. You can create so many unique outfits with just a few pieces. Girls if you don't have winter vacation or if it's pre-holidays then it's hard to survive the cold in especially in the morning. But don't worry because from now onwards you will wear everything necessary to keep you warm, relax! You won't look like a potato that's outfit trends promise.
Have a quick look at these tips. They will surely help you decide better.
The beauty of winter clothing lies in layering. You need to learn how to layer up properly and with style, that's it. So, there are three layers. Your base layer should consist of your bras, a lightweight tee shirt, a  light pair of Leggings.
  Your mid-layer should consist of shirts, sweaters, sweatshirts or your mini or midi dresses.
The final outer layer should consist of your best piece, including your coats, jackets, and cardigans.
You must have turtle necks, Leggings in a vast range of colors. They are your basics. You need them with every outfit if you want to stay warm.
For school and college-going students, the outer layer is of most importance. Hence invest in denim jackets, leather jackets, cardigans, and even Panchos. Look for pockets as well, that's a plus point in winter outfits.
Never neglect your feet. Fear the frostbite and wear double socks and shearling boots or joggers.
Buy beanies and caps to keep your head and ear warm. Trust us, you will feel cozy.
You can accessorize your school /college outfit with scarves and stoles. It two in one: warmth and style.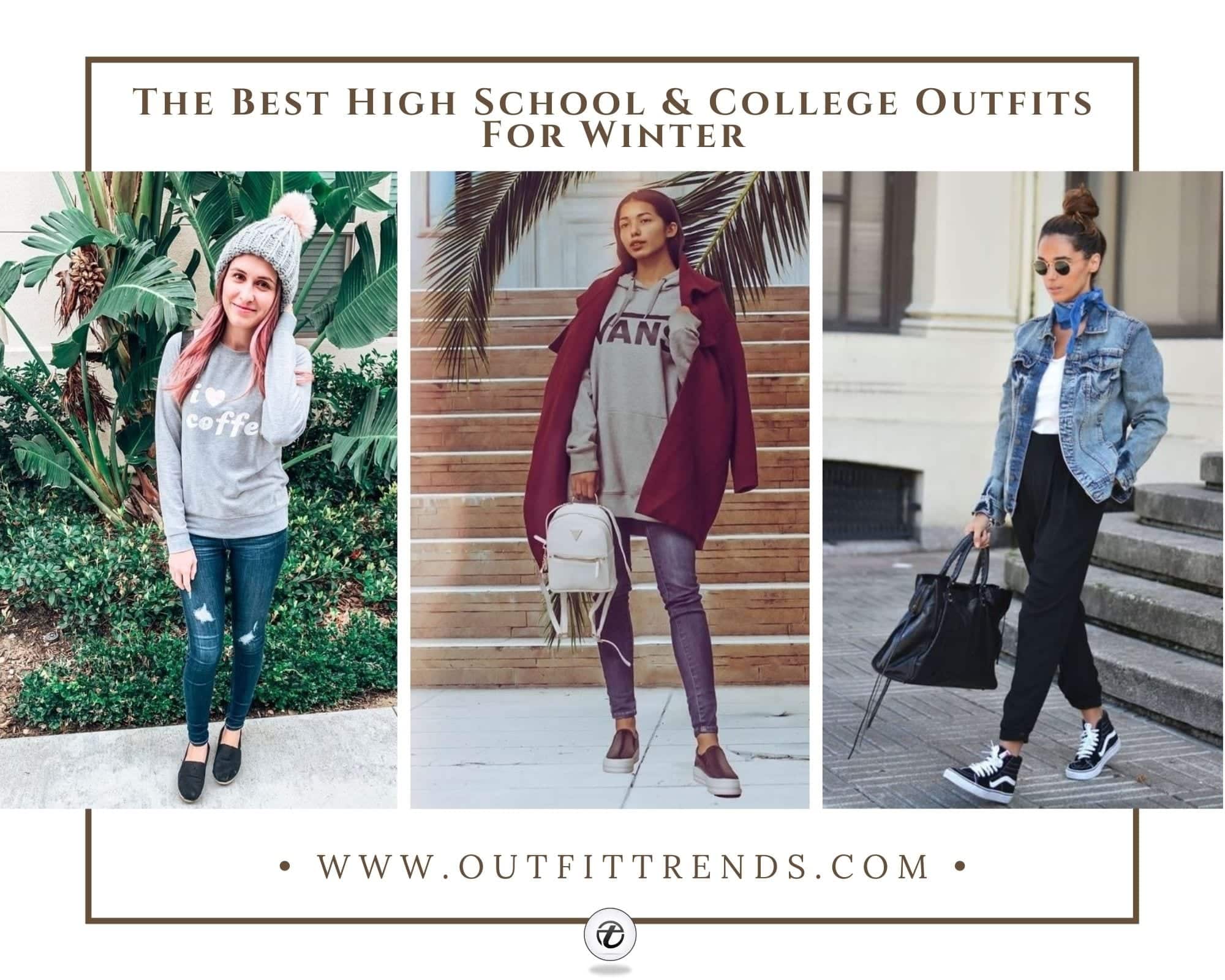 ↓ 25 – Sleeveless Jackets
At the beginning of winter, you don't need to start very heavy layering after all you don't want your friends to make fun of you. So, start with a sweatshirt and sleeveless jackets or vests. Jeans and boots suit such looks the best.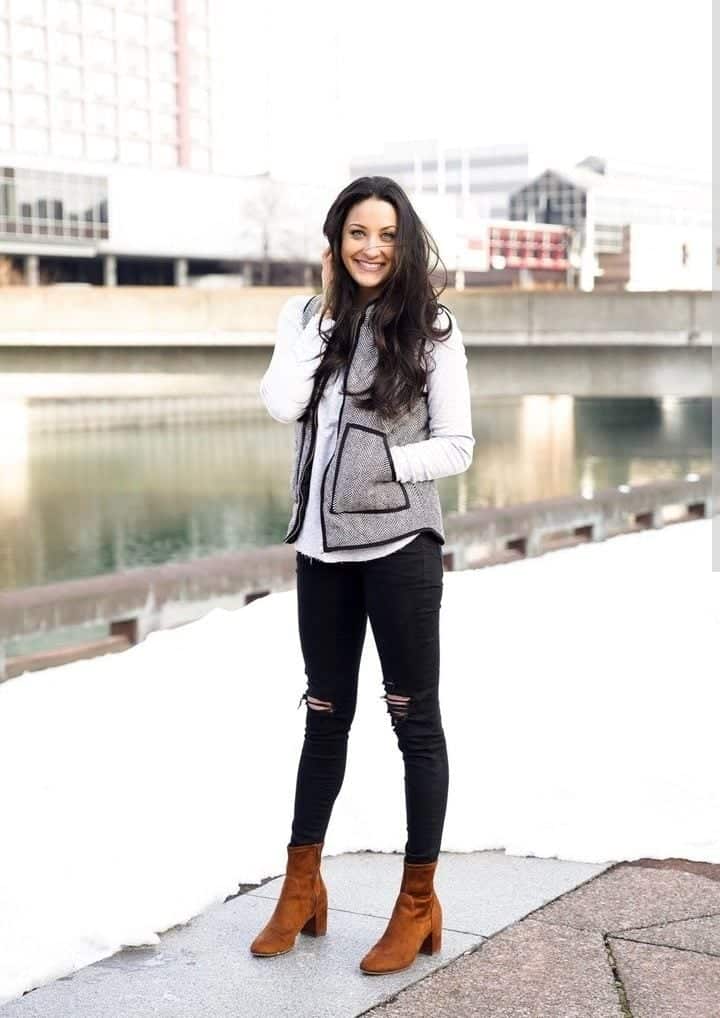 ↓ 24 – Graphic Sweatshirts And Beanies
Graphic tees are a big-time yes for school going girls. It's warm, simple, and not fancy at all. Wear them with jeans, loafers and your favorite beanie.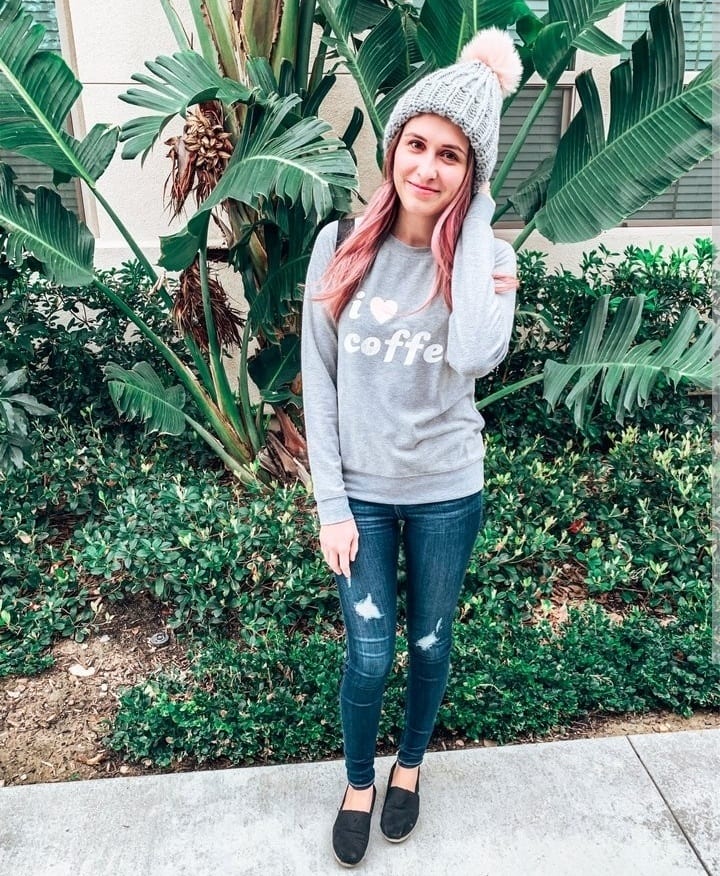 Buy similar items here
Classic Stretch Low-Rise Super Skinny Jeans now $19.99
Classic Canvas Slip-On TOMS PKR 8125.80–PKR 9312.05
↓ 23 – Long Coats For College In Winter
You can try something incredibly chic in winter like long coats and cardigans. Throw them casually over your oversized hoodie and denim.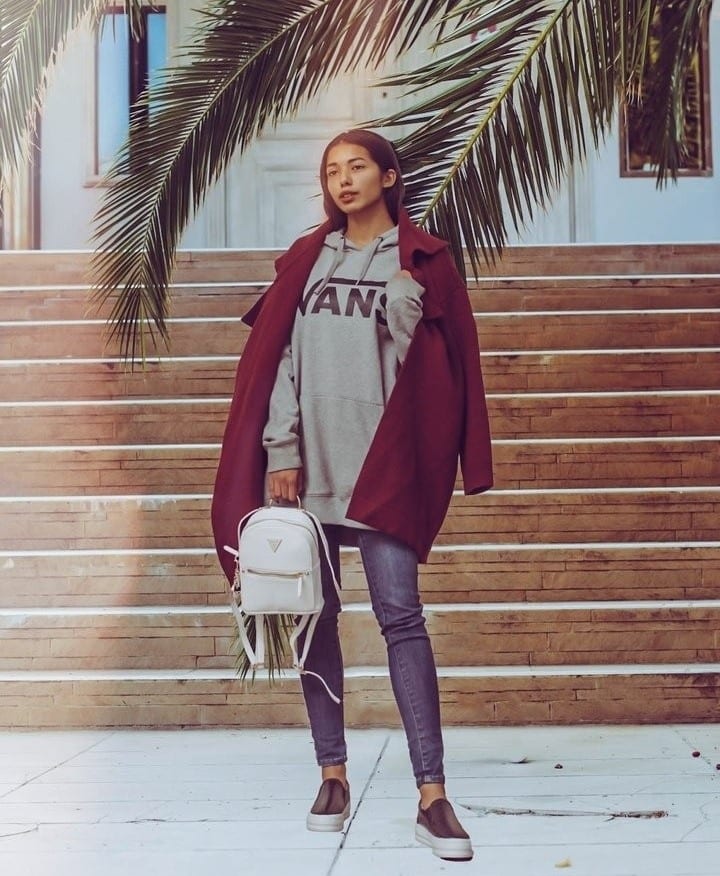 Buy similar items here
Burgundy Lapel Collar Long Sleeves Faux Fur Teddy Coat – 19 USD
Pu Plaid Check Korean Style Casual Outdoor Slip On Platform Loafers SKU386795 20 USD
Belted wool coats are a gift in winter. They are incredibly soft, warm, and no doubt so alluring. Looks even better when worn with an off white sweater. And the snake cowboy ankle boots will make you look like college fashionista.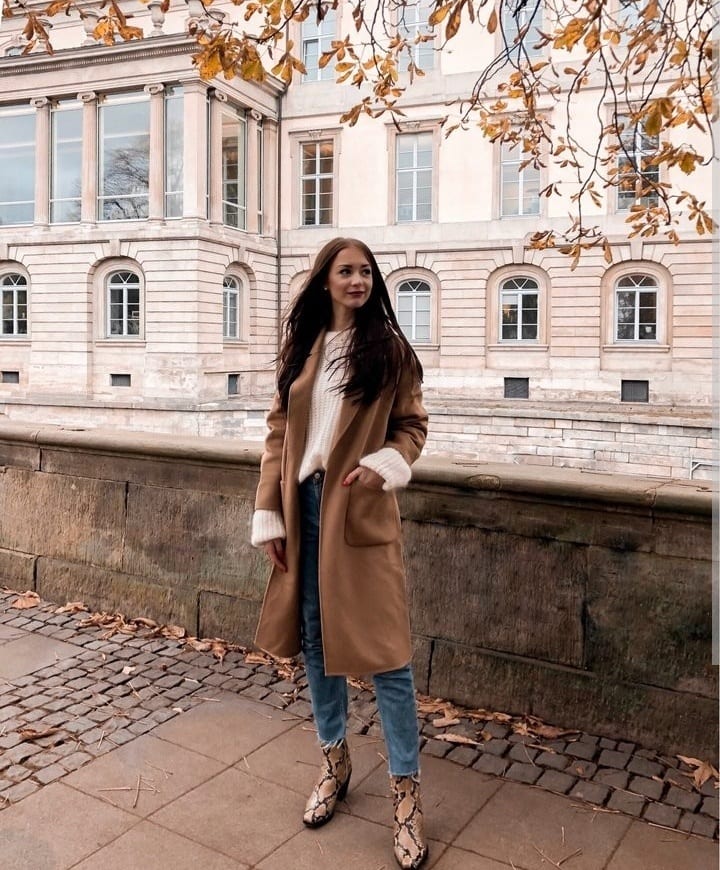 Buy similar items here
Belted wool coat REF. 21010637-CAMEL-LM $229.99
PETITE Authentic Mid Blue Raw Straight Leg Jeans Price: $75.00
↓ 22 – Pop Of Color
When everyone is wearing dark and solid colors to college, you need to take a step and add a pop of colors. The pop of color will make you stand out in the crowd of cafeteria and parking.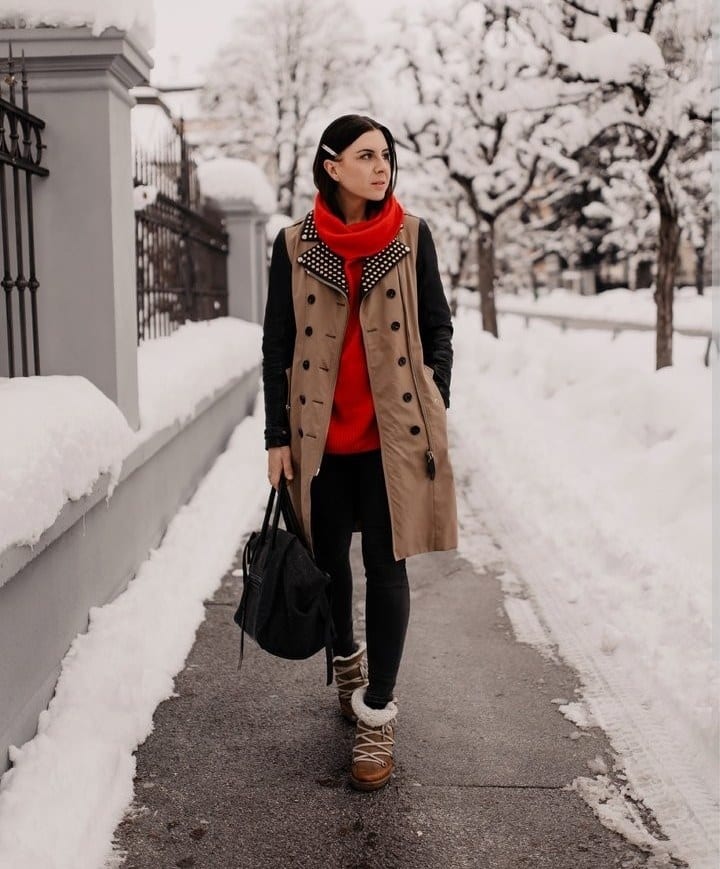 Buy similar items here
Shaping Skinny High Jeans 49,99 €
ISABEL MARANT Ankle Boots Nowles it Shearling € 495
TRENCH COAT621 €
QED London – Grob Gestrickter Chenille-Pullover it Ballonmärmeln 15,49 €
↓ 21 – Jeans And Sweater
Here we have two outfits for you that are compelling enough and very easy to wear. For girls who like to stay decent, nothing is better than a collared shirt under v neck knit sweater and distressed skinny jeans. The Blair boots polish off the look in a way nothing can.
Buy similar items here
Blaire Bootie Steve Madden brand: Steve Madden Rs 6,539.13
Decon Distressed Skinny Jeans 1822 DENIM
SHEIN Pink Ribbed Knit V Neck Drop Shoulder Sweater 19 USD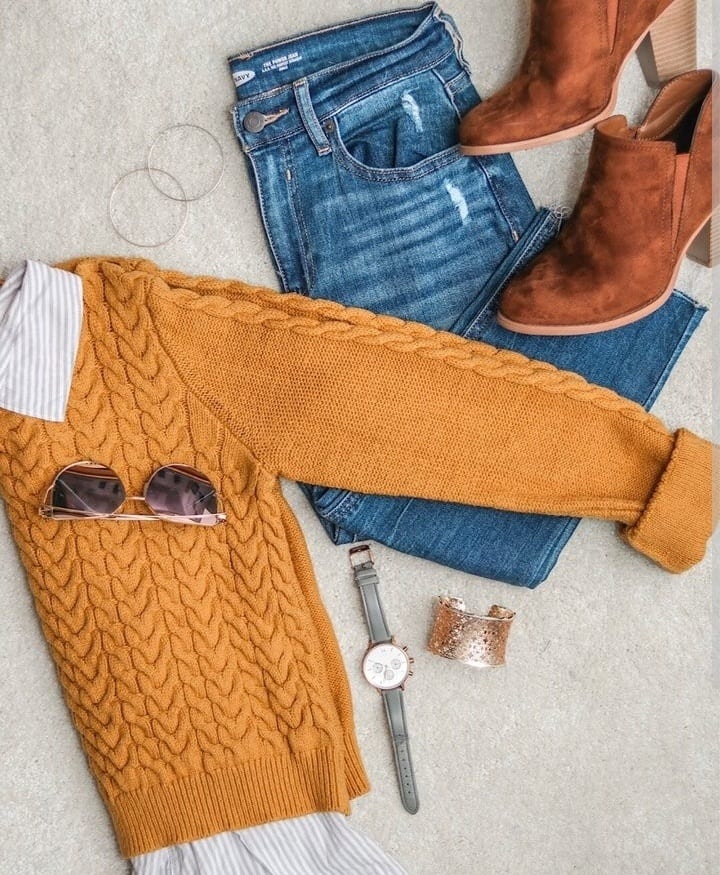 ↓ 20 – Shearling Coats For Winter
Hoodie, jeans, joggers and shearling jacket is the best possible thing that you can wear to school and college, especially if you are running late and have no time to find clothes and do layering.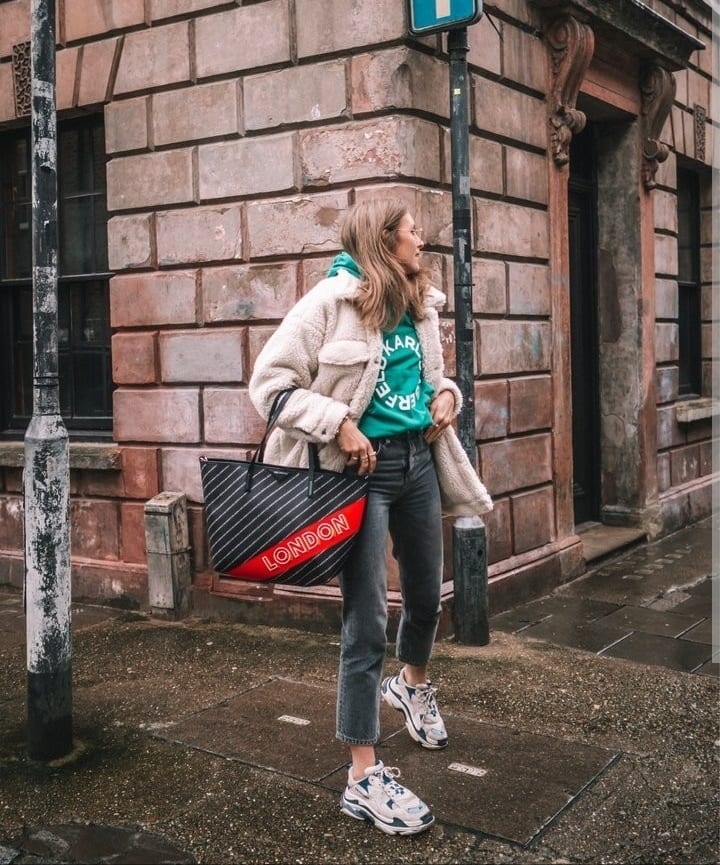 Buy similar items here
Triple S logo-embroidered leather, nubuck, and mesh sneakers£650.00
KL LOGO HOODIE £ 165
Faux shearling utility jacket £35
Grey Editor Jeans Price: £49.00
Here is another similar look that you can try.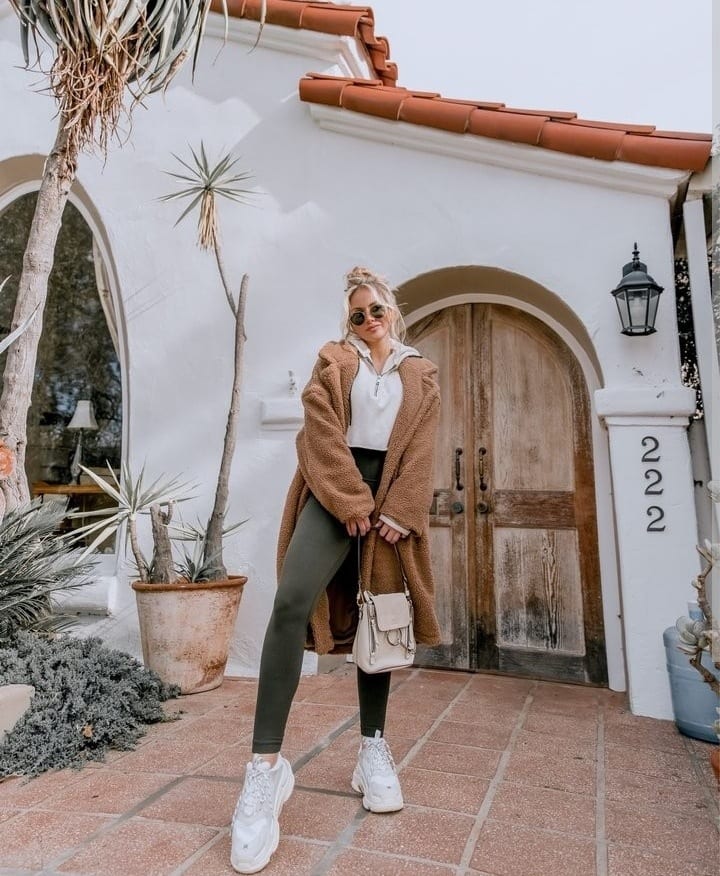 Buy similar items here
TRIPLE S CLEAR SOLE TRAINERS 995$
Small Olga Leather Backpack SEE BY CHLOÉ
7/8 Airbrush Legging Alo brand: Alo Rs 12,320.10
↓ 18 – Winter Hijab College Outfits
Hijabis wear hijab all the time, and they make the most significant advantage of it in winter as it helps them stay warm. You can also try wearing matching hijabs. They will make your outfit look stylish and keep you warm. You don't even have to wear a cap if you wear a warm woolen hijab.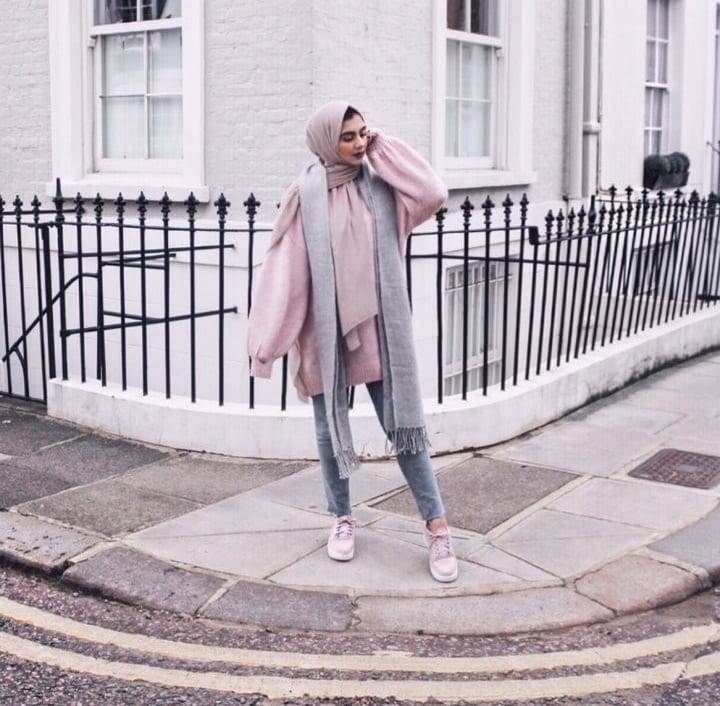 Buy similar items here
Nike Air Force 1'07 trainers in pastel pink £63.50
Weekday Body High Waist Superstretch Raw Hem Skinny Jean £16.00
Dorothy Perkins Grey scarf
↓ 17 – How To Wear Tights In College
Tights and leggings are must-haves in the wardrobe for Winters. Leggings and tights have become increasingly popular amongst young girls. To look good, you can pair them up with sweatshirts and sneakers. You can get different designs, printed and colorful tights in the markets. Check out Outfits with Printed Tights; Ideas how to wear Patterned Leggings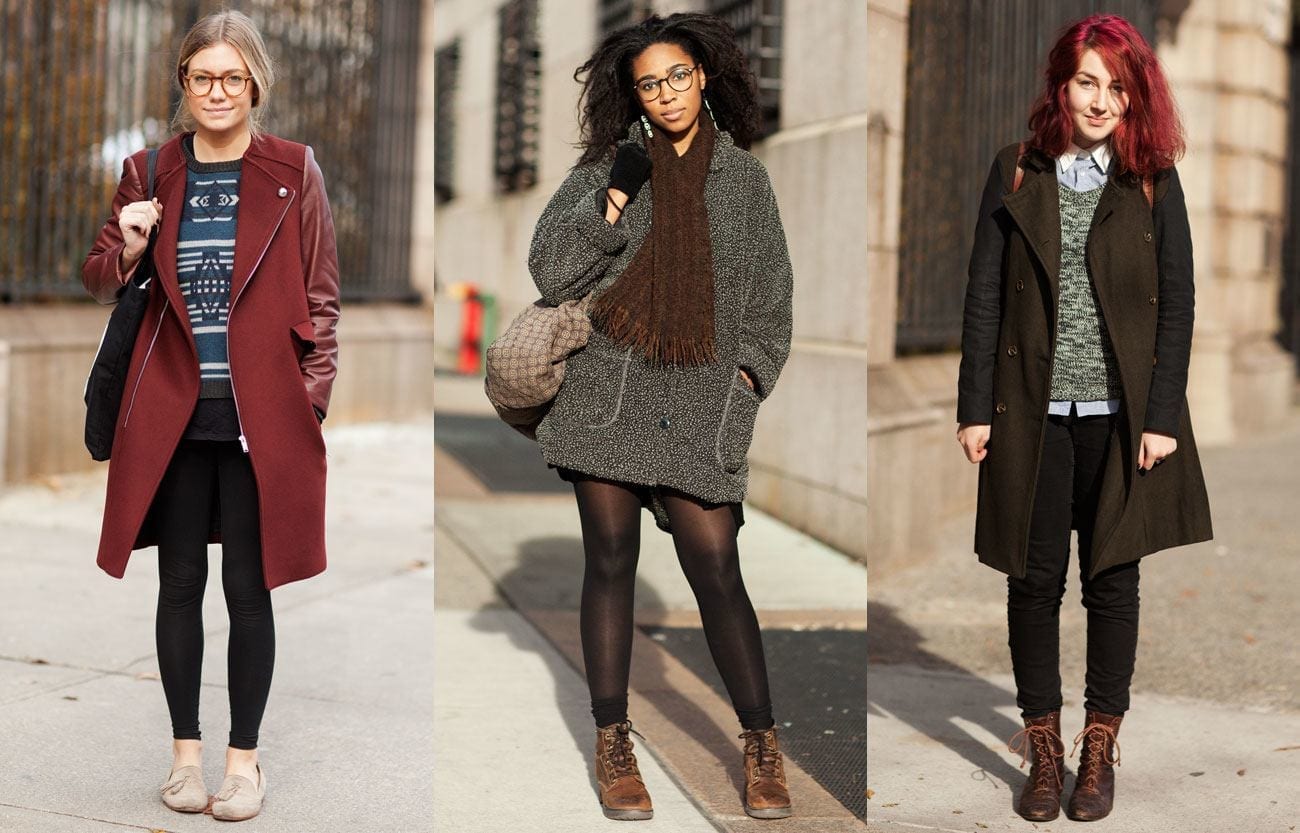 ↓ 16 – How To Wear Scarves
Scarves are very stylish, and wearing them not just makes you look smart, it also keeps you warm in the cold. College going girls can wear them and around their neck or on their head. One of the best ways to dress up in winters is by adding your accessories. Printed or pure scarves are readily available in the market, but you need to have a good eye to choose the right one. When buying, look for materials which are likely to last long and designs which are unique. As for the color combination is concerned, one idea is to wear a baby pink coat with a matching scarf and finish it off with blue skin tight jeans and black leather gloves.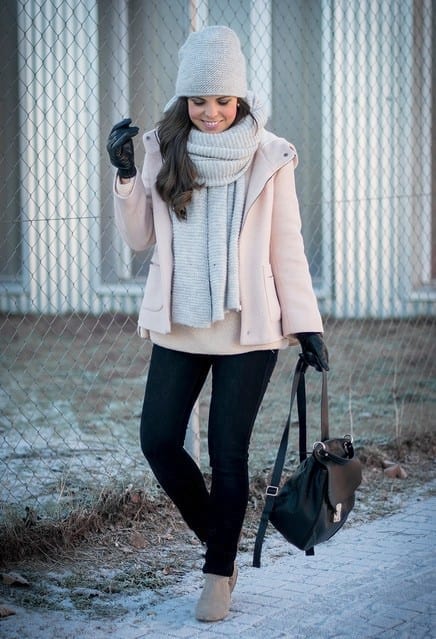 ↓ 15 – How To Wear Sweaters In college
We already discussed sweater styling ideas in our last post. You can't survive without wearing sweaters or coats in this winter season. Sweaters are the most shopped item in winters. You can wear sweaters over a shirt or a short dress. It all depends on your choice. They are available in various designs and colors. You can check ombre sweaters as they are highly in trend these days, and you can easily rock them over any colored skin-tight jeans.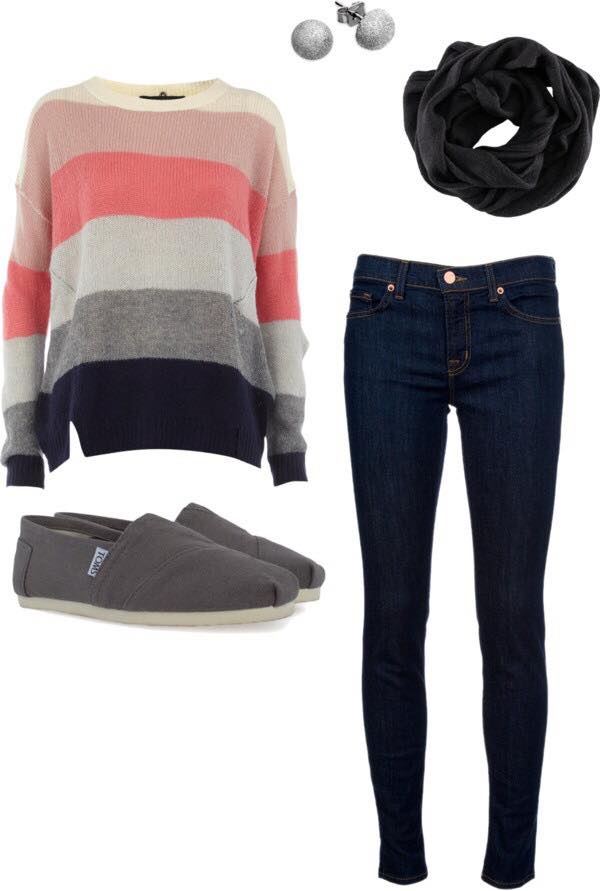 ↓ 14 – How To Style High Boots In College
Boots have always been a part of the wardrobe every winter. It is not a new thing. High kicks, timberlands, combat boots, etc. are all very trendy and stylish. You can wear them with long socks of different colors, whatever matches the dress colour the best. Leather boots are a better choice as they are good quality material and they are readily available at the stores. When wearing long boots, wear contrasting or matching colored jewelry. These days, another new trend when it comes to long boots is to wear hunter boots, so check out Outfits with Hunter Boots-20 Ways to Wear Hunter Boots

Accessories are the highlight of a woman's outfit. If you keep the outfit simple, your accessories can add charm to the outfit. Whether they are hair accessories, bags or statement necklaces, etc. They always play an essential role in fashion. By adding a few winter accessories like mufflers, stoles, etc., you can completely transform your outfit. Also, it makes you gain the attention of people around you.
↓ 13 – Wear Uggs In College
Uggs are very comfortable and a perfect choice for school and college girl.
We already discussed 18 Ideas on how to style uggs with different outfits so you can find the best combo for yourself.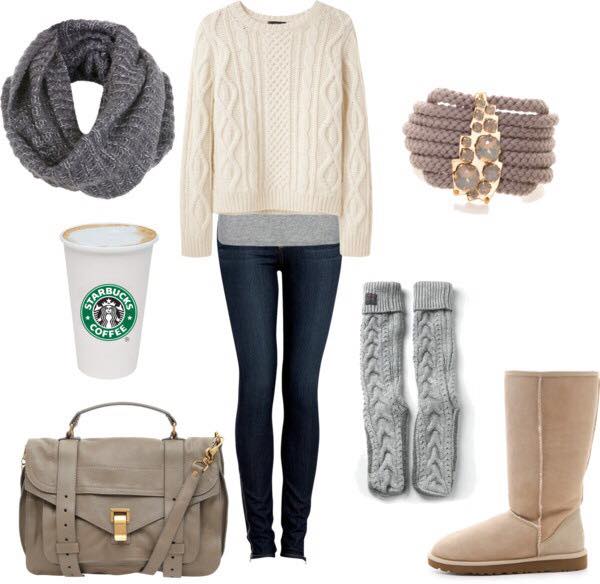 ↓ 12 – Style Beanie With A Hood And Sneakers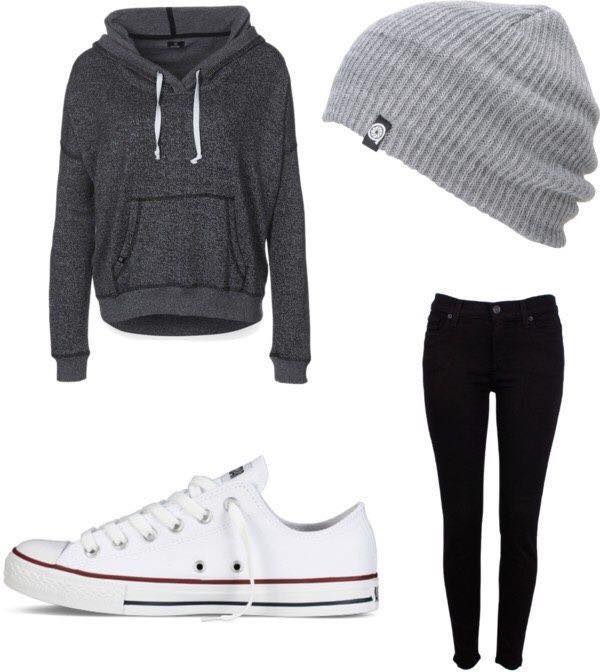 ↓ 11 – Combat Boots For College
Another popular way to look stunning in college is matching your outfit with combat boots. Perfect casual outfit combination for the winter season.
Check out 18 cute ways how to wear combat boots.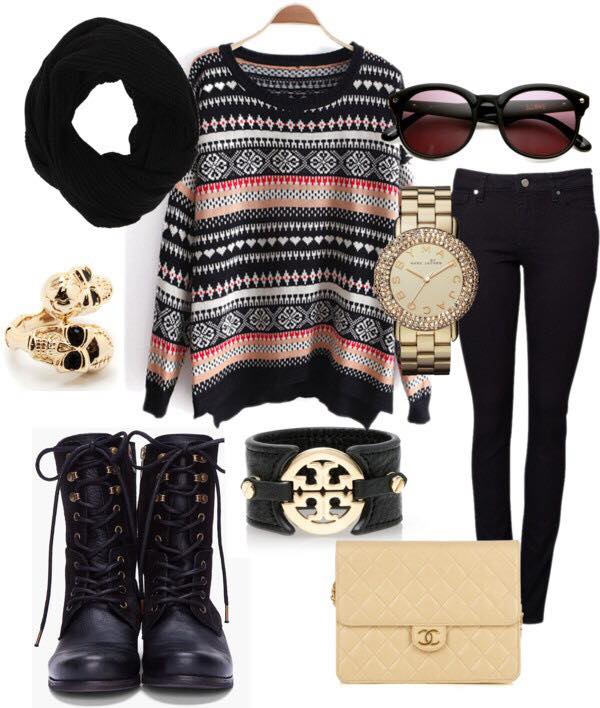 ↓ 10 – Choose The Right Sunglasses That Perfectly Matches Your Face
Here are 14 best sunglasses for teen girls that you can wear in college, and these are trendy these days.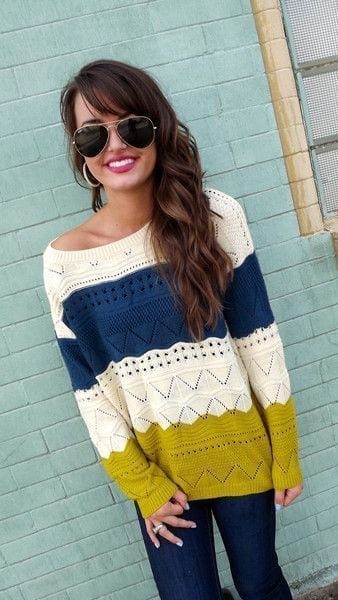 ↓ 9 – Wear White Beanie With White Pants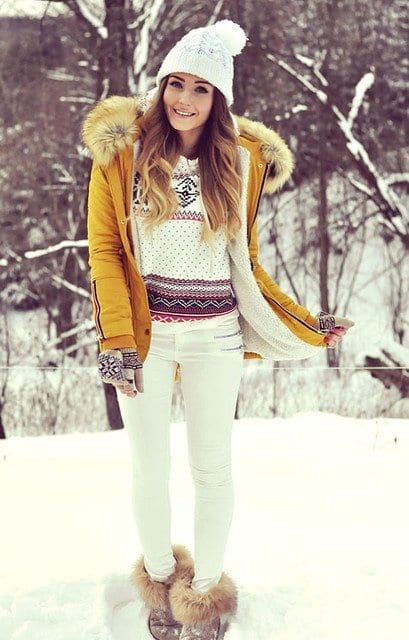 ↓ 8 – Winter Dressing Style Ideas For Highschool/College Girls
Highschool dressing is all about matching accessories with your dress. Just like shown in this picture,  you can go for a shirt that is in matte color and then matches all the accessories in any other color, for example, baby pink, blue, green, etc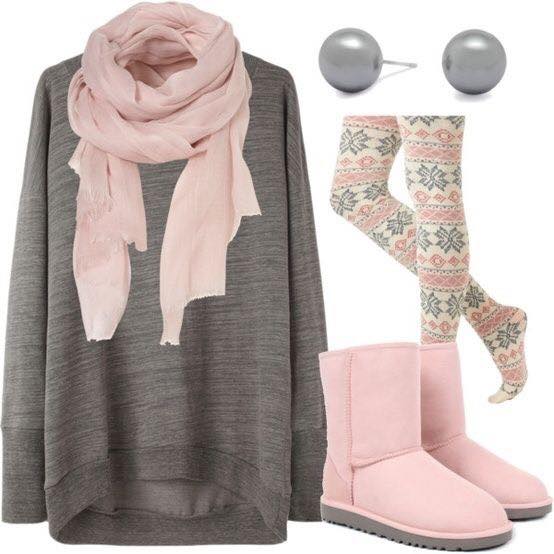 Try wearing total contrasting colors to college. They will make you look more energized and well dressed. Try going for bright colors like deep red and white.
For this look, which is perfect for winters, just wear a plain bright colored long coat on top of black tights and a black tank top to give all the attention to your coat. You can also switch black tight with skin tight jeans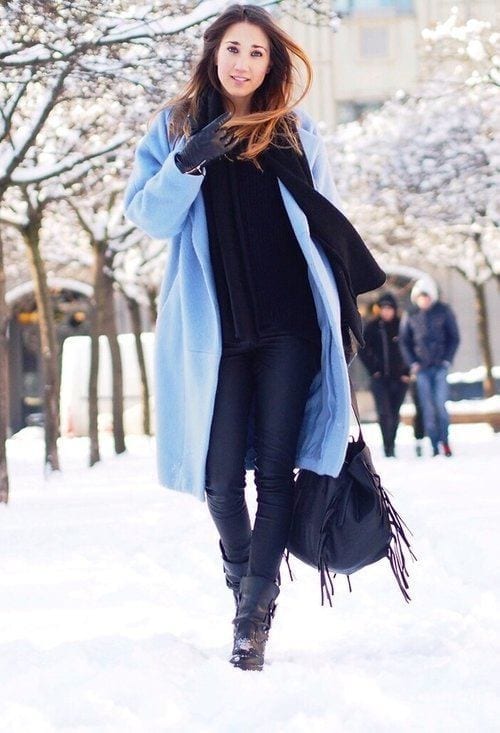 ↓ 7 – Distressed White Denim With Converse
Everybody loves a comfortable pair of converse, and yes, you can wear them to your college without looking funny. Rock your favorite pair of converse with matching jeans and denim jacket. If it is too cold outside, then you can wear a long overcoat on top of your denim jacket also.
Here are 32 Beautiful Denim Dresses to Inspire your daily Fashion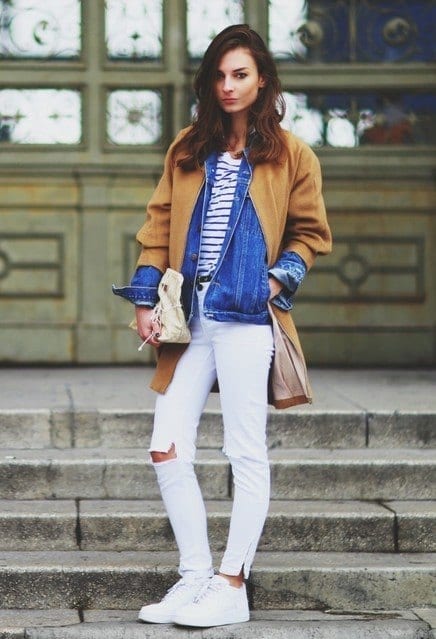 ↓ 6 – Boyfriend Jeans With Long Boots
Long boots and ripped boyfriend jeans are hands down the best combo in the world because of the contrasting colors and texture. You can look perfect while wearing these along with a front open cardigan.
RECOMMENDED: 21 Popular Boyfriend Jeans Outfits Trends This Season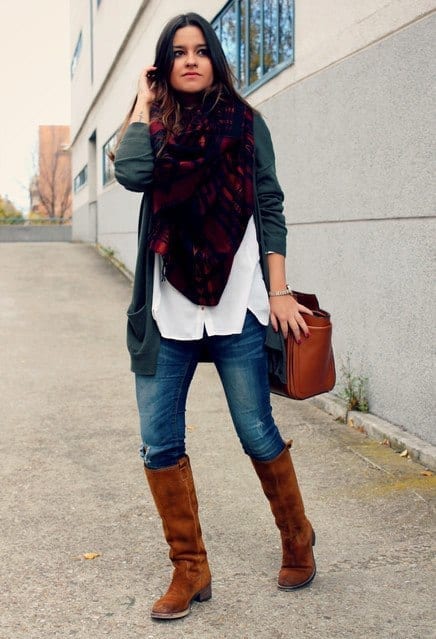 ↓ 5 – How To Wear Skirts In College
Here are 30 cute ways how you can style skirts in winters. Get the best idea for yourself. If you want to wear mini skirts to your college without looking out of place, then wear skin-tight jeans or tights underneath your dress.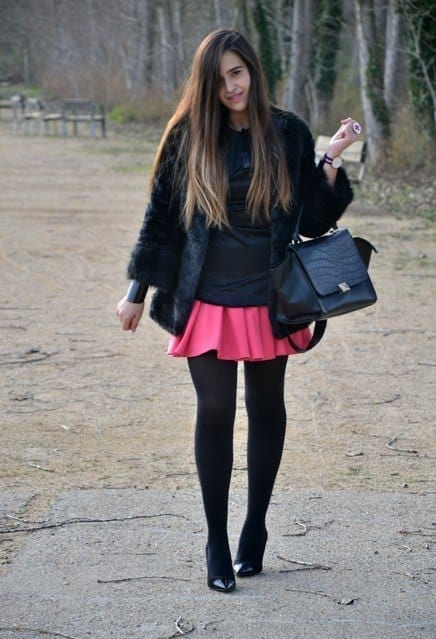 Ripped jeans are hands down the best invention for girls. They make you look funky, careless, and elegant at the same time. If you are opting for a dress whose colors are quite plain and dull, then keep your eye makeup game strong by wearing eye makeup of bold colors, for example, smoky eye using urban decay's naked two palettes.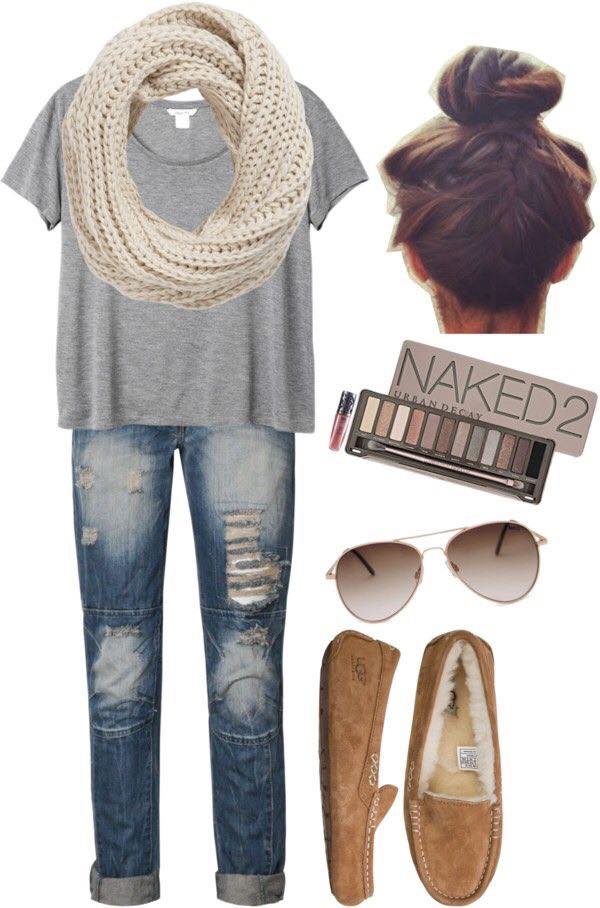 ↓ 4 – Stylish Jacket With A Scarf
This outfit will look super cool in college. Just pair up a stylish loose jacket with skin-tight jeans and a long scarf wrapped around your neck.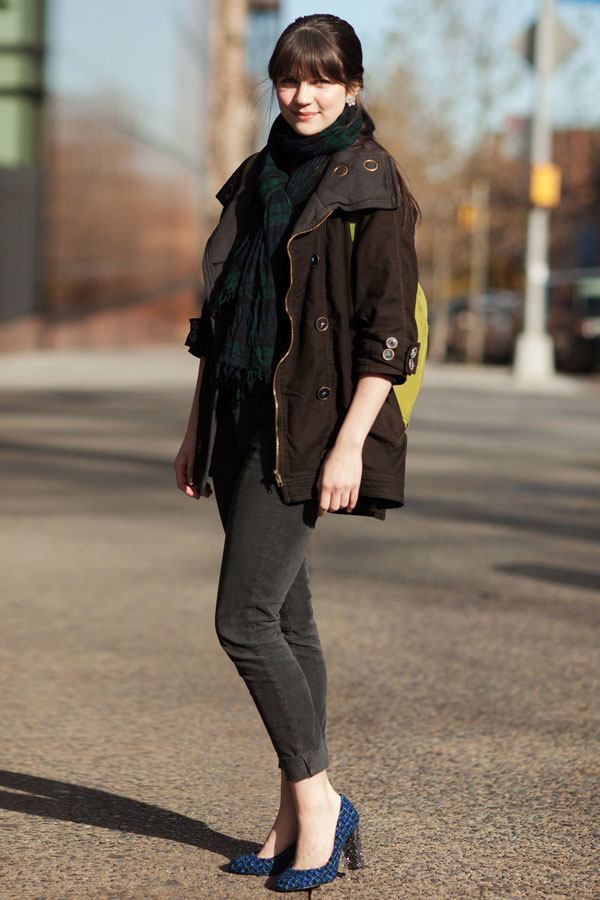 ↓ 3 – Wear Animal Print Leggings With Ethnic Shoes
Traditional printed shoes look so adorable if worn properly. To rock any traditional shoes that you have, wear them with leopard printed tights and a long neutral-colored overcoat.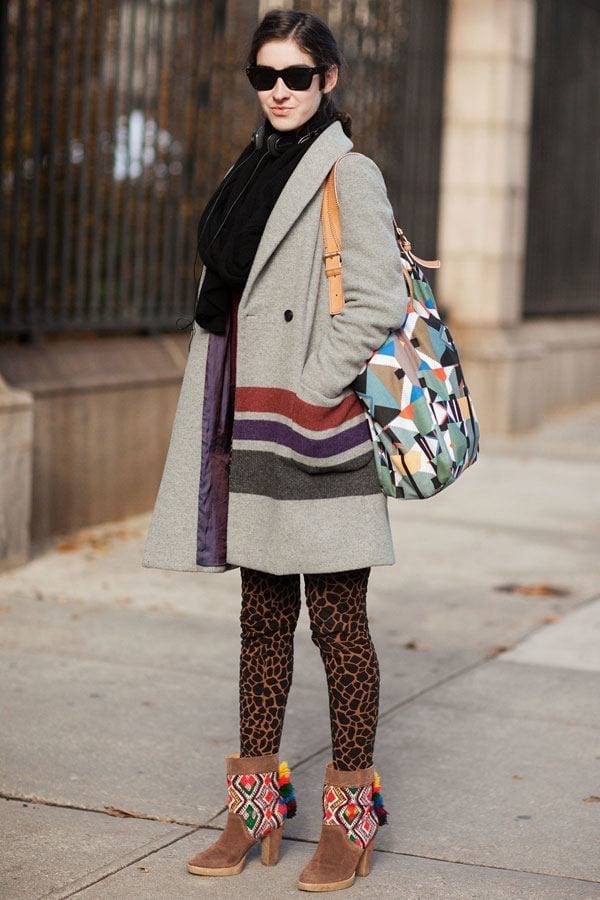 ↓ 2 – Casual Outfit Combination
If you want to look like you are dressed casually to college, then wear a matching sweater and scarf along with any dark-colored coat and skinny jeans. This outfit will make you look very sophisticated and well dressed at the same time.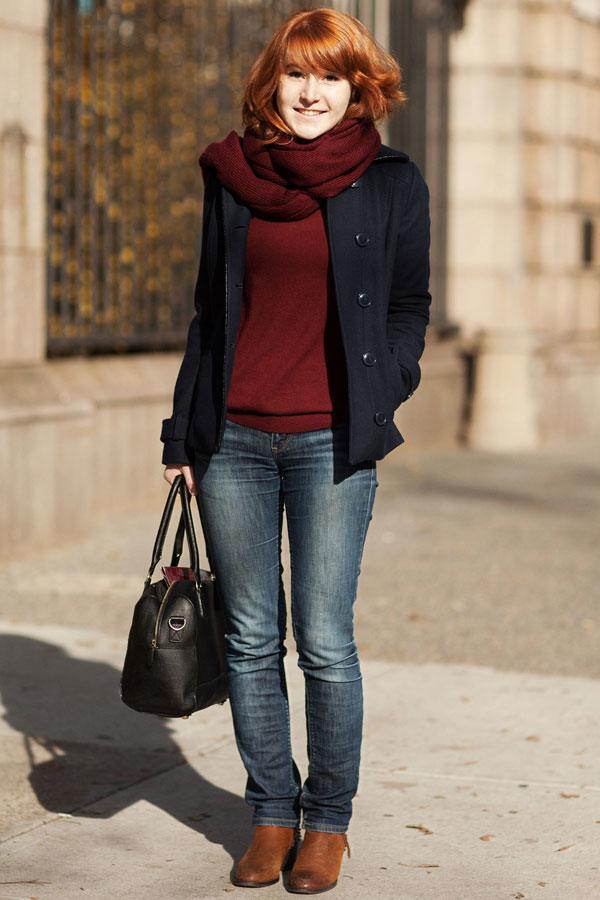 ↓ 1 – Wear A Simple Long Coat With Flats
Wear a simple long coat on top of your tank tops. You can also close the front button of the coat if you want to hide the shirt that you are wearing underneath. Try to wear coats in popping bright colors to make sure that they catch all the attention.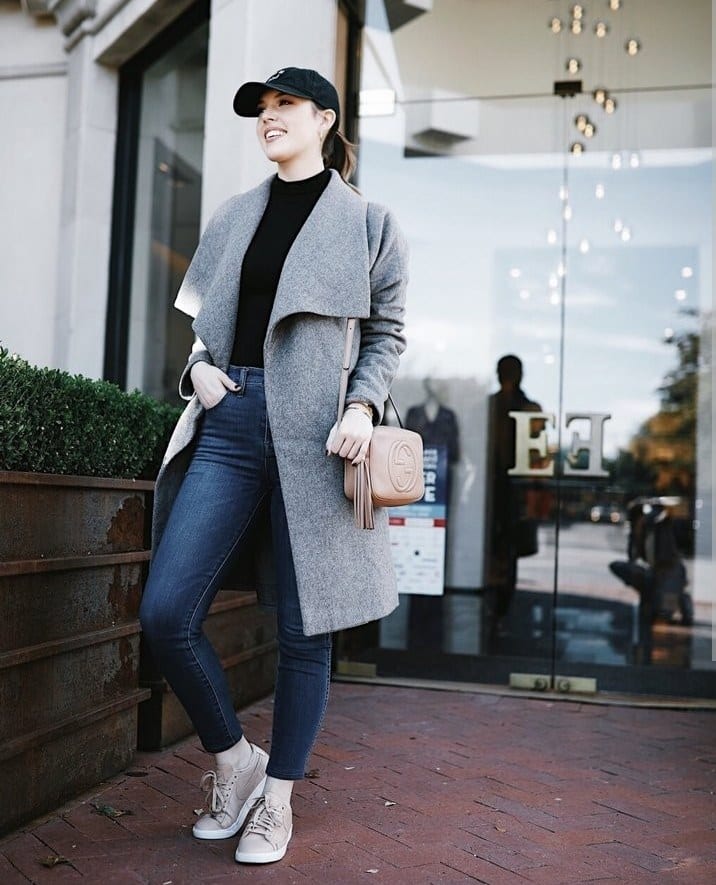 Buy similar items here
Shawl-Collar Wrap Coat MEDIA Shawl
10-Inch High Rise Skinny Jeans MADEWELL Regular & Plus PricePKR 22877.64
Make It Easy Thermal $40.00