Sunday brunch is a popular occasion for women to rest, relax and party it up! And choosing the right outfit for it is bit confusing.Generally one tends to choose the casual wear for it but if there is a brunch party or formal gathering  then you need to make a perfect combination for that occasion.So what to wear for brunch ?what shoes to wear for brunch ? This article will be a perfect guide for your Sunday brunch look. Hope you seek inspiration from them, as there is a style to suit all!Must check out these 17 Cute holiday outfits for Girl.  (Images source Pinterest)
Sunday Brunch Outfit Ideas
1. All Suited up – This outfit requires a clean-cut, well-tailored suit paired with a minimal shirt, bright lipstick and stylish necklace. This outfit idea for brunch is for those girls who like to dress up in a well mannered way. Wearing this style will make you look like a well organised and chic women. For this outfit idea you can wear full black tailored and well-stitched dress. For accessories, you can wear any gold or silver jewelry or you can also go for thick choker necklace.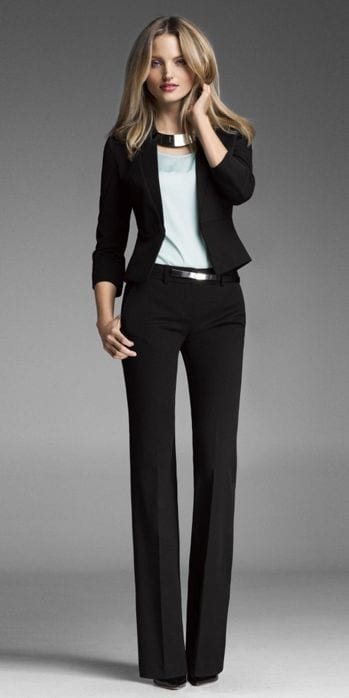 2. Rawr Denim Jacket with Skirt – Bring out your fierce side with this stylish outfit. Paid a leopard or cheetah print with denim, for a sexy style. Just like floral printed skirts, animal printed skirts are the next big thing. They look super cute and can be worn with almost everything. You can get any of your fav animal print in any color because wife range of variety is available. You can wear classic leopard print and pair it up with denim shirt tucked inside your knee length skirt. For those, you can go for high heels in contrasting colors.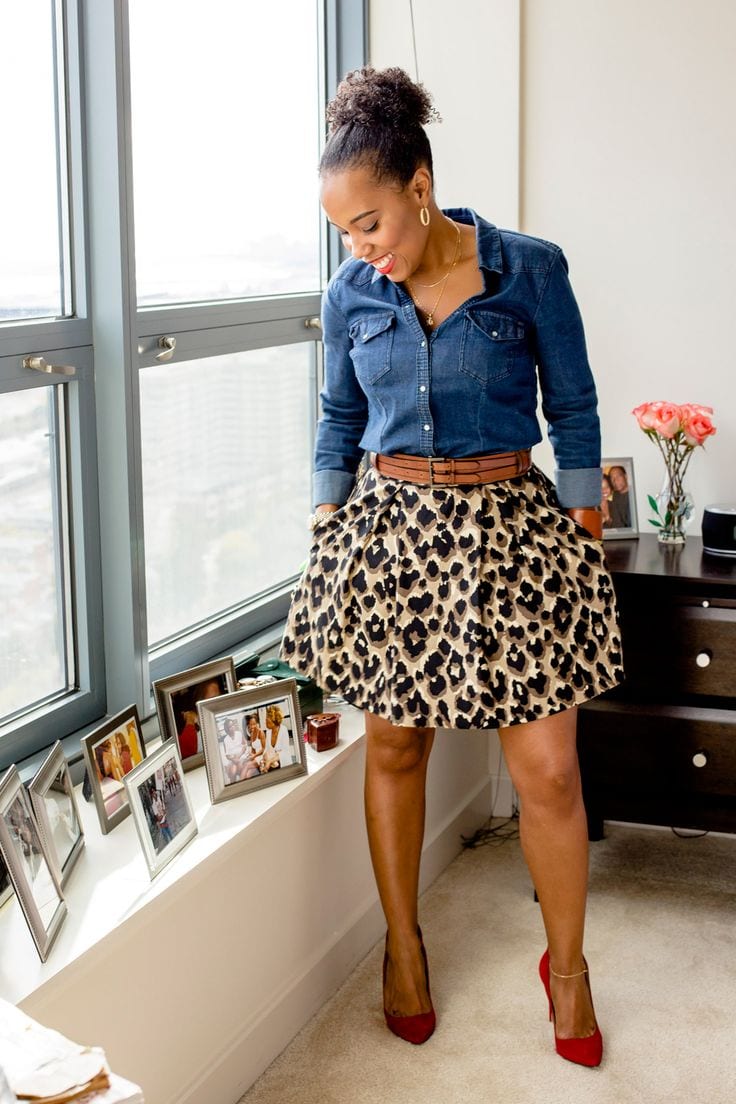 3. Brunch Party Wear – Brunch is all about looking good, so choose a bright neon colored dress. Pair this dress with a bold, statement necklace and matching bag. This will make you stand out at the Sunday brunch.
Neon colors are super trendy these days, they look extremely popping and eye catching at every ocassion. You can get your hands on any neaon color for perfect brunch outfit idea like yelow, blue, orange, pink etc. For thise perticluar outfit idea, you can wear yellow neo knee length dress and pair it up with nude colored accessories and shoes. Or else you can also go for gold accessrories.

4. Bare Back – Flaunt that body by wearing a low-cut top from the back. This will highlight your curves and make you appear trendy!
Black can be worn with any other color and it looks just as good as any other bright color. Who says black is not an exciting color. Black can be worn with anything, for example, you can war a fitted short shirt in white color and pair it up with black floral formal pants. This combo can be wor n to any kind of formal brunch as well.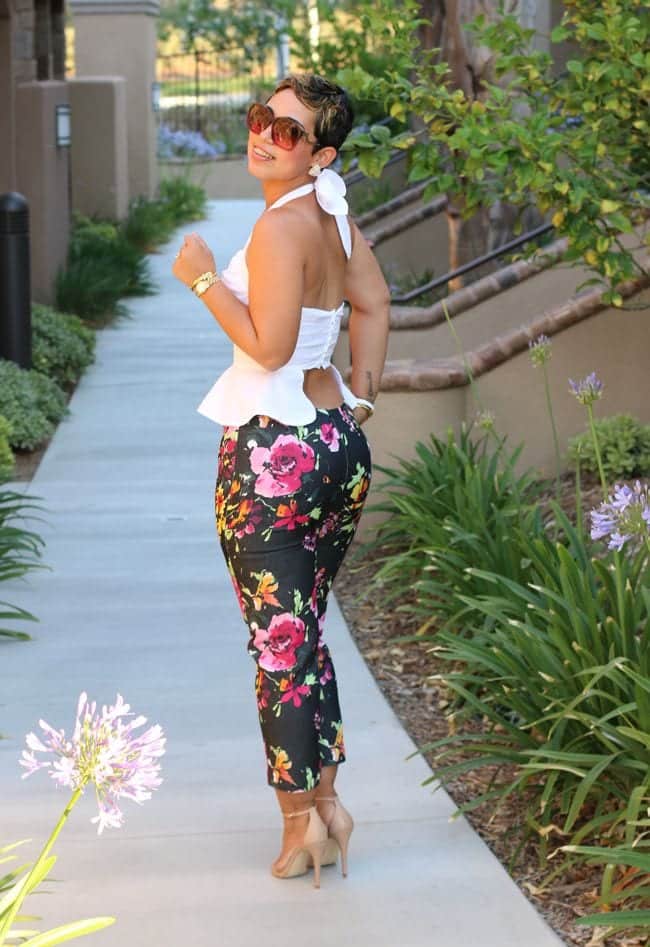 5. Choose a Jumpsuit – Jumpsuits are very popular these days, especially brightly colored ones. Pair yours with a big necklace and a chunky belt, with neon nails. This will make you appear funky, cool and stylish.
The best thing to do when choosing a jumpsuit is to choose it in bright colors. This way they will be eye-catching and will make sure  that everyone notices you at the brunch. For example, you can go fo striking red or fuchsia pink colored jumpsuits, paired u p with gold or nude colored jewelry for extra spice in your whole outfit look.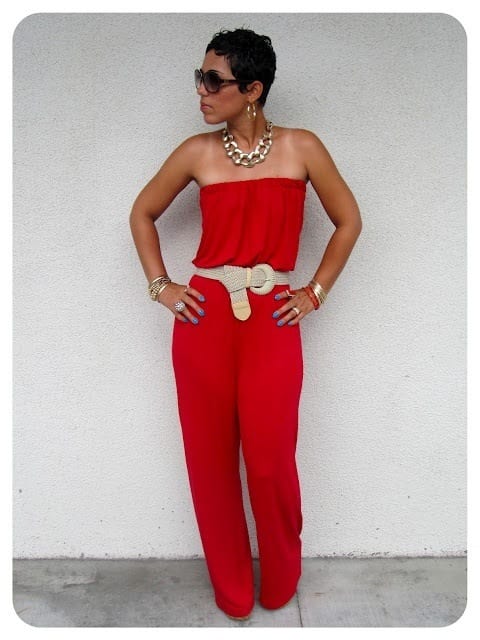 6. Stripes and Colours – This is an interesting outfit, with a striped top and a brightly colored pair of pants. Pants are both stylish and formal, making you appear sophisticated at your brunch.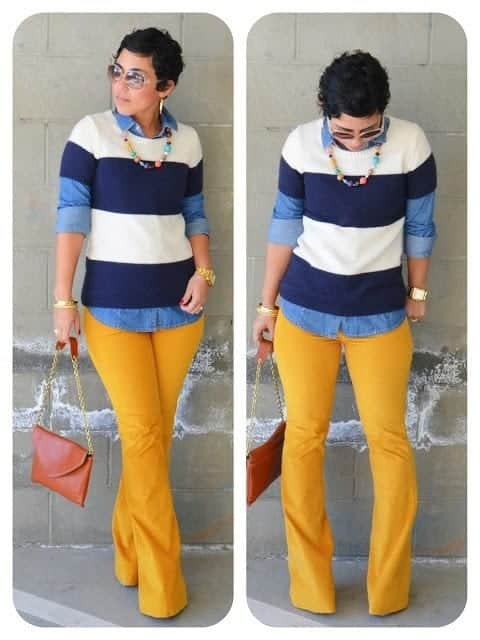 7. Brunch Wear for Black Women! – This style is all the rage these days and is very easy to carry. Simply wear a brightly colored jacket, a plain t-shirt and funky floral pants. Such a stylish way to dress up for the Sunday brunch!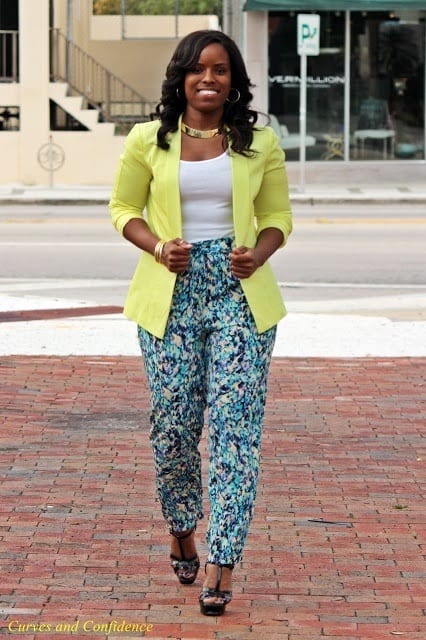 via
8. Classic and Chic – This style is for all the classy and sophisticated ladies out there. It required wearing pastel colors and chiffon tops with a lace skirt. It is all about keeping it simple yet elegant at the brunch.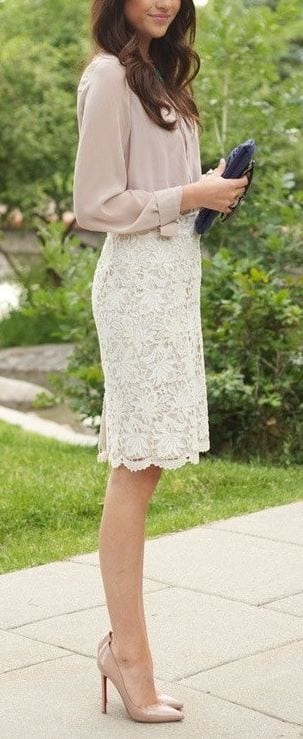 9. Celebrities Brunch Wear – the Best way to remain abreast with any occasion dress is to lookup on top celebrities what they are wearing for such occasion.Here Kendall Jenner is spotted  wearing denim top with leather tights for a casual Sunday family brunch party. Also, see 80 pictures of Kendall wearing different shorts.  You can wear such clothes to appear laid-back and relaxed at the Sunday brunch.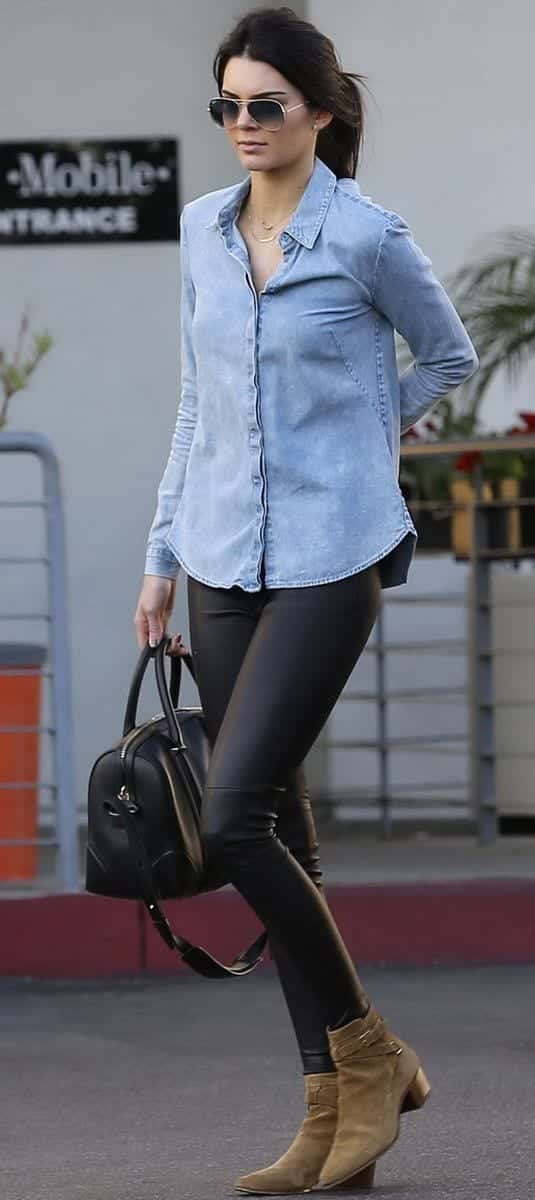 10. Summer Outfit – Choose to keep your outfit plain and simple, and wear a bright handbag with it. The handbag will appear obvious and trendy.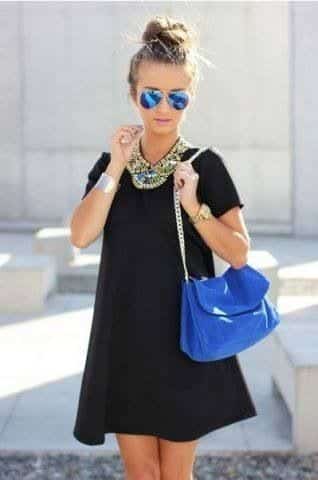 11. Comfortable outfit – For all the sporty girls out there, this look is for you! Pair a t-shirt dress with a plain bucket handbag, sunglasses and white tennis sneakers for your next Sunday brunch. No wonder t-shirt dresses are very comfortable to wear and you don't have to run around the room to fin the right thing to match with the dress. Because they are dress themselves, you can wear a stripped t-shirt dress and pair ith with your fav pair of classic sneakers and go for a matching bag. This look can be worn if you are going to play sports and then for brunch.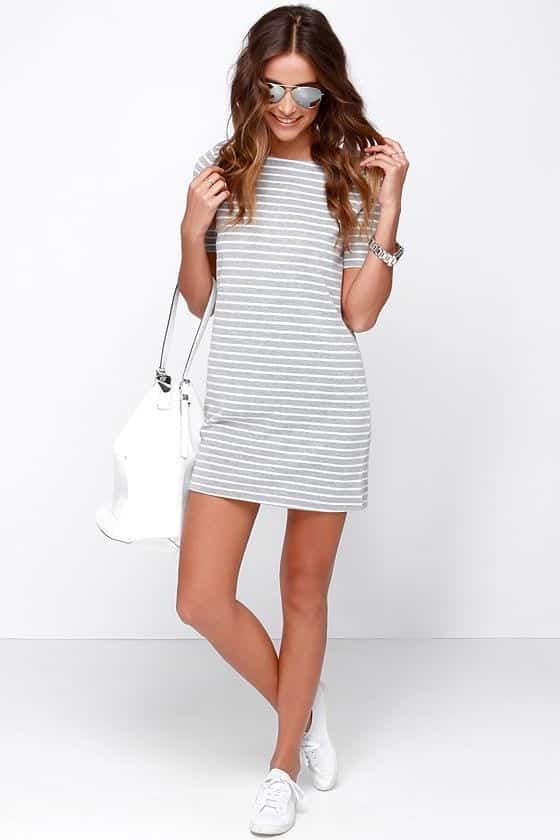 12. Casual Wear for Brunch – To appear stylish, you can braid your hair in a fish-tale style braid. Pair it with a bright, floral bracelet and matching lipstick and heels.Cute hairstyle for Brunch that compliments this look.

13. Spring Wear – For all the busy moms out there, this look is for you to try out! Pair a shirt with a bright sweater, along with jeans and flat shoes. Flats are perfect footwear for Sunday brunch.This outfit idea is very comfortable and that is why it will allow you to take care of your kids whilst hanging out with your friends.
14. Brunch Date Outfit! – For those attending the brunch with their boyfriends or husbands, you can always match your outfits! This will look super cute and chic at the brunch. Denim is a great way to match outfits. Matching each others outfit is the best way to look like as if you both are made for each other. For example, you both can color co ordinate or even wear clothes in the same shade or tone. Blue colored dresses can be worn by both of you.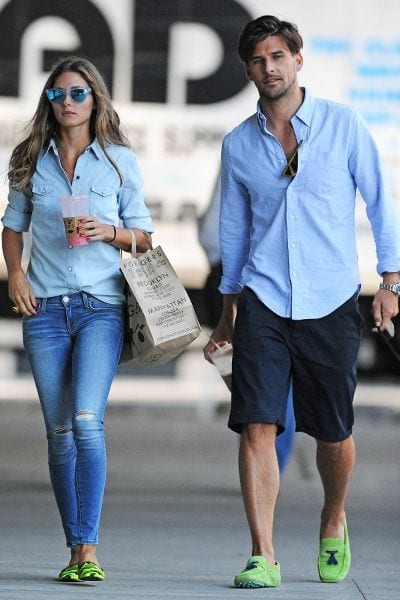 15. Winter Brunch Wear – For Sunday brunches during winters, a brilliant wardrobe idea is to wear a long coat. The coat can be of gray, brown or black color. This coat can be paired with a bright colorful t-shirt underneath or a handbag and shoes.
Winters provide a wide range of dresses opportunities to choose from. You can wear a long coat and underneath it, you can wear a bright colored sweater.