What to wear in Florence – Are you planning a trip to the most sublime city in the world? The way the women there style their attires and the elusiveness they exude is highly coveted by women worldwide.
We've already talked in detail about what to wear in Italy, but we felt like Florence deserves a special post – because the dazzling city and its stunning Bella-donna ain't coming slow.
That's why I have created a plethora of chic styles and fashion trends to assist you for your Florentine vacay-mode. Here's what I'll be sharing with you:
How to Dress Up in Florence?
Different seasons in Florence require different outfits to be styled differently.
In summer, sandals and shorts become essentials.
The frosty weather of winter necessitates a different aura of street-style vogue. Every element of the attire, be trench coats or knee-high boots have to be styled efficiently.
Similarly, different historical places have different fashion preferences. For instance, tourists from any part of the world simply cannot enter the Duomo Cathedral with bare knees and shoulders, as it is sacred.
To saunter through the city in style, follow the easy-peasy tips and tricks listed below first.
Packing Tips
Pack more neutral colors: Colors like white, nudes, and black go a long way in Italy and they're easy to mix and match. If you opt for colors like mustard or red etc, for your trip then balance them with a neutral color like brown, etc.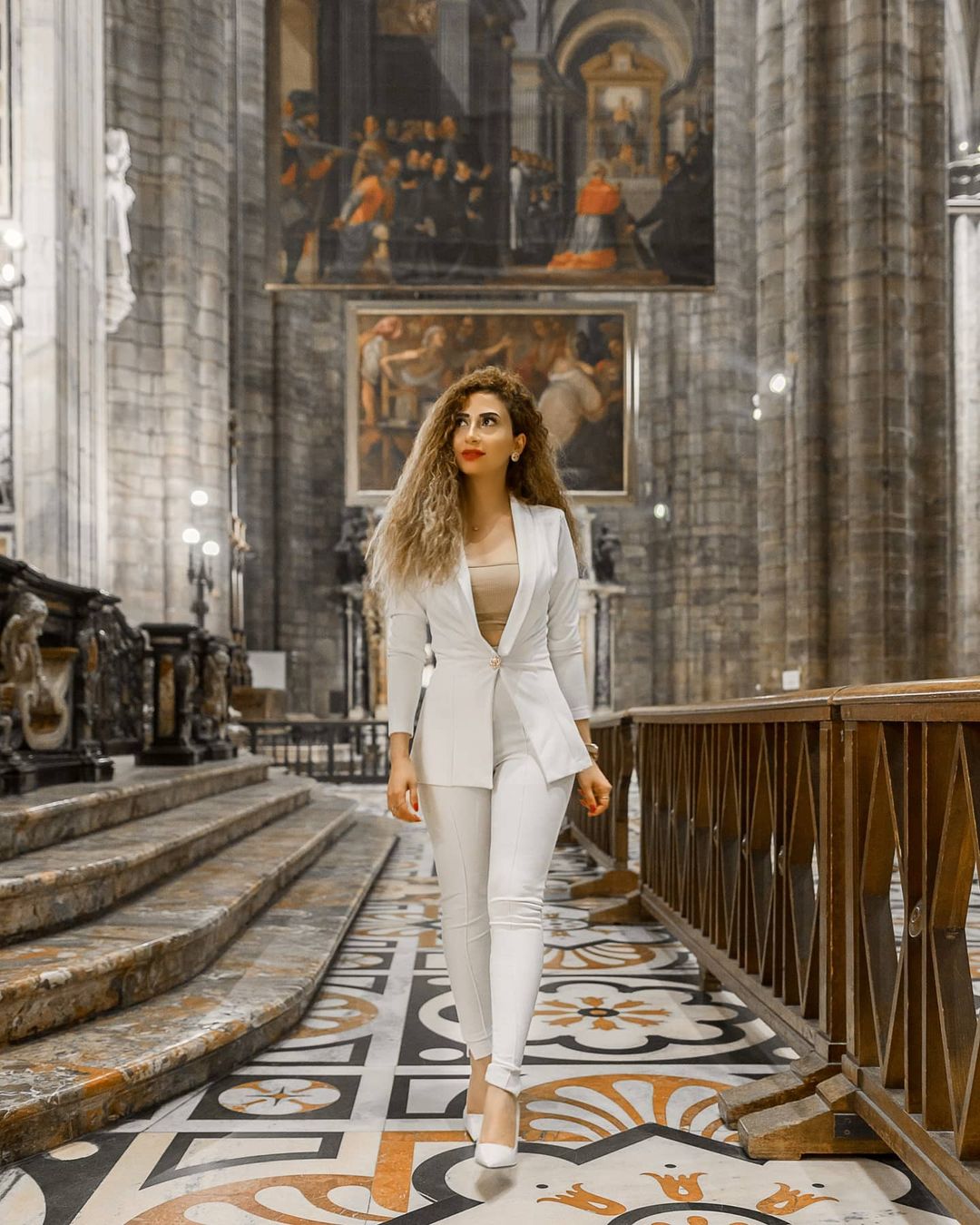 Keep 2-3 layering items: If you are planning to go out and about the city then do keep your coats etc, as a backup plan with you as the temperature fluctuates between day and night.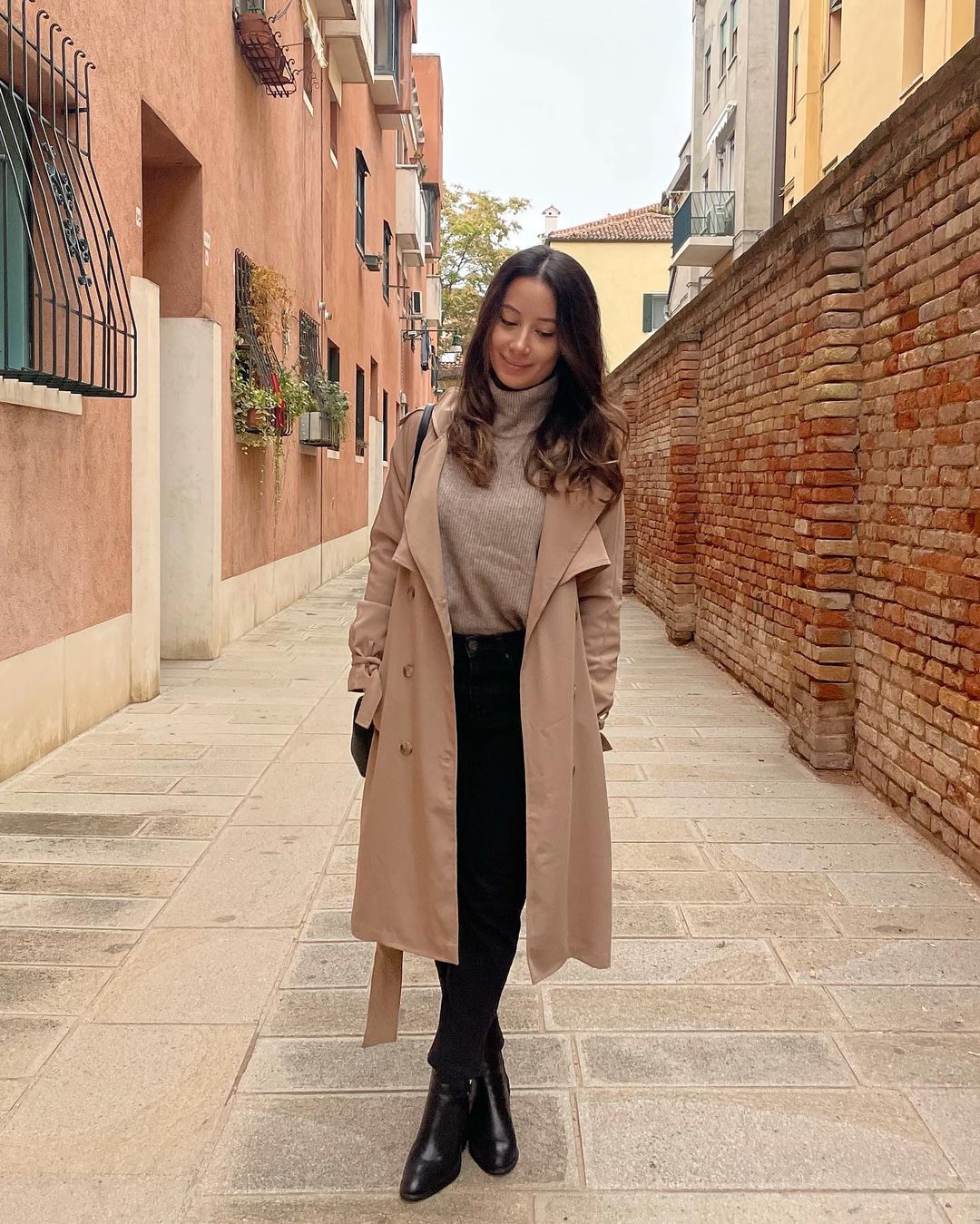 Footwear: comfy but stylish footwear is essential for traveling during your trip. In summer, opt for sandals. Sneakers are a good choice too. In winter, opt for a nice pair of knee-high boots.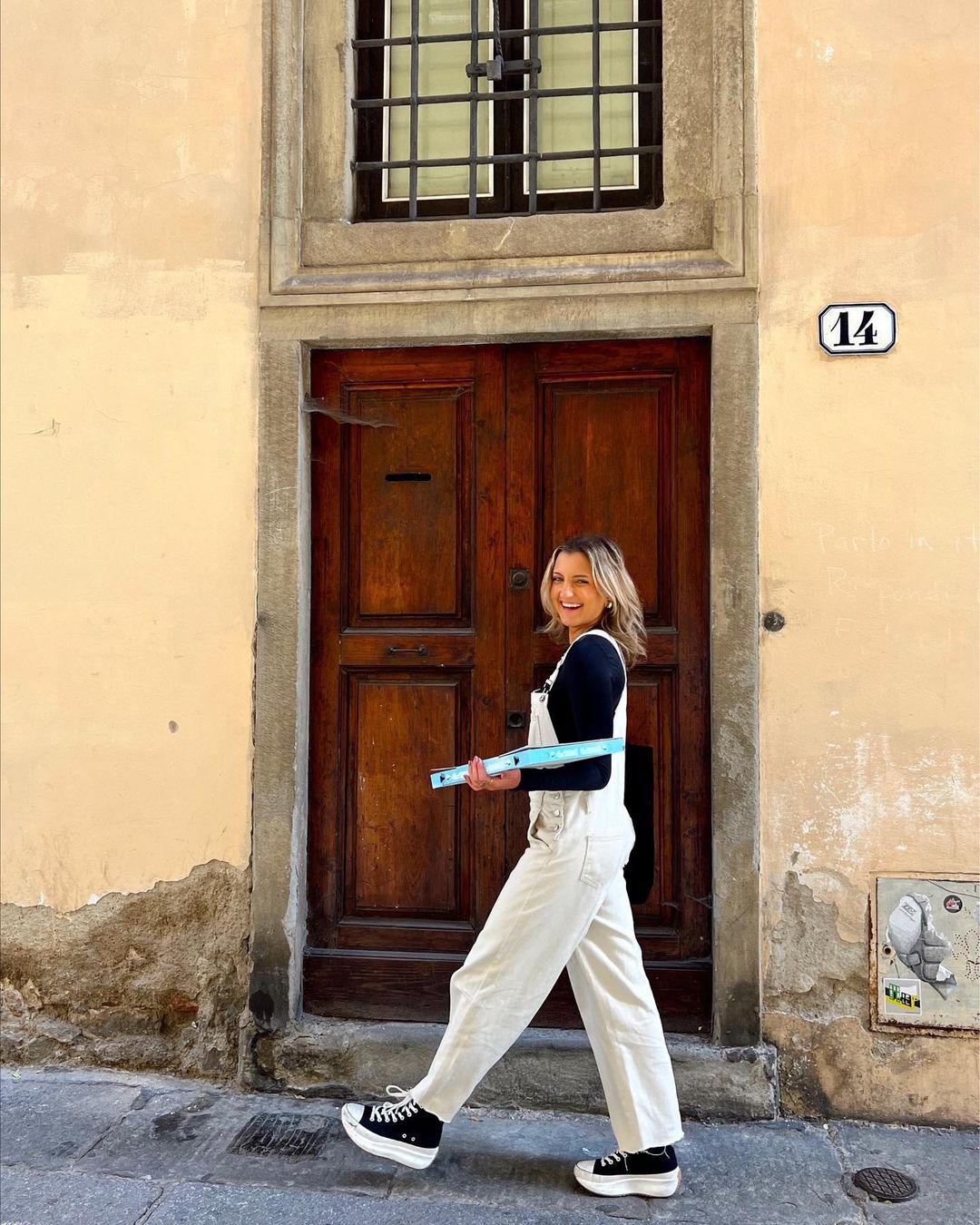 Scarves and coats are a must: the spring and winter in Florence can get instantly chilly. One of our winter packing tips is always to carry scarves and a thick coat; they keep you warm and make your outfit more eye-catching.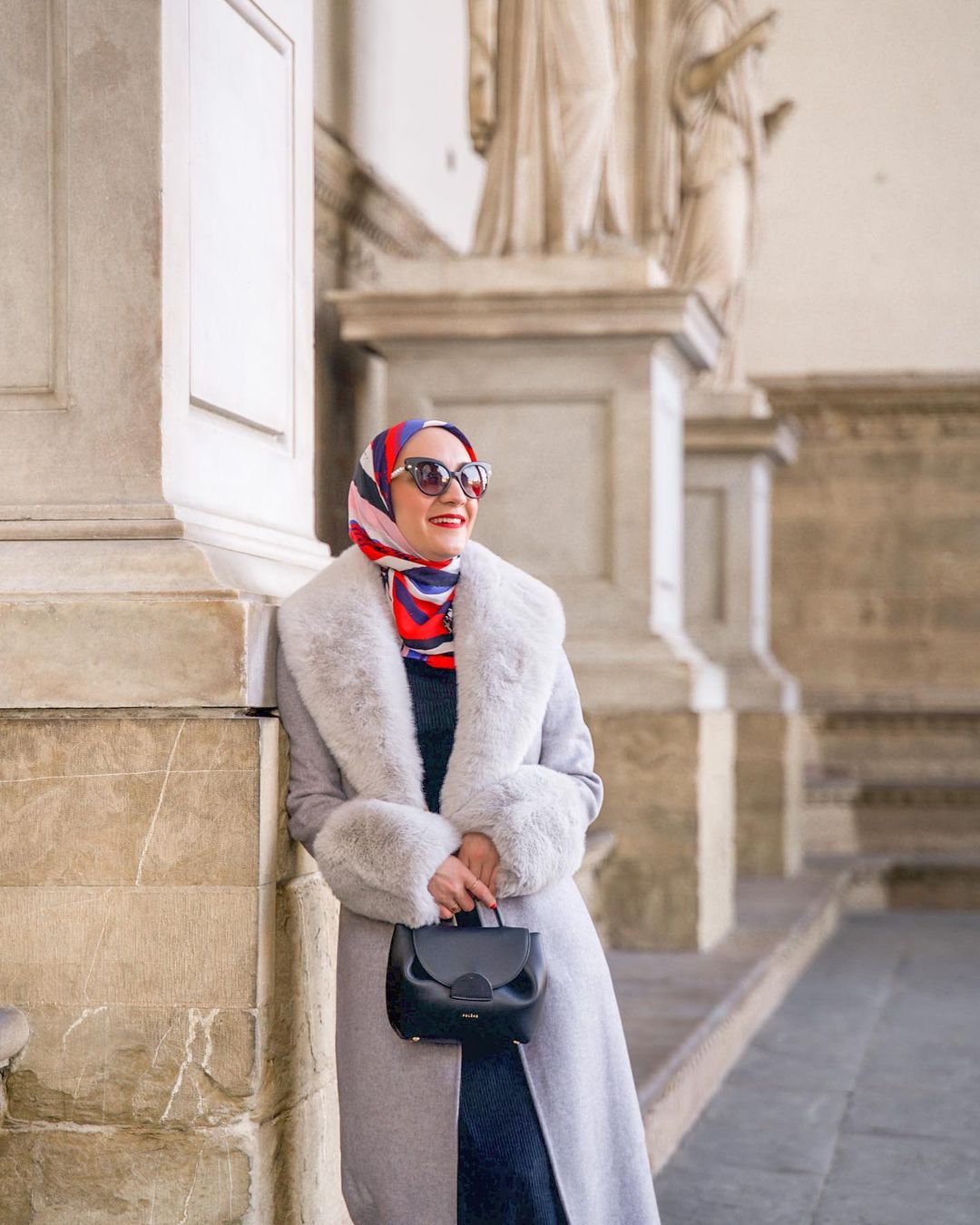 Carry an umbrella: an umbrella is a must due to fluctuating weather. If the sky shows no sign of rain in the morning then one may expect a rainy evening. So, do keep the foldable umbrellas or simple ones with you at all times.
Summer Outfits
These are some of the most appropriate attire for an Italian summer.
You can wear an A-line shirt or cropped top with nice denim shorts and pants, or you can simply wear a nice dress to show off in an Italian bazaar.
While roaming the streets, wear a nice pair of comfortable footwear such as sandals or flats since you simply cannot walk on the cobblestones comfortably with heels on.
For places like Doumo Cathedral, which is quite sacred and holy, do dress modestly.
A pro tip for strutting the Italian streets is to don a cool but casual look like Italians in summer.
29 – Bandeau Bands Are Back In Fashion
Everyone step aside as an avalanche of versatility, or should I say white outfits and bandanas headbands, are showing up to blow up your minds. A white cropped top ensemble is always a safe bet, especially if it is paired with a cute band. So, give this look a try for your cocktail party at Strizzi Garden.
For a more edgy look, put on a nice pair of stilettos and some chunky jewelry. With that done, now you're all set to slay the party with your looks.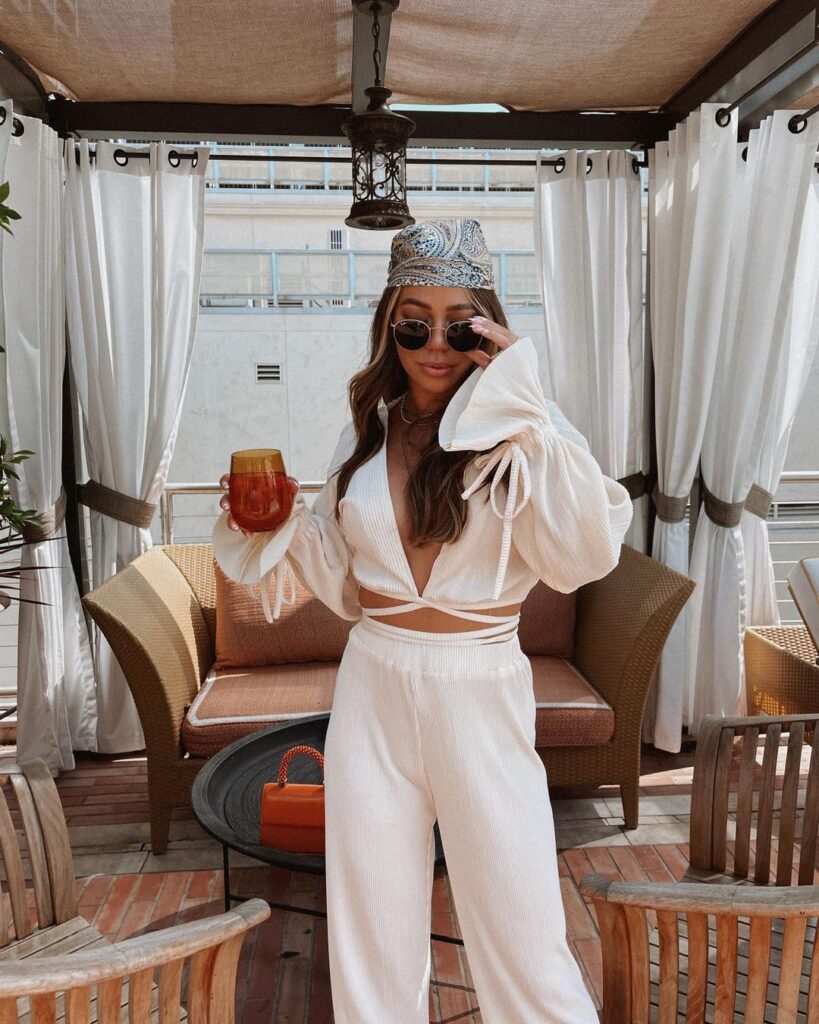 28 – Ripped Shorts For A Cool Italian Summer
Shorts are the best staple to have for the Italian summer. They are stylish and trendy. So, put them on if you intend to walk around the city and hit some designer brands like Gucci or Prada, etc.
Style your Levi's ripped denim shorts with a nice black top. To add more edge, the transparent sandal heels and a nice arm bag will do the drill. You see. Simple yet chic look.
Here is another smart but casual idea to style shorts. Just put on a strapless top, pair it up with your rad shorts, then slip into your favorite flats. Now, strut the Italian streets with this classic look.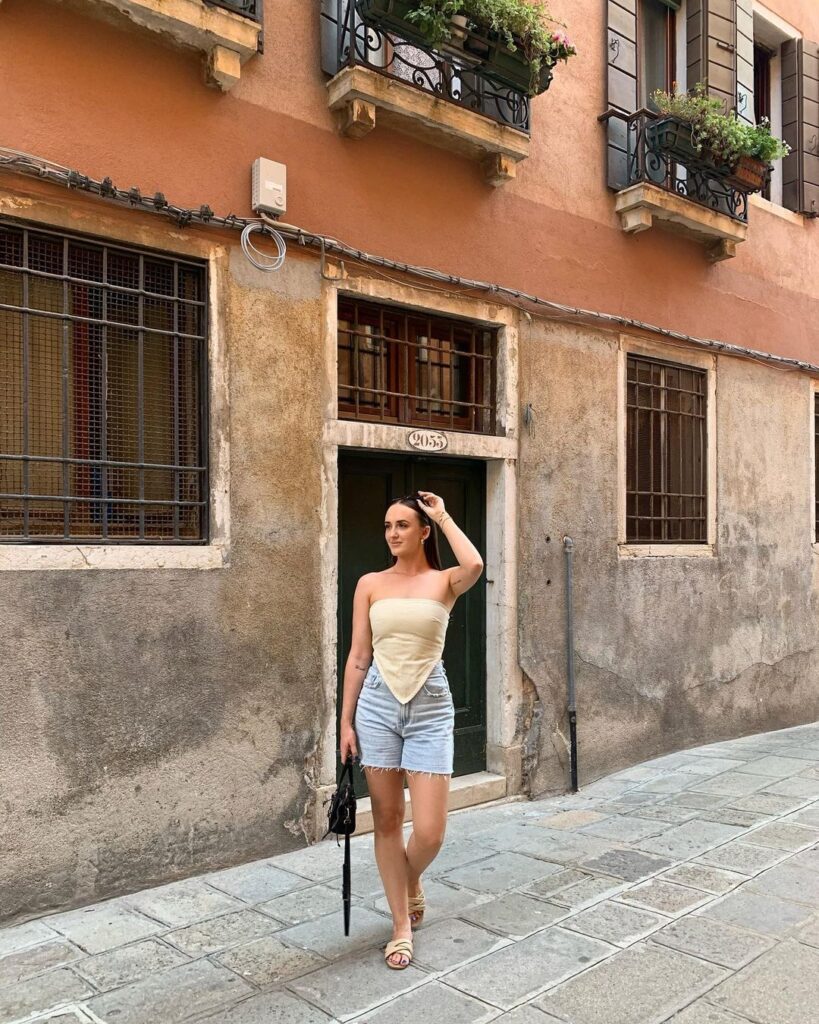 27 – Scarf In Italy Is A MUST
Florence is highly coveted for its fashion. A scarf is a primary element in Italian vogue. That's why it must be styled with the utmost passion. So, add it to your Kimba cropped jacket and Levi's jeans.
With a nice shimmery handbag and Raybans, you're all set for a model shoot against the exquisite backdrop of the Galleria Degli Uffizi.
26 – Nightclub Outfit
Nightclubbing is something that every kind of person could enjoy. So, if you're heading up to the fancy Space Club, then do follow the dress code below.
Pull off a naughty red halter-neck crop top and spice it up with ripped jeans or dark pajamas. For footwear, you can opt for platform heels or ankle boots. Both will look great.
Now, put on your signature smile and dance the night off with a sultry look. Here are some more Casual Club Attire Ideas.
25 – Beach Party
This is another casual but trendy look for a beach party at Cinque Terre. It is an easygoing outfit so you don't have to do much.
Just pull off a nice button-down dress and add a leather belt around its waist. For a pinch of more beach vibes, take out that wide-brimmed hat of yours and enjoy your beach party with the utmost style.
Nothing looks better for a long totter in Italy than a knee-length denim skirt. And, if paired with a gorgeous off-shoulder summer top? Then believe me when I say this. That is the actual OTTD for your whole summer vacation. It is lightweight and breezy. simple enough to carry. So, if you want to look fashionable while visiting Piazza del Duomo in Italy, try this right away.
A nice pair of Ray-Bans are a must to complete this look. To add more sassiness, just carry a nice backpack.
Now you're all set to slay!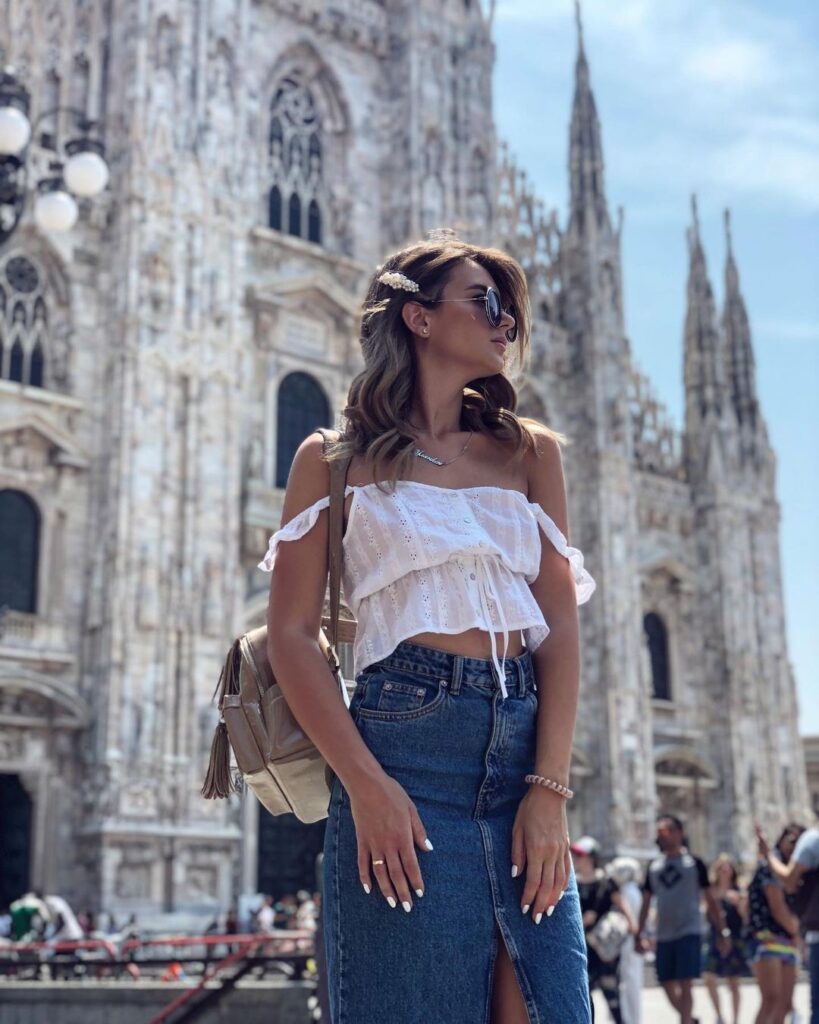 23 – Black Beauty In Italy summer
If you're on honeymoon with your significant one and plan to surprise them, then a little black dress will play as the cha-cha factor in it.
Black is timeless and is always elegant. So, what do you say about that? Accessorize it with a black choker or black bracelets. Put on a nice pair of red heels for extra oomph.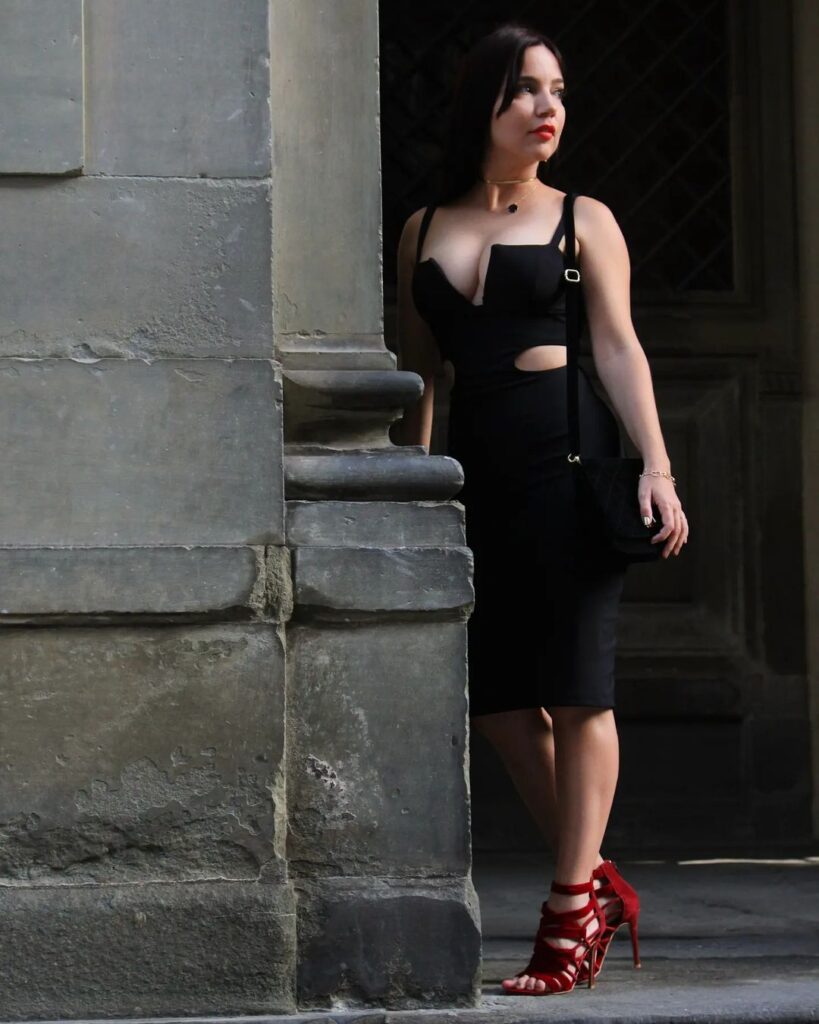 Spring Outfits
Spring in Italy is the most delightful and joyous time of the year. Blossoms perfume the spring festivals, as do light rain showers and early spring snowfall!
Everything sounds so majestic and exhilarating. For such a gleeful time of the year, vintage-themed dresses, spring dresses, midi skirts, or neutral tops with strikingly hued pants are the best choices.
For a more fruity look while sauntering the alleyways, Ponte Vecchio, town squares like Piazza della Signoria and Pitti Palace, etc., do opt for sandals or flats for a more glamorous yet comfortable look.
22 – French Guide to Style In Spring
Behold your sight, everyone! A pint of French style has also been added to the colorful pantheon of ideas. You'll never regret trying out the look shared below, as it screams grace and vogue. The spunky Berret and the adorable romper! Well, it looks quite stunning to me. Doesn't it look good to you? If it does then give it a shot.
Put on a blue romper and accessorize it minimally with a beret. With white long shoes on, now prance through the artistic Accademia Gallery while flaunting this retro-chic outfit.
21 – Spring Festivities
Nothing suits a Scoppio del Carro and Carnevale in an Italian city more than a newsboy cap over a nude midi dress. You should recreate this look.
For more snazz with this outfit, pair it up with some nice leather ankle boots or chunky strap sandals.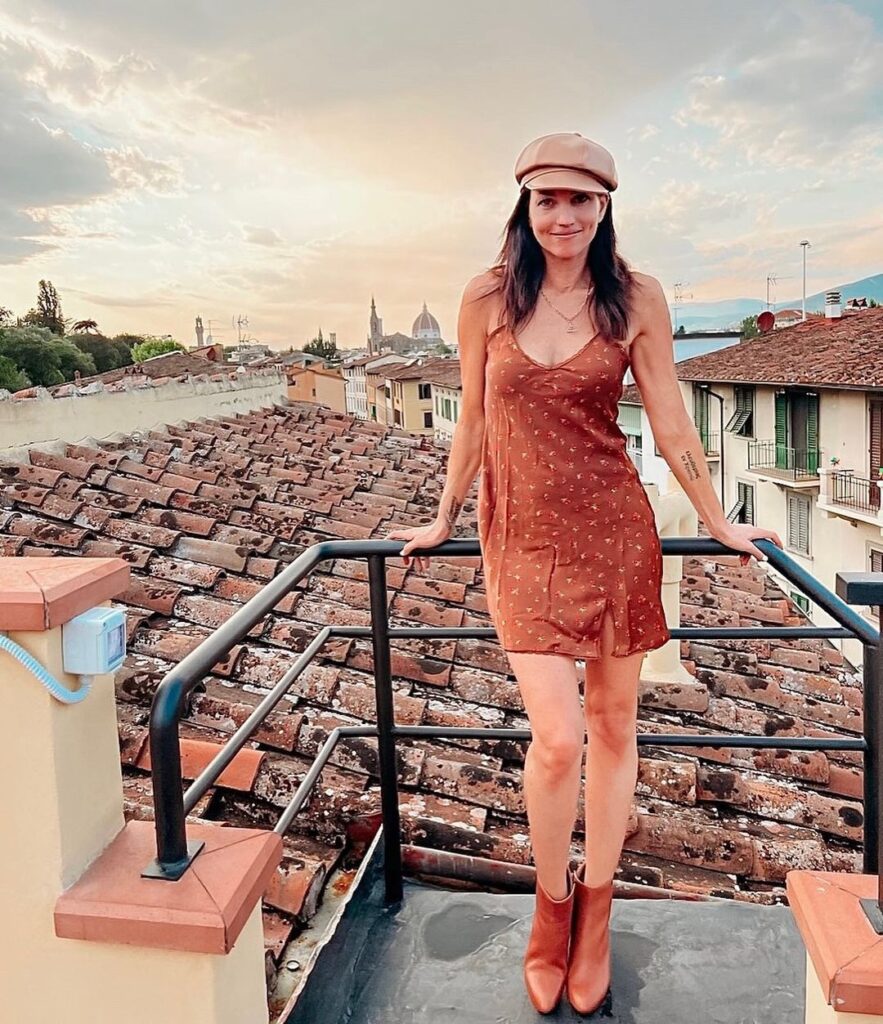 20 – What to Wear to Piazza della Signoria?
March in Florence is the best time to take out your breezy maxi dresses. They emanate more cool vibes than the hotel freezer. Hehe, just kidding. So, instead of wasting them away, flaunt them while strutting the Italian town square, Piazza della Signoria.
For a more carefree look, throw on a cross-body bag and make it more subtle with nice sandals.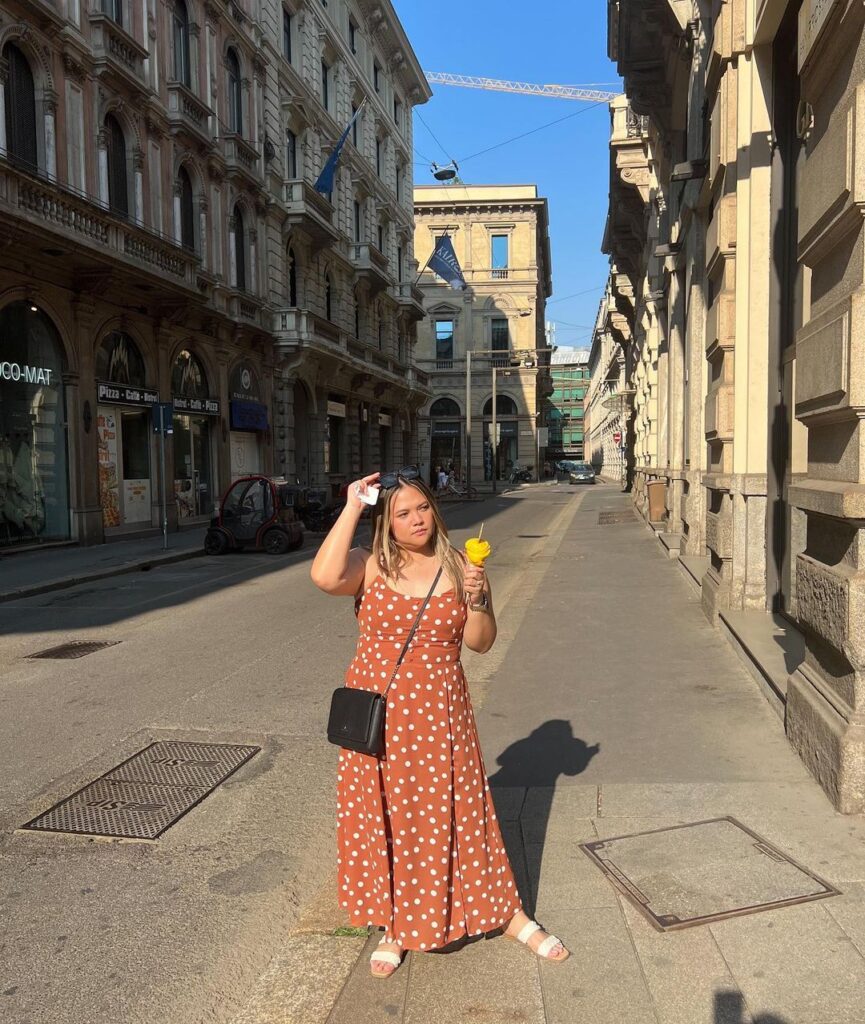 19 – Strapless Dresses for Picnic
Planning a picnic in the Parco delle Cascine? Well, such an incredible notion calls for a babelicious navy-blue off-the-shoulder maxi dress for an epic picnic outfit.
A nice pair of sneakers will look so good with this dress. So, try them on and be a head-turner while enjoying your picnic party at the bank of the Arno River.
Just imagining it flutters my heart. Lucky you.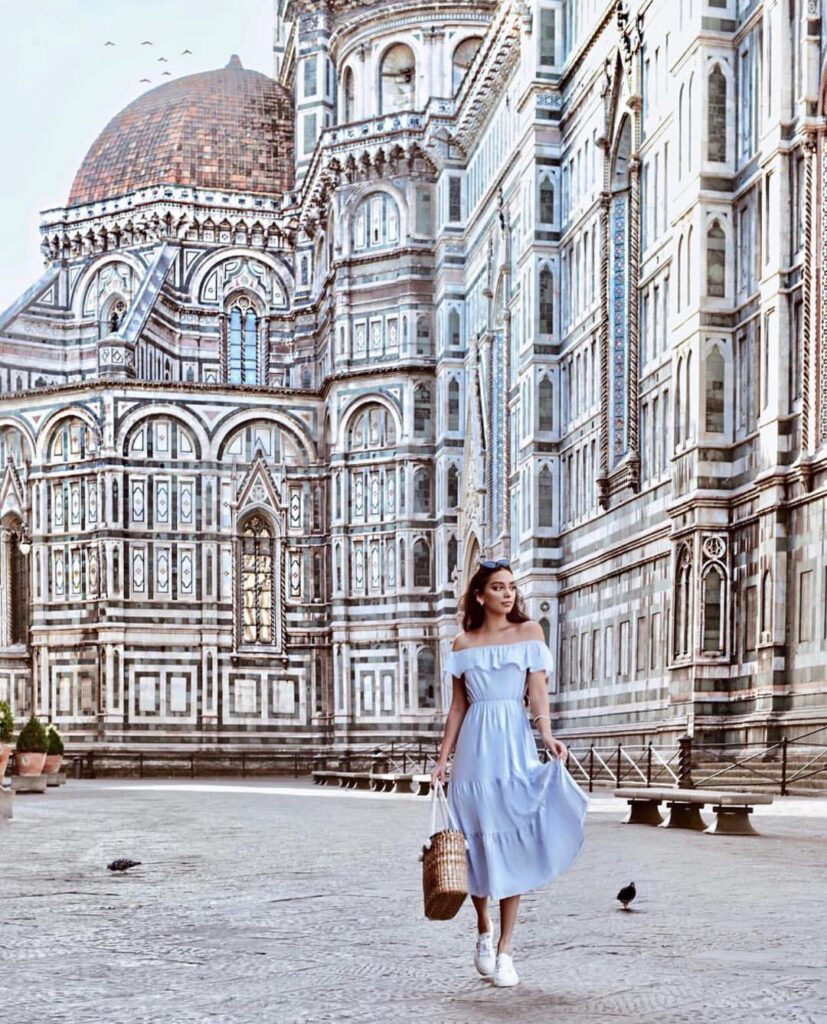 18 – Jazzy Look
Spring is quite mild in Florence, so you should prep accordingly. If you plan to go for a jazzy outfit while strutting the Ponte Vecchio, then peek at the look below.
So classic, right? A nice polka-dot maxi paired with a nice bandeau and criss-cross sandals is the best fashion inspo you could ever ask for in an Italian spring.
For a more out-of-the-painting look, do add a twig and arrow handbag.
Fall Outfits
Because of the sparkling Arno River, autumn in Florence is crisp and slightly chilly. For such a tumultuous season, denim, midi-length jewel-toned A-line skirts, sweatshirts, or light sweaters, and layers like trench coats are ideal for roaming the Italian streets and attending dinners and parties with ease.
While getting ready for places like the Uffizi Gallery, Il Duomo, Galleria dell'Accademia, and Chianti, outfits like a turtleneck shirt with black high-waist pants, a patterned blouse or skirt with a simple shirt or skirt, etc. are a good choice for getting that chilly glam which you desire for Italian autumn.
17 – Masquerade Party Ideas
Masquerade parties are quite notable for their mystique and allure. They are the parties I honestly wish to go to. But if you are the lucky one going there, then this is the guide for you.
First, put on a magnificent monochromatic black outfit. Then break the monotony with a sparkly element. A shimmery clutch or glistening silver long shoes will also make you appear more eminent.
Finally, with the most exquisite mask on, you're all set to slay.
16 – Stylish Ideas For November
For young gals who wish to look cute but stunning while hopping on the streets of Florence in November, the outfit below screams love for you.
Styling it is not so tiring at all. Just put on a nude shirt, pair it with a sweet skirt, and layer it up with a nice coat. Finally, pepper it up with a brimmed hat and spice it up more with long boots.
With the perfect look, now you can strut the streets with a perfect smile. But, don't forget the umbrella as it rains a lot in November. okay?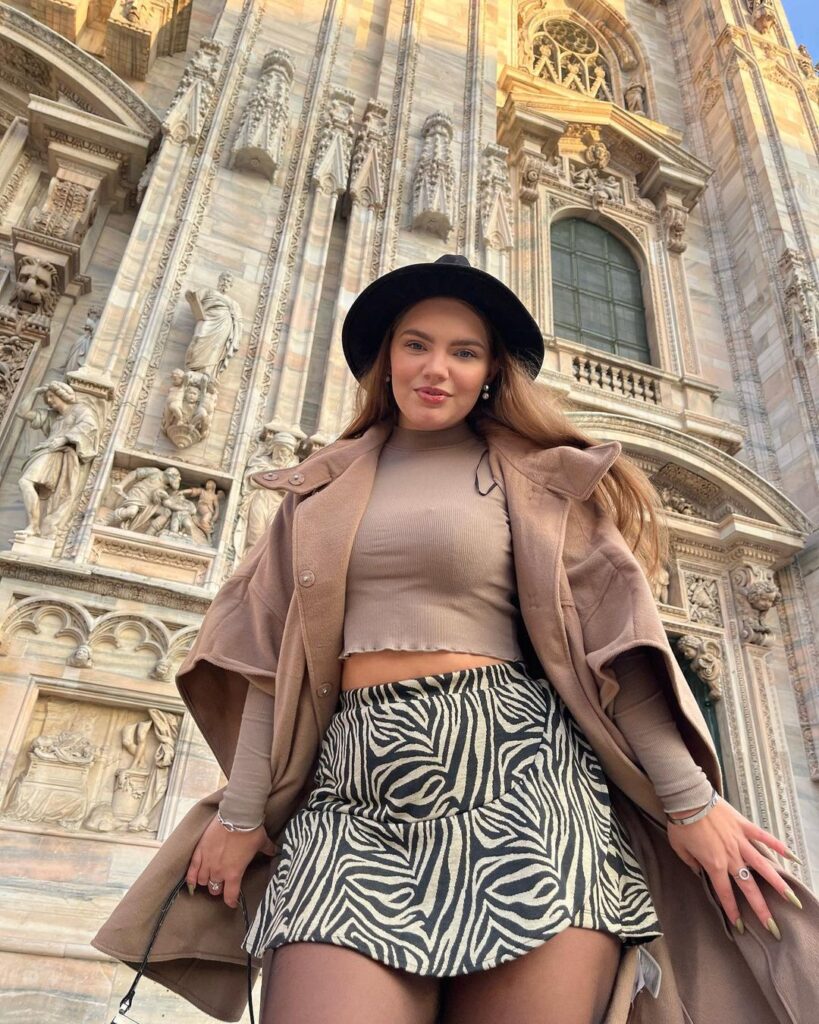 15 – How to Style High-waisted Jeans In Florence?
High-waisted jeans are a must-have that should be on your shopping list for an Italian trip. It resonates most fabulously with the classic Italian style. You can ensemble it with a crop top, a tube top, or an off-the-shoulder top. It will look great in every way.
For a more sleek look, do accessorize them with a black handbag and glassy block heels. It is an easy-on-the-eye and easy-for-the-style look so do try it out.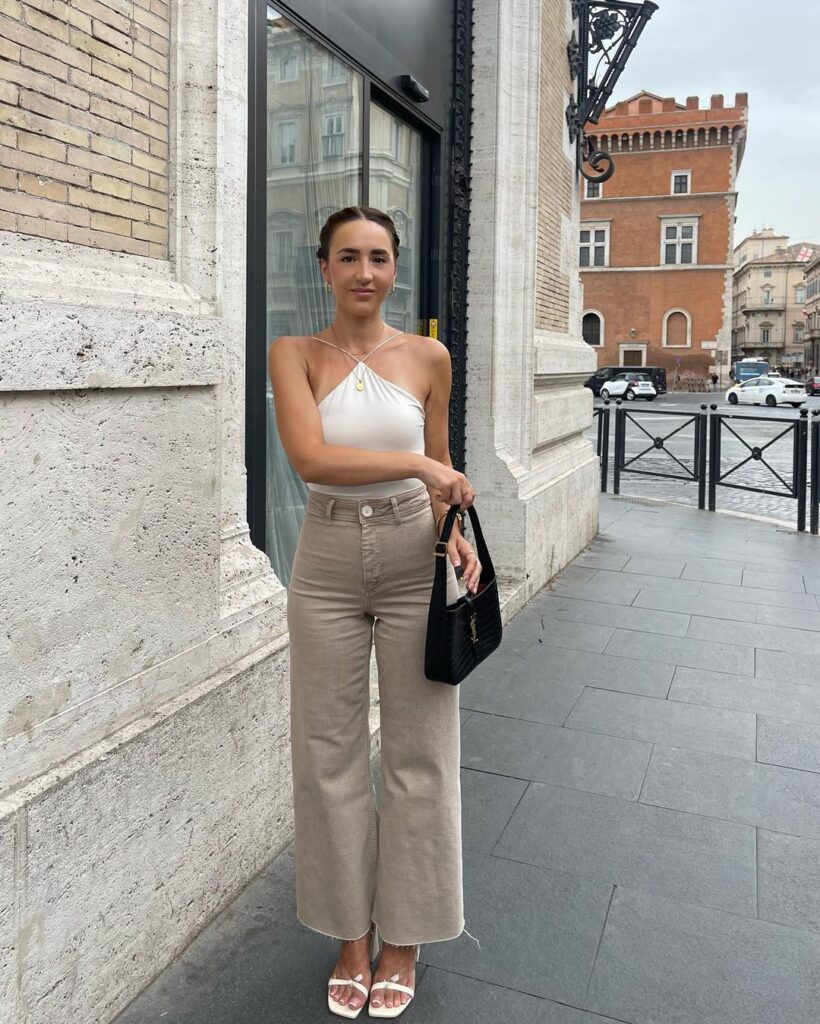 14 – Magical Roof-top View
No city looks more breathtaking when it is viewed from the top. So, for a magical rooftop view with a more subtle rooftop style pull off a nice pair of casual shirt and dark pants. Add a layer of nude sweater and combats and Voila!
Now, who looks more enchanting in this outfit? You or me? Definitely you, girl.
13 – Curvy Ladies Tube-top Fashion For Chianti
Nothing makes a bold statement more than a tube top. Not only is it versatile, but it's also a bewitching staple to add.
For a Chianti wine tour with a lofty look, take out your sequined black tube top. Style it with sequined trousers and amp up your look more with a bold leather jacket.
A touch of trinket jewelry and you're all set to rock the wine tour with your elegant style. Don't forget to carry a handbag with you. Okay?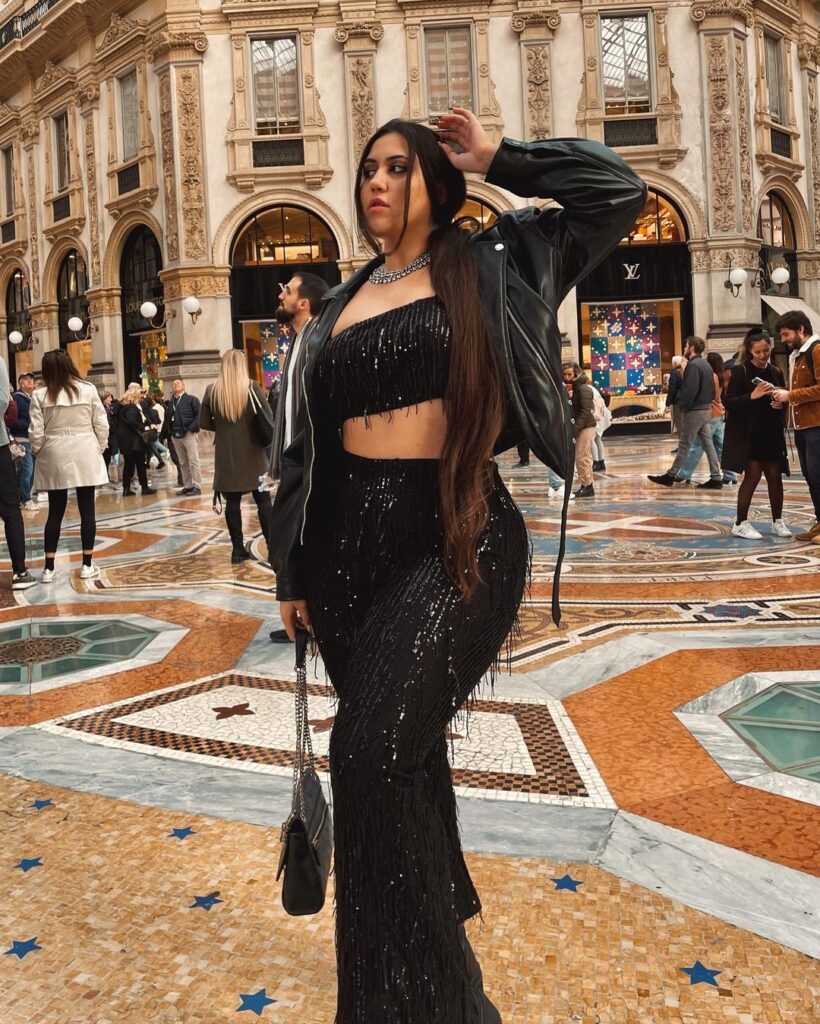 Duomo Cathedral is a sacred place to visit and so appropriate clothing is mandatory. For a more modest and stylish look add up a nice neutral hijab.
The neutral hijab will complement the green sweater and black pants ensemble, so give it a shot.
A pendant necklace and statement-making belt and you're good to go!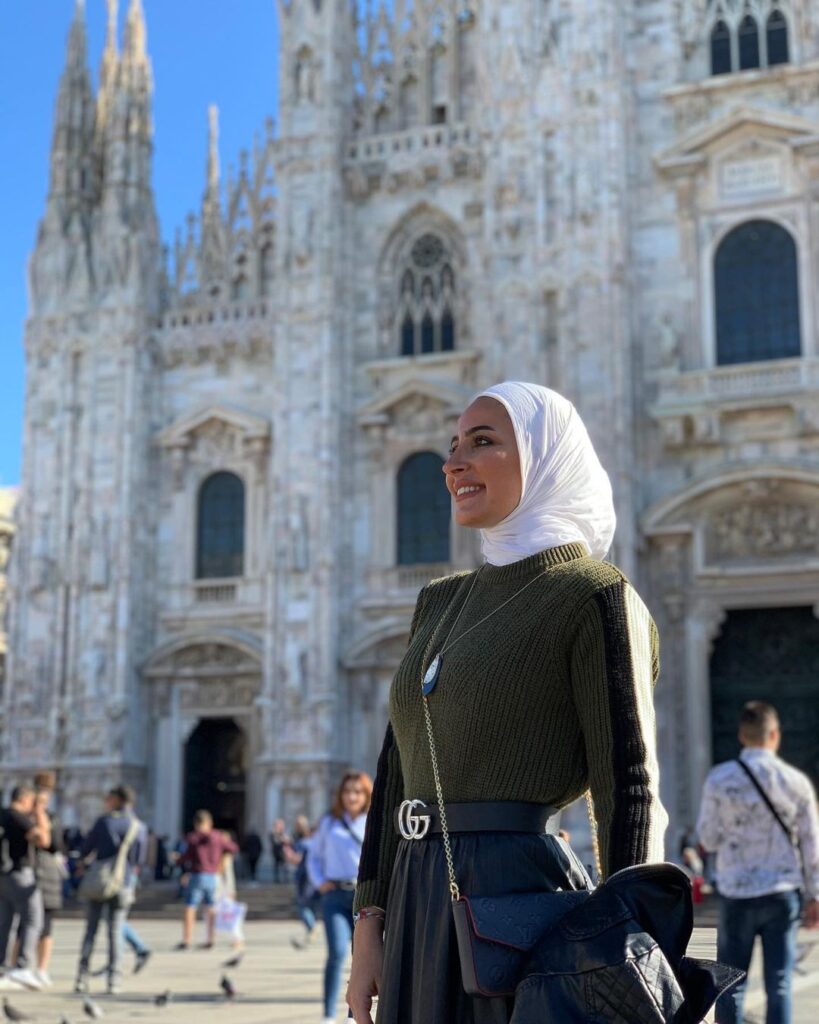 11 – What to wear to Boboli garden?
Nothing is more endearing or captivating than the Boboli garden of Italy. It looks just like a fairyland with its pool and greenery. So, for some cottage core vibes in this garden, style up your favorite shoulder-cut top and pair it with nice pants.
With sneakers and cute french braids on either side, you're all set to step into the enchanting Boboli grassland.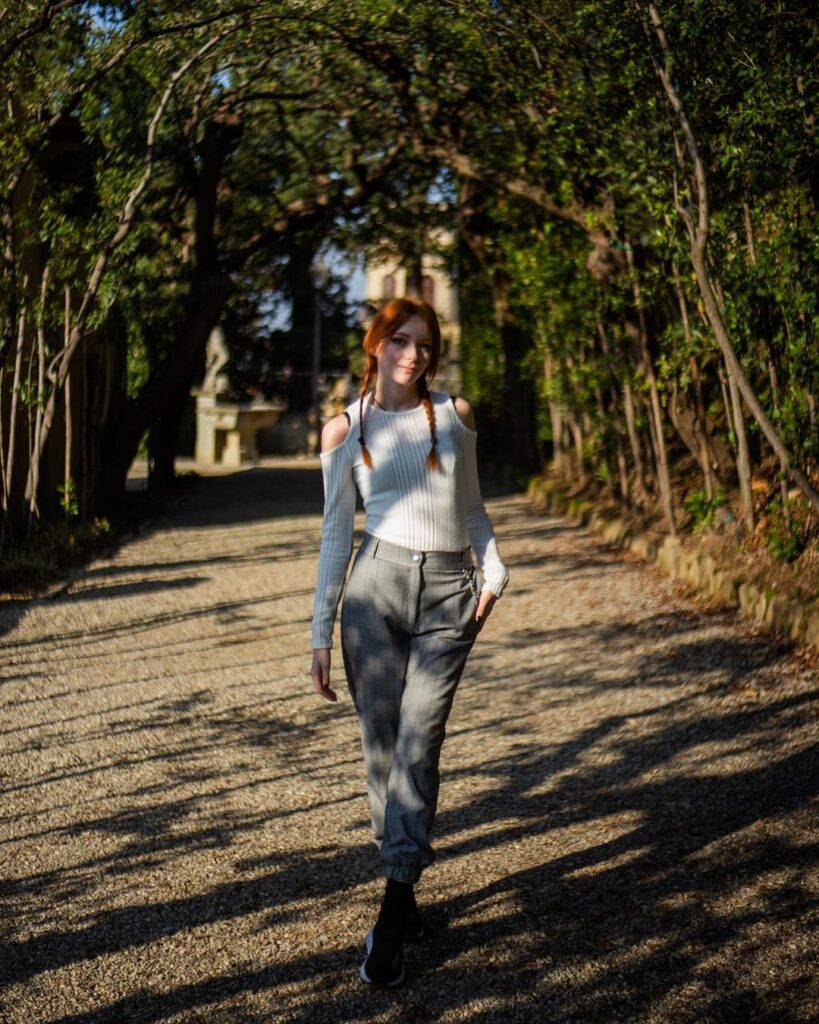 10 – For Ponte Vecchio
Ponte Vecchio over the Arno river is a charismatic spot for photoshoots. The wind, the picturesque background, everything is perfect for that one "shot".
So, if you want to get that one "shot" with this location, then follow the look below.
Pair up your maroon shorts with an elegant black top. Put on a nice pair of black knee-high shoes and clinch a fanny pack around your waist.
Now, you're all set to slay that one "shot" on the Arno River, Italy.
Winter Outfits
Winter in Florence is so chilly that the statement outerwear, is more salient than what's inside.
So, here we are with some chunky and comfy ideas where your layering will not hinder you while having a cup of tea outside, sitting warmly in a cozy hotel for lunch, or strutting the streets in nicety.
They are too fine yet too cozy to resist. So, do try them.
09 – Golden-Hour
We have the perfect outfit for your golden-hour coffee time at Hotel Palazzo Guadaign, and all it needs is a nice yellow bodycon dress.
Pull it off then layer it up with a black coat and yellow scarf. Then, slide into a nice pair of rosy-red knee-high laced boots. Now, walk down the hotel staircase to your morning coffee and astound everyone with your look.
After that, do take a walk to Pitti Palace or Ponte Vecchio. They are just a few steps away from Hotel Palazzo Guadagni. Alright?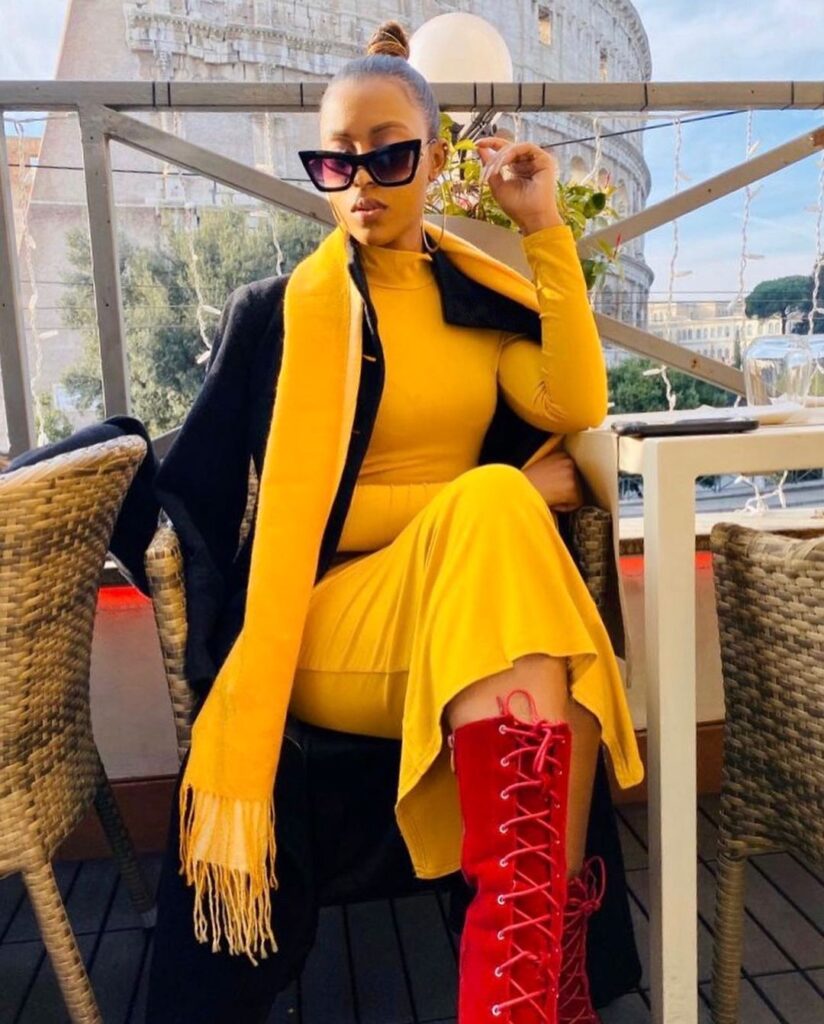 08 – Sunday Look
The crisp Sunday with a hint of scintillating fireworks at Piazzale Michelangelo is actually the best opportunity you could ever ask for while touring Italy.
So, what are you waiting for? Get yourself a nice formal shirt and pair it up with a neutral A-line skirt.
Don't forget the fancy forest shawl and the long coat, because it might get too cold.
Add, a cute handbag and comfortable footwear to your dashing street style.
Now, you're all set to witness the most awe-struck fireworks of your life!
07 – Winter Street Style
Italy is quite frosty in the middle of December. So, layering like a pro is a must. You can opt for a decent brown leather jacket and knee-high leather boots with tights, for your all-black attire as the neutrals are more welcoming for such chilly weather.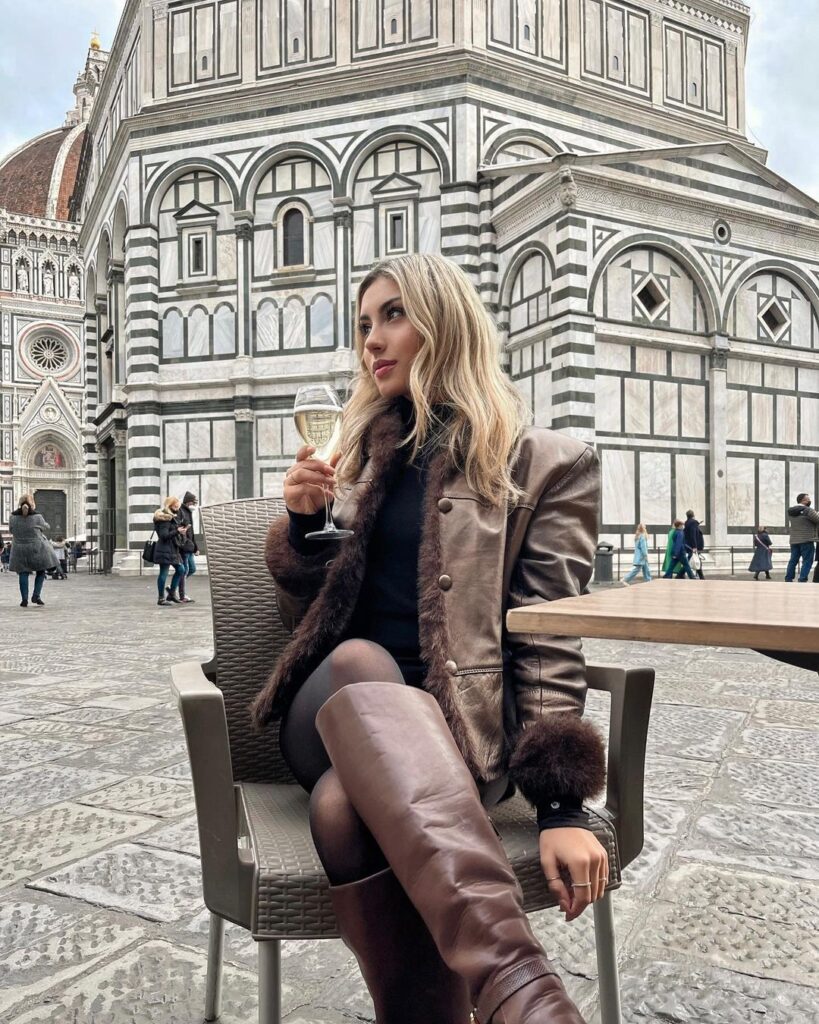 Another idea that is sure to slay your winter is the "newsboy cap" fashion. Just put on a trendy newsboy cap with a formal shirt. Then, layer it up with a nice check woolen coat. Ensemble it more with glossy leather tights and ankle boots.
Now, you're all comfy and classic for a delectable Italian luncheon.
06 – Beanie
This outfit is the best for traveling from Tuscany to Florence.
You will surely love the dainty neutral tone. How decorative and alluring do the faux-fur jacket, the beanie, and the pearl jeans look? I am so in love with it, and I do expect you to try it.
Add a nice pair of sneakers to it and put the chilly streets on fire with your looks.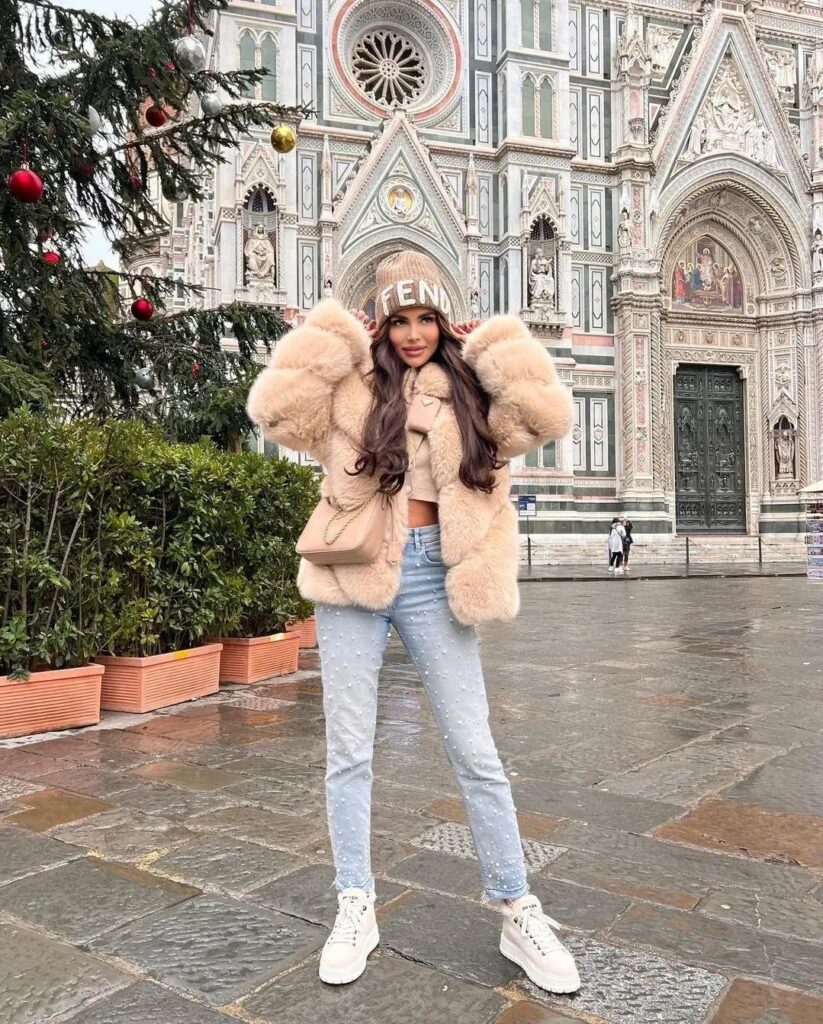 Celebrity Style Inspo
For a much better understanding of what to wear on a trip to Florence, take inspiration from the most famous and trendy celebrities of all time. All of them look so exotic and chic in their Italian-trip outfits.
05 – Gwyneth Paltrow
Gwyneth was seen vacationing in Florence with her husband recently and she chose a beautiful black and white silk to with matching shorts.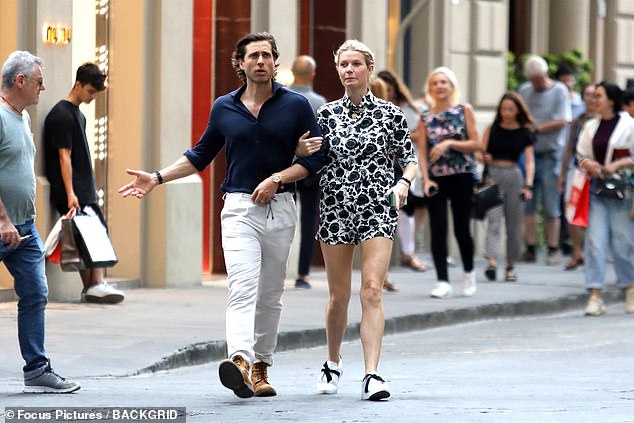 04 – Vanessa Hudgens
I love everything about this casual fit that Vanessa chose for her trip to Florence as she poses on the Ponte Vecchio.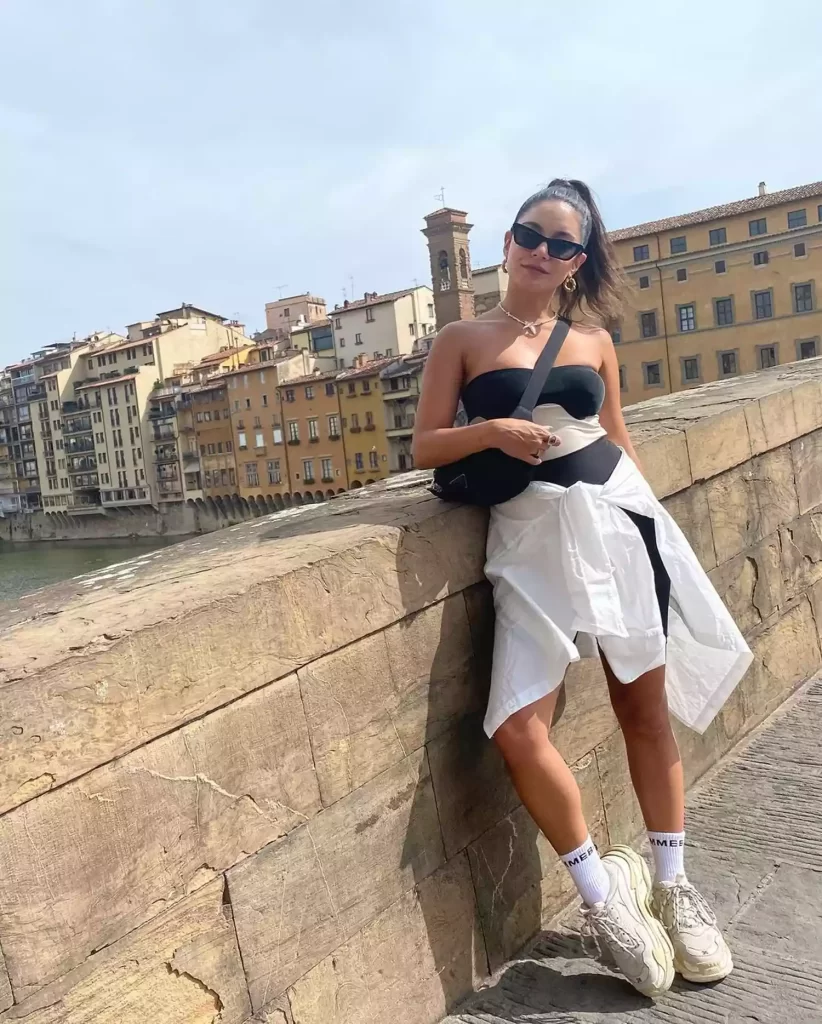 03 – Selena Gomez
If you're planning to wear a sequined dress to your summer vacation, take a cue from Selena Gomez. How fashionable she looks in this sequined monochromatic dress! A touch of makeup and a pint of chunky jewelry, and you're all set to slay.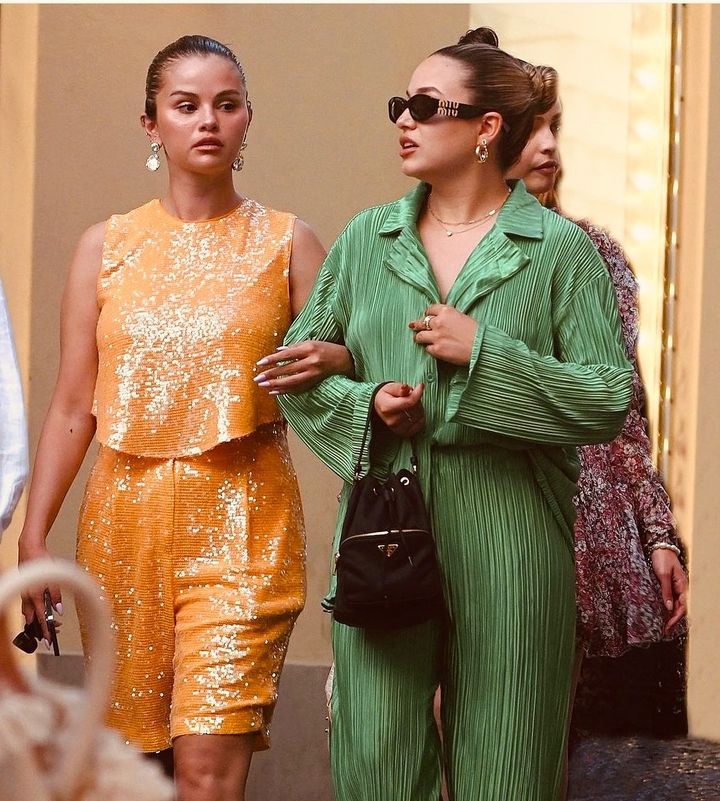 02 – Kylie Jenner
Planning to saunter the Italian streets? So, do follow your fashion idol, Kylie Jenner. She encourages her admirers to opt for a floral bodycon dress as a chic spring outfit. It is so spunky and will look so good with a nice pair of sandals. Stilettos will look good with it too.
You can also add a nice scarf to your outfit. It will look stunning too. Trust me.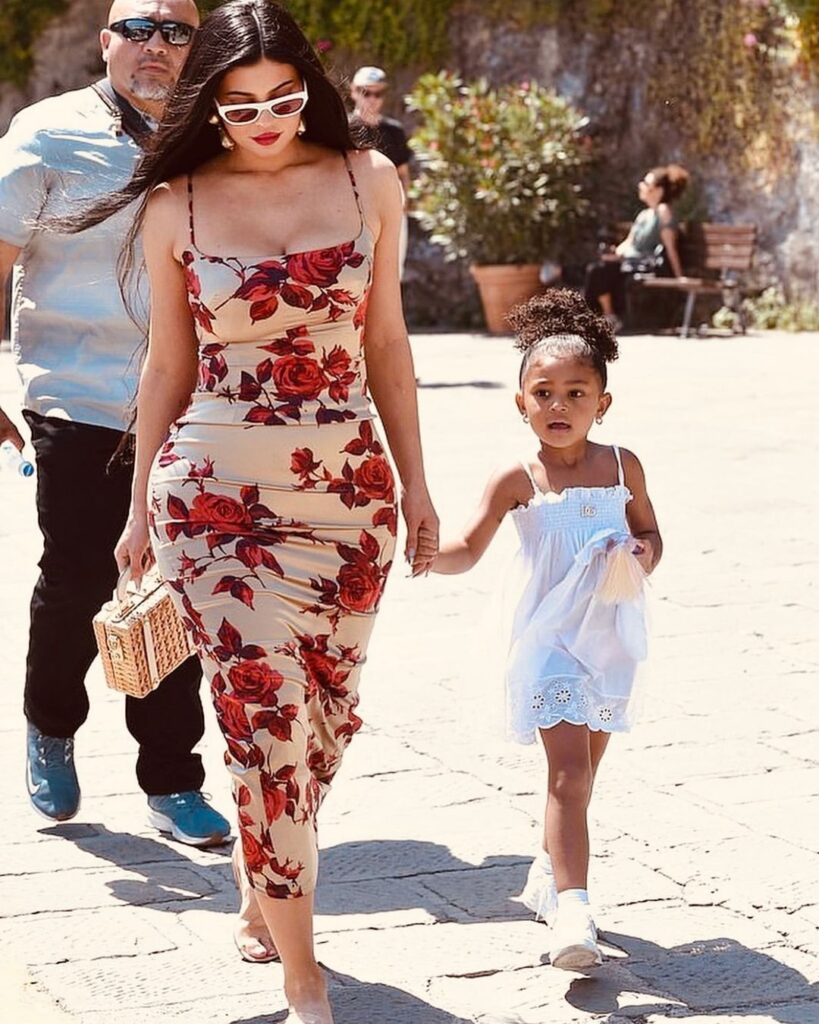 01 – Bella Hadid
Who are we to tell you when the super-model Bella Hadid is herself here to give you a perfect Florentine street style guide?
According to her, a nice outfit always follows a nice leather jacket. A casual shirt, casual trousers, and casual animal shoes, paired with a stunning jacket, and Boom! You're all set to flaunt this trendy outfit.
FAQs
Q – What are the best places to visit in Florence for someone who likes fashion?
With its fame as the most charismatic, artistic, and heavenly of all cities in the world, fashion is another feature that counts the most of Florence. Countless shops, designer stores, and street markets are found in Florence where you can conveniently buy excellent leather products.
For Haute couture lovers, the hotspot for shopping is Tornabuoni. It is the place where you can find brands like Prada, Patrizia Pepe, Gucci, Ferragamo, etc under one roof. Calzaiuoli is also a place where you can shop for various kinds of shoes, bags, perfumes, and other accessories, etc.
Q – What is the dresscode for Duomo Florence?
Authorities of Duomo cathedral have assigned a dress code to tourists for their admission to the cathedral. Appropriate clothing for entrance to the cathedral is mandatory. People with bare shoulders or knees, sunglasses sandals, headgear, bulky backpacks, bags, etc are specifically not allowed. Ankle-length bottom wear is compulsory for admission to the cathedral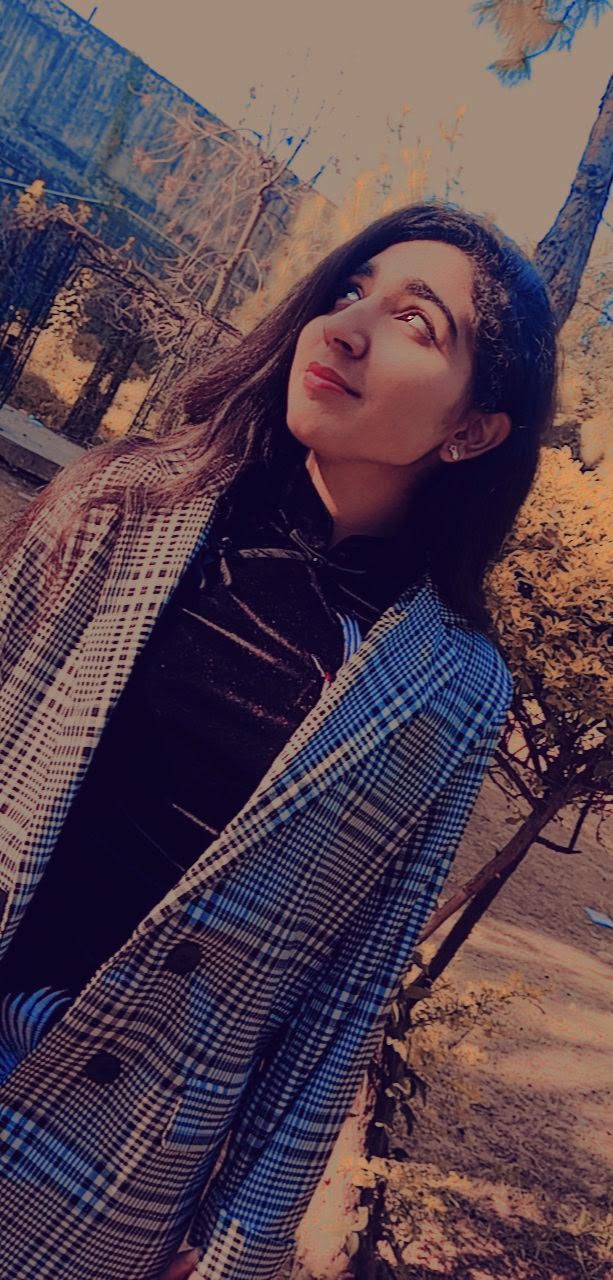 Noor-ul-ain Ali is a 20-year-old freelance writer. She is an amateur painter and is fond of reading books which are a driving force for her creativity and assist in polishing her writing skills. She is enigmatic as she knows how to secure her aloofness with her bubbly nature.