Goth Business Casual Outfits – Goth fashion continues to evolve constantly and the same goes for goth office looks. Recently, this dark-colored business casual ensemble is the new "thing" in the professional woman's daily attire.
This trend has been given many names, including 'corporate goth style' and 'Alt goth style'.
Of course, an essential part of this fashion trend is wearing more black.
By the end of this article, if we are able to convince you to follow the instructions here, then you may also have to go to a shop or get online to buy yourself a few black-colored clothing components to build up a new outfit.
This style also has people dressing more dramatically and in a rather edgy manner in their workplaces.
In fact, we believe that wearing darker colors will help working women sell their products and ideas faster.
How To Wear Goth Office Clothes?
The best way to dress goth in the office place is to combine the dark academic aesthetic with your own personal preferences.
This enables you to customize it in the way most suited for yourself. It will complement your body, and your personality and enable you to feel comfortable at the same time.
If you are still confused and doubtful, we will help you better understand what we mean. Keep an open mind and hear our side of the argument first!
Tips On Business Casual Goth Fashion
Do not hold yourself back! If you wear a goth outfit for the first time, embrace the look with confidence and do not style your outfit half-heartedly out of fear of people. Complete your look with the appropriate makeup, jewelry, and hairstyle even if you think you are not one to experiment a lot.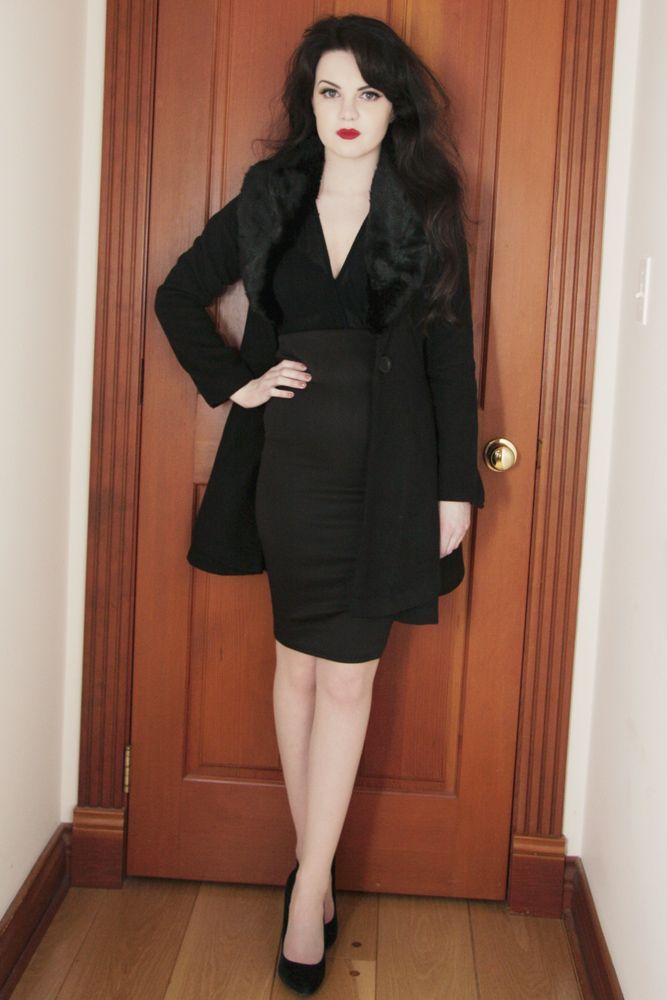 You must accessorize in the right way! Buy yourself a plain black choker and a cross pendant. A pair of sheer black gloves could also make you look fabulous and make the outfit pop.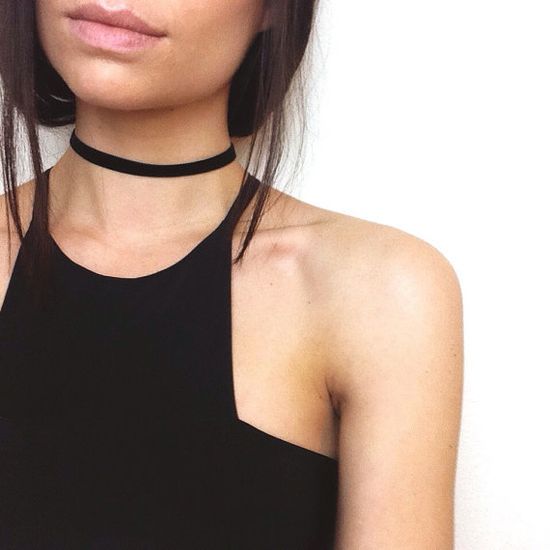 Shoes to wear: All types of black closed shoes should go really well with your goth outfits. These include pointed-toe high heels, a pair of black ankle boots, or even mocassins.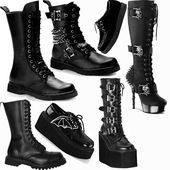 Your make-up should be slightly dark and dramatic. Since most offices do not encourage very out-there makeup, you have to keep it edgy but minimalistic at the same time. Do a simple smokey eye and instead of black, put on brown or red lipstick. If you are not up for a smokey eye look, a thick-winged black eyeliner should also work.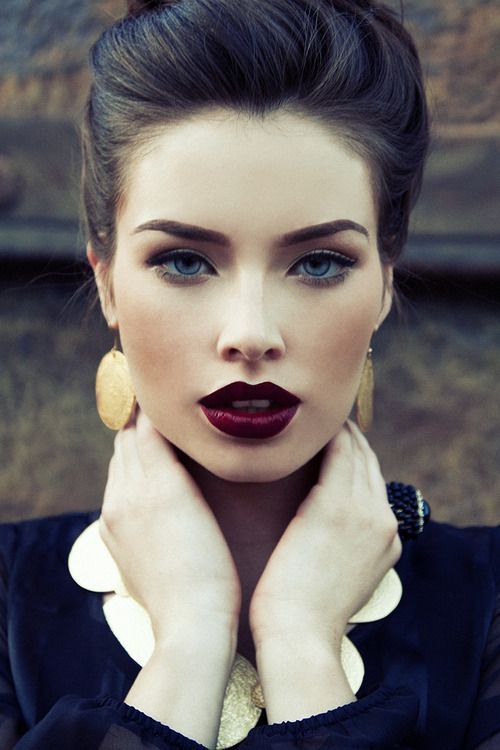 Colors to wear other than black: When we think of goth fashion the only color that comes to mind is black. However, since corporate goth is a little different and more modernistic, we can add some other colors like white, grey, navy blue, dark purple, or even maroon.
Blazer And Jacket Outfits
9 – Black Overcoat Over Black Ripped Jeans
We shall be starting off our list of looks with this really sleek one. Under the coat, wear a black mock-neck top and for shoes, we advise you to wear a pair of black ankle boots with thick soles.
To complete the outfit, wear some silver necklaces. This will help add a little bling to the outfit.
This outfit is great for plus-size women as well because it includes layering. As a result, it will give a slimming effect.
This look will also manage to keep you warm on a cool winter evening.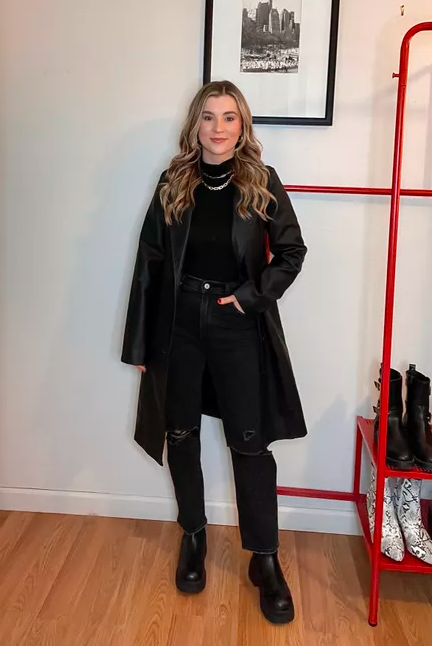 8 – Long Blazer With A Sheer Dress
Next up, we have this beautiful look shown below. Under the long blazer, you can wear a net dress or even a net co-ord set.
The visible skin helps make the outfit very sexy but the blazer keeps it office friendly as well.
Under the dress, a pair of black stockings can be worn. As for the shoes, a pair of boots will look really great.
To accessorize, wear a headband that reminds us of the evil queen's headgear. There is no need for necklaces as the neck is covered up by the dress.
7 – All Black Casual Suit
Above, we saw a similar outfit with a long coat but this time we modified it a little with a short blazer. This gives it a very professional look.
If it is your turn to give a presentation during the meeting today, we recommend this look to you for sure.
For the shoes, a pair of laced-up combat boots can be put on.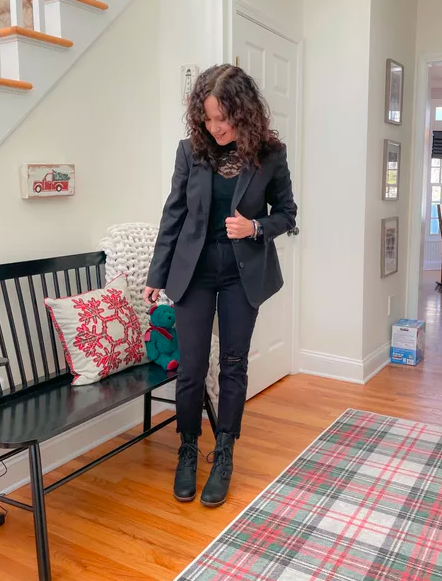 Pants And Skirts Outfits
6 – Mock Neck Top With Black Leather Pants
Leather pants can be very multi-purpose. They can be worn to the club and also to the office, which is why we are obsessed with them.
They will help give your goth look an elegant spin and make you feel like the 'Kim Possible' you always wanted to be.
With this look, we recommend bold makeup including dark lipstick and the use of contour or bronzer in such a way that helps your cheekbones really pop out.
5 – Black Sweater With A Mini Skirt
After pants, let's talk about skirts becoming a part of our office looks. With the skirt, the black sweater with the white lining is extremely compatible.
Plus, the white turtle neck underneath balances the darker tone of the outfit and gives it a more professional look so that you can wear skirts during boardroom meetings as well.
With the skirt and sweater, wear a pair of black Chelsea boots (which by the way are really in these days).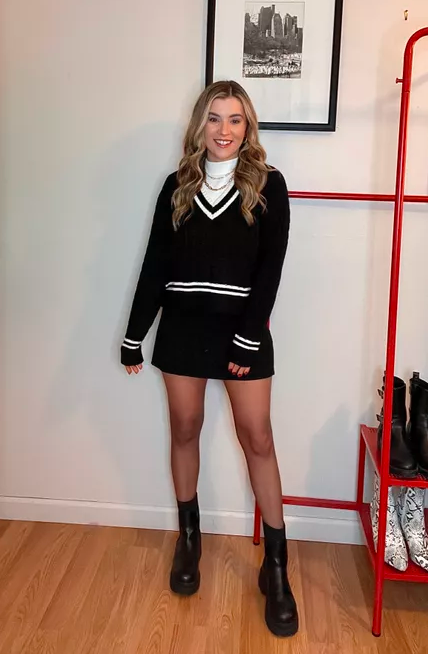 Celebrities Going Goth
4 – Kourtney Kardashian's All-Black Attire
Kourtney really looks perfect in this semi-formal ensemble, right? Wear an oversized black blazer with a sexy camisole underneath. Finally, add a little pizzazz with fancy pencil heels.
Also, have a party to attend right after office hours? Don't worry boo, we got you covered!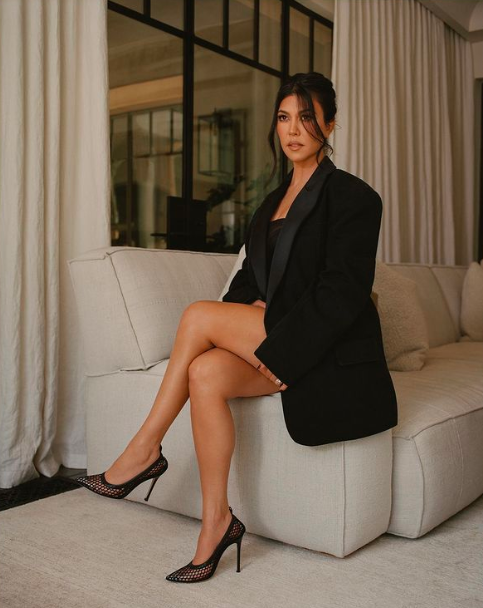 3 – Jennifer Anniston's Classic Combination (Pants and A Dress Shirt)
This look might be one of our favorites (and not only because of Anniston).
In order to stand out even more, add a black necktie to the button-down shirt. And friendly advice – get the pants custom tailored.
2 – Wear An Over-Sized Leather Jacket Like Bella Hadid
Because could you ever go wrong with a leather jacket? Uh, we really don't think so!
1 – Black Blazer Over A Black Dress Inspired By Winona Ryder
We believe dresses look great in the office and work really well in creating corporate goth looks, which is why this red carpet garb really had to be considered for this article.
To top it all off, carry a black clutch and wear black ankle boots.
We really love the fact that Ryder wore a short jacket, and we have mentioned a link down below if you would like to buy a similar one.
FAQs
Q. What are the best places to buy high-end gothic outfits?
The option that we have provided you with via this article is amazon. The only problem is you would have to be creative and buy various pieces of clothing and put together goth outfits on your own.
Other online brands from where you can get goth outfits to wear at the office include Gothic Plus, Void Clothing, and Dare Fashion. With only minimal shipping charges, these places will deliver the clothes you want right to your doorstep!
Q. If I wear goth outfits at work, would people not judge me?
People in the workplace judge women no matter what they do. You could do everything right and it still would not be enough. So, we believe that as long as your outfits seem semi-professional at least, you should embrace all kinds of styles fearlessly.
In order to not shock people by changing your look suddenly, you should try to slowly dive into it. Begin with wearing basic black outfits and black eye shadow on the first day, maybe. Later, you could even add black or brown lipstick and clothes that are edgier.
Q. Can I adopt corporate goth fashion in my 30s or is it too late?
We agree with the saying "age is just a number". Life is too short and if you want to embrace gothic fashion a little later in life, we definitely support you. Just make sure you are not breaking any rules of your office or workplace. Other than that, feel confident and bold and experiment with fashion as much as you want.
Who knows? Maybe, if you take the first step you might inspire other women around you to step up and change things for themselves a bit as well.