Velvet Outfit Ideas- Velvet is a luxurious and magnificent piece of cloth that can be worn any way you want, but it can be a bit tricky situation sometimes, because of its flexibility and stretchedness. It is a classic fabric that instantly gives off an air of elegance and can levitate even the simplest of outfits instantly.
The velvet trend still going strong this fall and winter season, and you can incorporate velvet touches to your outfits. Even the designers add some velvet piece to their wardrobe because of their royal look. The ways can be diverse in how to wear your velvet outfit with trend and style. It can be from accessorizing with some statement jewellery or belt. If you're unsure of how to wear velvet, then start off with a floor-length dress and add subtle accessories rather than giving yourself a dramatic touch.
How To Wear Velvet Outfits In Different Ways?
If you don't sweat in the day your nights are getting cold, then it's high time to take out your velvet outfits. Or if you are new to velvet and want to add a few pieces to your wardrobe then read the entire blog and pick up your favorite.
Here a few of the most asked questions from you guys.
How do you style velvet?
This entire blog is all about this! But to make it short, you can style velvet in numerous ways. Be it a floor-length dress, suit, gown, top, skirt, or pants. You can use velvet hair accessories and footwear as well.
Can I wear velvet in summer?
You can wear velvet in summer unless the temperature in your country crosses 40 degrees or close. For wearing velvet in summers, pick the lightweight one and opt for something scrappy and loose.
What fabric goes well with velvet?
Velvet is a fabric that gives off very vibrant vibes. If you aren't into full-on velvet, then we advise you to pair it up with delicate and equally mesmerizing fabric like satin, silk or lace.
Here are a few tips and ideas for you before you get lost in luxurious, mesmerizing and royal outfits. Have a quick look!
Velvet Dresses: If you are unsure of how to wear velvet, a dress is one of the easiest ways to wear the trend. Bodycon dresses and skater style dresses are popular designs.
Leggings: They are fashionable and comfortable. Their thickness and texture make them ideal for the colder months. Work a rock chic look by pairing them with an oversized shirt, leather jacket, and lace-up boots.
Accessories: When you do not want to wear too much velvet, go for accessories instead. Hair accessories, jewelry, and even velvet collars are trendy in this regard.
Jackets and Blazers: A sleek black velvet blazer could easily be incorporated into a range of outfits.
Embellishments and Shoes: They are very easy to find and look trendy. Add velvet touches to your outfit in subtle forms. Think velvet-covered buttons or velvet trims. If you want to know how to wear velvet shoes, choose a style that best suits you.
If you are too thin then never forget that a velvet dress adds inches to even the slimmest of hips, given its three-dimensional pile. You can also wear a one-piece velvet dress for a hot look.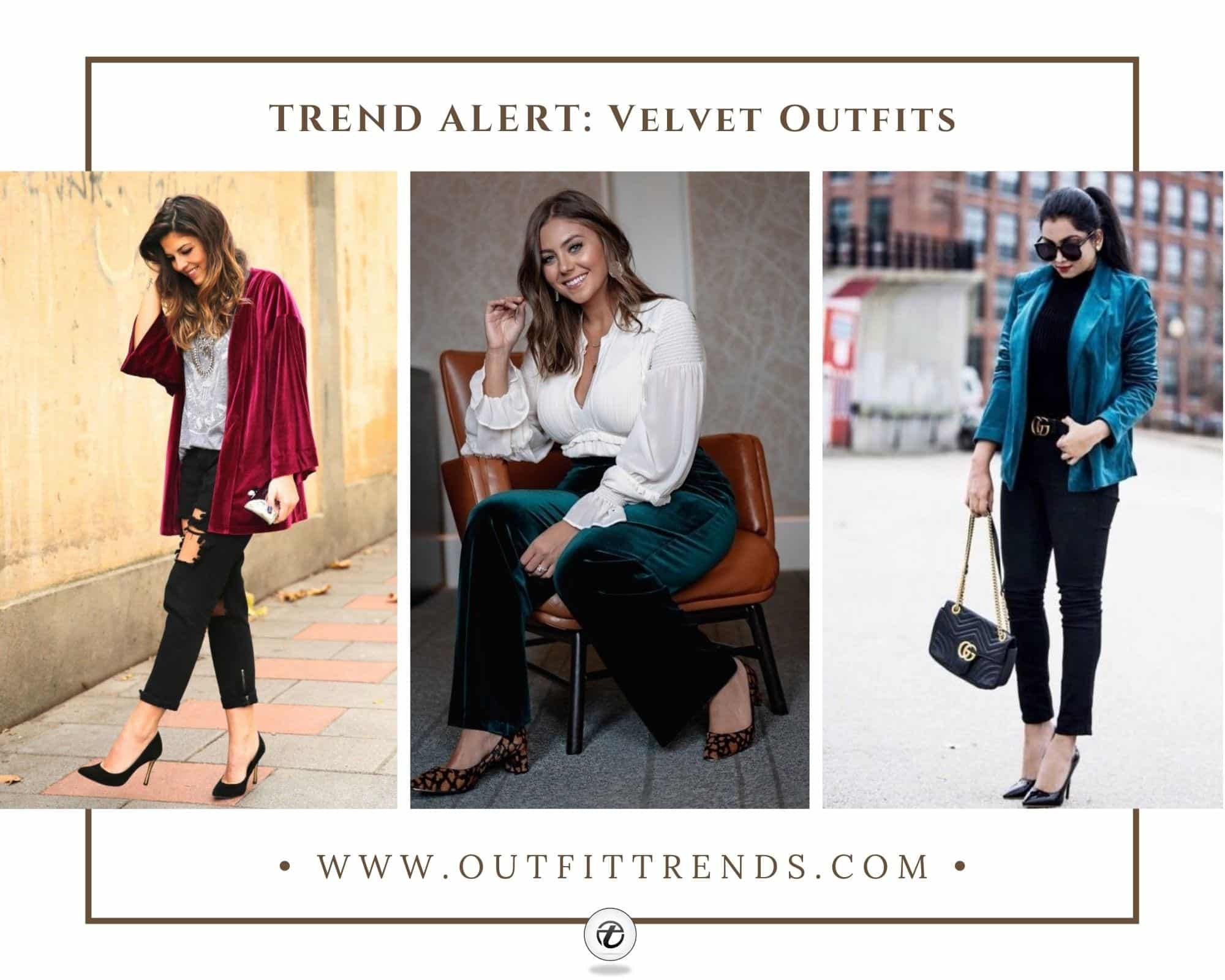 ↓ 31 – Velvet Peplum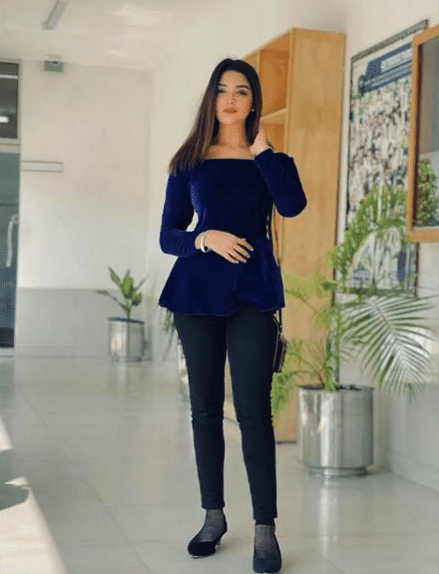 ↓ 30 – Christmas Chillings In Velvet
Nothing screams louder, "Hello December" than Christmas. Isn't it so? We'll Christmas isn't just holiday and chilling time, but it's hard for girls, especially those who want the perfect dress for this day. Let's make it simple for you and recommend you velvet!
You can go with a light-colored sweater underneath and pack yourself in Velvet wide-leg pants and a long coat. To balance your outfit, wear pointy-toe pumps. A leather shoulder bag similar in color to your sweater.
Buy similar items below
Pigalle Follies Pointy Toe Pump CHRISTIAN LOUBOUTIN
Medium Loulou Calfskin Leather Shoulder Bag SAINT LAURENT
Here's another look for you guys. It's highly recommended for girls in their teens as it makes one look younger, cuter and of course stylish. Wear a woolen sweater with dark gold velvet skirt and boots. It's great for staying inside. Forgoing out you might feel the need of wearing leggings underneath and a jacket over it.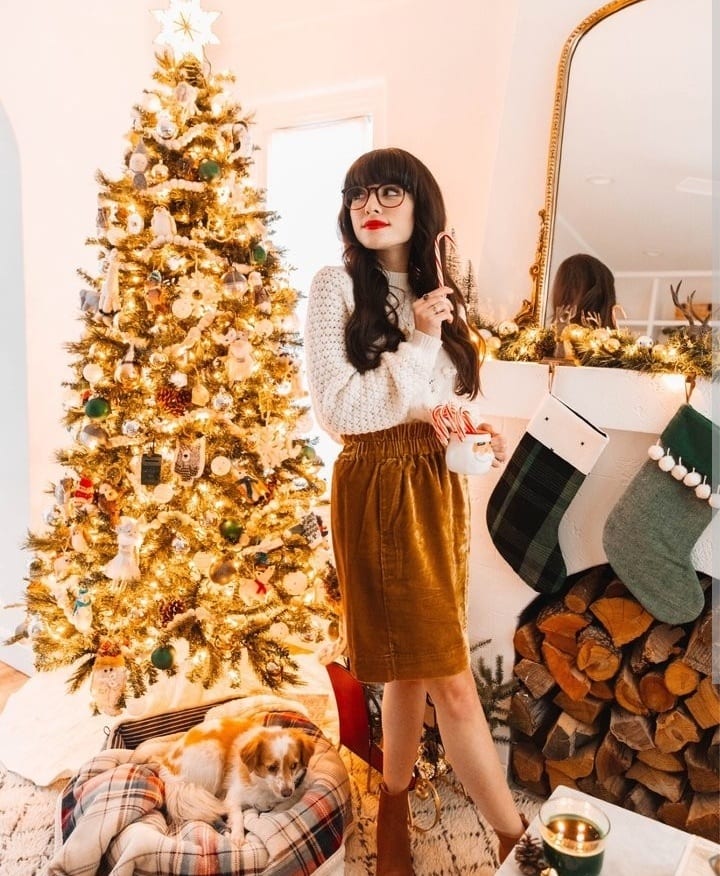 ↓ 29 – How To Style Velvet Pants
Velvet pants add a sumptuous twist to your day wear. Try out a crushed velvet flare pant with top in black. Net sleeves on velvet add a sassy touch. Polish off the look with fringe drop earrings and pumps.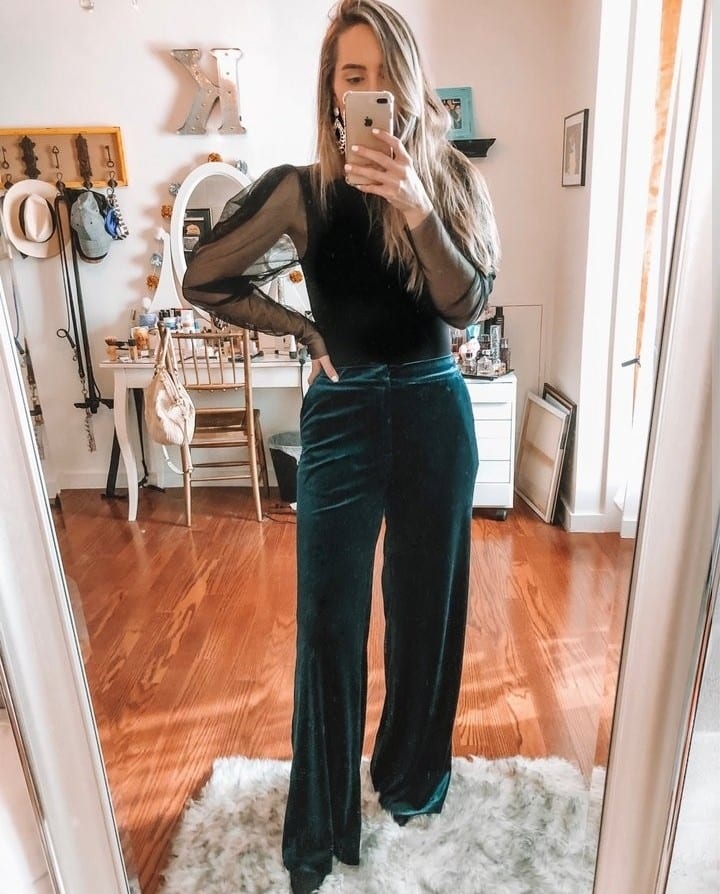 Buy similar items below
LARGE MARIETTE FRINGE DROP EARRINGS $38.00 $15.00
Illusion Bodysuit, Main, color, 001 (1) Illusion Bodysuit
For a casual and not too flattering look wear a white top without any embellishments and tuck it inside your velvet pants. Your outfit is decent enough; hence, you can wear printed footwear.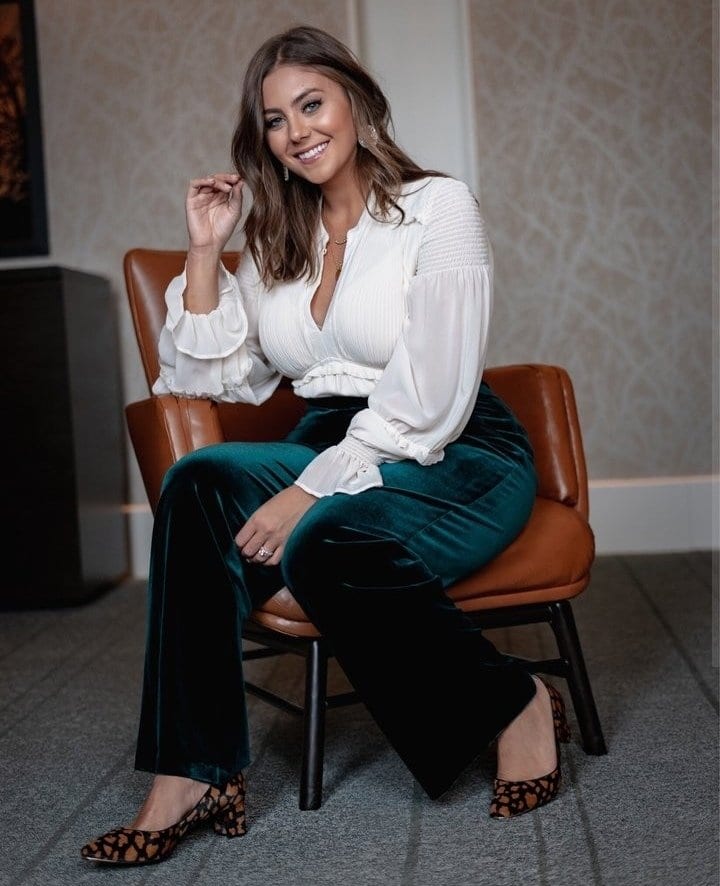 Buy similar items below
Tory Burch ADD TO HEARTS Stella Top $398 retail
HAIRCALF KELSEY BLOCK-HEEL PUMP
↓ 28 – Velvet Blazers
Blazers can help you create a formal look but velvet blazers? Well, they give you not just formal but radiant, elegant and smart girl look. Wear them to your office, preferably in colors like blue, black and maroon. Here are all the ways to Wear Blazers In Summer.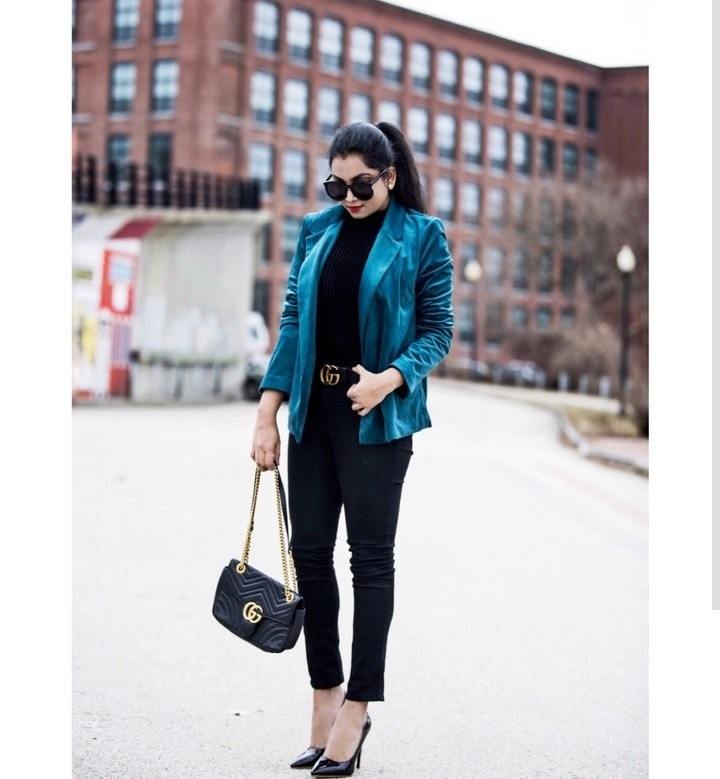 Buy similar items below
WHAT ABOUT US VELVET MOTO JACKET 73092J-Y Write a review $79.90 $55.00
Emma Pointy Toe Pump NINE WEST
↓ 27 – Best Velvet Top
Go casual yet sumptuous in a gold velvet top along with jeans.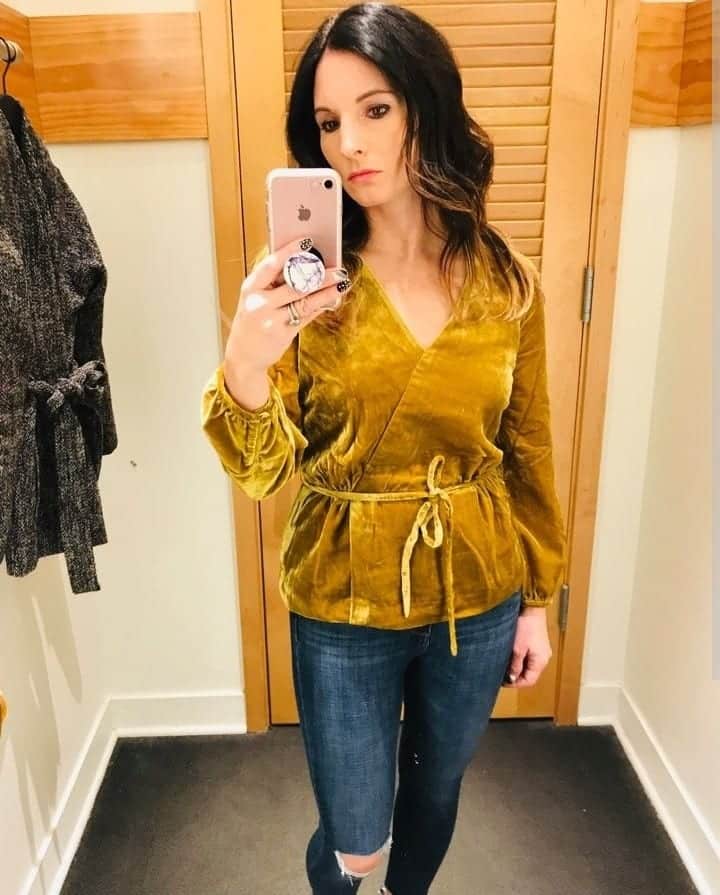 ↓ 26 – Skirt Outfit
Pleated skirts are the hardest when it comes to dressing appropriately and fashionably. But don't worry just like everything else outfit trends has this covered for you as well. Wear a silver skirt with a high green velvet top.
Now, when your dress speaks louder than anything else you don't need to keep your hair open. Tie them in a high ponytail giving your drop-down earrings enough space to shine. Wear heels to give your skirt a little height. Don't for big handbags, a clutch or small shoulder bag will do its work. Perfect for occasions like birthdays, parties, and formal dinners.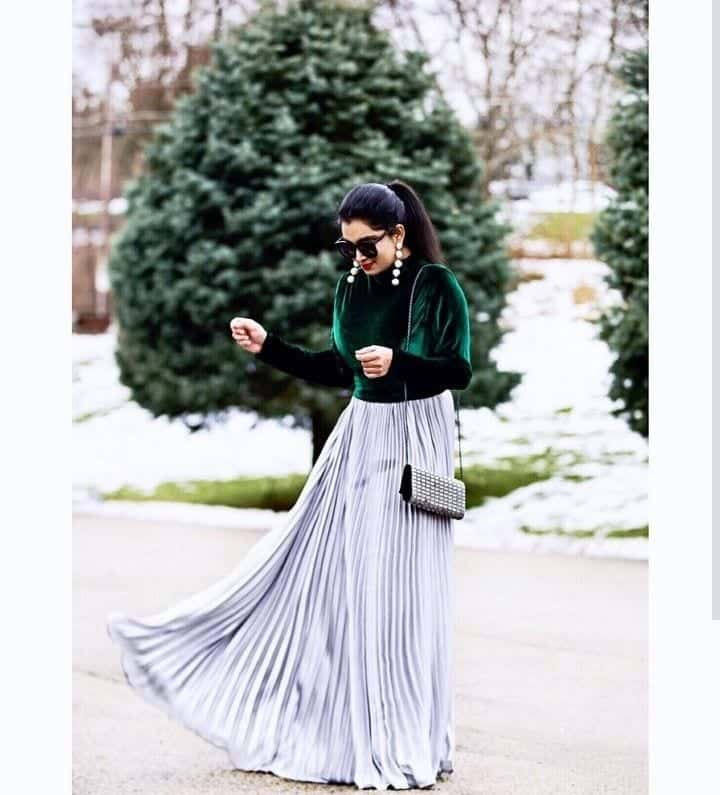 ↓ 25 – High School Look
What do you need the most outfits for when you are young? Weddings? Formal dinners or clubs? Well, none of them become the answer is school and college. To be the style icon of your school, add a few velvet items to your wardrobe. We recommend you wear a striped sweater with navy blue velvet skirt and sneakers. Add a peach coat over this outfit and grab your backpack. Perfect for school after the Christmas holidays!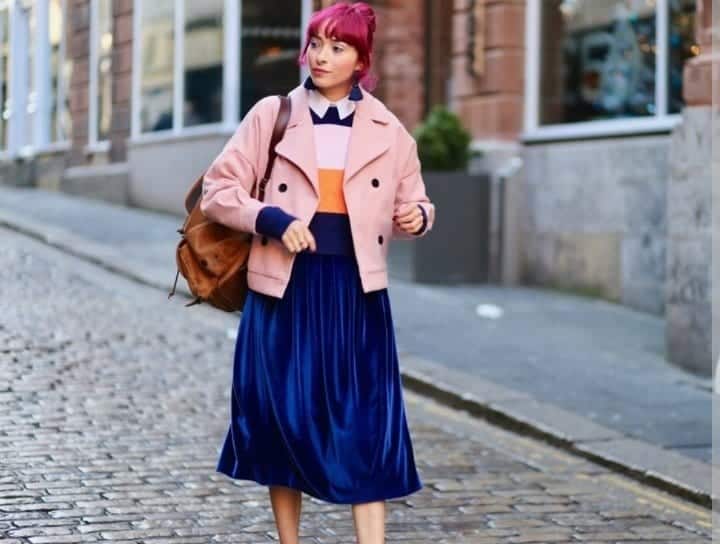 ↓ 24 – For Friday Chillings With Bestie
Velvet wraps! Printed or plain. They are best for cozy Friday movie nights and gossip sessions with your best friend. It's soft on the skin. Stay comfortable and gossip for hours without feeling the need of getting in your night suit.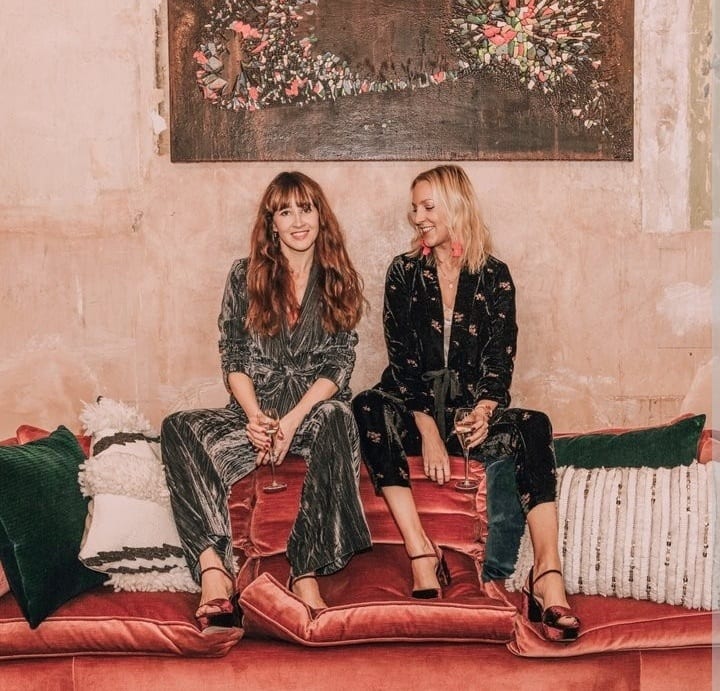 ↓ 23 – Velvet Suit
You all boss ladies need to buy at least one velvet dress and wear it to feel powerful. Impress everyone at the office with your fashion sense. There's nothing better than entering of fire on November Monday in a royal blue velvet suit a double leather belt keeping your outfit together and sassy enough. Wear black pumps, aviator glasses, and cheetah printed bag. Perfect!

Buy similar items below
Standard Original 58mm Aviator Sunglasses RAY-BAN
Crinkle Velvet Jacket and pants TOPSHOP
Silver Bonded velvet jacket and pants is another high street fashion outfit. Velvet and monochrome is the best duo, trust it. Pop it up with red velvet stilettos. Add delicate jewelry like chain and hoop earrings.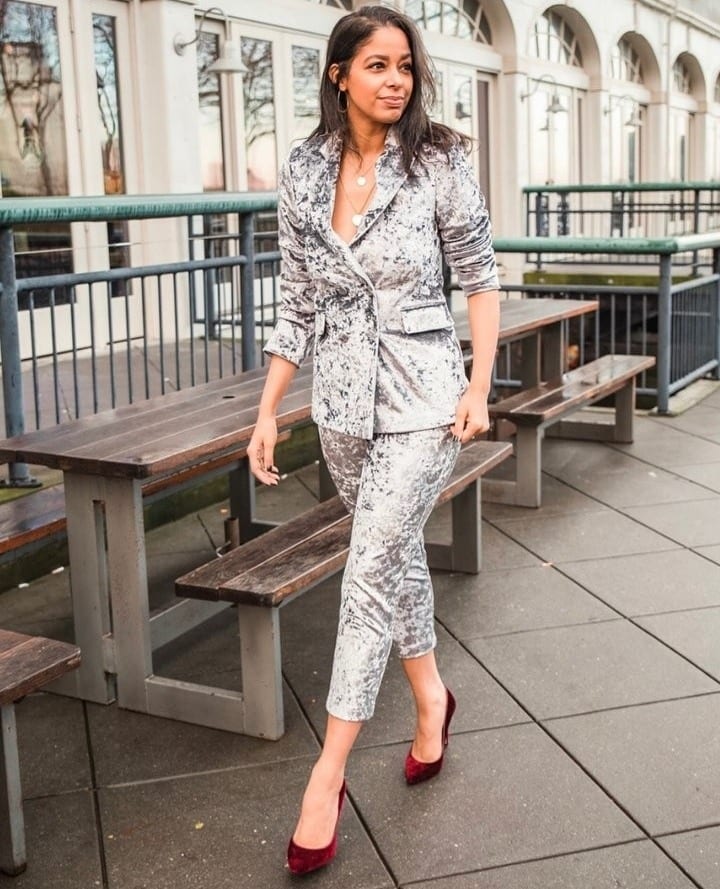 Buy similar items below
Bonded Velvet Jacket Now $40.00
Bonded Velvet Trousers Was $85.00 Now $24.00
↓ 22 – Floral Velvet Top With Highwaist Pants
Velvet isn't just for formal occasions. Wear a printed velvet top along with denim high waist flare pants for a casual look. Faux suede mule booties, hoop earrings, and sunglasses will assist in finishing off the enchanting look.

Buy similar items below
3-Pack Hoop Earrings BP. price per 2746.46
Faux-Suede Mule Booties for Women $39.99
↓ 21 – For Plus Size Women
Velvet does add a little volume, but it doesn't mean plus size women can't wear it. A velvet wrap top in smoky spruce looks thrilling when paired with Bennet black jeans. Add some accessories like a watch and ring, and you are all set for a not too formal day ahead.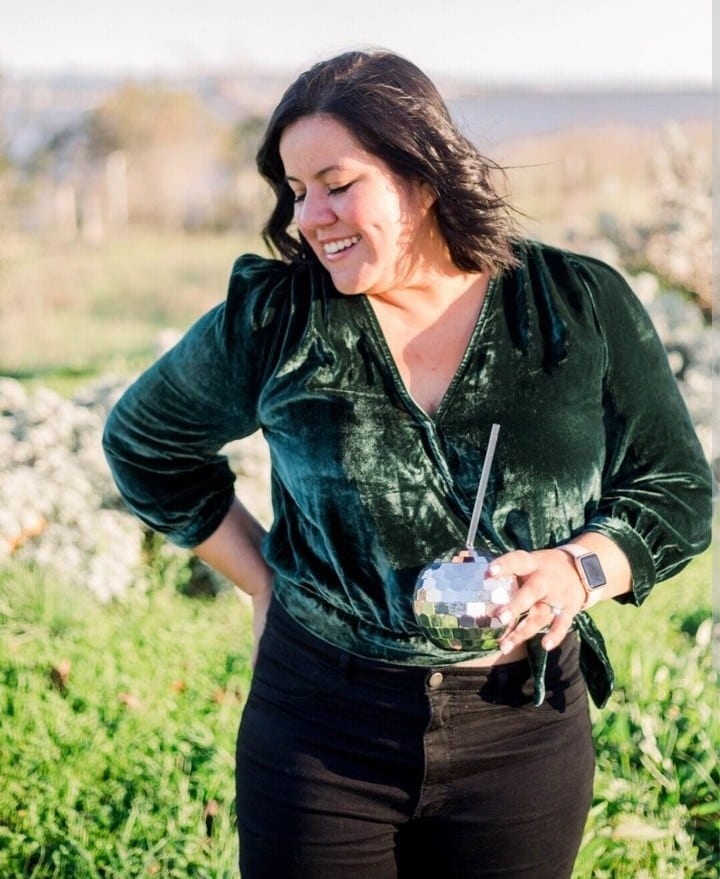 ↓ 20 – Sexy Bedazzled Outfit
Wear it at a wedding or some evening event. This outfit will look very sexy. A trendy sequined crop top with blue velvet pant looks impressive on all body types. Pair with high-waisted flares, skirts or pant, or wear it as a stylish topper for an outdoor wedding.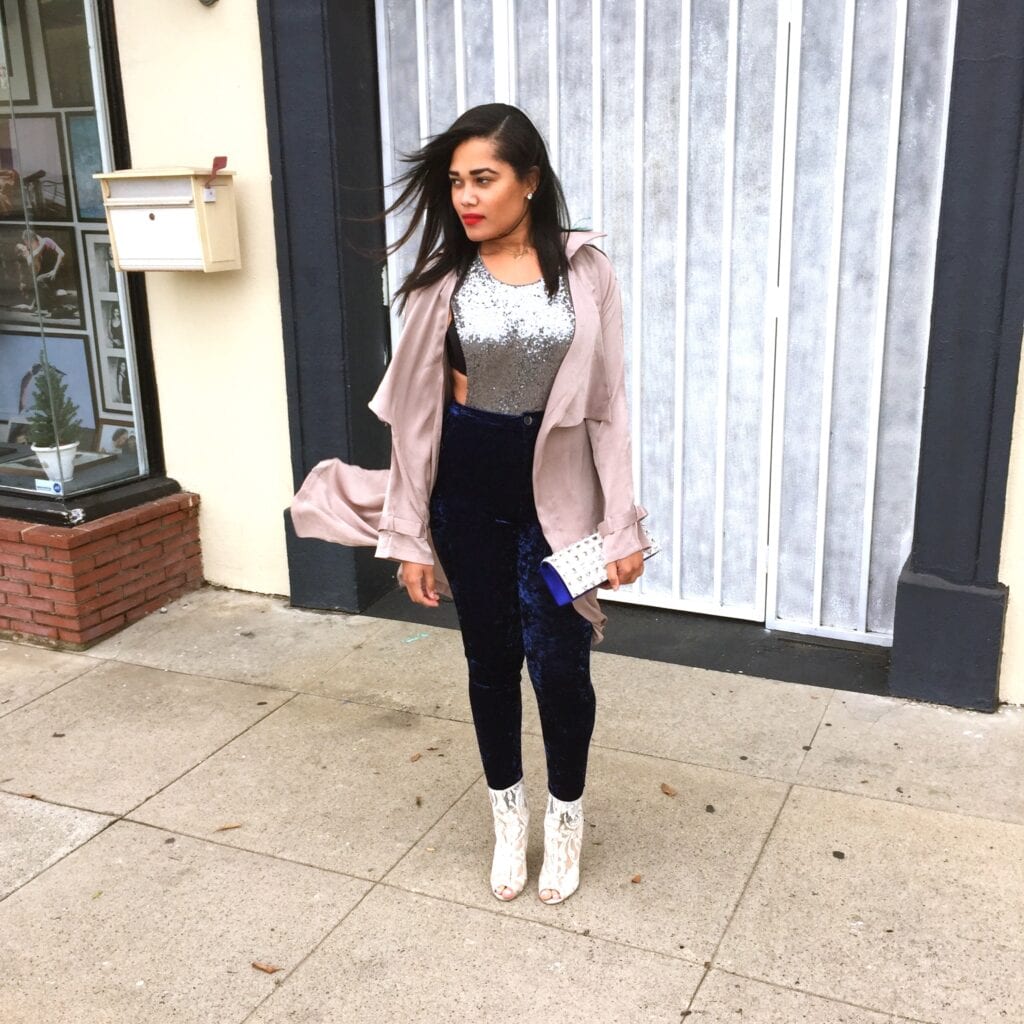 ↓ 19 – Classic Velvet Cardigan With Ripped Jeans
These are very comfortable and easy to wear things that can be used with any outfit. Add some statement jewellery to look glamourous. Black pumps look more stylish with this outfit. Here are some more fabulous Outfits with Ripped Jeans.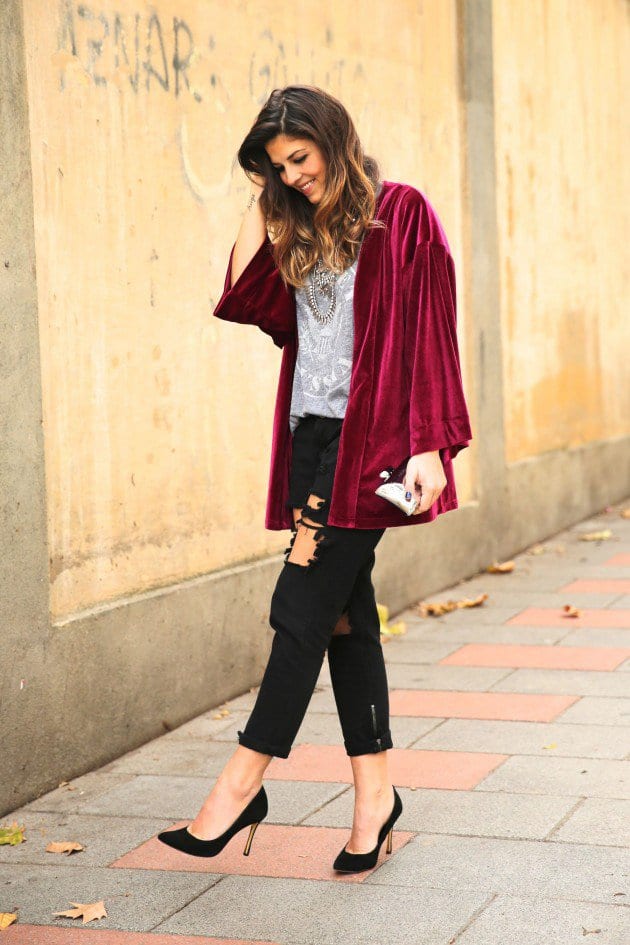 ↓ 18 – Sassy Velvet Outfit
Patched skirts are very much nowadays. Pair up your work outfit with a patched velvet skirt and look sassy. Bright blue color pumps enhance your look.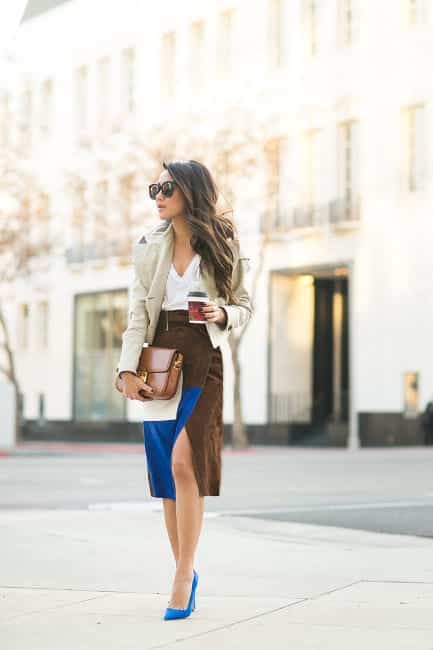 ↓ 17 – Street Style With Velvet Dress
This patchwork skirt is composed of velvet and suede. It will gift you a totally original look this fall. A mix n match combo of the leather jacket looks very modern, though.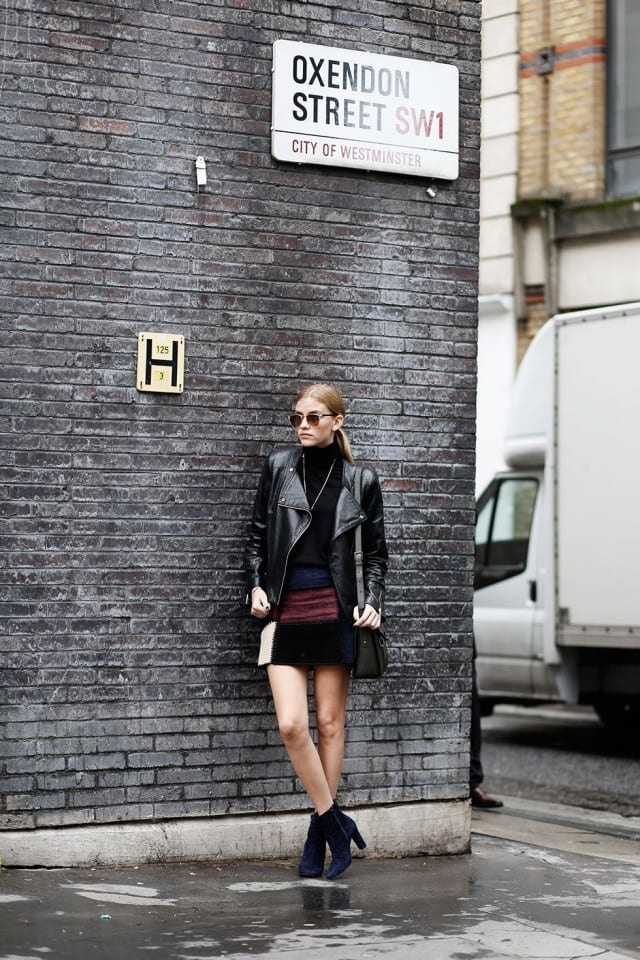 ↓ 16 – For Part-Time Working Students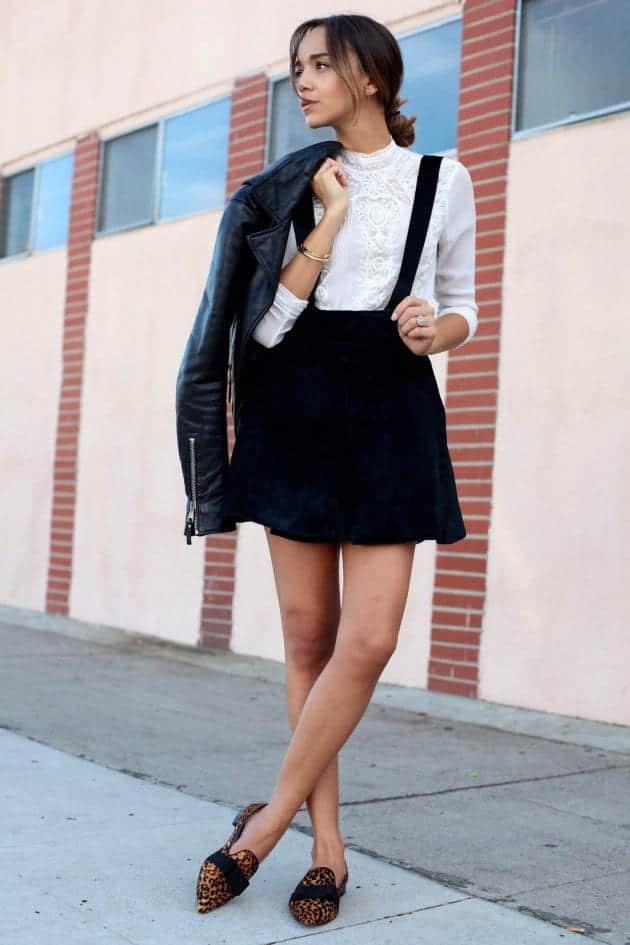 A white blouse with a leather jacket and mini skirt gives you a complete cute college girl look. Animal print flat pumps look amazing with this look. You can also perfect the tomboy look with dungarees that are stylish and easy to carry.
↓ 15 – Trendy Velvet Suit For Working Women
There are tons of velvet pieces out there in beautiful jewel tones like emerald green and royal blue that can make such a stylish impact. Even a ruby red velvet suit looks effortlessly classy at the office or formal meetings.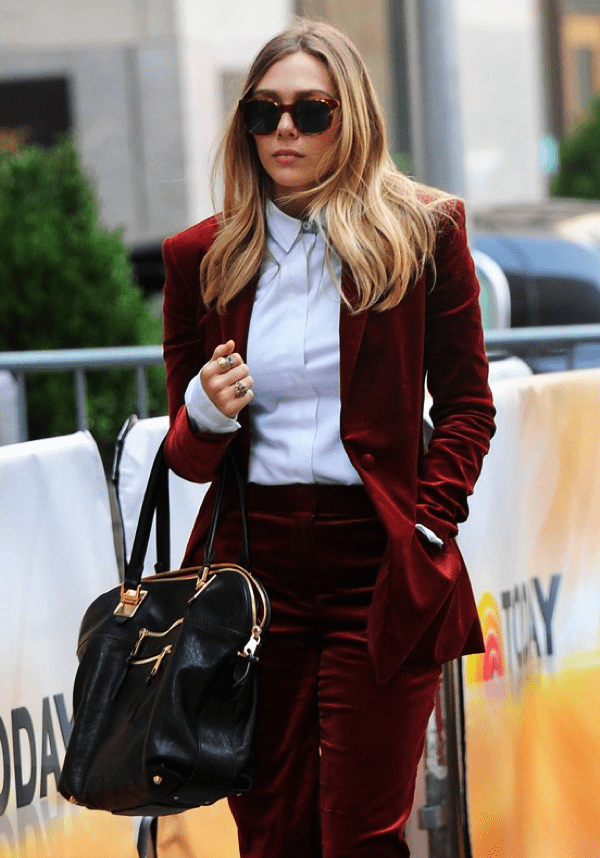 ↓ 14 – Stylish Winter Outfit For Girl
Velvet also works well with classic wardrobe staples. The best way to wear something you're unfamiliar with is to pair it with non-trendy, classic pieces like opaque tights, denim, and basic cotton shirts.
↓ 13 – Trendy Formal Dress
Since velvet is a visually heavy fabric, pair it with more delicate fabrics for balance. Choose a classic velvet blazer and make an outfit that would be appropriate for the event and look classy as well.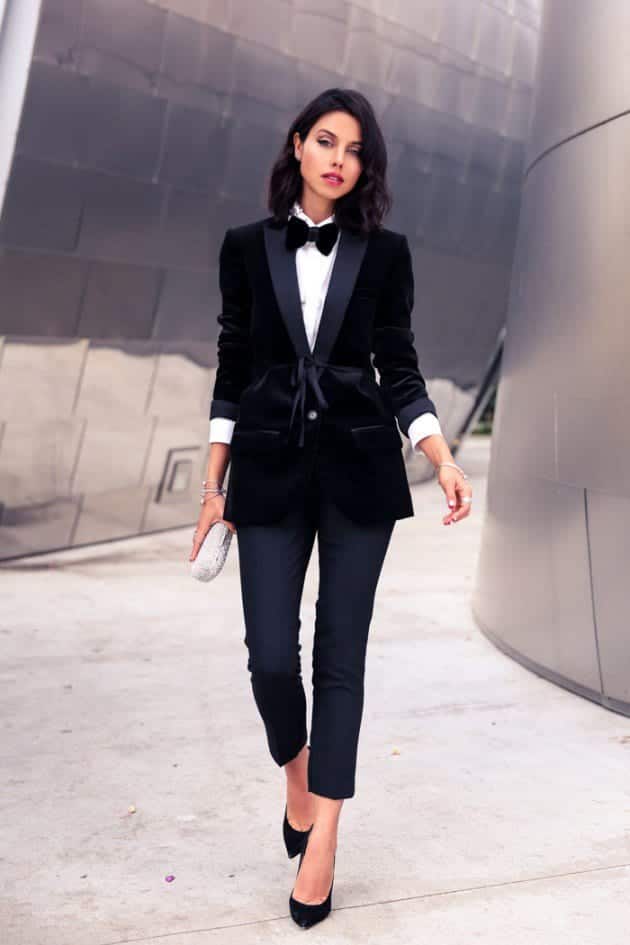 ↓ 12 – Classy Black Outfit For Fall
Think beyond formal wear, though it gives a lavish look. Try and wear velvet in an everyday look to adding a glamorous touch to any outfit. Here are the best Celebrities All-Black Outfit Styles for Fall to Copy.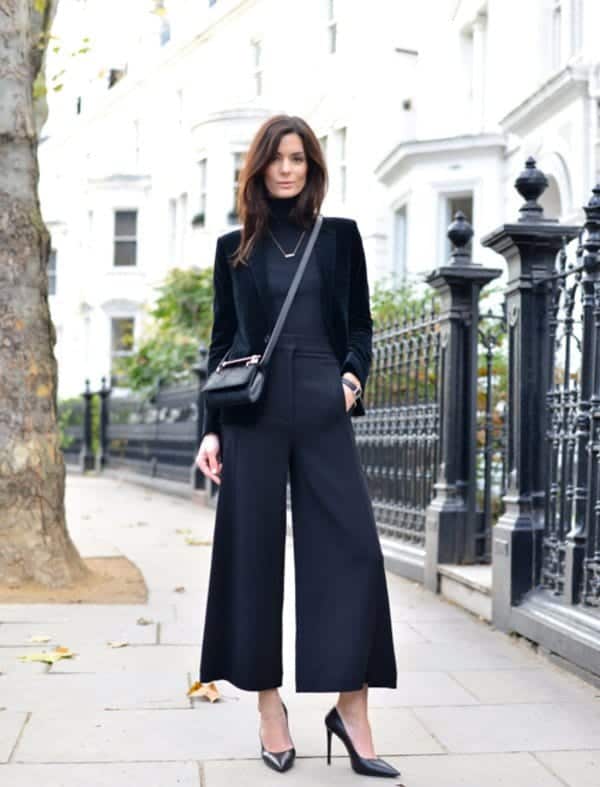 ↓ 11 – Vintage Velvet Blazer
This look is both unique and perfect for the upcoming winter. This is a high-impact day look for girls and women for both semi-formal and casual activities.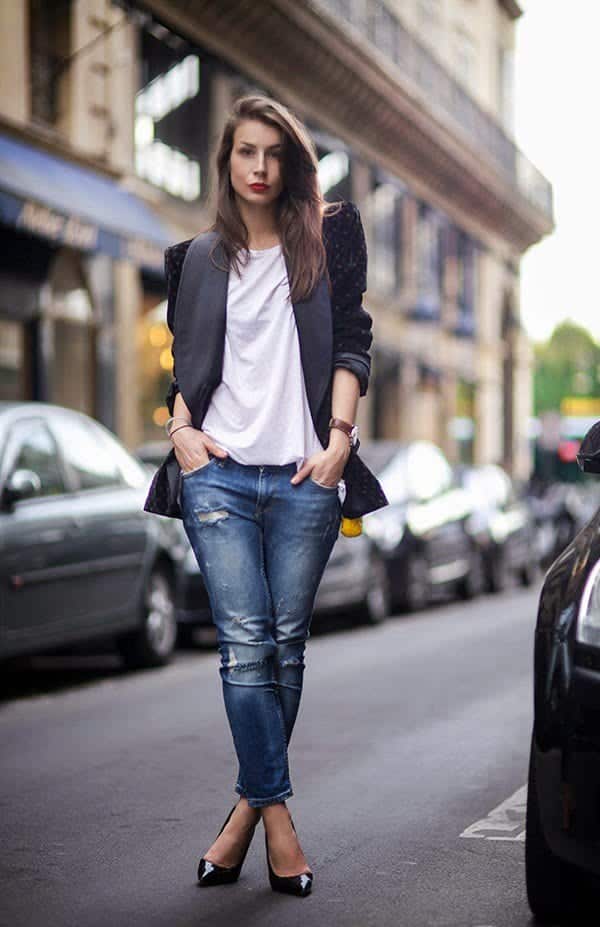 ↓ 10 – Sheer Velvet Top
This is not necessary to wear full velvet dress, velvet embroidery is also very stylish and also look fabulous. A sheer top with matching embroidery color with blue denim and hat is a must-have.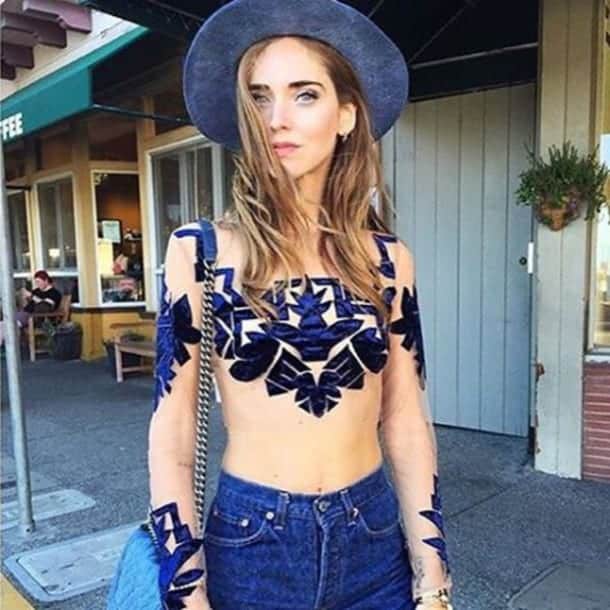 ↓ 9 – Glamorous Date Night Dress
A fashion look featuring sleeve maxi dress, suede leather shoes, and a clasp is fantastic for formal evenings.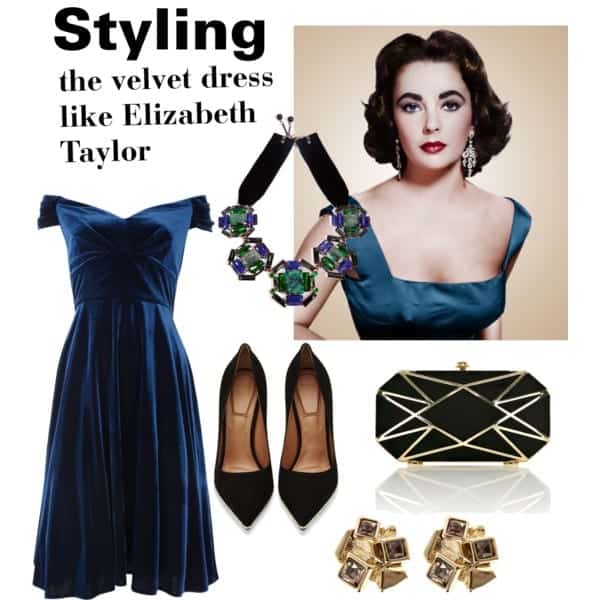 ↓ 8 – Easy Casual Dress Idea
If you think that you don't feel bold enough to make a statement with a velvet dress, then you can choose to wear a velvet top, blazer, pants or some such skirt.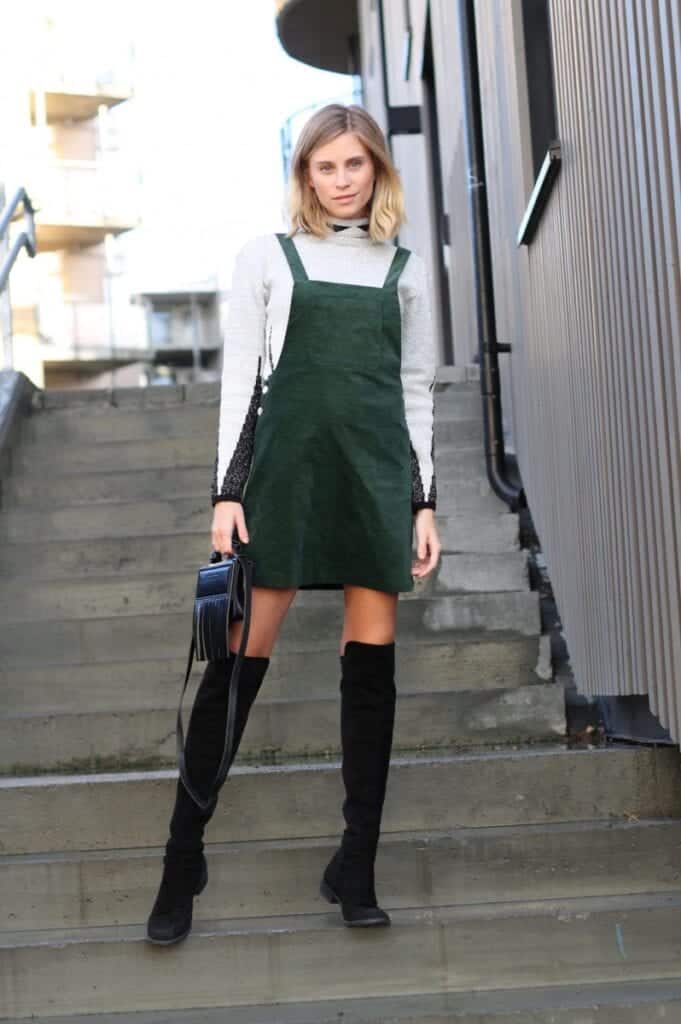 ↓ 7 – Sexy Double Shade Gown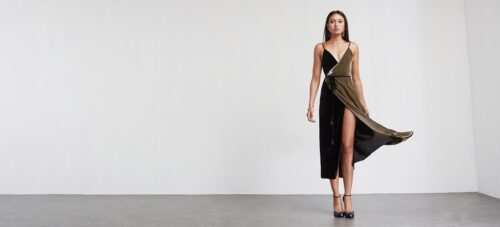 ↓ 6 – Red Carpet Look In Velvet

↓ 5 – Green Velvet Outfits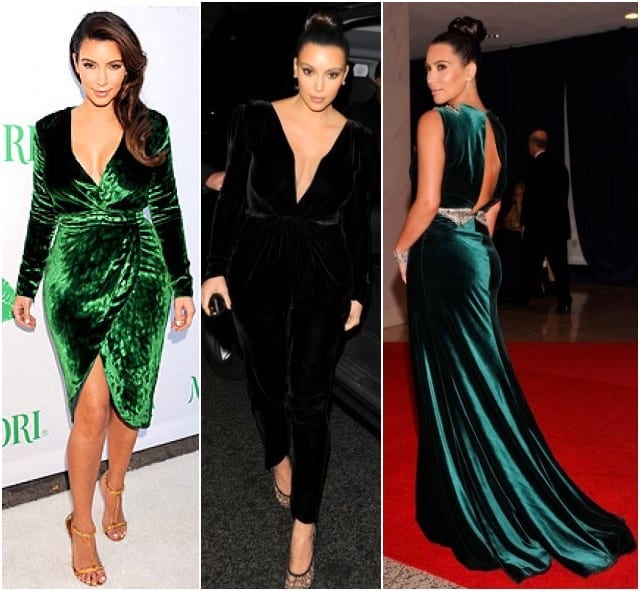 This plush garment may give you some more ounces, but a sleek and perfect fit can be utilized to look more stylish and trendy. Just choose the best fit.
↓ 4 – Glamourous Evening Outfit
Dark shades of velvet are preferable than the bright ones. Pair your sexy slit wrap upskirt with a pink nude color deep V-neck for a perfect evening head-turner look.

↓ 3 – Cool-Girl Outfit
For one of the hottest looks for this winter pair your flared dress with sheer leggings. The college girls can rock velvet.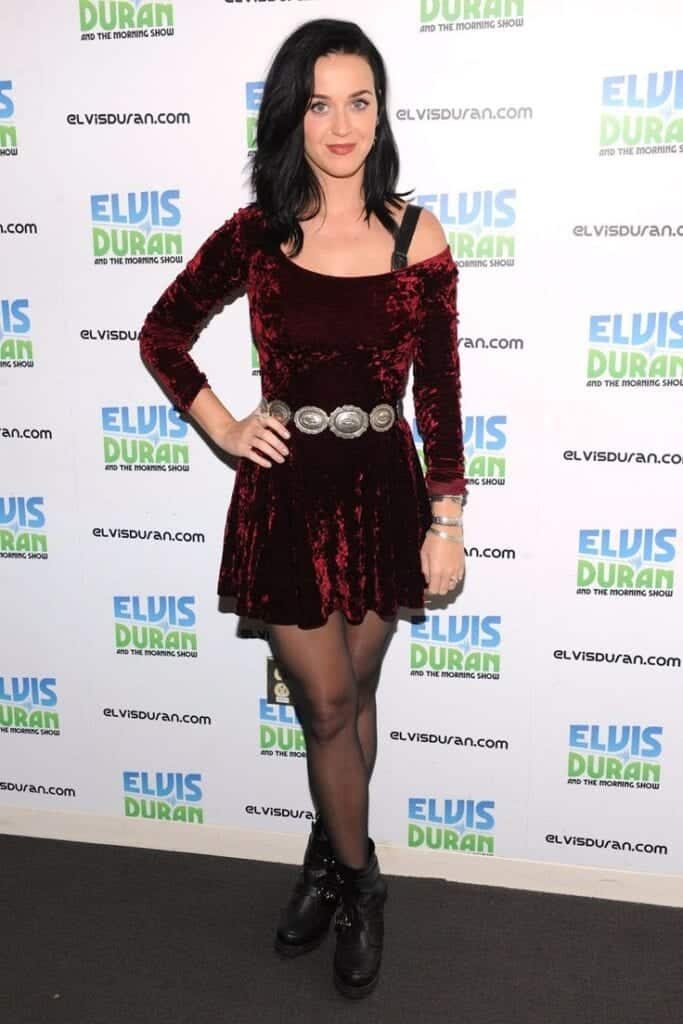 ↓ 2 – Cute Casual Outfit
This fabric can make a statement no matter of its colour. The easiest way to pull off this fashion trend is to wear a velvet dress with a single colour or light colour which can go effortlessly fuss-free.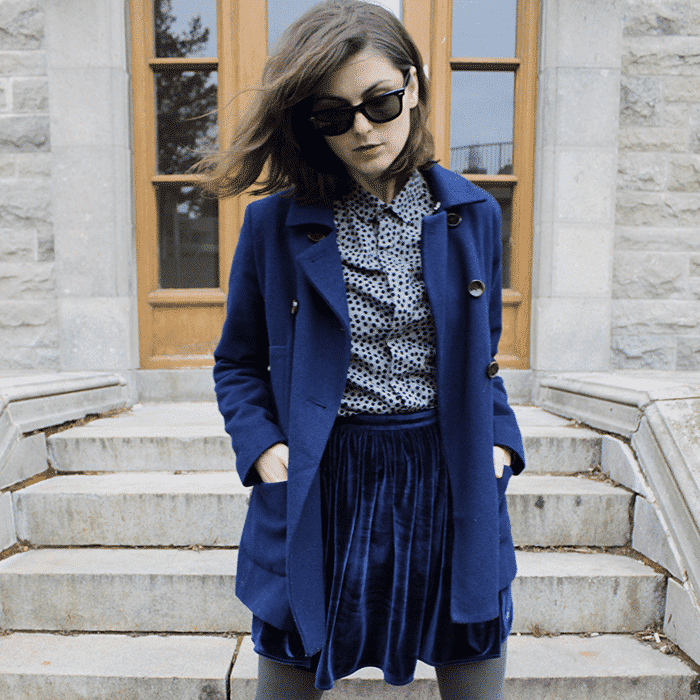 ↓ 1 – Velvet Outfit For Women 40 Plus
Velvet blazers are a must-have for winters. Being 40 plus you need not worry about your looks if you can put on things with style.