Outfits with Printed Pants Printed pants look like a bold fashion statement and something people usually stay clear of. But printed pants are still in fashion and anyone can rock them with the right choice of top and confidence. So, it's now the right time to hit the stores and fill your closet with prints because why go with plain and boring clothes when you are an extra queen yourself?
Printed Pants are something that you can wear with absolutely anything, be it a plain top for casual days or tailored shirts for office days. They can be in design and in any print, the right top will make it all chic and vibrant for you.
What To Wear With Printed Pants
Many people want to wear printed pants but they aren't too sure about how to carry them. Are you one of them? If yes, then you don't have to panic anymore! Now, you can wear printed pants without looking overdressed. Here are a few tips to keep in mind when wearing printed pants
Firstly, there are no rules in fashion. So, go with whatever you feel like and are comfortable in.
Printed pants are so versatile that they could be your pajamas as well as the outfit for your next day meetings.
While wearing printed pants always choose the print according to your body size that is horizontal prints for chubby people and vertical prints for skinny people.
When wearing printed pants always try to pair them with a solid color to add some balance.
Whenever you're in a mood to dress up fresh without being over the top, printed pants are your friend.
Avoid wearing prints on prints unless you're 100% sure that the look will work.
Wear neutral color footwear with printed pants for a chic look.
Don't use too many accessories with printed outfits.
Here is your perfect guide to help you wear printed pants this season. We have compiled 24 ideas to help you style up in printed pants easily and comfortably.
↓ 50 – With Solid Colored Peplums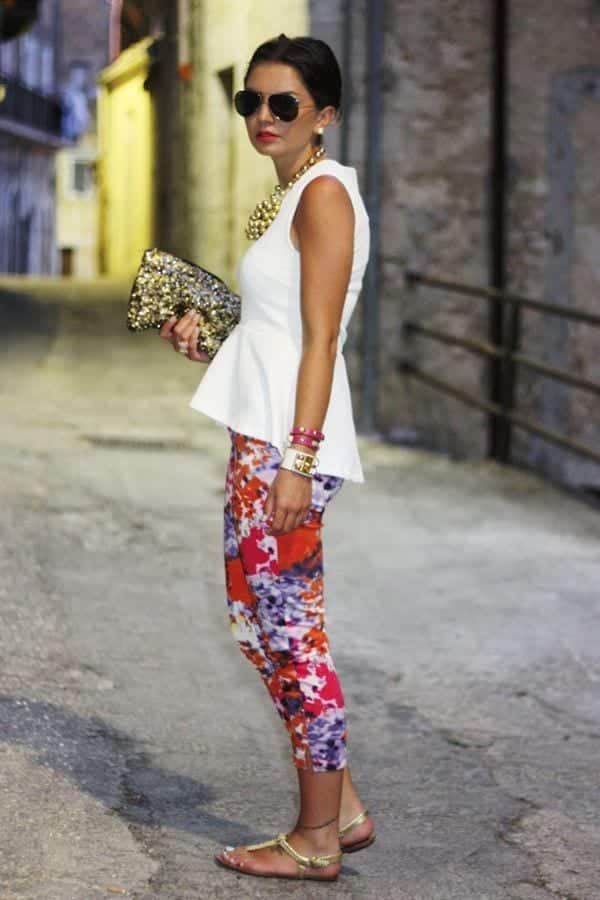 ↓ 49 – With a Black Top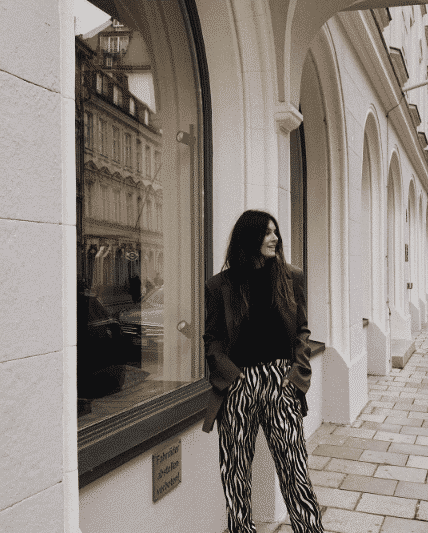 ↓ 48 – With Plain White Shirts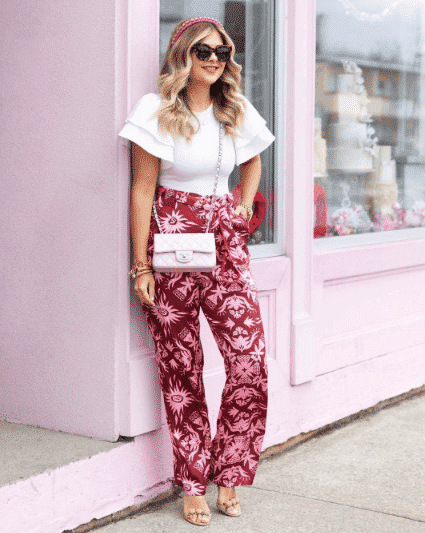 ↓ 47 – Sunday Style In Long Coat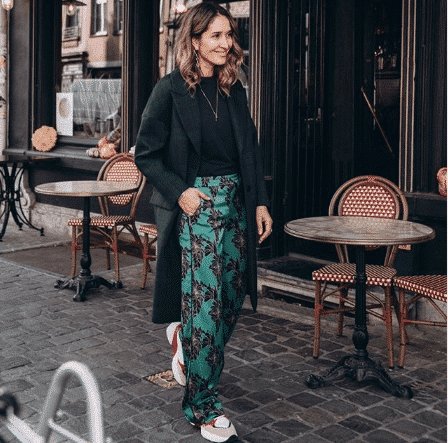 ↓ 46 – With A Blazer For Work
Prints pack a punch, patterned trousers liven up an ensemble and elevate your office attire to a whole new level. When wearing prints to the office keep the focus on the print. It should look refined and polished and not screaming five different messages. For office wear, use a plain shirt preferred in a neutral color and a blazer over it, the blazer can be in a different solid color that matches at least one color or shade in your pants or in the same print as your pants. Use minimal accessories or none because your dress will speak on your behalf. Here are some more cool ideas on What to Wear with Printed Blazer?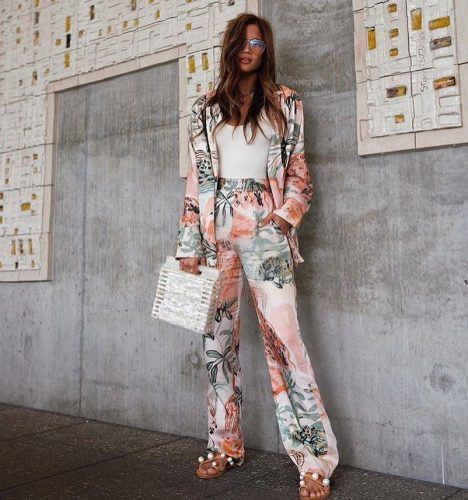 ZARA LIMITED EDITION MINI MOTHER OF PEARL LOOK TOTE BAG $90
↓ 45 – In Monochrome Style
An easy and stylish way to wear an outfit is to stick to monochromatic pieces. Something in different shades of the same color, isn't it interesting? Well, the joy of a monochromatic color combination is that it will work with virtually any color. Monochromatic styling is not limited to only plain colors if you think so, create a unique piece by adding prints to it. Use a check, stripes, floral, animal and geometric prints and enjoy the outfit. So go ahead and create this look with any of your favorite printed palazzo or wide leg pants. For some inspiration, you can check out these 28 Modern Ways to Wear Palazzo Pants with other Outfits.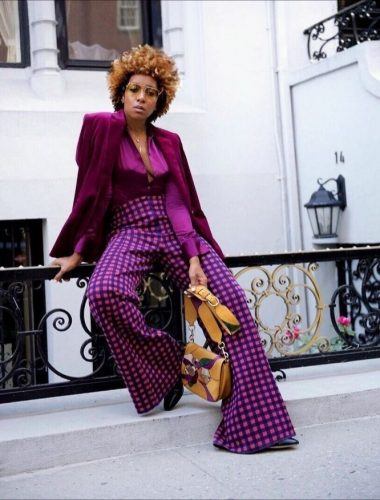 ↓ 44 – In Boho Style
Be the fashion risk taker and fill your wardrobe with prints. Try out the boho style. Tuck your shirt in your stylish pants and use statement jewelry. A rough hair bun will really compliment your look. To complete your attire test something contrasting and divergent and wear footwear in the same print as your shirt. Woho! Create your own fashion statement and be a fashion inspiration for many people around you.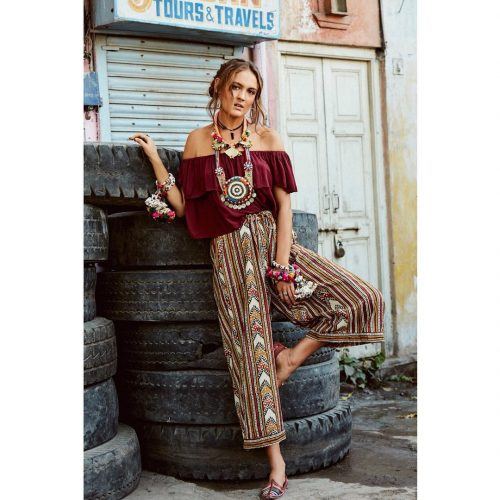 ↓ 43 – With Solid Colored Tops
Florals for spring? Groundbreaking. They are fun and make you look super beguiling. Printed pants are definitely a huge hit trend nowadays. They look extremely compelling and urbane no matter what you wear with them. Printed pants are ideal for summer and spring season as they are so lively just like the season itself. You can literally wear them with any sort of top. If you are not in the mood of wearing a whole printed outfit then try out casual tops or tees with them. Accessorize your outfit with some smart jewelry that may include chain and bracelets or bangles. Small studs will work great without any doubt. Put on your sunglasses and there you are, all set mesmerizing and gripping.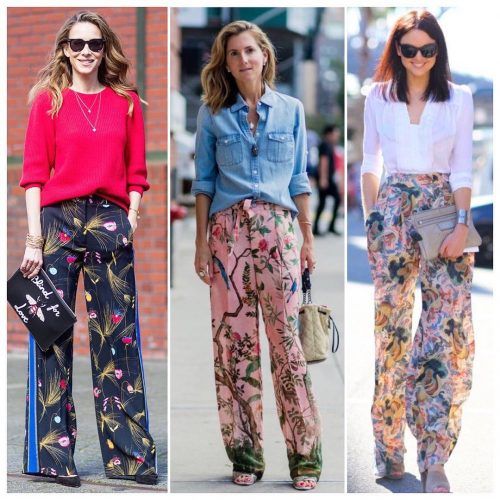 If you find solid tops too boring or mainstream, you can always opt for statement sleeves to spice things up a notch.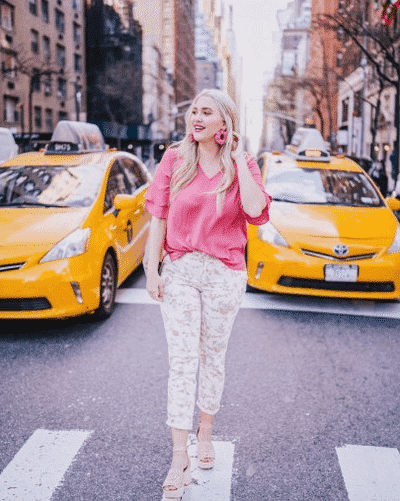 Go ahead and steal this fabulous look, from head to toe in under $ 265!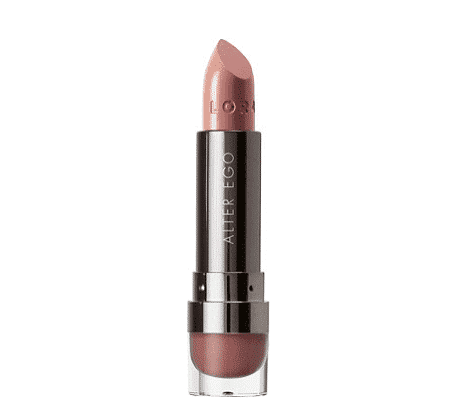 LORAC Alter Ego Lipstick $ 18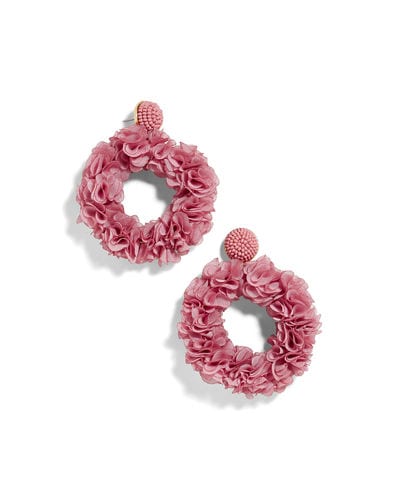 BaubleBar Camellia Flower Hoop Earrings USD 38.00
indigo rd. Jordie Wedge Sandals $ 59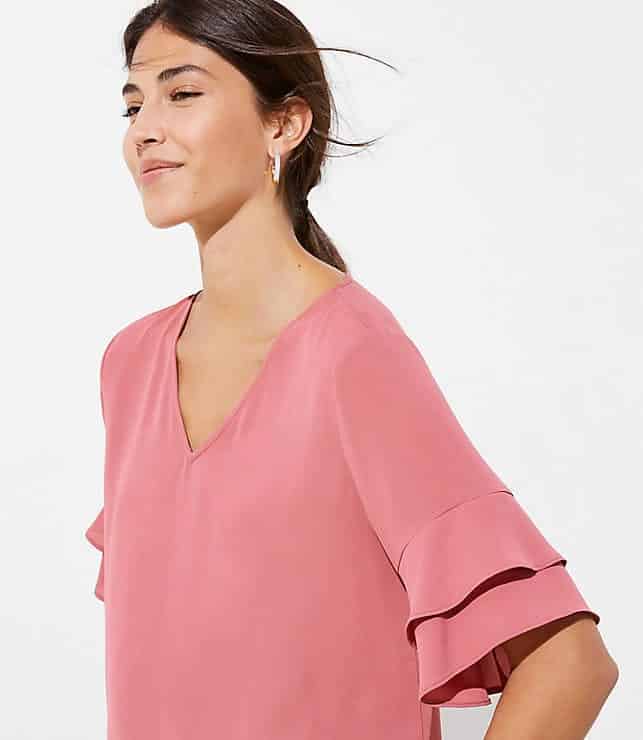 TIERED BELL CUFF TOP $65.40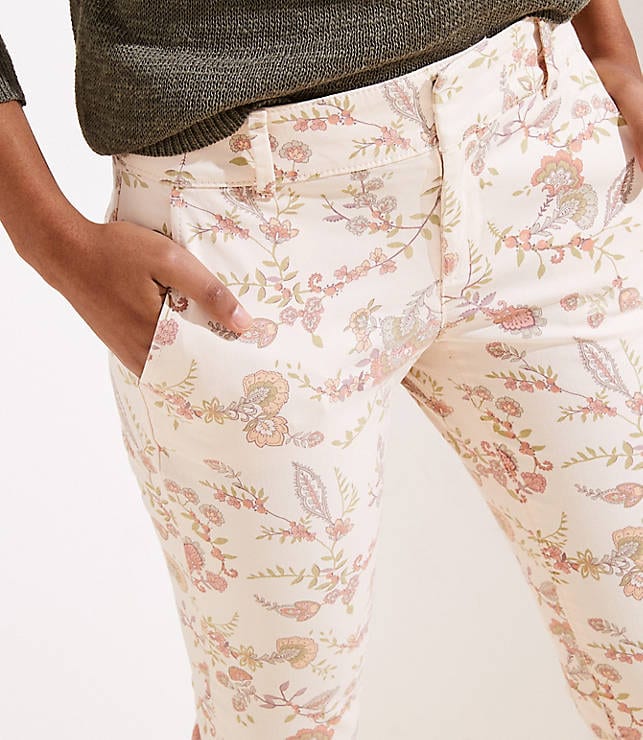 ROLL CUFF GIRLFRIEND CHINOS $83.40
↓ 42 – With Check Prints
Printed pants are a perfect way to add life to your closet. While talking about prints how can we even forget our favorite check prints in this regard? Are you in a hurry? Is it the last minute plan out with your friends? Are you planning on canceling out everything because you don't have the clothes? Relax! Take out your checkered pants and a neutral color shirt or a sweatshirt from your wardrobe. If you feel incomplete grab your denim jacket as well. Go for a high pony and wear boots or casual footwear. An advantage of wearing prints is that you don't have to worry about accessories, great if you're in a rush. The print will carry your outfit.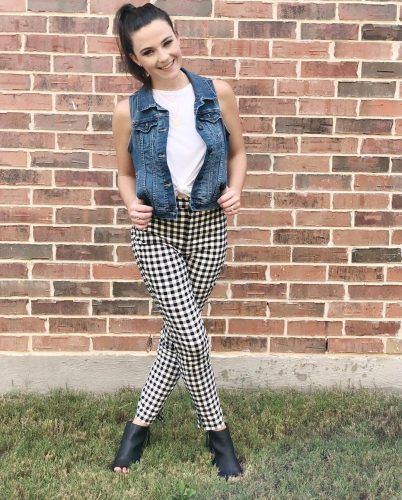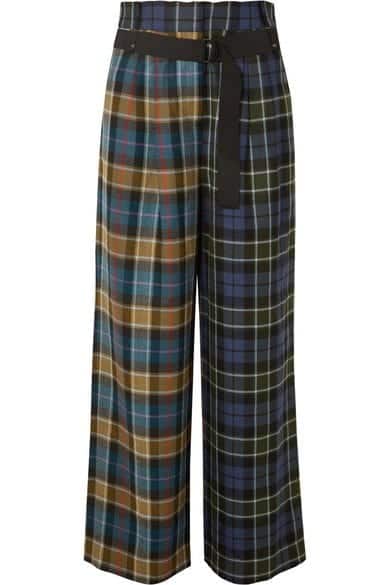 TIBI Stella tartan wool pants $595
↓ 41- With A Bold Off-shoulder Top
If you want something vibrant and bold then go for a complicated printed pant teamed with a bold color top. They will make you feel alive, happy and unquestionably fresh. If you're ever stuck trying to figure out what color blouse you should wear with your patterned trousers, select one in the same color family as your pants. Bold colors like yellow, orange, red, etc look fetching and snappy in summer and spring season. If you are wearing a bold crop with your vibrant pants then a little jewelry is never going to disappoint you. Depending upon your need choose your footwear. If you are dressing up for a very casual event or meeting your friend then sandals will do all the work for you. And if not pick up heels or wedges matching at least one color in your dress.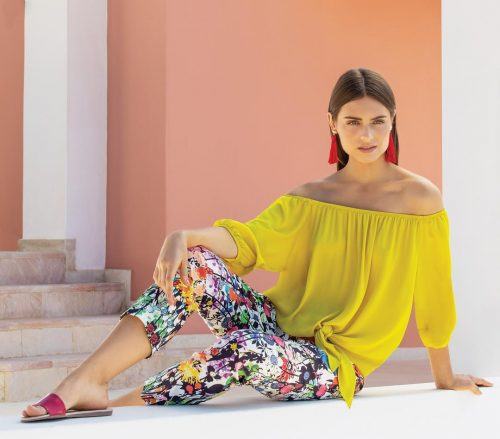 ↓ 40 – With Neutral Tops
Simplicity is the keynote of all true elegance and neutrals never disappoint while opting for something simple and elegant. For printed pant, you can wear the same matching top and in case this is not your style type and if you think that is a little too printed for you then you can pick one color from your stamped pants, the lightest shade is recommended and wear that color's top. Remember you don't want to wear two different print unless you're performing in a circus. Printed pants can also be paired with other staples, tops in neutral colors you certainly have in your closets such as casual shirts, t-shirts, blazers, and knits.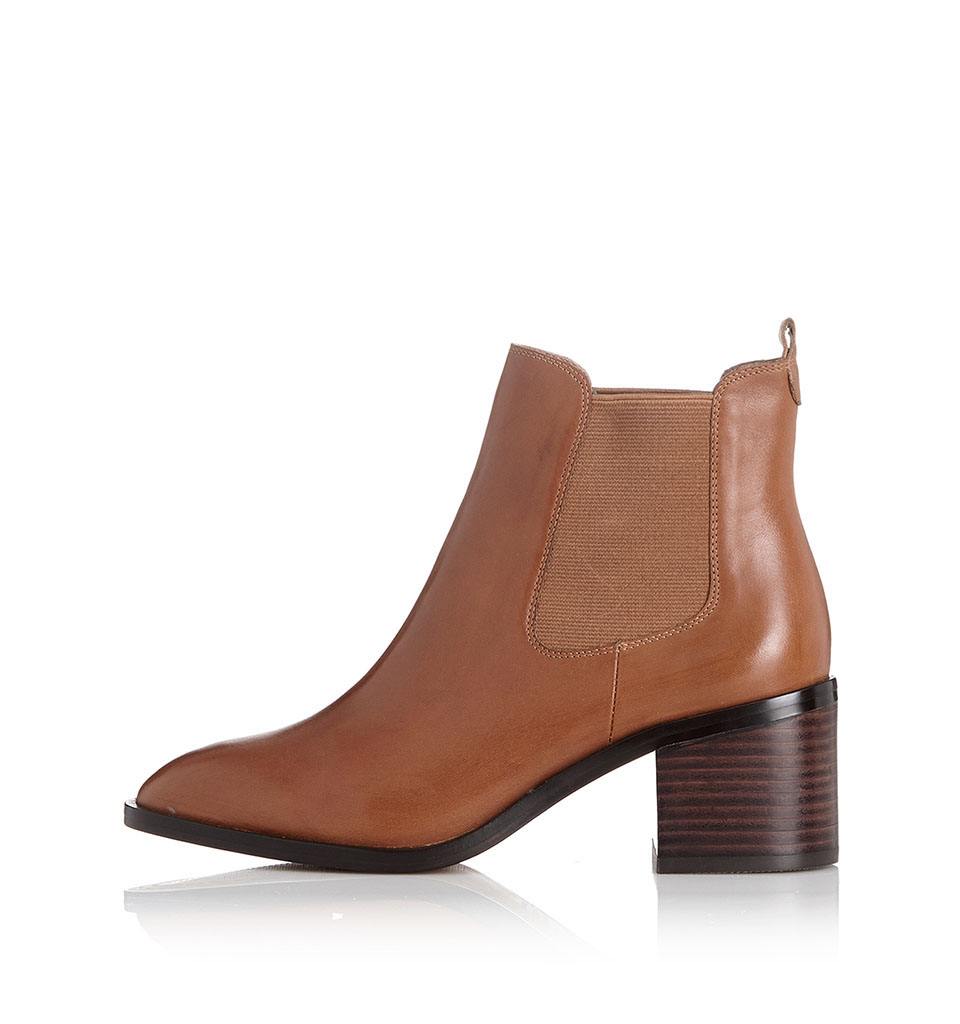 ALIAS MAE GAIA $239.95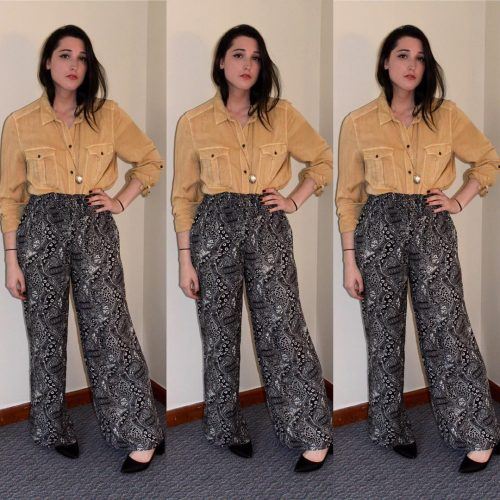 ↓ 39 – With Geometric Prints
Girls, it's time to channel your inner feelings with your pair of printed pants. Make a statement by walking in pants that are more than just a dull pair of cover for your legs. If you're bold go for that geometric print. Want to be that '90s gal? Take out your block print pants. The options are limitless.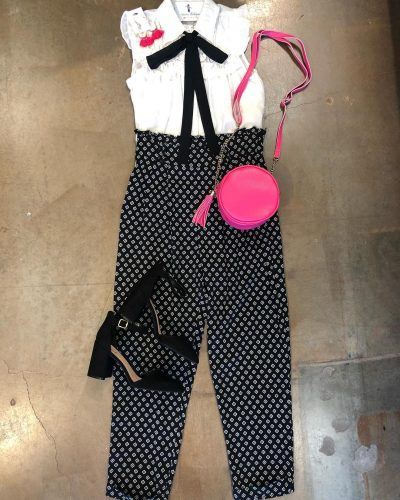 ↓ 38 – Printed Pants For Summer
The style is a deeply personal expression of who you are and every time you dress you are asserting a part of yourself. Let it be thrilling and refreshing. Summer is full of life. We see bright colors everywhere; in gardens, on faces, in festivals. So, why stop when it comes to what we're wearing? It's time to bring out your brilliant, eye-catching outfits and enjoy the summer air. Here are 23 Ways To Wear Camo Pants Stylishly.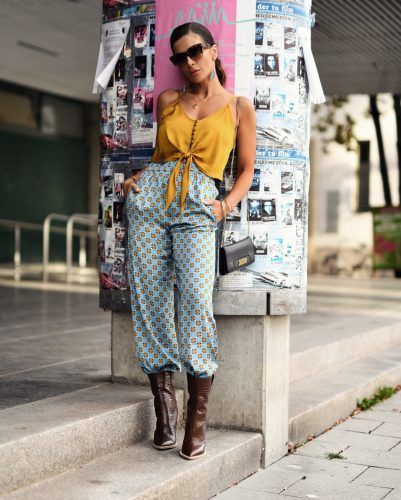 ↓ 37 – With Crop Tops
Printed pants and crop tops go hand in hand. The two complement each other like coffee and books. Either get a matching top or any monotone crop top to put emphasis on the pants and show off your cool vibes and great fashion sense. Check out these 25 Cute Ways to Wear Crop Tops This Season.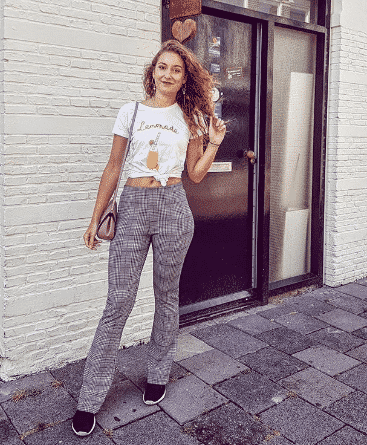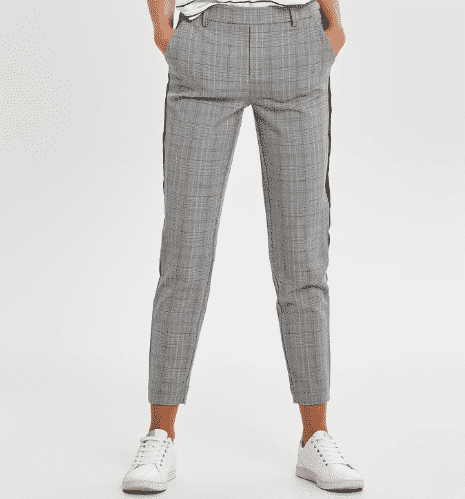 ↓ 36 – With Printed Tops
Cover yourself in one print from head to toe and go out making a bold statement. It's like wearing a dress with legs. This look is perfect for any moment or event. Be it a formal meeting, casual hangout with friends, a date or just for your new Instagram post.
You can get these funky crab trousers here on sale for just $ 78.57. And if you're into such fun prints then you should definitely check out Fabienne Chapot's trousers collection.
↓ 35 – With Black Tops
One is never over-dressed or under-dressed with a Little Black Dress. Keep things sophisticated and dark by wearing a black shirt tucked in a black floral pant.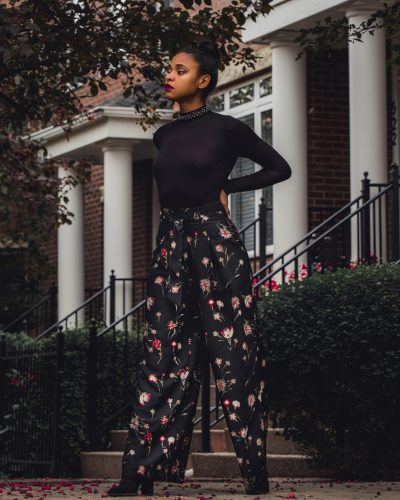 Dark Floral Wide Leg Pants $ 63.00
↓ 34 – Printed Pants With White Tops
Prints are fun, exciting and they do boost our confidence. White tops go with everything right!? Here it's not different. It doesn't matter what the overall color of your floral pants is. It will always go well with a white top, even when the white isn't featured on the print. The style of the top along with the accessories must be suitable for the occasion and is assuredly a safe option.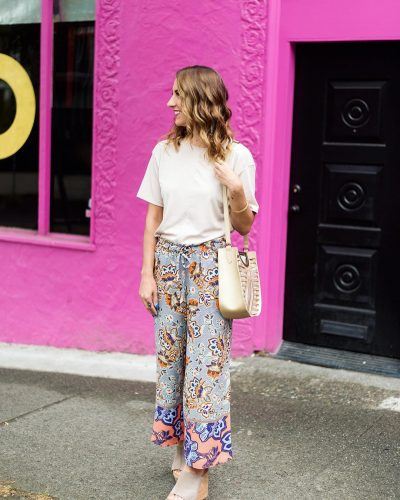 Find Pants (Similar) here for $ 83.40
↓ 33 – With A Leather Jacket
Flowy pants scream 'ease'. It's the perfect way to look stylish without compromising on your comfort. Flowy pants with prints can add a touch of femininity to your wardrobe so you can bring out your girlish charm with every outfit and accessory you wear. Do have a look at these 19 Ways to Style Leather Jacket.
↓ 32 – With A Denim Jacket
You'll get all the motivation you need from your funky pants. Just because you're going to the mall or grabbing a quick cup of coffee doesn't mean you can't look good.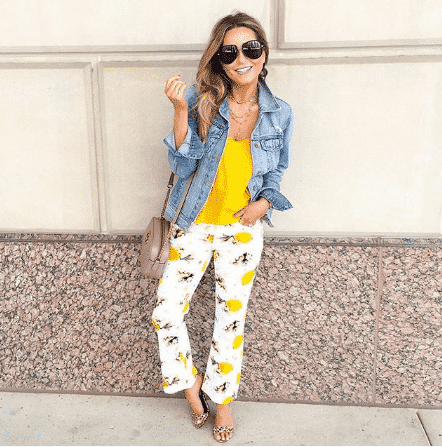 If you're interested in stealing this look, here are the complete outfit details: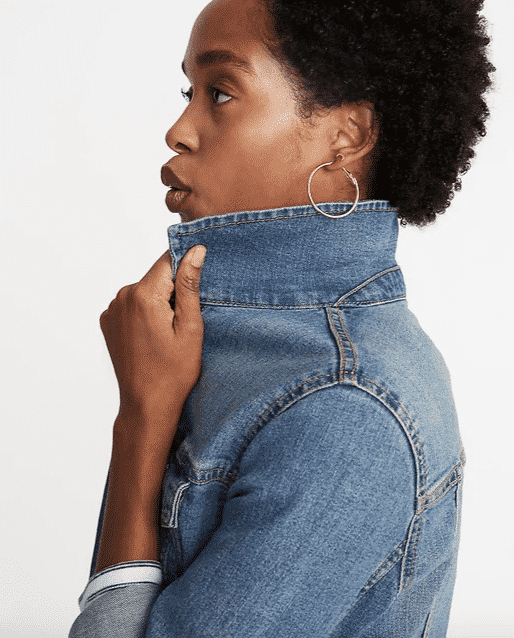 Old Navy Denim Jacket for Women $34.97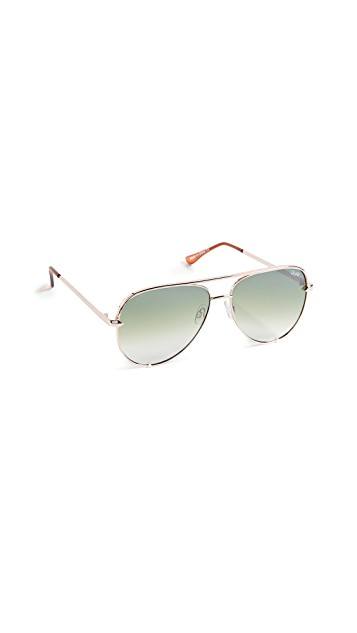 Quay x Desi Perkins High Key Sunglasses $65.00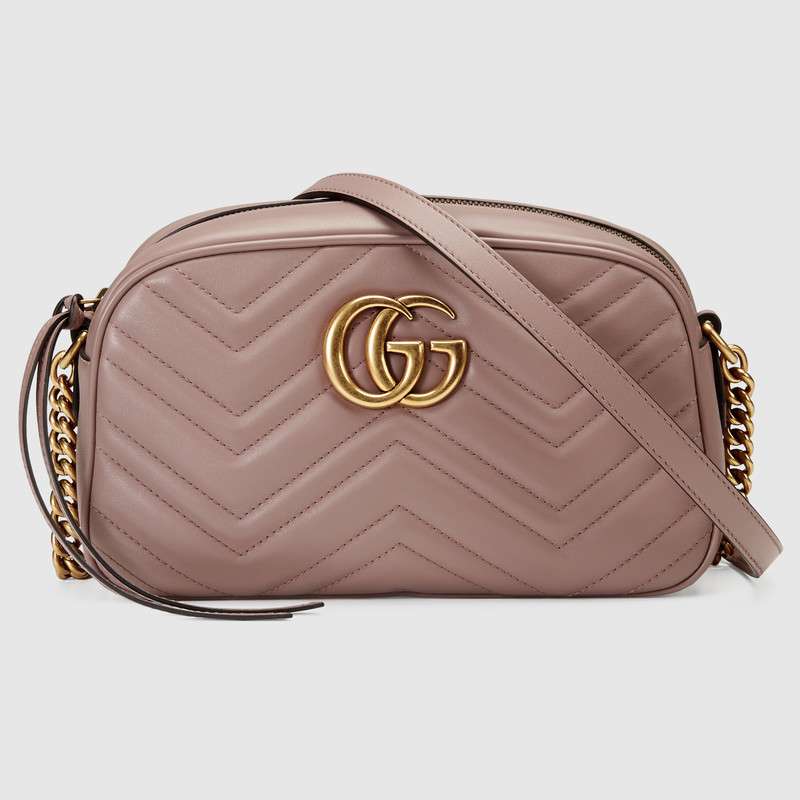 GG Marmont small matelassé shoulder bag $ 1,290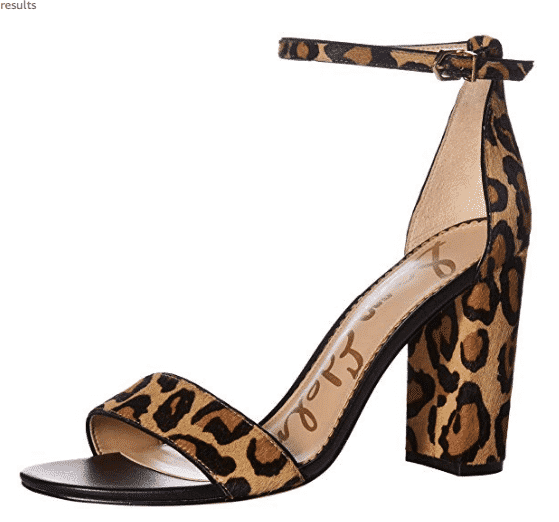 Sam Edelman Women's Yaro Heeled Sandal $ 139
↓ 31 – Casual Tops with Printed Pants
A woman is never sexier than when she is comfortable in her clothes. You can completely do your own thing on the weekend. A pair of patterned pants lets you show off your own personal style and show that casual and cute can be one and the same!
Here's another more semi-formal type look created with these pants: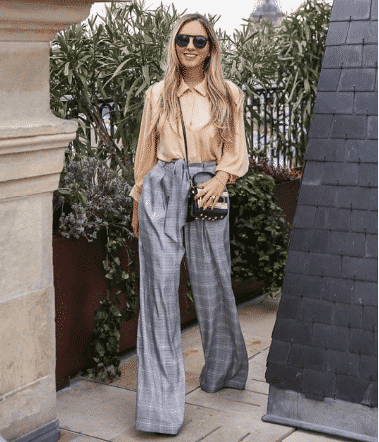 ↓ 30 – Printed Pants with Sweaters and Blazers
Prints are all about having fun with fashion and adding some joy and romance to your style. In winter, styling can get hard as it's not only about the styling but keeping yourself warm as well. This year try something awe-inspiring to your winter collection and get yourself printed pants like jeans, skinny pants, high waist, and wide-leg pants and pair them with a tight shirt and your favorite jacket, sweater or blazer. You're ready to beat the cold without looking like your mom forced you to wear all those layers.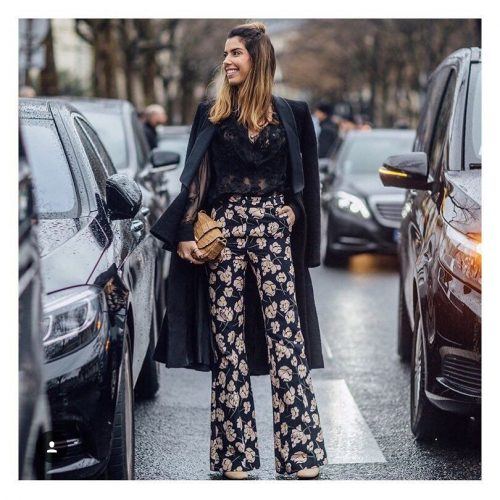 ↓ 29 – Stripe Print
You can never go wrong with stripes. They look astounding and are perfect for any moment or time of the day. Stripes make you look like a boss who conquers the meetings during the day and parties in full swing at night. Despite her busy schedule she still has her life in control. Striped pants look beyond chick with both, a plain neutral colored shirt or fully lined from top to bottom. Here are 22 Best Ways To Wear Striped Pants.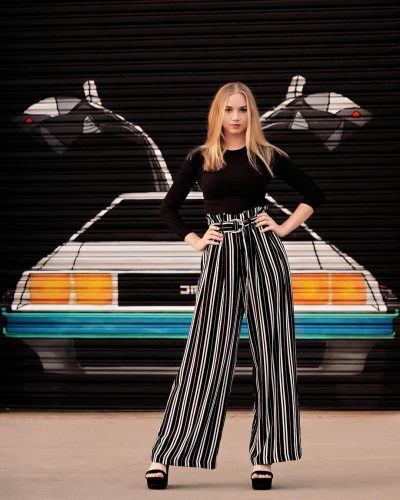 ↓ 28 – Printed Denim Pants
Where ever we go we find printed pants but we don't want to give up on our comfy jeans. This makes us sad, doesn't it? Well, it's sorted out now. You can put a stick-on patch on your favorite jeans to add style. Wear it with a casual T and it's the perfect outfit for hanging out. Not just this but you can also wear faded-print denim pants with a denim jacket and striped or a plain top.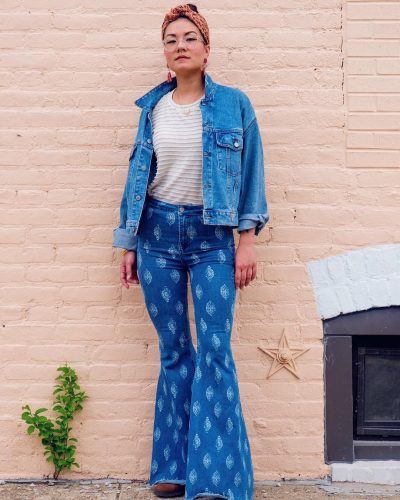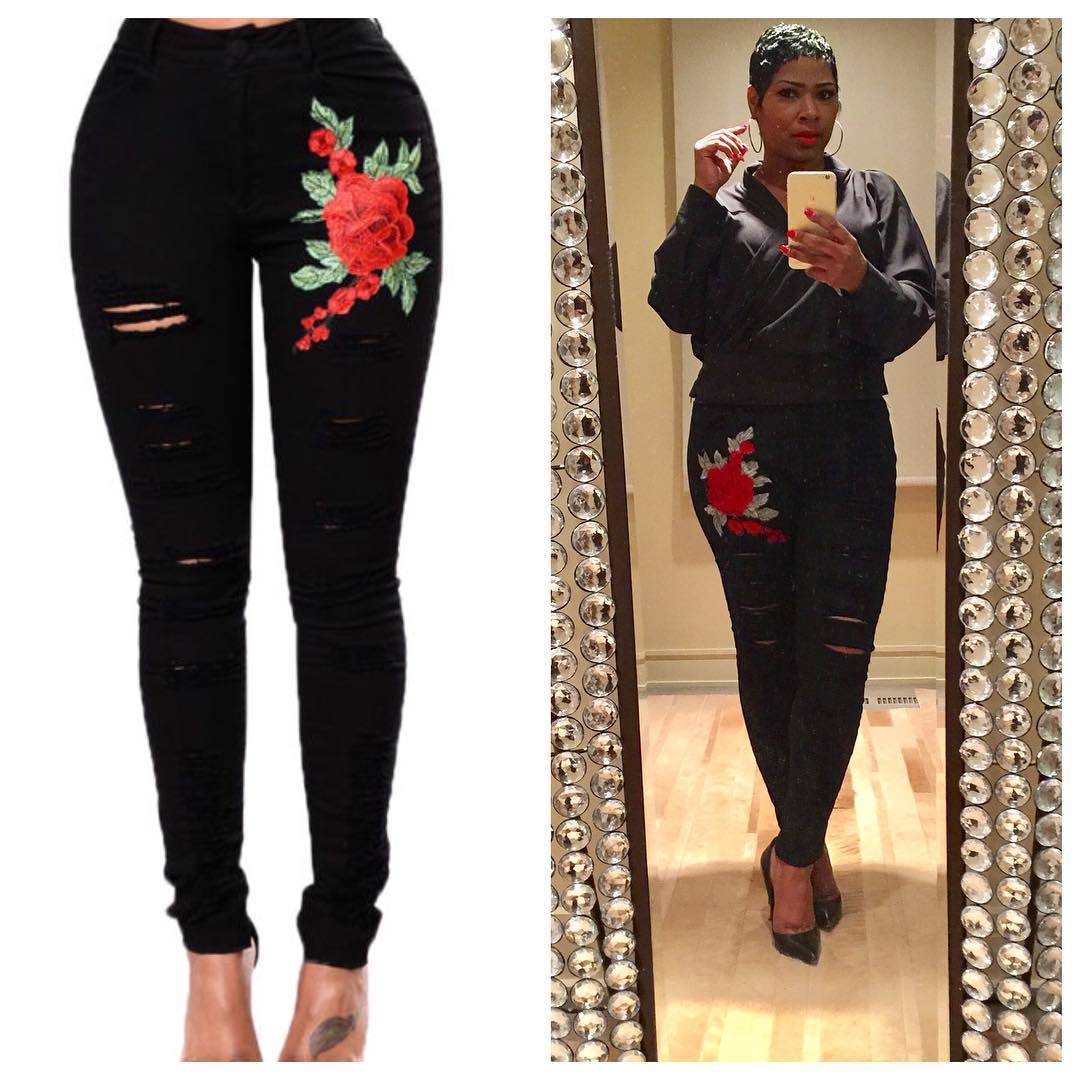 ↓ 27 – Bell Bottom Printed Pants
The joy of dressing is an art and print is the purest form of art. Add prints to your bell bottoms and look like a piece of abstract art yourself.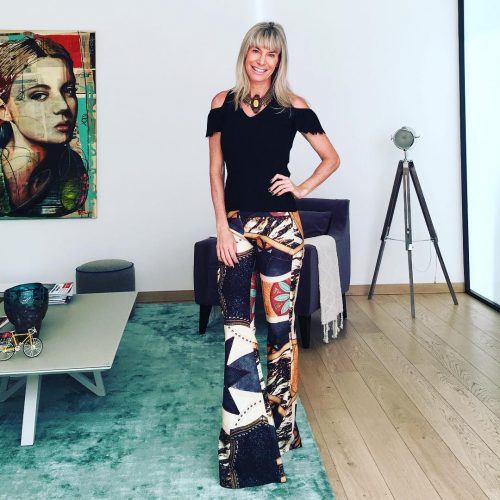 ↓ 26 – Celebrity Style
A style is a way to say who you are without having to speak. Just like celebrity style speaks louder than anyone else. It feels like celebrities are a huge fan of printed pants as they have taken it to stages, to red carpets to streets, and everywhere and maintained to looked polished and spectacular.
↓ 25 – Prints on Prints
Trendy is the last stage before tacky! For her Vogue issue, Gigi Hadid wore a printed bodysuit that took our breath away and giving us inspiration for our next Instagram photoshoot.
↓ 24 – Shoes to Wear with Printed Pants
Shoes transform your body language and attitude. They lift you physically and emotionally. Your footwear is really important to any outfit you wear. It can make or break your impression. Printed pants usually go better with heeled boots or stilettos. Try not to go too fancy with the shoes if your pants are already serving the purpose or you might end up being overdressed.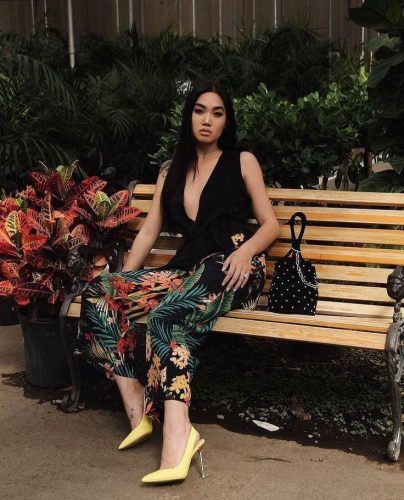 Printed trousers offer a simple way to spice up any ensemble. Easily paired with an edgy blazer or an understated blouse, this versatile look is a must-have for anyone. They are the top pick of designers and are the perfect way to show off your impeccable sense of fashion while being fabulously on-trend.
No matter your shape or size, printed pants are a wonderful option to make the most of your daily attire. From street styles to runways, it seems like printed pants are an ongoing "It" item, and the options are endless.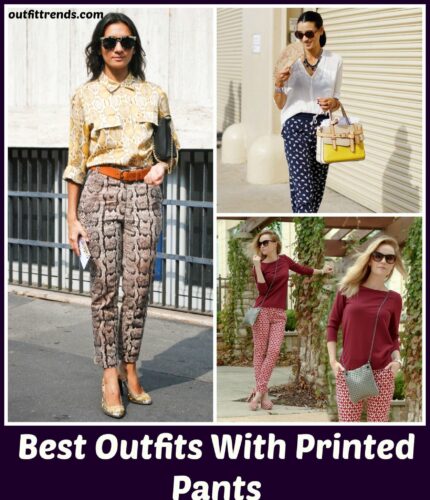 When it comes to printed pants, there's something for everyone. From floral pants to tribal patterns, you can style your outfit exactly how you please, simply by tweaking a print! Finding printed pants that look good on you and also suit your personal sense of style is a breeze in this regard. Let's look at some of our top tips for wearing printed pants.
Tips for Wearing Printed Pants
Fitted and Feminine. A fitted cut and beautiful design are sure to add the right mix of delicate and edgy to your overall look.
Tailored Perfection. Tailored pants perfectly achieve an elegant style with their ladylike print and simple color pallet.
Animal Chic. Add a little bohemian vibe to your look with these lovely pants. Simply create a classic look with a tucked-in structured shirt or show your free spirit by pairing these with a tunic.
The Right Color. The color is a very important ingredient, choosing the right color for your printed pants would help out greatly for those of you who are bottom-heavy. Dark colors will give off a slimmer look.
For Plus Size Women. You need to play with different types of prints. Here are a few things to consider when you're looking at an outfit: size of prints, fitting and color. Allover patterns or placement patterns should be judged rightly. Otherwise, they can ruin your look.
Geometric or Floral Print Outfits. Most of the time, you can figure out what kind of print will look good on you by determining if you look better in structured clothes or flowing clothes.
Now, let's look at those outfits!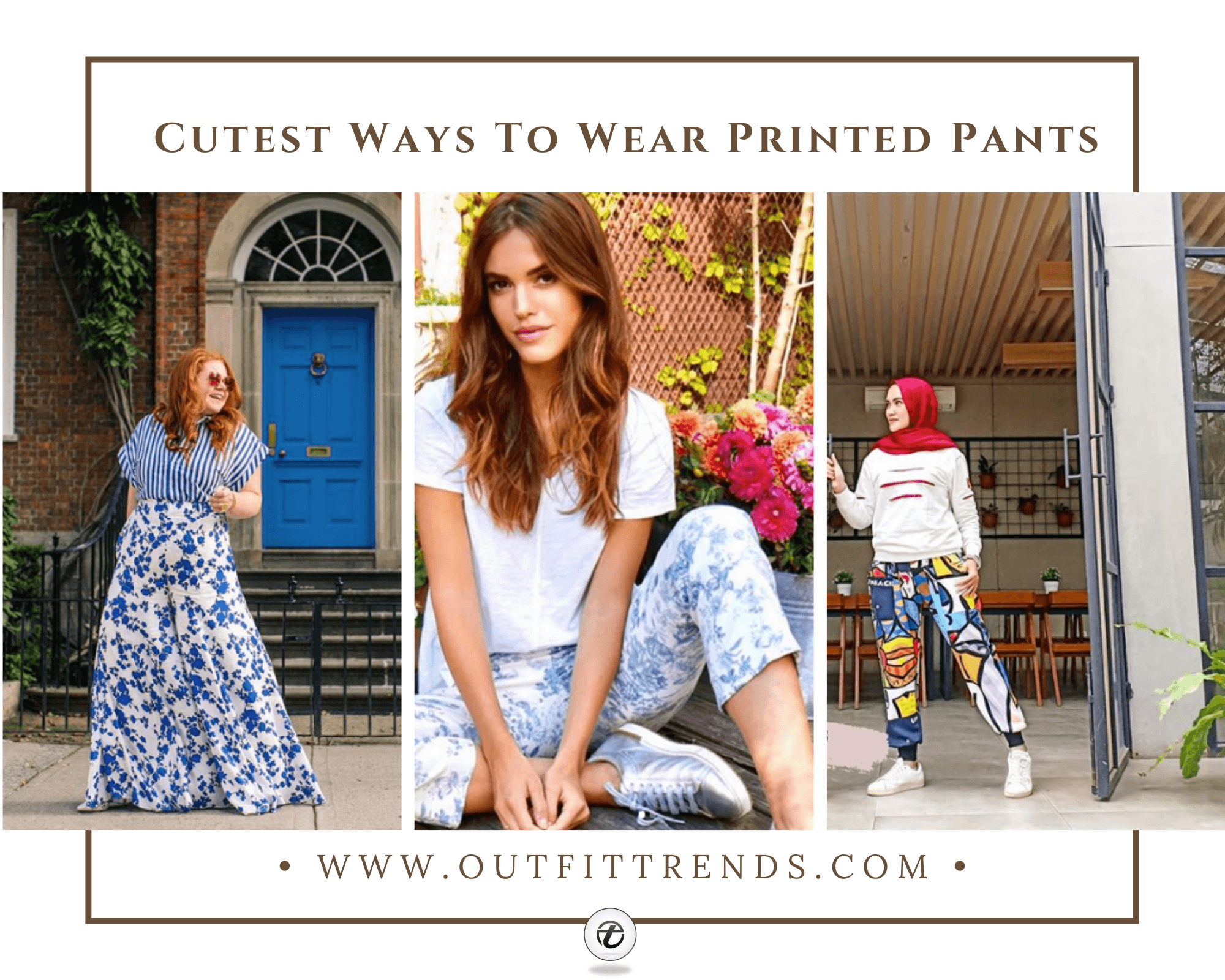 ↓ 23. Cute Spring Outfit
As winter transitions to spring, you will probably want to be hunting down some cute looks that'll help you stay warm while bringing some bright, fresh spring colors to your wardrobe. Enter this look right here. Pair a mustard yellow knit sweater with some floral paperbag pants… Not only is this an adorable and flattering style of pants, but they'll hit you right at the waist, which does great things for your figure! You can wear this to pretty much any occasion, bringing mood-boosting colors wherever you go!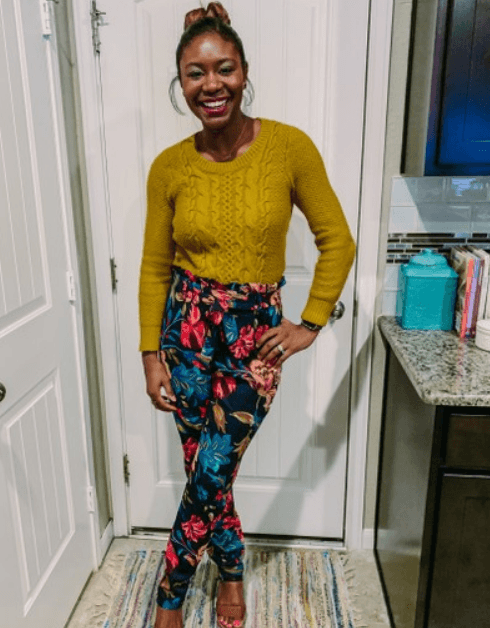 Love the pants? Shop them at the link below:
SHEIN Paperbag Waist Floral Print Belted Pants $14
↓ 22. Bright Yellow Woven Pants
Bring some glam to your everyday casual look by throwing on a pair of python print woven pants and watch the compliments come rolling in! Got an early-morning class? Bring some sunshine to your day with a bold color like this to boost your mood and bring your casual ensemble to a whole new level. We love the juxtaposition of high-end fashion with a basic gray tee. Add some funky sneakers and a couple of layered necklaces and you've got yourself a look to reckon with. Extra points if you can rock some gorgeous curls like these!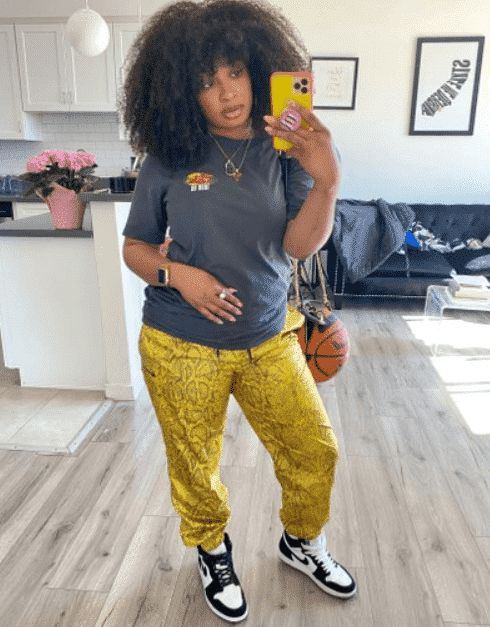 Love the pants? Shop them at the link below:
Nordstrom Nike Python Print Woven Pants $65
↓ 21. Bold Red Wide-Leg Pants
For a show-stopping look, you need a gorgeous showpiece and we've got to say, what better showpiece than these flower-printed bad boys?! Bring a bit of Hawaii beauty to your everyday life by pairing some bright red wide-leg pants with a simple white blouse. Metallic sandals tie the look together, letting your pants do all the talking. You can rock these at a beach party, at a luncheon with your gal pals, or even at a get-together with colleagues!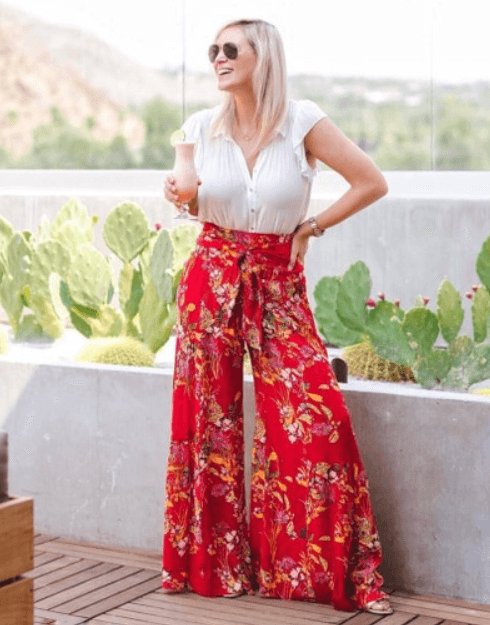 ↓ 20. Leopard Print Leggings & Booties
Rock your curves with a pair of leopard print leggings, paired with a simple black top (pull over one shoulder to add some allure) and little booties. Accessorize with some big ol' sunnies and a statement watch. You can tweak this look whether you're running errands, chilling with friends, or heading to the club!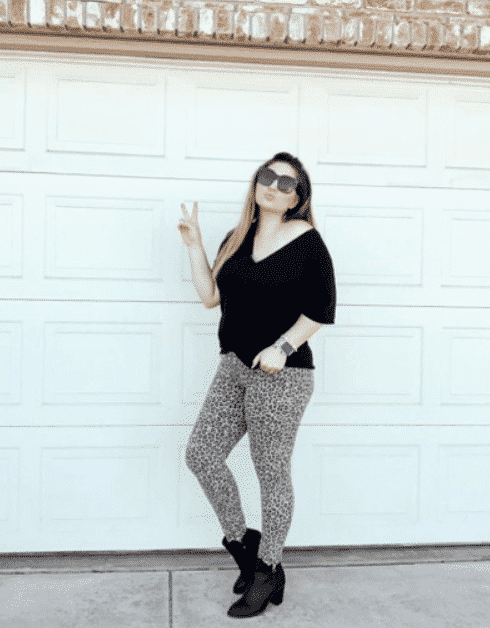 ↓ 19. Blazer & Snakeskin Pants
Heading to a ritzy party? Grabbing dinner with your most stylish friends? For a look as stunning as it is chic, look no further. This outfit is sure to solidify your place in the fashionista hall of fame. Start with some wide-legged snakeskin print pants and pair with a sleek black blazer. Ankle boots, a matching snakeskin belt, and gold jewelry tie the gorgeous look together, making it one for the books.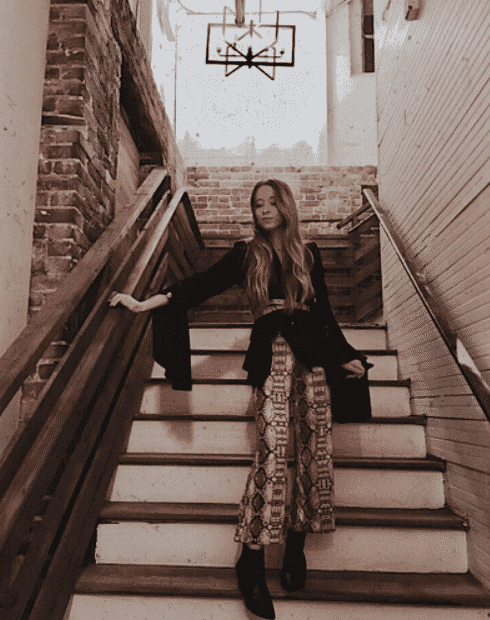 Love the look? Shop it at the links below:
boohoo Satin Snake Print Flared Culottes $16
SHEIN Snakeskin Pattern Metal Buckle Belt $4
boohoo Volume Sleeve Diamante Button Blazer $31
Circus by Sam Edelman Kingston Kitten Heels $22.50
↓ 18. The Everyday Look
Sometimes, having a chic go-to look can lift so much stress from our minds. If you are used to combing through your closet, growing increasingly frustrated as you scour your clothes for something cute to wear – anything! – then we've got the solution for you.
A pair of printed pants cover so much ground. They're comfy while being chic and they're stylish without being overkill. For an everyday look that you can turn to whether you're picking up the kids from school, grabbing coffee with a friend, or taking a walk with your hubby, this one will do the trick. Simply grab a pair of wide-legged printed paperbag pants and pair with a white sleeveless top. Do something a little fancy with your hair and pop on a pair of sandals. Et voila! Cute, everyday look that will save you hours of stress!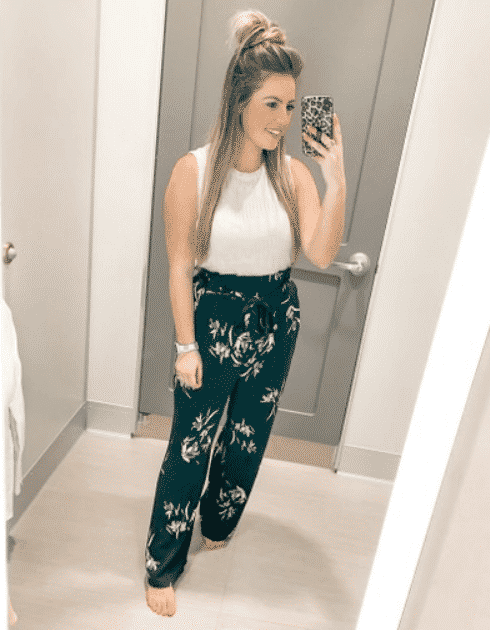 Love the look? Shop it at the links below:
Floral Print High-Rise Ankle-Length Paperbag Pants $27.99
Crewneck Swing Tank Top $12.99
↓ 17. The Chic Date Night Outfit
Bring some elegant femininity to your date night with some printed pants and a sheer nude-pink blouse. Go for white and silver accessories and get yourself a really fun pair of platform heels. This is one date night outfit you and your guy will find unforgettable!
↓ 16. Fashionable Outfits with Trendy Pants
Here are three printed pants we look we love. Don't be afraid to get bold or crazy with your pants choice. You can be as crazy as you want but always find the best fit, with the right color and the print which can give a more streamlined look to your body. Remember to always choose a print or color which complements your personality!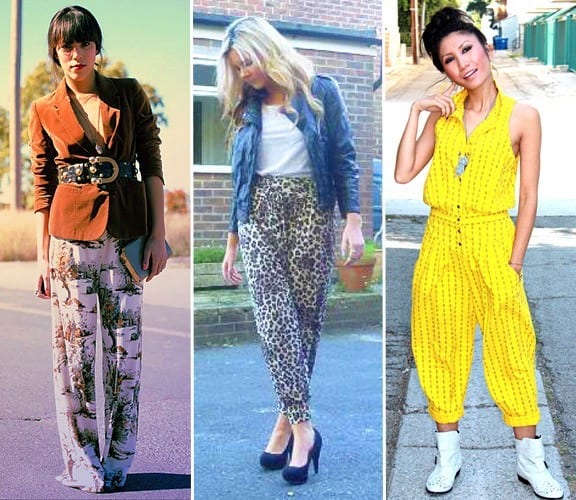 ↓ 15. How to Wear Floral Pants in Spring
For a more feminine look, go for floral prints. They can look fabulous on any occasion just make sure to choose the right blouse. Keep the print style in mind based on your figure. For plus-size figures, bigger flowers may be a bit much.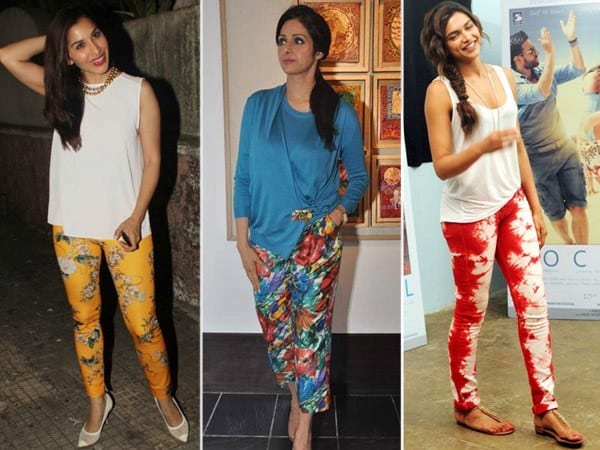 ↓ 14. Street Style for Young Girls
For a girly street-style look, try out this ensemble! Pair some funky printed jeans with a white button-down vest. Sometimes a midriff-baring top can look super chic! To accessorize, a cute headband does wonders.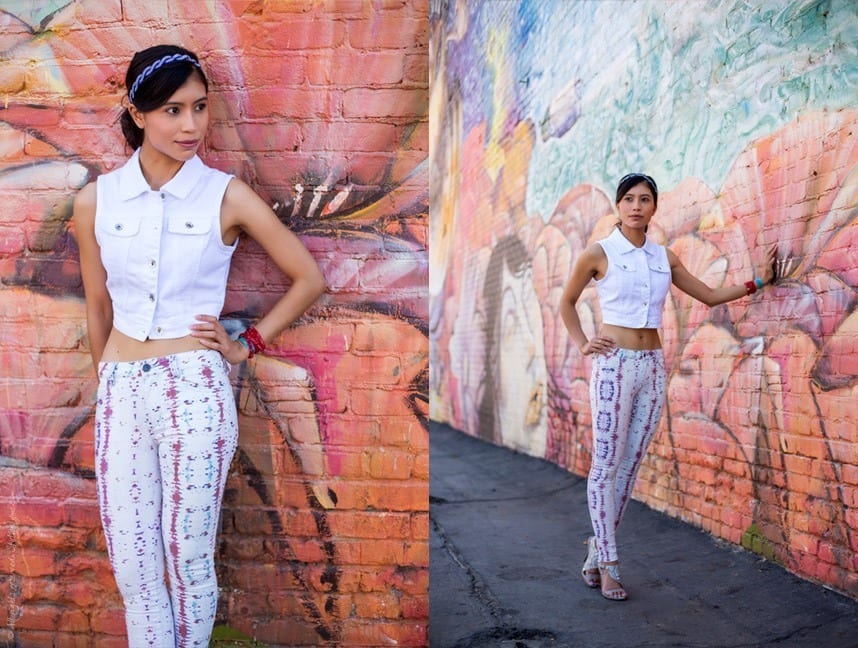 ↓ 13. Trendy Summer Outfit with Printed Pants
This is a great outfit for summer vacations! You can look like a million bucks while also showing off some chic fashion sense. Pop on some navy blue colored pants (we love this jogger-inspired pair!) and pair them with cherry red heels and a yellow purse for a fun blend of color and style. This is a great way to look cute on a summer afternoon while touring a new city or museum.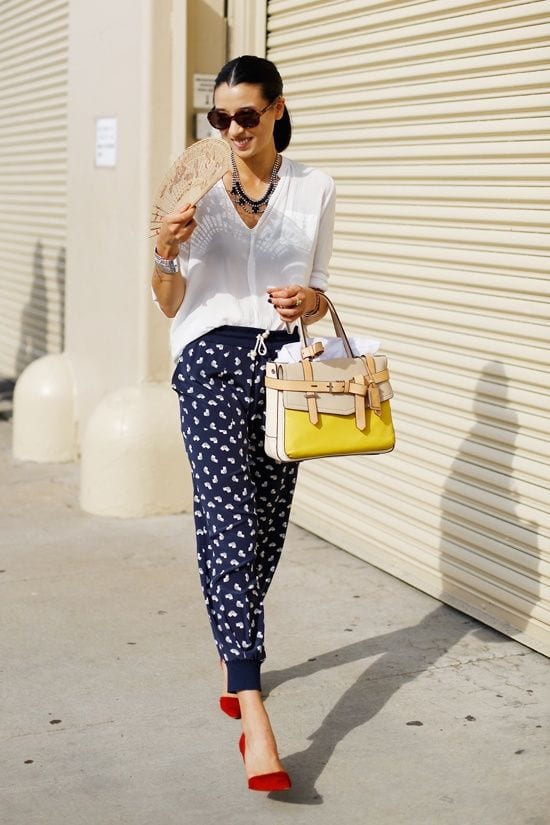 ↓ 12. Fashionista Style
Here at Outfit Trends, we are big fans of the idea that any print or pattern can be adapted to work with any shape or size. So whether or not you're bottom-heavy, even a striped pair of pants can work for you! The direction of the stripe matters though, as does the width of the stripe. We love this pairing of a thinner vertical stripe on top with a slightly wider-spaced vertical stripe on the bottom. Here is a fashionista-approved ensemble you'll look endlessly chic in.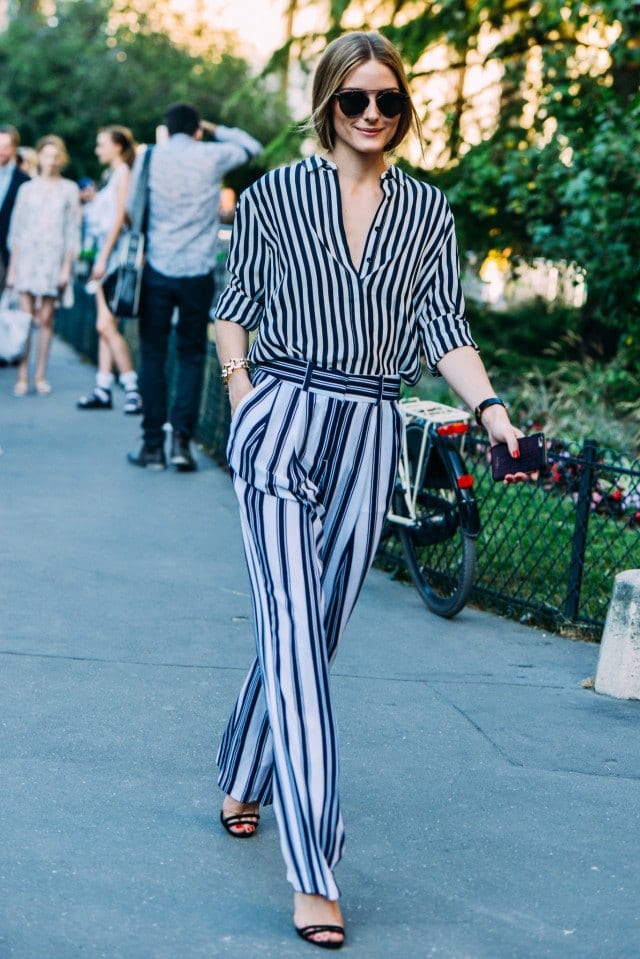 ↓ 11. Flattering Semi-Casual Outfit For Women
Vertical slim lines on black give a sleek look. Pair with an asymmetrically hemmed top to dress up this otherwise casual look.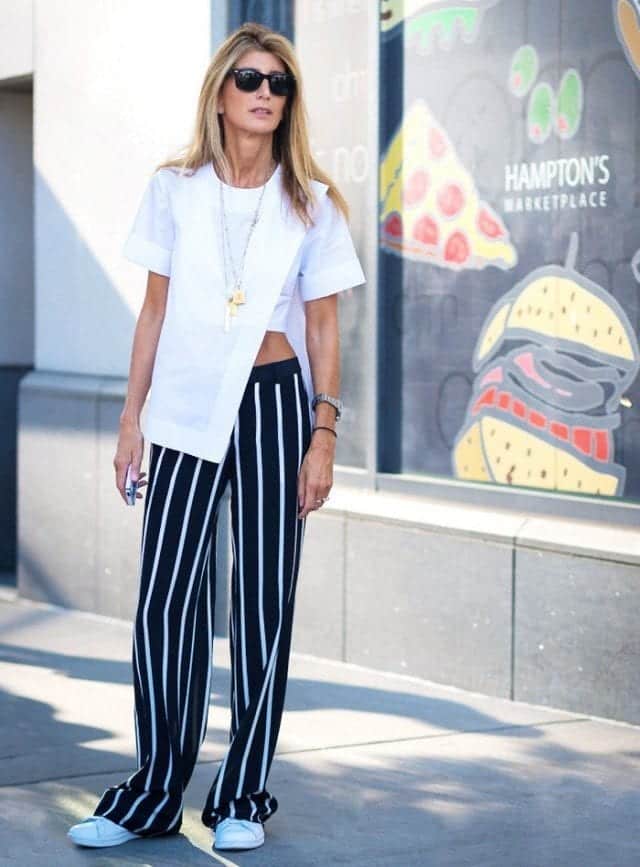 ↓ 10. Printed Pants for Work Attire
A color combo that will always come through is black and white. You just can't go wrong with it! This checkered print pant with a white loose-fitting blouse is really an awesome combination for work attire. Pair with white heels and a black bag and get ready to take next Monday by storm!
Looking for more elegant work outfits? You must check out 17 cute workwear outfits for women for an elegant look.
↓ 9. Elegant Dress Idea with Tailored Printed Pant
Tailored pants are an easy and chic way to add a little menswear-inspiration to your look. You can make it a bit feminine and look classy by adding your own glam. Having pump heels or platforms with this outfit can give you a formal look as well.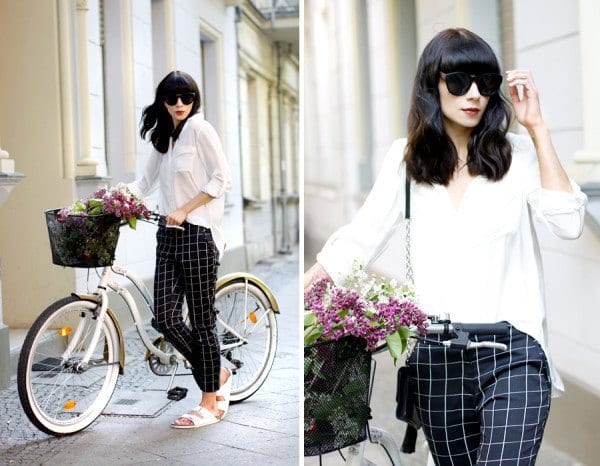 Source
↓ 8. The Cute College Girl Outfit
Here's a bold monochrome look you just have to try! Pick a color that is flattering with your complexion and start to experiment. Some wild heels matched with your printed skinnies are an unforgettable pairing. (Prefer a more subtle look? No problem! Switch out the crazy heels for classic white.)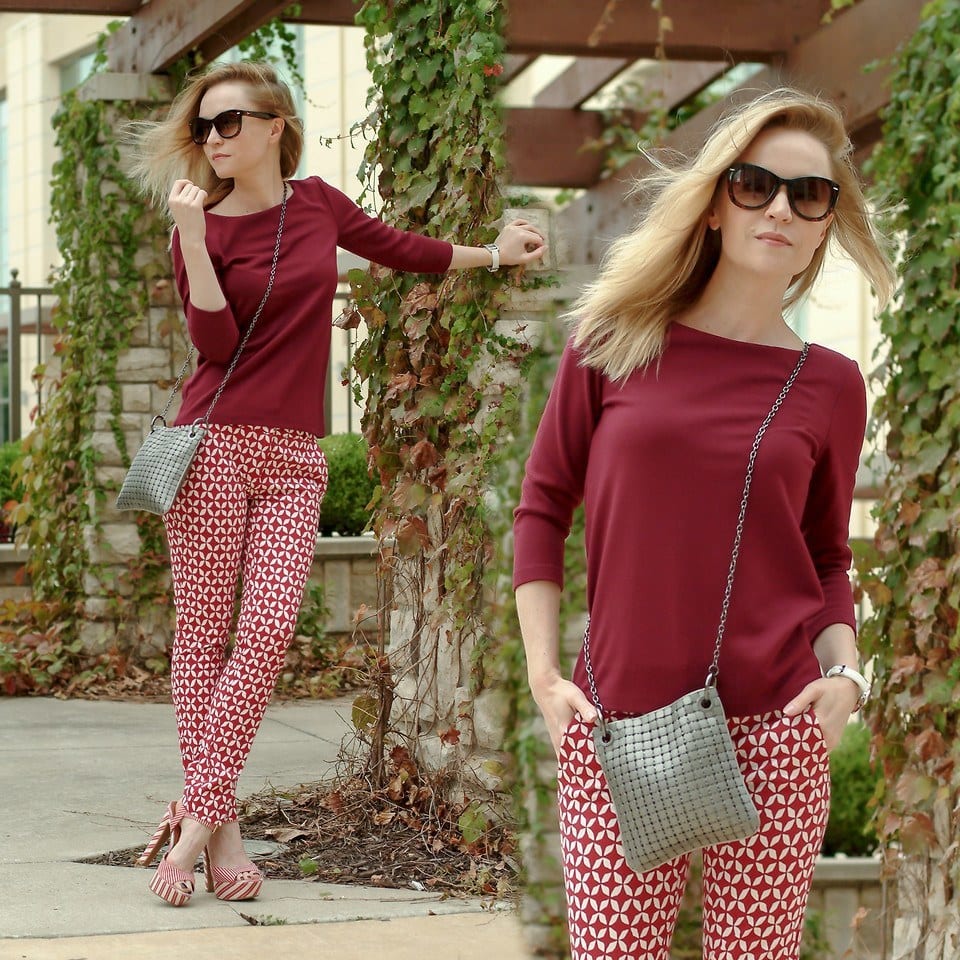 ↓ 7. Fashionista Style Semi-Formal Outfit
Attractive layout and a fitted cut will definitely bring the proper combination of edgy and delicate to your appearance. Couple these with a basic top for a daytime trip, then simply add a tailored blazer for a night of fun.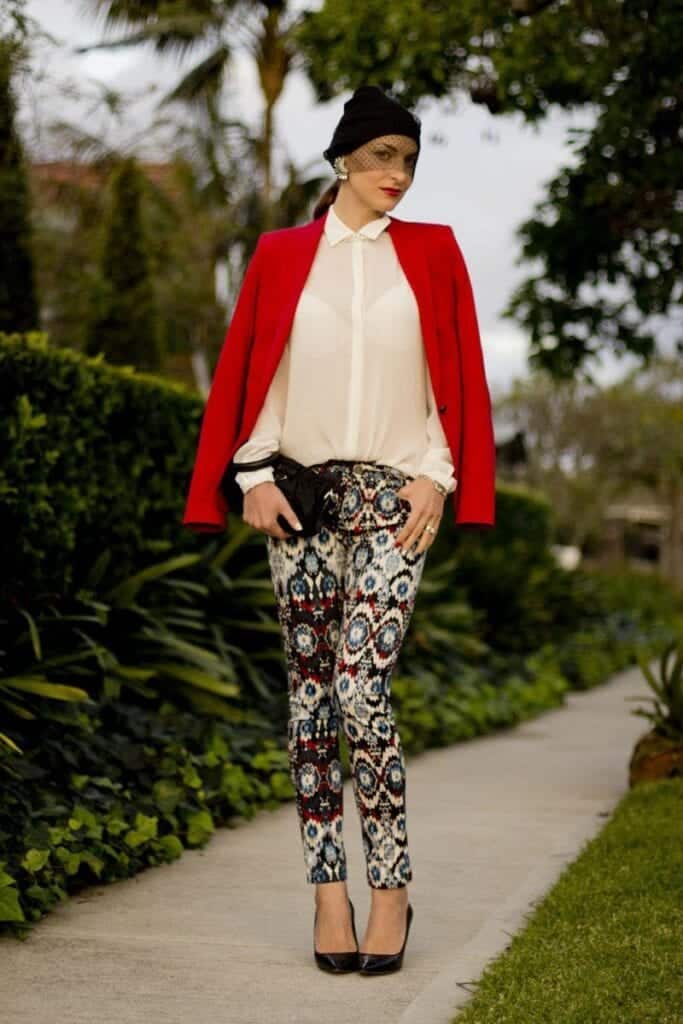 ↓ 6. Casual Chic Culottes Outfit
Get an updated 'Mod Girl' look with these multicolored pants. Pair with sandals for a casual look or with your favorite platforms for a unique tribute to '70s style. A chunky scarf is a perfect accessory!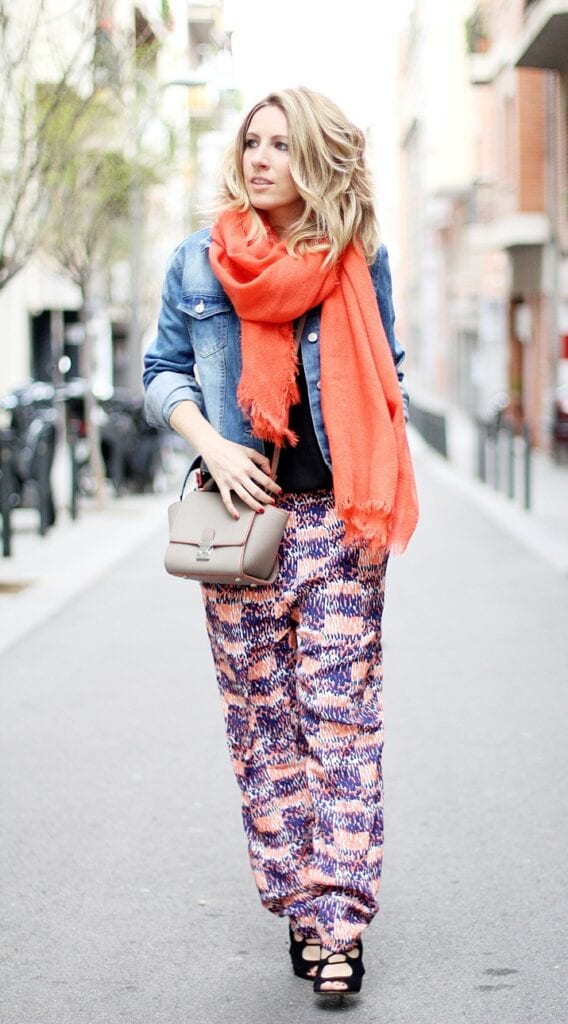 ↓ 5. Stylish Harem Pant Street Style Outfit
For an effortlessly comfortable style, give harem pants a try! Not only do they spice up any simple outfit, but you can pair them with some black basic pieces up top to let your pants do all the talking. Simple solid-colored flats bring a pop of color and tie in with your harem pants.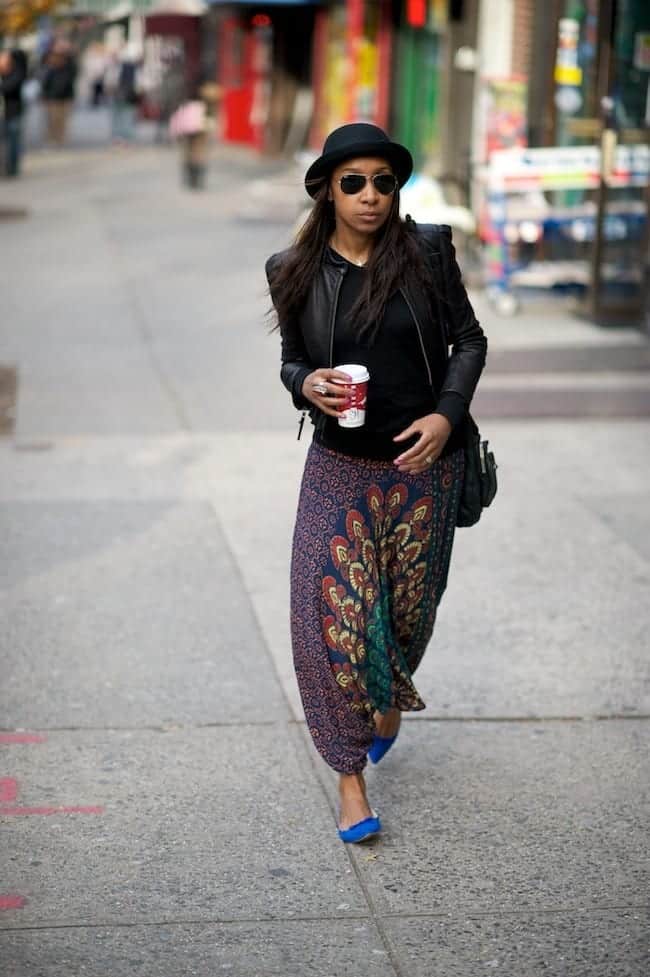 Like the outfit? You will love to learn about these ideas on what outfits to wear with harem pants.
↓ 4. Simple Fall Outfit for Women
Bring some color to your fall wardrobe with some flame-inspired printed pants! We love the blend of chic workwear with a party downstairs vibe that this outfit gives. Nude platform shoes and a bold pink lip are all you need to make this outfit party-ready.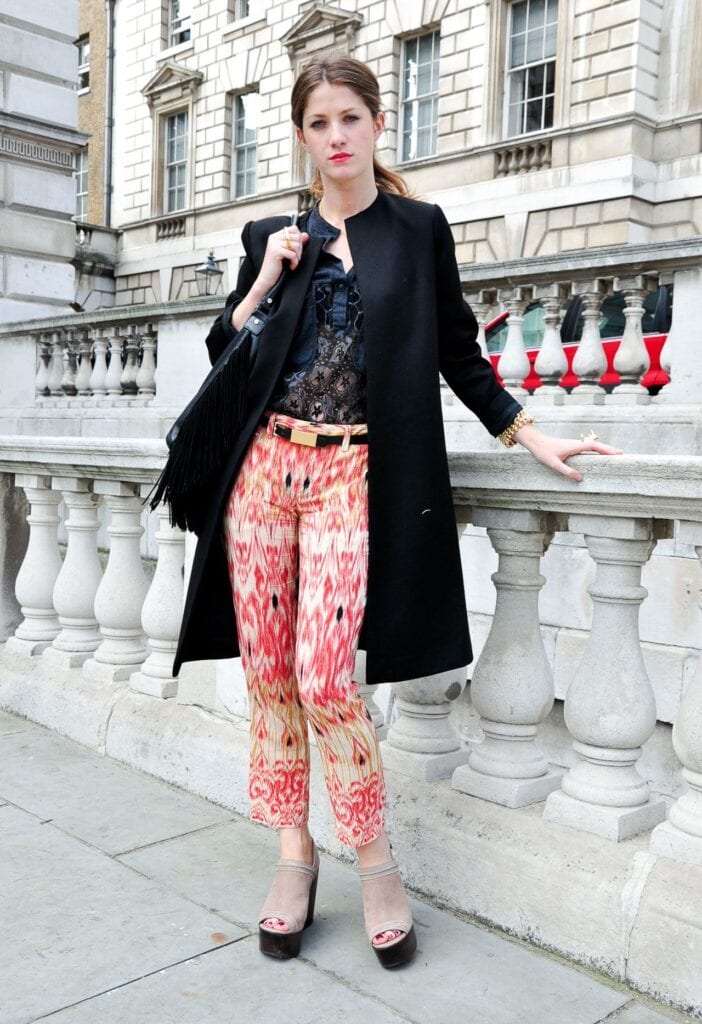 ↓ 3. Party Outfit for College Girls
Love showing off your figure? Then give this tummy-baring look a try! A black cropped sweater looks chic and polished with a pair of gorgeously tailored pants. A simple beaded necklace and black heels tie this gorgeous ensemble together.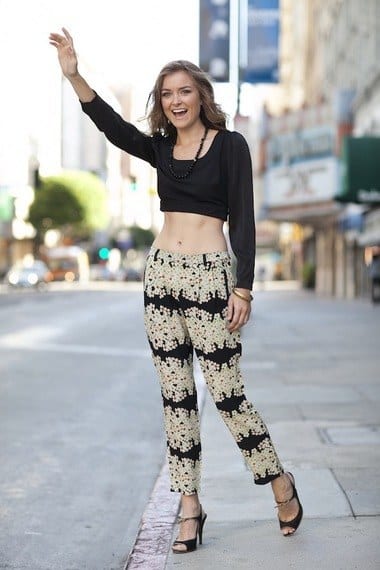 ↓ 2. Smart Outfit for Work or School
You can't go wrong with a metallic or snake print, and mixing the two puts you in a go big or go home mind frame. Don't be afraid to play with prints until you find one that works for you!
↓ 1. Comfy Winter Dress
Pop on your favorite sweater with some military print jeans and keep it casual with a pair of flats. Your next step is to choose a sweater that features extra detailing. Last but not least, add a nice black purse!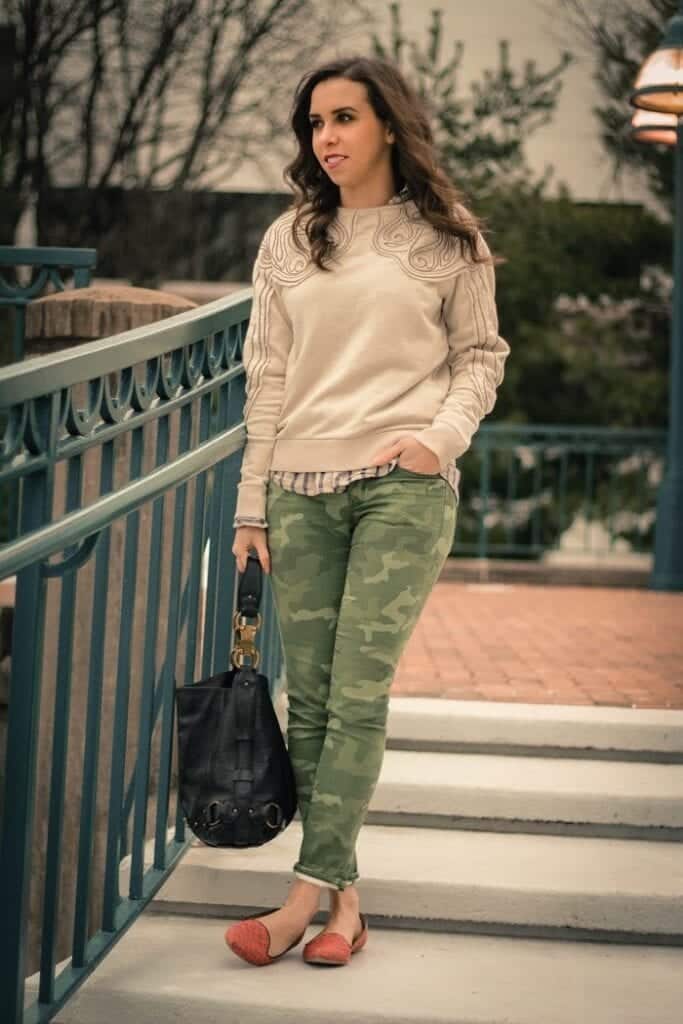 We really hope this compilation inspired you. Would you wear any of these looks? How would you put something together that fits your personal style?