Men Polyvore Outfits – Are you guys looking for a complete outfit? Then you are at the right place as here you will be offered a real fashion trend and stylistic way of wearing best Polyvore outfits in society – a set of outfit that would make you stand out in public.
The Polyvore outfit is a complete set of an outfit in a picture that is usually used by customers, while they go for shopping.  The best part is you can easily find out what pieces are used to purchase to complete a perfect outfit which is a shopaholic's dreams. This is places for guys who are looking for modern ways of wearing a perfect set of clothes that would not only grab lots of eyes but make you look more presentable depending on the occasion you are looking for.
'Clothes are like a good meal, a good movie, great pieces of music', Michael kors.
Polyvore Fashion for Men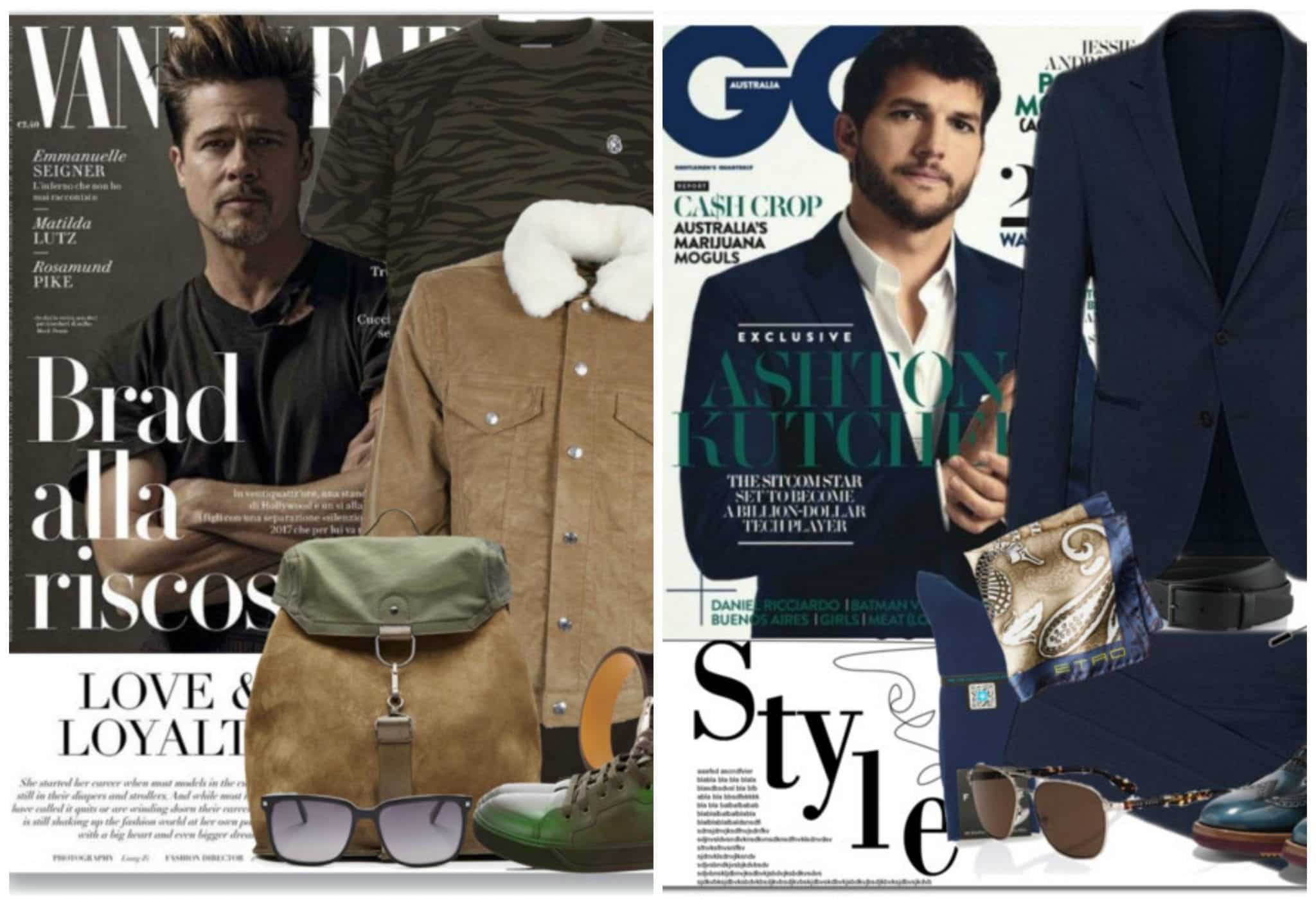 Here's all you need to know :
Usually

, everyone

surfs

internet Polyvore outfits with the intention of shopping. And Polyvore outfits helps in finding the product with proper match – that further converts a simple browser into a buyer – those who were just there to get awareness will actually procure the entire outfit that will not only be beneficial for the company but for the customer as well – as they get their clothes designed and delivered.

As per research, it is stated that Polyvore outfits have spread all over the world – and more than 20 million customers are viewing and eventually buying it.

Polyvore outfits

are

used as a resource that

provides

inspiration, thought and a dream-look that a conventional shopping will never give the experience of matching pieces and making a perfect set.

In majority, it is noticed that affluent audience of young shoppers are using Polyvore outfits and are actually spending 3 times more than an average consumer
John Galiano stated correctly, 'The joy of dressing is art!' So, from trendy fashion to formal to walk on the street to a downtown city party, if you are looking for a perfect Polyvore outfit for man, then here are twenty-five representation from FASHION TRENDS scroll down and get the best outfit for your occasion. 
↓
25- The Cow-Boy style
Going out with friends, try out the cowboy look in order stand out in the gang of boys. Pair up your black and red check shirt with a loose Tee inside and blue denim jeans. With a cowboy hat and camel lace boots to add a charm in your dressing. Check out these Cowboy Outfits-20 Ideas on How to Dress like Cowboy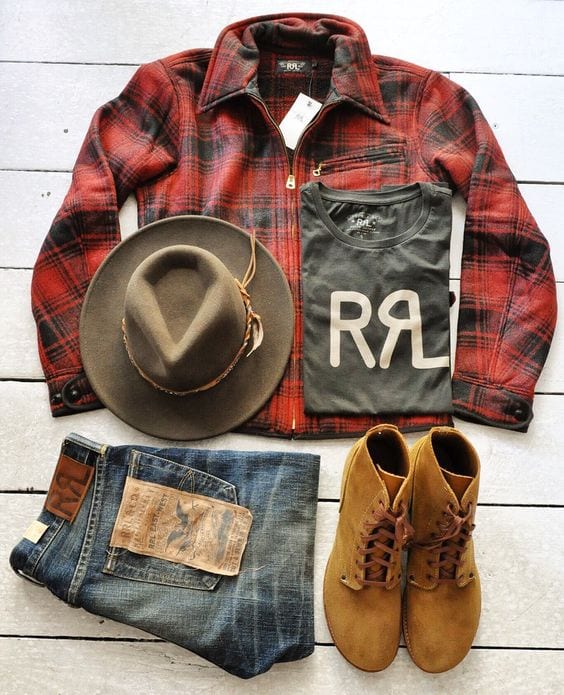 Via
↓ 
24- Jogging? Go for Cargo Outfit
Grab your cargo tight fitted-Tee Shirt and match it up with same color tone joggers, walks. And of course a wrist watch. Check out these Cargo Pants Outfits for Men; 17 Ways to Wear Cargo Pants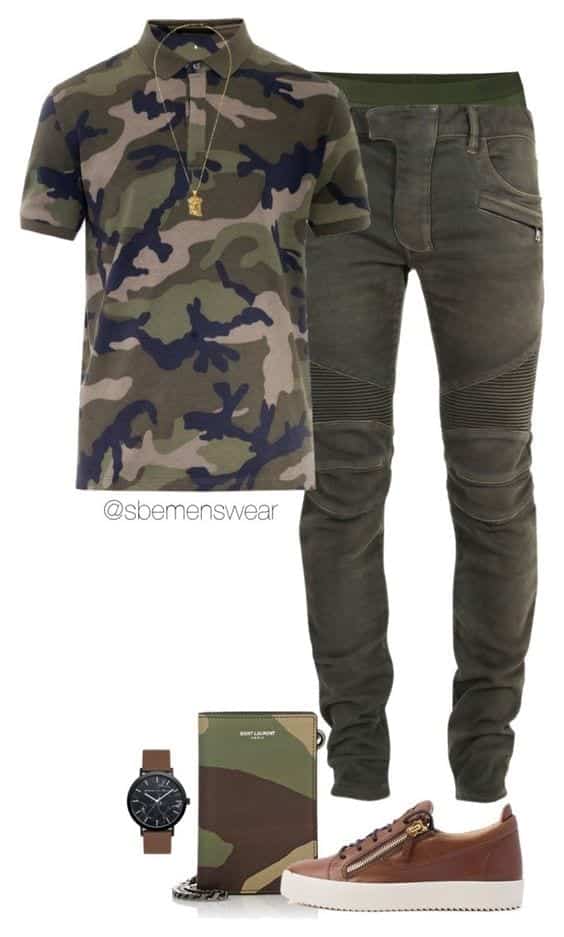 Via
↓ 
23- Beat the heat – Summer Around
Pair up your blue shorts with a half-sleeve button down shirt, baseball hat and a tie with other accessories.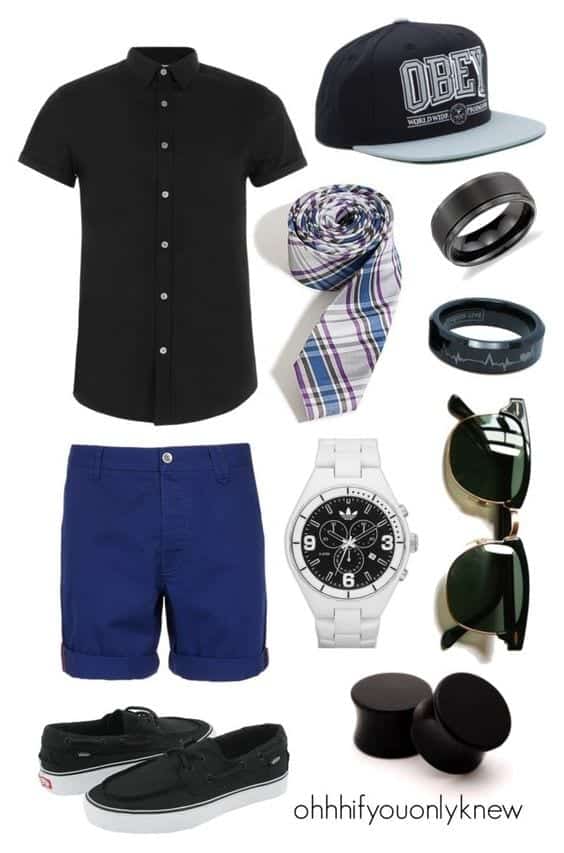 Via
↓ 22- All Round – Casual Look:
Why not make your look casual yet sophisticated. Hence, grab a collared shirt – cuff up the sleeve and wear a waistcoat on top with dark skinny denim jeans.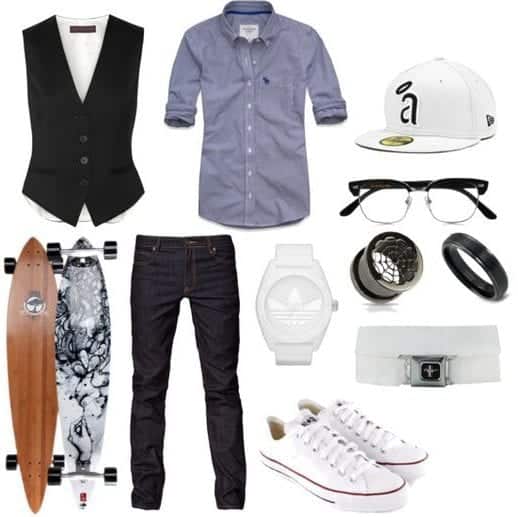 Via
↓ 21- A walk on the beach:
Best dress for a casual walk across the beach in evening. Pair up your grey sweatshirt with faded jeans, white sneakers, and black sunglasses. Here's What Men Should Wear at Beach? 20 Amazing Beach Outfits Men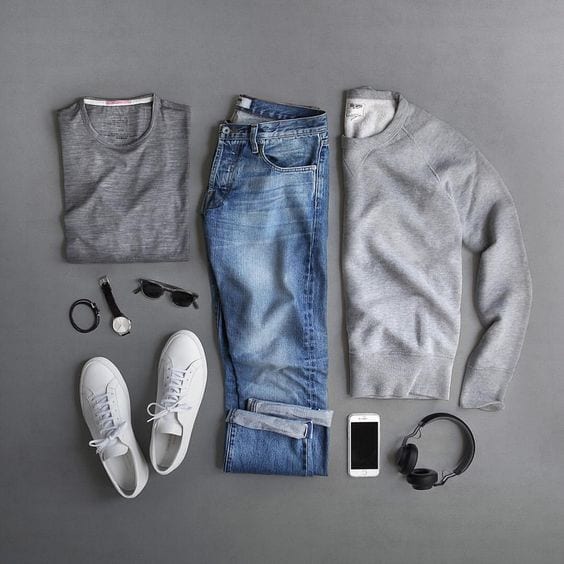 ↓ 20- Joggers with full-sleeve shirt: 
A look for everyday casual work – pair up your grey joggers with black full sleeve shirt and white sneakers.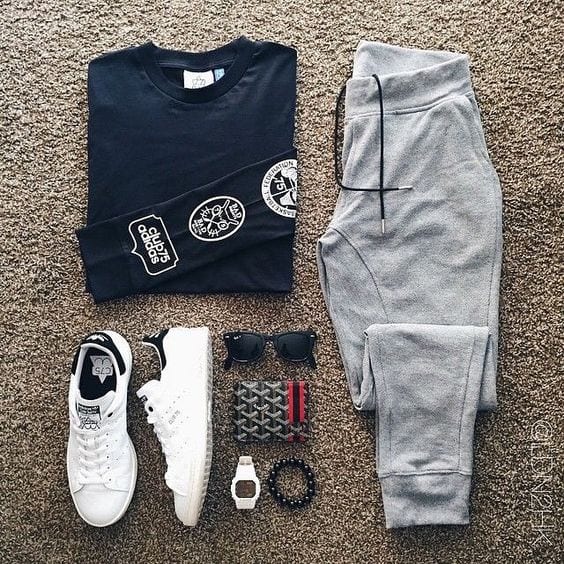 ↓ 19- All roundup – Office look:
Khaki pants are something that is appreciated by the one who is wearing and the one who is staring. A complete formal yet casual look – i.e. pair up your khaki pants with light blue collar shirt – dark brown belt, boots, and watch.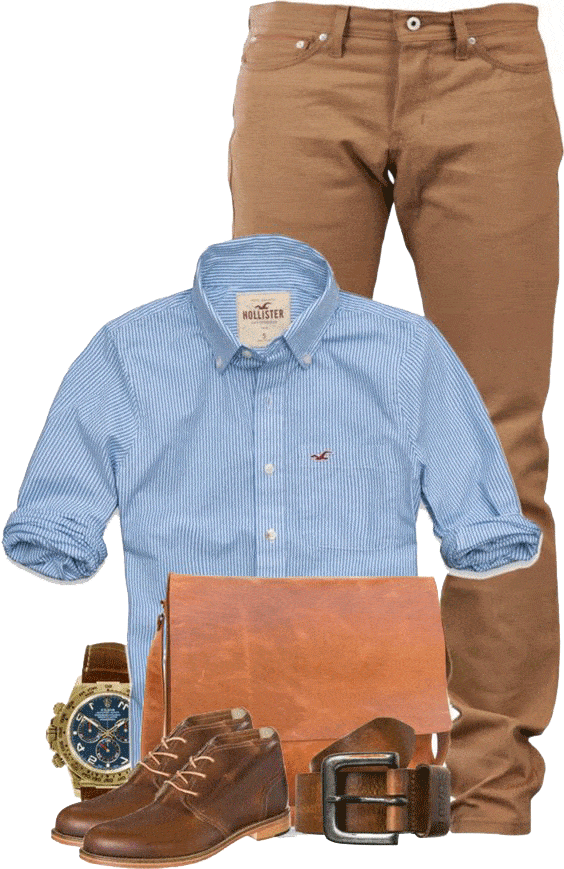 Via
↓ 18- An evening meeting look:
Pair up your check shirt with light cream pants and brown laced shoes. Here are some more Men Summer Office wear-18 Best Workwear Outfits for Warm Months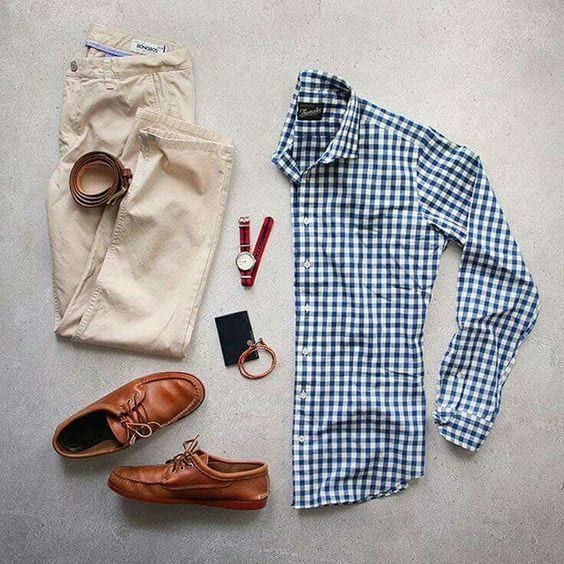 ↓ 17- Cuffed Jeans – Causal Much?
Let's try out an everyday outfit – get a Simple plain T-shirt and faded jeans with a wrist watch and white shoes.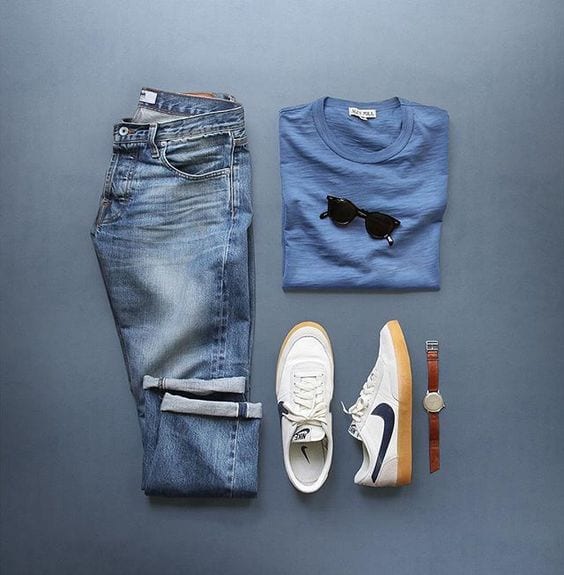 ↓ 16- Going for a date:
Grab a white and black stripe shirt pair it with the cream-khaki blazer and a blue jean with white sneakers. RECOMMENDED: Date Outfits for Men-20 Best Outfits for Men to Wear on a Date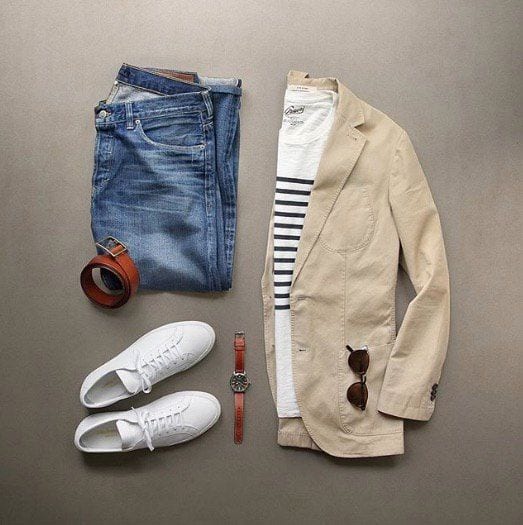 ↓ 15- All-time white cuffed shirt:
White is a color that looks very trendy and fashionable – even if you pair it up with blue jeans and brown belt. It can be a simple hang out with the friends, or a day, or an office day. The White shirt will look good on each and every occasion.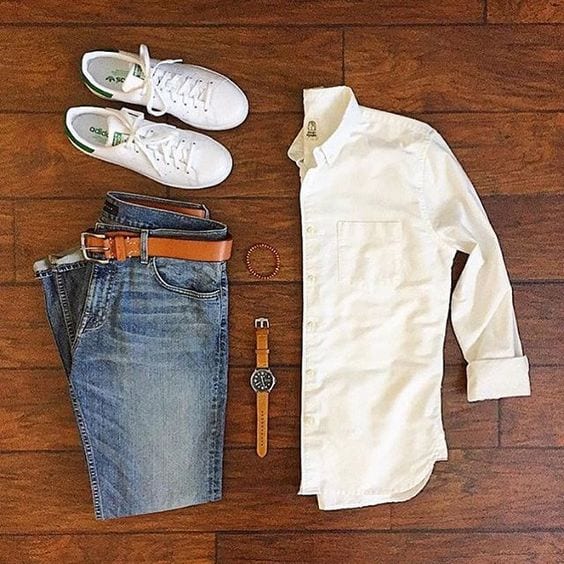 ↓ 14- A College going look:
A college or university boy can easily grab a skinny jean with a Black and white stripe T-shirt and white sneakers. Here are some awesome Black Jeans Outfits for Men–18 Ways to Wear Black Jeans Guys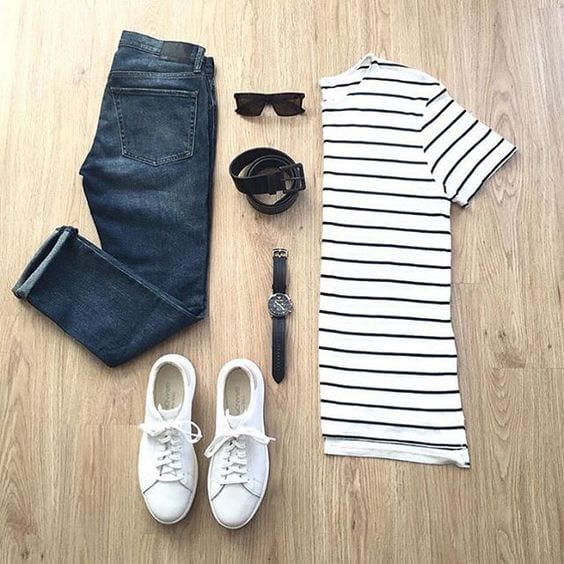 ↓ 13- Winters across the road:
Pair up with sneakers, white jeans with a blue-collar shirt and brown sweater.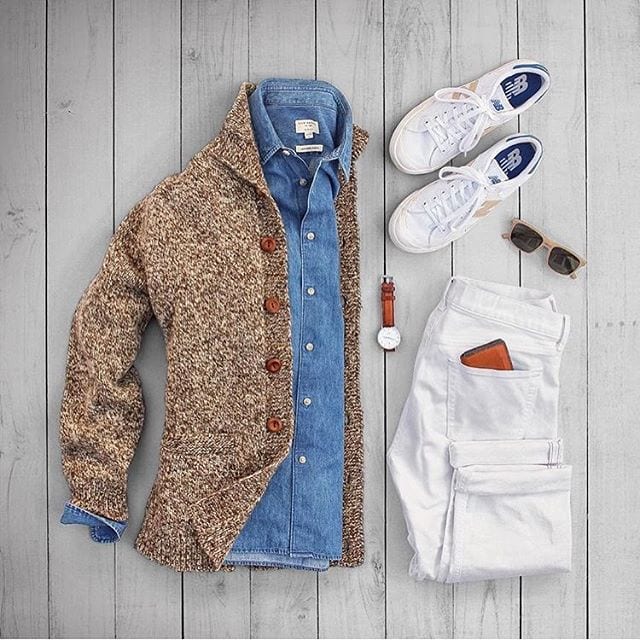 Via
↓ 12- Three-layered Top with a muffler: 
Wear a collar white shirt on top of it grey T-shirt and a jacket on top and pair this three-layer with a muffler. And camel pants will go for a long run. Check out these Men Outfit with White Shoes-16 Trendy Ways to Wear White Shoe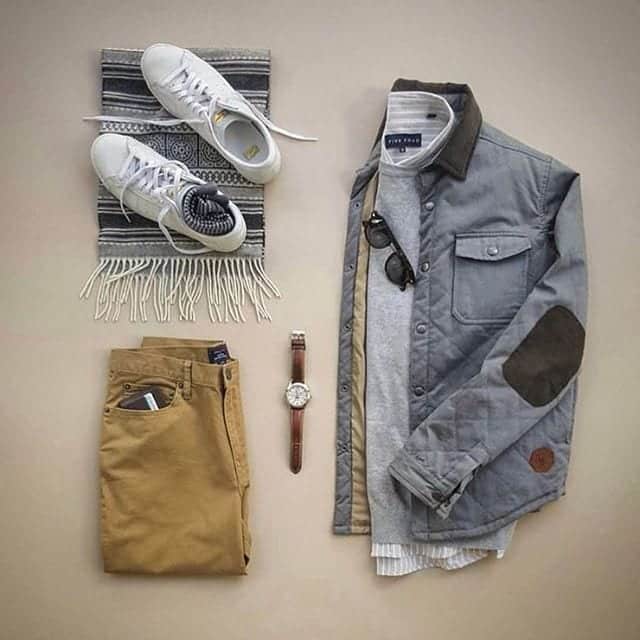 Via
↓ 11- Sweater makes you look classy:
Pair up your sweaters with the check shirt and denim dark color jeans to make yourself ready for family occasions or any other event. This dress code is simple yet trendy.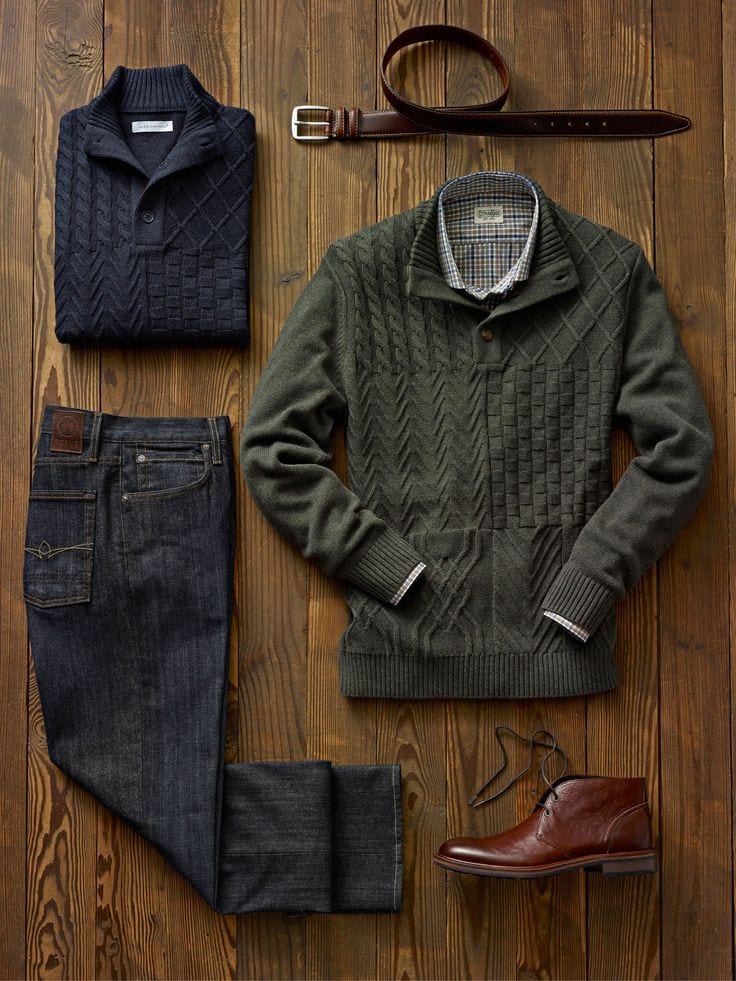 ↓ 10- Try Bennie cap with Denim jeans:
Going out of states? Try out this style as that would make you more stylistic and artistic when exploring the world. Here's How to Wear Brown Shoes-16 Men Outfits with Brown Dress Shoes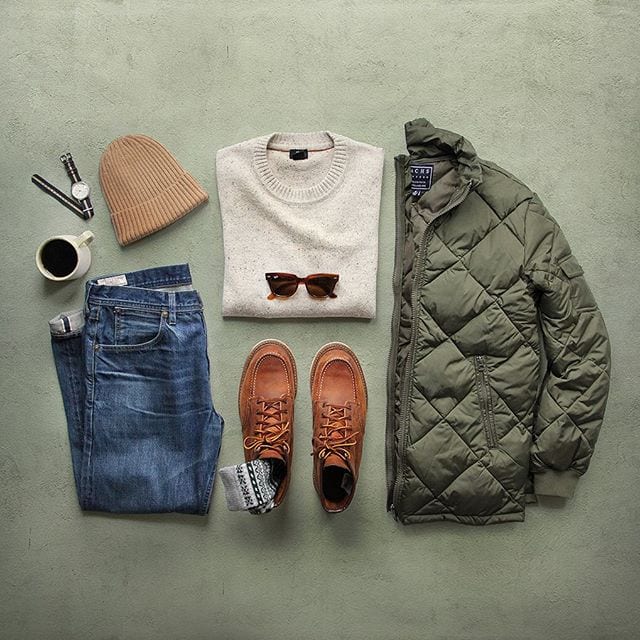 ↓ 9- Have a Swag Style:
why not try something different – that would make the appearance more extrovert and will grab more eyes! Pair up your loose joggers with a tee and a black jacket with a baseball hat and hit a late Party!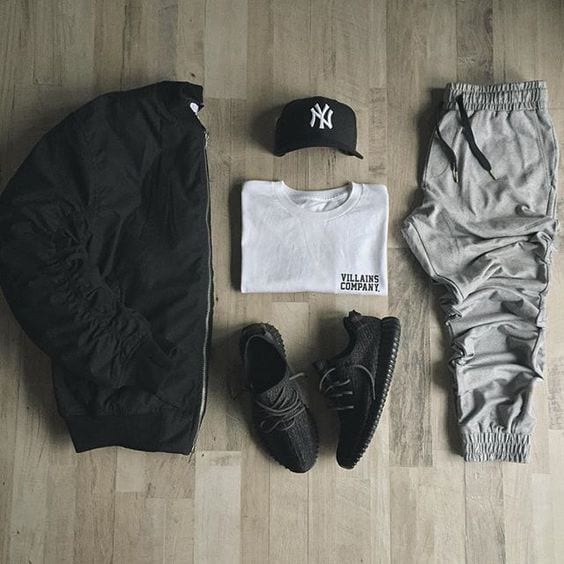 Via
↓ 8- Hawaii outfit: 
Grab your Hawaii shorts with a plain shirt and a traveling back while you are planning to travel to a beach place this summer.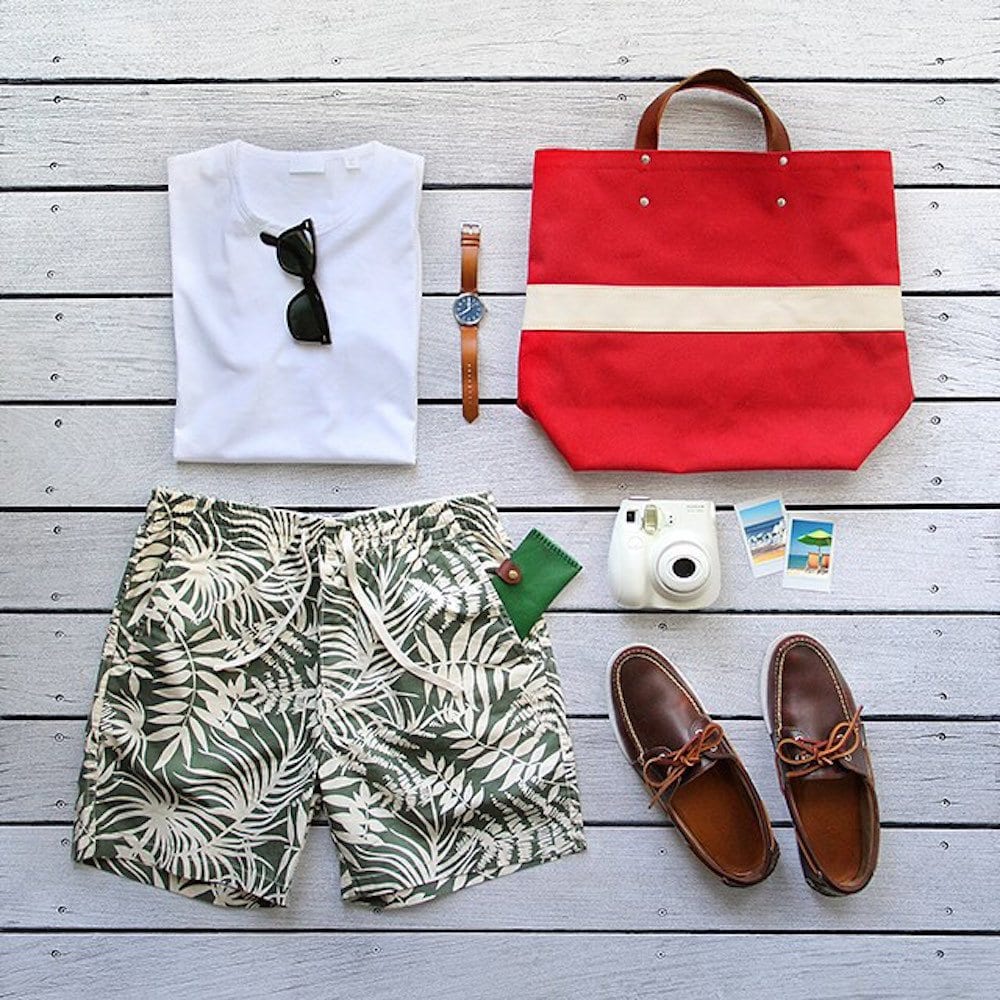 ↓ 7- Creamy Cotton shorts with blue button down shirt.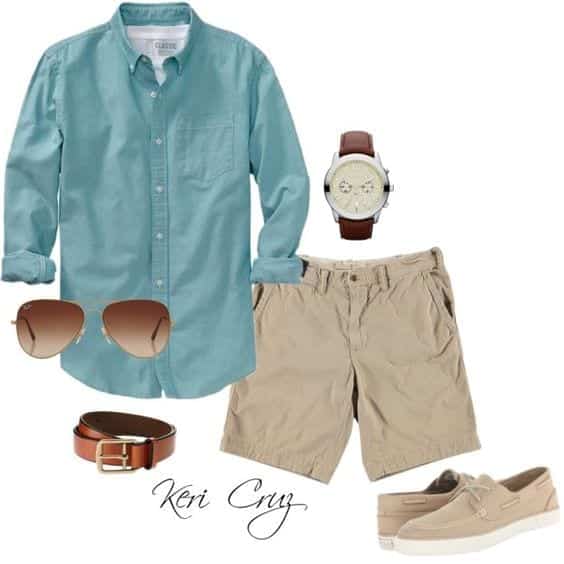 Via
↓ 6- Pink Hoody with Ripped jeans.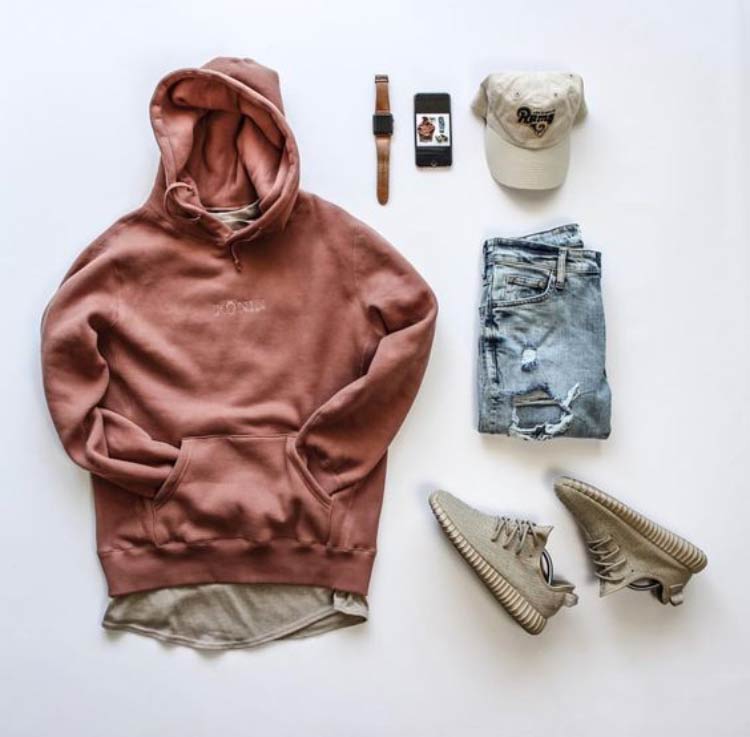 Via
↓ 5- Working-Out at home: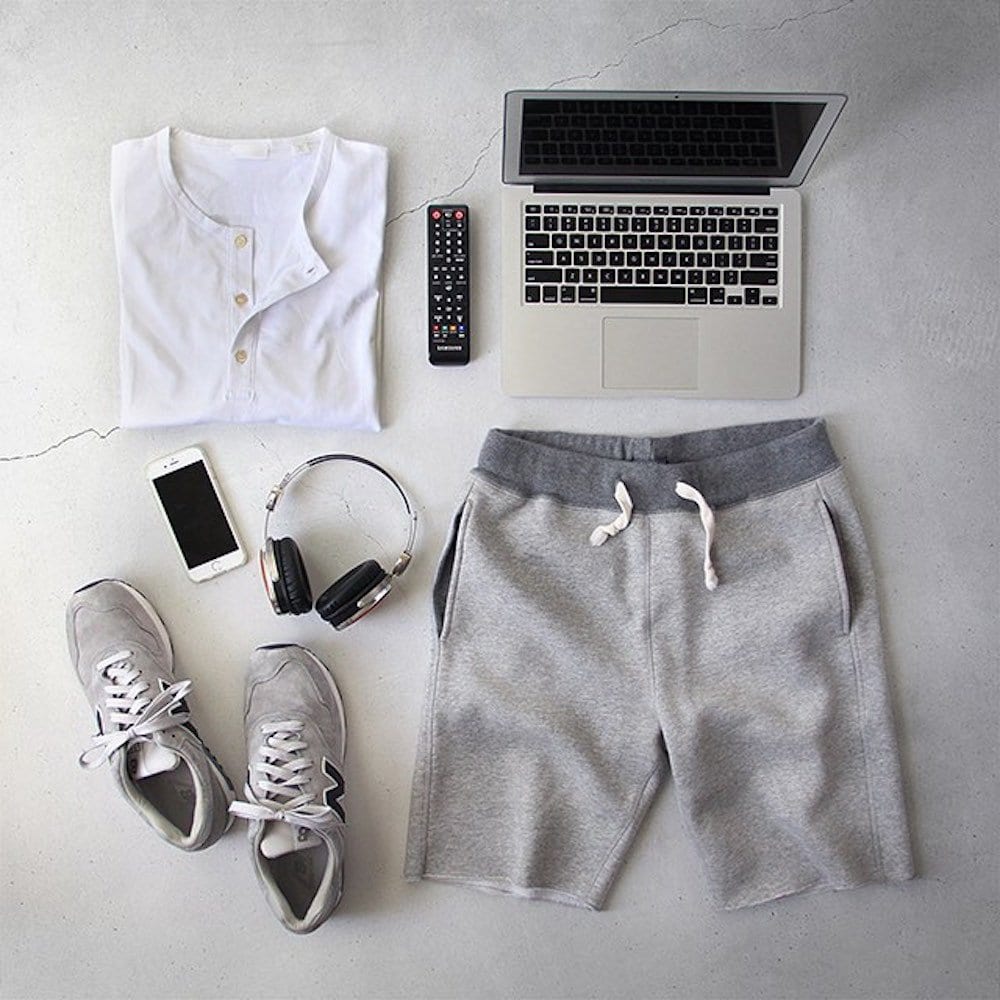 ↓ 4 – Grab Olive bomber jacket with black jeans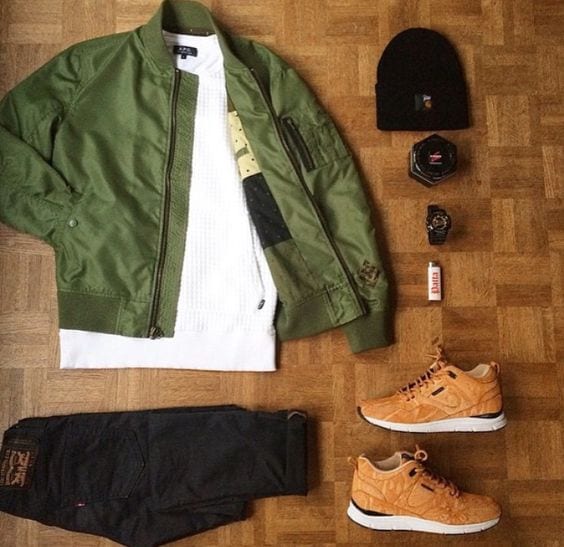 ↓ 3 – Long coat with Ripped Jeans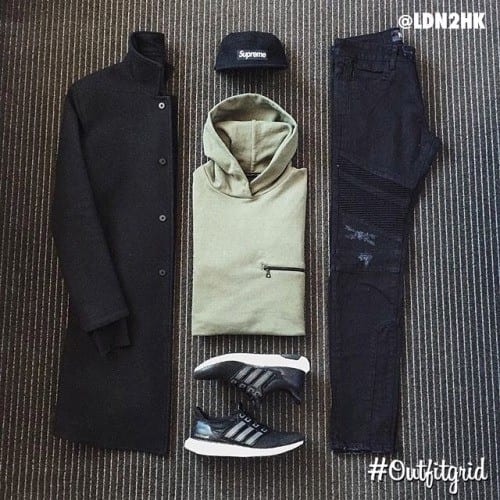 ↓2- Denim Blue Jacket with Khaki Cuffed Pants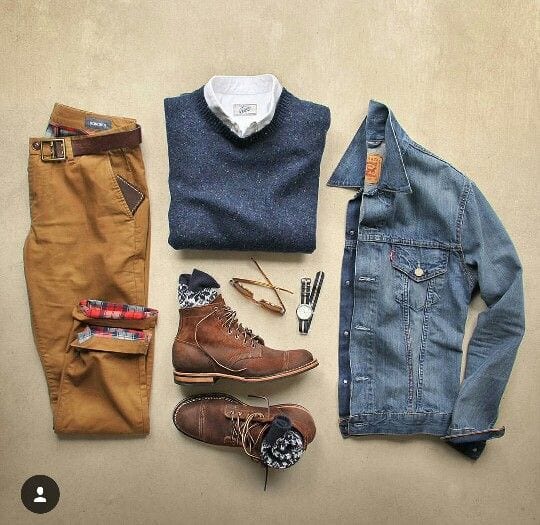 ↓ 1-Want to a try Christmas look?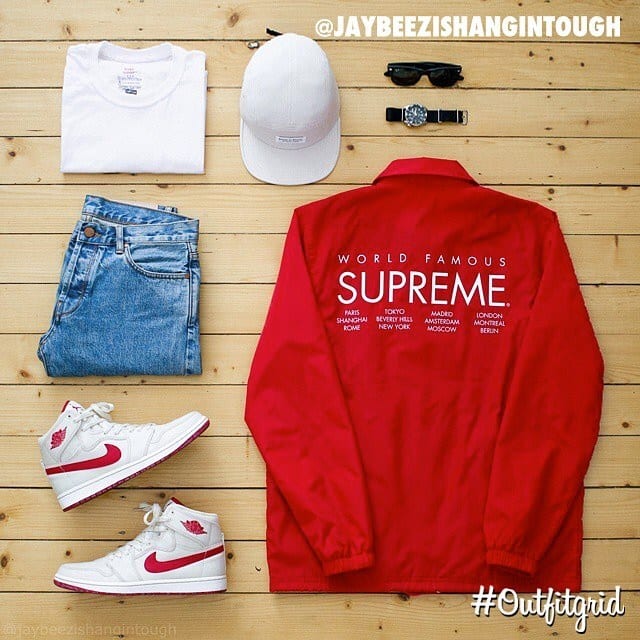 Via
"fashion is what you're offered four times a year by designers. And style is what you choose." – Lauren Hutton