Men Outfit with White Shoes –Shoes are a simple method for accessorizing your closet whether you are men or women. They have become a very important accessory in daily lives as they protect us harsh weather conditions. They are also considered as a good indicator of one's approach to fashion and also delivers one's fashion statement.
This article will throw light on trendy men's outfits with white shoes. According to the latest study, shoes are considered as "To be a source of the first impression" mean that one can judge the other person by their shoes. According to the group of researchers, shoes reveal a thin layer of personality about their wearers, therefore, shoes ought to be picked up according to the outfit you planning to put on. Likewise in a situation, you want to impress a girl then make sure that outfit goes well with the shoes.
How to Wear Men's White Shoes with Style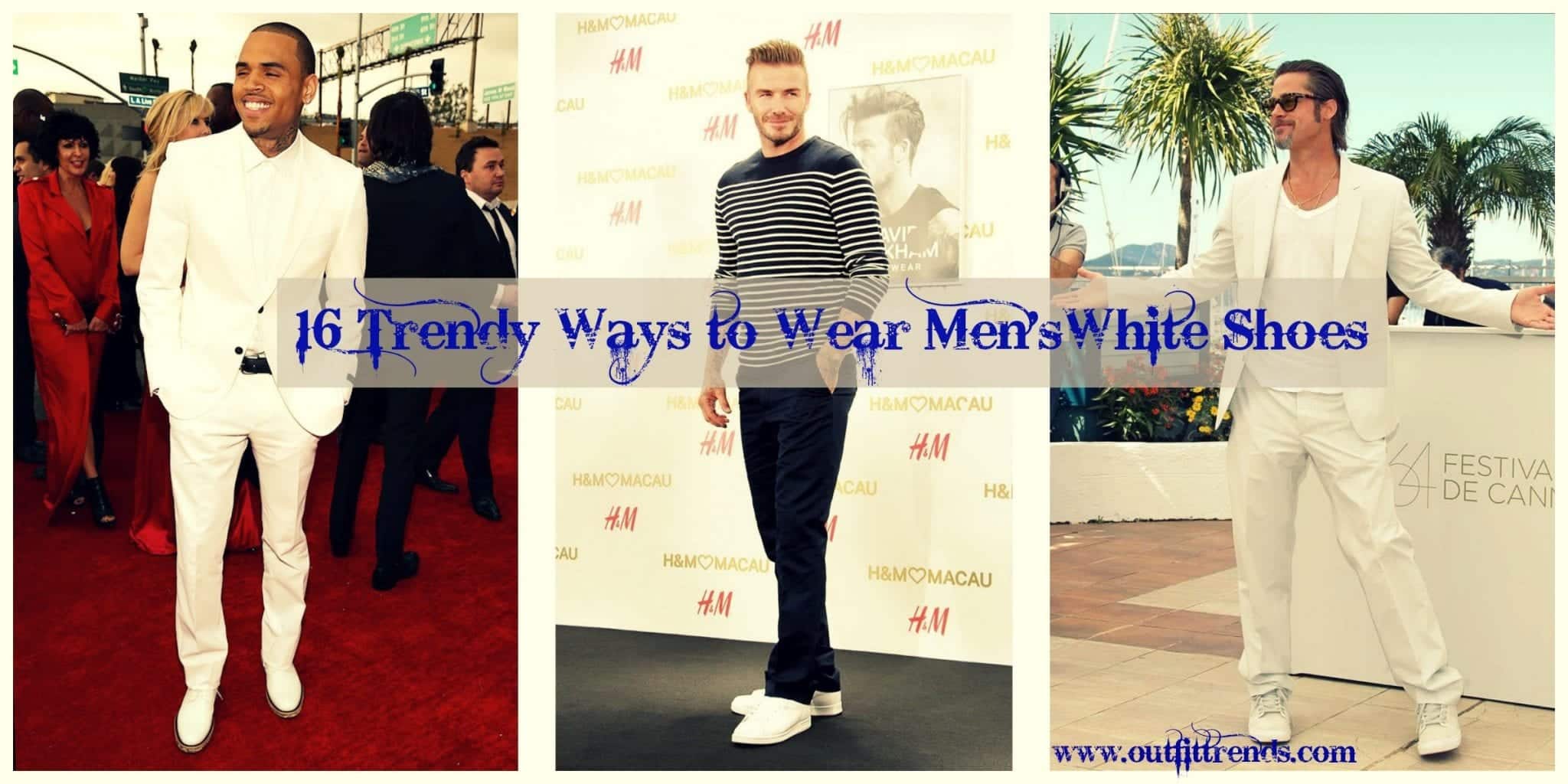 Guidelines for Wearing a White Shoe
Put on a right white shoe according to the event, if it's a  formal one then go for white oxfords, wingtip white leather shoes wearing white joggers with a suit would ruin your entire outlook. Therefore one has to be very picky about what white shoe to wear, when and with what.
Cleaning of a white shoe is very important whether they are white sneakers or white loafers. Therefore make sure that your white shoes shine like a soldier before you put them on.
Save your Sunday's newspaper, if you are caught up in a rainstorm, save your white shoe from long-lasting damage by drying them as soon as you get home and stuff them up with the newspaper that will suck the moisture after that place them in sunlight for drying.
↓ 16 – Men's Workout Outfit with White Joggers
Celebrity Patrick Schwarzenegger is wearing plain white T- shirt, blue pajamas with White Denim Joggers. Lastly accessorizing himself with a wrist watch and bunch of bracelets. By putting on an outfit like this gives him a casual plus quite stylish look. Note that hairstyle and facial hair matters a lot in the overall image of one style. In order to check out which hairstyle will complement click on this link: Facial Hair Styles-30 Best Beard Styles 2016 with Names and Pictures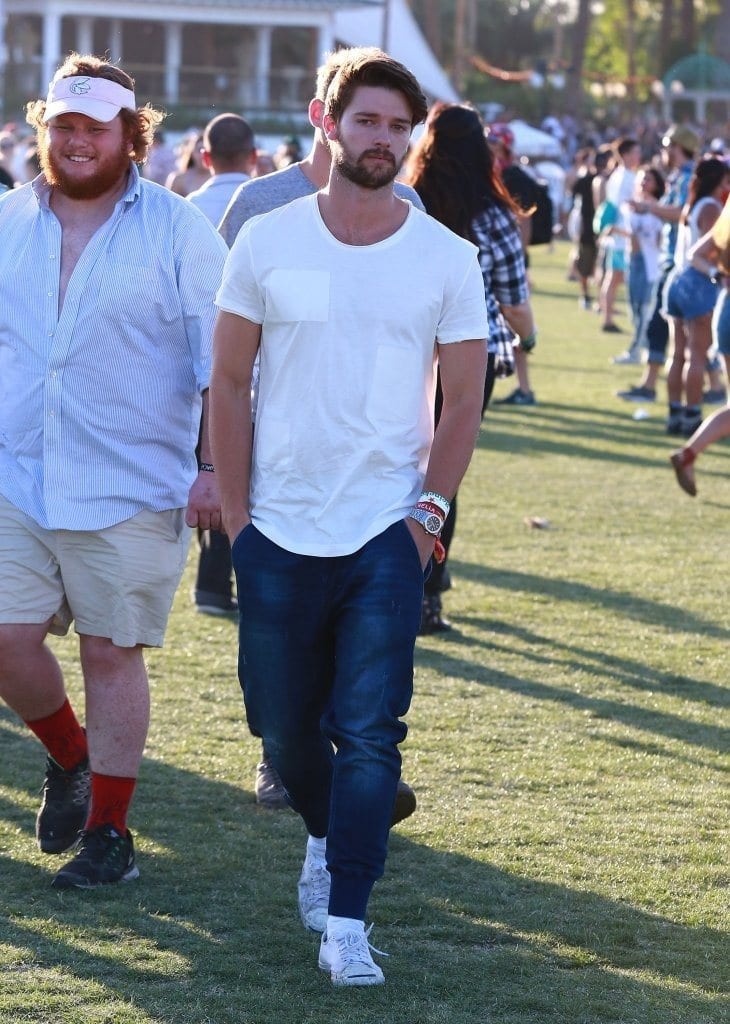 via
Patrick Schwarzenegger in the picture beneath is doing a walk with his beautiful girlfriend Abby Champion in a casual outfit that is white T-shirt with black pajamas and lastly wearing the most popular accessory of these days the White joggers. All young teenager can try out this men's outfit with White Joggers.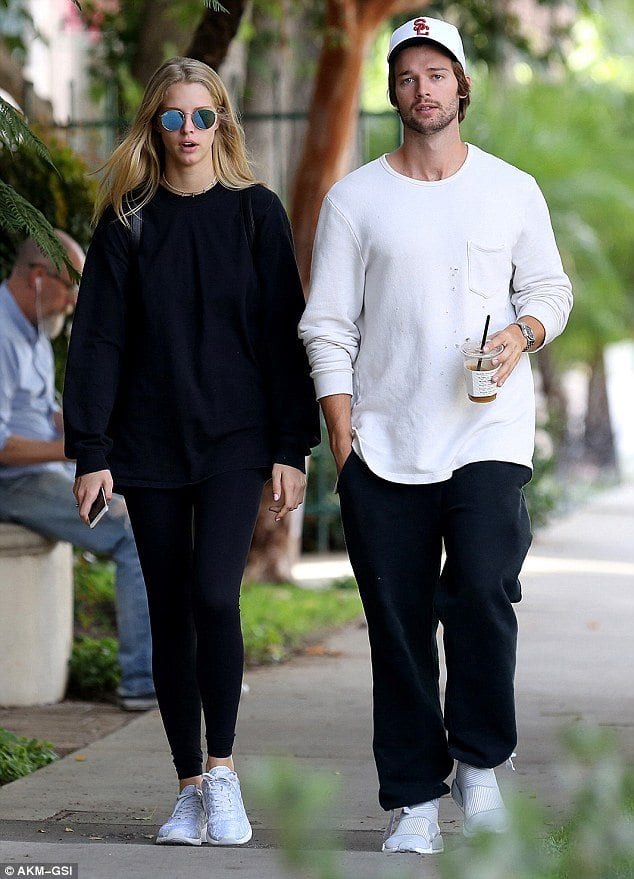 Recommended: Latest Beard Styles for Black Men – 30 Hottest Facial Hair Styles to Try
↓ 15 – White Oxfords for Men's Formal Outfit
Going to an official meeting or attending a formal event then these White Oxfords will do all the work mean that you can adopt any one of the two looks of Ryan Gosling that will keep you in fashionable look. With these White Oxfords whether you can opt for a black linen suit with plain white shirt or textures plain gray colored linen suit with plain white shirt, make sure that for the formal outfit, go for one plain shade of suit. Note that the suit should be a darker shade, a shirt of light shade by doing this your White Oxfords will look great.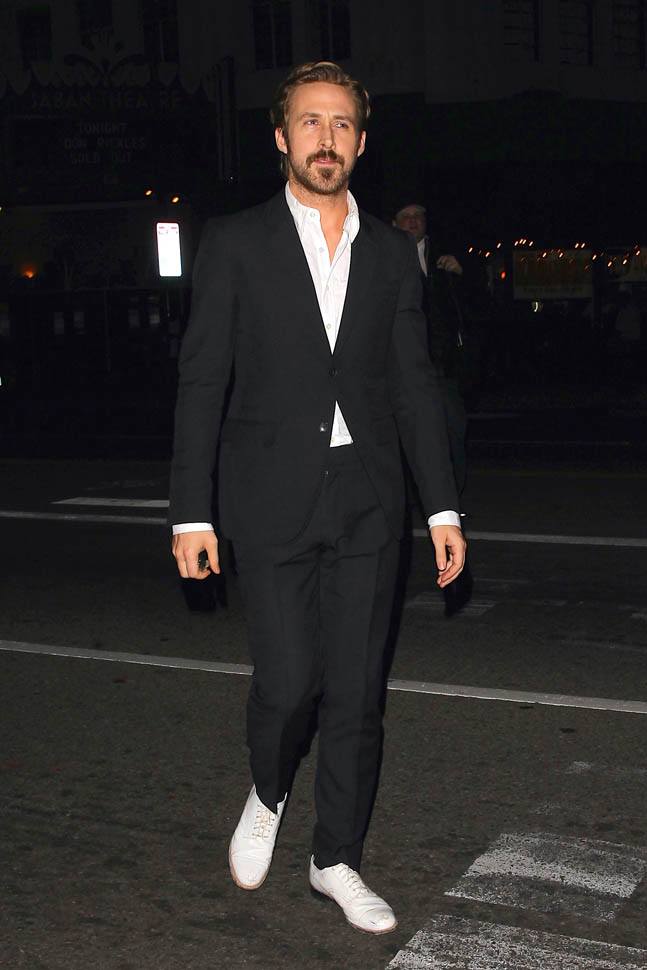 via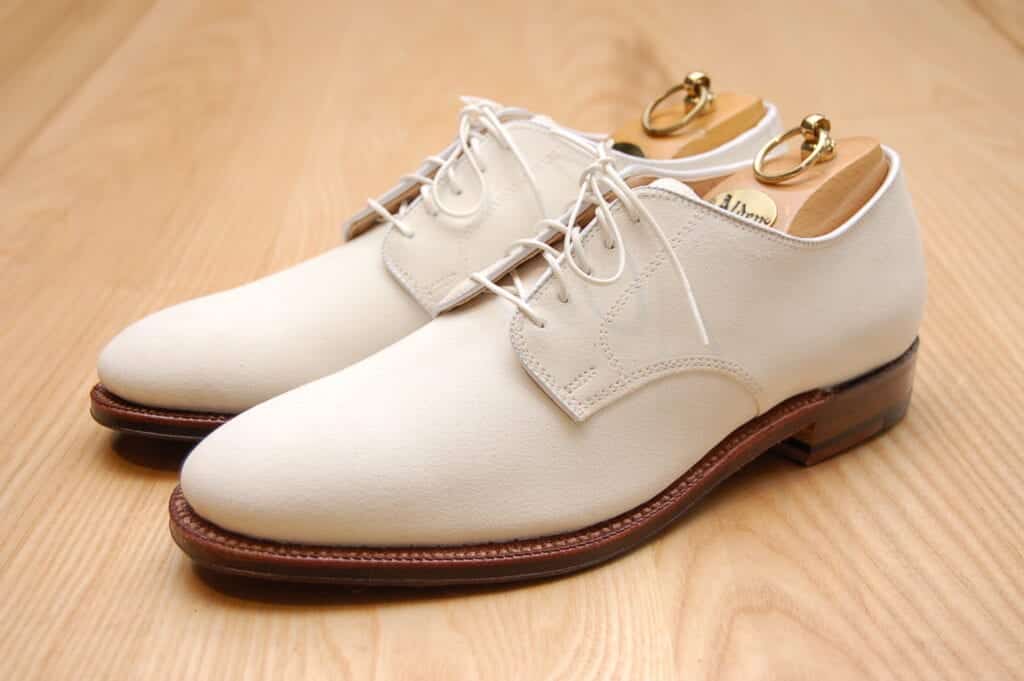 via
To have a calm and composed look then one might do for lighter tones of shades. Lastly to compliment the look fo for the same claim hair style as the celebrity Ryan Gosling has styled himself that is quite a business men look in a most stylish manner. Recommended: MDV Hairstyle Tutorials- 20 Best Haircuts of Mariano Di Vaio.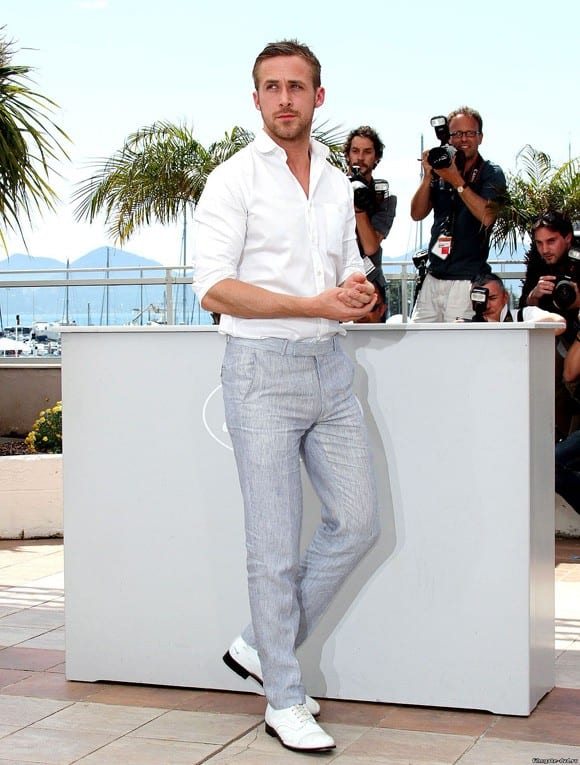 via
↓ 14 – How to Wear White Boater Shoes
Styling with the White Boater Shoe is quite a difficult task to do. Therefore school boys or the boaters and even those individual who are cruising can do styling with them as they have both semi- formal and a casual look. In the harsh weather conditions while cursing, wear a black leather jacket with cream straight dress pant and a black polo shirt and lastly put on the clean White Boaters that will enhance one's personality and give a fashionable outlook.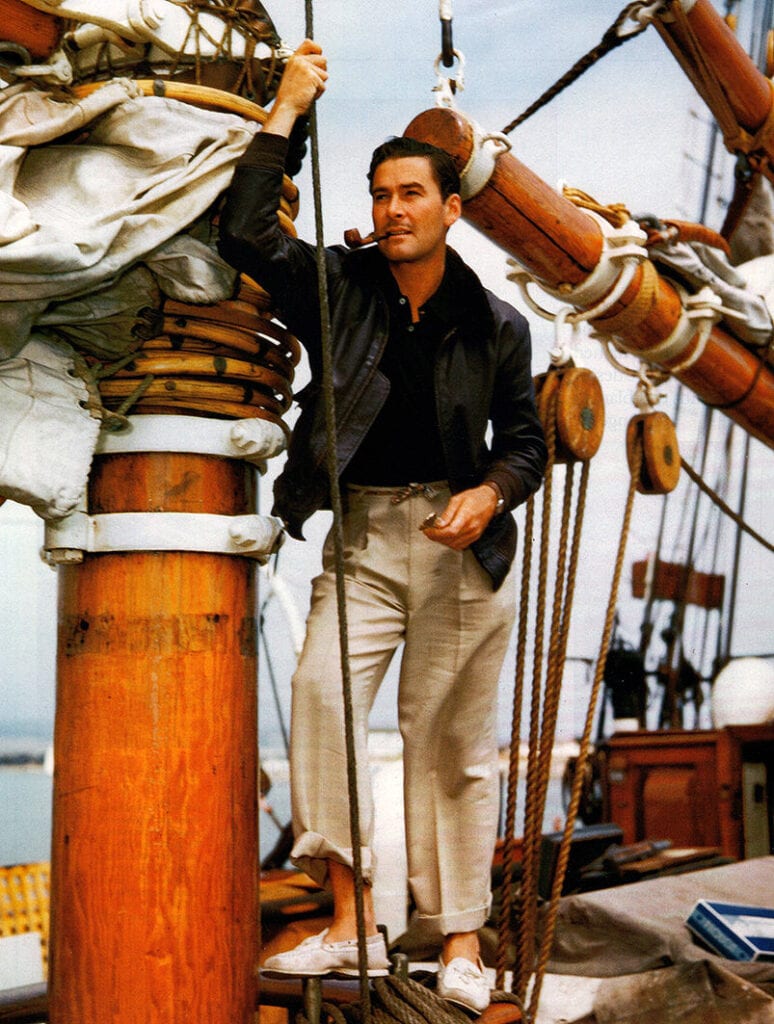 Recommended: Leather Jacket Outfits for Men-18 Ways to Wear Leather Jackets
For having a gentle men's outlook one can go for the plain single tone of linen suit with a woolen scarf wrapped around the neck with the white boaters As in the picture the black model is keeping the white boater and the White shirt of the same shade and the suit of gray shade. Lastly, to look in more style have worn black shades.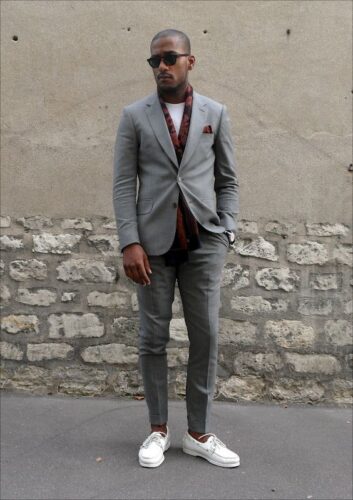 ↓ 13 – Men's Outfit with White Adidas Stan Smith
41-year old celebrity David Beckham wears a white striped long-sleeve black t-shirt, black jeans, and White Adidas Stan Smith sneakers. This outfit gives him a very stylish look and the look on which every girl wants to fall on. This look can be said to a casual one for going on a date or party with friends.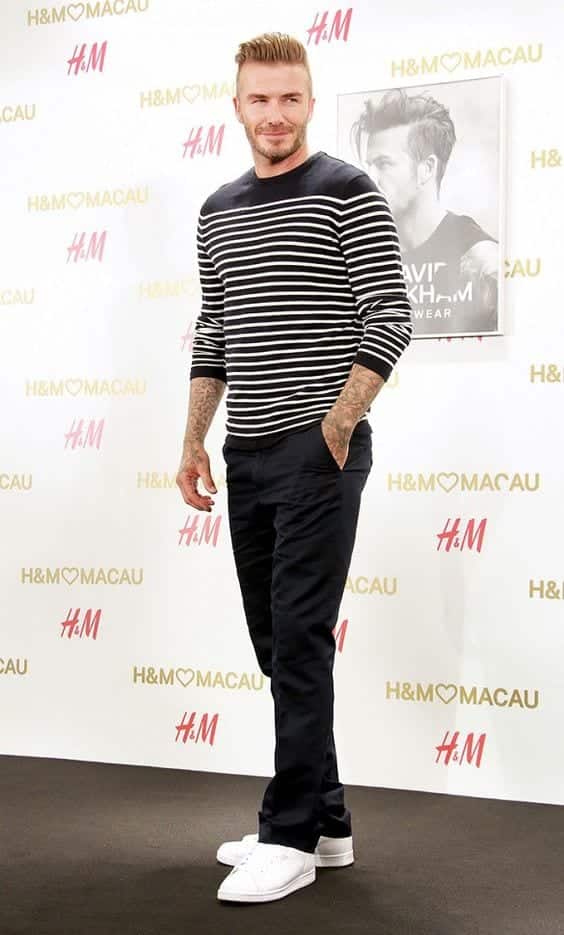 36- year old celebrity Justin Timberlake is wearing the White Adidas Stan Smith sneakers with white dotted blue T-shirt with the blue pair of jeans. Lastly, completing the whole stylish look with the flat hat and black shades. Like Shoes, Hats also plays a vital role in enhancing one's personality, therefore, it is recommended to check out the following link: Men Outfits with Hats – 15 Ways to Wear Different Hats Fashionably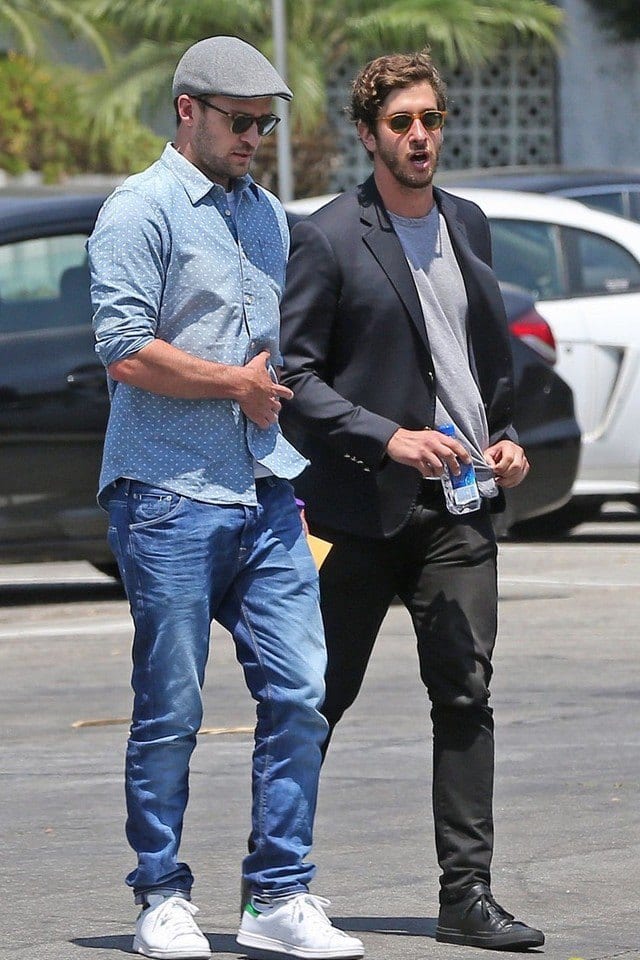 via
Justin Timberlake semi-formal outfit with a pink T-shirt out, a dark brown pair of pant, navy blue suit coat with White Adidas Stan Smith. This outlook is a perfect one for college boys.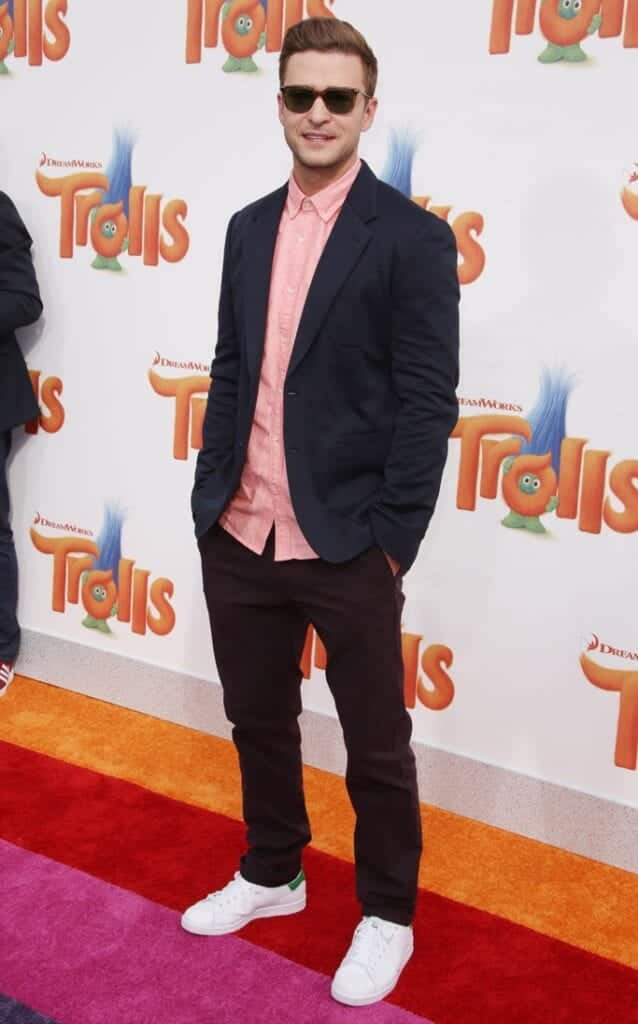 ↓ 12 – Men's Outfit with White Van Sneakers
Justin Beiber a singer, a worldwide known celebrity famous for his songs, is dressed up in winter season so simple but kept his outlook a hip hop one. with the White Van Sneakers, with long strung with a black beanie, white T-shirt and ripped jeans. Ripped jean are quite in fashion in summer's, it is recommended that you might want to check out outfit styles with them, therefore, click on the following link: Shoes with Skinny Jeans for Men 15 Best Footwear for Skinny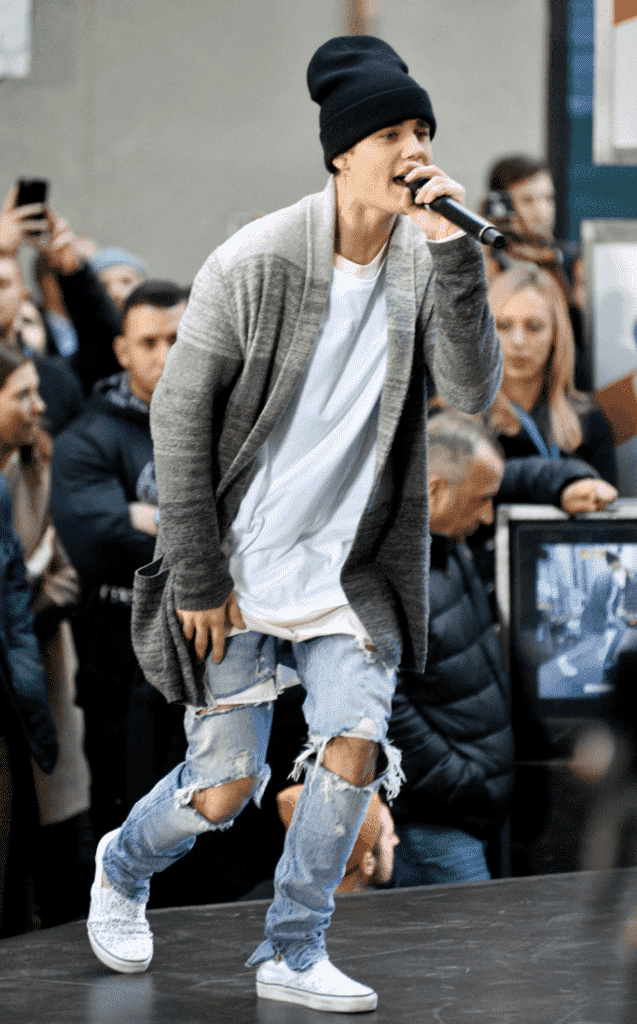 When the sun is out, one might be opting for shorts, the model in the picture below portraits a fashionable outlook with fawn shorts, blue T-shirt with the van sneakers. Lastly completing the whole stylish look with black shades and a wrist watch.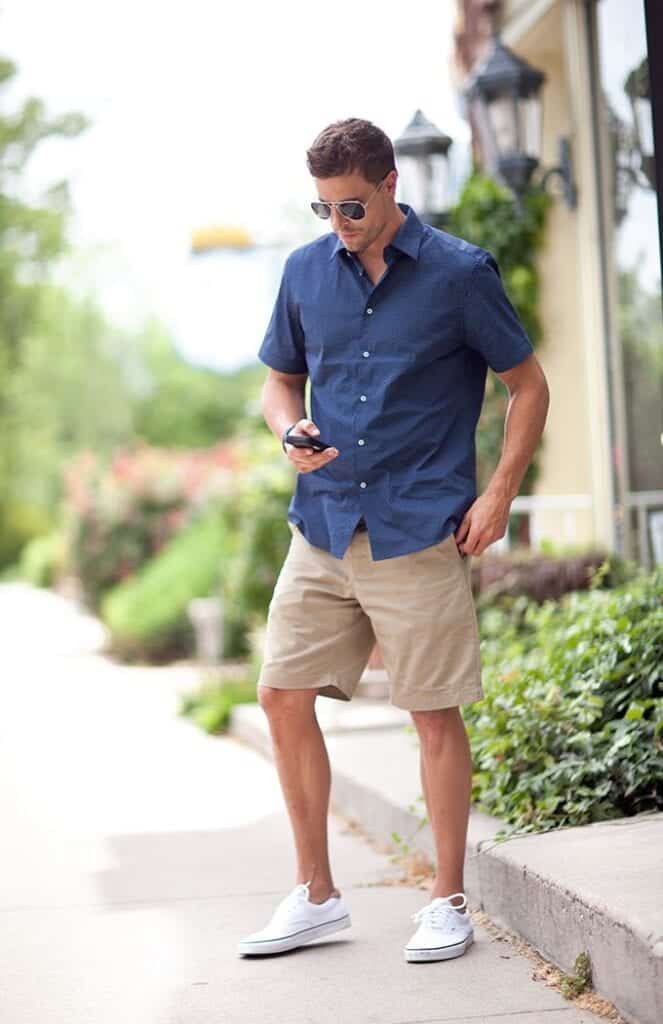 ↓ 11 – How to Wear White Sneakers with Bomber Jacket
Here we see one of our favorite celebrities, Drake, is dressed up in White Sneakers and Brown bomber jacket. He played with the lighter shades that are going superbly with the White Sneakers but lastly to add color to the look he wore brown bomber to portrait himself as a fashionista. Young boys and even above 30 age group can opt this look.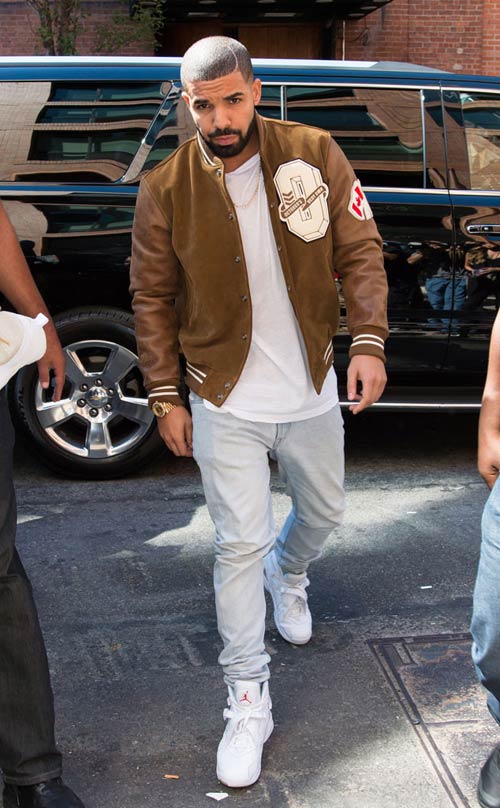 via
Recommended: How to Wear Bomber Jacket Men-18 Outfits with Bomber Jackets
↓ 10 – How to Style with White Thom Browne Shoes
Thom Browne Shoes are worn in all ways formal, semi-formal and even casual looks. These shoes uplift the full attire of the outfit as they themselves have very stylish cuts. The models in the pictures exhibit how to carry them with different men's outfits it can be worn for doing a workout by wearing shorts or on friends part in winter with a red bomber jacket or in a college bonfire with green sweater and even in an official meeting/workplace with a linen plain suit.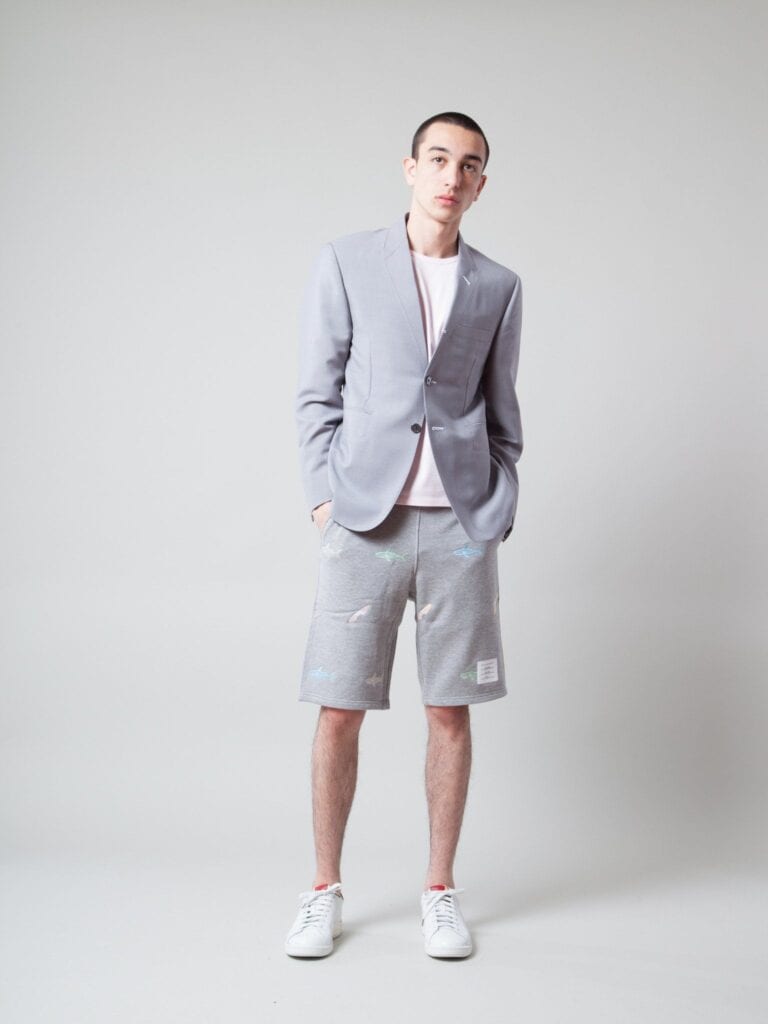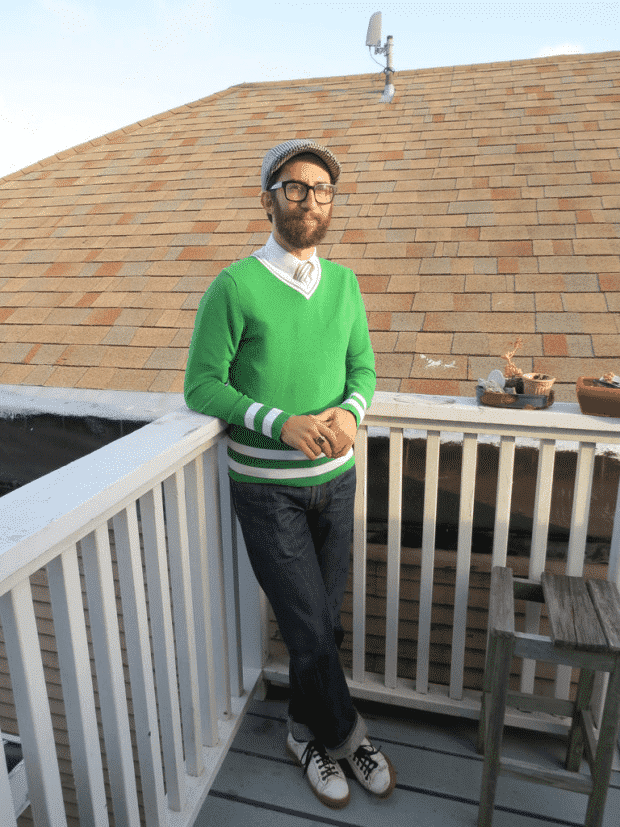 The celebrity Wiz Khalifa carries himself very well in White Thom Browne.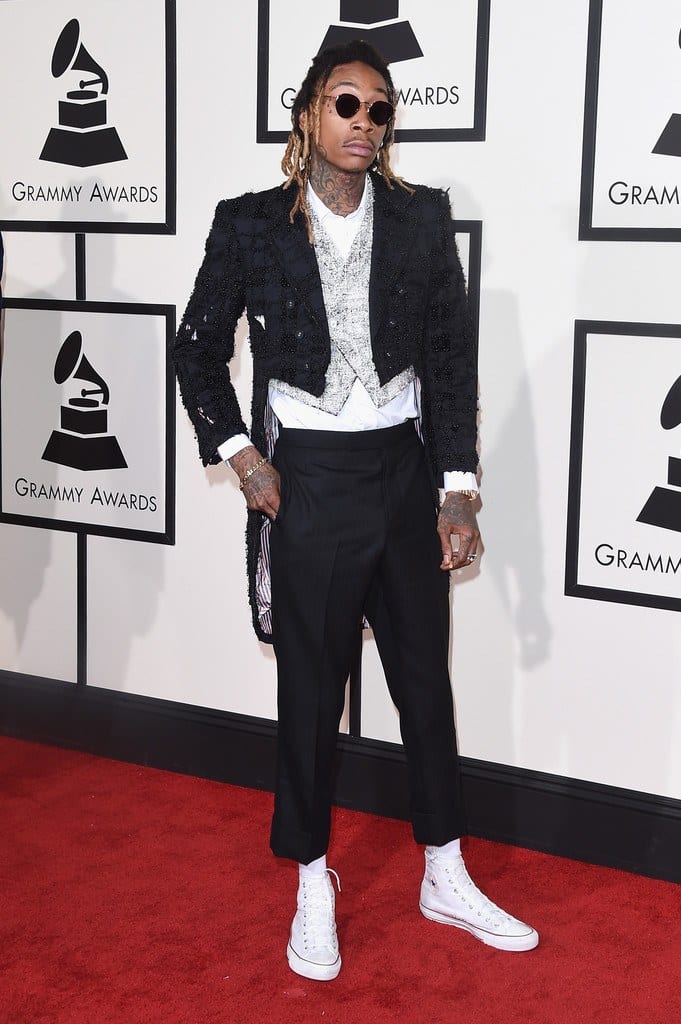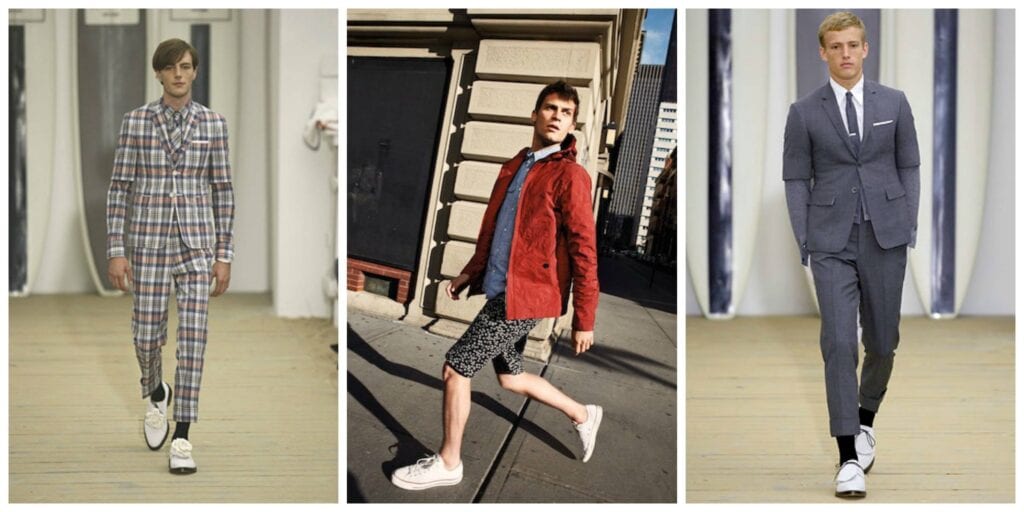 ↓ 9 – Men's Party Outfit with White Buck Dress Shoe
White Buck Dress shoes can be carried in both formal and casual look. With my point, they will work very well and look great with the formal outfit. The models in the pictures exhibit funky look with the outfits that can put on at friend's party or in a fashion show.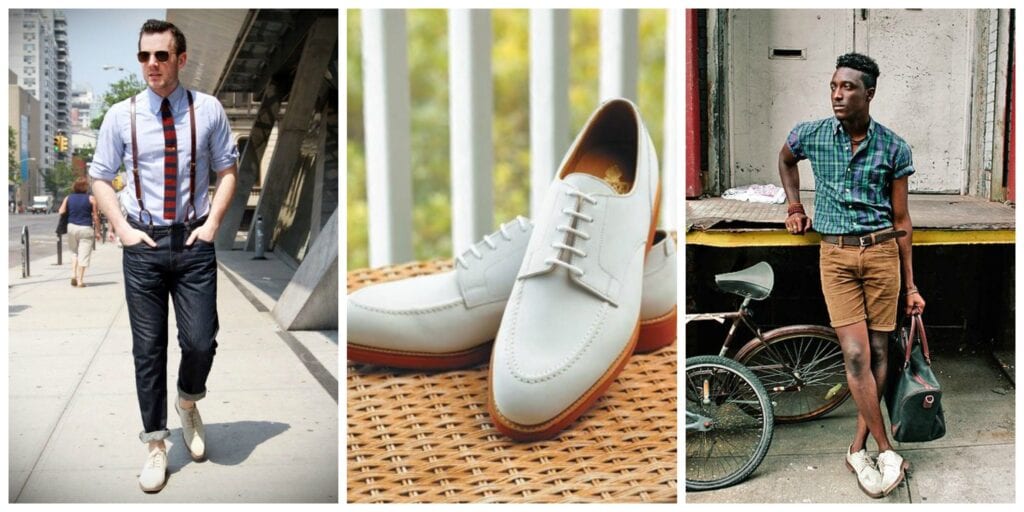 ↓ 8 -What Shirt to Wear with White Shoes for Casual Wear
The celebrity B.o.B wears Acne Jacket, Button Shirt, Isabel Marant Pants, and white leathers Timberland Boots. He accessorized himself with the silver chain, rings, bracelets and watch. This all gives him a fashionable look. Boys under 30 of age can follow his stylish look.
via
↓ 7 – How to Wear Men's White Shoes at Wedding
Putting on white shoes at a wedding looks great whether they are white sneakers or oxfords. The picture below exhibits a wedding in which groom friends are wearing white sneakers with gray dress pants, white T-shirts with a blue bow. Actually, the whole wedding outfit look is looking quite superb and stylish.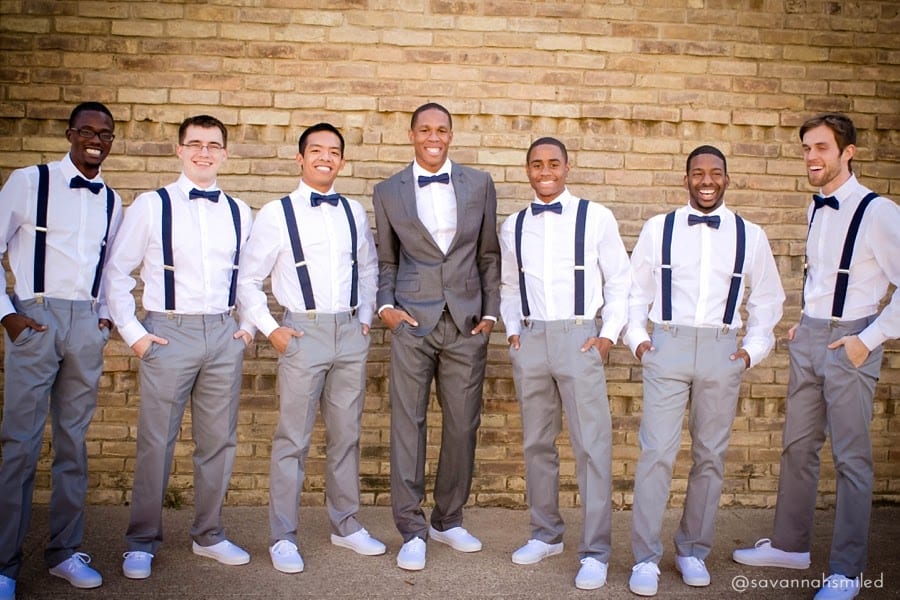 via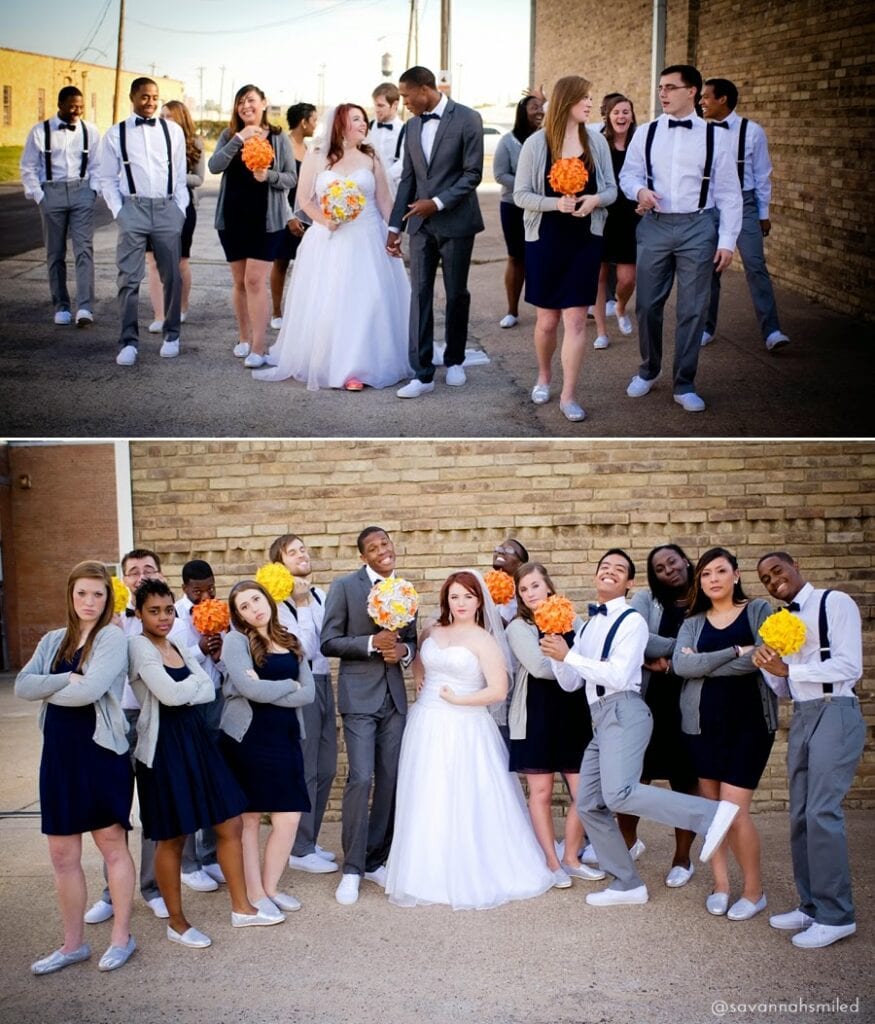 via
↓ 6 – Go sockless with White Shoes
Going sockless in winters are quite in fashion. Models below in the pictures shows how to dress in winters with white shoes by going sockless. Put on a white sweater, white shirt with blue jeans and complimenting the whole look with black shades. this outfit look is composed to decent look.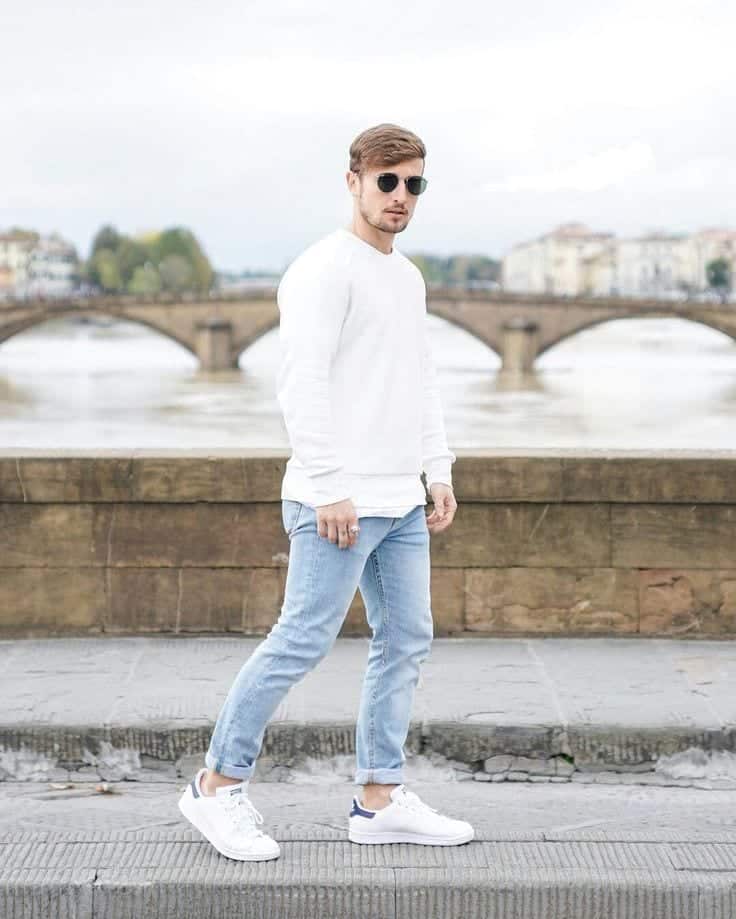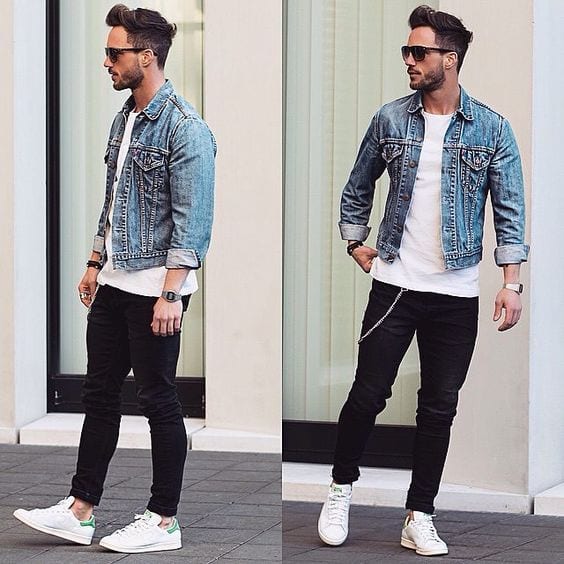 ↓ 5 – Men's Look with All White
56 years old celebrity Brad Pitt play very well with all whites, kept the look semi-formal but kept himself in style. And the 27 years old celebrity Cris Brown wears a  White Lanvin Evolution Jacket, Shirt, Pants, and Leather Dries Van Noten Shoes. Both of them are from the different group of age that concludes any age group men can opt for all whites.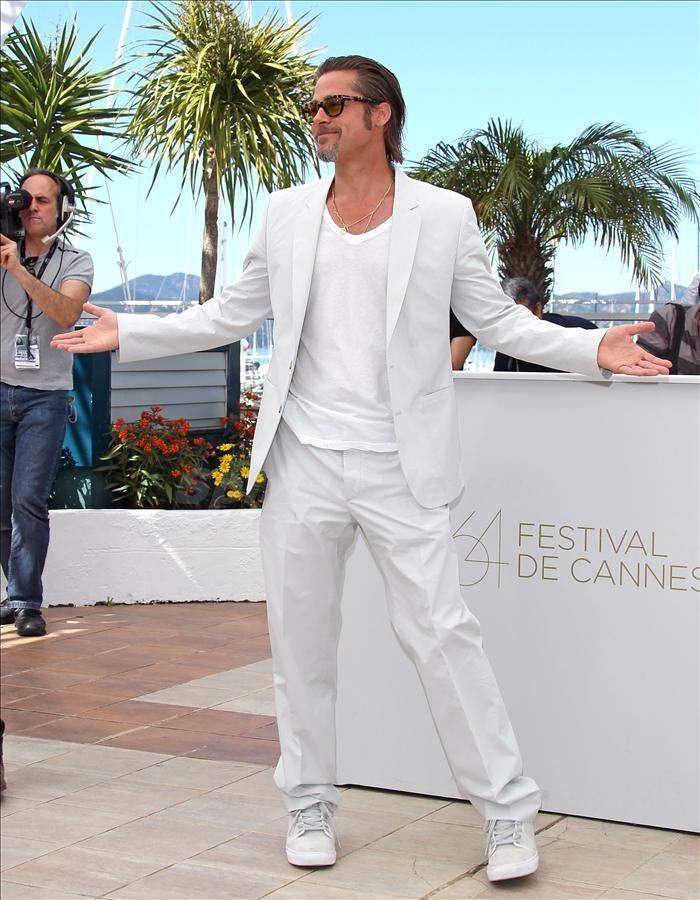 via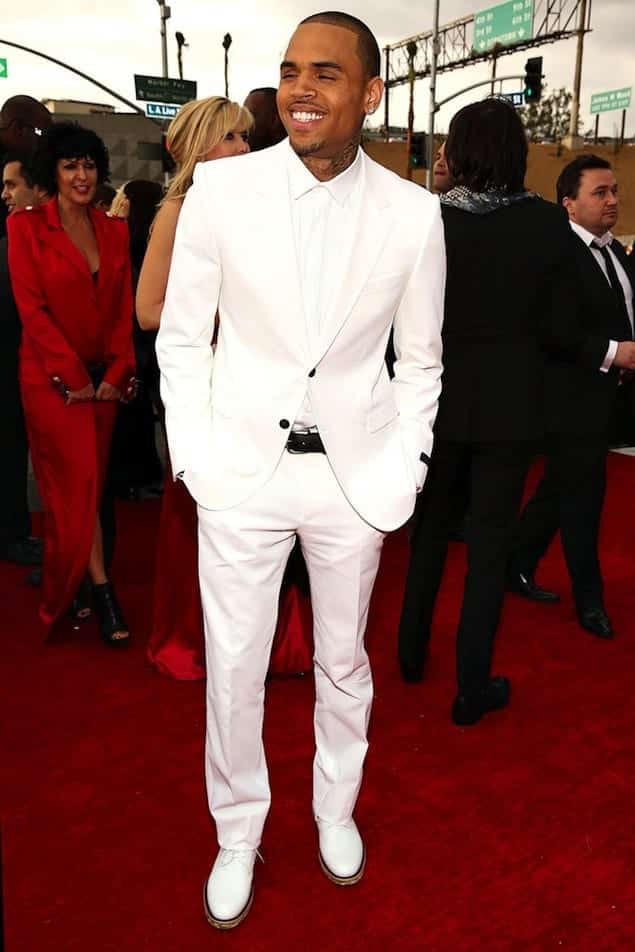 via
↓ 4 – Men's Outfit in White Converse
29 years old celebrity Zac Efron is carrying himself in a very fashionable way with the White Converse. For the fancy party show he wears all black with white converse, and for the casual look, he wears ripped and plain jeans.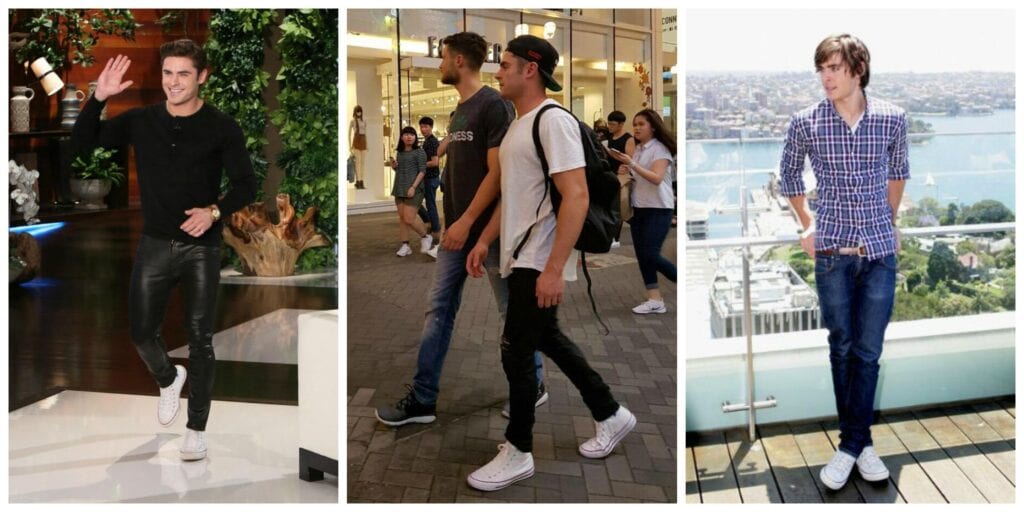 ↓ 3 -How to put on White Trainers
The celebrity Kanye West Balenciaga is wearing a white shirt, blue jeans, blue jean jacket, white coat with the white trainers. This all gives him a decent casual look with all style.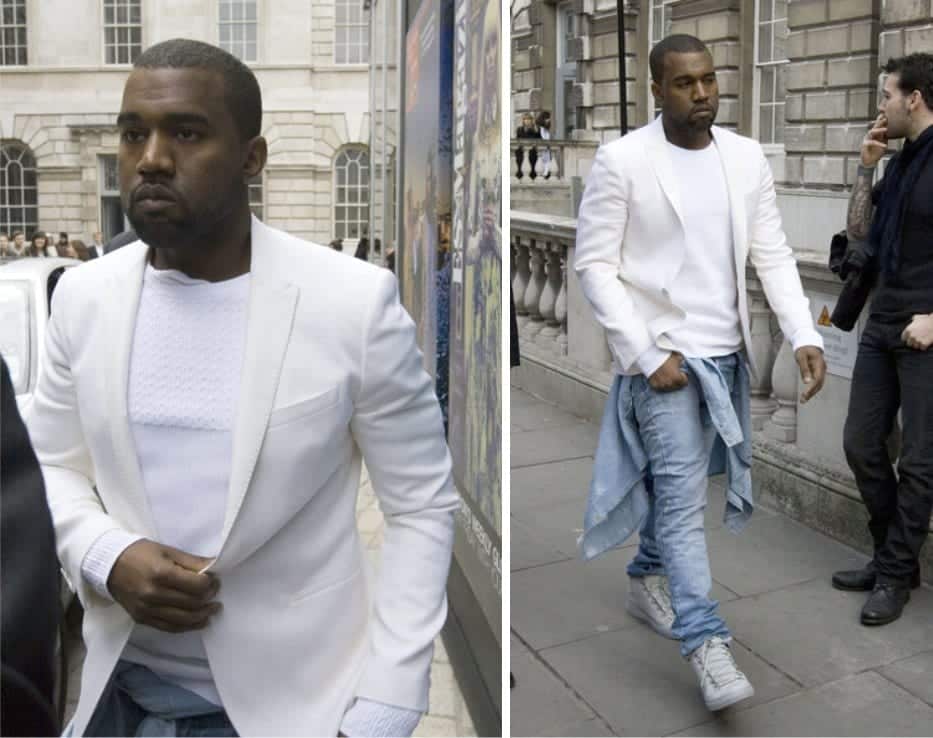 ↓ 2 – Men's Causal Outfit with White Wedges
Celebrity TomCruisee is 54 years old and wears white wedges that keep his celebrity look quite well in a fashionable manner. He wears blue jeans with black and gray shirt.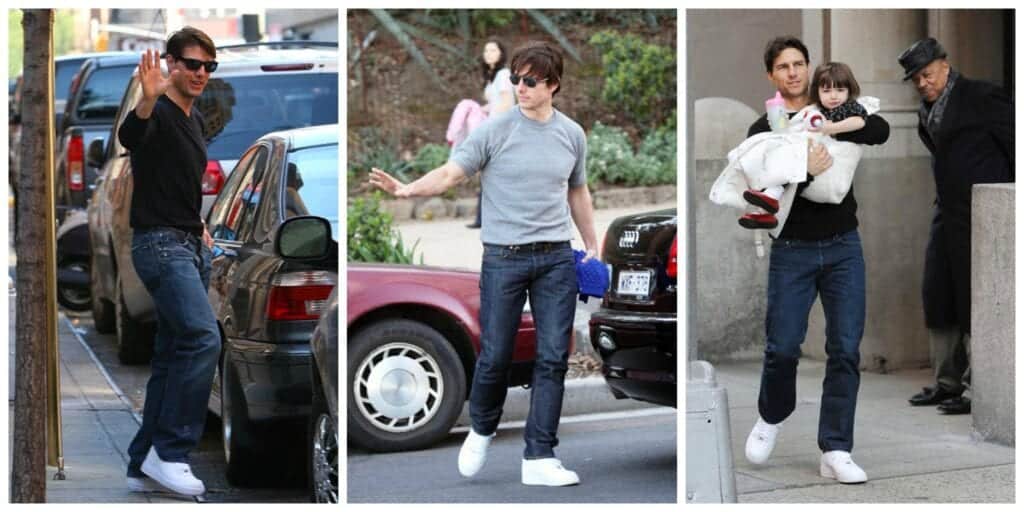 ↓1 – Men's Summer's Outfit with White Shoes
White shoes in summers can be sandals or flip-flops. In the picture below the celebrity, Channing Tatum is wearing lighter shades of clothing with white flip-flops, lastly accessorizing himself with the Flat hat that adds a style to his outfit look.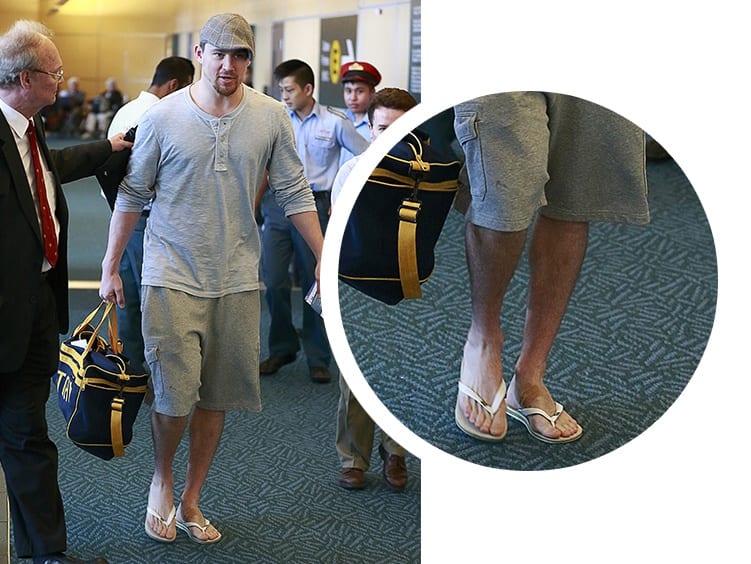 via