Party Outfits for Males – Ladies, let's admit it; we like to shift all the fashion attention to ourselves. We love to spend all our savings on function clothes for ourselves, often forgetting the poor men. Men, let's also admit it; you love to dress up and look fashionable.
Functions and event wardrobes are extremely important for boys, as it gives them a chance to flaunt their personalities. Clothes are all about expressing your inner self, and parties are the perfect occasion to do so. So today we shall be giving ideas to stylish men as how to dress for the party ? what outfit to wear for different occasions ? perfect footwear for the party and much more …..
Men Party Outfit Ideas
#1. Casual Party Wear
Ever since Bruno Mars came out with the song 'Uptown Funk', the funky clothes style has gained in popularity! Try it out for yourself and be the star of the event. Also, see best casual outfit combinations for men this season.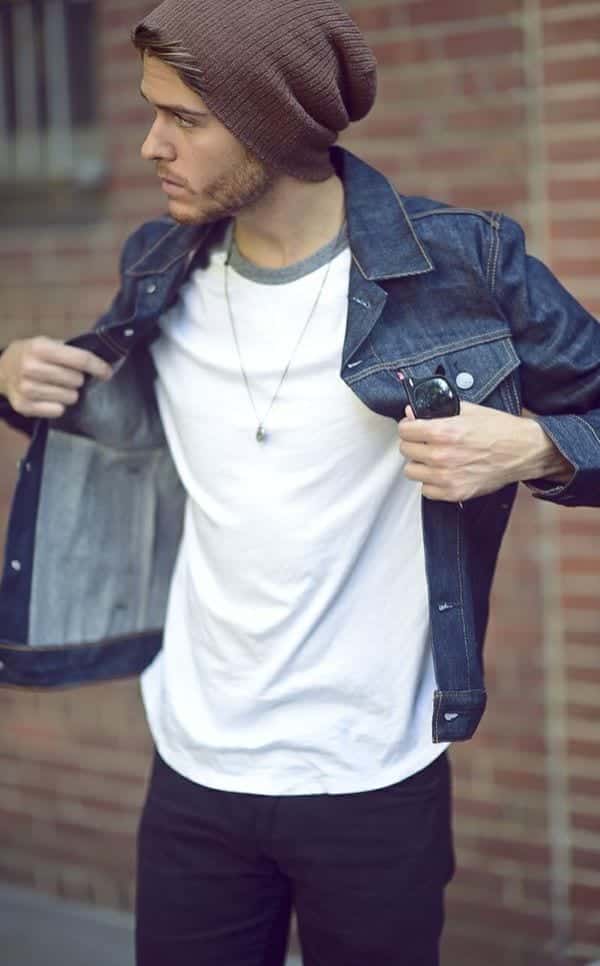 #2. Outfit for 2016 Christmas Party
Classy men love to stick to expensive yet plain shirts, paired with Levi jeans and leather shoes.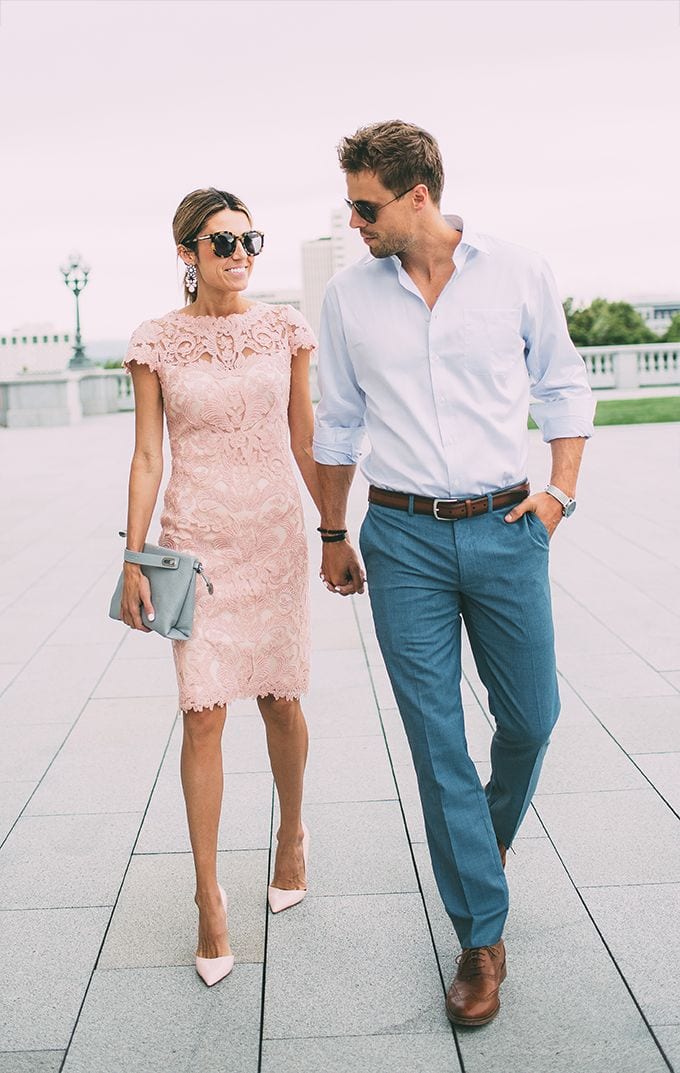 #3. Tailor-Made to Perfection
A preppy wardrobe looks great on men, so pair your waistcoat with a checked shirt and a spunky bowtie.
#4. Summer Party Wear
Guys can flex their muscles and abs by sticking to a hat, vest and jeans to their next function.See the sexy summer outfit combinations for men . Summer parties are all about wearing sleeveless to party and flaunting your muscles and abs in order to attract more girls at the party.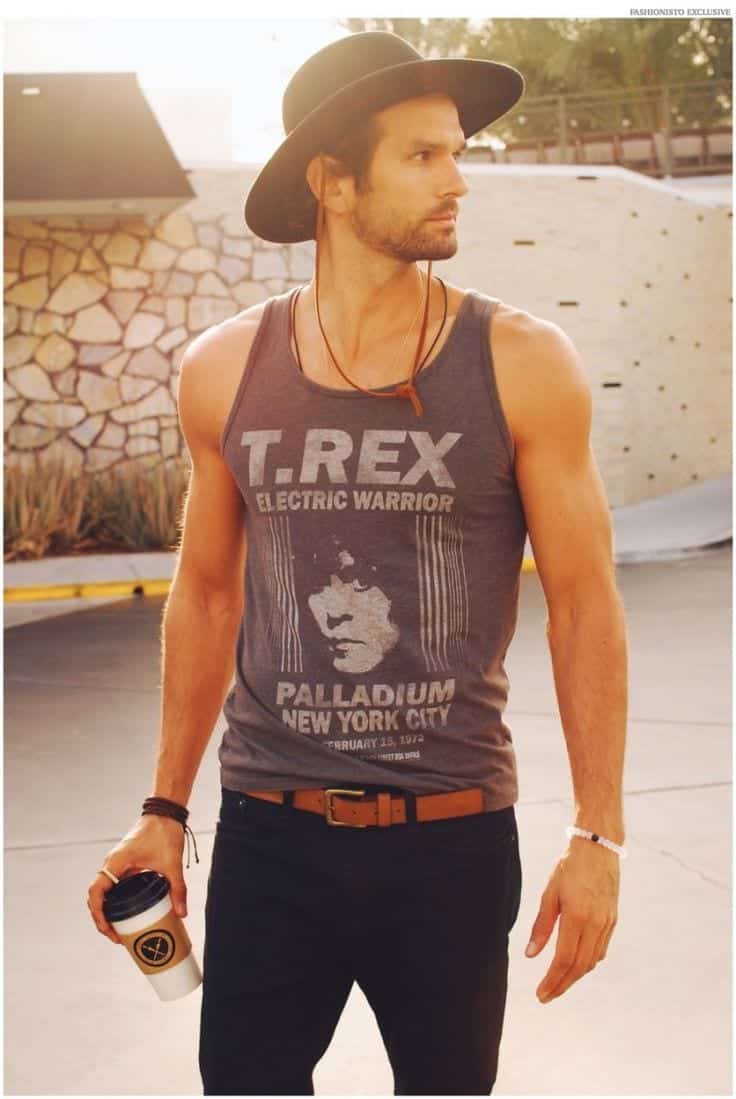 #5. Black and White
A checked black and white shirt, like a chessboard, looks extremely stylish for an event. The plaid pattern is in trends these days, literally, everyone can be seen wearing plaid pattern shirts at every occasion everywhere. the best thing is that you can pair them up with any kind of pants. For example, if you are going for black and white plaid shirt, you can wear plain black pants underneath it. This is a handsome and elegant combo.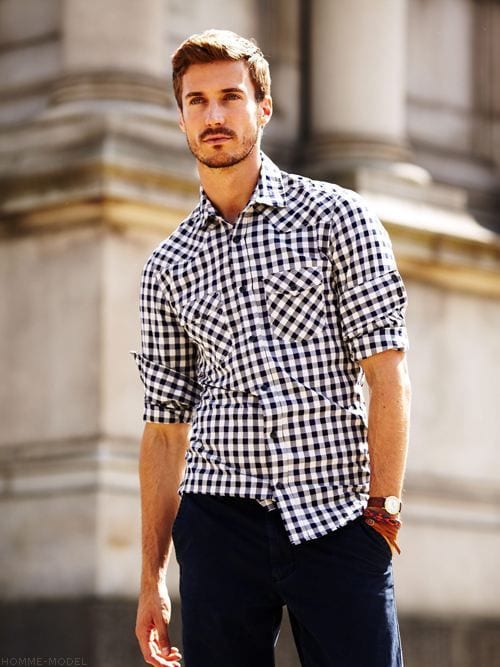 #6. Beach Party
Stick to bright hues and pinks for a summer function, as it makes a refreshing wardrobe.
#7. White Party Men
Nothing looks cuter at a party than matching couple outfits. Take a cue from Ashton and Demi by going all-white for your attire. Going all white is also a great option for guys who are going to attend daytime parties. They look so much better in sunlight than in ordinary light. You can wear a white vest with white pant coat and wear shoes with it. If you are going to the party with your girl then you can make her wear a white dress too so that you both can lie the cutest couple in the party.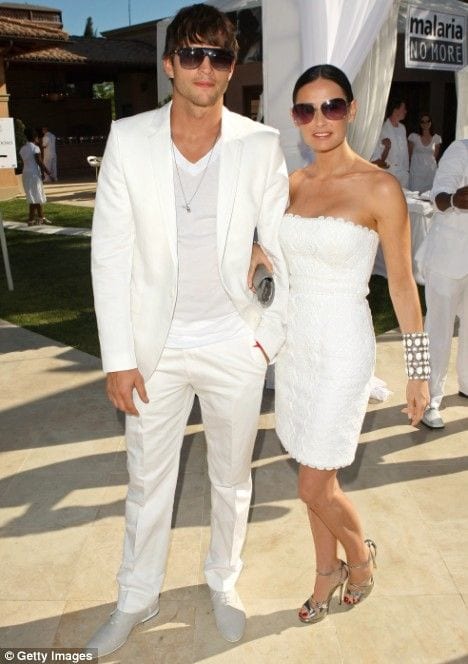 #8. Preppy Style
For sporting galas or racehorse events, it is best to stick to khakis and a crisp white shirt, along with a fun bow tie. Khaki pants are great for every occasion from formal dinners to parties, but the key is that you should know how to wear them and how to make a perfect combo using khaki pants. For example, you can wear khaki pants with a formal plain shirt. But wearing khaki pants with t-shirt will not make a good and cool combo.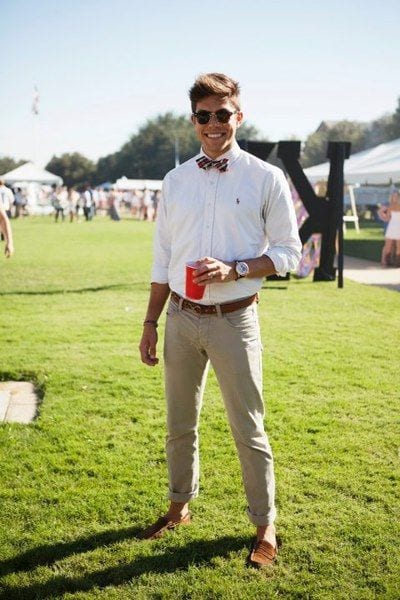 #9. Winter Outfit
For gatherings taking place in winter, leather jackets make for a great gathering wardrobe option for men. The best thing about these jackets is that they can be worn with literally anything and the look superb with any kind of combo. You can wear washed out leather jacket with jeans and add a sweater inside. you can wear sneakers or leather boots with this combo. Both will look great.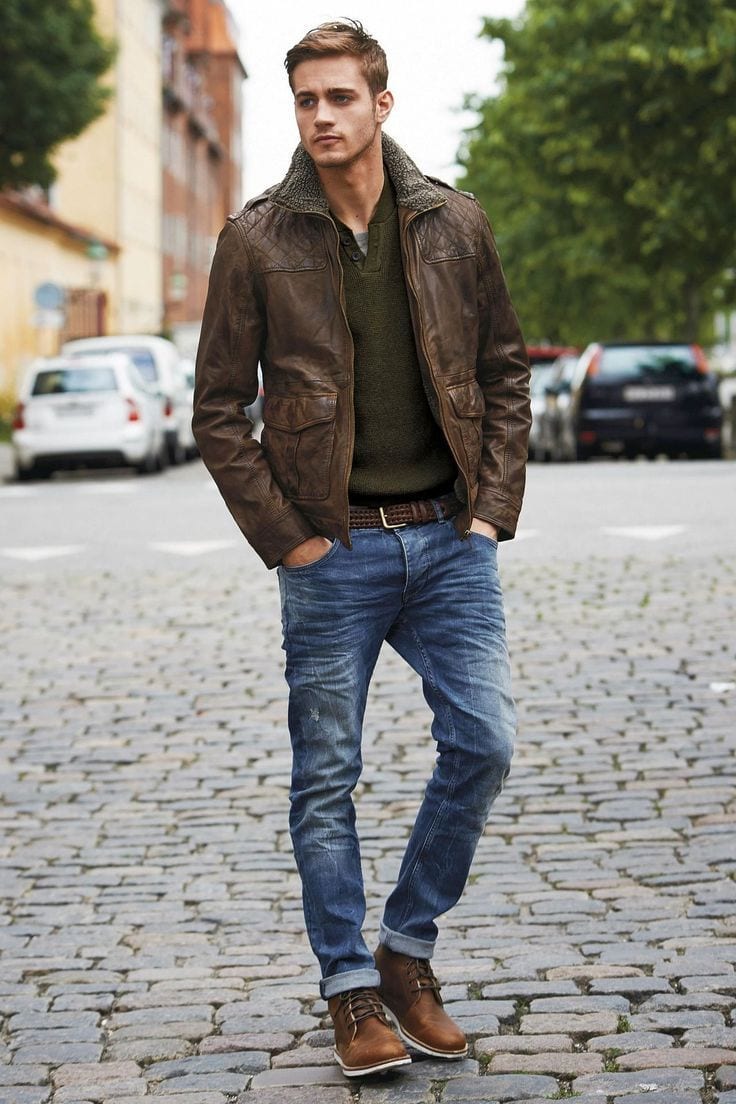 #10. Dapper Style
Take inspiration from models and actors, by going all A-List and choosing the most expensive clothes for men. These include a pink blazer and pinstriped shirt. A lot of guys are afraid to wear a pink colored blazer because it is a bold move for a guy to make. But if you want to challenge yourself and make yourself stand out at the party then this pink blazer outfit is the best for you.
#11. Fifty Shades of Grey
This season, fashion is all about going gray. Stick to layering different shades of gray, and you will be the hottest guy at the function. You can add as many layers of gray color as you want. Simply go for the gray shirt and wear a gray waistcoat over it. Go for gray pants to complete the look. If you want to take a step further then add gray tie and belt too.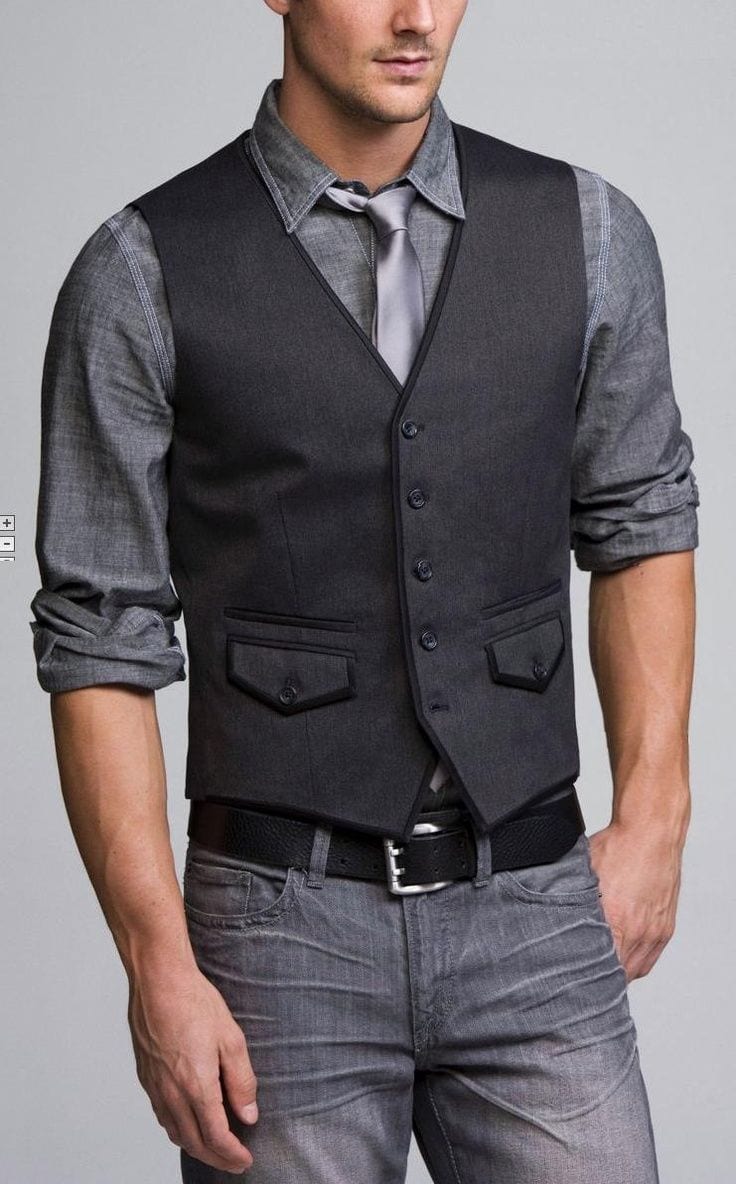 #12. Fun Yet Casual
For boys who like to keep it fun, shorts look adorable at a fundraiser or gathering of friends. This look can be replicated with any kind of floral casual shirt. Just wear your fav pair of shorts or denim shorts. If you are not into short or you don't like wearing them then you can also try wearing skinny jeans instead.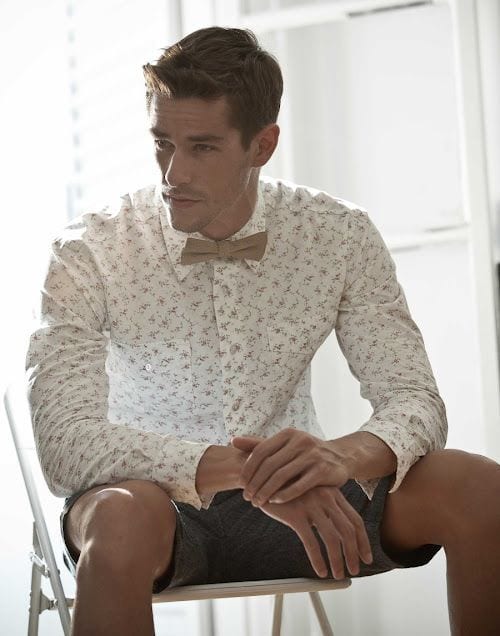 #13. Roaring Twenties
The Twenties were a great era for male clothes, as men kept it stylish yet classy with double-button coats and floral ties.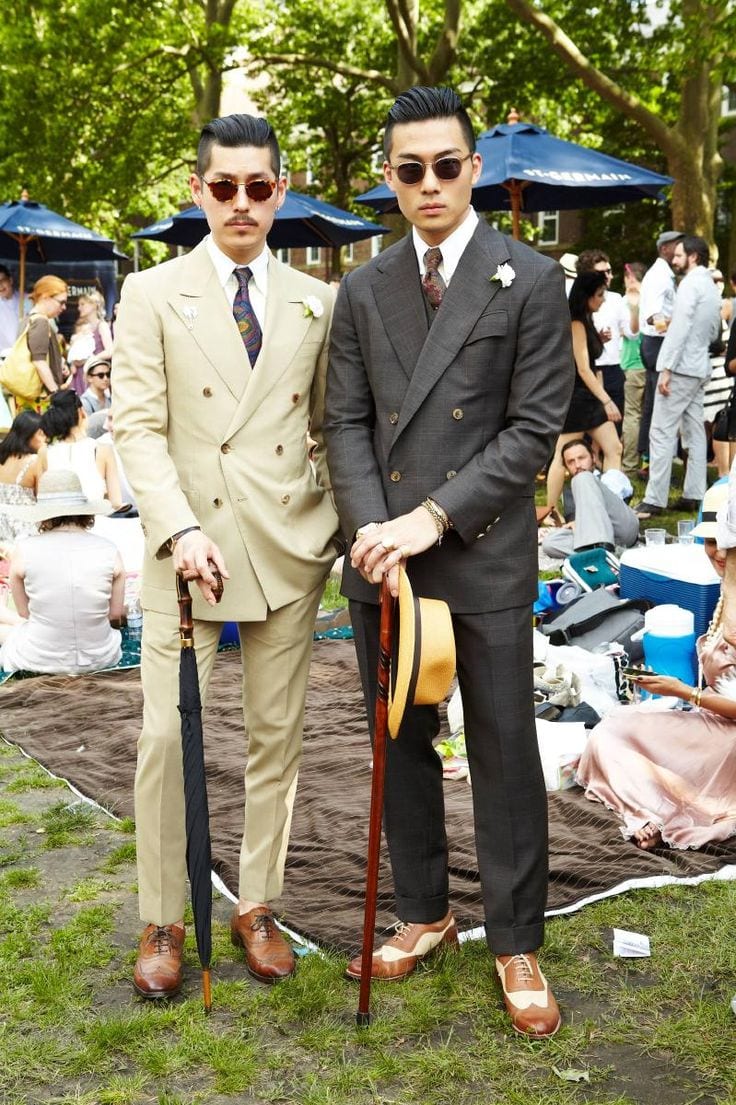 # 14 – Perfect Dressing Style for Night party
If you are going out on an official office organized by your company then formal dressing is the perfect option for you. Because in official parties like these, there will be zero chances of getting drunk because of the presence of your boss. So, it is better for you to dress a little formally, you can wear two piece suit with oxford shoes and bow around your neck to add a touch of casualness to your dress.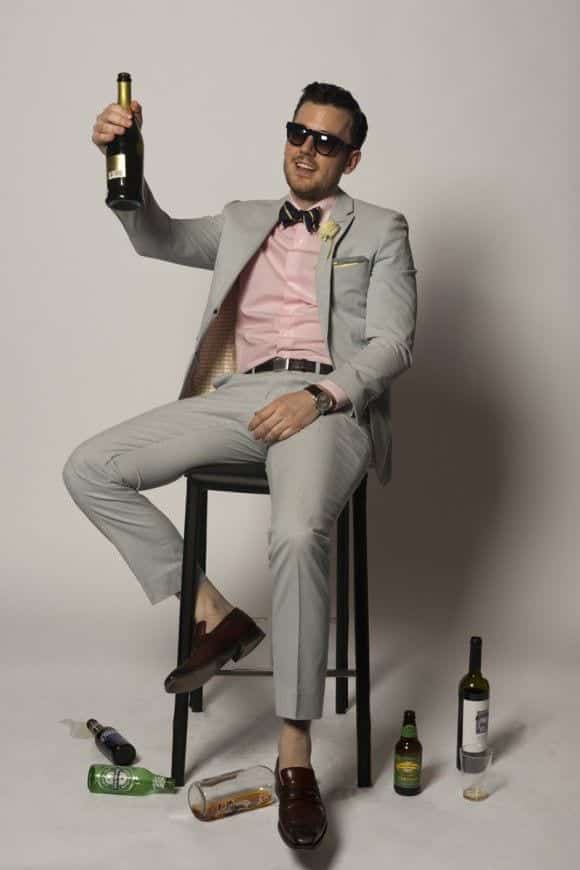 Images source@pinterest.com