What To Wear To A Nautical Themed Party – Typically, the "nautical appearance" emerges during warmer months. You know, the red, white, and blue color scheme that frequently appears in the shape of stripes or an anchor or two.
Nautical fashion is a huge trend this year. If you haven't tried it yet because you're unsure how to make it work for you, here are some tips that may turn it into one of your favorite fashion styles.
What is Nautical Fashion?
Nautical outfits aren't just bound to Mediterranean waterfronts and city escapes. No, it's an aesthetic you can sport all year long. The ocean-inspired, space-dyed sweaters are the blueprint for this. Decorated with sailor scarves and crafted in a ribbed knit fabrication, these outfits can be trans-seasonal when rendered in the right textures.
It's pretty easy to get confused when hearing about nautical outfits that frequently incorporate elements of uniforms worn at sea. The Brenton stripe is one of the most recognizable nautical styling features. Crisp white items with button accents are particularly prominent, paying homage to vintage naval attire. Styling black and navy together is another art nautical outfits consist of!
Tips on How to Dress Nautical
Replacing red with coral is a popular approach to updating a traditional nautical aesthetic. Coral has lately been seen on the runways, so using it as an accent color is a terrific way to update nautical fits.
Dress nautical up or down. Dress for a casual day out with a striped shirt, trousers, and black pumps or sandals. You might also wear your favorite white Converse or tennis shoes.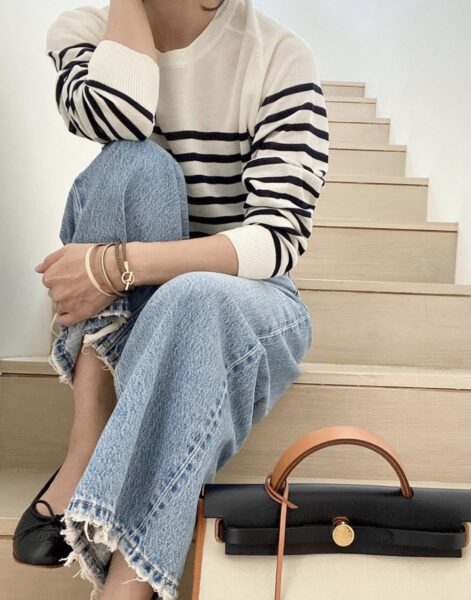 Add nautical details to your accessories. Accessories such as a hat, belt, or a neckerchief are a fun and easy way to add some nautical flare to your clothing. Finish your nautical ensemble with a straw hat or a sleek fedora made of light woven material.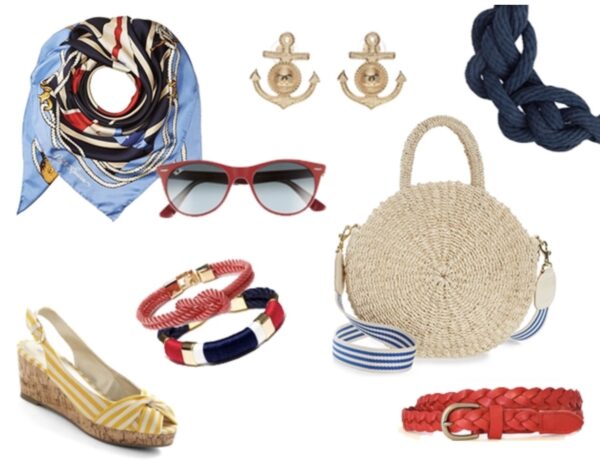 Look for fashionable slipper shoes or loafers. Slippers are simple to put on and take off, making them ideal for the laid-back nautical look. Loafers are another iconic nautical style. Look for loafers in neutral hues such as brown or white. Square-toed loafers should be avoided since they might appear excessively formal.
Go for outerwear with a nautical twist. Combine a blazer with cotton pants and a white t-shirt. Alternatively, combine the blazer with a collared shirt and cotton shorts for a summer nautical party outfit. Look for a stylish sailing jacket in vivid colors like royal blue, with accents of red or brown.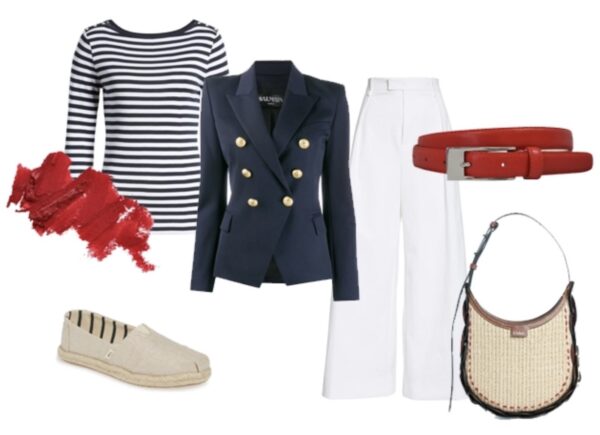 Celebrity Style
When it comes to celebrities who love Nautical style, Lady Diana's is the first name that comes to one's mind. She was seen all too often wearing nautical-themed outfits and even today, those outfits are pretty relevant and you can easily take inspiration from them: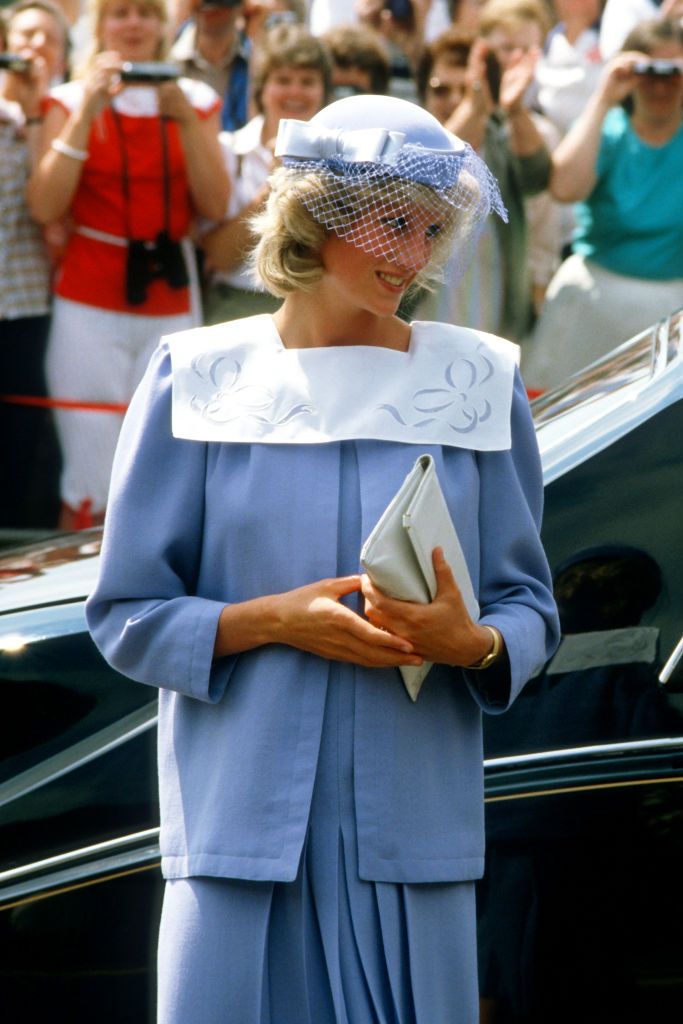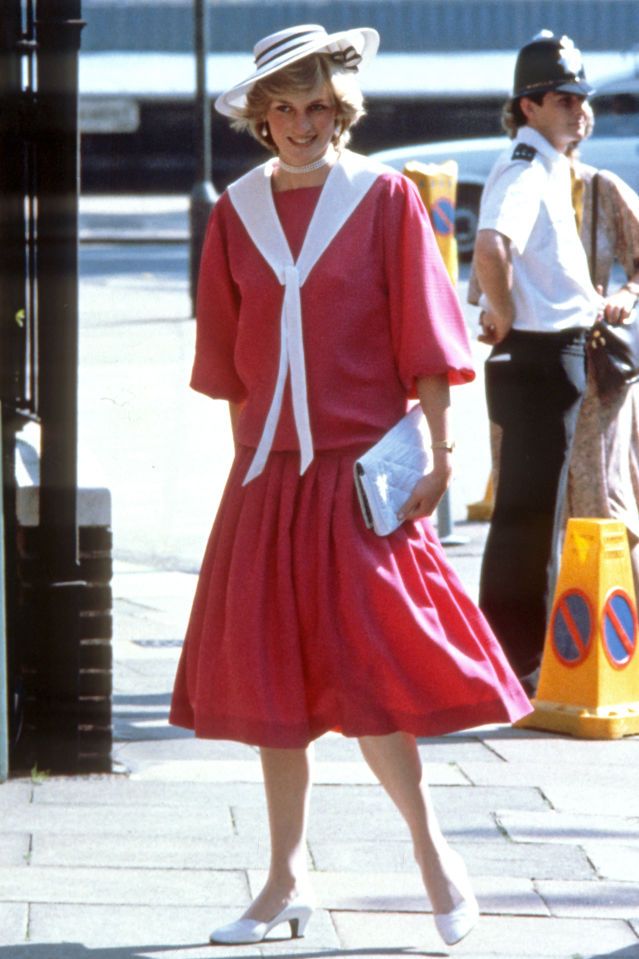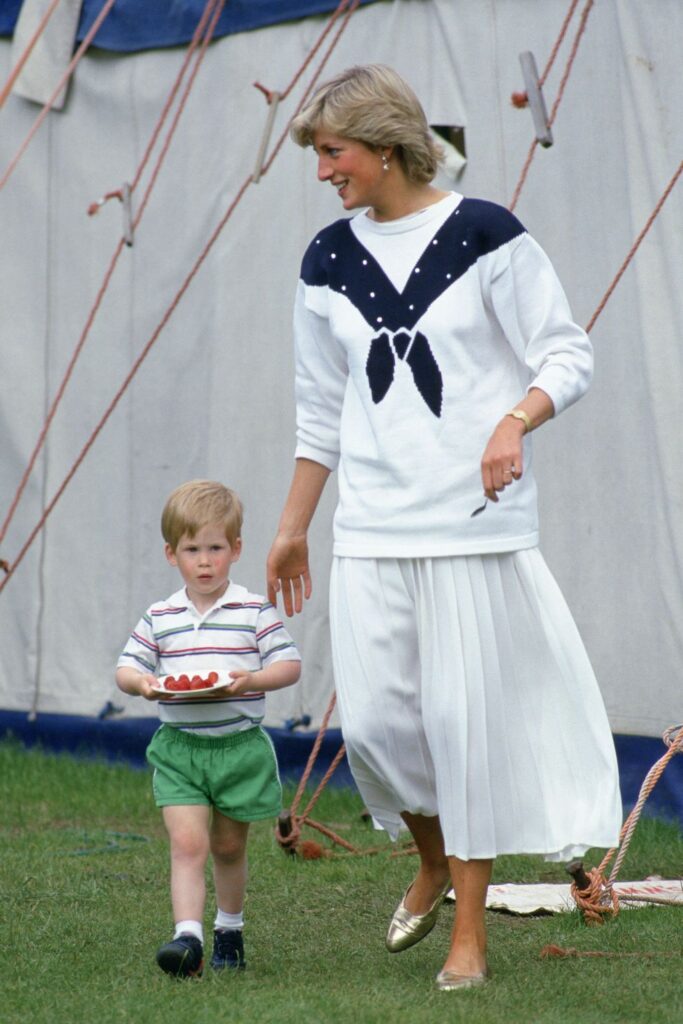 And if you want something a bit more modern, you can take cues from Kate Middleton: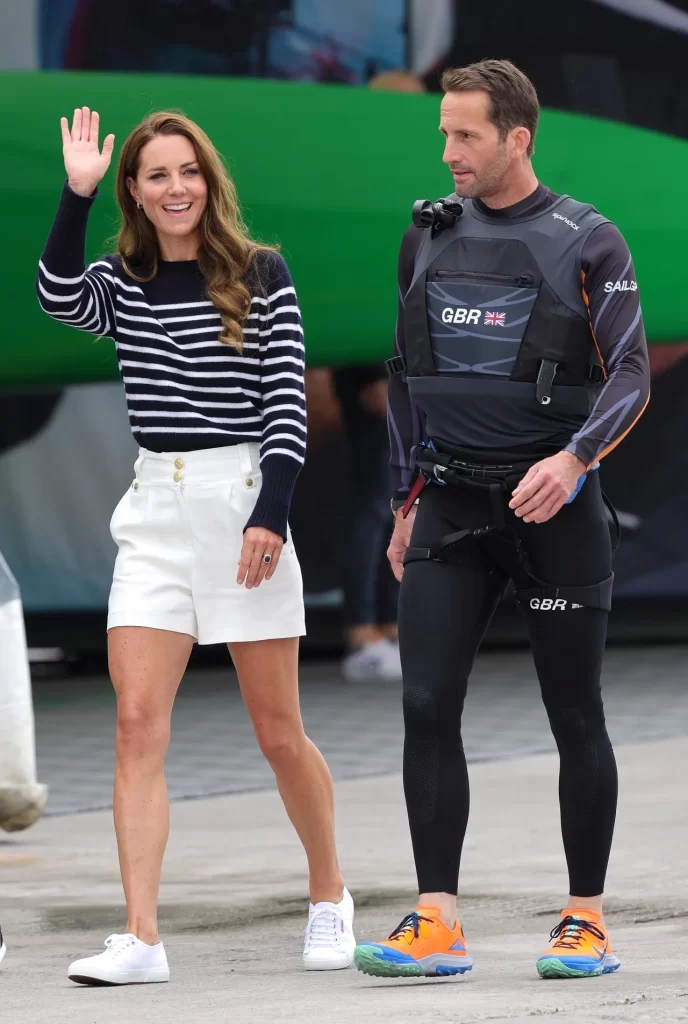 Casual Summer Looks
20 – Striped bodysuit with white mini-halter skirt
The perfect summer look for those who love the nautical trend is to pair a striped bodysuit with a white mini-halter skirt. Moreover, top off the look with a pastel-colored hat and rope heels for a put-together look.
Whether you're attending a beach party or a sunny day picnic, this outfit is sure to make a statement! With its timeless design, you'll be sure to turn some heads with this effortless yet stylish look.
19 – Blue & White Striped Shirt With Blue Shorts
We have a nautical outfit idea for you that includes a basic striped t-shirt with the casual energy you need while near the beach, matched with blue shorts to bring out the blue stripes in the shirt. Match your bag to your shoes- this is an old trick used by everyone because it never fails!
18 – Blue Knitted Sweater And Low waist white Pleated skirt
The blue knitted sweater and low-waisted white skirt paired with ballerina pumps create the perfect outfit. The blue of the sweater and pumps along with the crisp white of the skirt will help you stand out from the crowd.
The subtle blend of blue and white creates a unique look that others will be sure to notice. Furthermore, wear some matching jewelry and a light makeup look to pull the whole ensemble together.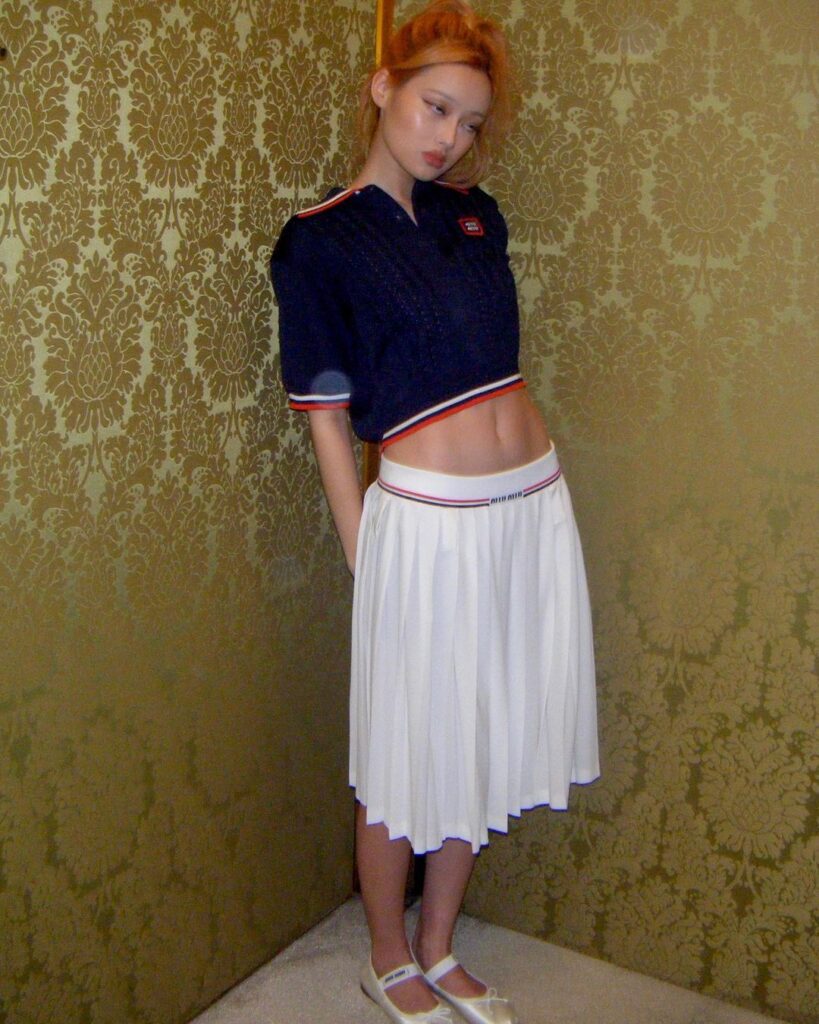 17 – Off-shoulder floral top with paired White Pants
A great addition to the perfect outfit is an off-shoulder floral top paired with white pants. This combination of soft floral fabric and crisp white pants provides the perfect contrast for this summer-time party look.
To complete the outfit, add a pair of wedges for some added height and a bold beaded necklace for a touch of sparkle. It is equally important to accessorize with a leather tote bag and some dangly earrings so the ensemble doesn't look dull.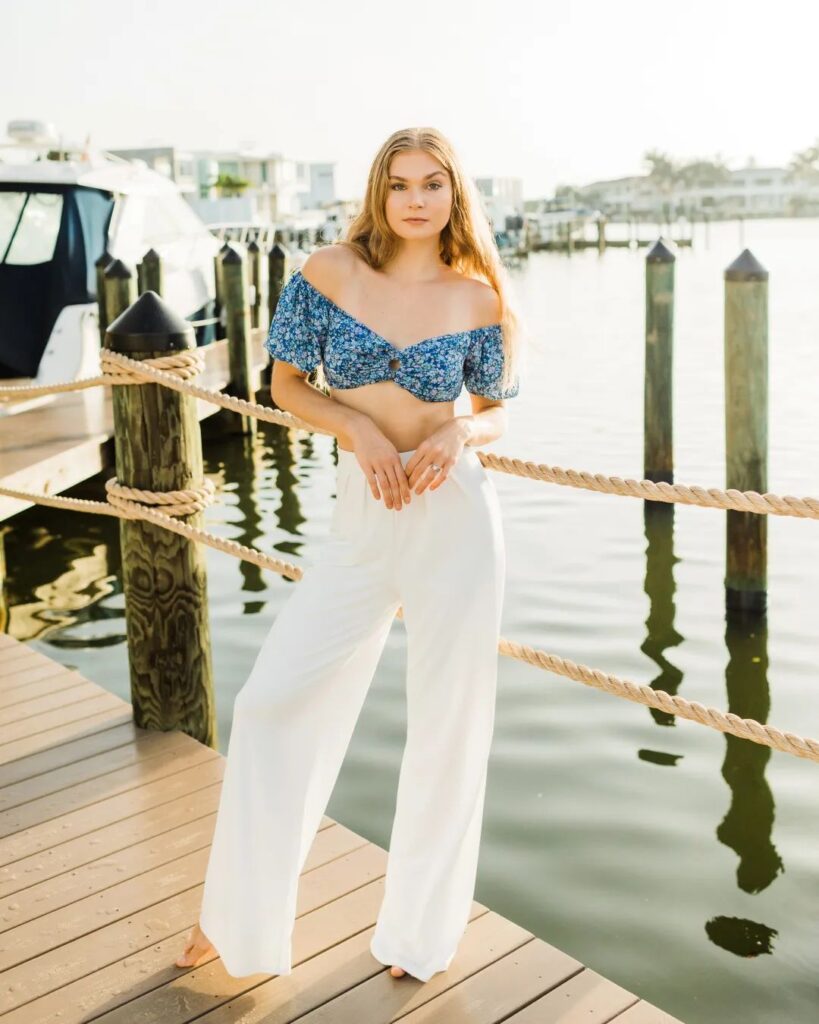 16 – Blue Flared Dress With A Touch Of White Styled with Red Heels
If you're looking to make an outfit for a nautical themed dress code, then the perfect outfit is a combination of a blue flared dress with a touch of white, paired with flashy red heels. Accentuate the look with a dainty necklace and beachy waves for hair and you'll be sure to get everyone's attention.
This look is perfect for any occasion where you want to stand out and put your best foot forward. In addition to that, this look is timeless and chic all while still showing off your unique style.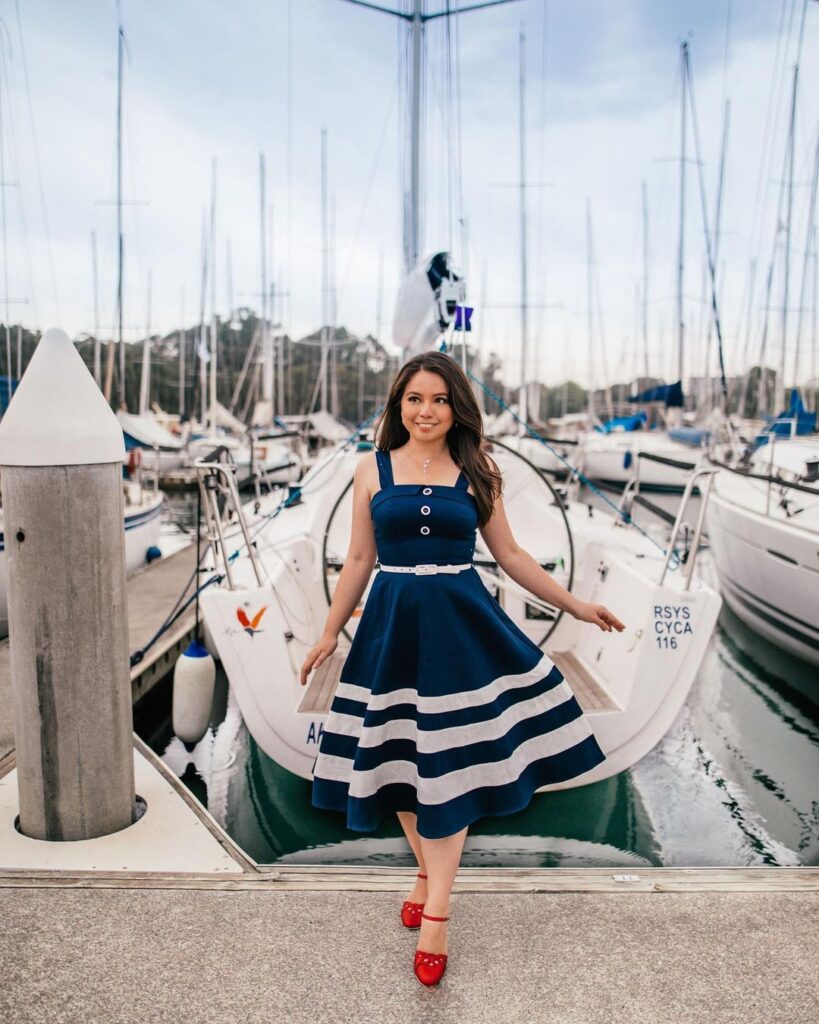 15 – Open Collared Striped Shirt With High-Waisted Pants
14 – Blue & White Stripped Mini Dress Paired with white heels
Whether attending a summer party at the beach or a family gathering at a house on the lake, this look is sure to make waves. The stripes create a nautical vibe, and when paired with white heels, it's a timeless classic. Plus, it's the perfect outfit for celebrating in style without sacrificing comfort.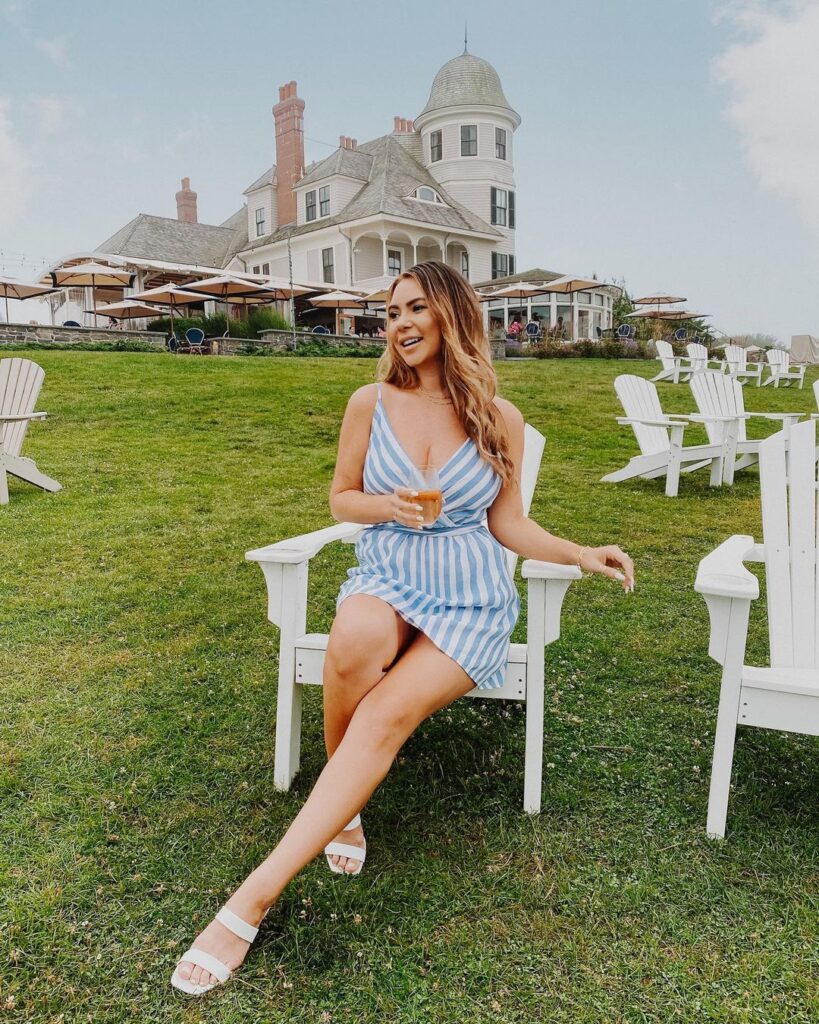 13 – Rolled-Up Striped Shirt with white pants
For a more sophisticated evening look, try pairing your white tank top with white pants, and top the whole outfit off with a blue and white striped button-up shirt. Furthermore, The addition of white strap heels and brightly colored earrings will make the outfit even better.
Semi Formal Outfits
12 – Navy Blue Frilled Dress with sky-blue chunky heels
This summer, there are many ways to express yourself when it comes to fashion. To really bring the look to life, try a navy blue frilled dress paired with sky-blue chunky heels.
Don't forget the accessories – pick out some anchor earrings, or perhaps a crab-inspired chain bag. You'll be sure to stand out in the crowd and make a statement about your own personal style.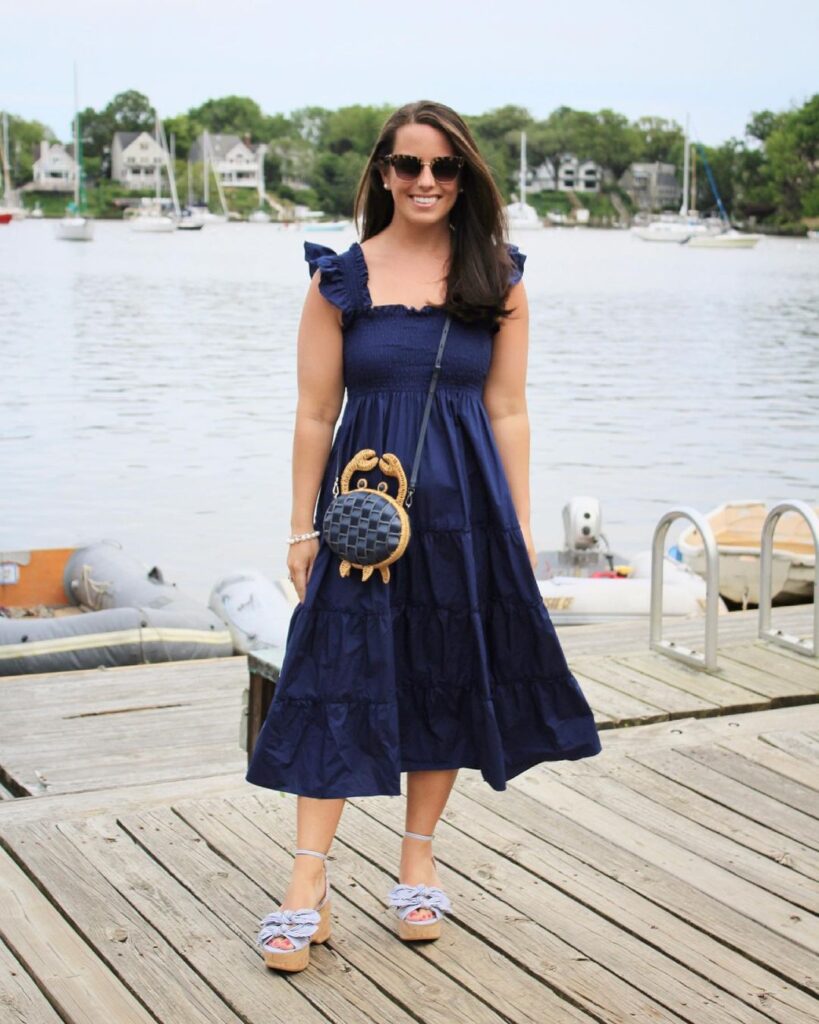 11 – Long Sleeveless grey-striped dress with brown sandals
Consider a long sleeveless grey striped dress with brown sandals and a belt, a cane bag for the beachy look, and black sunglasses for a chic, put-together look.
Complete the outfit with gold hoops for that added touch of glamour. The colors and textures of the pieces will look great against the backdrop of the sand and sea, making this outfit perfect for any party atmosphere.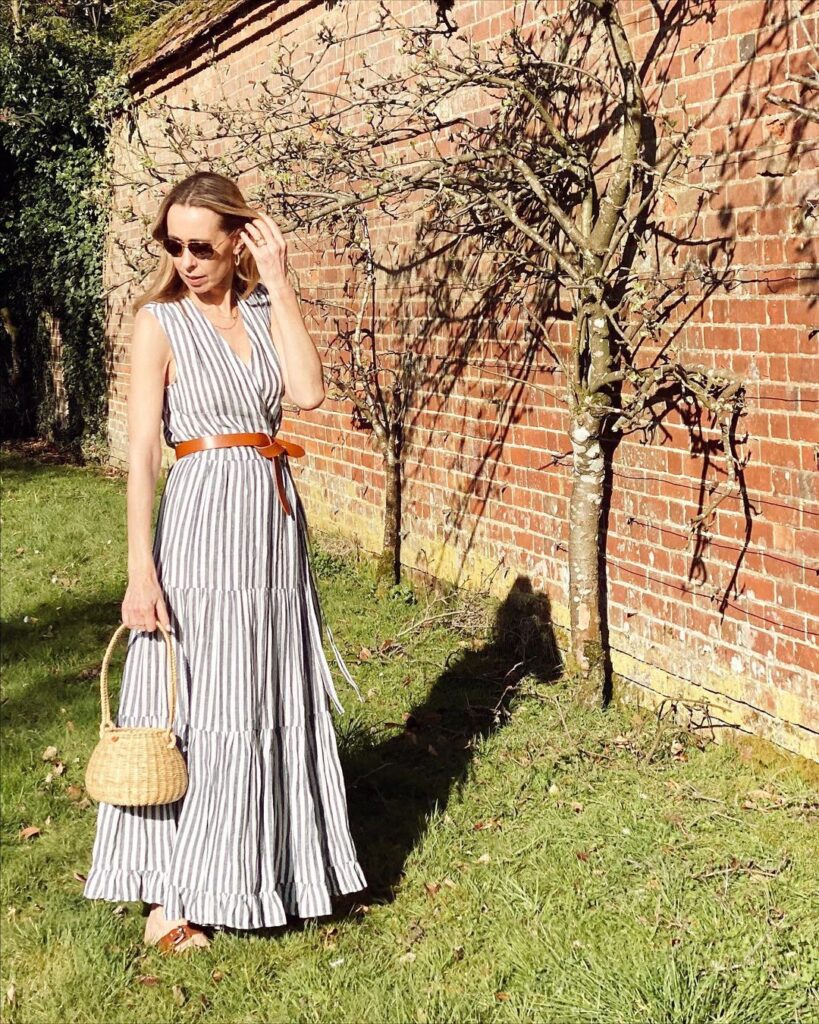 10 – Black Ruffled Top & White Wide-Legged Trousers
A black ruffled top and white wide-legged trousers can be the hot pick of the day. Secondly, you can pair it with sunglasses, a clean bun, and light makeup for a day on a yacht.
The colors and style of this outfit are subtle enough to look sophisticated while still having fun with an end-of-summer party. Accessorize with gold jewelry to complete the look and you'll be ready for a day in the sun.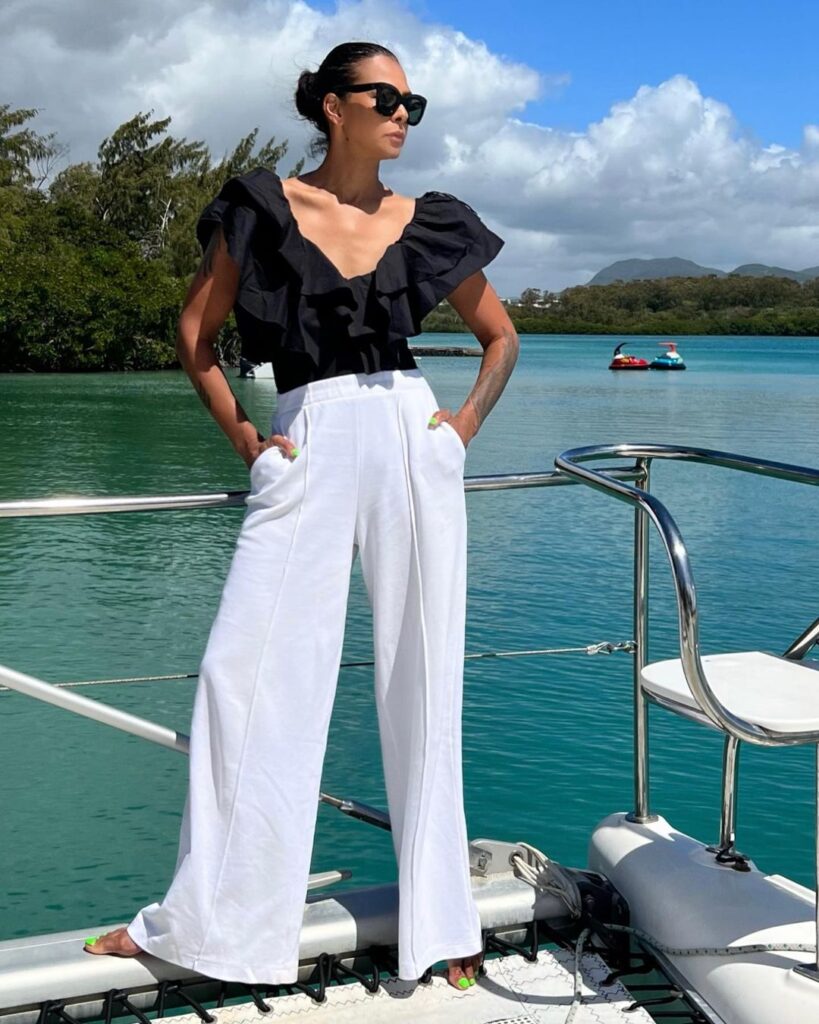 9 – Angelico Blue & White Stripe Collared Shirt and White Knee Length Shorts
Knee-length shorts are your best friend! It's a staple item in everyone's closet and makes one hell of an ensemble when paired with a collared shirt.
To stay on theme for the party, choose the colors wisely. Dresses are an excellent choice for the spring season. For a classy style, use basic colors like blue and white for the shirt and white shorts. Pair your outfit with sandals and sunglasses to keep it casual and comfy.
Fall / Winter Outfits
8 – Blue Button Up Blazer Styled With White Pants
Navy and white stripes are staples. This outfit is perfect for outdoor cocktails or Al fresco dining all while keeping up with party requirements. The color combination of the blue button blazer and white pants makes a great contrast that is modern yet so timeless. Lastly, every nautical look needs a pair of white sunglasses to top it off!
7 – Black Blazer & Striped Shirt Paired With White Washed Jeans
Everything about this look screams 'A day of sailing' and chances are, you already have all of these items in your closet.
6 – Blue & White Striped V-Neck Sweater With White Pants
For cooler weather during a yacht party, consider how you can still stay warm and stylish. A blue and white striped v-neck sweater looks perfect when paired with white pants and a pearl necklace. Nautical outfit ideas are easy and basic, so is this outfit!
Again, this combination is classic, and stylish and fits the party's theme beautifully. To add an extra touch of nautical flair, you can opt for a wide-brimmed hat or a pair of navy blue boat shoes.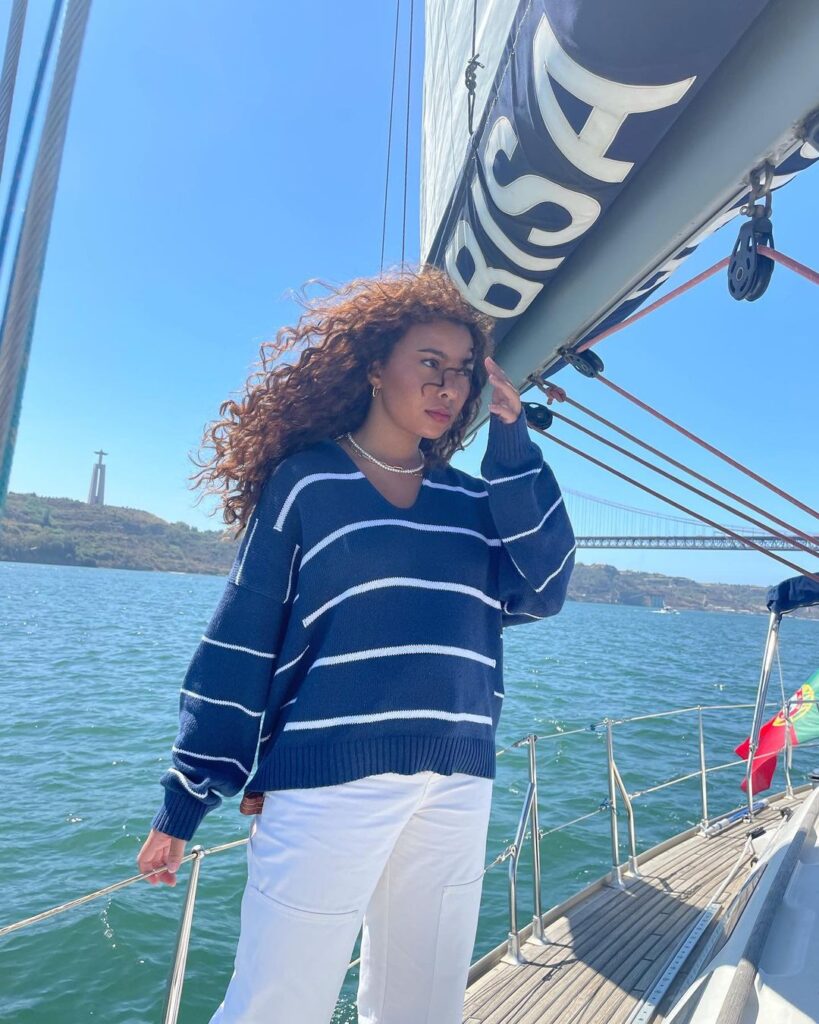 5 – Black & White Stripped Blazer Styled With Denim Midi Length Skirt
Formal Outfits
4 – sleeveless long white Cutout dress with matching slippers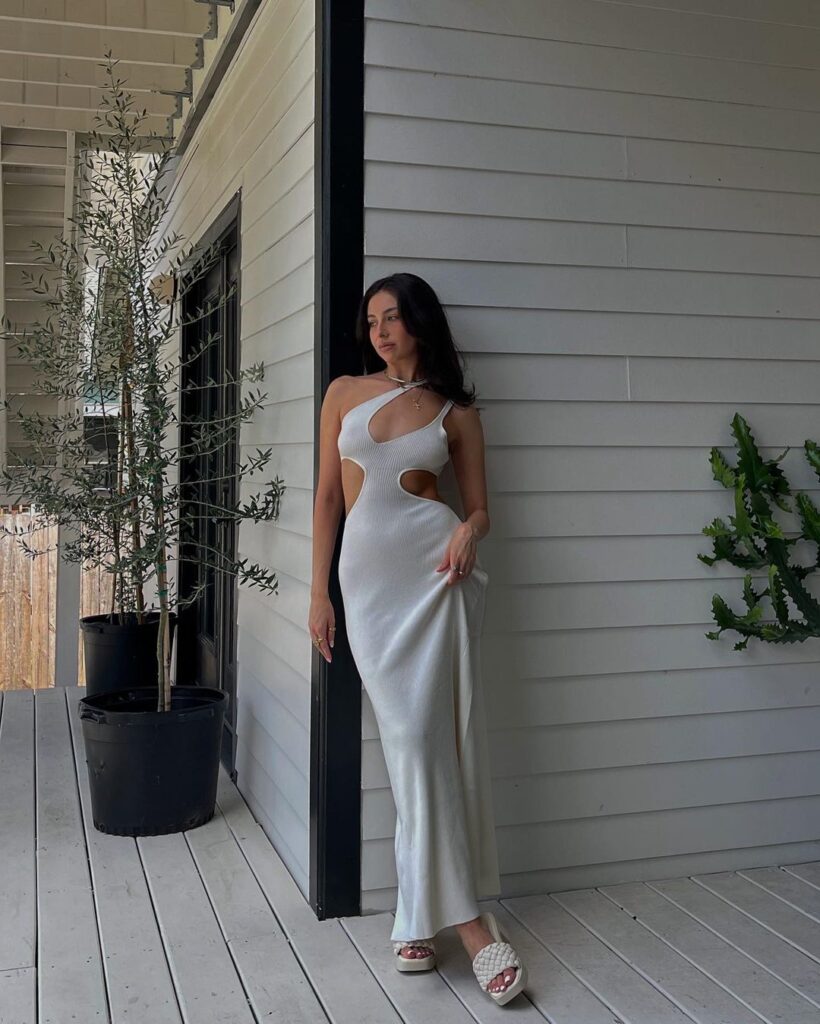 3 – White Silk Dress with black high heels
A plain white silk dress and black heels are the perfect base for any nautical look and can be dressed up with minimalistic jewelry, and sunglasses.
With the basics covered, you can add a few more elements to make your look unique. For instance, try a bright red lip for a pop of color or a hat for a touch of preppy elegance.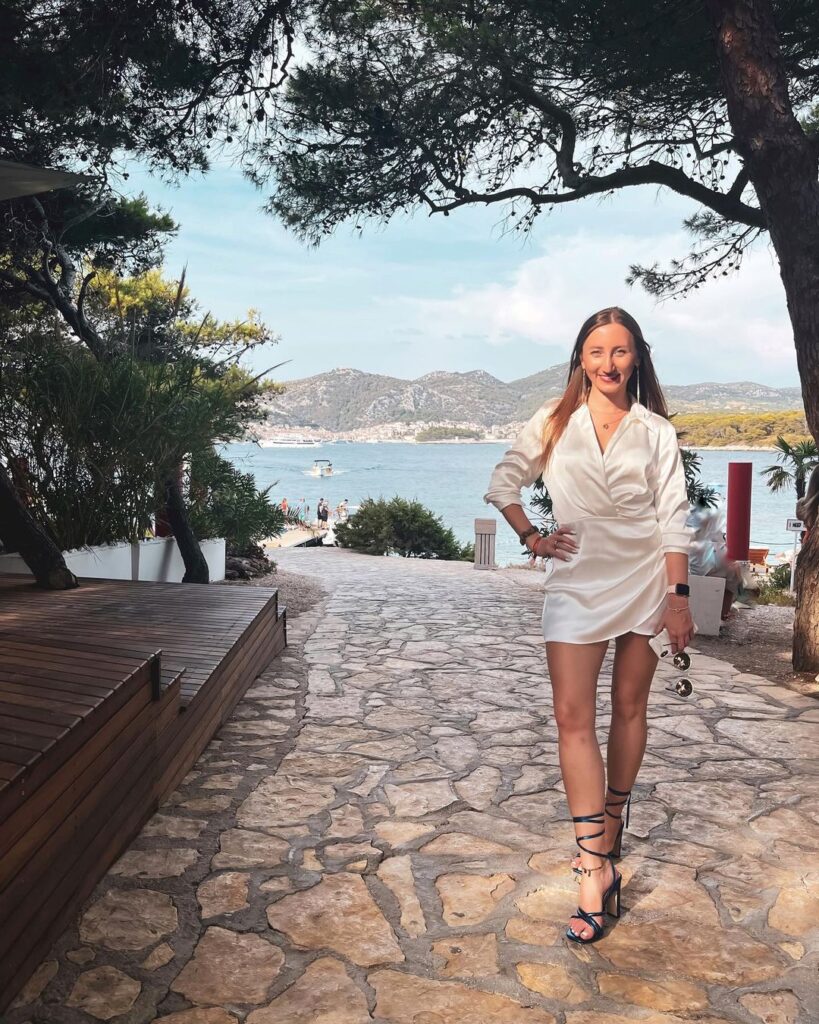 2 – Blue Strapless Mini Dress with Black Strapped Heels
If you're looking to make a fashion statement this summer, then a mini blue strapless dress is the perfect pick. Complement this look with strappy black heels, and finish it off with a dazzling diamond necklace for a glamorous ensemble.
Whether you choose to accessorize further or leave it simply sophisticated, be sure to make an entrance in this flirty and fun outfit. With an outfit like this, you'll be sure to turn heads and be the envy of all your friends.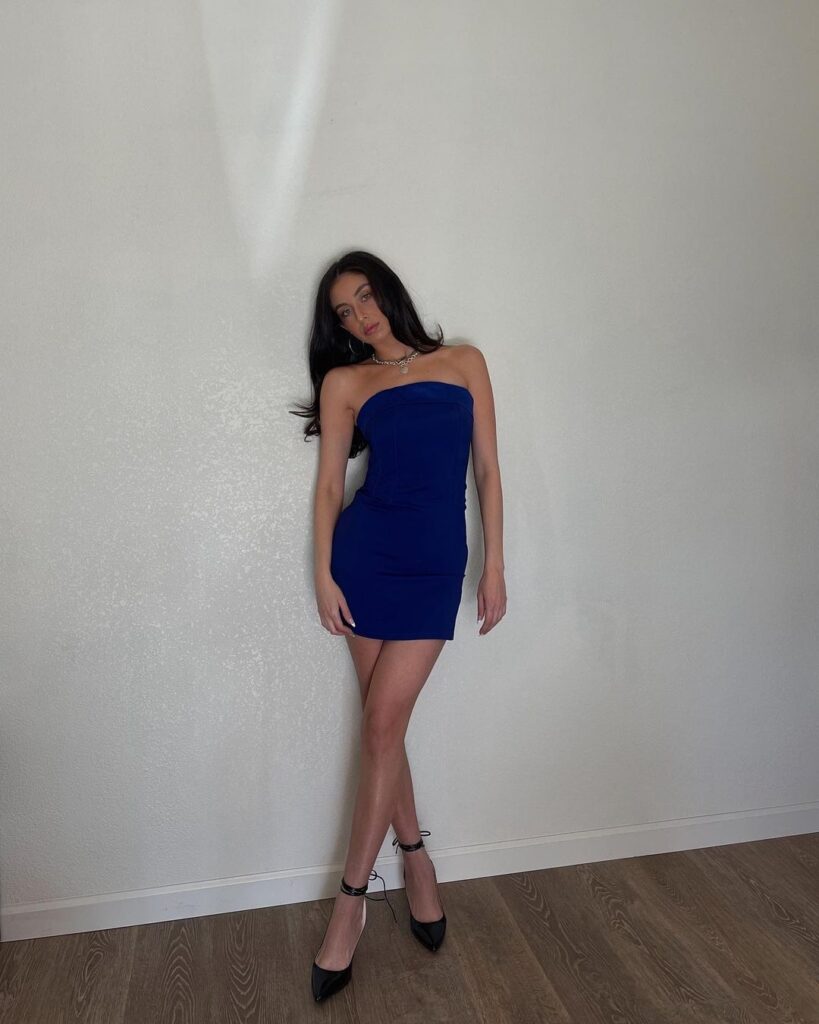 1 – Cropped White Crochet Top With a Long Red Skirt
One of the best looks is a cropped white crochet top paired with a long red skirt. To complete the outfit, choose beige-colored sandals with low heels for comfort.
This classic combo can be dressed up or down, depending on your desired look. Accessorize with a straw hat or a simple necklace to complete the look and make it your own.
FAQs
Q. How do you get the nautical look?
Ans. Choose a color scheme of blue, white, red, and khaki. White with royal blue stripes is the traditional sailor attire. The goal is to complement the classic sailor suit's color palette with additional colors such as red, khaki, or light brown. Stripes in these tones appear very nautical.
Q. What do you wear on a boat party?
Ans. If the party is more formal, you should wear blue, white, or red jeans with a button-down shirt or a dress. You can get away with wearing your swimwear and a shirt or coverup to a more casual party.
Q. What is the coastal casual dress code for a nautical themed party?
Ans. If the invitation mentions "beach chic" or "coastal casual," depending on the coast, they either call for classic florals or flowy maxis." While there are no hard and fast laws about any dress code, you should avoid wearing sequins or black and go for brighter colours such as white, blue, and red stripes.
University student by day and a ferocious writer by night. As an avid homebody, I'm a lover of naps, cookie dough, and currently residing in the borough I love, most likely multitasking. :)