Family picture outfits. Taking family pictures is such a great way to memorialize moments that you wish could last forever! Despite the sometimes stressful nature of it – you know, making sure everyone is actually looking at the camera, nobody's blinking, etc. – doing a family photo shoot is such a fun experience and the perfect occasion to get dressed up. Don't waste any time stressing about what everyone is going to wear though.
Here at Outfit Trends, we're going to help make it easy on you with a whole article full of great outfits for the whole family!
How To Dress For Family Photoshoot
Let's get started with some tips:
Having a colour scheme is a good idea but its definitely not essential.
If you're not going for a color theme, make sure that everyone's outfits complement each other.
Try to have an outdoor photo shoot in the day time with a nice background and lighting as your outfit will look best this way.
Choose an outfit that looks flattering on you and it should be a little more dressy than your everyday clothes.
If the photoshoot is with young kids or babies, don't have very high expectations and try to keep the outfit and hairstyle minimal so it's easily manageable, you might be in for a long day after all.
It's always a good idea to wear something that has a special value for you, for example, an engagement ring or a special accessory that your partner gifted to you.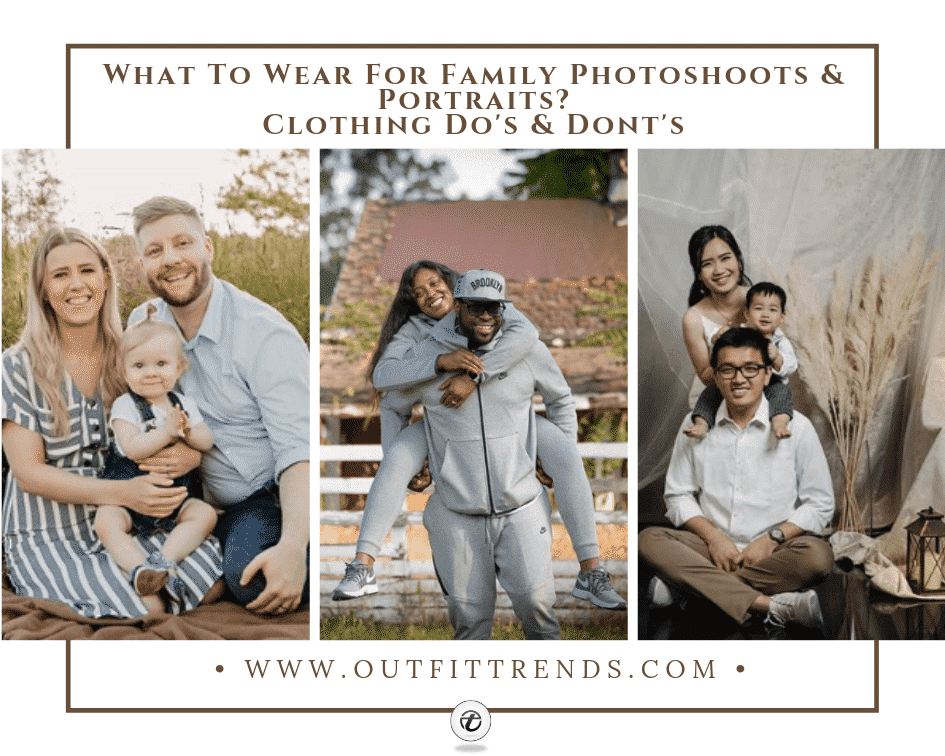 ↓ 15 – Family Photoshoot At The Beach
The beach is definitely one of the most popular destinations for photos. It makes the perfect background but of course, you need to dress accordingly. Go for simple, fuss-free outfits, especially if you have kids with you. The colors of the outfits need to be decided according to the time of the shoot and the colors of the beach. White is definitely a winner when it comes to outfits for beach photoshoots.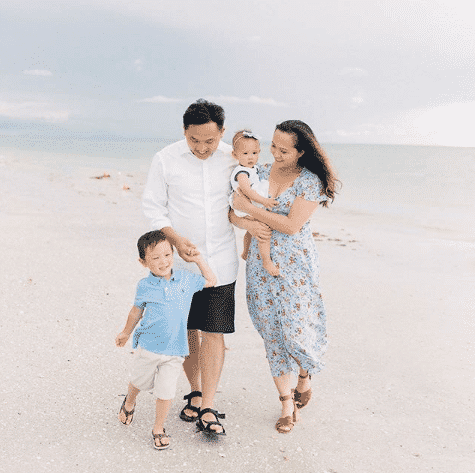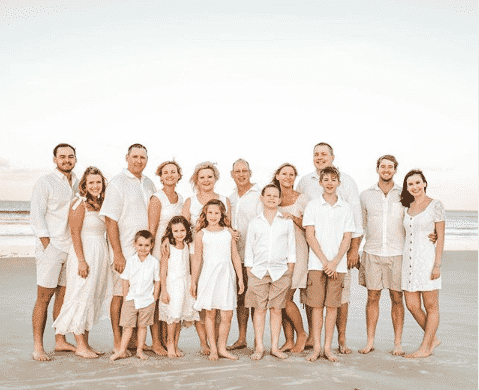 ↓ 14 – What to Wear for a Fall Family Photoshoot
What better time of year to take family photos than when everything is awash in warm tones of red and gold, lending enviable aestheticism to photographs and portraits? Autumn signals the time of harvest and nearing approach of everyone's favorite holidays. It's also the perfect time to snap those Instagram-ready family pictures!
With these looks, notice how the overall color scheme melds together. A mom wears a warm, gold-brown dress, complemented by her husband's rustic-inspired checkered flannel shirt. The little kiddos wear soft shades of grays, blues, and charcoal. The overall effect is warm, autumnal, and wonderfully aesthetic.
For the mama, it's all about a long, draping dress, loose hair, and a single accessory – a gold clavicle necklace. For the papa, sturdy blue jeans are paired with a flannel shirt checkered with dark red and charcoal gray squares. For a toddler boy, a chunky white cardigan and chino pants make up the main ensemble, as well as some adorable creamy brown booties. For a toddler girl, a pale blue knit dress is paired with gray tights and precious little moccasins. You can get more ideas from these Fall outfits for men and women.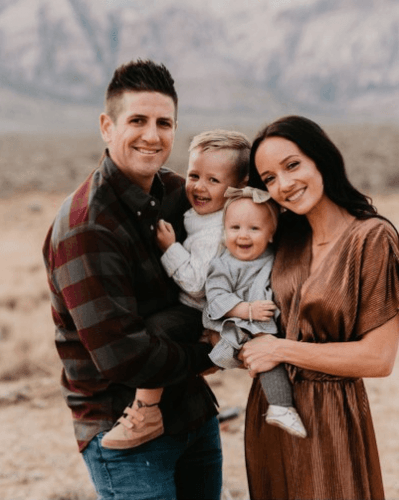 CHECK OUT THE OUTFIT DETAILS
For Mom:
Steve Madden Carrson Sandal $95
Charles Henry Crossover Midi Dress
For Dad:
Yukon Trim Fit Flannel Performance Sport Shirt 
Nordstrom Blake Slim Fit Jeans $200
Timbaland Wodehouse Chukka Boot $299
Boy:
Mini Boden Cable Knit Cardigan
Tucker + Tate Stretch Chino Pants
Girl:
Nordstrom Classic Moccasin $49
↓ 13 – Mommy + Daughter Matching Outfits for Photoshoot
With all the wonders of having a daughter, it may be universally accepted that dressing up in matching outfits is close to the top of the list. Whether it's a Mommy-Daughter date you want to commemorate or a special occasion like a party or church event, this outfit will have all your mommy friends singing, "Aww."
For both mama and girlie, it's all about marvelous matching sweaters. This one pictured is all-white with adorable black pom-poms smattered all over. Paired with jeans and white booties, this is an easy-to-pull-together look you'll want to wear over and over again. Baby girl can accessorize with a necklace or hair pieces. Mama can take it to the next level with a crossbody bag, sunglasses, and statement earrings. For more ideas, check out our earlier post on 100 Cutest Matching Mother Daughter Outfits on Internet So Far.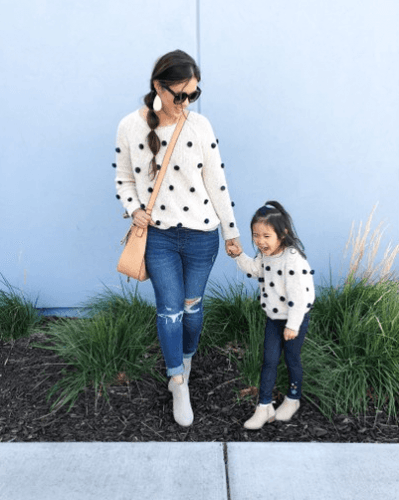 SHOP THE LOOKS FOR UNDER $200
Mommy Outfit:
Midrise Distressed Rockstar Jeans $44.99
New Look Brushed Sweater with Polka Dot Pom Poms 
Sueded Block-Heel Booties $19.97
Vegan Studded Whipstitch Satchel $69.95
Daughter Outfit:
Alpaca Wool Baby Sweater $48.63
↓ 12 – Family Pictures Outfit Ideas For Spring
With every new year comes that blessed time of warm, sunshine-filled days, blossoming flowers, and greener lawns. What better way to celebrate than with a dress-up photo shoot for the whole family?
We love this father-son duo wearing matching dress shirts and stylish ties. And this Mommy-Daughter pair is just to die for.
For the papa, it's time to bust out your Sunday best with a white dress shirt, slender black tie, and your pressed and ironed dress pants. Some gorgeous black shoes finish off the look, as well as a stylish combed-over 'do. For the mama, a knee-length, v-neck dress flows in all the right places and cinches at the waist with a wraparound-style skirt. For baby girl, a bright orange dress brings out the orange flecks in her mama's dress and is paired with some durable (but also adorable) little black slip-on shoes. (Peep Mama's black heels as well!) Last but not least is this little guy's cute get-up of a white shirt, blue tie, and dress shoes. Can't go wrong with that!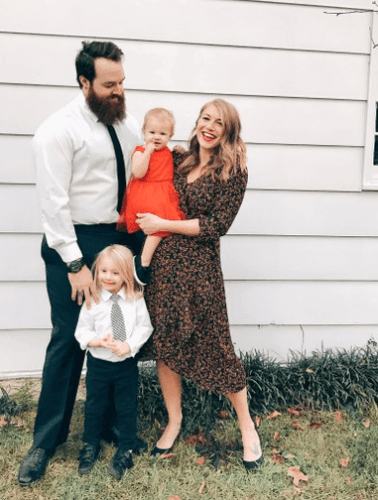 ↓ 11 – Family Summer Photoshoot
Ah, Spring. Celebrate the return of warmer days with what you could call a sunshine-inspired photoshoot full of bright colors and smiling faces! These outfits are perfect for taking pictures outside with comfortable, light dresses for the gals and short-sleeves for the guys.
For the mama, this fit-and-flare dress falls just above the knee, keeping you nice and cool, and giving the sun a run for its money with its bright yellow hue. Pair with some neutral-colored sneakers or booties. For baby girl, a sweet little yellow number is smattered with flowers and perfectly matched with a pair of little sage green booties. Don't forget to accessorize with a darling headbow.
For the papa, simple is the name of the game. A bright yellow tee, blue jeans, and gorgeously solid boots make up this dude-approved outfit. Take a leaf from dad's look with your little guy's matching outfit, simply swapping out the boots for a more kid-friendly pair. And voila. You and your family are picture-perfect.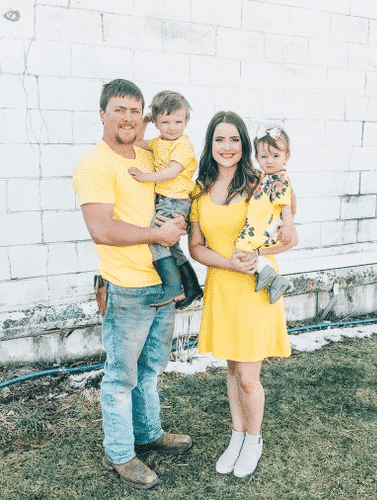 Check out the outfit details below
For Mom:
Old Navy Linen-Blend Fit & Flare Dress $19.97
Charlotte Sneakers $49.99
Boy:
Toddler Boys' Pull-On Skinny Jeans
↓ 10 – Autumnal Inspired Family Photoshoot (Pregnant Mama)
As the days get cooler and winter fast approaches, one last hurrah to the warmth and reddish hues of fall is definitely needed. Commemorate it with a family photo shoot that includes a bonus look for an expecting mama!
We love this down-to-earth guy look of long sleeves, padded vest (in a stylish shade of tawny brown), and well-fitting slim jeans. Styled hair and matching brown shoes round off the look.
Have fun dressing up your baby in a warm (and ridiculously adorable) cap that ties under the chin, a puffy blue sweater, and a brownish taupe pair of overalls. Don't forget some little brown booties!
As for mama, keep it simple with this look that is easily converted to maternity with the swapping of a shirt! Pair a drapey, charcoal-gray cardigan with a white maternity top. Wear with black leggings and chic brown boots. Accessorize with a simple necklace.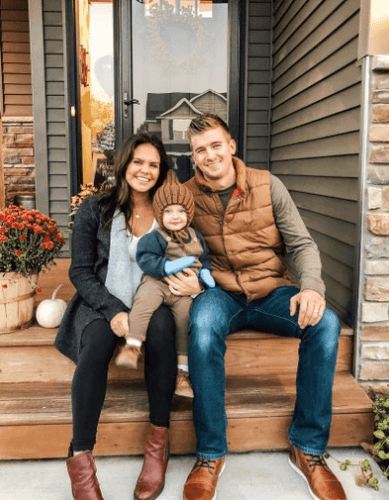 SHOP THE LOOKS FOR UNDER $100
For Mom:
White Basic V-Neck Fitted Maternity Shirt
For Dad:
Joe's Jeans Slim Jeans $53.58
Cotton Raglan-sleeved Sweater $8.99
↓ 9 – Color-Themed Family Outfits
A family photo is a perfect excuse to get everybody wearing some oh-so-cute matching outfits! Or, at the very least, some color-coordinated outfits. (Because good luck convincing your kiddos that matching outfits are totally, absolutely, completely cool.)
Start with the mama look. An embroidered floral shirt dress is the piece of choice for this lady. Pair with giant white statement earrings and espadrilles. Loose flowing hair and simple makeup are all you'll need to finish off this ensemble.
For the papa, a short-sleeve button-down shirt of a teal or navy blue hue pair handsomely with some grayish taupe shorts and white shoes.
This little girl is matching mama in a darling blue dress and brown sandals while this little guy takes a leaf from Papa's book with a button-down shirt, jeans, and black shoes.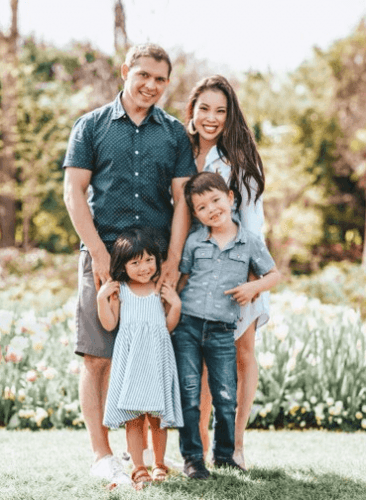 SHOP THE LOOKS FOR UNDER $250
For Mom:
Floerns Women's Vertical Striped Embroidered Floral Shirt Dress $20.99
Navachi 18k Gold Plated Pink Enamel Flower Crystal Earrings $9.99
For Dad:
Men's Fila Sport Golf Driver Shorts $24.99
New Balance for J.Crew 791 Leather Sneakers $85
Stretch Short-Sleeve Secret Wash Shirt $59.50
Boy:
Levi's Boys Short Sleeve Button-Up Shirt $10.74
Girl:
Toddler Girls' A-Line Dress
↓ 8 – Best Colors To Wear For Family Photoshoot
Here's an inspiration board for another color-coordinated look that the whole family can get behind!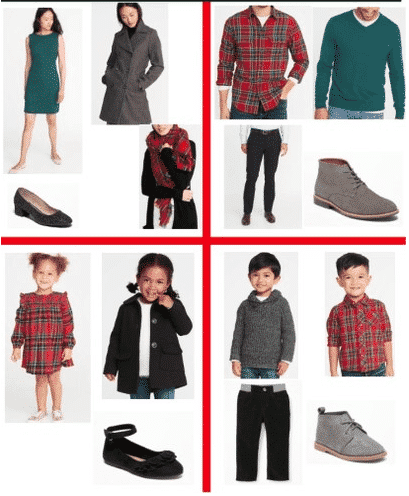 SHOP THE LOOKS FOR UNDER $200
For Mom:
Sleeveless Ponte-Knit Sheath Dress $24.97
For Dad:
Regular-Fit Built-In Flex Plaid Flannel Shirt $19.97
Straight Ultimate Built-In Flex Non-Iron Pants $49.99
Boy:
Rib-Waist Pull-On Skinny Cords $5.97
↓ 7 – Mommy + Daughters Spring Photoshoot
For a picture that your daughters will look back and smile at, check out this utterly chic collection of looks! Your little ones will love their matching white hairbows and think your faux fur vest is to die for.
For little girls, white dresses are the articles of choice for this look. For shoes, opt for booties or ballet slippers. (Light blue or soft magenta make great color choices.) Style hair with white bows.
For the mama, a cowl-necked knitted dress is paired with some chic, grayish taupe boots and a faux fur vest.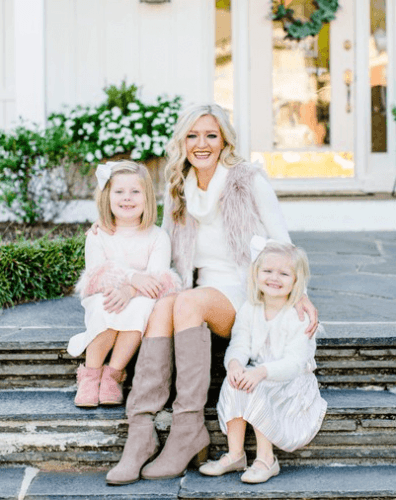 Check out the outfit details below
Mom Outfit:
ASOS Design Cowl-Neck Knitted Mini Dress
Daughter Outfit:
Shimmery Metallic Dress $24.99
↓ 6 – Mommy + Daughter Outdoor Photoshoot
For a look that easily transcends seasons and weather, check out this adorable Mommy-Daughter pair of outfits! You can pull out these looks on a cloudy spring day, a warmer autumn day, or even a very cool summer day! If you need a winter look, simply add a coat. It's that easy!
Starting with the mama look, pair some skinny jeans with a velvety blue sweater and knee-high black boots. Accessorize with sunglasses, a necklace, and drop earrings.
For baby girl, a cozy pullover sweater, jeggings, and little tassel boots are perfectly matched with a tiny jean jacket and black head bow.
Now say cheese!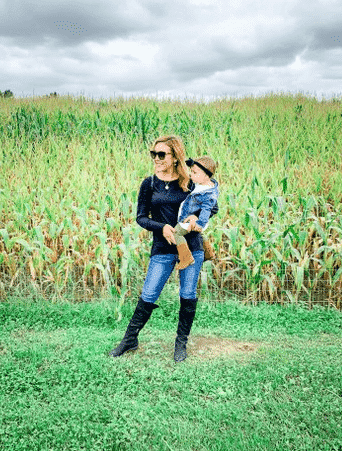 Check out the outfit details
Mom Outfit
Midrise Faded Stretch Jeans $39.90
Iberris Tranquility Print Backpack
Kate Spade Bright Idea Drop Earrings
Daughter Outfit
Toddler Girls' Long Sleeve Cozy Pullover
Toddler Girls' Jeggings
↓ 5 – Family Picture With Baby
Welcome winter with a seasonal photo shoot! These vivid colors will bring life to your photo albums and smiles to your family's faces for years to come.
In this image, a lovely mama pairs a magenta red lace dress with pale brown heels and tights. Loose hair and a wristwatch are all you'll need to finish this look!
For Papa, a button-down shirt is paired with trousers and brown dress shoes. His blue shirt perfectly complements the starry blue dress his little girl wears! Doll up your little angel with tights, beige footwear, and blue bows on her pigtails! If you're looking for the right baby outfits, check out these Cool Outfits for Baby's Casual Style.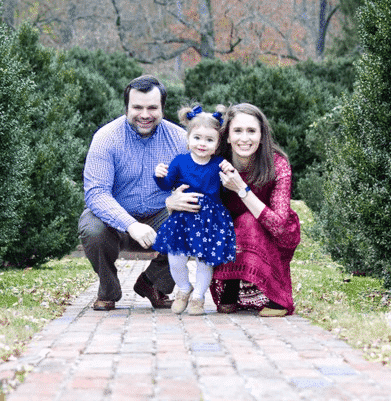 Check out the outfit details below
For Mom:
ASOS Design Premium Lace Midi Skater Dress
Delaney Microsuede Round Toe Ballet Flats
For Dad:
J.Crew Factory: Tattershall Slim Flex Casual Shirt $24.50
Daughter Outfit:
Toddler Girls' Long Sleeve Tutu Dress with Star Mesh Skirt
↓ 4 – Matching Tees – Cute Family Photo Outfit Inspiration
Heading out for a field trip and want to snag a family photo while you're at it? Check out these looks!
Whatever your theme, start with matching tees for the whole family. Then get creative! This mama pairs a knit denim jacket with skinny jeans and vivid green rain boots.
Her little boy wears a matching tee, brown cords, and mini rain boots. The little girl is dressed similarly in a matching gray tee and tights.
And you can't forget the papa! He's wearing brown, field mechanic jacket with jeans and sneakers as well as a Dad-sized matching tee.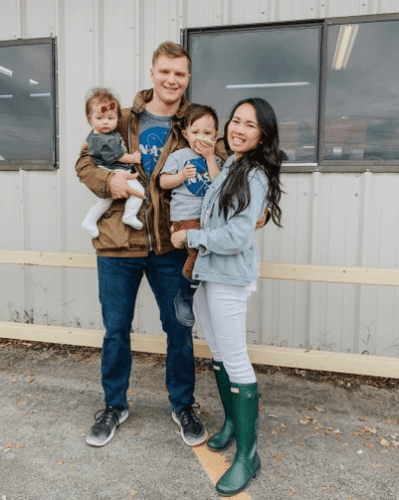 SHOP THE LOOKS FOR UNDER $850
Mommy Outfit:
AG The Farrah High Waist Raw Hem Ankle Skinny Jeans $188
Knit Denim Jacket $94
Women's NASA Graphic Tee 
Hunter Original Tall Waterproof Rain Boots $150
Dad Outfit:
NASA Retro Logo Vintage Men's Shirt $8.99
J.Crew Field Mechanic Jacket $198
Kiddie Outfit:
Trunk Candy Kids NASA Tee $17.99
Boys' Cords in Stretch Fit $49.50
Hunter First Classic Waterproof Rain Boot $55
↓ 3 – Easter Family Picture Day Outfits
Easter is a special time and lives in many children's memories as a wonderful holiday. So, why not commemorate it with a family picture?
This mama pairs a pink maxi skirt with a denim cap sleeve shirt tied at the waist. We love that she chose to pair this girly, pastel-ish outfit with some comfy Chuck Taylors. Perfect for chasing the kiddos around in!
This dad is holiday-approved with a long-sleeved pink button down and navy blue shorts.
Both little girls wear swing dresses and have accessorized with matching hair bows!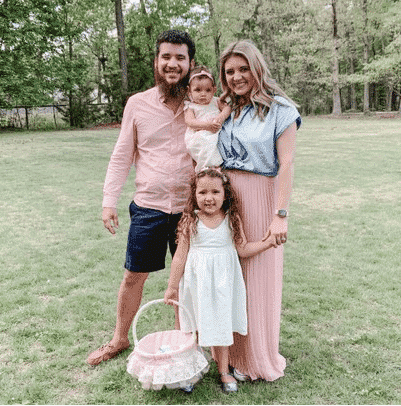 SHOP THE LOOKS FOR UNDER $150
Mommy Outfit:
Women's Short Sleeve Collared Denim Cap Shirt
Converse Chuck Taylor All Star Shoreline Slip-On Sneakers $49.99
Toddler Girl Outfit:
Hope & Henry Girls Swing Dress $26.95
↓ 2 – Holiday Photo Outfit Inspiration
As the weather cools, this is one more photo shoot look you're going to want to try this fall!
This mama wears a white sweater and an orange vest over it, along with jeans and knee-high brown boots. This dad is wearing a cozy pale blue pullover, jeans, and sneakers.
And how about that sweet little angel? She wears a checkered dress over tights with matching booties and a darling little bow in her hair.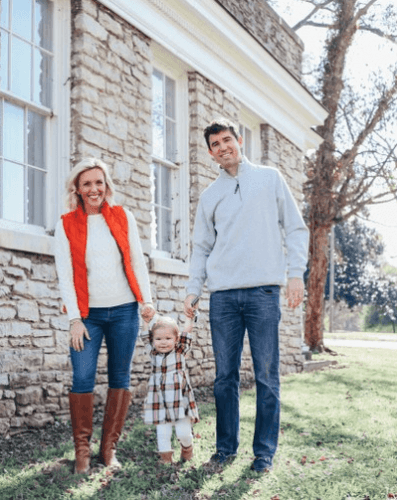 Mommy Outfit:
Cable-Knit Crewneck Pullover Sweater $29.97
J.Crew Everyday Chambray Shirt $78
↓ 1 – What to Wear For Casual Family Photoshoot
Last but not least, we have this gorgeous family decked out in color-coordinated outfits of olive green, brown, and neutral tones.
We love that this father and son wear shirts of a similar color as well as jeans and stylish sneakers. But this mama steals the show with her faux fur camel vest jacket, white jeans, and gray lace-up top.
These are great looks for going to church, an outdoor event, or a full day of picture-taking!
Happy commemorating, friends.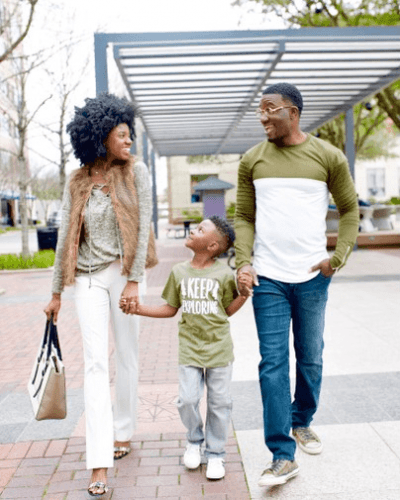 SHOP THE LOOKS FOR UNDER $150
Mommy Outfit:
Women's White Tee Shirt Lace Up Short Sleeve $10.49
Faux Fur Camel Coat Vest Jacket $16
Dad Outfit:
Relaxed Slim Built-In Flex Jeans $40
Burnout Thermal Color Block Tee $35.99
Kiddie Outfit: