Women Outfits under $100- For a fashion lover it gets quite difficult at times to stay keep it within the limited budget as the designer items which align with the latest trends cost quite some bucks; especially when you are an average earner and cannot invest all your hard-earned money into your wardrobe collection. However, you can get some solid designer pieces or lookalikes which are both budget-friendly and trendy at the same time.
We can totally understand if you want to look highly-fashionable but do not want to spend all your precious fortune on a pair of lit denim pants and a stylish tee. Well, we have done quite some digging to bring to you the latest outfit ideas out there which are of 100 or less than 100 bucks, nothing more or less than it.
How to Look Great Within a Budget
Considering it to be a time-consuming activity we bring to you 30 ensembles which strictly lie within the range of $60 to $100. Also, we will mention the online stores or various shops where you can find such items readily which will further make it easier for you to get the required pieces without wasting any of your worthy time and strength.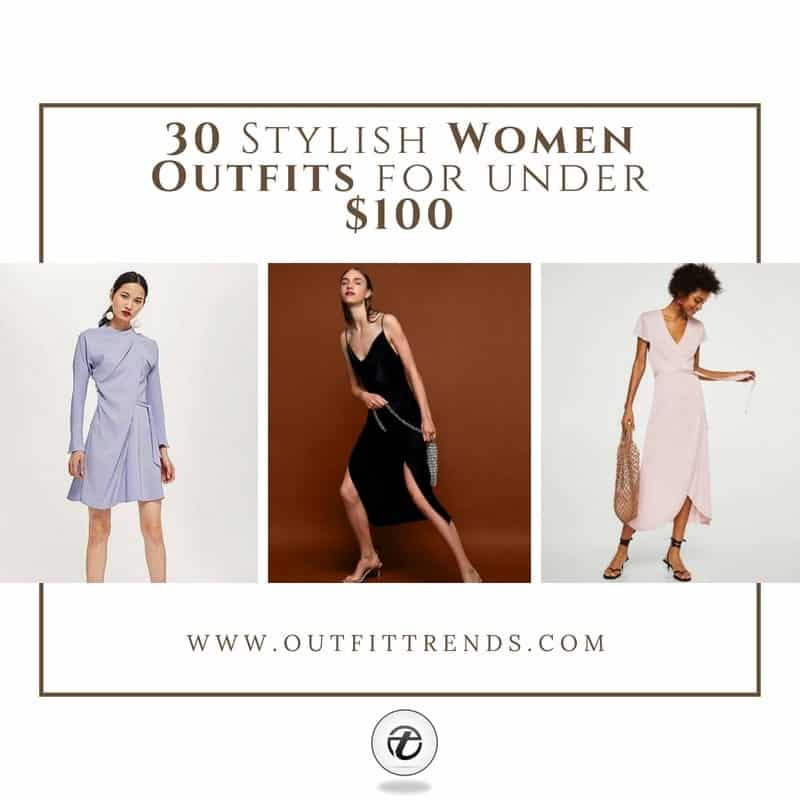 ↓30- Kylie Minogue Summer Look
Ladies, now you can go for a floral dress just like Kylie Minogue's one for only $54 by Alice + Olivia, however, for adding a denim jacket to the ensemble to complete the look, you will be required to add further $29. The outfit along with the jacket can be worn with gladiator sandals during summers as well as spring. Here are 20 Ways to Wear a Straw Hat This Summer.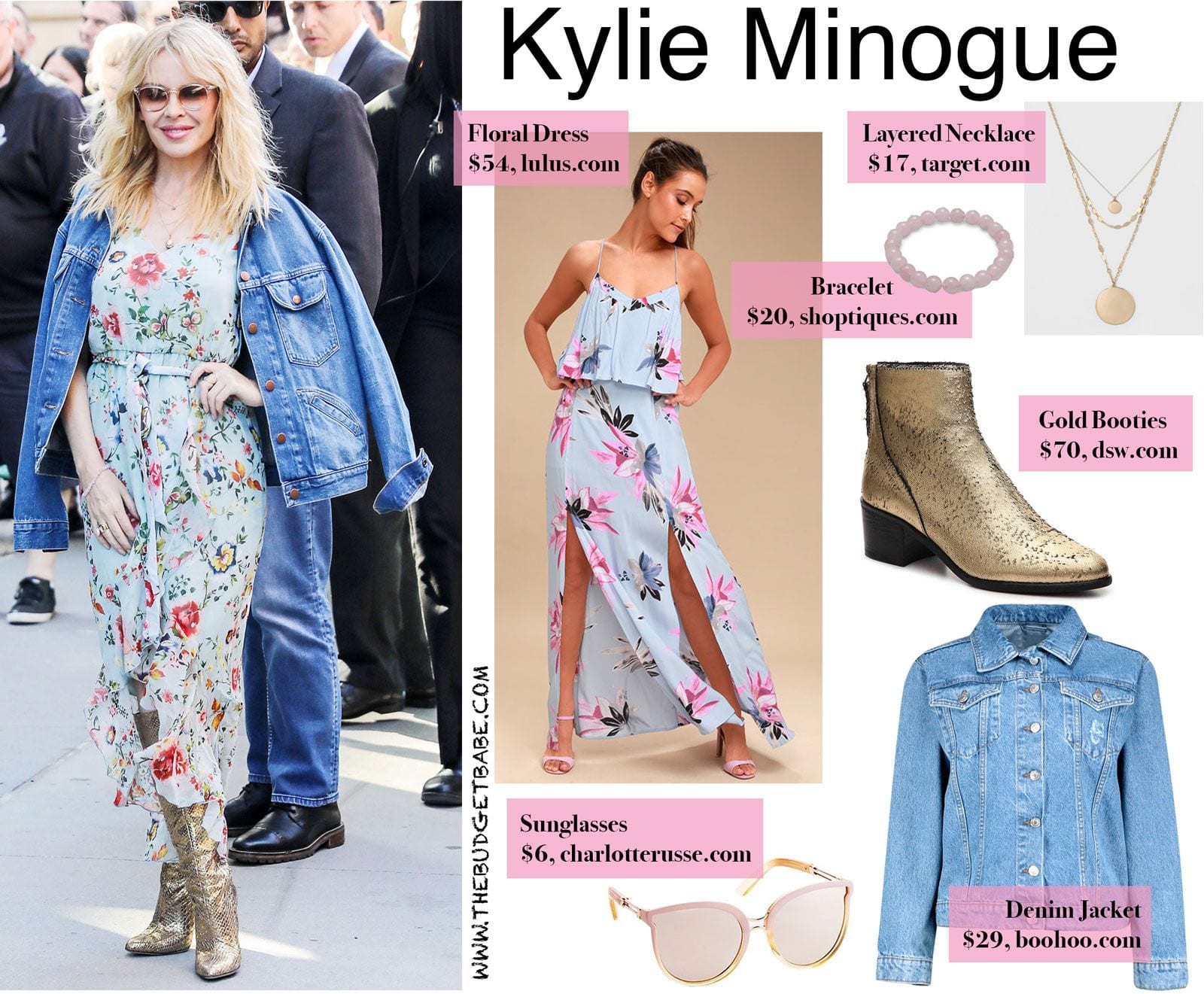 ↓29- Economical Bomber Jacket Look
Sienna Miller's looks have always been envied by young ladies. Her bomber jacket in the look below is definitely a killer piece. You can get this bomber jacket for $65 from gap.com and the peachy knitted sweater for $24 from 6pm.com. Pair these with your ripped jeans and black booties and you're ready to roam around all chic and stylish.
↓28- Affordable Leather Skirt Outfit
Get a white sleeveless H&M shirt with a turtleneck for $10 along with a Faux leather skirt in black for $57 only from shoptiques.com and pair it up with your black booties and some chic modern ear studs in black. The style seems perfect for young fashionistas in their teens.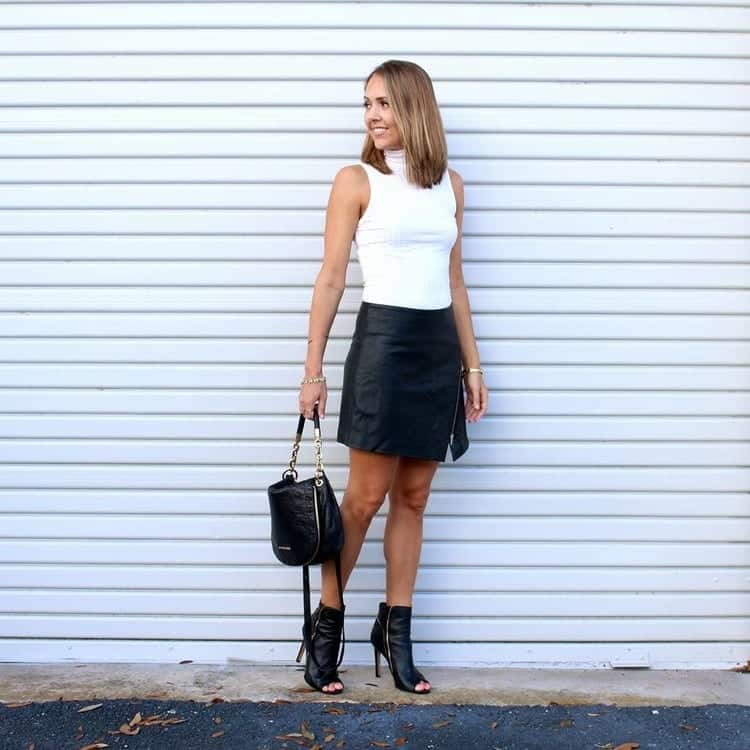 ↓27- Long Summer Dress within $100
A long jet black dress slit-cut satin by Zara which seems perfect for a dinner date or club night during summers will cost you only $70 and you can pair this gorgeous satin piece with any stilettos; most specifically in red, black, white or nude colors. No need to add further accessories as the dress will work its charm on its own.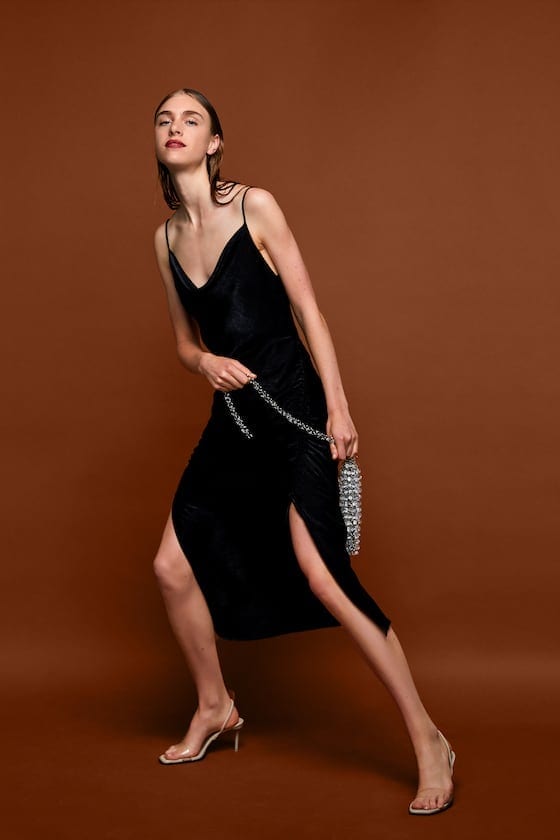 ↓26- Cool Knits within Budget
A cool H&M red oversized knitted sweater which can be paired with your favorite fitted denim pants is now available for $35 at www2.hm.com. It can be paired up with bright red New Look slingback croc-effect court shoes for only $37 available at us.asos.com.
↓25- ASOS Polka Dot Dress
ASOS Curve sleeveless maxi dress which can be rocked with any kind of black sandals during summers is a perfect option for ladies of any age. The dress will cost you only $67 and is available online at us.asos.com. Add a bracelet and some black simple studs to complete this look. Check out these 17 Best Polka Dot Outfits.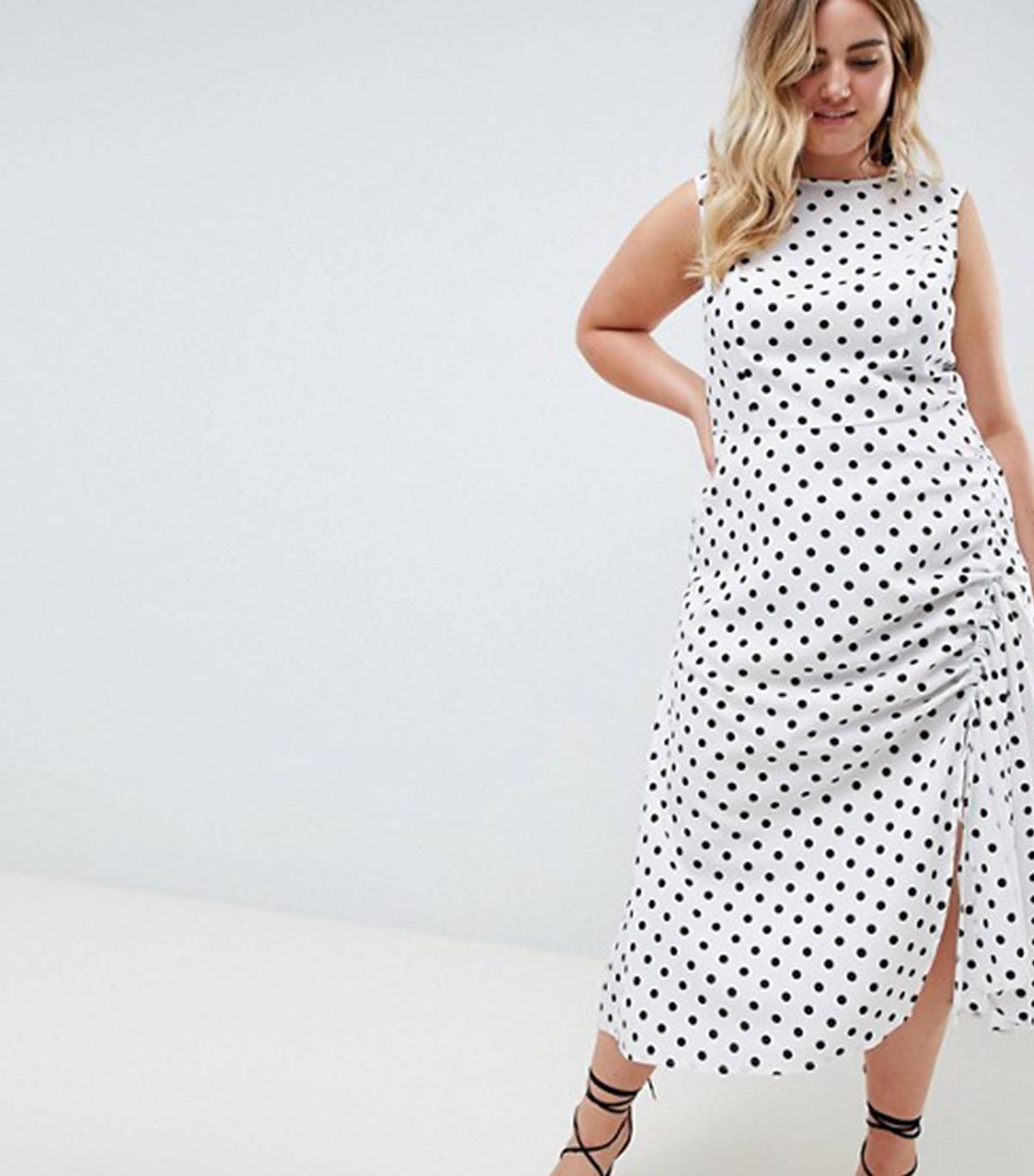 ↓24- Elegant yet Affordable Blouse
Get yourself an elegant white blouse to pair with blue denim by us.asos.com for only $40. The blouse has a corset style definition along with Ponte puff cute sleeves. Such a trendy blouse is the ultimate option for teenagers as well as university students who opt for budget-friendly garments.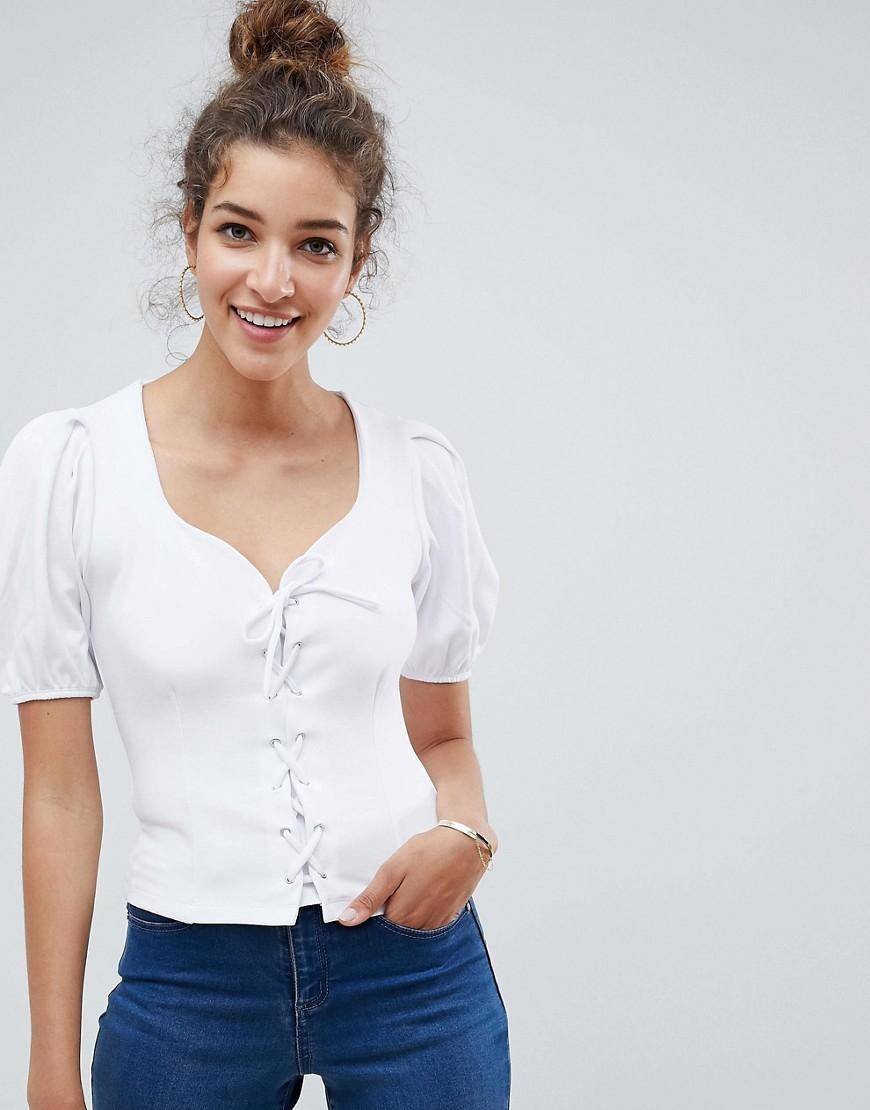 ↓23- Trendy Off-shoulder Tops
A trendy smocked elastic top with flared sleeves in pastel blue shade is available at www.revolve.com. Such a top is ideal for holidays and can be paired with ripped denim shorts. Add a pair of white economical converse shoes to complete the look.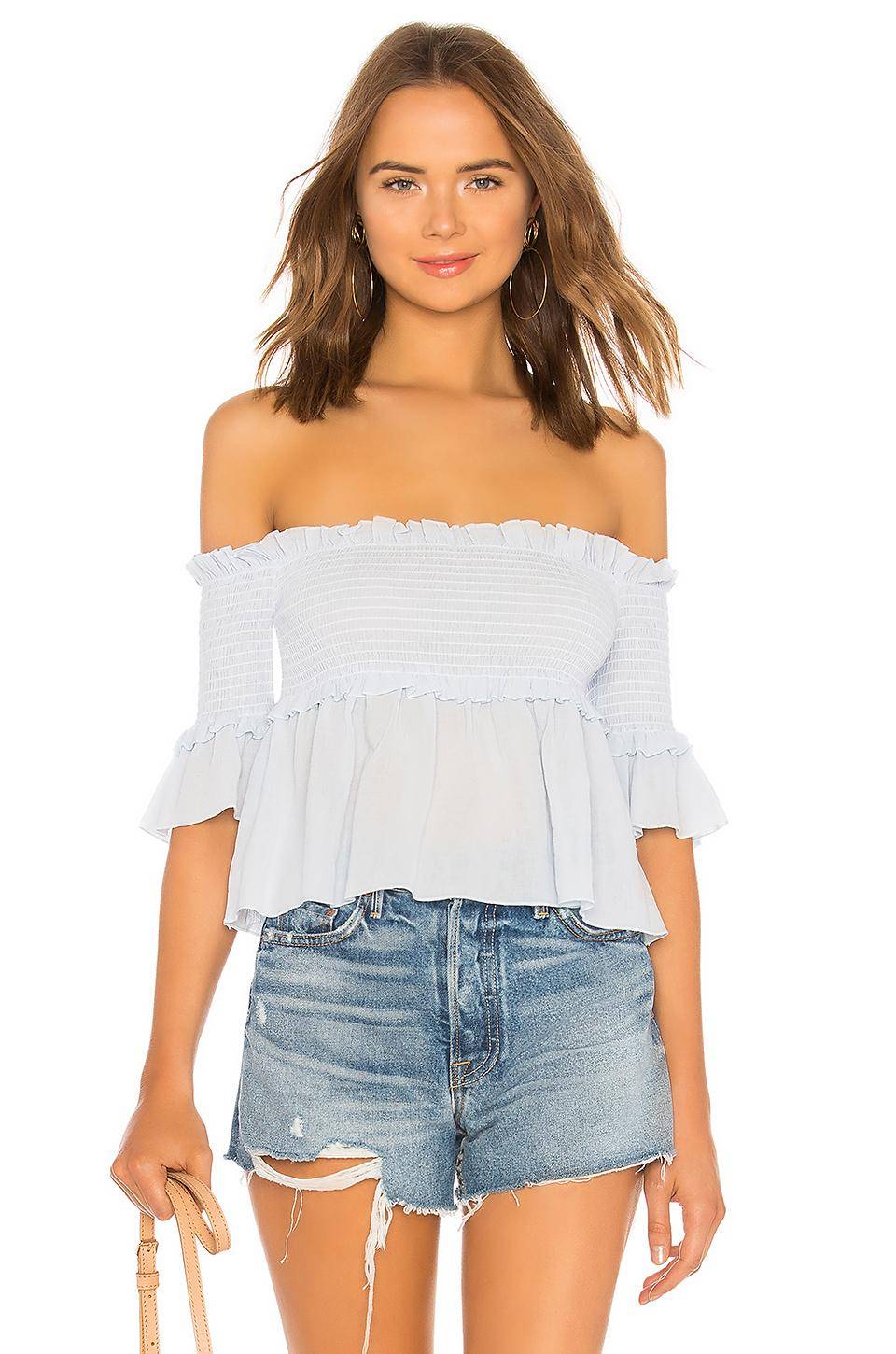 ↓22- Sexy Leopard Dress in Reasonable Price
The Stradivarius dress in leopard print is a classic piece for petite women as it is an amazing option for either daytime parties or nighttime clubbing. The dress does not require loads of accessories which is the best thing as you do not need to go out of your comfort zone. Such a look can easily be rocked with any neutral high heels. This exceptional piece is available at us.asos.com for only $57.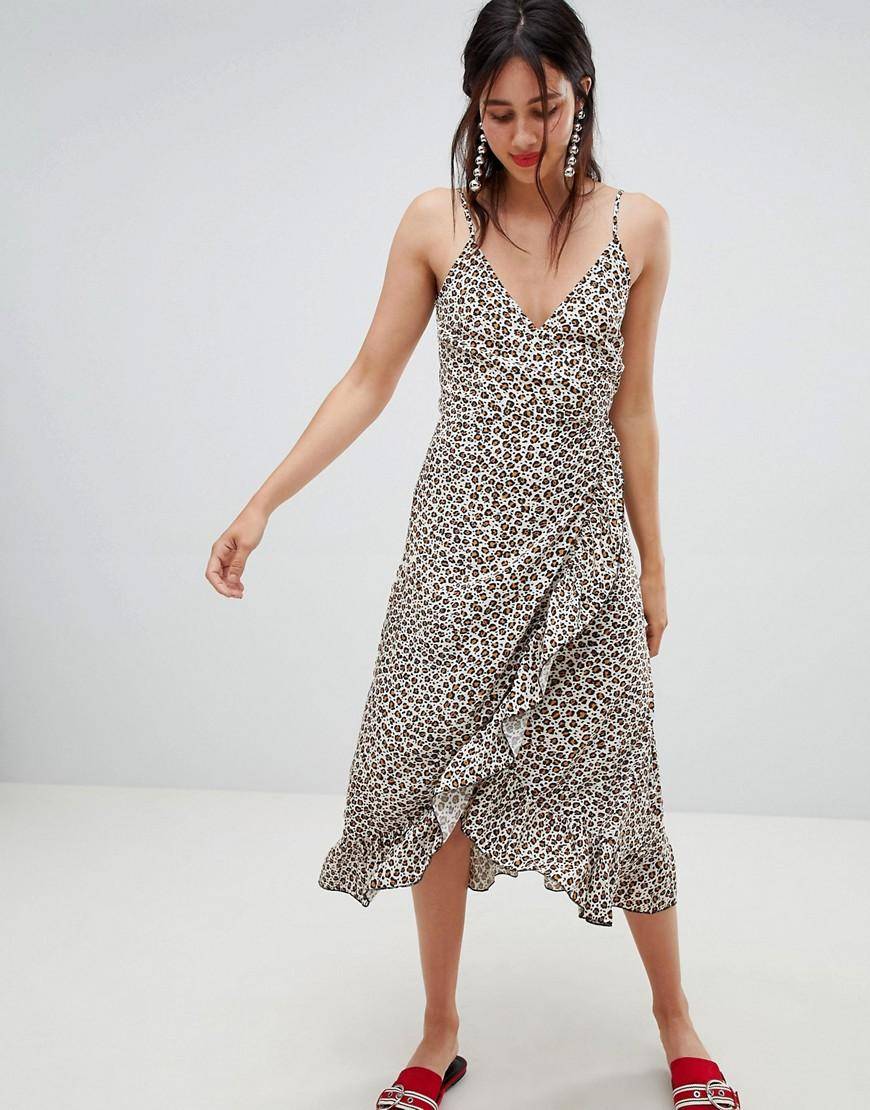 ↓21- Retro Top for Less than 100
Ladies who love to opt for retro clothing can find some classic designer pieces for less than $100. Such a top with puffy sleeves and tartine buttons is available at PixieMarket for $98 and you can easily wear it with any of your old jeans or pants. Hoop earrings will add to the beauty of this top and you can slay it with any economical jeans but white will add to the vintage look. Here are 25 Chic Ideas How to wear Mom Jeans.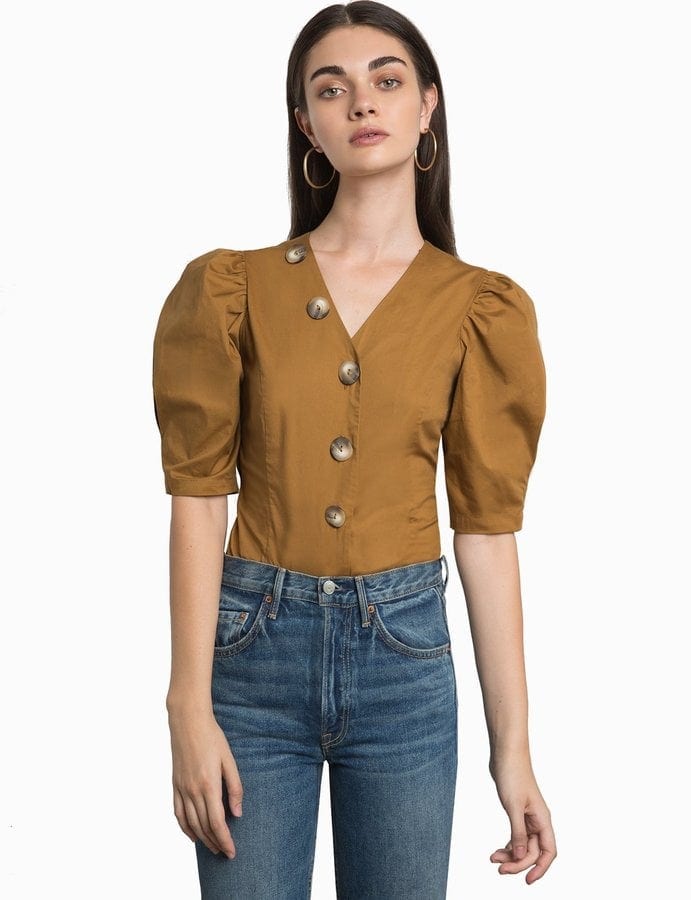 ↓20- Button Down Slit Dress for Spring
The Amber button-down dress made of linen will cost you only $79 and you can slay it during your spring holidays with your favorite pair of converse shoes. The dress is available at www.urbanoutfitters.com. You can accessorize it with multiple chokers or chains for adding definition to your look.
Via
↓19- Mango Dress for Professional Women
Working women who prefer to keep a limited budget for their professional clothes can opt for this killer cross design silk dress available at Mango's official site for $79 only. Pair it with your nude stilettos and diamond-cut ear studs.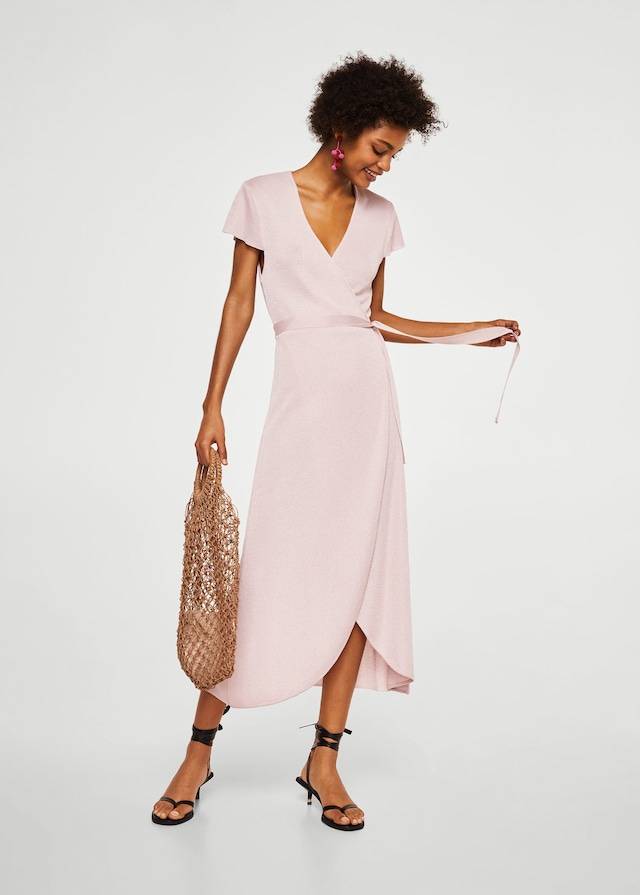 ↓18- Monochrome Dress for Formal Look
The round neck knee-length Mango dress with asymmetrical hem is available on the official site for only $99 and can easily go with black Louboutins. The super classy dress is perfect for accountants, receptionist or others who love the black and white combo.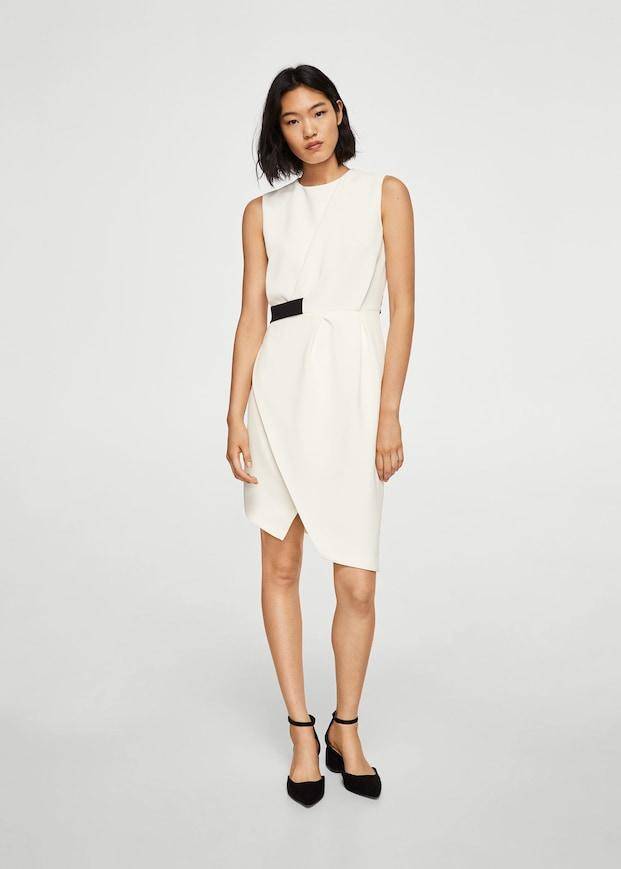 Via
↓17- Pastel Formal Dress within Budget
The $100 Origami dress available at us.topshop.com is the classic lilac mini-dress which can be worn by young internees or professional women in their twenties. The side belt and pleats will make you look younger and give you a fresh look. You can wear it with white high heels as well as some classy pearl studs. A top bun will look exquisite with such a dress.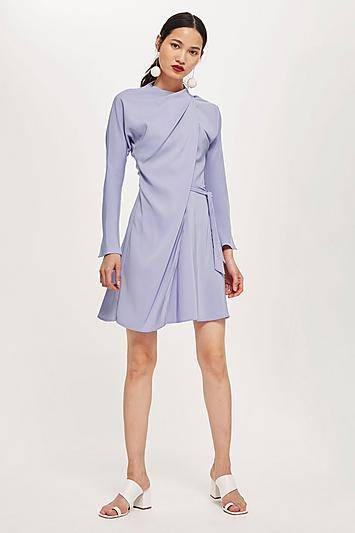 ↓16- Lucy Hale's Bomber Jacket Look
Lucy Hale's chic street style is quite affordable as all you need to get is the pink bomber jacket worth $40 from sohogirl.com and the cool high rise denim jeans worth $29 from gap.com. Do not forget your shades with this look and you can further go for the $17 layered necklace available at target.com. Here are some more awesome 21 Best Leather Bomber Jacket Outfits for Women.
↓15- Lily James Classic Floral Look
Lily James adorable one-shoulder floral top is the dream of floral lovers and is available for only $35 at amazon.com. Pairing it with pink wide-leg bottoms will cost you not more than $18 from shein.com. The entire combo can be enhanced with a pair of nude Louboutins and high ponytail. The look is perfect for skinny girls as it will help them flaunt their boney structure.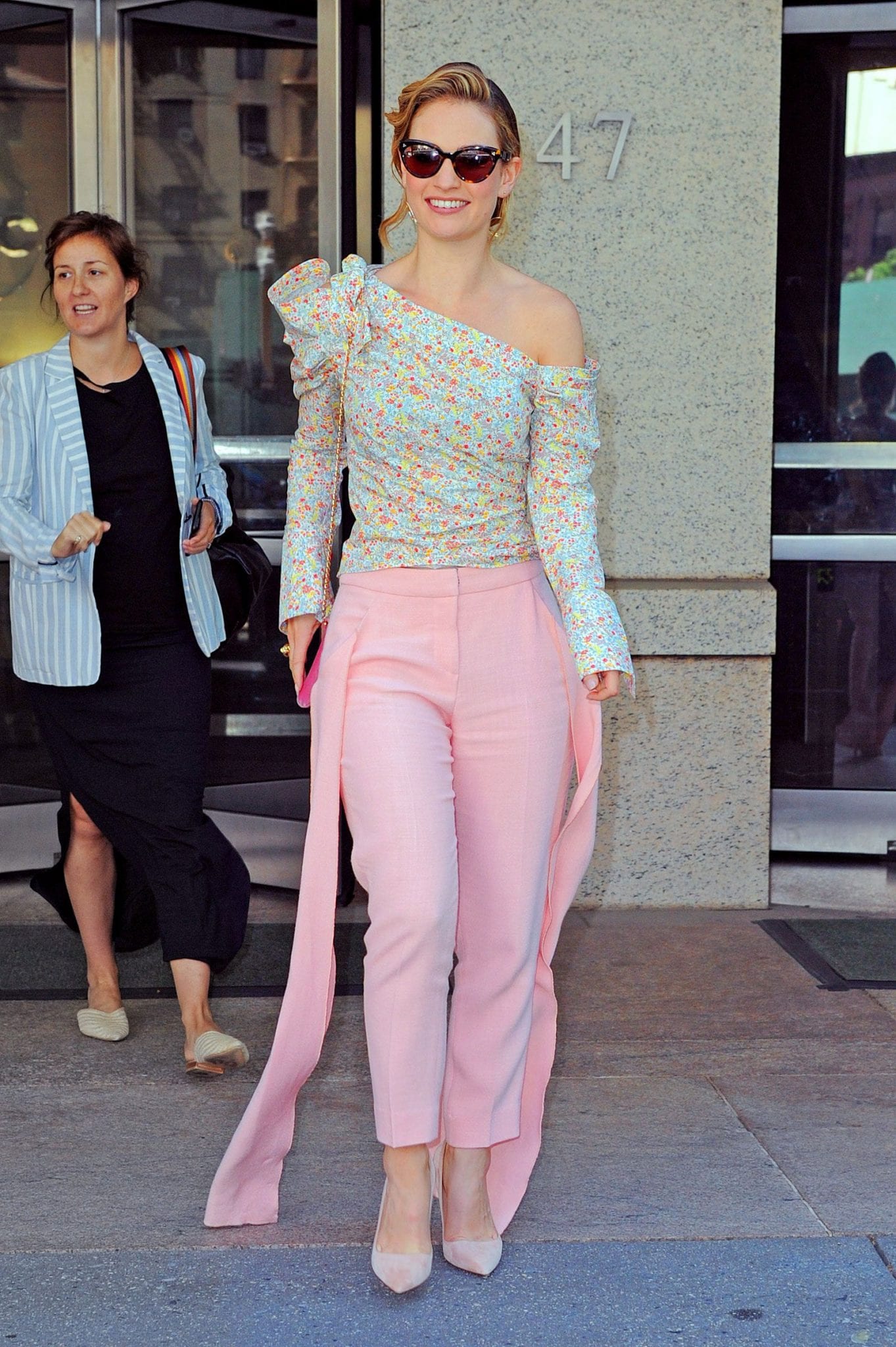 ↓14- Kristen's Economic Travel Look
Kristin Chenoweth knows the art of pulling a sheer outfit with ease during traveling. The sheer knit is only for $12 at forever21.com and the wide leg denim pants will cost you only $68 from everlane.com. The duo goes best with a lacy bra top underneath which will cost you additional $15 but will help you look like a high-end fashionista.
↓13- Kylie's Athleisure Style for Less
Kylie is one of Forbe's fearless cover girl when it comes to flaunting personal style sense. You can get one look just like Kylie within $100 by buying the cool logo waistband leggings from asos.com for only $22 along with the white bra top for $28 from freepeople.com. You can get the matching transparent stilettos from forever21.com for only $35.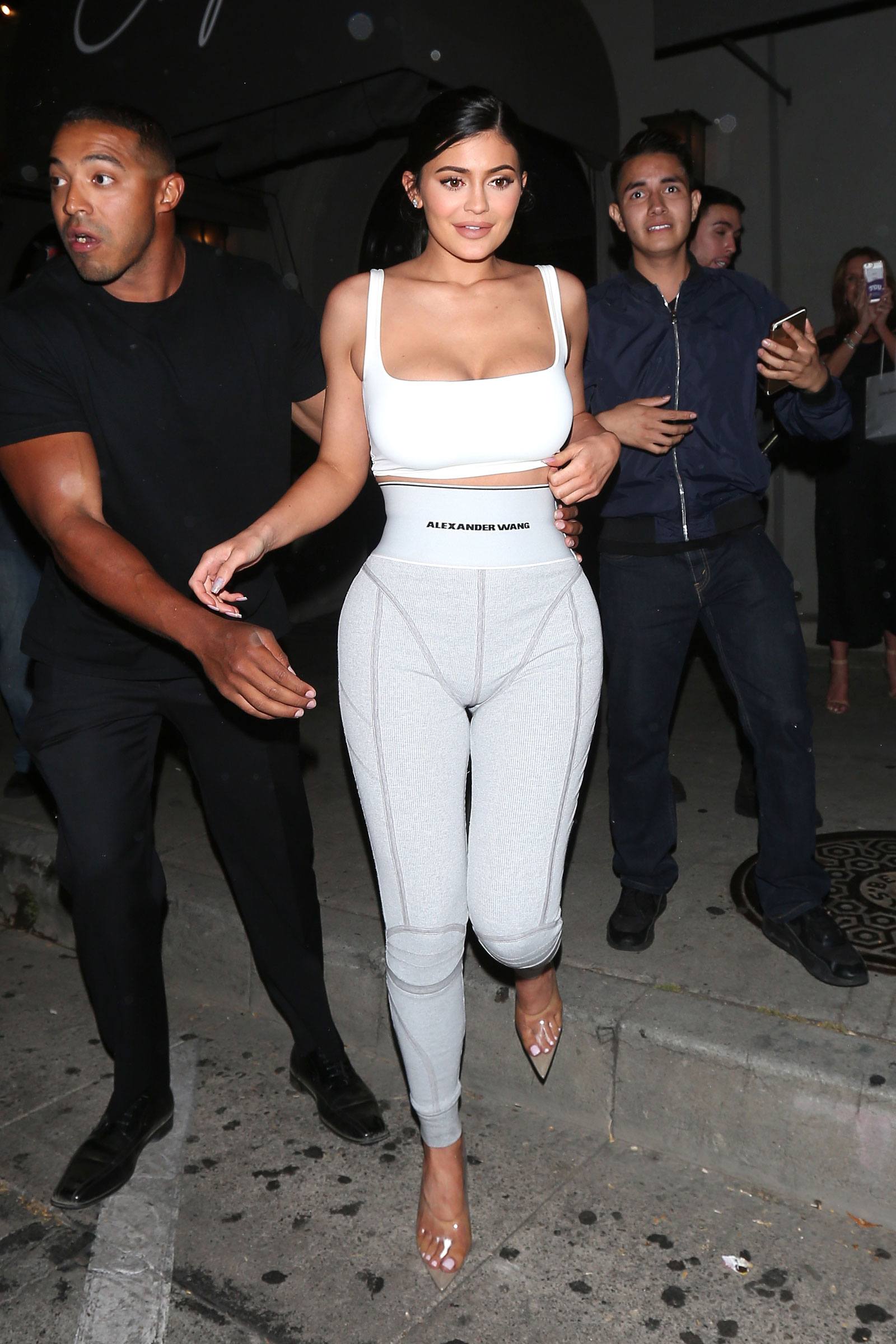 Via
↓12- Heidi Klum's In-Budget Boho Look
Get Heidi's beautiful floral maxi dress for only $70 from billabong.com and vaunt your Boho look with the $8 brown belt from forever21.com. You can get the matching t-strap flat sandals from rstyle.me for not more than $15 and you are ready to hit the streets in Heidi's style.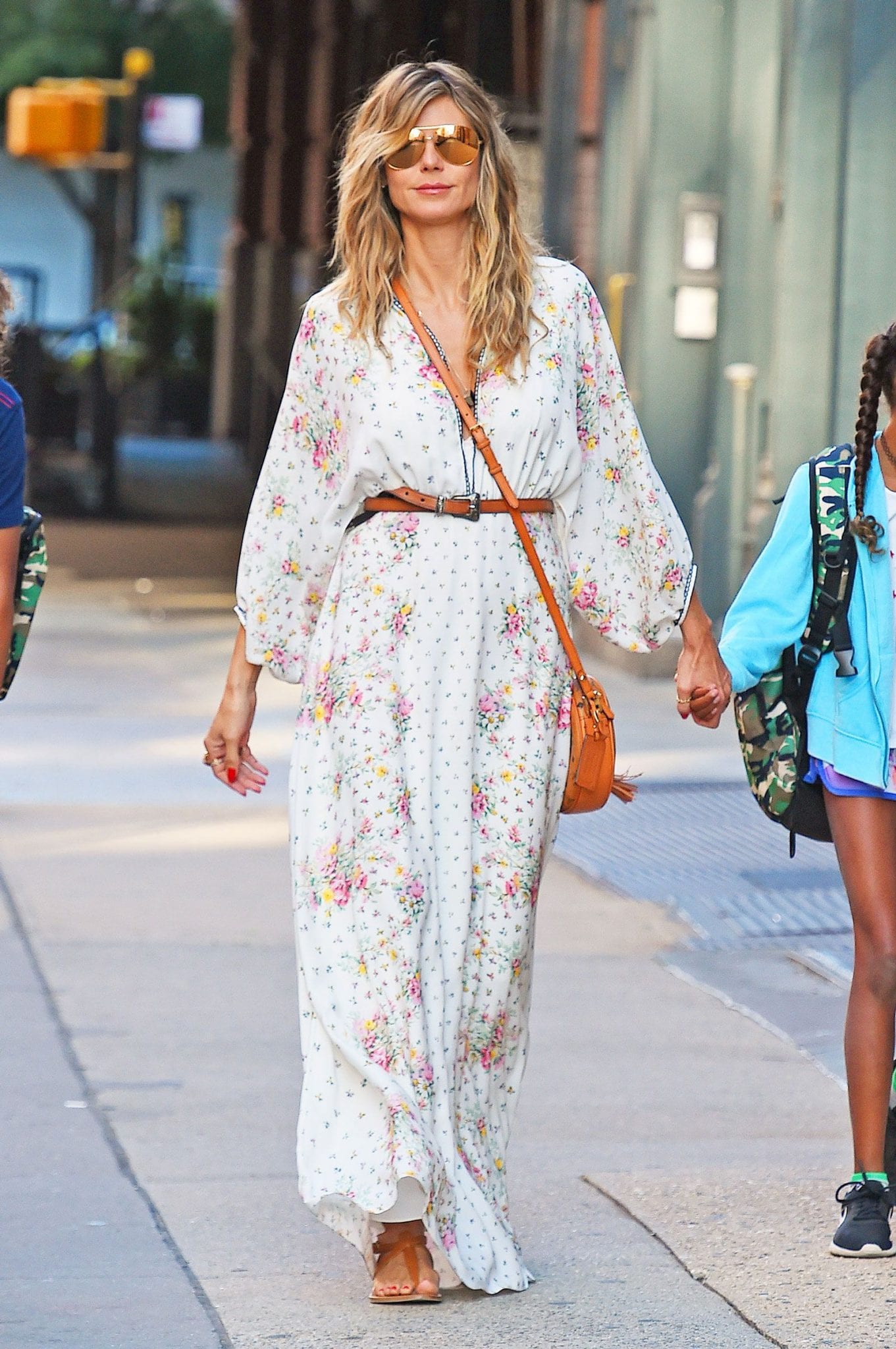 ↓11- Jennifer's $100 Funky Look
Jennifer Lopez's rainbow-striped lit top is available at forever21.com for $18 only and it can be mixed with the white flared jean bottoms which are available at express.com for $45. You can get the pastel yellow stiletto pumps from amazon.com for $25. The look is perfect for a girls day out or simply a summer brunch.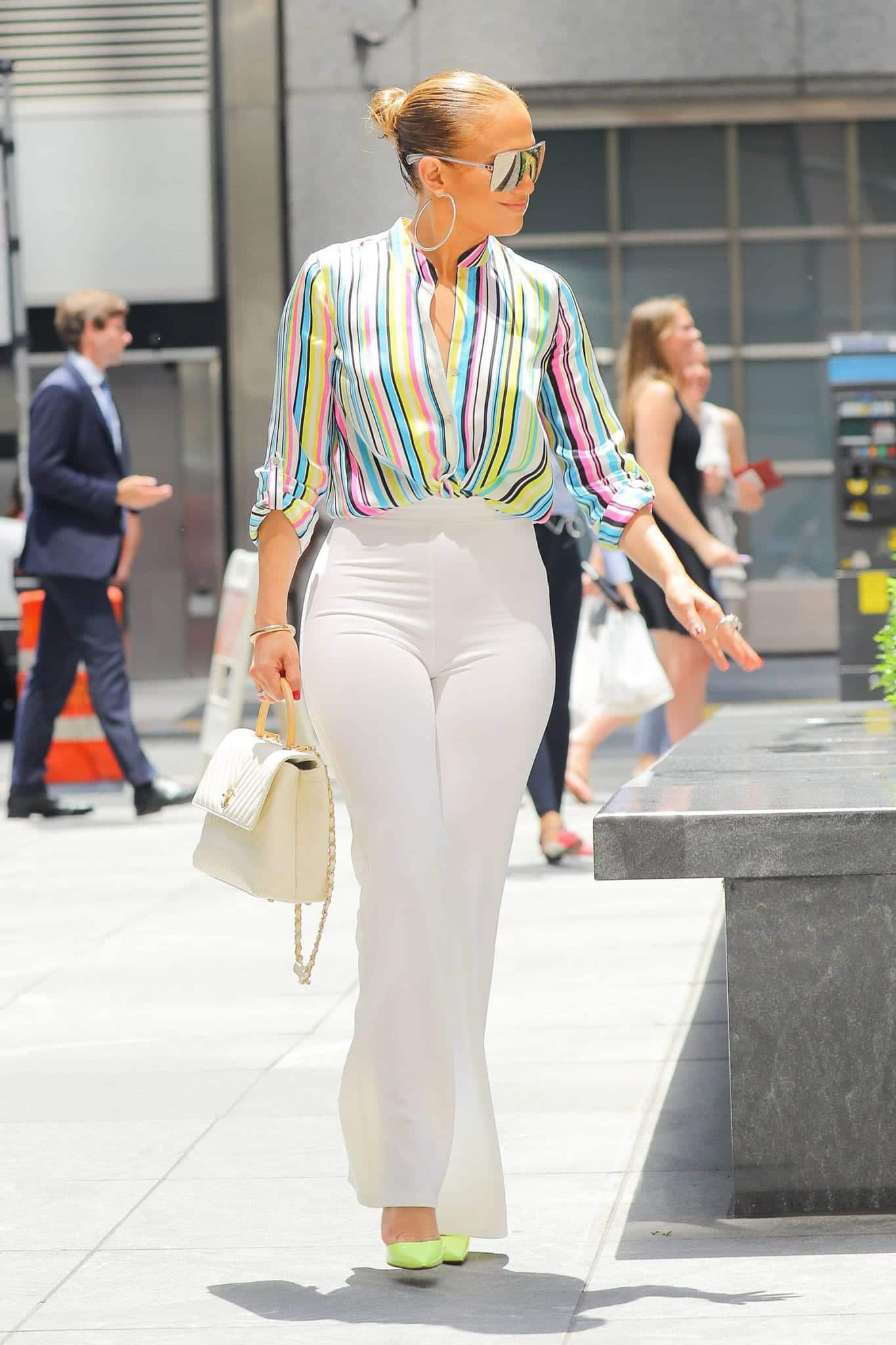 ↓10- Kristin Cavallari Full Plaid Look
The Alexander Wang's designer piece can be worn in Kristin Cavallari style for less than $100. Get the check mini dress from lulus.com for $15 only and the exquisite check blazer for $35 from forever21.com. The look will be complete with the sexy black high heel sandals worth $40 available at kohls.com. Here are 18 cute Outfits with Plaid Coats.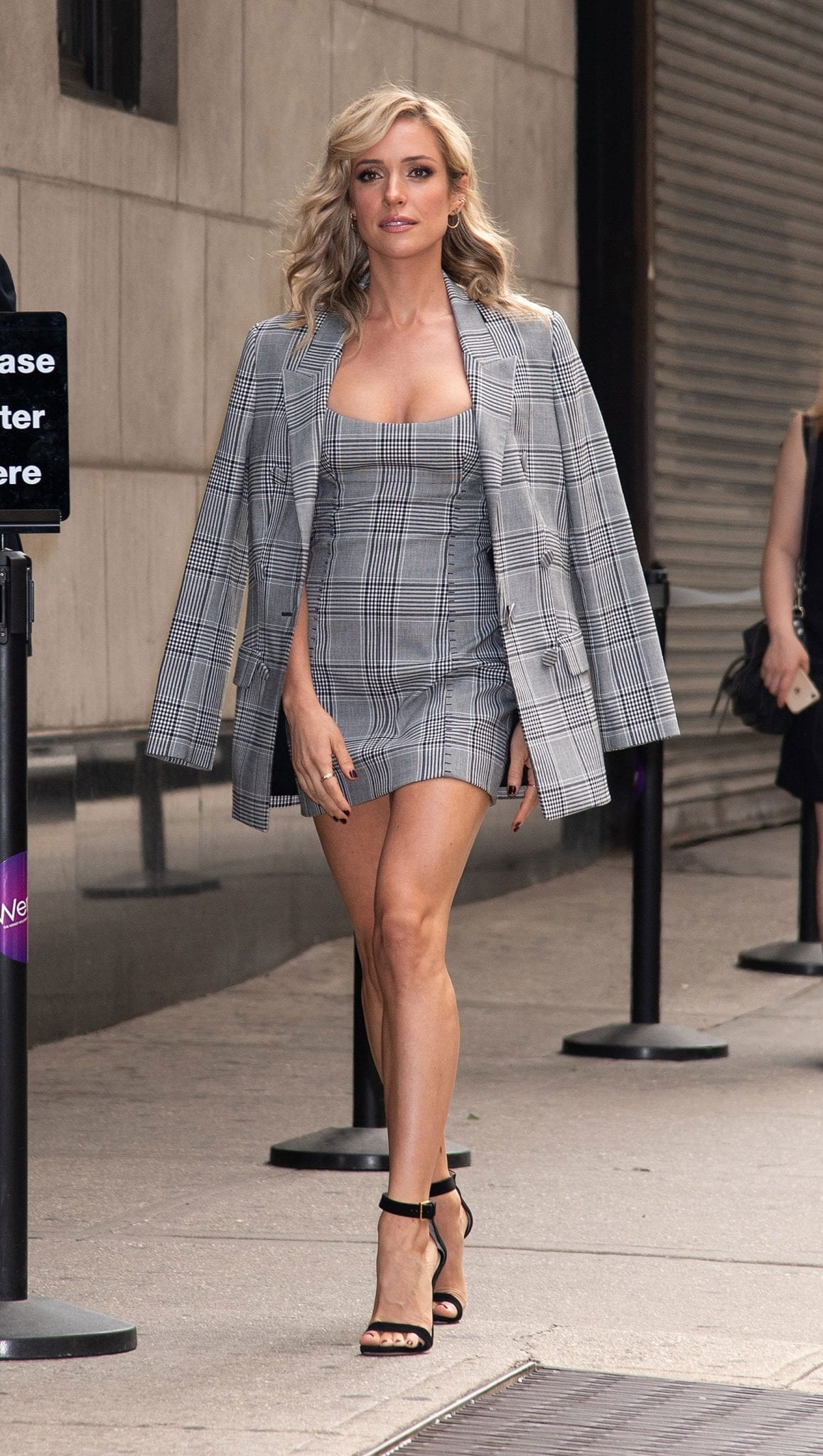 Via
↓9- Semi-Fall Look for Less
The look is perfect for those who prefer casual but like to flaunt their style statement at the same time. You can get all three of the garment i.e. the Levi's cropped skinny jeans, the classy oversized scarf as well as the charcoal grey tee from nordstrom.com for $64, $21 and $17 respectively. Wear with low-top converse shoes to keep it comfy.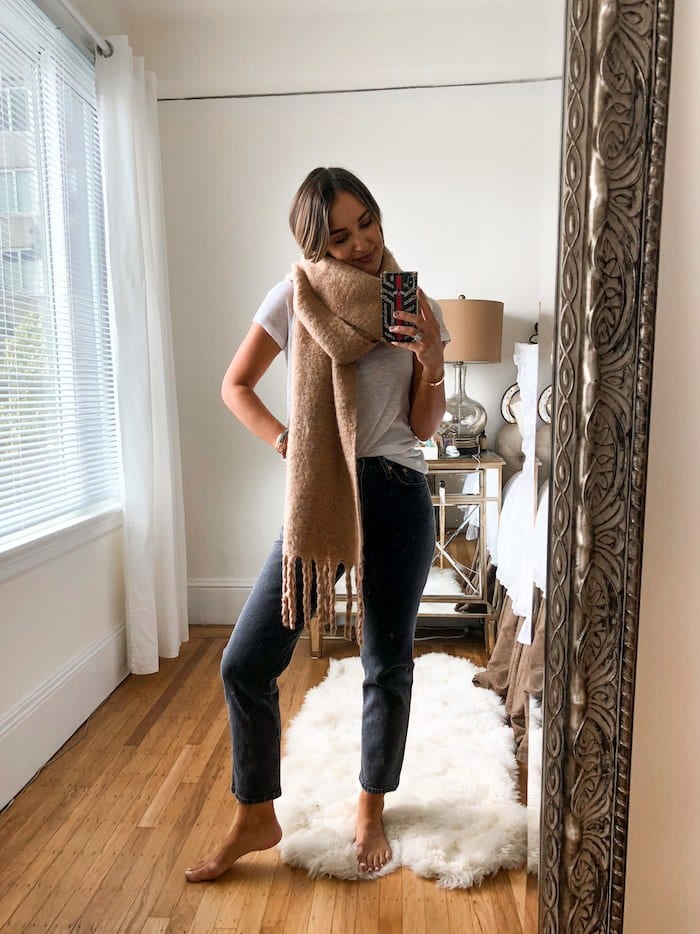 ↓8- Teen Girls Boho Look Under $100
To achieve the funky Boho look, you need to get the metallic Kelsey Dagger lace-up shoes worth $49 from Beacon's Closet Brooklyn. The lit printed pencil skirt worth $15 can be paired with Victoria's Secret crop top worth $5 in a sale and the cute pendant necklace worth $15. For more boho outfit ideas, check out these 12 Chic Style Bohemian Outfits Combinations for this Season.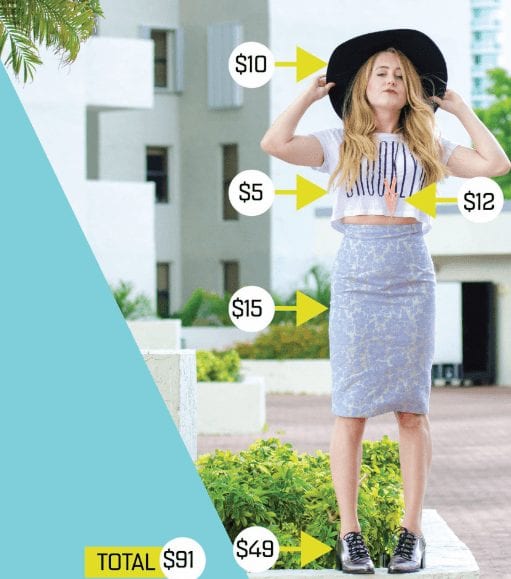 ↓7- Ripped Jeans Summer Style
The black colored ruffle hem top with a tube cut is available at abercrombie.com for $39. Pair it with the ripped Abercrombie ankle jeans worth $20 from the same site. Put on some casual slides to complete this look with a low ponytail and some cool black choker.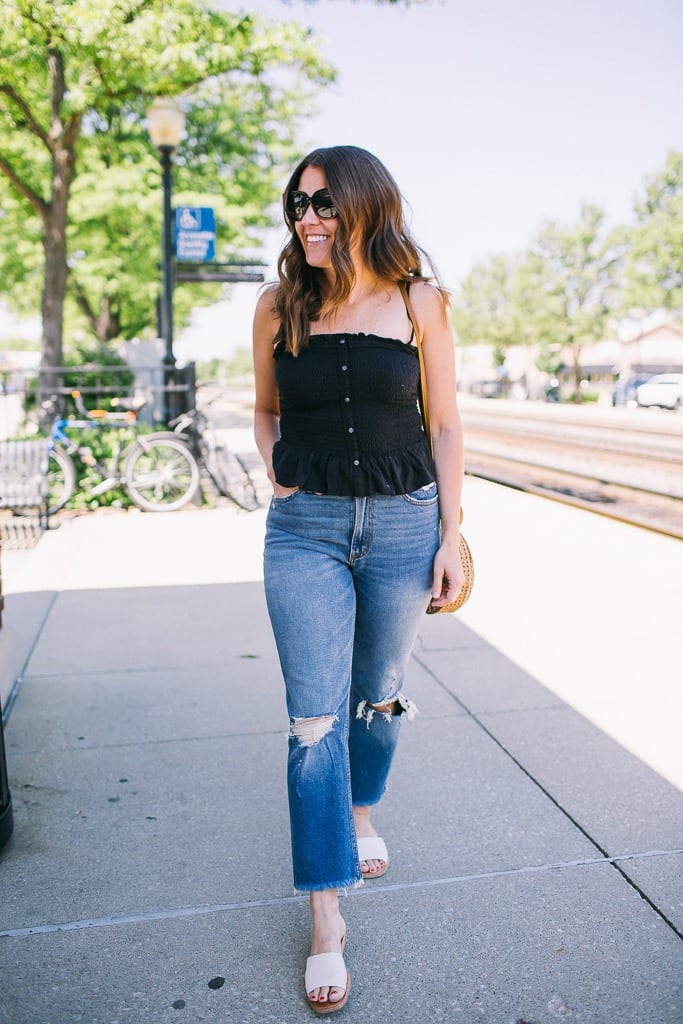 ↓6- Kendall's Gown Party Look
You can strut around the town clubs just like Kendall in a metallic split gown with an asymmetrical hem for $54 from express.com. The classic chrome block heel sandals are available at target.com for $30. The ensemble looks exquisite with sleek straight hair with a center parting. The long v-neck makes the dress perfect for parties.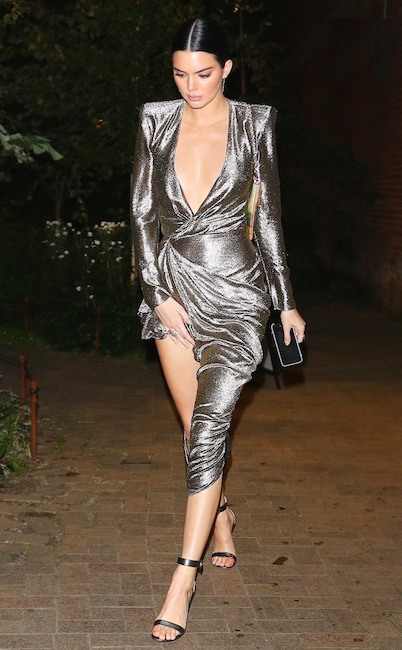 ↓5- Selena's Red Backless Dress
All the young fashionistas who believe that they can slay the bright red shade like Selena can get the exact outfit for $55 from aritzia.com. The dress drapes effortlessly and the open back with delicate strings which can be tied makes it look appealing as well as elegant. You can wear this classic piece with black heel pumps and diamond cut ear studs. And if you love red then don't miss out these 20 Ideas On How To Wear Red Pants.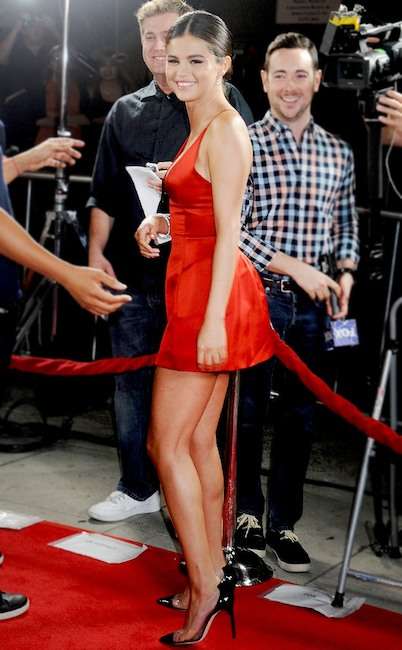 ↓4- Sophie Richie's Sophisticated White Dress
The white midi dress worn by Sophie is more like an elongated double-breasted blazer in white with silk lapels. You can get such a dress for $55 from prettylittlething.us. Rock this look with tear-drop earrings in silver and silver high heel sandals. Soft curls will look quite perfect with such an elegant piece.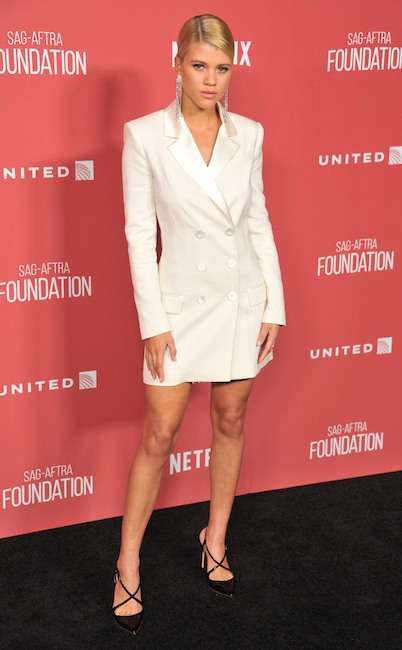 ↓3- Gigi's Model Like Look
Gigi lovers can follow her look for less than $100 now. All you need to do is to get the floral shirt dress worth $43 from loft.com along with the enchanting snakeskin belt by Faux for $8 from Amazon. Complete this ensemble mules from gap.com worth only $26. The look is perfect for a sunny day out with friends for shopping as well as a brunch date. Either sleek straight or soft curls, any style will look good with such an ensemble.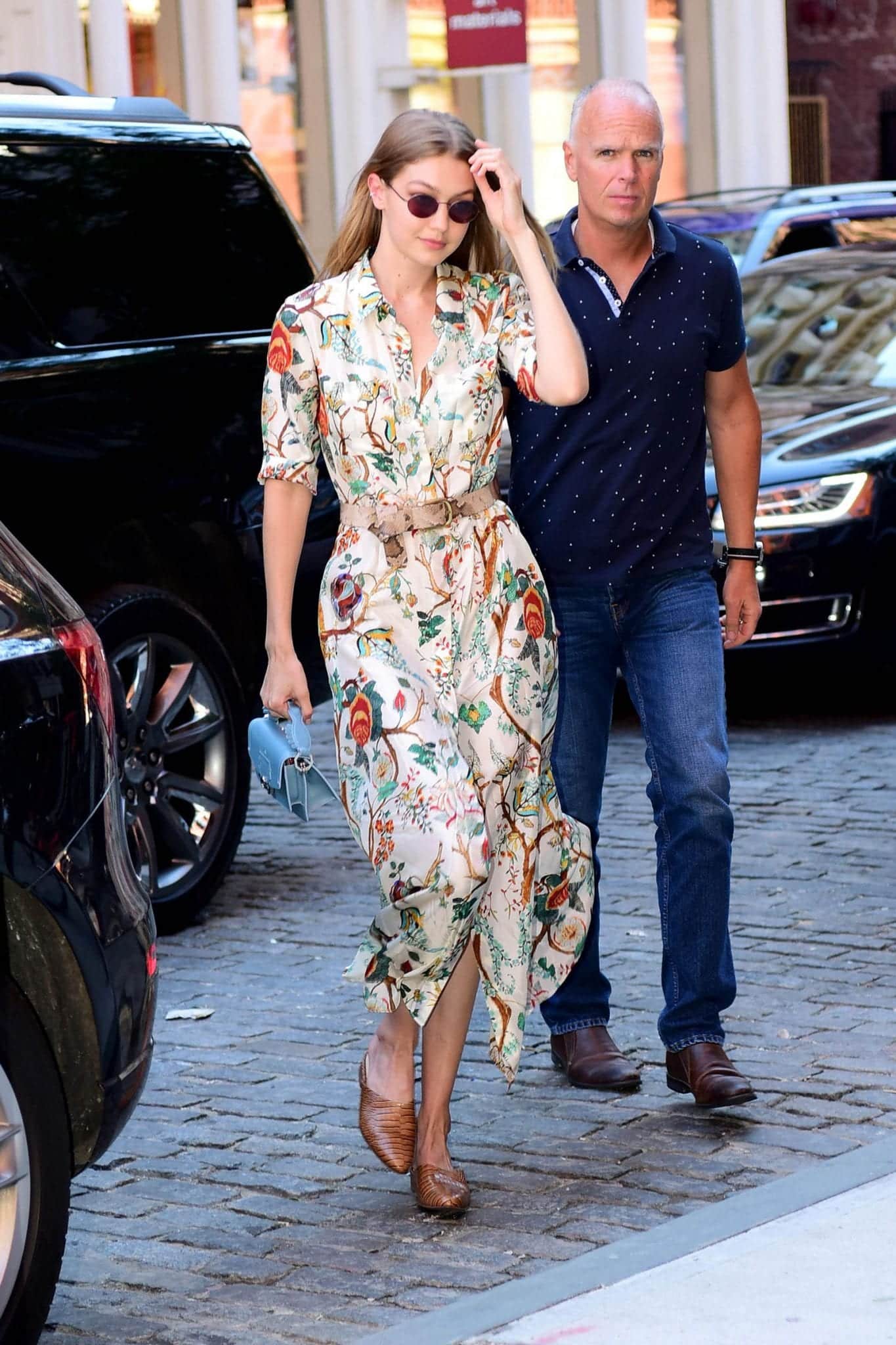 ↓2- Jessica Alba's Office Style
Jessica's polka dot wide leg pants are available at vicicollection.com for $56 and the blazer will cost you no more than $35 from hm.com. Get the red classic quilted sling bag for $36 from asos.com and you are ready to hit the streets in the perfect professional attire. Lower ponytail with sleek center parting will look ideal with this combo.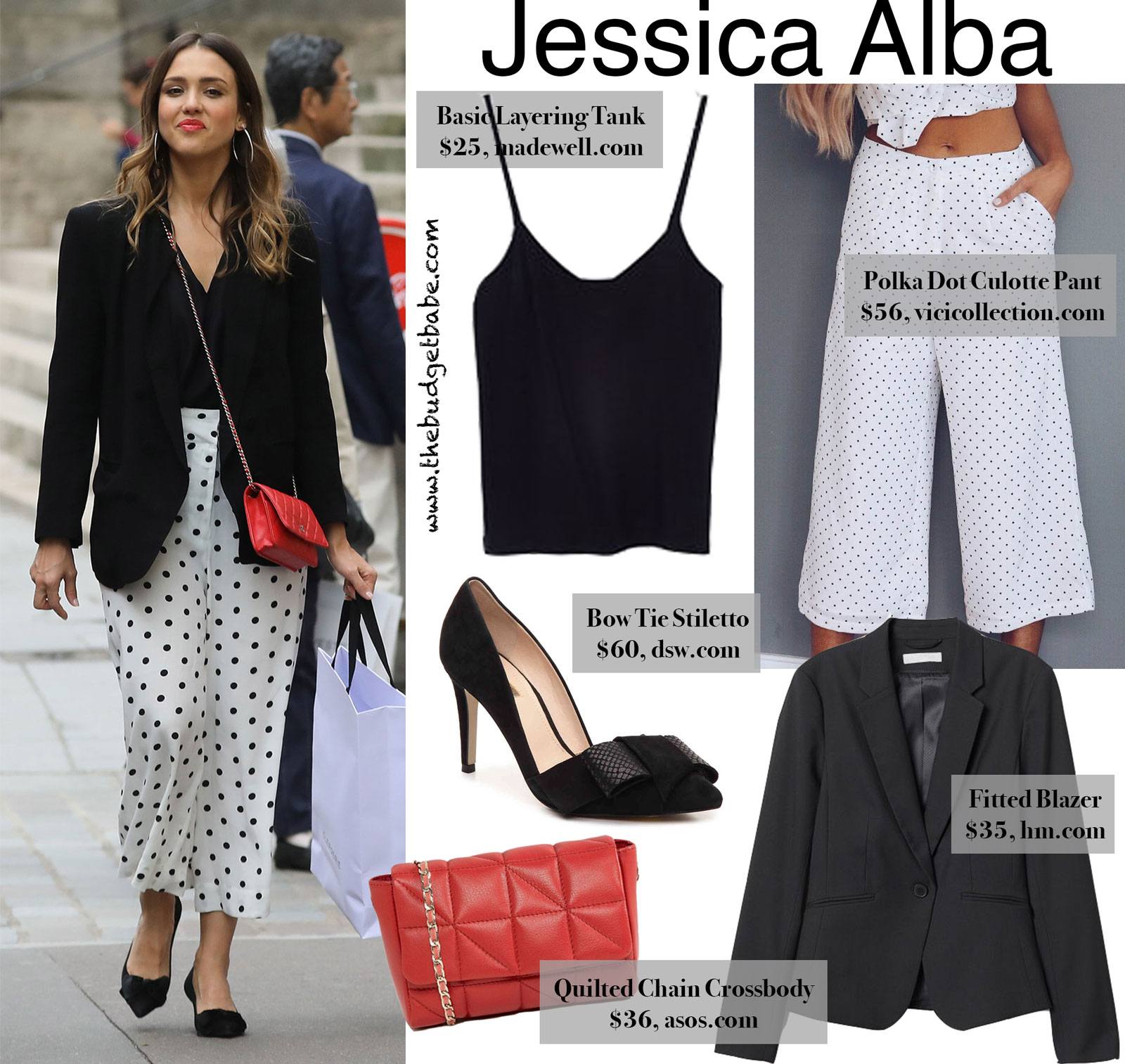 ↓1- Alessandra's College Girl Style
Alessandra Ambrosio's coolest casual look can be attained in $100. Get the tie n die tee for only $35 from nordstrom.com and the skinny ripped jeans for $64 from urbanoutfitters.com. To add swag to your style opt for the $5 aviator shades from charlotterussc.com.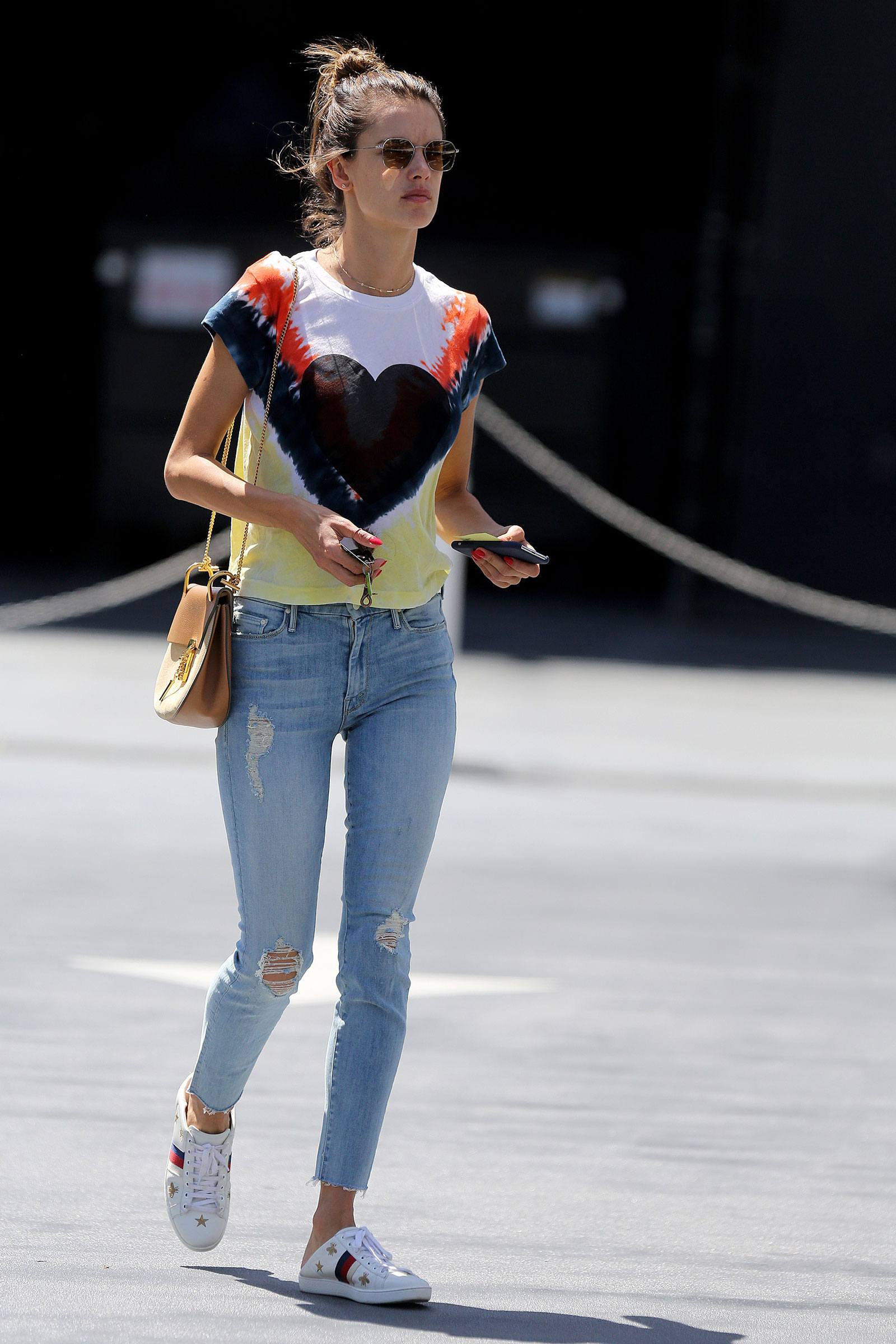 We loved the above looks as these are economical and trendy at the same. Do not forget to share your favorite look from the above with us. We would love to know your point of view on these exceptional looks under $100.