Women Outfits under $50- If you will ask me, shopping on a budget is not just ordinary but an extremely rare skill. There are multiple points that need to be kept in mind when your budget is tight or you are a conscious buyer. Every one of us is not capable of buying dresses or shoes worth hundreds of thousands of dollars as there is always a mid-way.
One has to have a good supply of the capsule collection if they want to look like a high-profile fashionista on a minimal budget. A capsule collection includes black and blue denim pants, some black or nude stiletto pumps or sandals, a leather jacket, and all other such items which stay forever green in the world of glam. In case you already have the required capsule wardrobe, less will always seem more.
How to Look Fashionable on a Low Budget?
For women who earn around $ 3k to 4k monthly, and want to look fashionable within a strict budget, the answer is right in front of you. The first step towards the ideal shopping is to identify your weekly shopping budget and stick to it like an obligation. According to my research, the ideal amount should be $50-$70 a week, no more than that. Secondly, you need to review your collection thoroughly in order to list your needs for the week. Finally, take your list and hit the thrift stores first. This way you can save quite a lot of dollars and enjoy the bliss of on-budget purchasing.
5 Killer Tips for Budget-Friendly Silhouette
Listed below are some tips for you if you are a fashion-geek but on a minimal budget:
Identify your fashion preferences: If you are a true fashionista, then you must have some particular preferences when it comes to fashion. Decide whether you want $10 shorts from Walmart or an Alexander McQueen luxe top.
Stick to Classics: Keep your wardrobe precise with the must-have classics like a pair of nude high heels, or a classic beige scarf that goes with every fall outfit.
Keep a Close Eye on Sales: Having a keen interest in seasonal or special discounts will work for you and save quite an amount. Sometimes, you can get high-quality branded essential for less.
Make sure to take your Economical Lady with you: If you are scared of spending out of bounds, then make sure that your economical friend is with you to help you maintain your budget when tempting items capture your attention.
Thrift/Vintage Stores: Although it is time-consuming, however, thrift stores inculcate some of the killer designer pieces. Do not underestimate the vintage stores where you can find some classics for less.
Trendy Outfit Ideas for Women within $50
Ladies who are on a strict budget need to focus on their needs, anything that is unnecessary will only hoard your wardrobe. Be careful and conscious when you go for your shopping haul. Believe me, you can look no less than a celeb in just your right budget. Shopping smart is essential. In this article, you are going to have a look at the 25 killer outfit ideas and trends which will cost you $50 or even less. Get ready to mark your favorite for your next shopping spree.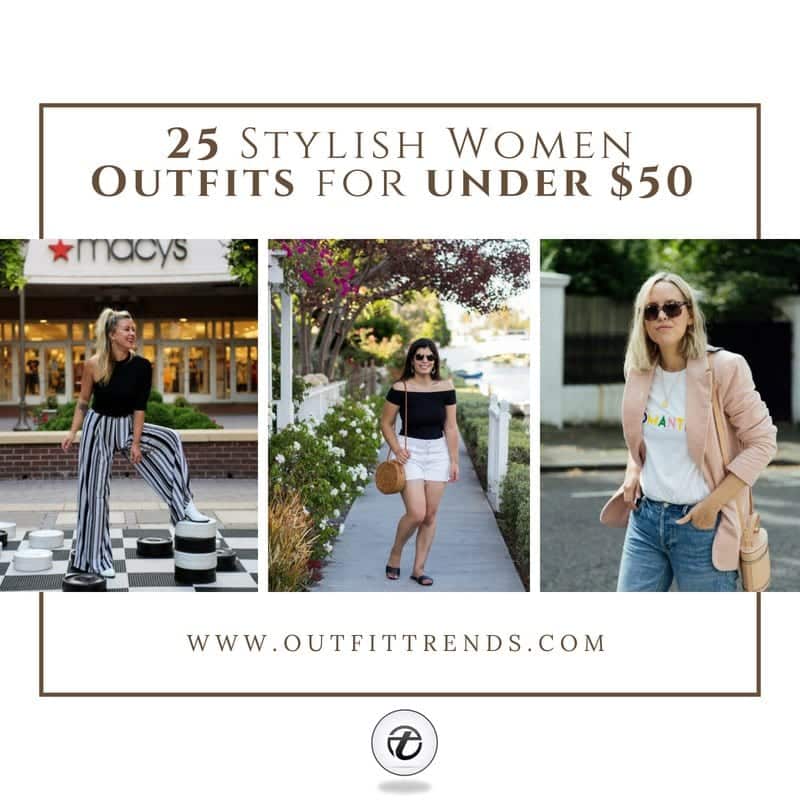 ↓25- How to Wear a Floral Dress Economically?
Everyone desires to flaunt some floral prints in spring or summer. Florals take over the wardrobe in these two seasons as every one of us wants to look fresh and up-to-date. Floral dresses are ideal for date nights, Sunday brunch or even a walk beside the seashore. Here, I am going to mention two classic flowery pieces which will cost you less than $50. Leith's floral midi dress in white is available at nordstorm.com for $49 only. Another crewneck floral dress with a flutter hemline is available at gapfactory.com and is worth only $23. Both these articles are quite economical and can be paired with your basic flat gladiator sandals. Also have a look at these 30 Stylish Women Outfits under $100.
↓24- How to Look Glamorous on a Budget?
Ladies, now you can opt for the super glamorous look within your budget. A slit long maxi is every woman's fantasy outfit. Well, you can get one for $36 only from novashe.com. The spaghetti strap lacy dress is a perfect option for evening wear. You can put it on during vacations or on a date night as well as a beach party. This dress would only require some glossy silver studs and a silver matching bracelet.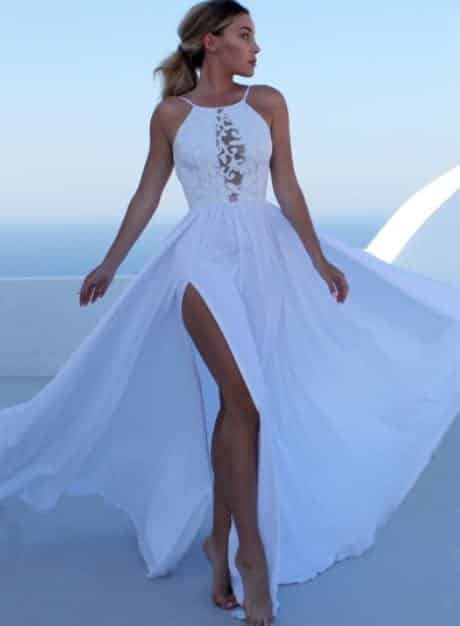 Via
↓23- Budget-Friendly Office Look
The jet black v-neck dress with a short slit is a perfect option to wear to your office and it will cost you only $19 after a 62% discount at novashe.com. The dress has a modern cut and it will enhance your features, making you look like a model. You can wear it with black high heels which will cost you $15 from alibaba.com. Keep your hair sleek and straight draping around your shoulders for a killer look. The overall look costs $31 only.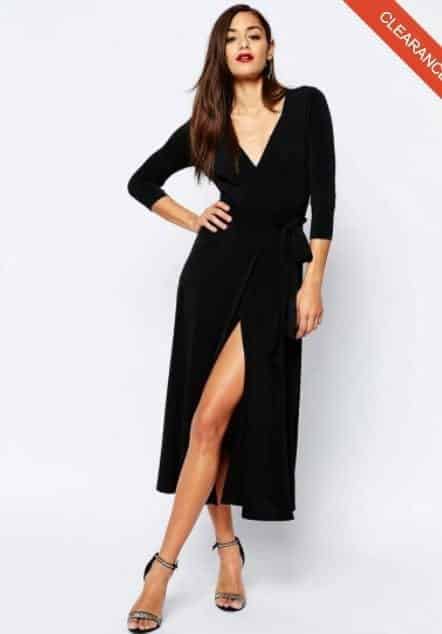 Via
↓22- Look like Kendall for Less than $ 50
If you have a petite figure, this look is perfect for you. Get yourself a pink velvet short fitted Floerns dress for $25 from amazon.com. The dress has puffy sleeves and gives a luxe vibe. Pair it up with silver python stiletto pumps worth $25 from alibaba.com. The overall look costs $50.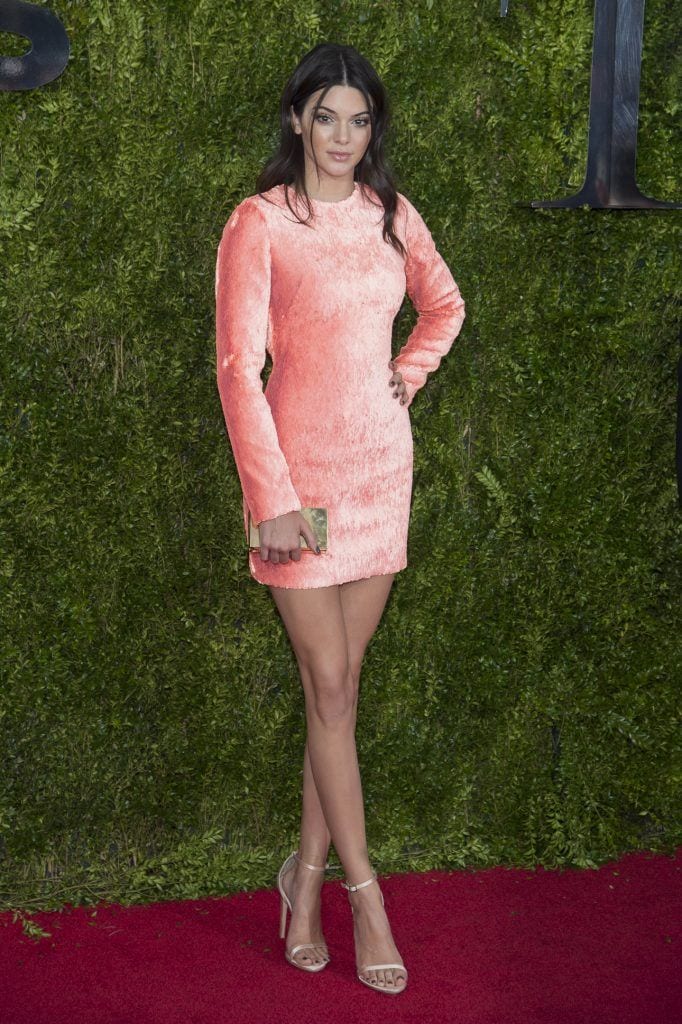 ↓21- Get Gigi's Girly Look for Less
You can definitely rock the printed playsuit look apart from beaches in Gigi's style. All you need is a red color short printed playsuit which will cost you only $8 from boohoo.com. You can put it on with white low-top sneakers worth $35 from alibaba.com. A high ponytail will look ideal with such an attire. The look is classic for vacations as well as college.
↓20- Wear Knitted Dress in Budget
Get your self a classic gray turtleneck warm-up sweater for just $15 from nastygal.com. Pair this exquisite sweater dress with corset black lace-up ankle boot from nastygal.com for $35 on 50% discount. Leave your hair untied in soft waves and slay this cool fall look. This cool fall look will cost you $50. Have a look at these 20 Ideas How to Dress for Road Trip.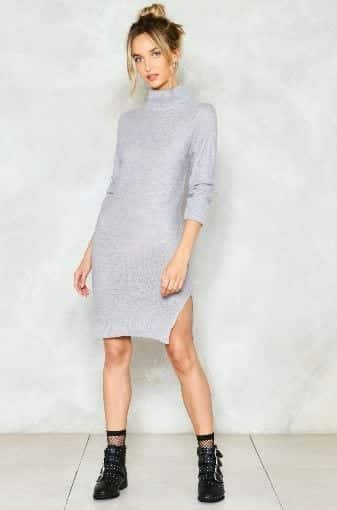 ↓19- Rock H&M in Budget
You can put on a lavish Corduroy blazer in pastel shade by H&M. It will cost you no more than $39.99. The best deal about this chic article is that it can be paired with any simple tee and jeans pants. You can get it from H&M's official site.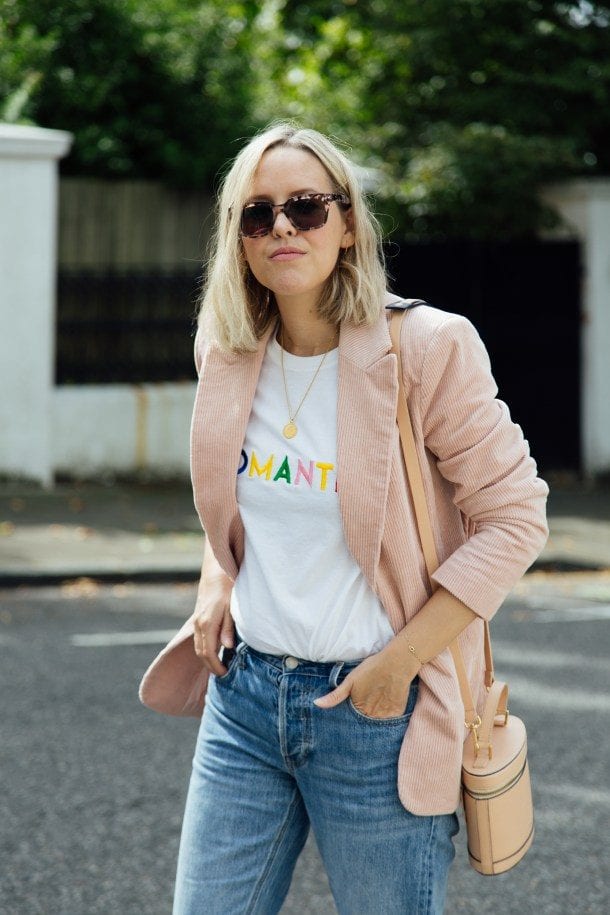 ↓18- Perfect Maternity Top
If you want to look all stylish and diva during your maternity leave while keeping your budget intact, then Topshop's Humbug Knot top which has Zebra stripes is a perfect option for you. it will cost you only $19 on discount. Wear it with plain black wide leg pants from novashe.com for $23 only. The overall look is for $42 only.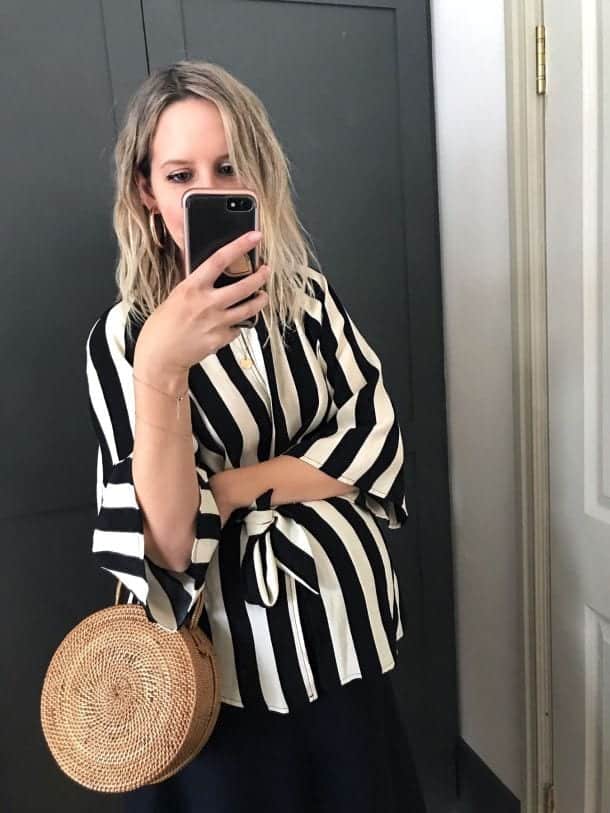 Via
↓17- Luxe Jumpsuit for Parties within $50
The luxurious satin wrap jumpsuit which has an asymmetric and fluttery neckline is perfect for ladies who are petite or lean. Get this dress from Boohoo.com for $25. Wear it with hoop earrings and lit stiletto heels in black for $20 from Boohoo.com. You can tie your hair in a sleek ponytail and flaunt your facial bones just like a VS model. The exact price of this combo will be $45. Here are 16 Cute Jumpsuits Outfits & Ideas on How to Wear Jumpsuits Rightly.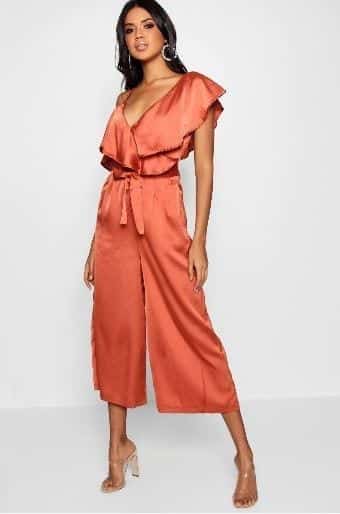 ↓16- Chic, Casual and Inexpensive
Get yourself high-rise pure white denim shorts from gap.com for $19 and to add a chic flavor to it, pair it with a black off-shoulder tee from jcrew.com which will cost you no more than $29. The outfit is pretty cool for both petite and curvy ladies and will cost only $48. Pull off a sleek high ponytail and you are all set to rock this fresh and youthful look.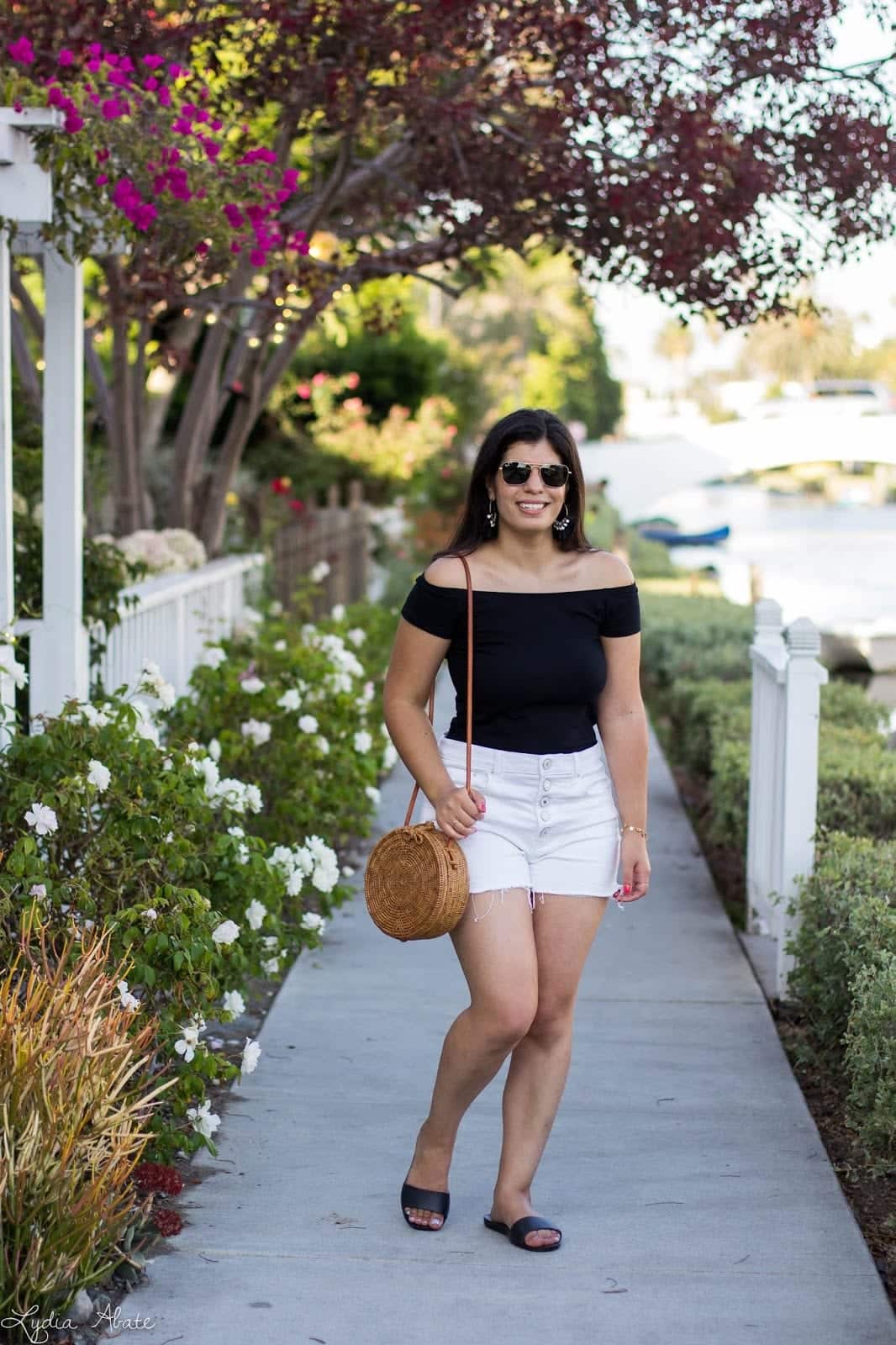 ↓15- Perfect Red Dress for Movie Night
The hot red botanical print dress by Shein which is fluttery and more of a wrap dress is worth only $16. What else can be added to this charming piece? Well, you can add vintage style gold round earrings to it which are worth $13 only at jcrew.com. Let your hair fall sleekly around your shoulders with a center parting and you are reading to kill it. Check out these 20 Ideas how to Dress up for Movie Date.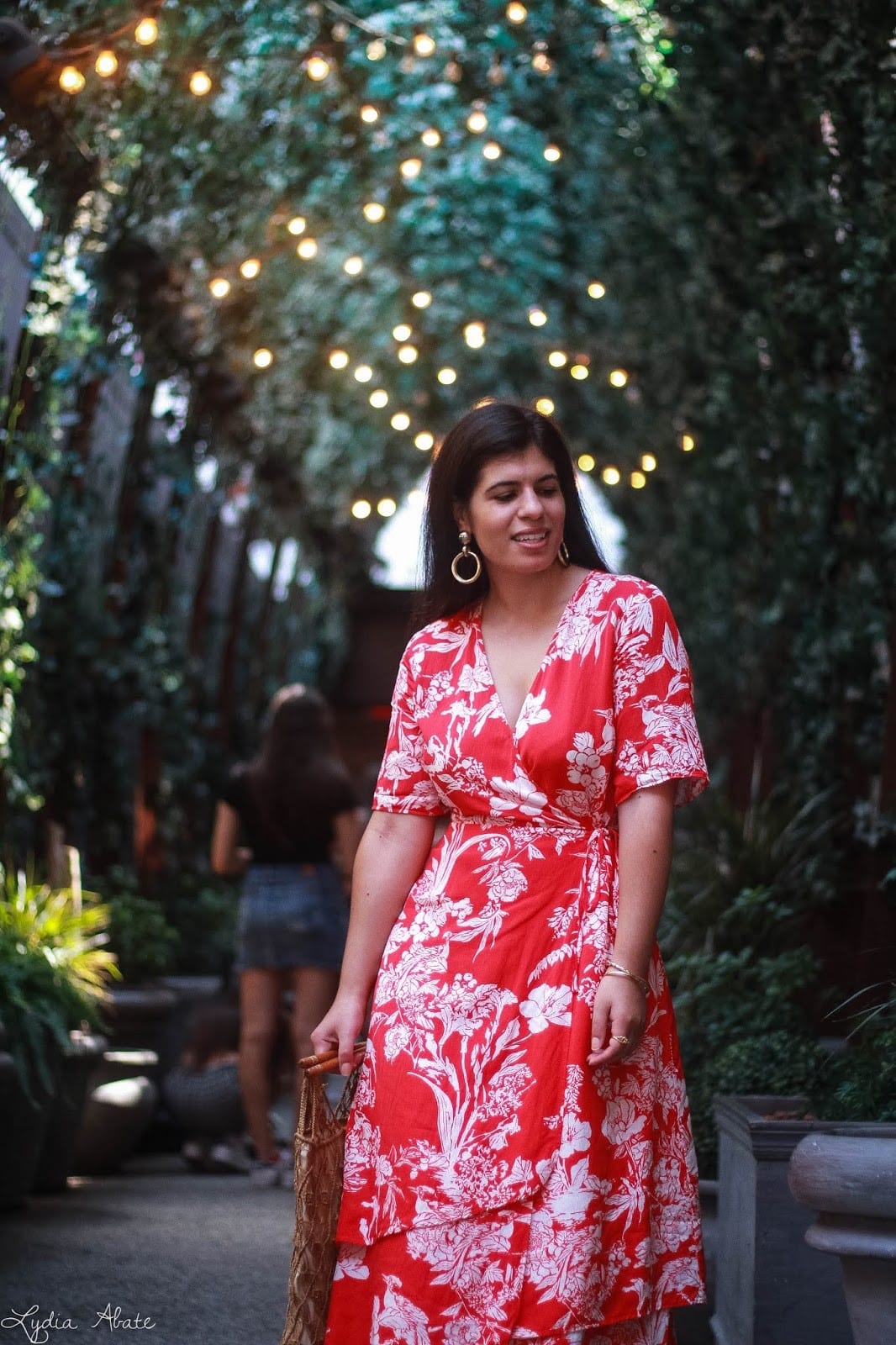 ↓14- Ever-Green Stripes
As we all know that wide-leg pants are super comfy and chic at the same time and when stripes are added to these, it gets the funkiest of all. You can get yourself striped wide-leg pants for $35 from macys.com. Furthermore, these can be paired with any plain white or black blouse. The look is quite reasonable for those who are planning to travel around a bit in comfy yet chic clothes.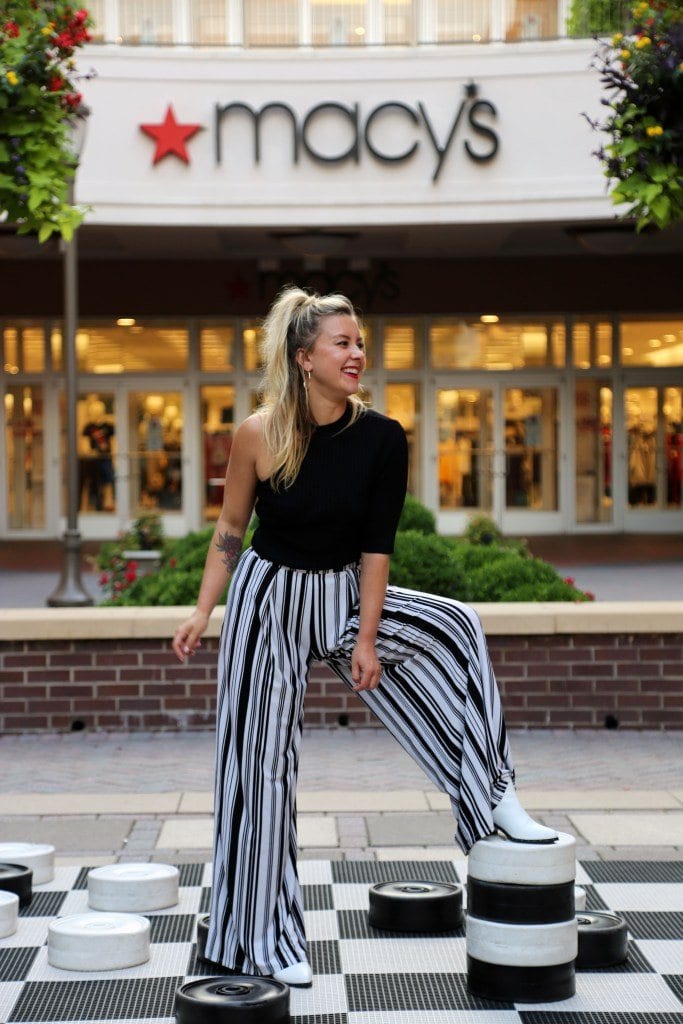 ↓13- Trendy Star Print for Cheap
Most of us have this obsession when we are tempted towards a few catchy prints and one of them is the star print which is loved by many of us. You can get yourself a star print pencil skirt in a subtle charcoal shade from asos.com for $20 only and it can be paired with your go-to white chiffon blouse. This office look will be unique and modern. Slightly wavy hair with a side parting and nude lips will make it look exquisite.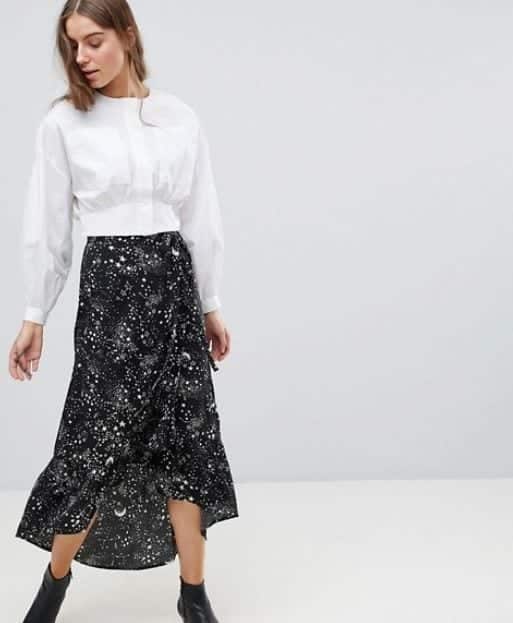 ↓12- Forever 21 Sweater Dress
Get this cool casual and comfy winter look for less than $50. Get this cool winter heathered grey dress for only $20 from Forever 21 and the white classic low-top converse for $25. The entire look is only for $45. Fall's cozy mood will perfectly align with this look.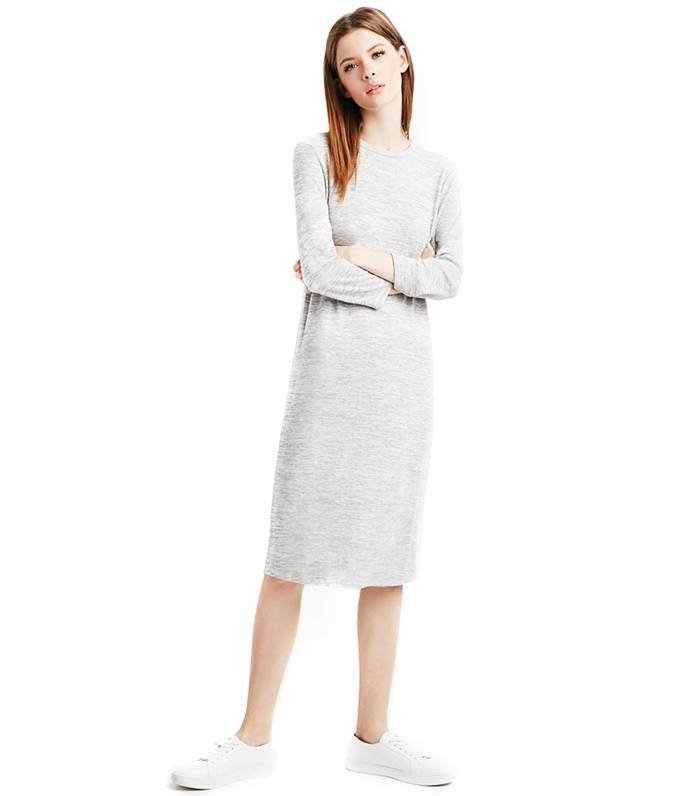 Via
↓11- Chic Denim Look under $50
Ladies who love denim and stay up-to-date can get this super cool, off-shoulder denim dress for only $32 from Forever 21. The dark wash denim makes this outfit perfect for every skin tone, however, the fitted and off-shoulder silhouette makes it more appropriate for the petite ones. A messy bun on the top will elevate your style sense.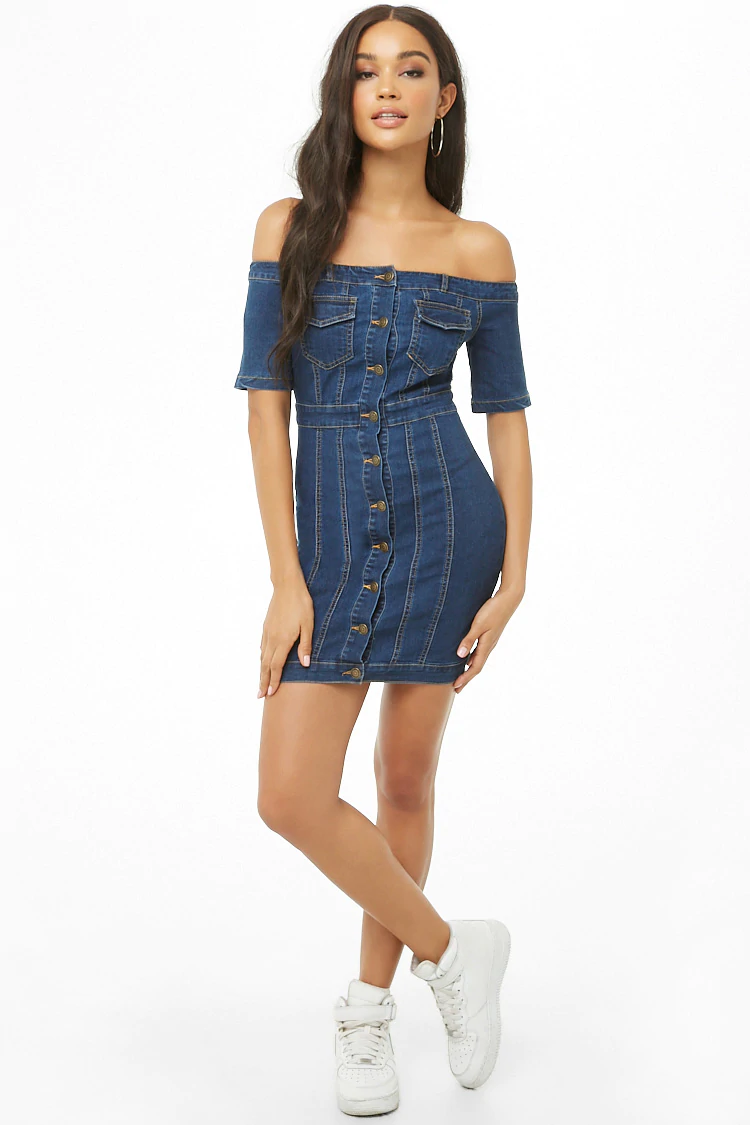 Via
↓10- Oversized Sweater Look for Less
Oversized clothes are considered super cozy which makes them every lady's top preference during fall. Working women can now opt for this citron color oversized balloon-sleeved sweater from Forever 21 for $24 and pair it with this high-fashion gingham print skirt for $22. Slightly wavy hair draped around your shoulder will complete this look. Here are some more fabulous Ideas on How to Wear Oversized Clothes.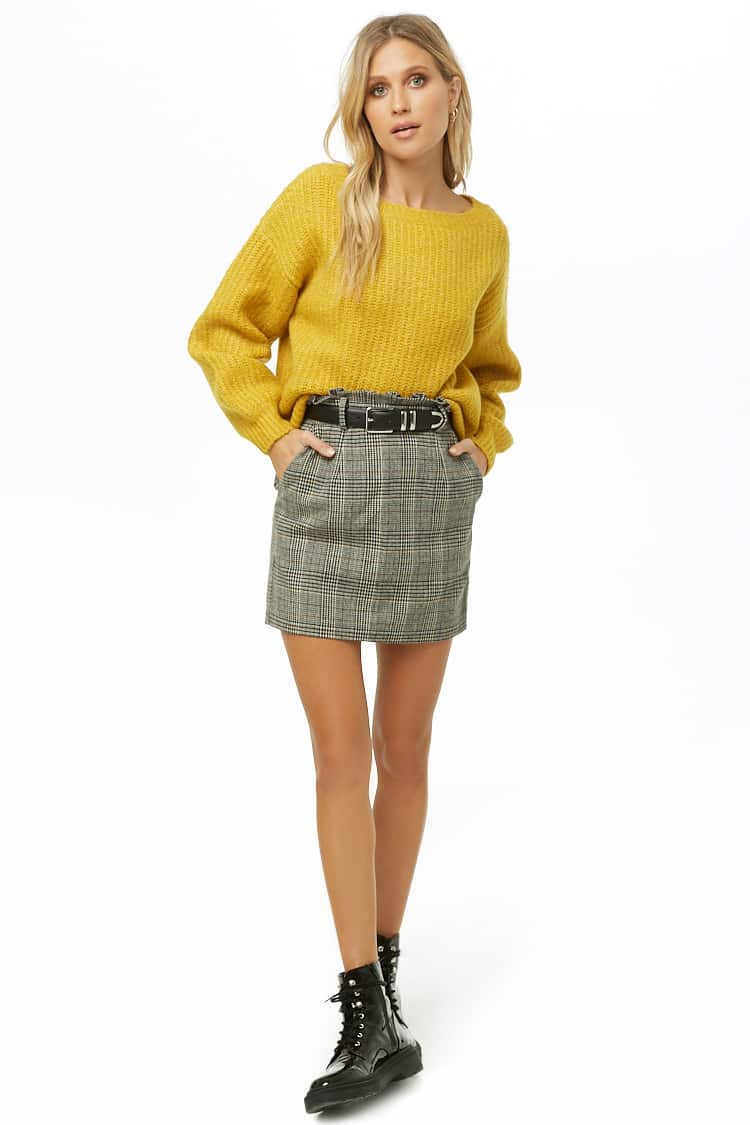 Via
↓9- Casual Look for Curvy Women
The perfect length HNNATA women's blouse with a belt to be knotted and several pleats is worth $28.9 on Amazon and the all-time favorite fleece leggings in black are worth $8.9. Furthermore, add Bella Marie Angie ballerina pumps in black for $11. This entire look is for $48.8.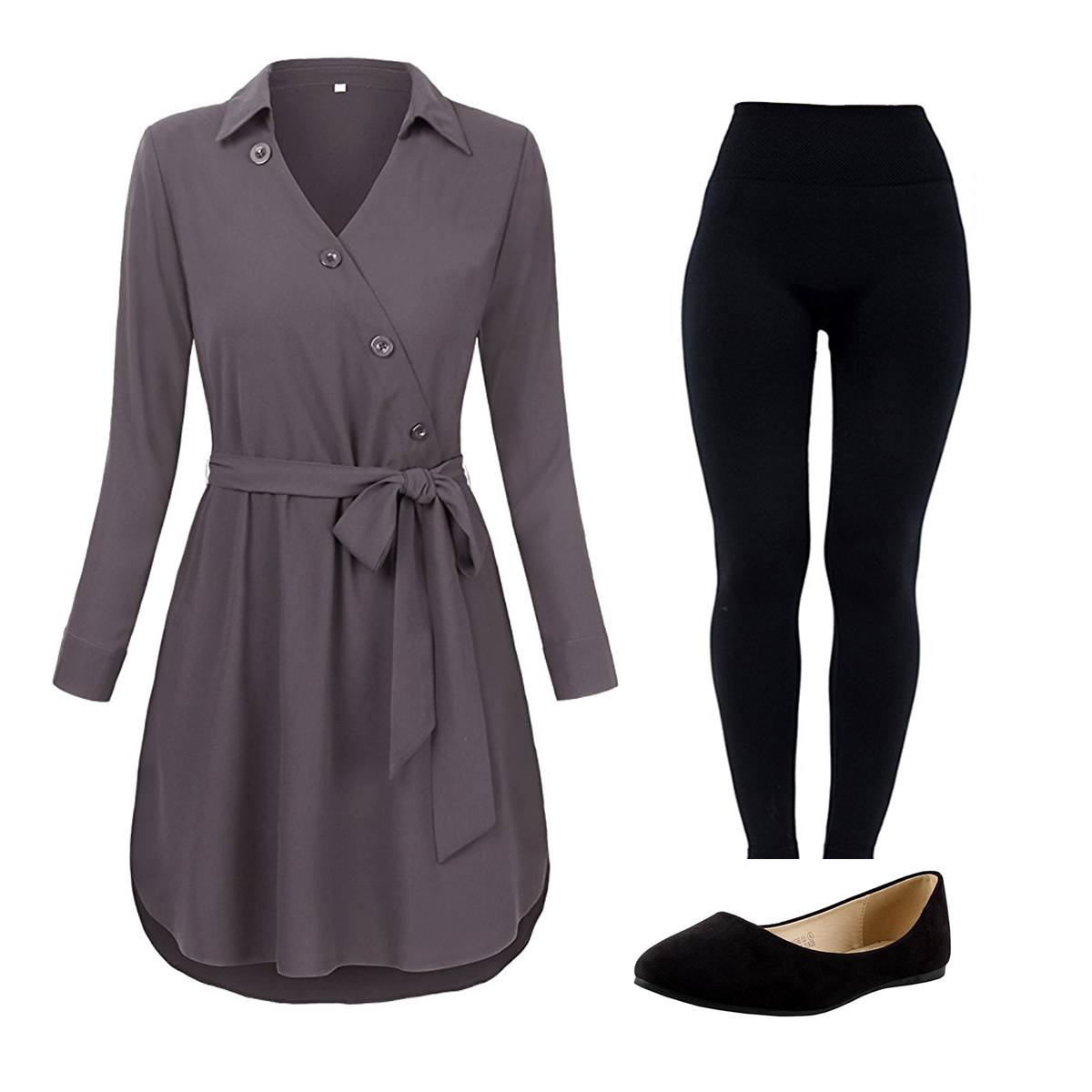 ↓8- Funky Tasseled Sweater for Less
High school and college going girls who love to dress uniquely can get this epic tasseled beige turtle-neck sweater for $27.9 from Forever 21 and pair it with varsity-striped knitted sweatpants for $22.9 only. Girls who have long hair should go for a top bun with this cool look.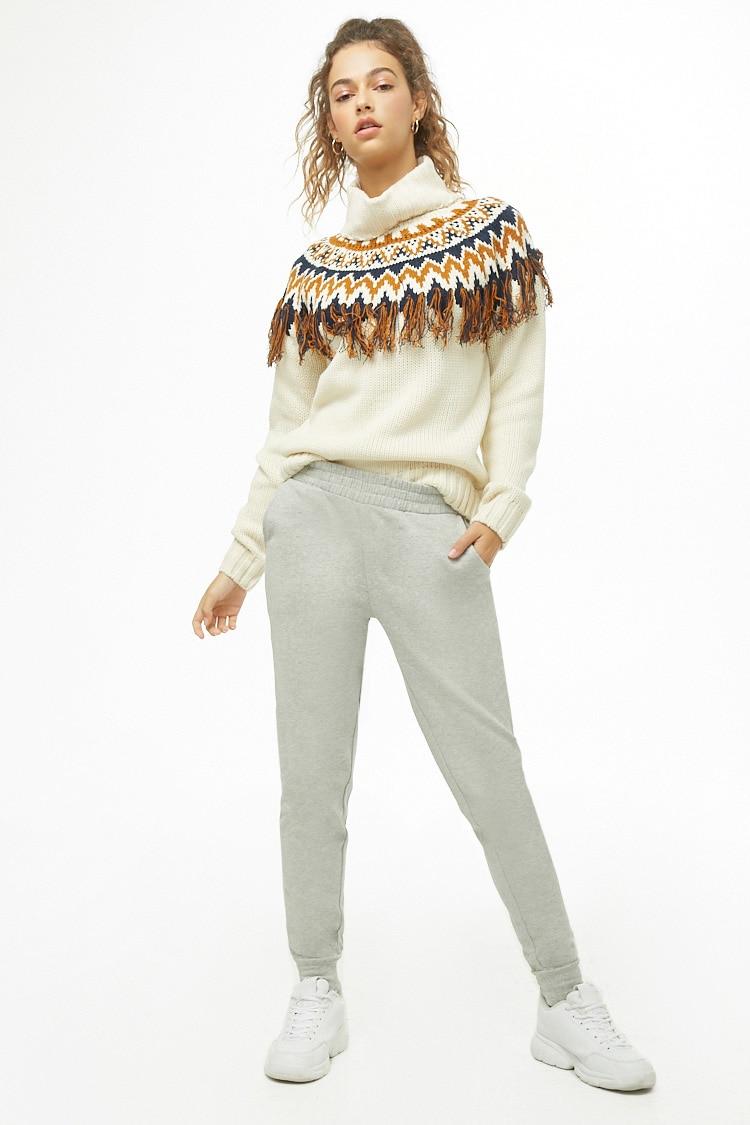 Via
↓7- Semi-formal Office Look for Less
Get yourself this awesome white off-shoulder lace blouse for $15 only from nordstorm.com and add to it Gap pants in sky blue color worth $35. The look is perfect for hot weather.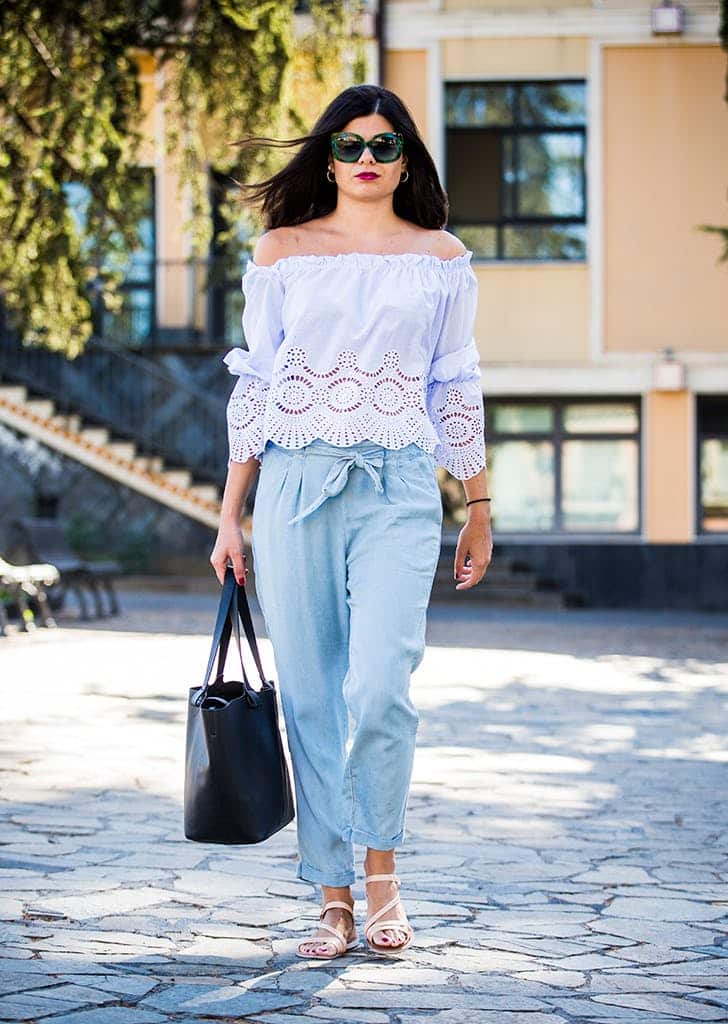 ↓6- Printed 2-Piece for Less
Women who are skinny can go for this economical grid print set which includes a classic sheer crop and matching slim-fit pants worth $25 on Forever 21. You can add some chic ear cuffs to this attire and enhance the overall look.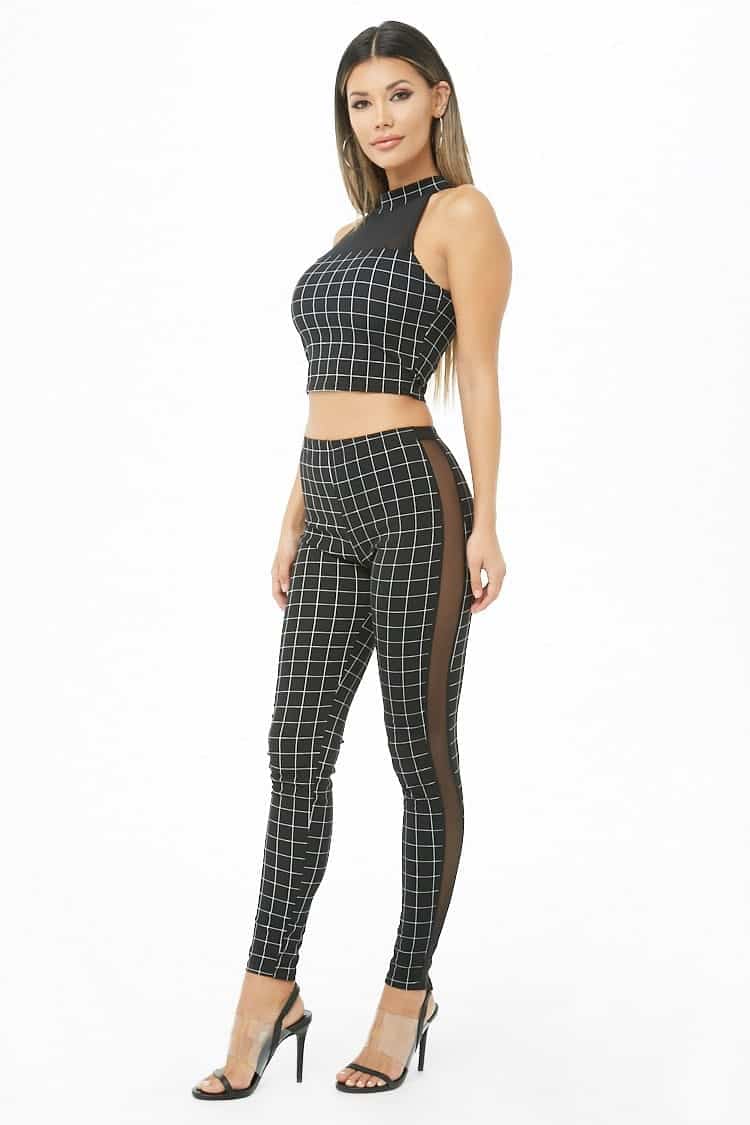 Via
↓5- Trendy Athleisure Attire for Less
The lace-up burgundy athleisure crop top and matching sweatpants set is worth only $42 only on Forever 21. Soft wave and nude lips will look perfect with this trendy attire. Here are 13 Cute Minimalist Outfits for Winters.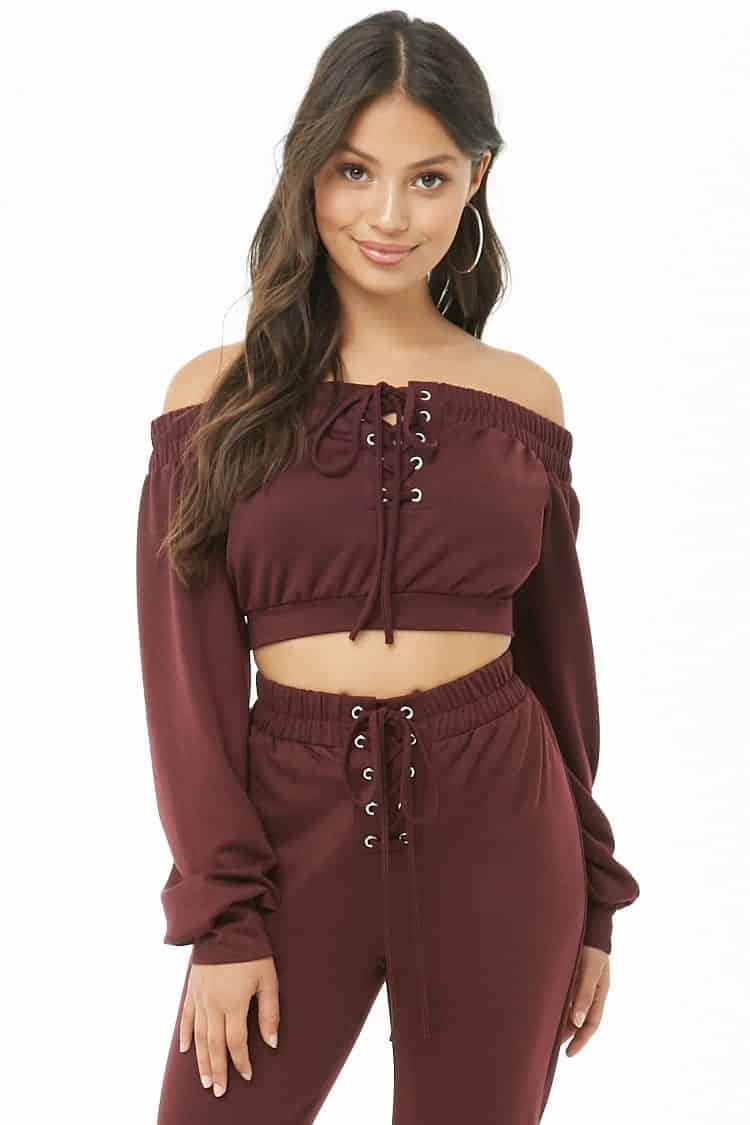 Via
↓4- Animal Print Zara Dress for Less
For ladies who have an obsession with animal prints and particularly leopard print, this flowy leopard print designer dress worth $49 is for you.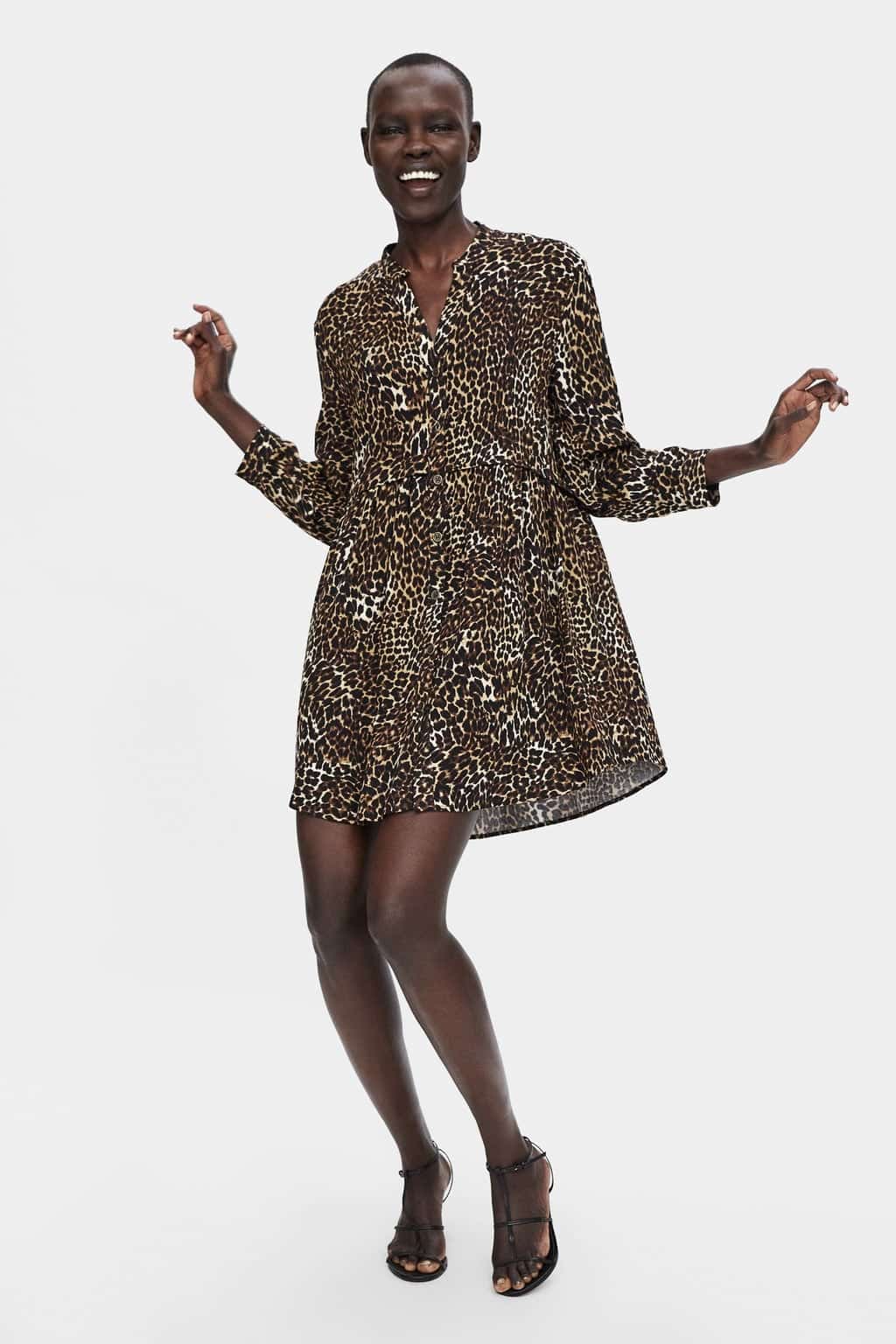 Via
↓3- Retro Sweater
Get yourself a striped sweater in white and baby blue colors for $39.9 only from Mango's official site and pair it with any white pants you possess. The look is super cool for professional mommy's who love to dress up all cozy during fall.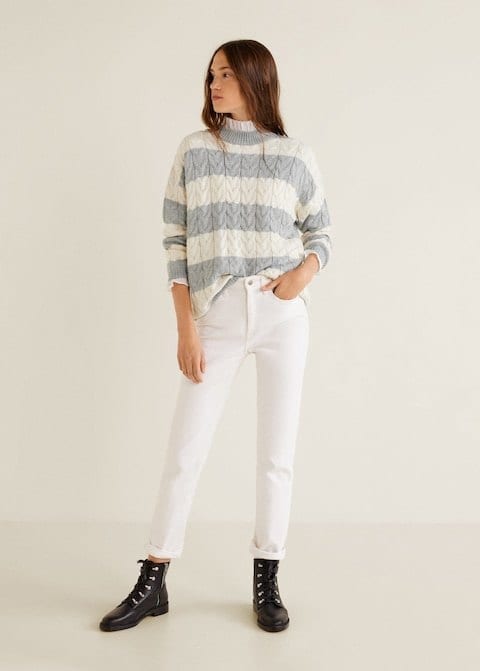 Via
↓2- Economical Bow-Dress for Internees
The cute yet professional bow-dress by Mango, worth $35.9, is perfect for you if you have just entered the job market as an intern and want to look fresh and graceful.
Via
↓1- Metallic Club Look
Get this metallic striped set which comprises of a classic metallic sheer black crop-top and matching high-waisted pencil skirt for $28 from Forever 21 for clubbing night.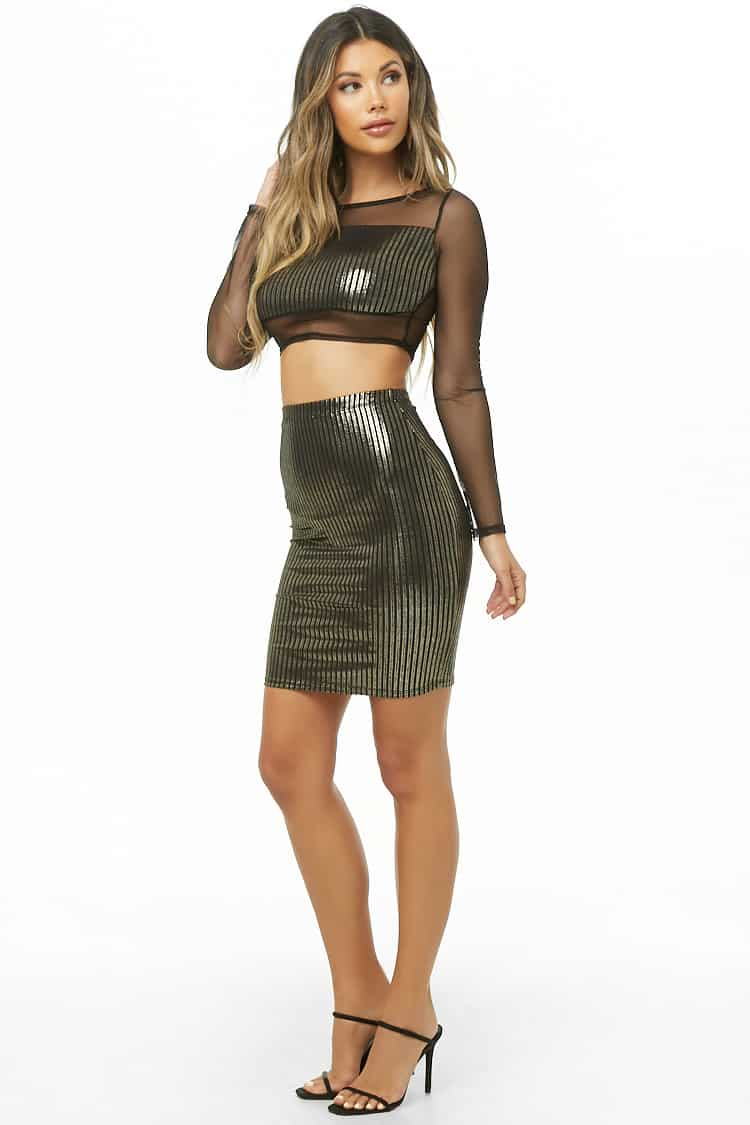 Via
Send your feedback through comments if you loved these economical looks.