Matching Outfits for Black Couples- When in love, couples often try to manifest their association through creative expressions like twining outfits or tattoos etc. Couple costumes are designed by various designers as well by keeping in mind the themes and color palettes.
Of course, the experts always try to add the factor of feminity in the lady's outfit through embellishments and colors. However, there are simpler yet casual styles which can be adopted by couples quite easily. Black couples are often seen twining outfits on weddings and parties as well. The African prints can be carried by both males and females with the same swag.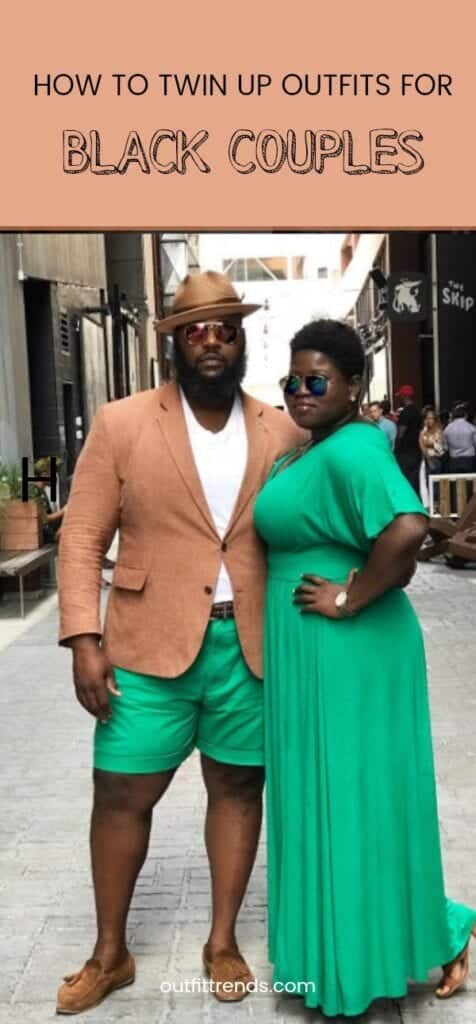 How to Twin Up Outfits for Black Couples
Now you don't have to overthink of ways in which you can twin up your outfit with that of your bae because this article has gathered some of the best and creative ways for the black lovers to coordinate their dresses.

↓30- Dashiki Style Matching Outfits
What else Dashiki can make an African couple look cute and classy at the same time. The traditional Dashiki tops for men with denim jeans and a classy Dashiki outfit like a long maxi or a knee-length dress with a frilly look in the similar print for the lady is the ultimate choice. Here are some Cute Indian Couple Images.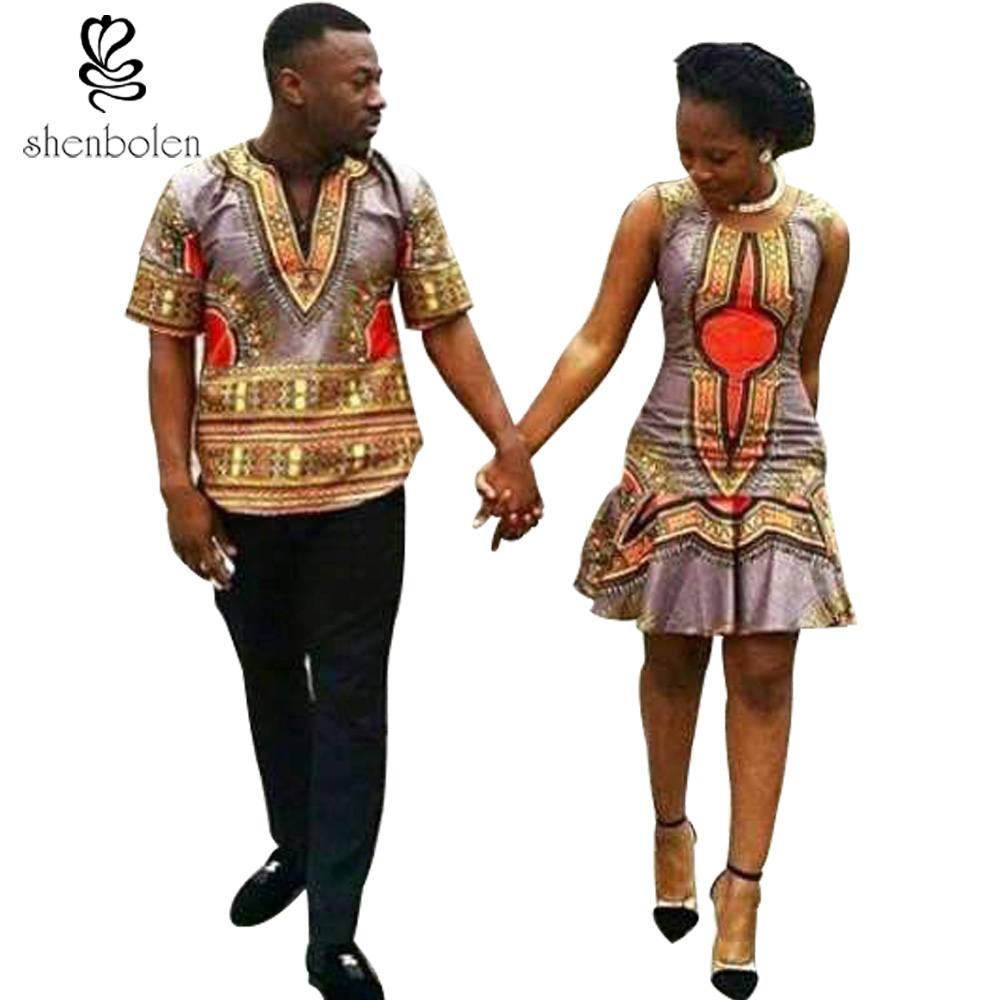 ↓29- Kente Outfits for Couples
The funky multi-color Ghanaian tribal fabric print can be fused with a neutral shade to create exquisite outfits for parties and formal occasions; like a long maxi or a foot length slit cut outfit with a little Kente fabric embellishment to it. Men can go for blazers and tuxedos in Kente fabric with neutral formal straight pants.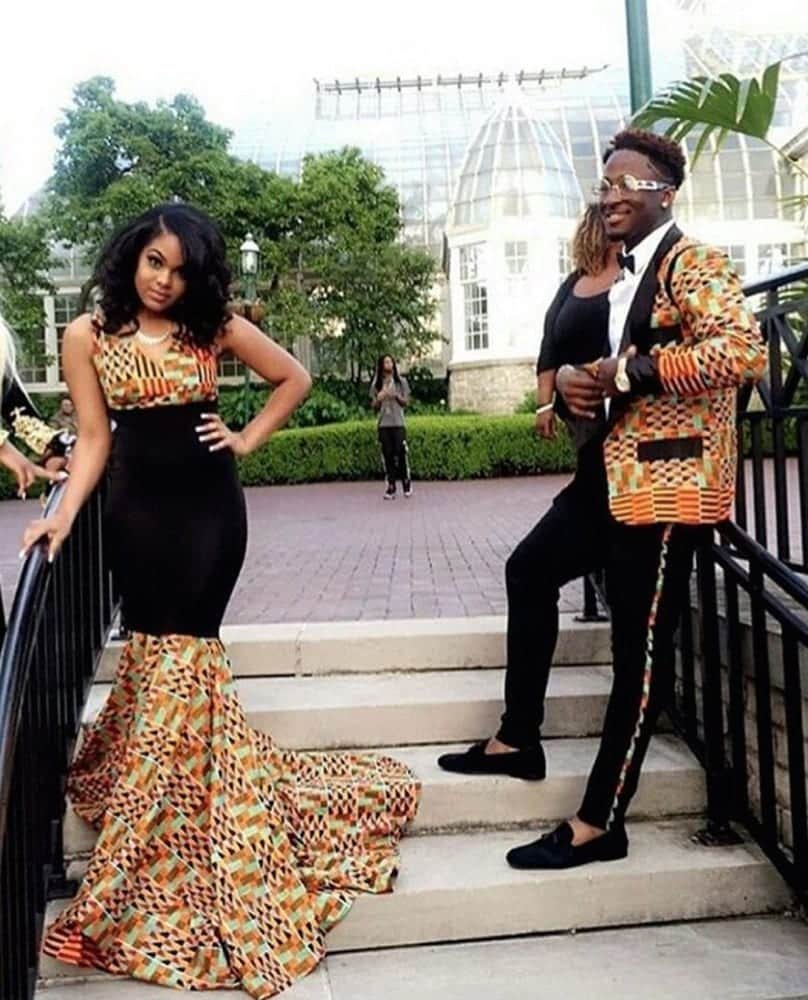 ↓28- Matching Ankara Outfits for Couples
Guys can go for T-shirts in Ankara wax prints with a jeans or shorts; however, Ankara pants with Ankara tees are a bit too much print for guys and the lady can totally twin her dress with the guy's tees like a frilly frock or a fitted short dress. She can even go for a neutral color outfit and coordinate her bag/clutch or heels in case they are not a fan of sharp colors. Do check out these Kitenge Dresses for Wedding.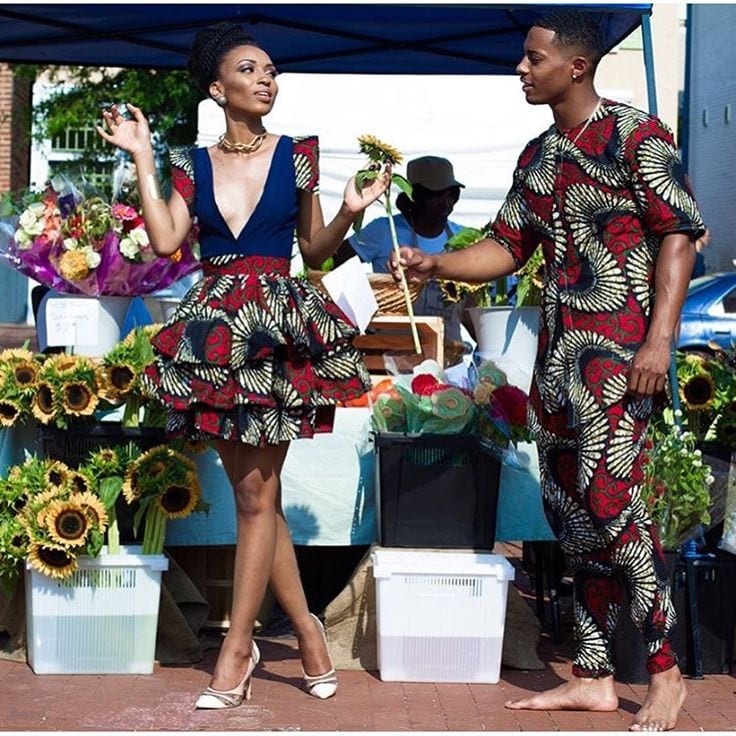 Via
↓27- Matching Prom Outfits for Black Couples
A matching prom couture can definitely turn your duo into goals. Lovers can go for a single color combo for prom and boys can coordinate their ties with the girl's dress.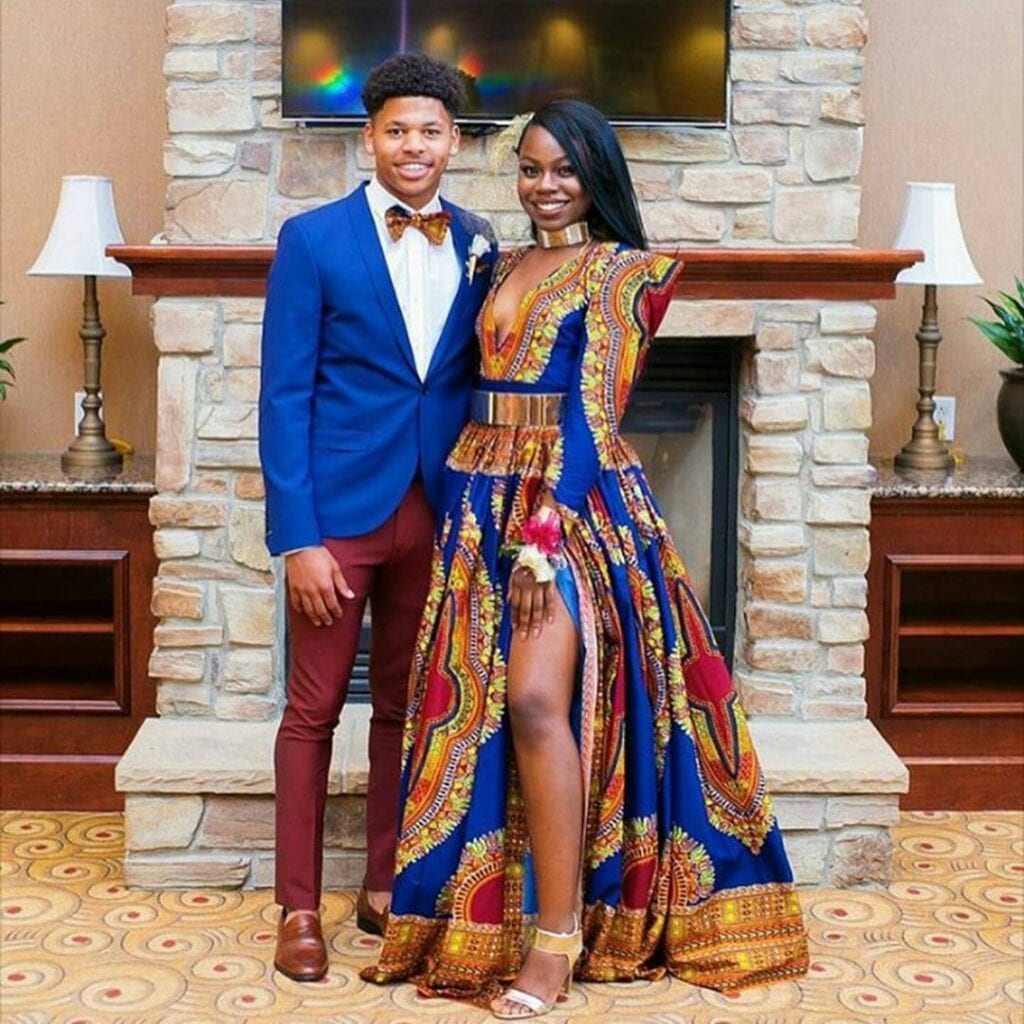 Via
↓26- Matching Agbada Outfits for Couples
Agbada have always been associated with men but now women can totally slay some exquisite Agbada outfits with embroidery and style. Ladies can coordinate their Agbadas with their men or can even go for color coordination.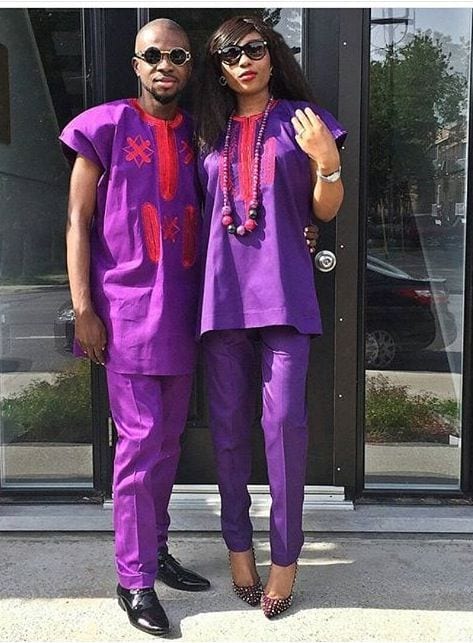 ↓25- Matching Embroidered Dresses for African Couples
Embroidered formal button down shirts with mandarin collar is a perfect way for couples to look ravishing and classy while twinning outfits. These can be worn with sokotos in some neutral shade. Also, the embroidery has to be minimal in order to make the outfit look decent.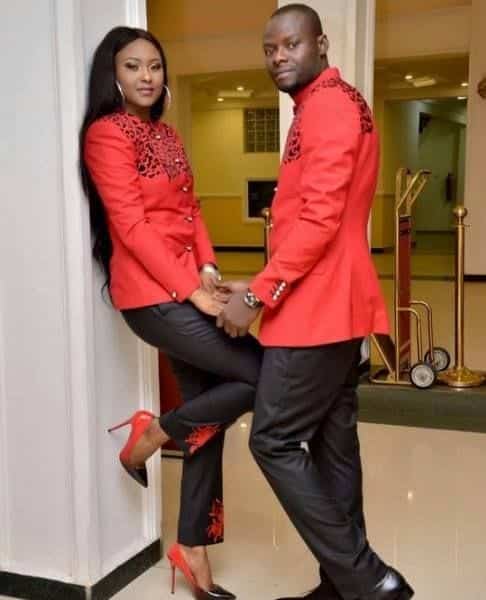 Via
↓24- Coordinated Wedding Outfits for Black Couples
The traditional African groom's wedding outfit can be matched with the bride's gown. The gown can have similar embroidery as on the groom's abgada outfit. Here are 30 Casual Outfits Ideas For Black Men.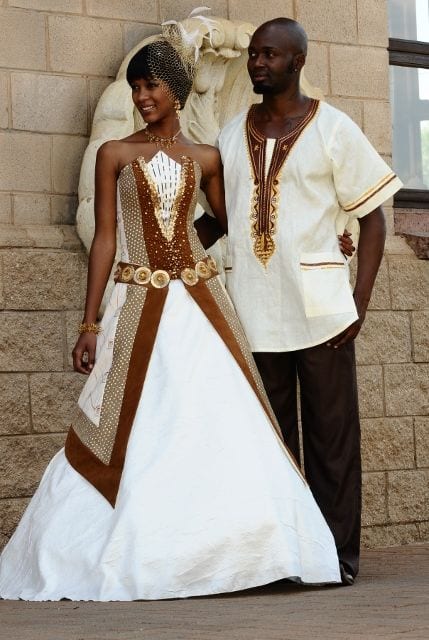 Via
↓23- Ghanaian Wear for Engagement
The typical Ghanaian prints can be added to white luxurious cloth to create a perfect matching couture for a black couple's engagement ceremony. Ladies can add the print to their sleeves or neckline and men can typically add just a little bit of it to their tops.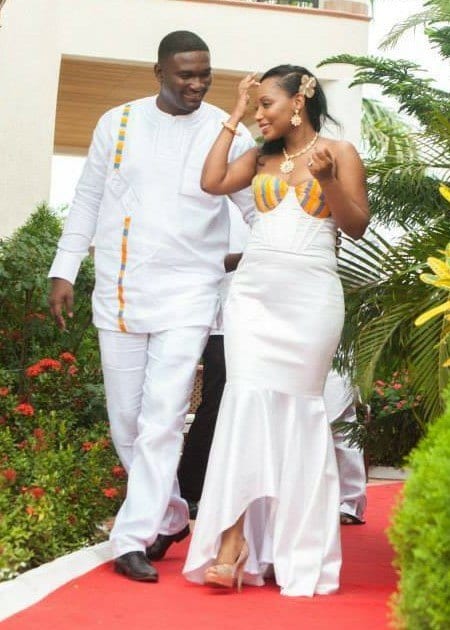 Via
↓22- Black Traditional Outfits for African Couples
Black agbadas with gold or silver embellishments can be paired with the girls' black short or long dresses with either the similar embellishments or just a simple plain outfit with classy silver or gold embroidery coordinated with the embellishments. Also have a look at 100 Cutest Matching Mother Daughter Outfits on Internet So Far.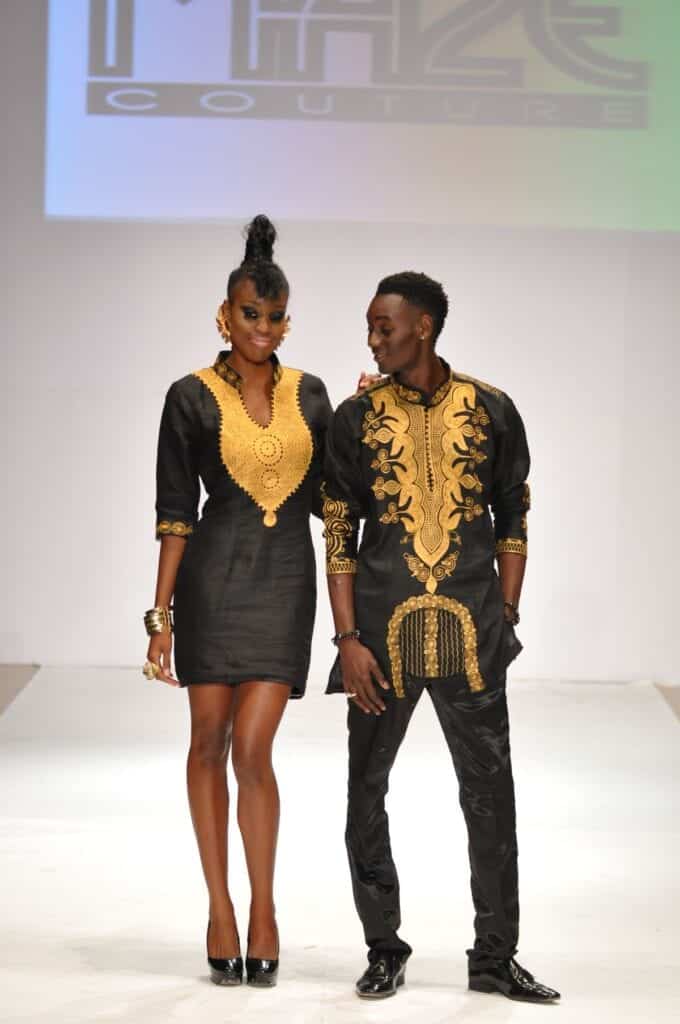 Via
↓21- Nigerian Style Coordinated Outfits
Men can wear the native Nigerian outfit in a catchy Nigerian print and women can go for frocks and tops with pants in the similar print.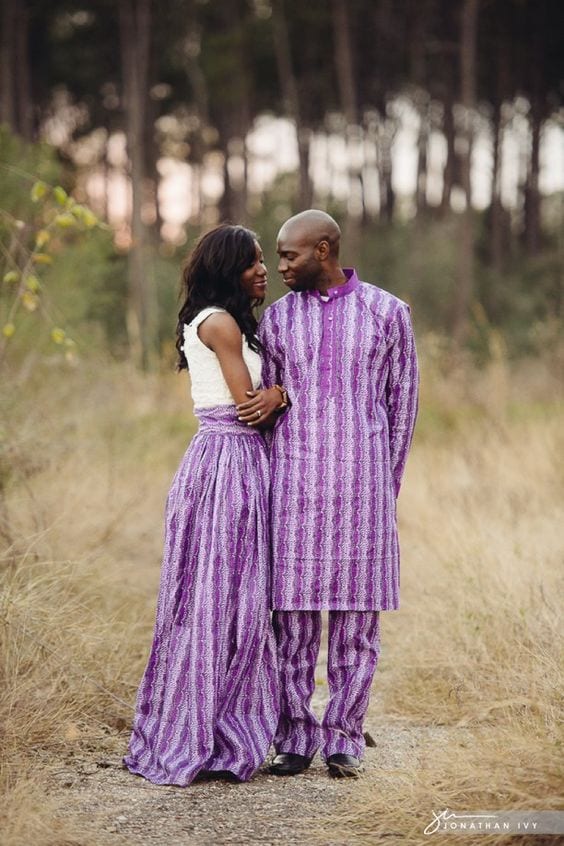 ↓20- Funky Matching Outfits
Young lovers can go for similar tees in funky prints and striking colors with denim pants or shorts as well. They can totally match their sneakers as well to have that cool couple look. Don't miss out some Modern Kitenge Dresses worth trying.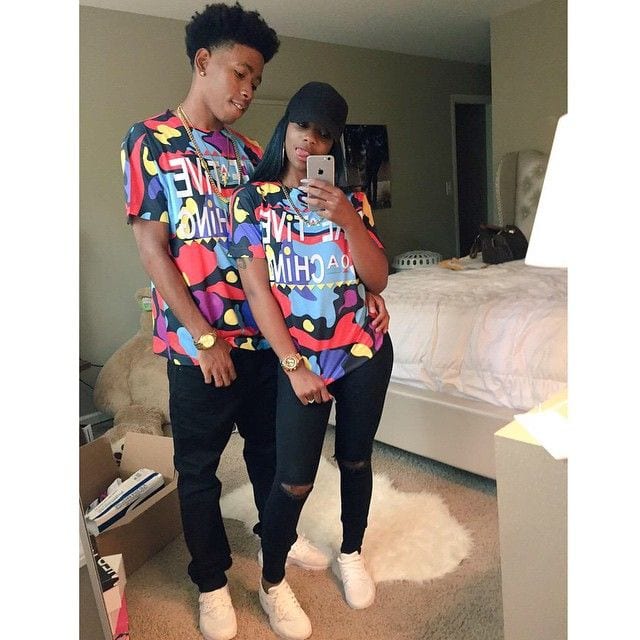 Via
↓19- Matching Workout Outfits
Lovers can wear matching sweat pants and tees to a gym which looks extremely cute and lovely and turn them into goals for others as well.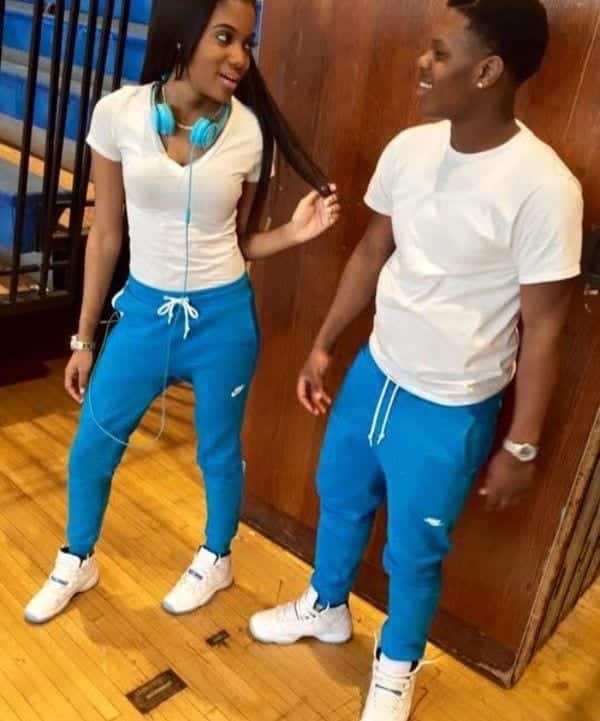 ↓18- Twinning Fall Outfits
Couples can twin up boots, coats, and hoods in winters which is a really sweet gesture.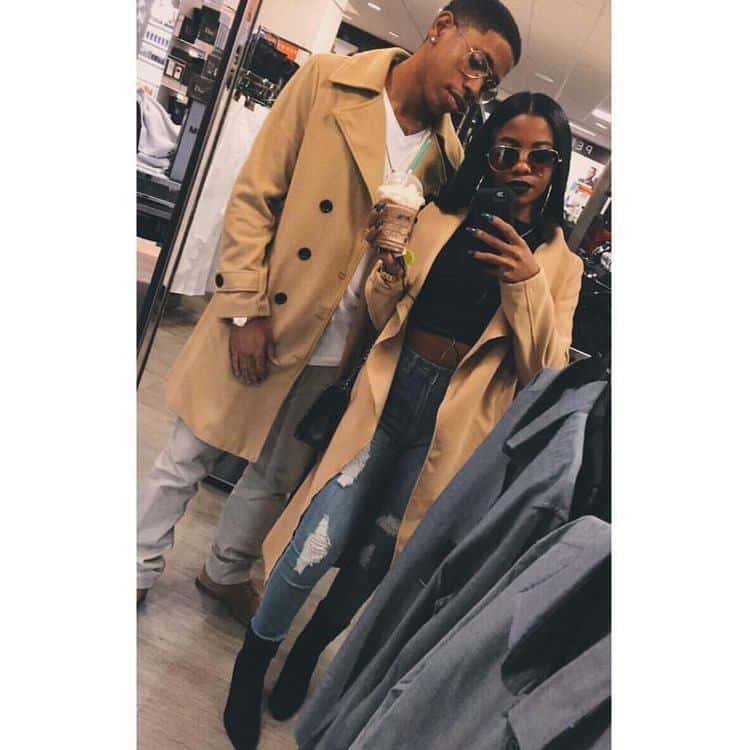 ↓17- How to match your outfit with a tuxedo?
It often gets quite difficult for a woman to match her outfit with her man's tux because matching formal wear requires a lot of brain storming but now it's quite easy they can even twin their outfit with their bow ties like adding a little bit of that print to their outfit or matching the color scheme of the dress with the guy's blazer is also an option.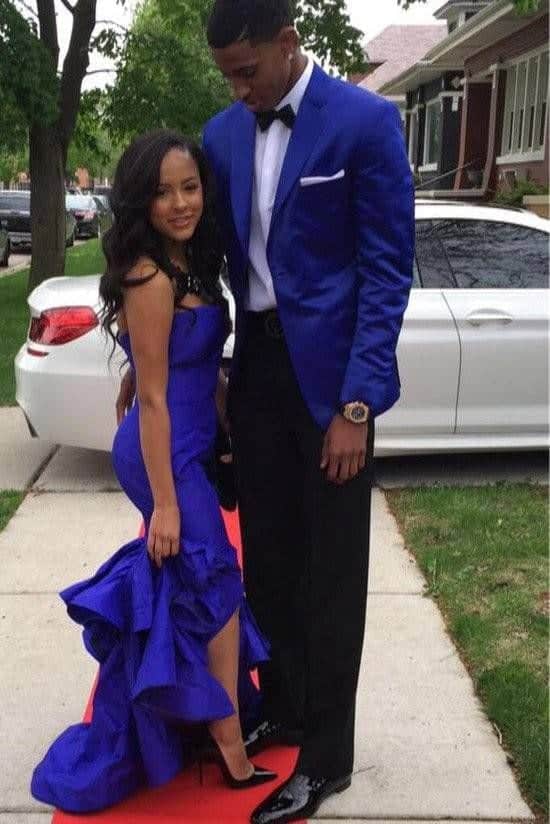 Via
↓16- Monochrome Coordinated Outfits
Black couples look extremely cool in coordinated monochrome outfits like monochrome suits for men and similar long dresses for women. They totally slay the style with a little embroidery and cuts. Here are some truly inspiring Fashionable African Plus Size Models.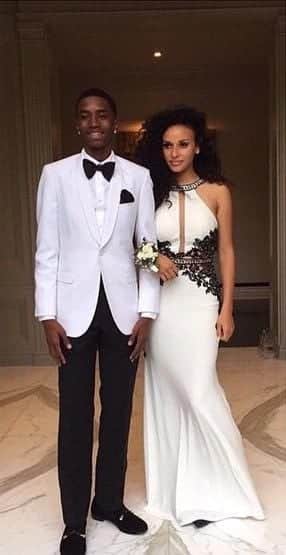 Via
↓15- Matching Denim Outfits
Denim is extremely easy to coordinate with your men and black couples also look ravishing in double denim style. Women can match denim jackets and jeans with their lovers and also the sneakers which spice up the whole look.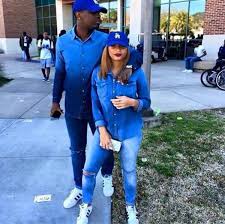 ↓14- Matching African Style Outfits for Parties
To casual parties or friends' meetups black lovers can slightly match the prints they're wearing or can go for matching tops in classy cuts as well. Women can slay heels in neutral shades and men can wear Oxford style shoes.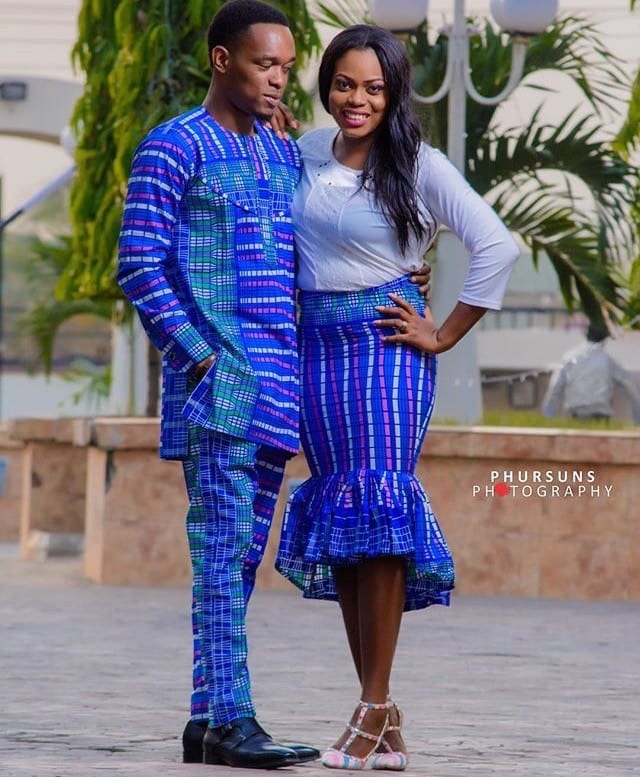 Via
↓13- Celebrity Style Matching Outfits
Kim K and Kanye West have been seen wearing white coordinated tees with black pants giving outfit goals to many couples out there.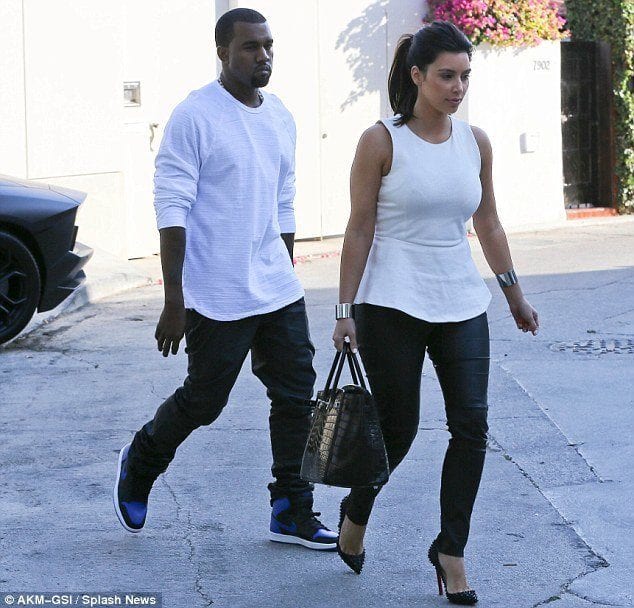 ↓12- Matching Formal Western Outfits
Going out to formal dinners, couples can wear matching blazers or women can also add a little embellishment to theirs to give it a more feminine look.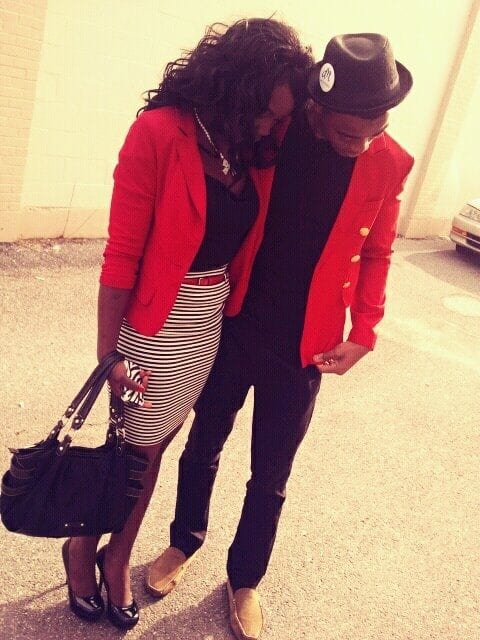 Via
↓11- Matching Dress-up for Travelling
When traveling to places like Hawaii and Ibiza, ladies can match their outfits with their men's funky shorts to have a coordinated look which reflects their lovely association. They can go for African prints which look extremely cool and funky.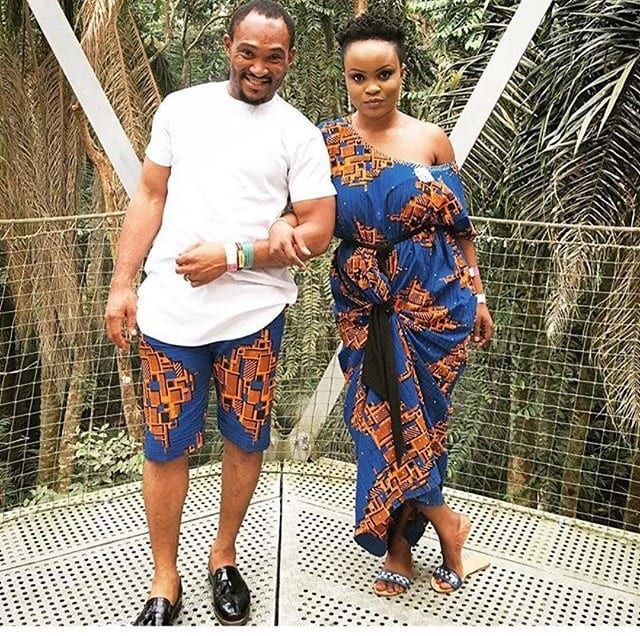 Via
↓10- Matching Summers Outfits
In summers, matching tees look just perfect. Also, men can go for chic Ankara pants and women can, therefore, match their frocks or skirts with their pants. The light fabric makes the look just perfect for summers. Here are 20 Cute outfits for Black Teen girls.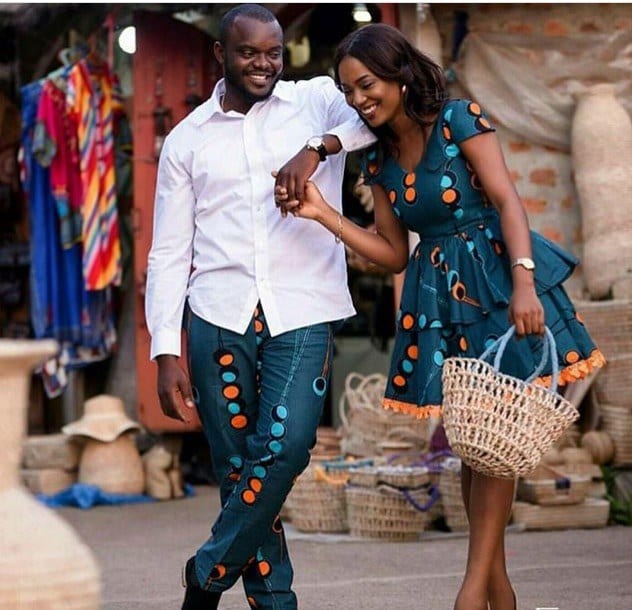 Via
↓9- Bohemian Style Matching Attire
Cool couples can have matching Boho outfits in prints like floral and patterns. Also, they can add specific accessories like long chains and cool rings to enhance their style statement.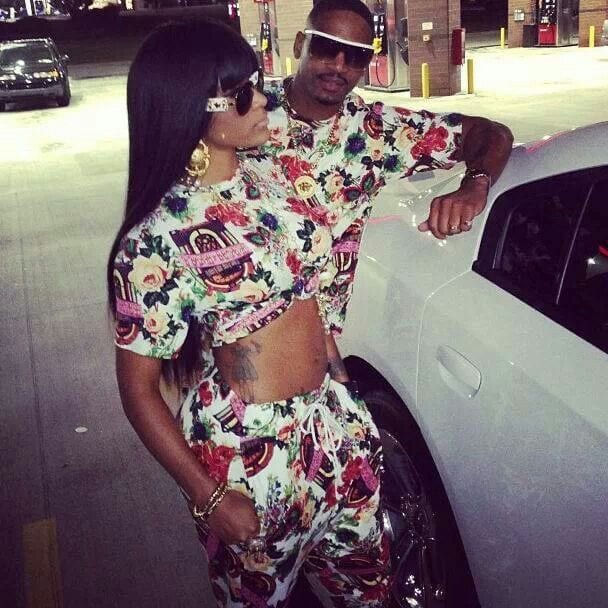 ↓8- Glamorous Matching Attire
Black lovers can go all glamorous in velvety outfits with specific retro and traditional cuts. Such outfits can be worn to festivals and themed events. Women can add glamorous accessories to their outfits like head pieces and necklaces and men can go for matching funky blazers or jackets.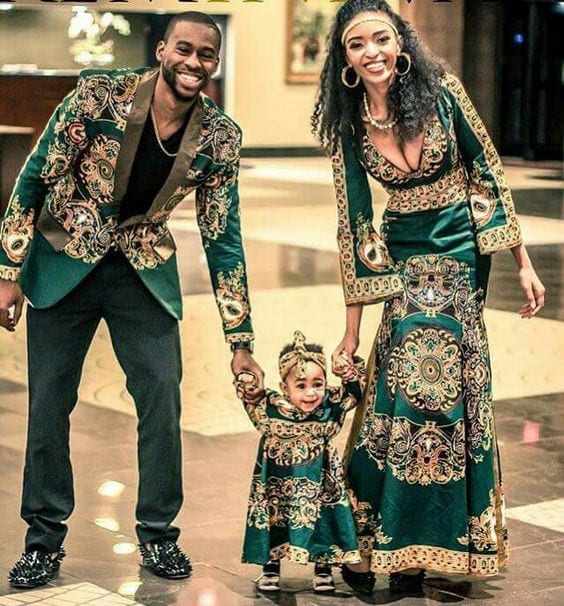 Via
↓7- Black Couple Matching Swag Outfits
Couples can twin up their hoods or boho t-shirts with ripped denim jeans and stylish embroidered sneakers.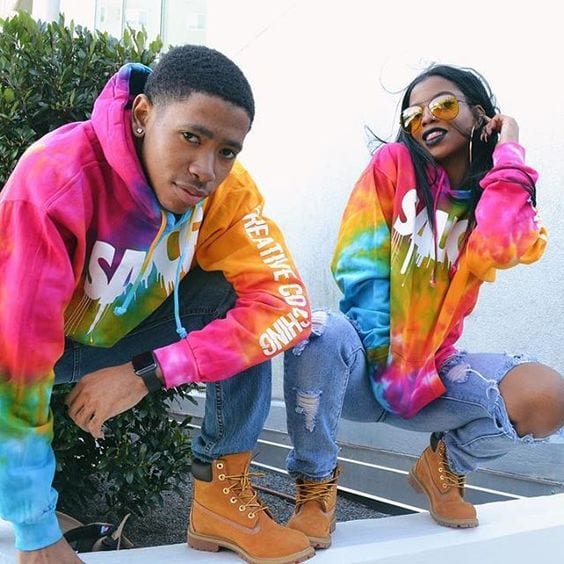 ↓6- Matching Beachwear for Black Couples
Black young couples can match their tees or girls can match their swim suits with their men's shorts or shirts when hanging around the beach.
↓5- Matching Christmas Outfits
On Christmas men can wear some really funky printed red pants coordinated with their women chic frilly printed red outfits.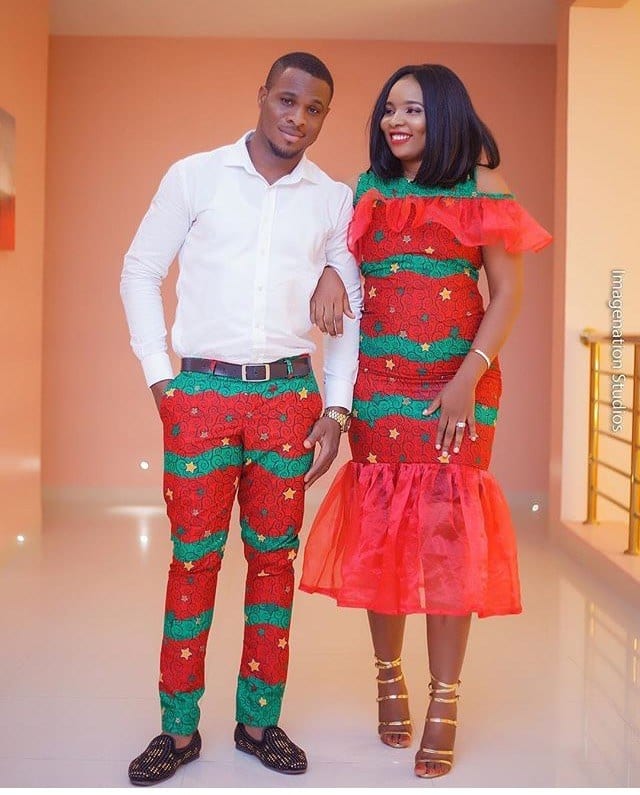 Via
↓4- Matching Outfits for College
College going girls can match their jackets and skirts with their lovers and can totally slay some matching couture at college. For a funky look, here are Top 13 Cute Purple Hairstyles for Black Girls this Season.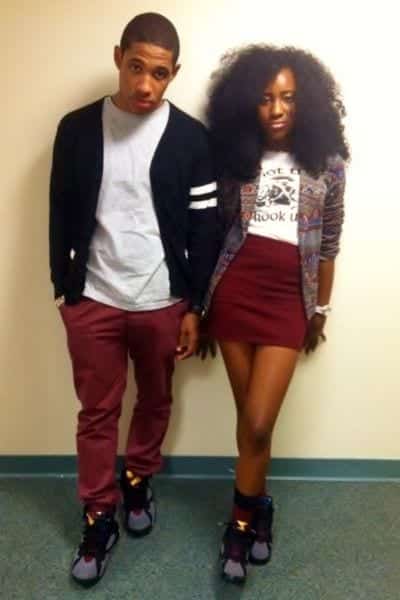 Via
↓3- Matching Jackets Style
Matching jackets look amazing and totally decent when couples are hanging out around with friends.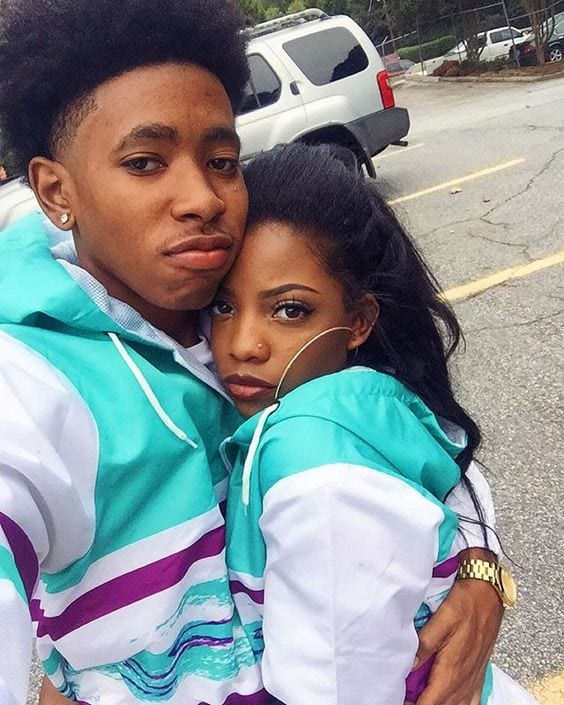 ↓2- Matching Street Style
Couples can coordinate colors and styles when roaming the streets. As they can wear matching coats or boots.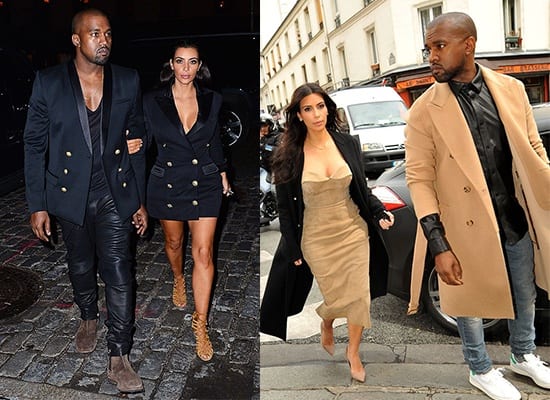 Via
↓1- Twinning Casual Outfits
Ladies can twin up their sweats and boots with their men and can have the chicest casual style which can give others goals.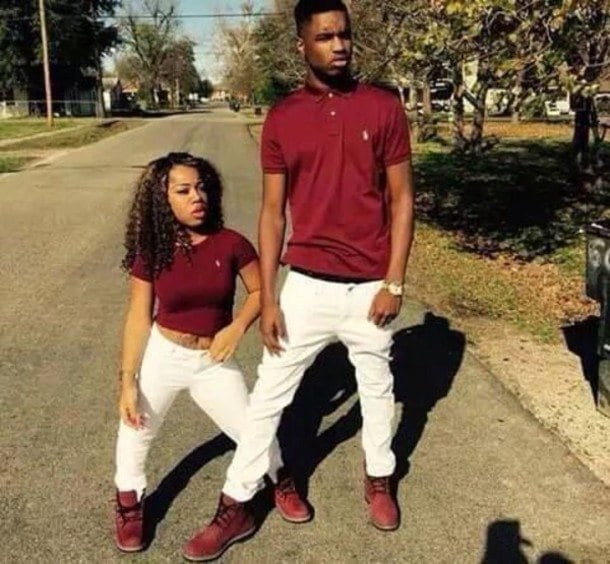 Give us your feedback through comments if you liked and tried any of the styles from the list above.