Looking for ideas on how to wear hijab elegantly? Or just a Simple Hijab Tutorial? Or perhaps you want tips to style your hijab for a beautiful look?
Well, we understand that Hijab fashion is at its peak these days. So such questions are on every girl's mind. That is why we bring answers to all these questions in this post.
Hijab, also known as the veil or headscarf, is often worn by Muslim women. It is an Arabic word that means to hide from view. It does not only have a significant role in Islam but it's also famous in western countries.
Tips on Wearing Hijabs
There are several ways how the hijab could be worn to complement the face. It can be styled in several ways according to individual preference. Al Amira and the Shayla style is most famous in the Gulf countries.
In the western region, the hijab is styled in different ways like a plaited scarf, stylish twisted scarves, knotted scarves, fancy fabric scarves, etc.
Accessories on top of the hijab or headscarf can enhance its beauty. It can be styled with headbands, pins, funky clips, or laces.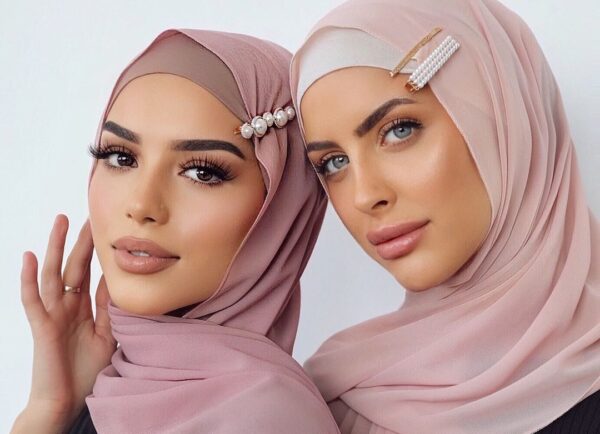 A colorfully printed scarf with a simple outfit can make you look classy, without having to make much of an effort. You can enhance the look by choosing hijabs that complement your skin tone.
Style the hijab so it suits your face shape. For example, going for a Kuwaiti style of Hijab for a square shape, Turkish style for a round shape and wearing Hijab caps to reduce the elongated look.
Hijab with jeans is a viral trend these days for a chic and modern look.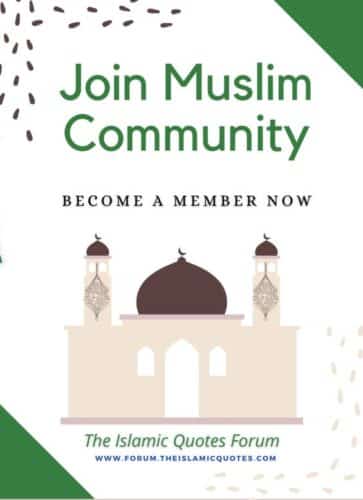 Choose the right kind of fabric, keeping in mind the season. For example, lightweight fabrics like cotton or linen are the ideal choices for Summer while pashmina scarfs are an excellent pick for winter as they can help you keep warm.
Make sure to add prints and colors to your hijab collection as they can be styled with several outfits.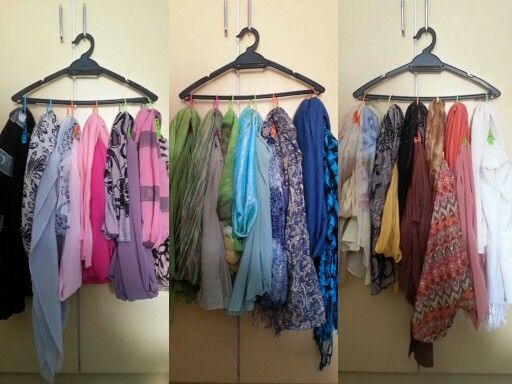 It is also essential to add neutral and nude colors to your wardrobe. They are always in fashion and can be added to outfits where you need to cut down on colors.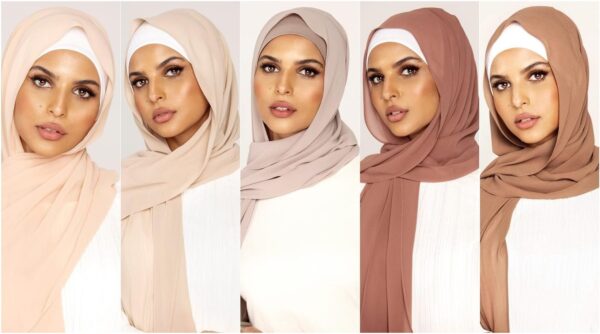 Put together two or more fabrics to create a layered and colorful look.
Make sure to experiment with different looks and styles to find one that looks best on you.
What's Trending in 2023?
35 – Pearl Clips
More and more girls are trying pearl clips on their hijabs and we're here for it! It's a trend that we're loving because it makes the hijab stand out without being over the top. This style is perfect if you're getting ready for any semi-formal event.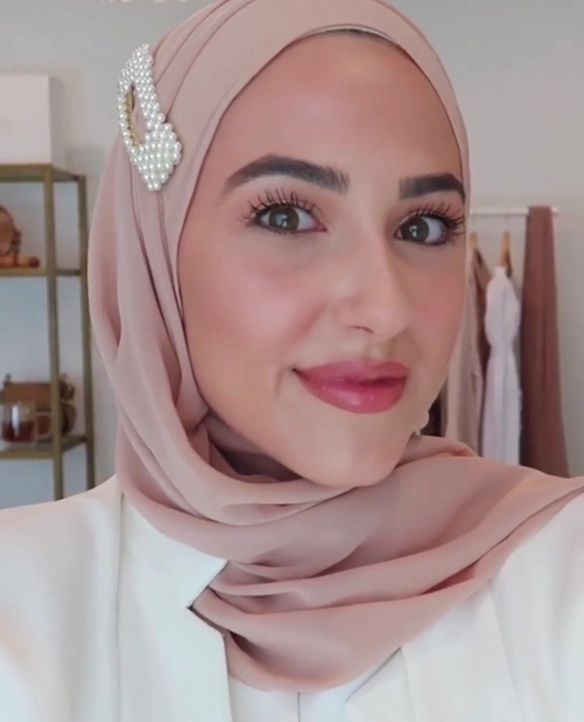 34 – Velaclava
An American hijab brand called Vela has introduced their Velavlacas – these are knitted, pullover-style hijabs which don't just look trendy but they're sure to keep you warm. Our favorite pick from their collection is the pearl studded velaclavas.
These are hand-knitted, 100% wool products and they offer really good neck coverage. I love how chic these look and can't wear to try them.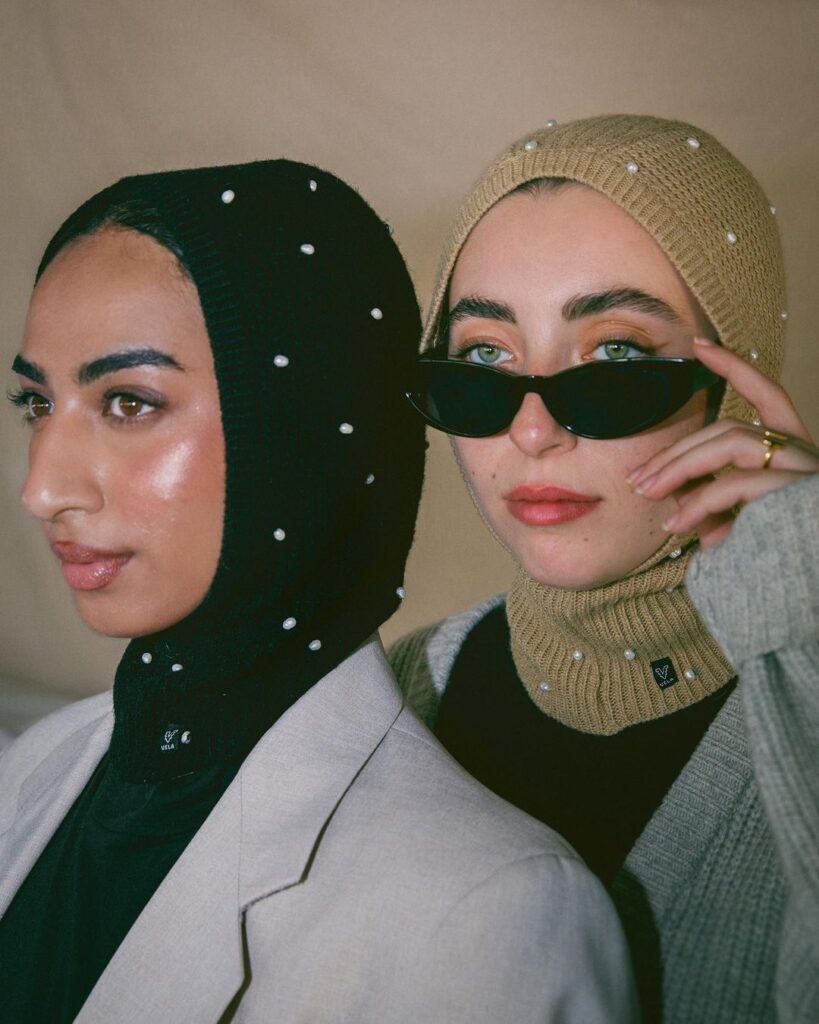 Hijab Tutorials
33 – Wearing Hijab Without a Pin
Most styles start with wrapping it around your head. Starting with a square-shaped piece of cloth folded into a triangle and then styled according to the girl's preference. And a liner on the eyes if you're fond of natural makeup and don't miss out on this Simple Makeup Ideas with Hijab.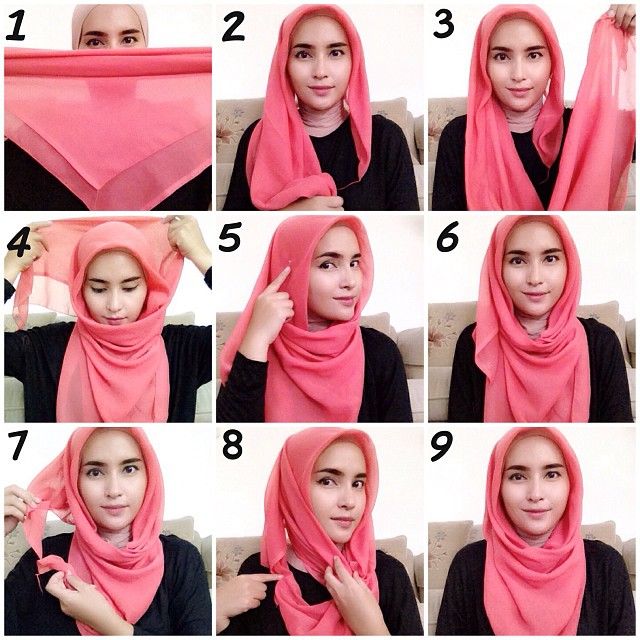 32 – Chest Covering Style
This style is suited for girls who are modest and are from cultural backgrounds where chest covering is a must. Very stylishly tied and can be worked with many prints and colors. Wear an already stitched head cover in al-amira style.
It's easier to tie a chiffon cloth over it as will not fall off again and again and will cover your head as the chiffon is see-through.
Fold a rectangular piece of cloth sideways and tie it again with one side being longer than the other.
Wrap the longer side over your head, keeping a sizable piece over your chest in folds and secure with a pin.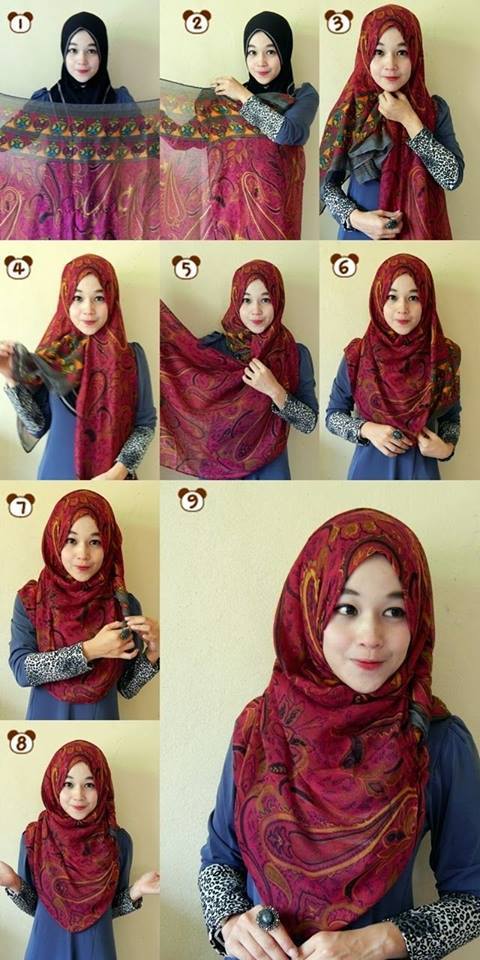 31 – Hijab with a Cap
This, again, is a style for the modern woman who wants to wear jewelry also. A ready-made head cap is a good option for it and always mix and match it with your scarves.
Loosely tie your hijab around the head cap and wear hoop earrings or dangling or chunky ones as studs will not show in it, and you need them to shine.
Have a little fun with your makeup as this style is best suited for functions or a get-together. If wearing jeans and a top go for high heels and if you're wearing a tunic or dress with leggings, then opt for pumps in metallic.
Instead of an under-cap, you can even choose to wear a hat on top of the hijab when you're outdoors, so do check out these Modest Ways to Wear Caps with Hijab.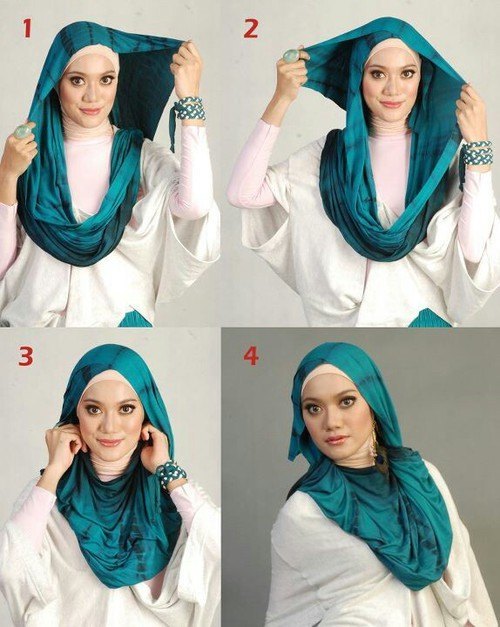 30 – The Easiest and Simple Way
Change should be adopted with open arms, so new styles never went unnoticed, and they are always worth the effort. Tie a pin under your chin in a Turkish fashion and then bring the longer side over your head and fold it back and forth till three to four folds have been made as shown in steps 5, 6 and 7. Secure them with a pin or a broach.
You can keep the scarf in this style also or move on to the next step which is taking this extra long piece to the backside of your head in a loop fashion and again securing it with a pin. Bring the shorter side of your hijab around the front of your neck and chest again in folds.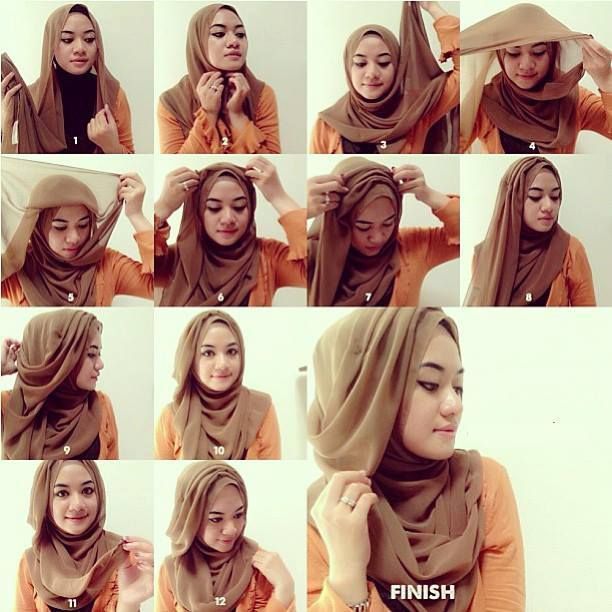 29 – With Side Bun
Suited for extravagant parties and so it goes that your hijabs should be as per the occasion although nobody says anything about a simple style, going the extra mile is appreciated. You need two pieces of rectangular cloth.
The first three steps and always the same. Take the second plain cloth and tie it in folds wrapped around your head and take both of the left pieces of cloth to one side. Bring the initial scarf over your head and tie it with a pin and fold the second piece in a bun shape and secure it with a brooch.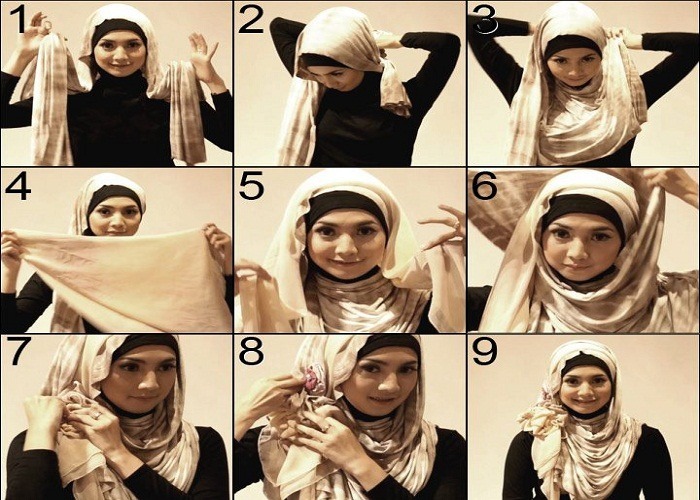 28 – Steps for Wrapping with Accessories
There are several different accessories that you can use to glam your hijabs. You can wear headbands, pins and even "Maang Tikkas" for a more ethnic touch. This pink layered look has been styled with a beautiful brooch that has been adorned with mirrors.
If you are headed to a formal event and want to make a style statement, this is the way to go. Check out this fabulous collection of 17 Ways To Wear Hijab With "Maang Tikka."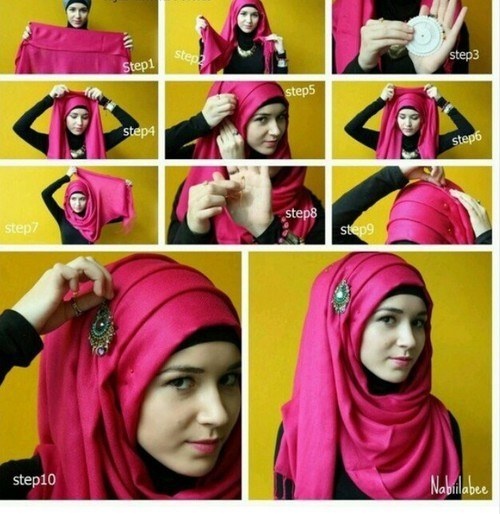 27 – Cute Hijab Style for School
Hijabs can be used and wrapped around the face in various styles. Nowadays, different types are available such as net and sequin scarfs, Spanish wrap, triangle scarf, one piece Al-Amirah.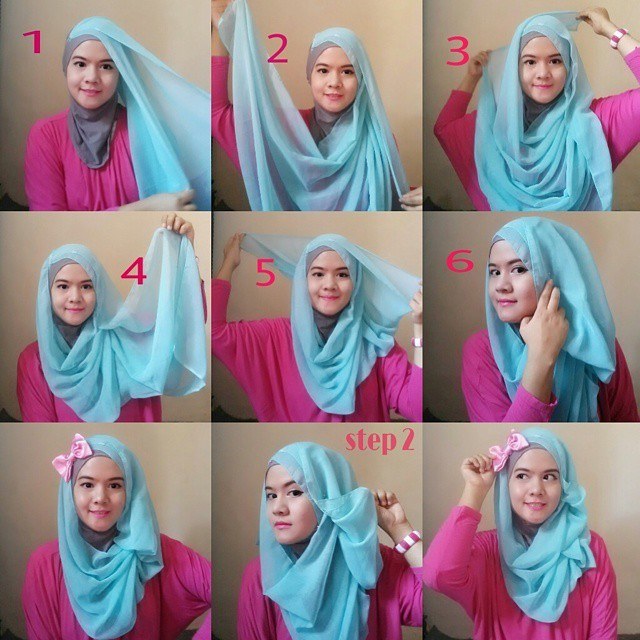 26 – Styling a Multi-coloured Hijab
As mentioned earlier, multi-colored hijabs can brighten both your mood and your day any time you want. They can give a funky look to even the most boring outfits. They look best when worn with black abayas or plain outfits.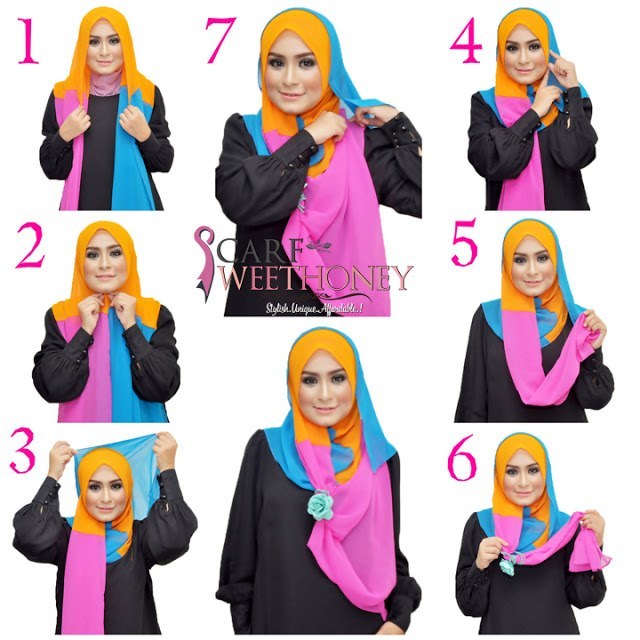 Here is the Simple Hijab Tutorial for Beginners
25 – Chador Style Hijab
Other than the face shape, one needs to make sure that they don't completely hide their forehead. If you wear an under cap or an under scarf, it should be set properly. Another useful tip for wearing hijab is to avoid wearing camel hump style, or African style that has a high stiff fold. 
A lot of East and Middle Asians prefer going for the Chador look which involves draping a long fabric that also helps cover the body. While not exactly a chador, this long style can help you dress modestly, giving you a covered-up look.
This green silk fabric was pinned behind the head to keep it from slipping off. The remaining end of the fabric was wrapped over the head and then pinned to leave you with plenty of fabric to wrap around the body.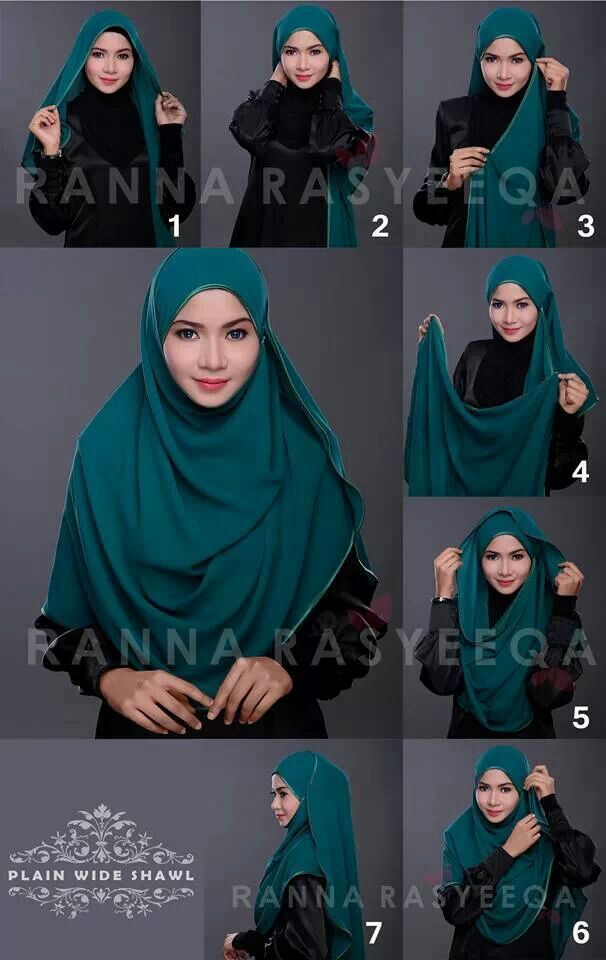 24 – Hijab Style For Round Face
Hijabs are difficult to conquer, especially for round-faced people who are afraid of letting their chubby cheeks pop out. However, here is a great style that can help you flaunt it off effortlessly. Grab a tie-dye wrap and follow these easy steps to get a super cool look.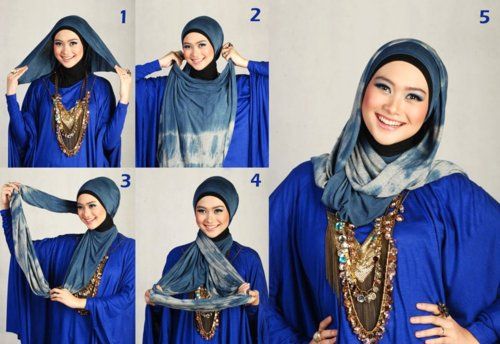 23 – Party Style
For a multi-colored and layered look, you need fabrics in varying lengths and contrasting colors to create a look like this. Tie a grey square cloth over your cap like a head wrap.
Now pull over a longer piece of beige and grey tie-dye scarf, wrapping it around the neck and pinning it over for a neck wrap style. If you want to cover your chest, the remaining fabric can be pinned at the shoulders for a longer drape.
It can be worn with long dresses as well as Casual Western attire. If you want a formal look in a similar style, go for a shimmery fabric or a silk one.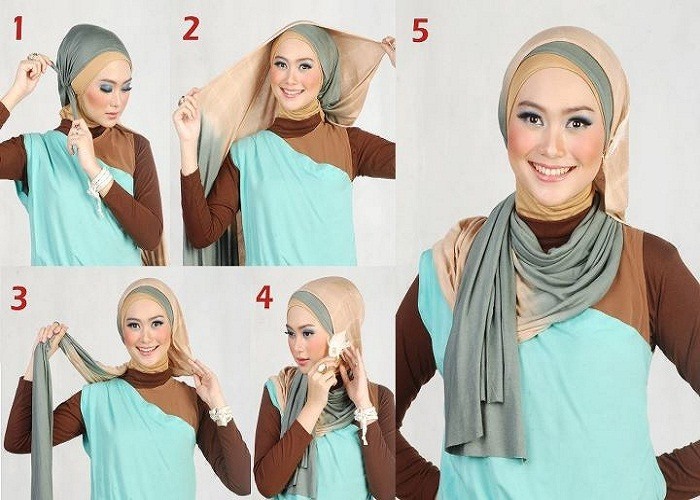 22 – Tutorial for Oval Face
This grey and purple style Hijab has a Western look to it and is tied around the side.
If you are fond of Western attire but do not know how to wear the Hijab with it, you could take inspiration from this and create your look.
This look is particularly important for girls with a wide forehead and oval face shape.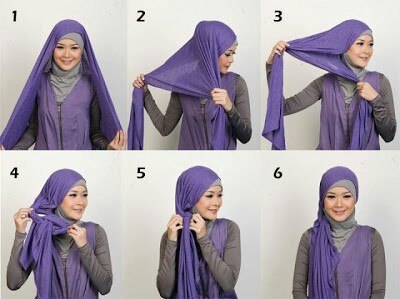 21 – With Glasses
Girls who wear hijab with glasses know very well how difficult it gets to match your eyewear. Check out this super cute style that can help match your nerdy look.
If you want a black scarf like this one, get started by pulling on an under cap. Wrap a Hijab over, pinning one side of it around the neck, wrapping the other over the head. The unpinned end goes over the right shoulder where it is secured.
This leaves you with a short yet voluminous look around the neck. This style is easily manageable and is great for young girls wanting to look stylish while being covered up. It can be worn with dresses as well as blouses.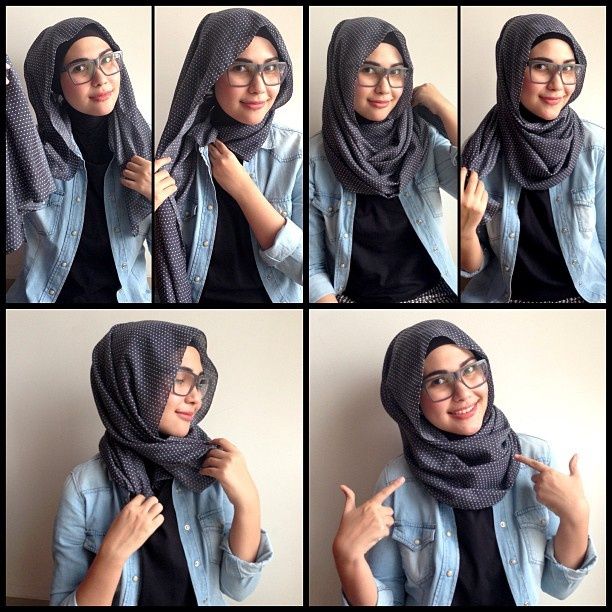 20 – Casual Style
Tired of all the classic Arab and Turkish styles and want something new? This unique and quirky style is something you would want to try. It can look great with both Eastern and Western apparel.
While at first, it seems a little complicated, once you get a hang of it, you will be able to do yours in under 5 minutes. Wear an under cap and layer a light fabric over it. Twist one end of the fabric to create something like a Western style.
Once done, pull the other end towards the twisted one to create a knot. Once tied, you will now have a unique style to flaunt around.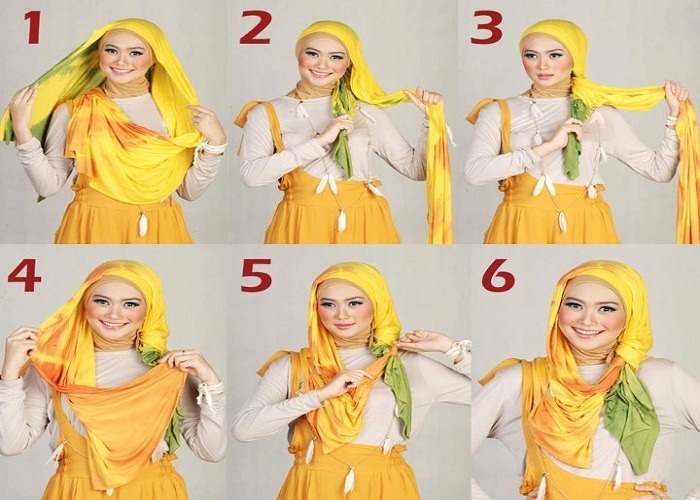 19 – College Girl Look
If you are a young college girl trying to balance out academics with modest fashion, this article is for you. Since college fashion is all about dressing up comfortably in casual attire, your Hijab is required to match just that.
An easy way to do that is to go for lightweight fabrics that are easy to manage and style. For example, cotton and linen scarfs can easily be wrapped to create effortless styles. This wrapped-up, voluminous style looks great to pair with casual wear. Since college requires you to give in a couple of hours, you cannot be tying and retying the Hijab.
Go for a secure, pinned look that lasts all day. To keep it in place, the best thing you could do for your Hijab is to wear it over an under cap.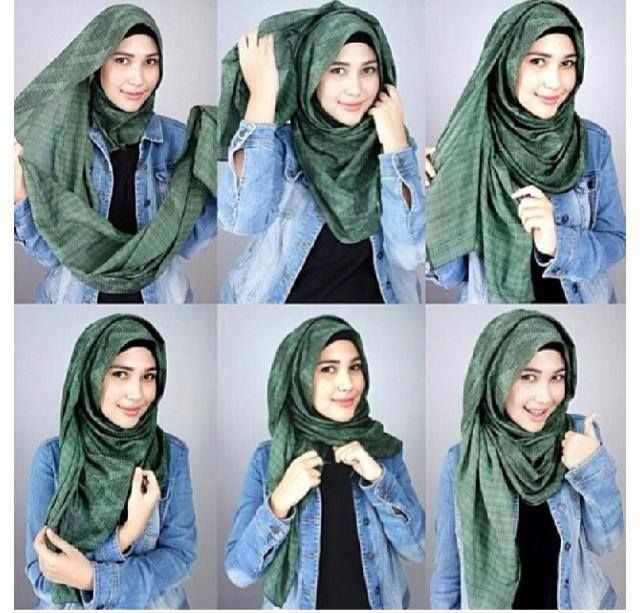 Latest Hijab Ideas
The Arabs have their own individual style which creates a voluminous look. While the Indonesians keep it simple and elegant. The veil made its way to mainstream fashion when brands like H&M and Yeezy hired Hijab clad models to showcase their apparel.
With this important piece of clothing gaining attention Internationally, we obviously had to talk about the latest ways of styling them. You can use different fabrics and styles to create unique looks each day.
18. Turban Wrap With Top Knot
This uber chic and professional Hijab up-do is for women on the go. If you want a comfortable and western style, turban look, this is for you.
Many working women often look for options that are convenient, easy to do, and do not take up much time. This beautiful look involves wrapping the scarf from behind the neck and creating a bun on top, also called the top knot.
Many women wish to cover the front of their necks so they cannot opt for this style. However, they can create this look over a traditional Hijab for a fusion of both.
The only drawback to this look is that it may be difficult achieving the top knot with a silk scarf. It can best be carried with Pashmina, Jersey or Cotton wool.
I personally love this style as it allows you to show off your earrings. If that is a priority for you too then you must check out these Ideas To Wear Earrings With Hijab.

17. Layered Look
The traditional Arab look involves draping the scarf in multiple layers for a voluminous look.
Arab women often use under scarves that have lace detailing and add volume. This simple and minimalistic look is easy to carry on both formal and casual outfits.
The draped hijab can be pulled off with almost any kind of fabric. However, any fabric that is slippery may require some extra pins to keep the Hijab in place.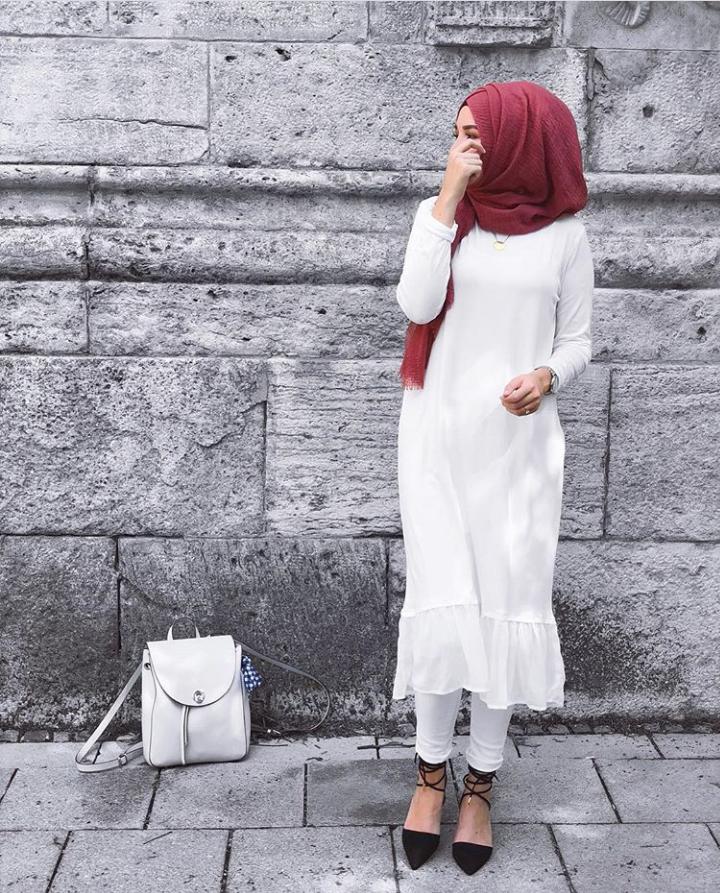 16. Casual Look
This Dupatta-Style Hijab is another comfortable and easy-to-do style. If you are in a hurry and do not have time to drape your scarf, this is the way to do.
We love how nicely it can be pulled off with Western outfits as well. If you fear hair show with this loose style of wearing a scarf, you may wear an under cap to prevent it.
This fire-colored scarf has been styled in contrast with the white top and blue skirt, giving it a very elegant look.
Style your everyday casual look with a similar-looking scarf for a super cute look.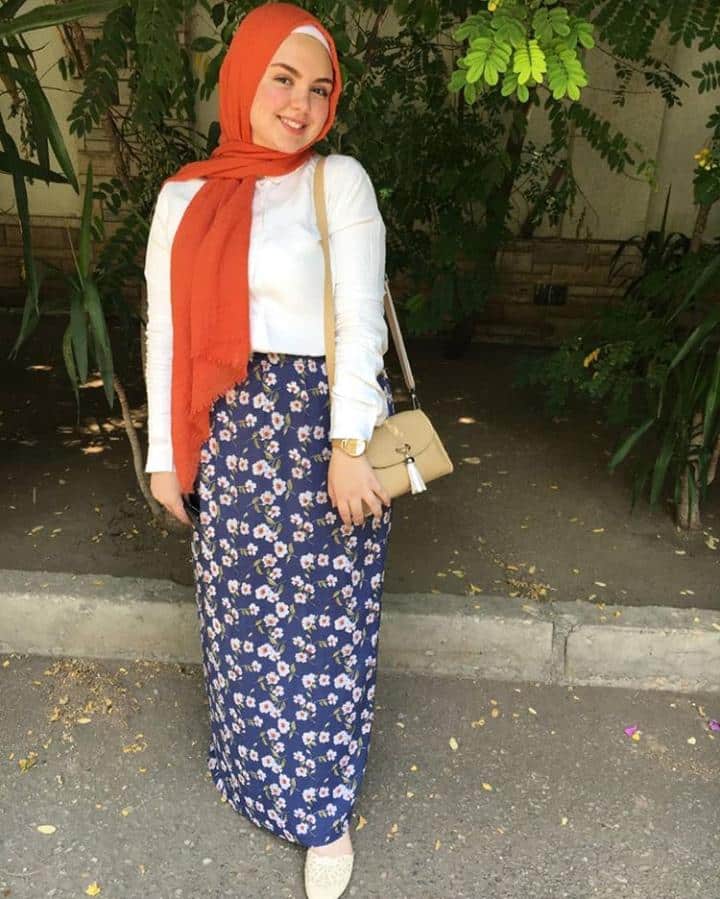 15. Western Style
One of the most difficult tasks for any Muslim woman is how to style a scarf that goes effortlessly with any western outfit.
Not every kind of style looks well with Western fashion. However, here is one flawless Hijab hack you could use to enhance your everyday look.
This burgundy scarf has been draped from behind in a manner to cover the hair, instead of draping it around the face. We love how it has been left over the shoulder instead of tying it like a wrap.
This particular style can easily be worn to work without worrying about the scarf pulling under the chin. Do check out these 30 Stylish Ways to Wear Hijab with Jeans for Chic look.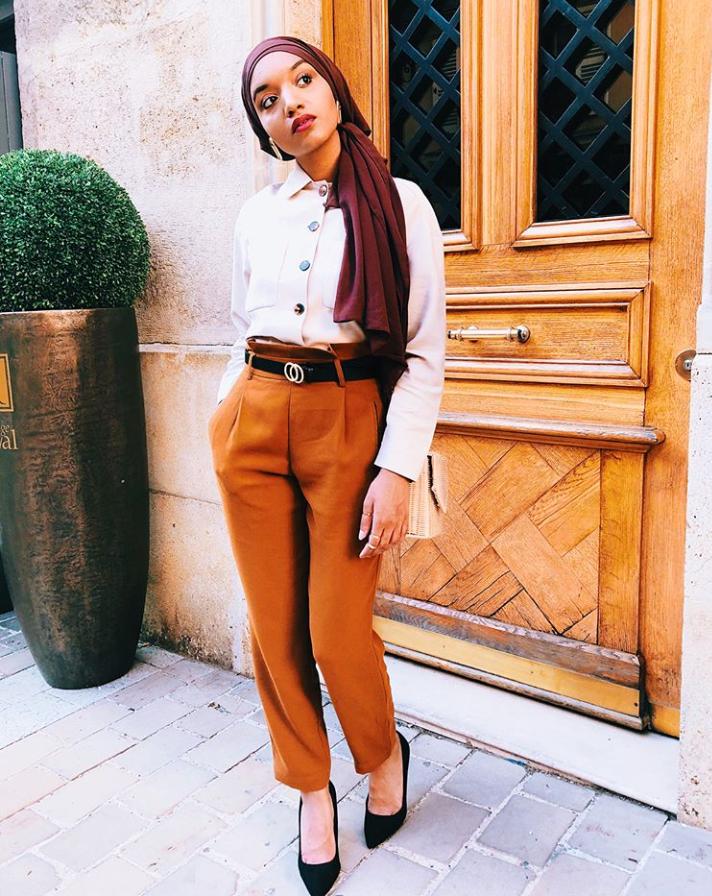 14. Turkish Style
We are currently obsessed with the Turkish way of Hijab which recently gained popularity in the modest fashion industry.
This small and simple drape has a very minimalistic look to it. Apart from being a great staple for western fashion, it can easily be incorporated with Eastern outfits, especially sarees.
This nude beige is a great color to add to your wardrobe and can be styled in multiple ways.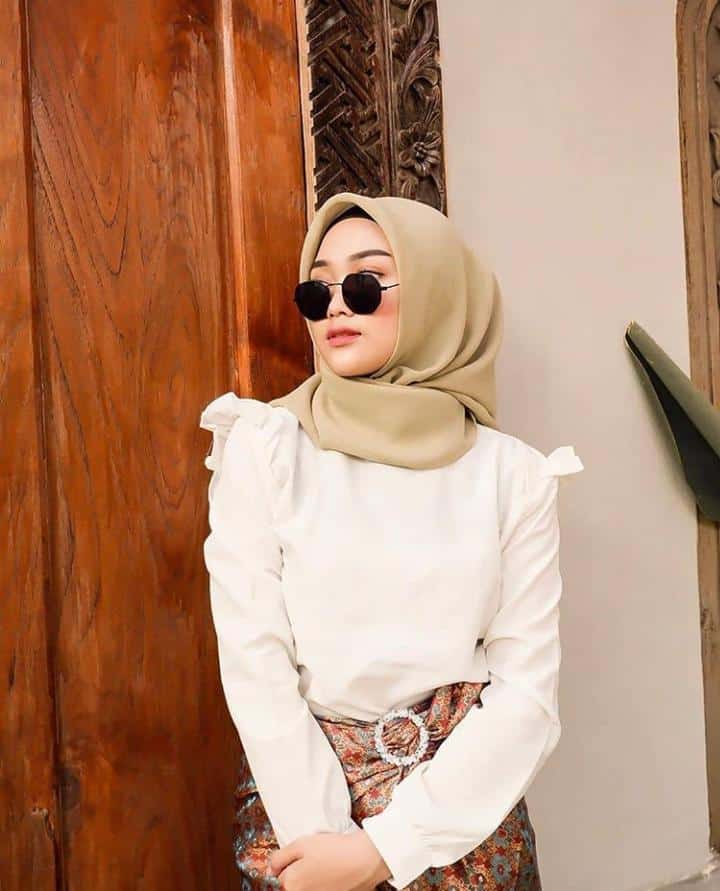 13. Loosely Tied
If you live in a warm climate and are tired of sweaty and messy hair, here is an easy way to tackle that. We are in love with this brown colored scarf that has been tied loosely.
Not only does it leave enough breathable space it also looks super trendy. This comfortable look can be sported at work or even while running errands.
Wearing a hijab cap can prevent any hair show, making it a great way to stay covered yet cool.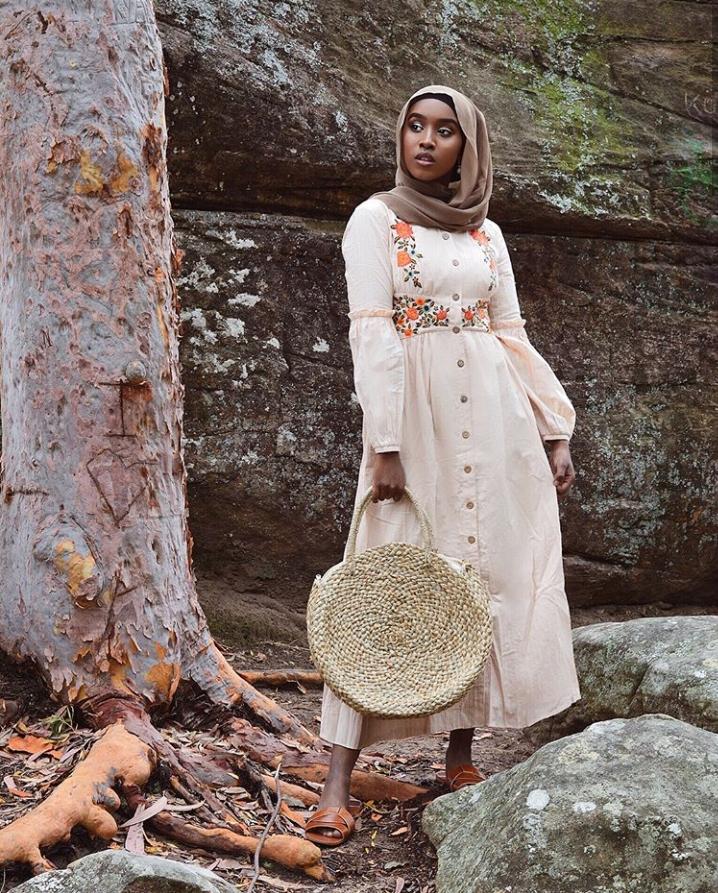 12. Criss-Cross Hijab
Give your traditional look an uplift with this simple yet trendy style. Most women often do not want to wrap their scarves tightly around their faces and look for other ways.
This loosely wrapped scarf leaves you with ample space and style. Invest in multiple nude shades for the number of ways in which they can be styled.
We absolutely love this graceful look which involves draping the scarf to form a criss-cross style on the front. This time-saving, cost-effective and comfortable look can be pulled off easily.
You can use any fabric from chiffon, silk, viscose, and cotton to create this look.
You may skip the under cap, however, if you do not wish to show your hairline and want to prevent the scarf from slipping off, you can wear it underneath.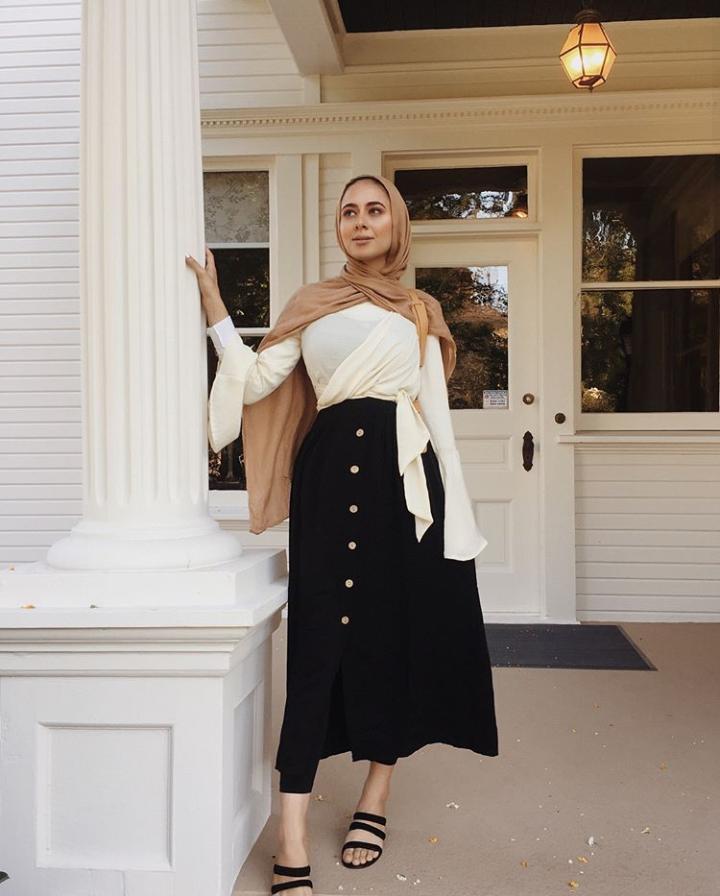 11. Long Wrap
Here is a great way to cover up while looking effortlessly beautiful.
Take a rectangular, cotton silk fabric and drape it over an under scarf. You may skip the under-scarf, however, it will only help keep the cotton silk from slipping.
Pin the right half of the fabric above the left ear, leaving the remaining fabric to hang over the left shoulder. Now pin the left part of the fabric on your right shoulder.
While the method may look confusing at first, it is quite easy to do. This Hijab style can be worn over an Abaya or any long dress.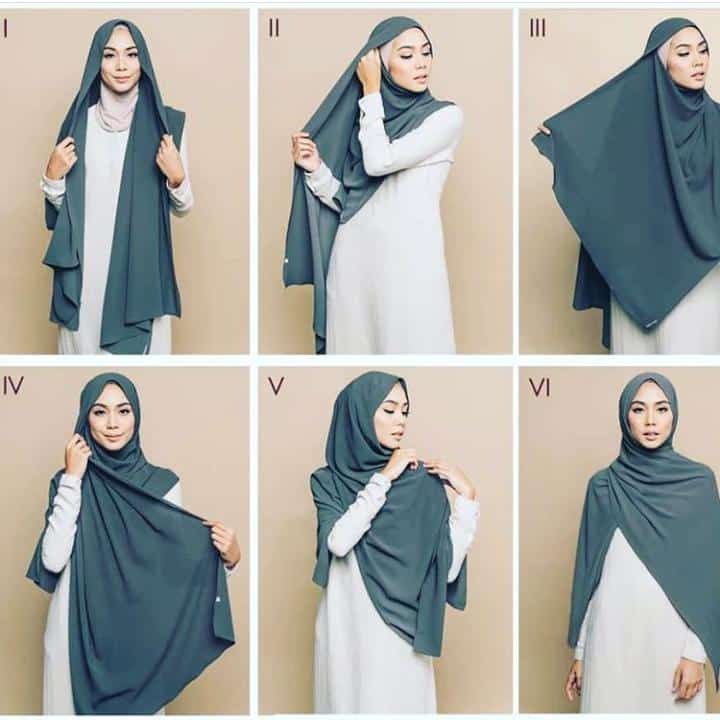 10. Winter Style
Winter is the best season for Hijabis as not only does it help protect them from the cold, it keeps them feeling fresh.
It also saves them from the time that would otherwise be spent styling their hair.
This mauve-colored long sweater and a matching scarf are the ultimate winter inspiration for all those girls looking for modest fashion outfit ideas.
You may give your scarf a traditional look by draping it around the face. Giving it multiple layers will create an Arabic style, adding volume to the look. Here's a complete guide on What to Wear As A Hijabi Traveler.
9. Middle Eastern Style
Check out this beautiful, printed silk scarf that has been wrapped in a sophisticated yet stylish manner to create a Middle Eastern look.
Add in bright colored and printed scarfs to any dull-looking outfit for a statement style. Prints can definitely be worn on prints however it is essential to keep the print patterns different. Additionally, it is important to keep the prints in similar shades of color as has been done here.
The gorgeous long dress has different shades of blue which have been used as a contrast with the dark blue scarf. Twist the ends of the scarf and wrap it around your neck for a similar look.
Not only does it look great with long dresses, but it can also be worn with any other style of outfit.
If you are looking for a Hijab style to be worn on a formal occasion, fret no more. This Middle Eastern style is the ultimate go-to when it comes to fancy and exquisite fashion looks.
8. Voluminous Hijab Look
Check out the neat layers that have been added to this traditional Hijab style to create a voluminous look. You may create a similar look with a dupatta or long scarf that may have been lying in your wardrobe.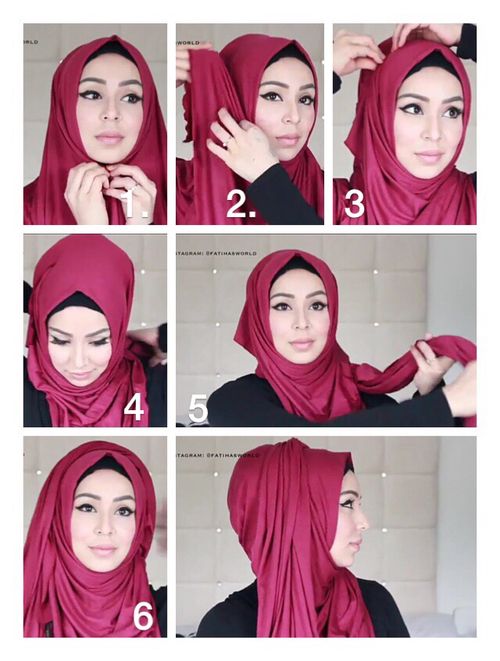 7. Neutral Colored Hijabs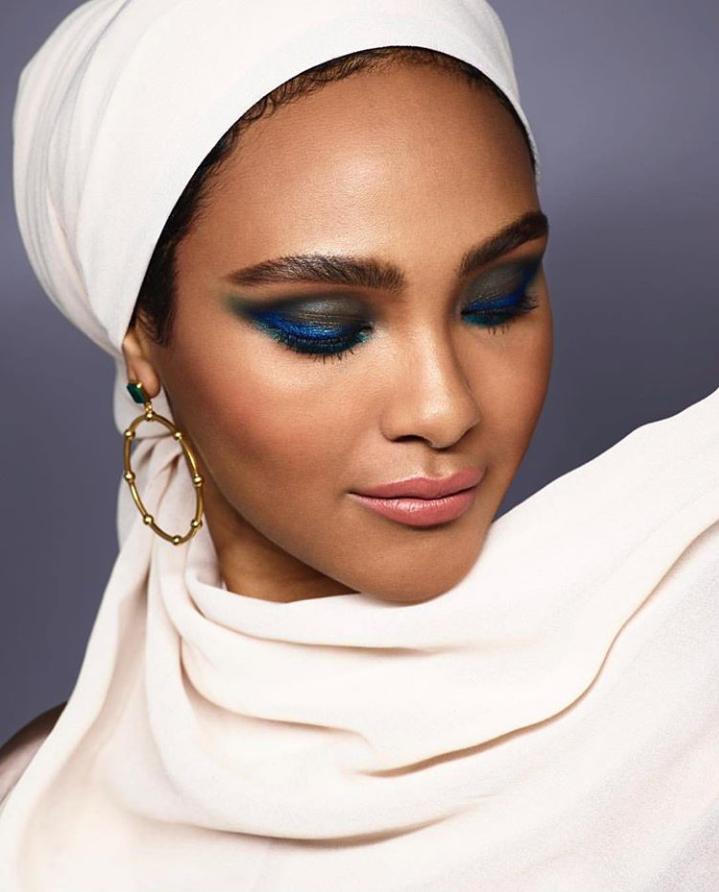 6. Urban Street Style
Embrace the cool girl within you and step outside in the most elegant looks possible. Red and black? Yes, please!
This color combination is one classic one and can be sported all year long. We love how this long scarf has been draped to hang at one side only.
The sneakers are adding to the look, creating a comfortable and casual everyday look. The red handbag is the perfect accessory to add to this look. Adding a black under cap is a great idea as it will add a bit of black to the Hijab as well.
This Fall/Autumn look is perfect for work, high school, or just an evening stroll outside. We would prefer silk or chiffon scarfs for this look as they have a light weave and add more of a flare to the look.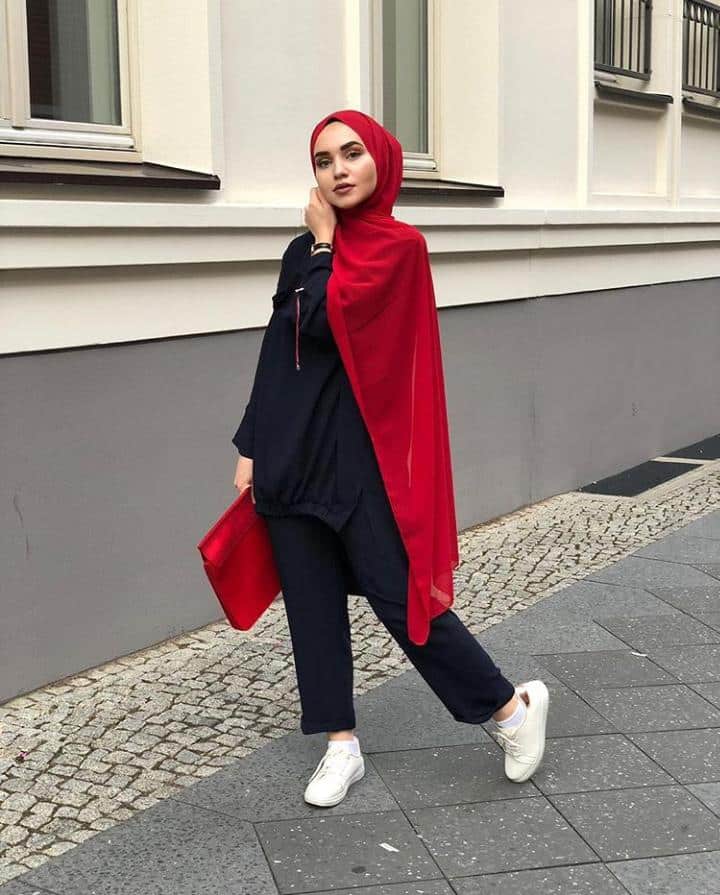 5. For Modern Day Women
Here is another western style that can be recreated for an uber-cool and stylish look. This Hijab style can be pulled off on both Western and Eastern outfits.
However, it may not suit every face shape.
We love the burgundy shade that has been worn over a simple black shirt to give it a pop of color.
One highlight of this Hijab style is how you get to flaunt your earrings and necklaces with ease, adding the perfect accessories to your outfit.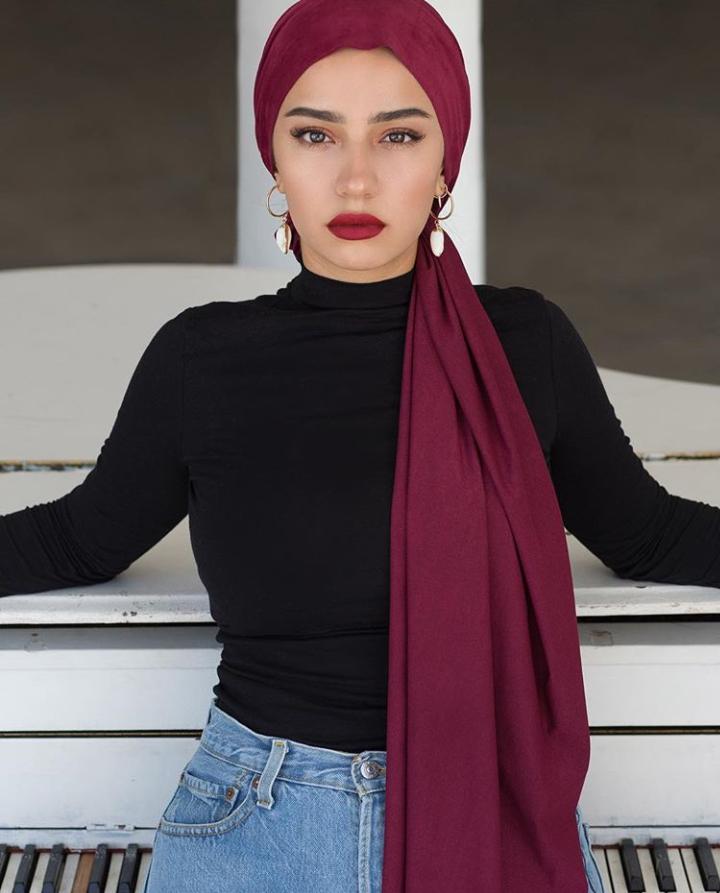 4. Latest Hijab Style
Give modest fashion a new definition with this cool style of doing the Hijab. We love the multiple-layer effect it has on top and how effortlessly it hangs below.
You can use a pashmina or jersey scarf to pull off a similar look. Wear your scarf behind your shoulders as is done by Kashmiris.
Pin it behind the ears to secure it tightly. Put one end under the other like a loop, while allowing the other one to hang behind.
Pull out all your favorite modest Western outfits from your wardrobe and give them a makeover with this latest Hijab trend.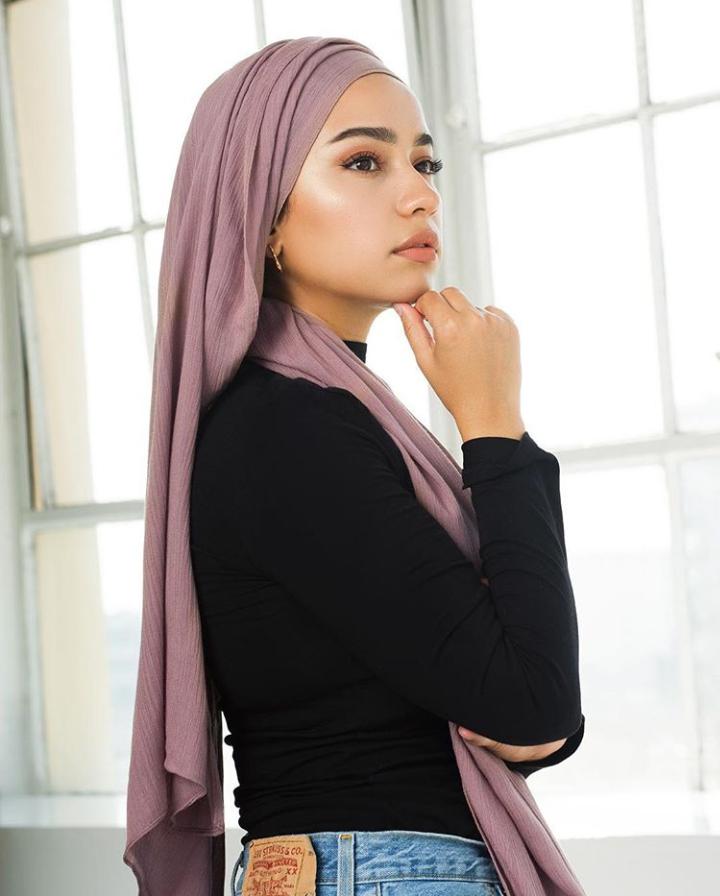 3. Neck Wrap
Take a look at this neat and gorgeous wrap that does not hang loosely. If you find it difficult to manage long and rectangular scarfs, go for square ones which are easy to drape.
This gray-colored, cotton scarf acts as a Hijab and a neck wrap. It can be worn with western outfits, tucking them inside sweaters and shirts.
More often than not, Hijabis find it difficult to go for shirts with embellished collars and necklines as they get concealed under the scarves.
However, this style allows you to flaunt embellishments, statement necklaces and detailed collars like never before. To add more detail to the look, you may create knots on the front or back.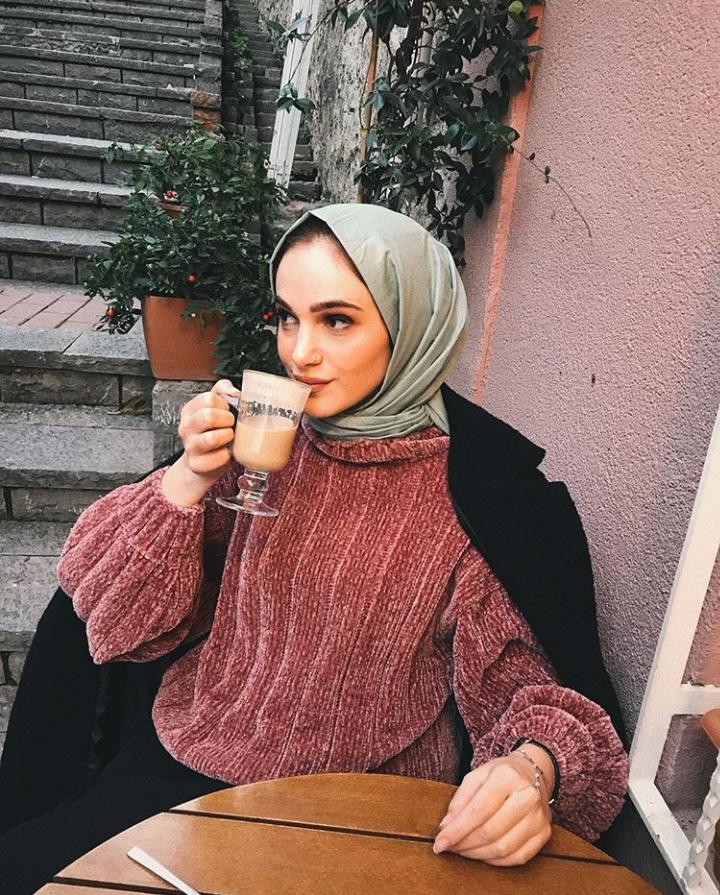 2. Arab Style
If you wish to go for a classic Arab look, adding height and volume to your scarf, here is some inspiration for you. Wear your Hijab, adding multiple layers to it.
This may be worn as a turban wrap or can be wrapped around the face. Make sure to use a small scarf that you are able to hide beneath the second scarf.
Choose a colored or printed scarf to wear on top for a stunning look. We really like the use of a fringed scarf which is adding details to the overall outfit.
The bright scarf is a great way to add color to a simple, black outfit. You may want to skip this look if you live in a hot climate as it would turn your hair into a sweaty mess.
However, it can definitely be sported during fall and winter.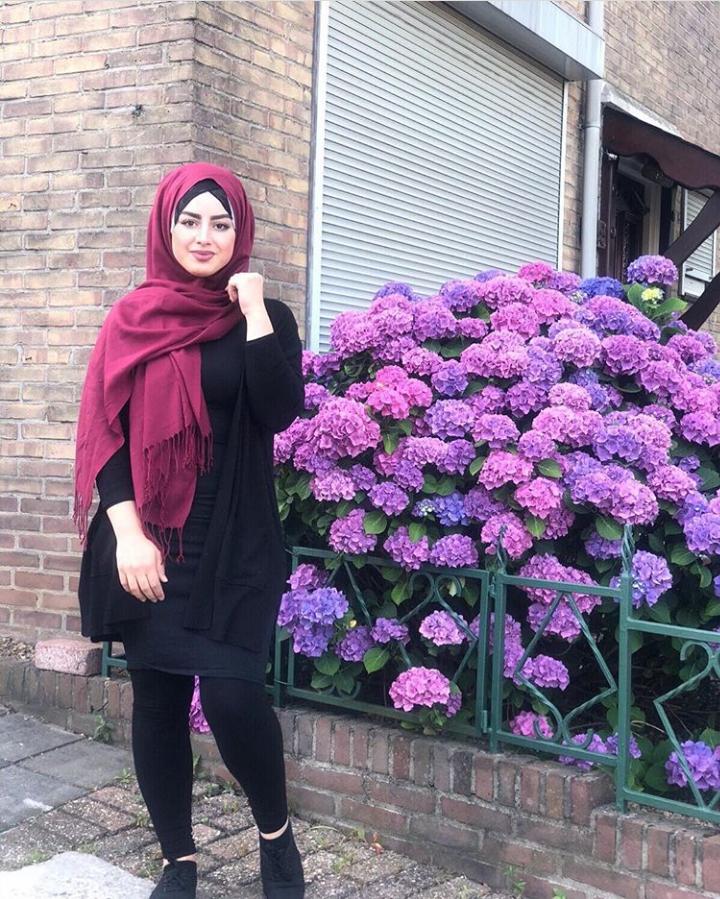 1. Glamorous Hijab Style
How beautiful is this Hijab?
The frayed edges, crushed fabric, and neutral tone are all looking super gorgeous.
Use a crepe fabric to create a lightweight and easy to drape Hijab like this one. This fabric is very light and airy and can be worn throughout the year.
If you plan on traveling, make sure to add this scarf in your suitcase to wear it with ease and perfection.
You may want to wear an under cap as the fabric may be see-through.