Looking for latest style Wedding sherwani for men ? Ideas how to wear and style sherwani for an elegant look?From where to by best designers sherwani yet in affordable/cheap prices? Outfit trends bring 25 Modern sherwani Designs for men and tips to wear them .
Sherwani is a traditional wedding outfit not just for the grooms but also for the other men attending a function. It is usually worn at Indian and Pakistani weddings. Men look really classy with the attire. I am sure many of you would want to know more about Sherwani's since it's a wedding season. Therefore we bring you ideas.You will usually find men wearing it on wedding occasions. It is one of that dress that brings a regal look. So, if you are looking for a wedding sherwani to wear it on any occasion there here are some ideas along with do's and don't that you need to keep in mind while purchasing it.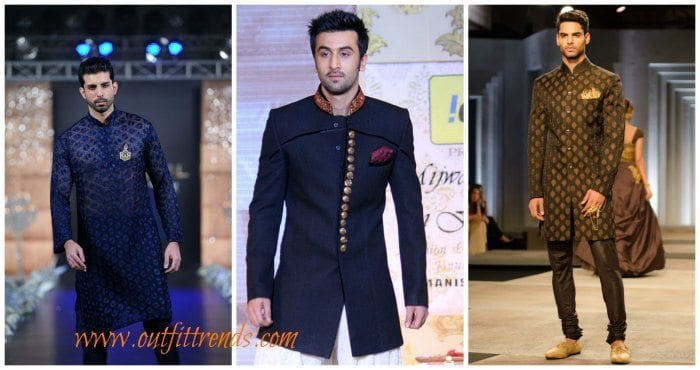 In the last post, we talked about latest style groom mehndi dresses. Before purchasing make sure that the fabric is of good quality. A low-grade fabric will ruin the look. Don't go for any material that is cheap as it will be poor in quality. To get a good material you need to spend a good amount of money. In order to look elegant, you need to keep this in mind. No matter how good the embroidery is on it, you will fail to look good if the fabric is not of superior quality.At weddings, people keep their eyes on everyone and some also evaluate and criticize.  So you need to make an impression by looking good. Moreover, at weddings, there is a lot of competing with others wearing a classy outfit.
2016 Sherwani Designs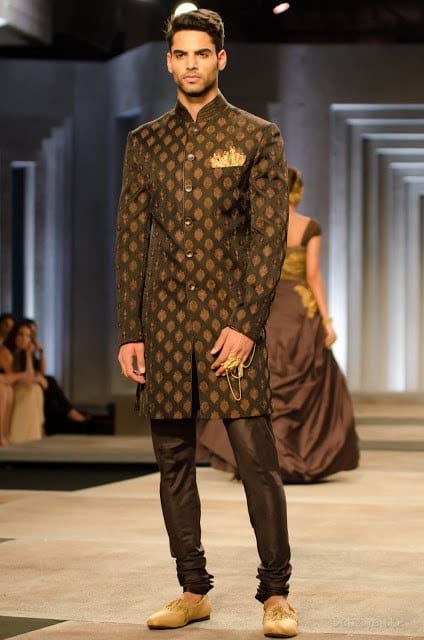 Secondly, the most important thing to keep in mind is the sherwani color. Dark colors are most preferably than light colors. Dark colors are bright and vibrant. They make one look more confident. When you go out for the shopping, don't be in a hurry. Analyse every sherwani and try it on yourself. Make sure that your sherwani is well fitted and the color suits you.Then comes one more important aspect. Which is your size and fitting?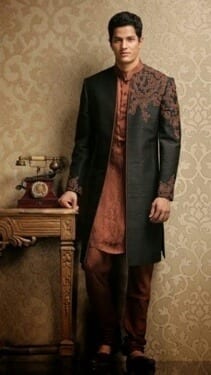 The worst thing you can do is choose a sherwani that does not fit you well. So when you visit the store, look for sherwani's that
are specifically made for your body type. Ill-fitted sherwani will not make you look good. Color, size, design, pattern and everything else should also suit you. Fitting is very essential for example, if you are very slim and smart then you might want to buy a sherwani with padded shoulders. It will make you look fit and perfect. Moreover, you would never feel comfortable in a sherwani that does not fit you.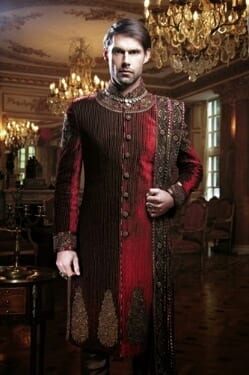 If you want to wear shalwar kameez with waist coat then check out 12 best shalwar kameez combinations for an elegant look.To enjoy the celebration one needs to be comfortable in his clothes. Comfort comes first.Then you need to make sure about the designs, embroidery, and print.You need to make sure that the color of your sherwani matches and suits your skin tone. For example, a light-colored sherwani with large prints or embroidery would not complement you if you are healthy. Go for very simple and subtle wear. Do not buy a sherwani that does not compliment you at all.
Hope you had a great time reading the post and we have some pictures attached to the post so that you can take plenty ideas from it.
 Ideas to Wear Sherwani – Latest Sherwani Fashion Trends.
If you want to know how you can rock sherwani on your wedding day then follow this next sherwani outfit idea. For this look, you will need a dark blue velvet color sherwani and add a red handkerchief. This sherwani is only suitable if your wedding is going to be held in winters because velvet is a very thick fabric and is great for winter occasions. You can also get the collar and cuffs of the sherwani embroidered to make it look more formal.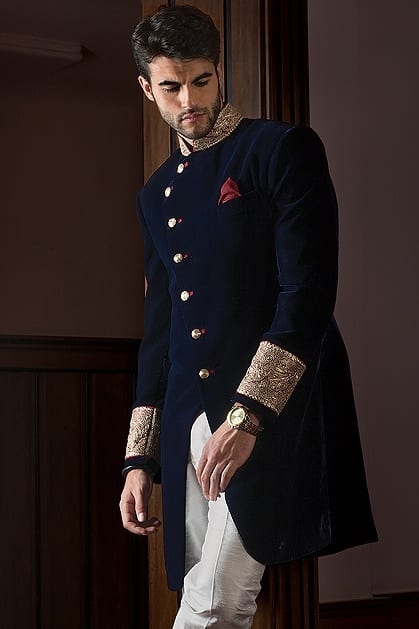 Buy from
Elegant black and gold sherwani idea
For this next look, you will be wearing an awesome and sexy black and gold sherwani. This sherwani is all about wearing total jet black sherwani with golden print all over it. This golden print can either be only printed on the fabric or it can be embroidered as well. You can wear this lovely sherwani with black churidar pajamas.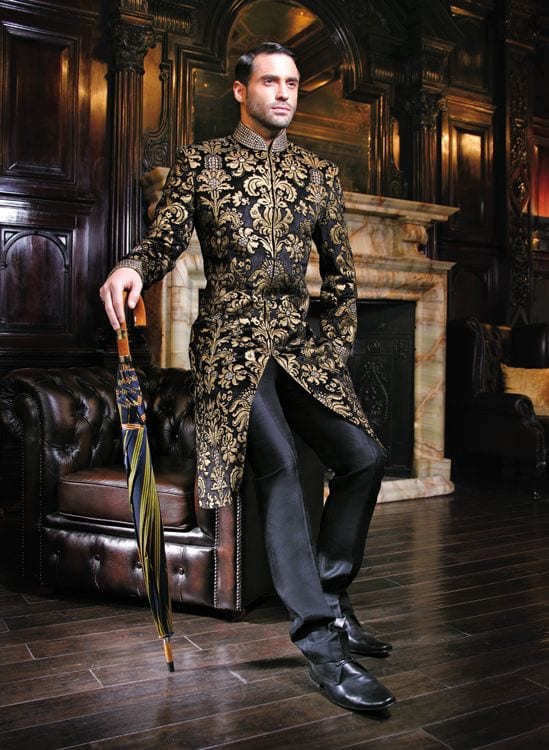 White and golden sherwani with Patiala shalwar
This sherwani combo may not be your ordinary combo but it is defiantly a true match just try it and you will see. For the sherwani outfit idea, you can go for white sherwani with golden embroidered cuffs and neck area. For slower, you need to wear pure white Patiala shalwar and let it drape down and enjoy the show.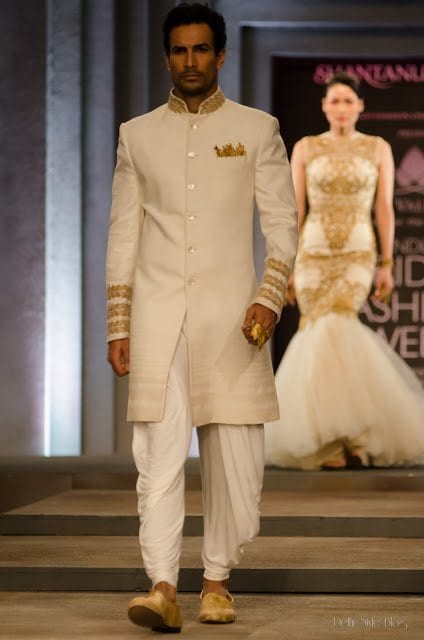 Formal sherwani with leather churidar pajamas
Just like another sherwani this sherwani is also perfect for your own wedding or even for your brother's or sister's wedding. For this sherwani idea, you can wear black sherwani with golden print all over on it. Instead of going for churidar pajamas you can wear churidars made out of leather type looking fabric. For extra spice you can add a long pearl brooch right on the front so that is will be visible.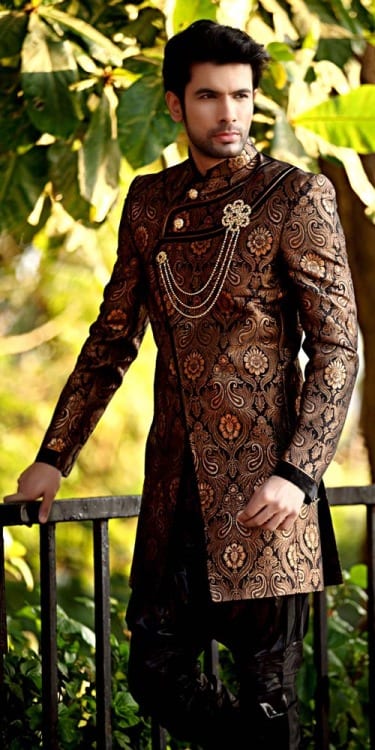 Golden and red looks perfect in the sherwani. If your bride is wearing a glden and red dress then going for gold and red combo sherwani will be a perfect idea. This best type of sherwani to use is the one that has half print on it in dull gold color with red collar and cuffs. And pair it with a dark nude colored Patiala shalwar for the best outcome.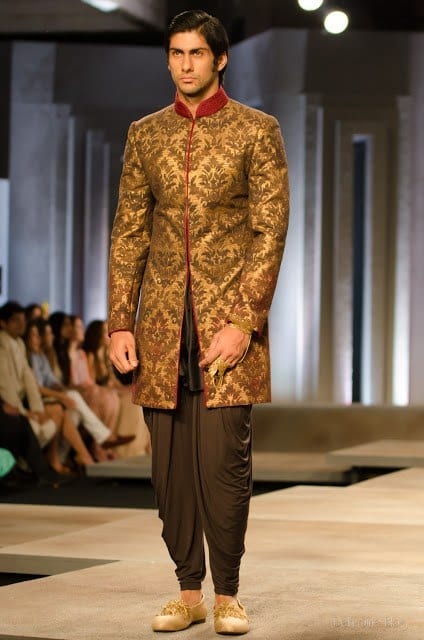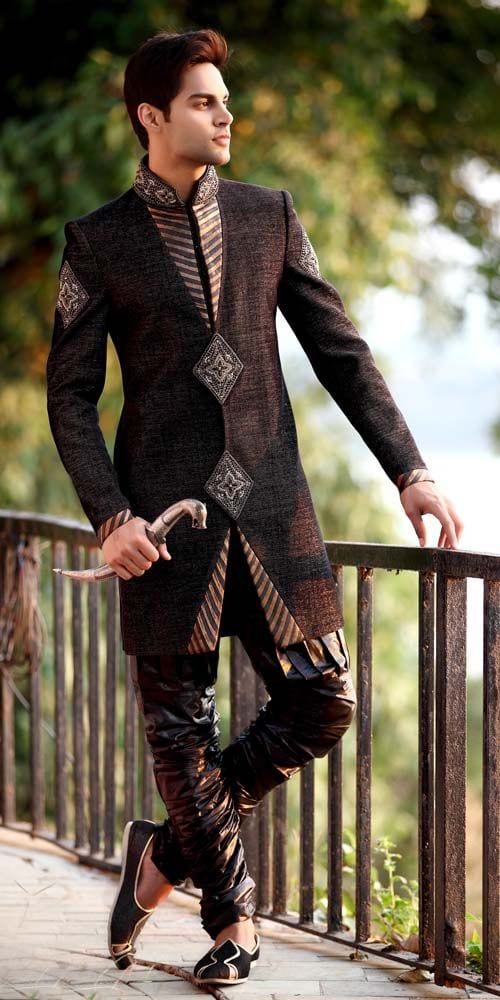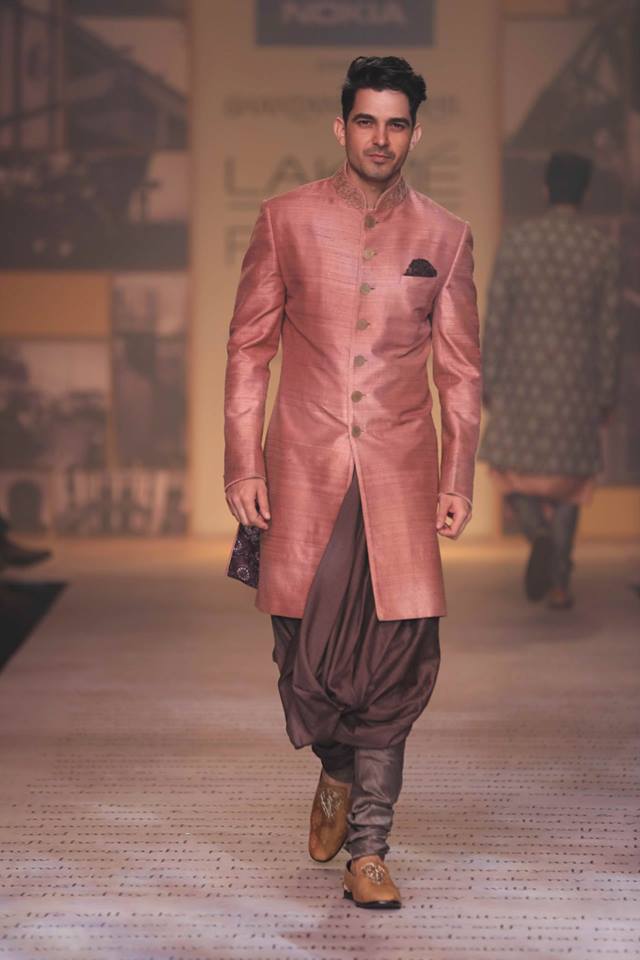 Celebrities Sherwani Style.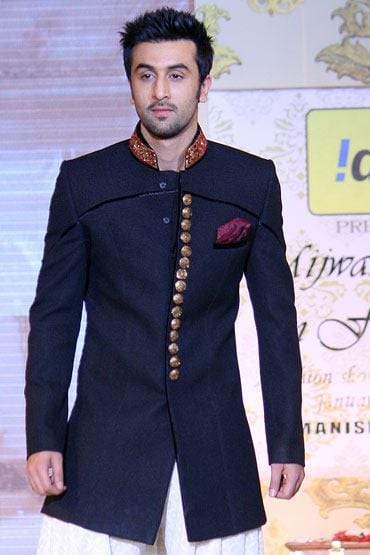 Pakistan bridal Couture Sherwani collection.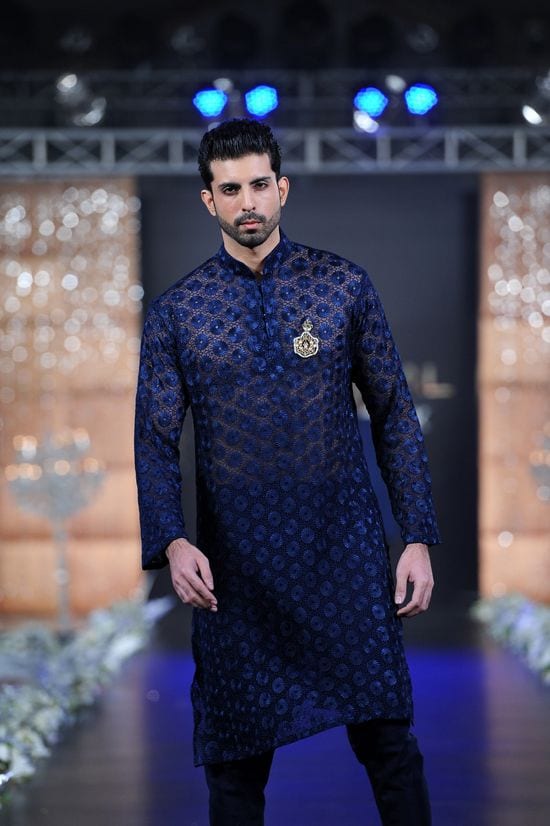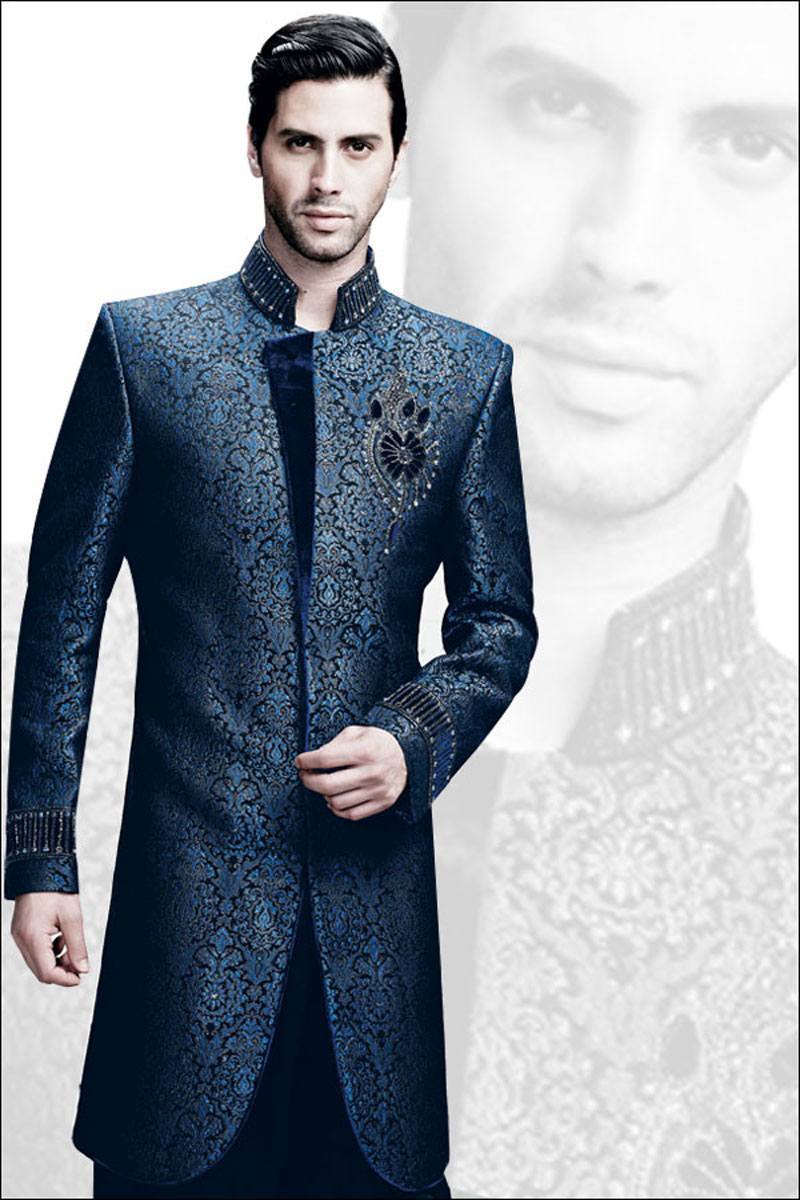 Indian bridal Couture Sherwani collection.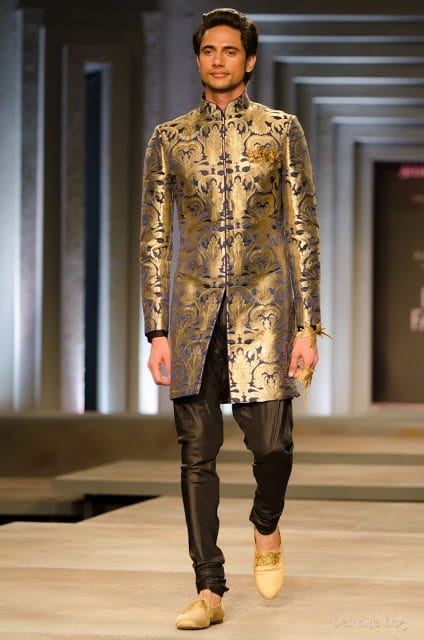 There is certainly no harm in wearing blue sherwani to match the color with the dress of your bride. In fact, it looks super cute when you the bride and the groom wear the same dress. For the kula, you can wear a golden one with little blue strikes in it.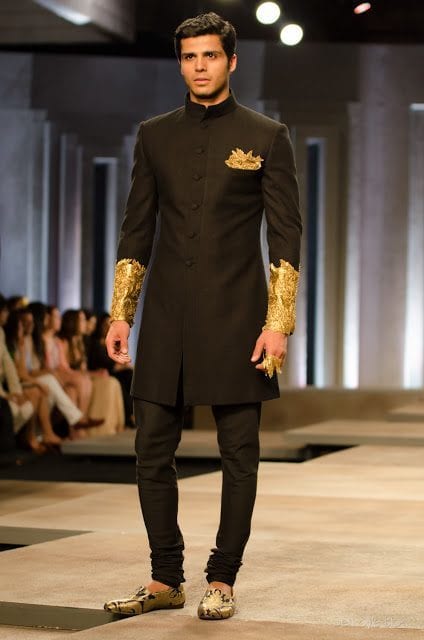 Decent jet black sherwani
If you are the kind of the guy who loves to wear decent colors and would love to wear one on their wedding too regardless of what people will say then wearing a jet black sherwani is the right decision for you. You can get the collar and the cuffs in black velvet or leather for extra dimension in your sherwani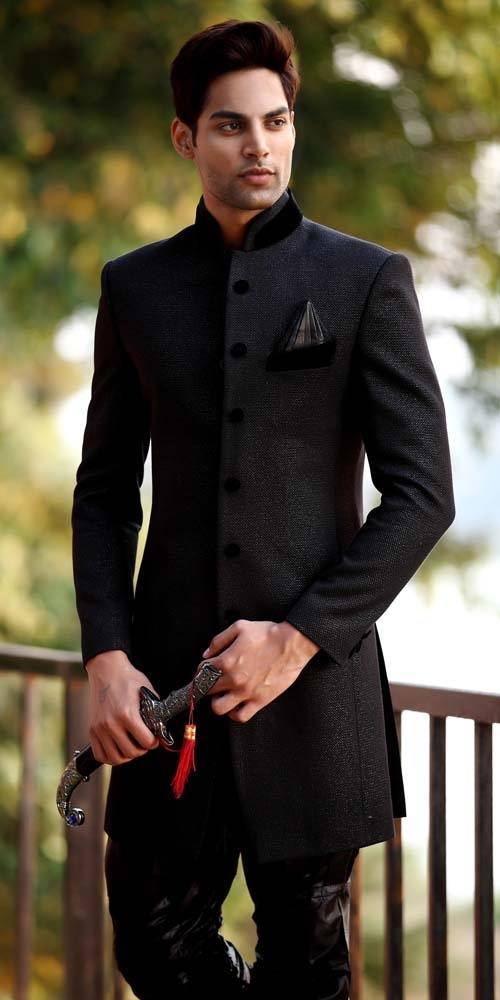 Via