One of the favourite piece of hair accessories these days is the maang tikka, which is also known as the maatha patti. In the last post we covered in detail what is maang tikka and how to wear maang tikka in different styles.It is a unique piece of jewellery and the best part is the variety of styles you can find in it.
Though it was traditionally considered a part of the bridal jewellery, now it can be worn at any traditional occasion by girls of all ages and face cuts. However, one of the most confusing and often asked question by girls is that what hairstyle should they make with their maang tikkas. So in this post we'll be addressing this common issue in a very simple way. I hope that by the end of this post, you will have enough knowledge to decide on the latest hairstyle with your maatha patti. In fact, if you are planning on wearing the same maatha patti for the second time, or wearing maatha patti for consecutive functions, these tips will help you create a new look every single time!
Maang Tikka with Open hair with loose curls or waves
If you have nice long and wavy here, I believe the best option would be to go for open hair. You can use some mousse or other hair product to add volume to your hair if required. If you are using the maatha patti with a centre strand then obviously you will be parting your hair in the middle. When such loose wavy curls are combined with a maatha patti, it creates a really soft, simple and yet attractive look. In case you have straight hair and want a similar effect then you can use a hair curler or even a straightening iron to create some loose and natural looking waves. This hair style is also specially recommended if you are wearing a heavy type of maatha patti or if you have long hair. Check out how stunning the Bollywood actresses Amisha Patel and Priyanka Chopra are looking in this hair style.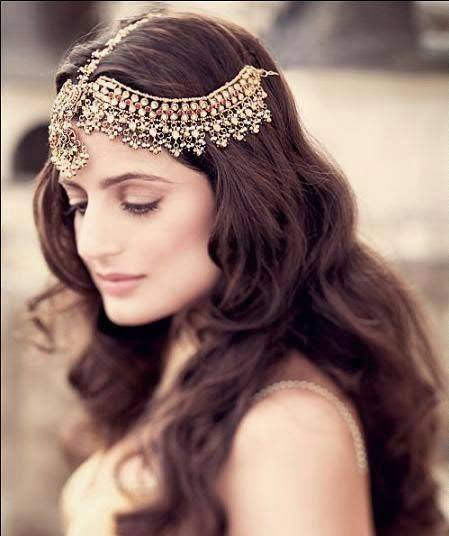 Celebrity Hairstyle with Maatha Patti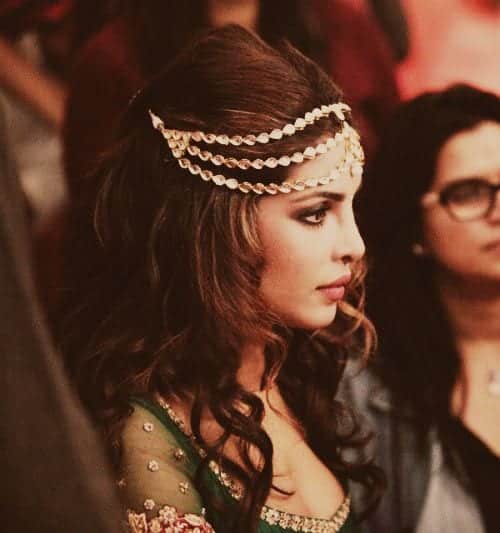 Back combed semi up-do With Maang Tikka
If you don't want your all over your face but still want a similar effect as shown above, then you can go for high back combing and semi tied hair. Again, this can be done with both straight as well as curled hair.