Boho Chic Outfit Ideas for Females. As time progresses, people have been increasingly and largely embracing the bohemian way of life. The bohemian aesthetic has influenced various aspects of life, whether it be clothing, home decor, and even weddings. While still embodying its French origins, the free-spirited and lively yet, laid-back boho persona has revolutionized over the years. Albeit some changes have been brought about in the fashion over the years, the core remains the same: colorful, soft, embroidered, and hand-knit fabrics. To this day, prairie dresses, threadbare coats, fringed kimonos, and leather jackets remain wildly popular.
Boho Chic Styling Guide
All the free-spirited worldwide have been embracing the boho fashion style, which consists of various types of textures, prints, and silhouettes! It can be accustomed to fit the needs of any person. If you are someone who loves to wear vintage, make it boho by styling the perfect plaid midi skirt with fringed ankle boots and a cute bell-sleeved top. Similarly, attain your grunge boho aesthetic by pairing a tank vest with denim shorts and black lace kimono.
That being the case, I believe it is safe to say that this diverse clothing style has been around for the past hundreds of years for a reason. And with the direction that it is headed, there is not a chance for it to be going out of style any time soon!
The key to styling boho outfits is to keep comfort as the main priority while still standing out in a crowd and working around that. Add in layers and layers; I would suggest even more layers – but let's keep those for the gloomy, rainy, summer days. Next, throw on a good old pair of boots and accessorize with some contemporary wooden jewelry. Moreover, you will find your hair to be the messier, the better. And on goes the list! Therefore, if you're looking for ways to style your long skirt, or ripped jeans and make it elevated boho-chic, then you've come to the right place. We have got you covered!
Where to Buy Boho Chic Outfits?
If you are recently stepping into the realm of boho fashion – you do not have to be overwhelmed because everything that you need to start is mentioned right here. A couple of staple wardrobe pieces, like ripped jeans, leather jackets, ankle boots, would already be buried somewhere in your closet.
So get those out, dust them off and get ready to style them. These outfit pieces from the following brands are stylish enough to make you stand out remarkably in the crowd and yet cause you to save a couple of big bucks, making them easy on the pocket.
SHEIN. This brand has got your outfits and your accessories both covered. Pair this super cute sunflower two-piece set (here) with these perfect-for-every-outfit tassel earrings (here).
ZARA. Zara carries a versatile range, and this knit crop top (here) is the perfect pair for these tie-dye jeans (here).
FOREVER 21. You can never go wrong with this breezy and fresh jumpsuit (here). It is perfect for a beach day, paired with a sun hat.
WINDSOR. These flared pants (here) are economical yet chic.
Next. Looking for a perfect white wardrobe staple? This brand has got you covered (here).
↓ 10 – Cami Top with Printed Skirts
This blogger carried this extremely laid-back and casual look, which is perfect for beach days! The beauty of a white cami top is that it looks exquisite with any skirt. Likewise, this top seems trendy, relaxed, and effortless. Along with the bright blue sandals, the flowy printed skirt adds in just the right amount of color and expression.
She opted for some classic golden hoops – which, of course, you can never go wrong with. And this cream straw handbag truly brings the entire look together, which screams boho chic. Overall, we love this whole look, and the unruly, messy beach wave hairstyle is to die for.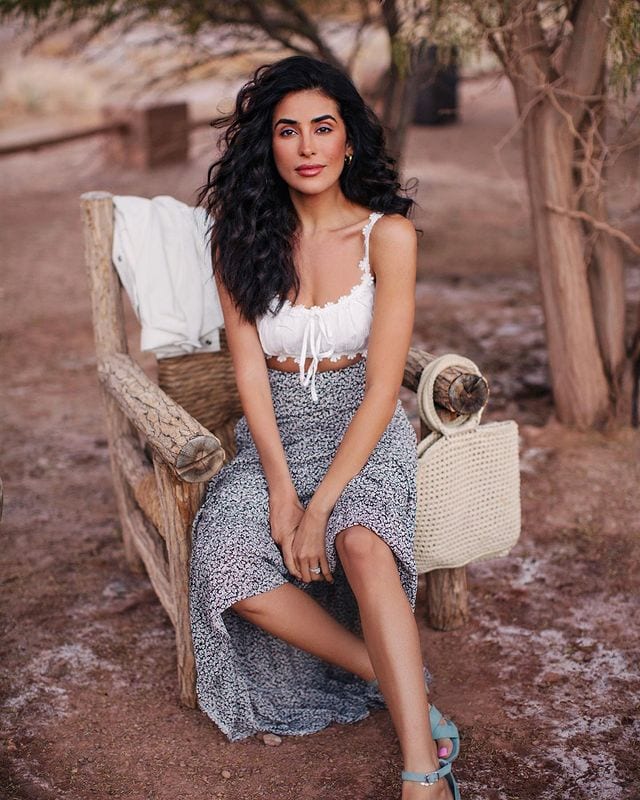 Check more ways to style skirts to look more chic and trendy.
↓ 09 – Bohemian Kimono with Jeans
Everything about this look is absolutely adored! The long printed kimono is fun yet breezy and light, making it perfect for the hot summer days. The high-rise, washed jeans pair perfectly with the button-up cami top while adding to the statement kimono. Moreover, the straw weave handbag is an ideal boho wardrobe staple making it perfect for any outfit. Accessorize with a dainty gold necklace and cat-eye sunglasses – this look is a win on the hearts.
↓ 08 – Classic Jumpsuit
Talk about comfort style! Alexis looks like a vision in this classic white jumpsuit paired with a cream knit sweater. This look is perfect for the chilly days in summer and provides the ultimate coziness. The cream sweater blends perfectly with the jumpsuit, and the buttons add in just the right amount of detail.
Along with that, the puff sleeves and loose pants of the jumpsuit make this ensemble the ultimate comfortable boho outfit! To unify the entire palette of the look, those brown ankle boots are a tasteful choice. Finally, to tie off and elevate to the next level, throw on some brown tassel earrings, along with a dainty gold necklace. And you are good to go!
Check out more amazing ways to style jumpsuits!
↓ 07 – White Dress with Statement Belt
When dressing in summers, the main focus must be to remain fresh and light. This attire is just that – and more! We adore the messy bun thrown at the nape of the neck – add a hair scarf to bring more texture to your look. An oversized shirt or a lace dress can substitute the white mini dress to fit your aesthetic and taste accordingly. Furthermore, the sun hat and the heeled boots are just the right amounts of rustic with the white dress. And this belted fanny pack is not only adorable but also conventional! We would suggest keeping the accessories minimal and allow your outfit to do the talking. Regardless, this ensemble is promising enough for Sunday brunch with the girls or a trip to the farm.
↓ 06 – Printed Culottes with Puff Sleeve Top
These funky printed culottes are laidback and comfortable yet eye-catching. The colorful and loose cut of these culottes is easy to style and would look impressive with various tops. From a fitted cami to a flowy puff-sleeved top as styled below, this ensemble is extremely easy to carry!
To attain a more casual look, opt for a pair of white strappy flat sandals instead of these heels. Finally, bring this entire look together by accessorizing with colorful feather earrings and gold detailed rings!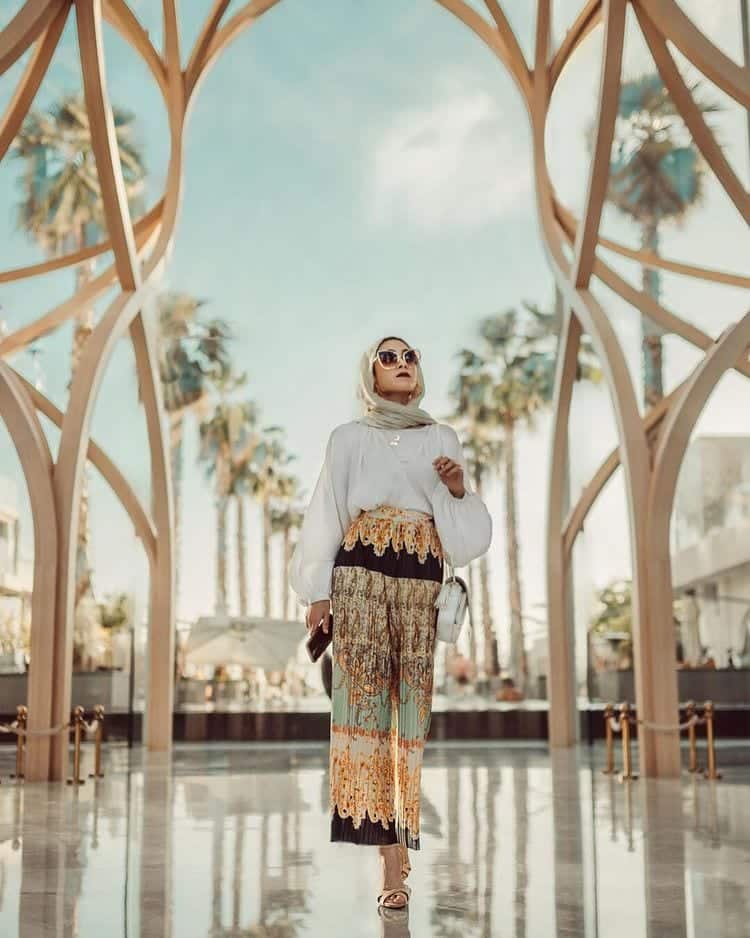 ↓ 05 – Faux Fringe Jacket
For all our grunge lovers out there, we have got you covered with this remarkable black faux fringe jacket. One can honestly never go wrong with black, and this statement outfit is the living proof of just that. The spunky metallic belted chains and jewelry provide a refreshing contrast against the black faux on denim.
Additionally, replace the black hat with a bandanna, and you may as well have established that you are not to be messed with. Exactly the way it should be!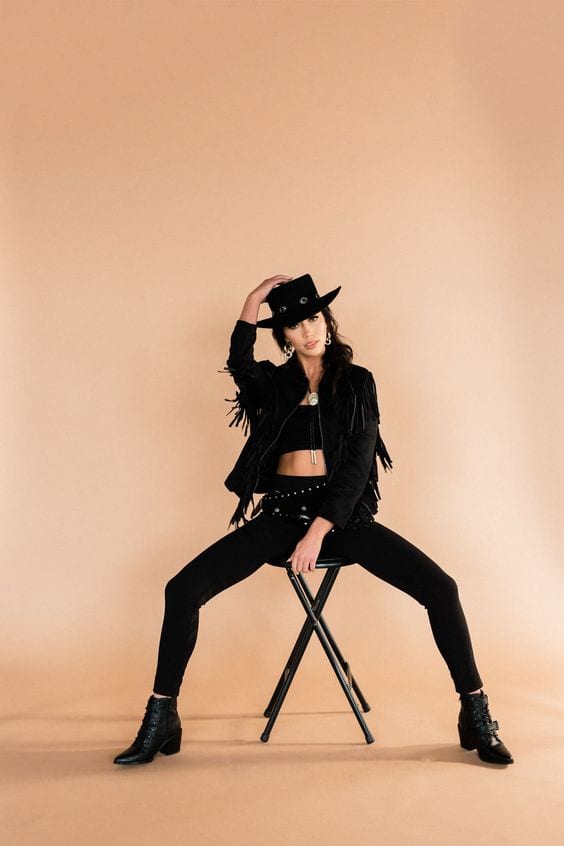 ↓ 04 – Midi Ruffle Dress
How absolutely delightful is this entire look?! The tropical pattern on the midi ruffle dress exclaims boho-chic for the modern days! The dress's silhouette is similar to the prairie dresses of the olden days but with a modish spin. The layered ruffles are enlivening and truly enhance the outfit.
The beach waves kept in place by these trendy oversized and embellished hair clips are the perfect hairstyle for your carnival and beach days. Additionally, the straw sandals and shoulder bag are contributing ideally to this look, making it the ultimate boho chic. Smear on a nude lip gloss and add bronzer for a sunkissed make-up look.
Check some cutout dresses to up-your fashion game right now!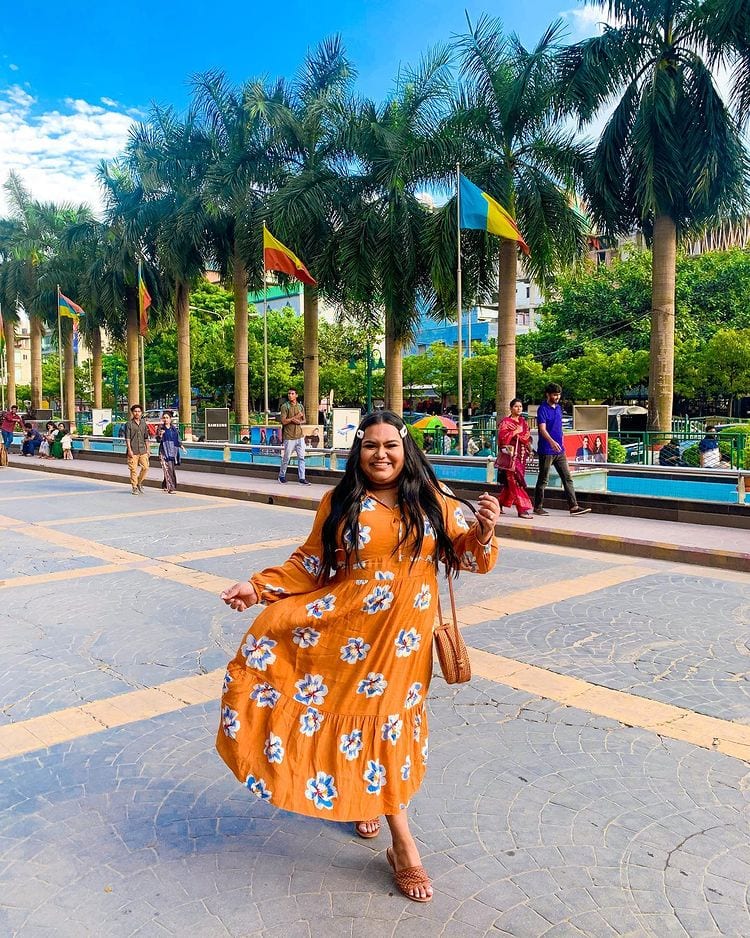 ↓ 03 – With Plaid Pants
Now, this outfit is an ideal example of a contemporary boho-chic get-up. We are absolutely in love with the modern yet classic cream and nude color palette of this look. The cream plaid pants look oh-so-modern with this plain button-down tucked-in shirt. On the contrary, the bold red lip serves as a stark contrast against the nude outfit.
The platform on the weaved wedge sandals provides just the right amount of poise and confidence to the look. Style with chunky gold hoops and a statement straw weave clutch handbag to match the shoes – and you are a vision to behold!
↓ 02 – Cowboy Boots & Denim Shorts
Cowboy boots are such classic wear that is easy to style in abundant ways. However, just like in the image below, they are commonly seen accompanied by boho fashion. The expressive pairing of cowboy boots and denim shorts is an all-time favorite of bohemians all around. And we can fully understand why!
Opt for a kimono according to your mood for the day. Also, keep your make-up minimal and your hair down and wavy. Finally, add on a similar dream catcher necklace and wooden bead bracelets, and you have quite the look on your hands, a look that is just as free-spirited as your soul!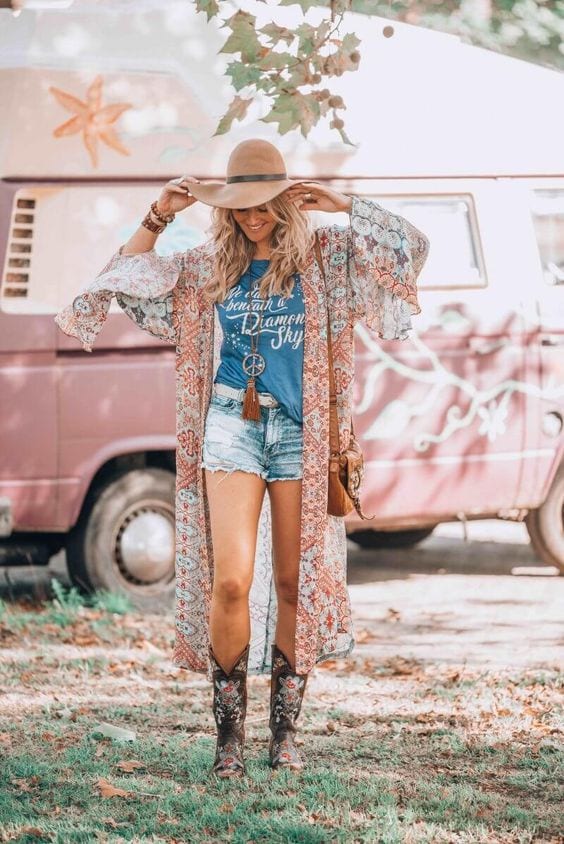 ↓ 01 – Elsa Hosk's Rainbow Maxi Gown
The former Victoria's Secret Angel and model Elsa Hosk looked emulate in this elegant boho maxi gown. She truly stood out with how effortless yet chic her entire look is. We love that she kept her jewelry to the minimum and let this gorgeous rainbow-hued piece do the talking.
The belted waist and plunging neckline make the dress just the right amount of sexy yet sophisticated. And the train inarguably brings out the more romantic side of this look. This entire ensemble is a vision to behold, and the crown braid hairstyle makes her look effortlessly boho chic on the red carpet.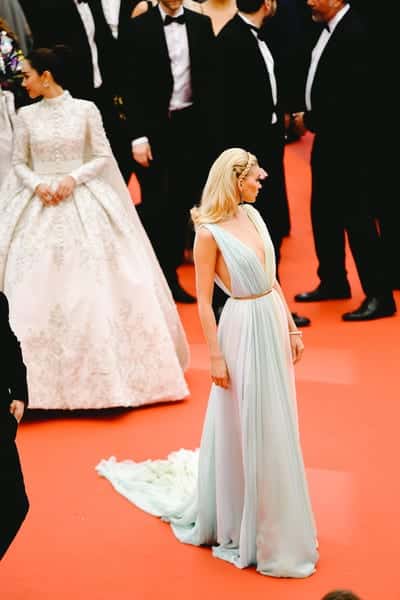 Janeeta Khan loves to write and loses herself in the world of fiction during her free time. You will probably find her curled in the corner with a Harry Potter book and a steaming mug of hot cocoa.