Summer camping outfits for teen girls: Teenage is one hell of a ride and the ones going through it are everything all at once. Teens love trying new things and exploring new spaces. They are the same when it comes to clothes. Camping is something that even adults are confused about and as to what outfits to take with them so why not teen girls not be clueless. This article is for all the teen girls that need help with camping outfits for either a trip with their friends, family, or just summer camp.
It is easy to pick and choose outfits as long as you have already found out what your style is. If you are still struggling with that then we recommend you do that first because then it will be easier to find out exactly what you want to take with you. There are lots of options for teen girls these days. You can choose from a wide variety of colors and designs. Whether you like wearing skirts and crop tops or sweatpants and hoodies, there is something for everyone in this article.
What Outfits To Bring for a Girls Summer Camp?
Once you know what your style is, it will be easier for you to choose outfits. Once that step is done, you can begin finding what you like and then put together the complete outfits. The easiest way to amp up boring outfits is to use accessories. If you're wearing a skirt with a tank top or a t-shirt you can wear some colorful jewelry with it such as a necklace or rings. If you are wearing sweatpants and a sweatshirt then you can wear those with a baseball cap because they always look cool.
Bandanas are another thing that you can use with an outfit such as a dungaree dress. These accessories will completely transform your outfits. You can also try some cool hairstyles with your favorite outfits. Boxer braids, french braids, and pigtails are just a few of the many cute hairstyles out there. As a teen, you will need to try out and see what works for you best. Hopefully, the 20 summer camping outfits in this article will help you decide what you want to take with you.
Summer camping trip packing tips:
• You will need to make sure you keep your menstrual products with you. You won't know if they will even be available where you go so you need to plan in advance and keep them with you just in case you or anybody else needs them.
• Teens have the urge to wear whatever without realizing if it's even comfortable or not. Try to take those outfits with you that are comfortable enough for you to wear all day. Go for comfort over looks.
• Don't forget to keep sunblock with you and use it every single day. You need to make sure you have sunblock with you, it is extremely important for when you are in the outdoors.
• If you plan on wearing skirts or shorts then you should definitely keep some stockings or leggings with you so that you don't get bug bites, sometimes they can be really harmful and ruin your entire trip.
• You should definitely check the weather forecast and plan accordingly because the last thing you need is to pack for the wrong weather.
• Caps, bandanas, sunglasses, and fun jewelry will be your best friends. These accessories will spice up even your lamest outfits. You just need to know how to wear them and which outfit they would look best with!
↓ 20 – Bright Colors For The Outdoors!
Orange is a fun color and would look amazing in the outdoors. Teens girls love experimenting with different colors and new outfits so definitely give this one a try. You can wear a plain orange tank top with white jeans or shorts. A matching orange bandana or hat would complete your look. Don't forget to wear some fun jewelry to make this outfit even cuter! Here are some Chic Summer Outfits For Teen Girls that you can take inspiration from.
↓ 19 – Tie Dye For Fun!
Tie-dye shirts are a classic that everybody loves. You can never go wrong with a tie-dye shirt. Try wearing one with jean shorts or sweatpants. You can also pair them with a cap to look even cooler. T-shirts are comfortable to wear and make a cute outfit too. You should always pack T-shirts for camping because they always come in handy.
via
↓ 18 – Chill Outfit
If you are somebody that likes to chill in sweatpants all the time then this is the outfit for you. Sweatpants keep you comfortable at all times so you can never go wrong with them. Try wearing a plain half sleeves top with a pair of matching sweatpants and then you can wear shoes of your choice, according to what you'll be doing that day. If you'll be hiking you would wear hiking boots, if you're just staying in then stay in slippers or just comfortable sneakers.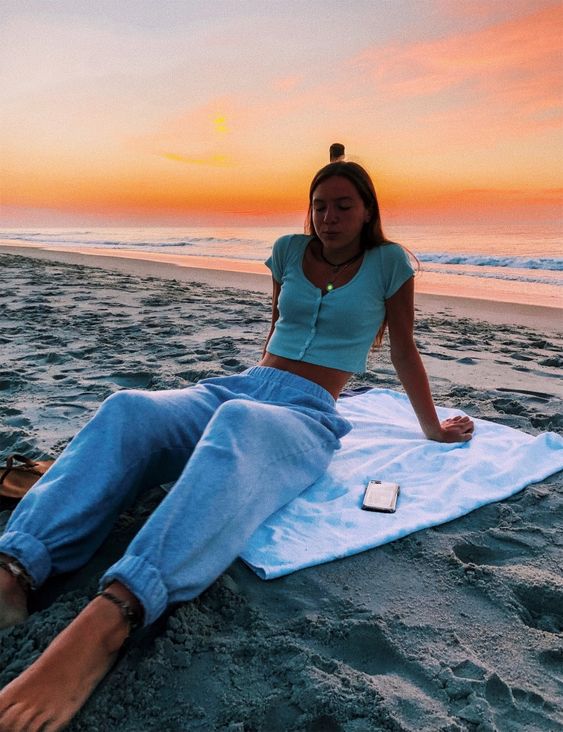 ↓ 17 – Dungaree Dress For Your Inner Child!
Dungaree dresses are fun and look super cute. Teens love to experiment so this is one outfit they would love. You can wear a dungaree dress with anything underneath it such as a t-shirt, a tank top, or even an oxford shirt. You can wear sneakers or boots under this outfit. A cap or sunhat would look nice and complete this outfit!
↓ 16 – Summer Dress
Teens can wear cool outfits to camping and rock them. We are sure if you're a teen reading this you would love to try this outfit out. This dress is stunning and paired with a mock neck full sleeves shirt under it, gives off a sporty chic vibe so if you're into that then you'll love this outfit. This look mixes sporty and fashion together. Pair this dress with some sneakers or boots and you'll have a perfect camping look.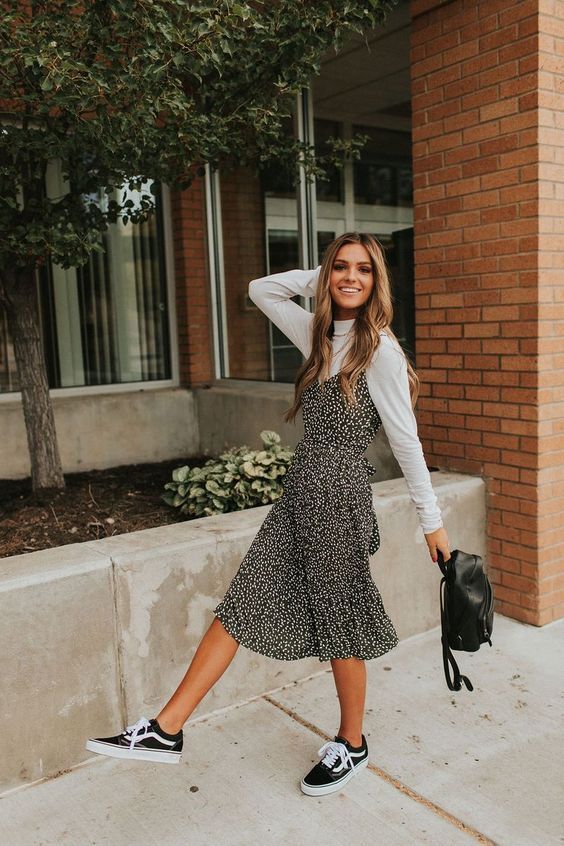 ↓ 15 – All White Angel!
Wearing white to a camping trip is a bit risky but if you can pull it off then it'll be the best. A plain white tank top paired with white jeans or white sweatpants would look really pretty. If you wear pearl necklaces with this white outfit then this look would be complete. Wear some funky sneakers with this outfit to bring some color to this look.
↓ 14 – Oversized Sweatshirts For Days!
Oversized sweatshirts are super comfortable and keep you warm too. You should pack tons of them for your camping trip. You can just wear an oversized sweatshirt with biker shorts and that will also be a complete outfit. This is a simple outfit for the days when you don't feel like getting ready. Pair this look with some sandals or boots. If you like this look, do go through these tips on styling Oversized Outfits.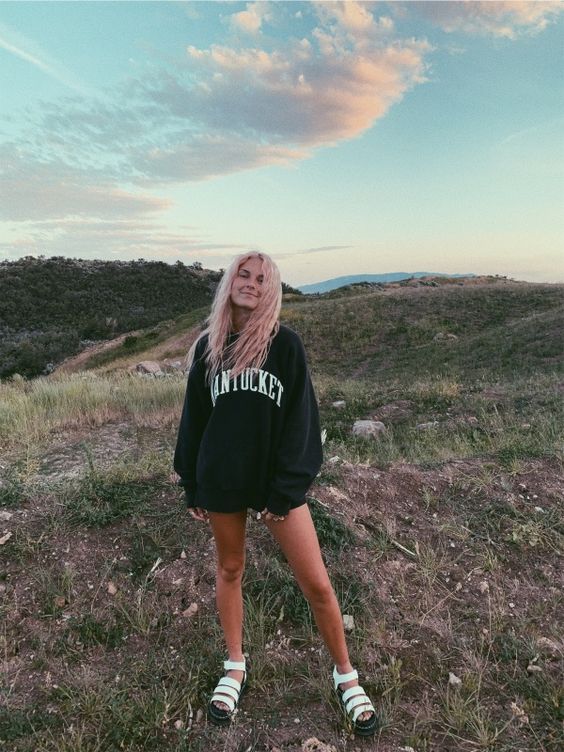 ↓ 13 – Simple Look
You can create an outfit with just a plain t-shirt and shorts. Some teens love to dress up and some prefer to keep their clothes simple and put more of their focus onto the environment they're in and enjoy it. So if you prefer to keep your outfits simpler then you should try this. Any plain t-shirt will look. Pair it with your most comfortable pair of shorts, a matching cap, and some sandals.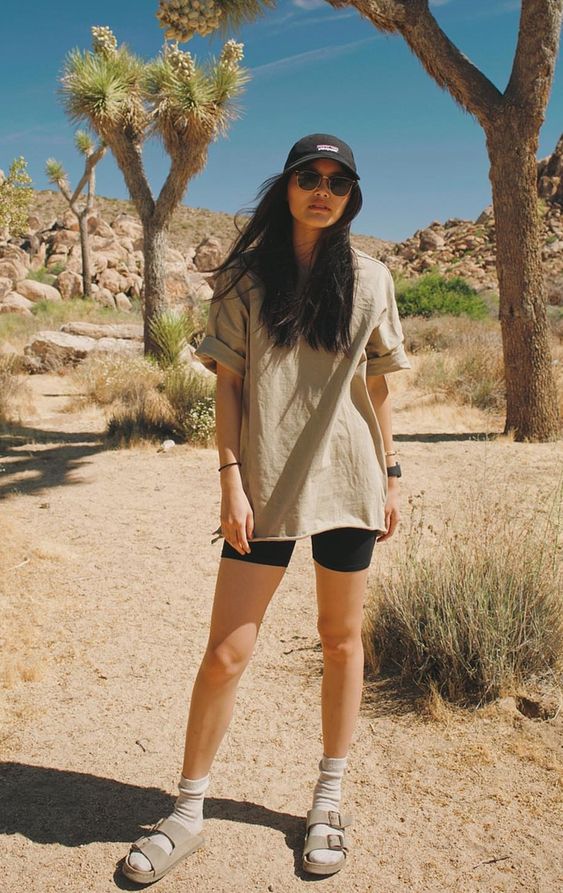 ↓ 12 – Perfect Camping Attire
An all-black outfit is always the best. You don't have to worry about it being stained and ruined. To keep things easy for yourself, wear a plain black t-shirt with black denim shorts. You can wear your favorite hiking boots or sneakers with this outfit and you will have a complete outfit for yourself.
↓ 11 – Graphic Tees
Graphic t-shirts are fun and stylish. You can wear them with just about anything. Pair one with shorts, jeans, or even sweatpants if you like. You can wear boots or sneakers with this outfit.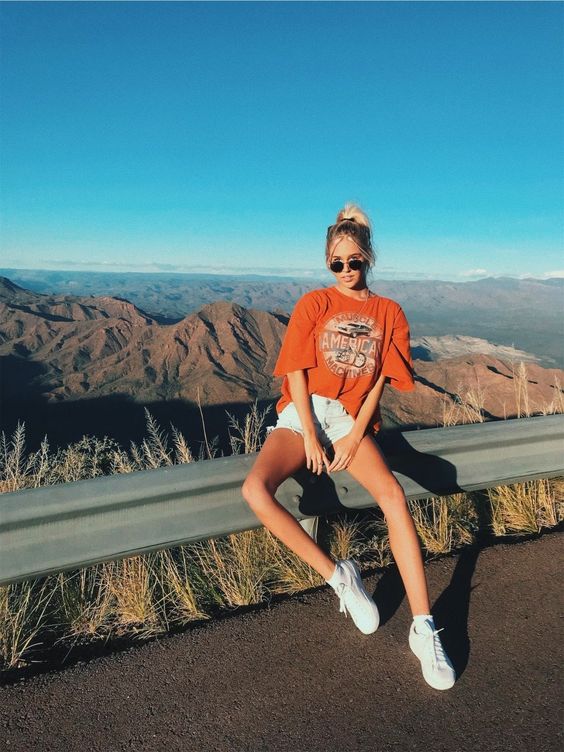 ↓ 10 – Sweaters With Skirts
Sweaters are the comfiest thing on earth. They keep you warm and cozy and come in millions of designs. You can easily pair a sweater with a cute skirt to make an easy outfit for yourself. You can wear this outfit with leggings as well to stay safe from insect bites. Pair it with your favorite hiking boots and you'll be good to go.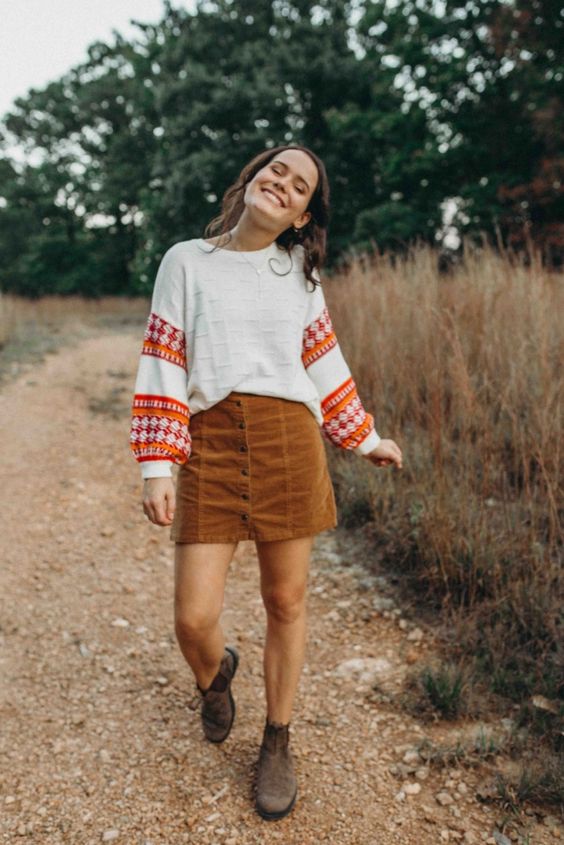 ↓ 9 – Polka Dots
Polka dots are a cute way to switch up your outfit. You can pair a casual t-shirt with a polka dot skirt to make your outfit look cuter. This outfit is super simple and easy to put together. It would be perfect for camping as it won't take long to put together either. You can wear it with sneakers, sandals, or boots. Pair this look with a baseball cap and it'll be the perfect mix of sporty and stylish.
↓ 8 – Stripes All Day Everyday!
Stripes are fun and colorful. They are an easy way to spice up your outfit. Try wearing this colorful striped crop top with a pair of denim jean shorts. You can wear your favorite pair of sneakers with this fit. Try wearing some cute jewelry to match your colorful top. Wear sunglasses to stay safe from the sun! here are some of my favorite Ways to Wear Striped Shirts.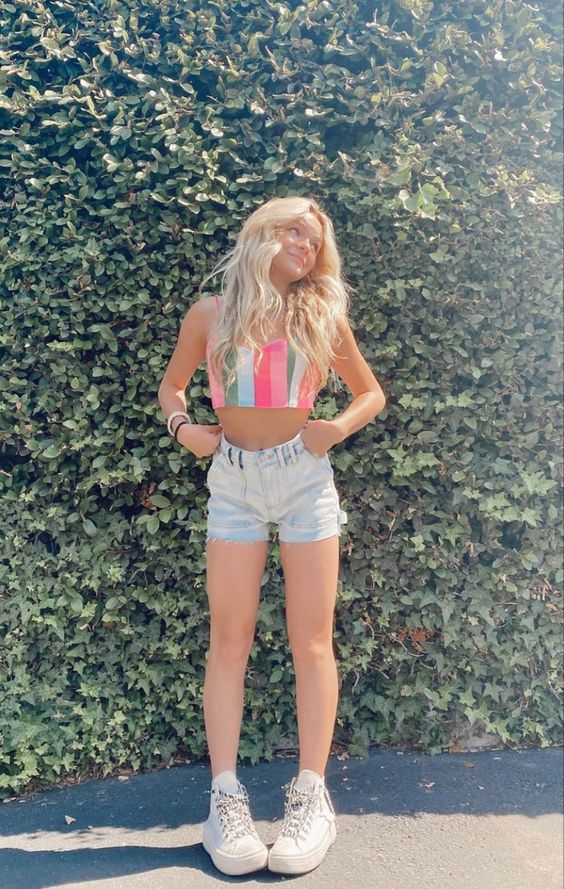 ↓ 7 – Yogi Fit!
This outfit looks super comfortable. Try wearing a tank top with some plain black sweat pants. Flannels are versatile pieces of clothing and look good with just about anything and everything. You can wear a flannel with this outfit and it can serve as a cover-up. Wear a cap to keep your hair out of the way and wear sandals or boots, whichever ones you like.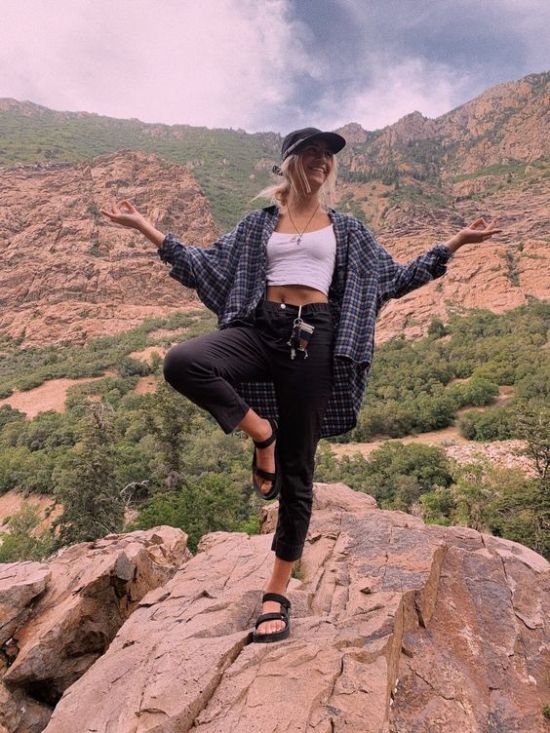 ↓ 6 – Plaid For Life!
Plaid shirts are so cool. Teens love to wear oversized plaid shirts or flannels. You should try wearing a plaid shirt with pants or sweatpants. These shirts are super cool and never fail to amaze. You will feel comfortable in them as well as chic.
↓ 5 – The Sophisticated Life!
If you like to dress a little more sophisticatedly then you might like this outfit. You can wear a plain white tank top with plain white pants or sweatpants. You can pair this fit with white sneakers. Take a sweater in a different color and tie it around your neck. Don't forget to wear your sunglasses and you will look amazing.
↓ 4 – Jeans Will Be Your Bestfriend!
Wear a crop top with a pair of blue denim jeans. This is a simple outfit that will take no time to put together. You can wear black boots with this look. A cute bucket hat would make this outfit chicer. Don't forget to carry your favorite handbag. Wear some hoop earrings to add some bling to this outfit!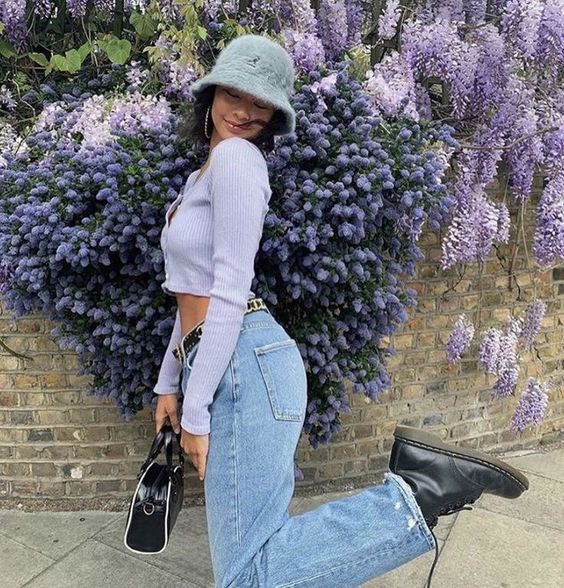 ↓ 3 – Grey Set
This grey set would be perfect for camping. This grey shirt and matching sweatpants look super cool and any teen would love this set. A flannel can be worn on top as a cover-up. This outfit is sporty and fun both at the same time. This look would be complete with a cap and some joggers.
↓ 2 – Brown Tones
This brown dungaree dress is super cool. You can pair it with a plain white shirt underneath or any other shirt you think looks good. You can pair a matching brown cap with this dress. Wear white sneakers with this outfit or hiking boots to complete this look. Here are some more fabulous Ways For Girls To Wear Dungarees.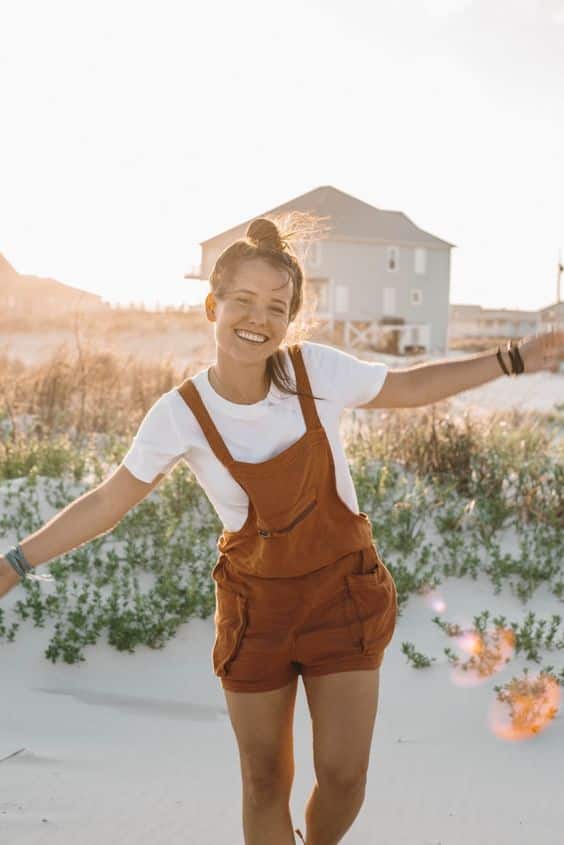 ↓ 1 – Oversized Fleece Shirts
It's always fun to wear oversized clothes. They are extremely comfortable and look cool most of the time. You can wear a plaid shirt with shorts underneath and some sneakers. Beanies are a super cute accessory and keep you warm. Wear some cool socks and wear your favorite sneakers with them. These shirts can also be worn to bed so they will serve as 2 outfits and you won't have to pack extra clothes.
Frequently Asked Questions
Q. What to pack for summer camp teenage girl?
A. There are a couple of things you need to make sure you keep. You will need to keep the most comfortable clothes but the ones that are also stylish. Keep matching sets mostly, sweatshirts, sweatpants, sweaters, socks, undergarments, and hats. Then you should pack a personal first aid kit that should have your menstrual products, personal hygiene products, and some medicines that you prefer to use. Don't forget to keep shoes that are comfortable. The rest is self-explanatory, keep your chargers, games, and anything else you want to keep.
I am a women's holistic health coach and student that enjoys history, experimenting with makeup and skincare, playing sports, working out, and doing all things adventure-related.