Resort vacation outfits: Packing for vacation might seem like a daunting job to most of us but it really doesn't have to be. It only depends on where you're going and the weather there, then it becomes easier to pack. We all want to make sure we look the best when on vacation. This article has the 20 best outfits to pack for a resort vacation so if that's where you're headed this year then look no further.
You would pack quite similarly for a resort vacation and for any other tropical vacation. Of course, first things first you will need to buy lots of bikinis (if you don't already own any). Buy them in lots of colors, designs, strappy, simple, and sexy. You would also need to make sure you have tons of cover-ups with bikinis. These cover-ups are the easiest way to make outfits when on vacation. You just throw on a cover-up with a new bikini every day and that would be an awesome outfit. Don't forget to pack a few dresses for the nights when you feel like or have to dress formally. Sandals will be your best friend on this vacation, they will keep you comfortable and looking stylish.
What To Wear On A Resort Vacation?
The easiest outfit to wear would be a bikini and a nice cover-up. That cover-up could be a mesh dress, mesh shirt, linen pants, a sheer robe, or anything else that would be perfect as a little weekend getaway outfit! You can make this super simple outfit into a formal one too just by throwing on a pair of heels with it and voila! You will have yourself a perfect resort vacation outfit, just don't forget to add some makeup and jewelry and you'll be good to go.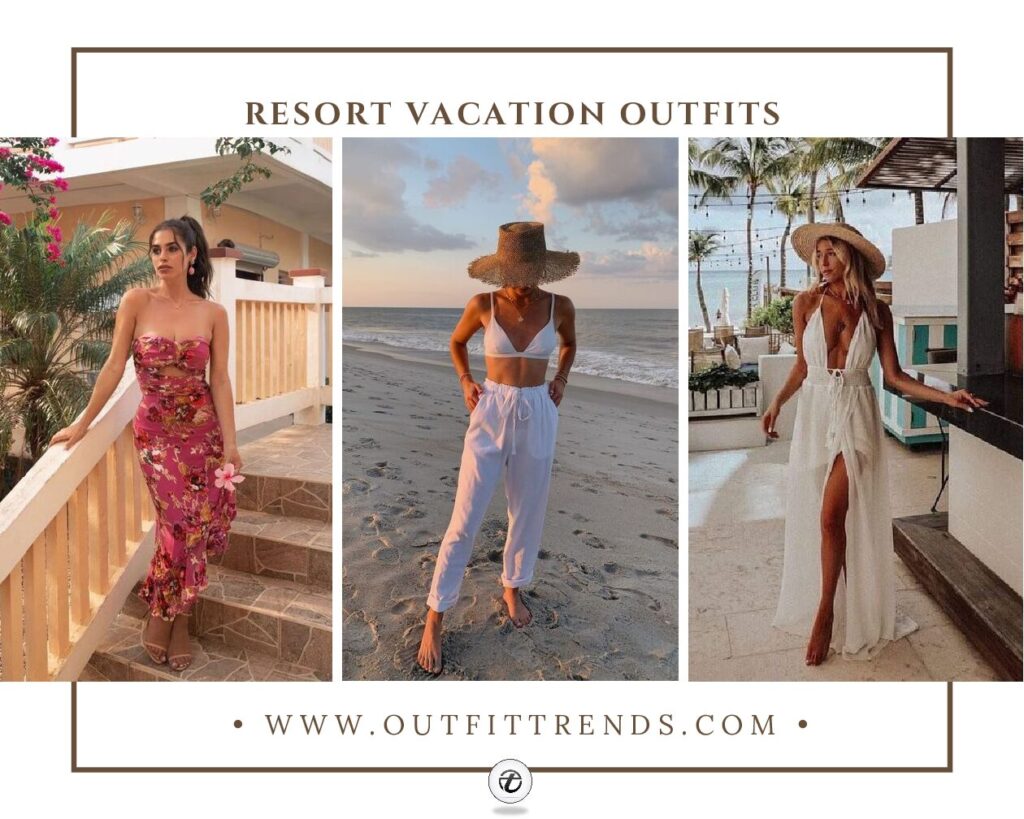 What to pack for a resort vacation:
• You must not forget to wear sunblock, not even at home and definitely not when you're on vacation.
• Always pack extra sandals/slippers in case the ones you are using break or you lose them. There will probably be shops there from where you can buy new ones but you never know.
• Always check the weather forecast and pack accordingly to that. You should pack warm clothes in case the weather changes and the same goes for colder places, pack cooler clothes as well just in case.
• Take an extra belt with you so you can use it with dresses or jumpsuits to make your outfit fit better and look cooler.
• There is a slight chance that you might not be able to iron your clothes when on vacation so try to pack clothes that won't need to be ironed. This will make things easier for you by reducing a lot of hassle.
↓ 20 – Linen Pants For Days!
Summer calls for funky bikinis and even funkier cover-ups. You will need bikini coverups for vacations because they come in handy. An easy cover-up is a pair of linen pants. You can wear them with any bikini and it will make a cute outfit to wear by the pool or the beach. You can add some accessories to this outfit to make it look even cooler. These outfits are best for the summertime and vacations because they are easy to put together and don't take up much space in your suitcase either. Here are some more Ideas on How To Wear Linen Pants.
via
↓ 19 – Floral For The Divas!
Are you somebody that prefers to go full glam even on vacation? Such as wearing a floral dress along with heels on a resort vacation? then this is the outfit for you. Florals look stunning especially when you are on vacation on an island. This peach and pastel blue floral a-line dress is the perfect one for a nice semi-formal look. You can wear heels or sandals with this dress, whichever one you are more comfortable in. Don't forget to wear some jewelry with this look as it will add to the beauty of this dress.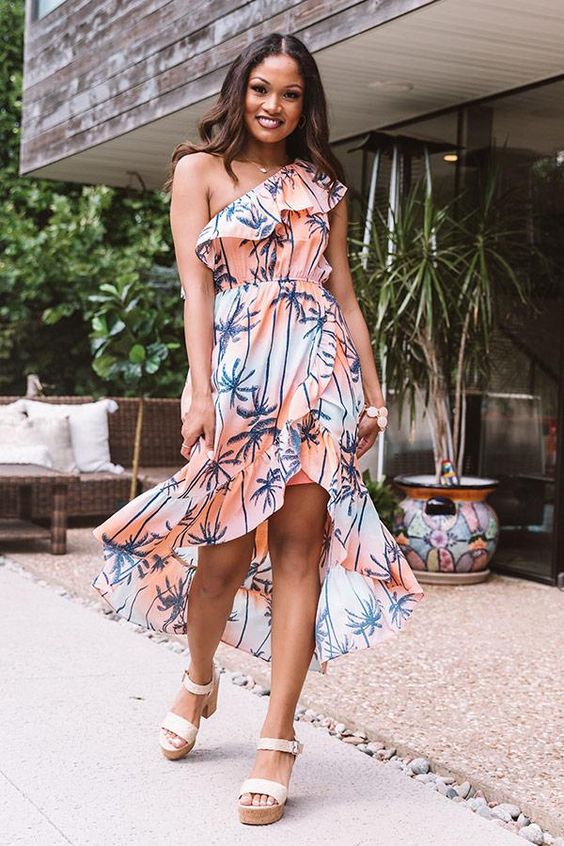 ↓ 18 – Bikini Outfit
Bikinis are the highlight of a vacation, right? Don't we all want to stay in a bikini all day? But unfortunately, we can't. That is where cover-ups come in. A sheer robe can be worn on top of a bikini with a sunhat to make it an actual resort vacation outfit. Seems like we're joking but this is an actual outfit. Try it for yourself and don't forget to wear a cute pair of sunglasses!
↓ 17 – Fairytale Backless Dress
Dresses made of comfortable and light fabric will be your bestfriend when on a vacation in a tropical place. You will need outfits that are comfortable and airy. Backless dresses are stunning and they also help you achieve that full tan which if impossible otherwise. This gorgeous blue and white polka dot dress looks like a dream! Try wearing this dress with matching heels or just sandals.
via
↓ 16 – Pink Beach Set
Vibrant colored set are quite the trend these days. These sets can last you a long time and be one of the coolest outfits you'll ever own. This pink matching knotted blouse and pants set is gorgeous. You can wear this set with heels, sandals or sneakers. Heels would look the best with this outfit as it is more on the formal side. Wear earrings in a contrasting color to spice up your outfit. A straw bag will really make this outfit a style statement.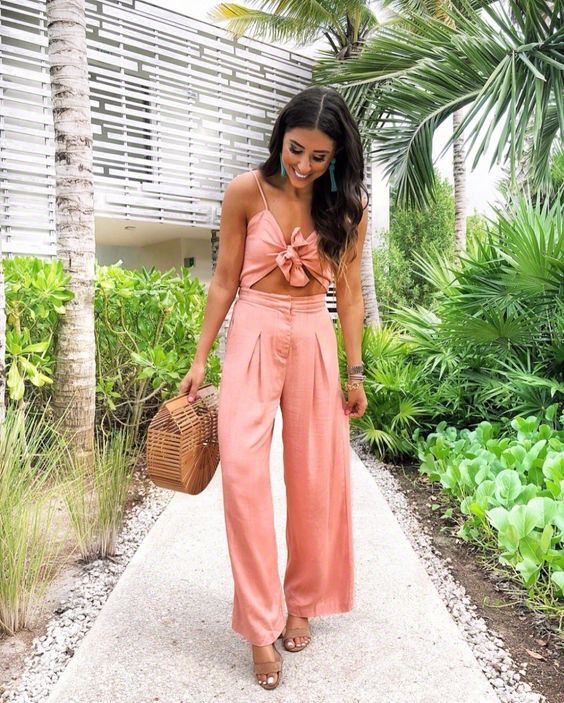 ↓ 15 – Long Skirts Are Back!
Long skirts were in trend for a long time then they went out of fashion. We believe they are attempting to make a comeback again and we are here for it! You can wear long skirts with anything such as T-shirts, crop tops, tank tops, and even bikinis. For a resort vacation, a bikini would be the most suitable option. Wear a sexy bikini and pair it with a long skirt and a sun hat to stay safe from the raging heat!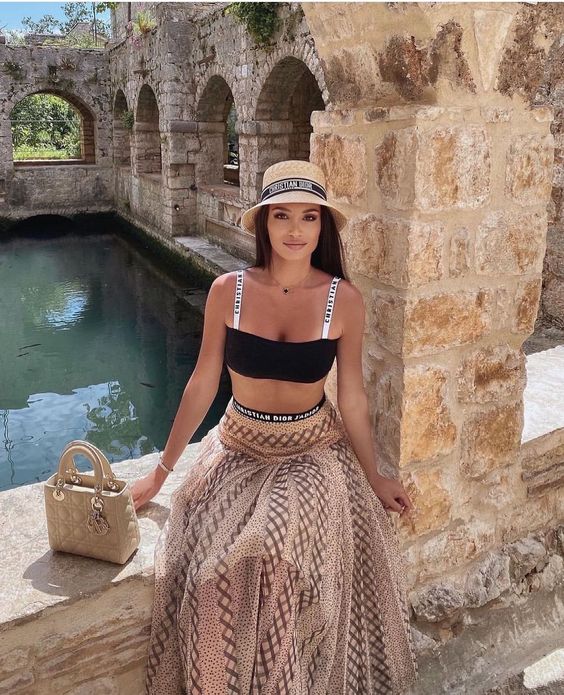 ↓ 14 – Polka Dots For Vintage Lovers!
Polka dots will never get old and we will never get enough of them. This black and white polka set is super cute. You will not regret wearing this outfit. It is summery and eye-catching. This outfit will keep you comfortable by the pool and the beach. You can wear sandals with this outfit to stay comfortable or pair it with heels if you want to spice up your outfit.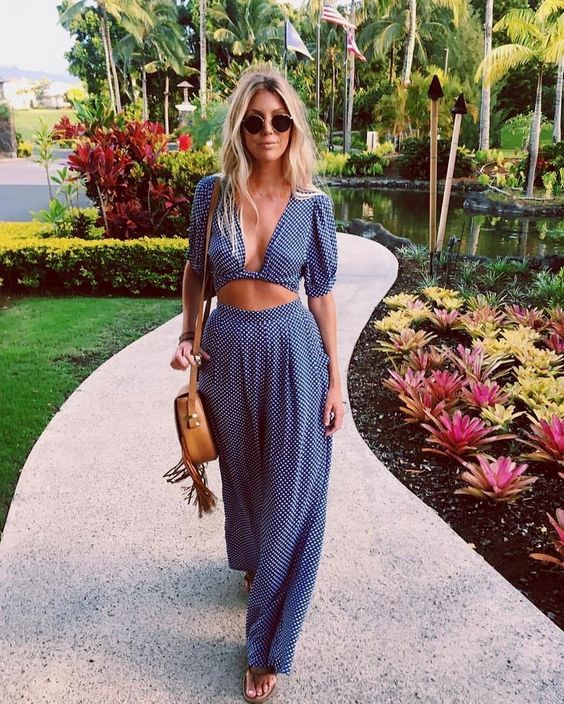 ↓ 13 – Net Top
Net tops are the best because you can pair them with anything you like. This nettop is in a neutral tone which means you can wear any color underneath it and it will still look good. You can wear with top with linen pants, jeans or shorts. Such tops are perfect for the beach or to wear by the pool because they are easy to remove if you need to take a dip in the pool or ocean. Here are some more tips on How to Wear Sheer & See-Through Outfits.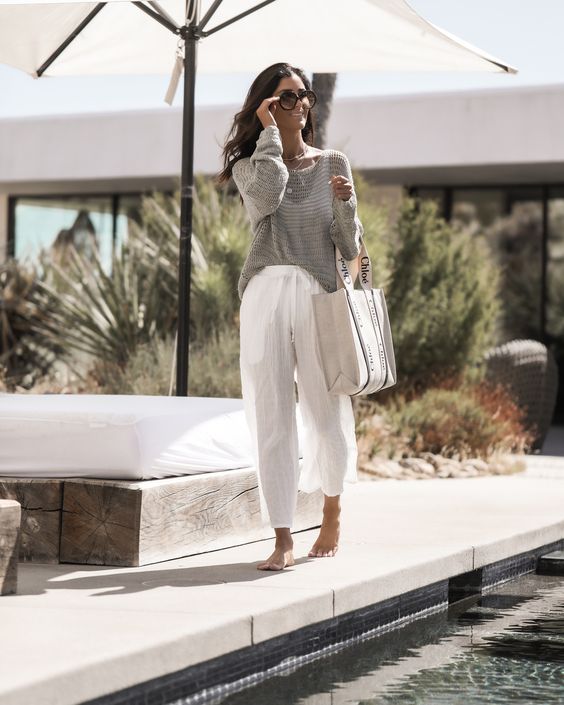 ↓ 12 – For The Ones That Love Color!
You can never go wrong with a brightly colored outfit, can you? This red bell sleeve off-shoulder dress is gorgeous beyond words. This dress would look gorgeous paired with matching red heels. You can wear chunky jewelry with this outfit to make it look chicer than it already it. Where ever you go wearing this dress, you will be turning heads. Dont forget to wear a stunning pair of sunglasses to complete this look!
↓ 11 – Dress Fever!
Dresses are the easiest way to make a fashion statement. You can wear such dresses on vacation without putting in alot of effort and still look the best. This stunning pink floral dress is bound to get you all the attention. You can pair this dress with pink or nude heels. Matching pink jewelry would look super cute. If you put your hair up in a bun or a pony, you will be saved from the heat as well as look cool in a different hairstyle.
↓ 10 – Black And Pink
This combination of black and pink floral is beyond words. A black tube top will go really well with a pink floral wrap-around skirt. You can wear heels with this outfit if you have to wear it to a beach party or birthday otherwise you can keep it casual with some slippers or sandals. Some tinted shades will make this outfit even cooler. Lastly, don't forget to rock some chunky chains because they will add some spice to your outfit. Here are some more Ideas On How to Wear Wrap Skirts.
↓ 9 – Jumpsuits
Jumpsuits are an item of clothing that are slept on. We don't realize how good jumpsuits can look until we see someone rocking a jumpsuit and we realize we should also get one. This beige one-arm jumpsuit is perfect for the summer. This outfit will be easy to wear and keep you comfortable. You can wear heels to make this outfit more formal or just wear sandals and keep it chill.
↓ 8 – Leafy Prints!
Rompers are super cute and comfortable. Everyone needs to own a romper because they are one of the easiest and prettiest outfits. They require zero to no effort and you still look stunning. This romper in a green leafy print looks amazing and matches the background perfectly. You should definitely pack such prints if you are going on a tropical vacation.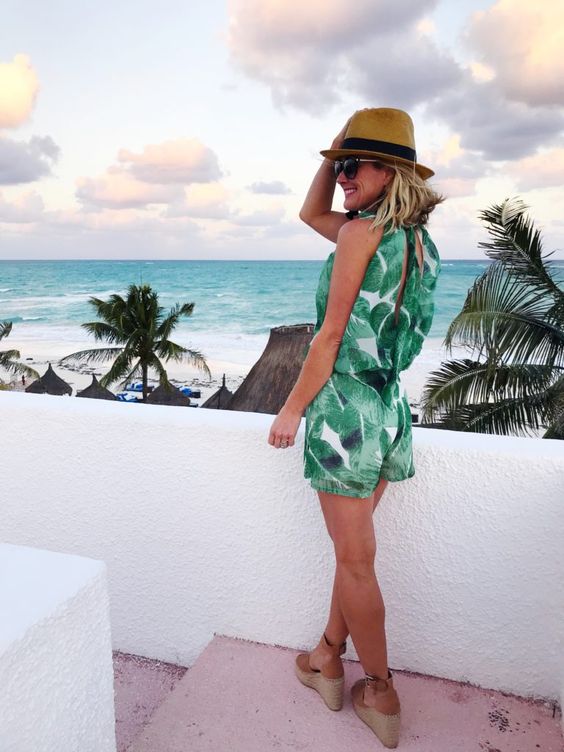 ↓ 7 – Orange Floral Set
This orange color is so gorgeous anybody would fall in this outfit at first sight. You do not want to miss this outfit! Grab and make it yours because it will look amazing. The floral print is beyond words and the slit skirt is super sexy. You should try wearing gladiator sandals with these skirts because they will really bring out the sexiness of this outfit. Tie your hair up in a bun to show off the stunning print on the blouse.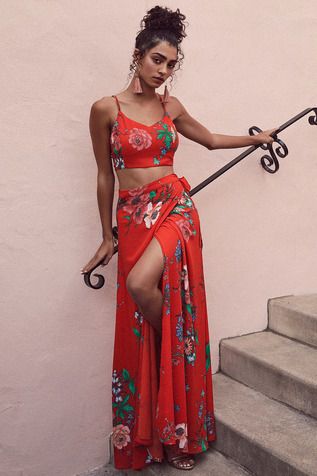 ↓ 6 – Bold Stripes All Day Everyday!
This red and white striped dress looks just like candy! This dress would be perfect for a vacation or valentines day. You can wear this dress with white or nude sandals or matching heels. This dress will not fail you and will look good no matter what. Try a sleeked-back hairstyle with this dress to make it look even more stunning.
↓ 5 – White On White
White is one of those colors that will look good no matter what. A white bikini top will look gorgeous will matching white pants. You can wear this outfit to the beach or just chill near your hotel. Don't forget a straw hat because they are essential when on vacation.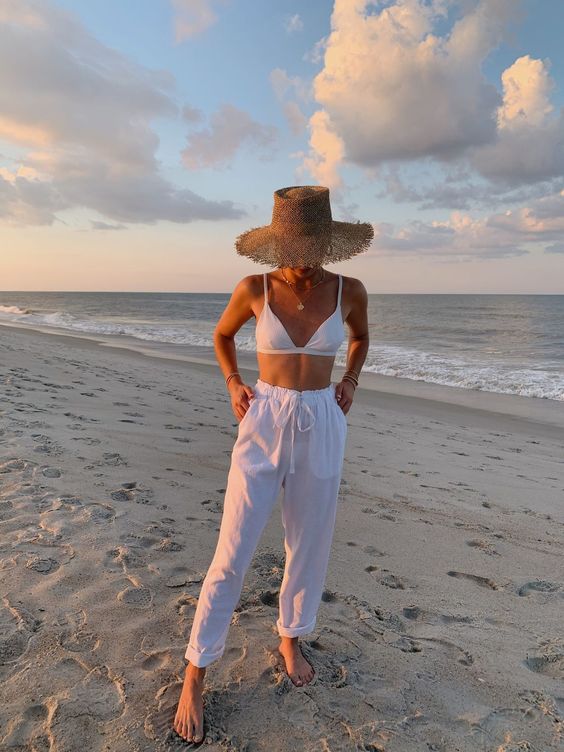 ↓ 4 – Nude Beach Sets
Sets like this are ones we don't mind buying no matter the price. This nude set is gorgeous. The tube top and matching long skirt are even sexier. The bag is also super unique. You are definitely going to get tons of compliments on this outfit if you decide to wear it. You can pair this outfit with heels to wear it to a formal event.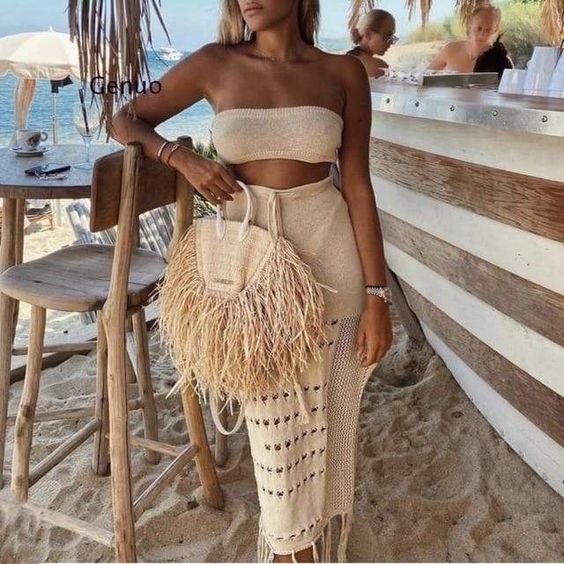 ↓ 3 – Black For A Night Out!
Don't we all need the perfect black outfit for a night out? This one might just be the one you choose. This matching blouse and skirt look gorgeous in the night light. There are lots of ways you can wear this outfit, with black heels, sandals or sneakers and if you want to take a dip in the pool afterward then you can wear a bikini under this outfit. Bold makeup would look amazing with this outfit. Here are some more Ideas on How to Wear the Little Black Dress.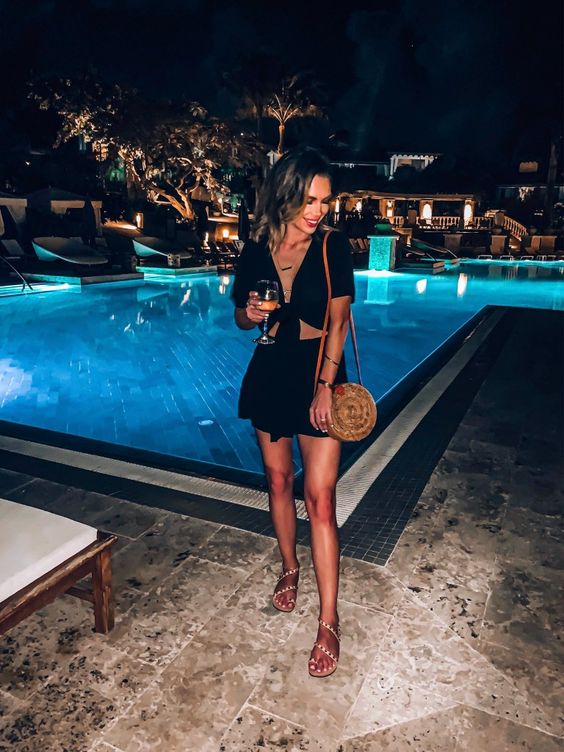 ↓ 2 – Printed Shorts Look
A pair of cool shorts can completely chnge your outfit. This outfit seems super simple but the shorts have a leafy print on them and are colorful so they have completely changed the look of this fit. The white tanktop goes perfectly well with these shorts. This outfit wont take alot of effort so if you are somebody that doesnt like putting alot of effort into their outfits but still want to look good, then you should try this outfit. A sunhat and sunglasses are a must for a resort vacation!
via
↓ 1 – Beauty In White!
This exquisite mesh slit dress seems like the perfect outfit for a resort vacation. This outfit is sexy and chic both at the same time. There is no way you could go wrong with this outfit. You can pair a straw hat with this dress to complete the look. White sandals would go perfectly well with this outfit. You can wear this outfit to a beach party or just to chill by the pool.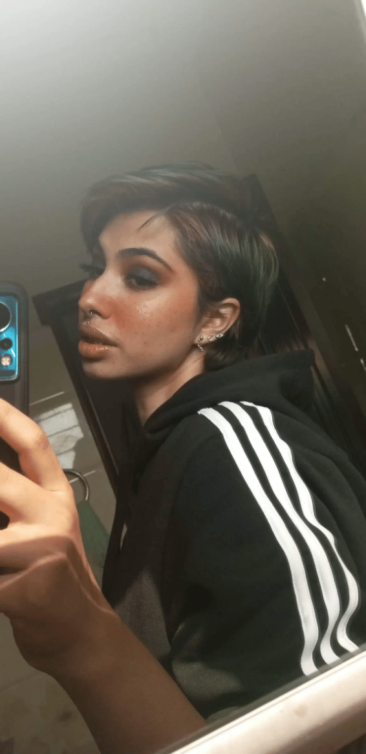 I am a women's holistic health coach and student that enjoys history, experimenting with makeup and skincare, playing sports, working out, and doing all things adventure-related.