Ramadan Outfit Ideas: The blessed month of Ramadan is finally here! Not only is it a great time to pray and ask for all that your heart desires, but it is the time to enjoy the special meal of suhoor and Iftar. But apart from all this, have you decided upon the various outfits that you will be wearing this Ramadan? We have been researching some great options for you.
While the excitement and anticipation of delicious and blessed Iftaar parties and dinner with friends and family lies ahead, it is quite a difficult task to create different looks in Ramzan. So to solve all your queries whether you are Muslim or not, we have compiled a great list of all the many options that you can try this year in all the different events waiting for you!
What To Wear in Ramadan?
Here are a few important details that you have to keep in mind:
Displaying of skin and tight clothing is a strict no-no for this month.
Opt for flowy fabrics and dresses for daytime wear.
Keep kimonos and abaya along with long cardigans for layering.
Accessorizing is the key while going for Iftaar parties.
Keep the choice of footwear simple and classy and don't opt for uncomfortable footwear
Whether you decide to wear hijab or not is completely your choice
Try new hijab styles for Ramadan Parties
↓ 30. Straight Legged Trouser With Kurtis
Straight trousers are so easy to style and even if you just have a single white trouser, you can wear it with a number of different shirts and create a new look for every iftar. Social media influencer, an MD and an incredibly talented woman Hina J. Cheema proves our point here. For more inspiration, here are some Pakistani beauty bloggers that you should follow to stay updated about the latest fashion & beauty trends.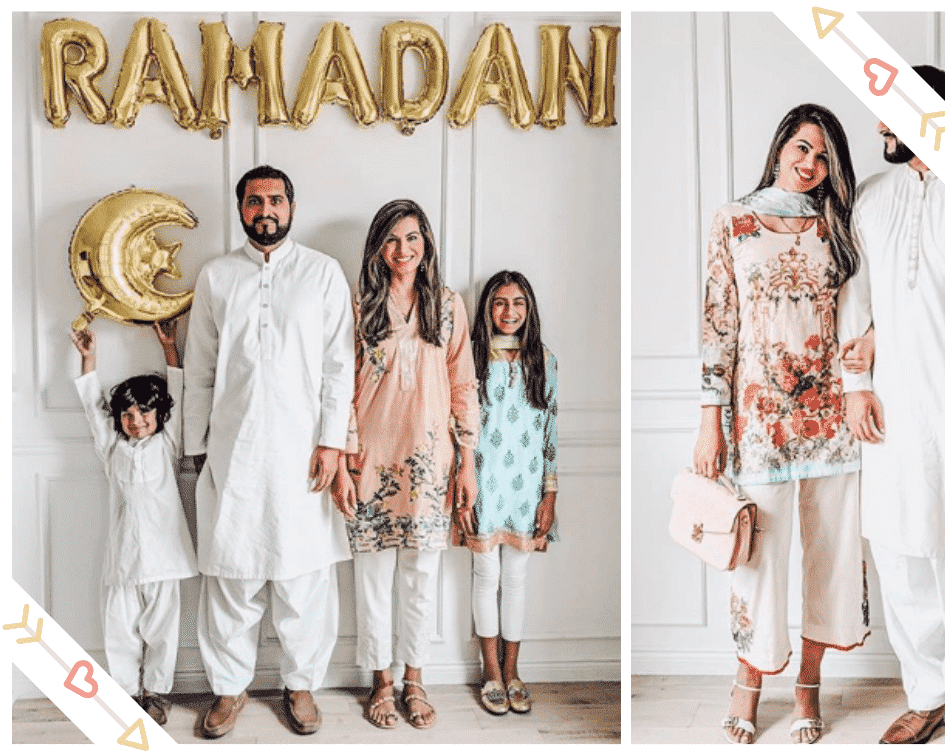 ↓ 29. Ethnic Iftaar Outfits for Ladies
So what are you thinking to wear this Ramadan? Are you a fan of vivacious prints and bold colors? Here are a few great options that you can go for:
Go regal in black with this cute black and gold ethnic dress that you can get here.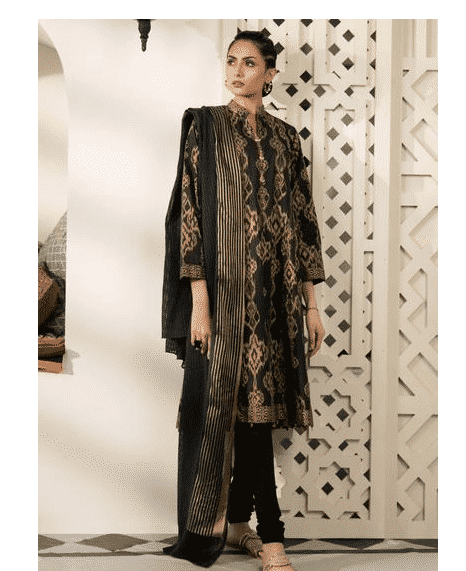 If you are a lover of Kurtis to pair up with your denim or simple trousers, we recommend this trendy bohemian vibe kurti that you can get here.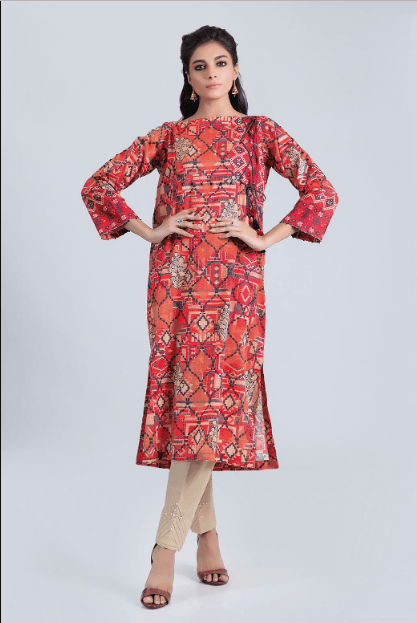 Here's another gorgeous outfit from Pakistani brand Sapphire's latest collection.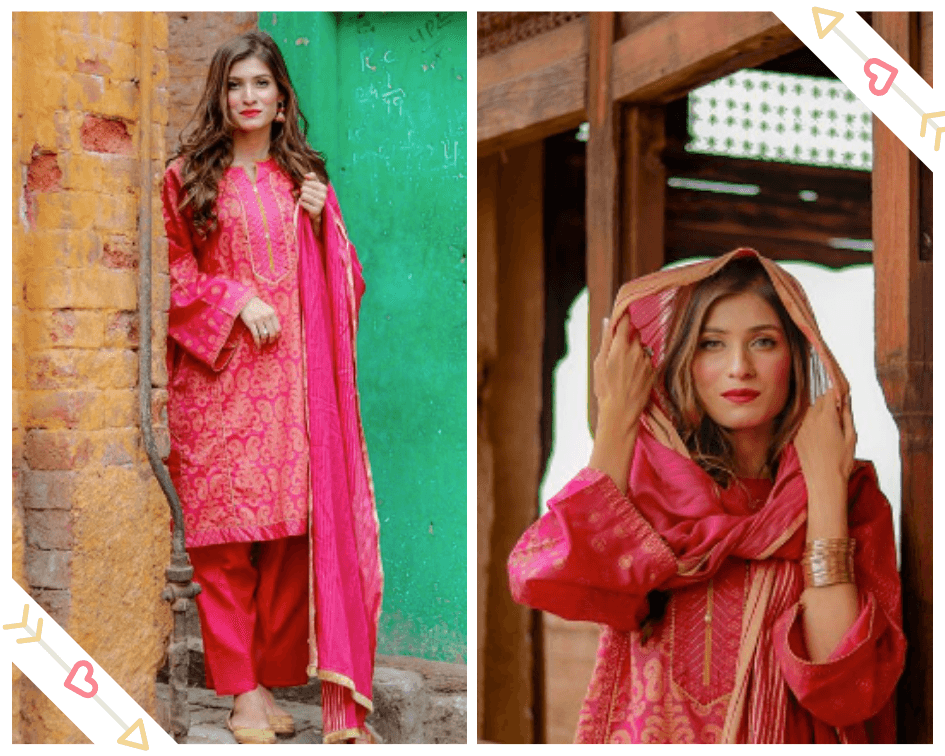 ↓ 28. The Beauty in Embracing White Outfits
It would be an understatement to say that white is quite popular this time around so why not embrace it in Ramzan too. There are quite a few options that you can go with while wearing white.
You can find this outfit here with vibrant colored embroidery that gives you an ethereal look.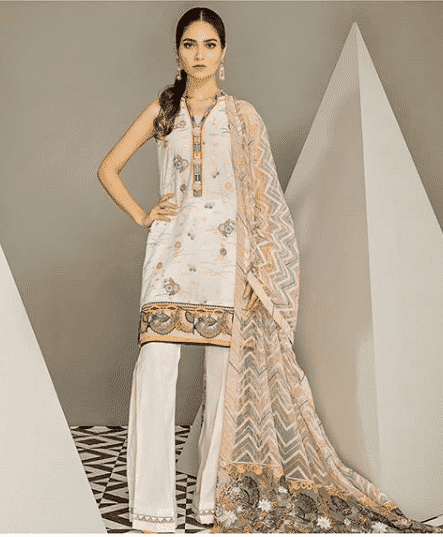 If you are a fan of florals, then you will surely not be able to resist this one that you can get here.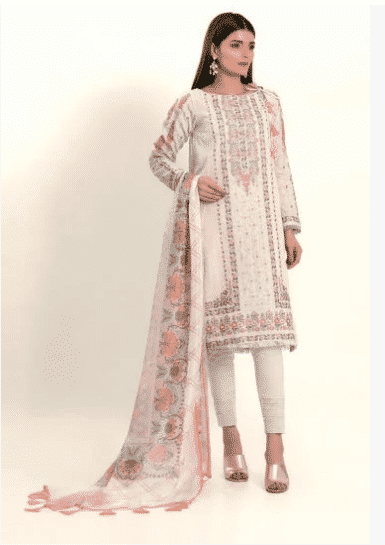 ↓ 27. What To Wear When Hosting An Iftar Party At Home
We love the idea of sharing happiness in Ramadan by decorating our homes and hosting iftar parties. When hosting an Iftar, you would want to wear something casual but comfortable so you can easily manage everything that needs to be done. It doesn't make sense to wear high heels or go overboard with your outfit, so wear your favorite flat shoes and keep your outfit effortlessly chic. But at the same time, dressing well is important because being the host you're going to be the center of attention and because it's just so much fun. We love these two looks of blogger Leena because they'll ensure all-day comfort and because adding some white element in your outfit is such a Ramadan-ish thing. If you haven't worn your white pants in a long time, it's definitely time to take them out and for some great ideas, you can check out these 10 Outfit Ideas with White Wide-Leg Pants.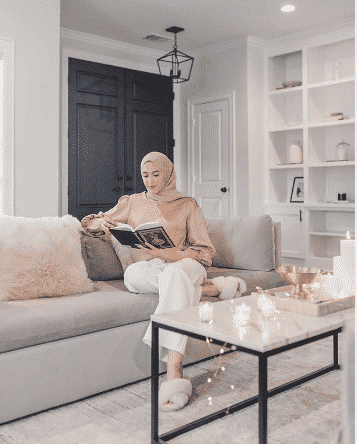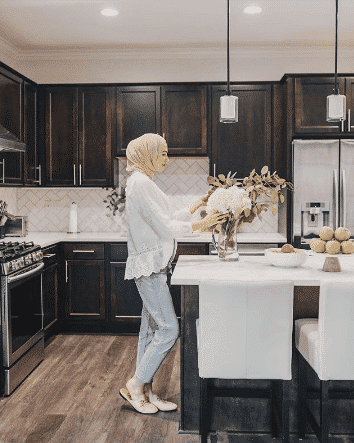 ↓ 26. How To Dress For Weekend Iftar Parties
If you're experiencing hot weather during Ramadan then pastel colors and two-piece outfits should be your top choice. The two-piece ensures comfort while the soft pastel colors look great on any hot day. We're loving the Jasmine vibes that this outfit gives and you can buy it here for £40.00.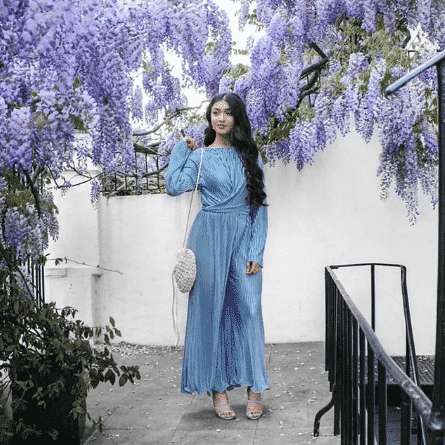 ↓ 25. What are some Flowy Outfits to Beat the Heat in Ramadan?
For most of us, Ramadan comes in stifling heat. The breeze is no longer flowing and the sun is beating down on our head. In such a time, there is always a great need for dresses that are flowy and whimsical and would let the air pass, so you won't get overly sweaty. Fabric and the cut of the dress are an important factor. Go with linen and cotton sundresses or tunics with loose-fitting pants, that won't cause you to feel any more heat. For daytime and Iftaar parties or Ramadan Brunches, go with lighter and pastel shades along with one statement piece like a jacket or a blazer that you can casually drape on your shoulder.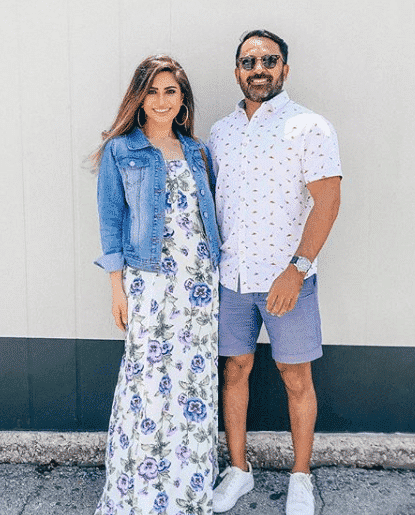 Flowy maxis like these are not just great for Ramadan but you can also wear them on Eid. Bonus points if you can find one with embroidery. They are also perfect for women who're expecting as they make the most comfortable maternity wear.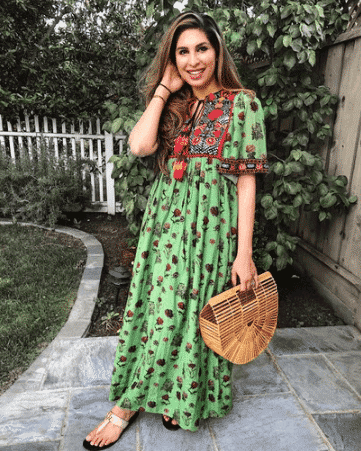 ↓ 24. Going for Stripes
Your wardrobe is incomplete without the current trend of stripes ready to be worn in Ramadan. Have at least one striped piece that you can easily pair up with others to create a sophisticated look. You can wear a plain white tunic with striped trousers or go with a striped top and plain trousers or skirt. If you love wearing scarves, match your scarf with the color of stripes you will be wearing. Pair up this look with a pearl bracelet and cute wedges.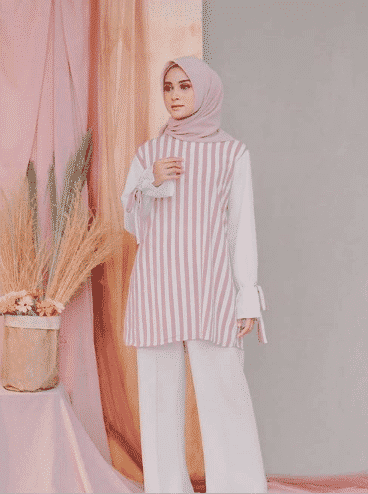 Via
Shop the Look here:Pink Striped Tunic $ 348Plain White Trousers $94
↓ 23. Unconventional Printed Blazer and Pants
Tired of all the typical dressing options available for wearing in Ramzan? We have got your back. In researching for some great Ramadan looks, we came upon this unconventional style of blazer and pants. The fabric is perfect for wearing to Iftaar parties or Dinner with friends, and you can dress up this look with the right accessories and a vibrant scarf. Since the dress is so vibrant, go with either transparent heels or beige footwear to create the perfect persona.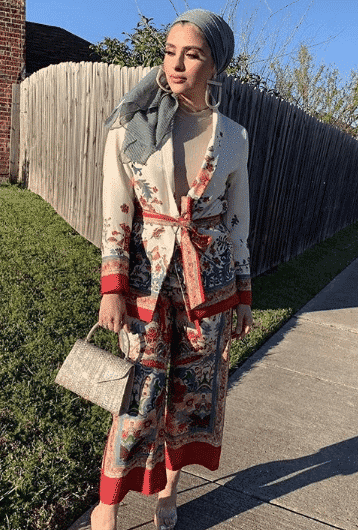 Shop the Look here:Matching Blazer Suit $ 77
↓ 22. How to Wear Tulle or Sheer Skirt
Did you ever think that sheer or tulle skirt could actually be a part of your outfits for Ramadan? Well, thanks to our amazing contemporary fashion bloggers, you can now add a layer of tulle or sheer skirt successfully to your outfits. Not only will this create a great layering piece but you can also easily pack it with you while traveling. You can pair it with long maxi dresses or high-waisted skirts for an elegant silhouette. This look would be great to wear in Dubai in Ramadan.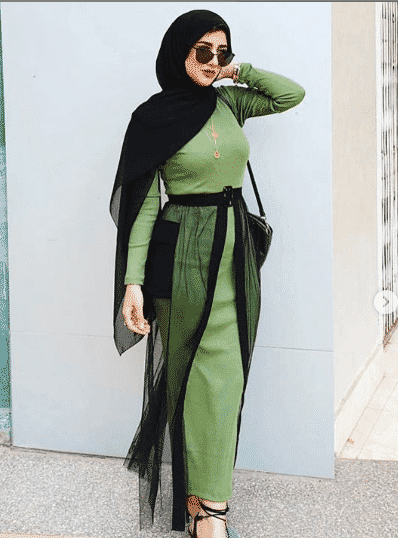 Via
If you're into wearing sheer outfits, here's another great Ramadan look. Simply wear a sheer dress over a solid colored slip dress, choose bottoms of your choice and add a nude colored scarf or hijab.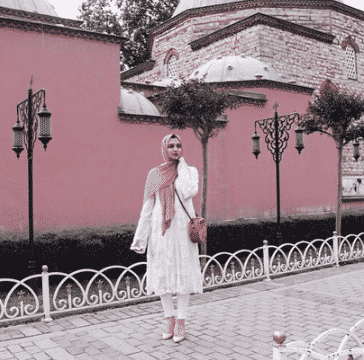 ↓ 21. Casual Ramadan Look
For days where you find yourself to be exhausted and want to quickly change into something comfortable after returning from work or are just planning on going to a casual get together, your best bet is a white tunic. There are many available variations of white tunic going around in the world, ranging from printed floral ones to embroidered, eyelets and pompom and tassels embellished ones. Simply pair it up with a bright colored scarf and your favorite pair of jeans to get your swag on!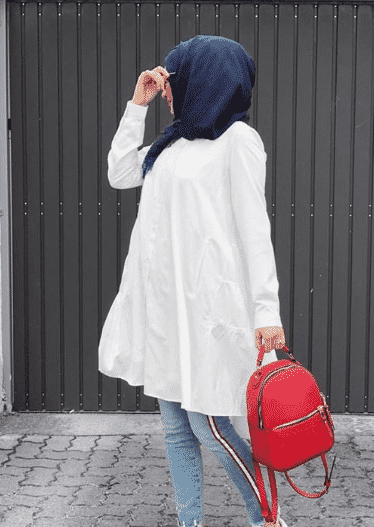 Via
↓ 20. Color Block Dresses
Color blocking is all the rage this time around and you have to try a cleverly crafted color block outfit this Ramzan. It brings out the best of your features and can help you look effortless without much ado. Whether you are a fan of bright hues or pastels, you will find a great dress matching your taste easily. With a color block dress, go with simple white denim trousers to bring out all the beautiful colors in your tunic or dress. Do check out these 20 Tips On Choosing The Right Hijab For All Skin Tones.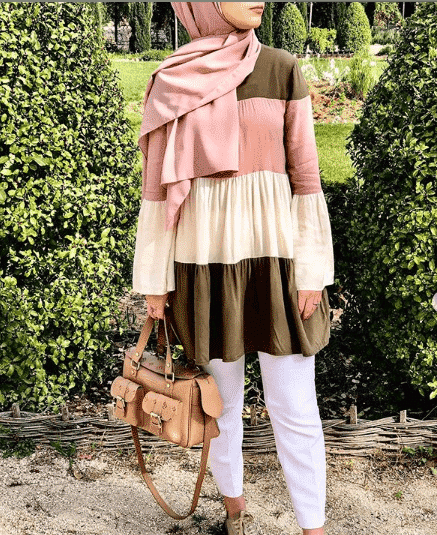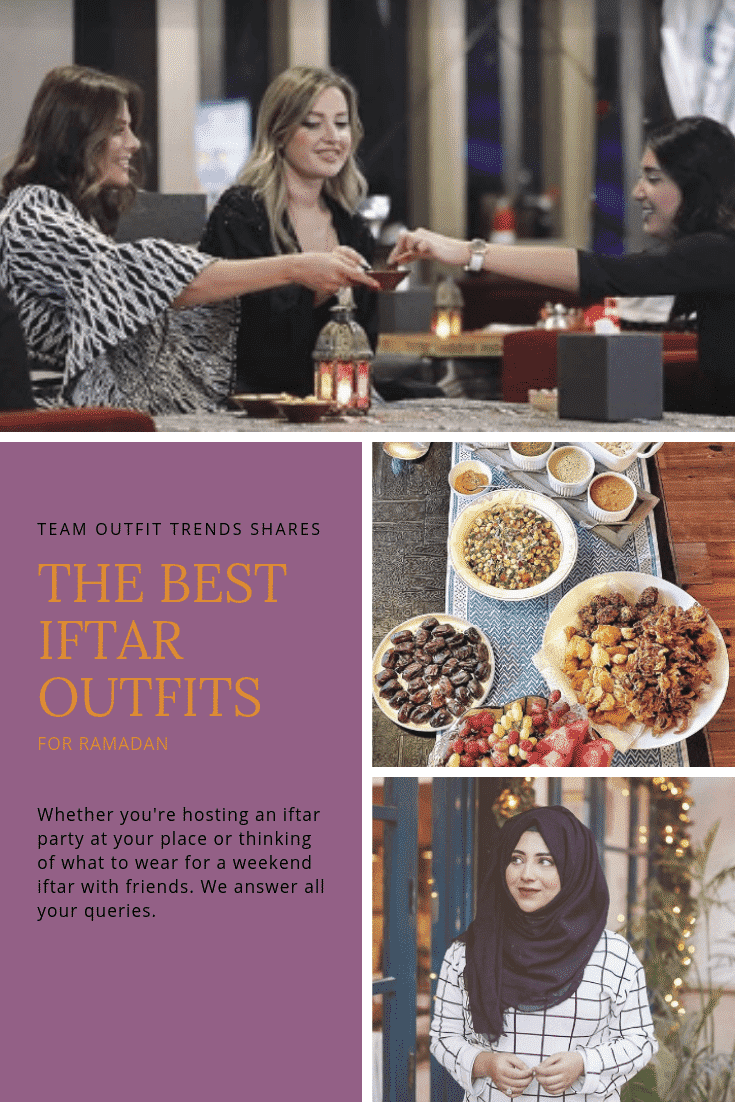 ↓ 19. Tiered Ruffle Dress
Bring on your feminine power with a gorgeous pink tiered ruffle maxi dress. What could be more amazing than this dress, and every movement in this is pure magic and it adheres to any dress code restrictions in Ramadan.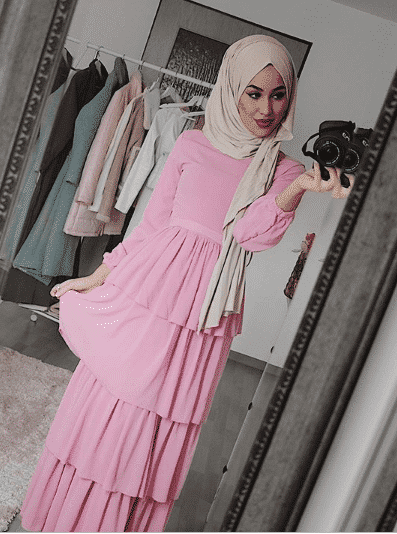 ↓ 18. How to Dress Up as Non-muslim For Iftaar Invitation
Often people from other faiths and different non-muslims face the dilemma of what to wear to an Iftaar party they have been invited to. Well, the trick to dressing up is being modest and avoiding any tight-fitting clothes showing off part of your body in Ramzan. Go with midi or long length skirts and a nice top or with tunics and jeans. You can wear a scarf on your head in a fashionable turban style to complete your outfit if you prefer this sweet gesture.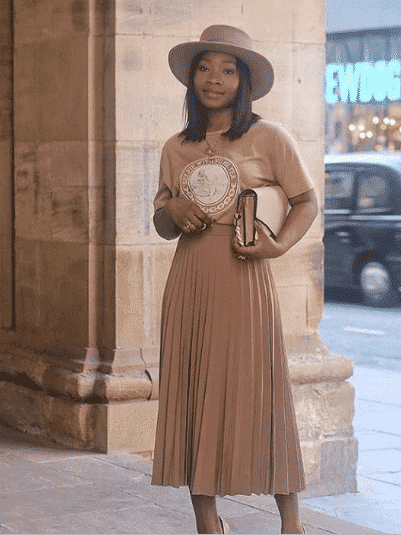 ↓ 17. How to Dress Up in Traditional Outfits During Ramzan?
Whether you are a local or a tourist, it is always fun to dress up in your traditional outfits by adding your own styling to it. In Pakistan and India, you can opt for a traditional shalwar kameez or churidar pajama which is like a skinny jeans version of trousers. For Dubai and Saudi Arabia, wearing Jalabiya or kaftans is pretty common and tourists should definitely indulge in this popular choice. For Turkey, the traditional dress is a long dress which is fitted above the waist with or without Harem Pants. So for each country, you belong to or are visiting, try these amazing dresses for change in Ramzan.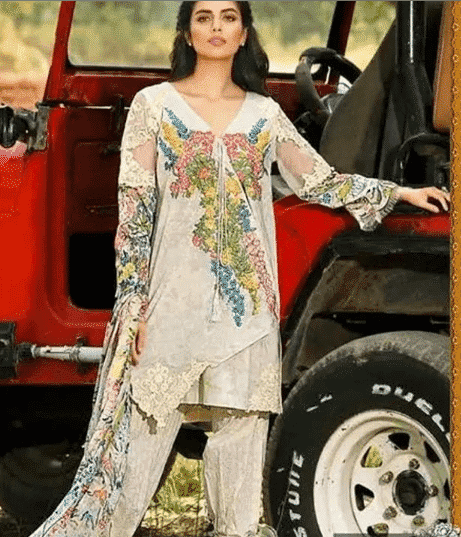 ↓ 16. What to wear to Work?
For work, we advise that keep it professional yet comfortable. Already, going to work is not an easy feat in Ramzan because you feel drained or exhausted at most times. Line up your dresses in advance so that you won't feel tensed at the last moment. Keep a few tunics and trousers combinations along with dresses to go with. You can also carry different styles of formal looking kaftans for office wear according to your culture.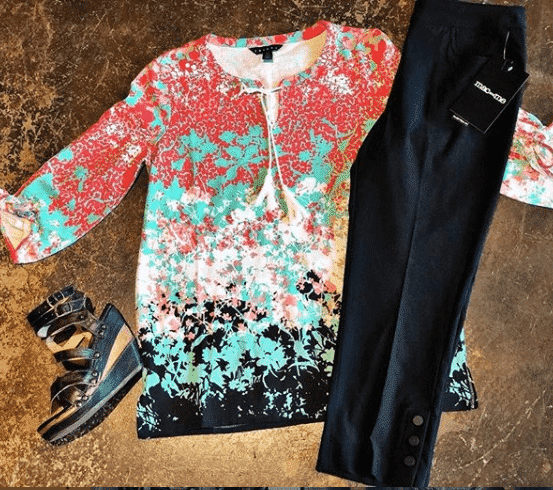 For a simple but significant desi Ramadan look that you can wear for work, try pairing a bright dupatta with any of your plain white suits. You'll be literally glowing all day long!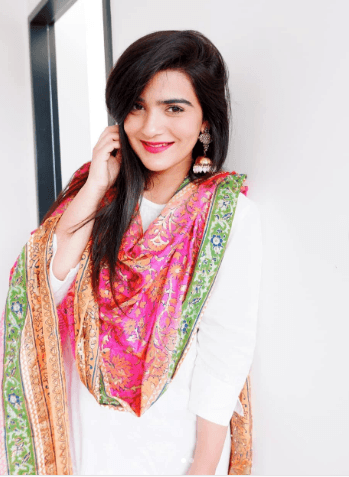 ↓ 15. What Should You Wear in Ramadan during Traveling?
Have you planned your trip to an Islamic country in Ramadan? Are you stressed about your clothing options? Well, don't be. While visiting any country in Ramadan, the basic thing to remember is that in respect of Ramazan, while going out in public places, you have to wear dresses covering your body. However, while in your hotel or resort, you can dress according to your will. So keep a few long flowy dresses, a couple of kaftans and kimonos and some typical jeans/Trouser and shirt options with you. Harem pants or palazzo are a safe bet whilst traveling. You can keep a few different pieces too like swimwear or elegant dresses for wearing at the resort you are staying at.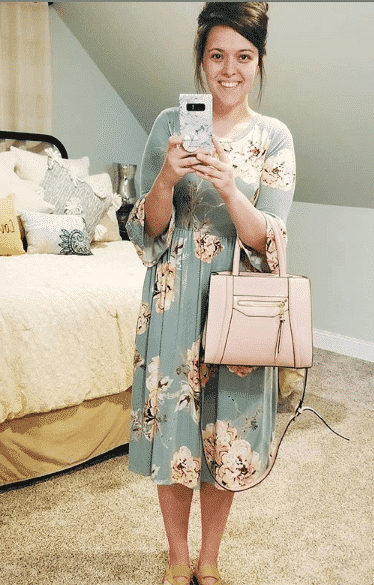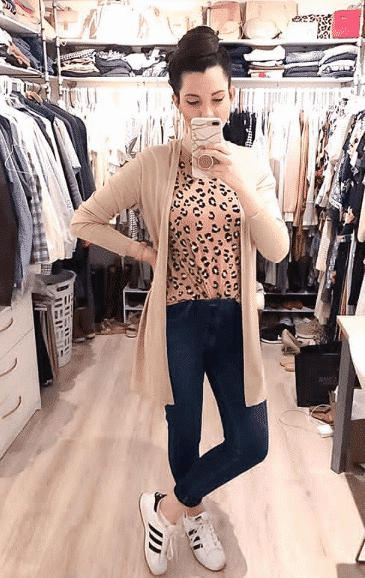 ↓ 14. Are you Winter Ready for Ramadan?
Have you stocked up on woolen and velvet dresses yet? For people residing in cool or cold weather areas during Ramadan, it is essential to first take care of your jackets and blazers. There are quite a few stylish options like teddy coats, leather jackets or denim jackets. For formal events, cardigans. pashminas and cable knit sweaters are an important outfit maker. Thick scarves are not only important for wearing in winter but will also keep your neck warm when the temperature drops at night.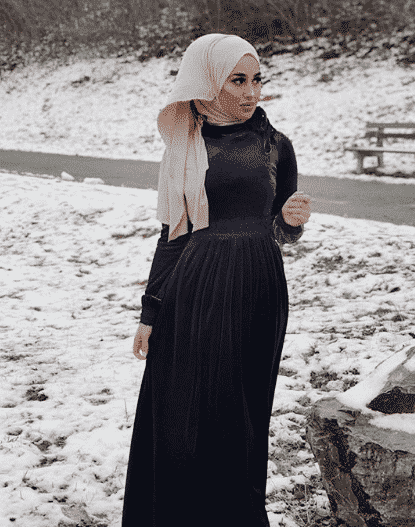 ↓ 13. Is Wearing Abaya/Hijab a Must for Muslim Countries?
Wearing abaya or hijab is a personal choice in most Muslim countries with an exception of few. So while traveling or staying, it is not a necessary part of dressing up. However, keeping an abaya with you or buying one can help you get ready in a matter of minutes. If you are not sure of dressing up or don't want to continuously change outfits, simply wear an abaya over any outfit and you can step out in Ramadan without a worry. Here are 20 Latest Open Abaya Styles You Can Buy Now.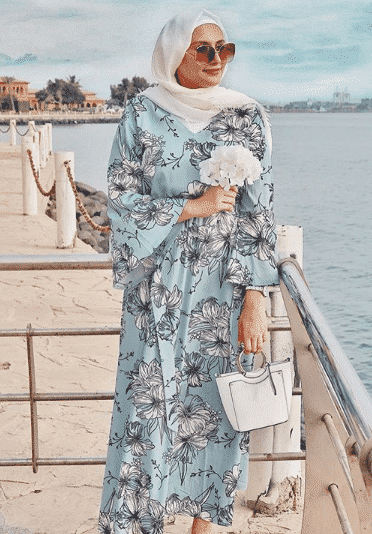 ↓ 12. Coverups for Ramadan
An ideal way to go about adhering to Ramadan Dress Codes is through keeping a couple of different coverups ready for both daytime visits or night time Iftaar Parties and Dinner. Abaya, kimono, Kaftans and other traditional pieces can be ideal for layering and dressing up any outfit. Too tired to dress up? Simply put on any simple attire of your choice and embellish it with amazing open abayas and kimonos. You can tie a belt around your waist for greater coverage and sophisticated styling.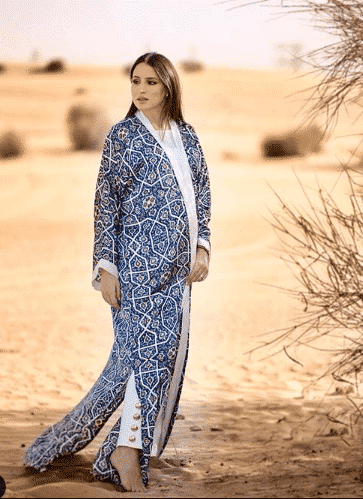 ↓ 11. Ramzan Fashion Dresses
Demure outfits can be great as Ramzan Fashion Dresses. There are quite a few unique options that you can easily get your hands on. One such classical piece is a nice pair of culottes. How to dress up culottes without looking like a hobo? Well, for once pair them up with simple prints like both the top and pants having similar stripes with a vibrant scarf casually draped over your neck. Similarly, while wearing printed and bold culottes, keep the top minimal by either going for a plain white top or a colored top with no graphics or embellishments.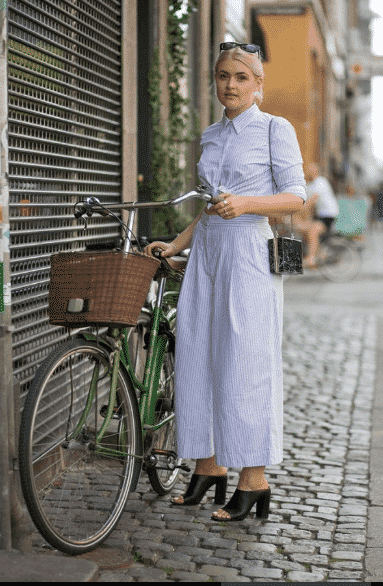 ↓ 10. Official Iftaar Parties Attire
Your office is finally gathering everyone for a great Iftaar buffet or dinner and you are confused about what to wear? Well, we present you a chic option of a feminine pantsuit. Not only is this power suit amazing for any office party, but you can pull together some great accessories to appear elegant. We suggest you take out your most beautiful silver pieces of jewelry and flaunt them for this occasion. Go with black high heels to complete this gorgeous ensemble. Here are 20 Gym-wear Ideas for Modest Look.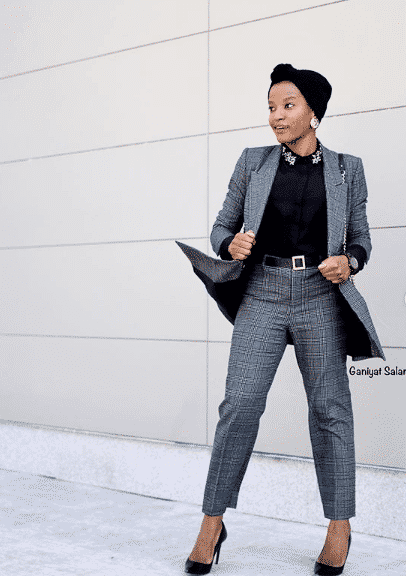 Via
↓ 9. Animal Print Outfit
Another powerful look to recreate this Ramadan is animal print dresses. They are edgy and look ravishing and you can dress them up for any occasion or event.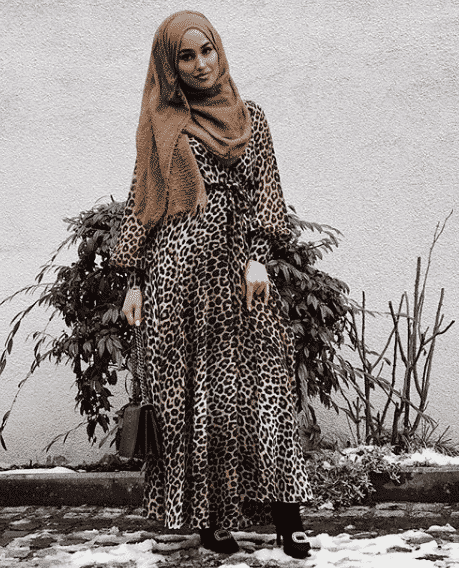 Get the Look:Animal Print Dress $ 176
↓ 8. Teenager Ramadan Look
As a teenager, it is quite a battle to find dresses or outfits that don't only look trendy but go in line with Islamic dress codes as well. So what is our great idea? We want you to get your hands on some cute and funky graphical motif embellishments and stick them on your tunics or favorite tees for a great look. Wear them with cropped pants and your scarf tucked neatly inside your shirt and there you go! You can even wear net socks and sneakers along with a bright-hued cross body pack for going out with friends or families or while going to your Educational Institute.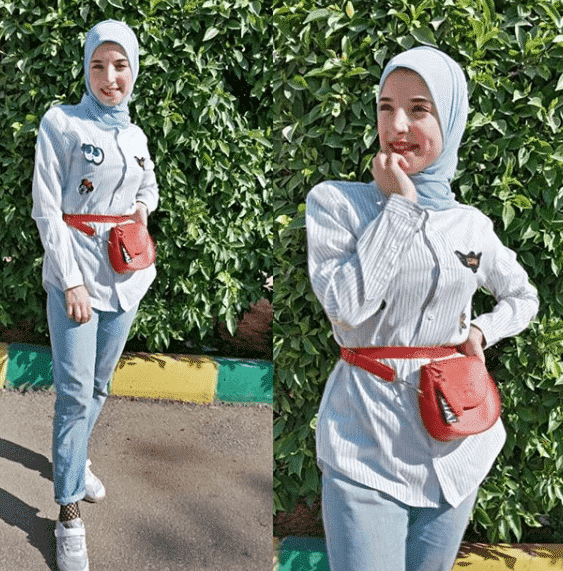 ↓ 7. Modest Fashion Inspiration
We see certain fashion trends and can get inspiration from them for our next amazing Ramadan outfit. Paperbag pants are very popular these days and get a modest style piece. They are not overly fitted and are great for summertime. You can wear these with cropped tops or a normal top along with cute cardigans or jackets. You can even wear beautiful abaya or kimono with these if you are a fan of layering.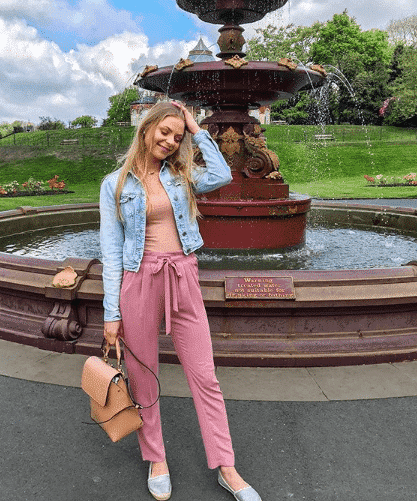 ↓ 6. Harem Pants Style for Muslims
From Disney tale of Magic, comes the Harem Pants (or so we think)! You can style these pants in multiple ways even if you are not going to your next yoga class! You can wear a striped top or a plain top along with a blazer with a front layered hijab and layered necklace.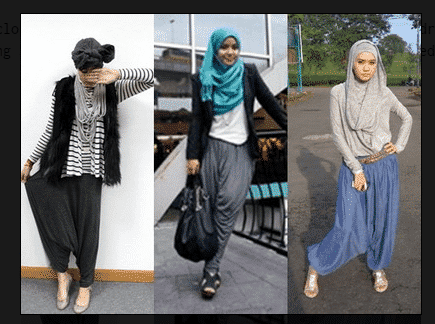 ↓ 5. Ramadan Hijab Styles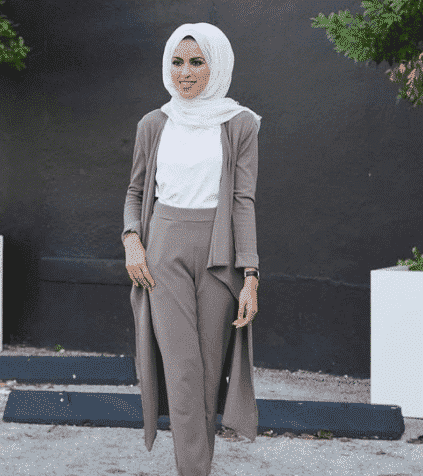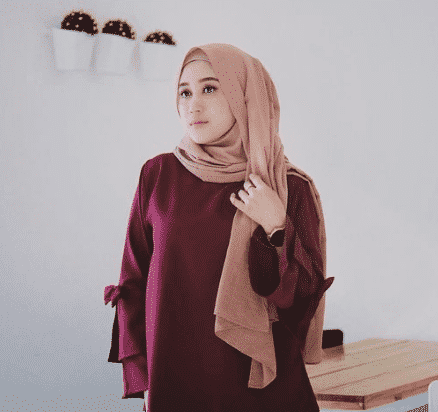 ↓ 4. Playing on Prints
Play along with prints my friend because they create a great contrast and make you stand out from the typical humdrum outfits. They let you showcase a playful side of yours and can be great if you have plans with friends this Ramadan.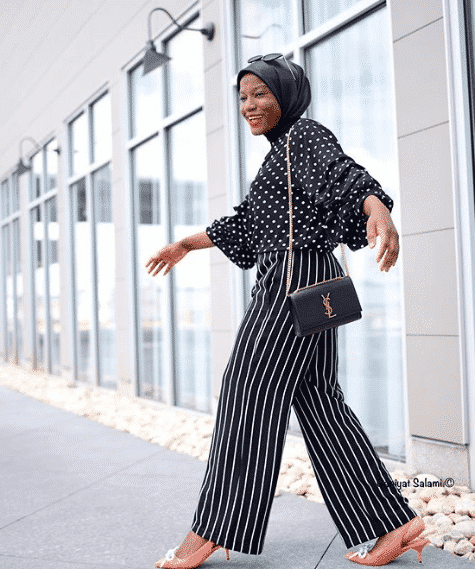 ↓ 3. Classic Denim Jumpsuit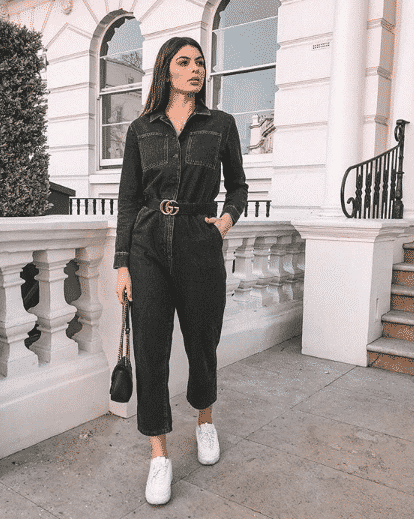 Get this Look:Black Denim Jumpsuit $ 60
↓ 2. Accessories for Ramadan
Three quick things to remember while going out in Ramadan? Your scarf, sunglasses and a tote bag! Why do we emphasize on these three items? The scarf will cover you up and keep you warm and snug if the AC is working on full blast. The sunglasses can't be forgotten during the summer days and a tote will give you the option to stock all your makeup and other necessary items ready and within grasp.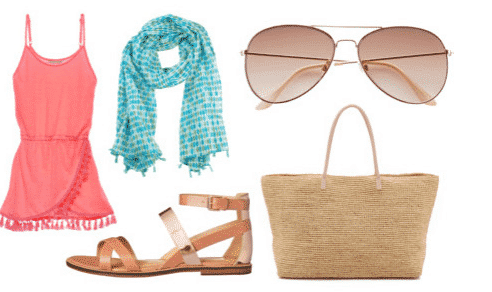 ↓ 1. Footwear for Ramadan
Your footwear is pretty much your choice but we suggest that this Ramadan, keep it relaxed and comfortable. So what are your options? We think it is time to stick to either beautiful flat sandals or wedges if you can't just ditch your heels because we said so!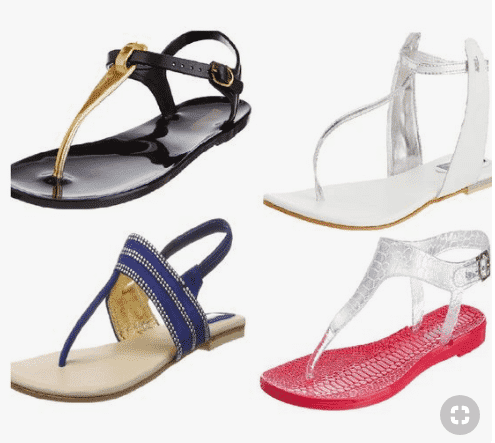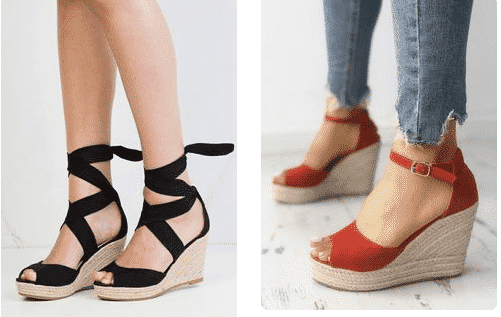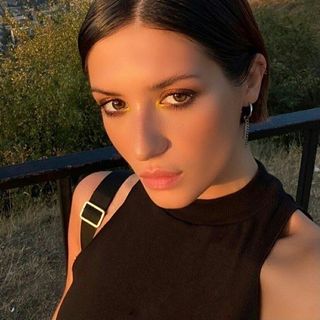 Avid reader and Fashionista. London Based freelance lifestyle editor