What to wear to a Broadway show: If you have already attended a show, you would know that there is no specific dress code for it, and people wear anything from casual to formal attire to this show. You will also see people showing up in simple jeans and a t-shirt or long fancy dresses.
The choice of your attire completely depends on you, and combining all the facts, it is safe to say that the perfect way to dress up for a Broadway is business casual. Your outfit will have a perfect amount of formal and casual sense.
Broadway Show Outfit Ideas
Even though there is no proper dress code for the show, you can still choose your outfit by considering some factors. Firstly, the type of show you are attending is a factor to consider. Formal or popular shows have a larger audience, so you can get ready by wearing a white bodycon dress with sandals and jewelry. While off-broadway has limited seats, so a casual top and jeans with sneakers would work there.
Secondly, style your outfit by keeping in mind the weather outside. Mini floral wrap dresses for summer and sweaters, jeans, and boots for winter are good options. Casuals are also preferable for weekday shows as they are less crowded. However, you can get dressed in formally for weekend shows or opening nights.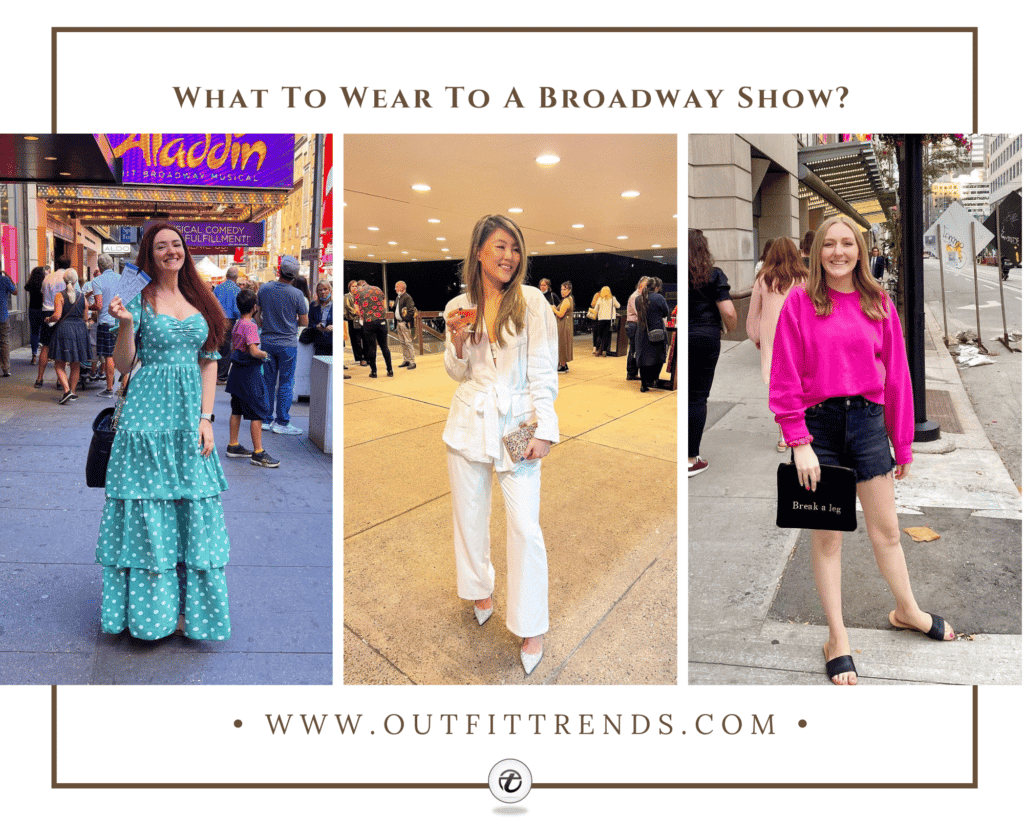 Tips For Styling A Broadway Outfit
Pick your outfit according to the type of show, formal for the premiere, casual for matinees, and business casual for evening shows.
As you have to sit in one place for almost 2 hours and more, choose clothes that are comfier rather than too tight and uncomfortable.
Bring a second layer in case you feel chilly in the theatre since the temperature is lower inside.
20 – Semi-formal Look With Blazer And Skirt
Wearing a blazer with pants makes you look too professional, so pair it with a skirt and purple tank top for a semi-formal look. Since you are going to have fun and not work, so you can mix and match different colors and prints as well.
You can either wear your skirt and top in neutral colors and layer a bright-colored blazer, or you can wear a black skirt and leather blazer with light colored top. Lastly, black platform shoes can be paired with this outfit to complete the look.
19 – Matching White Top and Trousers
Formal matching sets can be worn to achieve professional attire for a show. People usually show up in fancy or professional attire for musical broadway or world premiers. You can also pair separates in the same color to create this kind of look.
A blazer with pants and shimmery heels, a buttoned-down blouse with pants, or an asymmetrical skirt and a statement necklace are some of the other outfit options for women.
18 – Printed Pants and Knotted Shirt
It is not important to put effort and get dressed instead, if you only want to enjoy the show and have fun in comfortable clothes then you can go for casual attire like jeans and a shirt. Printed pants will convert your basic outfit into a fun one for the theatre. One thing that can elevate your outfit is accessories. Add some cute earrings, bracelets, and hair accessories as well.
17 – Brown Belted Jumpsuit
16 – Grey Turtleneck for a Winter
You don't need to think much about a winter casual outfit. A nice sweater with a pair of jeans and boots is all you need for this season. It is both comfy and cute for a broadway . Layering jackets and blazers on tops and turtlenecks are other options you can wear.
Minimal accessories like hoops and bags are an extra addition to level up your outfit. You can wear long coats on dresses if you want to go for formal attire in winter for a show.
15 – Pleated Skirt With Vest Sweater For Spring
A cute spring skirt always involves a skirt. So pair a cute checkered pleated skirt with a collared blouse and converse shoes. Add a vest sweater to make it more fun, and you have an outfit ready. You can wear it to any kind of show, mainly musicals and comedy shows.
14 – Plunge Neck Floral Dress For A Summer
Going to a theatre show in summer is fun because you can wear all the cute summer dresses. A beautiful butterfly-printed dress paired with sneakers is all you need for a cute summer outfit. You can also wear floral printed maxi dresses, wrap dresses, or bodycon dresses. Pair them with statement jewelry and sandals to finish your look.
Summer dresses for broadway shows don't just include dresses but also shorts, mini skirts with cute tops, and short sleeve blouses. You can easily style a business-casual outfit with all these things for summer.
13 – Simple Black Dress With Boots
The best way of looking good without putting much effort is to wear a black dress with boots. A simple black bodycon dress can be enhanced by adding jewels like hoops, bracelets, and chains. This outfit is also wearable in winter if you add a leather blazer or a long coat to it with knee-high boots.
12 – Distressed Shorts And A Pink Sweatshirt
A casual outfit for spring can include a light-fabric sweatshirt with shorts or skirts. Spring is the season to wear nice prints and bright colors, so you can easily wear neon or bright pink. You can also wear oversized sweatshirts or hoodies with tennis skirts. Long Boots or sneakers can also be paired with this outfit.
11 – Wear A Green Polka Dot Maxi Dress For Your Favorite Show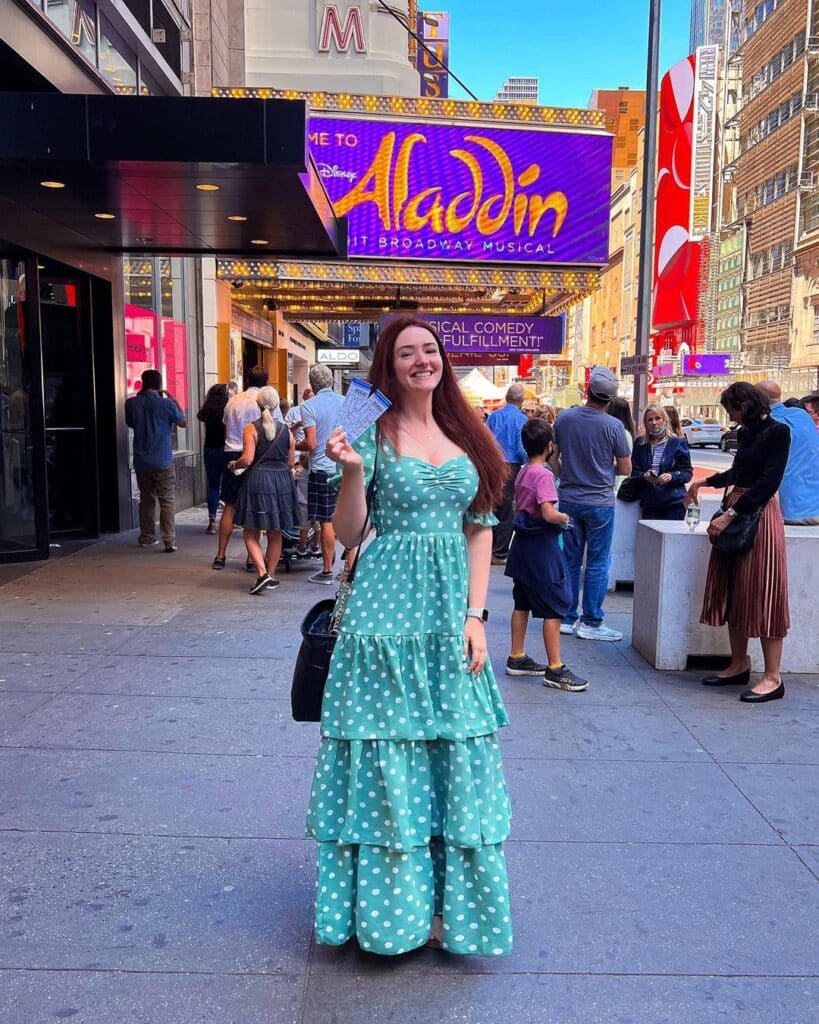 10 – Printed Long Skirt With Sky Blue Blouse
9 – Date Outfit in Matching Tees and Sweats
Not all the time do you want to go out and dress formally, especially on weekdays or matinee shows. A simple white tee shirt paired with pants and sneakers is the perfect example of a casual outfit. The tee shirt can also be replaced with crop tops or tank tops. Add a cropped jacket in case of the weather changes.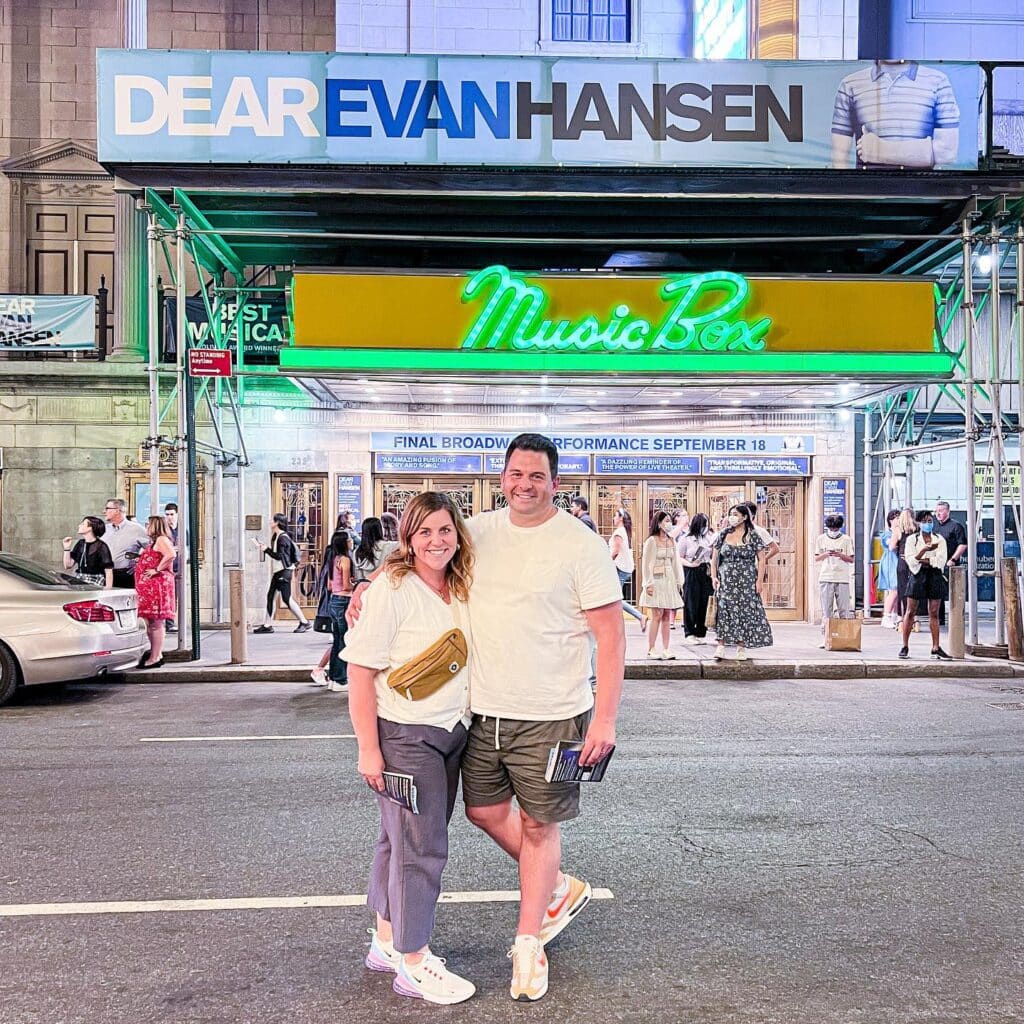 8 – Off-shoulder Top with Black Pants
Going vintage with your outfit is a good option if you are going to see a period Broadway musical like Hamilton or Six. You can either wear long retro dresses or vintage blouses with pants and boots or flats. This off-shoulder blouse with bishop sleeves can also be paired with a pencil or pleated skirt for a modern look.
7 – Floral Dress With Sneakers
A dress that you can easily wear to any kind of show in almost any season. A long slip dress in a floral print can be worn with heels and jewels with minimal makeup to a romantic musical show for a date night. For a casual look, you can wear pair it with sneakers, large hoops, and a crossbody bag.
6 – Black Heart Neck Top With Polka Dot Skirt
You can create a semi-formal outfit by pairing a midi polka dot skirt with a fancy top. The top is simple, but the little details of puff sleeves and heart neckline make the outfit elegant. A statement belt in a dark colour would level up your neutral outfit.
5 – Yellow Skirt With Floral Offshoulder Top
The matinee shows are held in the afternoon, which is a perfect time to wear a vibrant outfit. You can pair a midi skirt with an off-shoulder top in a brighter colour, like yellow or orange. You can also create a colour-blocking look by pairing green flats and a bag with this outfit.
You can also choose pants in different colours or pleated skirts for bottoms. Shocking pink or neon sweatshirts and hoodies are also perfect for winter options. You can also wear these to night shows, but bright colours catch more attention in the day time, which is why it is preferable to wear them at matinees.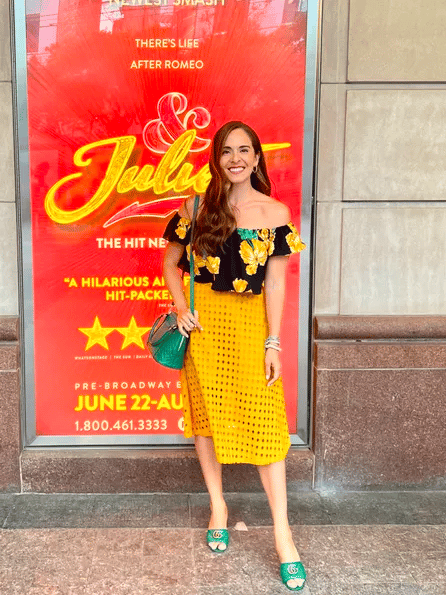 4 – Blazer With Brown Trousers
Not many people prefer this, but you would love this outfit if you have a sharp fashion sense. Just like a complete casual look is allowed on Broadway, professional attire would not hurt anyone either. So if you don't want to wear long dresses but still want to look professional, a blazer with slacks is the right option for you. Wearing it with jeans will convert it into a business casual outfit.
3 – One Shoulder Red Dress
Musical Broadway shows are quite popular, and it is a great chance to wear a nice dress. Shows like The Phantom of the Opera are everyone's favourite, and there is a huge audience for these shows, especially on weekends a red dress never fails, so go for it!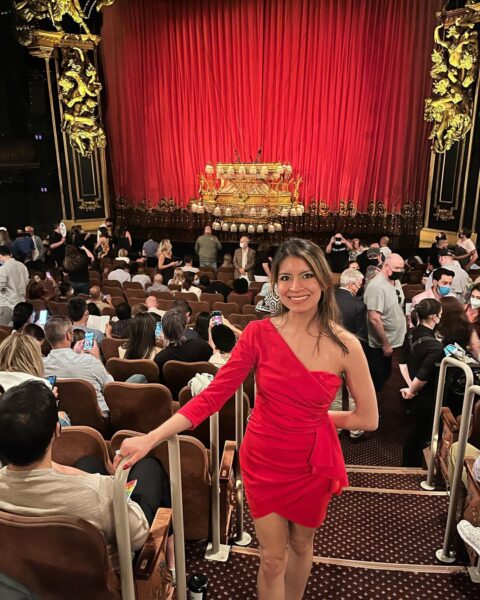 2 – Sleeveless Turquoise Dress With Pearl Necklace
Broadways have become more special when you go on a date with your partner. And to make your partner feel special and make your night memorable, you should put some effort into styling your outfit. Wearing casual clothes is good, but you can get a little out of your comfort zone for date nights.
You can wear any formal dress with fancy heels and jewels. Try to match your partner's outfit, so you don't look overdressed or underdressed. Just wear something you prefer while going to a nice restaurant like mini satin dresses or an off-shoulder dress. Carry a long coat with you if it's cold or velvet dresses are also an option for winter.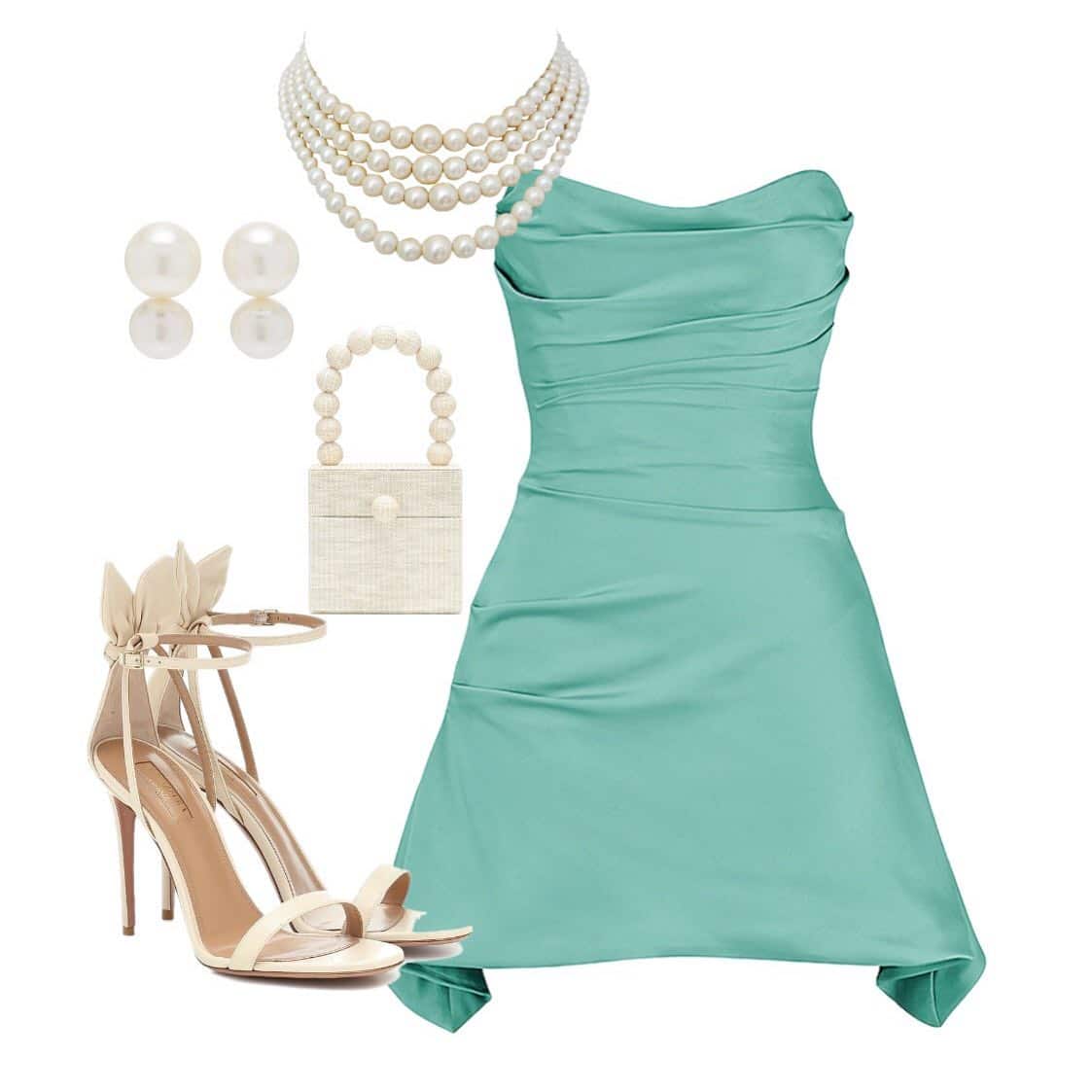 1 – Gold Silk Dress For Opening Night
Opening nights of shows are quite different from the normal ones. They are celebrated like an occasion, and you will look out of place if you wear casual clothes when everyone is all dressed up. So, it's a good chance to play dress-up and have your own red carpet-moment.
Silk dresses are perfect for semi-formal events, which is why it is an ideal choice for Broadway openings. You will not look too professional or too casual. Elegant jewellery and fancy heels are always there to amp up your look. You can also opt for a smart casual look by wearing a cropped blazer with pants.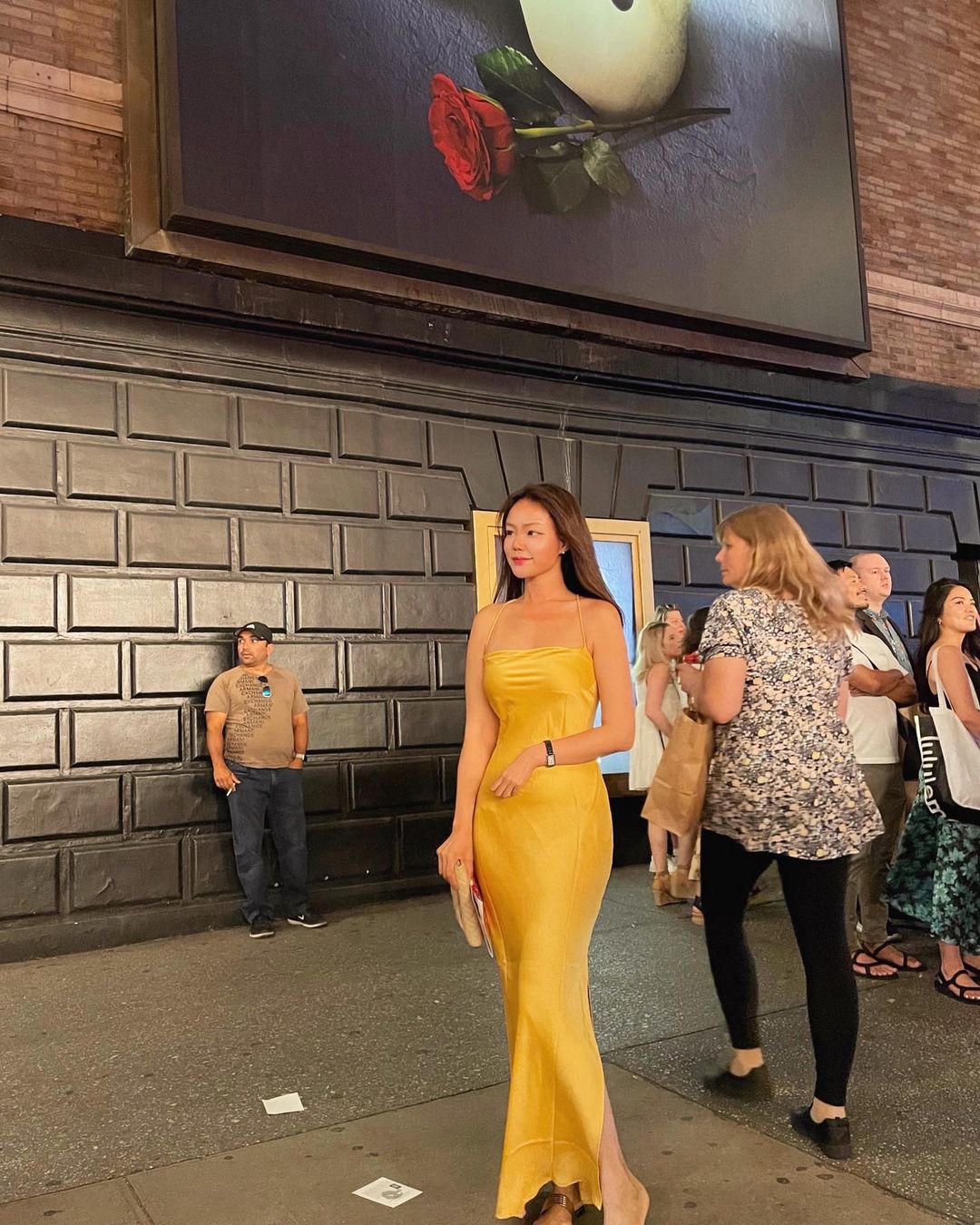 Frequently Asked Questions
Q. What is the proper attire for a Broadway show?
Ans. We can't tell you about proper attire for the show because there isn't any. Formal, casual, semi-formal, all kinds of attires are acceptable, so it depends on your own choice. However, you can choose your outfits according to certain shows, weather, and audience. You can even wear costumes to some shows.
A casual top paired with jeans and sneakers is the most casual outfit you can wear to a show in summer. Adding a jacket, turtleneck, coat, and boots can be wearable for winter. Semi-formal is the most appropriate attire for Broadway that you can achieve by wearing a blouse with pants, skirts, heels, and accessories.
Q. Can you wear sneakers to Broadway?
Ans. You can wear sneakers if you want to opt for a super casual and comfortable look. Jeans, crop tops, jackets, and sneakers are some of the casual things you can wear to Broadway. However, wearing sneakers to opening and closing nights might not be a good idea; boots and heels are their best options.
Q. Do people get dressed up for shows?
Ans. Yes, people do get dressed for Broadway, and why miss a good chance of getting dressed and having a good time? If you are confused about deciding on an outfit for broadway, just wear something that is between formal and casual.
Ditch your casual tops, shirts, and jeans, and put some effort into wearing skirts, maxi dresses, nice blouses, and cute dresses. Wearing a nice pair of heels and minimal accessories never hurt anyone. So, get up a little dressed and have a fun time at broadway.