Raincoat outfits for men – Gone are the days when raincoats were not considered part of our wardrobes, specifically men's wardrobes. Now, as our chilly winter season, full of gales and rain, is arriving. It is the perfect time to take our long-forgotten raincoats out to enjoy the rain in style.
Thinking of style? Who says that raincoats are bland, clumsy, unfashionable, and only for bird watchers, etc.? If that's the stereotype, then let the style of Peter Falk's detective raincoat break it down for you. These baddie outfits are all men need to show off their masculinity in such cold weather.
With the era of fashion at its zenith, men also have to revolutionize their style to set a new vogue in their rainwear looks.
With this said, let us splash in the gazillion of looks that one might make with this chic outerwear. Continue reading for the 20 best raincoat outfits for men to beat the 2023 winter in style.
How to Style Raincoats for Men?
Raincoats have different shades. They can be styled as formal and casual. Different men wear them differently but the use depends on the prevailing weather conditions. They are meant for every man of any age and colour.
However, only a few make a statement with this so-called "no one bats an eye over it" outfit. How so? That's because they know how to style them correctly and appropriately. Brand and expense won't matter if you look queer in the outfit.
Wearing rain jackets with outfits that have both style and water resistance will be the best combo the men could ever ask for in their whole lives. So, to ensemble rain wear with different outfits, described below are some simple tips and tricks that might assist you this winter.
Tips And Tricks For Styling Raincoats
Fabric And Handling: The fabric of the rainwear should be lightweight and waterproof. They should also be packable, making them more convenient to handle so that you can have the luxury to enjoy your outfit with or without it.
Use them as a layer: As they were first invented to be used as a layer by farmers and fishermen that's why they should always be treated as that unless you live in a humid climate. They are best to be layered over sweatshirts, jackets and coats etc.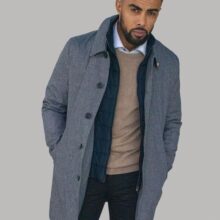 Footwear: The footwear choice is important while wearing a raincoat. For a rainy day use waterproof shoes. For a casual or formal look in winter use footwear that matches best with your outfit. It should be closed and comfortable. Sneakers or Chelsea boots can also look good with rainwear.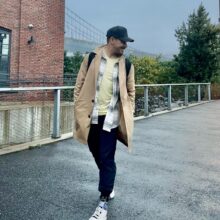 Accessories: To make your rainy-day outfit even more stylish and trendy, accessorize it with a pair of gloves, mufflers and beanies.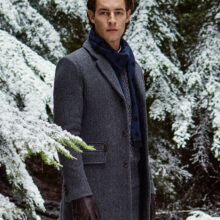 Color Choice: The color choice for a rain jacket should contrast with the outfit. Black, navy blue and brown colors are mostly preferred but any color can slay the look.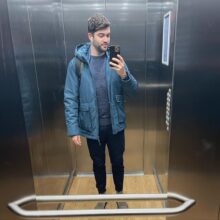 Now, let's apply all these tricks to slay in macs.
20 – Style The Mac Like Ryan Reynolds
Who better than Ryan Reynolds to tell us how to style a raincoat? With his plain and creaseless mac, pulled over an olive green button-down shirt paired with cosy pants. He has proved that you look stylish as well as charming in rainwear.
This suit is the best option for newscasters as rainwear is not a fair weather friend. So, if you have a piece of news to cast and some rain to beat then recreate this look.
Pull over a shirt with contrasting pants. Layer them with a mac and accessorize the outfit minimally with a pair of glasses. With some hair gel in the hair and a smile on your face, you are all set to be a head-turner.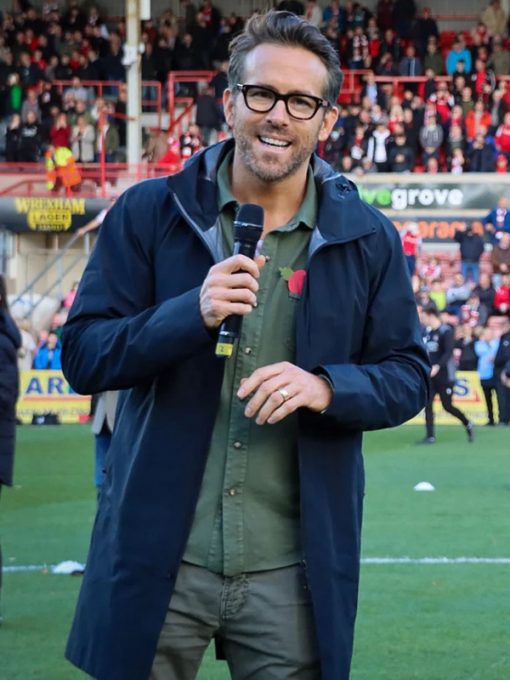 19 – Outdoor Hiking Outfit for Men
If you have a lot to conquer in this world, especially if you are a mountain climber, then a cosy, hooded jacket should be the number one item in your backpack. However, if you also want to look cool in the selfies over the peaks, then the outfit below says Hi! to you.
Pull over your warmest outfit for a hiking trip in winter and layer it more with a cosy windbreaker. Accessorize it a little with some shades and a P-cap. With this done, live up to your dreams and tag us in your selfies.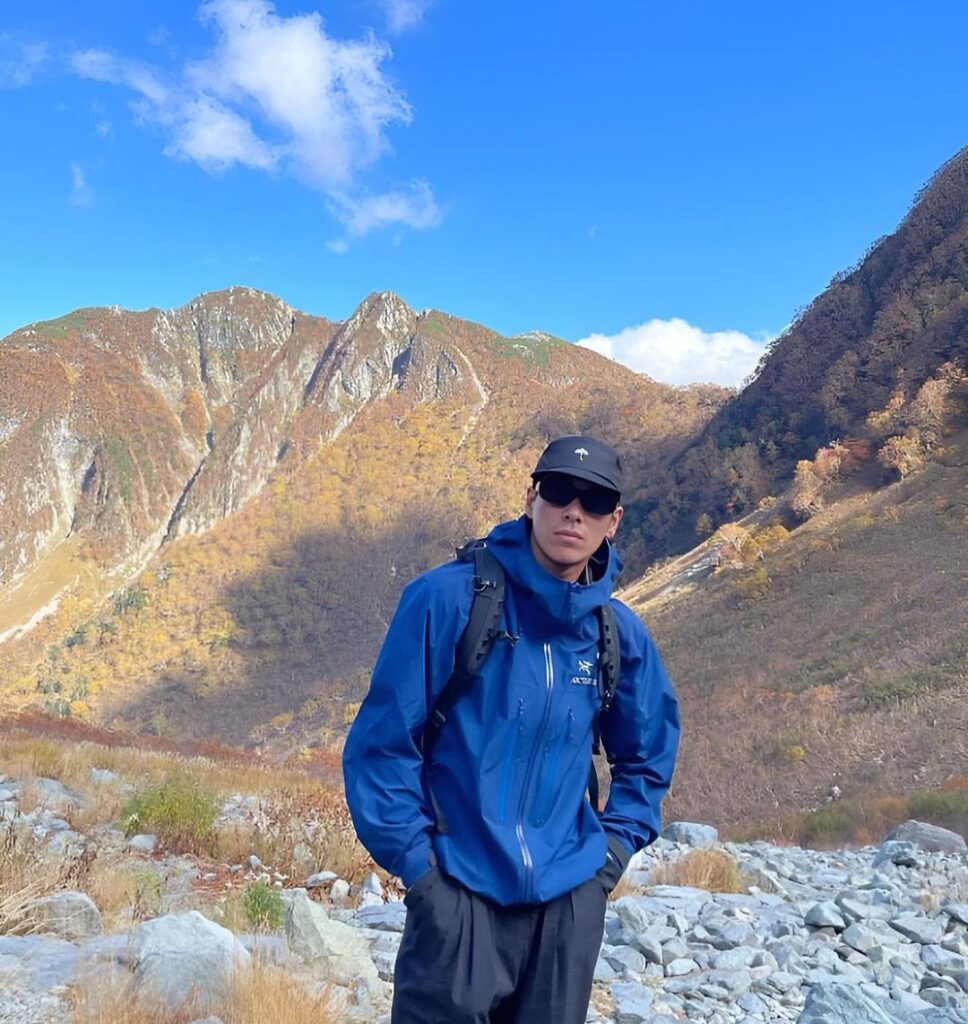 18 – Olive Green Raincoat for A Sophisticated Look
Everyone step aside as men's own fashion director, Shuhei Nishiguchi is here to make a statement with this trend. With the pairing of formal and casual elements, he explicitly demonstrates how you can be and not be in the "off-the-rack" category. So ace the look below and pull over your overly-sized mac.
Under the layer, add a cozy pair of dark pantaloons, and continue to ensemble it with a darker shirt. Layer the shirt more with a classic waistcoat. A cocky chain dangling from your neck and some nice pair of embroidered footwear.
With that done, you are all set to slay the winter with this sophisticated yet quintessential outfit.
17 – Military Rainwear Outfit For Men
Yes, we know that boys are adventurous. So, another type of outfit that is sure to become the go-to outfit for boys is the camouflage pants paired with the same print jacket. If you have a hunting game ahead of you, this outfit is here for you as it calls for a hunt but can also be used for a boys' night out.
Recreate the look with this rain suit. To add a hint of passion to the heat of the hunt, wear a white T-shirt underneath.
Accessorize your outfit with laced black boots. Now, this camouflage outfit allows you to wander in the wild.
16 – Family Trip Outfits for Men
For men, families are all that are significant and are always prioritized. So, if your child insists on wearing a rainy-day outfit for a family trip. Then don't fret as the best family outfit is here for you. How casual and cozy will the outfit look when layered with a lightweight mac?
So, show how loving a man you are by following the family theme. Pull over a pair of ripped jeans and pair it with a black sweatshirt. Layer the whole outfit with a lightweight windbreaker.
Minimally accessorize this outfit with sneakers. With everything ready, you are all set to enjoy your day off.
15 – Layer Your Casual Outfit With A Stylish Black Coat
If you are desperate to set a street-style trend, do take classes from Sixx king. He looks so good in that black Adidas mac which so elegantly enhances the monotony of his outfit. Now shun the lame excuses and ace this casual all-black outfit, which is sure to make a statement.
All you need is a black raincoat for a layer, a black shirt, and black bottoms. To minimally accessorize your look go for Ray-Bans and black sneakers. With hands tucked in your side pockets, strut the streets with your signature move and outfit.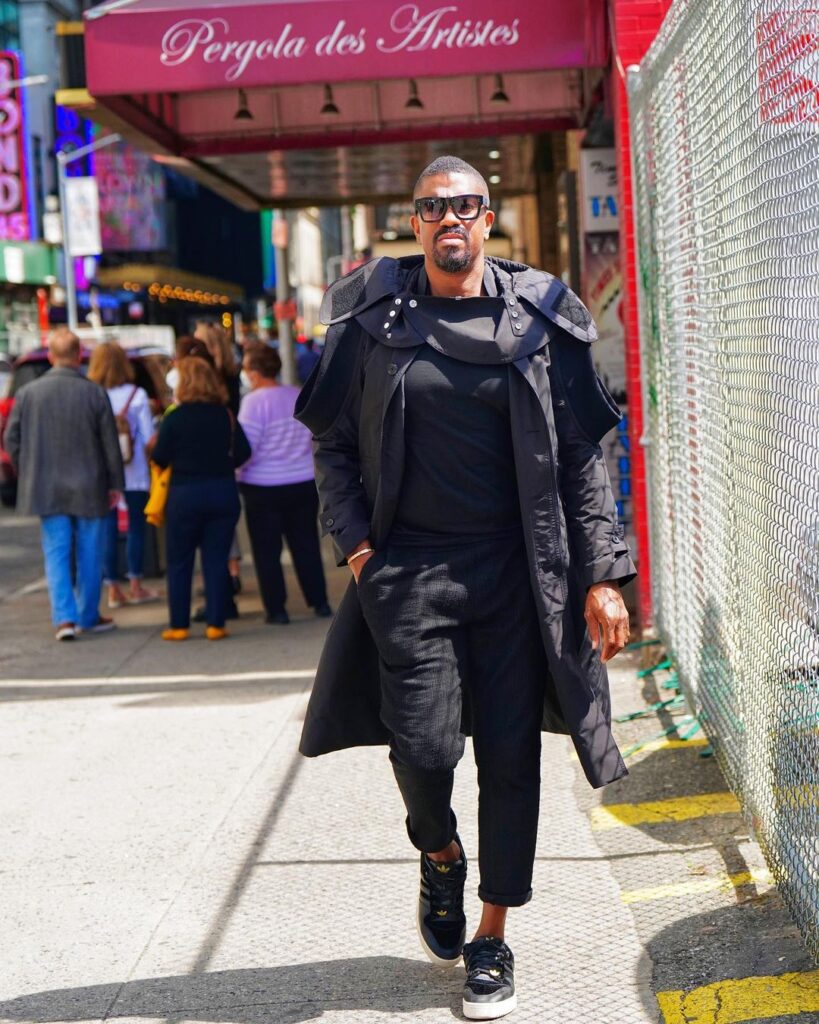 14 – Lazy Day Outfit For Men
Feeling a bit lazy and cold but have a dog to take for a walk? We feel your pain but no worries, as we have the best casual lazy day outfit for you. This outfit is not only cosy but also classic. How trendy the layering of a lightweight trench coat looks on this outfit. My best advice to the reader is to step into this outfit.
To break the cold wind, wear a white sweatshirt and black pantalons. Layer the outfit more with an open shirt.
Accessorize your outfit minimally with a bucket hat and black shoes. Now, put on your shades and enjoy the winter days.
13 – Blue Mac Over Formal Pants
Getting hired as a detective? A formal blue outfit layered with a perfect blue Mac is all you need to impress your employer. So, don't wait and recreate this look.
Pull over a white shirt, adorn it with a blue neck-tie, and Layer it with a waistcoat. Striped formal pants will look best with this outfit.
For perfect detective vibes, a beret and gloves are a must. A pair of glasses will add a more intellectual look to this outfit. With that done, congratulations you're hired.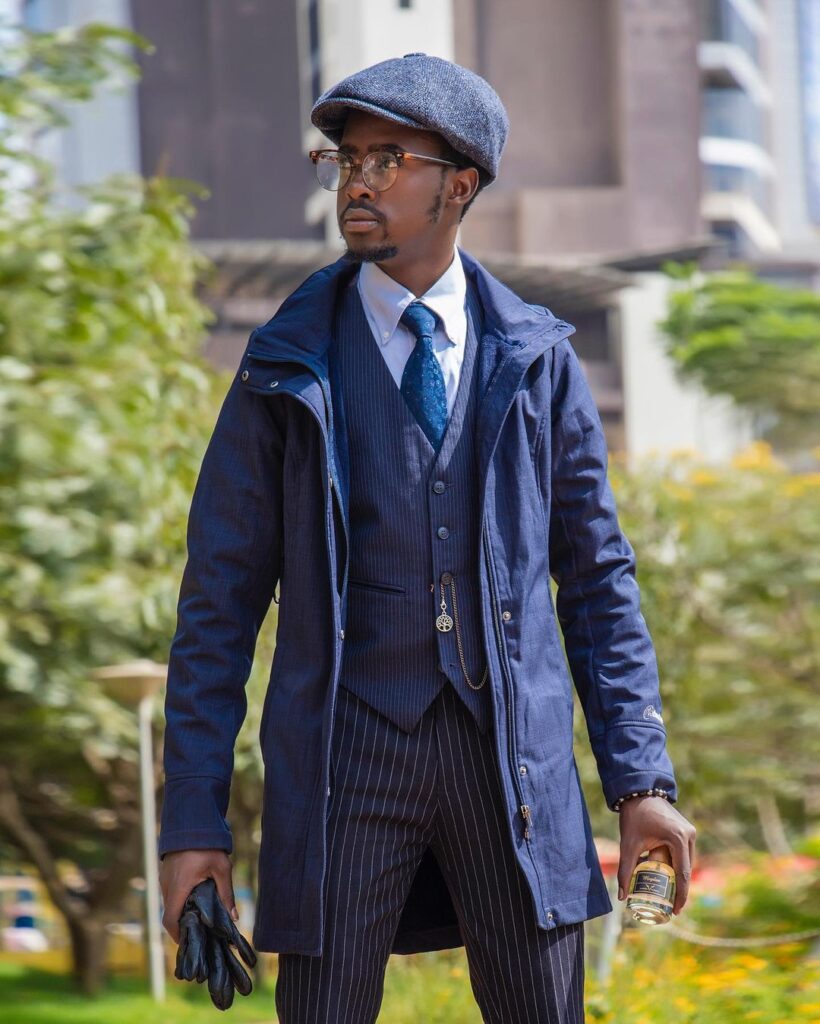 12 – Winter Outfit For Men
For boys out there waiting for the perfect brunch outfit, we present to you our best winter brunch outfits collection. All you have to do to look cool is to utilize your hooded windbreaker.
To add more style and chunkiness to this outfit pair a grey crewneck sweatshirt with some beige pants.
Accessorize minimally with a watch and runners. Now, to make every girl faint slay the look with a perfect crooked smile.
11 – What to wear with a taupe suit?
This can only be answered by Lieutenant Columbo who also wore a beige-coloured raincoat over his taupe suit. So take inspiration on how to style a mac from none other than iconic Peter Falk. To rock and roll on a rainy day, ace this look.
Put on a taupe suit, enhance it with a pin-dotted tie and make a statement with a Mac layer like Peter Falk.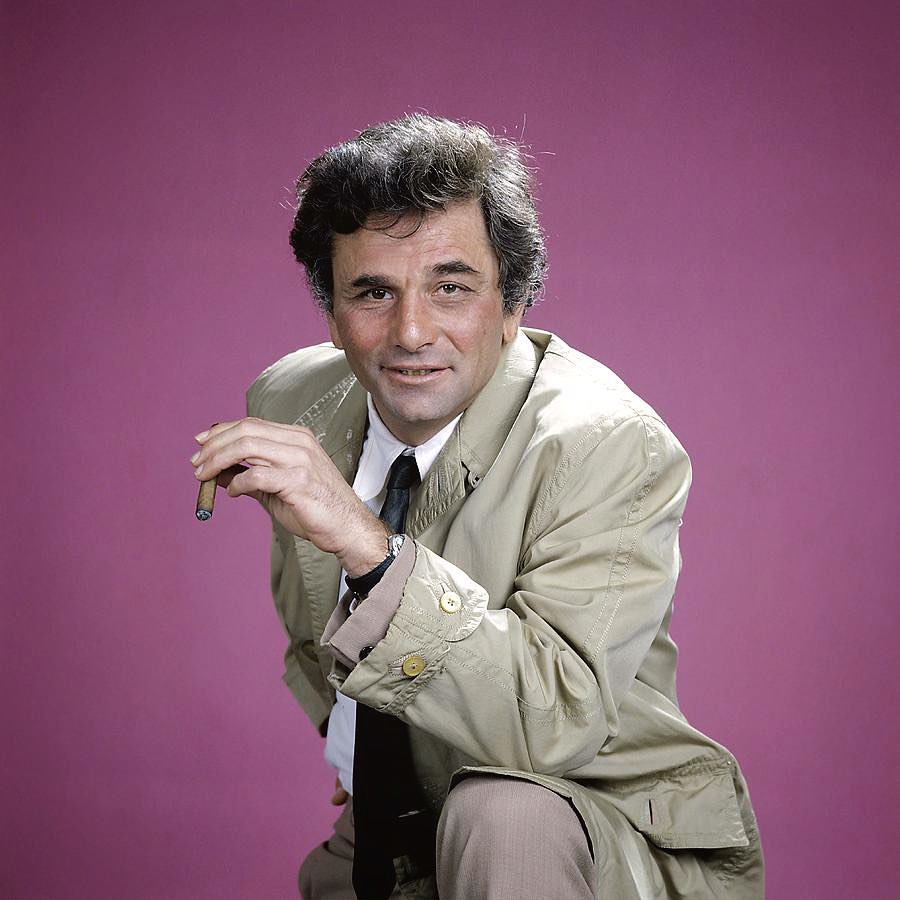 10 – Classic Outfit For Men
This outfit promises a model-out-of-fashion-magazine look. The outfit actually gives luxuriously morocco vibes. So, if you want to wander in the streets of morocco in trend, then follow this look.
Pull over your formal button-down shirt. Add more richness to its elegance with a contrasting brown waistcoat and necktie. Pair the top with khaki pants. Now layer the whole outfit with Mac.
A pair of chunky shades and good pair of boots is all you need to slay this Moroccan outfit.
09 – Cream-Coloured Jacket Over Turtle Neck Shirt
This outfit should be the go-to outfit for men in winter as it is cosy and stylish. If, you want your outfit to be a head-turner then recreate this look.
Pull over your turtleneck shirt and layer it with a cream-coloured windbreaker.
With a pair of long boots, you are all set to slay in this outfit.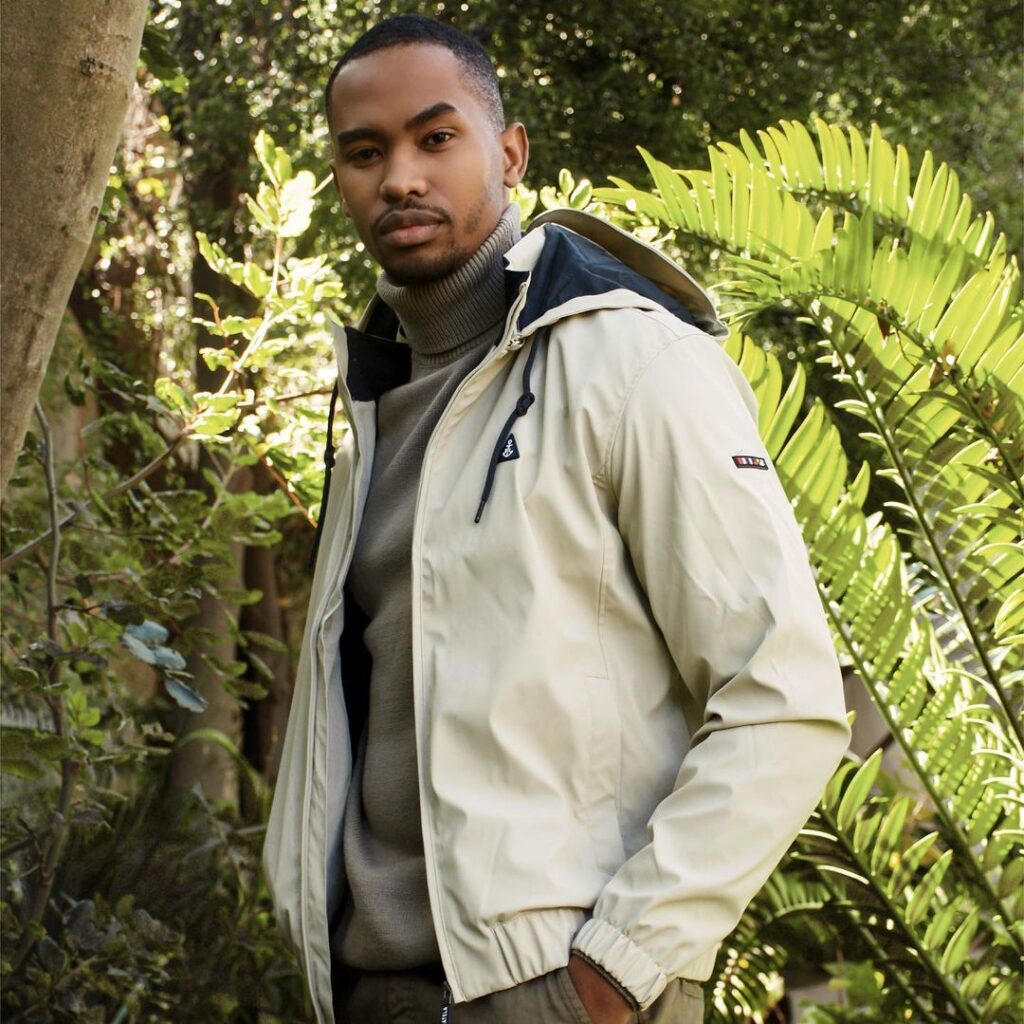 08 – Black Toggle Coat For Winter
Who Knew that Mac will diversify into lightweight toggle coats too? So, if you're in the mood to enjoy the pouring rain outside then pull over this stylish outfit.
For an exotic look under the rain don your favourite black denim pants and black shirt. To beat the wind and stay warm pull over the cosy black toggle coat.
To break the monotony, add a blue cap and the alluring Chelsea boots to this outfit. Now, walk and splash the puddles with style in this outfit.
07 – Puffy Rain Jacket Over A Poloneck Shirt
This outfit might assist our early office birds to feel warm and cosy in freezing winter outdoors. Also helpful for blocking the rain, if you missed the bus. If you want a cosy but bossy look then ace this look.
Layer the polo-neck shirt and khaki pants with a puffy rain jacket.
To add more style to it minimally accessorize it with long boots, mittens and mufflers. Now, you are all cosy for the chilly winters.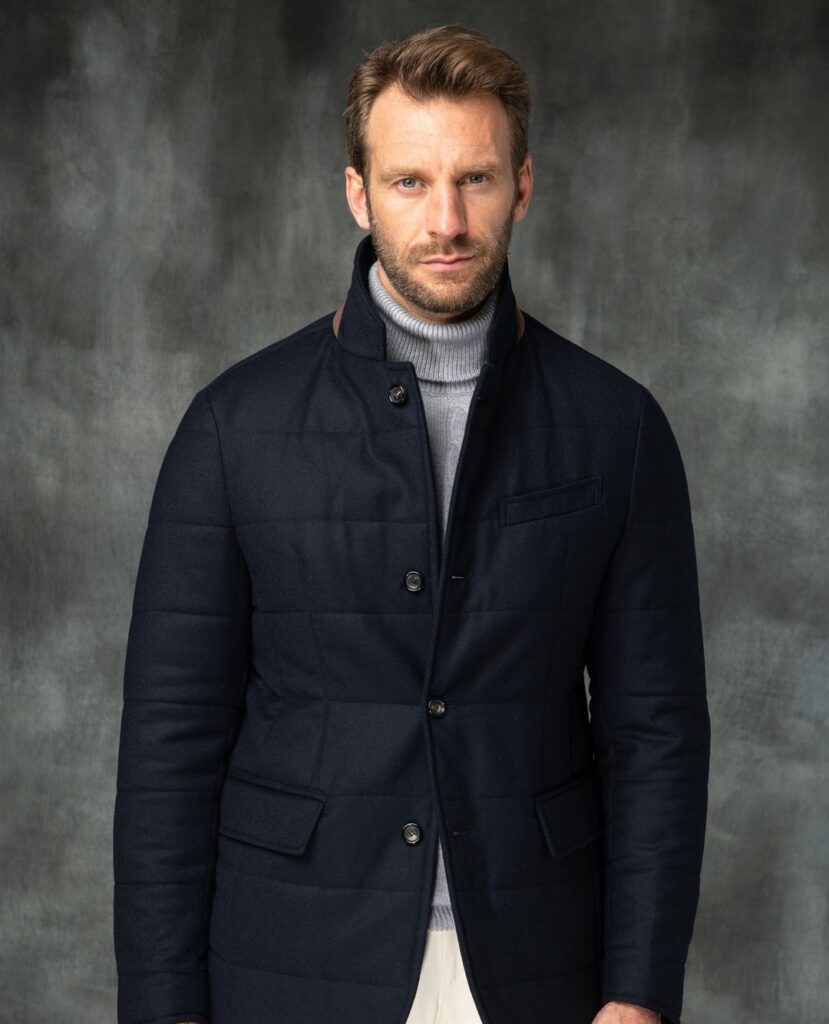 06 – Best Professional Outfits For Men
Teachers know that a morning walk is good for health but in winter precautionary measures are significant as rain waits for none. So, protect yourself with style in winter with Mac as it is for every age.
Pull over your sincere white shirt and khaki pants. Add more elegance to your outfit with a blue waistcoat and chunky multi-coloured necktie. Now, the only thing missing in this outfit is a beige macintosh.
With boots flawlessly polished and outfit ready, you are all set to astound your students with this classic trend.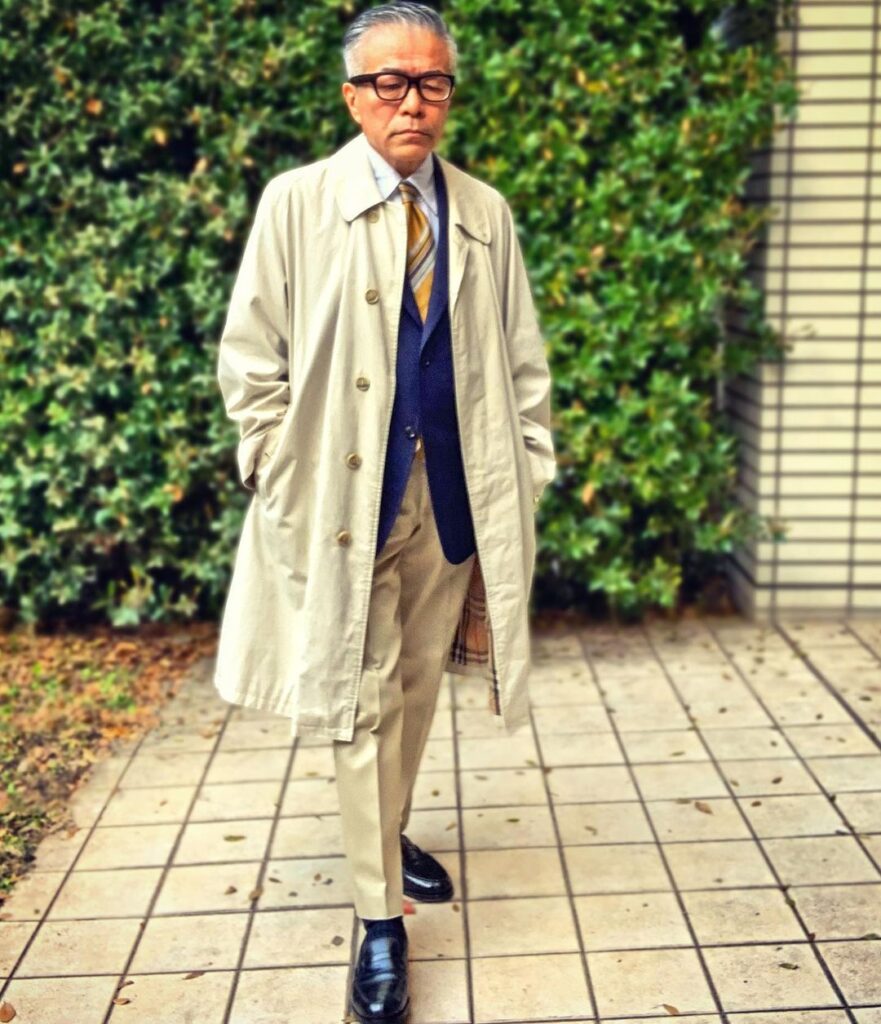 Can't take your eyes off this look? Me neither, as this look perfectly showcases Gen Z street-style outfits for men. How bold and seductive the outfit looks. Definitely a head-turner. Do recreate this look and put the streets on fire with this outfit.
Pull over your best white shirt and contrasting pants. Spice it up more with a tantalizing blue mac.
Finish off this look with a sleek hairdo and a cosy muffler. See how those heads turn to you when you strut the streets in this outfit.
One can never get enough of black, especially men. For men black is all about intoxication. So, if you have a meeting overboard and want to look formal, spice up your formal outfit with this alluring black trench coat.
For more bossiness, a sleek hairstyle and a fascinating black watch will give you celebrity vibes among your peers in this outfit.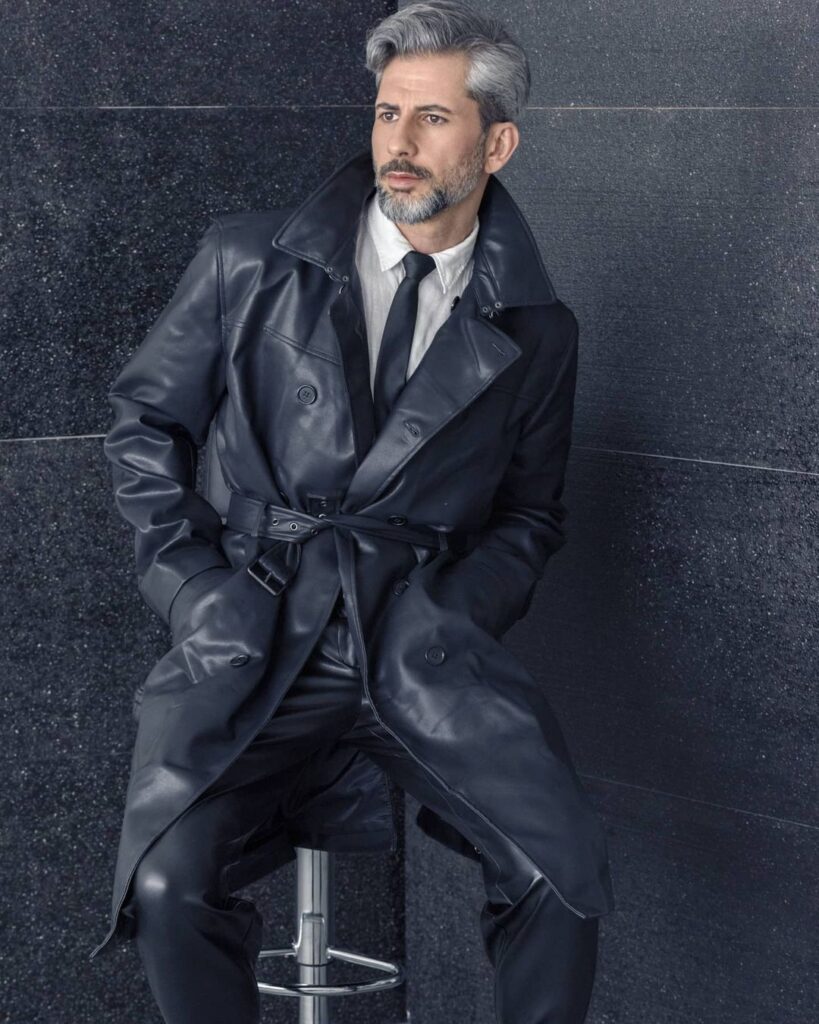 Here is another street-style inspiration for men in winter. For this look, all you have to do is to put on a cozy shirt with formal pants and add a layer of olive green rain jacket to it.
Finish off the look with chunky pendant chains, some shades, and a cute yellow beanie. Now, you are set to sail and go fishing in this outfit.
02 – Brown Macintosh Over Chinos
This outfit clearly belongs to rain lovers. If you and your dog are all set to enjoy the rain together. Hence this look. Just tuck yourself up in a black turtleneck shirt and beige chinos. Pull the brown mac over yourself and your dog.
Finish off the look with chunky chains and leather boots. Stay dry and trendy in the rain with this outfit.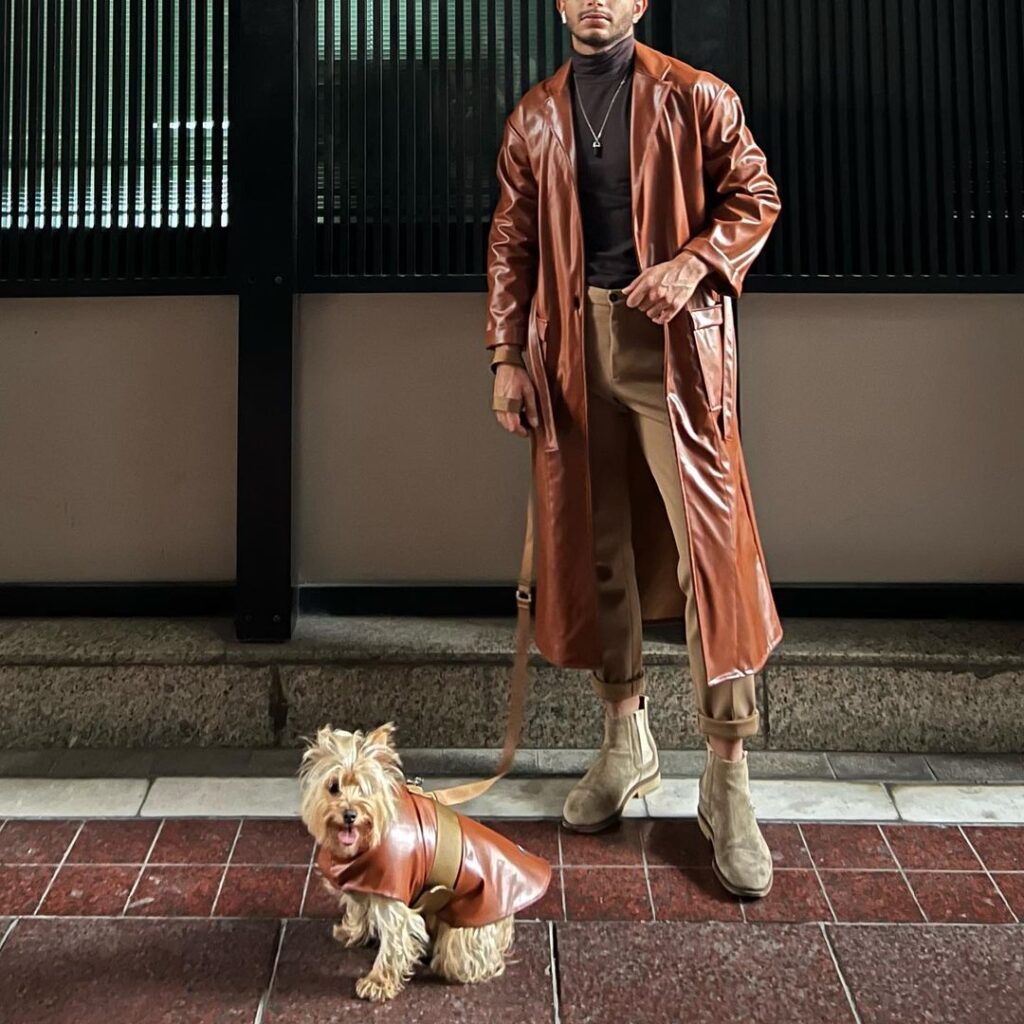 01 – It's All About Style
Told ya that raincoats are meant for every age. Still don't trust me? Then catch a glimpse of the memorabilia below. The only thing missing from the moment of friendship is chess. So, if you have your same old chump with you then recreate this moment with your pal and macintosh.
Pull over a nice pair of shirts and pants. Elegantly style them with a waistcoat and camel-colored tie. Now, layer them over with a mac.
Chelsea boots will look best with this outfit. With everything done, now pick up the chess board and play it like a pro with style beside your companion.
In this article, we have thoroughly discussed the best and top trending raincoat outfits for men which are sure to make a statement in this frosty season.
Frequently Asked Questions
Q: What do you wear over a suit in the rain?
Ans: Raincoats are the best option for a down-pour as unlike umbrellas which work well in moderate rain, raincoats, rain jackets, and trenchcoats are the best options. They will not only protect you from rain but will also keep your outfit dry.
Q: How do i choose a raincoat?
Ans: While choosing a raincoat, the first thing to keep in mind is the fabric of the coat. It should be 100 % water-proof and be made of nylon or polyester as they are water-resistant. All the seams should be sealed to make the raincoat more waterproof. The length of the raincoat should also be considered because if short, it might cause drenching of the exposed area. The hood of the rainwear is also important as it keeps your face dry. It should also be breathable to let out your preparation to avoid sweating. These things should be taken into consideration while choosing a raincoat or rainwear.