Instagram Celebrity Outfits – Celebrities' outfits on Instagram look nothing less than a dream for fashion lovers. Although we adore all our celebrities, the ones with good and trendy fashion sense come at the top of our favorite celebrity list. It's no surprise that celebrities step out looking nothing less than flawless. But that's also because celebrities are always under scrutiny – from their outfits to the words they utter- they are carefully examined. Be it on Instagram or in real life, celebrity outfits are carefully put together and therefore they look beautiful even in their street style outfits.
Have a look at some of the latest celebrity outfits from Instagram and add them to your mood board to rock this year with style. Take inspiration from them and add glamour to your overall look. Keep reading to know about the latest celebrity outfits and where you can buy similar outfits to add to your closet.
How To Dress Like Instagram Celebrities?
While celebrities have personal stylists to make sure they always look flawless, you can dress like a celebrity without having to one. In that regard, take some inspiration from your favorite celebrities' Instagram accounts to upgrade your style. Let's start with some common points you should note to level up your outfit game.
Tips On How To Dress Like A Celebrity
Choose a monochromatic outfit to create a statement that looks like a celebrity. Dressing in one hue with a matching bag and a pair of shoes seems to be on top of the current trend.
Play with colors. As good as a monochrome outfit looks, celebrities never shy away from playing with different colored outfits. All you need to do is to understand which color looks better with the other color.
Get a long coat and pair it with other articles of clothes to create a chic and effortless look.
Pair your simple outfit with statement accessories. For example, buy some belts (metallic ones are best) and add them to your simple or monochrome outfits.
Buy some sunglasses. You can get designer or budget-friendly sunglasses. Whatever you choose, make sure it reflects your personality.
Follow latest celebrity outfits Instagram trends but always add a bit of your touch to them to express your individuality. We will show you trendy celebrity outfits on Instagram but these are some of the must-have articles of clothes to dress like a star this season. Wide leg trousers, oversized blazers, statement accessories, stunning heels, monochrome outfits, leather skirts.
↓ 20 – Zendaya In A Green Monochrome Dress
Zendaya is known for creating statement looks. The Euphoria star is not afraid to take fashion risks and all of her looks are proof that there is nothing Zendaya can't pull off. A blazer dress is an ideal choice when you wish to look formal and have a night out. You can never go wrong with this dress on any occasion. Zendaya's stylist Law Roach styled Zendaya in this green blazer dress and she is all set to seize the day in this monochrome blazer dress.
↓ 19 – Kylie Jenner's Iconic Black-Green Combination
Kylie Jenner often uploads her breathtakingly beautiful pictures on Instagram. One of our recent favorite Kylie's outfits is this black body-hugging dress with a side slit. The sexy bodycon is paired with a green bandeau bra and shoes to create a dazzling look.
↓ 18 – Meghan Fox's Fashion Style at Revolve
Meghan fox radiates grace as she attended the Revolve Gallery during new york fashion week 2021. A pale yellow jacket and high-waisted flared pants with a plain white sports bra are elegant. And of course, the matching coperni bag makes the look complete that works the entire day.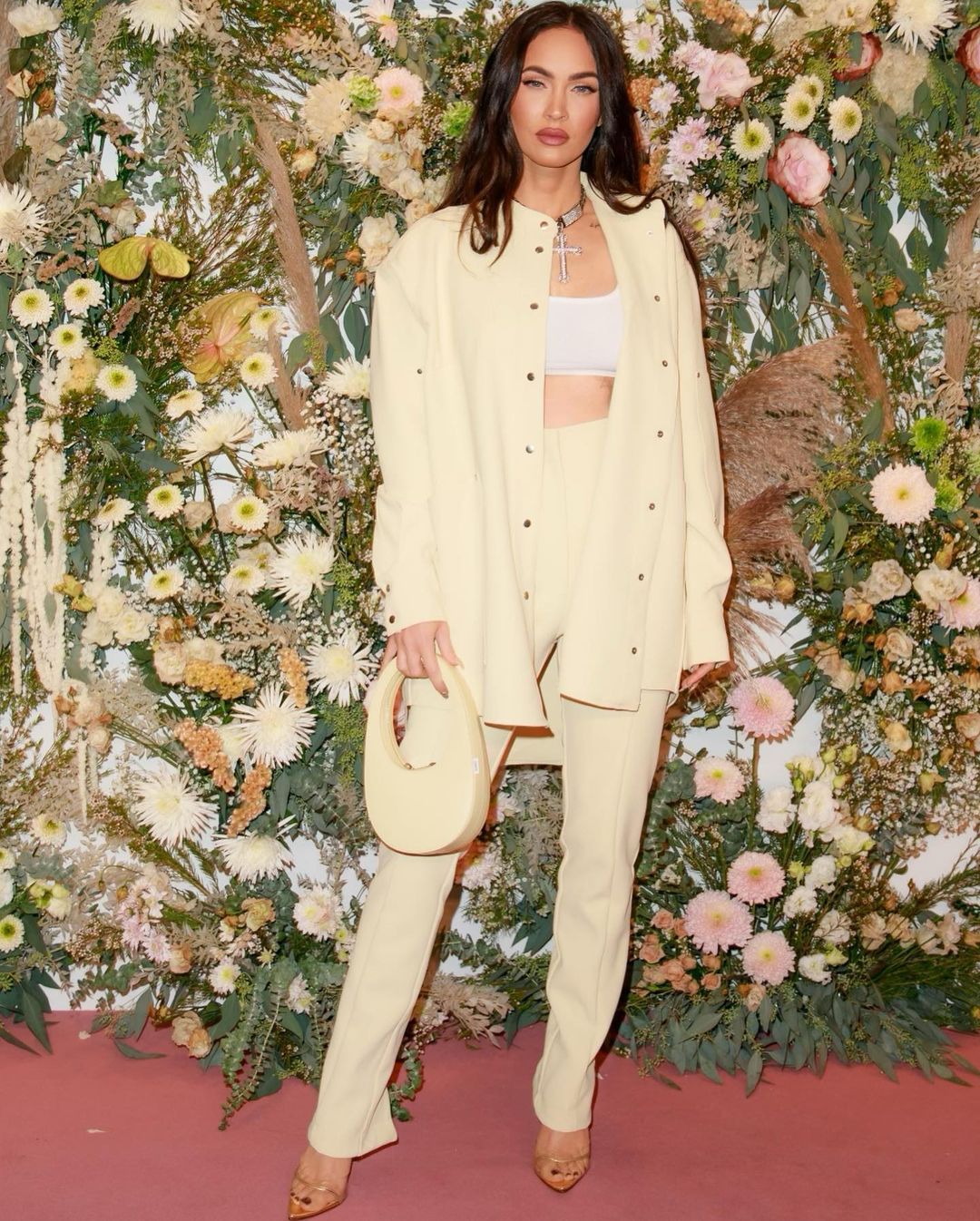 ↓ 17 – Hande Erçel House Party Look
Hande Erçel's is one of Turkey's biggest names and continues to earn immense popularity with her stunning looks and dramas. The actress stuns in an all-white outfit which is a perfect choice for days when you want something that is both comfortable and fashionable. The whole look is a perfect balance of playful and trendy.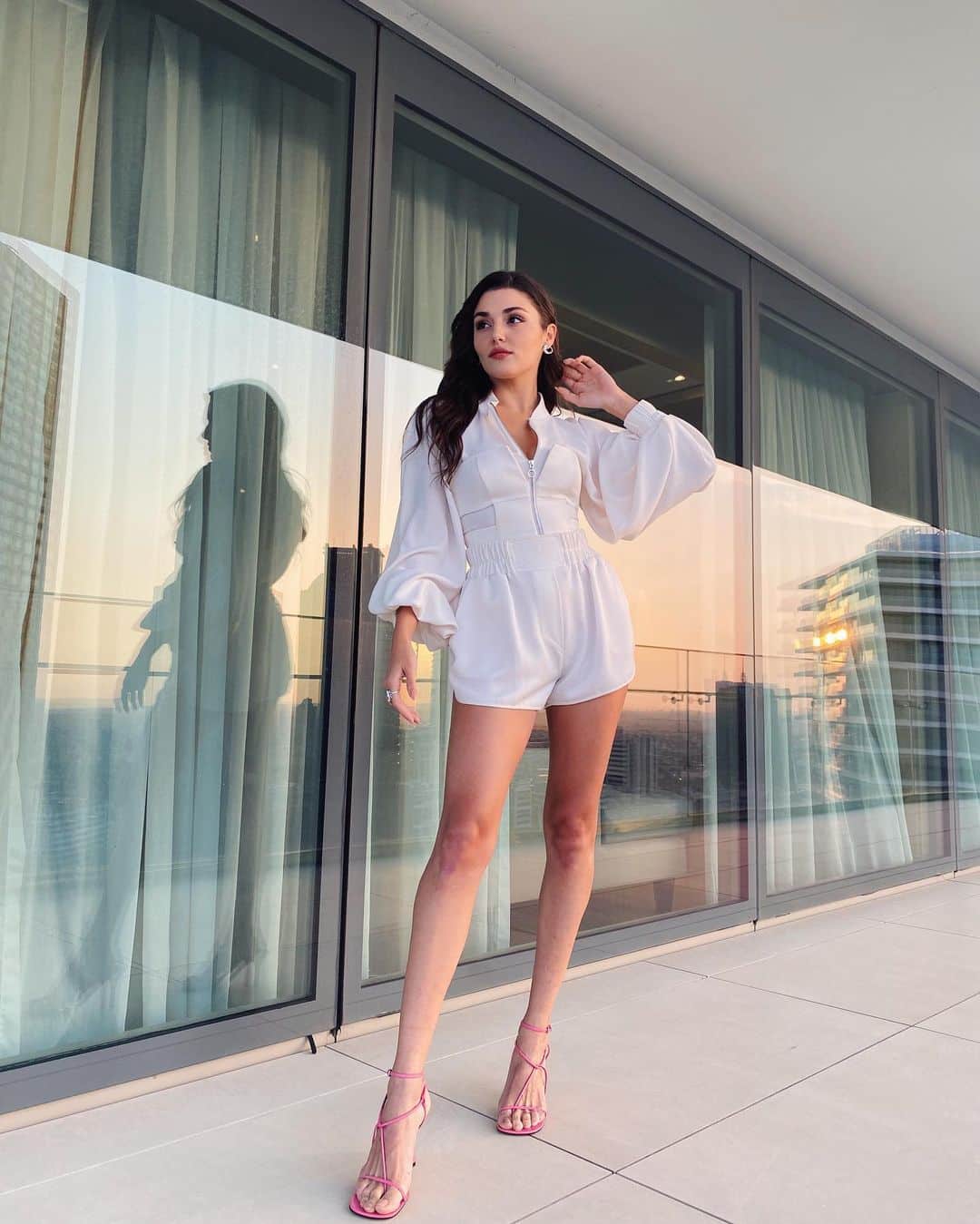 3
. High Heels Strappy Ankle Sandals $25.69
↓ 16 – Roseanne Park
A summer dress over a t-shirt is an outfit worth seeking out. The simple elegance of this look is enough to steal the show. We like how Roseanne Park, better known as rosé opted to style a summer dress this way. Moreover, the very same dress can be worn on many events such as weekend parties, park picnics, and even on cocktails. It's a must to have in your summer collection.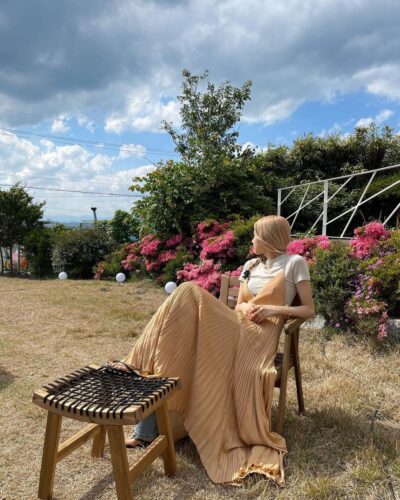 ↓ 15 – Olivia Rodrigo
This bold red short puffy dress is a sight to sore eyes. Olivia Rodrigo looks drop-dead gorgeous and this outfit is proof she has some great sense of fashion. We love the pairing of short dresses with a sheer element like stockings along with sneakers to keep it fun.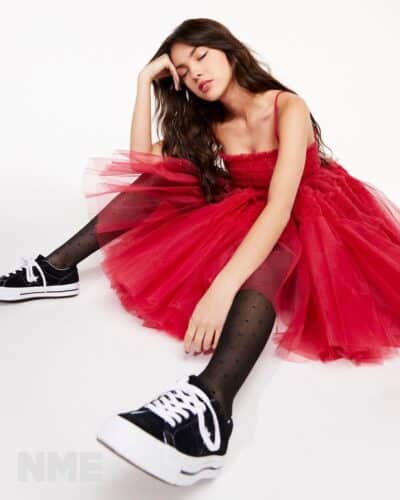 ↓ 14 – Addison Rae's Red Look
Not everyone can rock red head-to-toe but Addison truly nailed it. Addison Rae's ensemble is a great look for any formal event. Blazer and flared pants are on top of the current trend and it's great to see Addison is keeping up with it. Simple bun and pearl neckpiece surely give the whole look a sophisticated final touch.
↓ 13 – Chloé Lukasiak Sexy Black Outfit
Could there be a more sultry look than this? Chloe Lukasiak is looking stunning in this black outfit. If you choose a similar all-black outfit, you should definitely go for soft nude make-up because soft make-up gives a glow to your skin which can make your overall look elevated.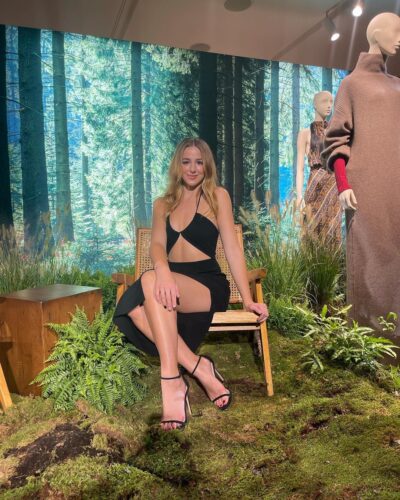 ↓ 12 – Dixie D'Amelio
Isn't dixie a vision to behold in this beautiful monochrome set? I like how easy going this look is – from flared pants, elegant top to white sneakers, and a sleek ponytail. Everything in this look is comfortable and chic.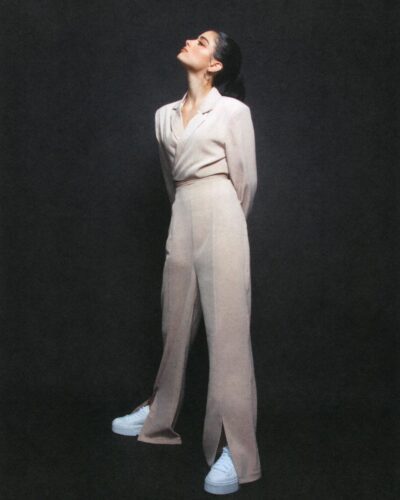 ↓ 11 – Nina Dobrev
A red one-piece is a great look for days when you wish to stand out. It looks stunning and classy. Opt for minimal make-up and accessories just like Nina did to create a statement look since red color alone is enough to steal the show.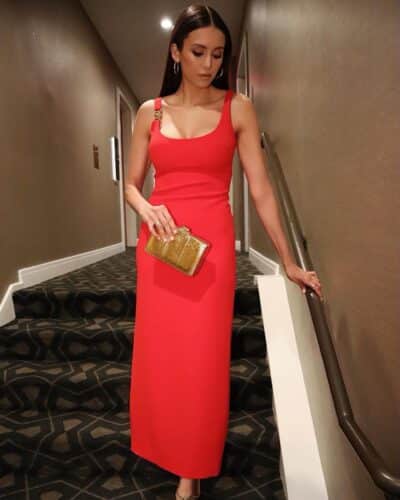 ↓ 10 – Katrina Kaif's Joyful Dress
Sunny days are relaxing and fun. Add a wow outfit to make it more enjoyable and what's a better option than cool tie-dye prints. We love this carefree look on the stunning Katrina Kaif. Breezy print on this beautiful bodycon dress celebrates courage and beauty. Tie-dye prints bring you hippie days vibes and your day will surely be a breeze. To recreate the look, get yourself a tie-dye dress. Depending on your mood, opt for either hair down or two-side fish braids to create an uber-cool look. Nude make-up is ideal but if you want something out of the box and fun, experiment with soft colorful eye-makeup. This ensemble will have you feel young, free, and beautiful.

↓ 9 – Red And Black Combination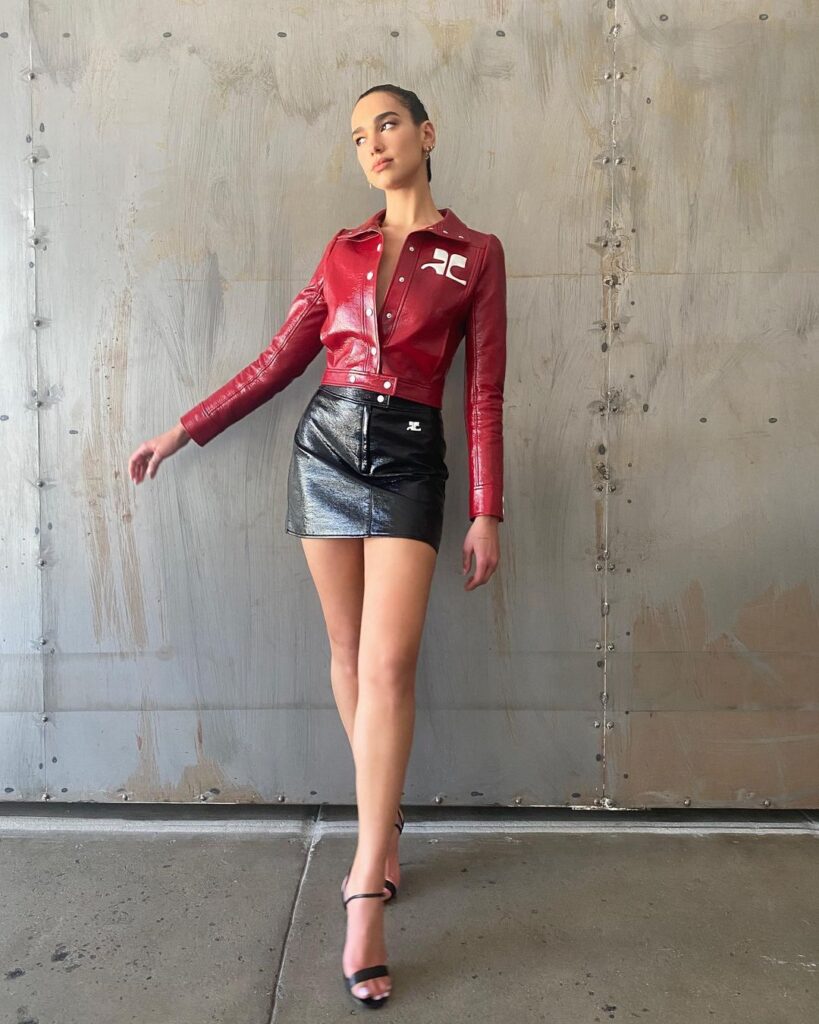 ↓ 8 – Hailey Beiber's Denim-on-Denim Outfit
Denim over denim can never go old. It is a rocking look and will always be one. Wearing denim on denim is casual and fashion-forward. However, make sure you do not overdo the look by adding denim accessories.
↓ 7 – Chloé Lukasiak's Perfectly Pink Outfit
How much pink is too much pink? Well, pink is never too much. I love the magic created with the different shades of pink. A whole pink outfit is a great addition to playful, trendy, and going-out ensembles. Perfect for movie dates and weekdays shenanigans. Just being in this outfit will have you feeling cute.
↓ 6 – Katy Perry's Cute Denim Dress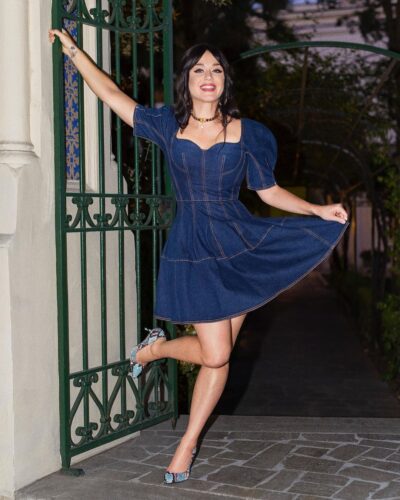 ↓ 5 – Selena Gomez's Street Style
Black seems to be Selena's favorite color this year. She made numerous appearances rocking an all-black outfit. Have a look at some of our favorite Selena looks from her recent outfit styles. Also, If black is your favorite color and then you need to check out our 30 Celebrities All-Black Outfit Styles for Fall to Copy to see how celebrities rock all-black outfit styles.
We love Selena's all-black outfits choice. Her statement red lip has our heart throbbing.
Isn't Selena simply magical with her hair down? She looks effortlessly chic.
All you need is this classy outfit to take your look to next level. The perfect way to look edgy and stay warm.
↓ 4 – Kendall Jenner
Kendall Jenner is an absolute stunner. If you like her outfits and want her complete style guide then check out our 30 Most Stylish Kendall Jenner Outfits of All Time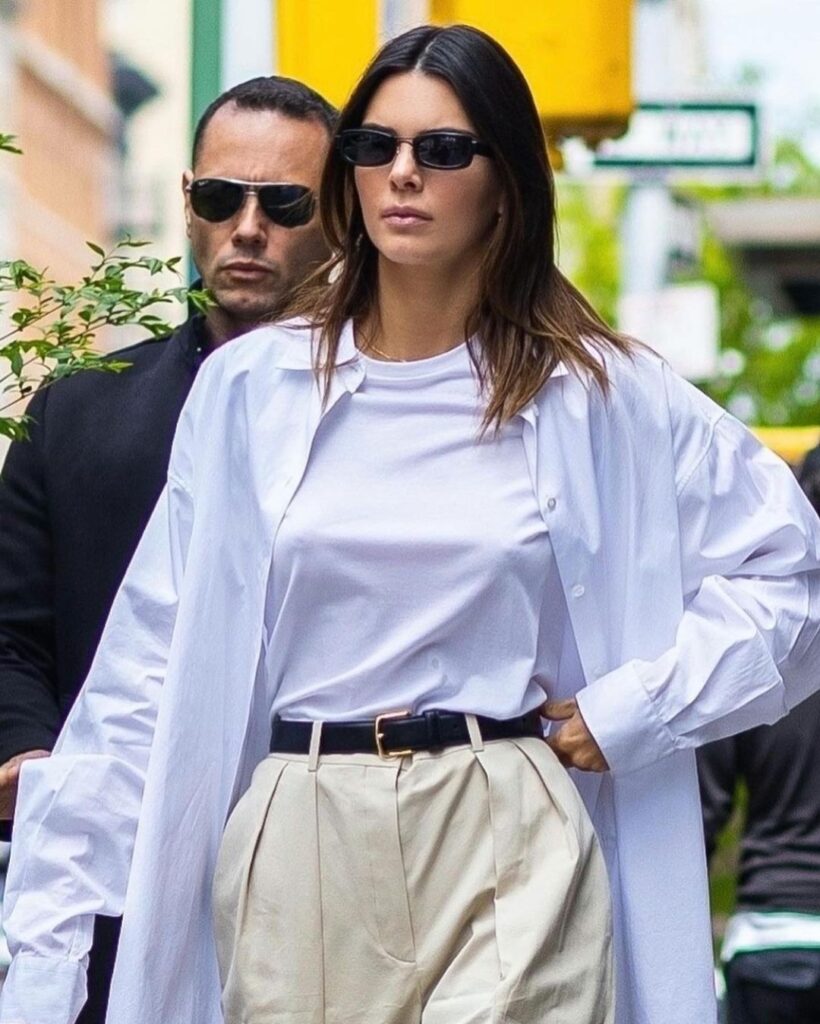 ↓ 3 – Beyoncé
Beyoncé is, without a doubt, a music and fashion icon. The queen is ready to slay in this shimmering dress. Sunglasses perfectly reflect beyoncé's uber-cool personality and the green shimmer dress with a high ponytail is enough to help you dazzle all night.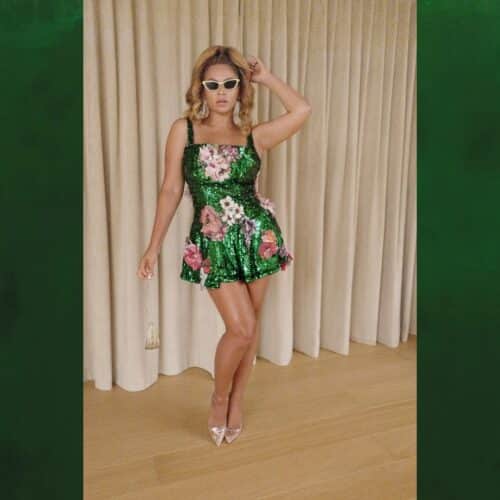 ↓ 2 – Orange Outfit to Liven Up Your Day
Pulling a complete orange outfit is not everyone's cup of tea but Chloé Lukasiak nailed the look. Your outfit plays a big role in how you feel. So many things depend on what you wear including how you feel. Wearing an orange color can not only just liven up your summer outfit but also your mood. Orange is a vibrant hue that comes in an array of shades making it easier for you to choose a shade that suits you the most.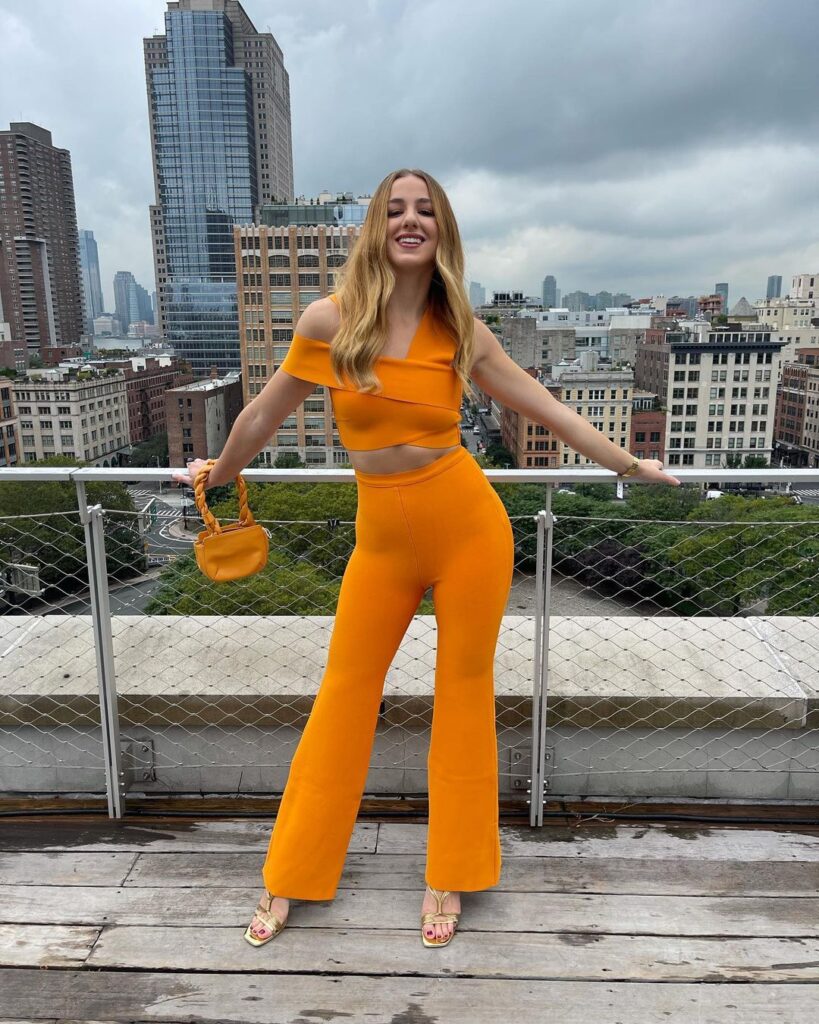 ↓ 1 – Dua Lipa Dreamy Mesh Dress
Dua lipa is a dream in this beautiful mesh dress. The sheer outfit paired with ankle strap heels is truly a levitating look.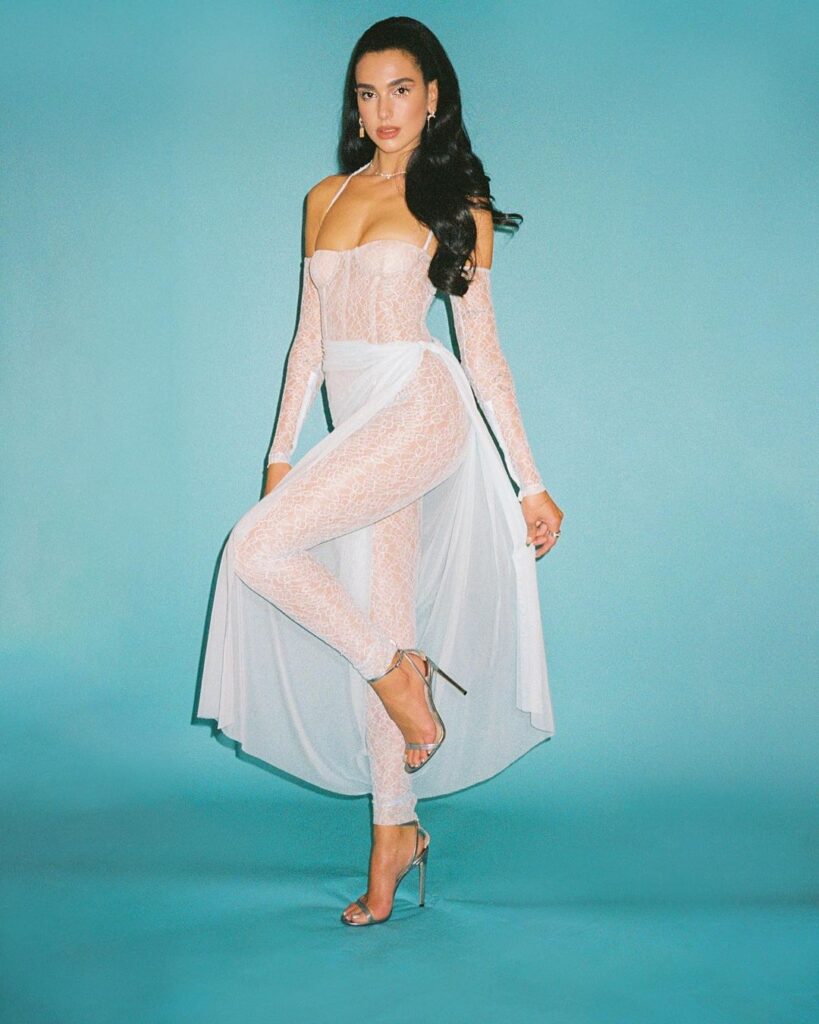 Frequently Asked Questions
Q: Who are some best dressed celebrities to follow on instagram?
Ans: Instagram is one of the best social media platforms to take fashion inspiration from your favorite celebrities. Every celebrity dresses in their own unique way but If you wish to be fashion-forward then follow these female celebrities. These celebrities don't just follow fashion trends but they create one. Here are some of the best-dressed celebrities that you must follow on Instagram. Kylie Jenner, Kendal Jenner, Selena Gomez, Beyoncé, Zendaya, Dua Lipa, Chloé Lukasiak, Hailey Beiber, Gigi Hadid, Bella Hadid.
Q: How to dress like a celebrity on a budget?
Ans: Dressing like a celebrity is cool but there is a limit on how much we can spend. It's very important for all fashion lovers to learn to be fashionable on a budget. This will not only save your money but also saves you from buying an abundance of clothes that you never end up wearing. Look out for sales especially end of seasons sales. Retailers would want to get rid of stock because the season is changing, you will surely get amazing products at affordable prices. Invest in basic wardrobe products that you can wear again and again. Find coupons, discount codes, and save a bundle of money. Many companies even offer cash back on purchases so do some online search and use coupons.
Q: Which celebrity has the best street style?
Ans: Hailey Bieber, Kate Moss, Zendaya, Gigi Hadid, Selena Gomez, Taylor Swift, Kendal Jenner are some of the celebrities you can follow for street style inspiration.
Q: What brands do celebrities wear?
Ans: Celebrities choose their clothes from different designers and brands. However, there are some brands that celebrities are often seen wearing. With that being said, here is the list of brands that celebrities love to shop from Sami Miro, Emporio Armani, Chanel, Fendi, Gucci, Louis Vuitton, Prada, Burberry, Ralph Lauren, Valentino.
Q: How do I stay on top of current celebrity trends?
Ans: You can read fashion magazines, take notes from fashion weeks and celebrities' Instagram accounts, and follow fashion websites such as Outfit Trends, Vogue, Elle just to name a few.
Q: Where can I find my favorite celebrity style guide?
Ans: Wouldn't all fashion lovers love to get a peek at their favorite celebrity's closet? Well, here comes the celebrities' style accounts. There is probably an Instagram account of your favorite celebrity that breaks down all of their looks from head to toe. Instagram celebrity style accounts provide you with all the details about celebs' envy-worthy outfits and where you can shop them. I have listed down the top celebrity-style Instagram accounts that you must follow. Selenascloset, Zendayastylefiles, Thehadidscloset, Taylorswiftstyled, Chloelukasiakcloset.