Street Style Fashion from Bollywood – Bollywood celebrities surely have the best street style in the world, and who wouldn't want to look like them? If you are thinking of what to wear, then we have a collection of the latest street style fashion, inspired by the top Bollywood actresses.
These street style outfits can be tried in both summer and winter seasons. So without wasting any more time, let's have a look at the hottest street style all the way from Bollywood.
Latest Street Style Of Bollywood Celebrities
While collecting and digging into Bollywood, celebrities street style looks, we noticed a few things; you might want to know them as well, so dress and style better.
Street style is not supposed to be extremely formal or way too fancy as if you are dressing up for a wedding.
Street style is supposed to be classy, chic, unique, and a little bit of wild.
Opt for statement jewllery instead of traditional Indian gold sets.
Tie up your hair in a ponytail, loose buns, or just let them open straight. Don't overdo your hair with fancy, funky hair accessories or flowers, etc.
Your shoes matter a lot, so always opt for shoes in which you will be comfortable rather than just chasing style and later on hurt yourself.
Here are some trending and latest street style looks from Bollywood celebrities. I'm sure you'll love them, and the best part is that you'll find most of the stuff in your closets, so no shopping required. So be ready to rock some celebrity street style looks.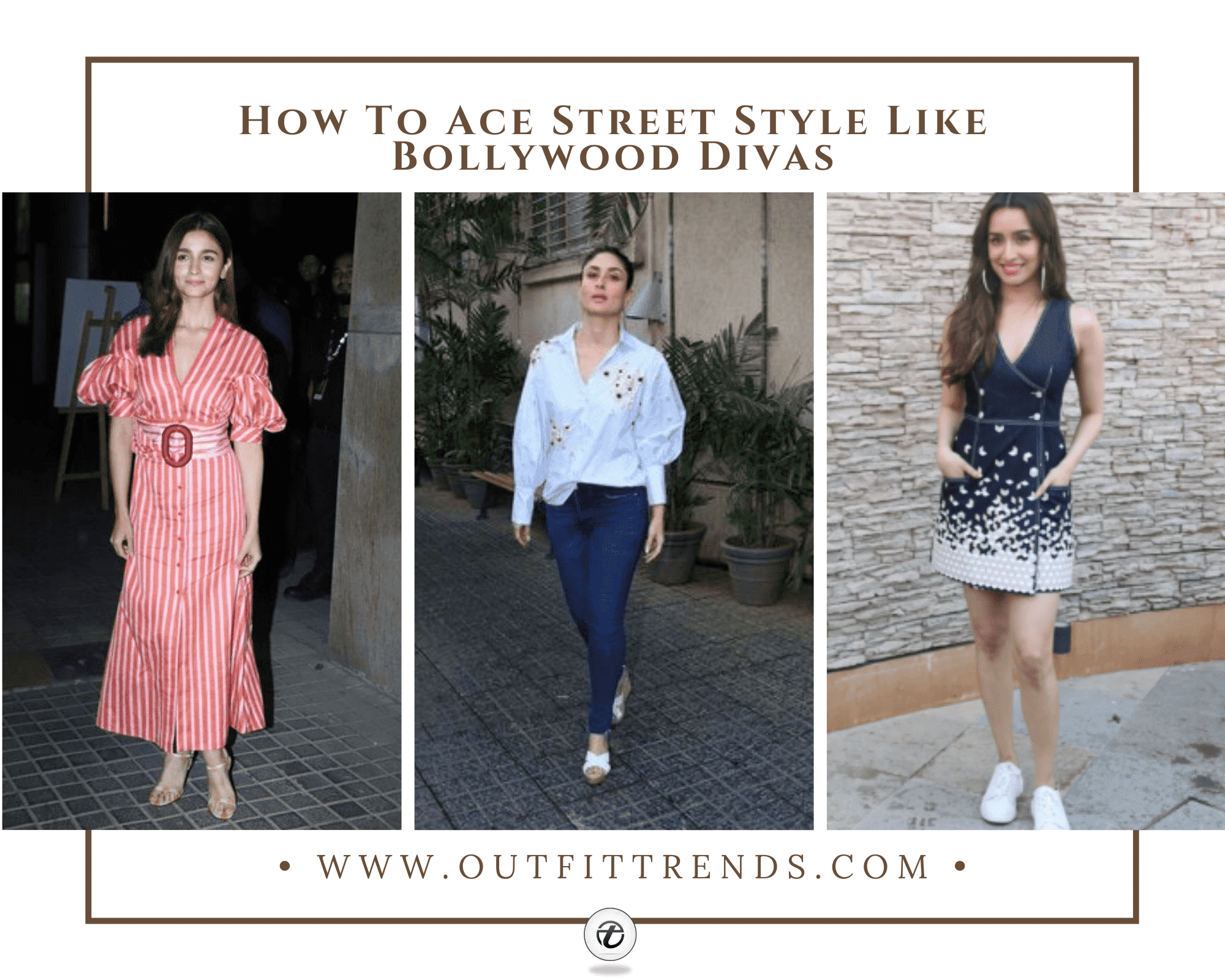 ↓ 31 – Kareena Kapoor's Iconic Street Style
Kareena Kapoor, the Bollywood diva, and mother of a cute little boy has proved that your life mission should not only be to survive but thrive with some compassion, passion, and style. We adore her street style looks because she hits the streets as no one else does. She balances grace, elegance, bold, and wild altogether, at the same time. Here's her enchanting denim look!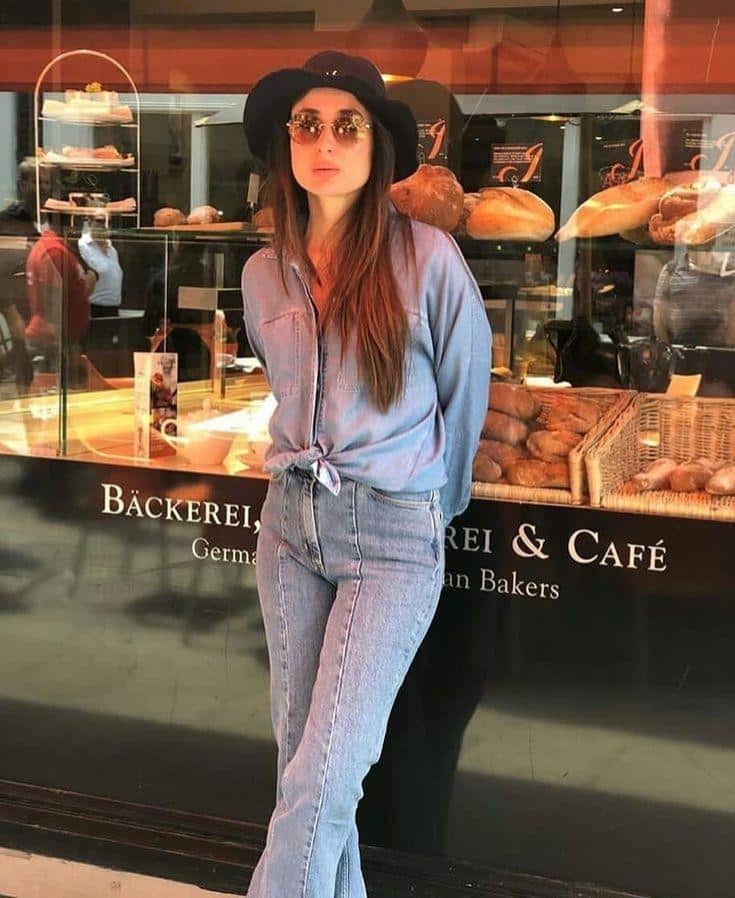 Here she is slaying in a white printed shirt paired with black pants, sandals, and a purse. The stole in her neck, hair bun, and red lipstick finish her look in a beautiful way.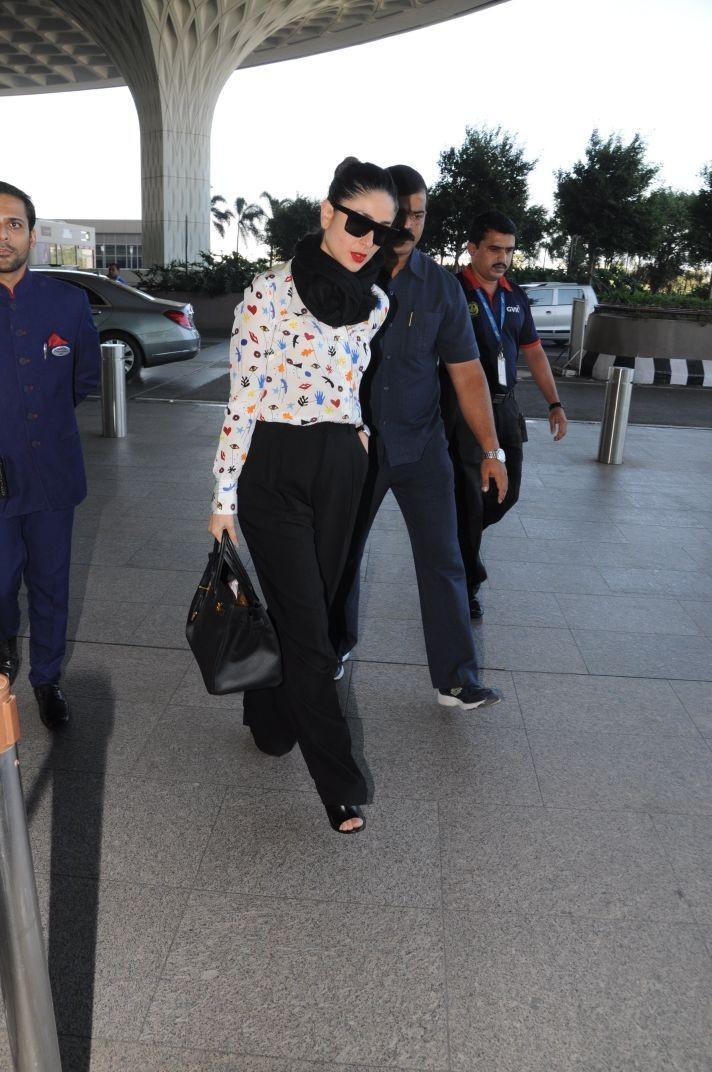 Kareena never disappoints us, nor never fails to amaze us. She has taken sweatshirts and pants to streets and rocked it. Pairing her outfit with white sneakers was a sagacious choice. Love the way she tied up her hair.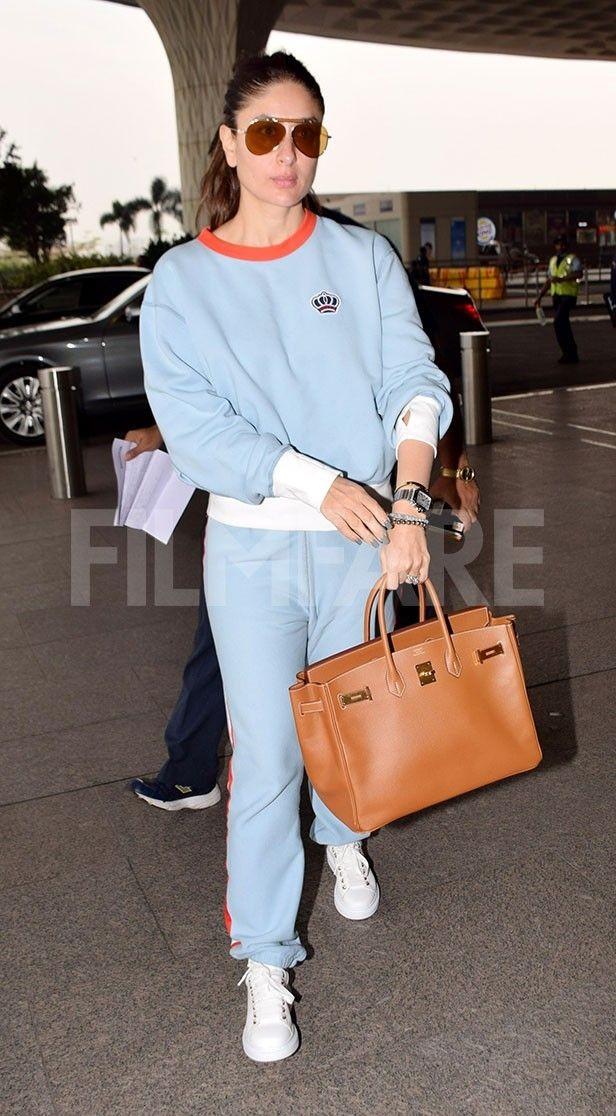 ↓ 30 – Katrina Kaif's Street Style
Katrina Kaif, the style icon of the Indian fashion industry, always wins the hearts of millions of people. Her style has made us realize that style always remains the same, even if fashion fades. We love how she is carrying herself in a super casual hoodie and ripped jeans. The hair bun and glasses have given her a tough lady touch. Love her white shoes, though!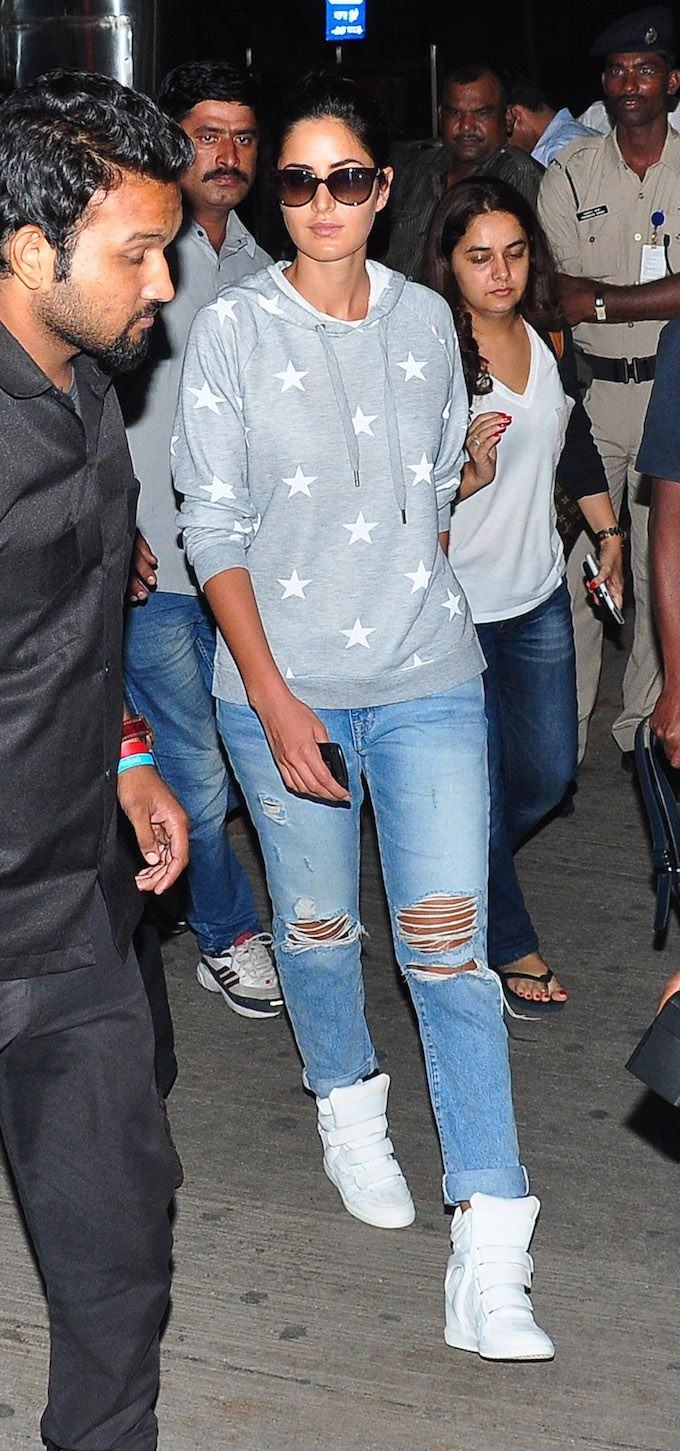 Here is another fantastic street style look of this fashion icon. We love her checkered off-shoulder top with denim short pants.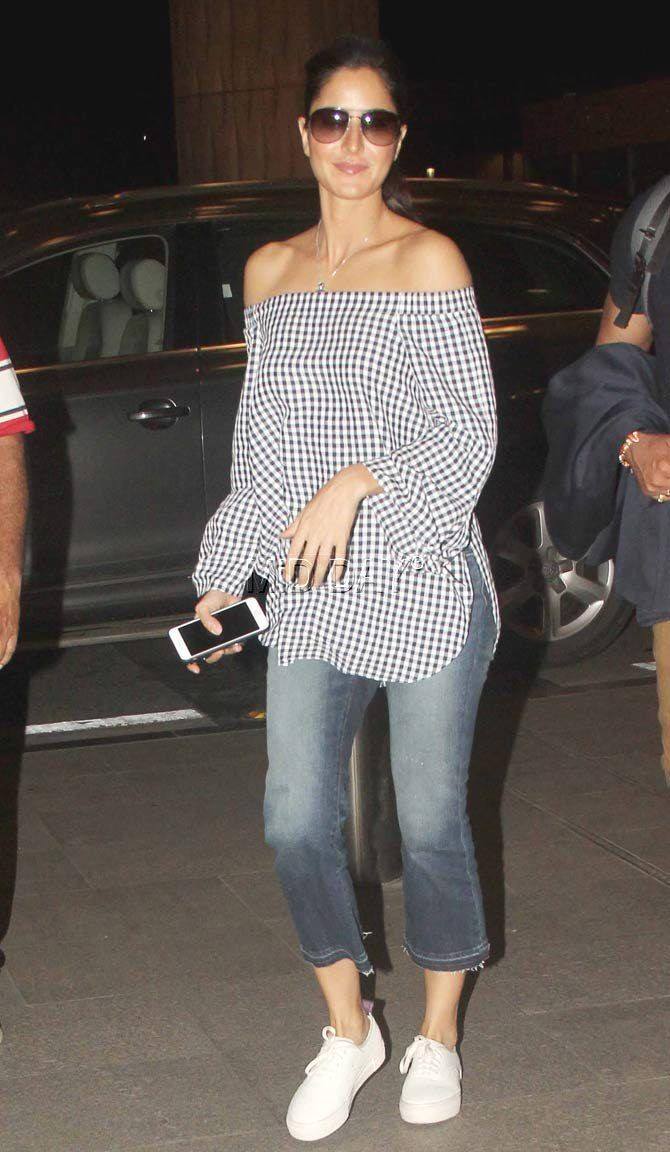 ↓ 29 – Easy Breezy Style For Indian Streets
Summers in India are pretty hot, so you need to dress up in something easy breezy. And Indian celebrities give us numerous ideas for doing that. Have a look at how elegant this short slit maxi dress looks with a denim shirt and white sneakers. If you like this style and want to try it, you should also check out these super-stylish Outfits with Denim Jackets.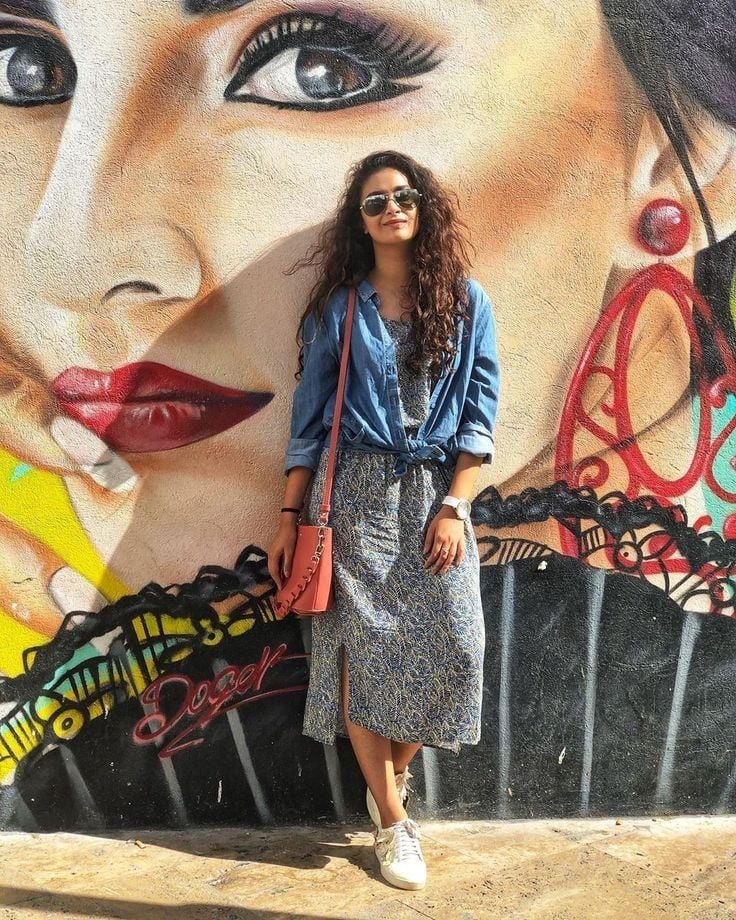 You can also wear a simple loose short dress with sandals in summer and slay street style.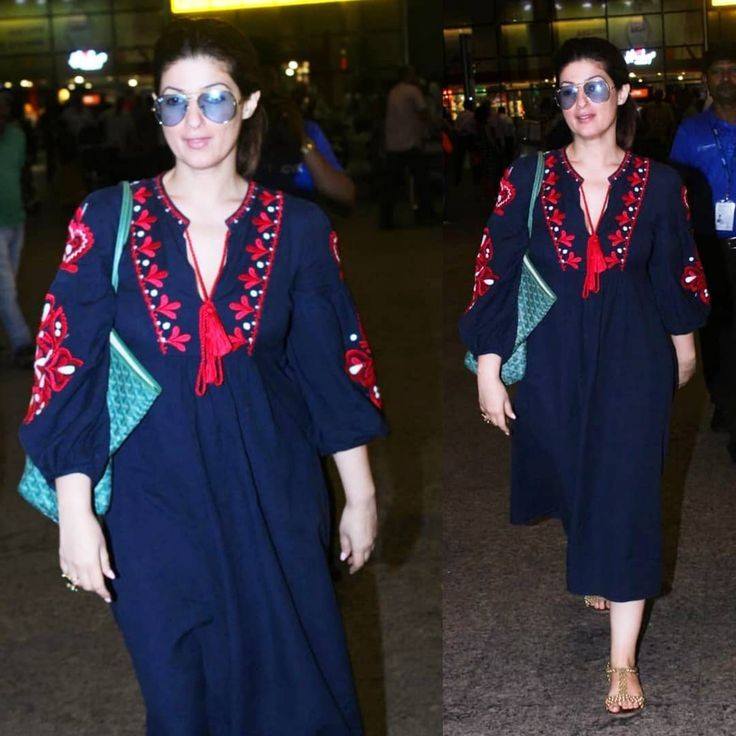 ↓ 28 – Anushka Sharma's Style
Anushka Sharma, our favorite girl, has a fantastic fashion sense. Her style incorporates feminine touch, girly throwback, a little hip hop, and at times like retro pin-ups floral. Below are a few of her top street styles that you can carry easily. Check them out.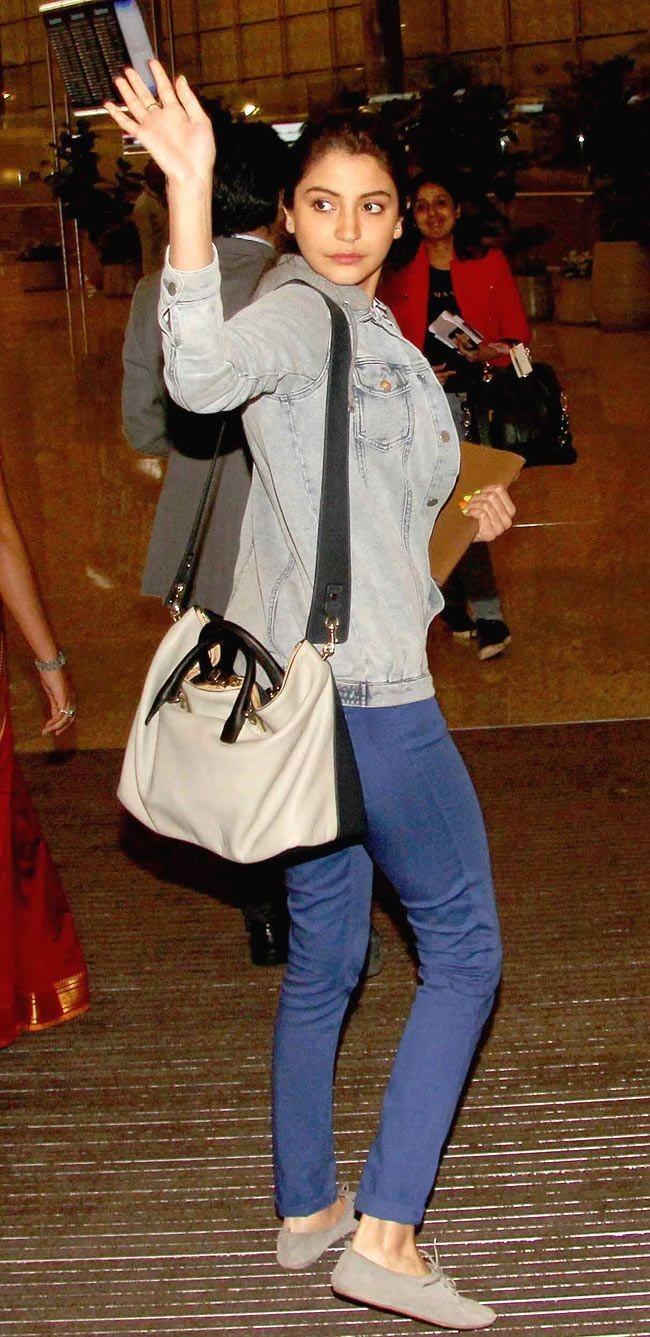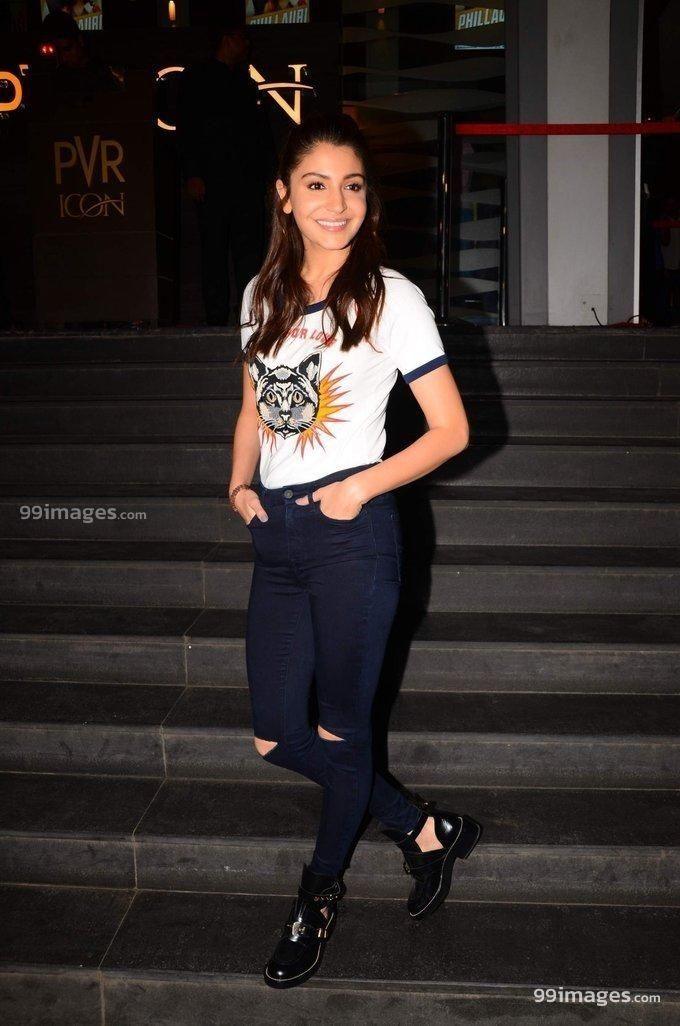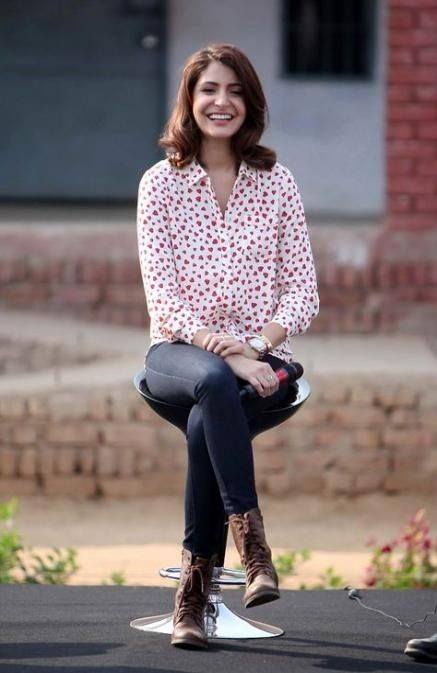 ↓ 27 –  Classy Street Style Of Bollywood Diva
Malaika Arora, a 46-year-old Indian actress, model, dancer, and yet she doesn't look like she's 46 at all. Why? Because of the way she has maintained her self and, of course, the way she styles up. We can't believe she can pull off this outfit consisting of a graphic tee and wide-leg denim this well. It makes us wonder if she is in her twenties.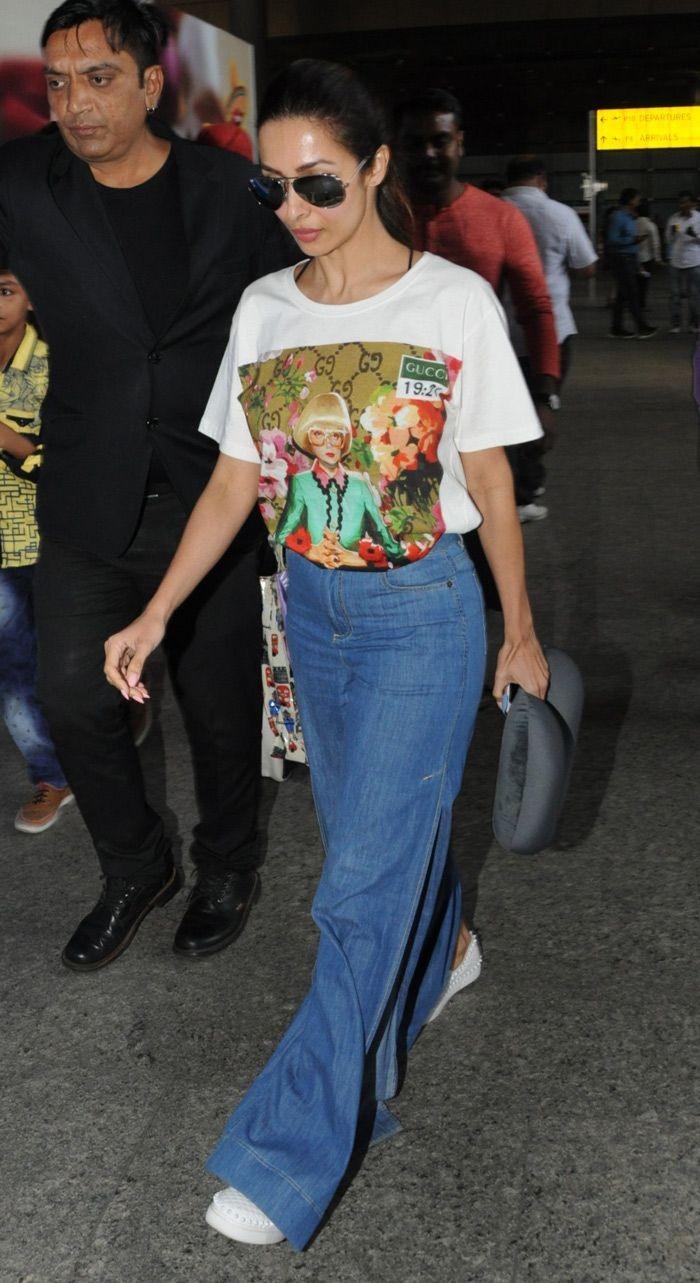 Here you can see her wearing a white off-shoulder top with high waist jeans and sneakers. She looks utterly classy in this outfit accessorized with sunglasses and a crossbody bag.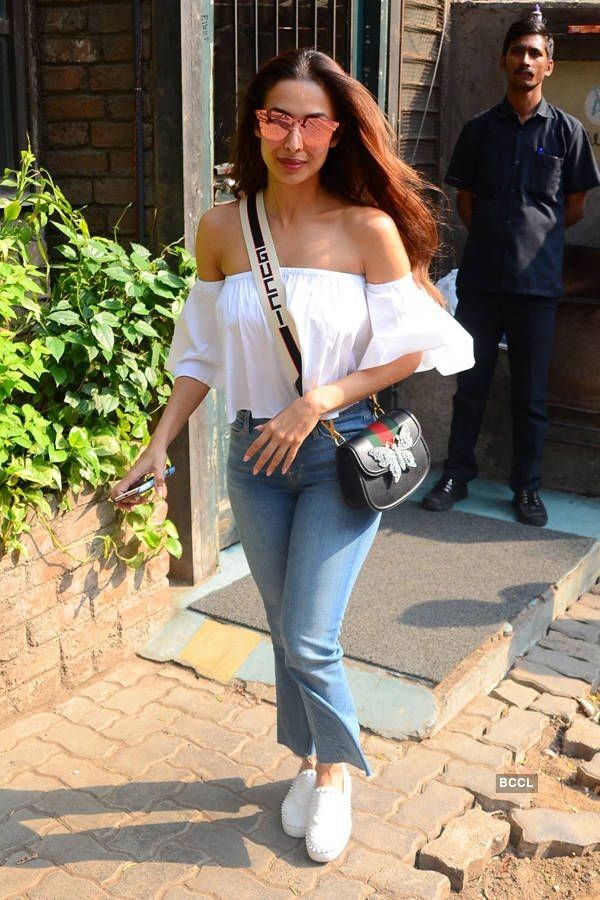 Do we hear a whistle now? She is rocking the sexy and ripped outfit even better than a teenager. Ladies, she should be your inspiration for dressing up, especially for street style fashion.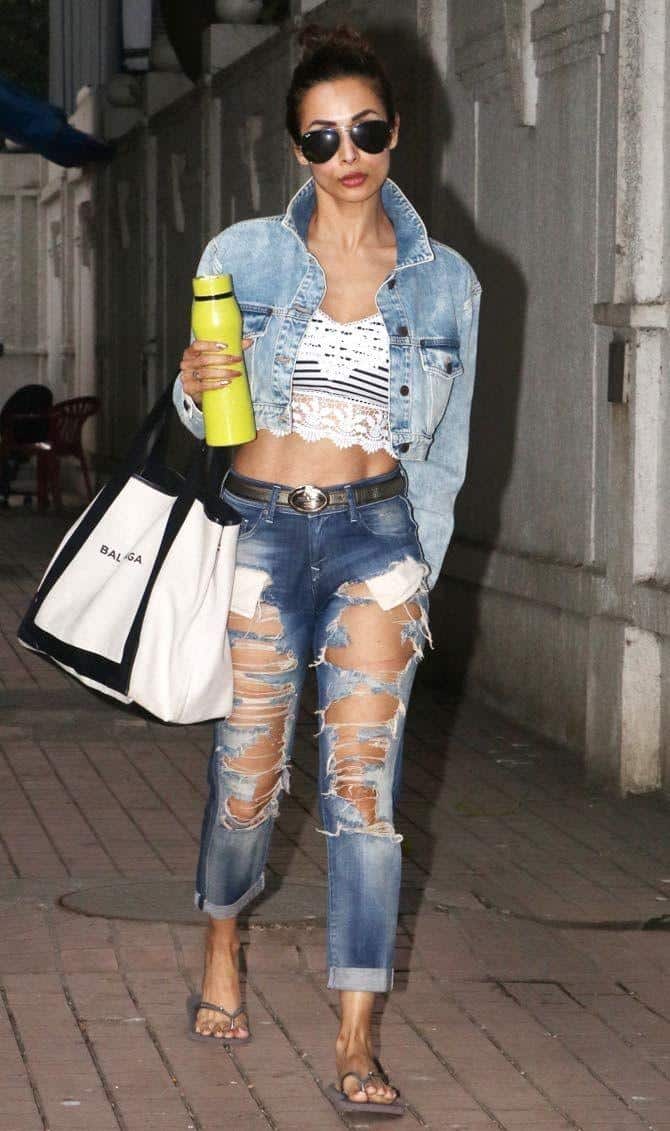 ↓ 26 – Bollywood Diva Deepika Padukone
Deepika Padukone, the newlywed girl, wife of Bollywood king Ranvir Singh is a Queen. Her style is less about sensation and innovation and more about perfection, elegance, and grace.
Have a look at how decent she looks in the chic and classy white top along with blue ripped jeans and sneakers. Adore the way she has loosely thrown over her jacket. Her sunglasses and silky hair makes her look ten times more trendy and sophisticated.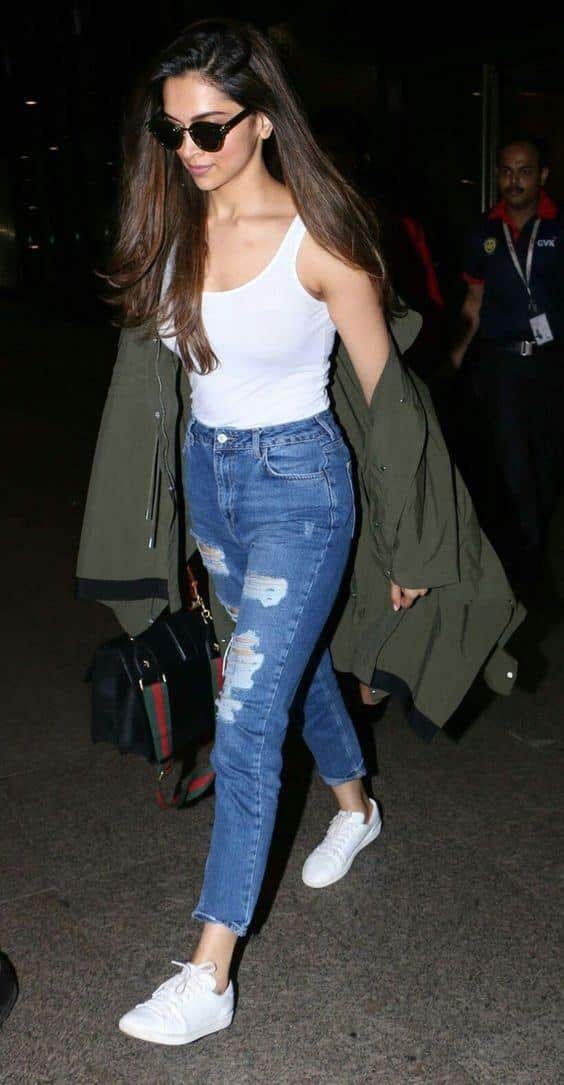 Here's another look of her, she looks unreal and more like a doll. She looks incredible in black turtle neck top with high waist white pants and canvass shoes. The fresh air moving through her hair is breathtaking.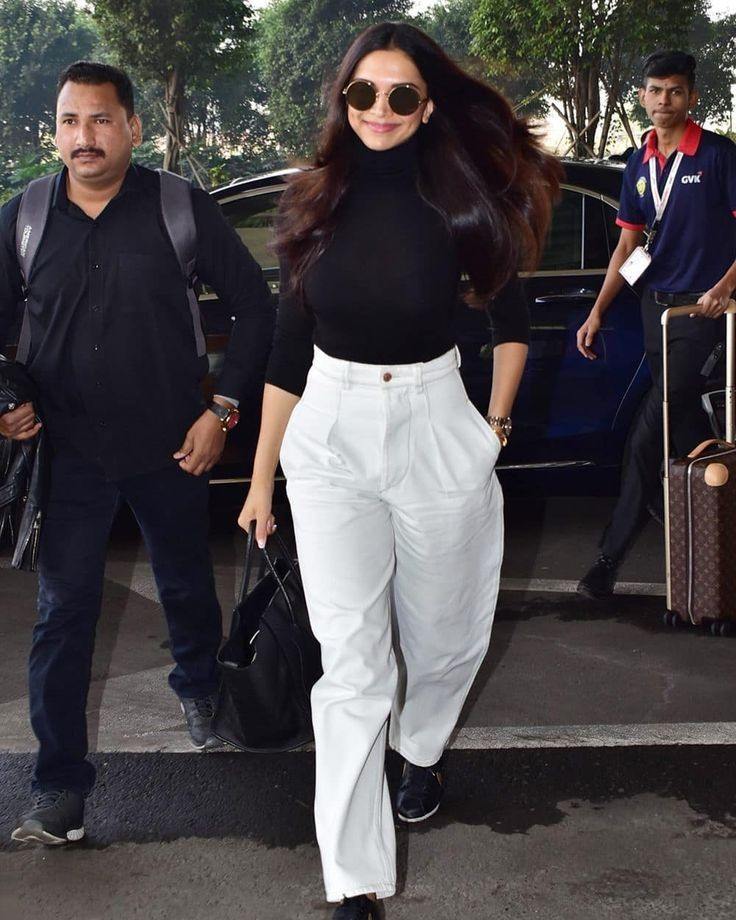 ↓ 25 – Prianka Chopra Acing Street Style
Priyanka Chopra, the heart of the Bollywood industry is always up with something new, innovative, and funky at times. But one thing that she knows very well is how to carry herself well in any outfit.
Checkout how fascinating she looks on the street with her husband Nick Jonas in this blue silk gown and a white hat. You should also have a look at these Bollywood Celebrities Beach Outfits.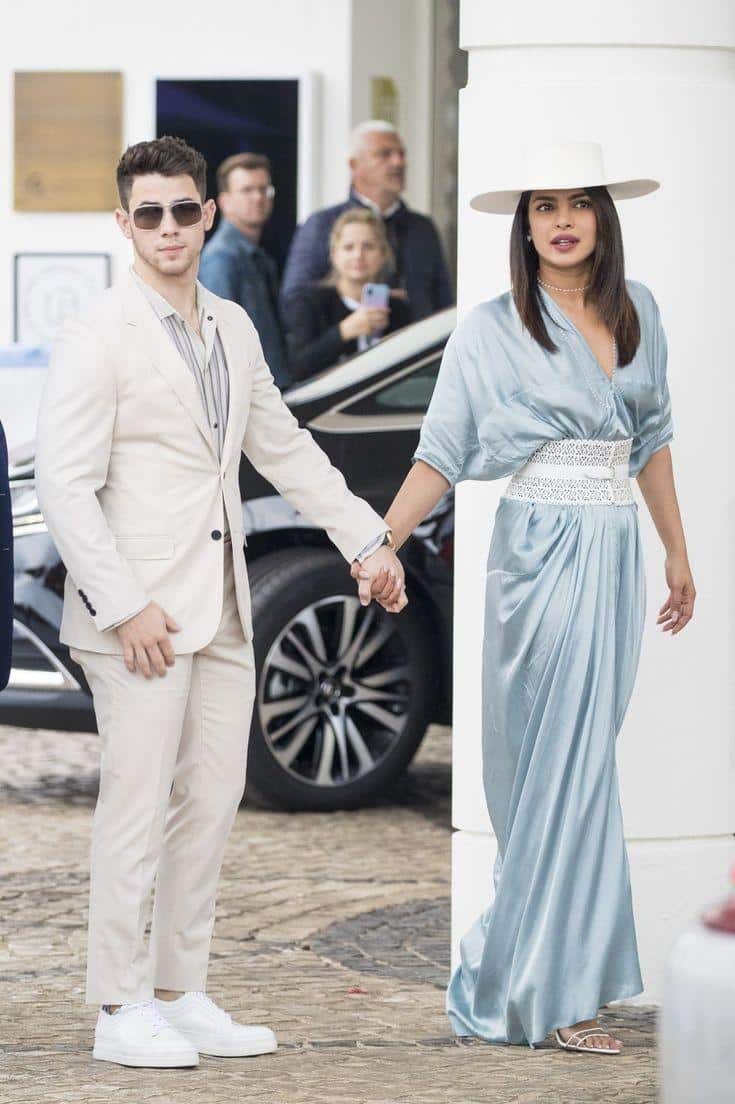 We can't take our eyes off Priyanka in her shocking pink midi dress consisting of a broad belt. The outfit accentuates her figure so well. Also, not everyone can carry center partitioned loose waves this well.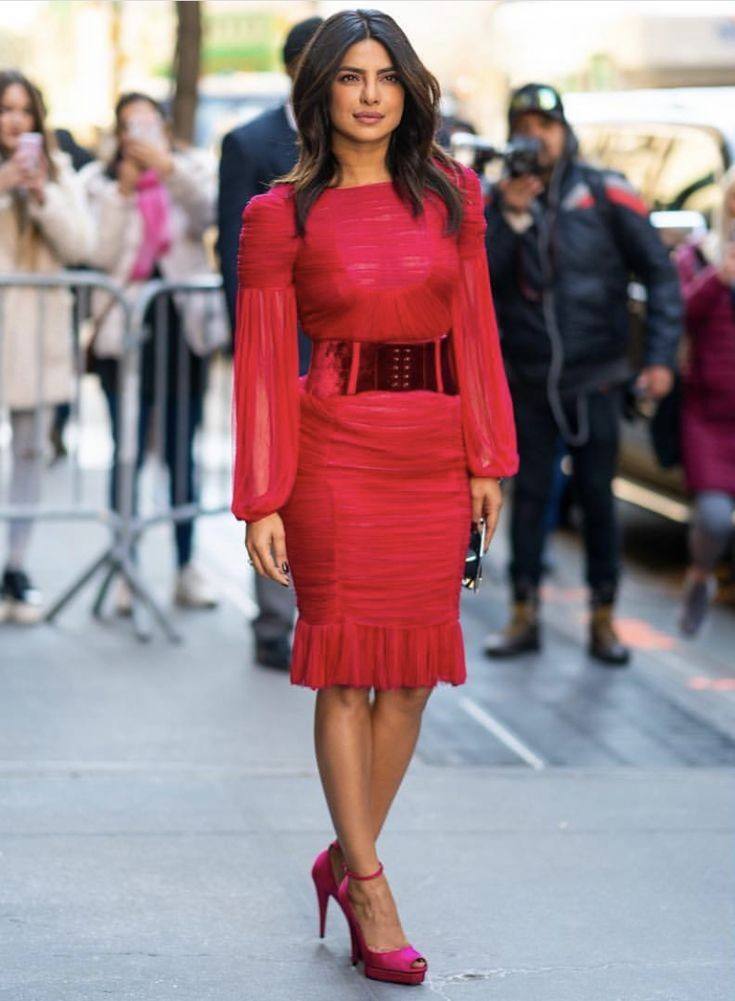 Here's another eye-catching look of this queen.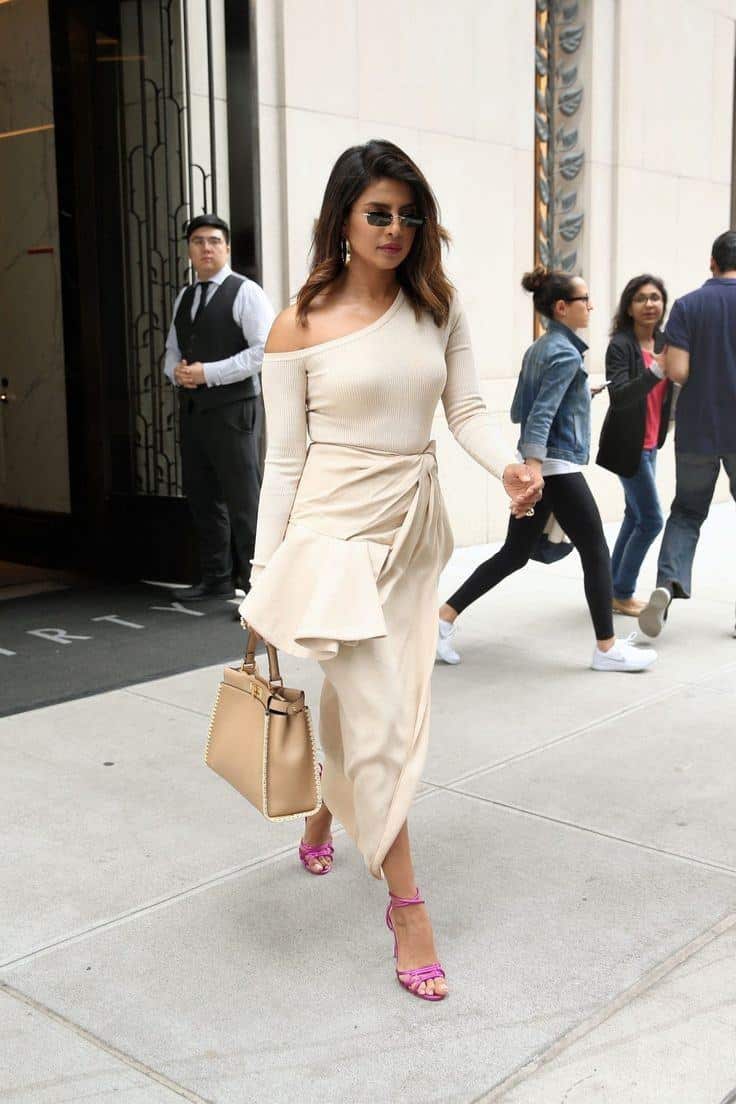 ↓ 24 – How To Take Prints To Streets Of India
Sonakshi Sinha, a 32-year-old Indian film actress, has given street style another direction. I can't believe someone call pull off prints this well.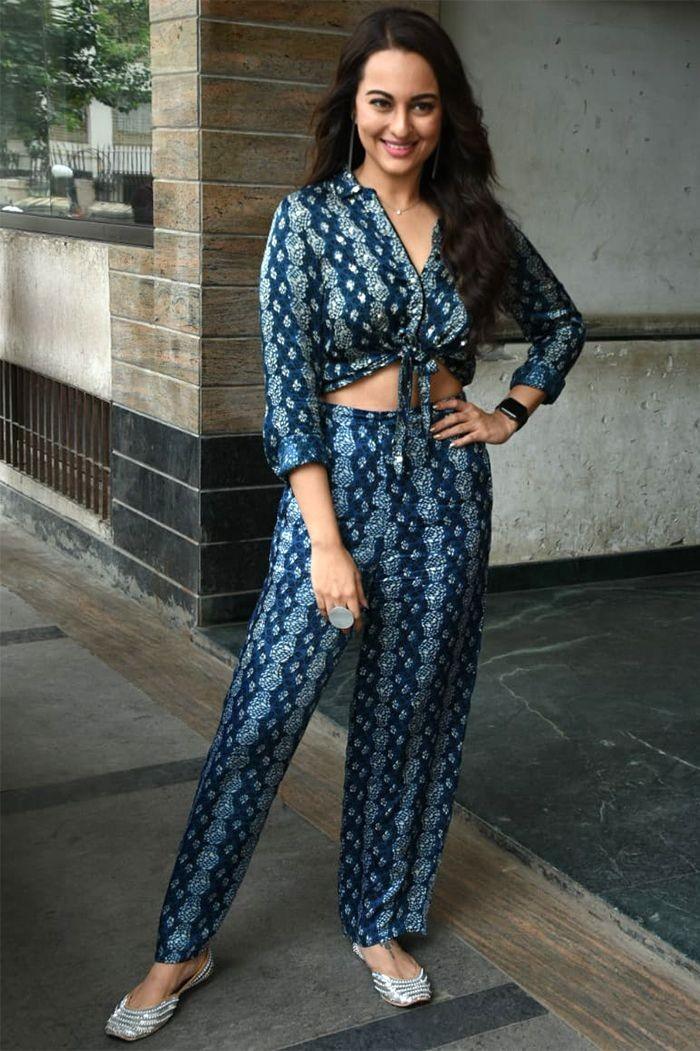 ↓ 23 –  Formal And Sophisticated Look
A little formal and sophisticated never goes out of fashion. It has a classic glam that no other thing can ever have. Try wearing a classy silk top and tuck it inside your office pants. Don't forget to put on a belt. With outfits like these, heels are the best choice. Finalize your look with a sleek ponytail and on-point makeup.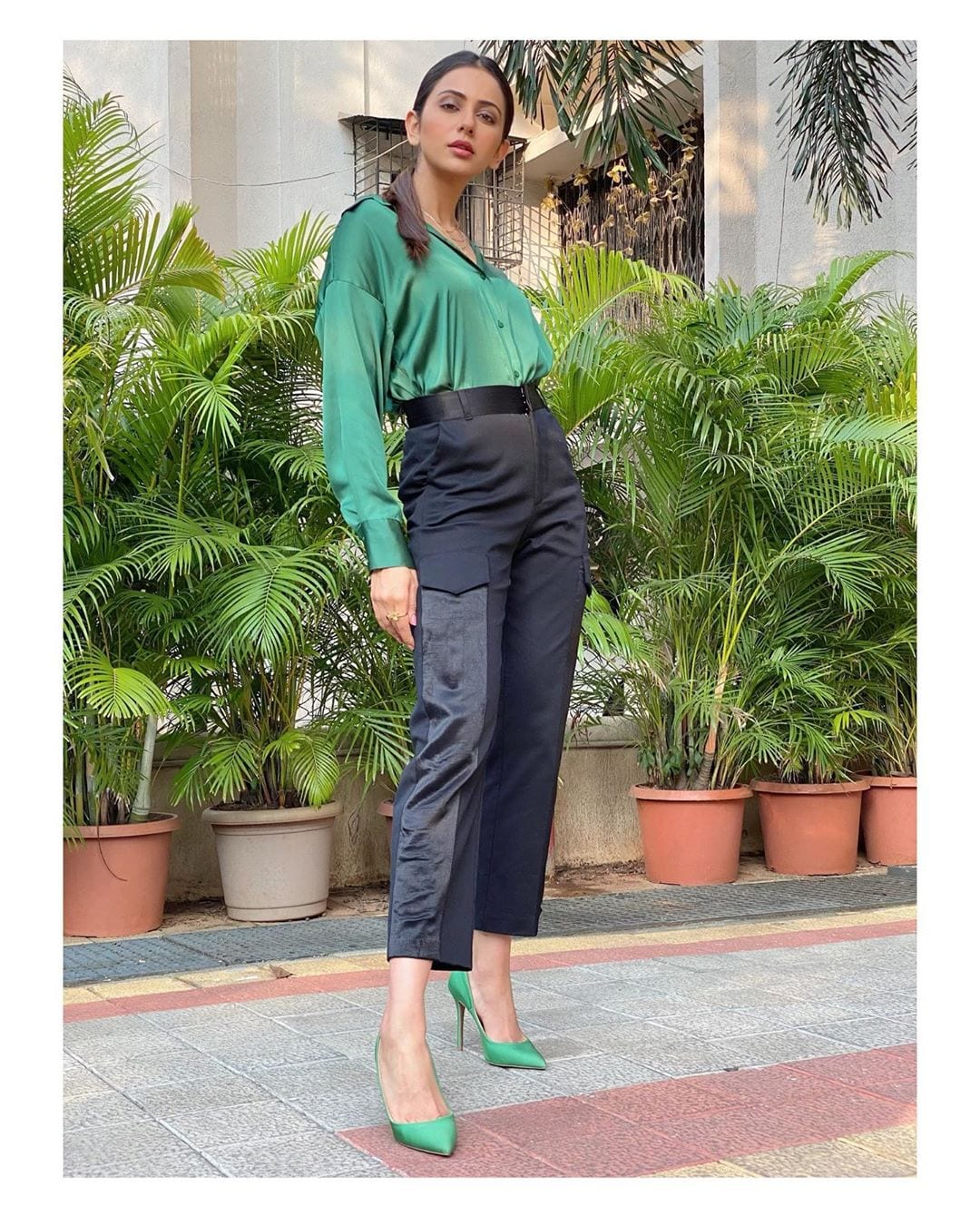 ↓ 22 – Tops With Skirts
Plain tops with printed skirts are ideal for summer and spring seasons, and Indian actresses have proven this.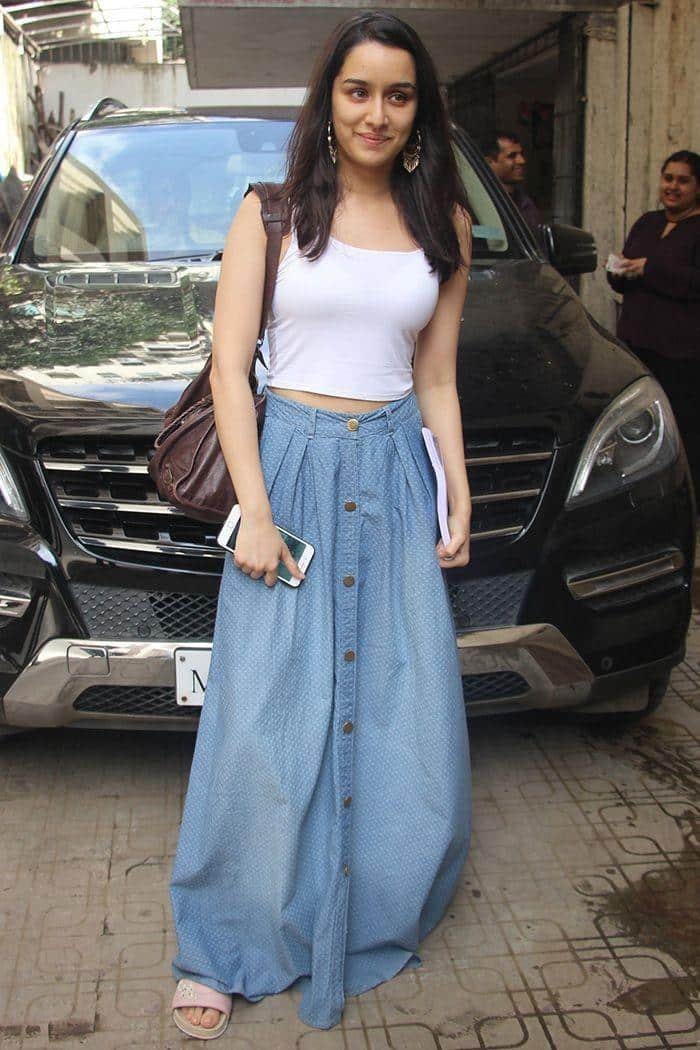 ↓ 21 – Street Style Inspiration From Kajol
Kajol, the biggest name of the Indian fashion industry, looks thrilling in white knee-length dress and pumps. Her red necklace has added a pop of color to her entire look. And taking eyes off her finely curled hair is almost impossible.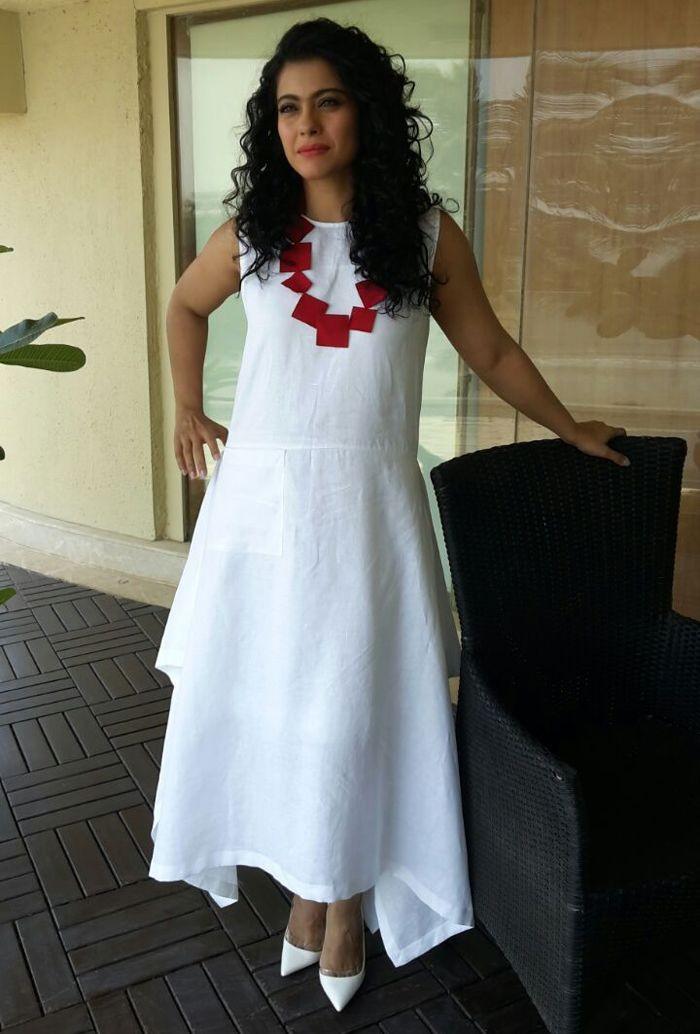 ↓ 20 – Short Dresses
Short printed or floral dresses are ideal for wearing when you don't want to look effortlessly good, all girly and cute.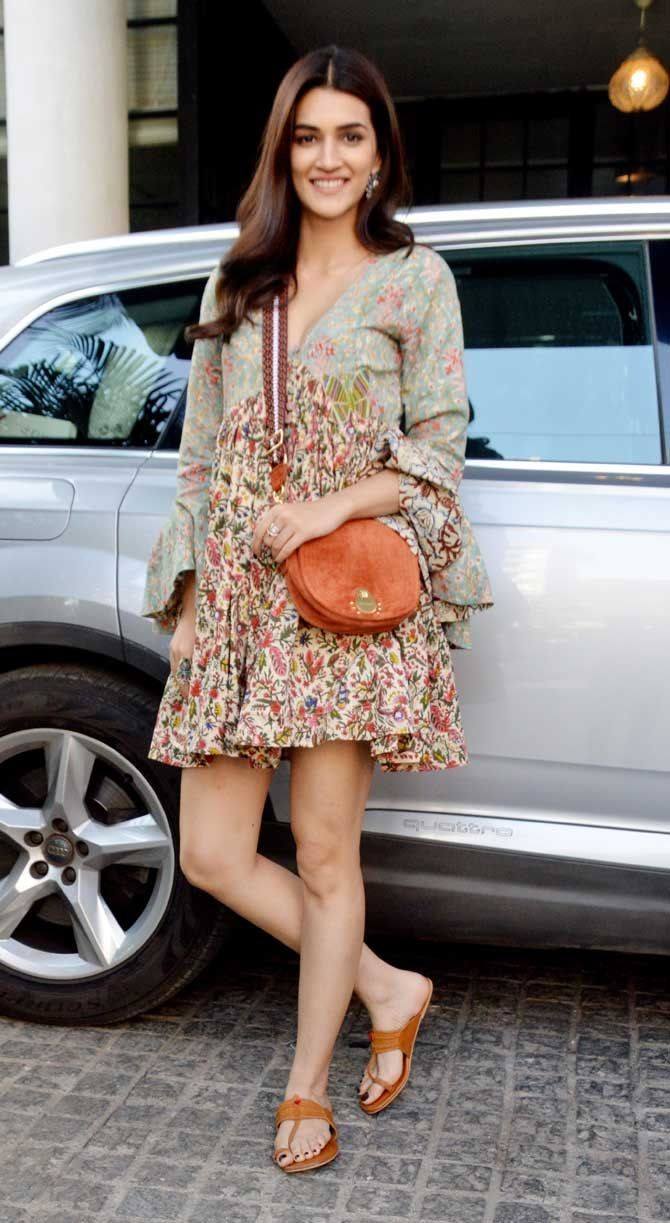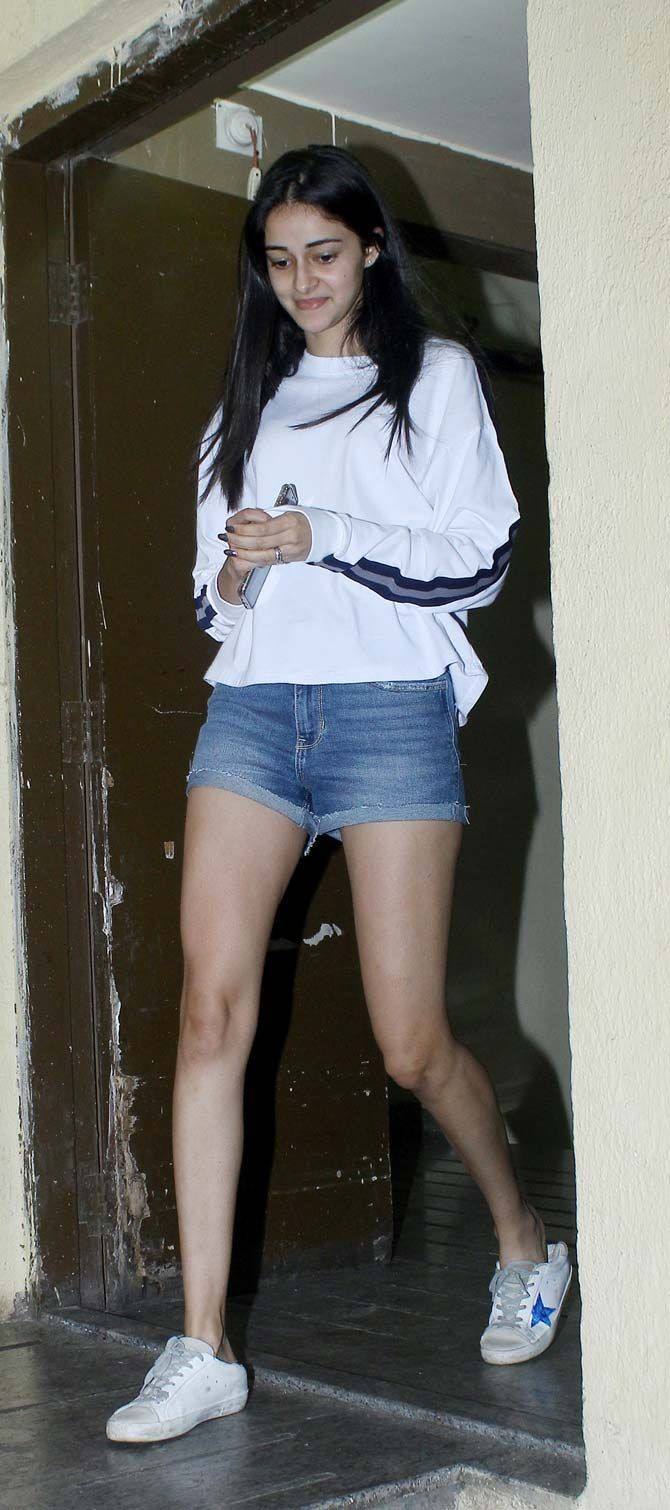 ↓ 19 – Cool Street Style Saree
Did you ever imagine that sarees can make cool street style fashion? Check out how Konkona and Vidya prove this. This colorful saree that Konkona is wearing would be fabulous for summer evenings. The colorful bangles and that bag make it look like such a chic street style. Here are the latest Saree Blouse Designs 2020 That You Must Try with your sarees.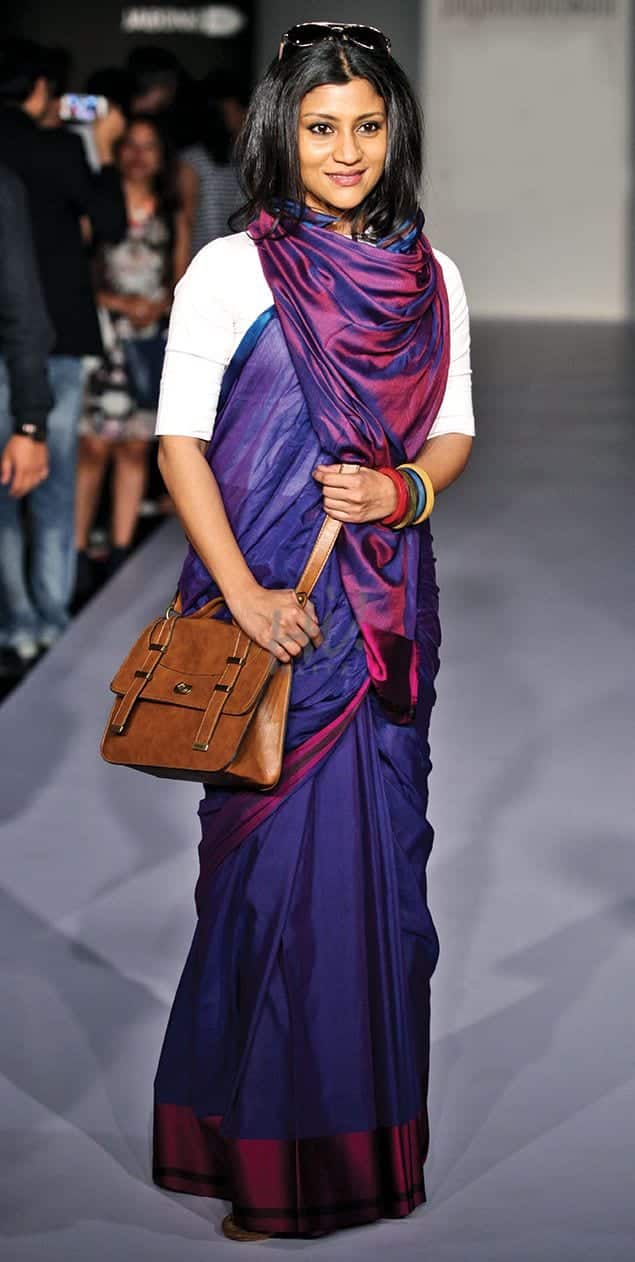 Vidya's saree is more like a day-time street style, which is cool and yet glamorous. She is the queen of sarees in Bollywood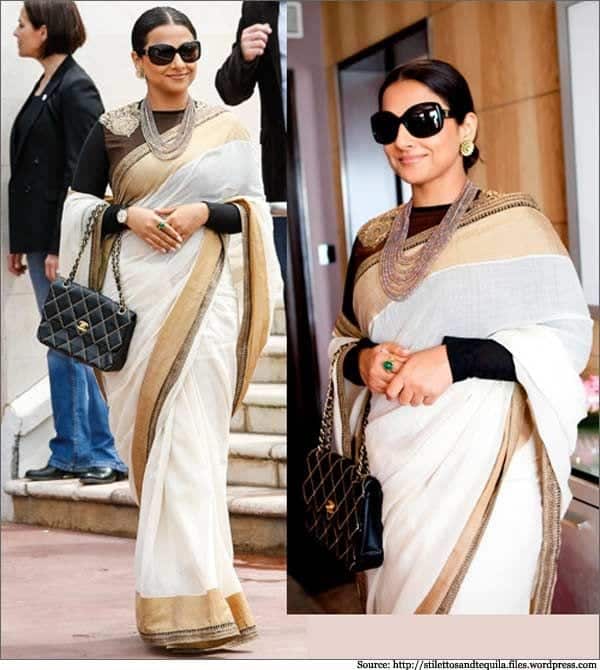 ↓ 18 – Terrific Street Fashion By Priyanka Chopra
Undoubtedly the best street style looks in Bollywood belong to Priyanka Chopra. Check out this really relaxed and casual look by her, which is also pretty affordable.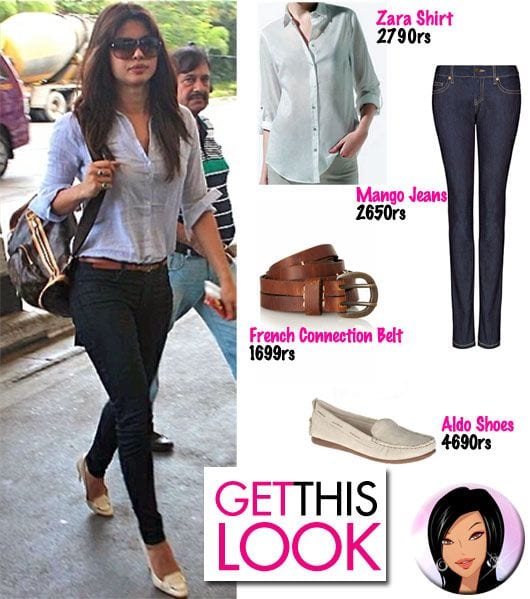 ↓ 17 – Back To Work Street Style
Kareena is wearing a simple tank top with a military utility jacket and flared jeans.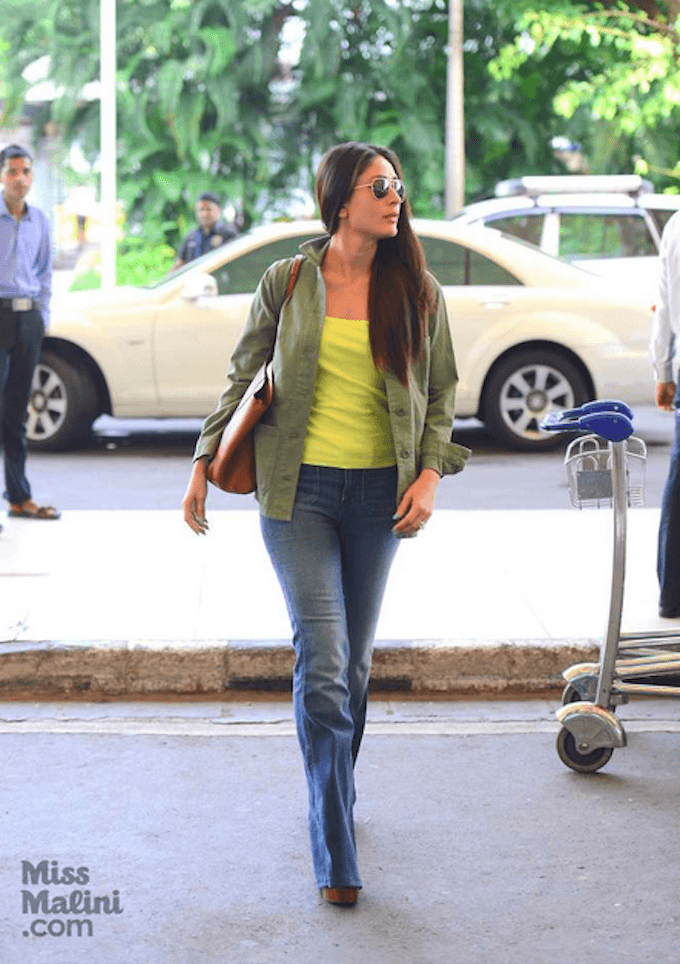 Here is another chic look by Bebo. To dress like this, wear a loose shirt with a cute belt on the waist and show off your shoulders for a more feminine touch. I also love her hair in this one.
↓ 16 – Deepika's Best Street Style Looks
Here are three completely different street style looks of Deepika. The one you should choose depends on what you plan to do that day or who you are supposed to meet.
Did you know that white symbolizes purity and peace? Deepika's white dress and hair up-do are fabulous if you wish to get dressed more formally or are planning to meet someone important. The red lips are absolutely lovable, though.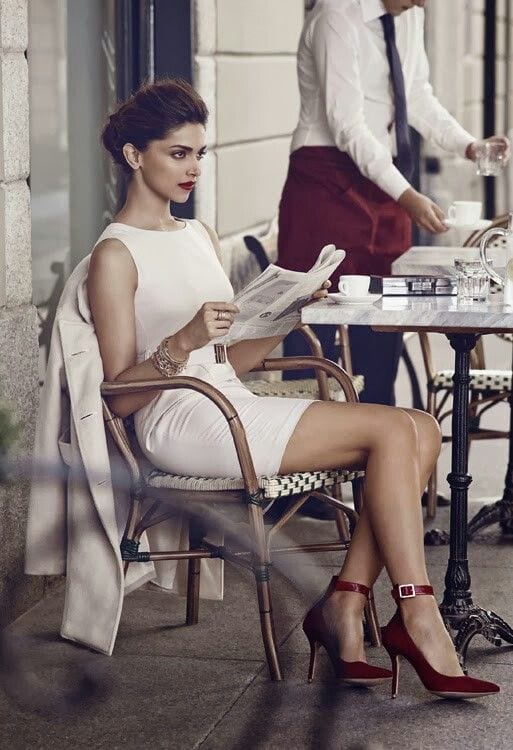 This screenshot from the movie cocktail is an accurate image of the cool Indian street style. The colors, the messy hair, all make her look like a cute doll. I'm sure any of us can copy this look effortlessly.
Perfect for a feminine street style look in summers.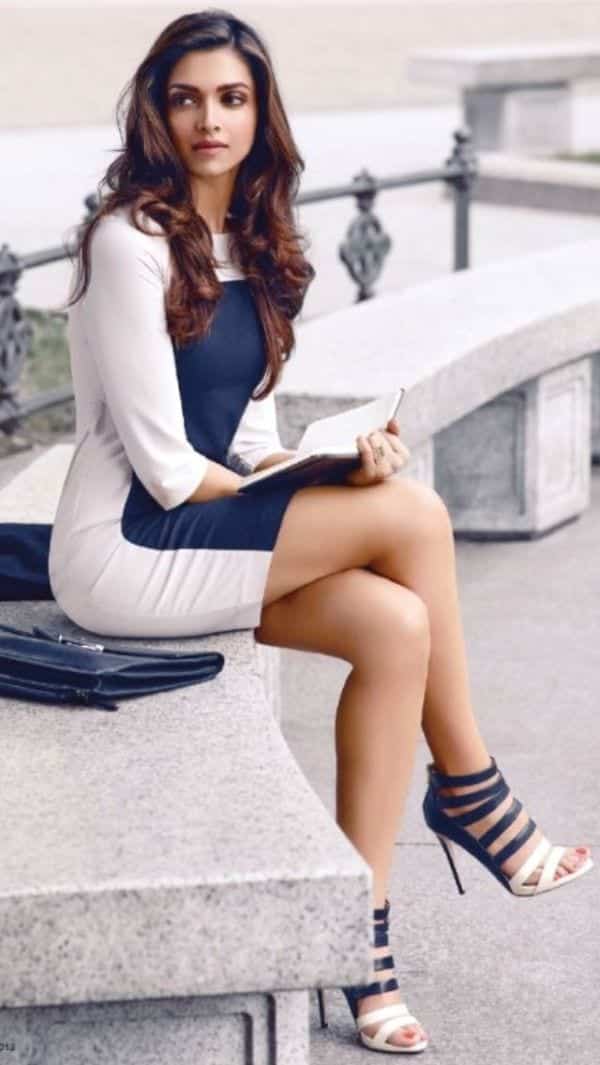 ↓ 15 – Simple Street Style
If you're looking for something simple and elegant, then Kajol's style will surely be the one to try. She's wearing a simple white blouse with skinny denim and metallic pumps. The Jeans bring the rugged and feminine look while the blouse shows that she's comfortable and stylish. The statement necklace completes the look.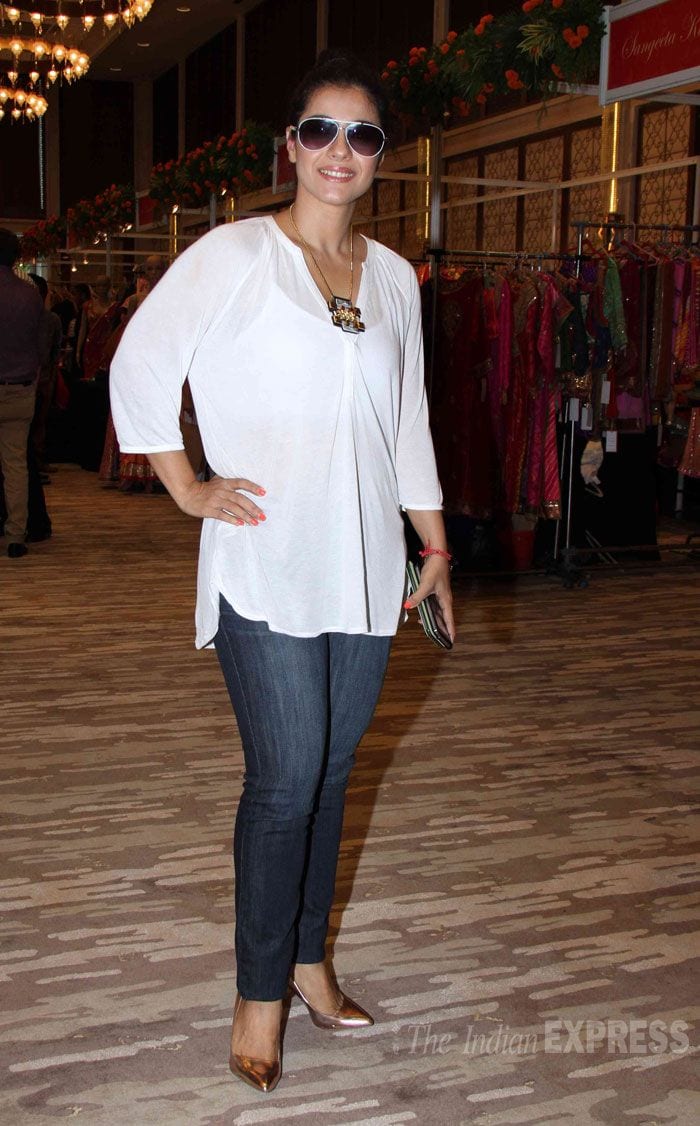 ↓ 14 – Denim Dungarees
Kangna looks really cool and stylish in these denim dungarees. Perfect street style fashion is real. The cap and sunglasses make her look cuter than ever. Do give this look a try. For some more amazing ideas, also have a look at these 23 ways to wear dungaree clothes.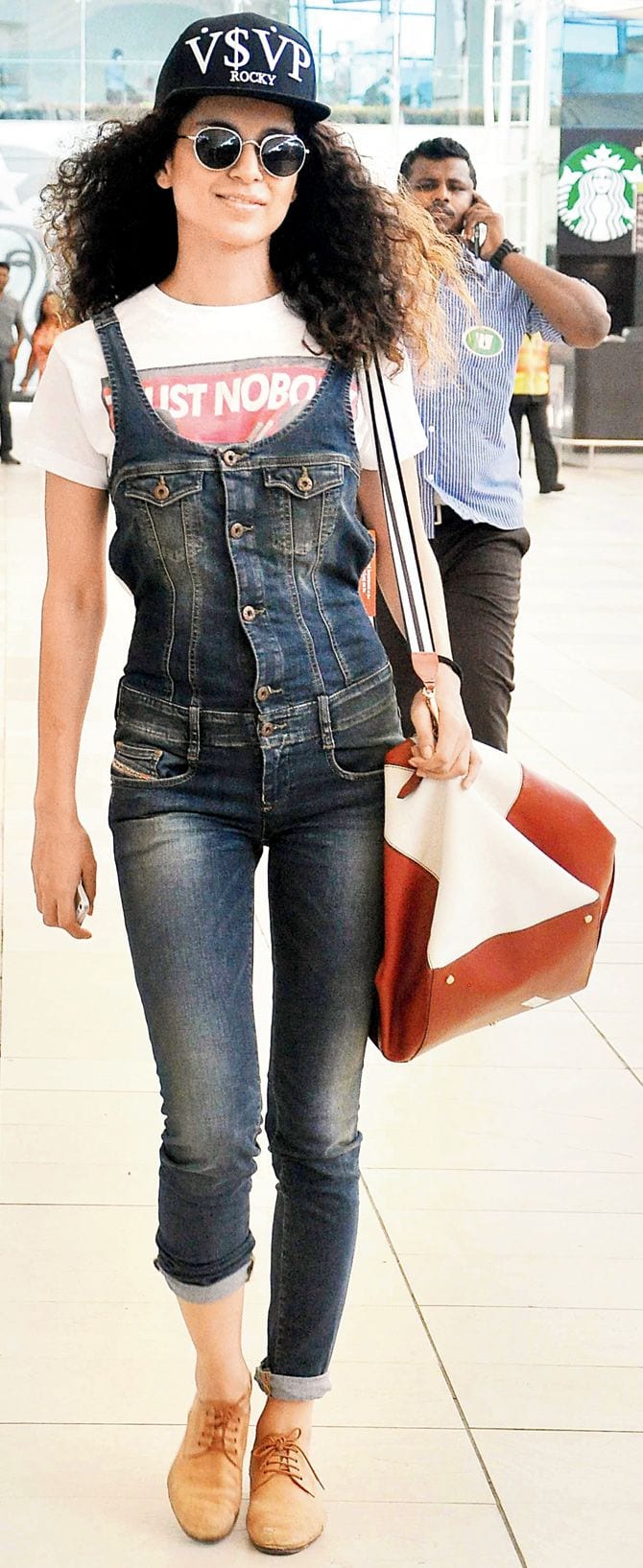 ↓ 13 – Desi Street Style
How about trying an Anarkali dress? Our Bollywood celebrities are surely setting up new desi trends in street style fashion.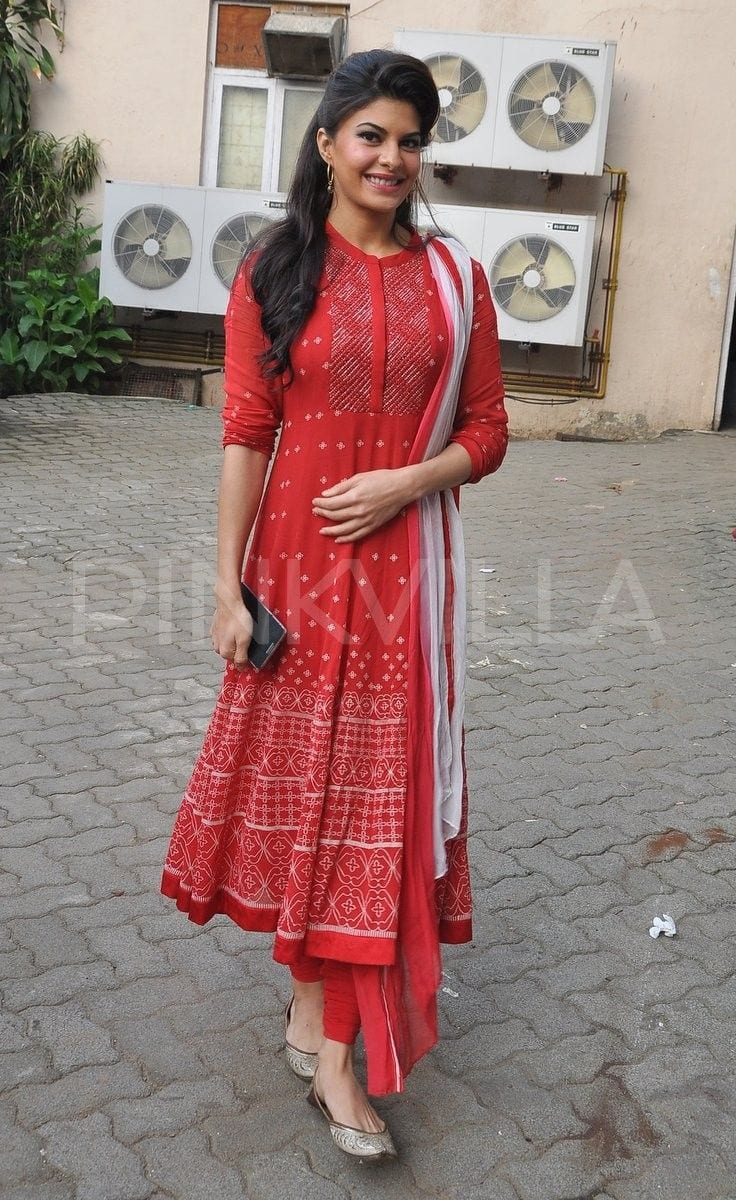 ↓ 12 – Printed Jumpers
Jumpers like these are an excellent fusion of eastern and western street style. It looks elegant, has the Indian touch, and is surely super comfortable for summers.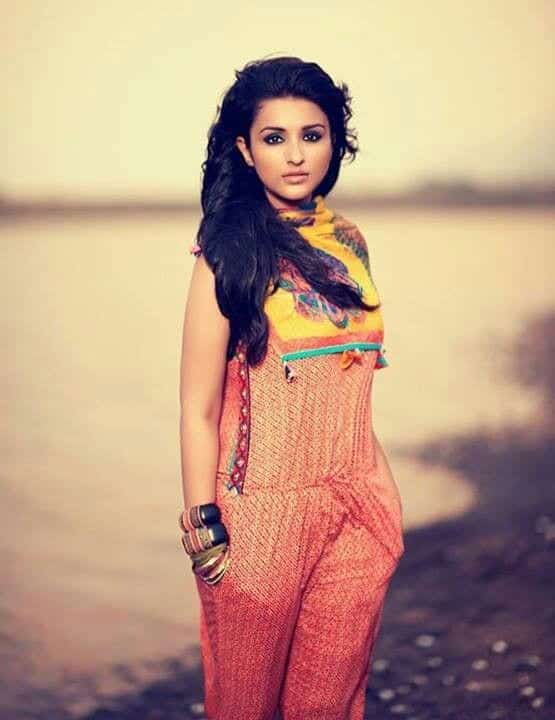 ↓ 11 – Karishma Kapoor Wins At Floral Street Style
Who doesn't love back? These printed black floral pants with a black shirt are absolutely spot on for summers.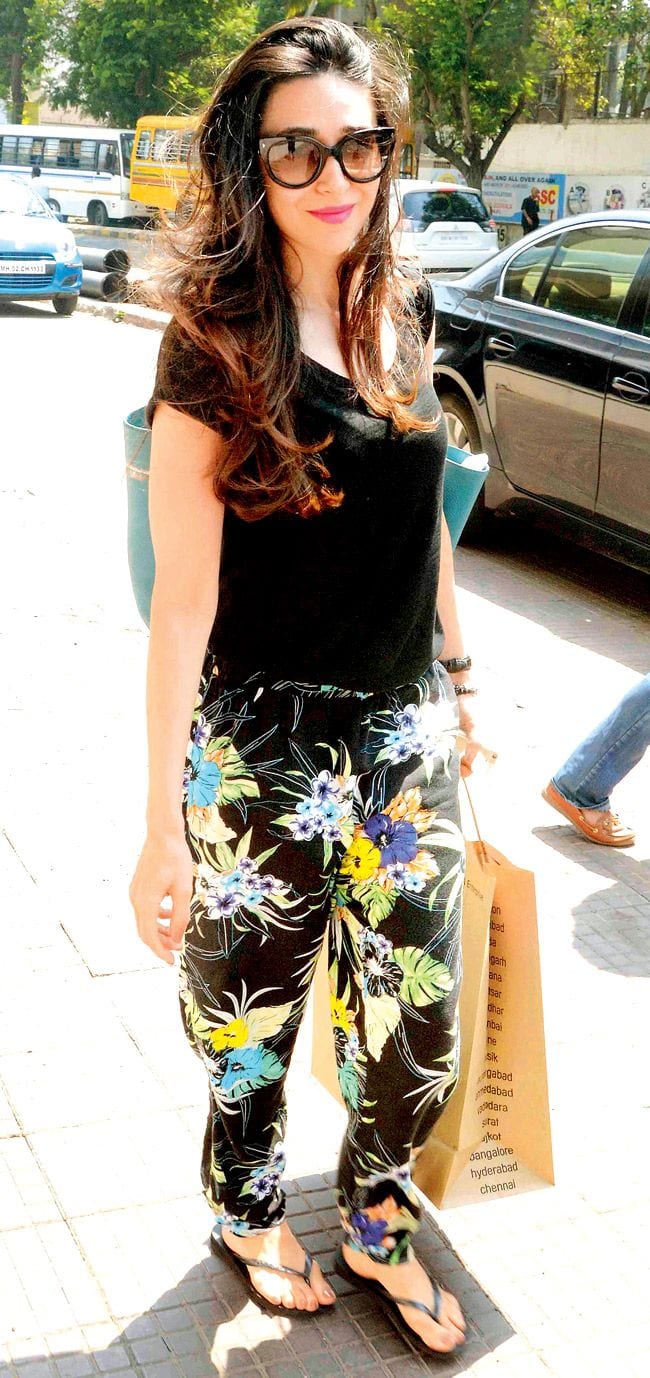 ↓ 10 – Funky Street Style
Anushka's denim jeans and that bight blouse put together a really chic and edgy street style fashion. It's the really small things which have further perfected this look. For instance, the rolled-up sleeves give a casual look to the outfit. Whereas the belt provides a trendy look by giving the outfit a better shape and style. If you look closely, you'll notice that instead of a zip, you can see a line of mismatched buttons. This is such a cool and innovative idea that surely needs some guts to try on. Then there are those lovable floral ballerina shoes and that watch.
She surely deserves a thumbs up for helping make the street style so much more fashionable and exciting. If you like to keep track of different county's street styles, do have a look at these Popular Spring Street Style Outfits Ideas For Women.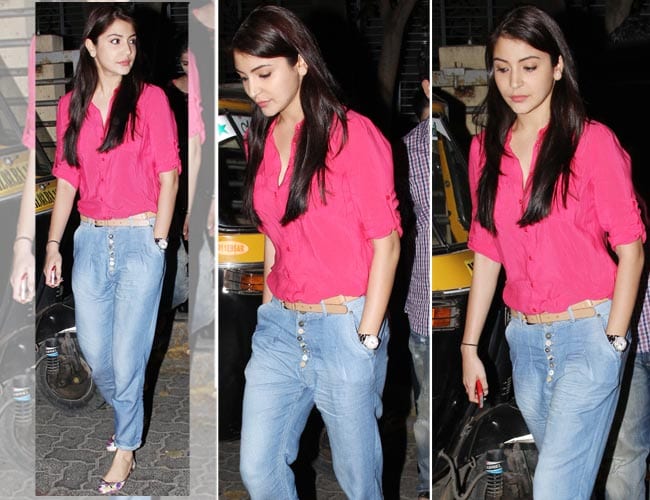 ↓ 9 – Skirts
As proven by Katrina here, skirts can make adorable street style fashion outfits for long girls. They give off the most charming vibes indeed. For more ideas on wearing dresses, have a look at these 15 cute ways to wear mini skirts.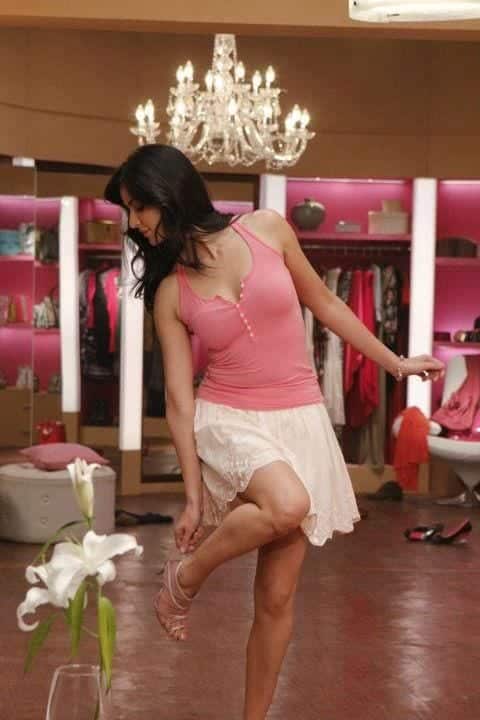 ↓ 8 – Street Style Hair And Make-up
Now that we have discussed some street style outfits, why not talk about street style make-up? First of all, matte red lipsticks are a must-have for this.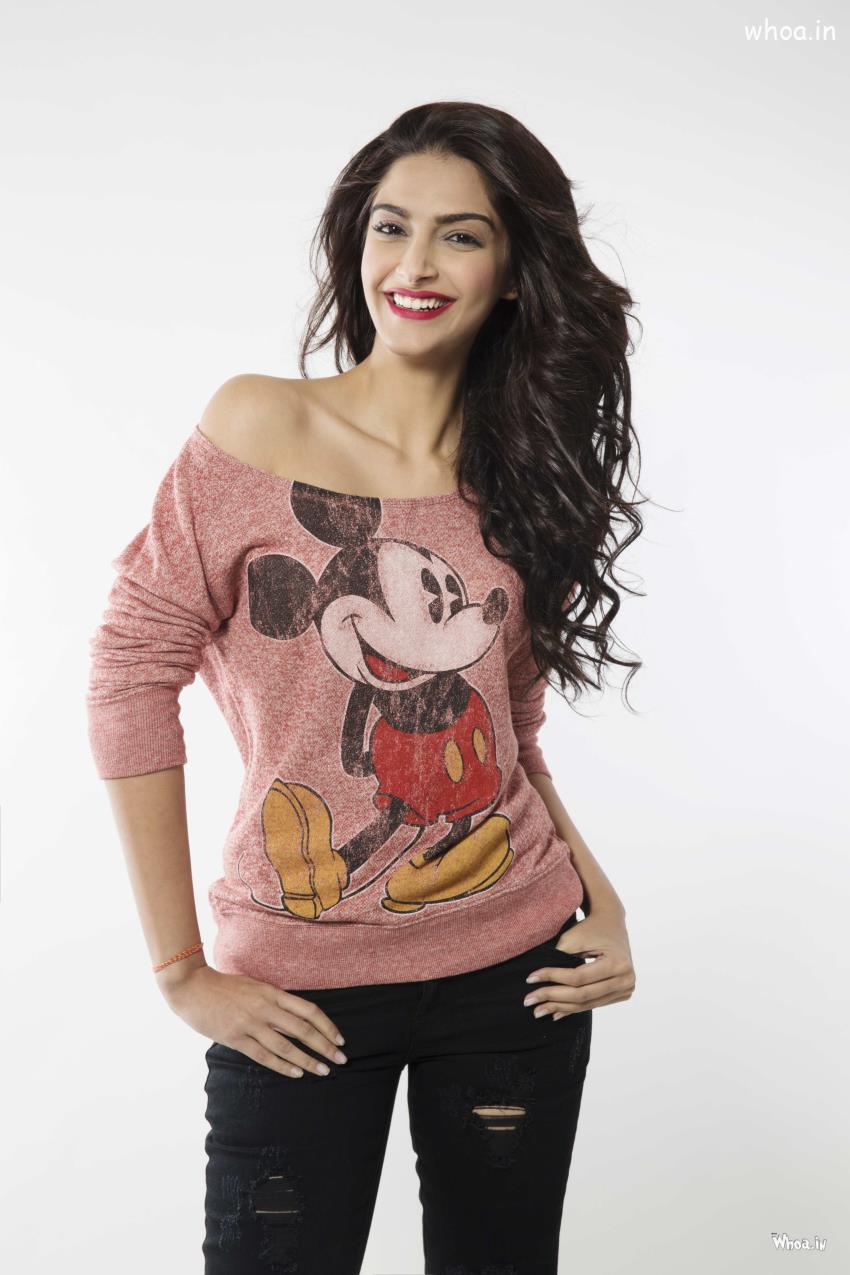 When it comes to hair, colorful hair, messy buns, and braids are all the best ones for street style fashion.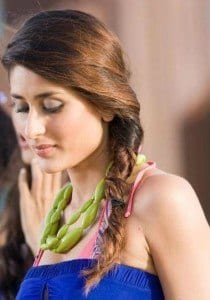 ↓ 7 – Street Style For School
Check out Alia Bhatt's cute street style look in those denim shorts. This is perfect for petite girls or those with short height.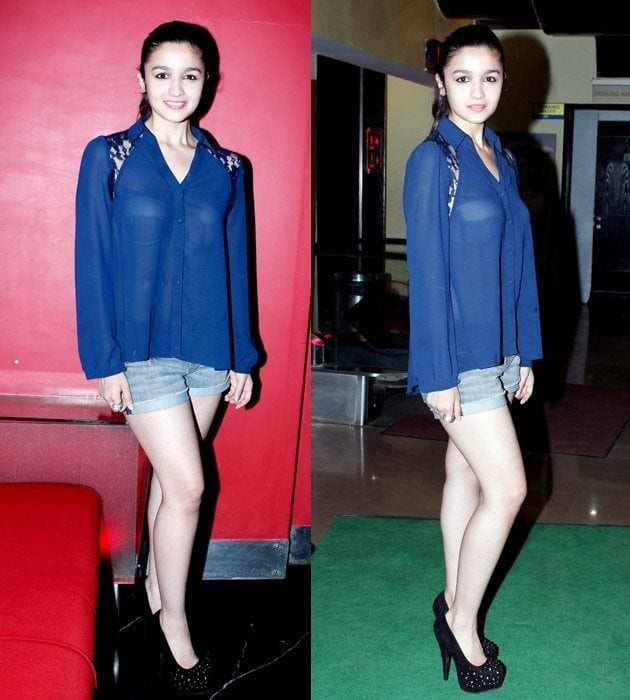 ↓ 6 – Street Style For Short Hair
Sonakshi shows how beautiful street style can look at women with plus size. She really is a trendsetter in that sexy maxi skirt.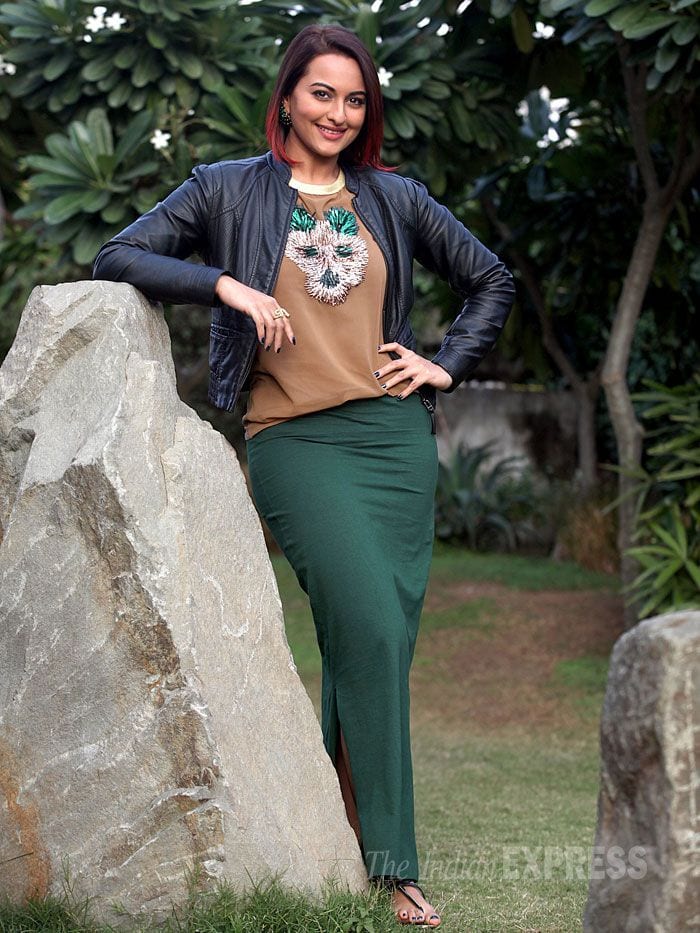 ↓ 5 – Some More Desi Street Style
When it comes to desi street style, Tabu is truly unbeatable.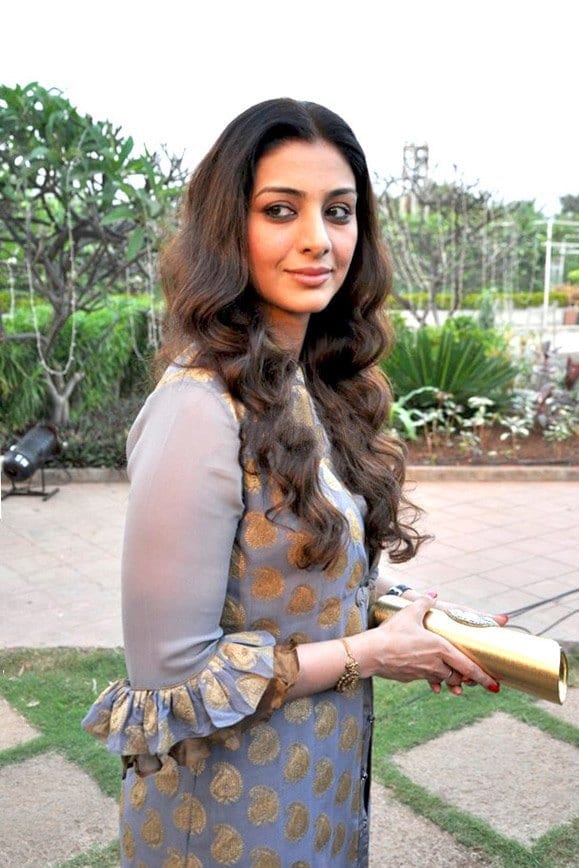 ↓ 4 – Denim On Denim
Prachi Desai's rocking street style with her denim on denim look. The brown pumps and matching bag look adorable as well.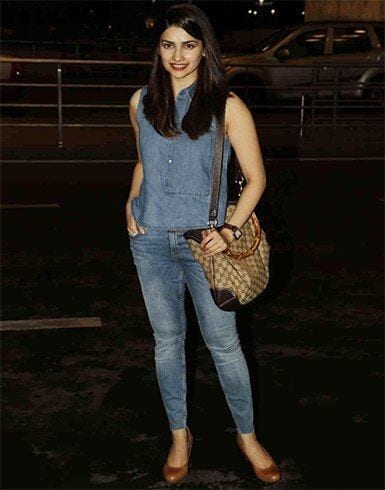 ↓ 3 – Casual Summer Street Style
Shraddha Kapoor's hot pink slacks and black tee create a funky and spicy street style look.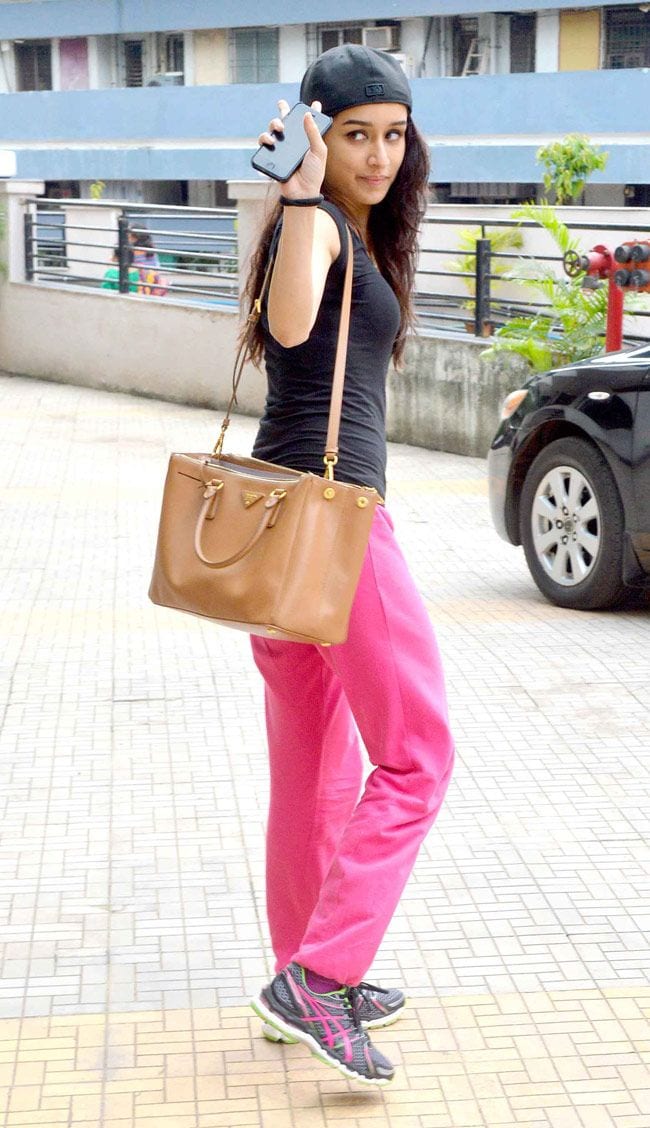 ↓ 2 – Crop Top With Palazzo Pants
Nargis Fakhri looks drop-dead gorgeous in the striped crop top and black palazzo pants. If you like this outfit, do have a look at these 18 stylish shoes to wear with palazzo pants to complement your look.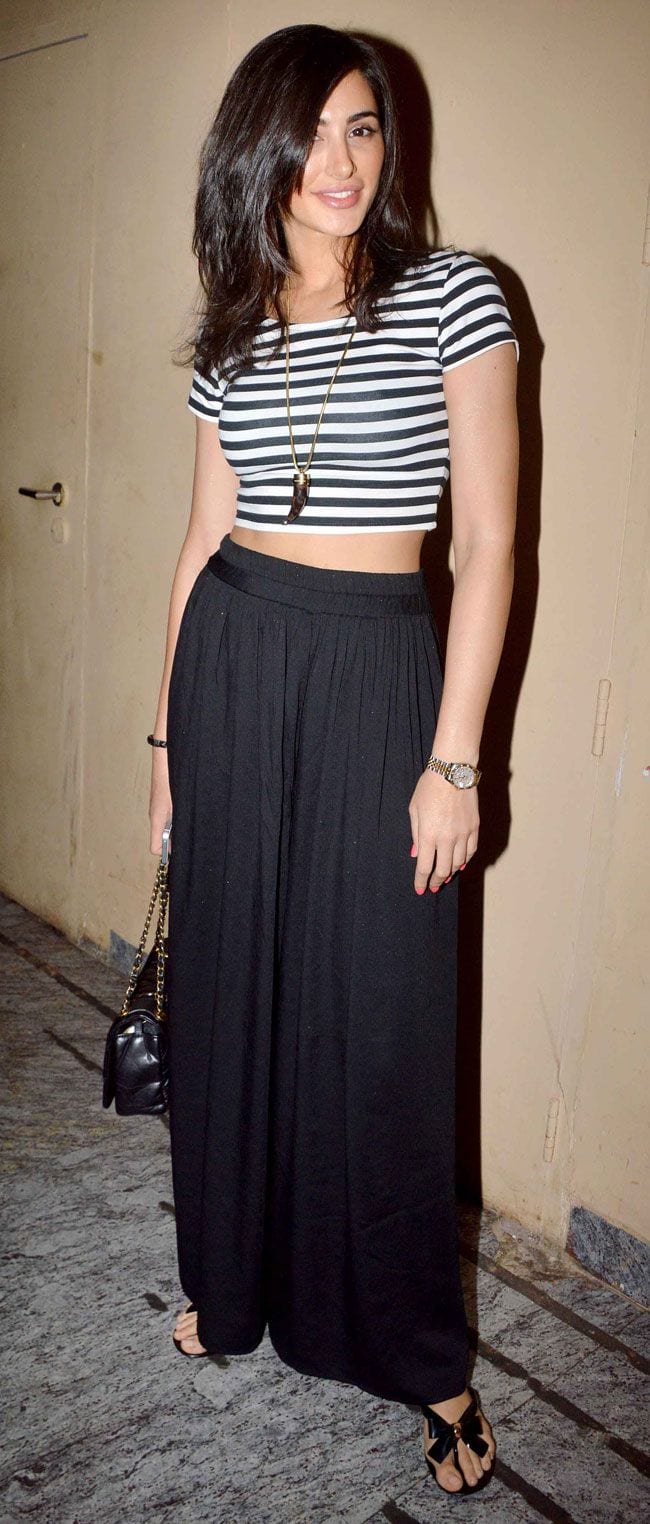 ↓ 1 – Street Style For Moms
Aishwarya is really changing the face of "mom style" with her impressive street fashion.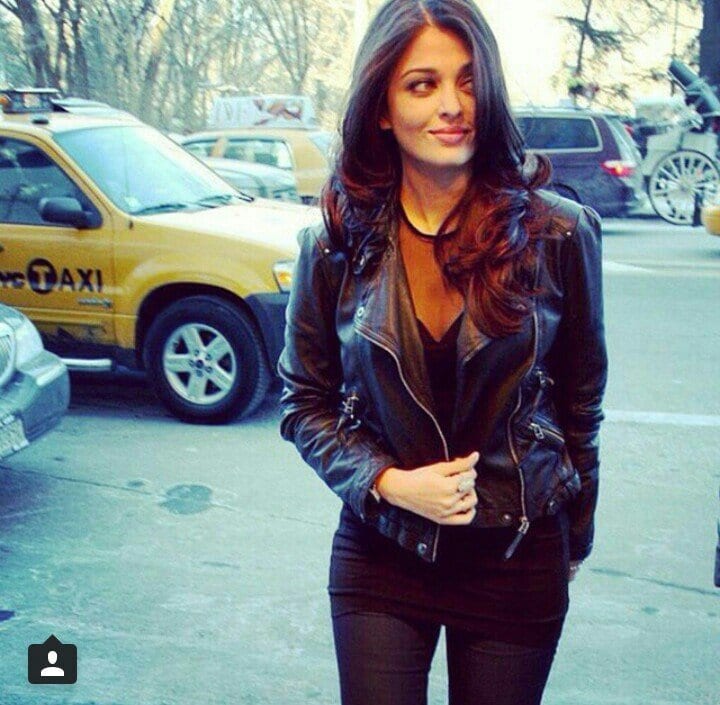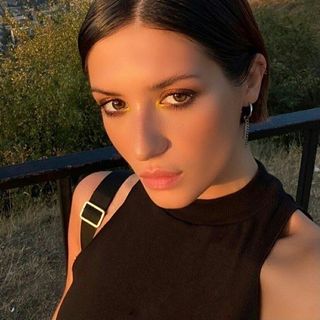 Avid reader and Fashionista. London Based freelance lifestyle editor