Sonam Kapoor Wedding Pictures –  The moment everybody was waiting for is finally here! Sonam Kapoor is wedding her long time beau Anand Ahuja after keeping her relationship with him quite private for a long time. The mystery couple announced their wedding plans through a promising wedding card, inviting major bollywood stars through e-invites. Some basic details about the two under spotlight are:
Sonam Kapoor
Date of Birth: 9th June (age 32)
Height: 5'10
Weight: 57 kgs
Zodiac Sign: Gemini
Occupation: Actress
Anand Ahuja
Date of Birth: 30 July (age 35)
Height: 5'9
Weight: 67 kgs
Zodiac Sign: Leo
Occupation: Indian Entrepreneur
Everything to Know About Sonam and Anand Ahuja
According to the wedding cards posted all over the social media and the invitations to the celebrities, the wedding date of Sonam and Anand is 8th May 2018. At last, the day for their wedding is here, but from where did they both actually started? Anand Ahuja is an Indian entrepreneur and started his own clothing brand name Bhane. Sonam and Anand met in 2014 and it is rumored that Anand proposed Sonam within a month of their first meeting.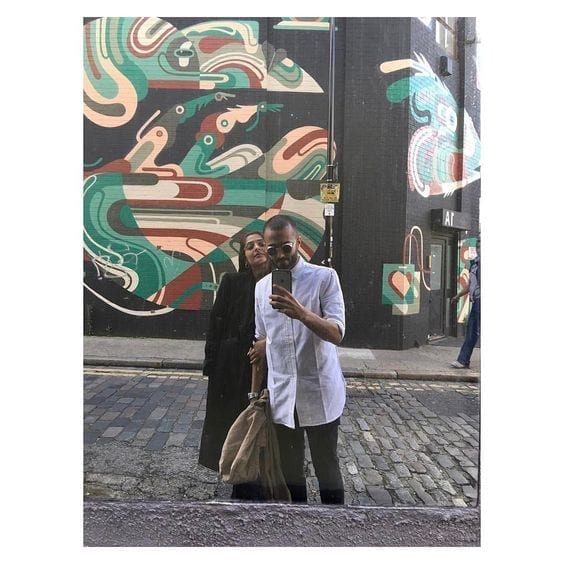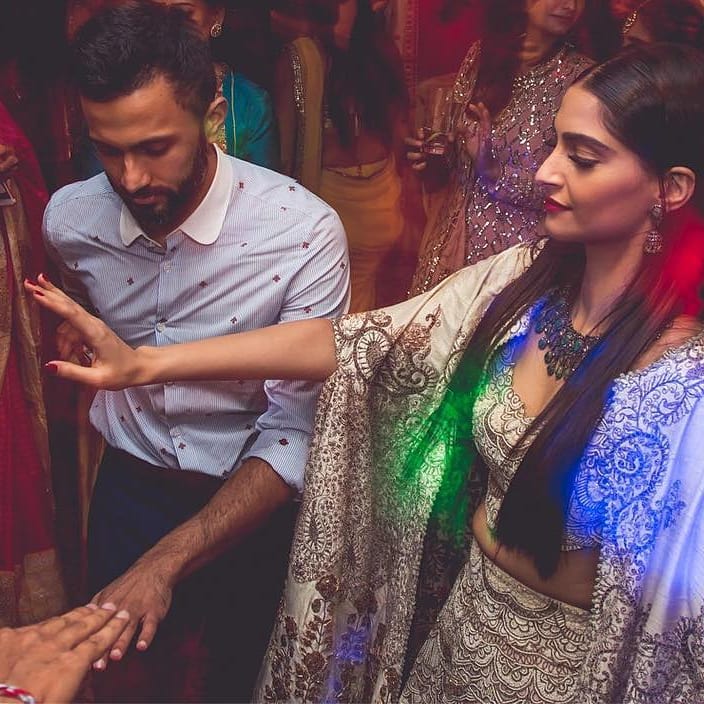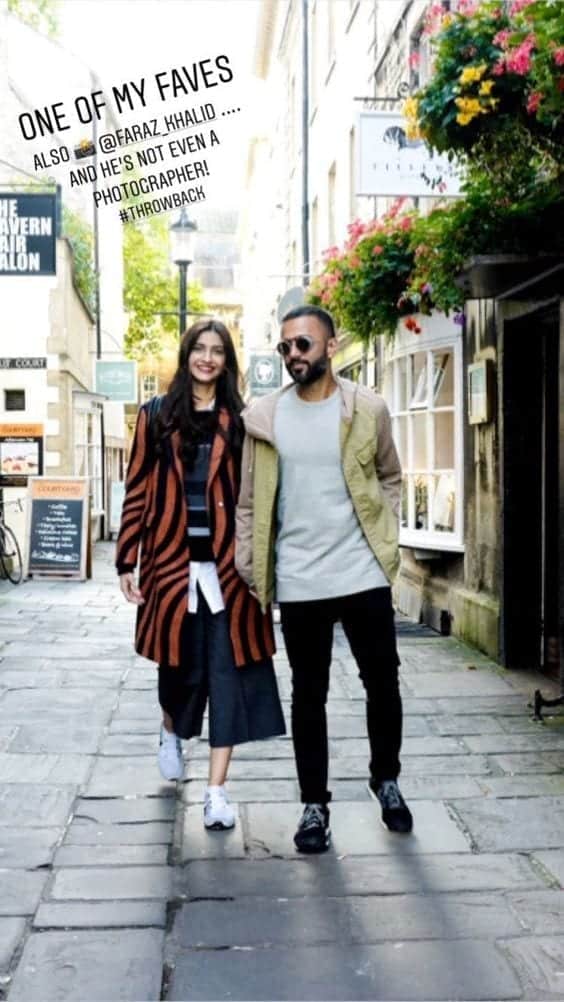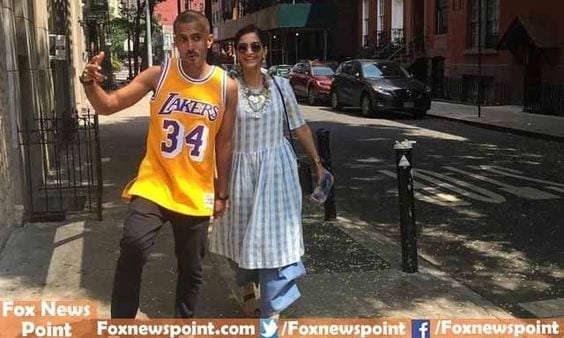 ↓ Wedding Dates and Invitation Card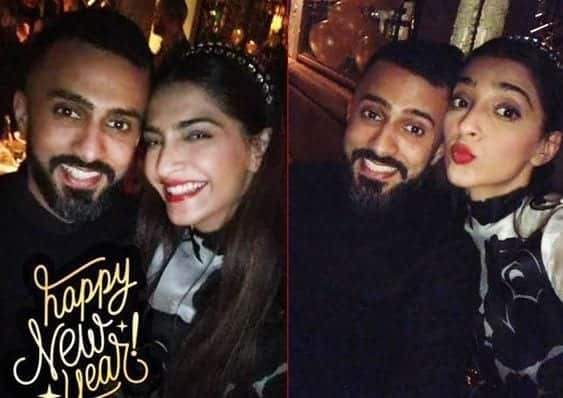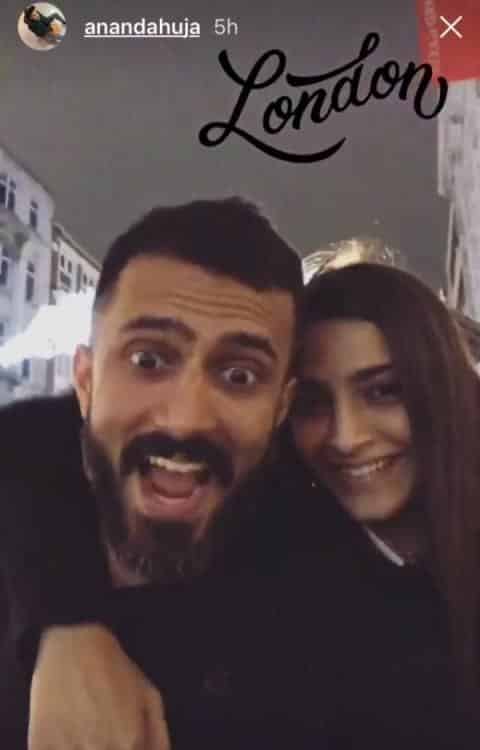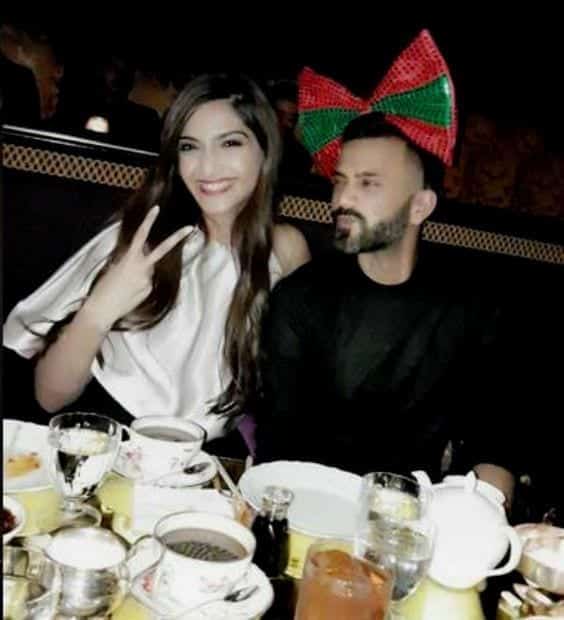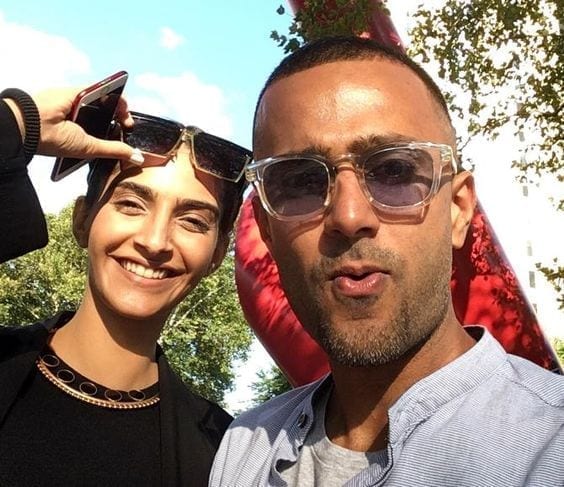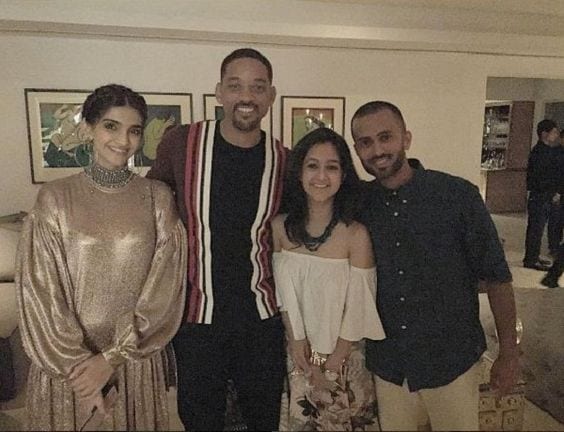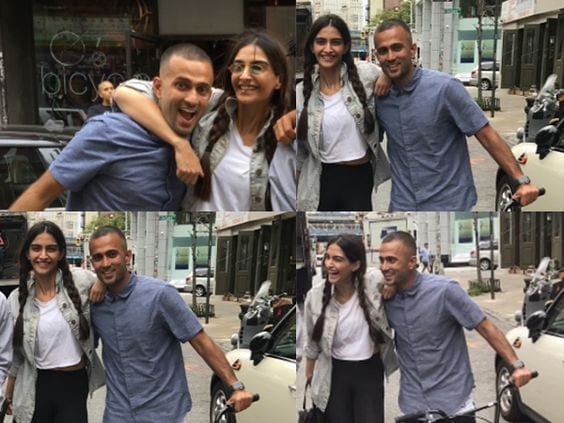 https://www.instagram.com/p/BQxg9KvlJxF/?tagged=everydayphenomenal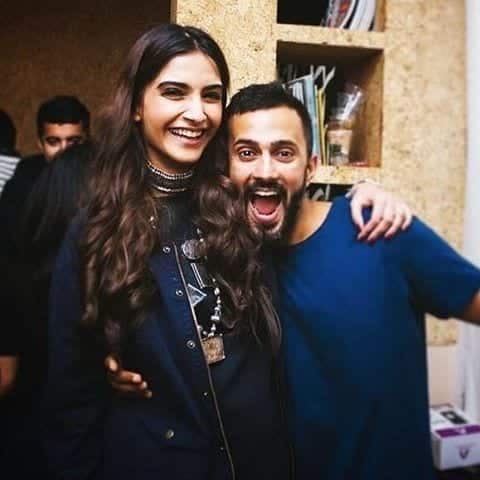 They have been attending the functions, occasions and numerous weddings together too which showed their unbreakable vows and strong bond with each other.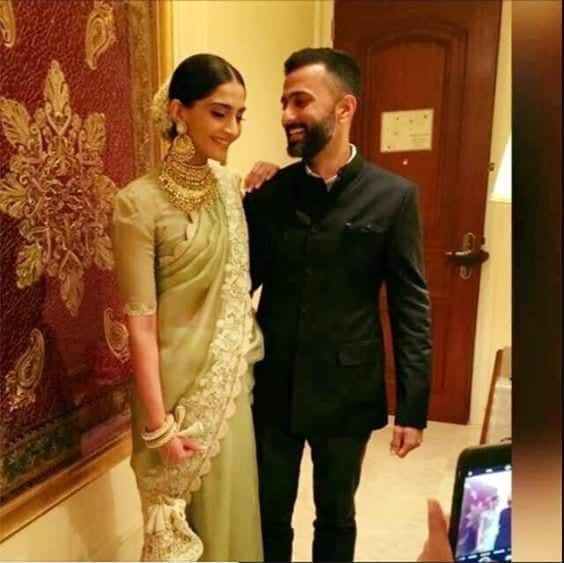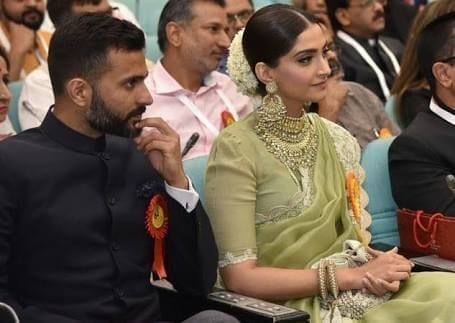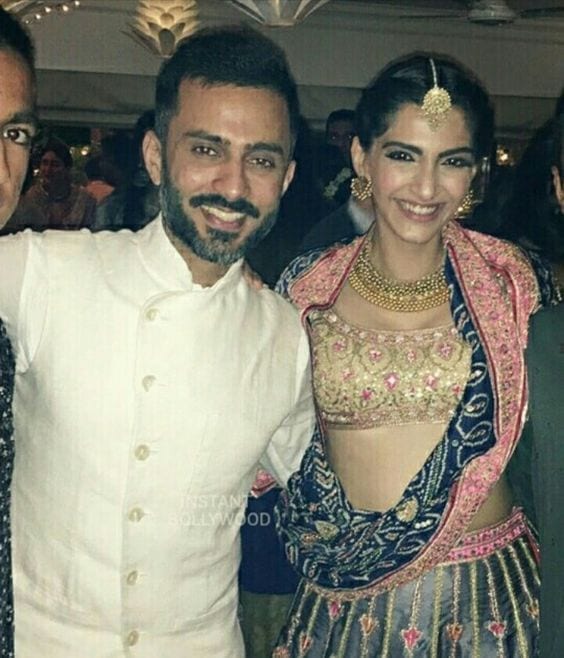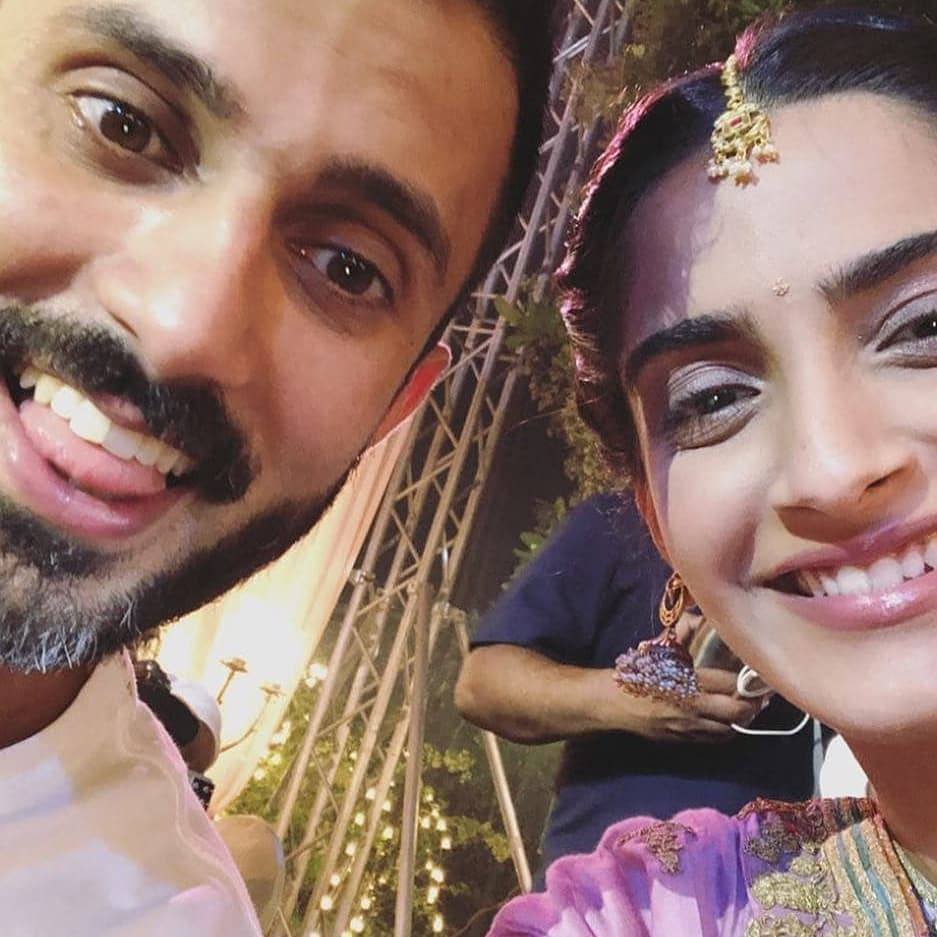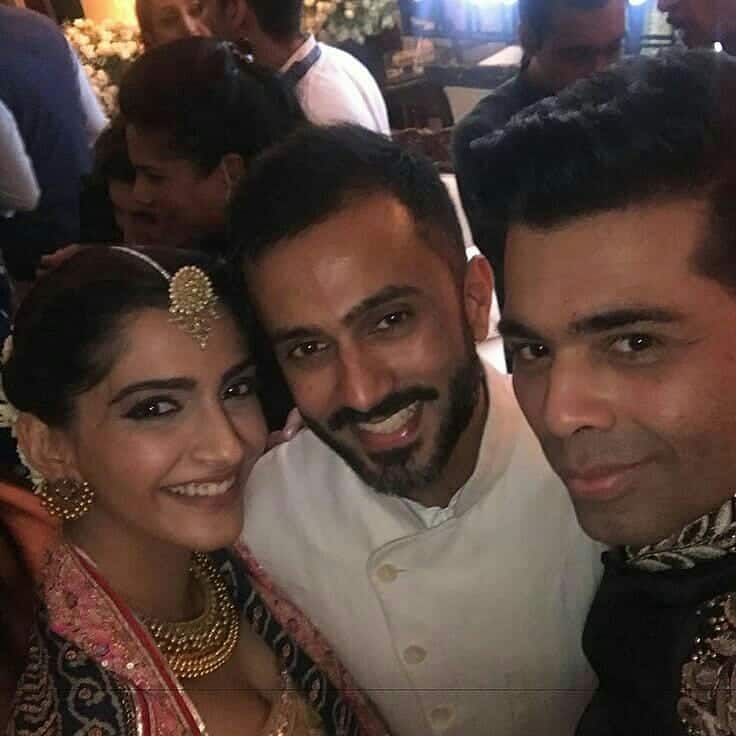 The wedding bells have started ringing from 6th May and will continue till 8th May. A whole set of events are taking place including Sangeet, Mehndi and the Wedding! An engagement function also took place which was quite of a family function. A look at the wedding card: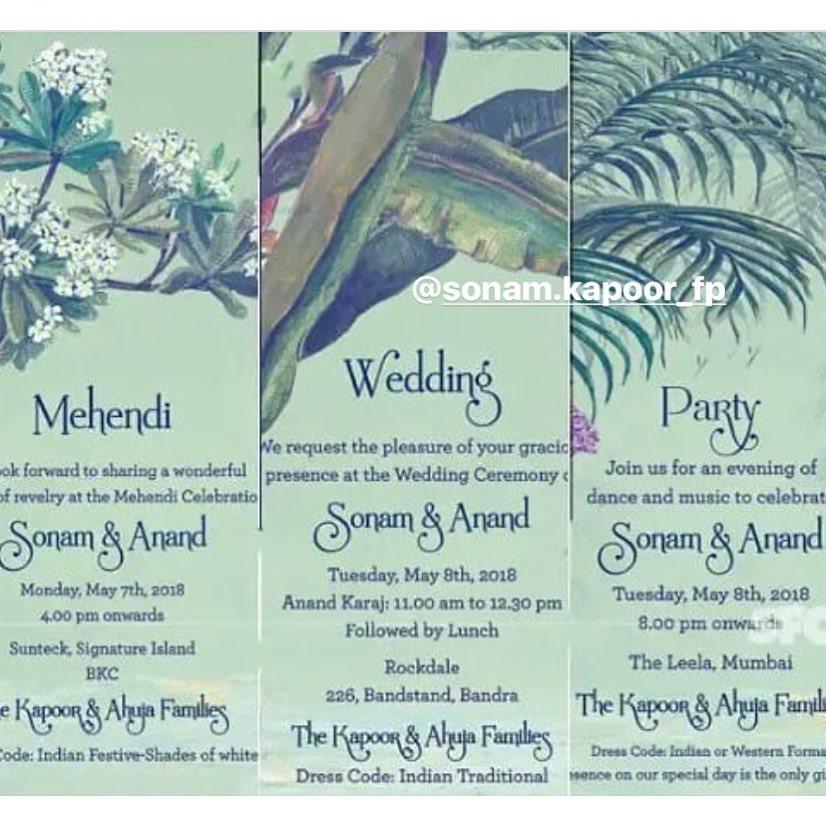 The venues of the three-day extravagant wedding are in Delhi and Mumbai both. The dance practices and Sangeet functions are going on with full vibe and sparkle.
https://www.instagram.com/p/BiYiuK6jaKQ/?tagged=sonamwedsanand
↓ Sonam Kapoor Engagement Pictures
All these wedding functions are carried after the engagement of the couple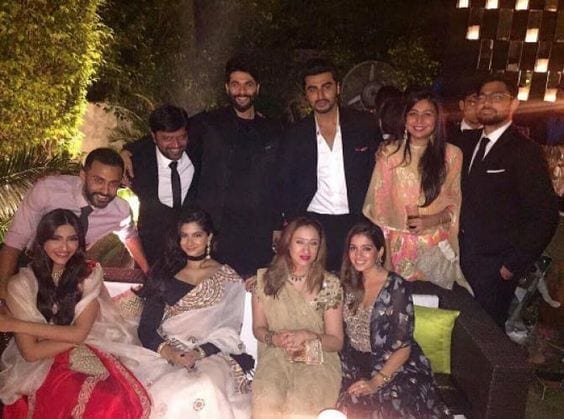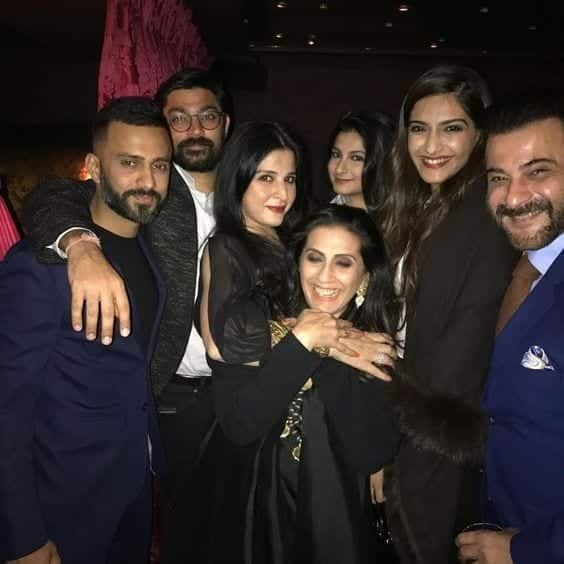 ↓ Post-Engagement Sangeet
Soon after the engagement, the sangeet held on 6th May was fiercely rocking as well. Both Sonam and Anund with their family members seems enjoying themselves casually. Sonam all busy in getting her hands filled with mehndi along with Rhea Kapoor and Anund gearing up for the dance with his bride to be!
https://www.instagram.com/p/BicWb3jBULe/?tagged=sonamkishadi
https://www.instagram.com/p/BicSHQJHMqb/?tagged=sonamkishadi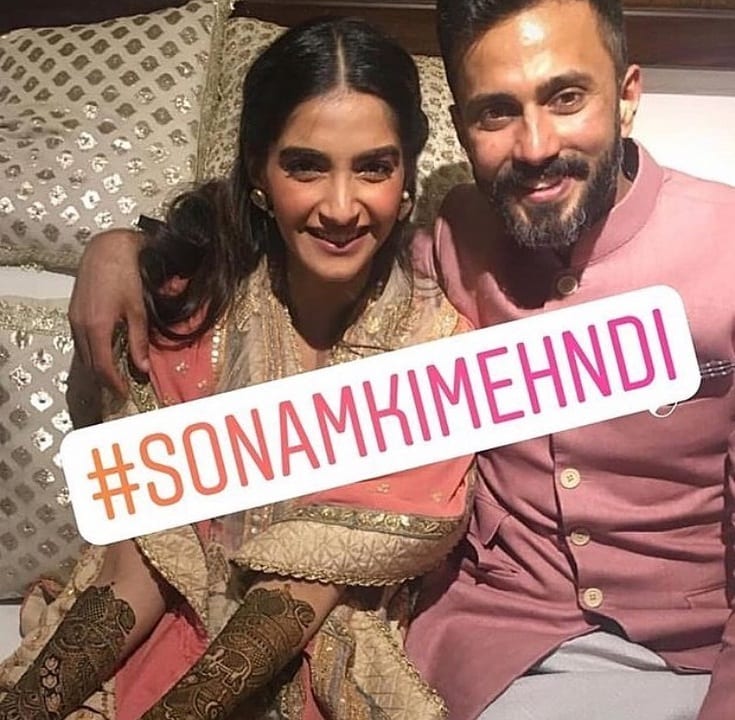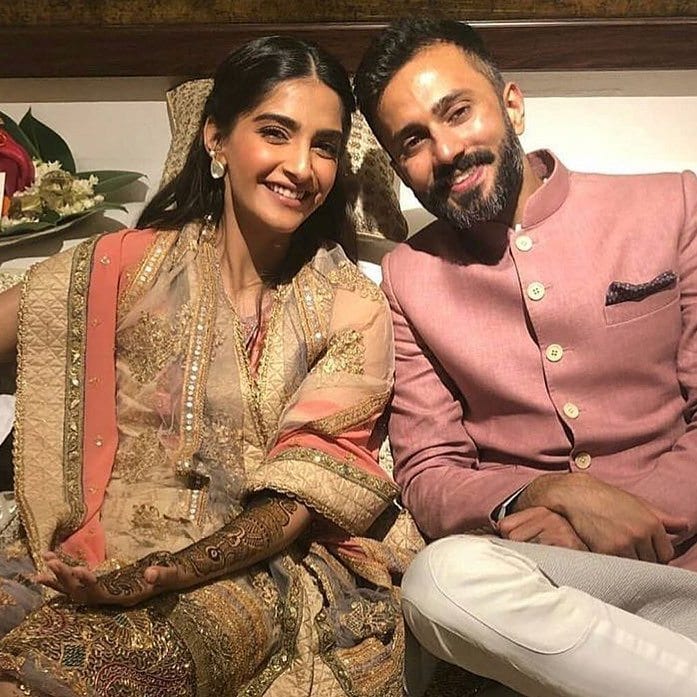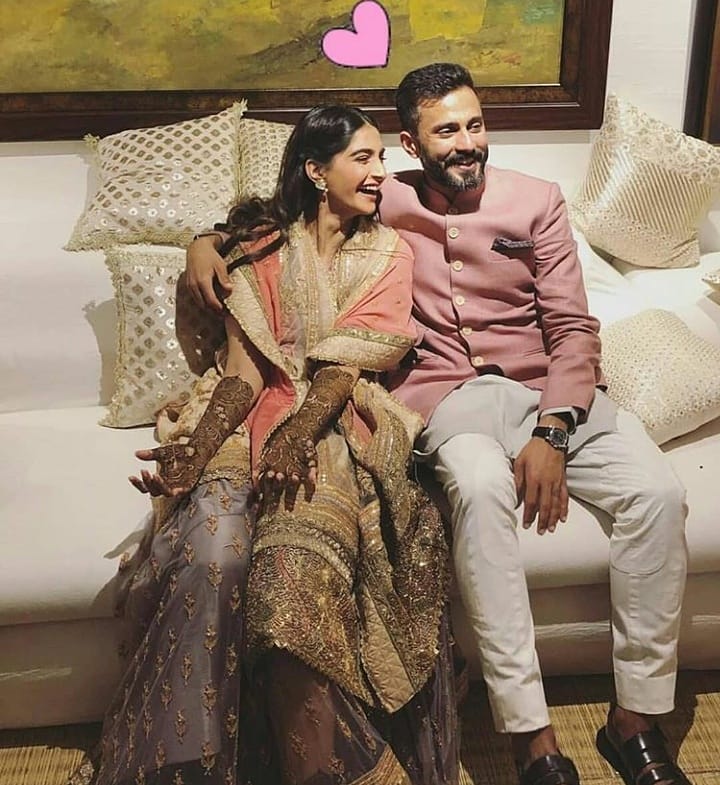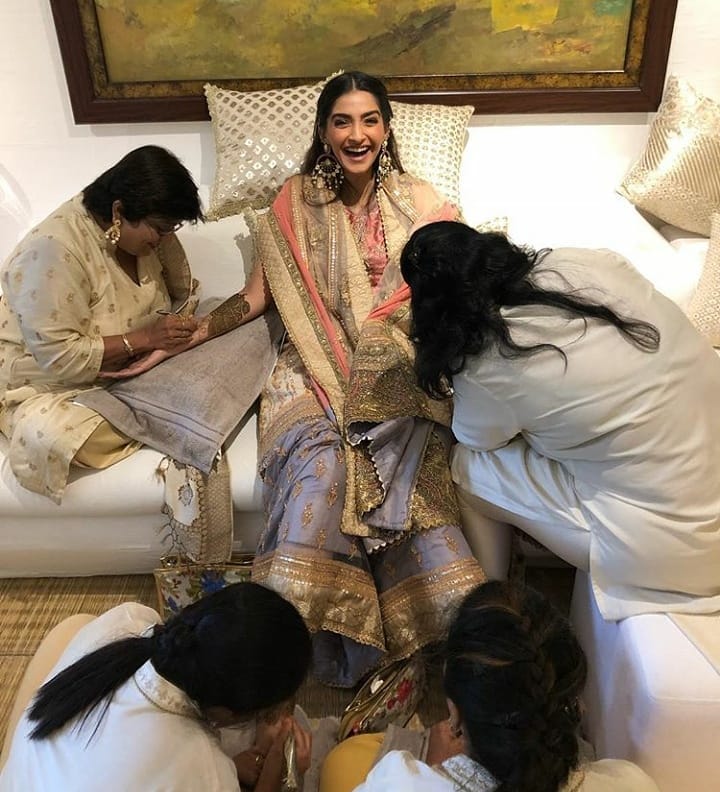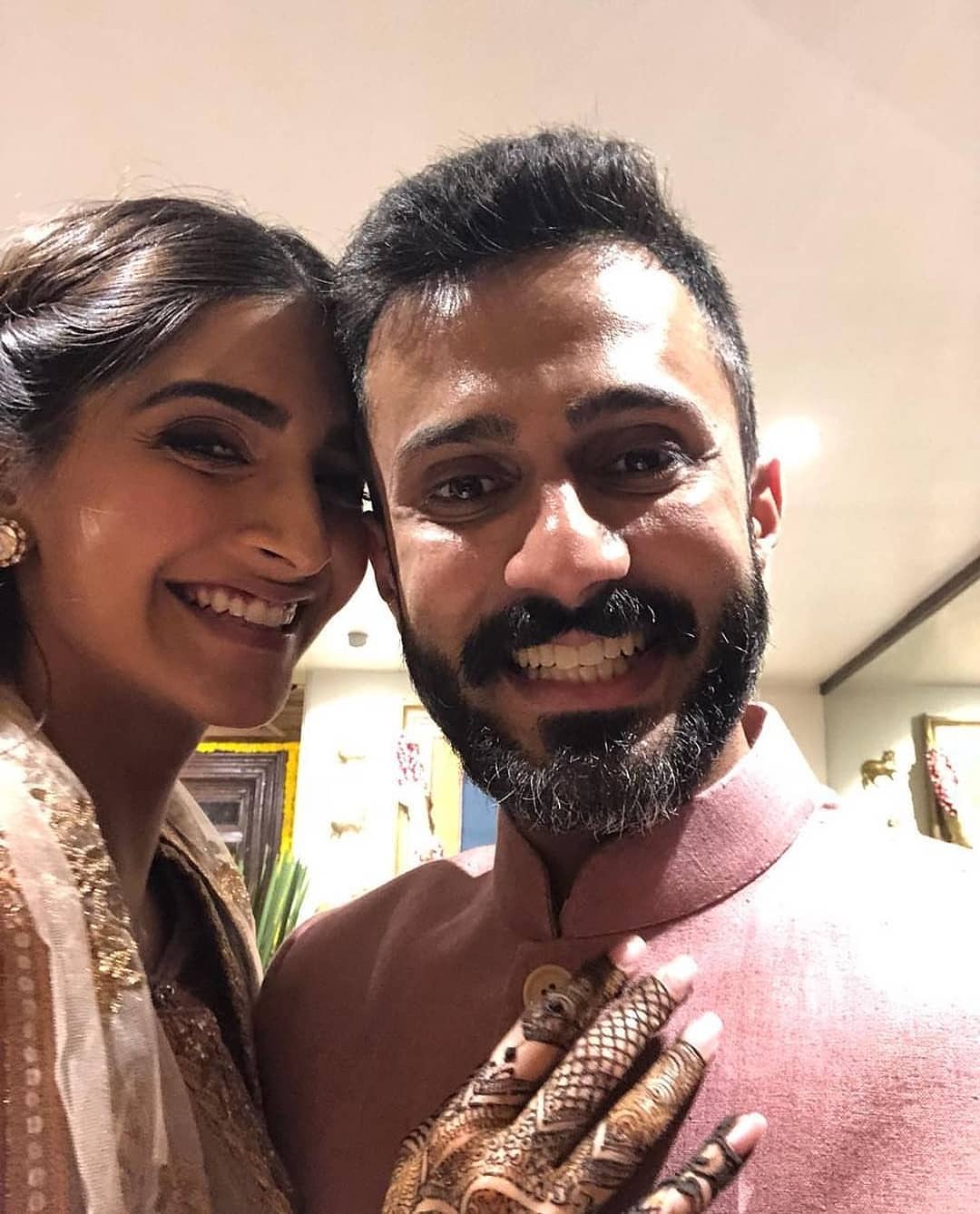 All the family members including siblings, cousins, childhood friends and relatives having fun together. Some celebrities from Bollywood joined the sangeet party too.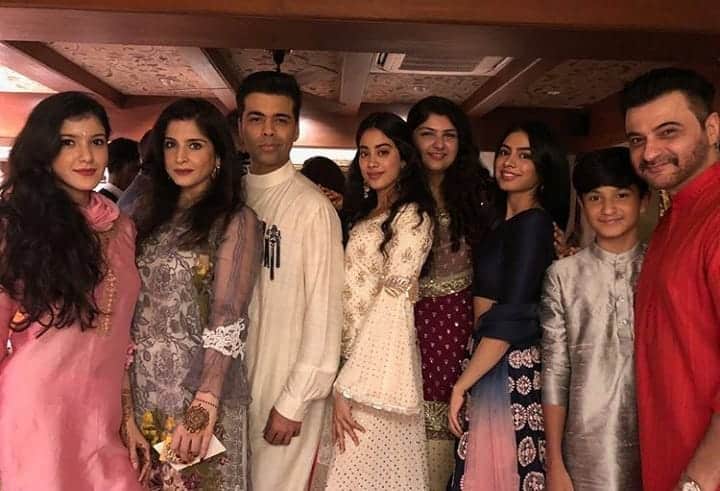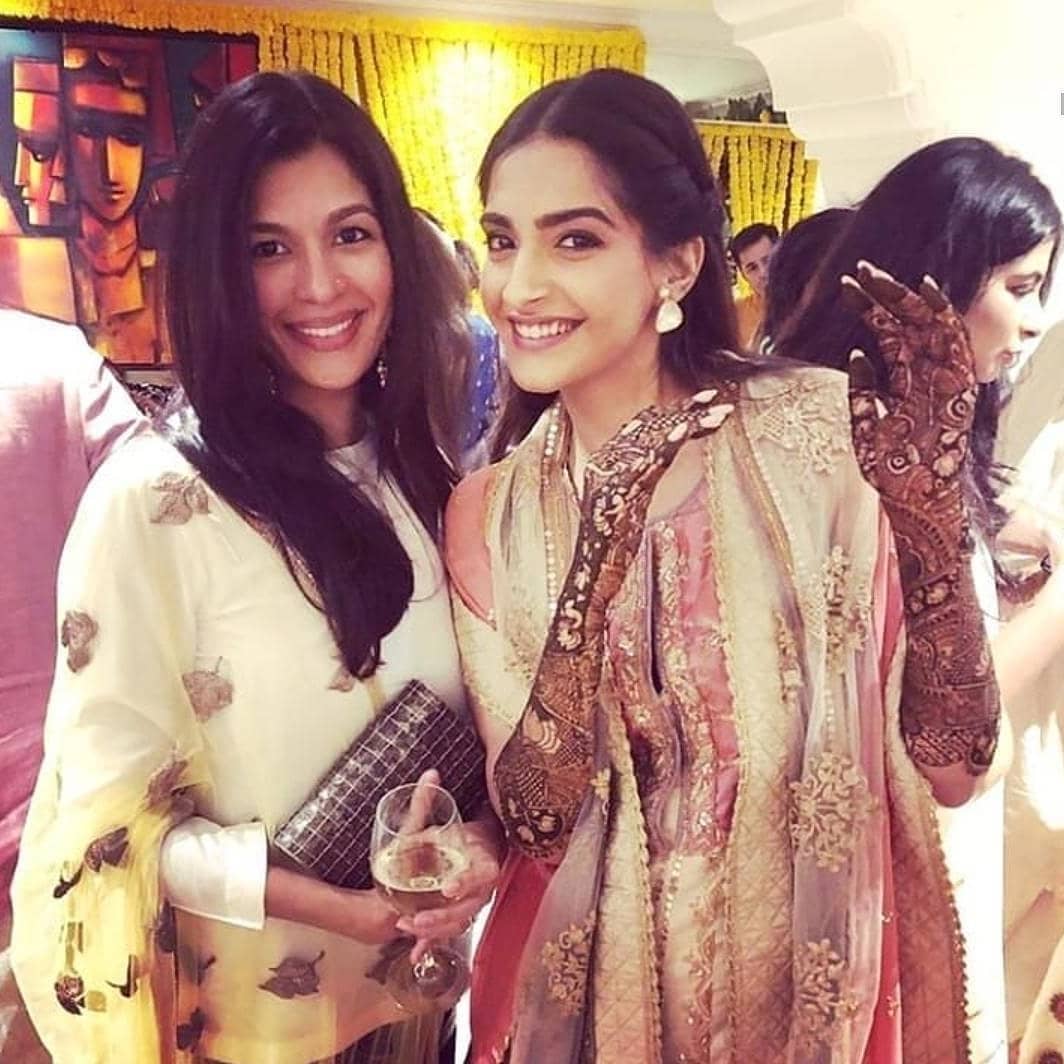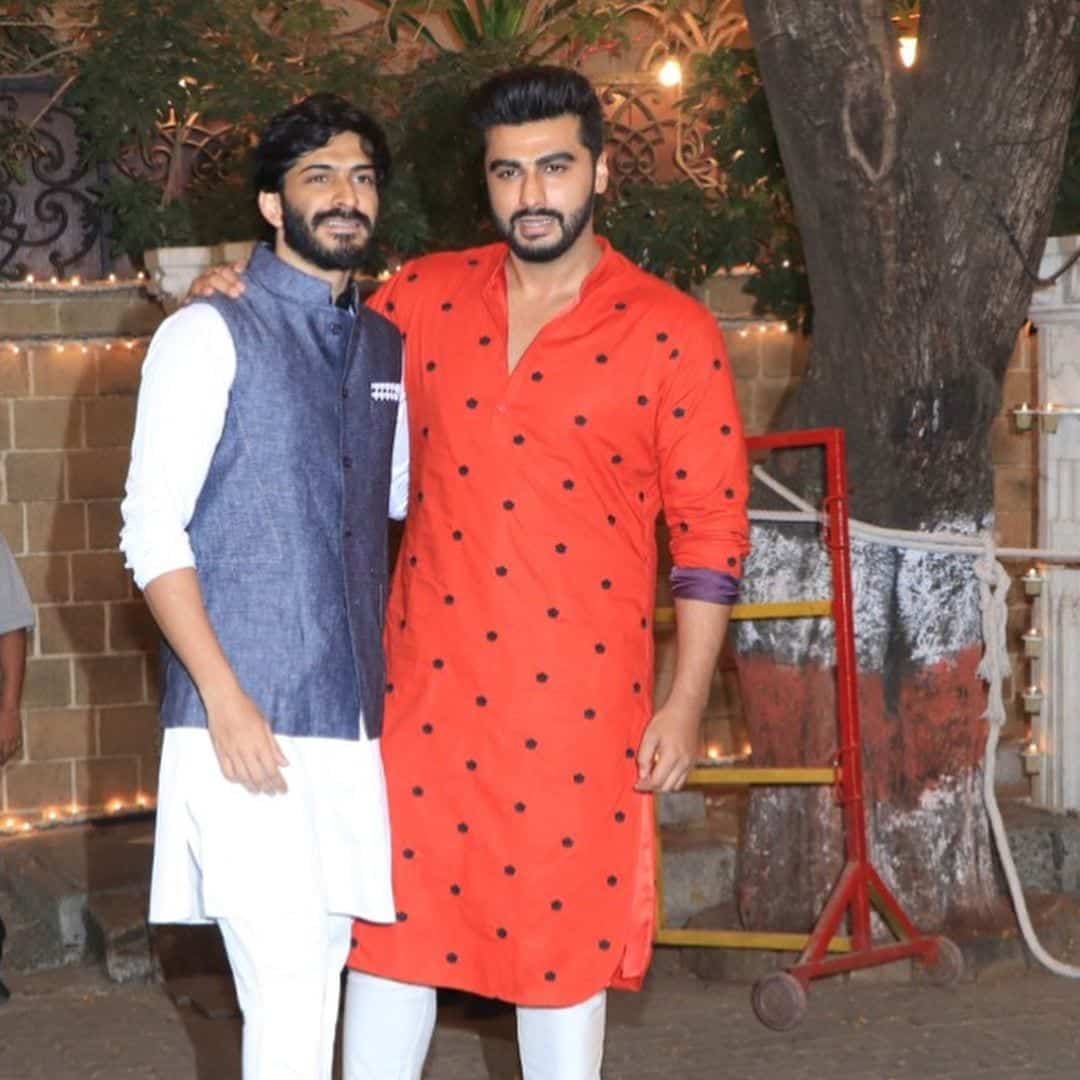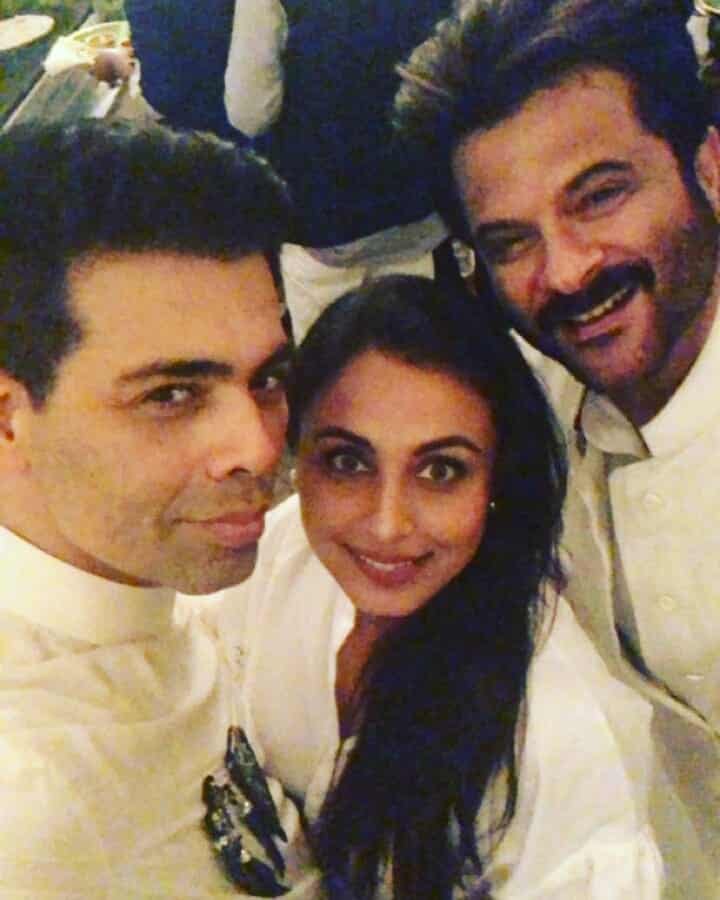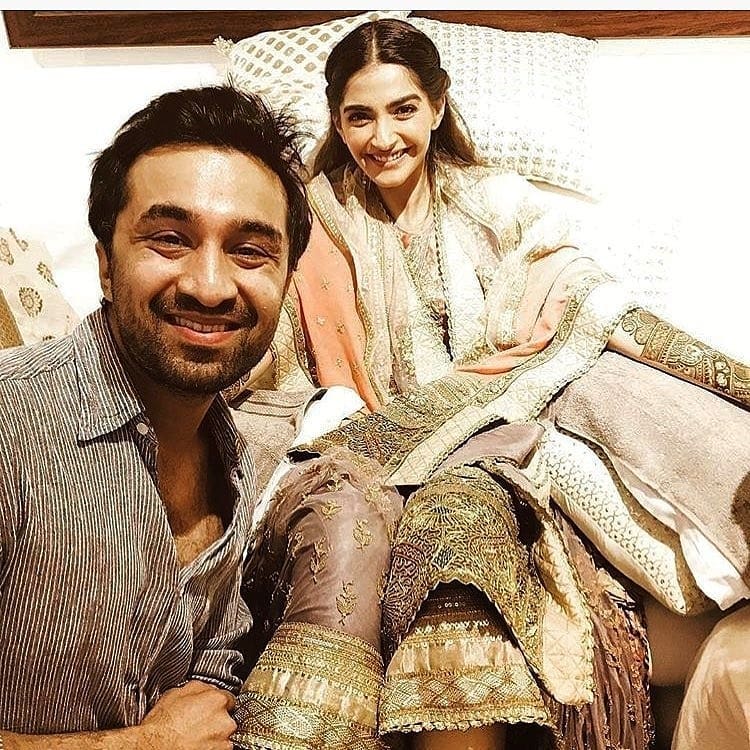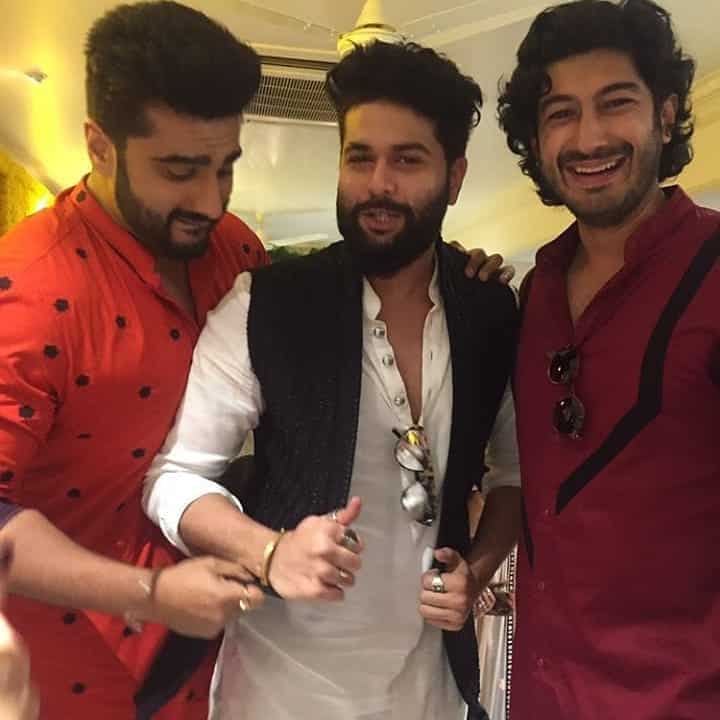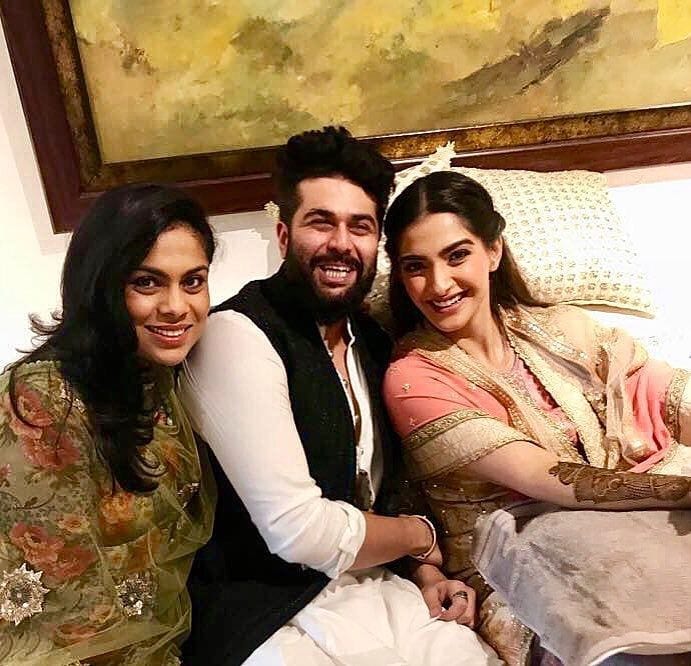 Above all, Sanjay Kapoor (Sonam's uncle) was the most excited for the wedding! He expressed his emotions for Sonam through nostalgic yet beautiful Instagram posts;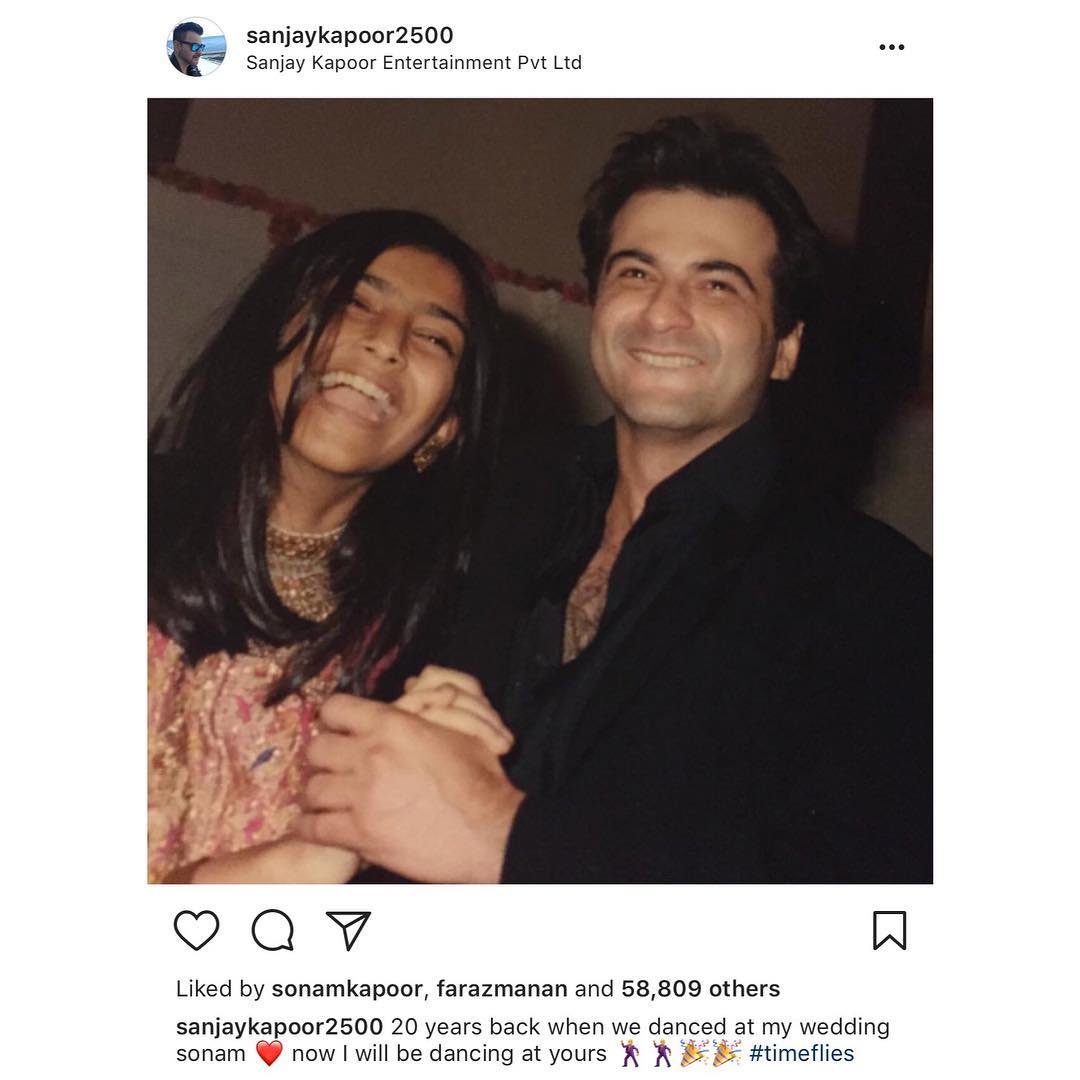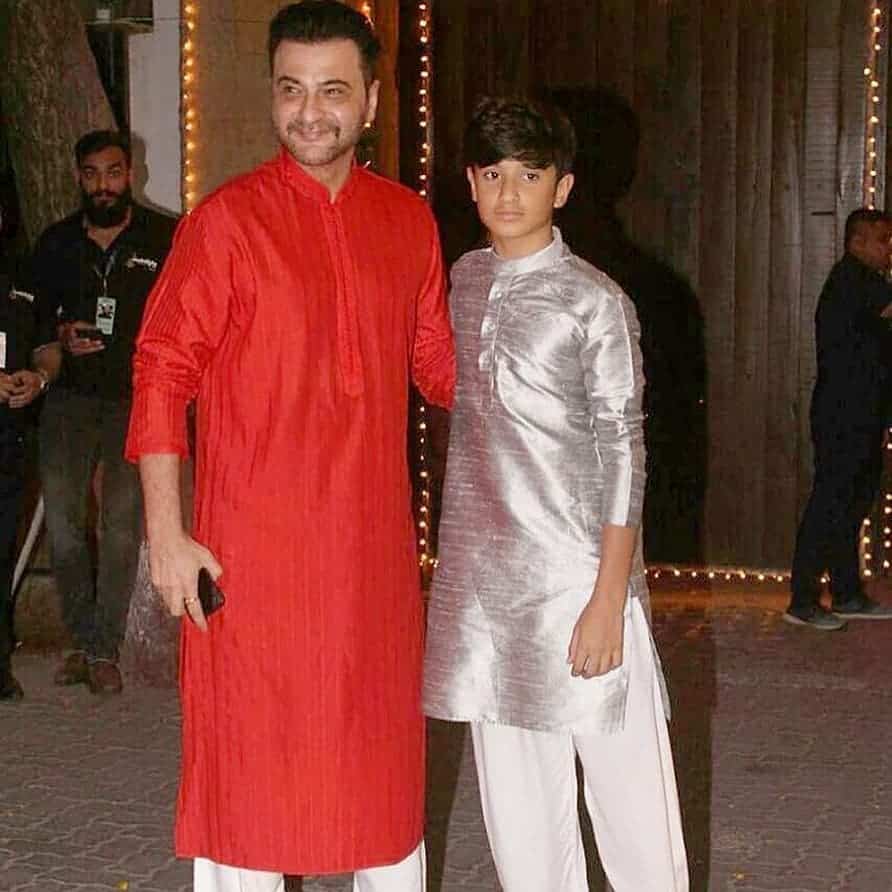 On the other side, Sonam's sister and father, Rhea Kapoor and Anil Kapoor respectively are no less enthusiastic for the Sangeet.
https://www.instagram.com/p/BicP3RHnmbP/?tagged=rheakapoor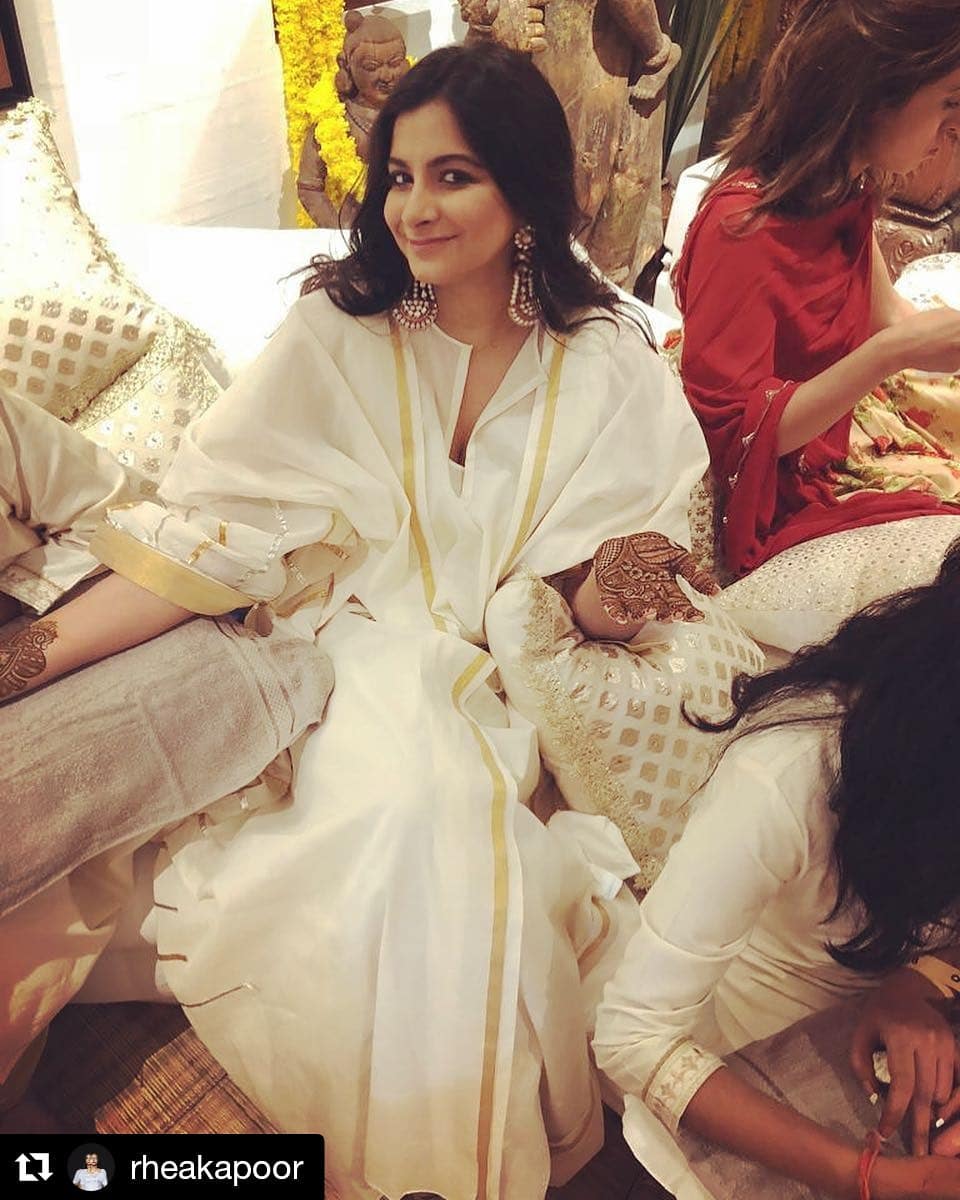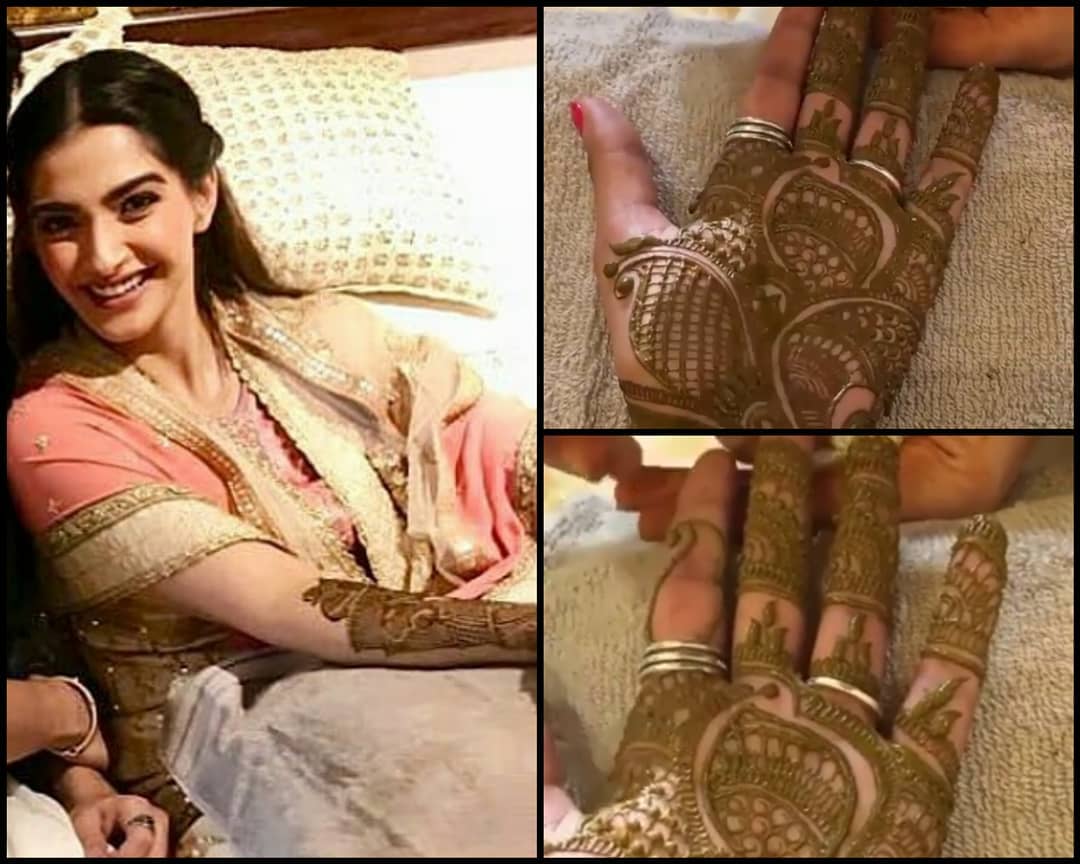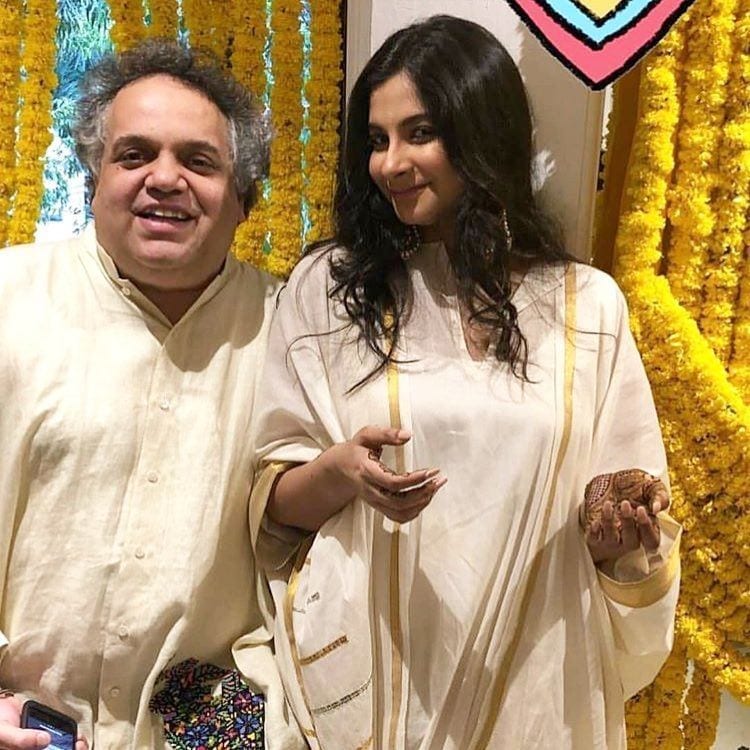 ↓ Sangeet Dance Videos
The couple is mesmerized and buoyantly dancing on their Sangeet. Play the videos below to see them,
https://www.instagram.com/p/BicoA9vBLs5/?tagged=sonamwedsanand
https://www.instagram.com/p/Bicocv7FOrj/?tagged=sonamwedsanand
↓ Mehndi Pictures and Outfits
On 7th May, the Kapoor and Ahuja clan celebrated a wonderful mehndi function with all the famous celebs wearing beautiful outfits on the event. Sonam Kapoor's dress for Mehndi was designed by Abu Jani and Sandeep Khosla who are also collaborating on the actress' upcoming movie 'Veere Di Wedding'. Sonam was looking fabulous with her hair tied in an intrinsic plaid with henna on her hands and forearms.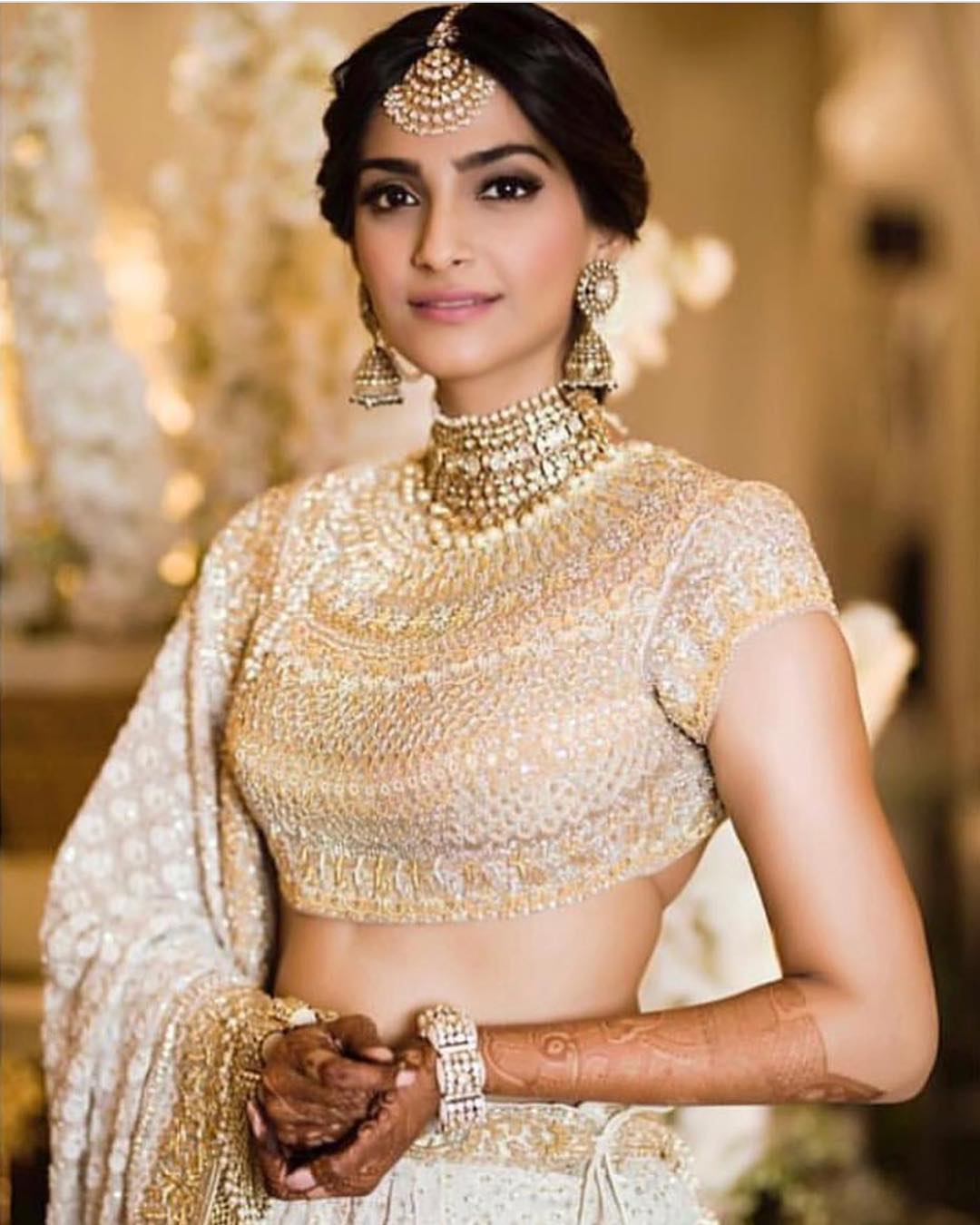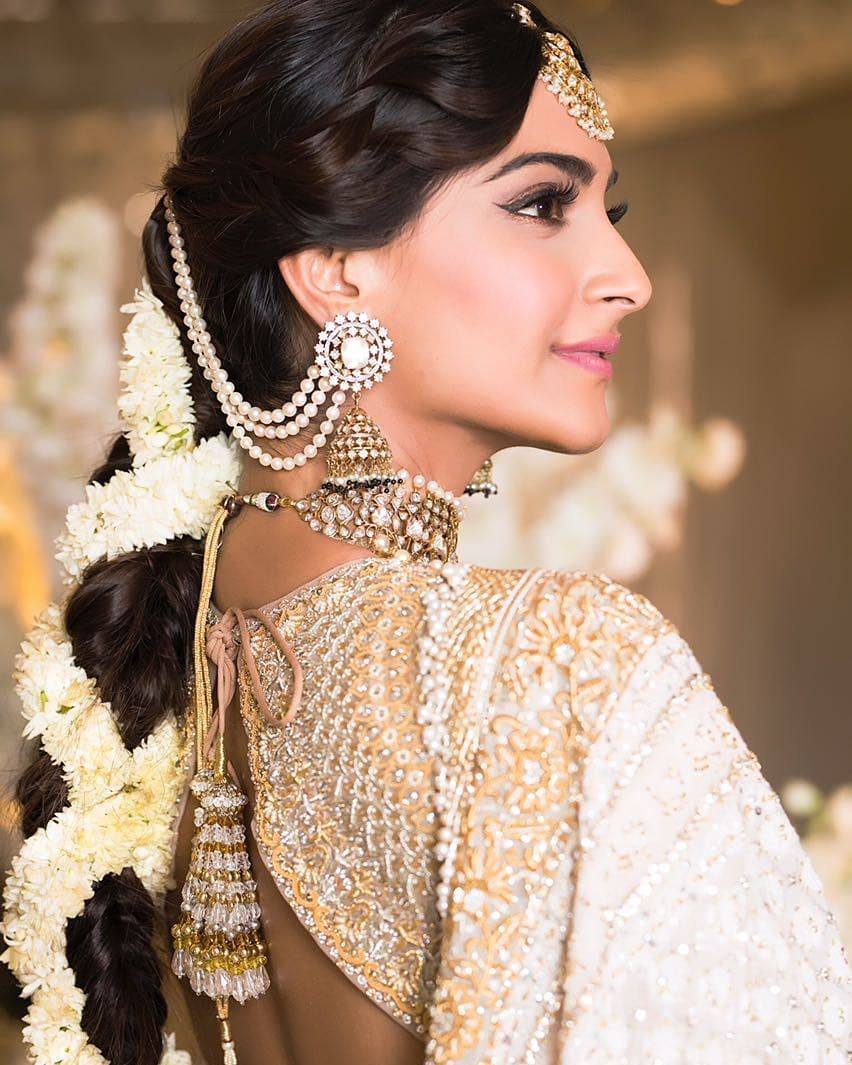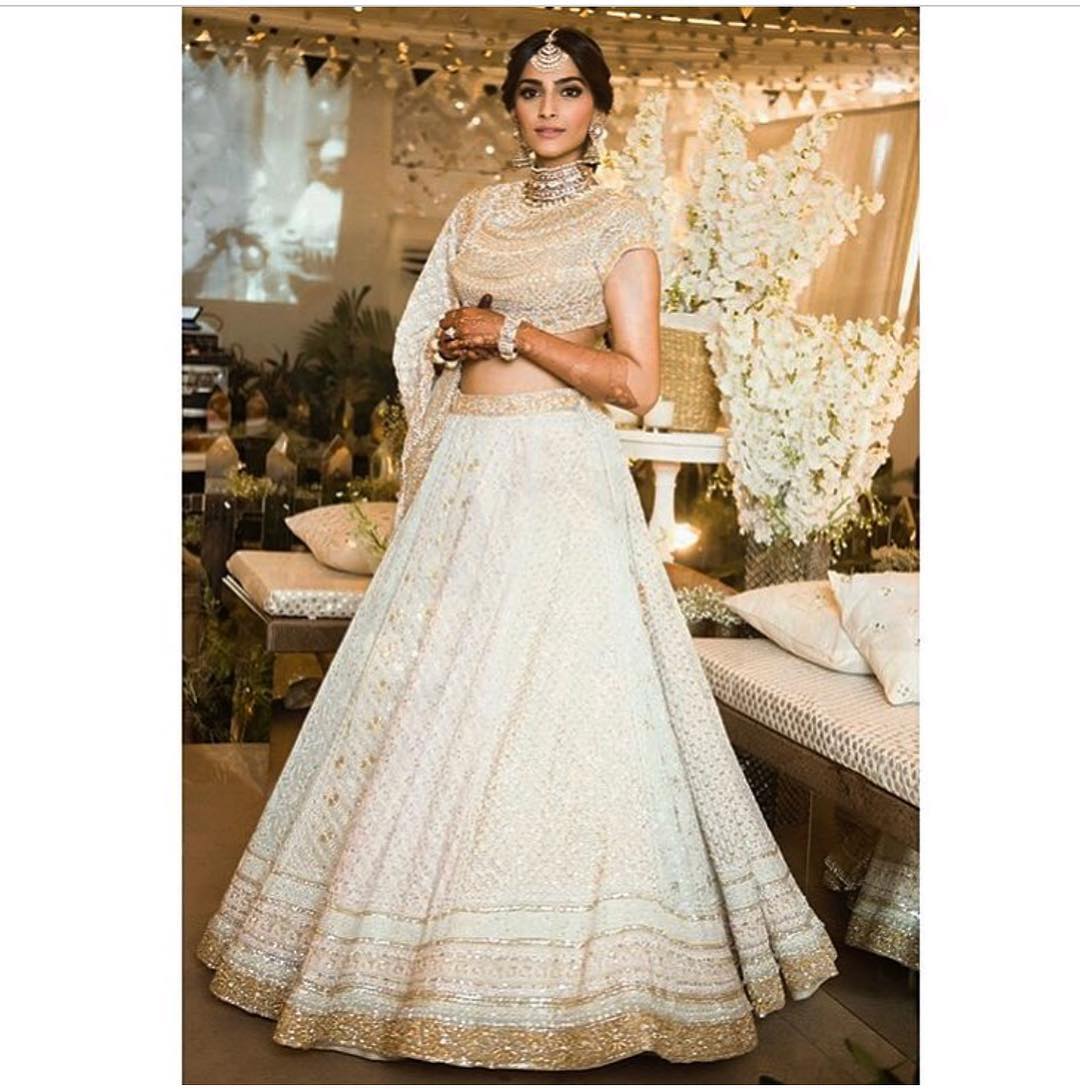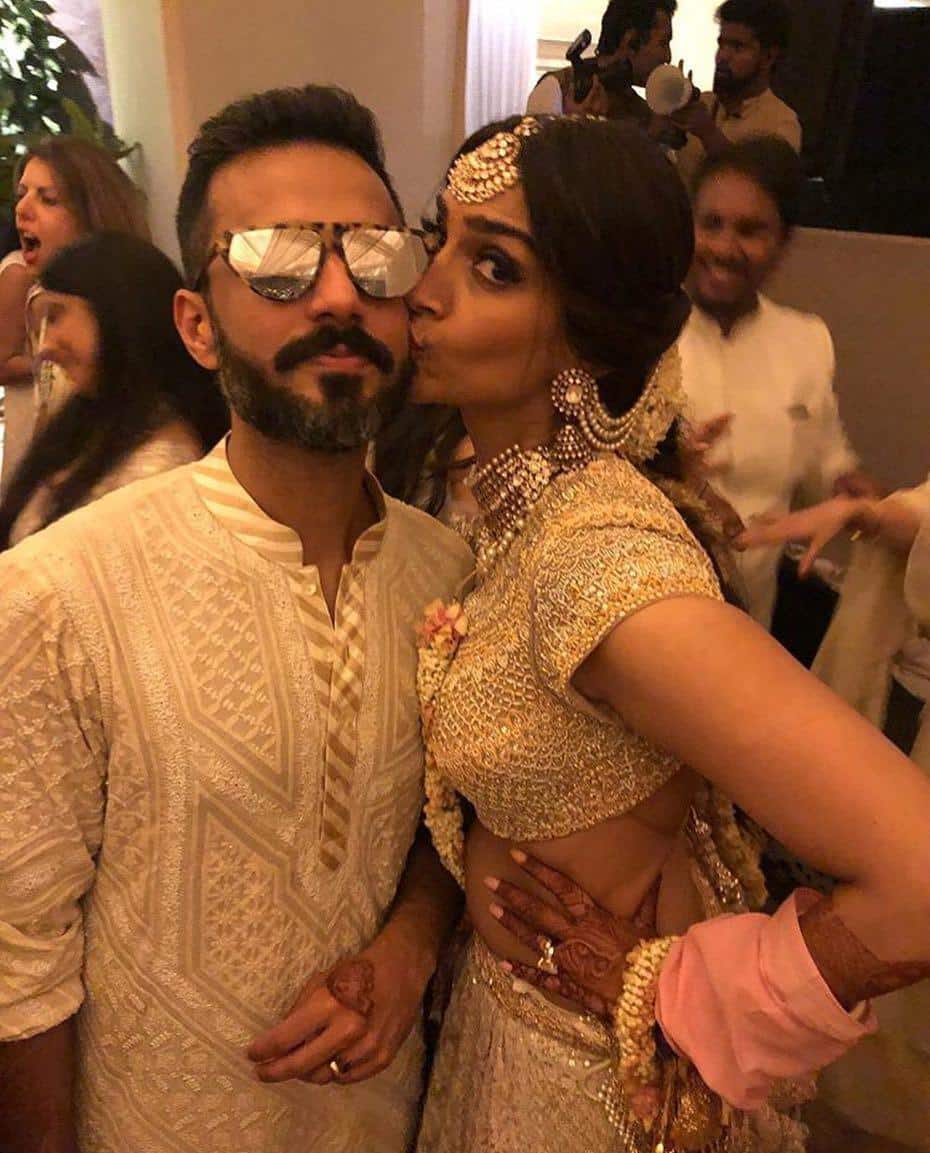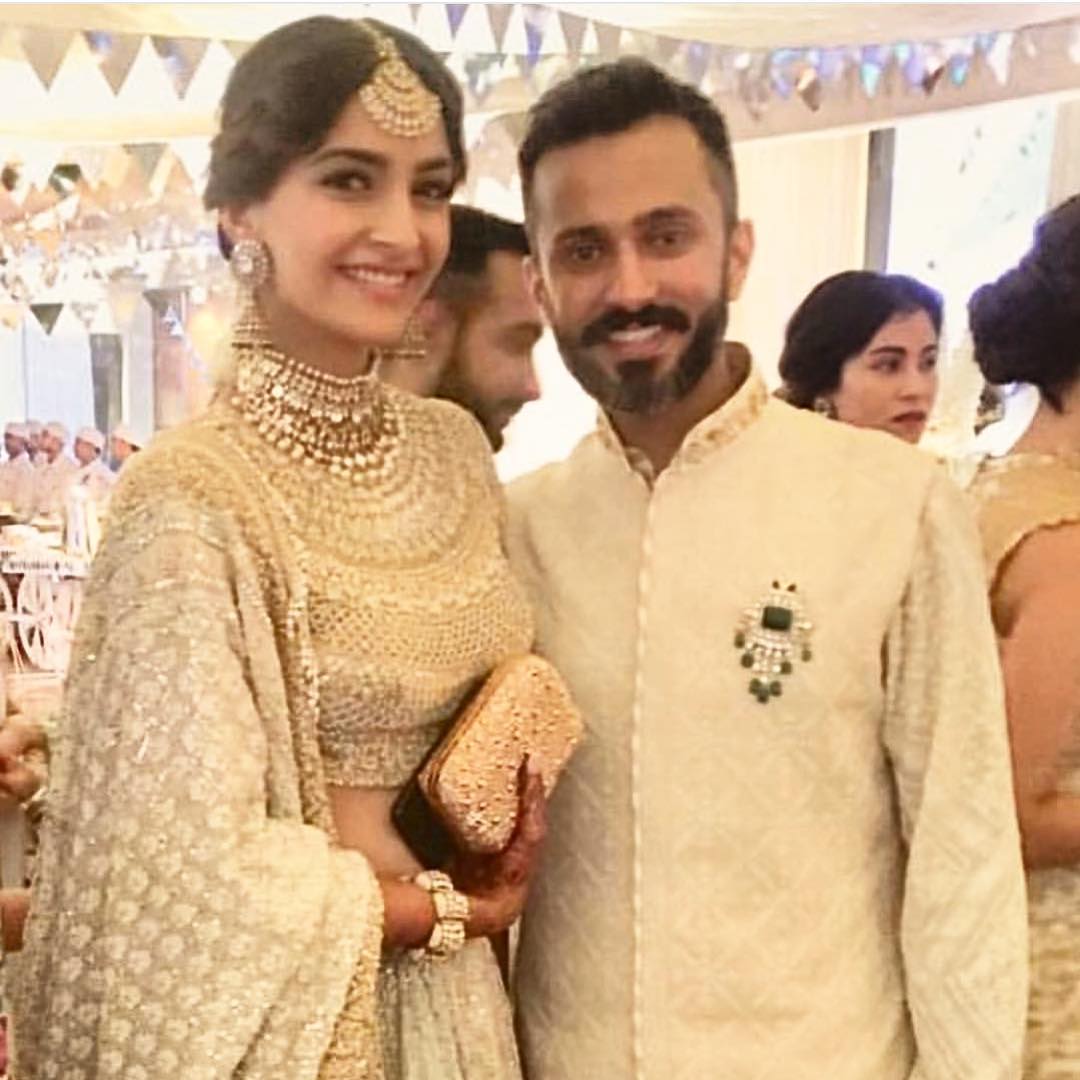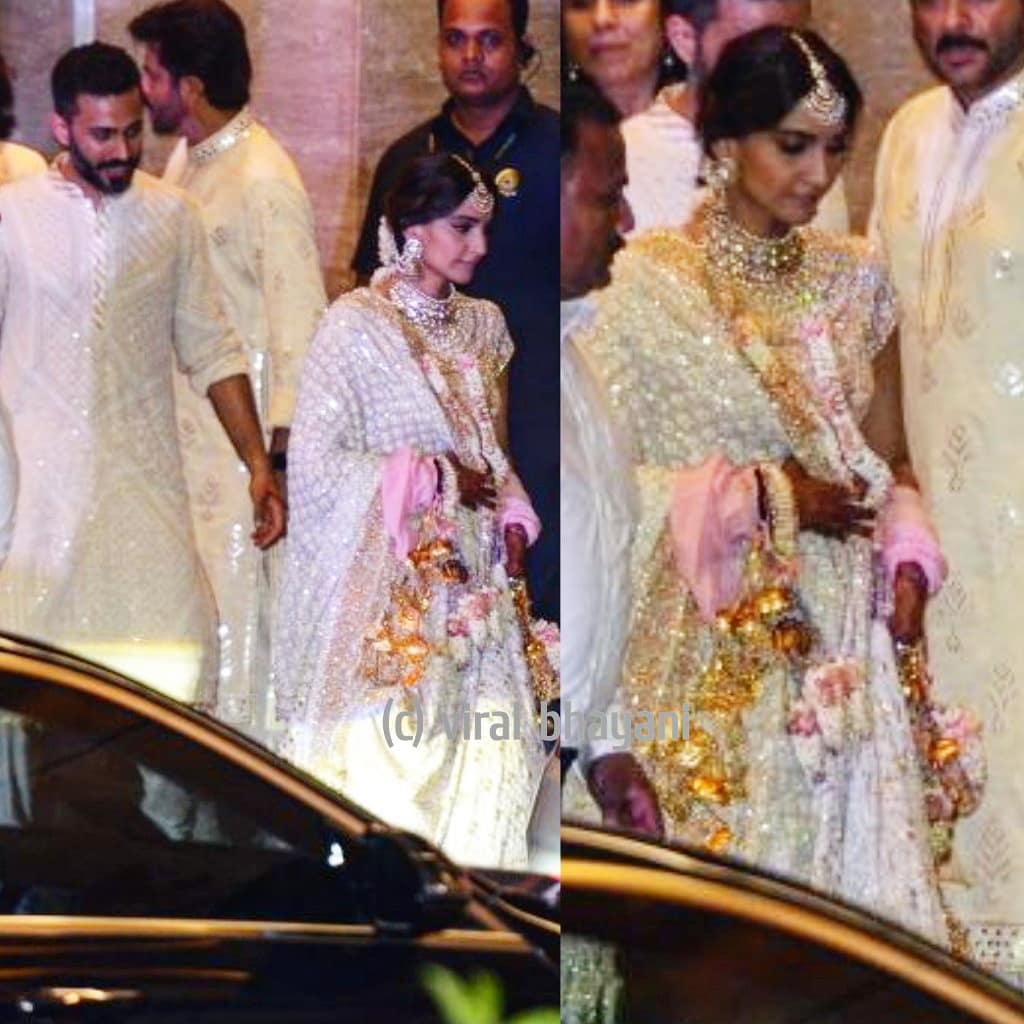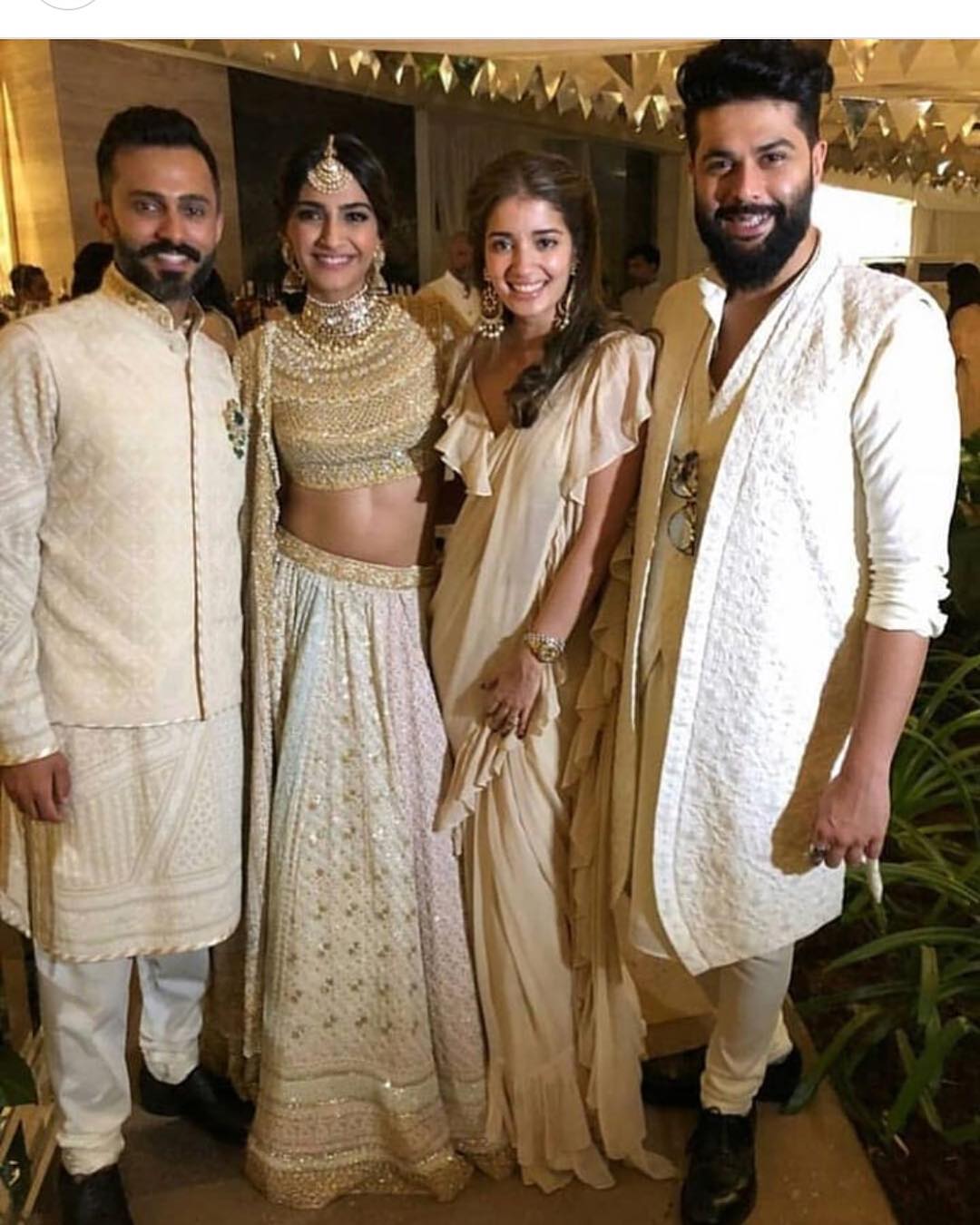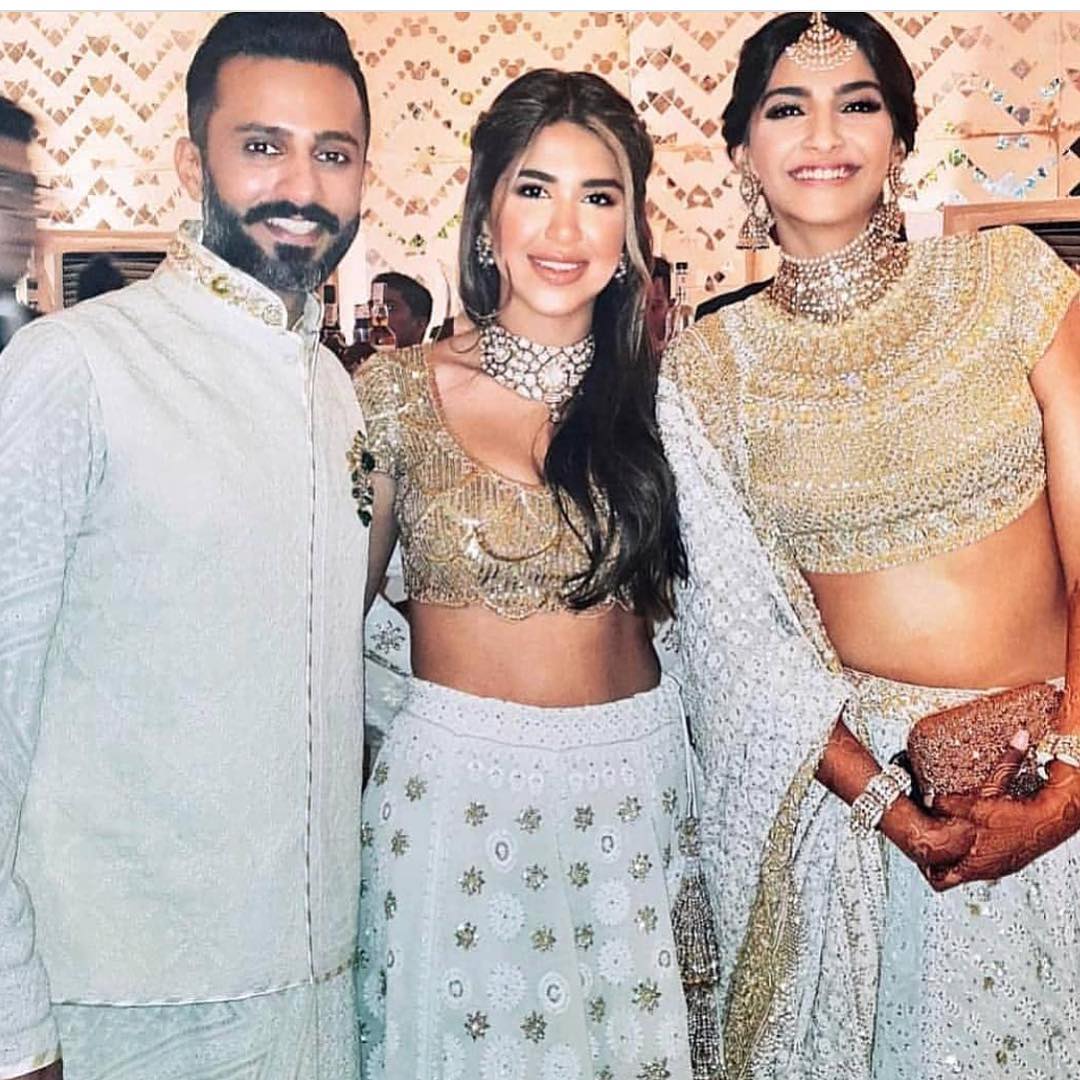 ↓ Celebrities Invited in Mehndi
Many well-known bollywood personalities were there for Sonam's wedding including Varun Dhawan, Shilpa Shetty, Karsihma Kapoor, Boney Kapoor, Arjun Kapoor, Karan Johar, Rekha, Jhanvi Kapoor, Katrina Kaif, Jacqueline Fernandez, Rani Mukherjee, Farah Khan and many more!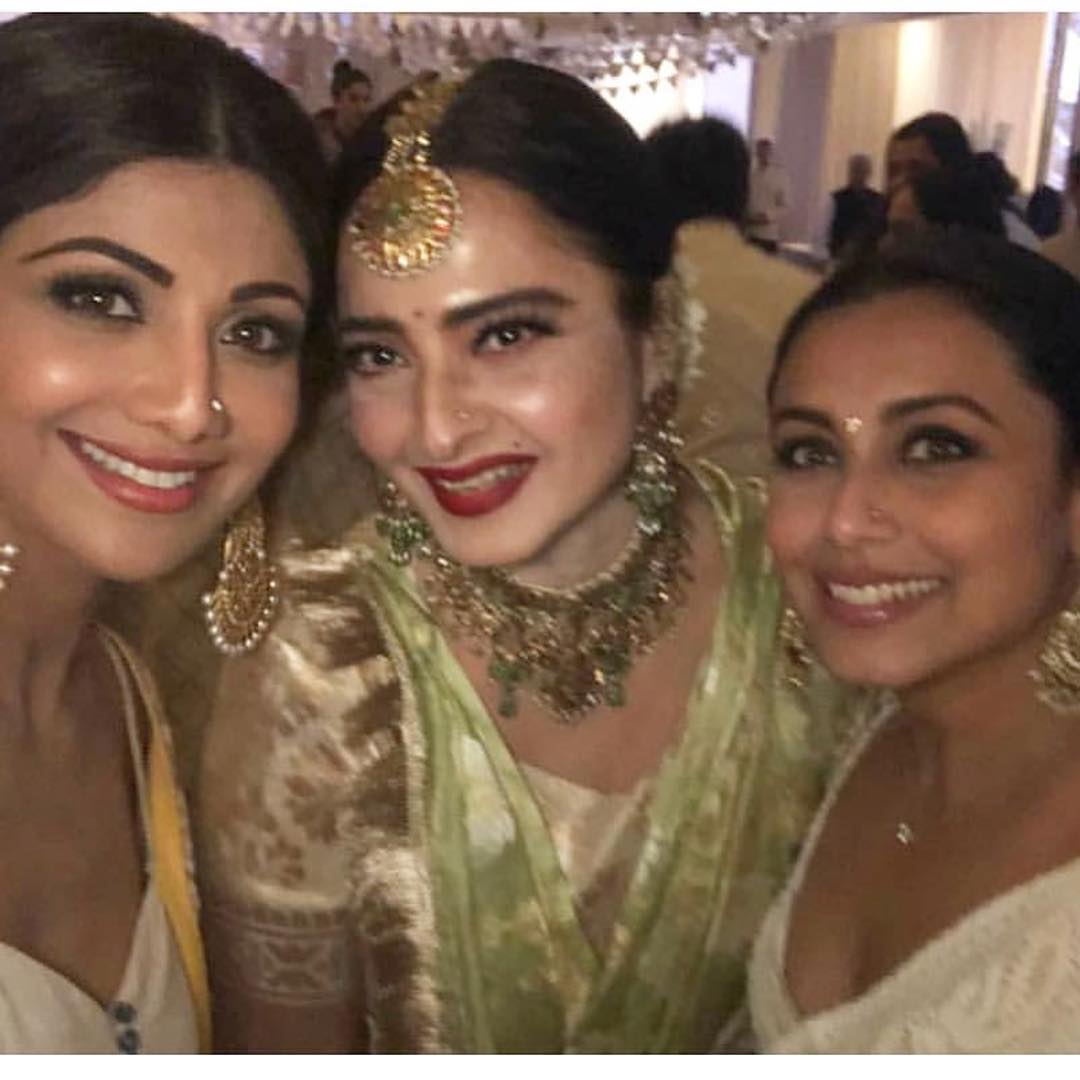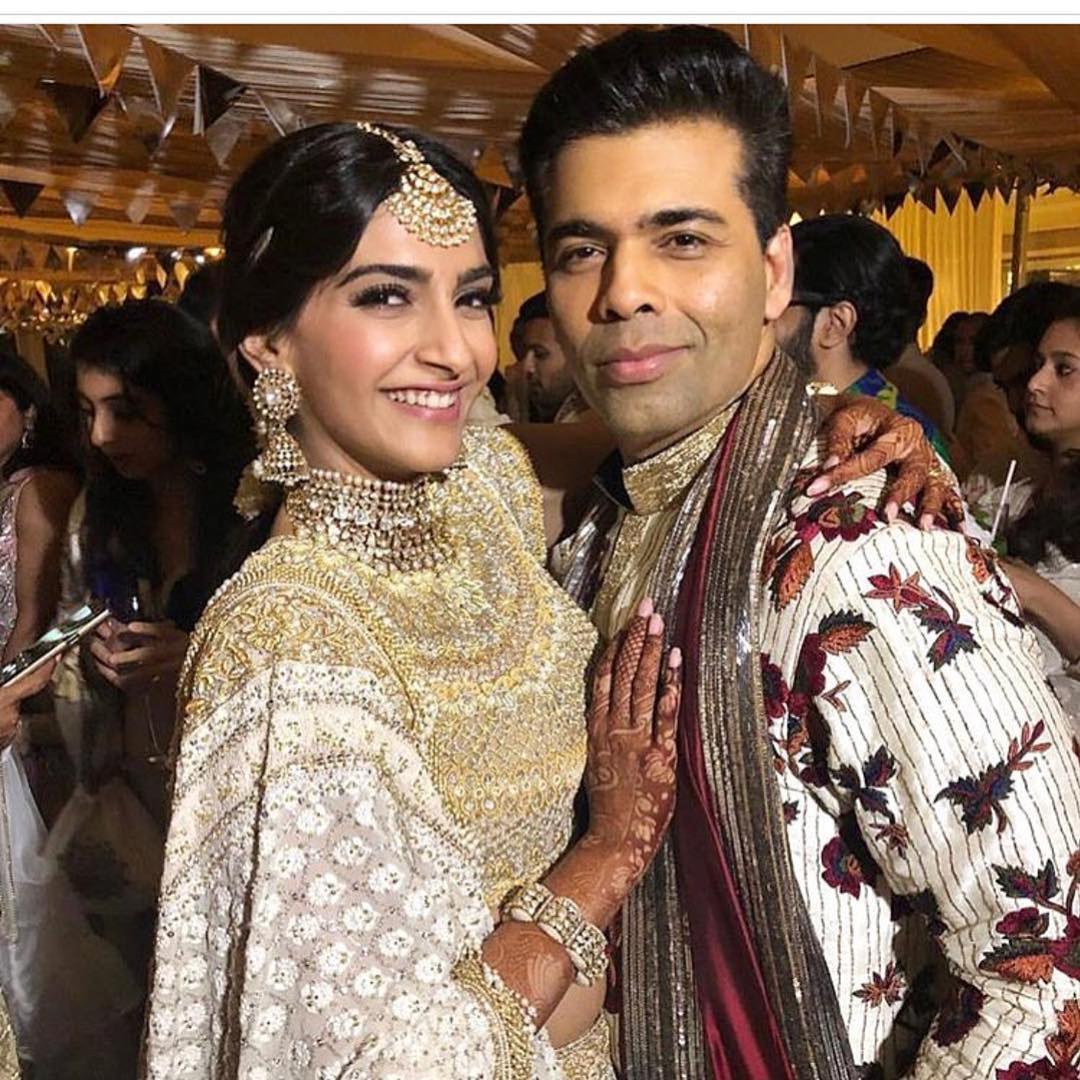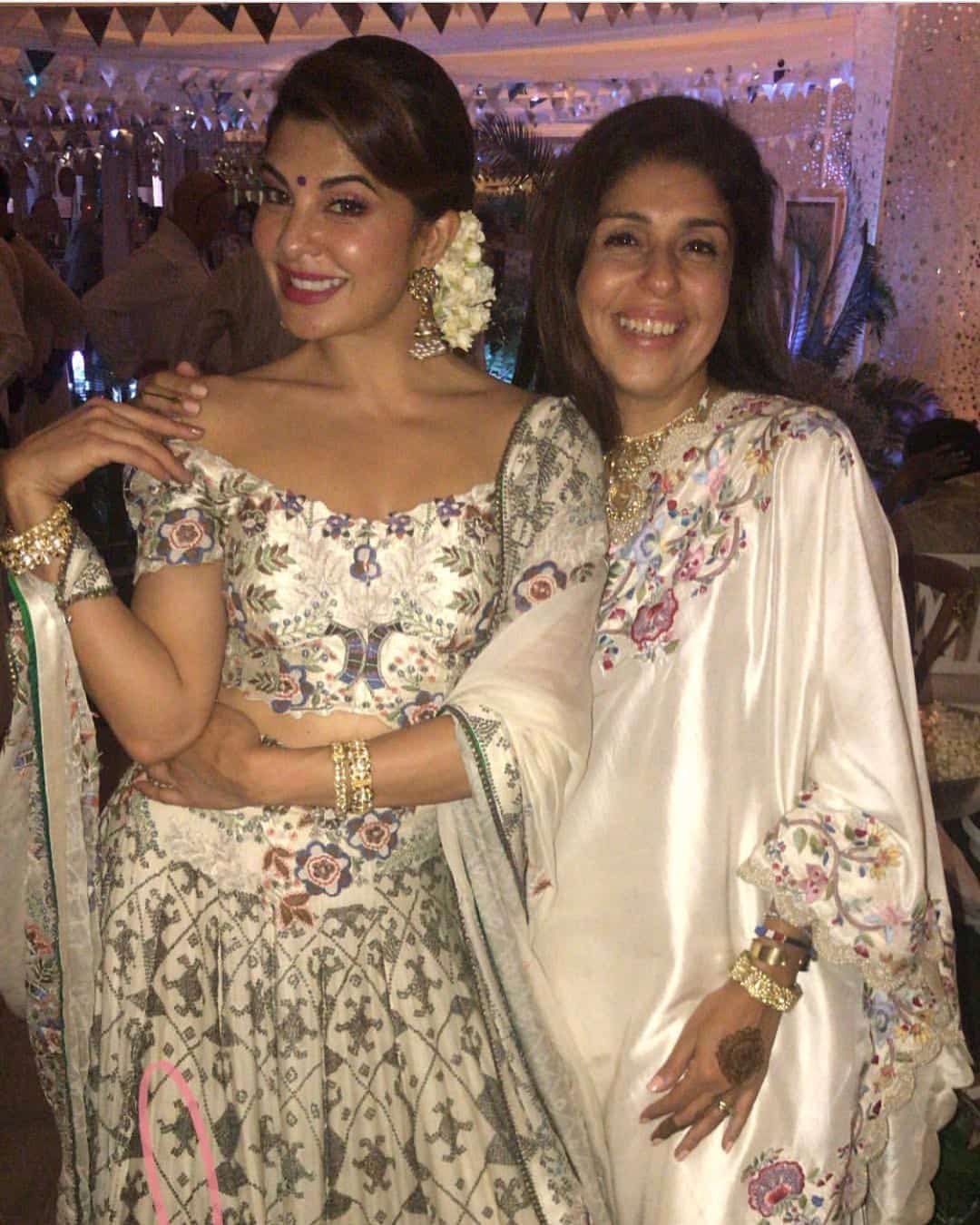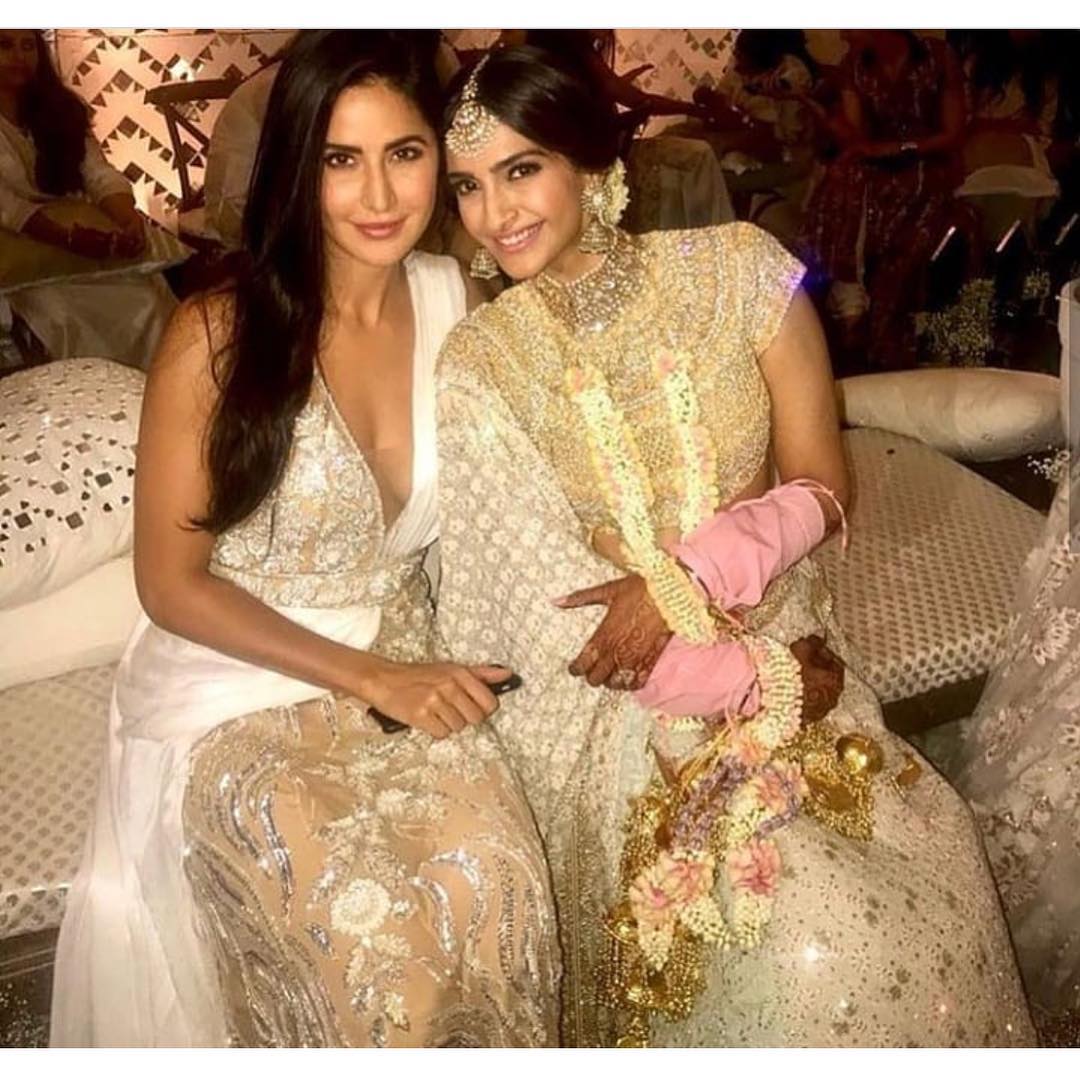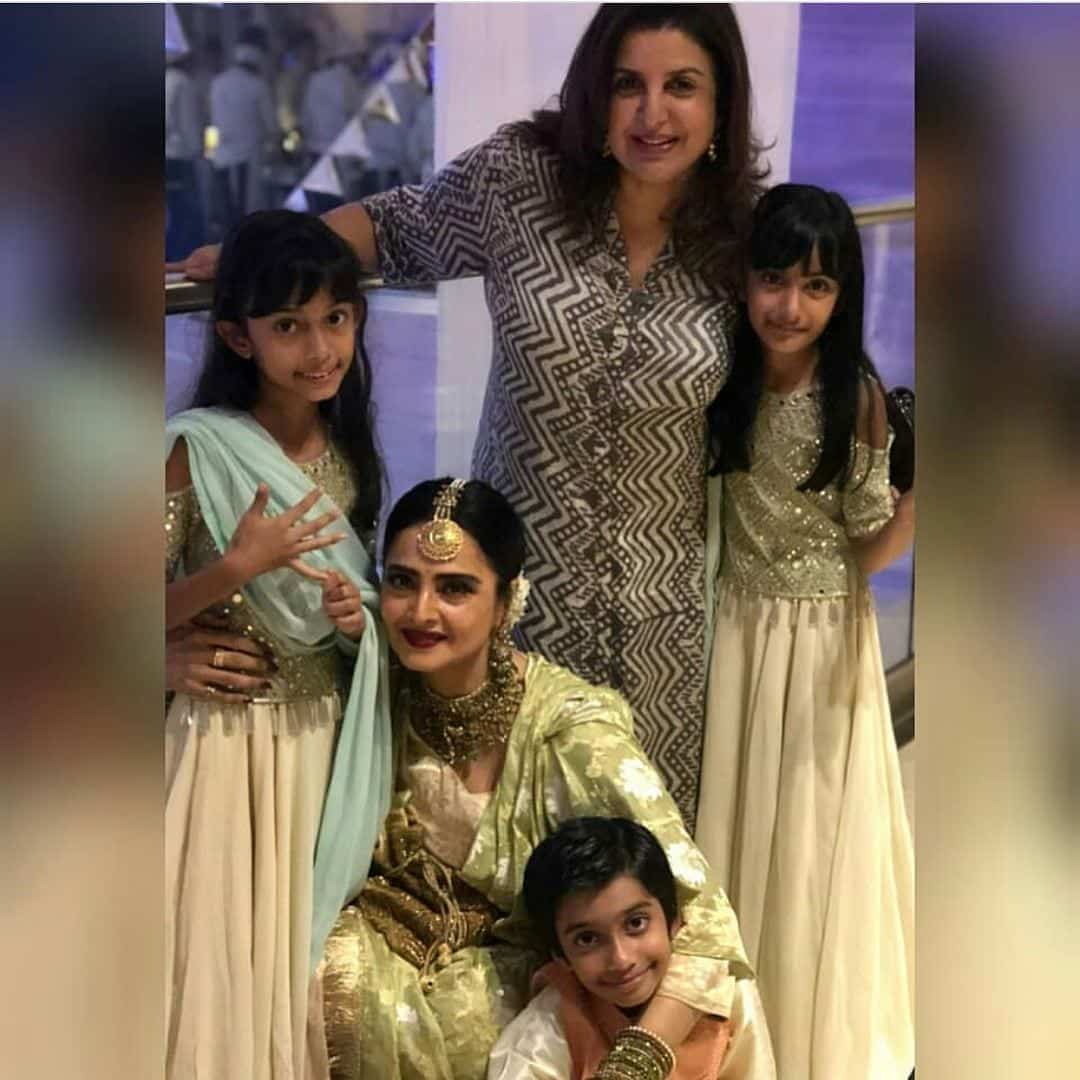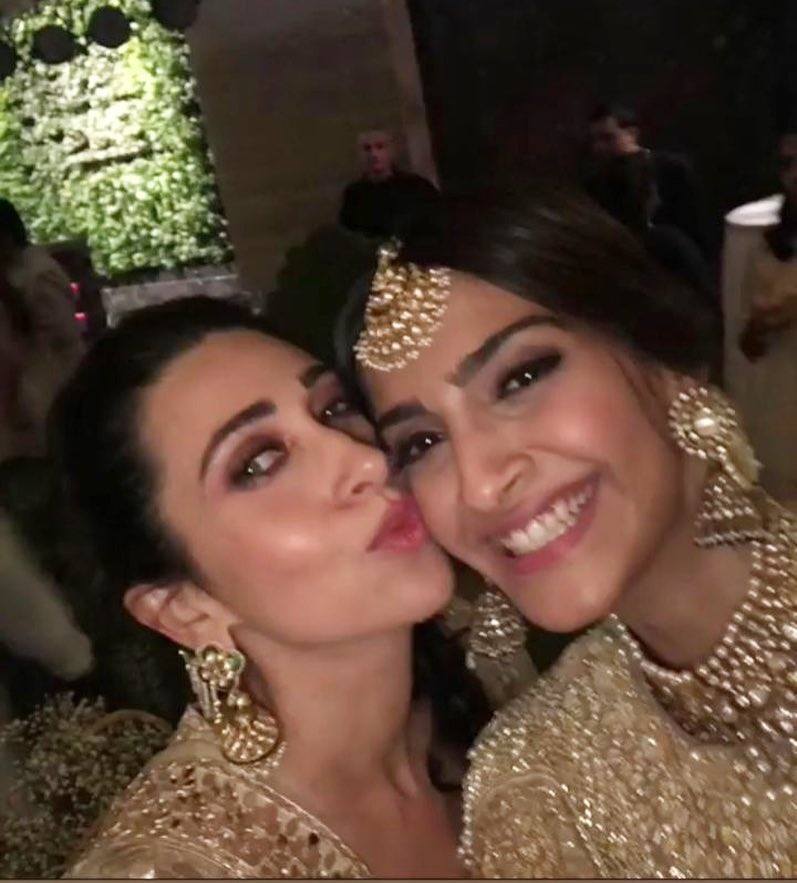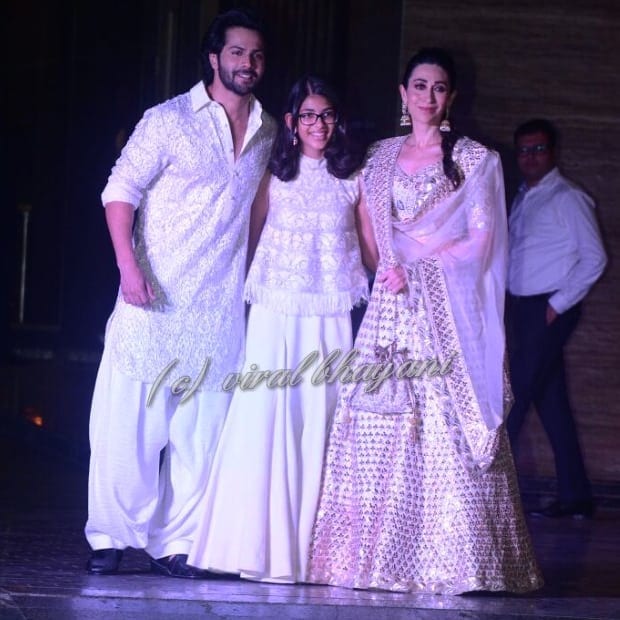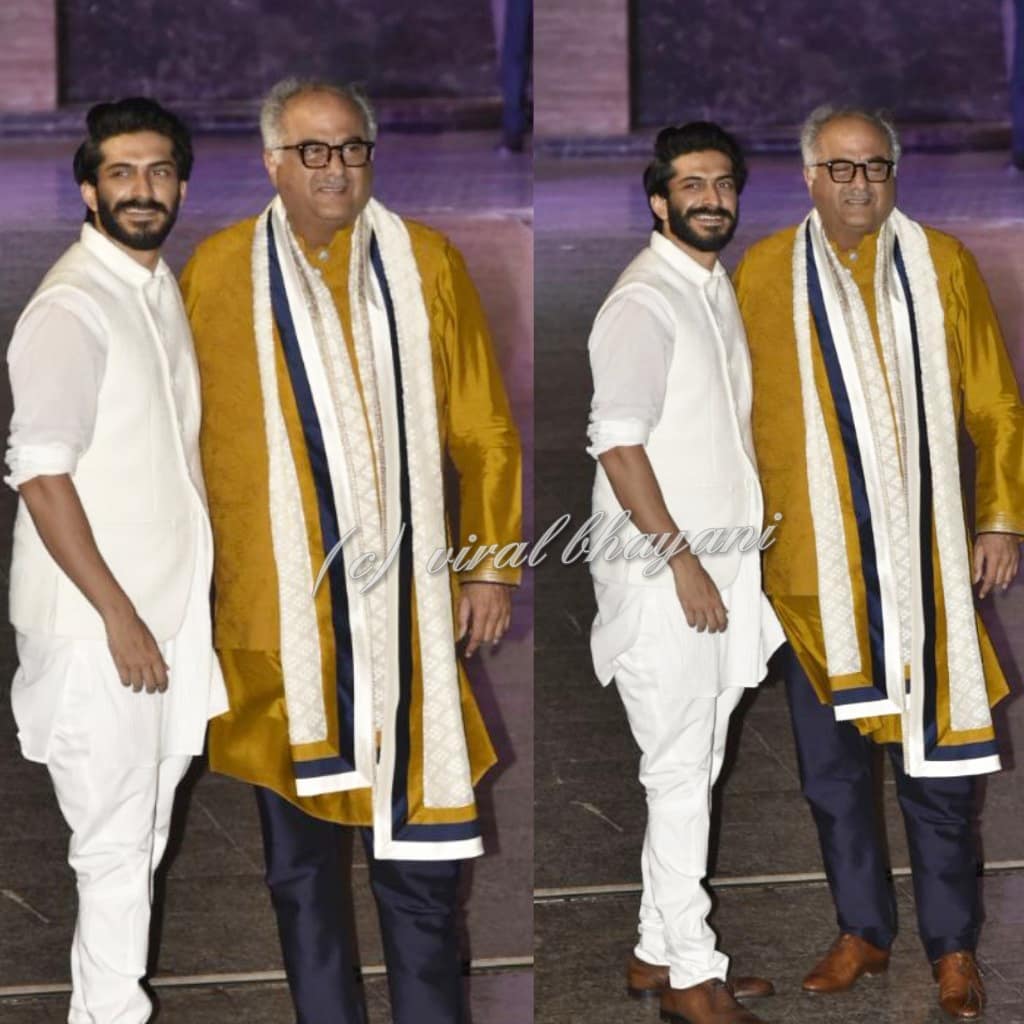 Sonam's father Anil Kapoor was wearing a white kurta and pajama on her daughter's Mehndi.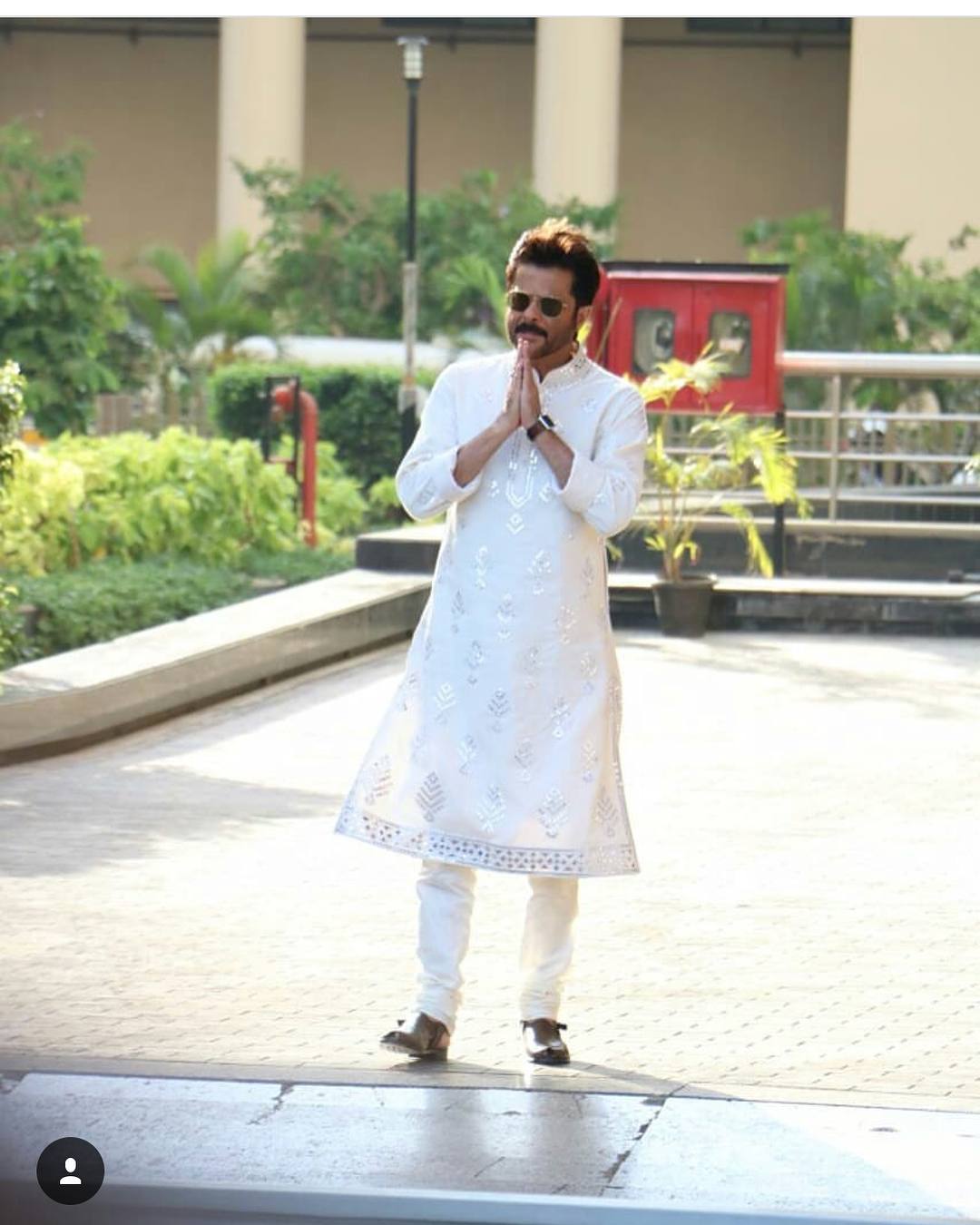 Sonam's siblings Rhea and Harshvardhan were also looking amazing on their sister's Mehndi.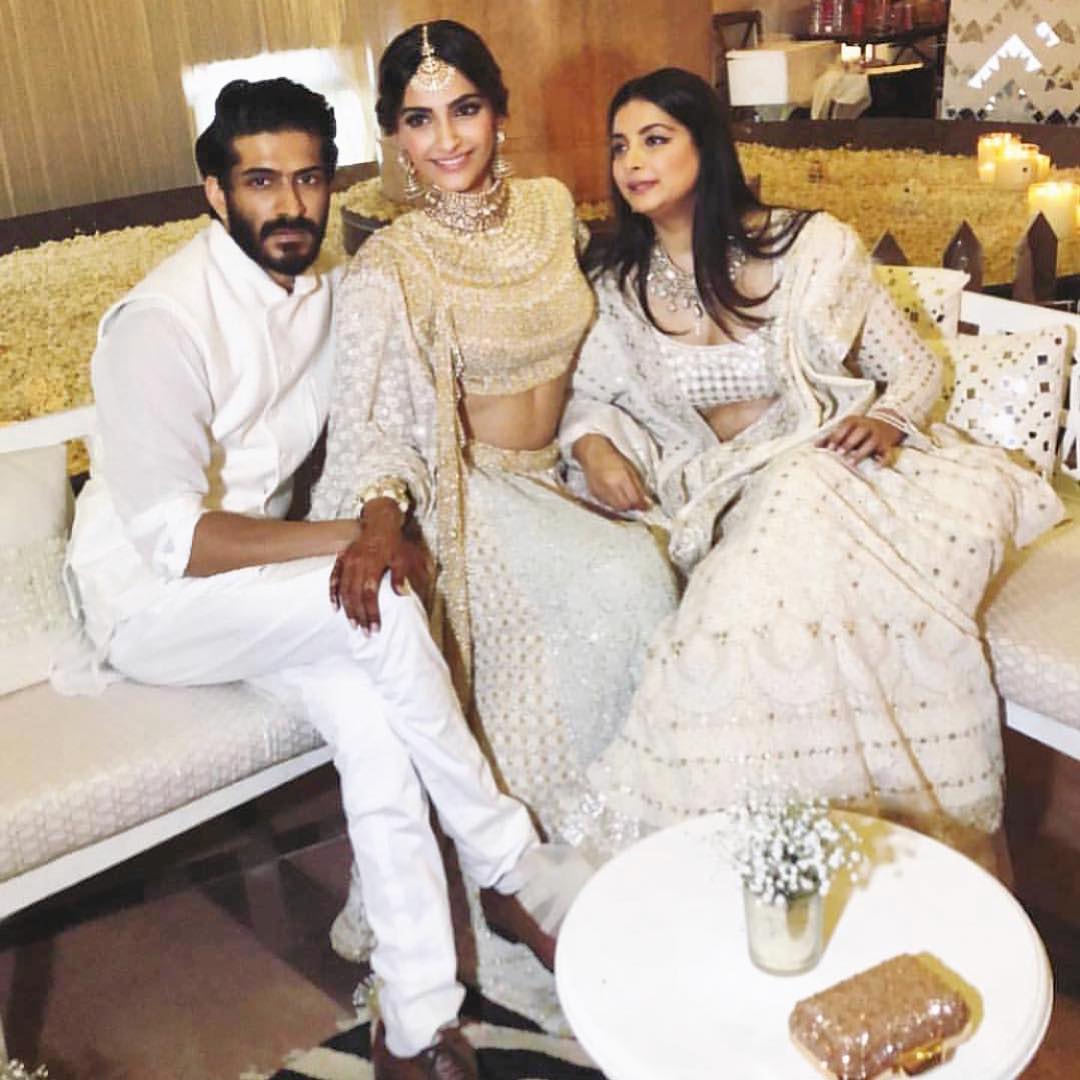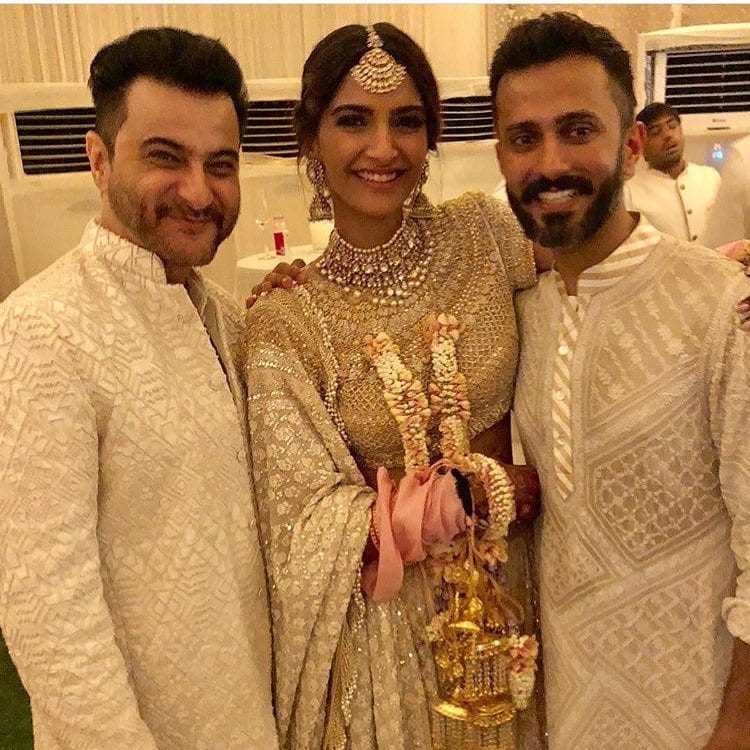 All other cousins, relatives and guests enjoyed a lot while dancing and teasing each other like a casual eastern wedding get together. The theme color of the Mehndi function was white and everybody followed the theme gracefully.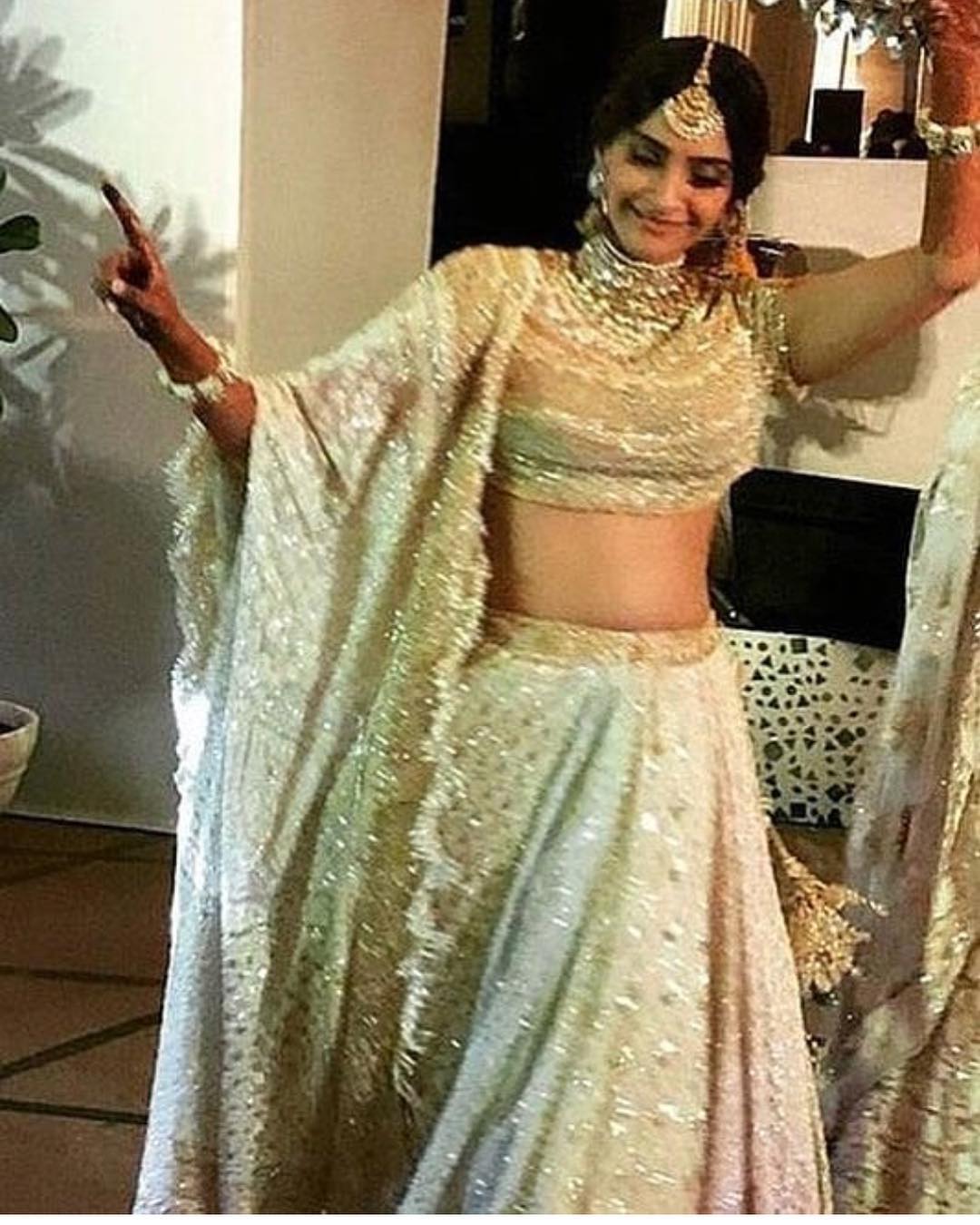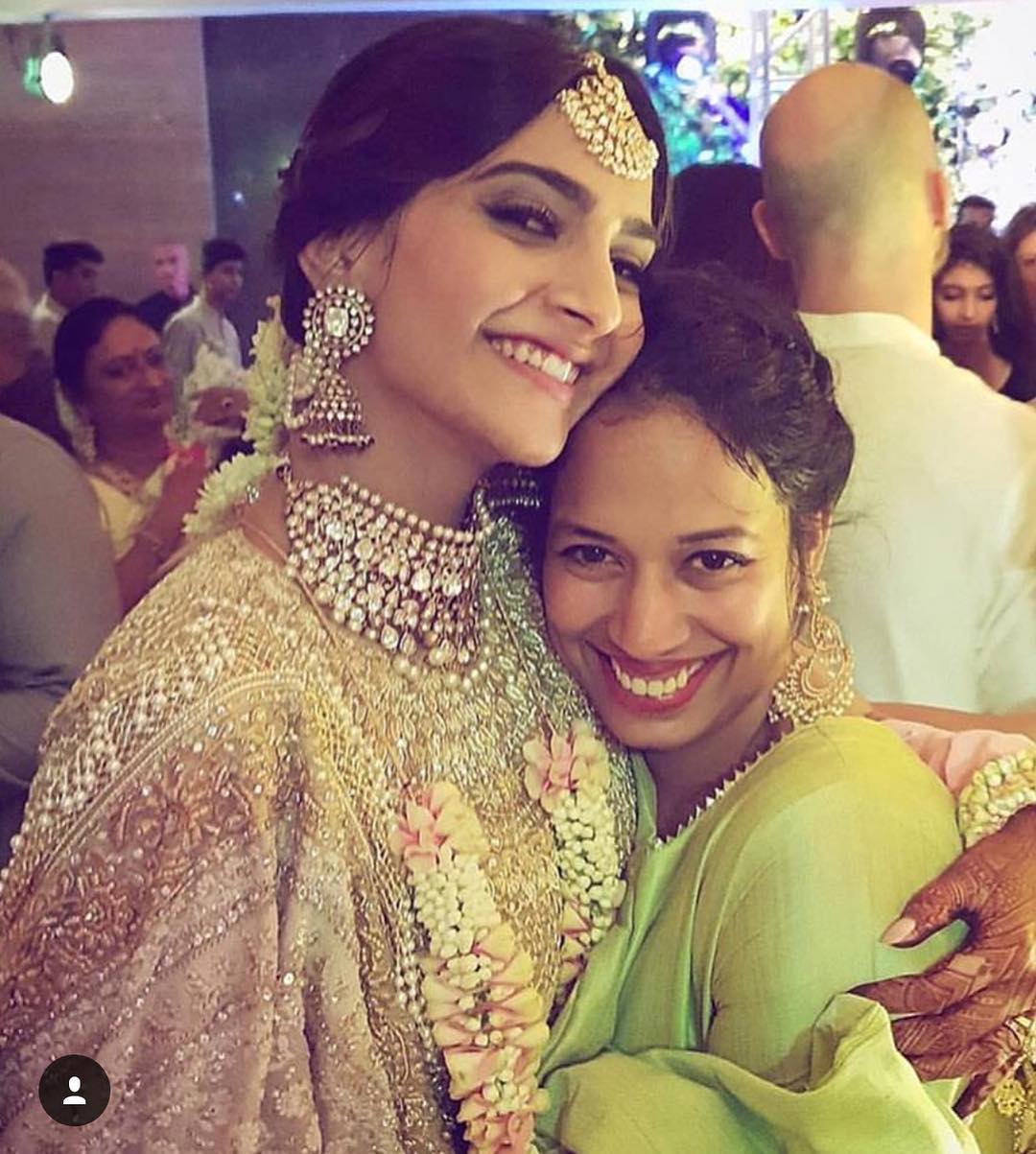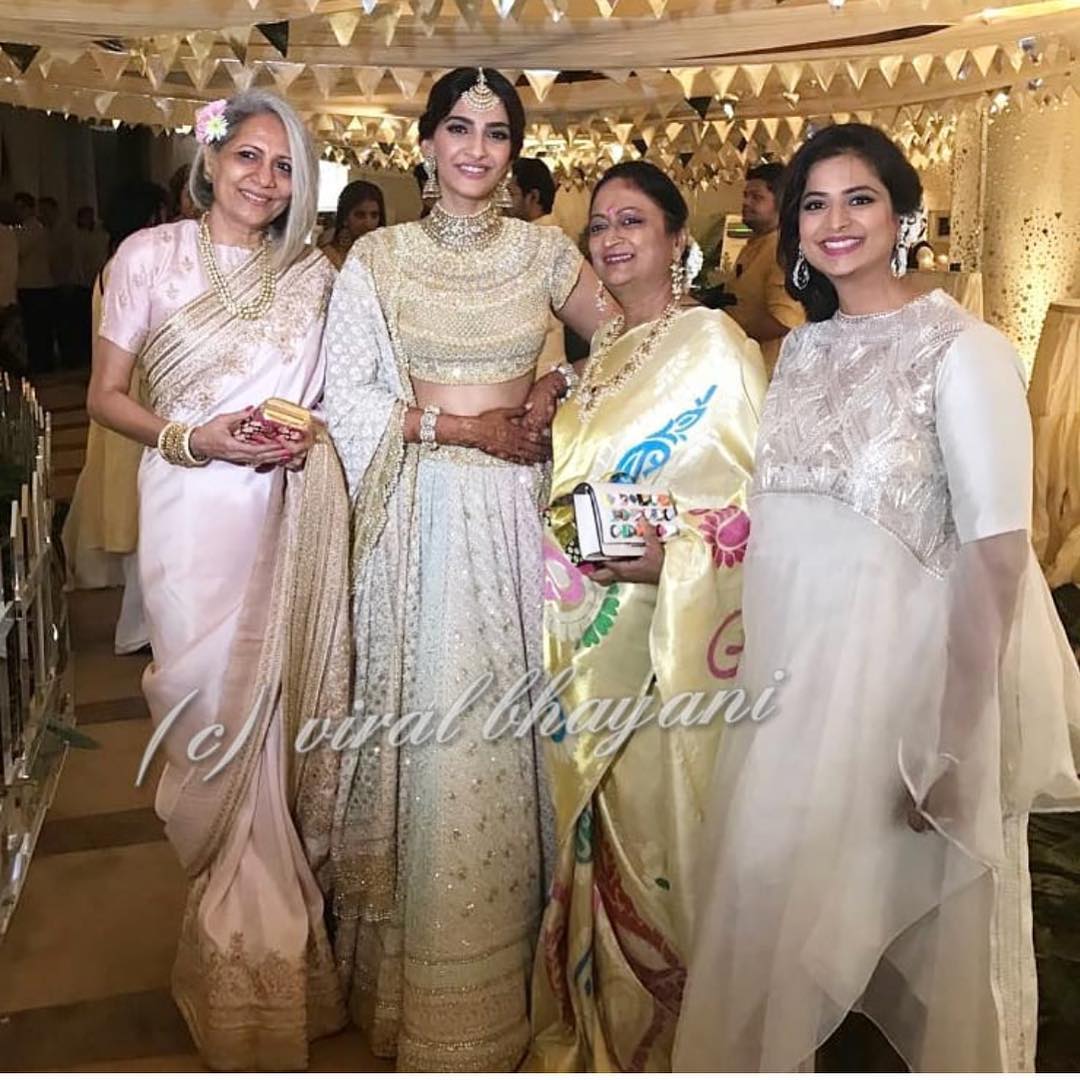 ↓ Mehndi Dancing Videos
Badshah was there at the Mehndi event as DJ for the night and he seemed to be the heart of the party. He made the crowd dance and move in joy along with other young stars.
https://www.instagram.com/p/BifUhstBucg/?tagged=sonamkimehendi
Seems like Jacqueline had a lot more fun than the others with the bride and the groom.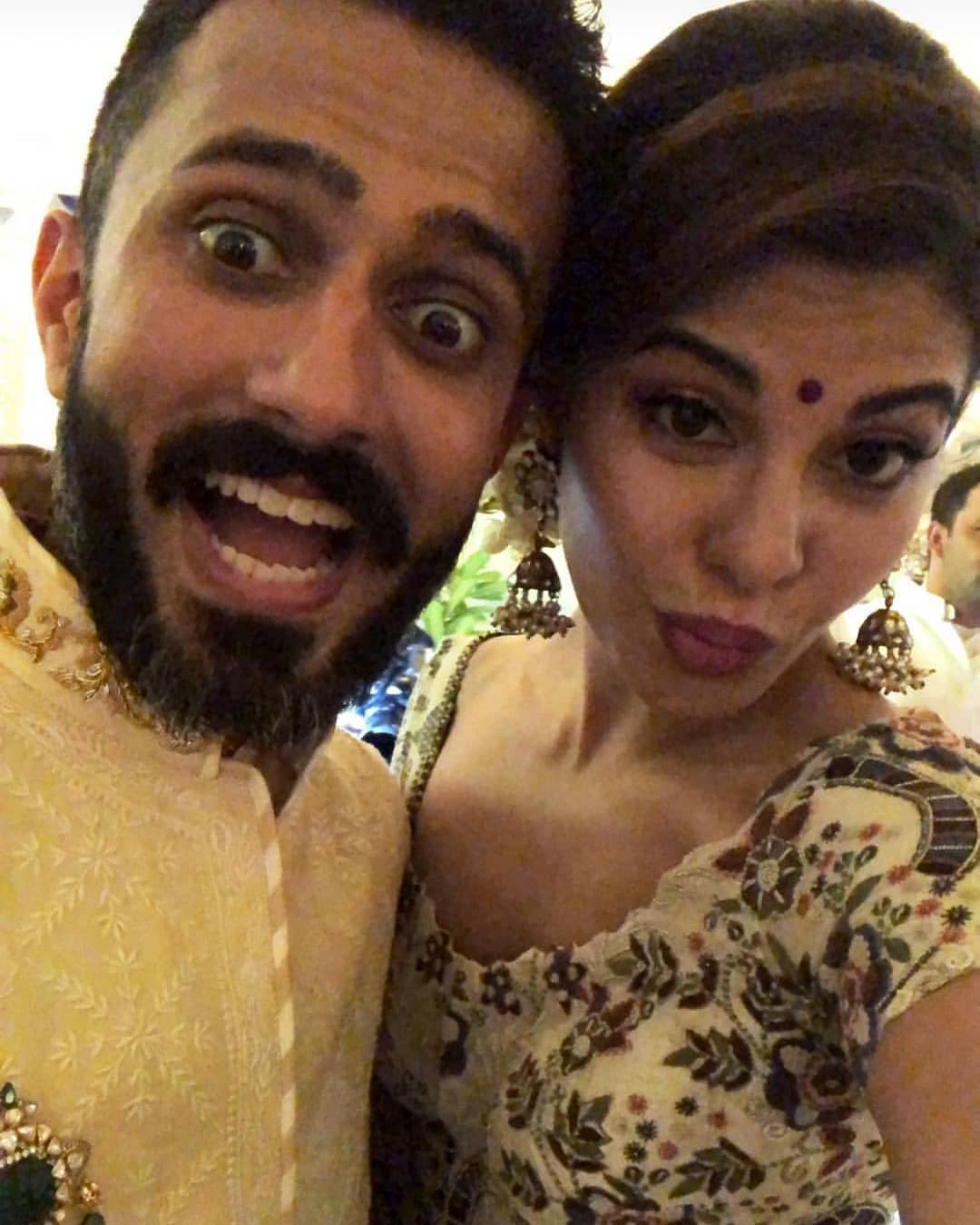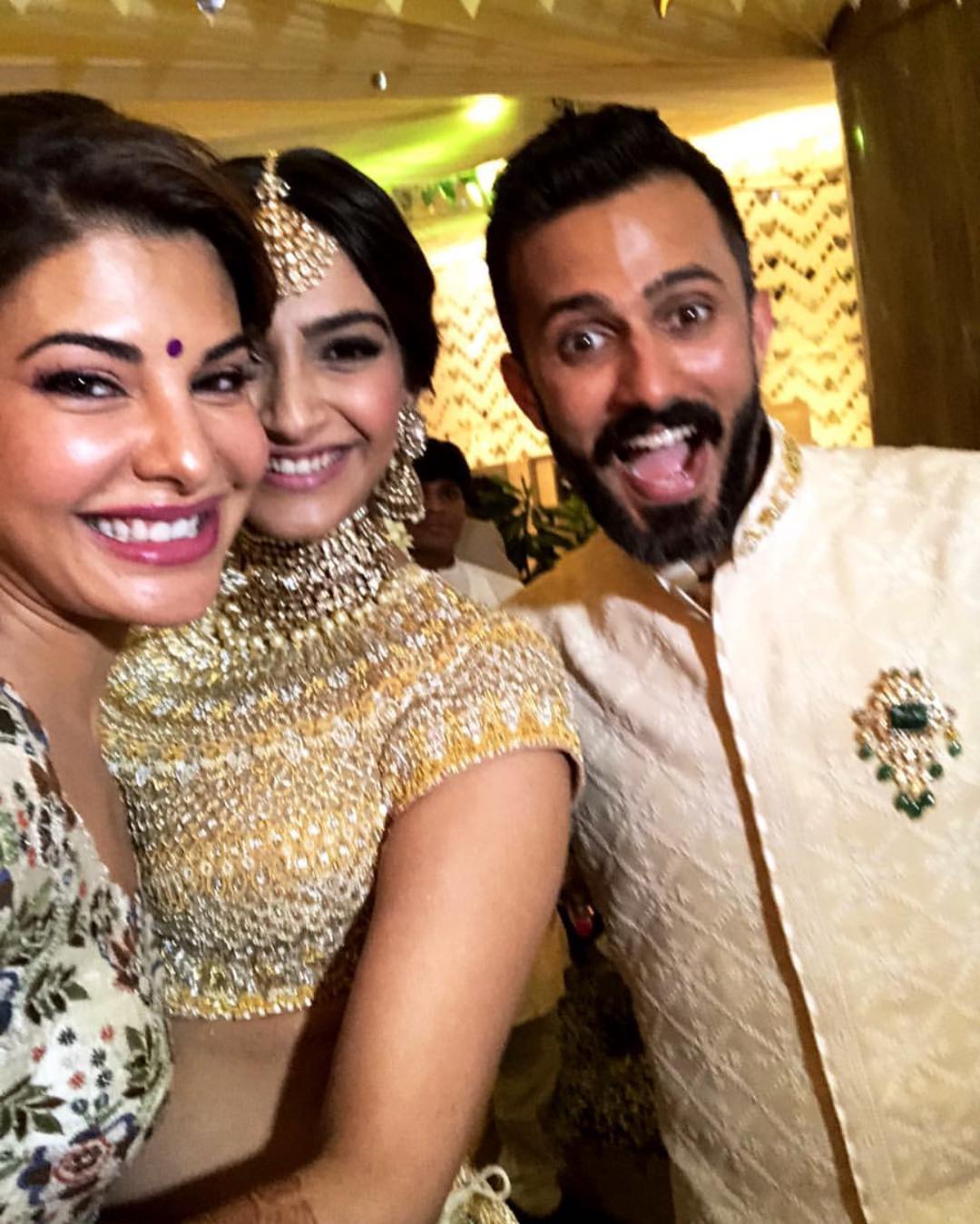 Sonam Kapoor's best friend Sawara Bhaskar is all cute with the power couple.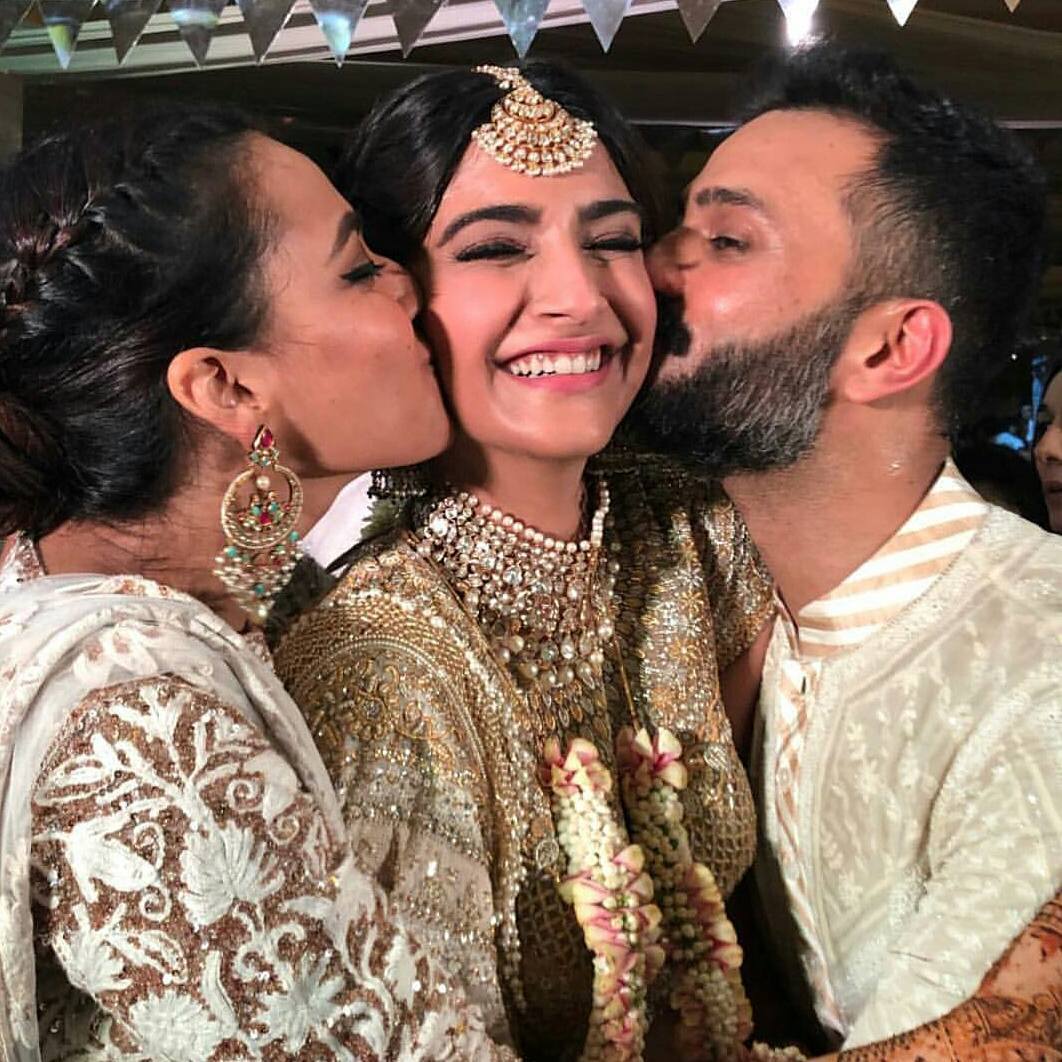 ↓ The Wedding Day
And the wait is over! Sonam finally ties knot with Anand Ahuja on 8th May 2018 in a private sikh ceremony in Bandra. The whole event is covered in traditional style with all the guests wearing traditional indian festival outfits that are usually eastern ceremonious. Sonam wore a red lotus motifs lehnga designed by Anuradha Vakil and Anand graced a golden sherwani.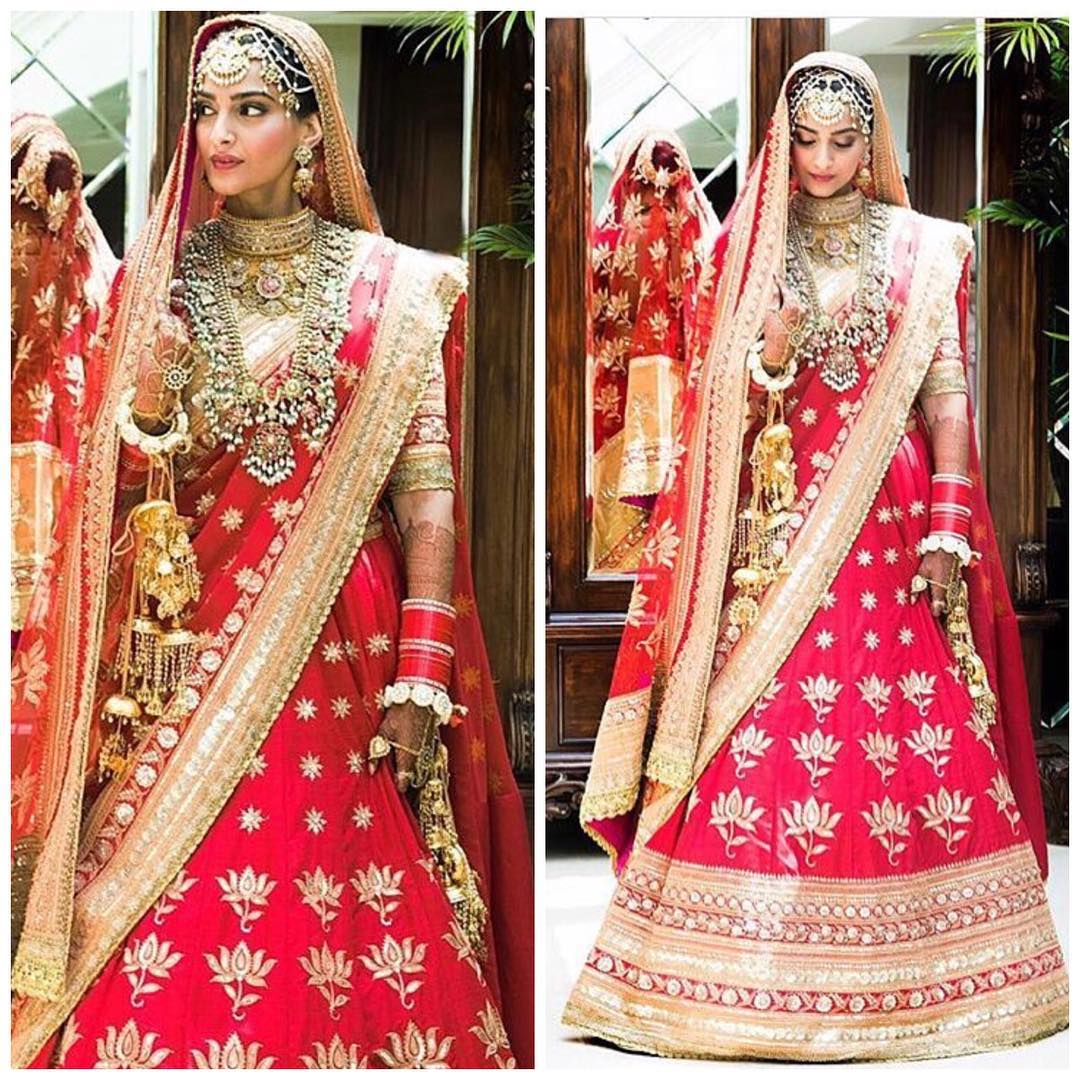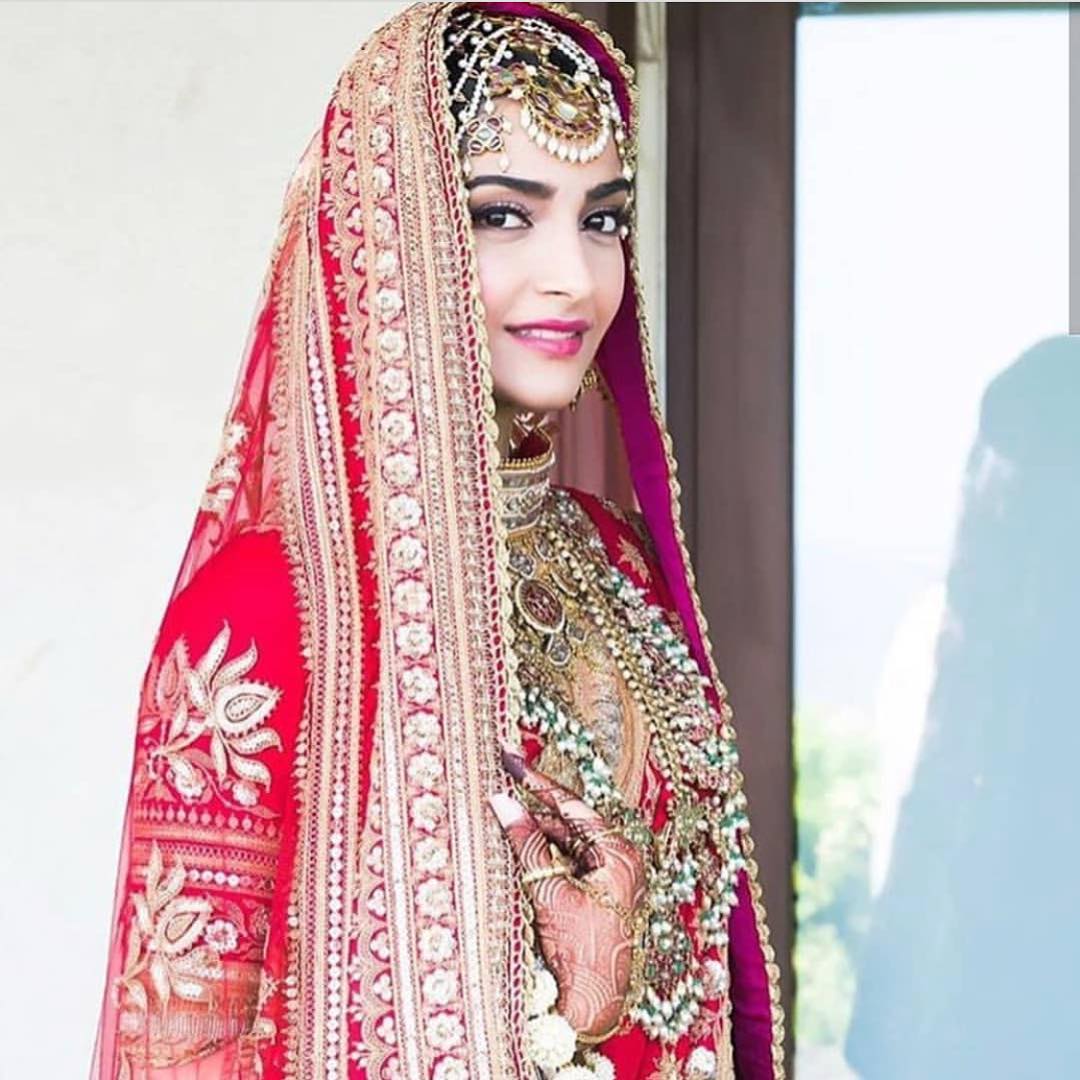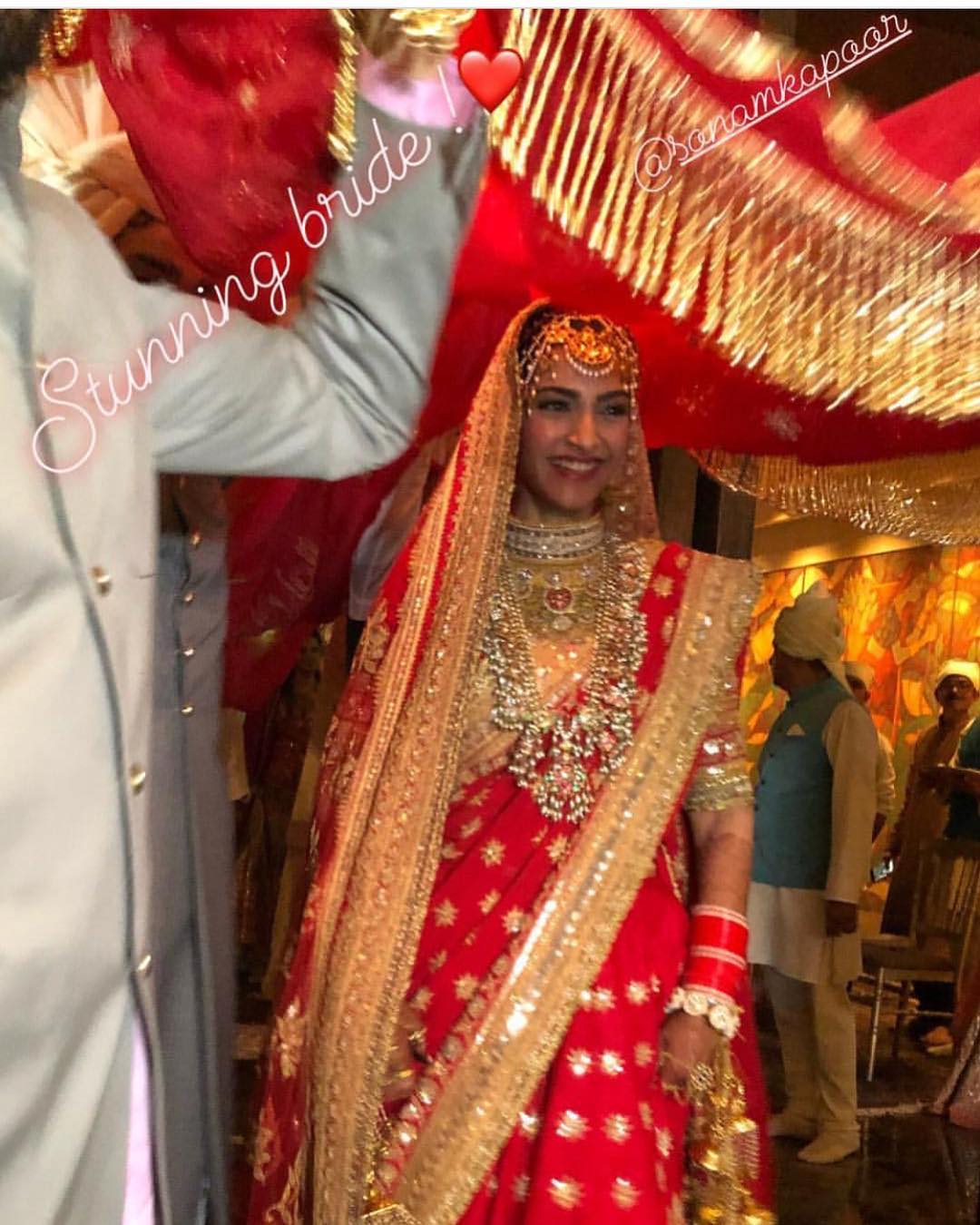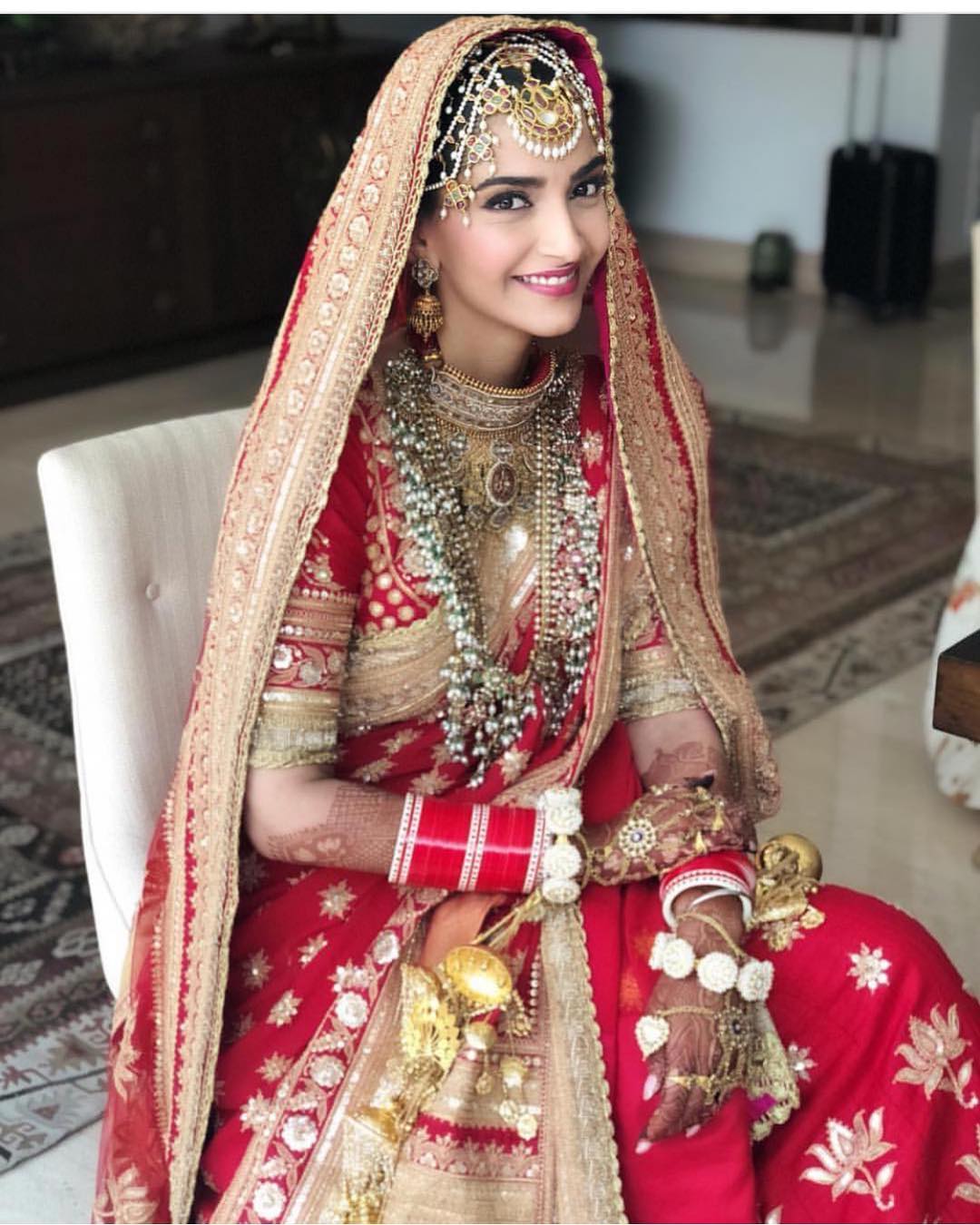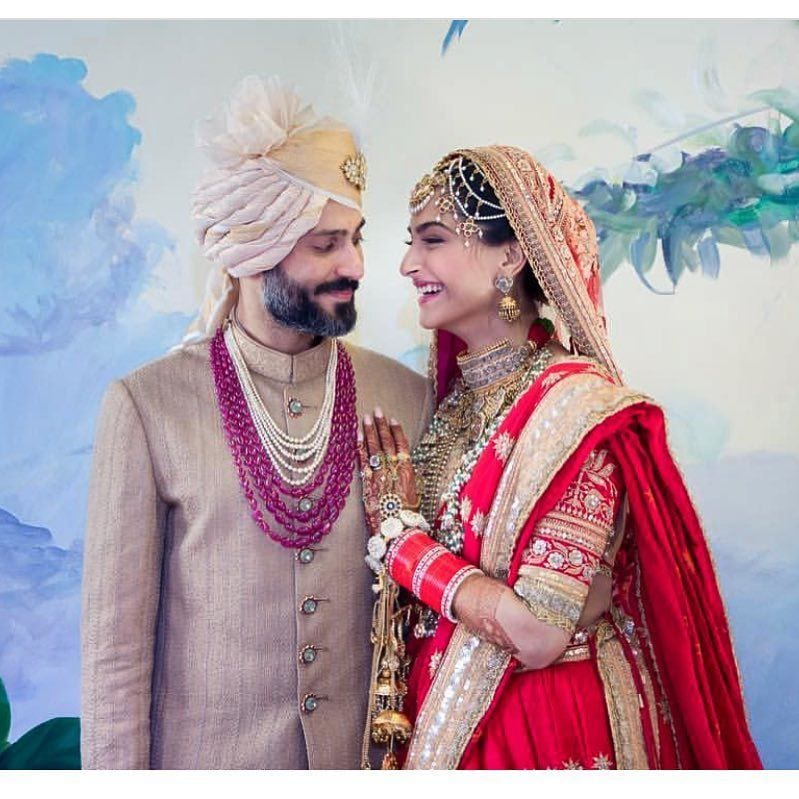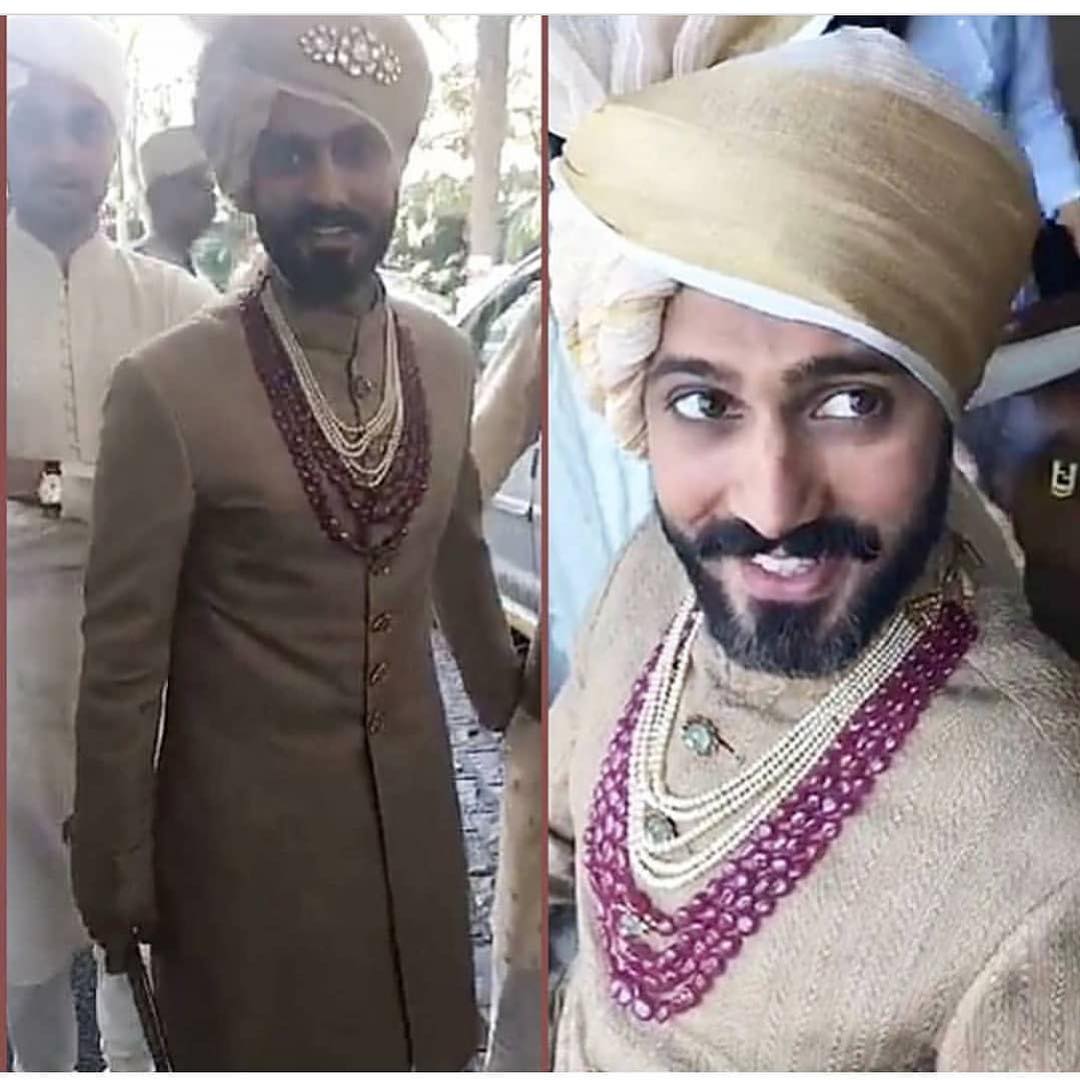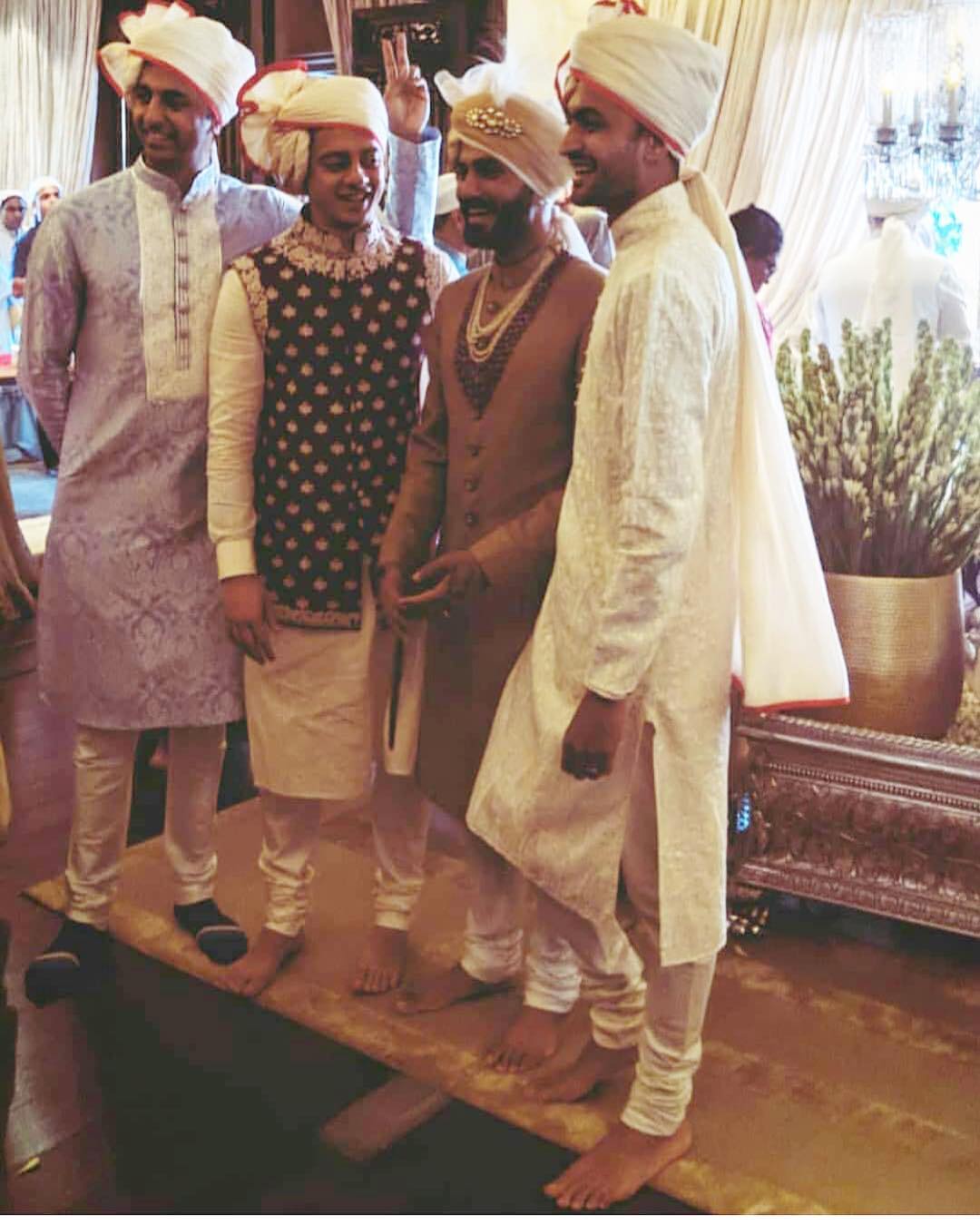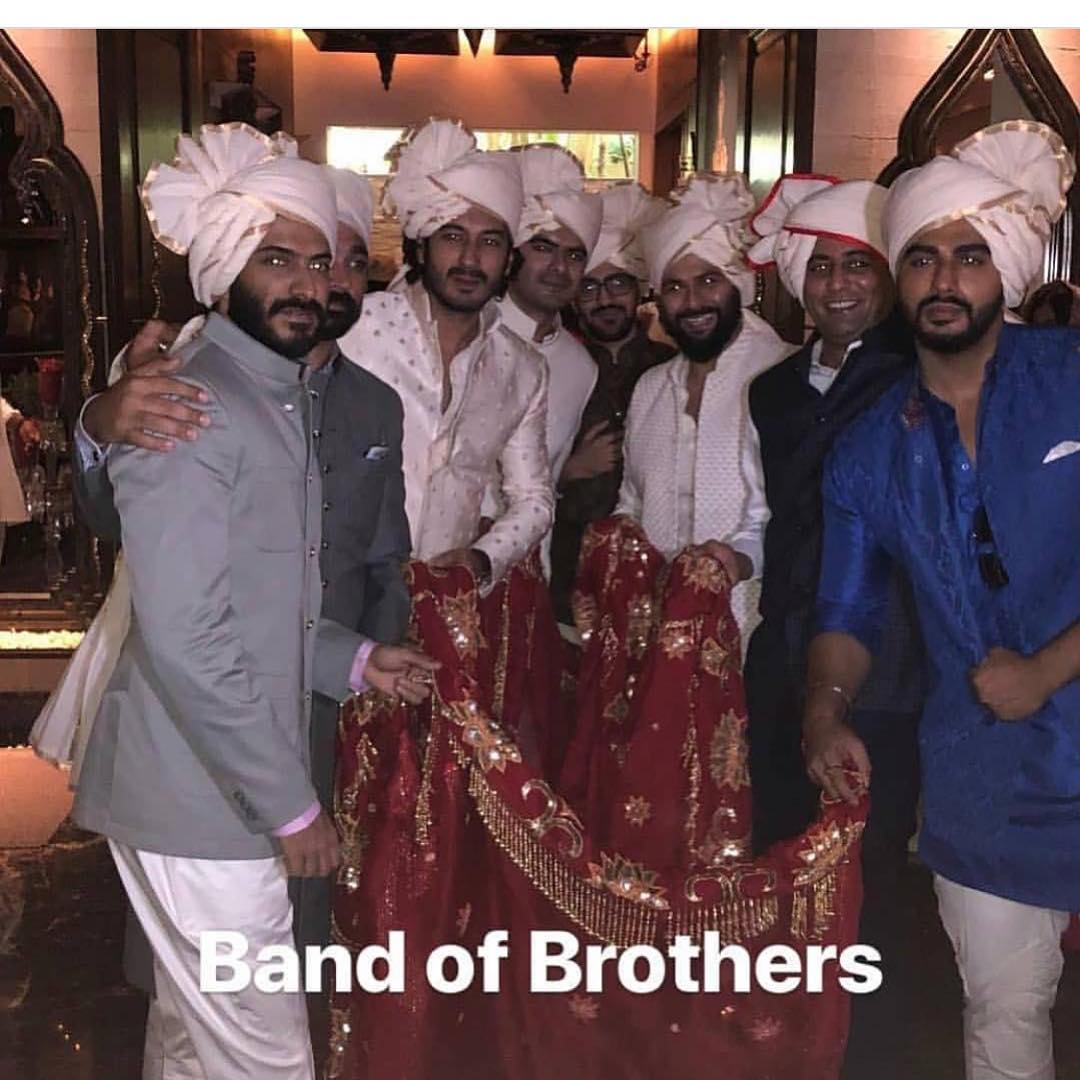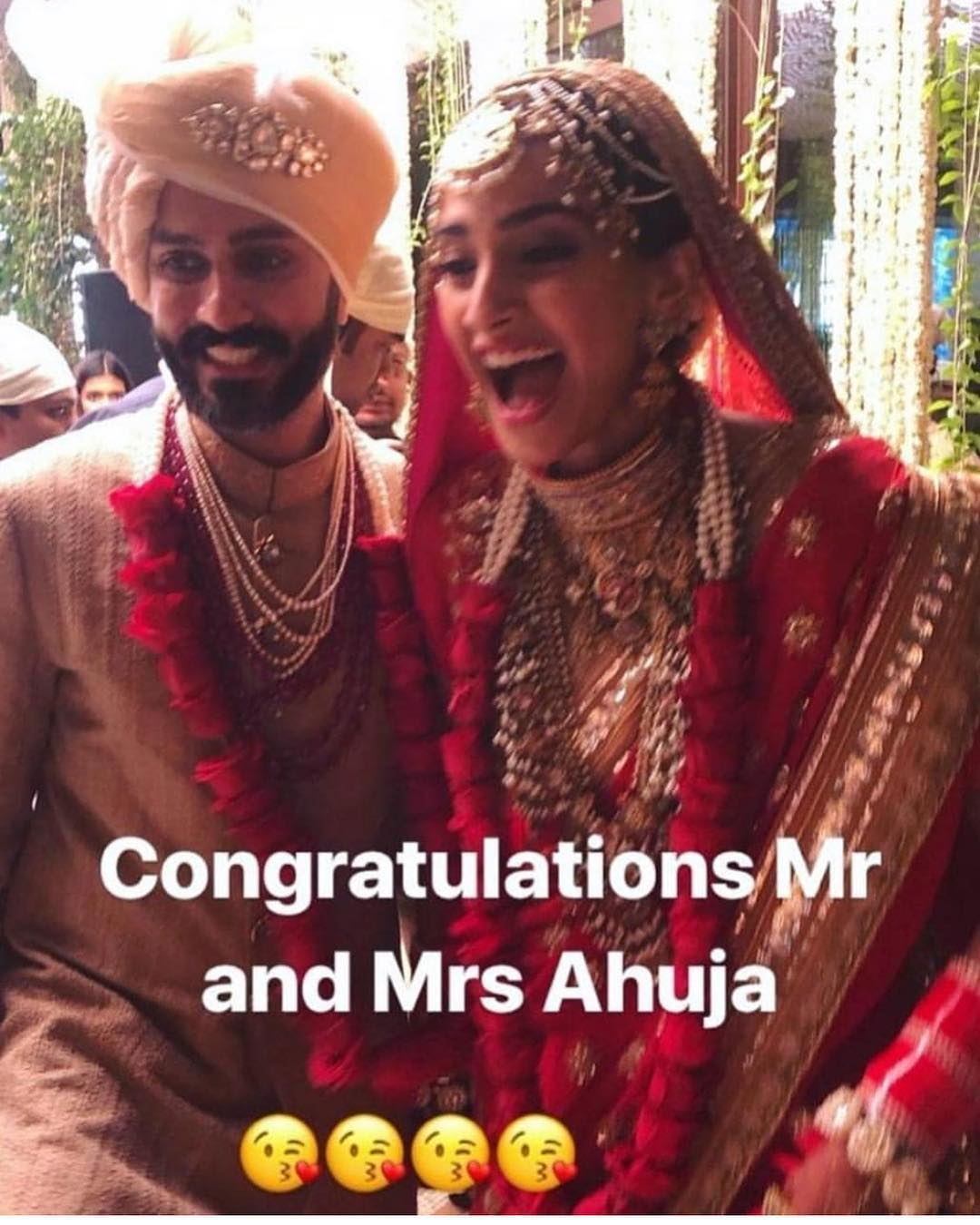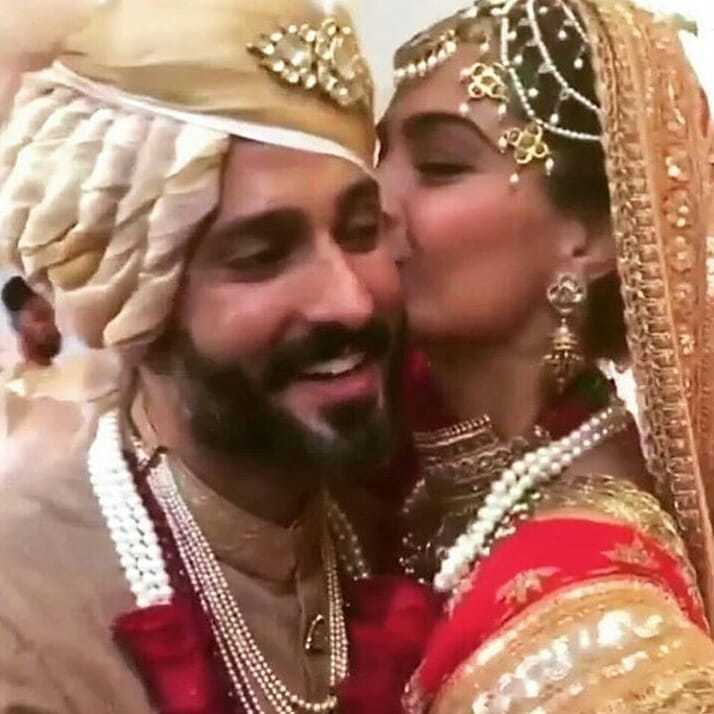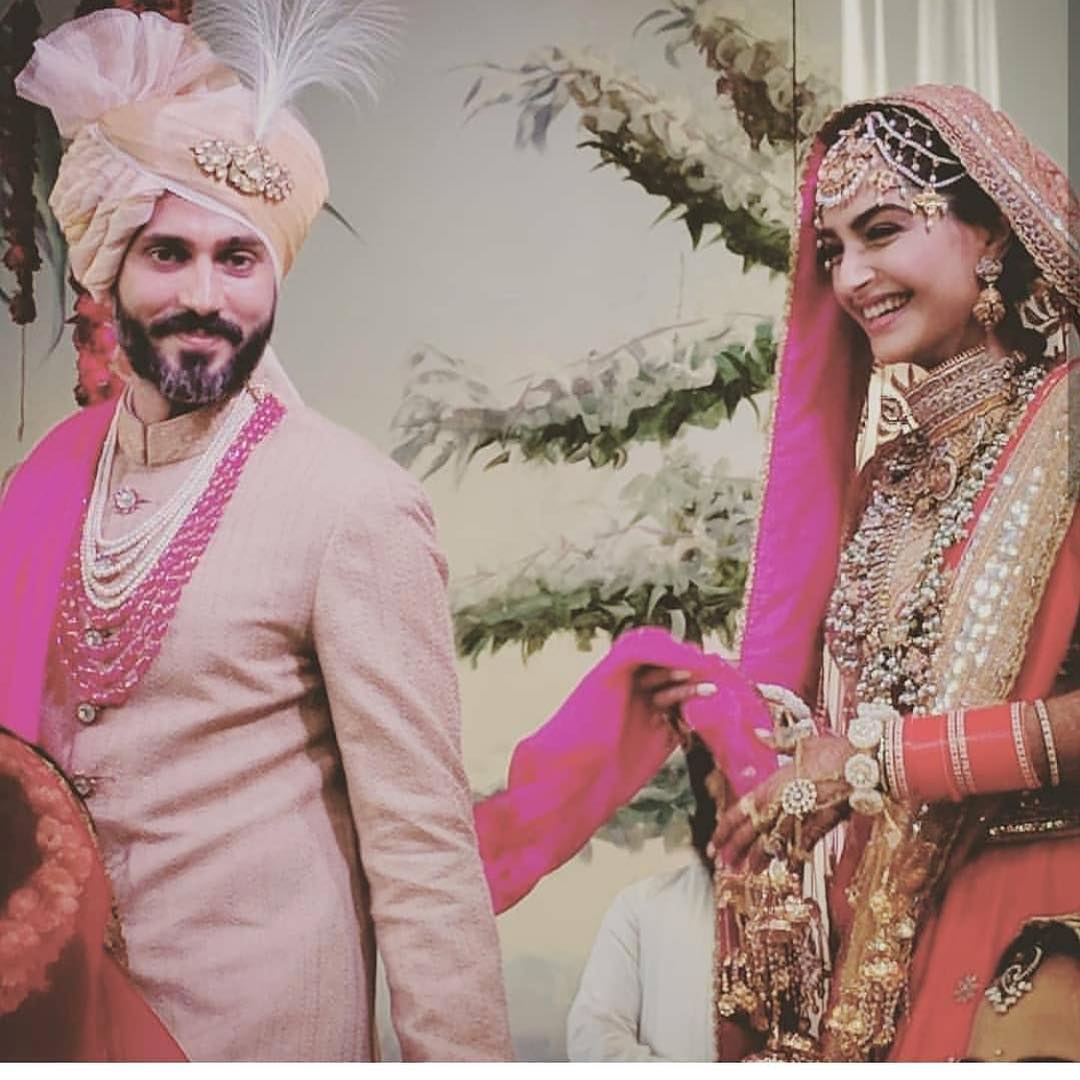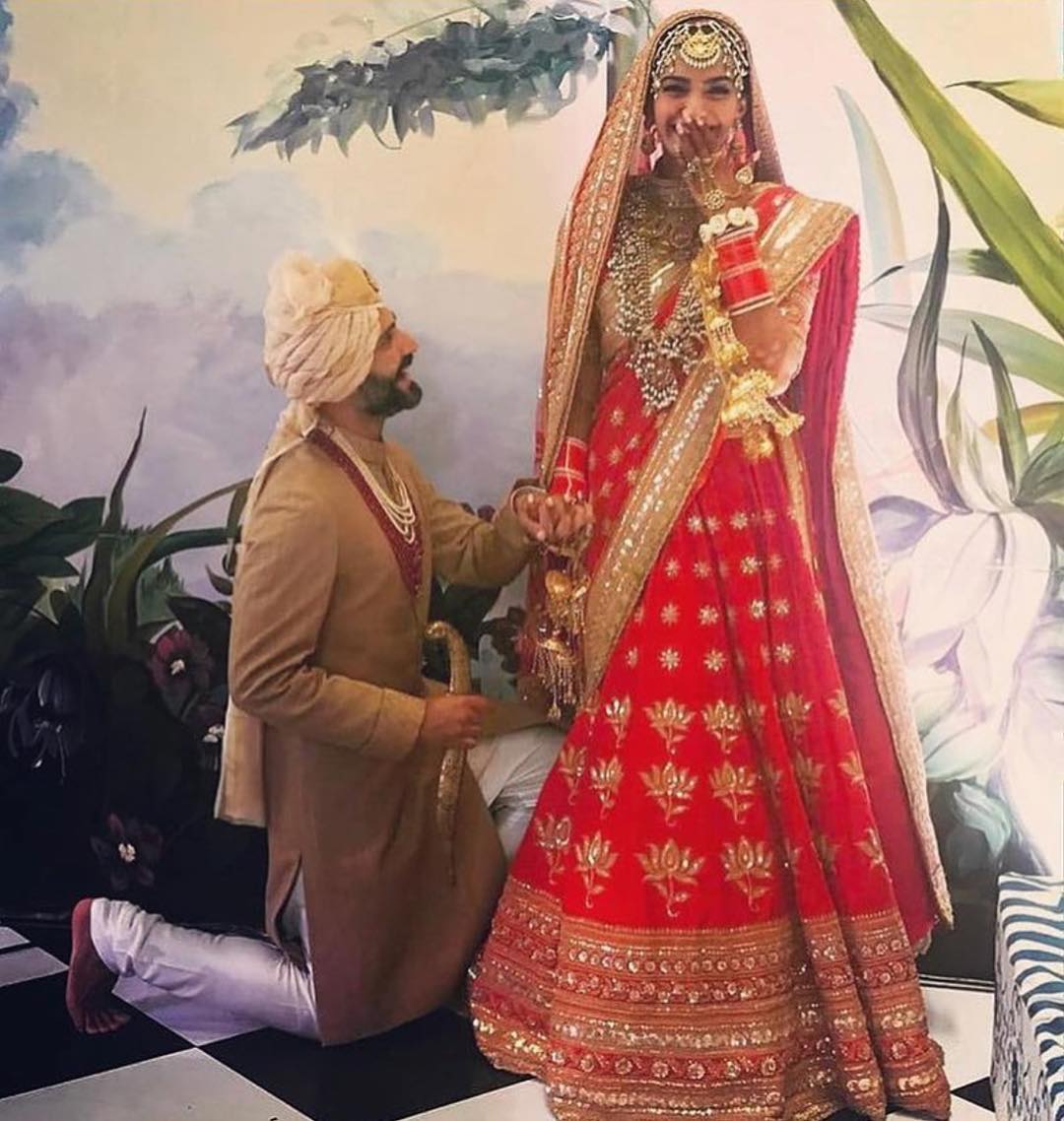 https://www.instagram.com/p/Big_SrdhQRh/?tagged=sonamwedsanand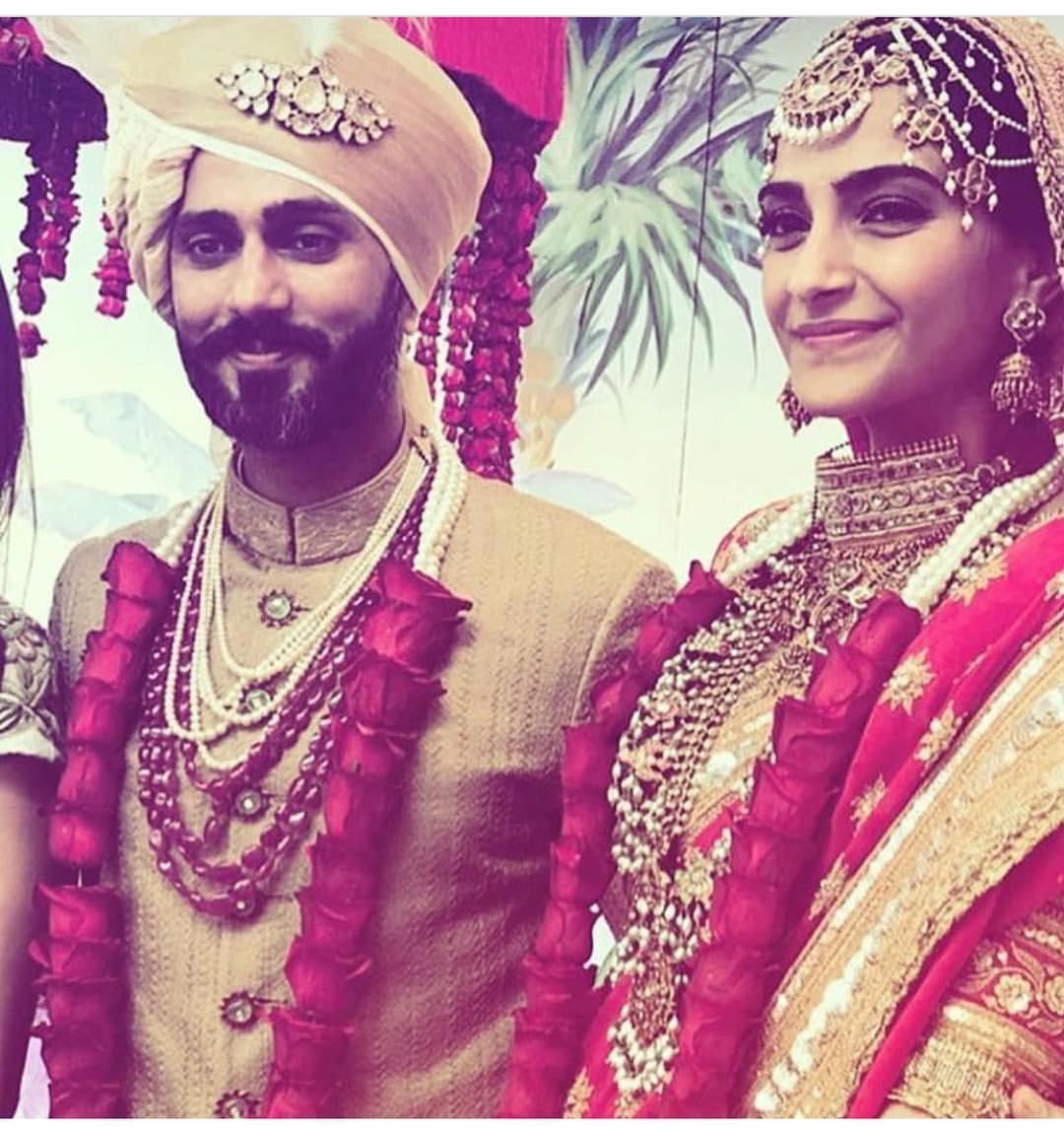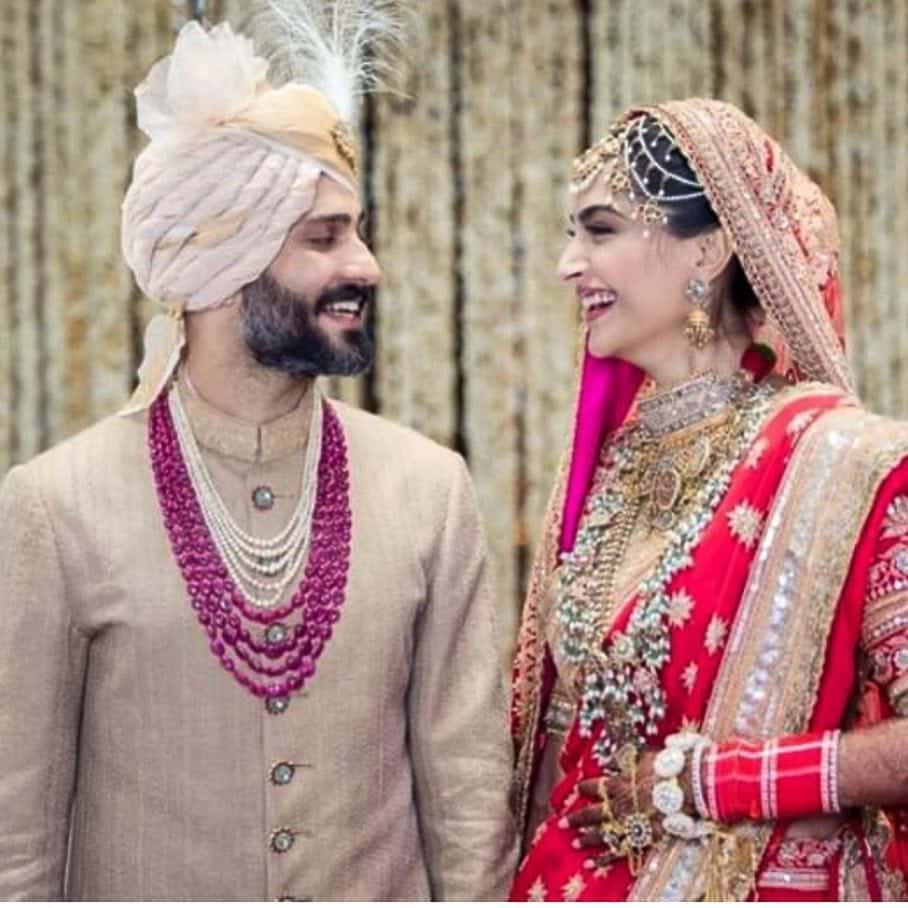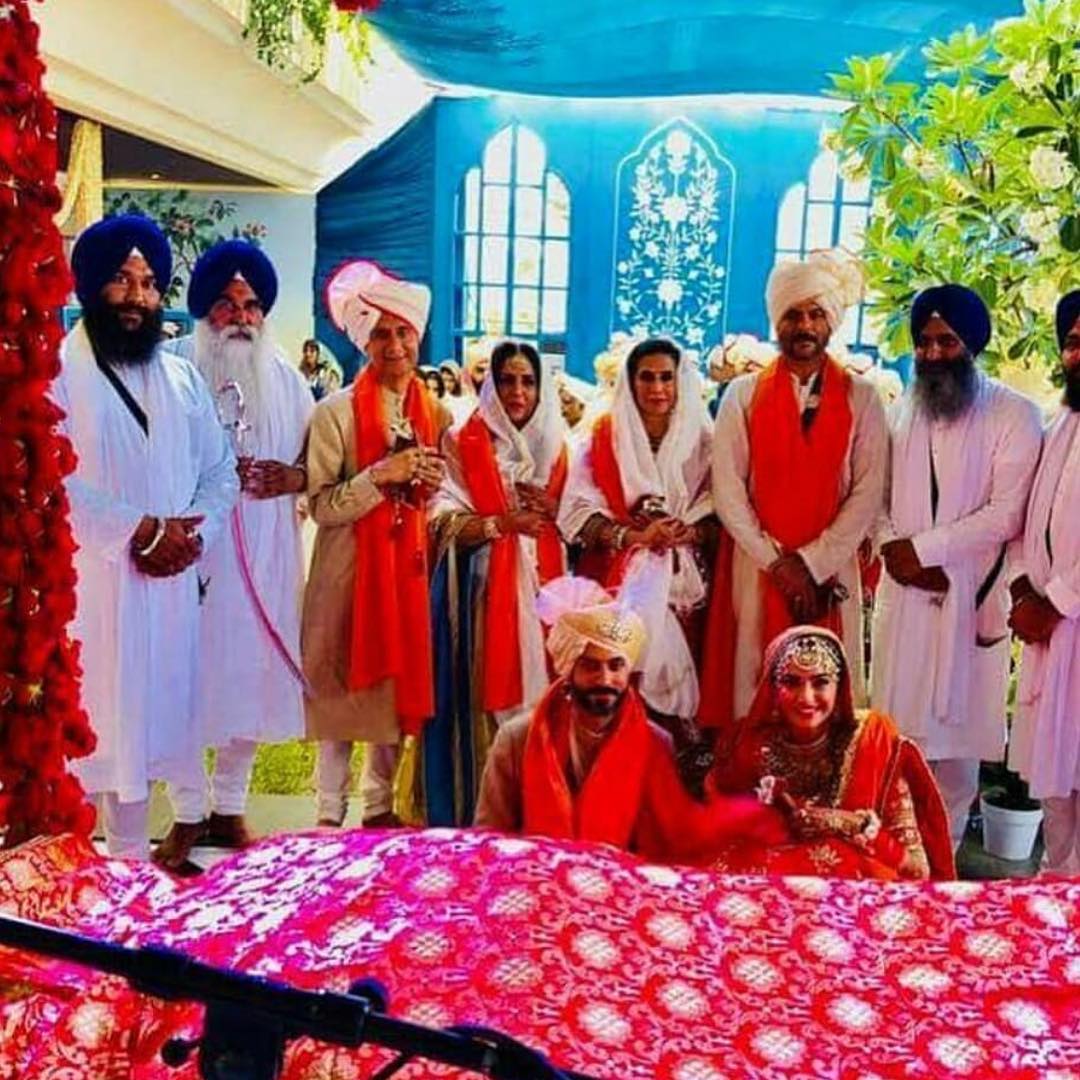 ↓ Venue Design and Decor
The place where the bride and groom were going to be official was embellished in an exotic style.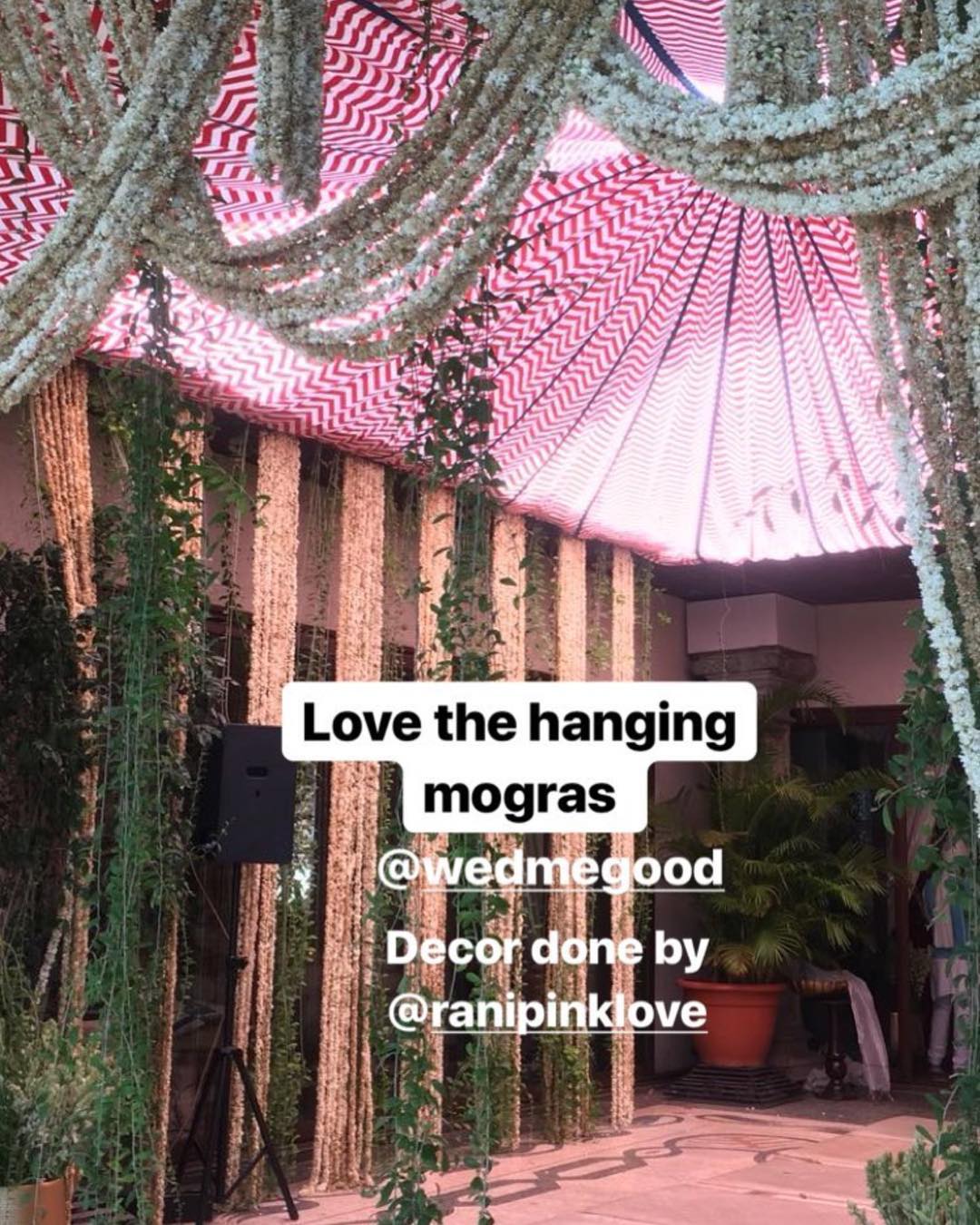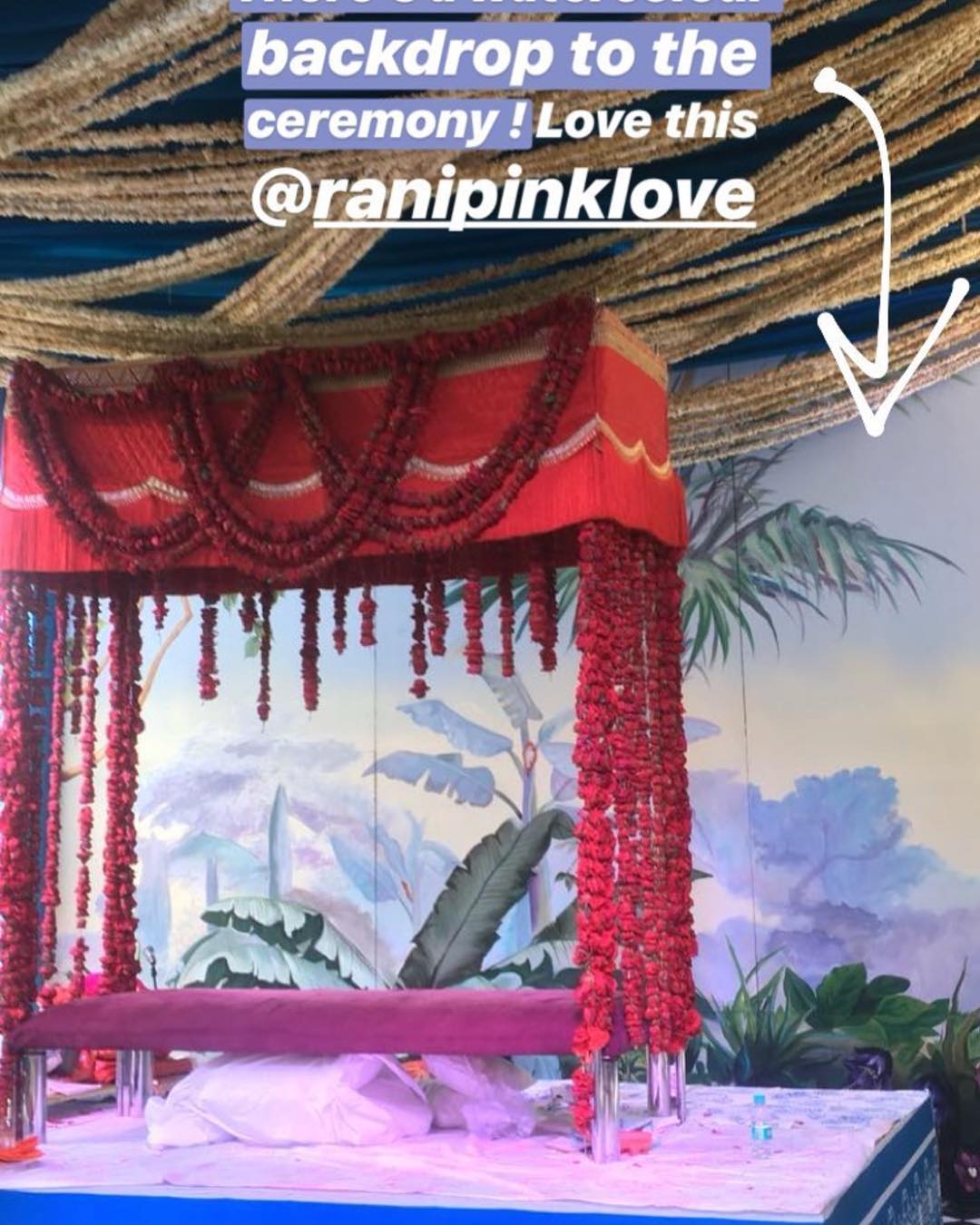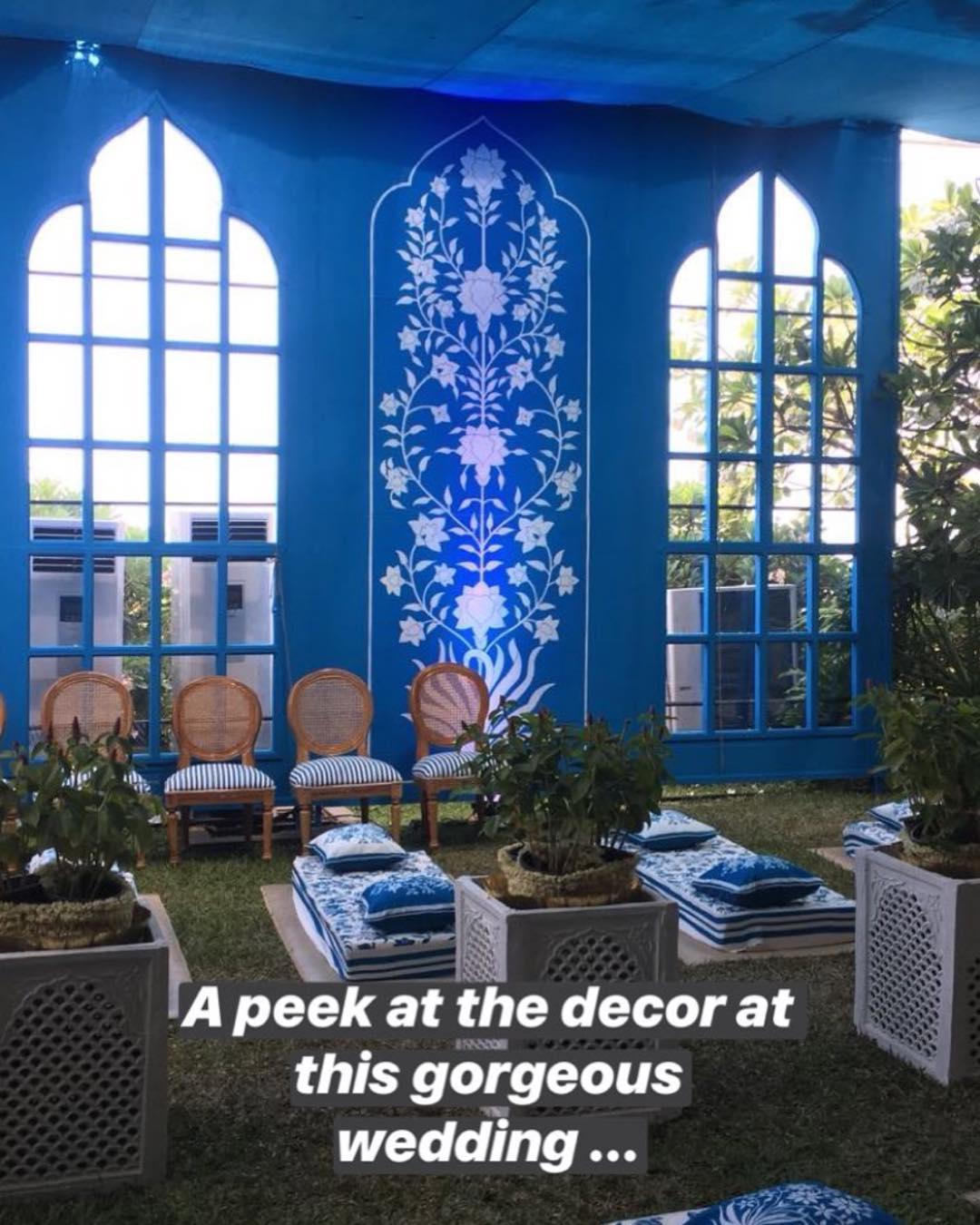 ↓ The Cake Cutting Moment
A cute yet hilarious cake designed for the couple to cut and initiate their new beginnings – a symbol of bonding and eternal happiness.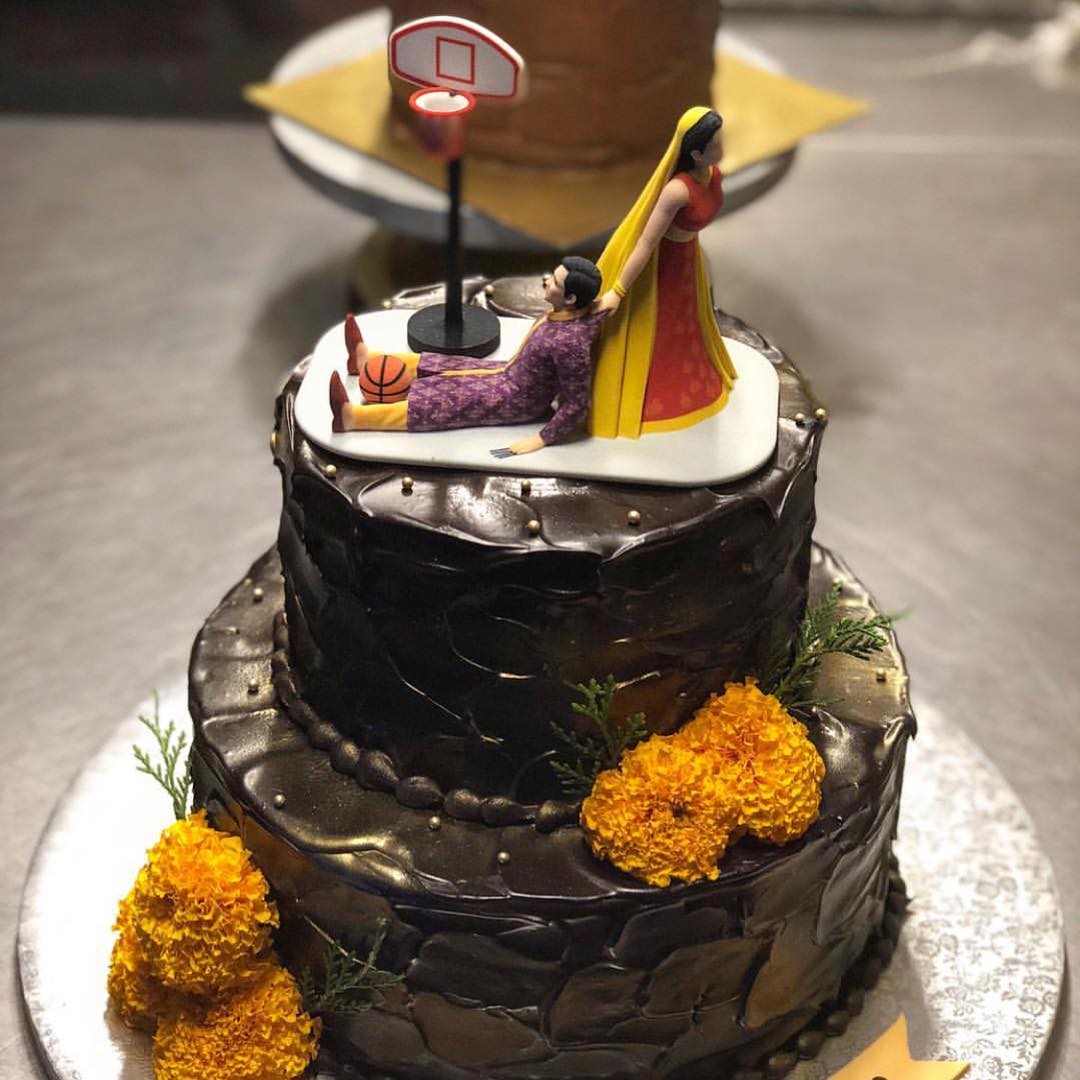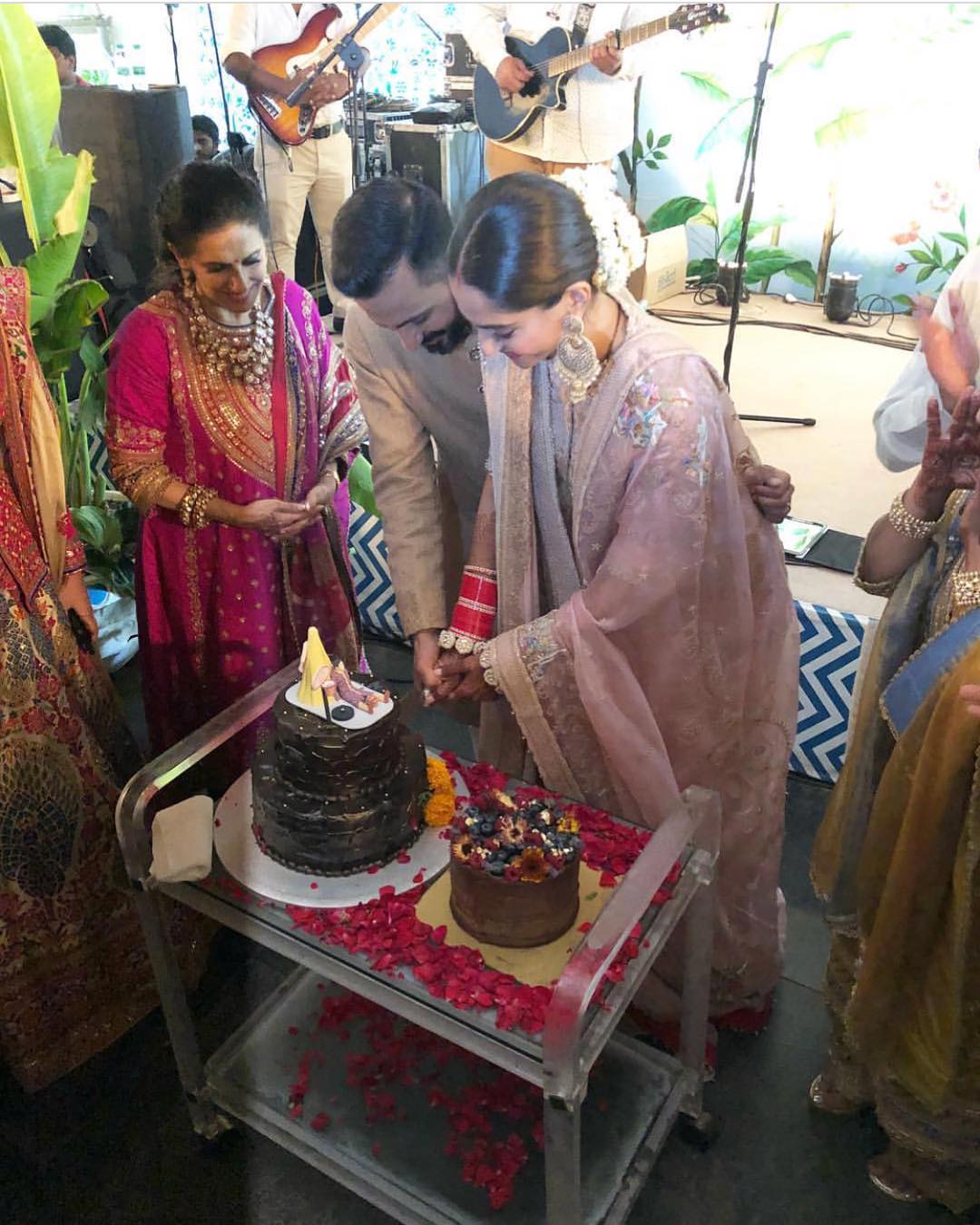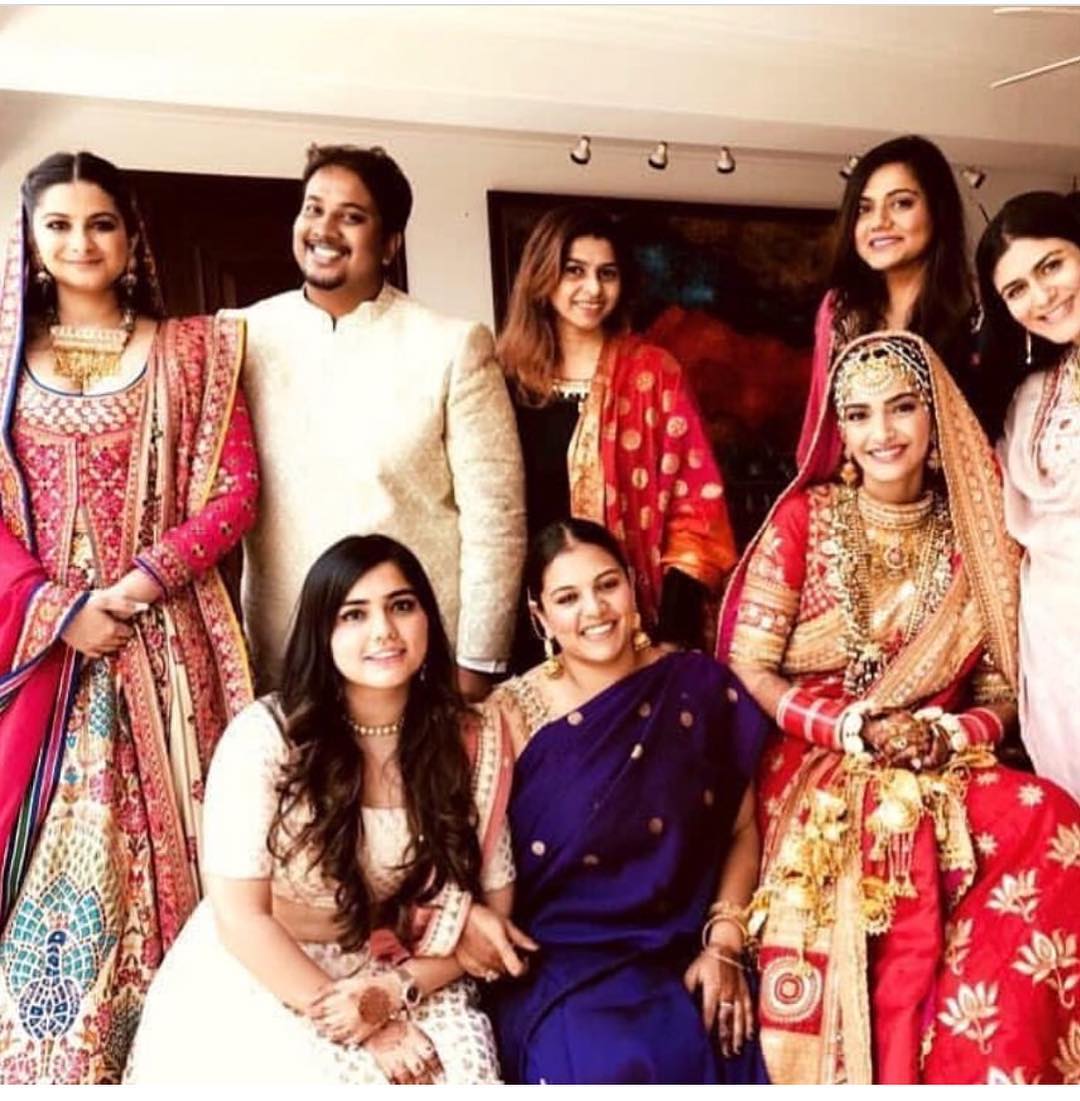 ↓ Guests and Celebs on Wedding
All of the kith and kin joined the wedding ceremony which is the most vital part of the whole marriage process. Traditional outfits were followed with no particular color theme as you can see. All the entries in the bungalow were just eye-popping and drooling with top-notch glam.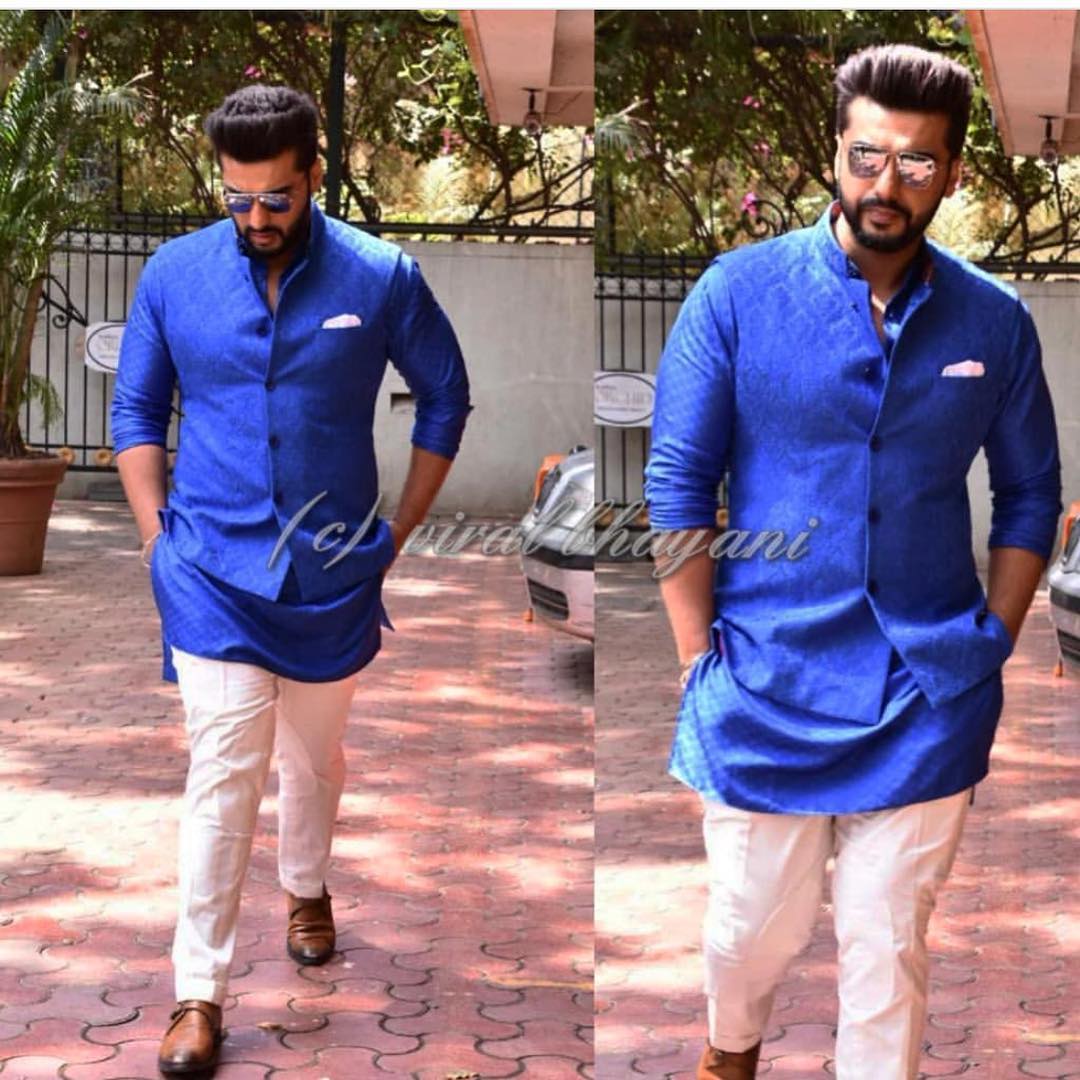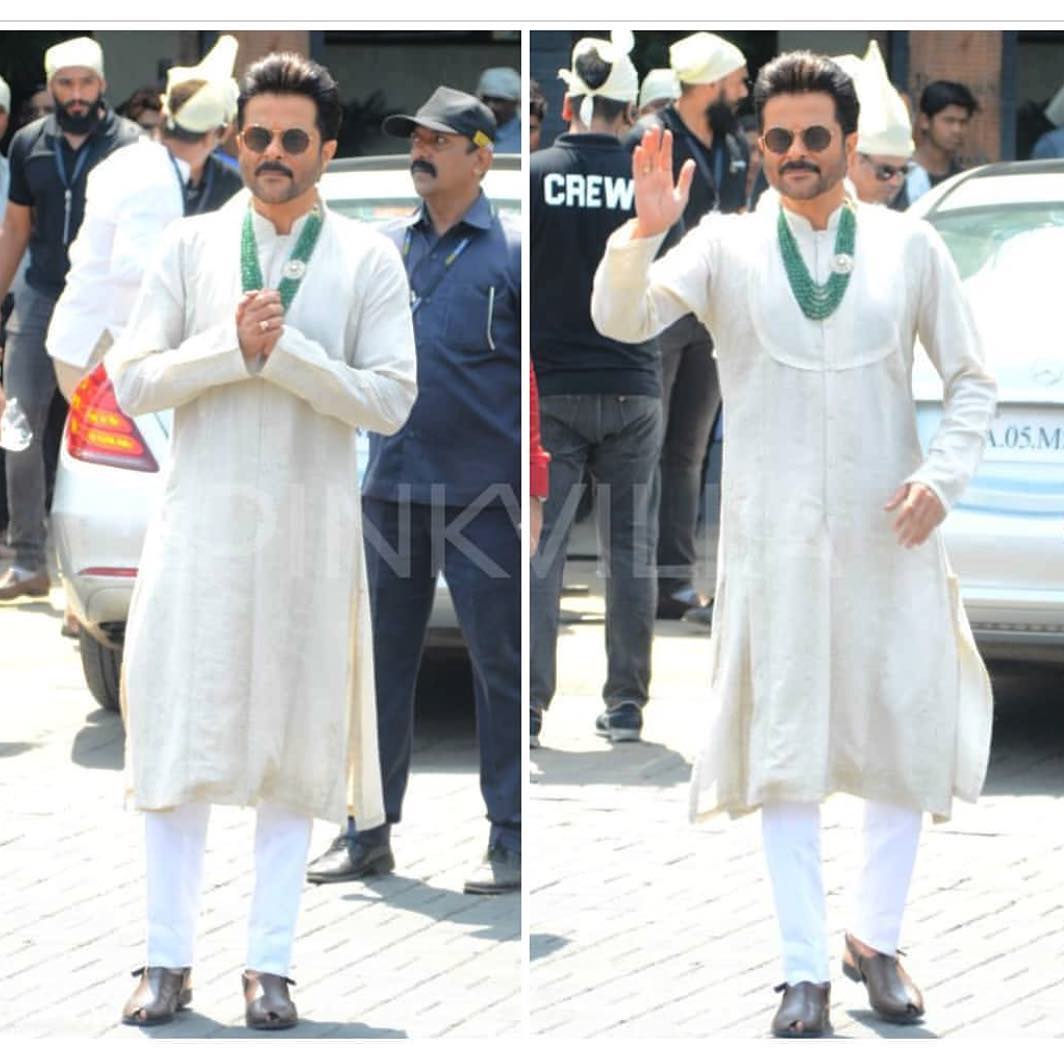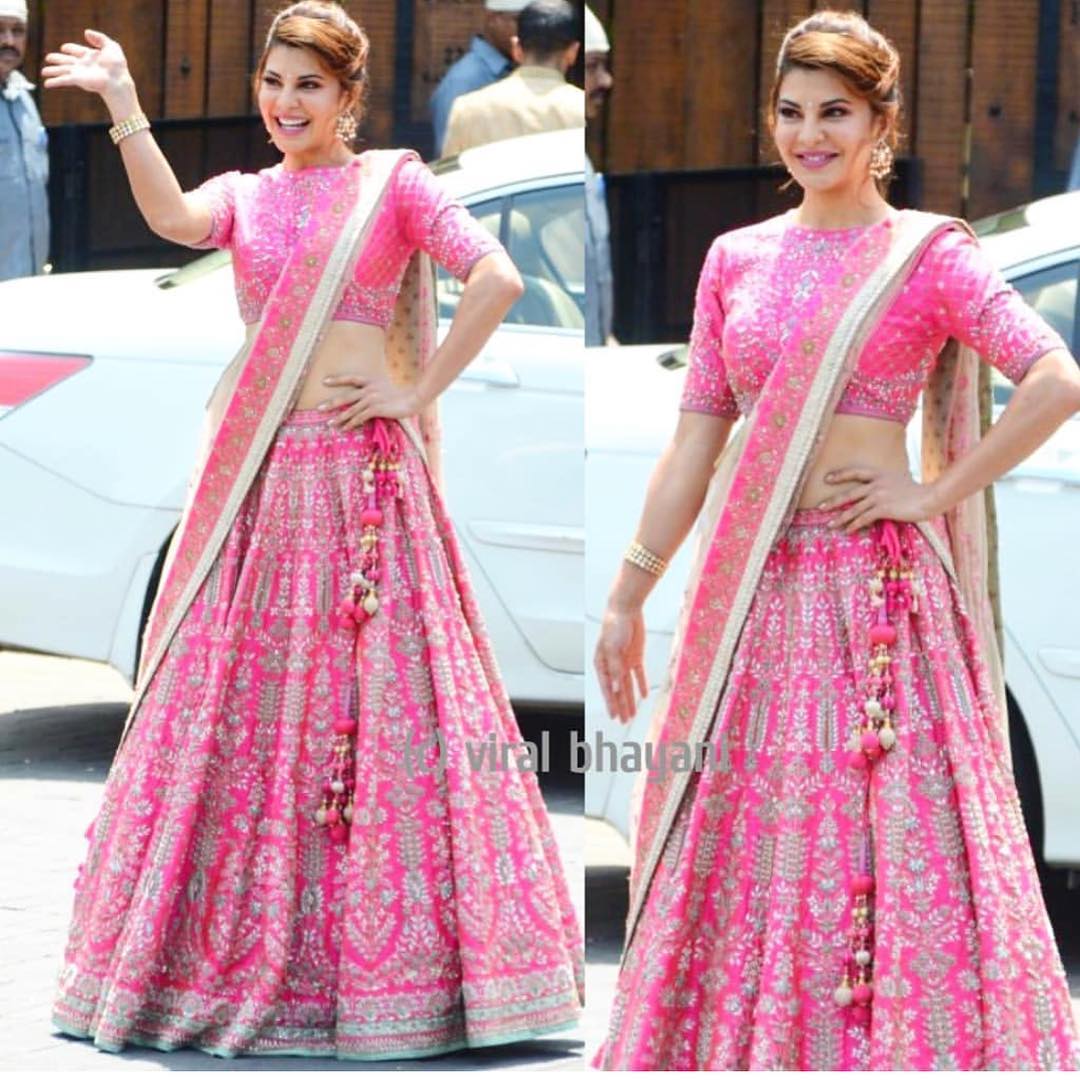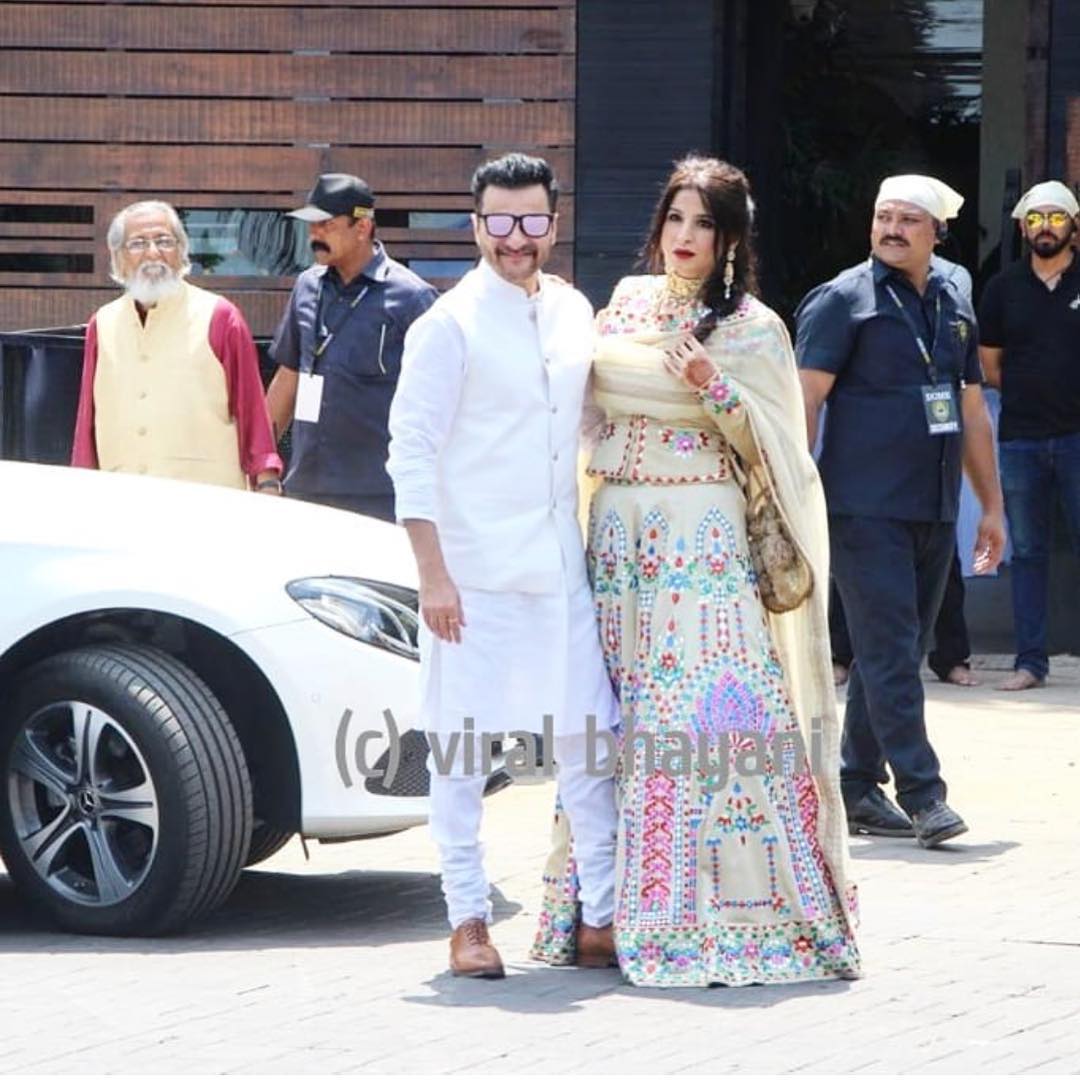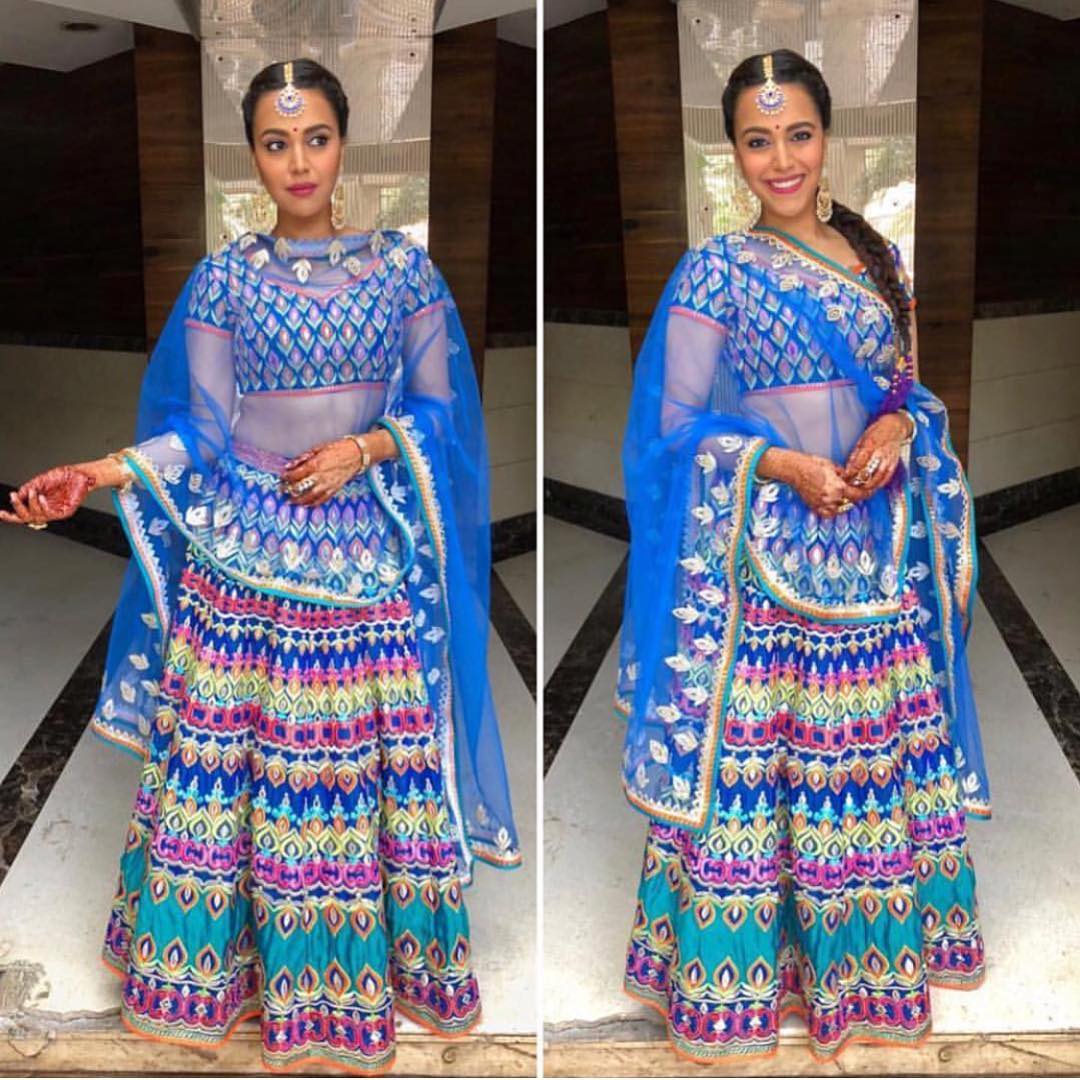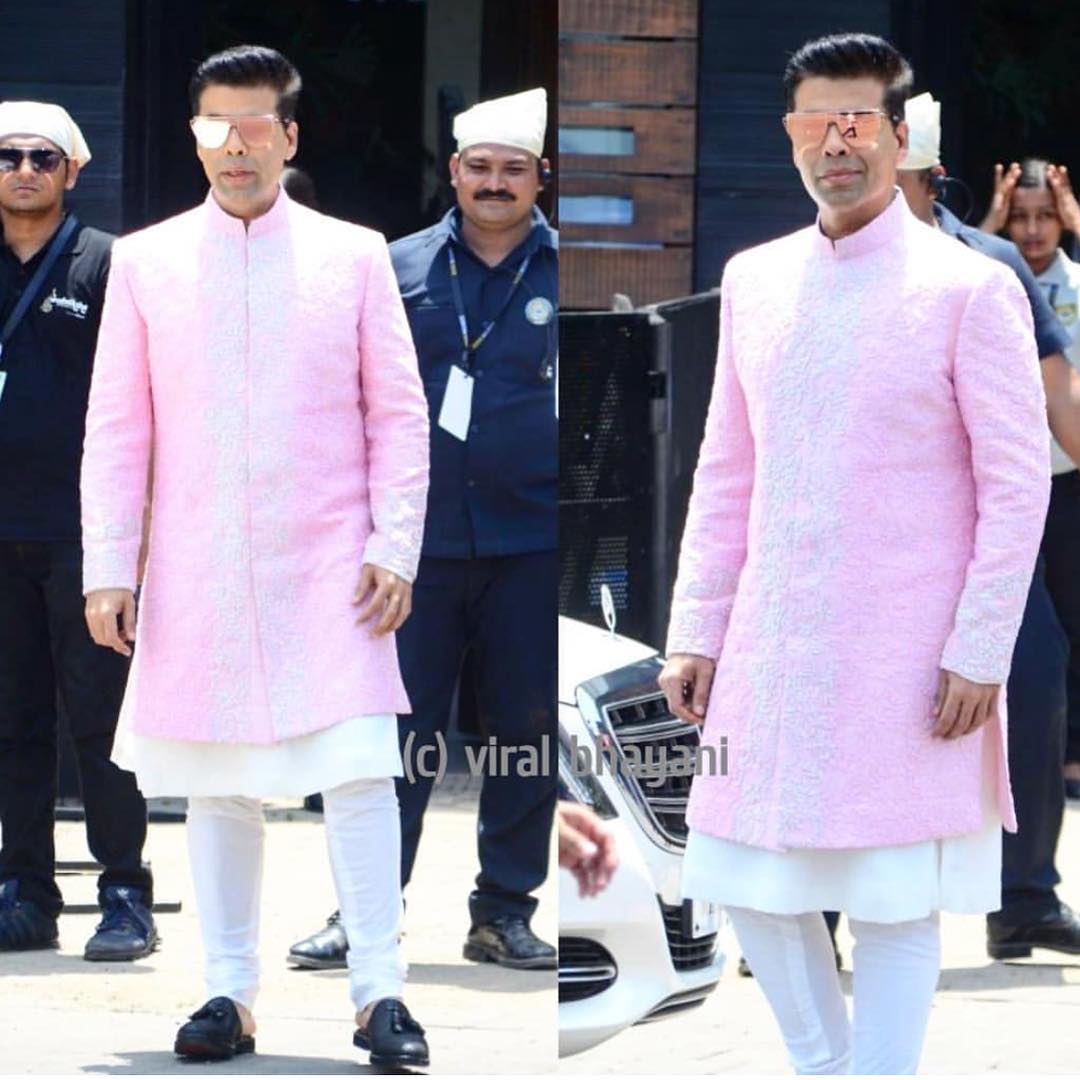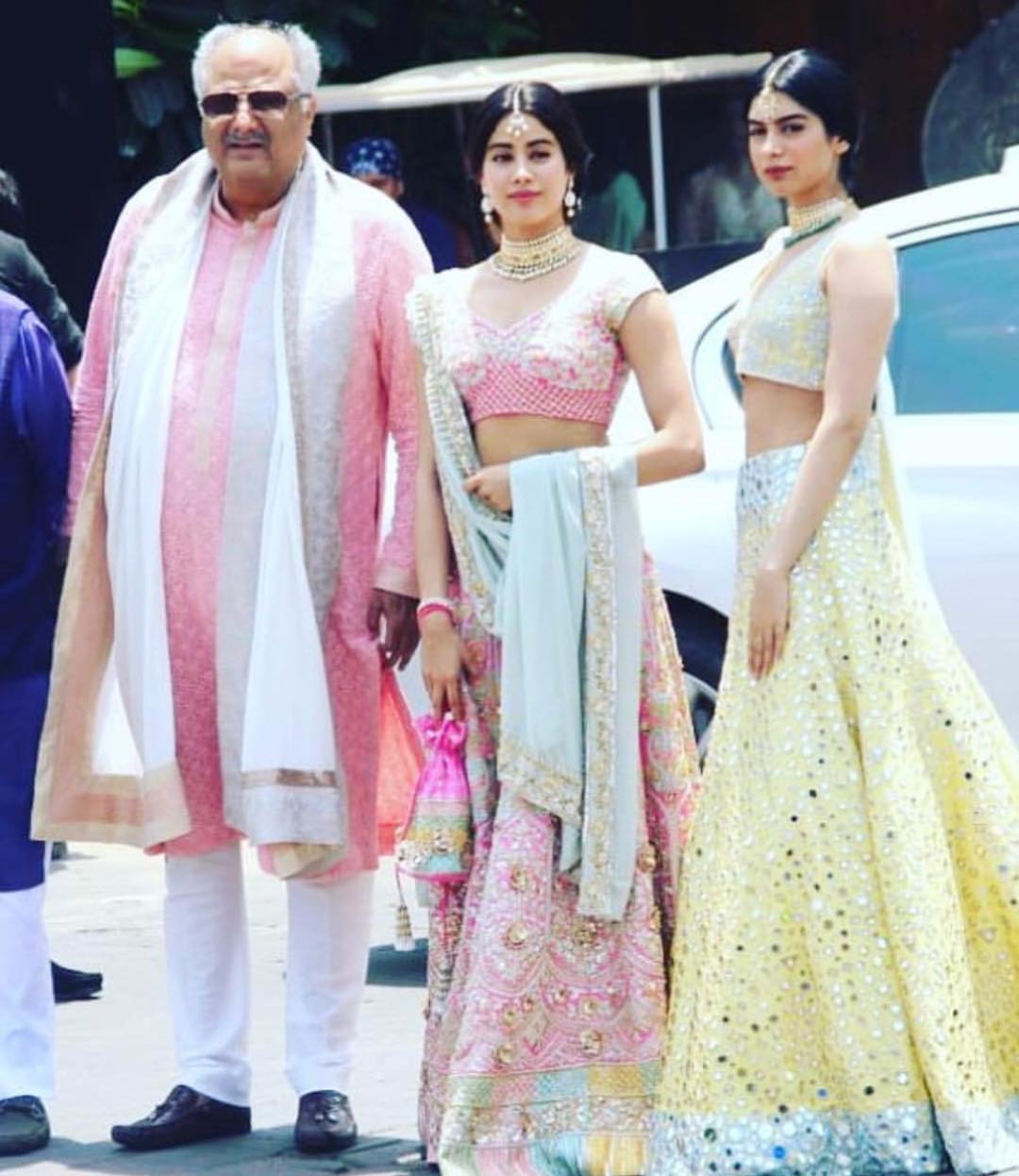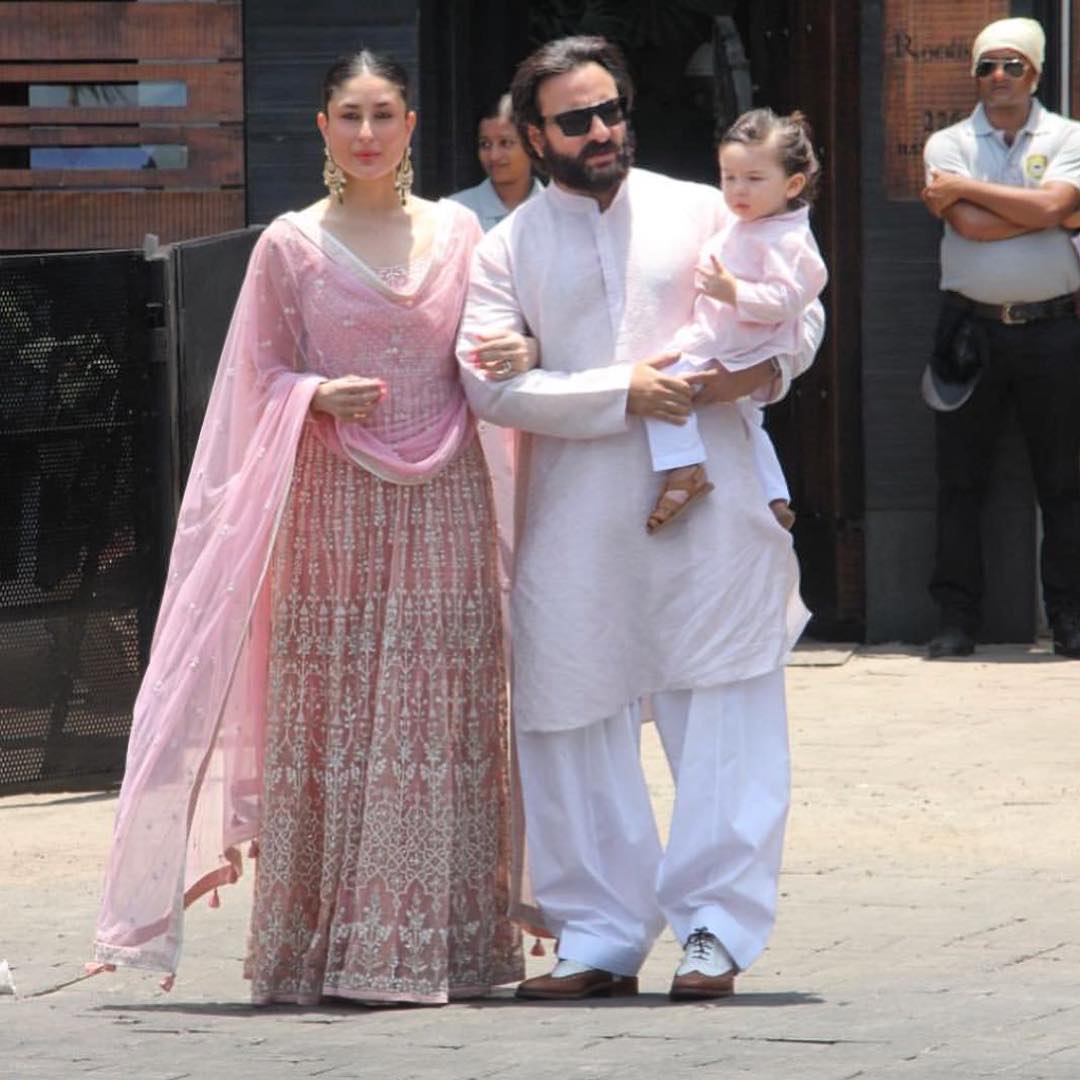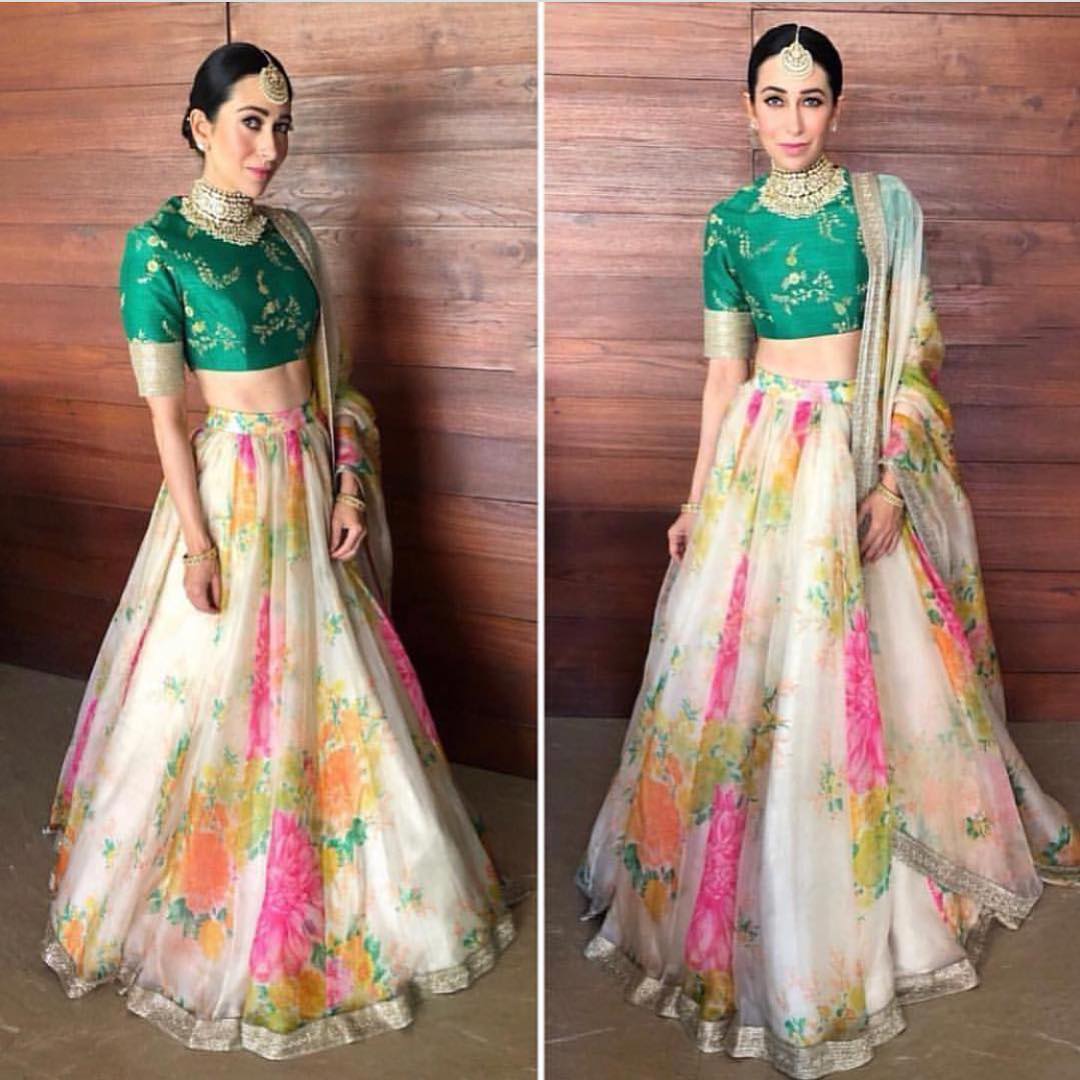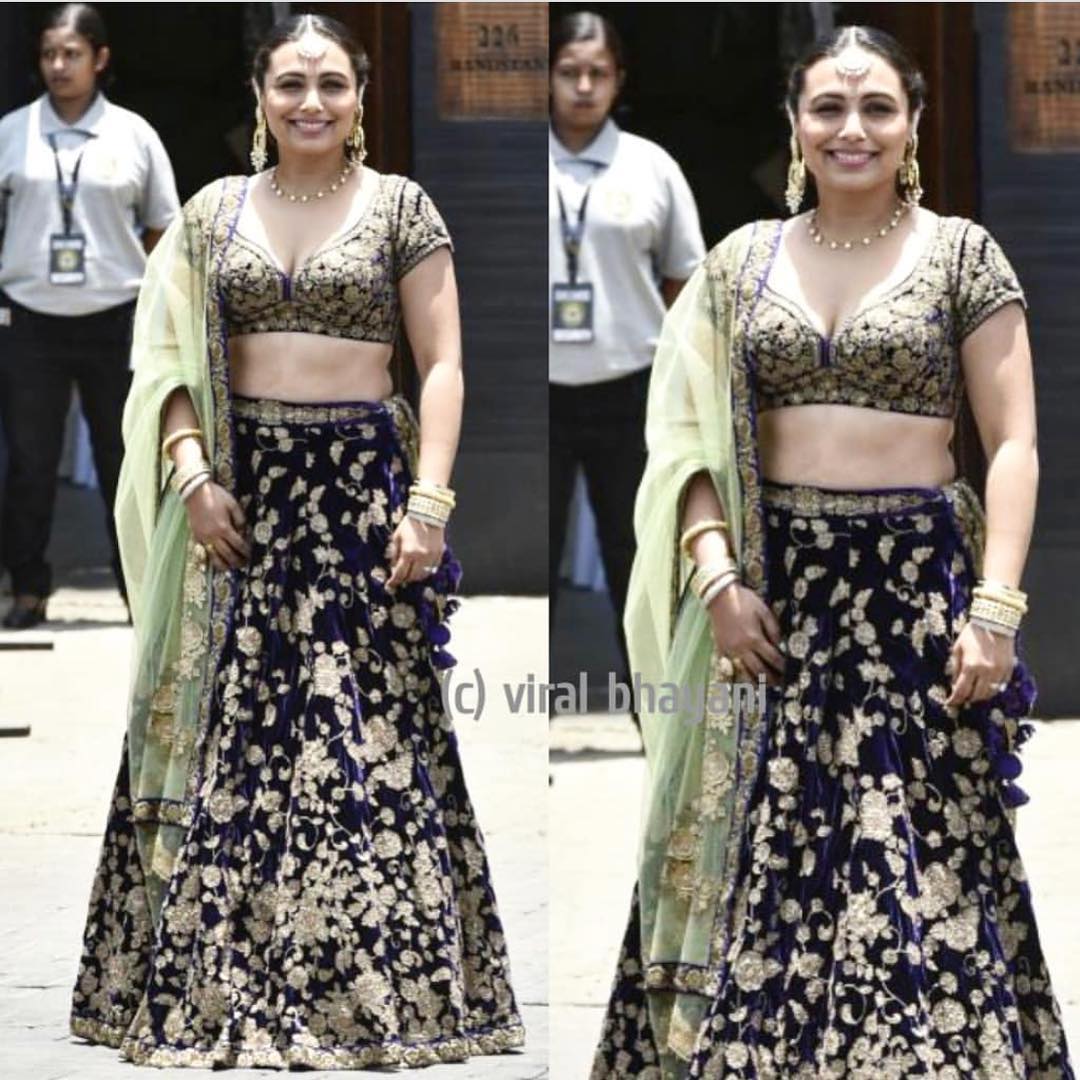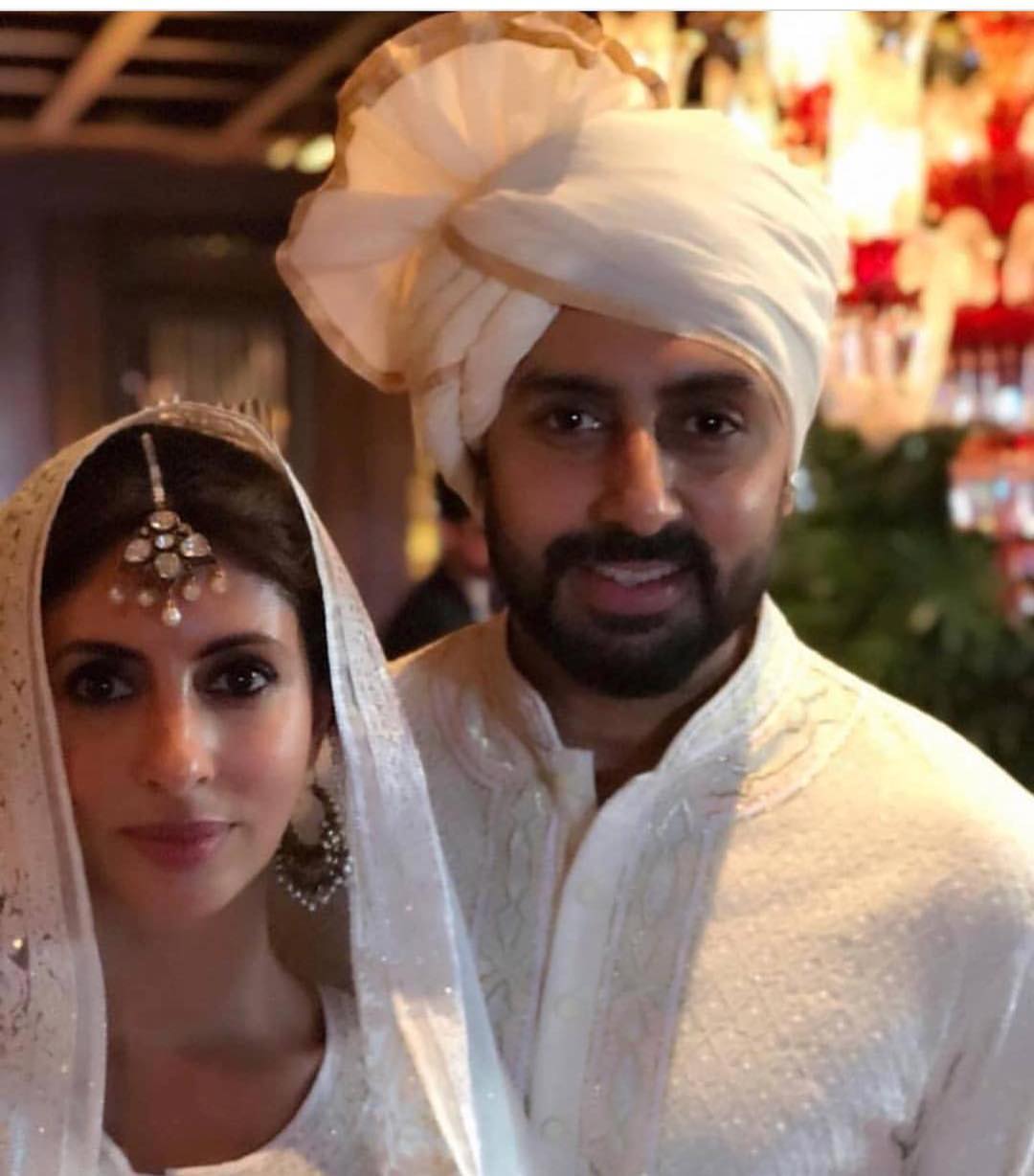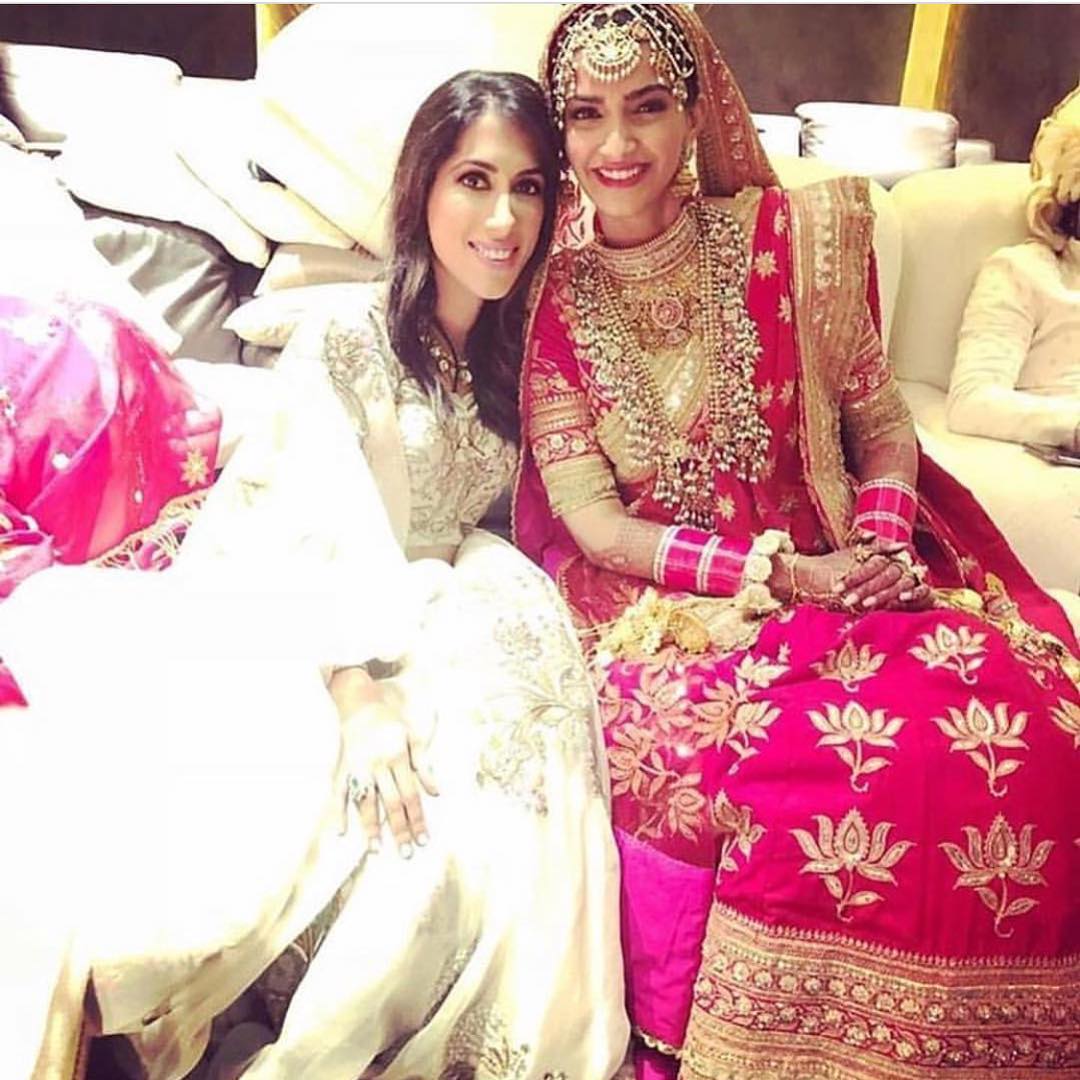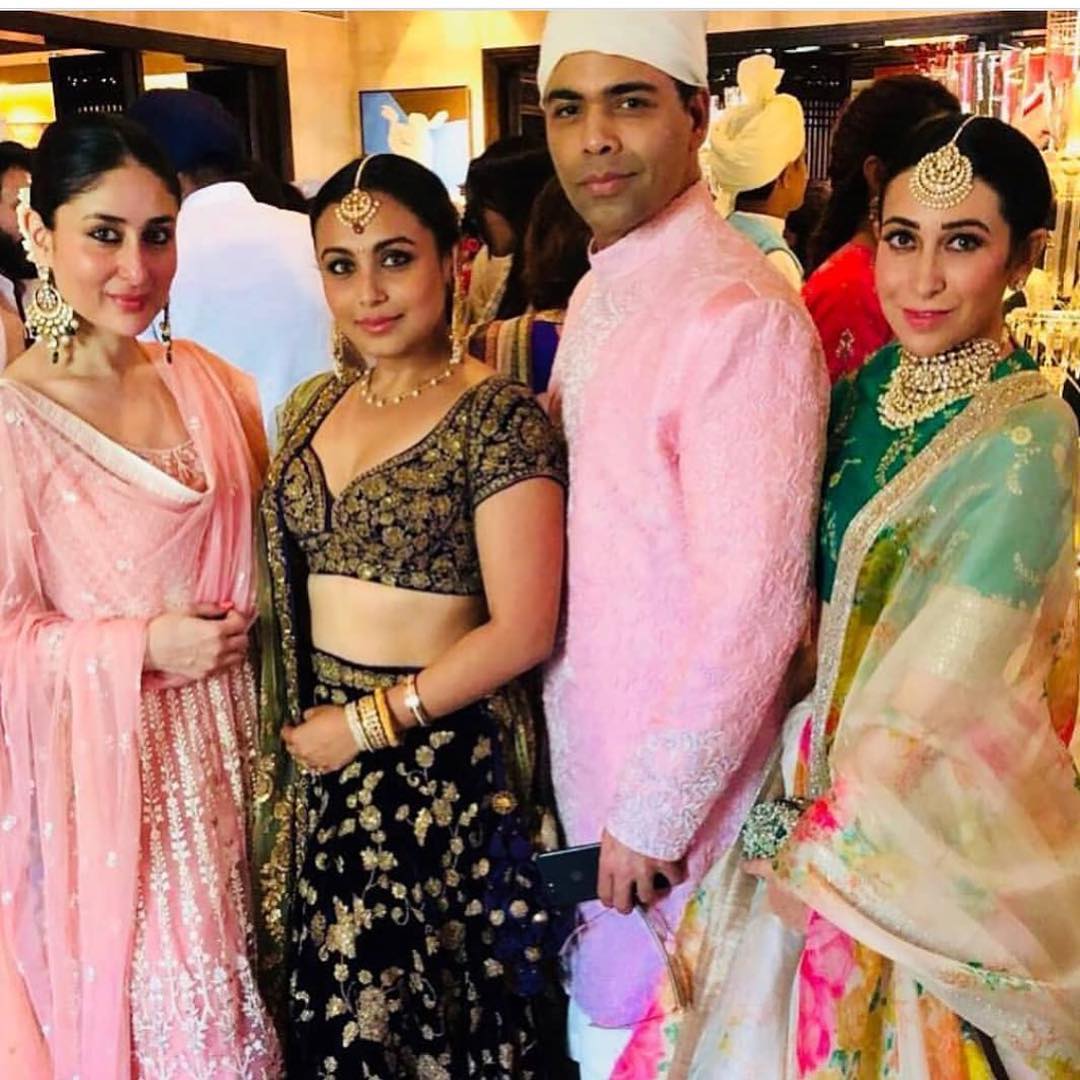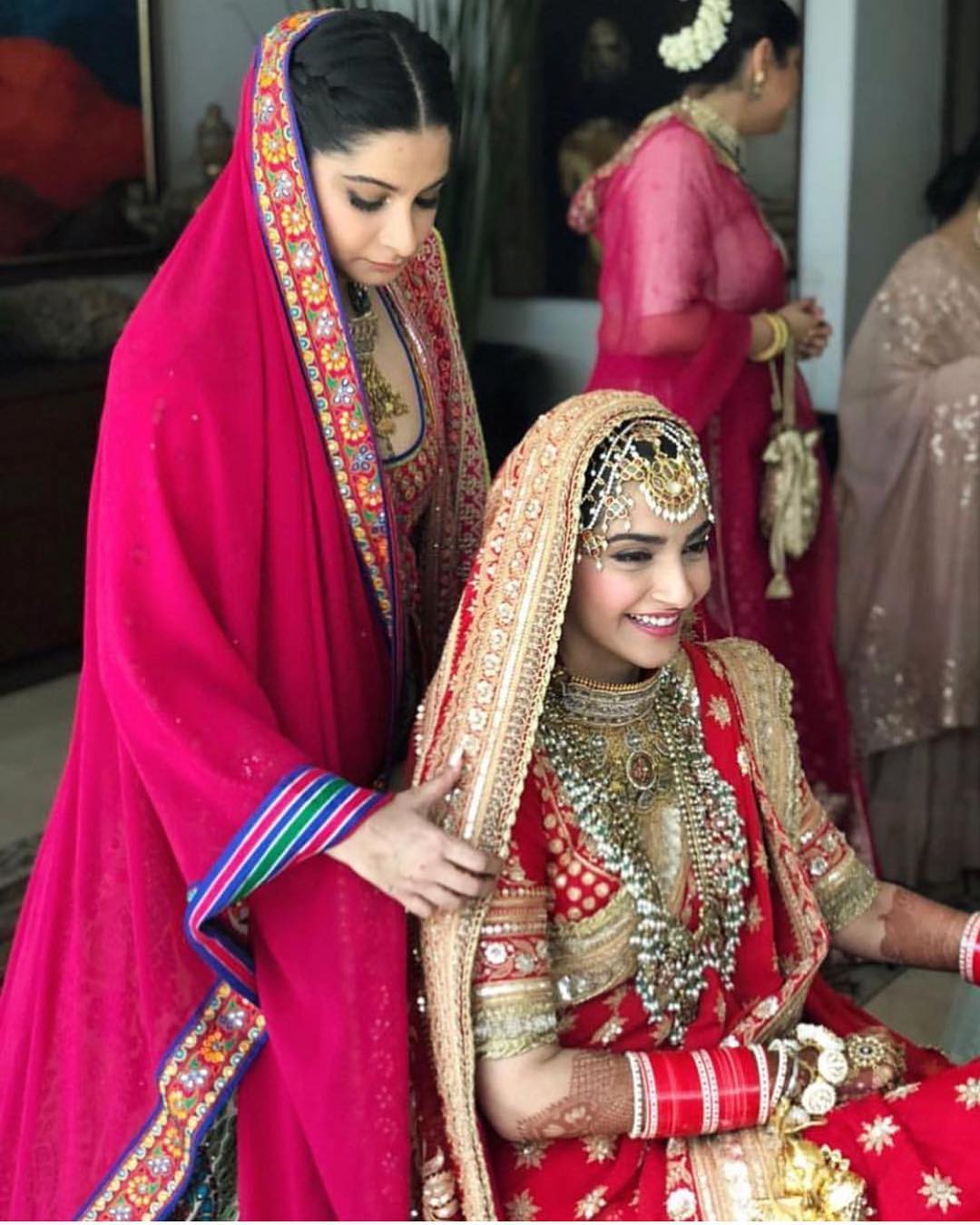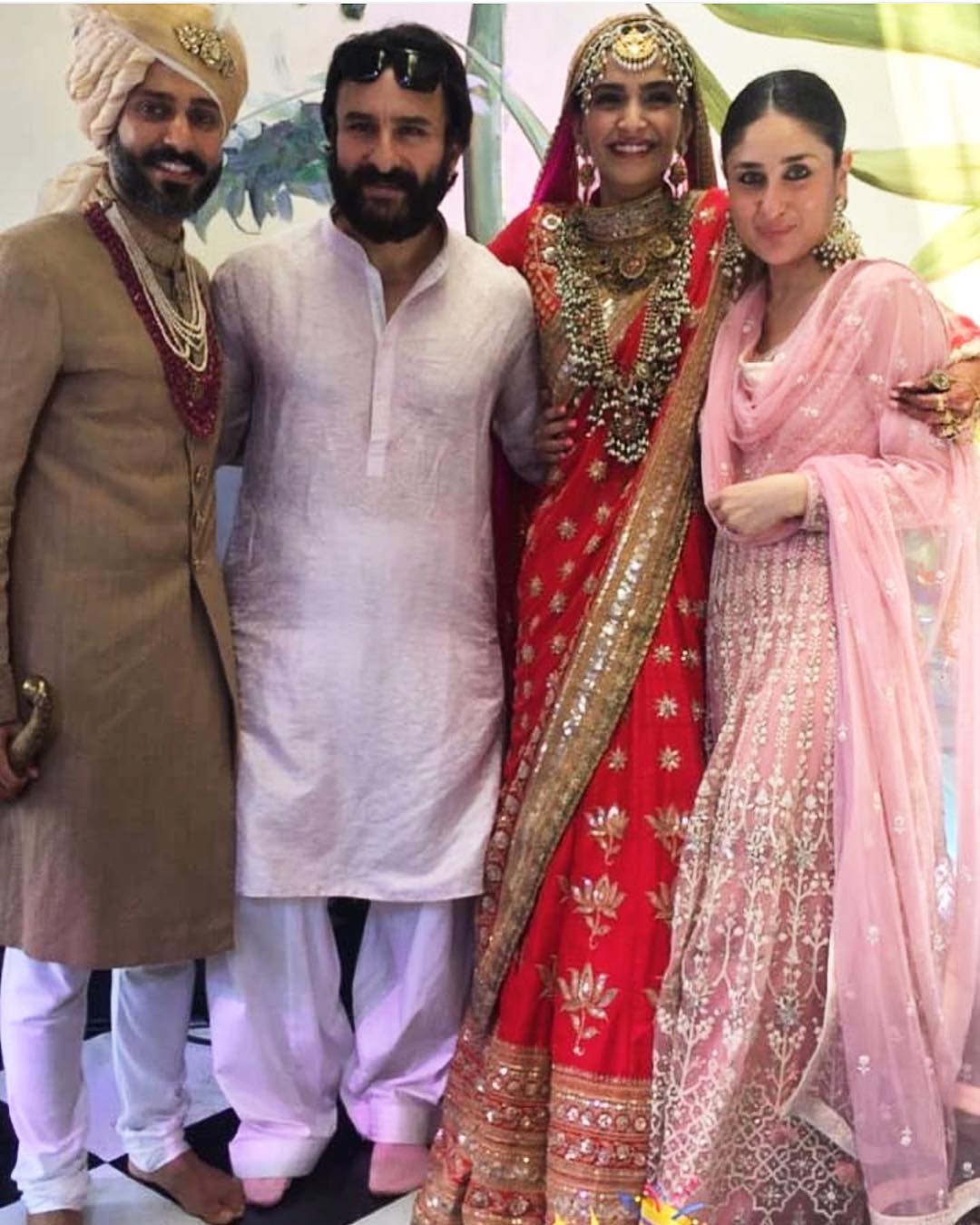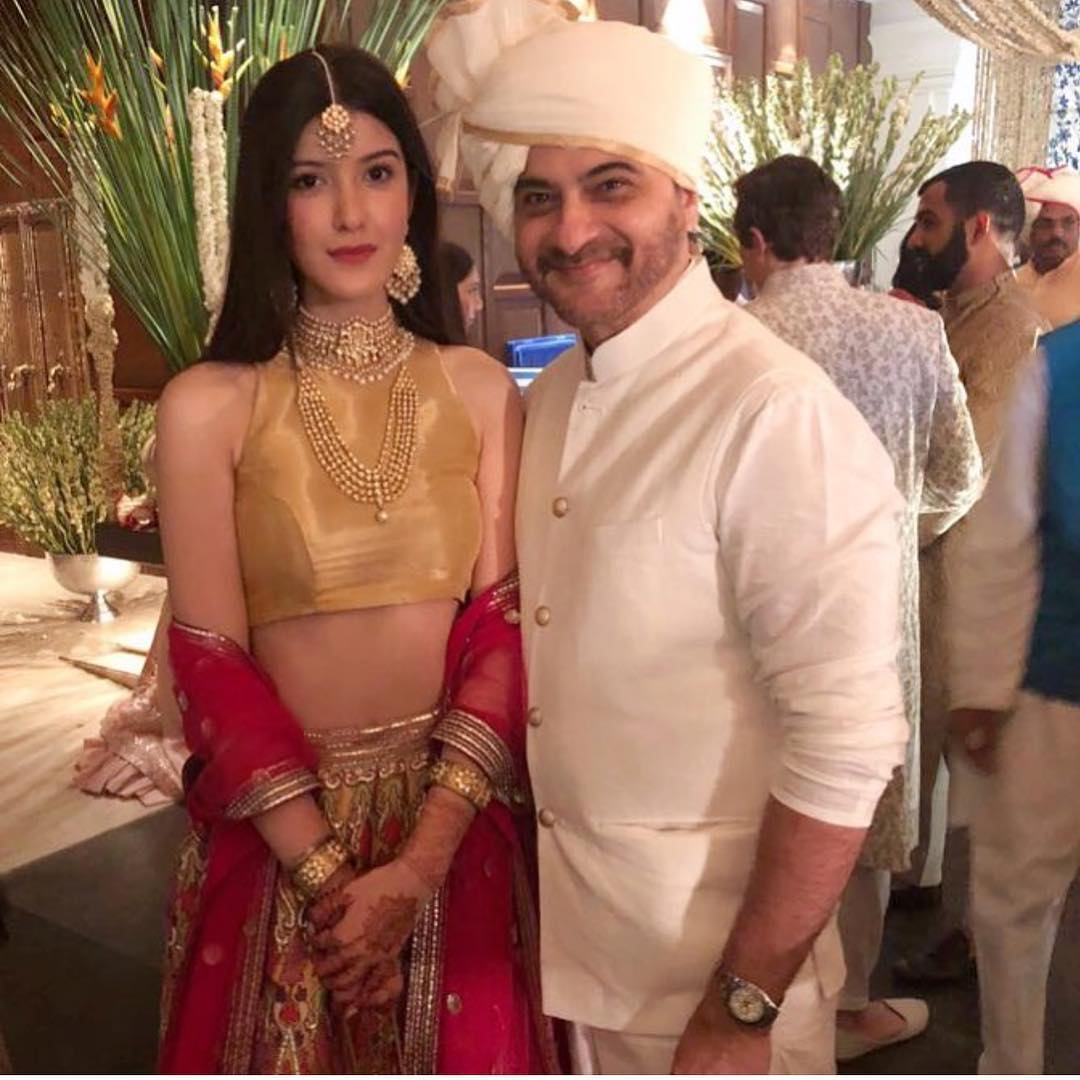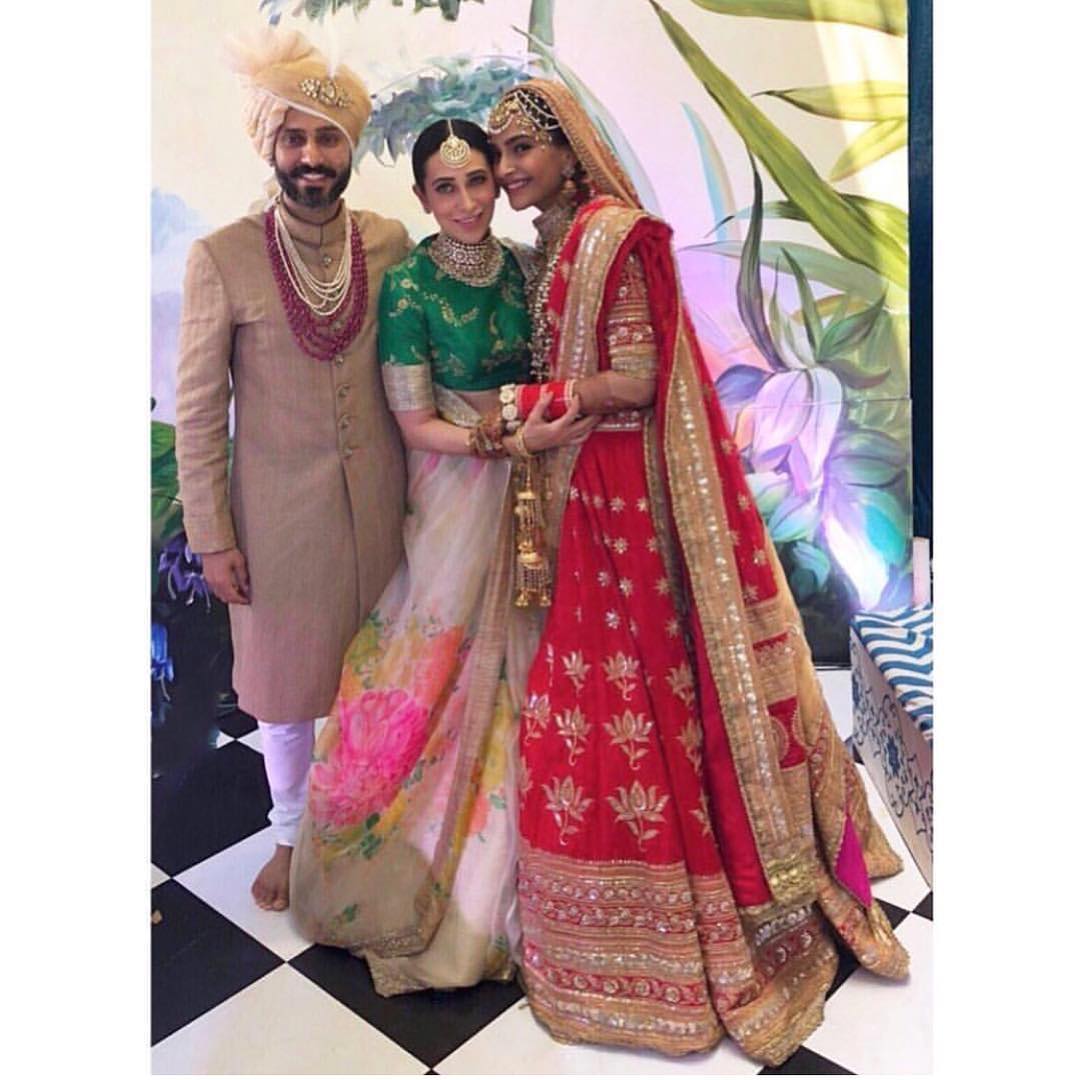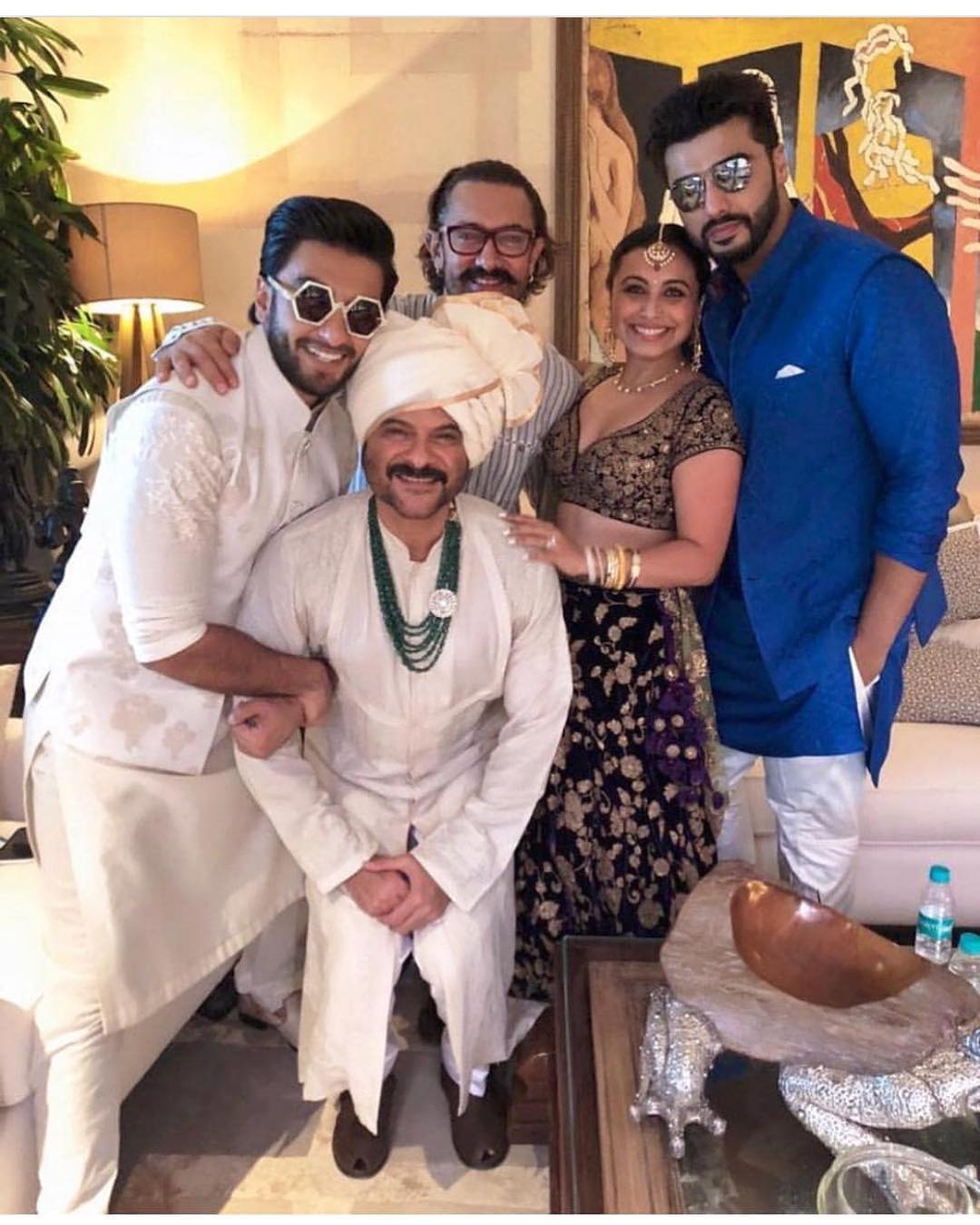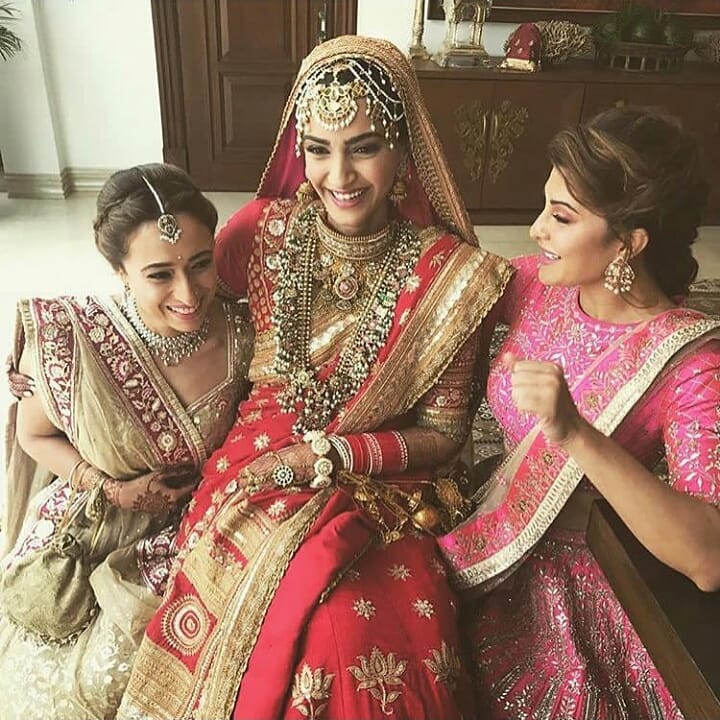 ↓ Wedding day Videos
↓ The Great Reception
The after-party starts now! As soon as the wedding ended and Sonam Kapoor Ahuja is now officially married, they conducted a reception in Mumbai inviting all the hottest stars of Bollywood to their reception. The party was huge and bedazzling, with phenomenal outfits worn by all the celebrities on the spot. The couple and the guests dancing, laughing and enjoying their time is certainly so satisfying to the eyes. The celebrations are worth watching!
↓ Mr. and Mrs. Ahuja
Sonam Kapoor was wearing a beautiful long captivating skirt with belly high blouse and silk duster made by the British designer Ralph and Russo. Anand is wearing dark buttoned kurta with straight white pajama and Nike sneakers, such swag goals!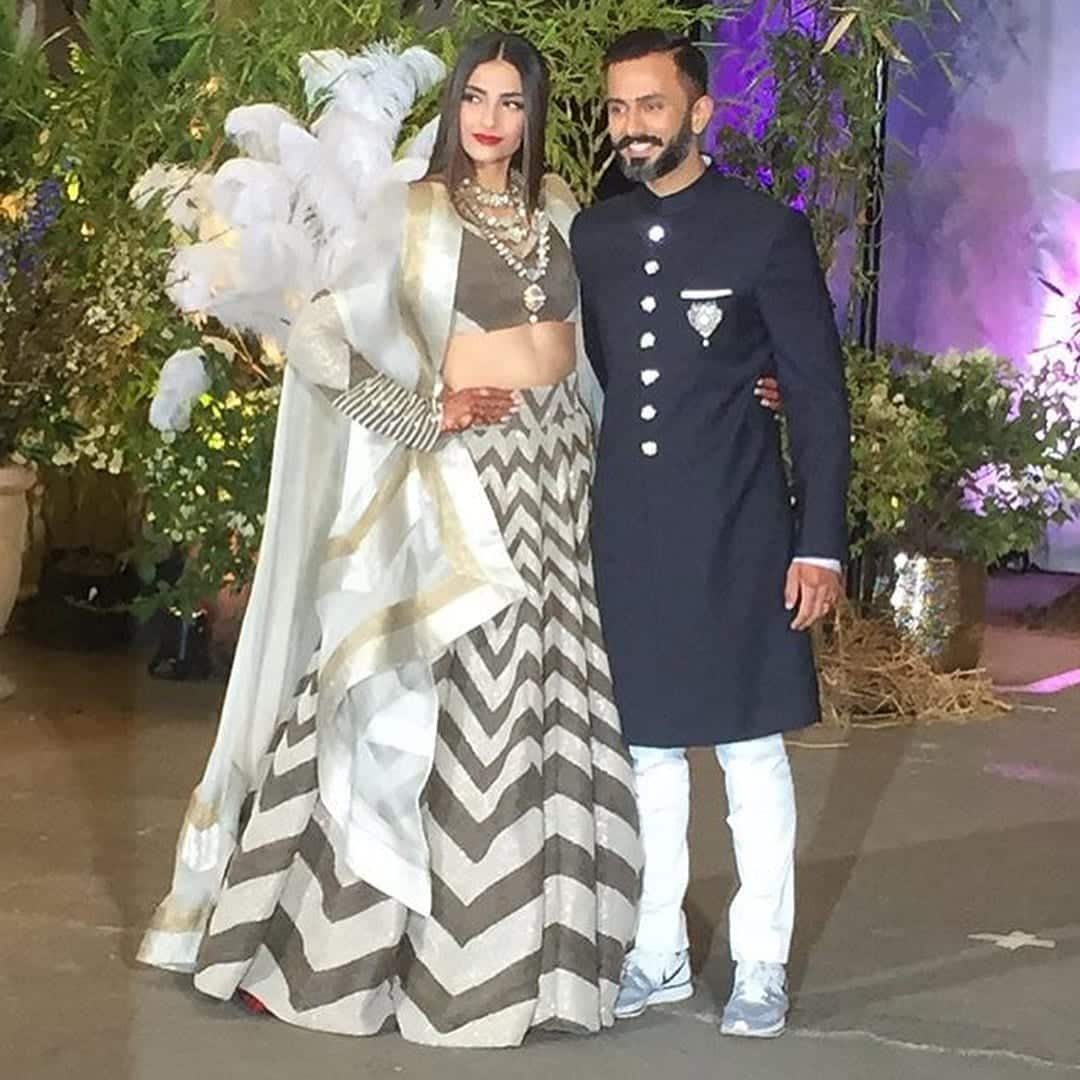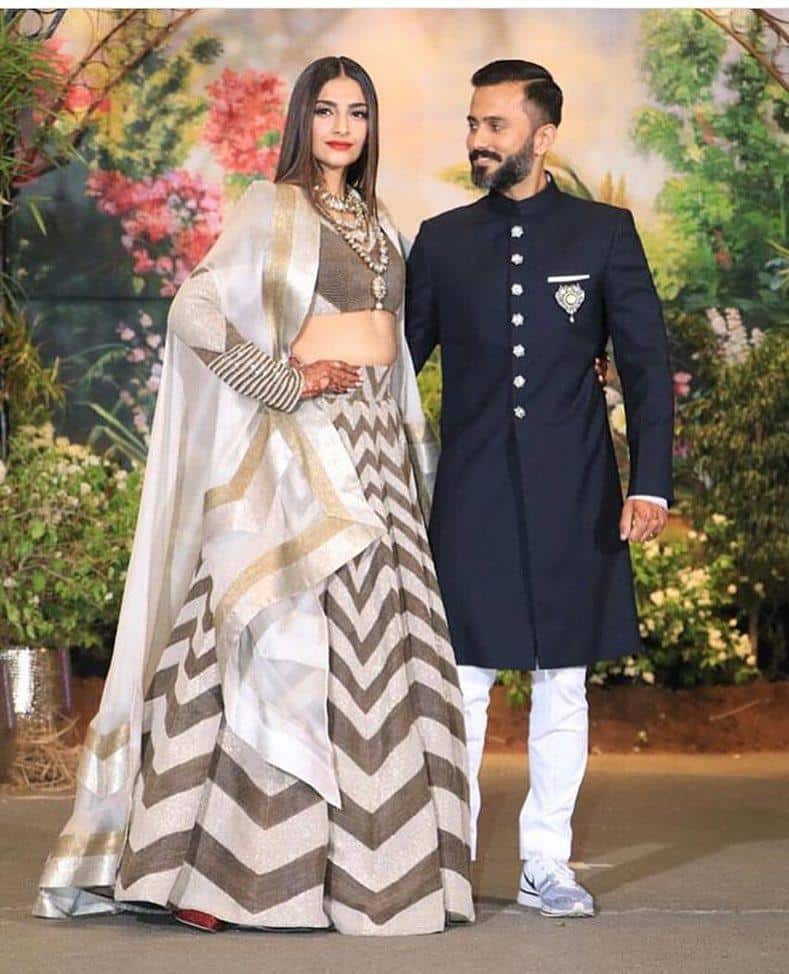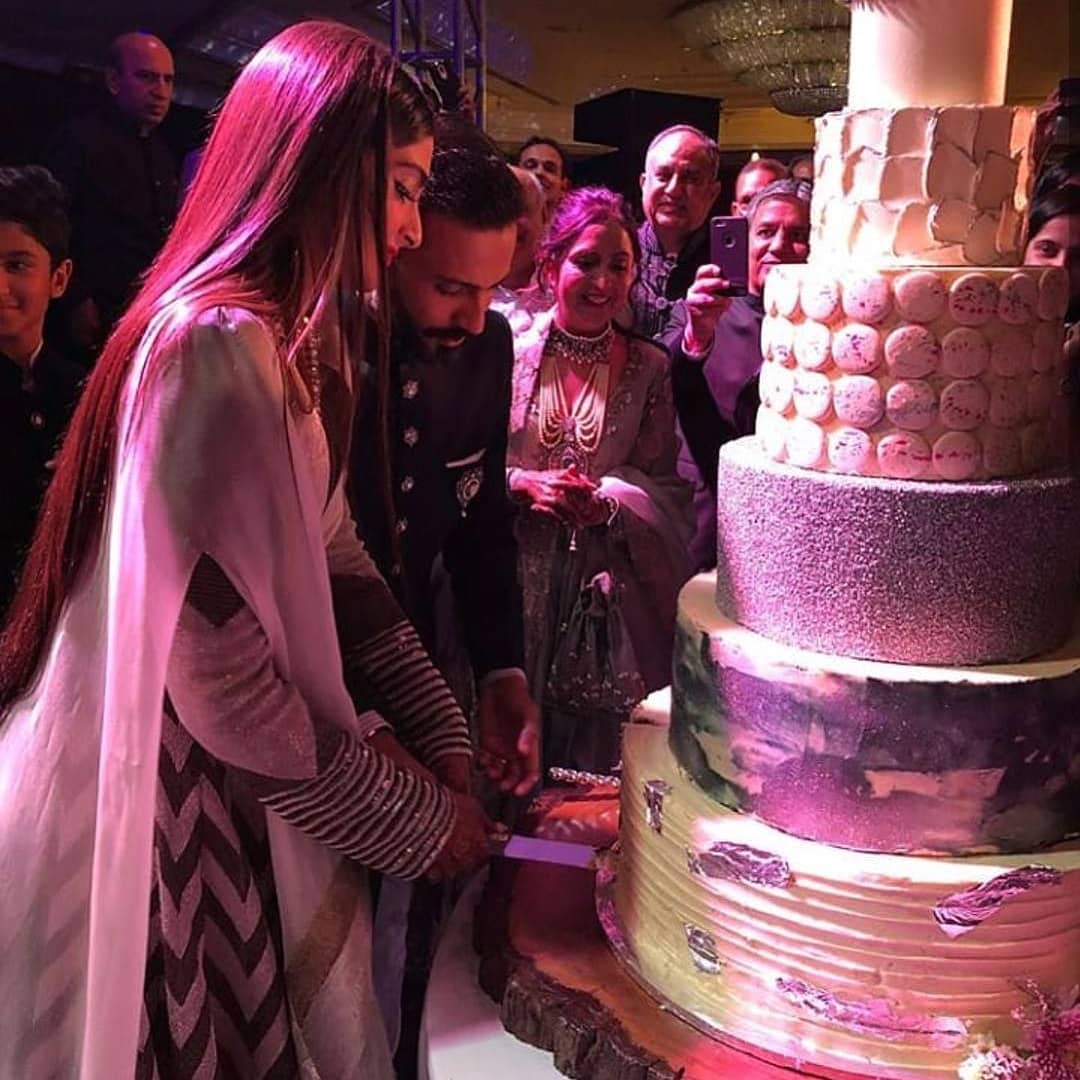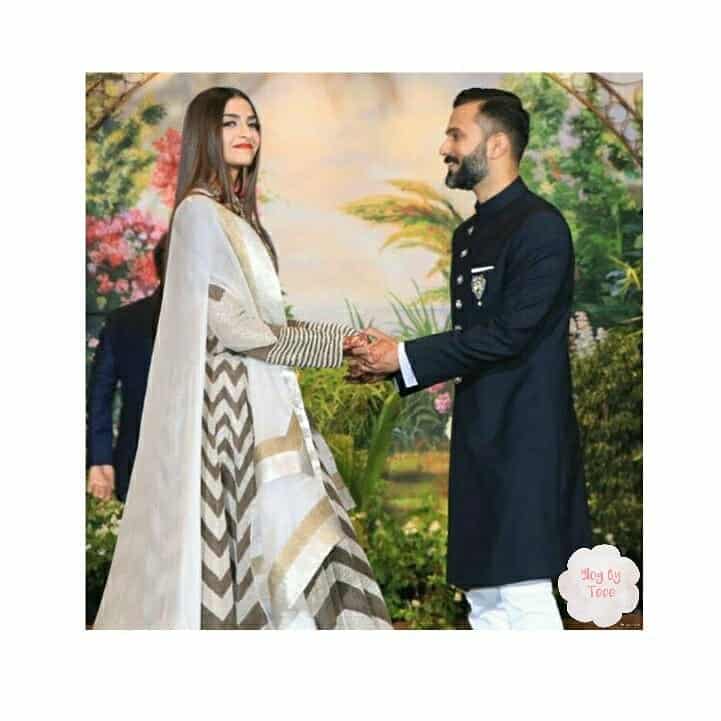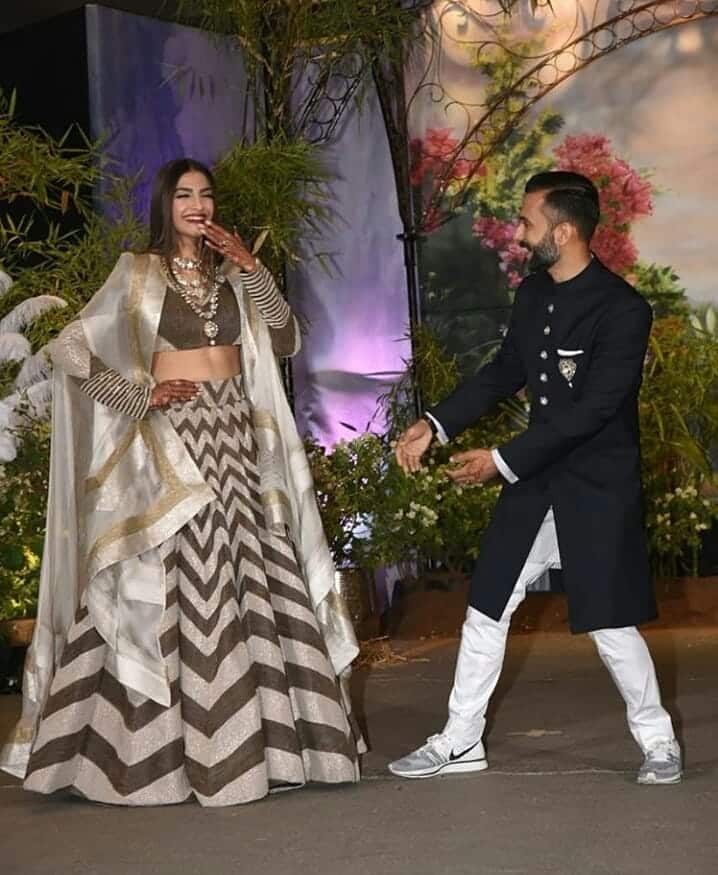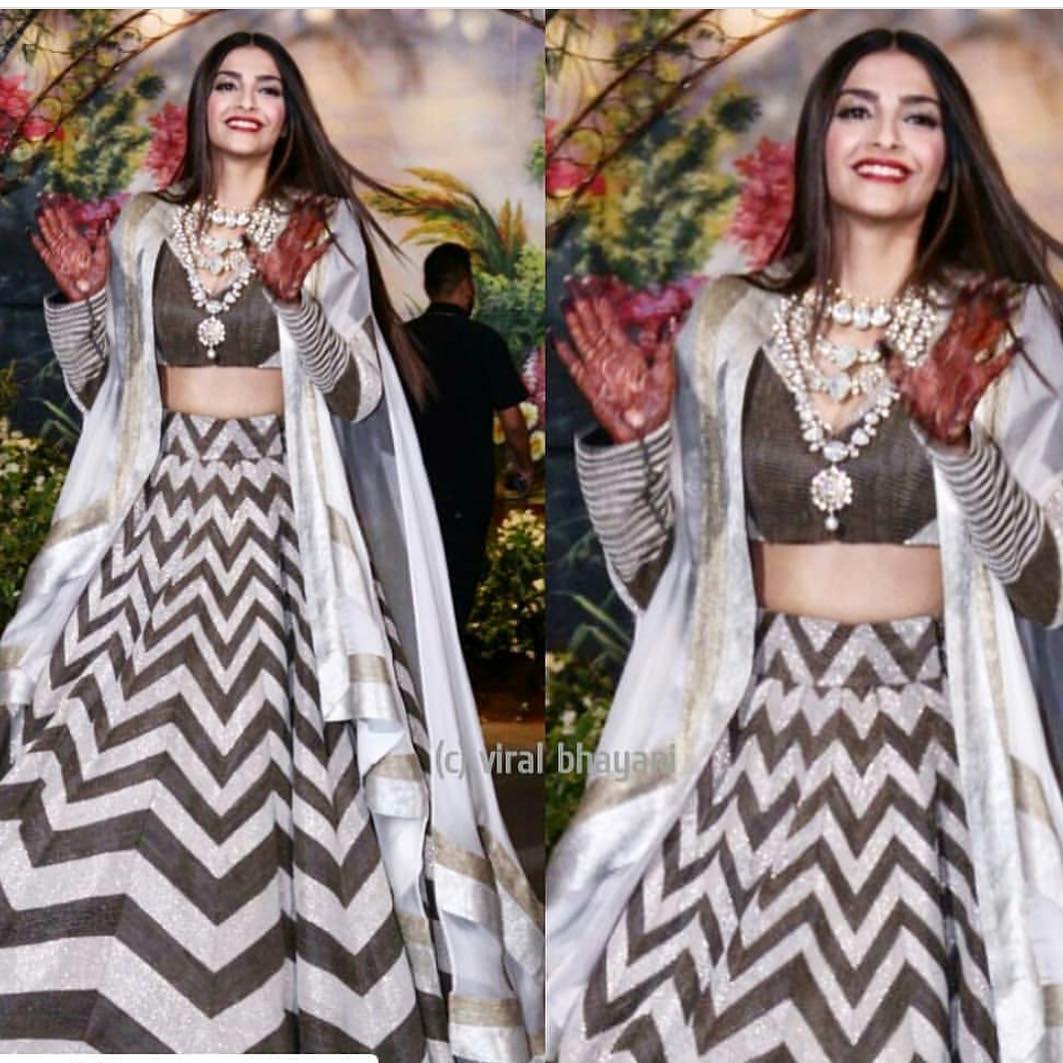 ↓ Reception Guests
Major Bollywood stars and Kapoor's friends joined the reception for the great and memorable night of the couple. The theme of the reception was both eastern and western formal wear however, all the big wigs totally fitted the dress code in a brilliant and voguish manner.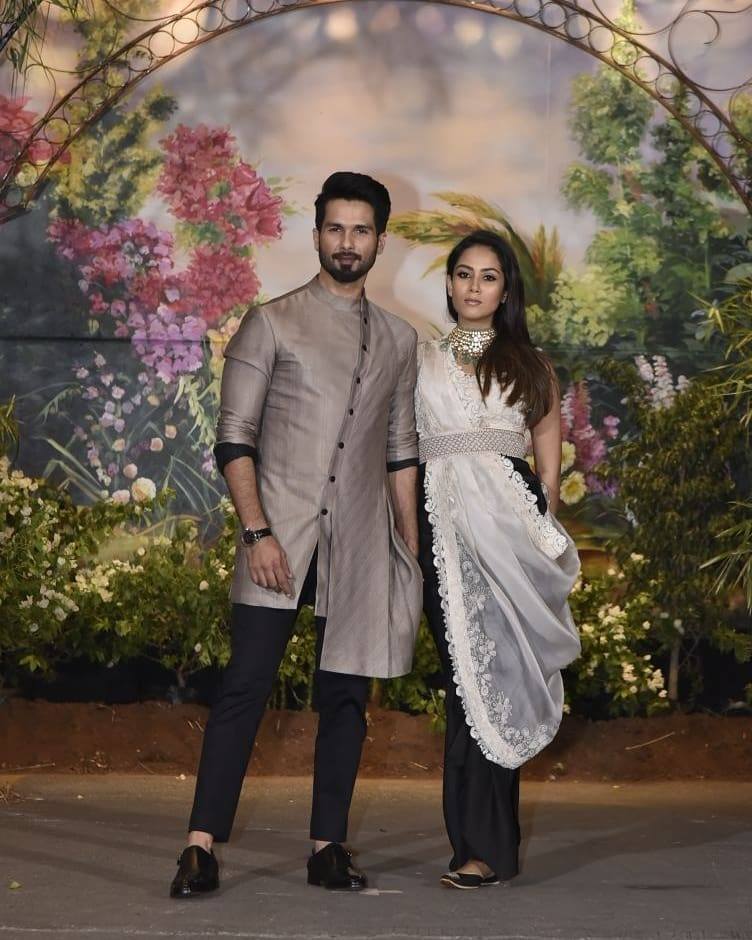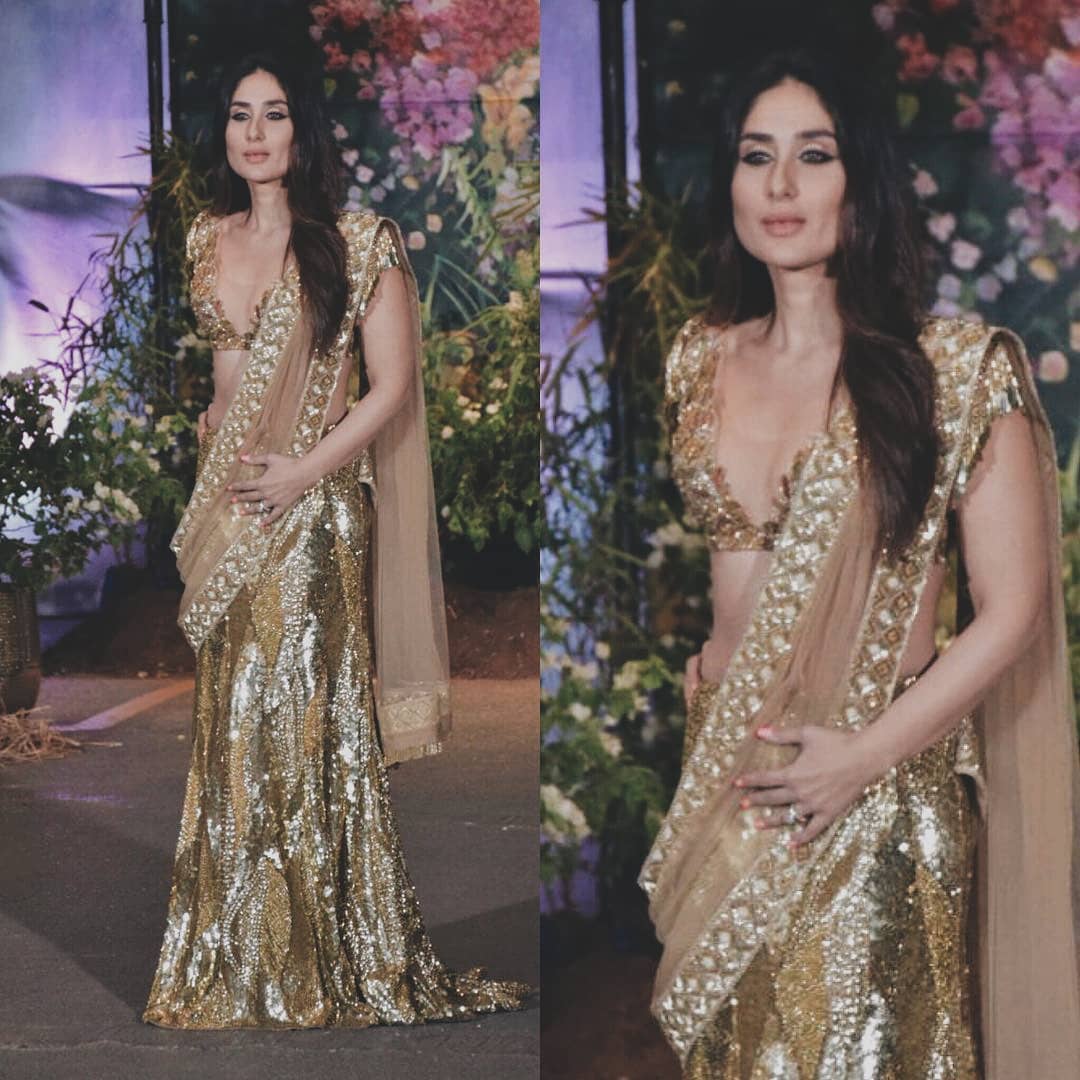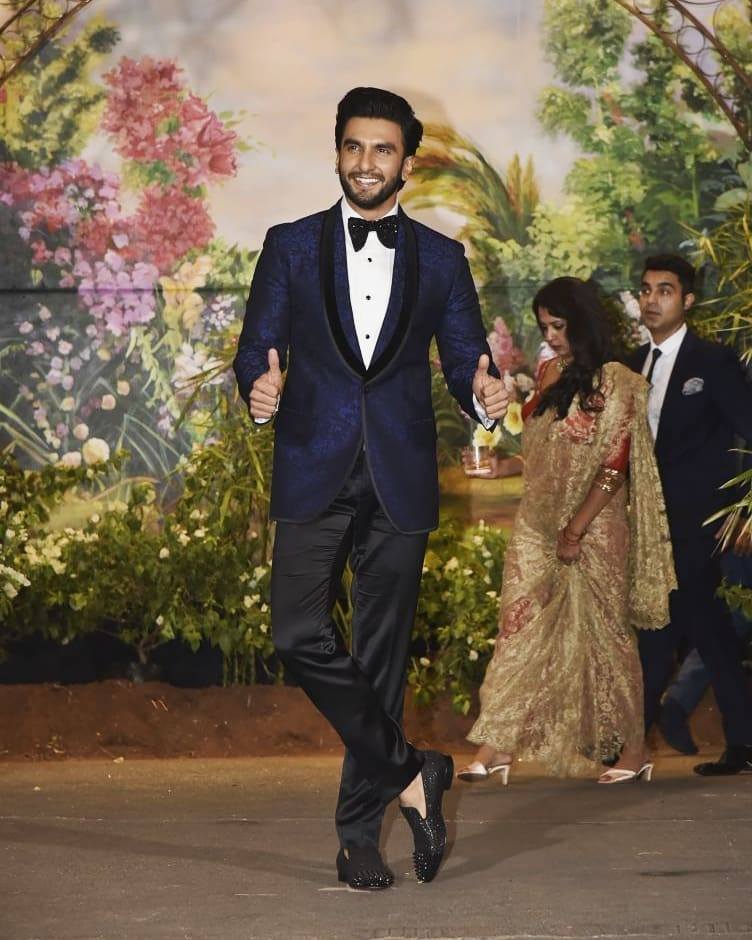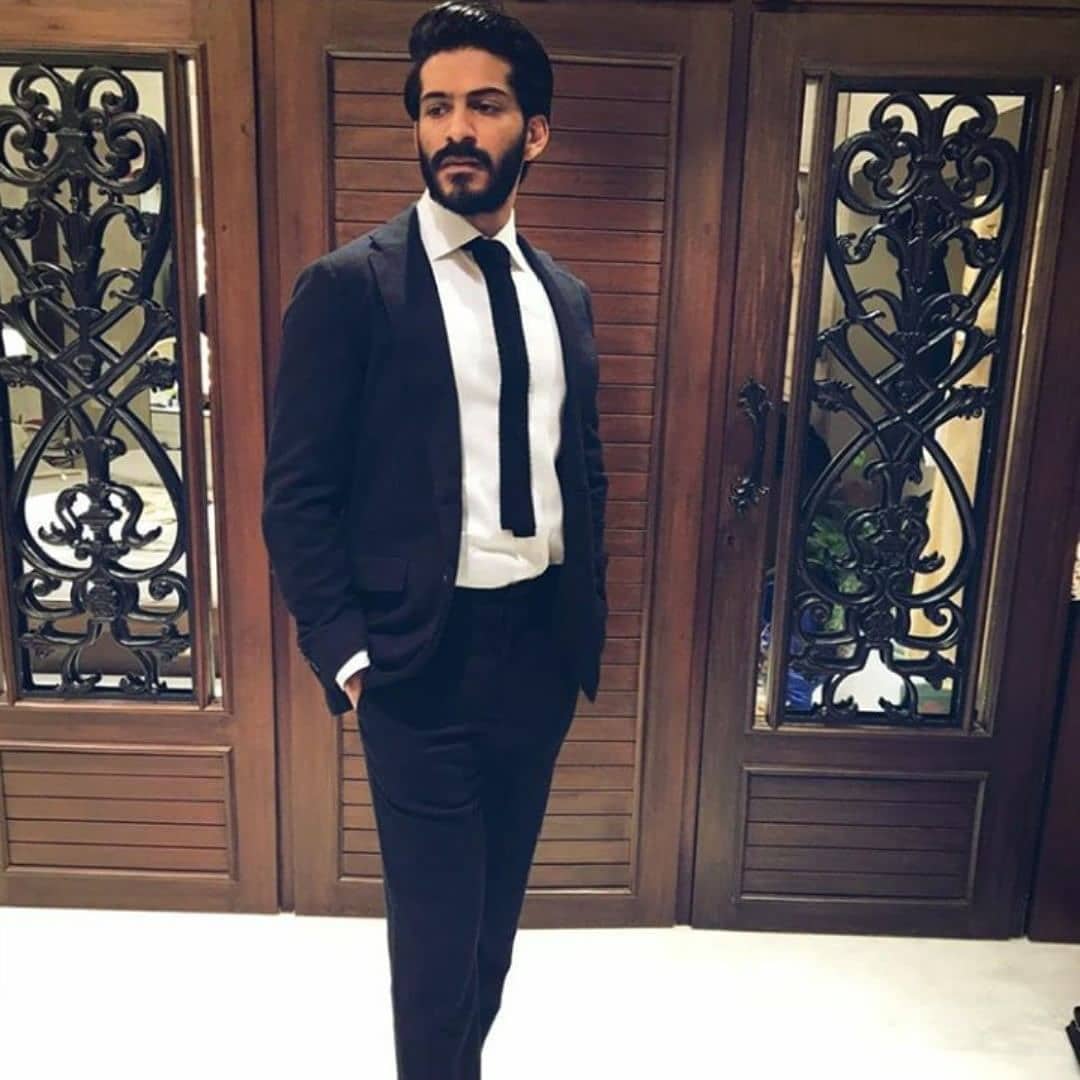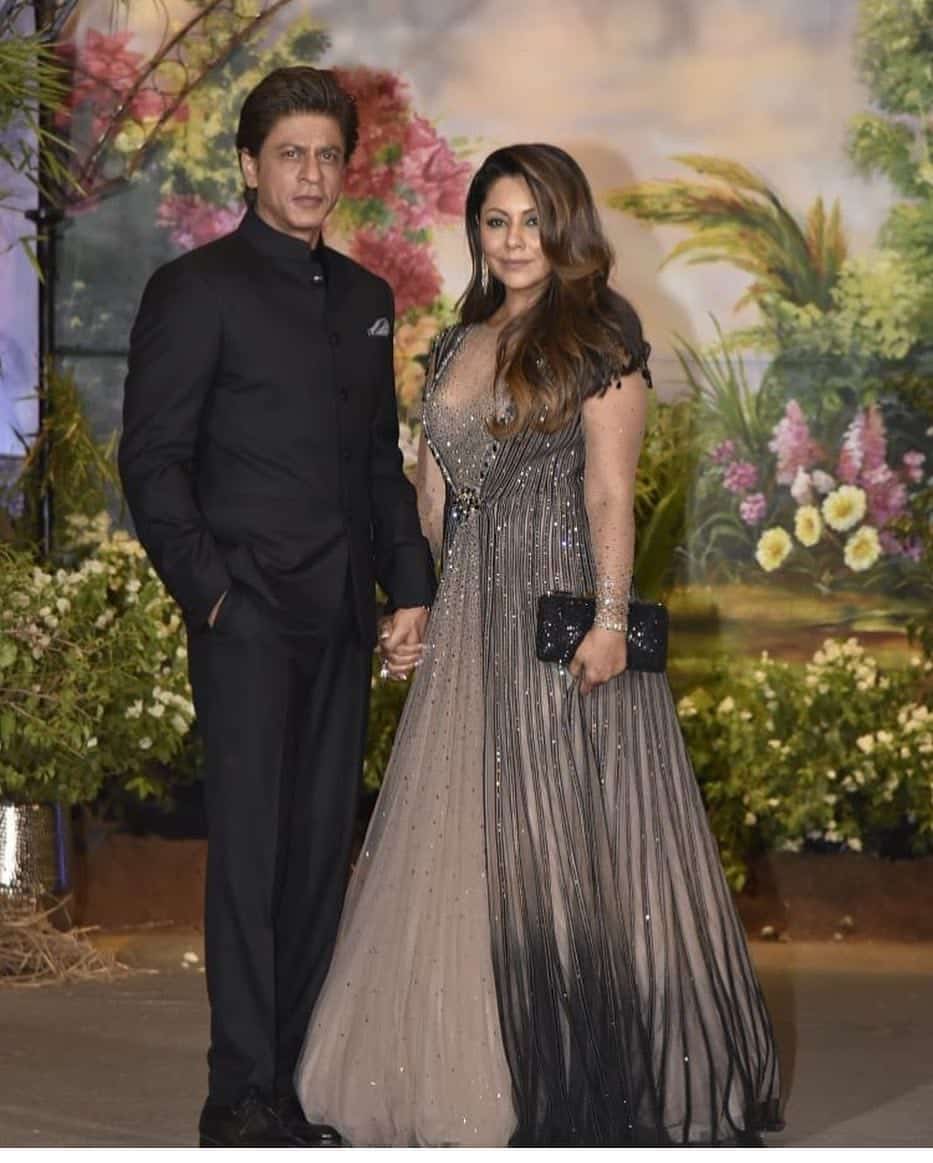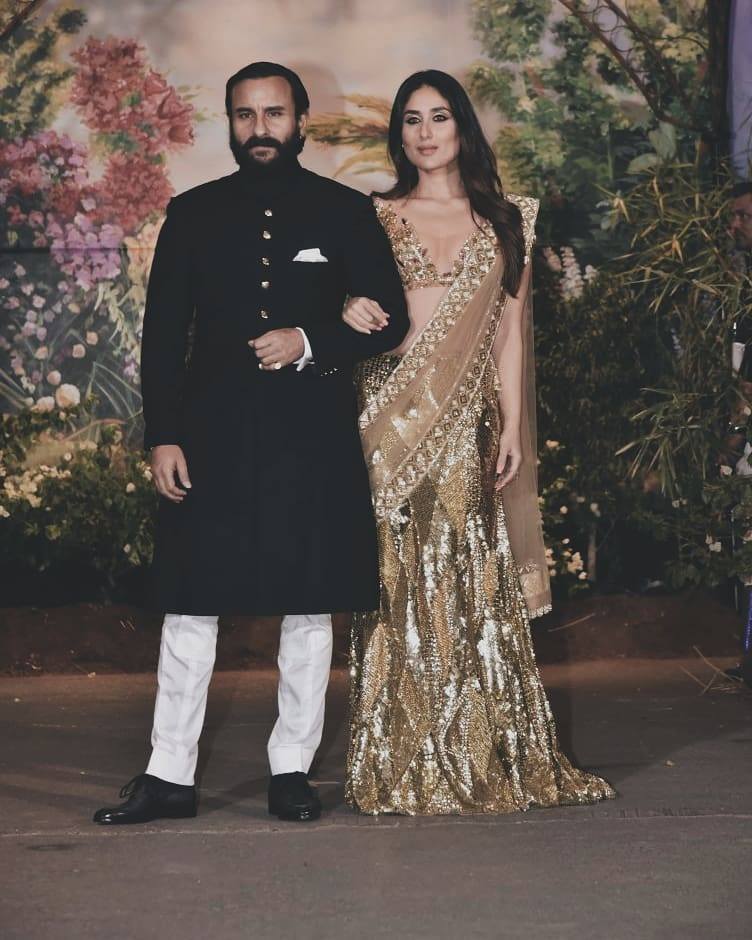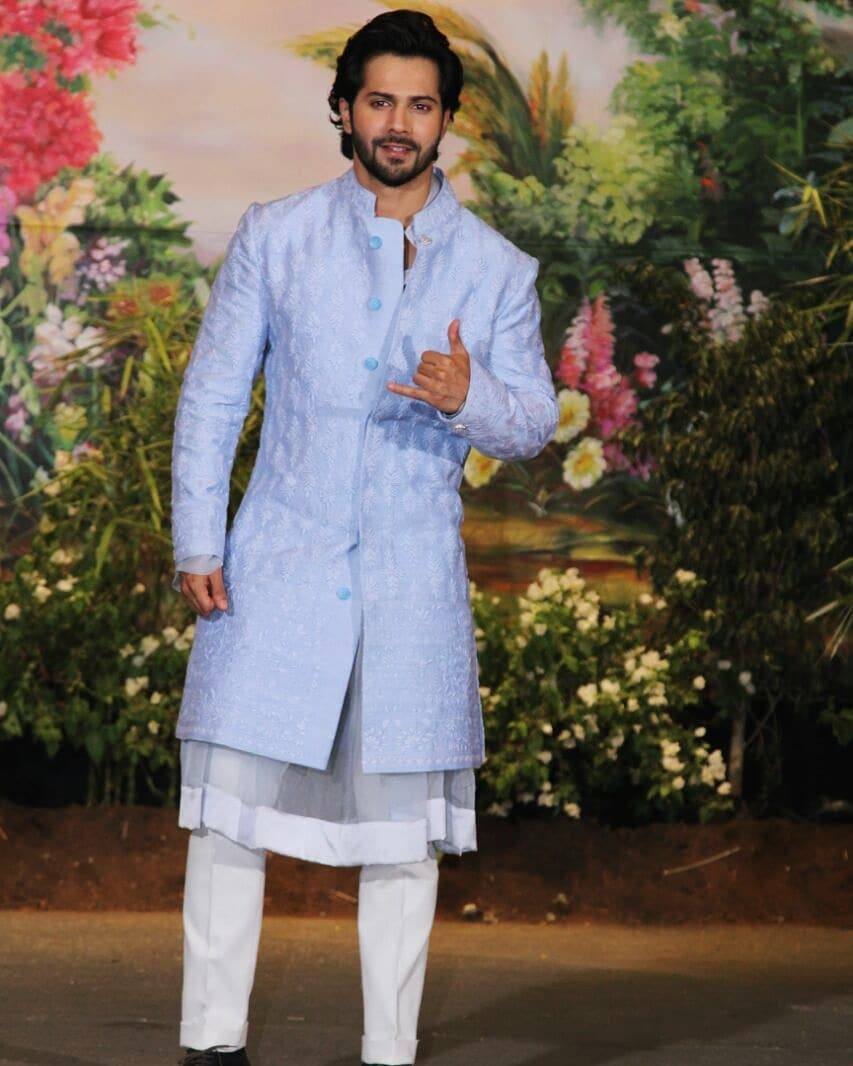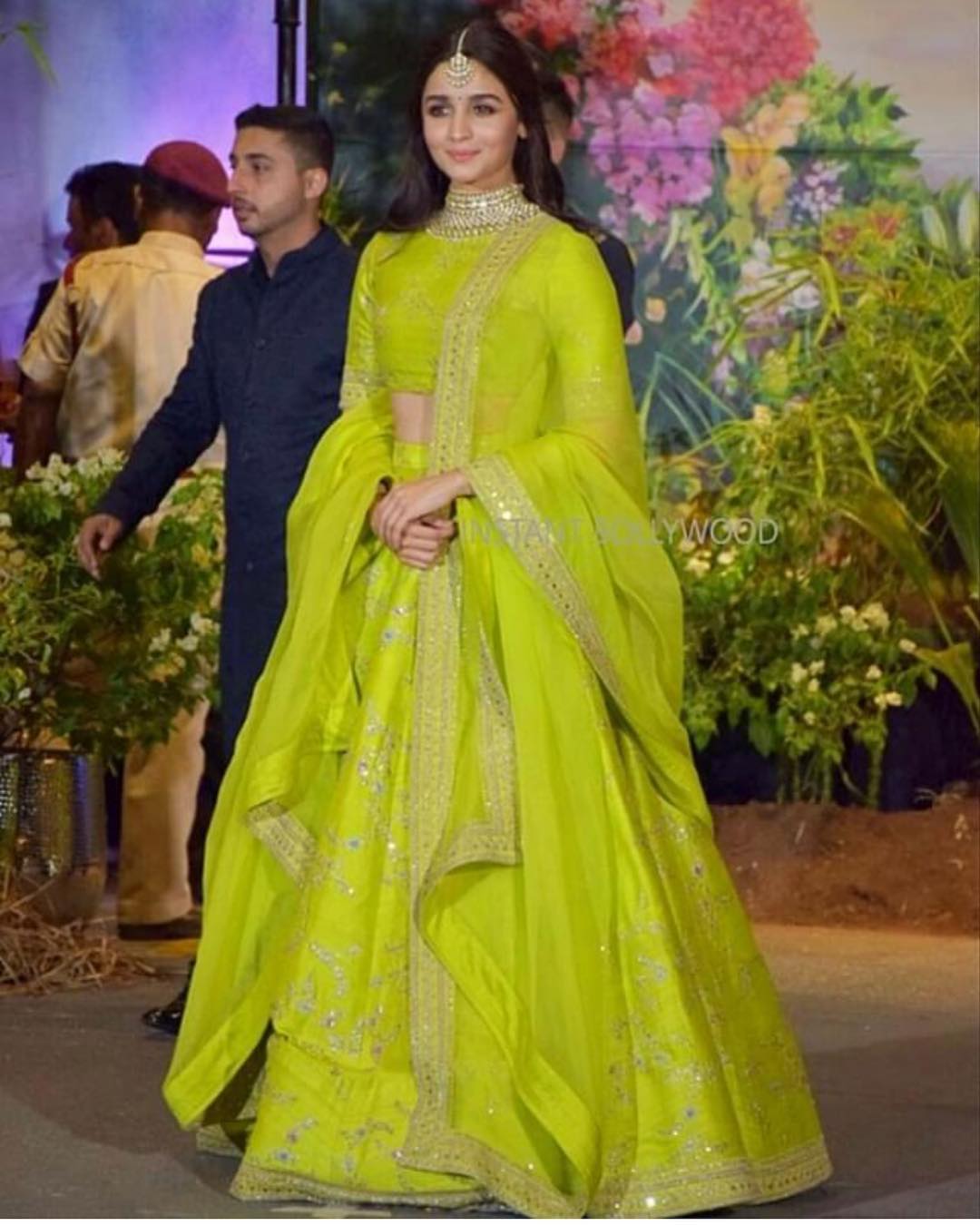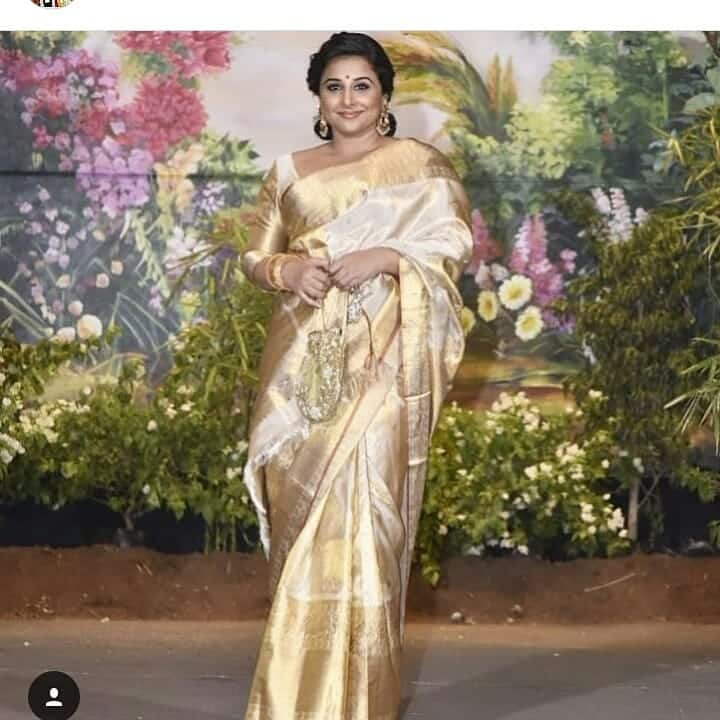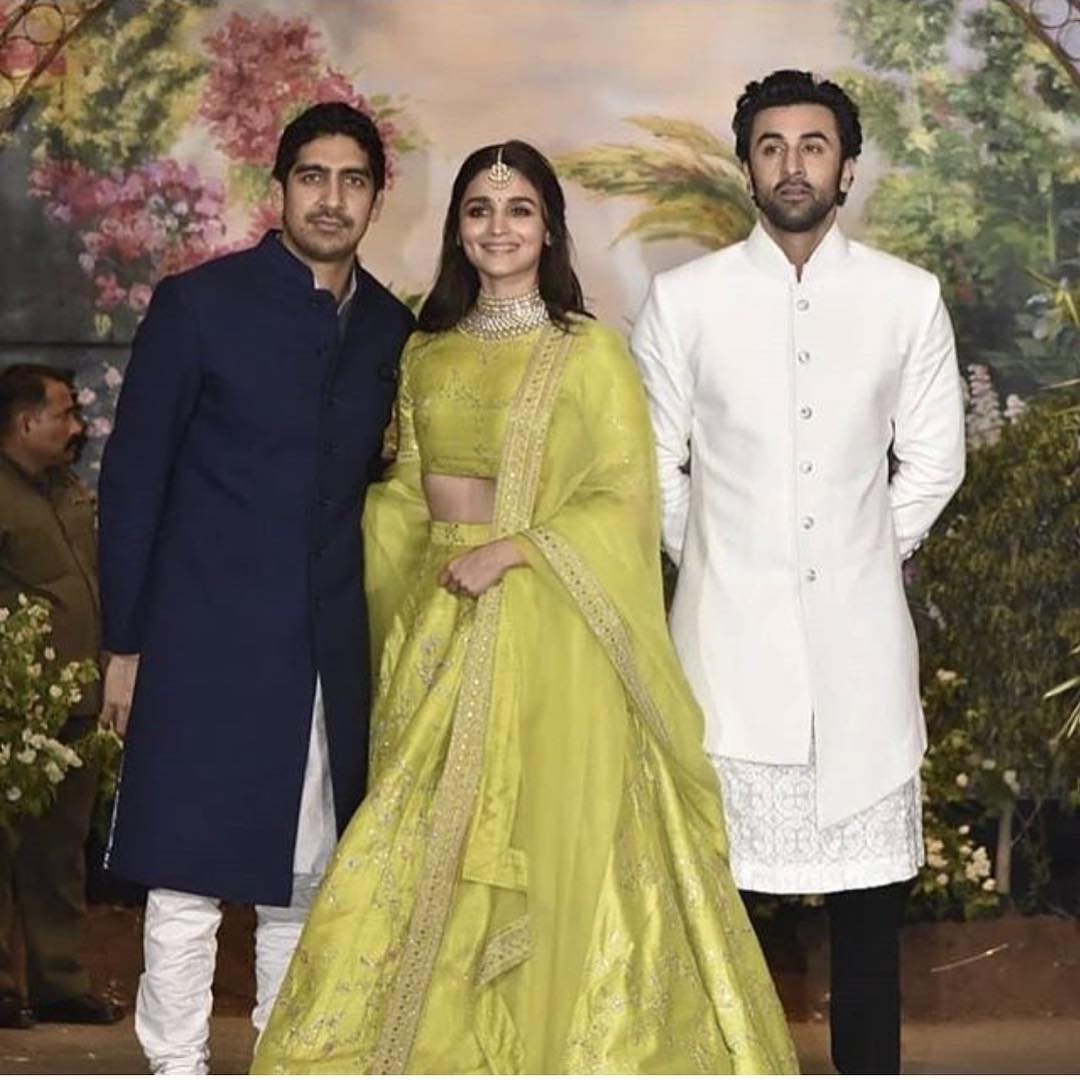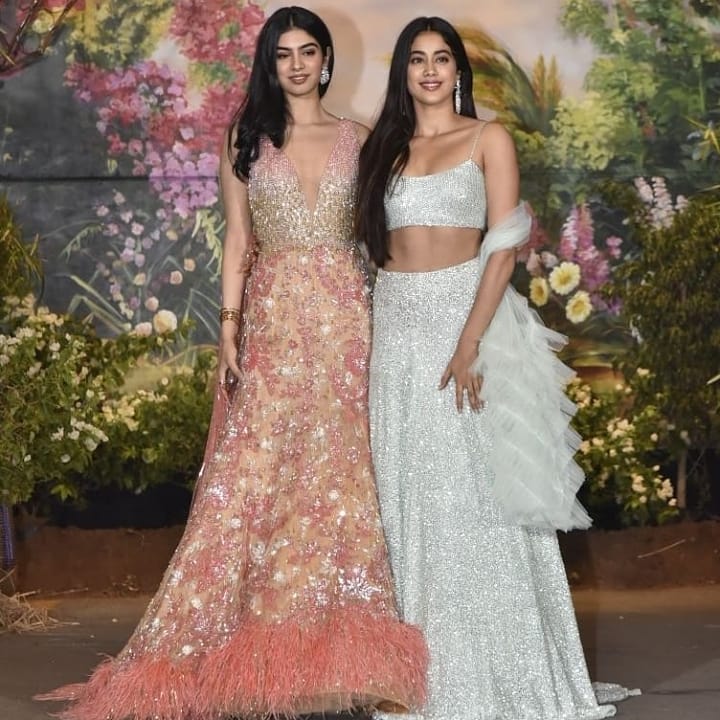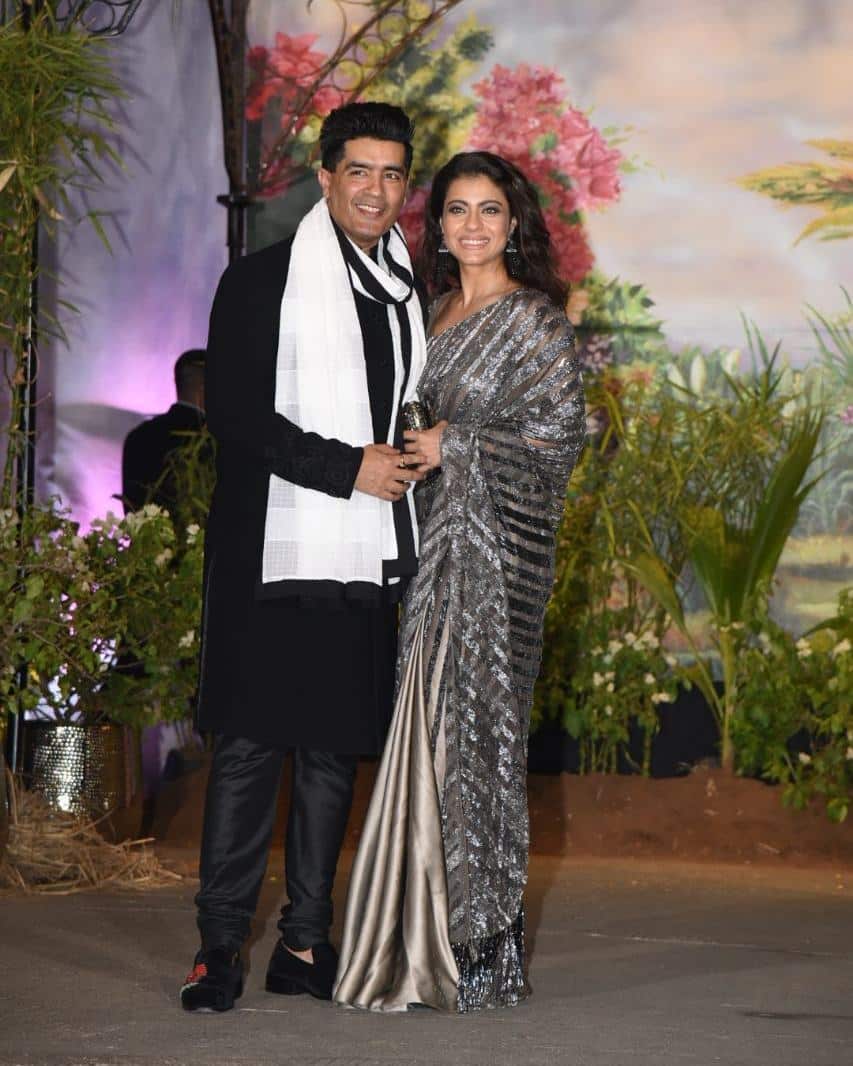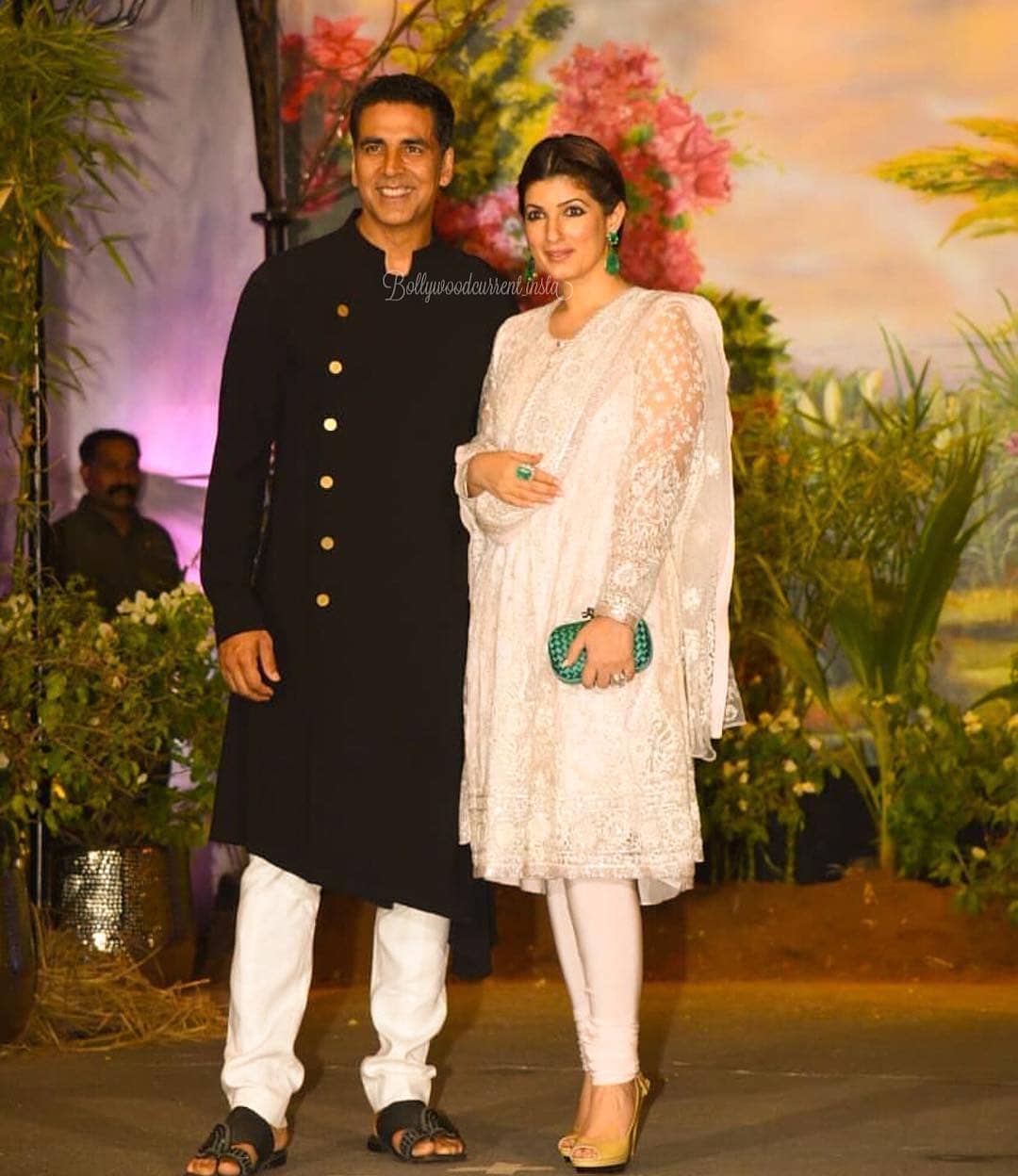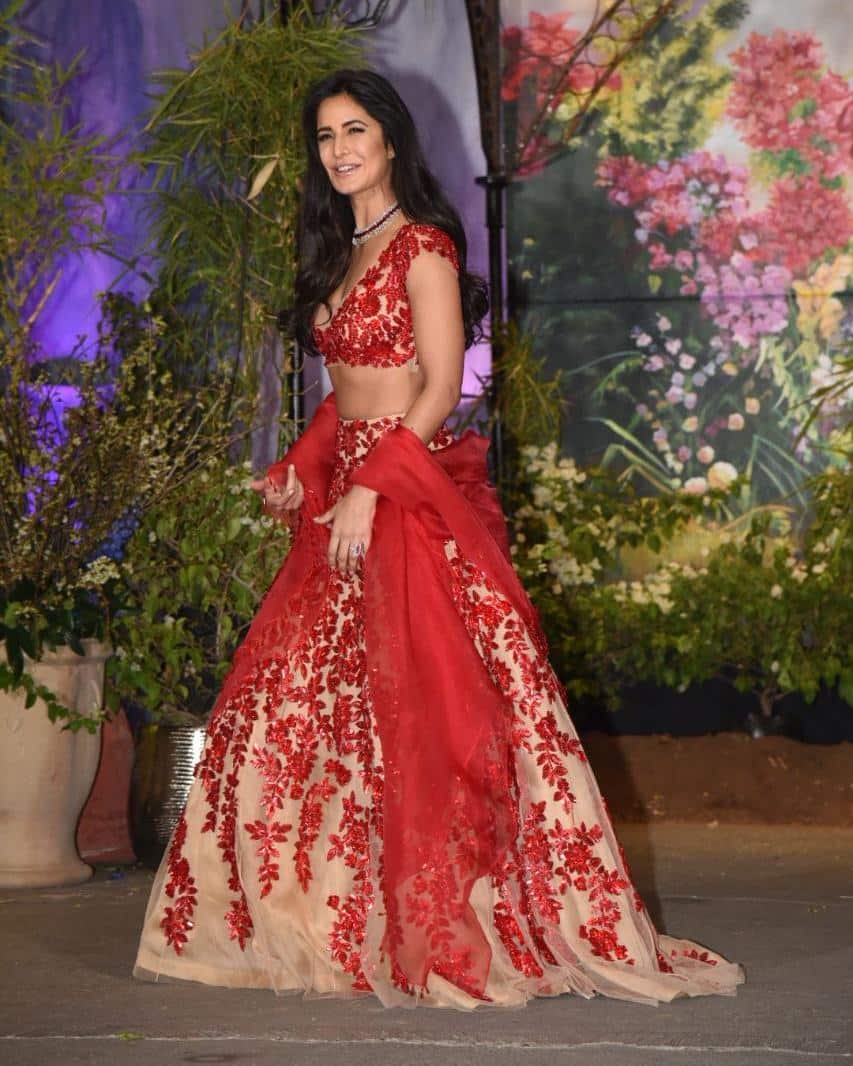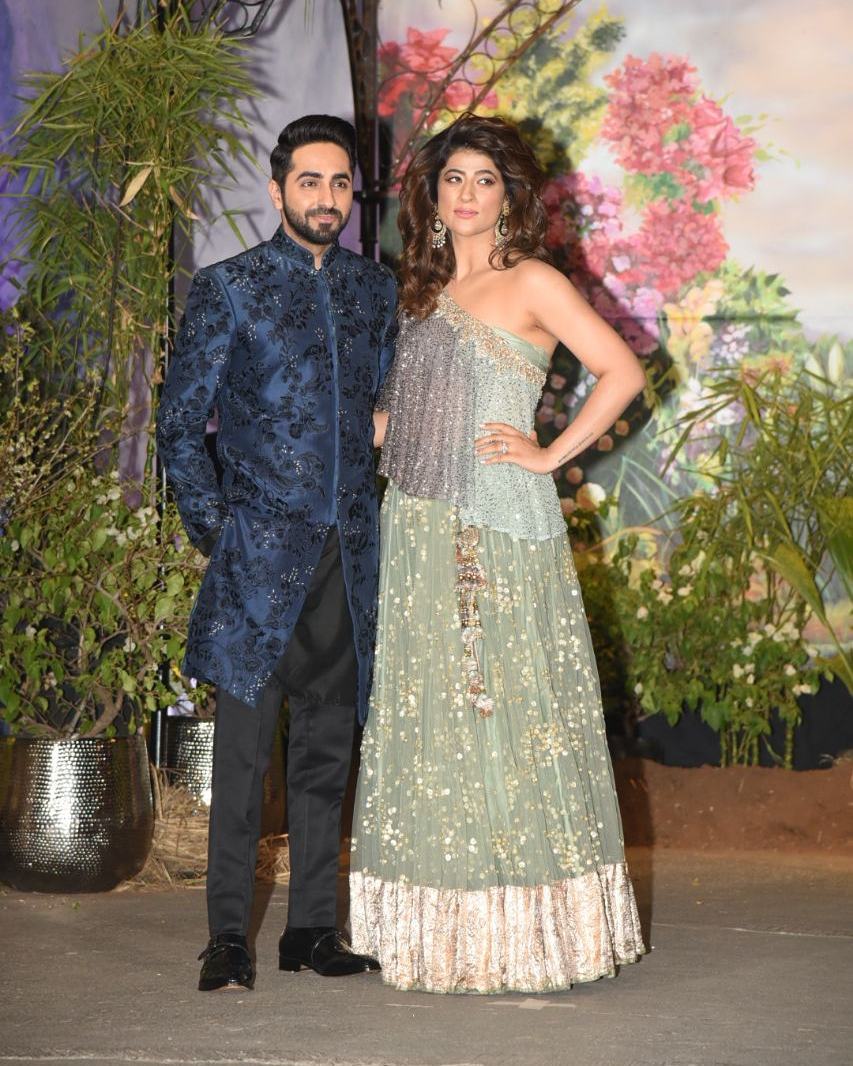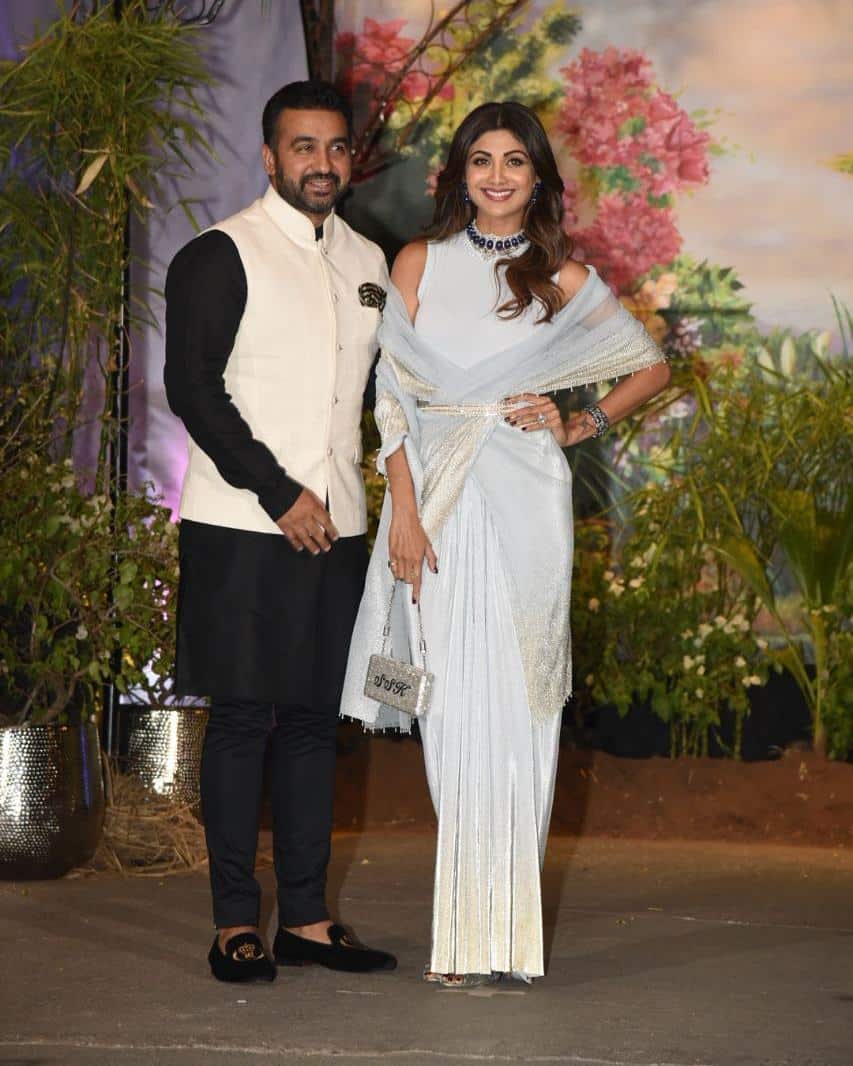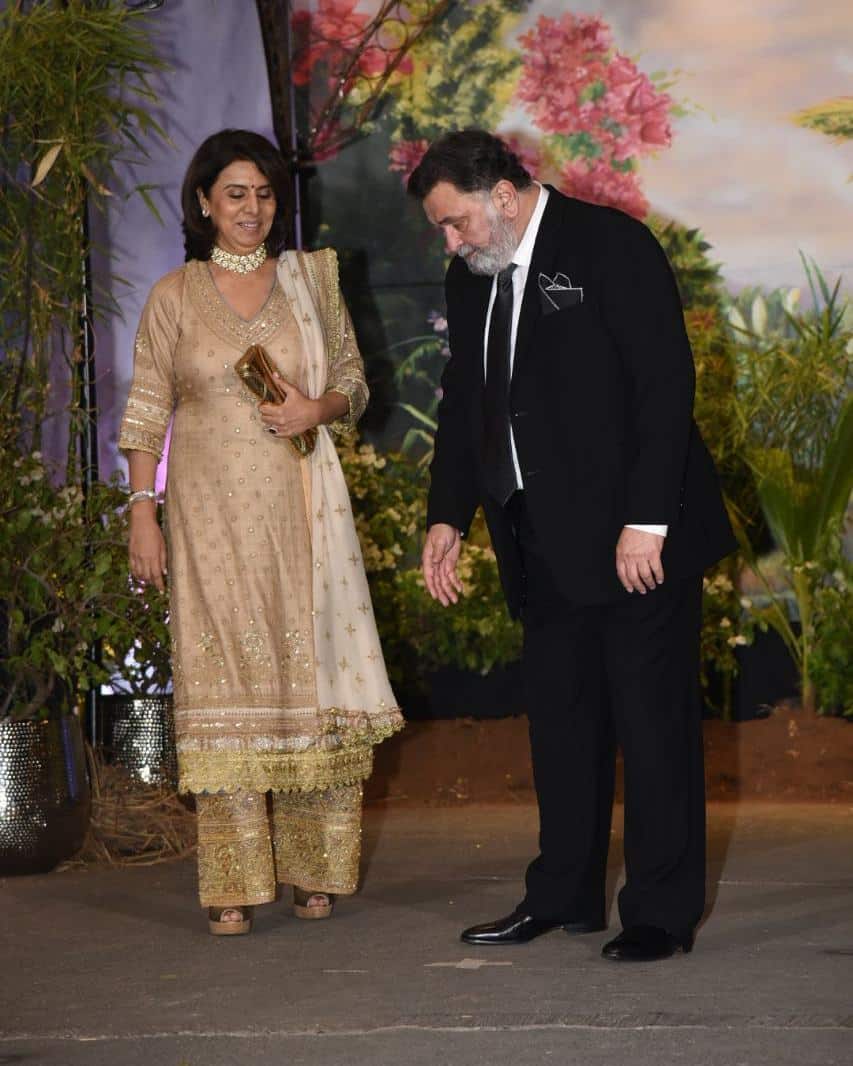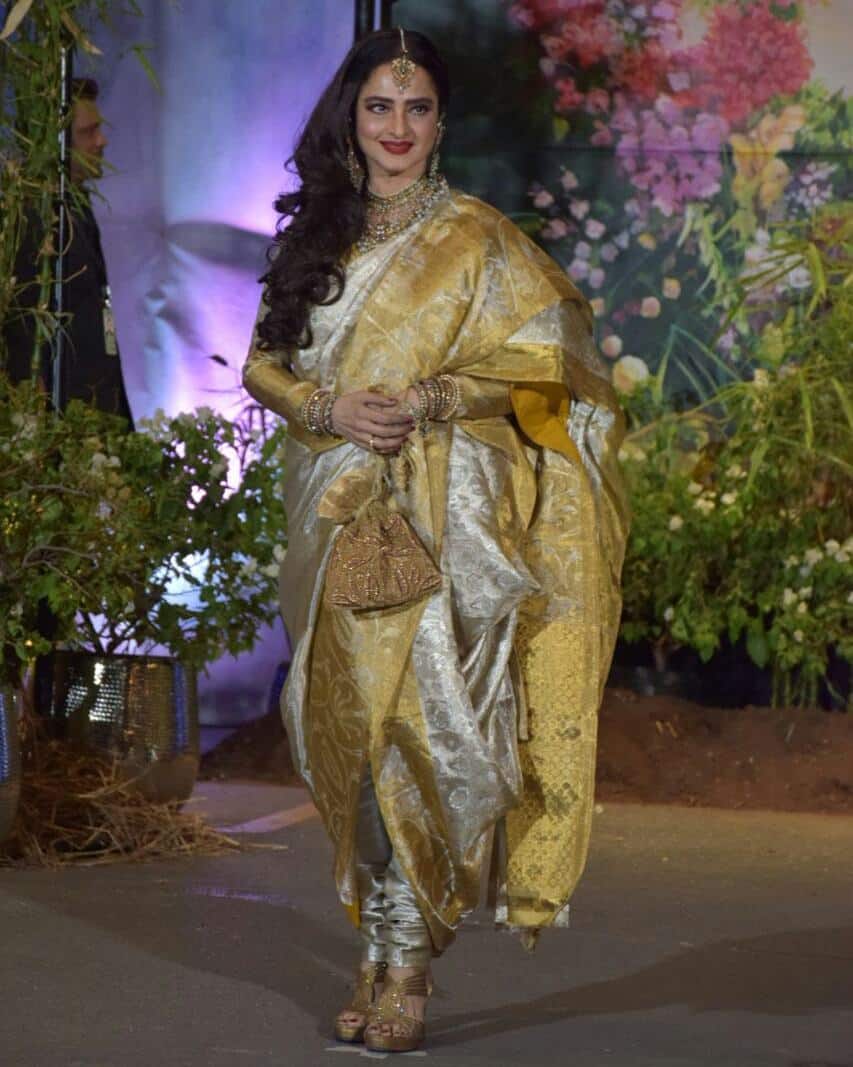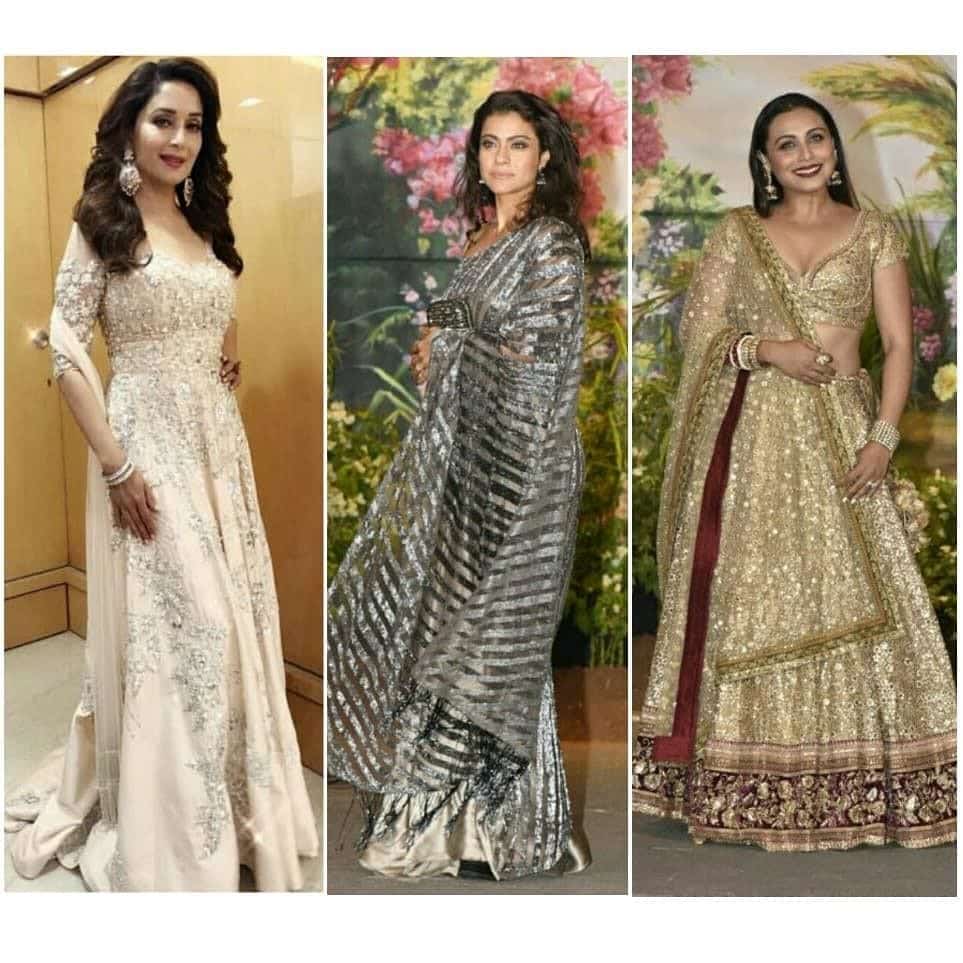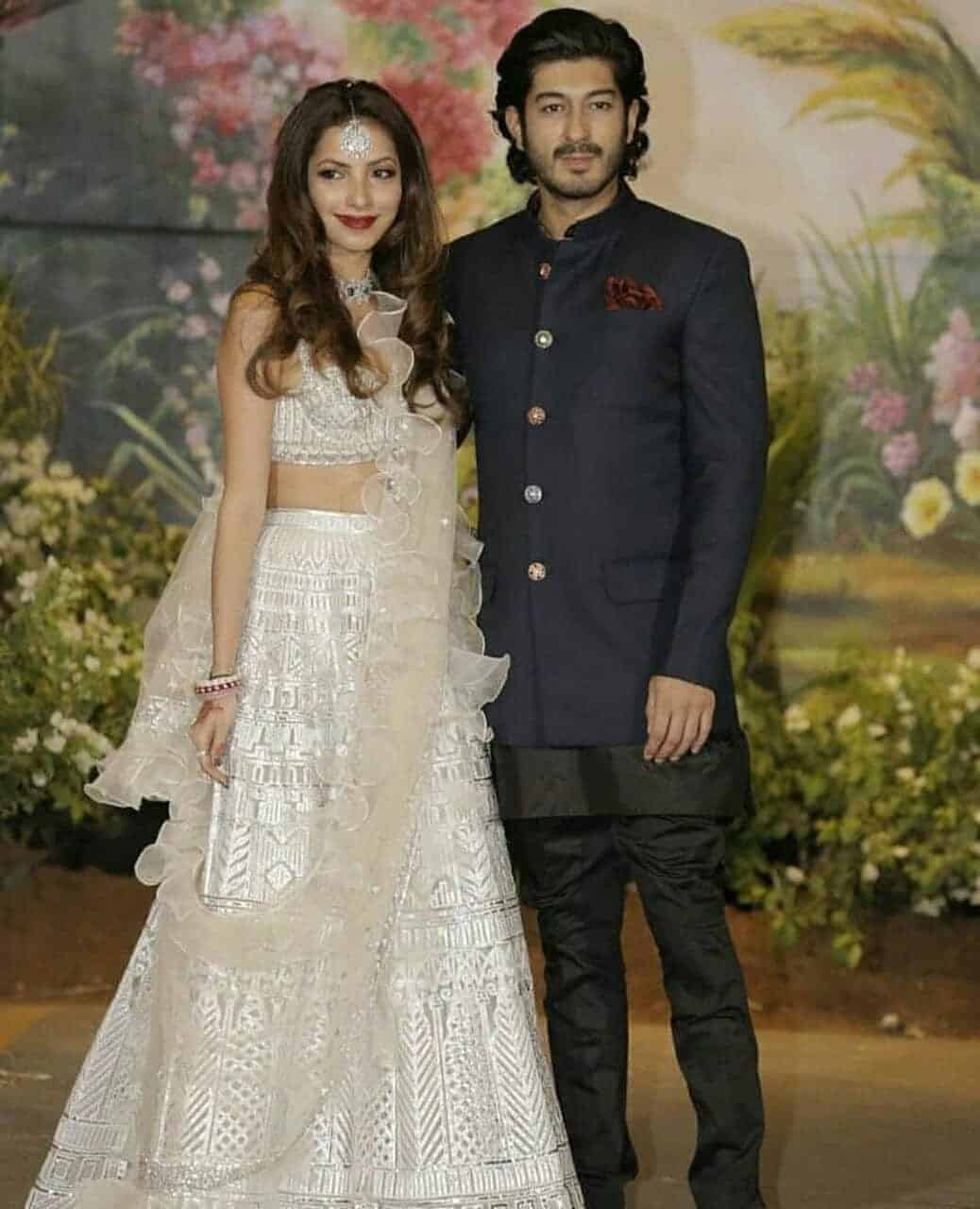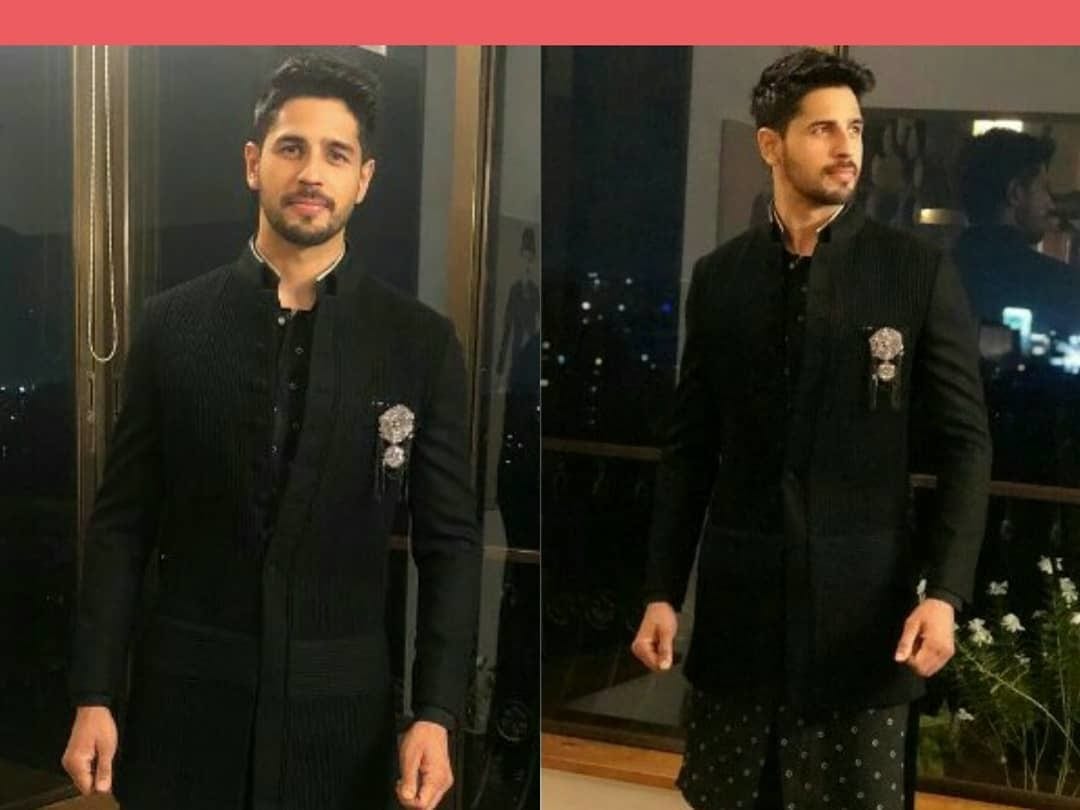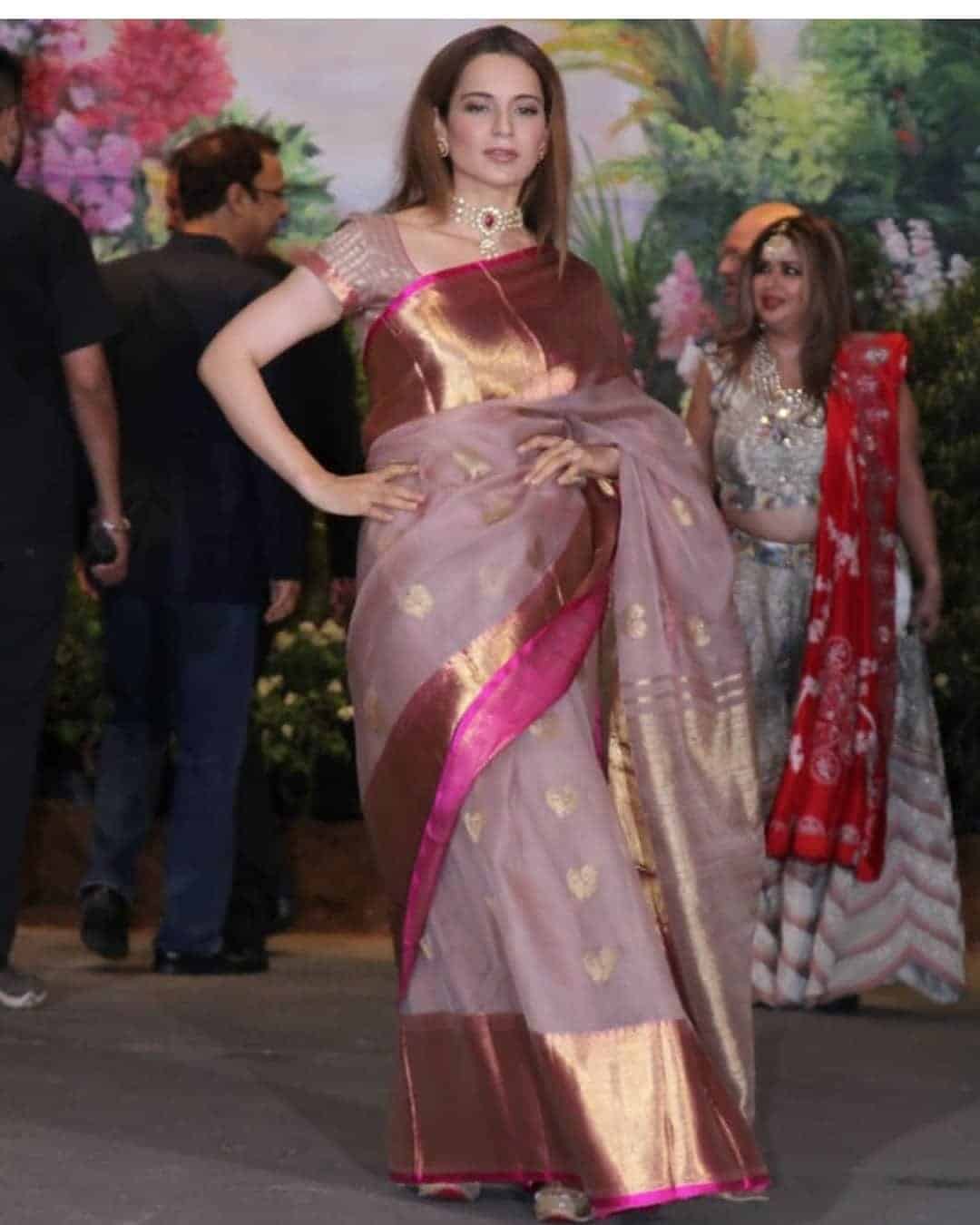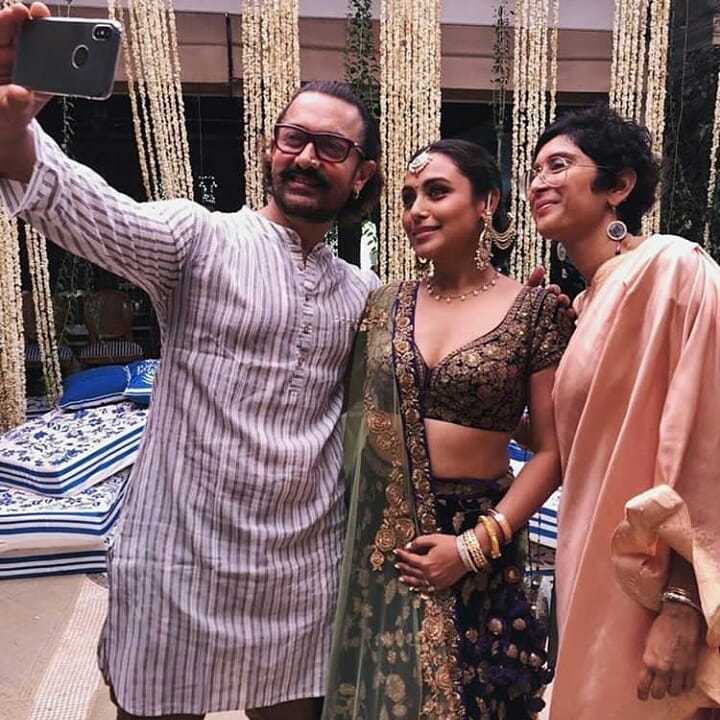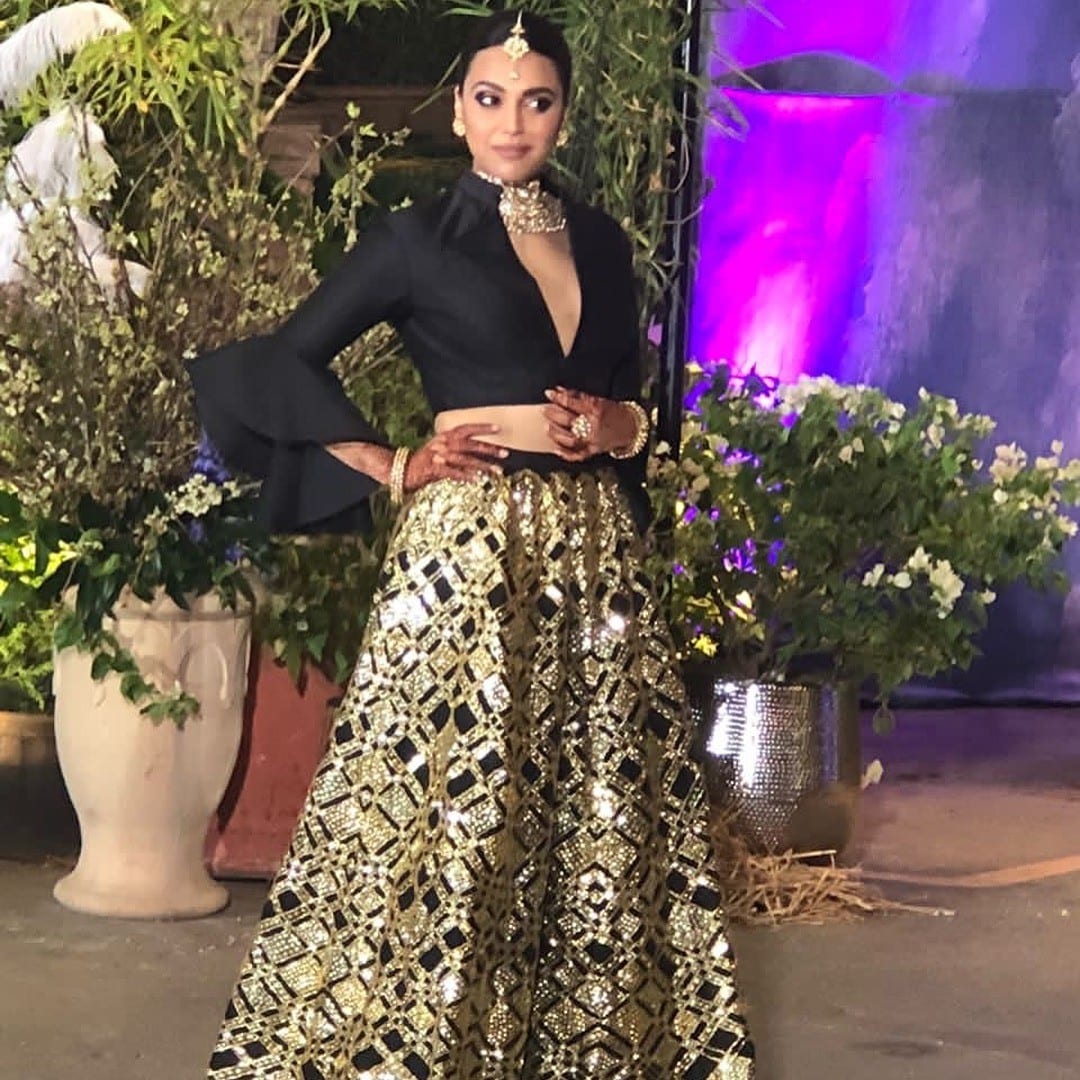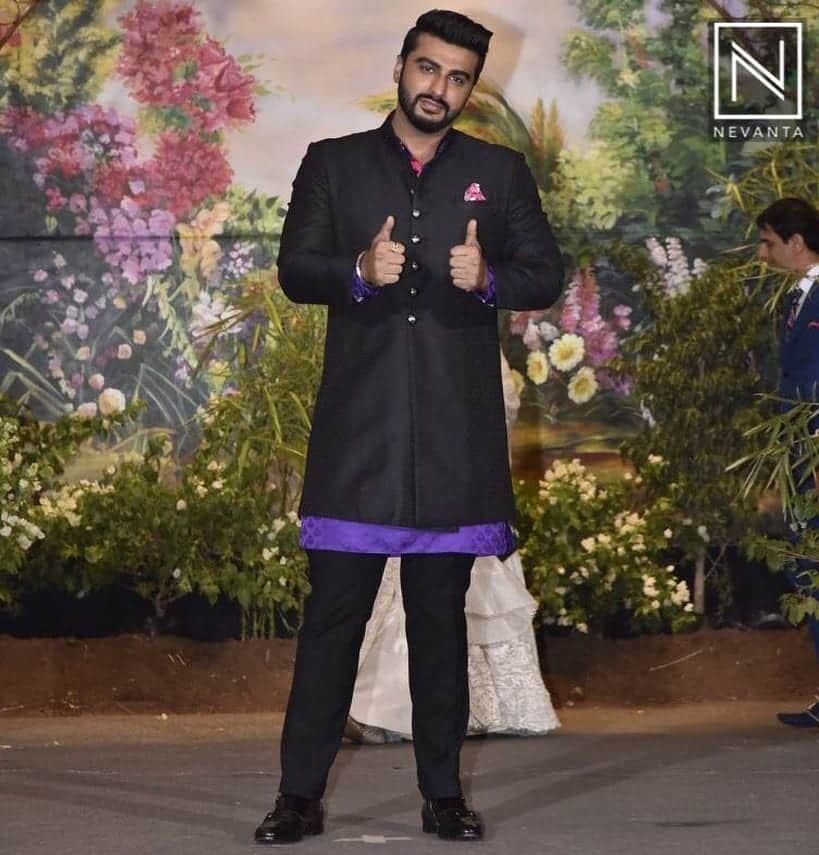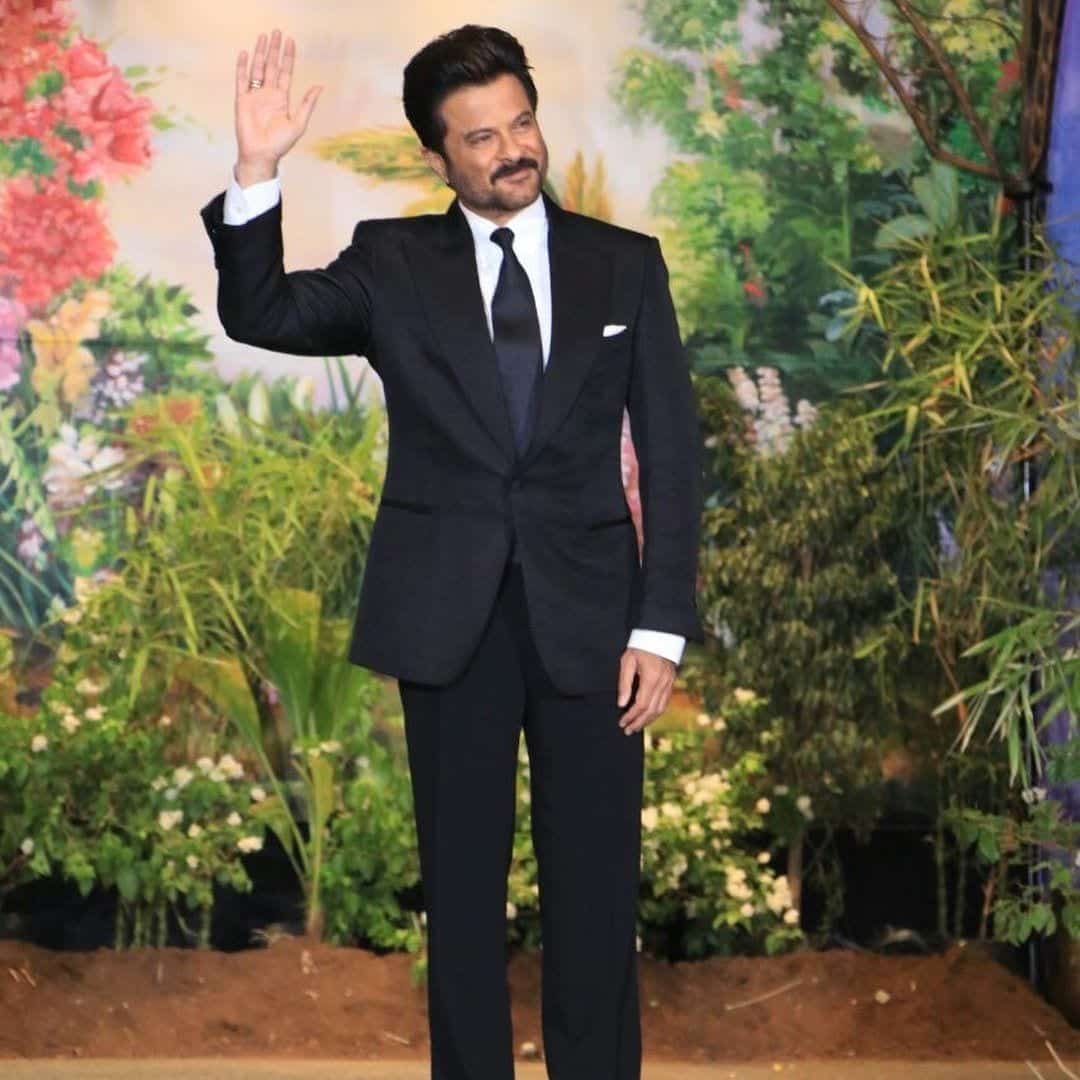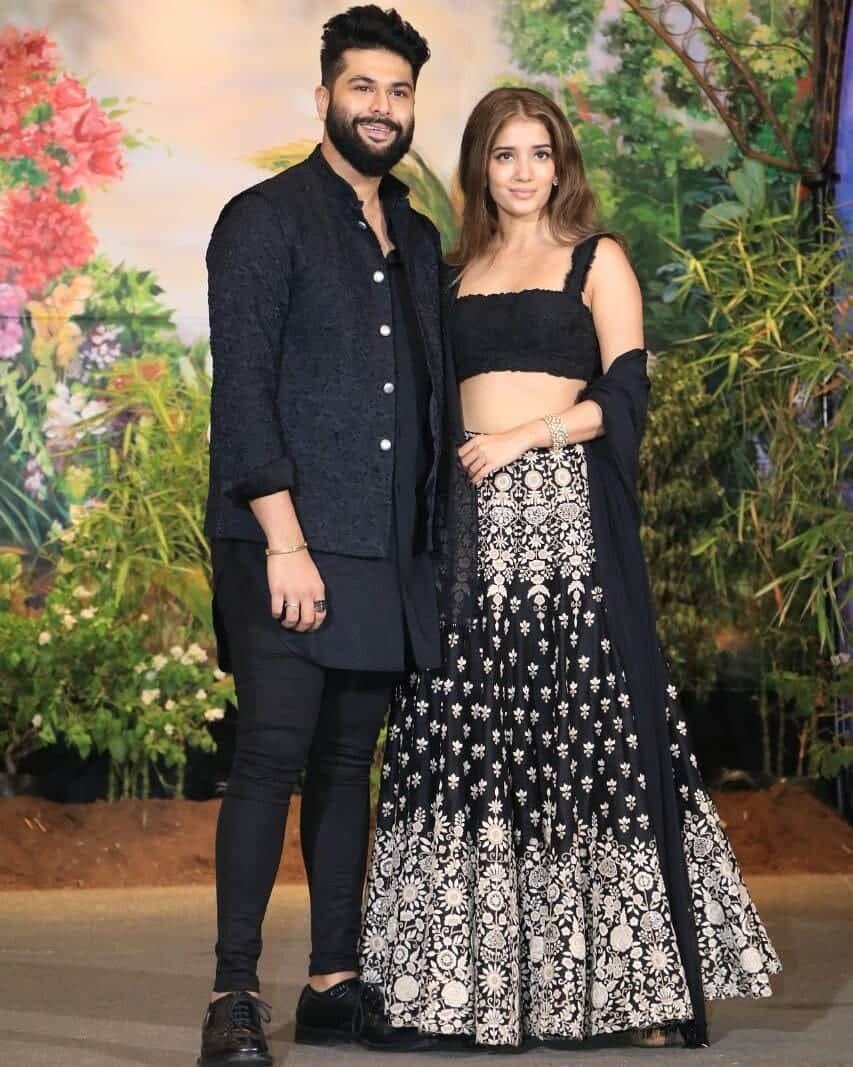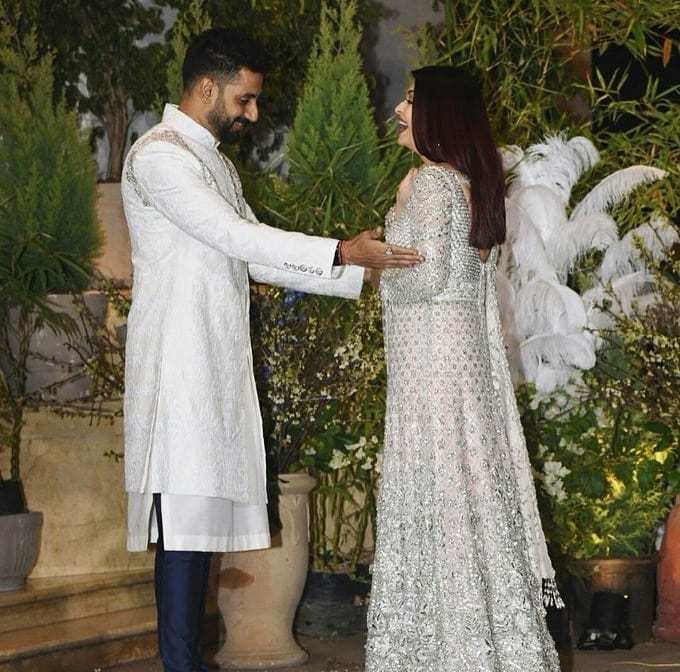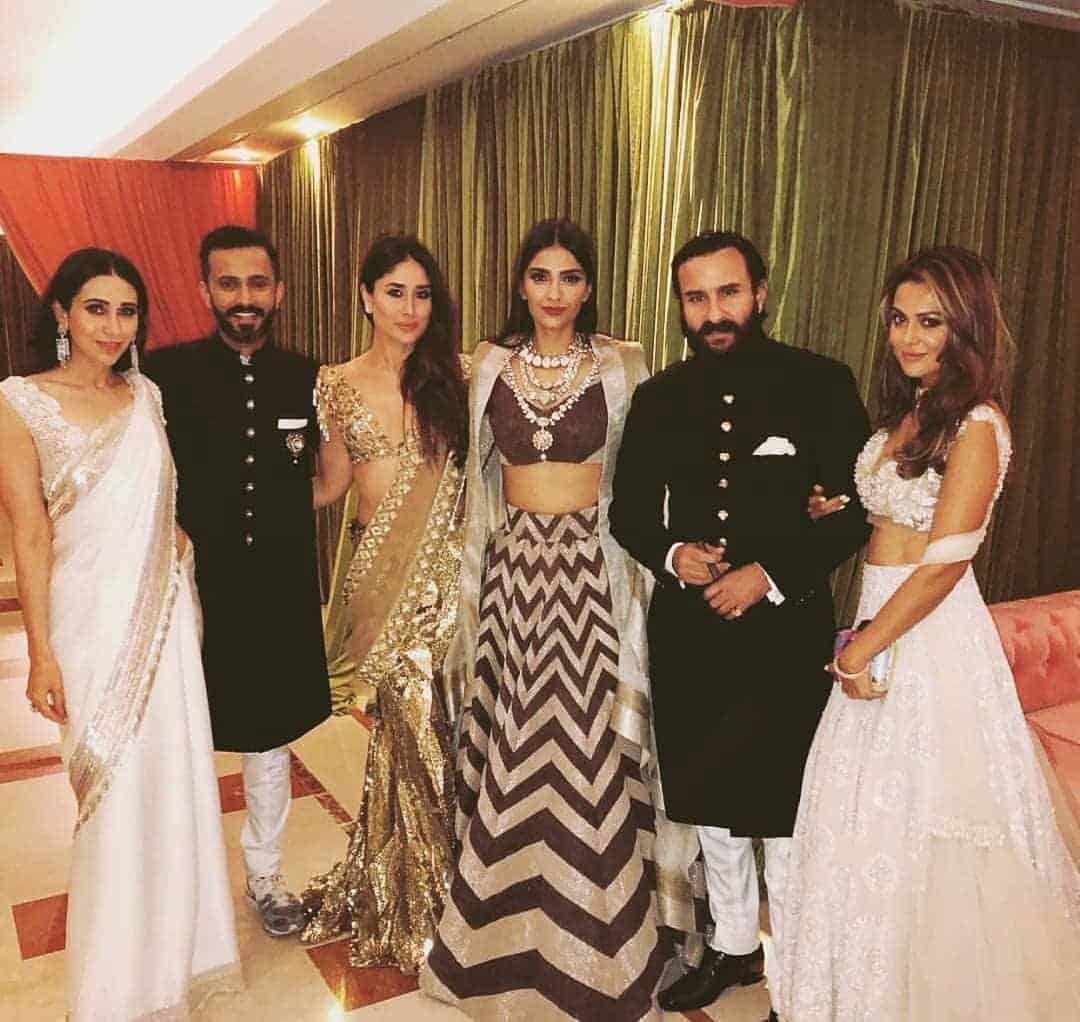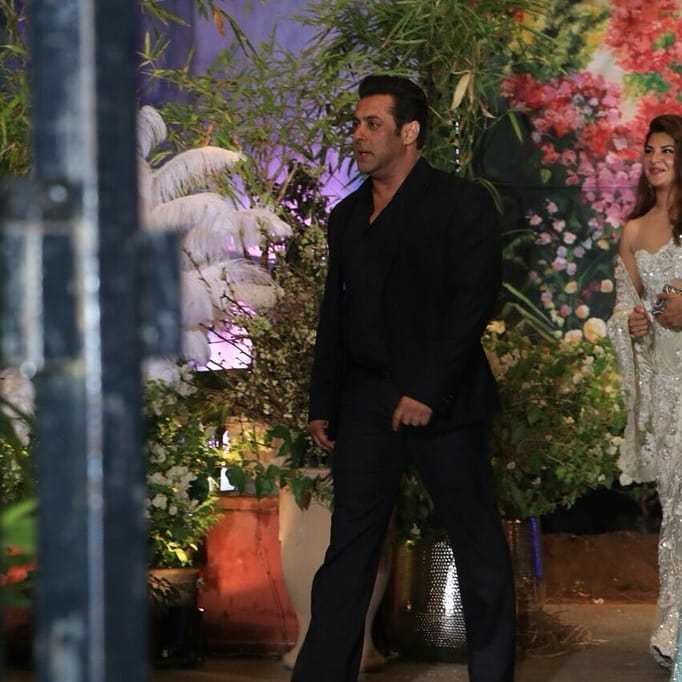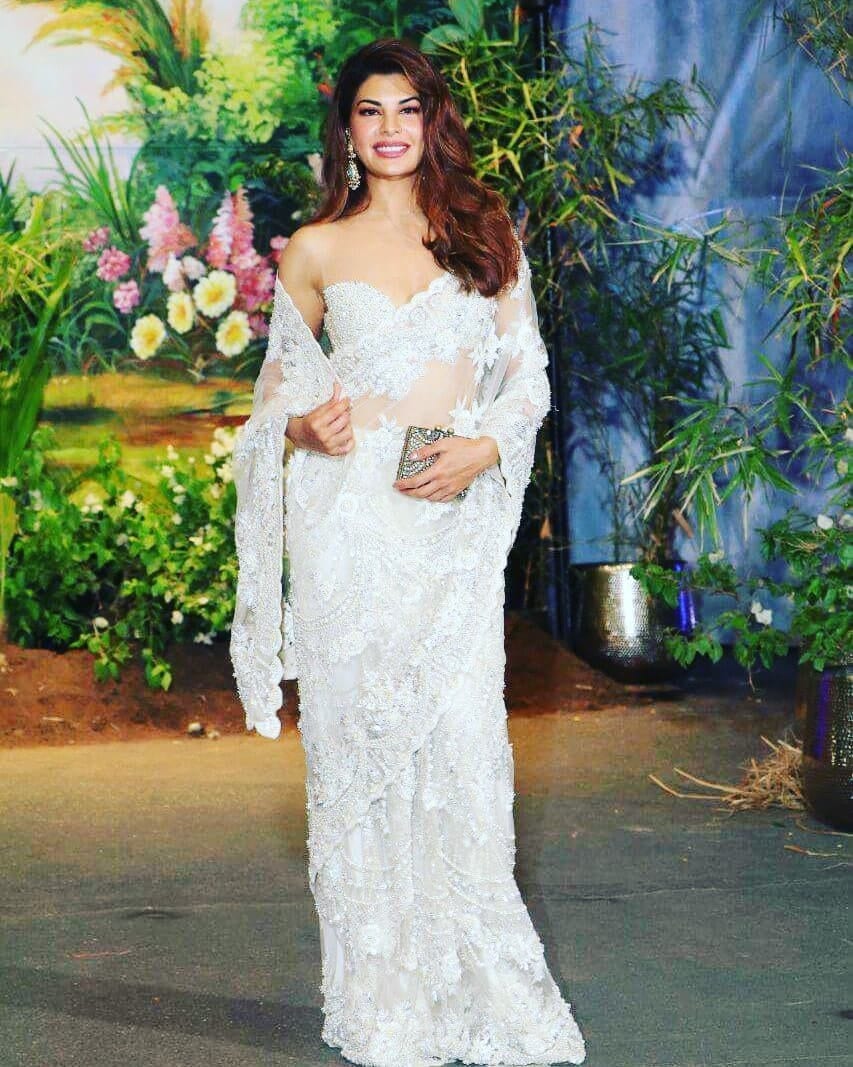 ↓ And the Party Begins! (videos)
You can see all the stars dancing tremendously on Sonam and Anand's wedding night; such passion much wow! Anil Kapoor goes all crazy with magical moves along with the young markers on the dance floor. The DJ Mika Singh adds more colors to the party. The newlywed couple also shared dance steps with the party animals.
May Sonam and Anand always like happily ever after! Congratulations on such a beautiful wedding!!!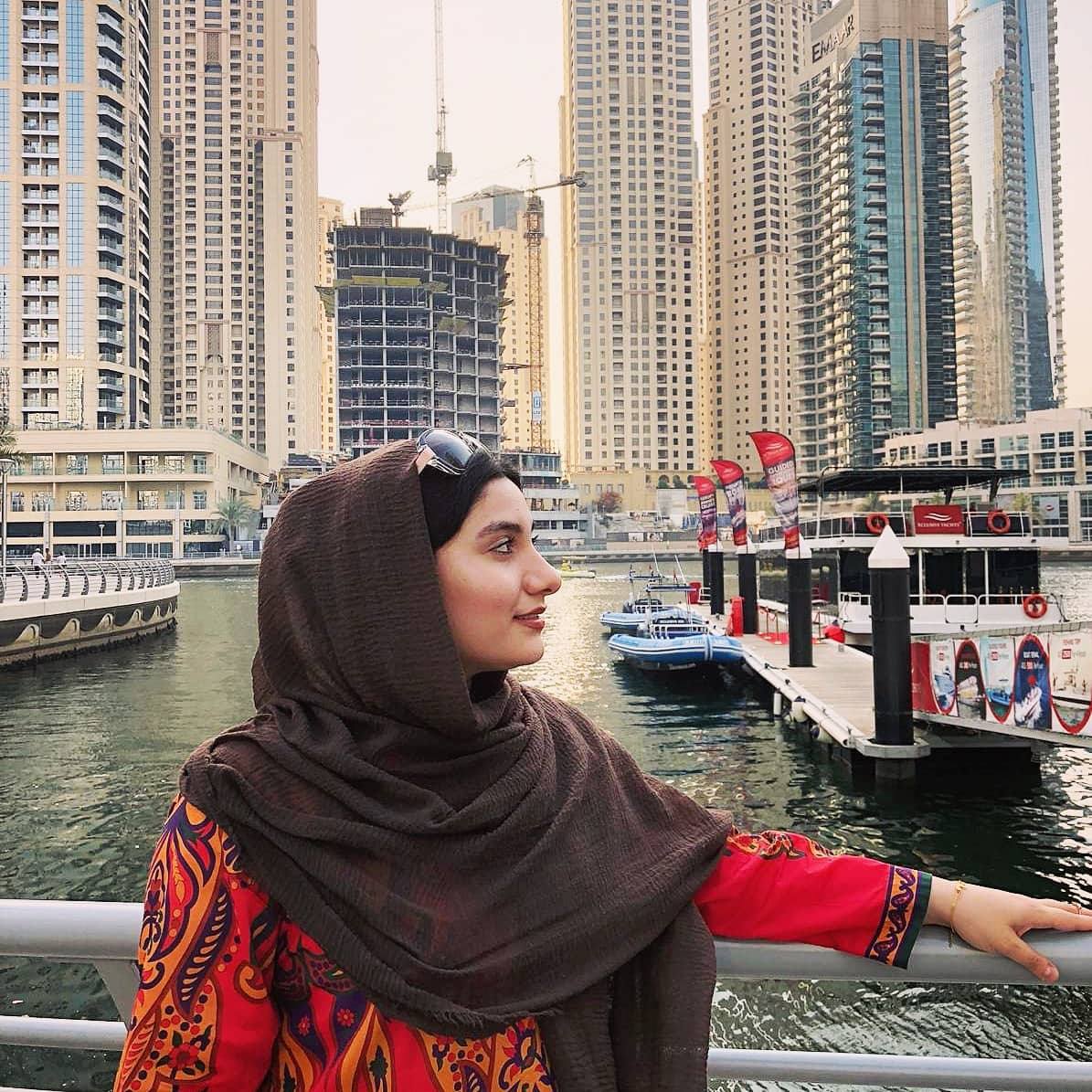 Our Dubai based blogger, Mahnoor likes to change abstract into concrete and therefore, she writes. To write about anything is what she calls an innate trait of a blogger, and so she serves people's craving for reading with her words flowing for fashion, modern era dilemmas, sentimental content or something she's certain you would find unusually interesting. Currently doing her bachelors from National University of Science and Technology and hoping for a great entrepreneurship opportunity if blessed by God. Food is her soul and nowadays she's working on how to abandon her chronic nail-biting habit. In short, you can call her 22-year-old to-be entrepreneur who is only passionate about binge blogging! You can check out more of her work on mahnoorofficial.wordpress.com