How to wear sarees in winter? Tis the wedding season and we are sure you are all set to doll up and dance your heart out. And of course, how can we forget about the delish wedding food. As beautiful winter weddings are, they are also awfully chilly. But how can we let winters ruin our outfits? So, what to do? Fret not ladies! We have curated a list of 20 unique and stylish ways to layer your saree this winter season. These tricks and tips will not only keep you warm but will also help you grab all the attention at the next party.
There is nothing as classy, elegant, and hot as the 6-yard beauty. Be it for the bride, bridesmaids, sister of the bride, or simply for the guest of the wedding, sarees are the quintessential wedding attire. Sarees have stood the test of time and are a classic staple, you can never go wrong with.
What to Wear with Sarees for Layering?
While choosing a saree, opt for a thick material like velvet or silk to keep youself warm and stay away from thin material like chiffon or georgette. Velvet is a regal fabric that will keep you warm and also look elegant.
Go for a full sleeves blouse instead of sleeveless to protect yourself from the chilly cold. You can get some ideas from these latest saree blouse designs.
Wear leg warmers under your saree's peticoat for an additional layer of warmth.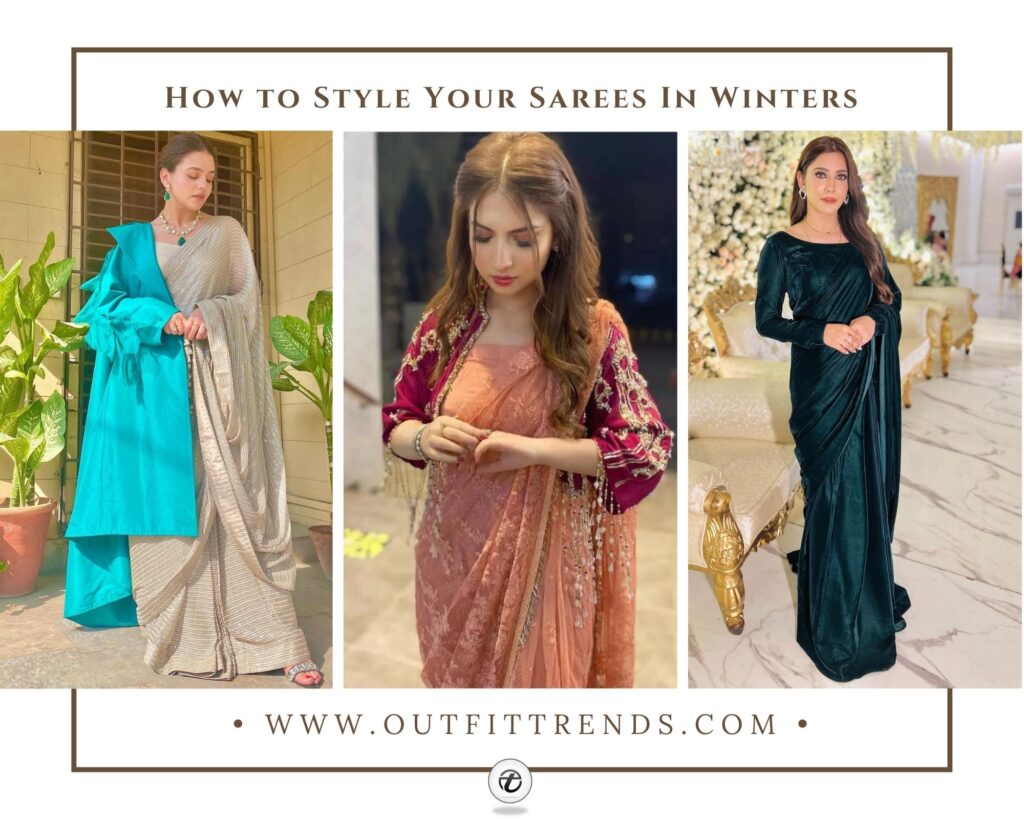 22. Can I Wear a Net Saree in Winters?
Net is the most difficult fabric to wear in Winters but an easy way around it is by wearing a velvet or silk jacket over the saree as this will keep you much warmer than a net saree would on its own. Here are some trendy net saree designs for you to take inspiration from.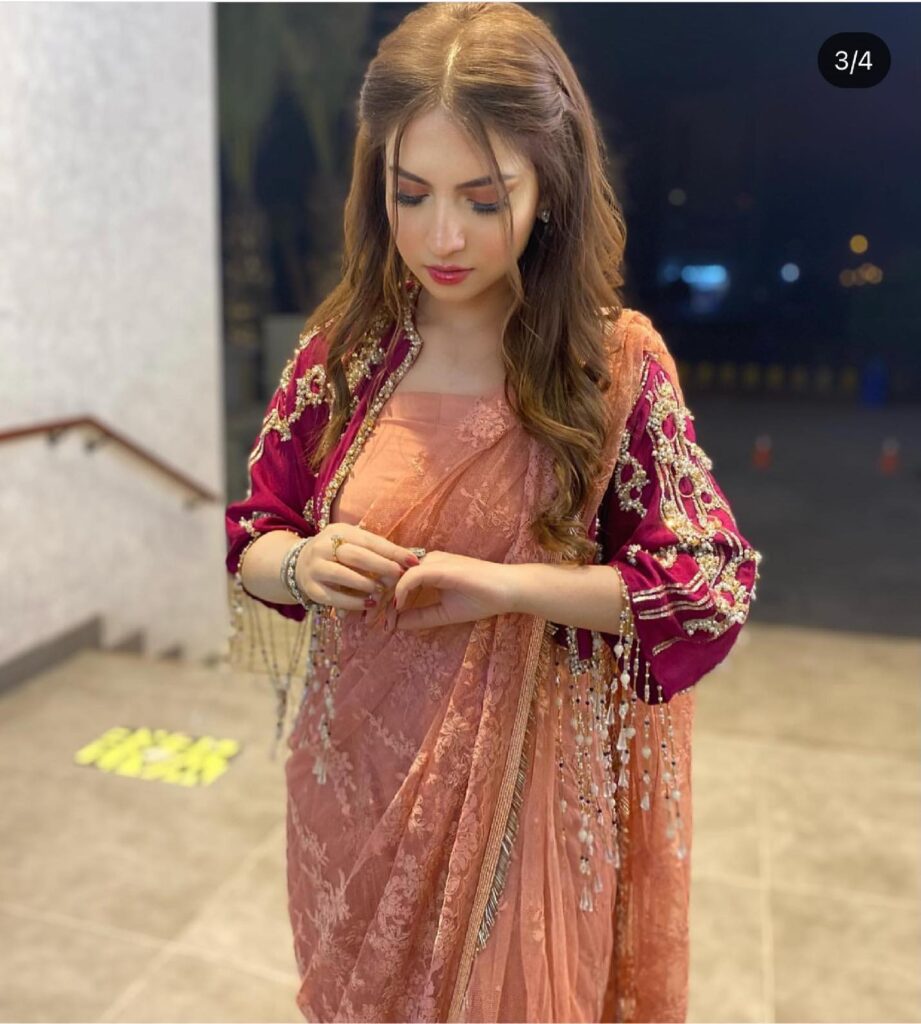 21. Velvet Sarees
Velvet sarees are not just incredibly warm and comfortable for Winters but their classic shine makes them an all-time favorite. Moreover, velvet outfits have been trending a lot this year so it's the perfect time to try a velvet saree.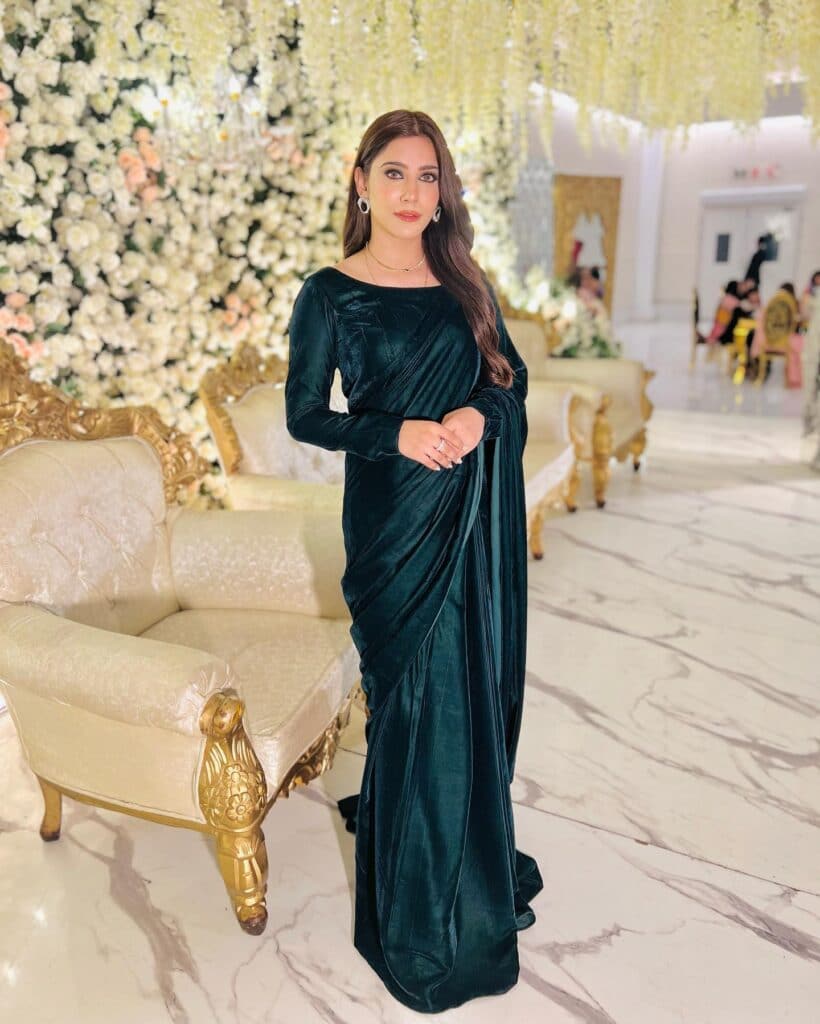 20. Saree with Shawl
A supremely elegant and sophisticated way to style your saree is to pair it with a velvet shawl. A velvet shawl with intricate details or delicate embroidery can take a simple look from 1-10 in a hot minute. Accessorize it with trendy floral jewelry and you are all set to party!
19. With a Kurta
Chilly winters are here and that means, piping hot gulab jamuns, steamy hot showers and tons of layers. Layer your saree with a kurta and protect yourself from the harsh winds this winter season. Appropriate for office parties or luncheons, this effortless look is sure to put you in the limelight and also keep you cozy. If you're a fan of kurtas, don't miss out our post on Best Women's Kurta Pajama Styles for Weddings.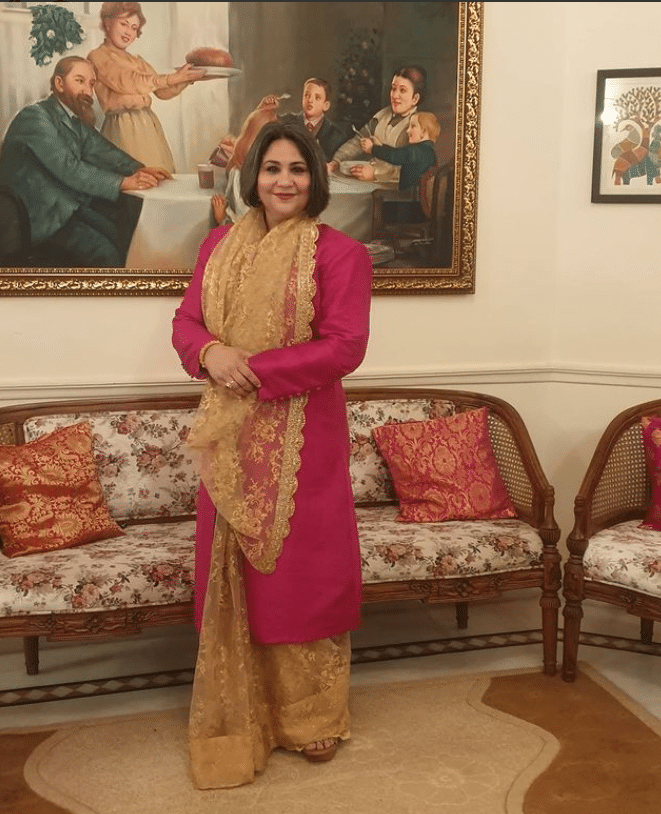 18. With Full Sleeves Blouse
Do not want to hide the intricate work of your saree with a shawl, we got you, girl. Pair your gorgeous saree with a trendy full sleeves blouse and flaunt your stunning saree at that reception or the sangeet party. Full sleeves blouse with matching work is the new trend that has taken the wedding fashion world by storm. An added bonus – it will also keep you warm during those night parties.
17. How to Layer Your Saree With a Blazer or Coat?
Don't think a blazer will look good with a saree? Think again. 2022 is the year of change, modernity, and out-of-the-box style. This is the time of experimentation and we are here for it. Perfect for this winter wedding season, layer your saree with your favorite blazer, open hair, statement choker, and flaunt your super stylish indo-western outfit at the next party.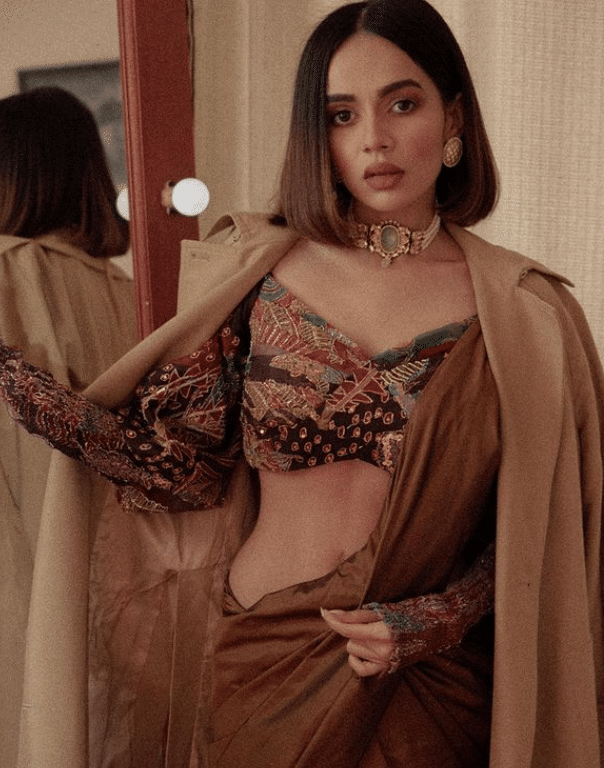 If your saree is a simple one then a bright-colored coat with saree is an excellent way to add a pop of color, especially for Winter weddings.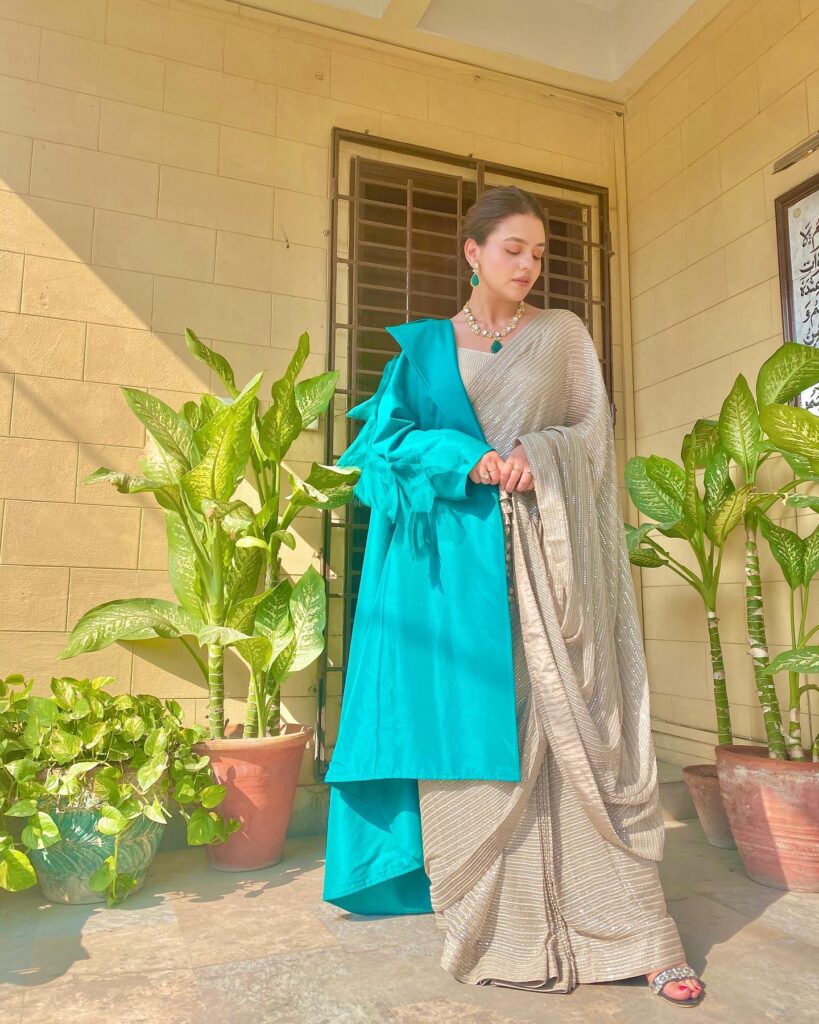 16. Saree with Jacket
Another brilliant way to wear your saree and also look stylish is to layer it with a traditional jacket. Pair your saree with a matching jacket with traditional handwork and you are ready to be the talk of the town. A perfect outfit for a cocktail or even a haldi party, this outfit is super cozy and will make you look like a million bucks.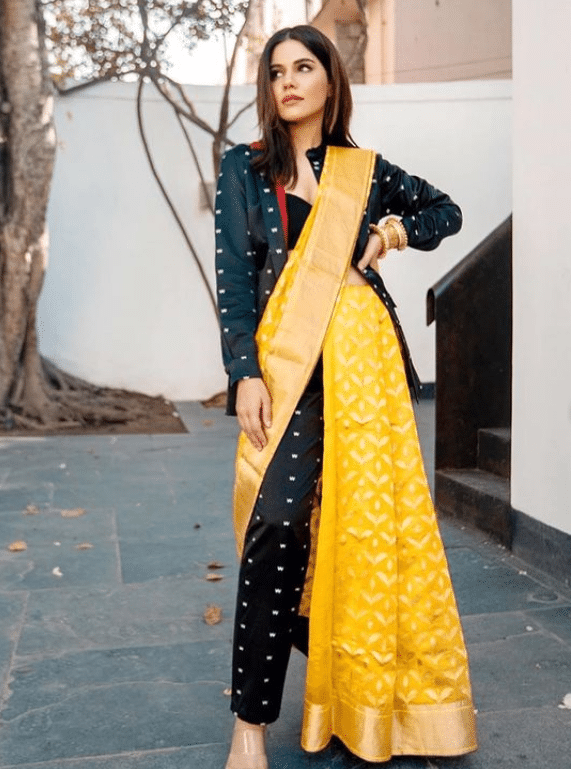 15. With a Velvet Crop Top
Perfect for an evening of fine wine and cocktails, this stylish combo of saree paired with full sleeves off-shoulder crop top is gonna look just as hot as it's going to keep you warm. The glossy velvet fabric will make you look like royalty while also keeping you cozy. Ditching the traditional blouse and layering your saree with a crop top in a thick fabric is the smart move you need this winter wedding season.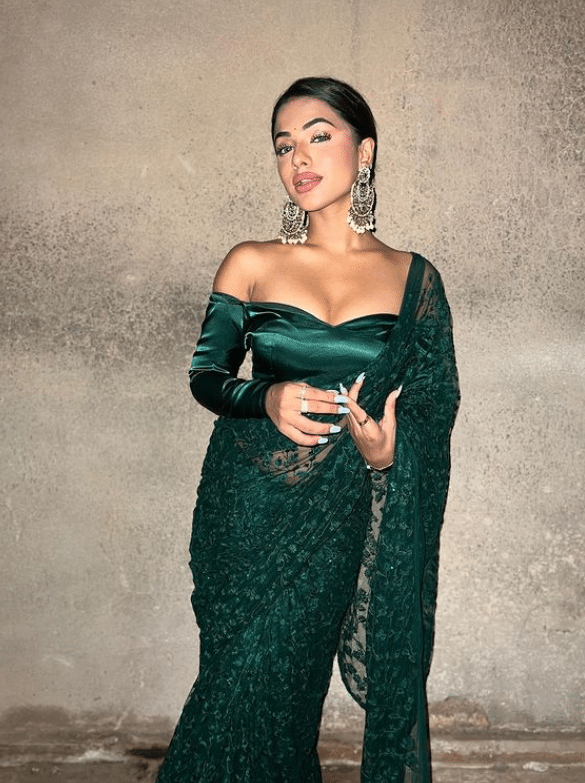 14. With a Cape
For all our fashionistas out there, who want to jazz up the classic saree, we hear you and we have got something exciting for you. Pair your saree with a matching cape to put a contemporary spin on an otherwise traditional outfit. Modern, classy yet super stylish, this out-of-the-box look is sure to make you stand out from the crowd.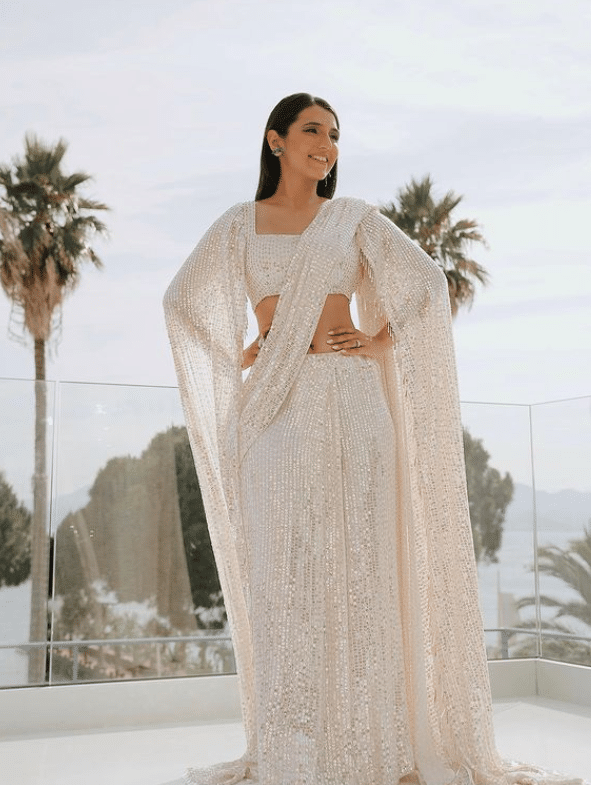 13. Saree with Trench Coat
What is wedding wear without sarees and winter wear without a trench coat, mix the two classics and you have got yourself an absolutely stunning outfit that we are sure is gonna turn you into the next Instagram influencer. Opt for a monotone look for an understated yet sophisticated cocktail outfit, pair it with statement jewels and you are all ready for this winter season.
12. With a Kaftan
A super chic and modern take on traditional attire, this saree paired with kaftan will definitely raise the hotness meter. This show-stopper outfit is sure to make you the star of any party you wear it to. Pair it with minimal jewelry and let your stunning outfit do all the talking. If you like this look and are a fan of kaftans then fo check out this detailed post on how to wear kaftans.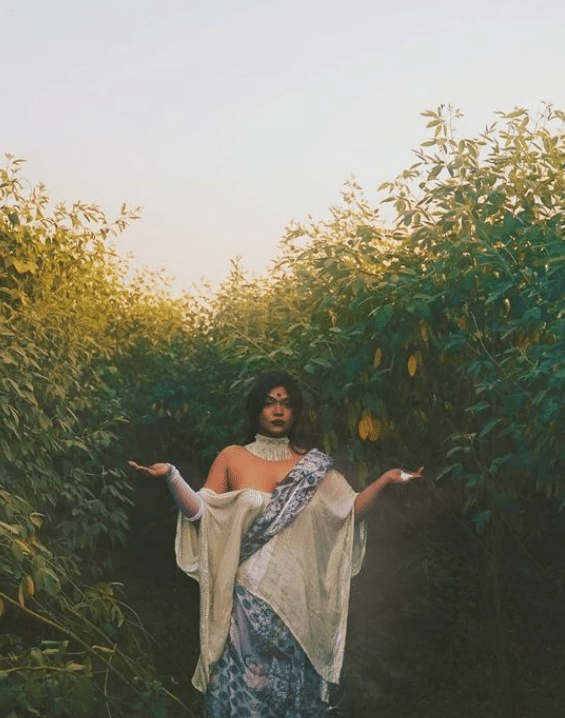 11. With a White Shirt
Another quick and easy way to keep yourself warm and also look stylish this winter season is by ditching the traditional blouse and pairing your saree with a white shirt. A casual daytime look, the white shirt will keep you comfortably warm during the day and the saree will all its charm will make you stand out. Style it with a messy bun, oxidized silver earrings and you are good to go.
10. With Arm Warmers
Arm warmers have been making quite a noise and are a hot favorite amongst celebrities and influencers. To up your fashion game, layer your hand-painted saree with contrasting arm warmers, jeans, and some boots and your influencer-approved look is ready, now all you have to do is pose for some insta-worthy snaps.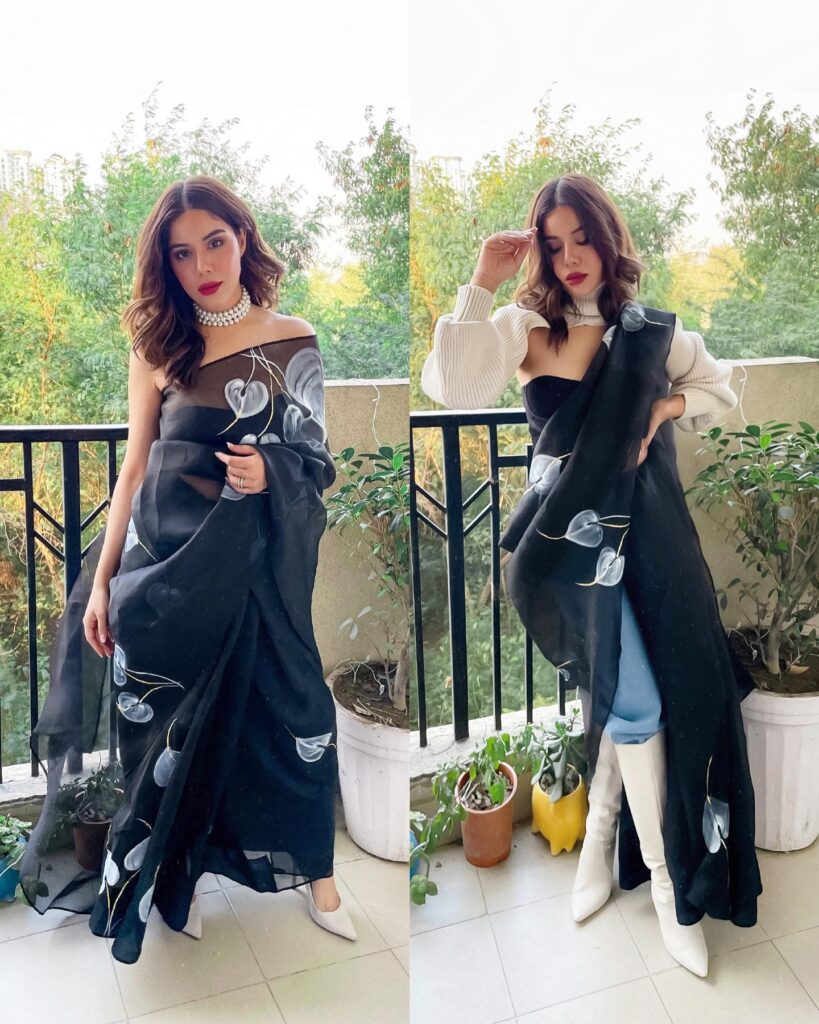 9. With a Cropped Jacket
For a young and upbeat vibe, layer your saree with a short jacket in a contrasting shade and grab all the attention. Super chic and fun, this versatile fit can be worn at a school farewell, baby shower, or at an office party. Style it with statement shoes and turn heads.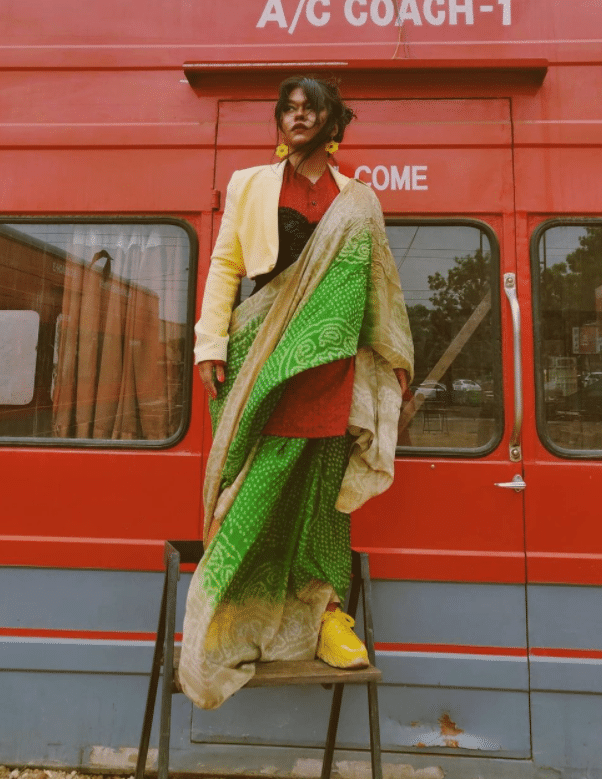 8. Bridal Saree with an Extra Dupatta
For a sultry yet very elegant bridal look, add on a layer of dupatta with your gorgeous saree. The extra layer will not only add a layer of heat but can also be used to create a magical train or be worn as a veil. This quintessential bridal look is perfect for your reception party. Style it with a layered necklace, sindoor, and our beautiful bride is ready to woo her groom.
7. With a Turtleneck
Winters without high necks or turtlenecks are unimaginable. High necks are a winter staple that is found in almost everyone's wardrobe across gender. Then why not pair this winter classic with your classic 6-yard beauty and create magic. Layer your saree with a contrasting high neck, accessorize it with rani haar and your modern-royal look is done.
6. Saree with Denim Jacket
It is almost December, and we know you must be fretting about your farewell outfit, don't worry girls, we've got your back. This saree layered with a denim jacket is uber chic and stylish winter outfit that is cozy and has a whiff of freshness to it. This young and fun look is perfect for the free-spirited fashionistas who want to stand apart from the crowd.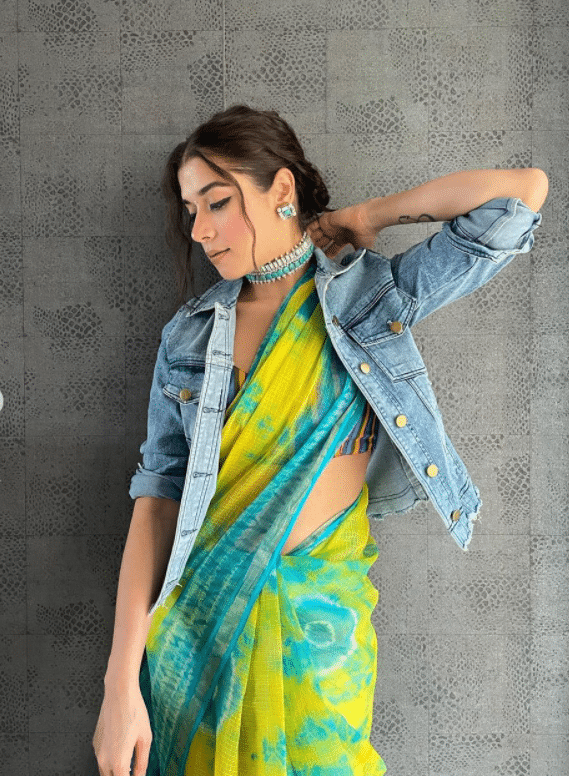 5. With a Leather Jacket
For all our rocker-chic ladies, we have got something for you too. For an edgy, biker chic look pair your saree with a classic leather jacket. Opt for a monotone saree and pair it with a black leather jacket and rock your voguish outfit like the absolute diva you are.
4. With a Vest
A formal, office-appropriate fit, an elegant saree layered with a contrasting vest is all parts formal and sophisticated. Accessorize it with minimal silver jewelry, sleek bun and you are ready to ace that interview or that important meeting. Whatever you do, don't forget to have some fun.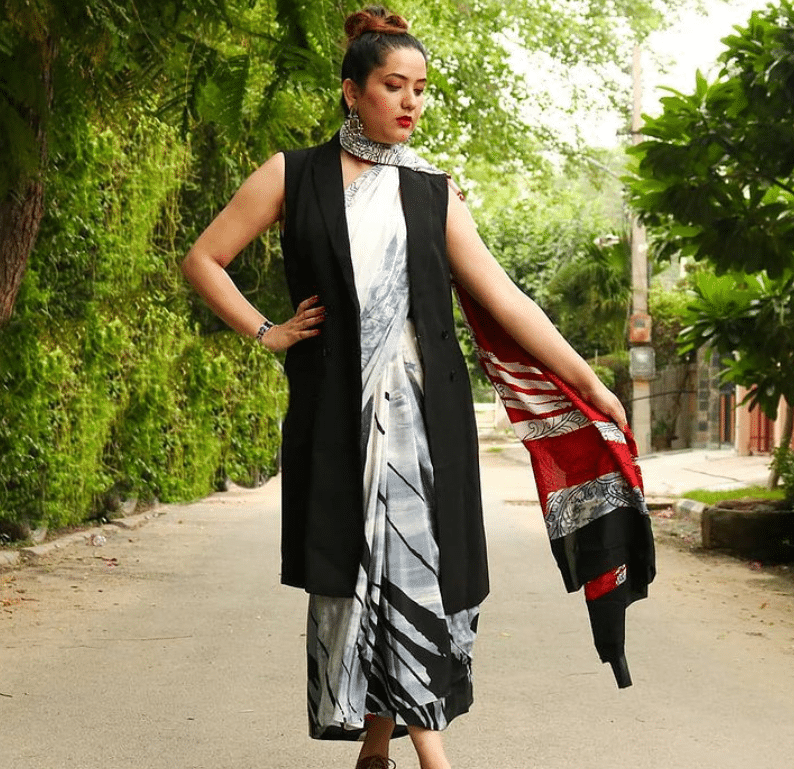 3. With an Angrakha
If you want to go all traditional but also don't want to freeze in the December winter, fret not! Layer your favorite saree with a contrasting or matching angrakha kurta for a traditional yet modern look. This supremely stylish look brings two beautiful traditional pieces to make one show-stopper outfit and we are here for it. Stylize it with a side bun and wear a bindi to complete the traditional look. A silk saree is the best choice for this as it comes in gorgeous solid colors and has a great fall, so here are some more ideas regarding the latest silk saree trends.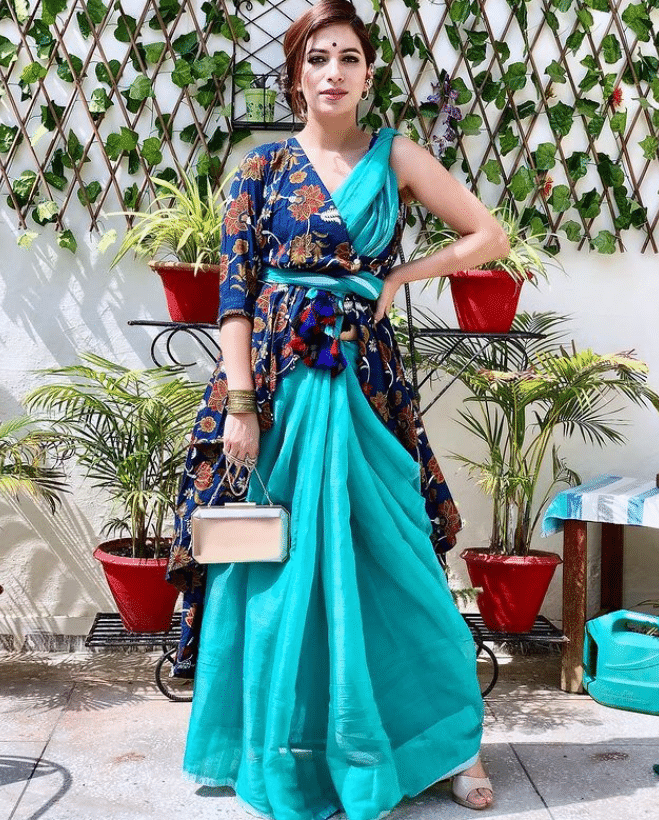 2. Saree with Sweater
Who said you can't wear a sweater over a saree? When paired well, sweaters can actually uplift your saree look to a whole new level. Perfect for cold winter evenings, pair your favourite saree with statement earrings, blow-dried hair and layer it with a matching fitted sweater and voila, you are all done. Give it a try and let us know in the comments below how did you like it?
1. With a Tux
Perfect time to raid your brother's, boyfriend's or father's wardrobe and layer your traditional saree with a classic tux. A super trendy, out-of-the-box look, this look will not only keep you warm but is sure to direct tons of compliments your way. Style it with smokey eyes, a messy bun, and a rose in the hair. You can also wear a corset belt to pull the whole look together.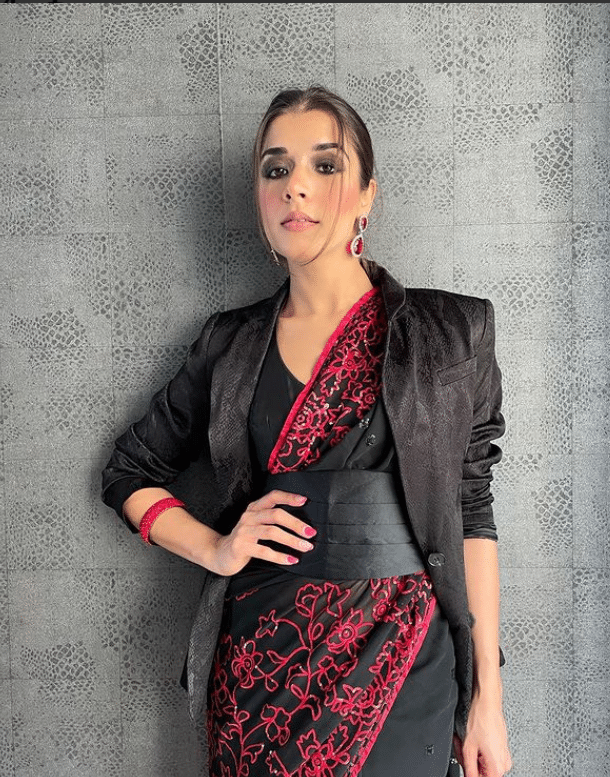 Frequently Asked Question
Q. Can we wear silk saree in winter?
Silk is a great fabric to pull off at a winter event. The grace of a silk saree is unmatched and its thick material will keep you warm and cozy during the winter nights.
Q. How to wear saree with sweater?
Opt for a fitted sweater and wear it as a blouse over your saree. Pick up a sweater in a contrasting shade, pair it with statement earrings or wear it with a choker set for a more dressed up look and voila you are all ready to party.