Kurta Pajama Styles for Wedding: The wedding season is one of the most overwhelming time for sure. Everyone is worried about so many things, and women are the most concerned about their outfits. Be if it a bride, sister, cousin, friend, or relative- everyone wants to look the best.
It is not just about an expensive or fancy dress- it has a lot more to it! Women want the perfect color, matching shades, laced up dupattas, on-point tailoring, and whatnot. In the time of such hassle, don't confuse yourself and don't care about what other people will be wearing.
Focus on yourself only and know that you need an outfit that is the right amount of fancy and decent. What popped up in my mind after hearing these two words? Was it kurta pajama or some other thing? Well, if it wasn't this, then keep on reading because we have all that you need to know about women's kurta pajama for wedding styles. Let us tell you why it is the best choice for this year!
How to Wear Kurta Pajamas on Weddings
Here are some tips for wearing kurta pajama gracefully for any wedding event:
Matching the right shoes and accessories with a kurta pajama outfit is very important, or it can totally ruin your look. For example, high heels will go well with a long kurta pajama, and Khussas look great with flowy bottoms like tulip pajama.
Wear the style of kurta pajama that will go well with your body structure. Some styles are more flattering on specific body shapes.
It is essential that you only wear the style that makes you feel effortlessly beautiful and comfortable.
Make sure you are choosing the right fabric for your pajama, for example, silk makes the best churidar and tulip pajama and Banarasi fabric is ideal for sharara and palazzos.
Your Outfit must be balanced, for example, if you are wearing an embellished pajama, your kurta should be a little dull and vice versa.
If your kurta is simple, make it stand out with statement sleeves, eye-catching neck styles and slits.
Keep the weather in your mind and style your kurta pajama outfits for the wedding accordingly. If it is cold, pair your outfit with a velvet or pashmina shawl. Incase of summers, net dupattas look the best, or you can style the one that is with your suit.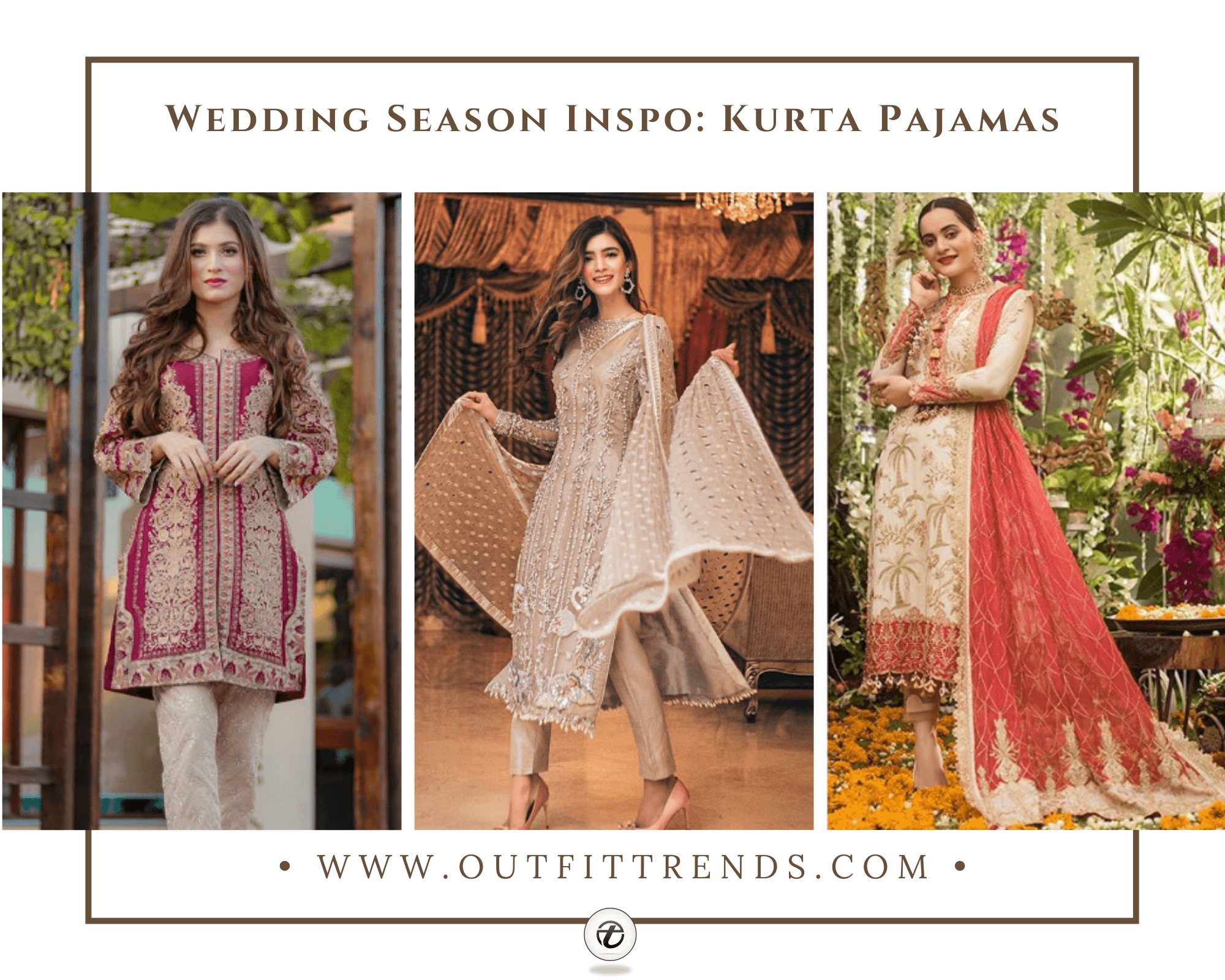 ↓ 32 – Best Kurti Color Combination Of The Year
Coral & offwhite is definitely a unique and new combination that we'll be seeing a lot this wedding season. It looks great on Asian skin tones and both embroidery and gotta work well with this colour scheme.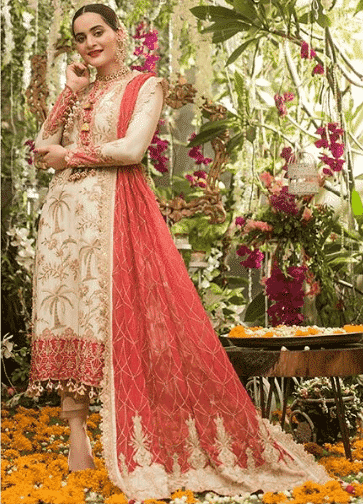 ↓ 31 – Angrakha Style Kurtis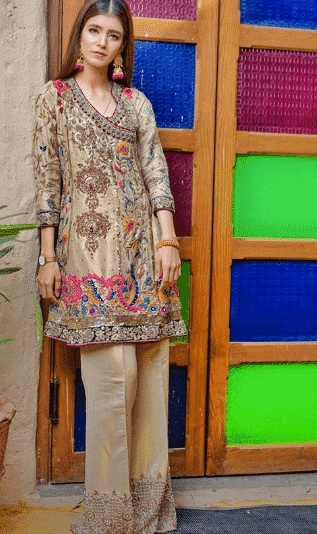 ↓ 30 – Trousers with Sheer Lace Borders
For the wedding of a relative, neighbors, or someone you are not very close to, you need a simple little outfit. Prefer wearing kurta pajama in pastel shades with slight embroidery and detailing like sheer embroidered lace borders. Such borders will add all the drama to your dress that your wedding outfit needs. Style your ensemble with statement jewelry and your favorite pair of shoes.
↓ 29 -Velvet and Banarsi
Winter weddings are the best because you get to incorporate velvet in your wedding attires. Velvet shirts with Banarsi trousers and net dupattas make the most on-point wedding guest dress. All you need to do is style it up with some pearl accessories and high heels. Such dresses are best for girls in their twenties and early thirties, as it is just the right amount of fancy and decent for a young girl.
↓ 28 – Summer Wedding Inspo
No one likes summer weddings, especially if it gets too hot in the city. But still, they happen, and you have to attend them. If by chance you encounter a summer wedding in your life, know that a long lawn shirt and churidar will rescue you. Add fancy pearl lace to borders and sleeves of your Outfit and pair it up with some dainty accessories and heels. Moreover, dark makeup with bronzer and popping blush on would look good if your Outfit is light-colored.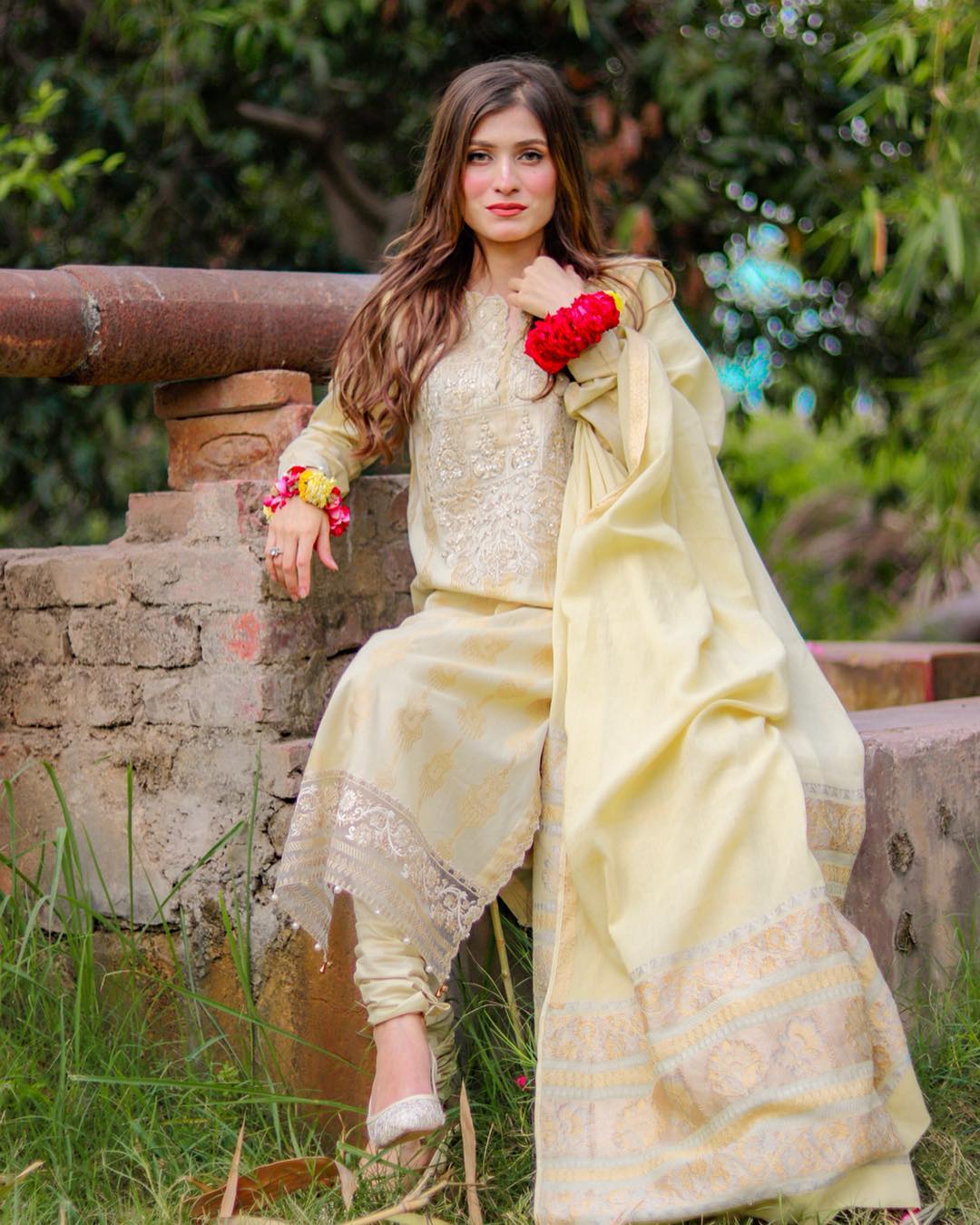 Here is another look of long kurti with trousers but the difference is that this kurti is made from a heavily embellished fabric so it has an extra X factor to it.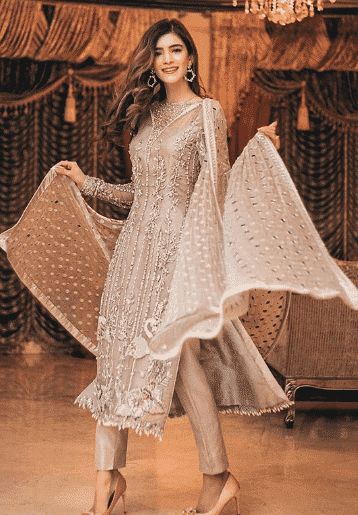 ↓ 27 – Sparkling Outfit
If you are the bride yourself or it is the wedding of a very closed one, you need a fancy outfit that has some sparkle. So, to steal the spotlight, get yourself short kurta and a straight trouser that has nice lace or bead detailing all over it. Pair your Outfit with shimmery heels and play with your makeup and hair. Remember not to overdo anything!
↓ 26 – All Glam Outfit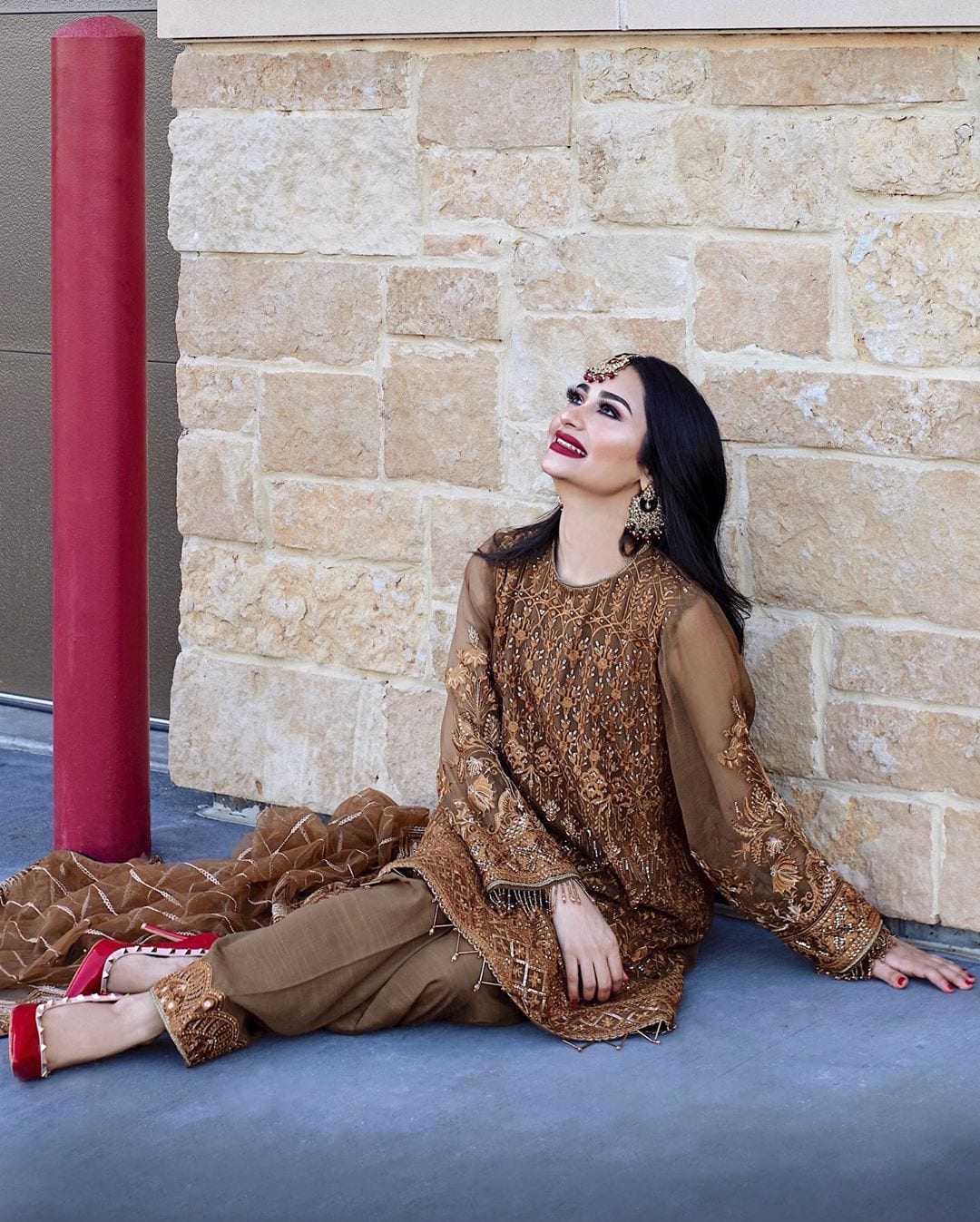 ↓ 25 – Peplum Short Kurti with Pajama
Peplum Kurtis and shirts have made quite a stir, and have been a popular choice for wedding outfits this year. A peplum shirt can be easily matched with variations of pajamas and gives you that smart look. Have a look at these 17 ways to Wear Peplum Tops in Summers.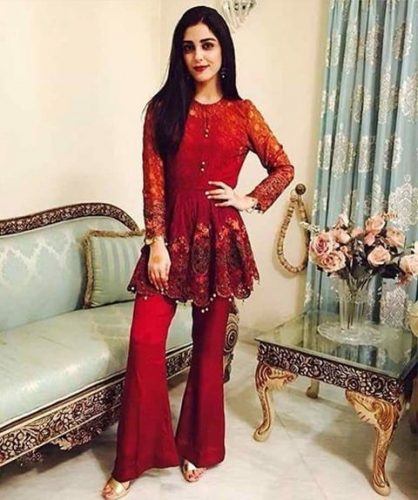 Via
↓ 24 – Designer Kurta Pajama
Are you confused with what colors and designs to opt for? Go for a designer kurta pajama. It will not only be custom made on your choice according to your preference but will also make you stand out.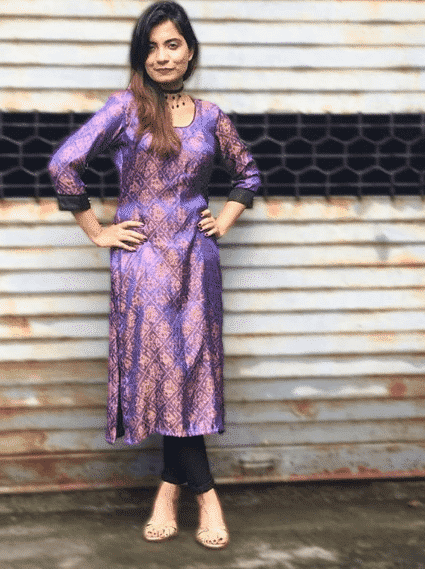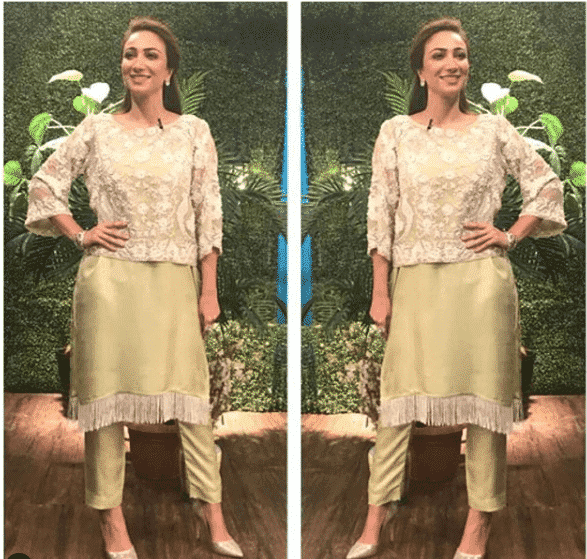 ↓ 23 – Punjabi Style
Are you going for a desi ethnic look? Look out for these evergreen Punjabi kurta Pajama combos.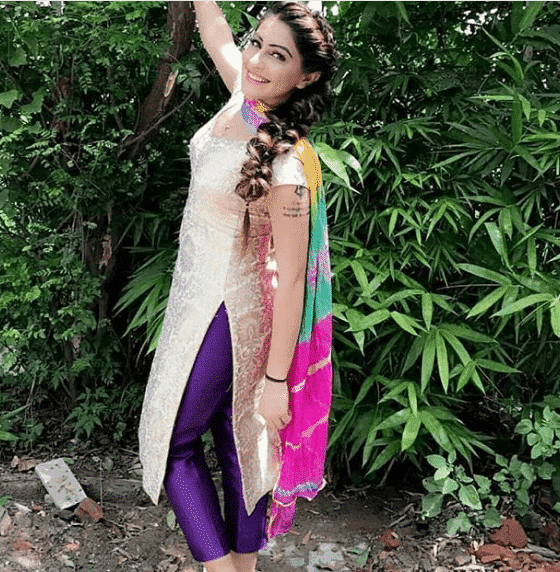 ↓ 22 – Celebrity Style
If you are a girl who can't live without the color black or the girl whose wardrobe is filled with dark-colored outfits, we have the perfect solution for you. Add some vibrant colors to black kurta, and you are good to go!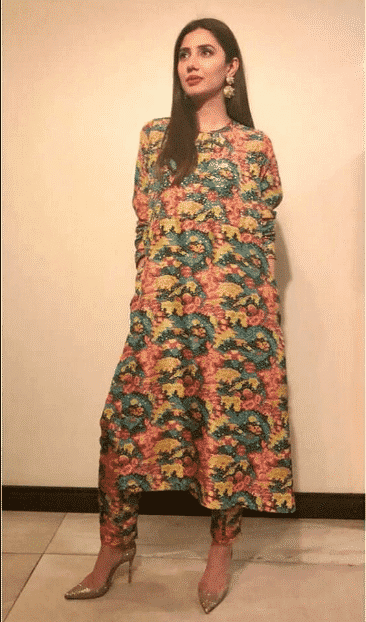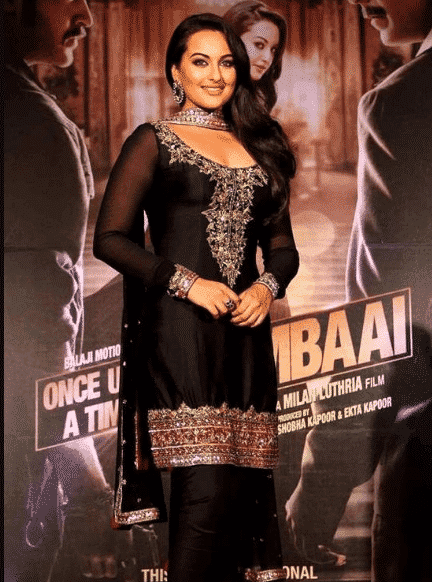 ↓ 21 – Pastel Kurta with Matching Pajama
You can never go wrong with pastel kurta pajama in a summer wedding affair. Not only do these soft pastel colors like mint green, fawn, sky blue, etc. are cool on eyes, but will also give you that perfect chic formal look.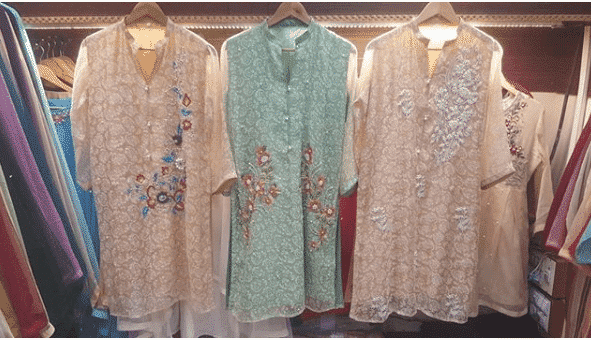 The gorgeous Pakistani supermodel, Sadaf Kanwal, looks spectacular in a pastel kurta pajama from AUJ that she's rocking at during the day time.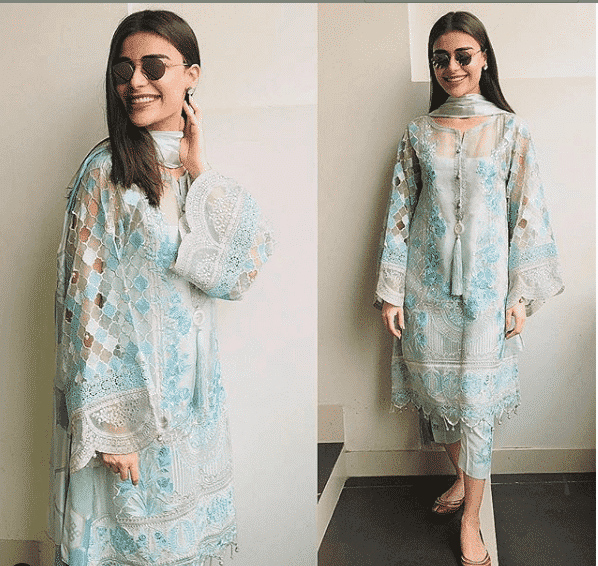 ↓ 20 – Dhaka Pajama with Kurtis
These Dhaka Pajamas with Kurtis are a perfect reflection of the rich heritage of sub-continent. Wear a lavish Dhaka Pajama with kurta for a dramatic entrance! Here are Indian Ethnic Wear Sarees In Modern Day fashion.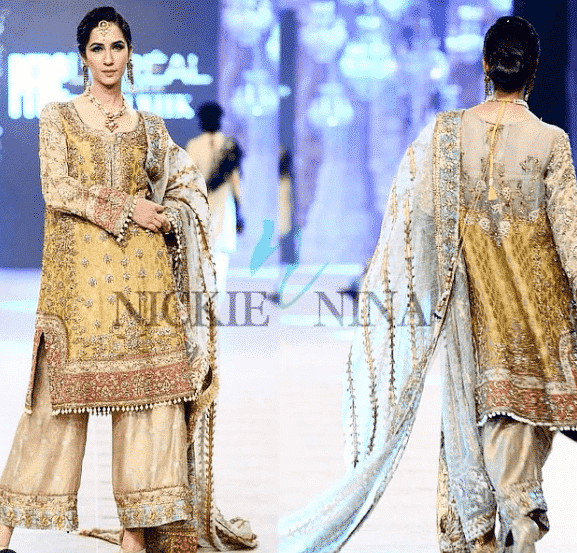 ↓ 19 – Cinched Kurta
Opt for a slender look by using Cinched Kurta Pajama tapered at the waist to give you that faux hourglass look.
Via
↓ 18 – Cold Shoulder Kurta
The fashion world is abuzz with these bold cold shoulder sleeves. This season you can wear a cold shoulder kurta with pajama for a stylish look.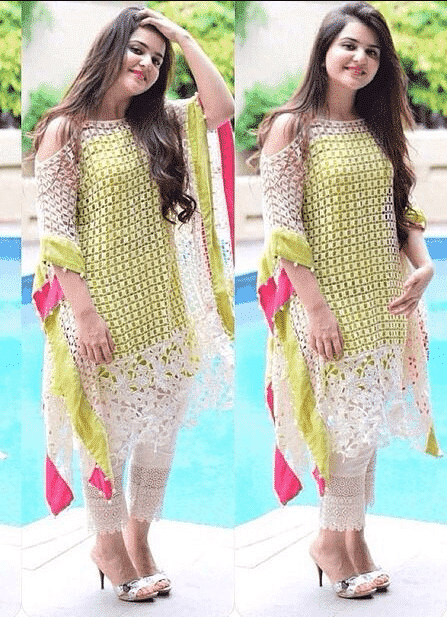 ↓ 17 – Angarkha Style Kurta with Pajama
You can never go wrong with the angarkha style Kurta and pajama when styled with a beautiful pair of heels.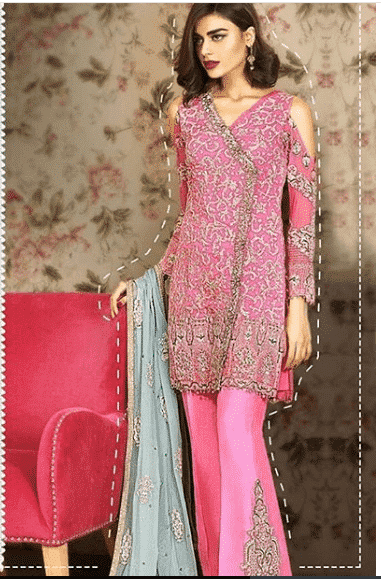 ↓ 16 – Long Kurta
Wear a perfectly detailed long Kurta with shiny trousers and heels to elongate your figure and to add a subtle touch of elegance.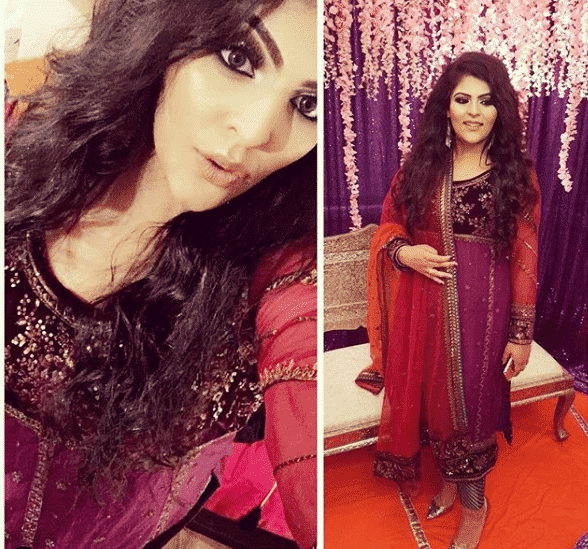 ↓ 15 – Beaded Tulip Pajama with Cutwork Kurta
If you are a keen fan of the latest fashion looks and styles, this is the perfect outfit for you. Tulip Pajama paired with a suave kurta is the hot pick of the year. Do check out these 18 Ways to Wear Palazzo with Kurtis.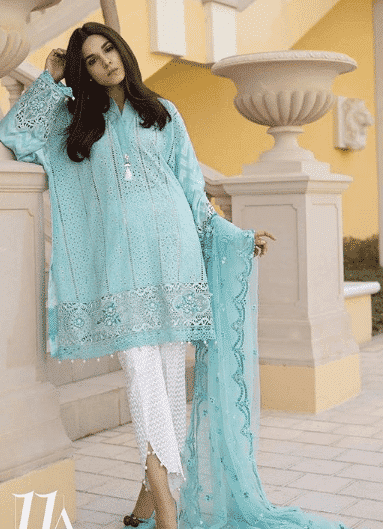 ↓ 14 – Bell Sleeved Kurta with Plain Pajama
Are you all about contemporary cuts? Pick up a bell sleeved short kurta with Pajama and flaunt it at the next event.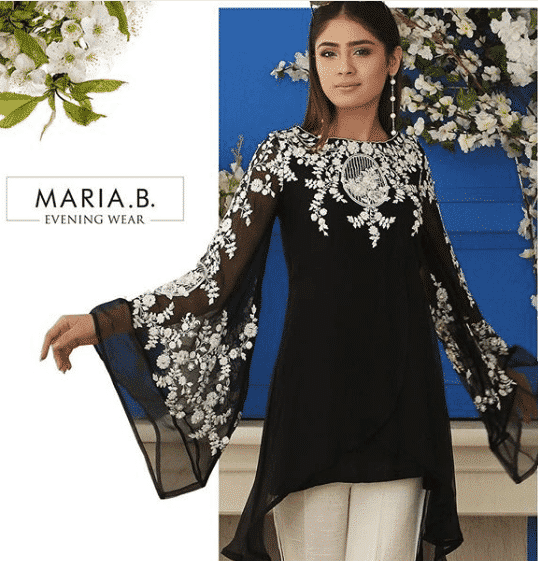 ↓ 13 – Open Front Kurta
Add a twist to the wedding ensemble with slitted front open Kurta featuring a straight hem along with smart pajama for a classy look.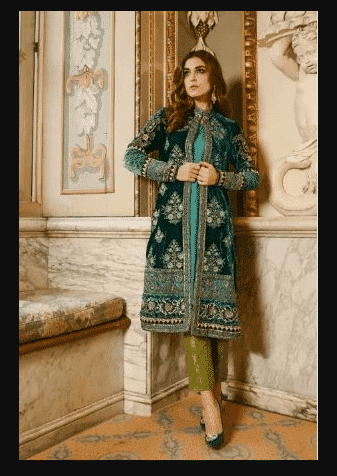 ↓ 12 – Buttons All the Way Down
Often with little extra touches here and there, a perfect piece of tasteful wedding outfit can be created. We have displayed here a similar design. Add a line of beautiful golden buttons to your pajama and pair it up with a beautiful kurta to enhance the overall look.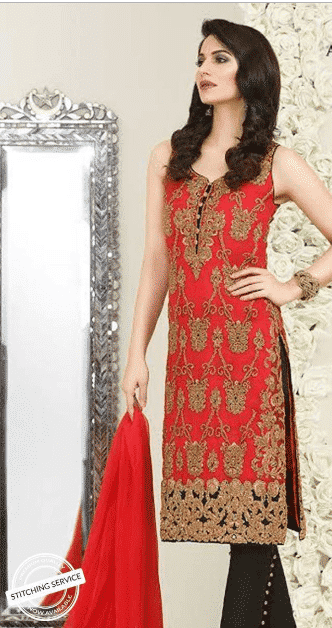 Via
↓ 11 – Queen of Funk
Funky colors look great on wedding guests in every season and especially on the occasion of mehndi or Haldi. This fashionable Outfit is by the Internationally acclaimed Indian designer Sabyasachi. Tamanna Bhatia is looking fabulous in this kurta that has been paired with churidar pajama and chiffon dupattas. The kurta has been made to stand out with Tilla embroidery. It's a pretty simple and elegant outfit, and yet it makes you look genuinely confident and bold. You can also get a similar outfit stitched by your local tailor if your budget is low. All you need to is show him this picture.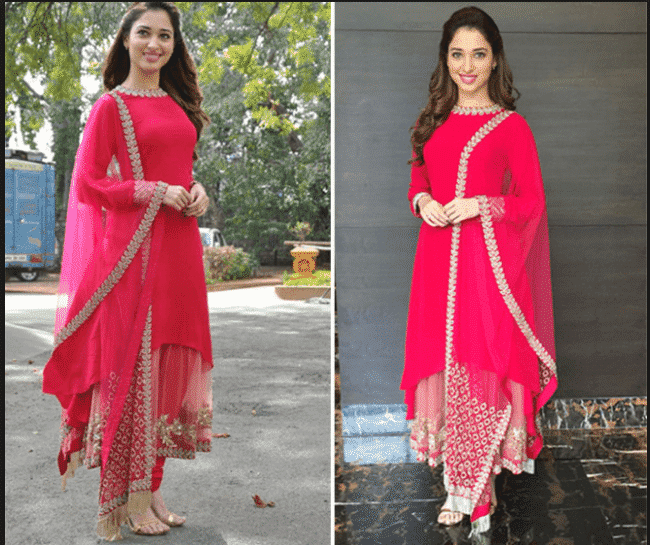 ↓ 10 – Tassel it Out
Add tassels to your traditional kurta pajama to give it a modern look. Pair your outfit with one of these 22 Ideas How to Wear Tassel Earrings.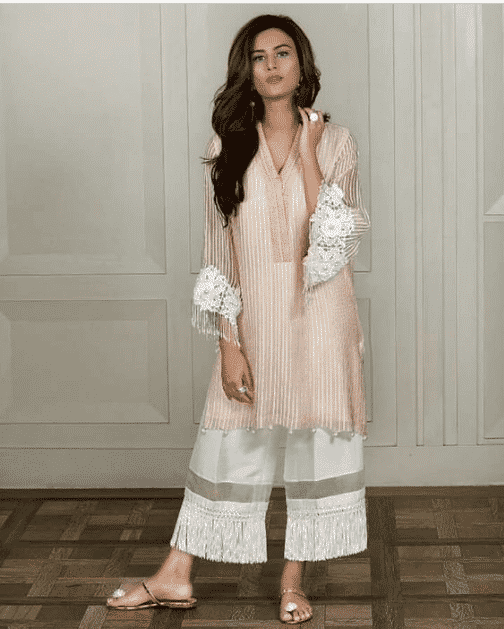 ↓ 9 – Short Kurta and Trouser
With short kurtas, both straight and sharara trousers work really well.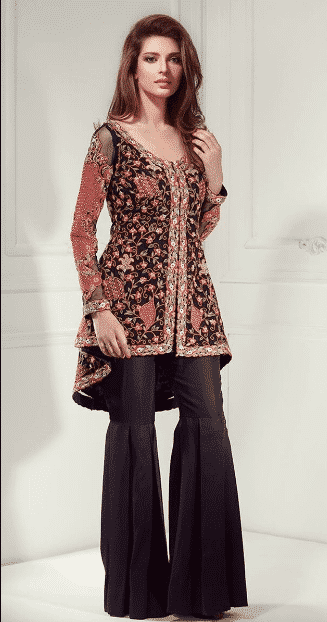 Via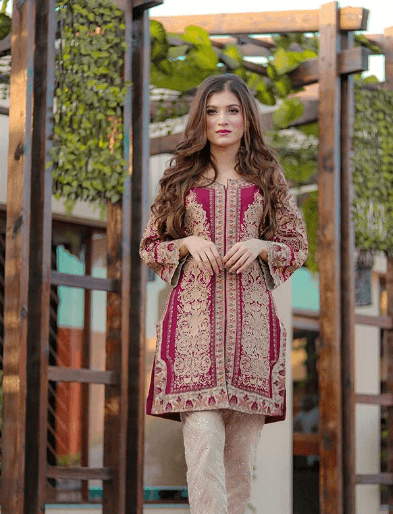 ↓ 8 – Churidar Pajama
Traditional churidar pajama is one of the most versatile parts of your Outfit that can easily pair well with both long and short style Kurta.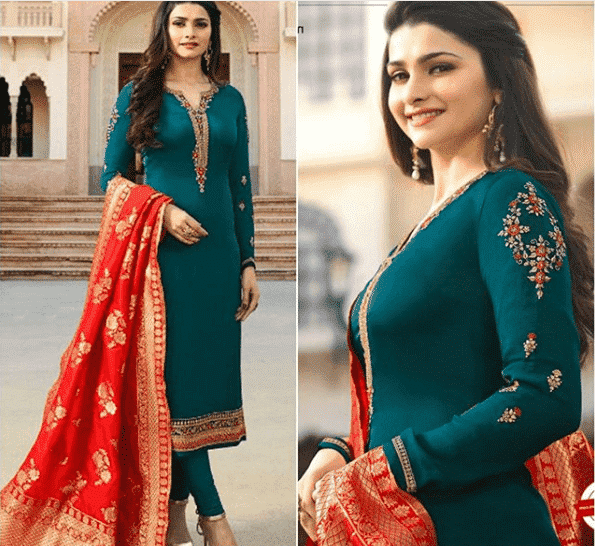 ↓ 7 – Floral Outfit for Wedding
Looking for something different? Go with this stunning floral Kurta with plain Pajama that is embellished with golden Gotta. To add a more funky and feminine look, wear it with a net Kotee.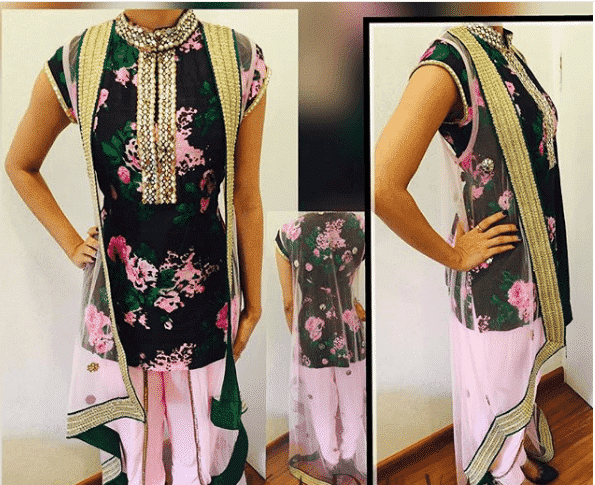 ↓ 6 – Intricate Embroidery
Zari, threadwork, or sequins work embroidery done intricately will look perfect and elegant for both evening and nighttime events. The dress seen here is by famous Pakistani designer, Nomi Ansari and it consists of an aqua colored cotton net shirt, paired with an embroidered pajama and scalloped dupatta.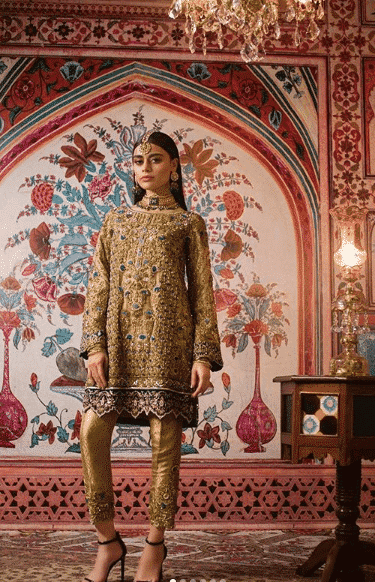 ↓ 5 – Color Combination
Combination kurta Pajama has two different contrasting or combination colors. Here are 20 Elegant Outfits for Pakistani Women Over 30.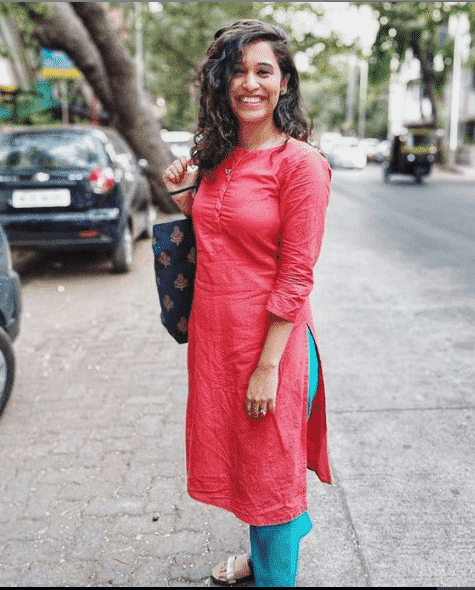 ↓ 4 – Cutwork Outfit
Cutwork Kurta adds finesse to your Outfit, and pairing it up with a slim fit pajama can make you look ravishing.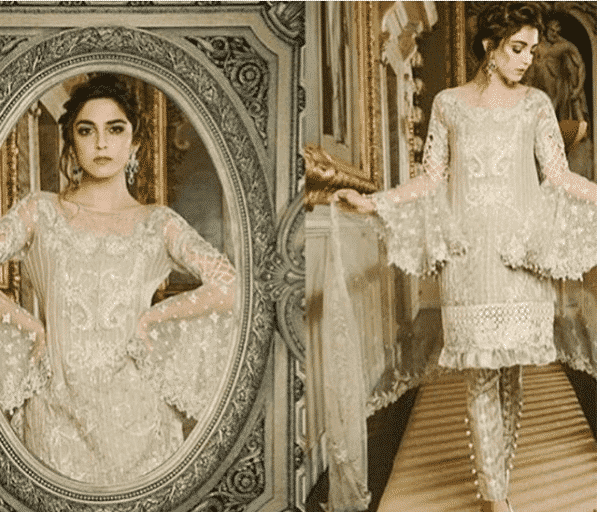 ↓ 3 – Gharara Pajama with Knee Lenght Kurta
The latest trend that has captivated everyone is Gharara pajama/pants. This beautifully structured pajama will go well with a kurta top and chiffon dupatta. Don't miss out on these Indian Celebrities in Palazzo Pants.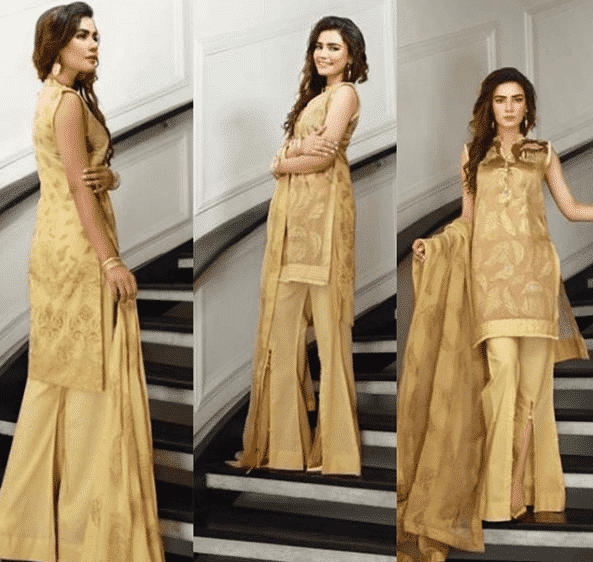 ↓ 2 – Best Footwear With Wedding Outfits
High heels look beautiful and elegant with Kurta and pajama as they give you that perfect smart look. However, if you plan to wear a churidar pajama or are going with angarkha style kurta and pajama, the best option will be to style it with similar colored Salim shahi/Khussay.
Tassel earrings are very in these days and will go well with your Outfit in case you plan to add them to your outfit as well. Silver or gold bracelets and matching bangles will go well with the traditional ethnic kurta pajama outfit.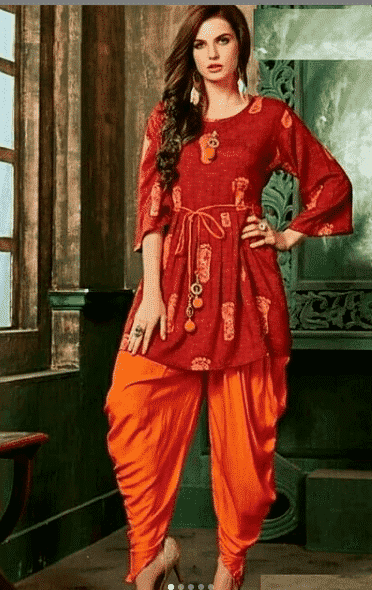 ↓ 1 – Fancy Outfit
Banarsi is synonyms to a wedding outfit, and with minimal effort, you can rock your Banarsi kurta and pajama.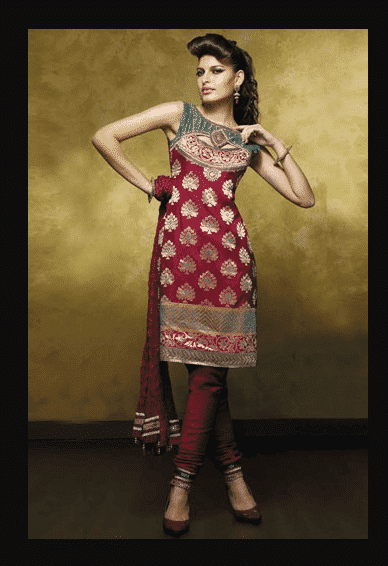 Frequently Asked Questions
Q.

What type of pajamas are in fashion these days?
A. Nowadays, fashion is less about what is trending and more about what suits you and what you feel comfortable in. The same is the case here. But still for wedding outfits, embellished trousers, and straight pants are trending the most with knee-length kurtas. The best thing about this duo is that women of all ages and sizes look gorgeous in this ensemble. Moreover, you can customize the embroidery, embellishment, and cuts, etc. according to your choice and shine the brightest.
Q.

What is the ideal length of capri pants?
A. An ideal Capri should be between two to three inches above your ankle. It should not be less than that because it will give it the appearance of a straight pant. Don't go more than three inches above your ankle either; it won't look decent at all. Kurtas till knee length or a little above knee length will look remarkable with them.
Q.

What type of trousers should women over fifty wear to weddings?
A. Typically in Asia, most women prefer wearing a flowy shalwar when it comes to wedding outfits. That sure looks great will all Kurti lengths. But in case someone wants to give their gear a little modern touch, then wide-leg pajama is the best choice.
Q.

Is Churidaar pajama with kurta the right choice for a wedding outfit?
A. Churidaar pajamas were once in fashion a lot. These days they are not in fashion so much. Moreover, they look better with long frocks instead of Kurtis. So, it is no.
Q.

What is the ideal length of kurta with tulip pajama?
A. Short shirts, at least two to three inches above the knee, look the best with tulip pajama.
Q.

What type of kurta pajama can brides wear on their wedding?
A. Mostly nikkah and engagement brides prefer wearing something exquisite yet straightforward on their big day and are always worried about the outfits. So, the best choice for these girls is to opt for embellished kurta pajamas with fancy dupattas and cute accessories.