Best Interview Outfits for Women: First impressions certainly matter when it comes to your professional life. And where else does a first impression matter more than with a job interview? Just as you wouldn't wear a ballgown to a ball game, keep in mind that every job interview requires something a little different.
However, some things are non-negotiable: professionalism, class, and decorum. You want to send the message that you are a confident, well-groomed, professional person, perfect for the job you are interviewing for. Your choice of interview attire will be viewed as an indicator of how serious you are about getting the job. Always keep in mind that your outfit should be comfortable and something you feel confident in. Often times we dress to impress and forget about our own personal style. You don't need to look like a model or fashionista when going for an interview, but never choose anything that doesn't fit you and complement you to the highest degree.
What to Wear to a Job Interview?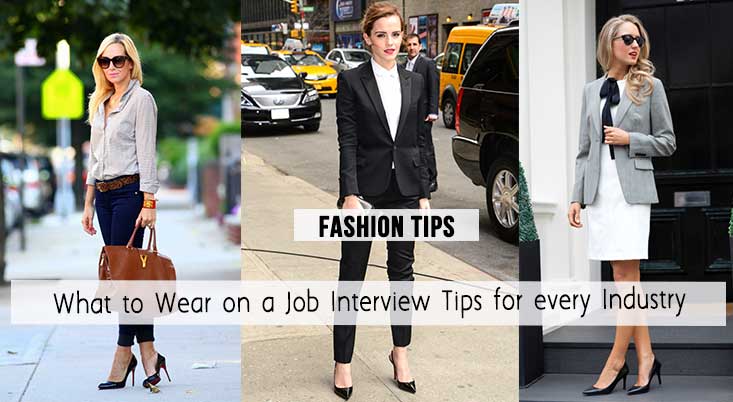 Here are some tips and ideas to dress up for an interview regardless of the nature of the job:
Be well-groomed. This rule applies to both hair and makeup, but also your attire as well. Pay close attention to your nails, your eyebrows, stray hairs, the cleanliness of your hands, well-blended makeup, shined shoes, ironed clothes, even tan, etc. While you don't have to be over-zealous in your approach, keeping a tab on these various areas will ensure you present a streamlined, groomed, and clean appearance.
Consider a tailored blazer or suit jacket. Whether you are interviewing for a corporate position or a job at a startup company, a blazer is always a great option. It goes with almost any look and adds an excellent finish to an outfit. Choose a neutral color and a classic fit that will work with anything from a chic pantsuit to a basic blouse and skirt.
Opt for sophistication. Don't dress too "loud." It is recommended that you keep your outfit simple and choose one accessory that shows a little personality. Do not over-accessorize your look. You could add a statement necklace to complement your favorite blouse or a bold bag to top off a sophisticated suit. Keep a balance between your dress and accessories.
Be prepared. When it comes to a job interview, it pays to be prepared, both with answers to questions as well as with your wardrobe. Keep all eventualities in mind. Do you think you will need an extra pair of tights or a pair of flats to change into after the interview is over? Are you prone to spills or stains? Do you need to stash a back-up blouse in your bag? Take a little time to explore how you can meet any and all obstacles ahead of time.
Keep the company environment in mind. Are you interviewing at a renowned conservative company? Consider a two-piece suit of a darker color. Black suits are great options for women as you can always soften the look with a lighter-colored blouse and accessories.
Be smart with footwear.

A mid-heel, closed-toe pump is a great option for job interviews. Regardless of the current shoe trends, your shoe selection for a job interview should be professional and subtle. The exception would apply to a creative position or a position in the fashion industry where your choice of clothing should reflect the current fashion trends.

10. Make A Long Term Investment
Choose an outfit that makes you feel confident in your own skin. Buy the best that you can afford, considering it as a long-term investment as it'll make you feel superb and fresh. If you go for a skirt and jacket as shown below, make sure that you're comfortable with the fit and style.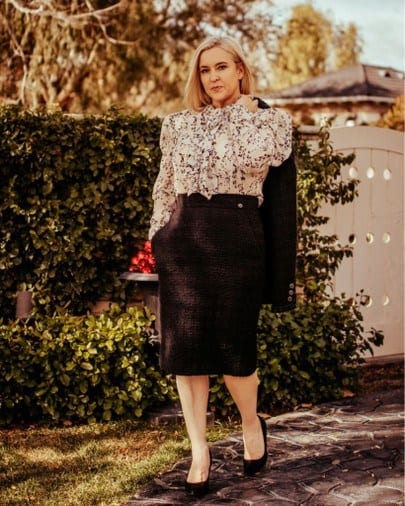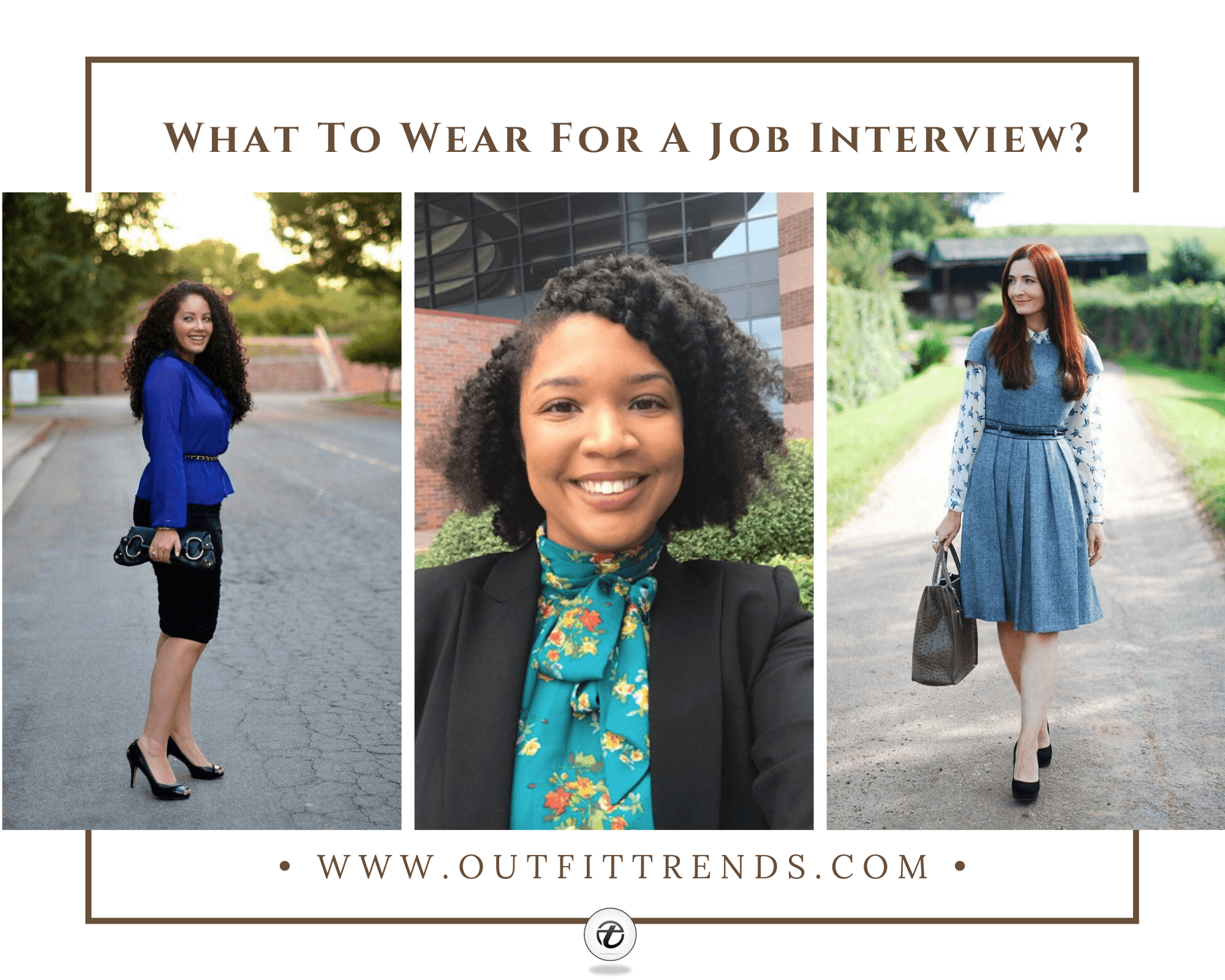 9. Job Interview in the Fashion or Retail Industry
A mistake people make when interviewing for a fashion-related job is to make a broad-brush statement that they should dress super-trendy or edgy. What you wear here depends on the specific job you are interviewing for. Keep clothes simple and instead make accessories the focal point. Have stylish shoes, a sharp bag and modern jewelry displaying your great taste. People shouldn't notice your clothes first, but you in your clothes.
This look is an excellent example of a streamlined dress with a standout clutch for an accessory and bejeweled heels.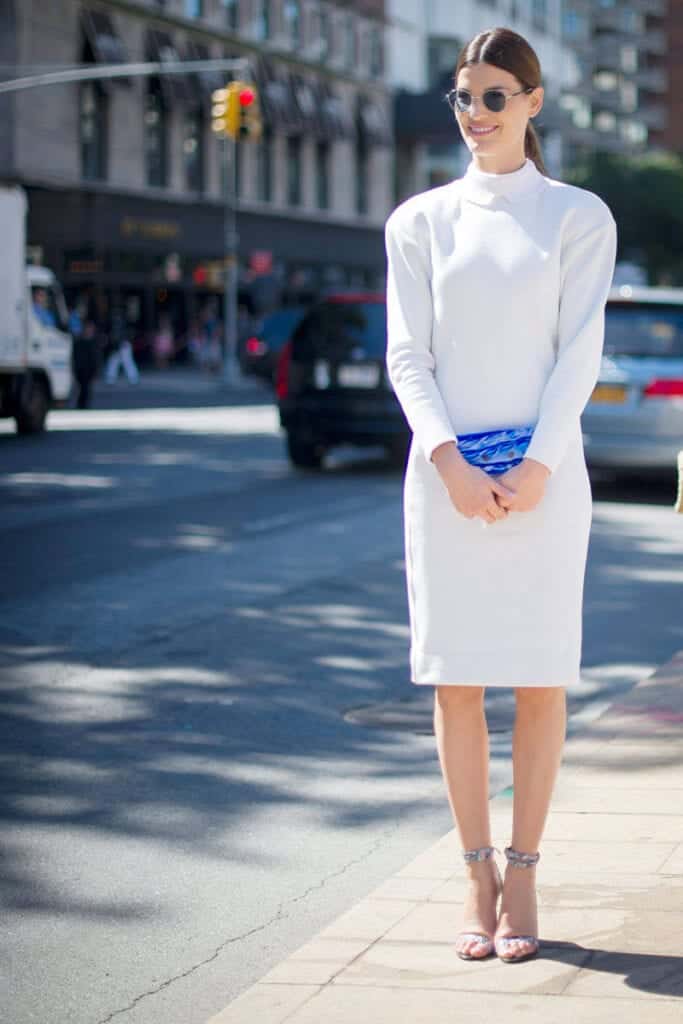 8. Simple but Elegant Interview Outfit
If you a looking for a more modest option, here you are. This is a practical but well-put-together outfit that looks and feels quite feminine, as well as respectable. Consider switching out the shoes for a classic closed-toe pump.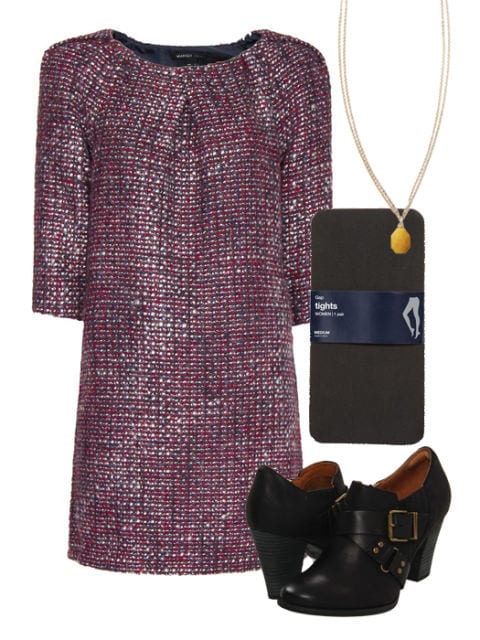 Step by Step Video Tutorial: How to Dress for an Interview?
To further help you along, we have included a step-by-step tutorial on how to dress for an interview. Check it out for some inspiration.
7. For a Finance or Business Job Interview
When it comes to interviewing in the finance realm, the rules stay much the same as ever. Don't push the envelope and seek to appear conservative and professional.
We recommend wearing a dark, two-piece pantsuit or skirt suit. Lighten them up with a white or softer colored blouse and conservative accessories. Here is an excellent and very classy option.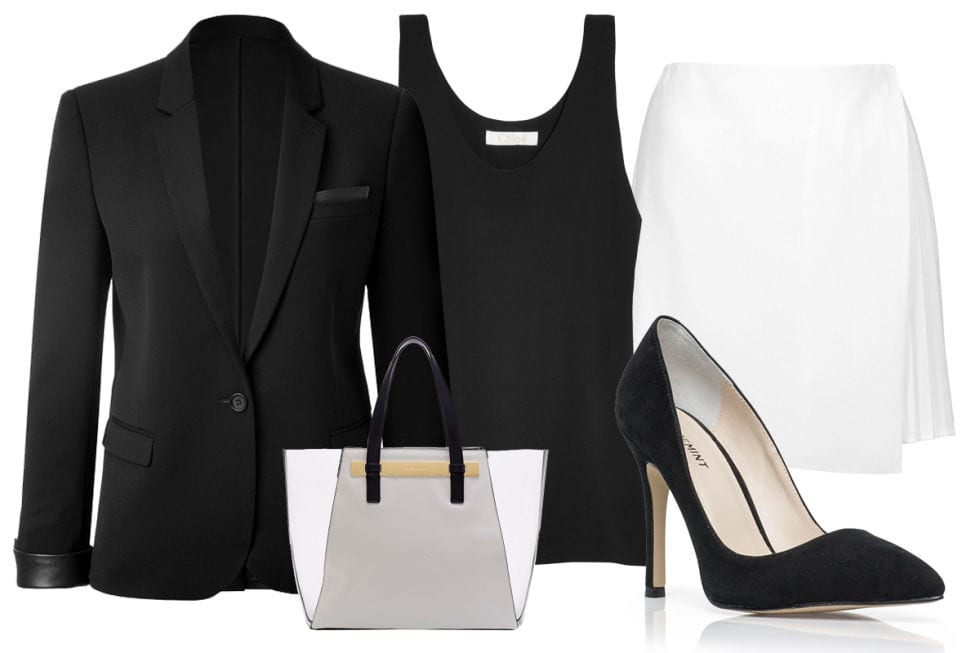 You can also bring a little bit of an edgier vibe to your look by taking a page from Emma Watson's book. Here, she showcases a conservative but extremely stylish ensemble that allows for both modesty and sophistication. Some things to note: the dark red lip and pulled-back hairdo, as well as the slim-fit pants. These little tweaks will bring your outfit to the next level. For more amazing ideas, have a look at 17 cute winter workwear outfits for women for an elegant look.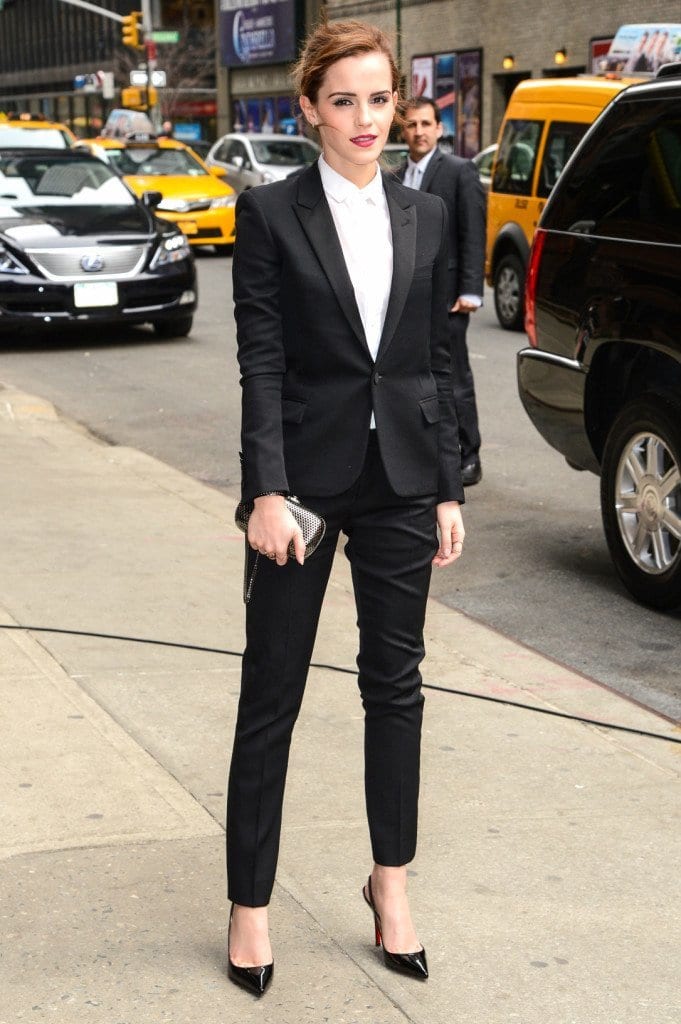 We love this option which shows us that conservative does not mean boring! Bring a pop of color to your job interview look with a bold-colored blouse belted at the waist. You can pair it with sleek black pants or a pencil skirt. Tie the look together with some peep-toe heels and a snazzy bag.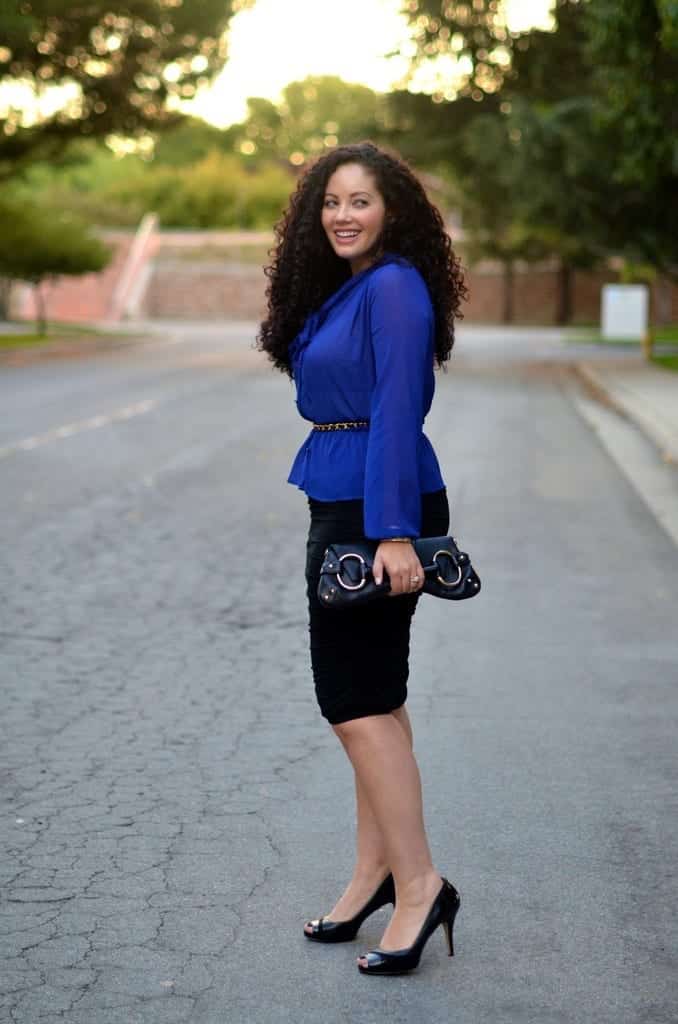 6. For Video Job Interviews
You do not need to overthink things too much for video interviews; a semi-formal and elegant look will do the job nicely. Even if you are Skyping or sending in a recorded piece (in which you'll likely be sitting the whole time) putting together a whole outfit will help keep you in the right headspace. Besides, if you have to pop up to grab something, you wouldn't want to be sitting there in your pajama pants! Treat it like any other interview: do your hair, make sure your nails look nice and opt for understated but well-coordinated jewelry pieces to complement your look.
We like this funky take on a traditional workwear look which brings a bit of personality to the table. This is a good look for college-age girls who are ready to hit the workforce scene!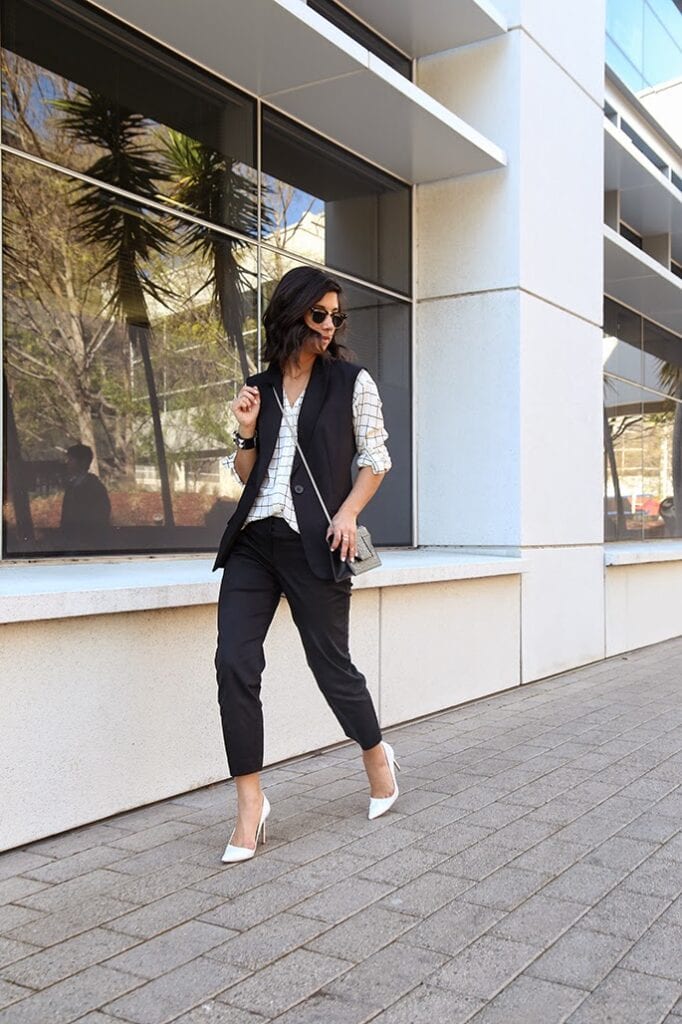 Prefer traditional styles? We like this combination of mustard yellow and jade green earrings for a flattering color combo that isn't too loud but still carries a message of sophistication.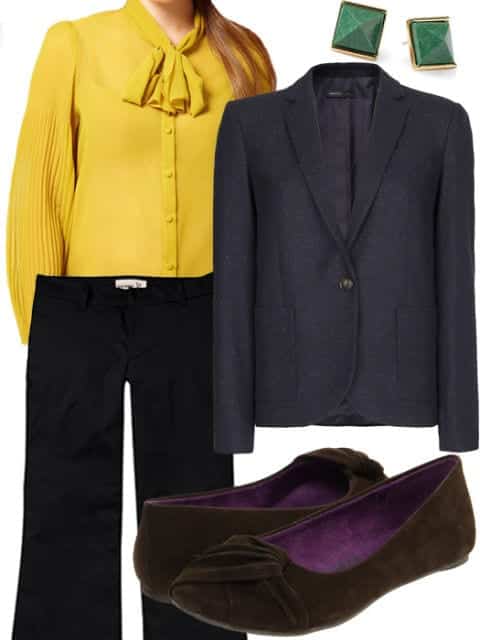 5. How to Dress for a Teacher Position Job Interview
When interviewing for a teaching job, remember that your potential employer is looking for someone who knows how to carry themselves and presents an image of leadership and confidence. A teacher is often seen as a role model as well. Keep this in mind when planning your job interview look.
Here is an excellent example of a feminine, sophisticated, and well-put-together outfit that is classic as well as stylish. When wearing a dress, opt for one that hits right at the knee or just below it. Look for a higher neckline and consider having your outfit tailored to ensure you get the best fit. You should also have a look at these Classroom Appropriate Outfit Ideas for Teachers.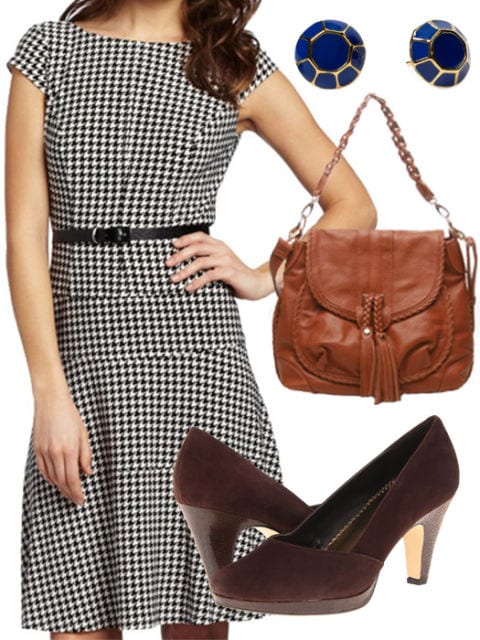 For a more creative type position, this daring and fashionista-approved look is certainly an option!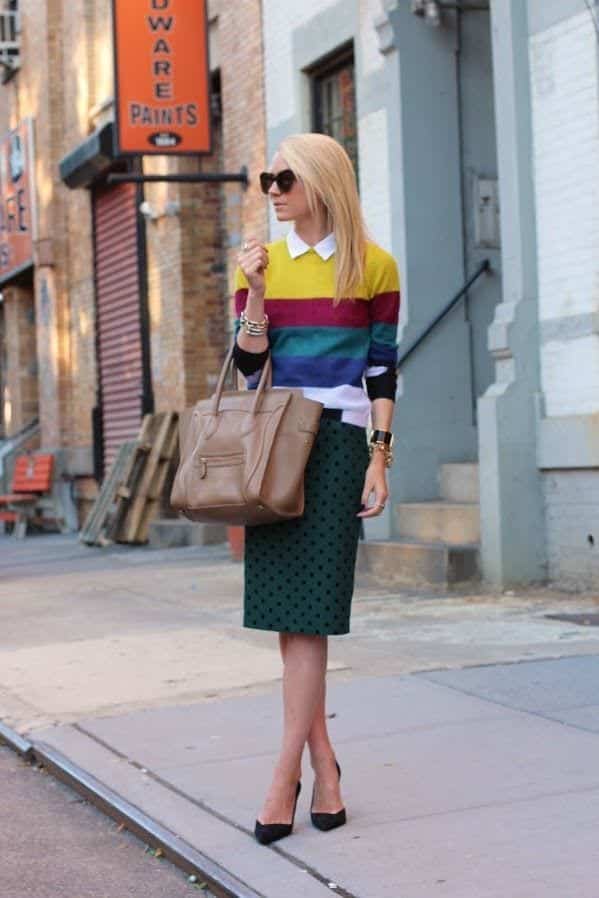 This skater skirt brings some understated ballerina feels to this look and we love it. The blouse and heels ground the look while the single ropey chain necklace brings some personal style to the ensemble.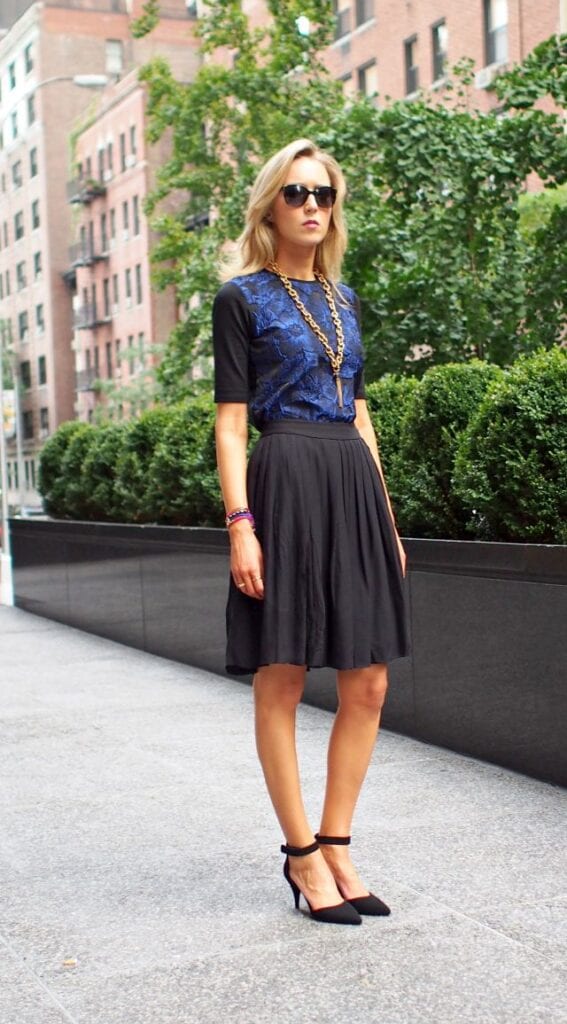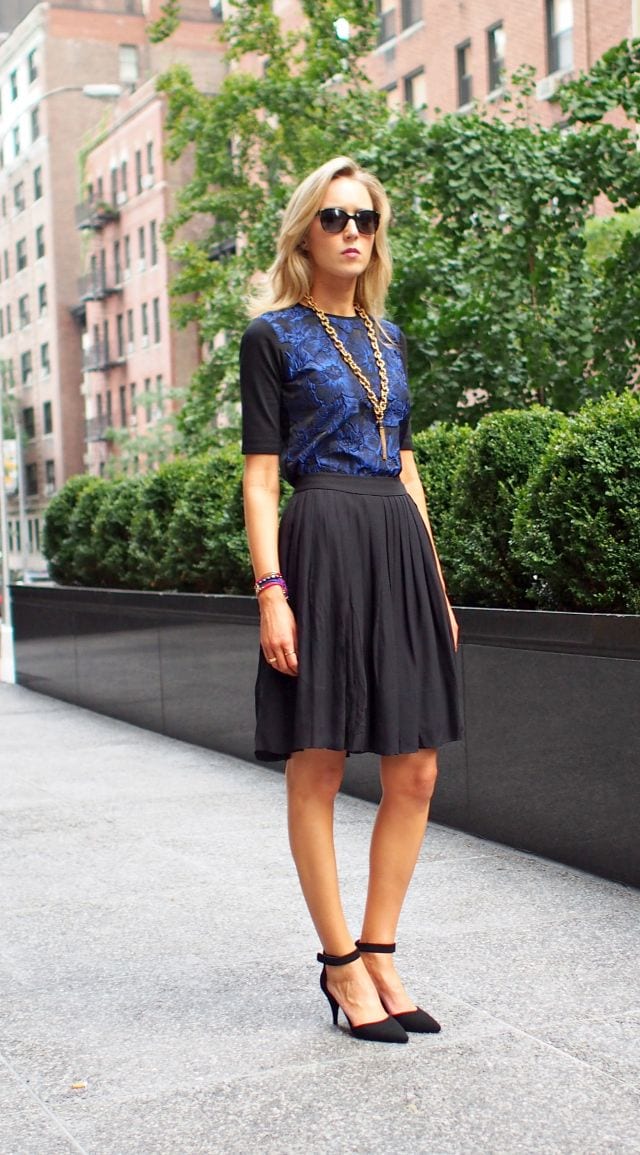 Personally, we love the New Girl vibes this cute displays. It's whimsical without being too over-the-top. What really brings the cute factor are these adorable closed-toe pumps.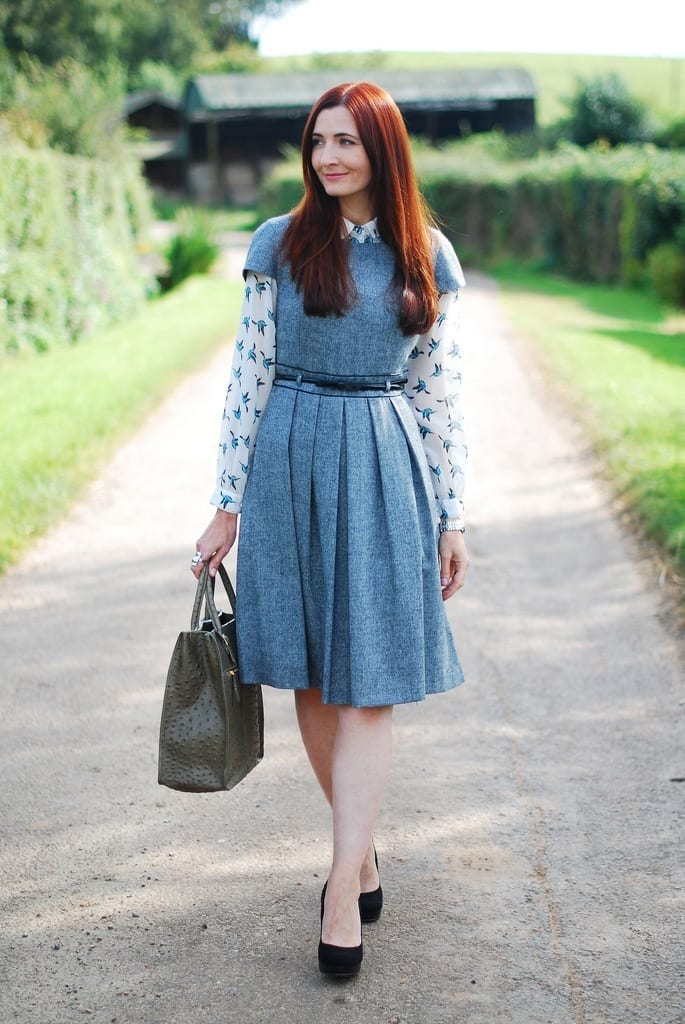 4. For Law Firm and Legal Job's Interview
You want to be taken very seriously for a law-related job so keep this in mind when planning your ensemble. Stick to conservative colors and opt for expensive-looking fabrics. Keep your accessories minimal.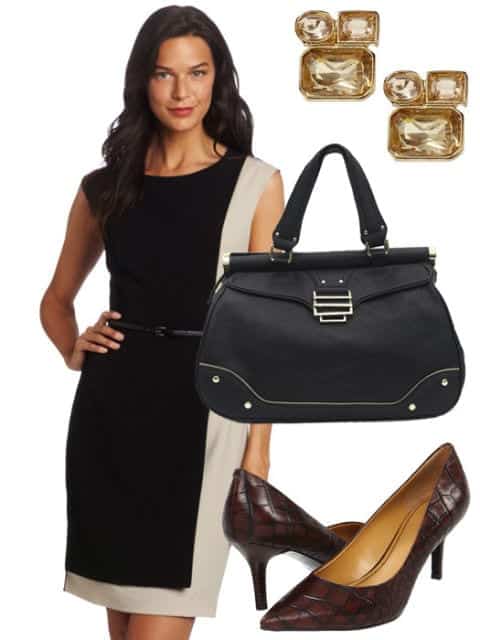 Still conservative, this polka-dot blouse brings some feminine softness to this otherwise straight-laced look. The patent heels work very well in tandem with the belted waist.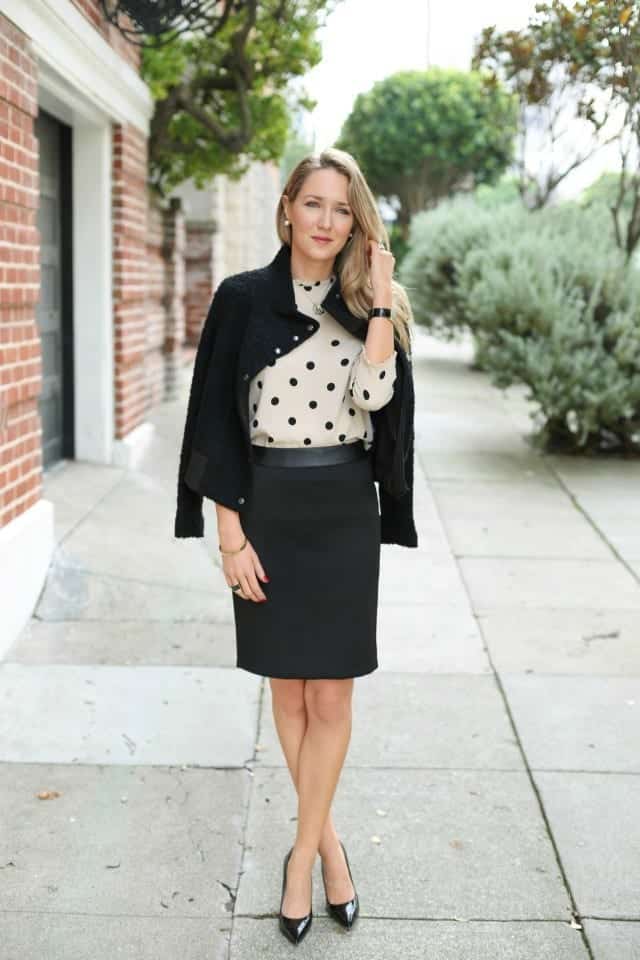 For the ultimately classic job interview look, check out this option. A thin belt at the waist ties the look together; the blue button-down shirt brings a pop of color.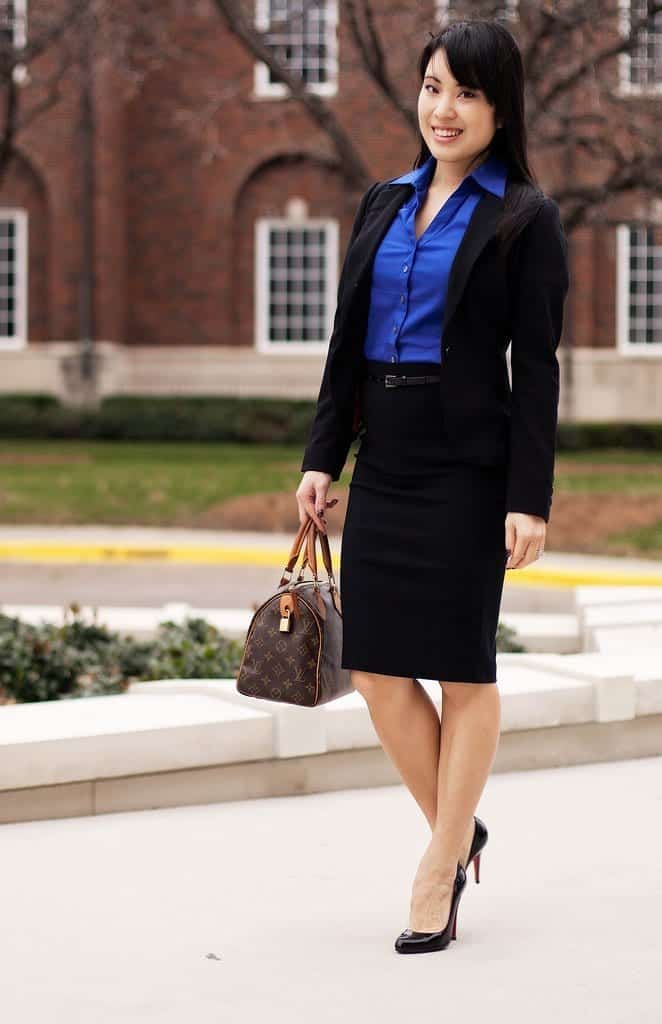 3. PR and Marketing Interview Outfit
Our tips for PR and marketing-related job interviews?
Be well-groomed. Don't wear too much makeup and have your hair clean and simple. Keep colors conservative. Keep it classy. Nothing too vibrant, bright or distracting.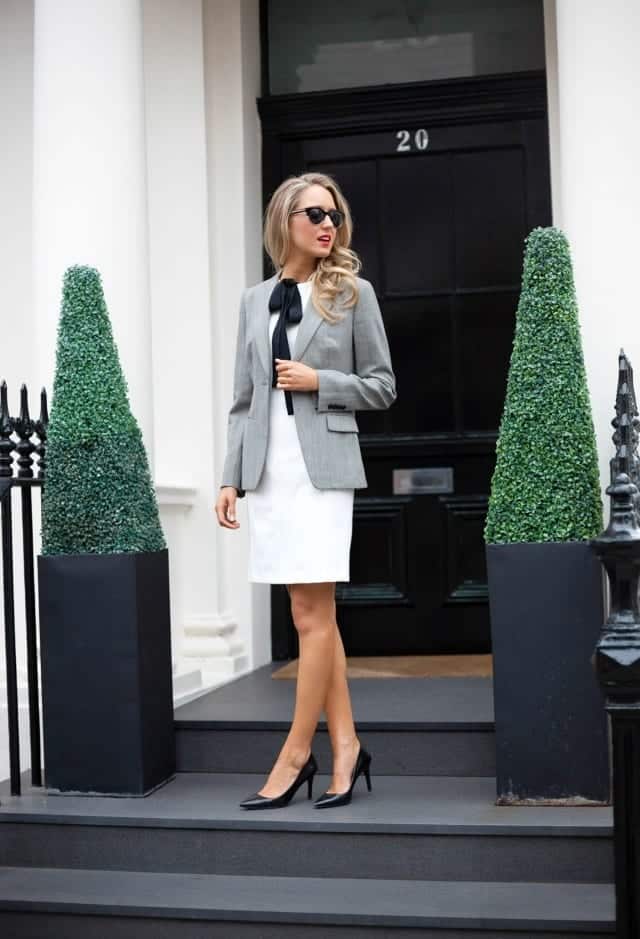 2. Technical Job & Startup Industry Interview
Show you mean business with a trend-setting and stylish two-piece suit.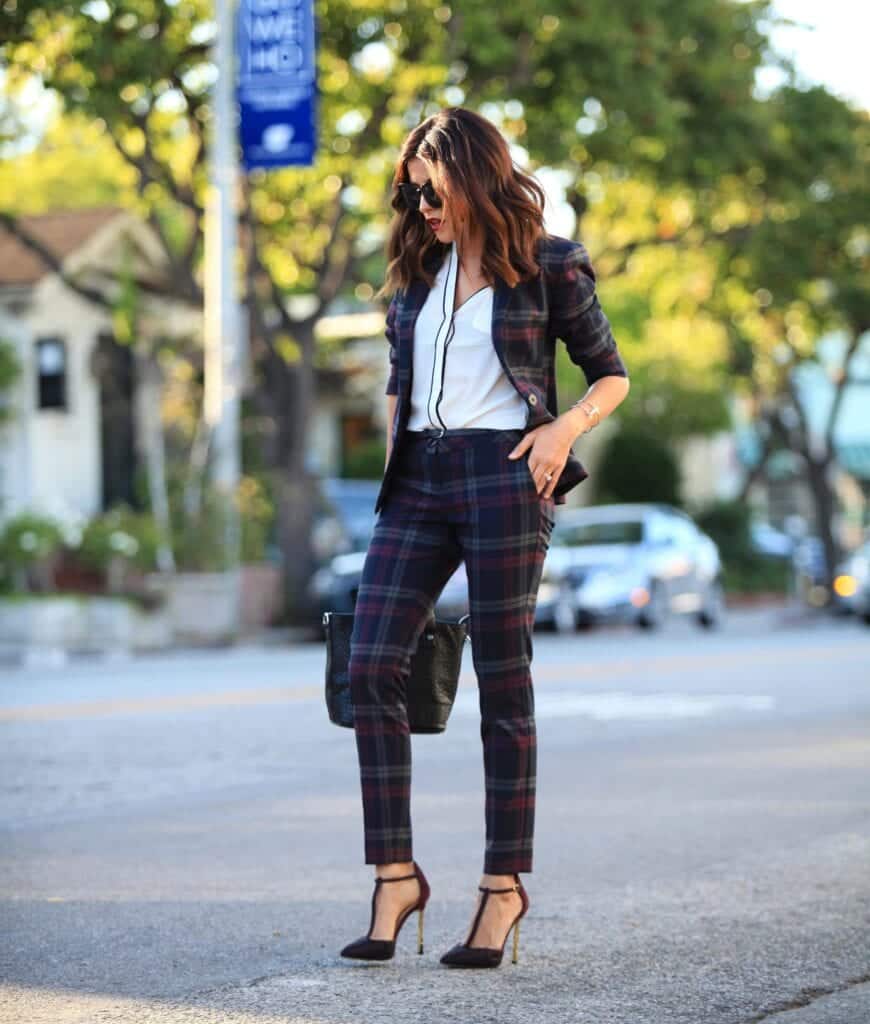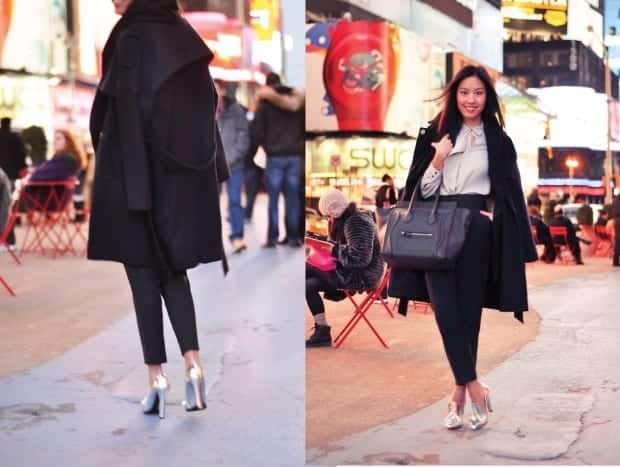 1. How To Dress For A Creative Job Interview
For a creative job, you can afford to veer away from the more staid and conservative options. Let your personality shine but don't go overboard. Opt for closed-toe shoes, dark pants (that goes for denim as well!) and a few well-chosen accessories. We love this confident, womanly look that stays professional without being drab.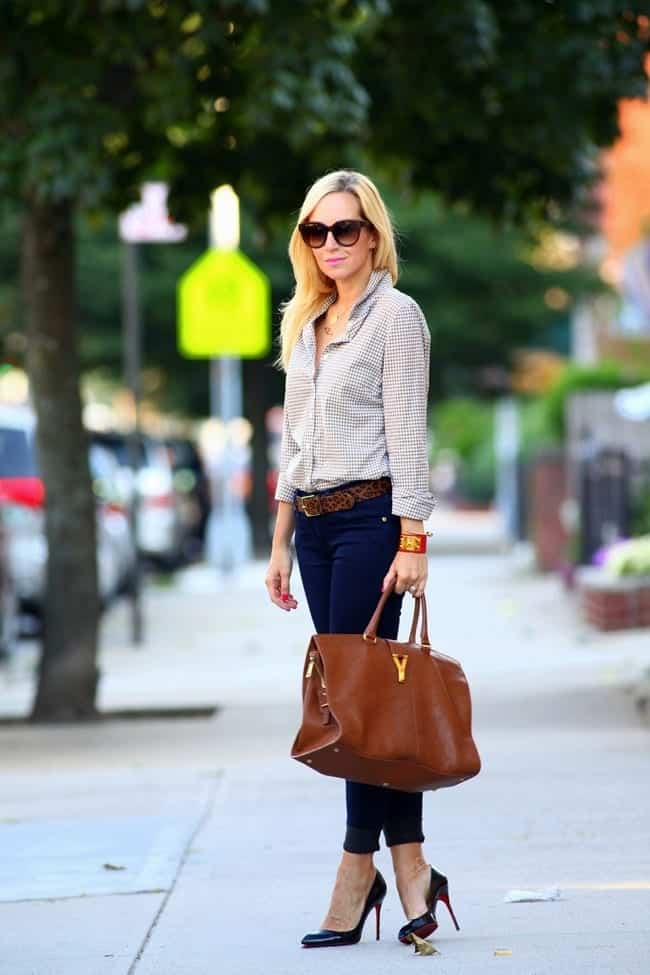 Our final look shows how you can rock some lighter colors for a creative job interview. Remember you can always add a blazer to further enhance your look or swap out this short-sleeved blouse for a crisp white button-down.
For some more workwear outfit ideas, check out these ideal workwear outfits for women for an elegant look.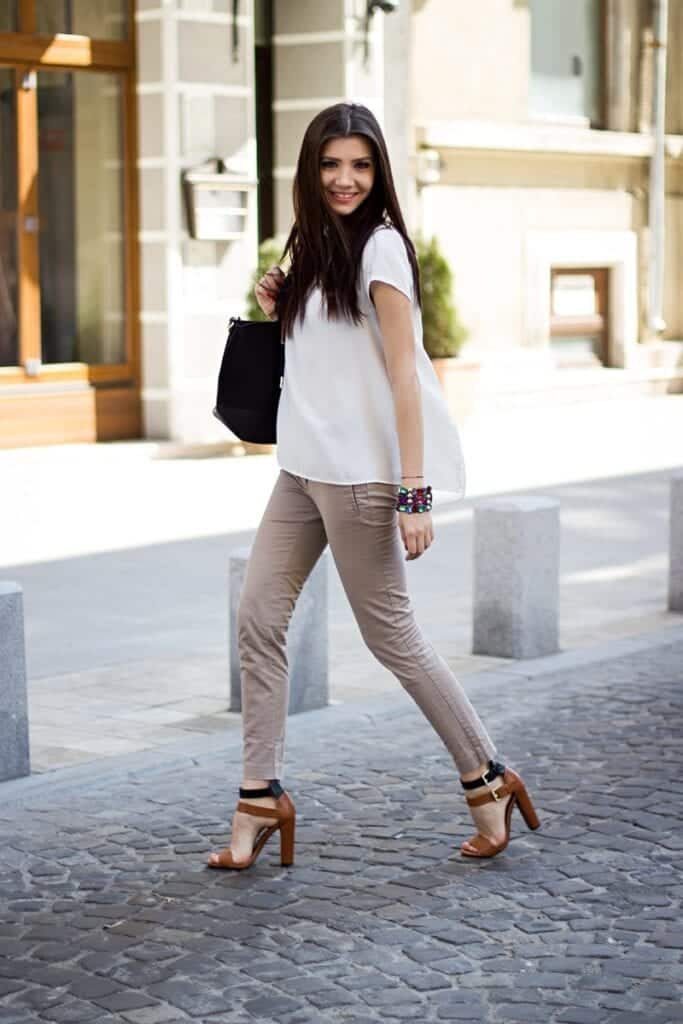 What NOT to Wear to a Job Interview?
It is equally important to know what to wear to a job interview as well as knowing what NOT to wear and what not to do. Here are some DON'TS to keep in mind next time you have an interview lined up.
Don't wear very short skirts or extremely form-fitting garments. Opt for well-fitting outfits that don't call too much attention to your figure.
Don't wear textured, patterned or bright colored hosiery. Too distracting and not very professional.
Don't go to your interview with wet hair! Running late but need to hop into the shower? It's better to skip the wash and opt for dry shampoo than dashing to your interviewing with splotches of water on your jacket and your hair all wet!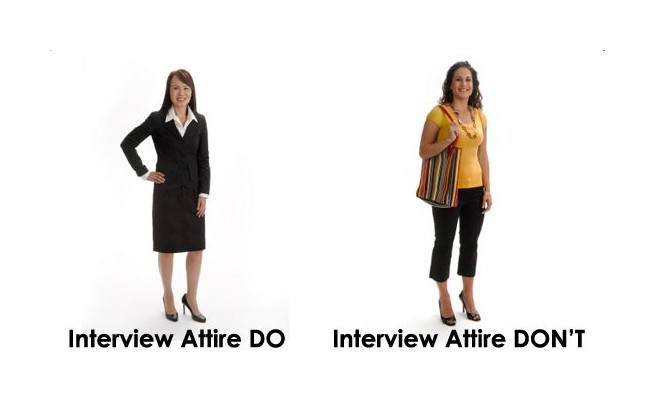 Don't wear strong perfume or heavily scented body products. It may be distracting or even harmful as some people are extremely allergic to certain scents and fragrances.
Don't wear distracting or excessive jewelry. You want all the focus to be on you and your message.
Avoid visible body piercings and tattoos. Unless you are interviewing for Hot Topic, keep tattoos and body piercings under wraps if possible.
Don't wear jeans, tee shirts, sneakers, canvas slip-on shoes, or other casual attire.
Don't wear sunglasses on your head like a headband. Not cute for an interview.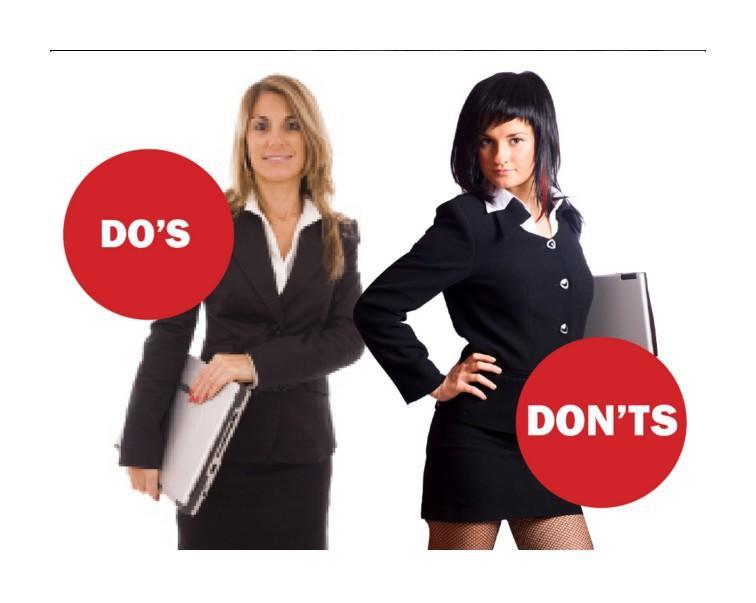 DO turn your cell-phone on silent for the interview and keep it tucked out of sight.
Don't wear sleeveless tops or dresses (without a cardigan or blazer on top).
Don't wear boots… except for certain types of job interviews. Sleek booties can look great for an interview, but most boots (cowboy boots, over-the-knee boots, etc.) are not the best option.
Don't wear anything too short, tight, or low-cut.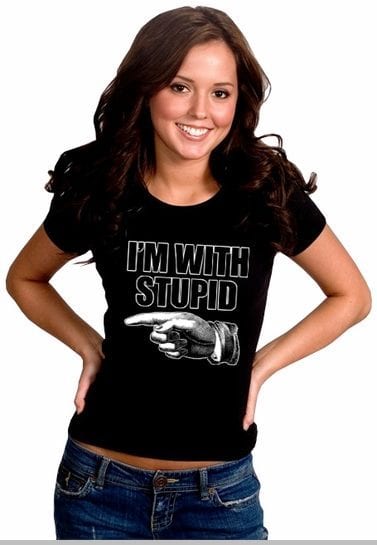 Don't wear flip-flops.
Don't wear excessive jewelry; it may be too distracting.
Did you find these tips helpful? What was your favorite job interview outfit? Let us know in the comments below!