Floral prints dresses are the perfect outfit for the spring season. Because of a blend of many colours, you can have many options to match different fashion accessories with floral print dresses. Floral print Skirts and tops are a very popular trend these days. So if you are really a floral print fashion lover and looking for great ideas for this season, then there is a lot to dig in this collection of 22 gorgeous floral print dresses ideas for women. Check it out.
What Are Some Floral Print Outfit Ideas?
Floral prints have always been trending and are hot for every season. Soft colours or dark colours, both make a great option for any woman to wear. Mostly soft pastel colours are used in the floral prints. Women floral tops are available in different designs and outfits such as peplum tops, stripe tops, high neck shirts etc. Other than that multi floral print blouses are also available.
These kinds of prints express femininity. The blooming designs and prints are excellent for Spring. You can look for many outfits such as gowns, skirts, jumpsuits, tops, short dresses etc. You can go for soft bottom pants or jeans and a floral blouse. Balance the complete look, that is what matters.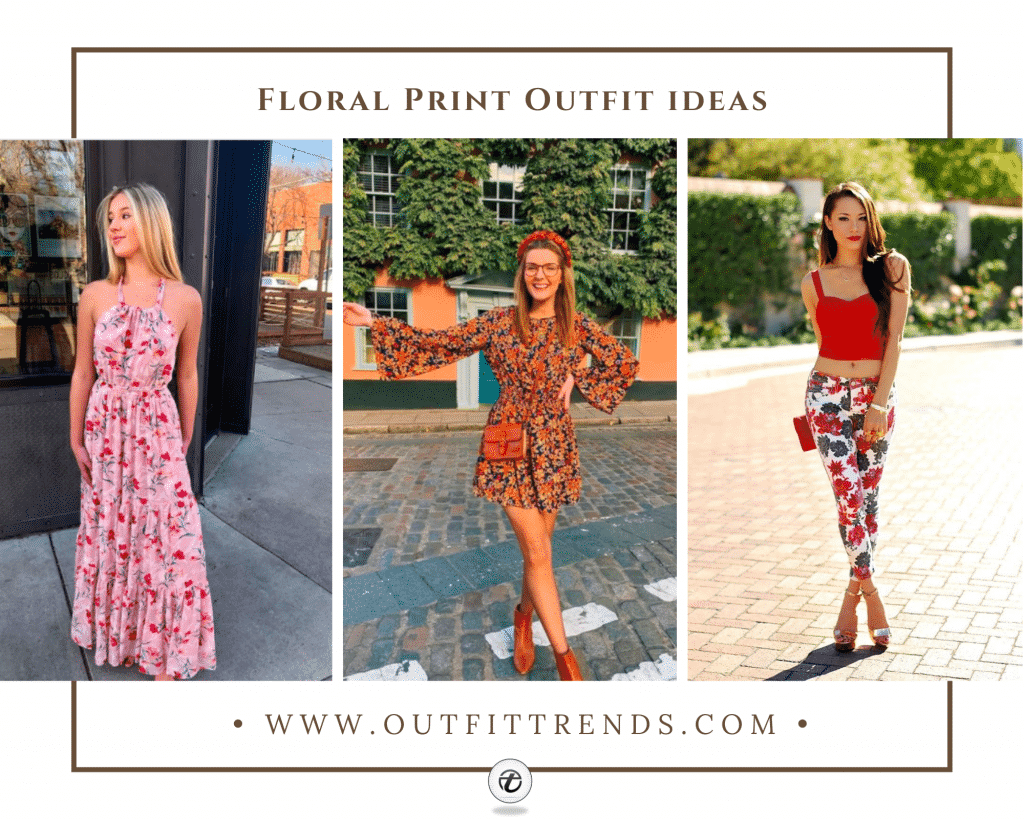 Tips On How To Style Floral Print Outfits?
You can always go for the delicate pattern designs as they are the most beautiful prints. Embroidered floral prints are also very stylish and can be styled with statement jewelry and shoes. Red, blue, orange, yellow and sea green are the popular colors for Spring season.
Printed skirts and pants are the top most essential items to have in your wardrobe. If you want to embrace your femininity then you must buy floral print dresses. Other than that you can also get accessories such as shoes, bags, scarfs and even stylish sunglasses.
This season's florals are mostly prints of vibrant and dark colors. If you plan to go out for a dinner date or to a beach party then there is nothing better than a floral print dress. For a romantic dinner you could wear a floral printed long maxi and for beach you could wear floral printed shorts with a plain top. Floral print trends are all about joy and colors. They enhance the personality.
Here are images that can give you enough ideas on how you could style yourself by wearing floral prints.
20 – Printed Floral Top:
This looks like a glam outfit but is very easy to style. Grab a black floral printed top and pair it with black skinny sequin pants. Sounds easy right? Black pointed-toe pumps will also go along with this look. Put on some light makeup and accessories and you are ready with the party outfit.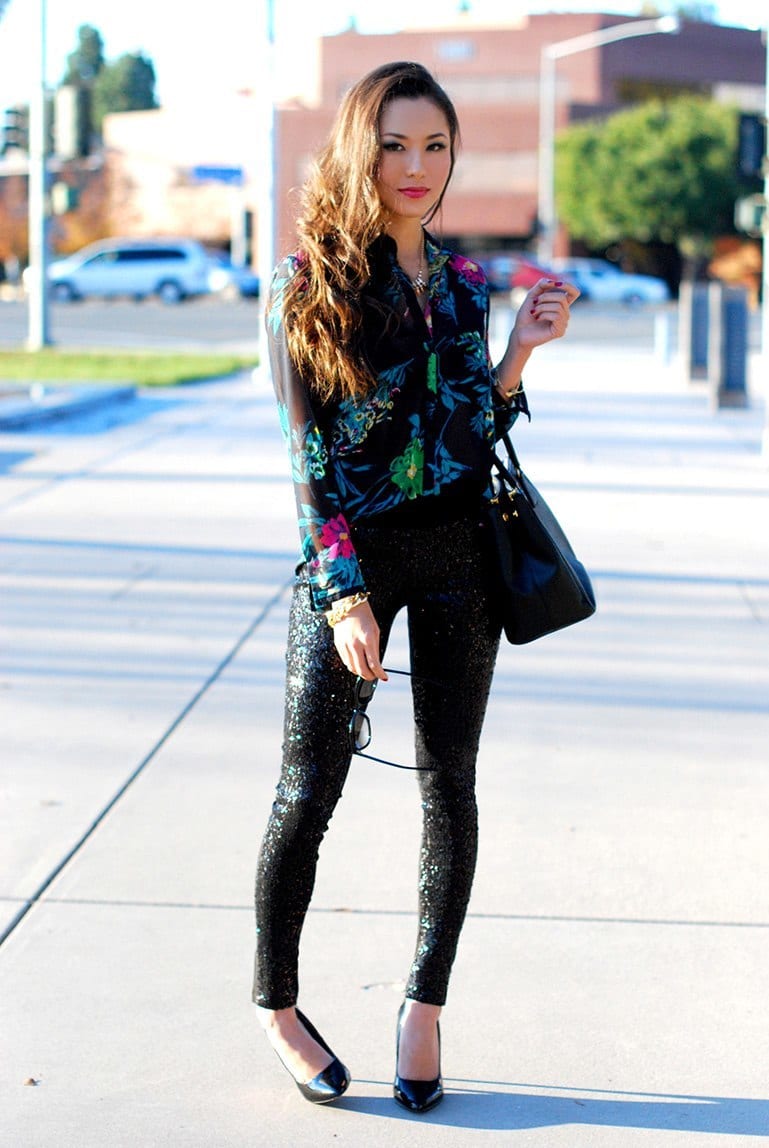 Womens Tops V Neck Blouses Floral Printed Casual Short/Long Sleeve Tunic Shirts $20.99
Tipsy Elves Shiny Sequin Leggings for Women $22.95
Nine West Women's Flax New Hollywood Dress Pump $47.02
Wear it with Skirts in Winter. Also, see latest ideas to wear skirts in winters.
19 – Elegant Floral Print Dress:
If you want a more formal outfit for your work meetings then have a look at this one. Here an elegant black floral printed dress is styled with black pumps. On chilly days, you can also layer a long leopard print coat with the look. Don't forget to notice the golden belt which is enhancing the look of the dress.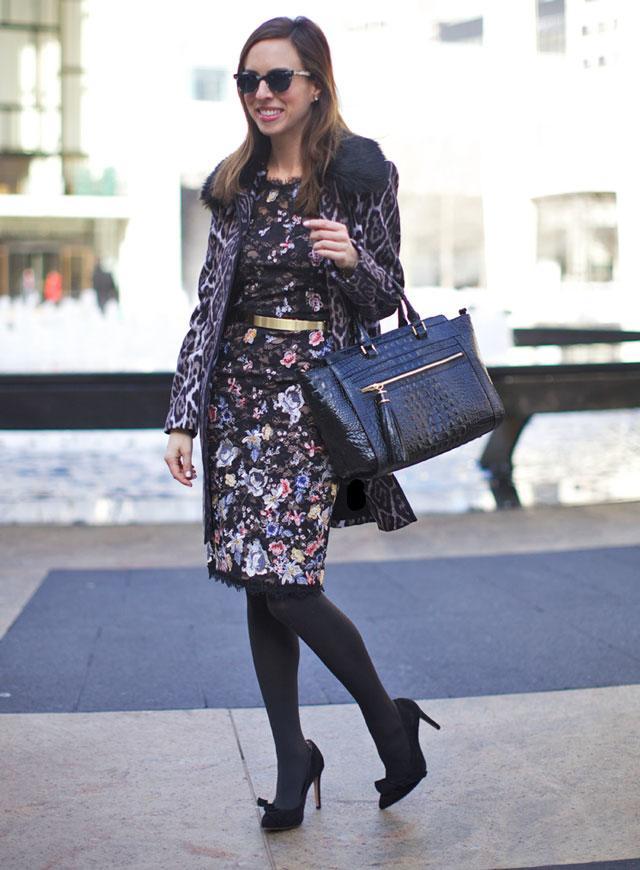 Women's Floral Embroidery Mesh Round Neck Tunic Party Dress $31.99
Women's Casual Leopard Printed Cardigans $21.98
Calvin Klein Women's Gayle Pump $65.40
18 – Cute Floral Print Dress:
This outfit can be perfect for your hangout or shopping plans. This burnt orange floral dress with bell sleeves is defining the meaning of cuteness. All the things styled with the dress are of the same colour and it is looking really good. Brown ankle boots are also paired with it however sneakers would also go along with this look. A cute bag pack can also be a replacement for this crossbody bag.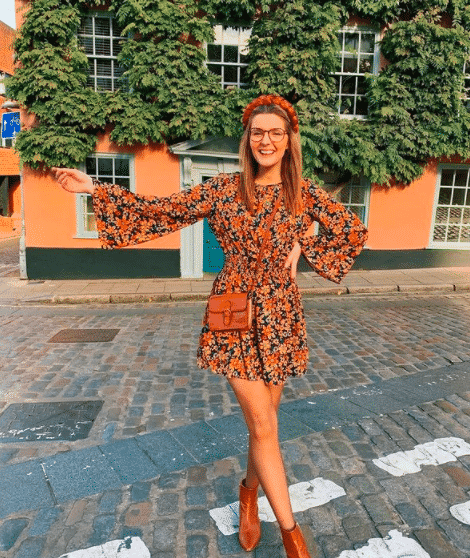 MELLOW MINI FLORAL SKATER DRESS IN BLACK £77.00
Women Small Crossbody Bag $31.99
17 – Floral Printed Pants:
We can't take our eyes off this beautiful eye-catching outfit. A simple red blouse is paired with red floral pants. This could have been paired with denim but floral pants give a different kind of look to it. Just like that, you can pair any simple top or blouse with floral printed pants. On top of that, get yourself a red clutch and bold red lips and you are ready to slay at any event.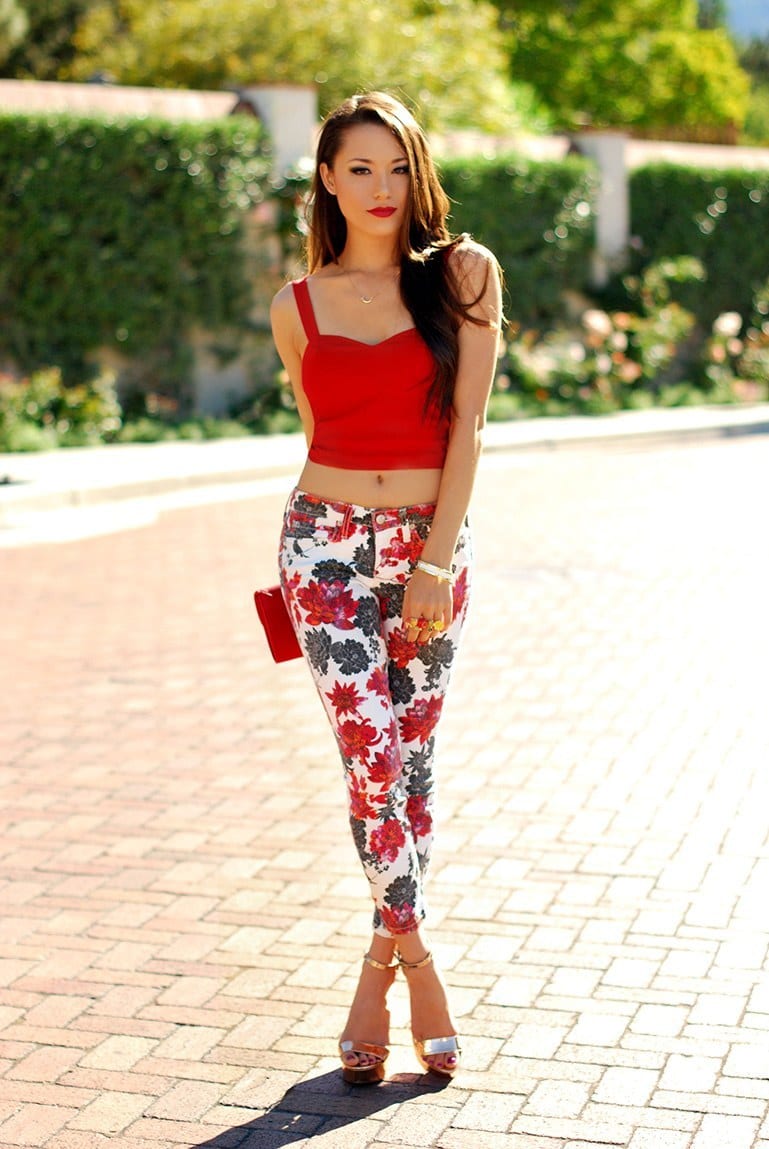 Terra & Sky Women's Printed Leggings $15.00
Abardsion Sexy Sleeveless Strappy Skinny Basic Crop Tank Tops for Women $14.99
Herstyle Charming Women's Open Toe Ankle Strap Stiletto $21.99
16 – Floral Printed Blouse:
Everything aside, how cute this floral printed blouse with shocking pink pencil skirt looks. This outfit is grabbing our attention because of its vibrant colour and prints. You can wear this outfit at a day event in the spring season. Moreover, to wrap up the look, you can also add some minimal accessories like bracelets or watch and a chain bag is also a good option.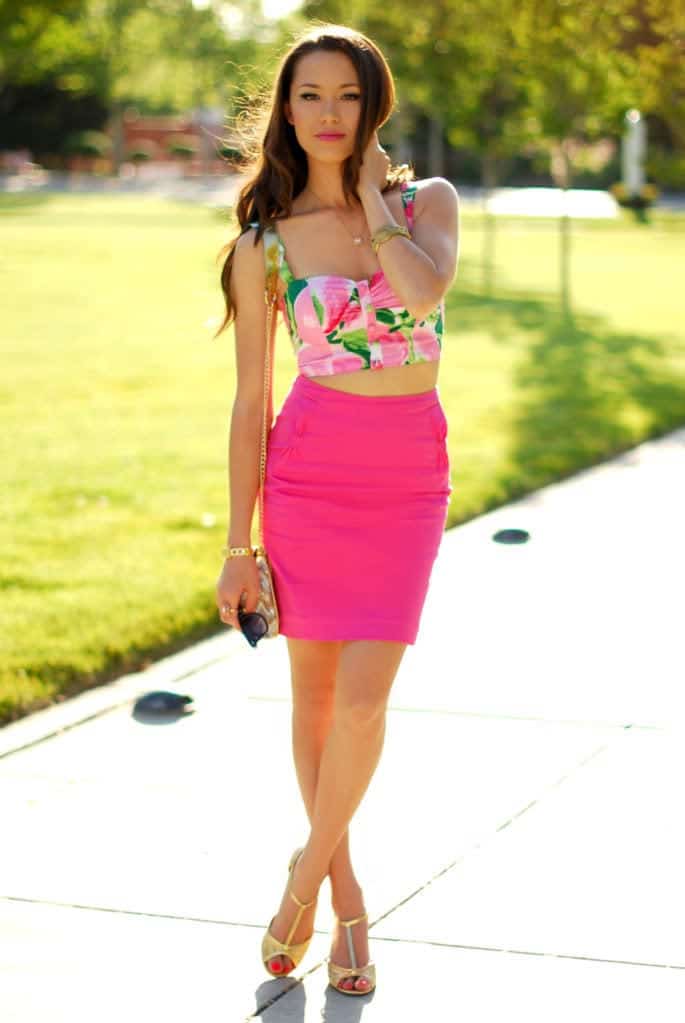 Women Summer Sleeveless Floral Vintage Corset Tank Tops $12.99
Women's High Waist Bodycon Midi Pencil Skirt
15 – Floral Printed Jackets:
Wondering how you can improvise your basic jeans tee-shirt look? Here's an idea! Add a colourful touch by wearing a floral printed jacket with it. If you are bored with leather and denim jackets then this is the right choice for you. Blue skinny jeans, a black shirt, and black floral jacket is a nice combination and that will give you a subtle look. For footwear, you can go along with nude pumps or platform heels.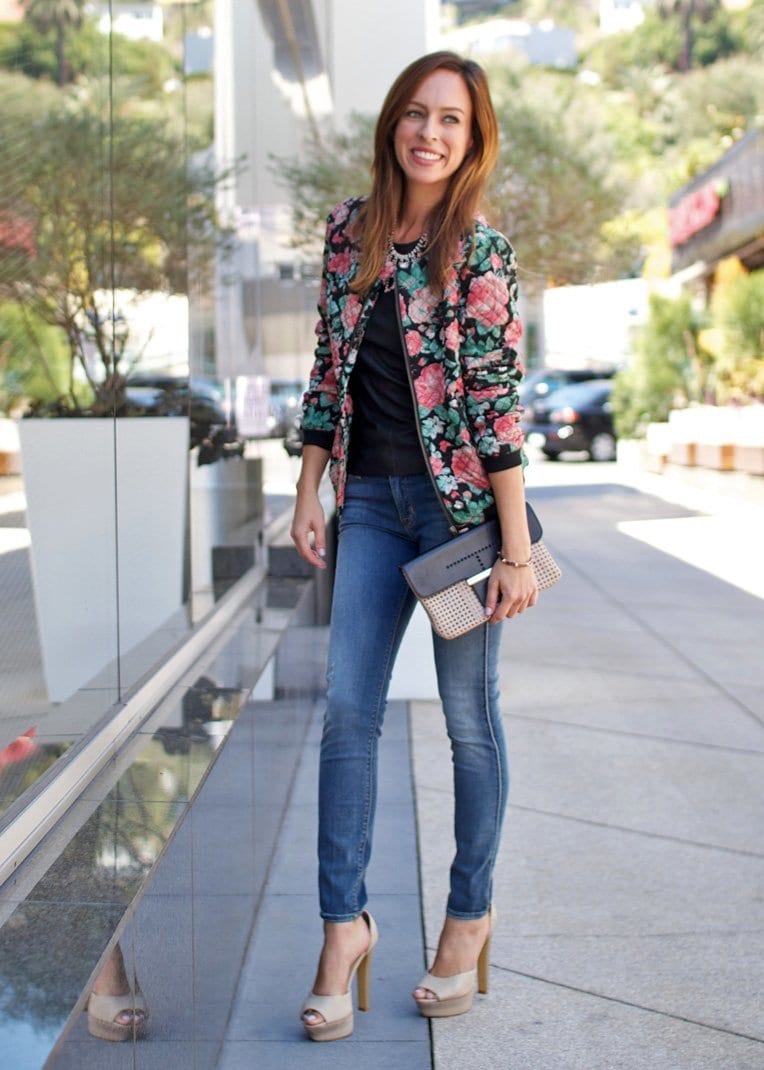 SheIn Women's Ring Zip Up Floral Print Stand Collar Baseball Bomber Jacket $27.99
Amazon Essentials Women's High-Rise Skinny Jean $31.70
Women's Platform Heeled Sandal $52.85
14 – How To Style Floral Pants?
If you want to wear your floral pants for a formal look then this is an inspiration. This outfit is not too casual or too formal. Here black floral printed pants are paired with a white collared shirt along with that red cardigan is also layered with the look.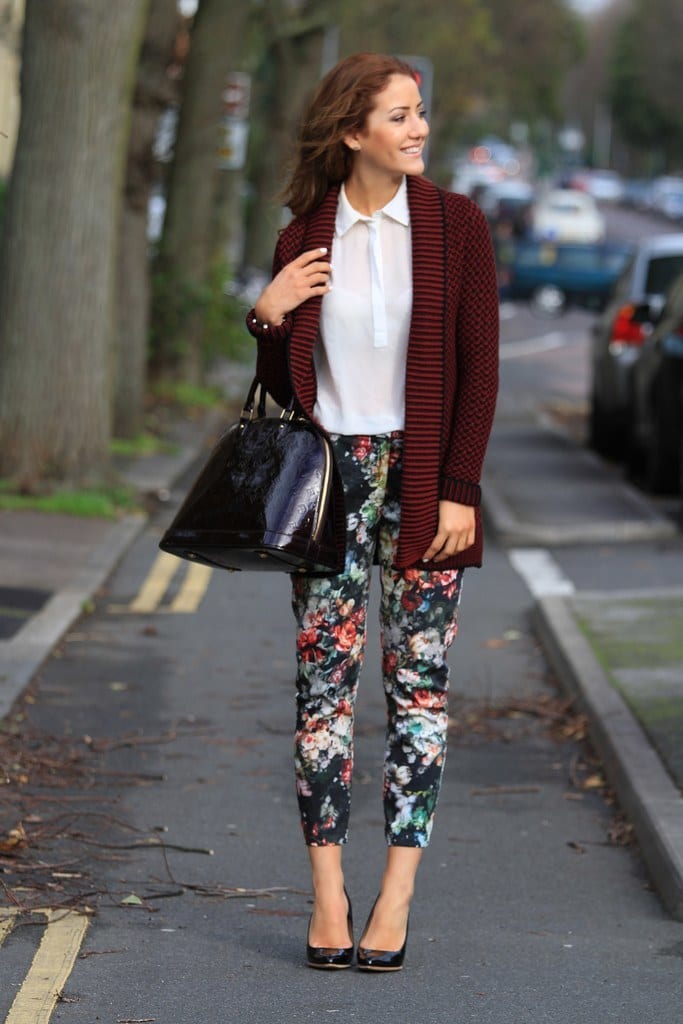 Bandolino Amy Straight Leg Denim $17.99
Women's Long Sleeve Shirt $20.37
Women's Cable Knit Cardigan $36.99
13 – Floral Printed Palazzo Pants:
Nothing can be more comfortable than palazzo pants. But simple palazzo pants can be too bland so for that we have a solution which is floral printed palazzo pants. You can form the comfiest outfit by pairing those pants with a simple white shirt. It is a perfect outfit for a casual day however we have not added much to this look so you can add some accessories as well.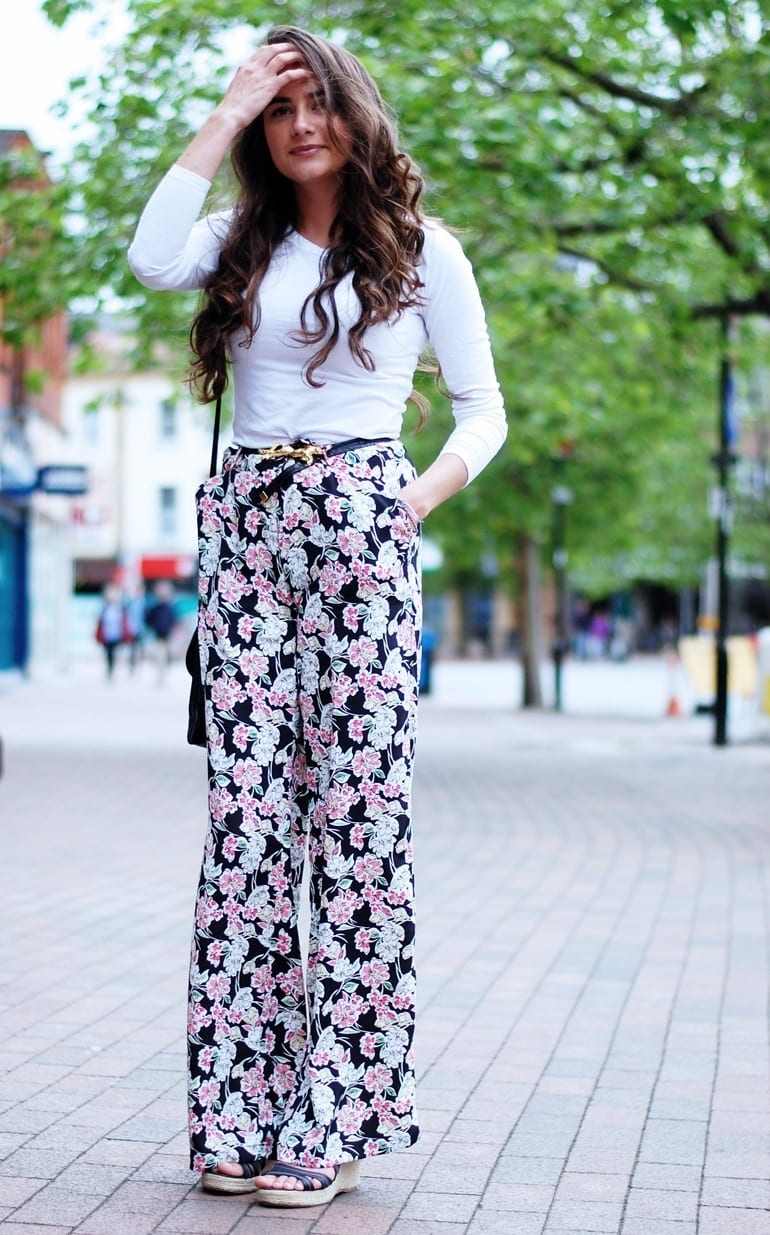 Women's Casual Floral Print Belted Summer Beach High Waist Wide Leg Pants with Pockets $19.98
Hanes Women's Stretch Cotton Raglan Sleeve Tee $9.95
12 – Floral Print Dress:
Simple floral dresses are one of the summer essentials. Try to go with light and breezy colours as they will make you look fresh in the heat. Apart from that floral prints are very aesthetically pleasing. There are endless options for summer dresses. You can wear simple tank tops, off-shoulder tops, midi dresses in floral prints.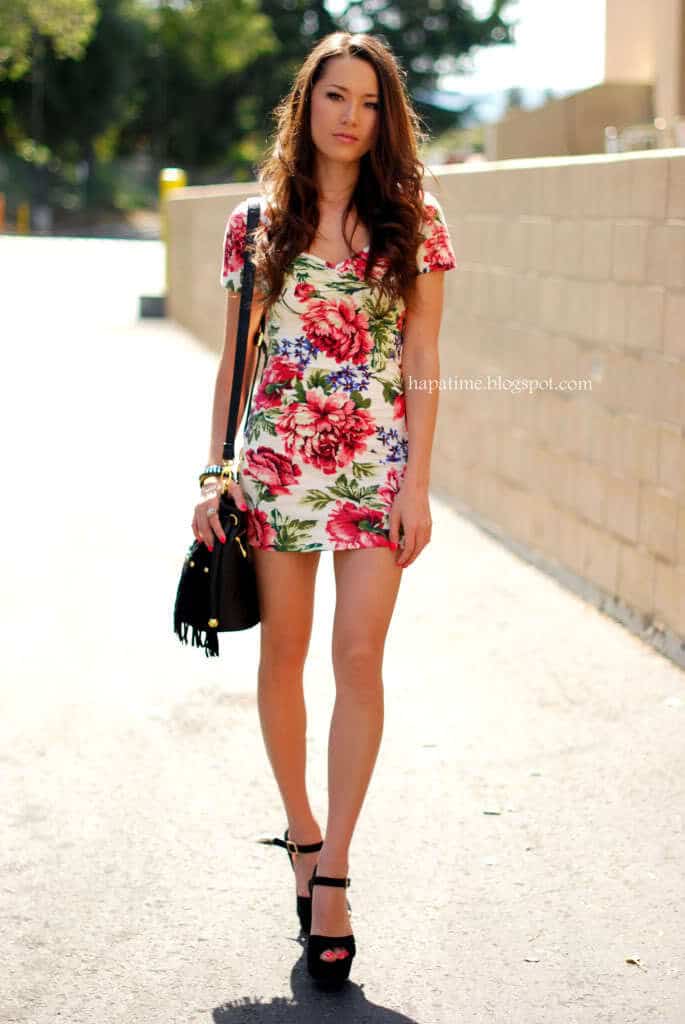 Women's 50s Vintage Pencil Dress
DREAM PAIRS Women's Hi-Lo High Heel $55.99
11 – Floral Print Accessories:
Not only clothing, but floral prints are also available in accessories as well. So if you are going for a really simple outfit or if you are a really big fan of floral prints then you can choose some of these accessories. From bags to shoes and jewellery, everything is available in floral prints.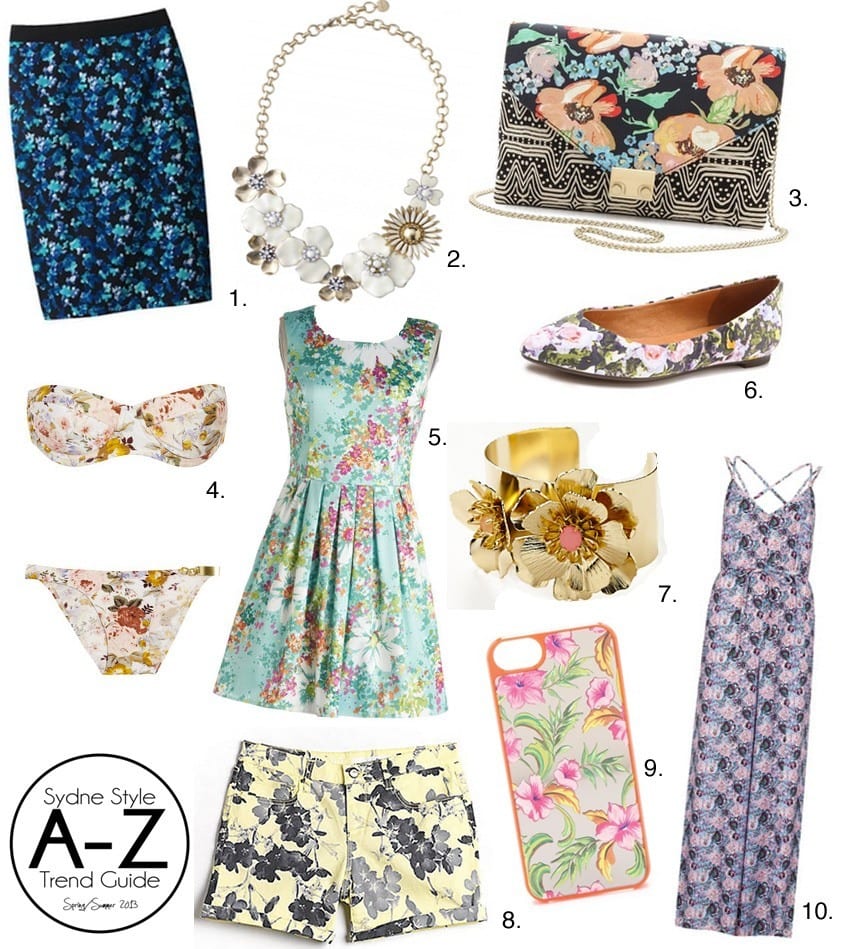 DREAM PAIRS Women's Heels Pump Shoes $22.99
Womens Casual Drawstring Pocketed Shorts $9.99
10 – Plain Top And Printed Trousers:
A very casual and effortless outfit can be seen styled here. A plain laced spaghetti strap top is paired with floral printed trousers and pump heels. Similarly, if you are wearing a printed top, then you should go for plain pants.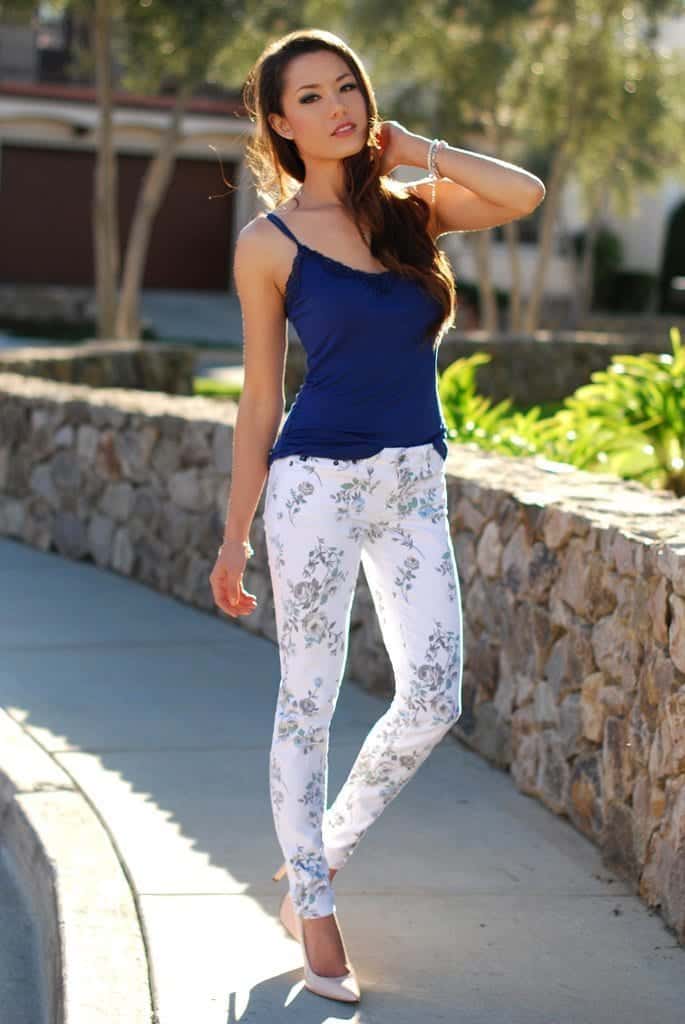 Women's V Neck Sleeveless Lace Trim $7.99
9 – Vibrant Floral Print Coat:
Long floral coats will add more of a feminine touch to your beautiful dresses. So you should sometimes ditch your plain black coats and go for these.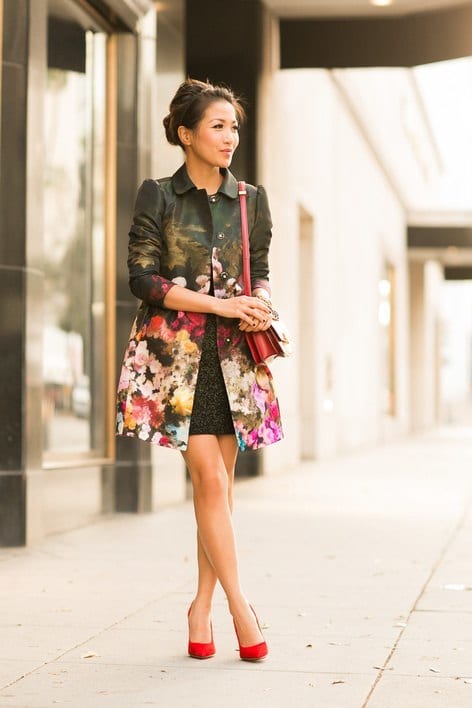 Women's Kucci Classic Fashion Pointed Toe High Heel $23.99
8 – Plain Short & Shirts With Floral Jacket:
Another basic outfit that is completely changed with the floral touch. This can be the outfit you can wear to your college or university. Here, a plain white shirt and denim shorts are layered with a floral jacket along with some minimal accessories.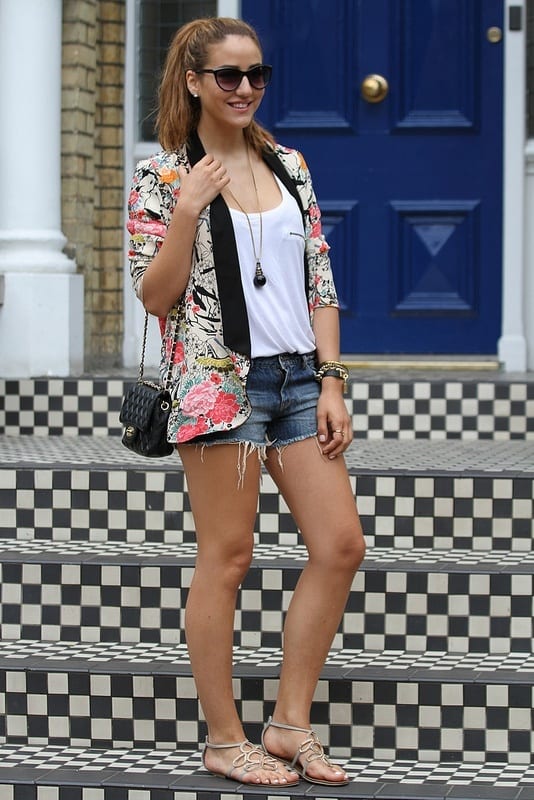 Women's Ripped Denim Jean Shorts $27.99
Womens Crewneck Long Sleeve Shirts $14.99
Women's Long Sleeve Floral Print $21.99
7 – Floral Print Maxi Dress:
We all love long beautiful maxi dresses and floral prints make them even more beautiful. Get your hands on this maxi dress if you are a fan of floral prints.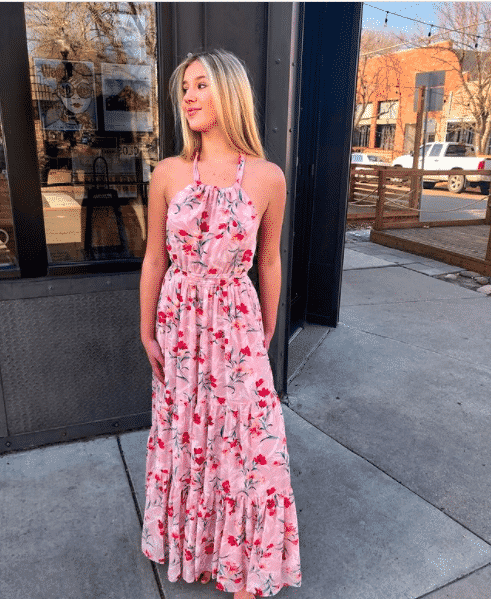 Women's Halter Neck Floral Print Backless Split Beach Party Maxi Dress $39.99
6 – Floral Print Blazer:
Along with jackets and coats, blazers are also available in floral prints and we should take full advantage of this opportunity. They can also be paired with any of your dresses like this one in which a plain black dress is styled with a black and white floral printed blazer.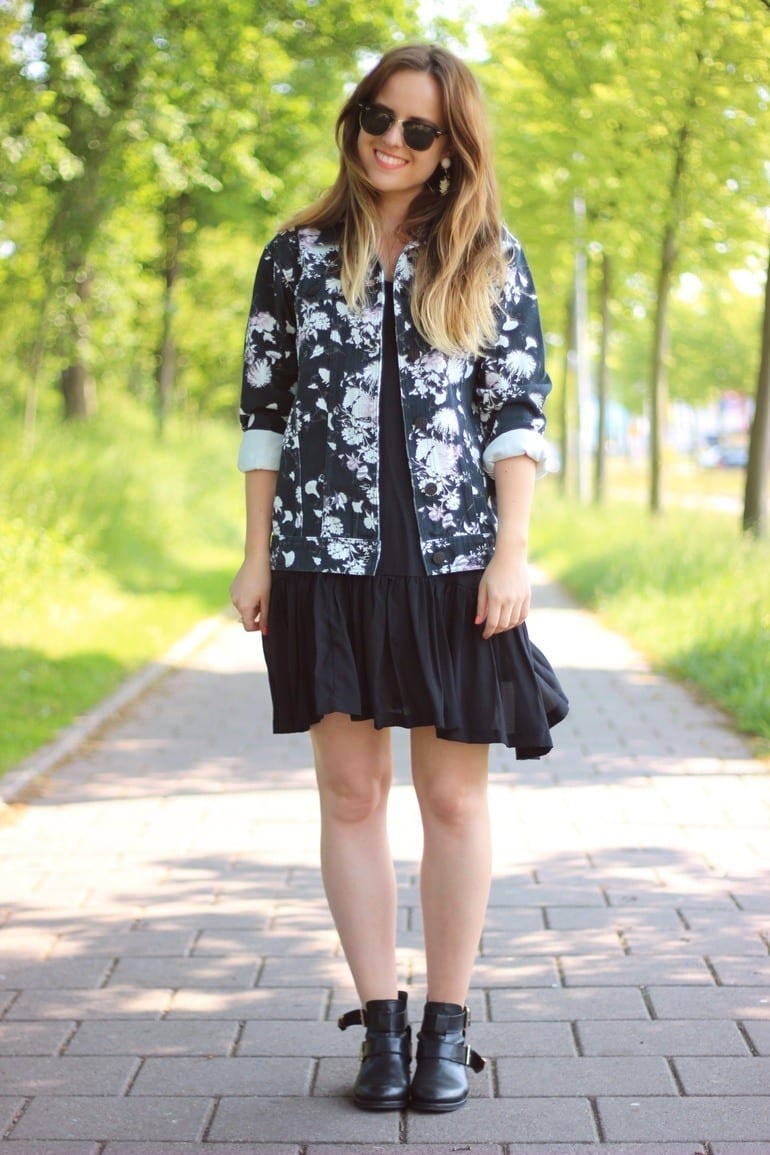 Women's Floral Print Open Front Blazer Jacket Cardigan Outerwear with Pocket $17.99
DREAM PAIRS Women's Black Ankle Booties Wedge Heels Boots $39.99
5 – Floral Pleated Skirts:
Pleated skirts are already a great idea for a cute outfit but floral printed skirts are even cuter and here's the proof. They look formal so you can easily wear them in a workplace as well as they are perfect for a brunch date. Floral skirts can easily be styled with any formal or informal top.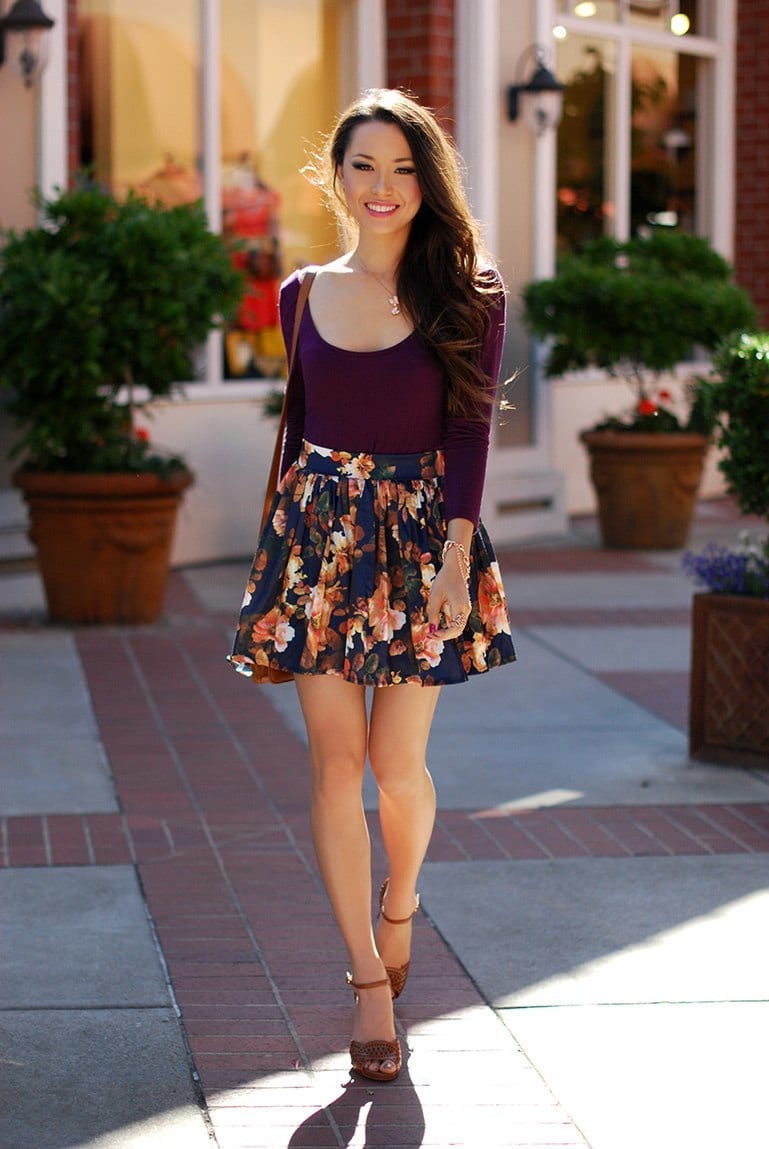 Women's Vintage A-line Printed Pleated Flared Midi Skirt with Pockets $16.99
Women's Scoop Neck Short/Long Sleeve Tees $16.99
4 – Floral Shorts:
Not only tops, but floral shorts are also quite popular. They can be your best friend in summers as it is a piece of clothing that provides and comfort and style simultaneously. You can simply just pair these shorts with a white tank top and the whole outfit is ready. Similarly, here you can see white floral printed shorts are styled with a tangy orange oversized shirt. The two colors are perfectly balancing each other.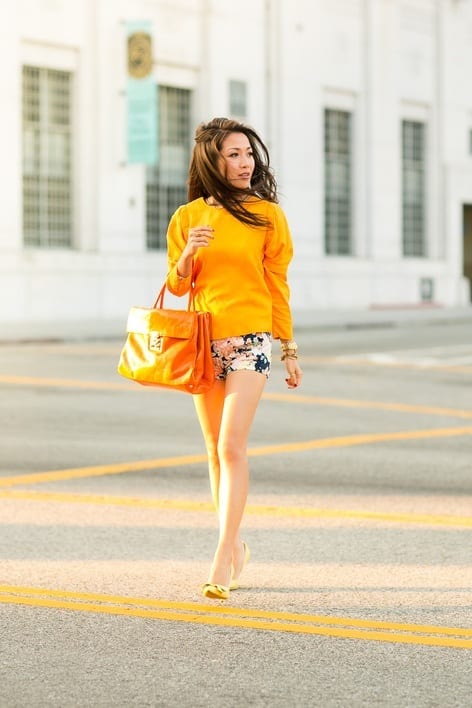 Womens Casual Drawstring Pocketed Shorts Summer Loose Athletic Sports Short Pants $23.59
Women's Long Sleeve Shirts $16.98
3 – Short Delicate Floral Dress:
When we hear about floral prints, we always think about fun and colorful outfits but there's more to it. You can also get an elegant dress in floral prints like this one. Looks like a perfect work look right? To add up more you can also layer it with a long trench coat and heels.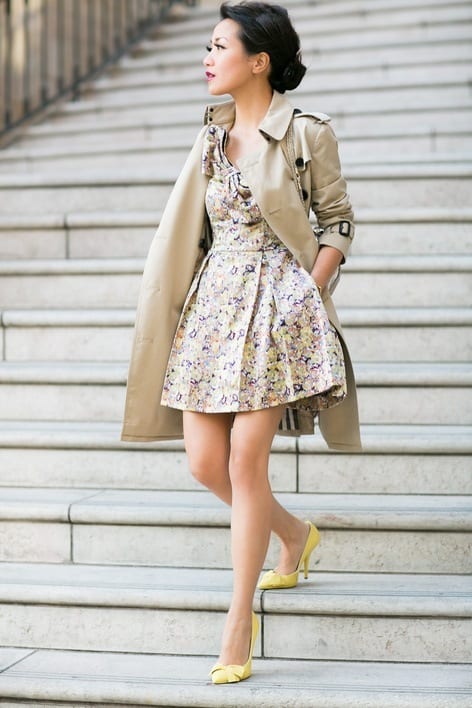 Women's Notched Lapel Single Breasted Outwear Winter Coat $68.99
2 – Floral Pants With Sweater:
Here is how you can wear floral tops in winter. If you think that floral tops are too much for you then go for the alternate option which is floral pants. Along with that, you can pair it up with a simple sweater. In this look, black pants with a yellow floral print are paired with a simple yellow sweater.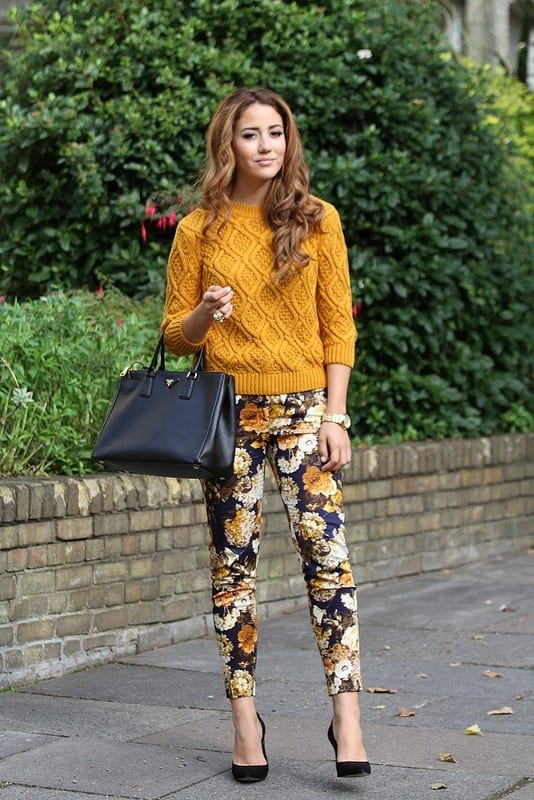 Women's Velvet Velour Pants $19.95
Women's Turtleneck Batwing Sweater $41.99
1 – Neutral Floral Skirt:
Among all the options, floral skirts are my absolute favourite. In this look, we have styled a neutral flora skirt with a black lace blouse and a black leather jacket. You can easily wear this dress at weddings or your prom look as it gives those princess vibes. Long floral skirts are also one of the best options to try.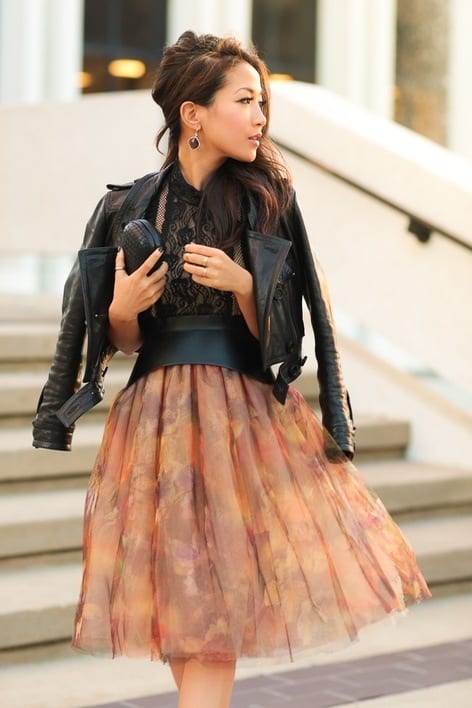 CHICWISH Women's Caramel Floral Print skirt (Similar) $39.90
Women's Leather Jackets $43.99
Frequently Asked Questions
Q. When should you wear a floral dress?
Ans. Let me tell you that there is no specific season to wear floral dresses. You can pull them off all year round but most people prefer to wear them in summers as these cute prints bring a breeze of fresh air to the mind. Floral printed dresses are the most popular ones for the summers and other than that floral tops and blouses can easily be styled with jeans and worn in winters.
Q. Are floral prints in fashion?
Ans. Floral prints are in fashion for a long time and it doesn't seem to go out of fashion any time soon. The reason for their popularity is the variety of options and prints available for every occasion. You can wear these prints anywhere from a wedding to work and as a casual look. Do put a little effort into finding the best floral prints and add them to your wardrobe. Beautiful blooming prints will make you look attractive. You can wear comfortable heels and let your hair loose. How gorgeous you would look for sure. For more ideas, you can look around for the prints at the shops.
Q. What shoes goes with floral prints?
Ans. Just like you would style your shoes with any other dress, floral prints are the same. Pumps, boots, stilettos, and even sneakers can be paired you just need to identify the type of dresses. If you are wearing a top and jeans, sneakers can be worn with them, if you are wearing a skirt and blouse, stilettos can go with them and if you are wearing a simple floral dress, pump heels would be perfect for them. The options are endless and you can pair any of your shoes with floral prints.