Latest Engagement Dresses for Men in India: Getting engaged to the perfect girl you might have had a crush on at some point and realizing that you will soon be marrying her – this is a blissful thought for any man.
Tying this knot with her is the start of a beautiful and incredible journey. And if you are celebrating this day with your close ones in India, this indeed is an occasion. Therefore, dressing your best is an absolute given!
On this day, you will be the center of attention, and similarly, you should be the one to stand out, look amazing, and display your style in grace. I might have something to advise to make it easier for you to select among a wide range of Indian engagement dresses.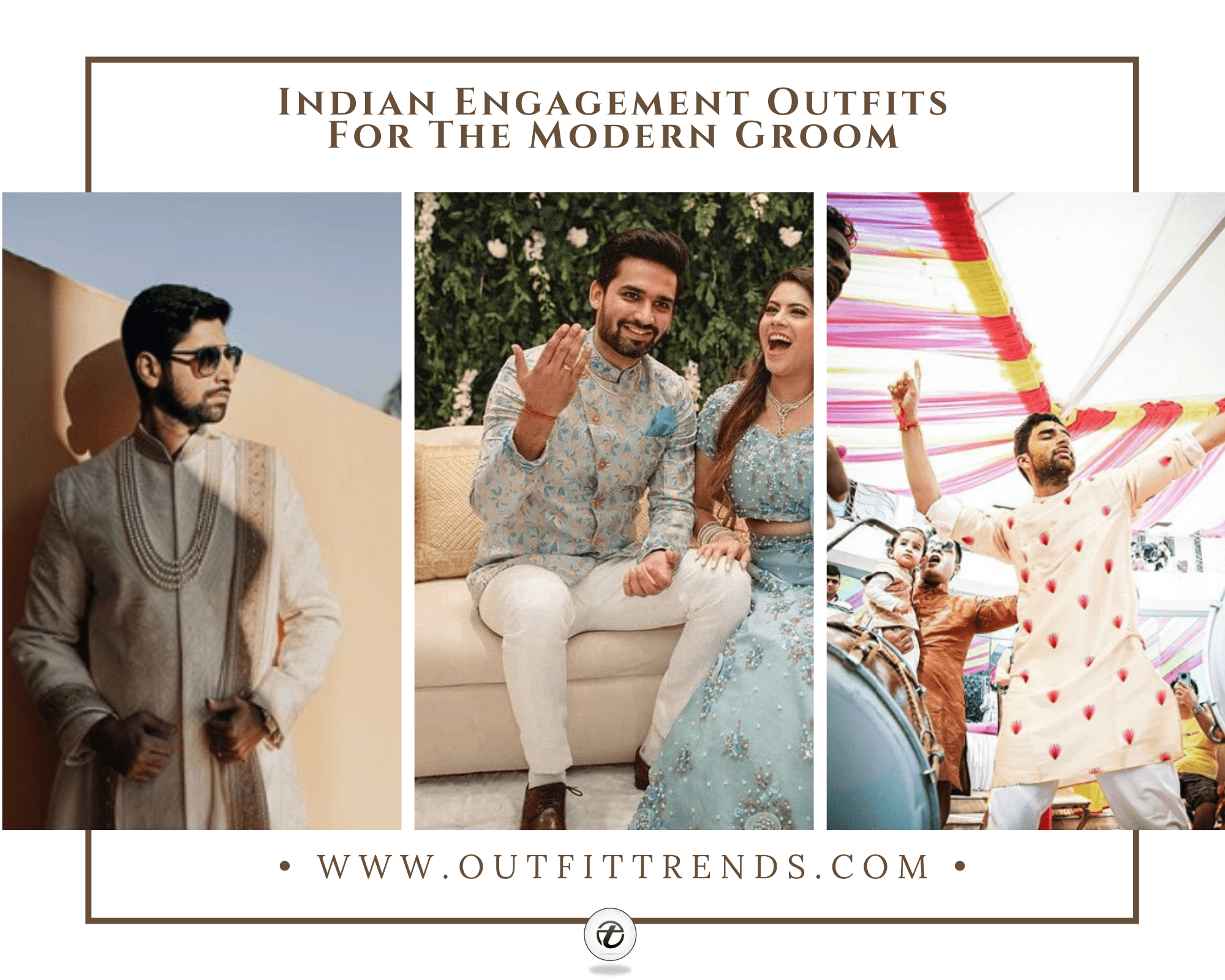 Starting with some basic tips you need to keep in mind:
Talk to your bride-to-be and get to know what her dress is like because if you are going to slay this day, you are going to do it with her.
Know which style you want to carry for your event – whether you want to wear an eastern, western or fusion look.
Day and night style hugely differs so keep the bold colors for the night while keeping it breezy for the daytime events.
Since reservations have probably already been made and the date is set, you might want to check the weather because sweating or freezing on this special occasion is not how you want to look back.
Rather than going for over-the-top outfits, choose what will look good on you and what will be comfortable to wear because in the end, you want to enjoy this day and show off those moves that you have been preparing for some time.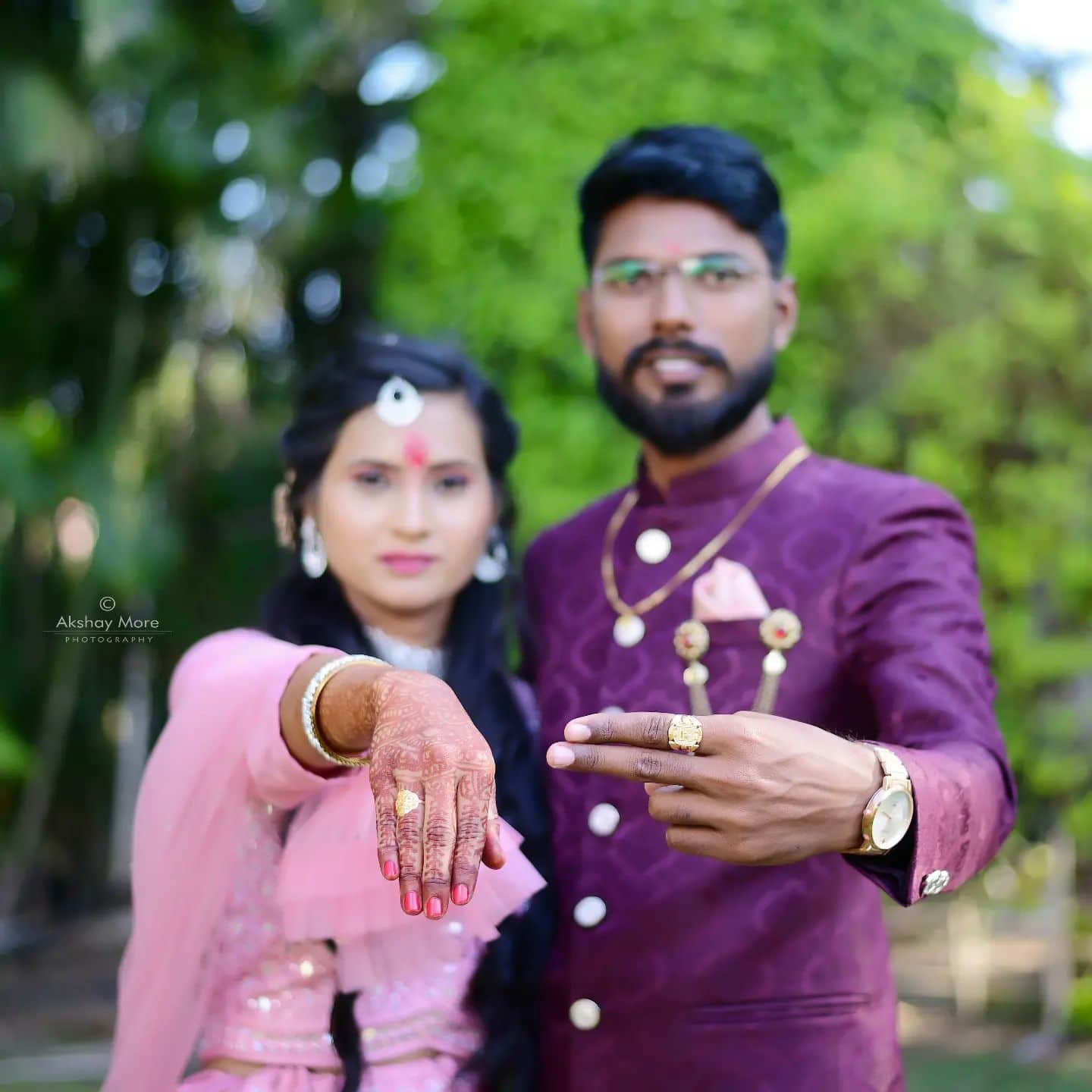 Know your body type and concentrate on getting the best fit for whatever dress you plan to wear because stitching and fitting are the most important factors while searching for an outfit.
Accessories are going to matter and play an important role in bringing your outfit together, so choose your footwear, cuff-links, shawl, jewelry, etc carefully.
Take your wing-man with you to select the suit because it's never too early or late for a second opinion.
Keeping it simple but elegant regarding your best fit for the big day is probably for the best.
Wearing traditional wear can be tricky so get the fittings done by your trusted tailor who has always been there to make your dresses look good on you.
You might want to get out of your comfort zone to go and explore because with new designers, there is a whole new range to choose from.
Your hair color plays a vital role in the color of your dress. Contrasting is important and that's how you will stand out. As for beard and grooming, you should definitely check out our guide on Indian beard styles.
↓ 35 – Prince Coats fit for the Day!
I mean, it is only fitting for you to wear a prince coat on one of the most special days of your life when you feel like you are on top of the world. And if it looks as dapper as in the image below, then it should be a strong contender for you. The best way to style this coat is with a straight shirt paired with a churidar pajama or straight-fitted pants.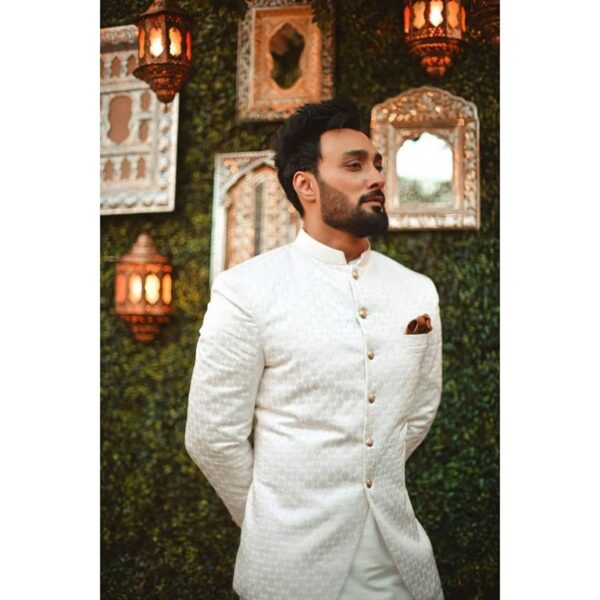 ↓ 34 – Twinning With the Wife-to-be!
Following a theme and wearing complementing outfits with your future partner is not only super cute, but the pictures turn out fabulous too! Thus, this look is right on the spot for a themed engagement outfit.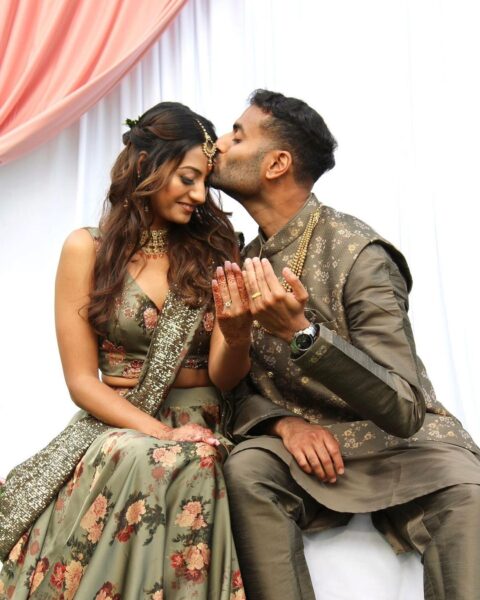 ↓ 33 – Dapper with Dupatta
A striking yet straightforward sherwani paired with a dupatta draped elegantly on one side is the ultimate definition of dashing! You can assure that all eyes will be on you, including your beautiful bride!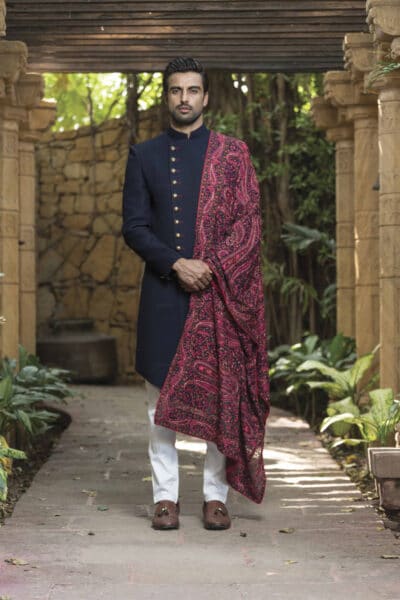 ↓ 32 – Stylish Waistcoat with Dhoti Shalwar
The cut on this waistcoat is an absolute hit! Not only does it look super stylish, but it gives your outfit an elevated, trendy look too. Actor Smaran Sahu knew what he was doing when dressing up in this fantastic fit. Moreover, he kept it simple with a plain white kameez, and dhoti shalwar took his look to the next level. Here are some more stylish shalwar kamiz and waistcoat combinations that you can try.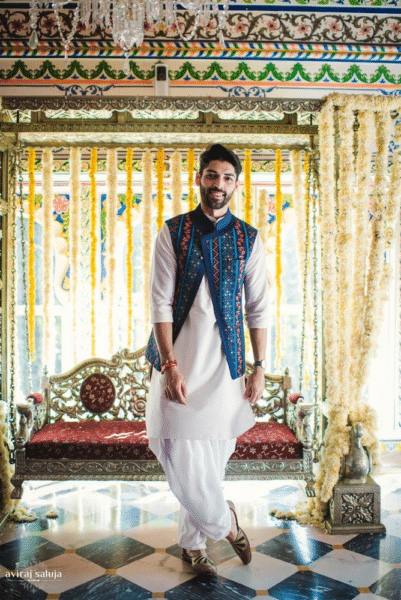 ↓ 31 – White And Pastel Colors For Your Big Day
If you are planning your wedding on a fine sunny day, white and pastel might be your go-to colors. It'll make your skin glow brighter with the charismatic aura that will make your fiance fall in love with you all over again.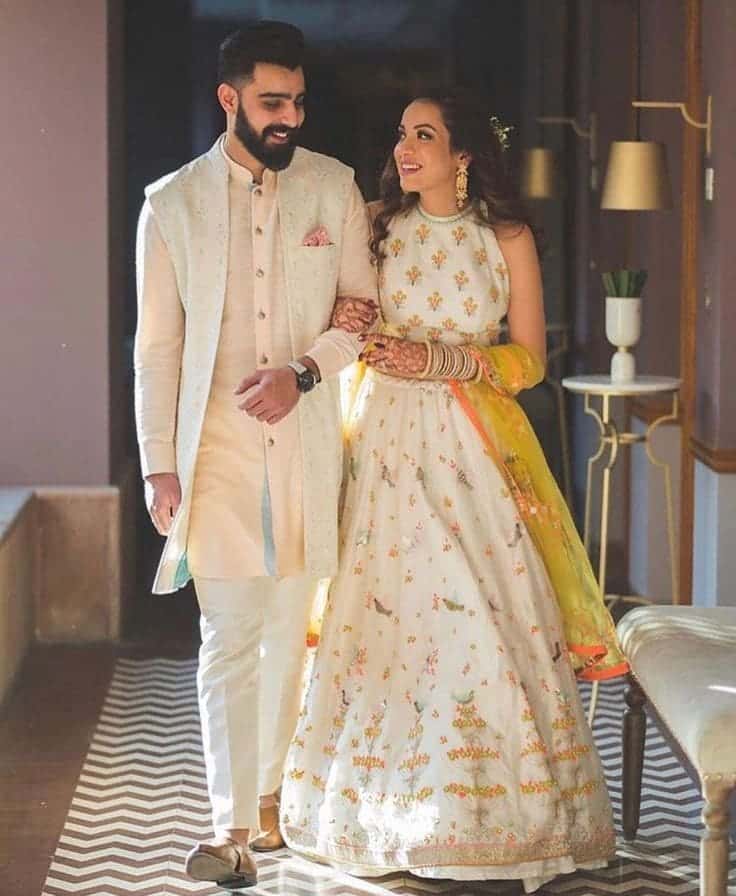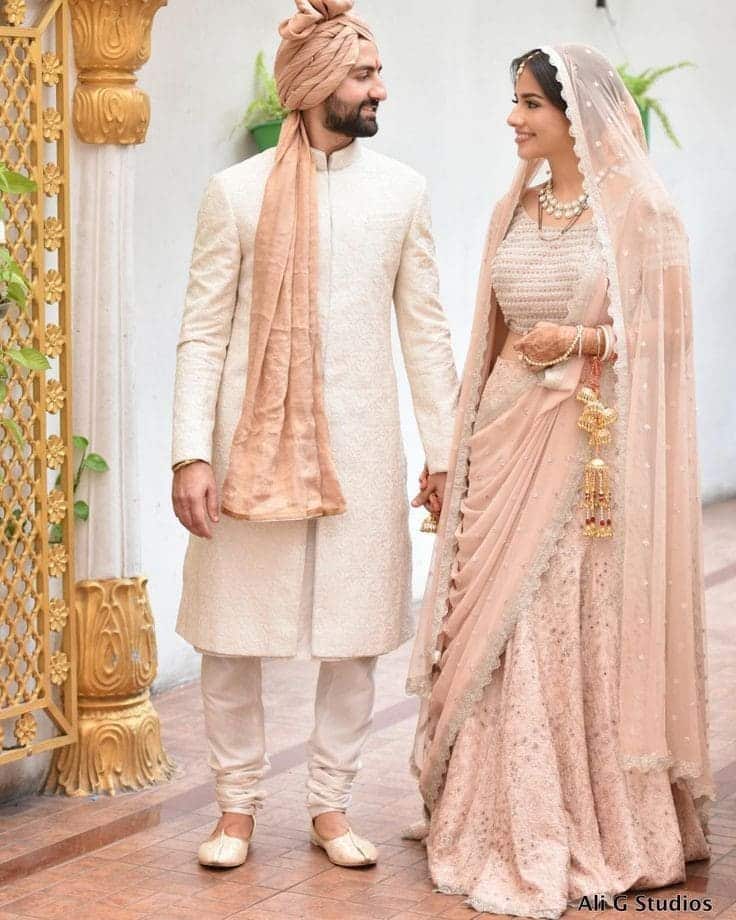 ↓ 30 – Contrasting Outfit With The Love of Your Life
It's always better to keep the color contrast of your dress a tone down from your fiance. You should get used to it soon because this is going to be the first of all the tones that you'll be keeping down (just kidding).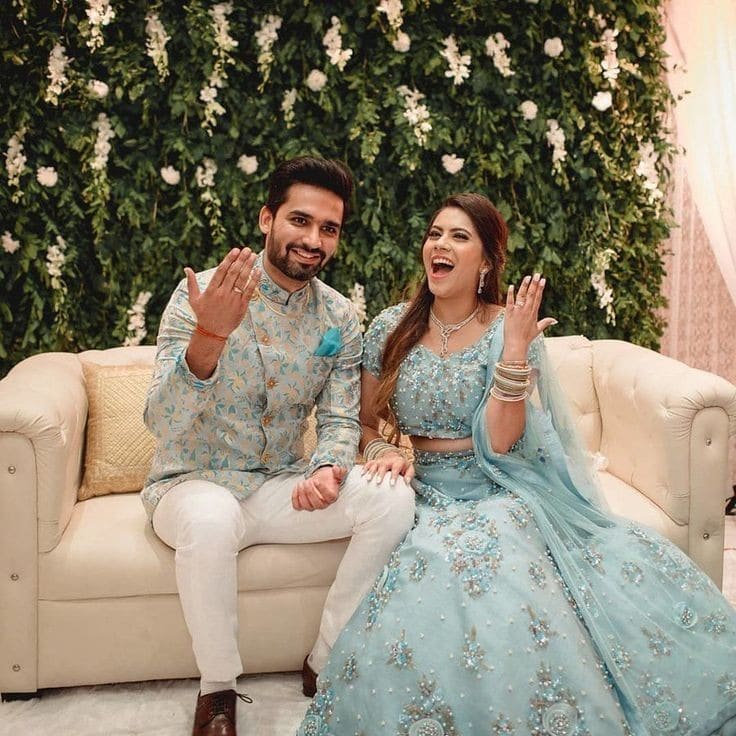 ↓ 29 – Akkineni Akil and Shirya Bhapul's Engagement
If you can learn anything from this beautiful duo on their engagement day, it's how you are going to get noticed and be the center of attention while keeping up with a traditional style.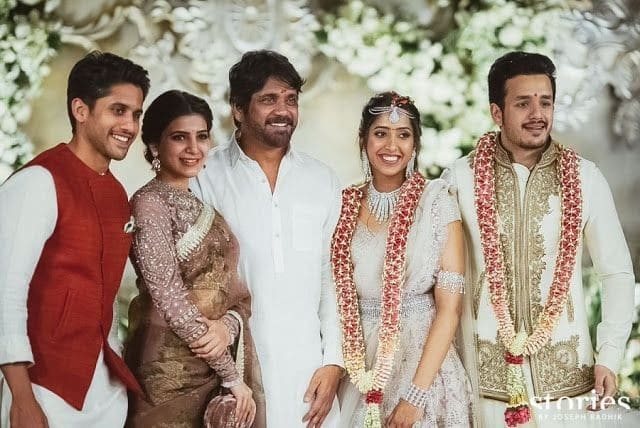 ↓ 28 – Engagement Dresses For Men In Summer
For a summer engagement party, you want to wear something light that would not make you sweat out in this stifling heat. This plain embroidered collar cotton kurta outfit from Utsav fashion will be an excellent choice.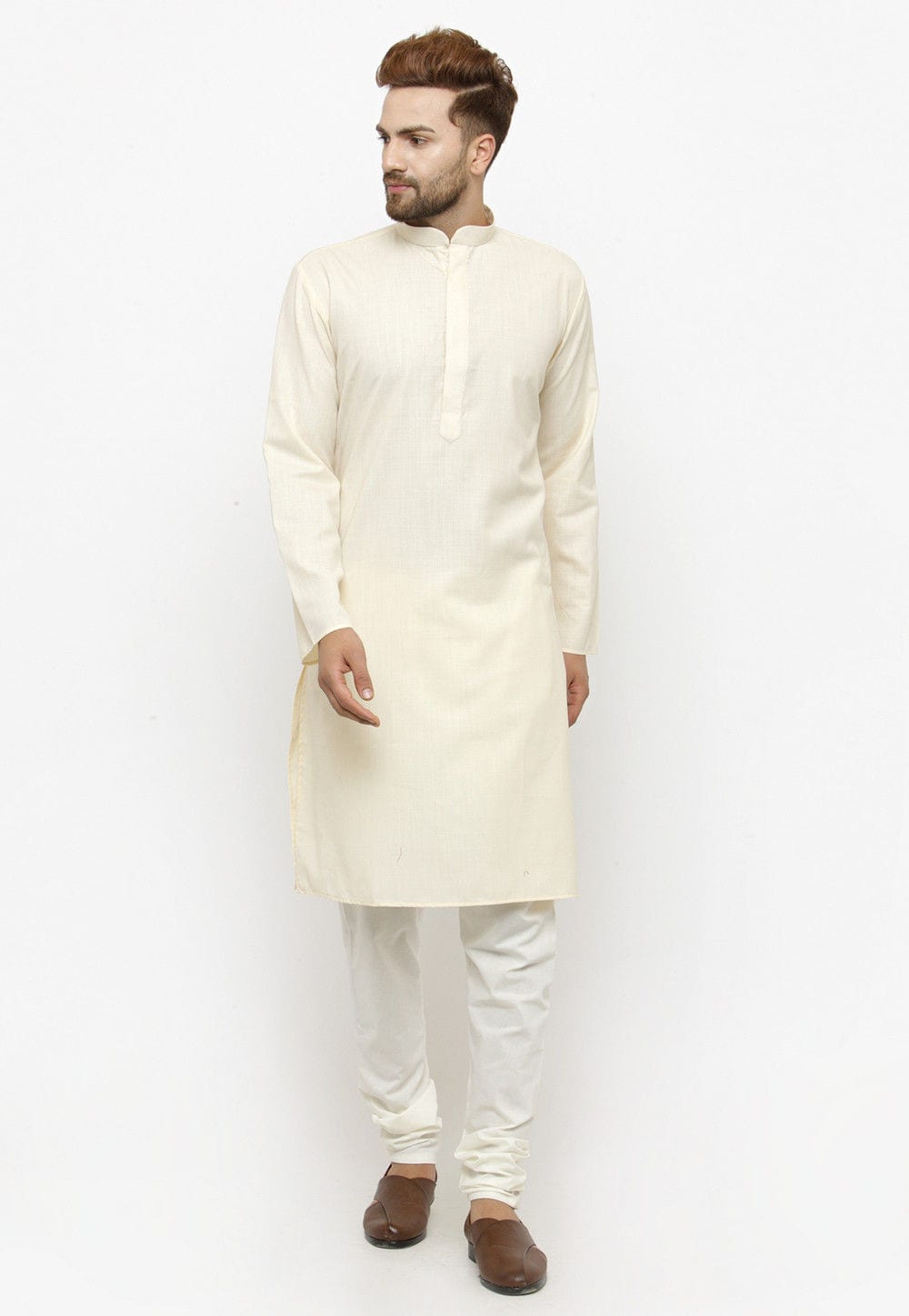 ↓ 27 – Men's Ethnic Wear For Engagement
80% of engagement dresses are ethnic wear, so if you too are going with a traditional ethnic look, why not make it unique? Stylish high collars, side slits, and hand-embroidered metallic thread work on sleeves will not only make you look sleek and modern, but you'll be setting the standards high for all the guys planning an engagement. With an ivory kurta inside, a slim-fit charcoal black checkered trousers, and add-on organza stole, it will be the absolute dreamy Black and White combo.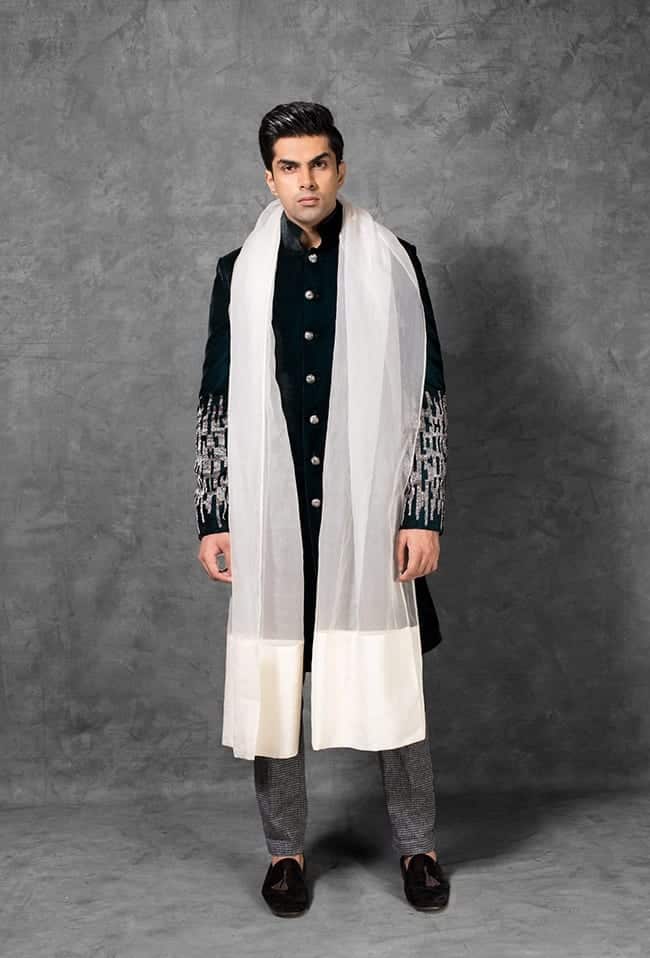 ↓ 26 – Golden Sherwani With Dhoti Pants
Golden embroidered collar sherwani with dhoti pants and kolhapuris will give a nice ethnic spin to your complete look. Golden sherwanis have been here for a long time, and since they are here to stay, you might want to put on a motif or a family emblem. I present the Anita Dongre special for a purely cultural look with a contrasting golden and maroon motif.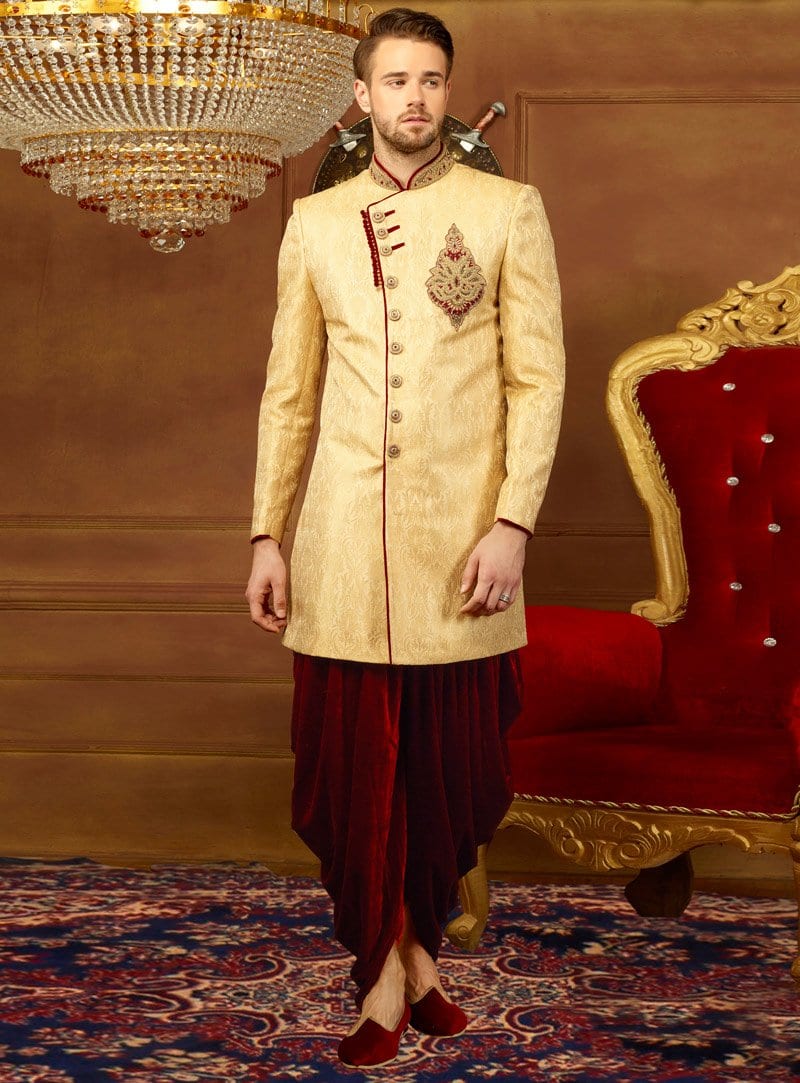 ↓ 25 – Overlap Nehru Jacket With Kurta
Tarun Tahiliani knows his stuff and he has brought forward this brilliant front overlap Nehru jacket that you can pair up with a kurta and churidar.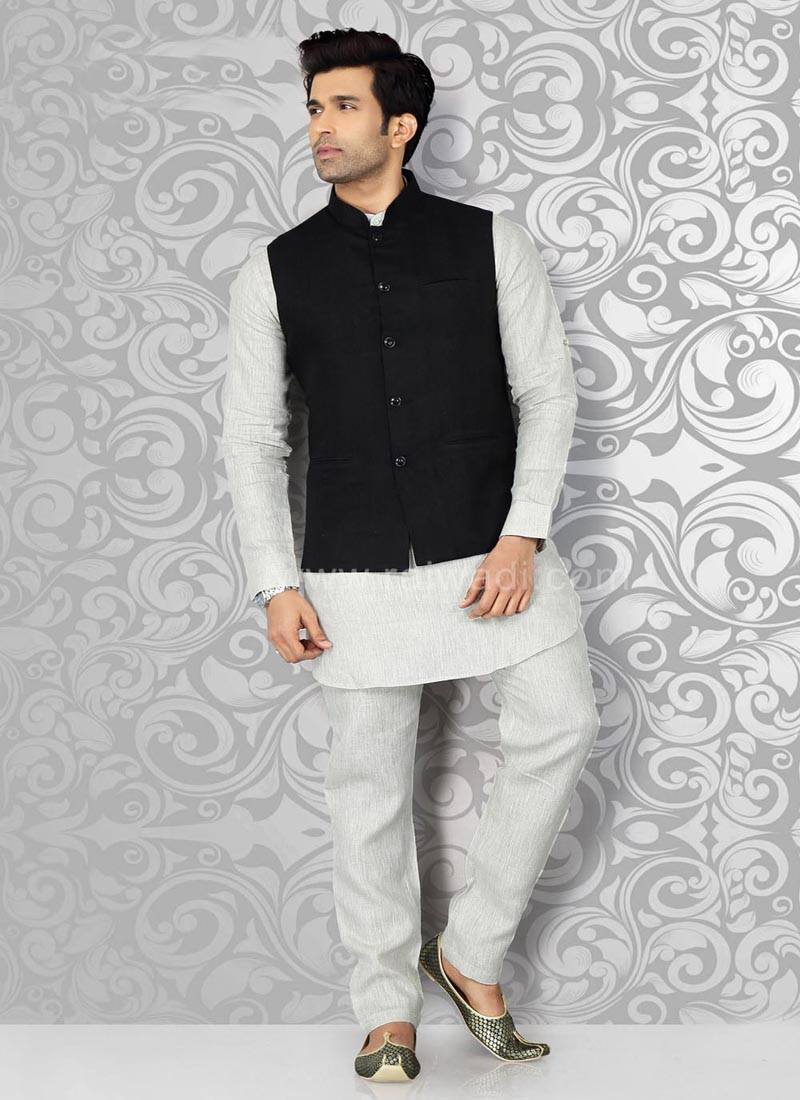 ↓ 24- Golden Bandhgala With Red Kurta
Raghavendra Rathore presents this ideal combination of colors that are sure to make you the center of attention. Golden printed band gala with red kurta and white fitted pajama is sure to turn around heads everywhere and the fitted waistcoat will complete the look!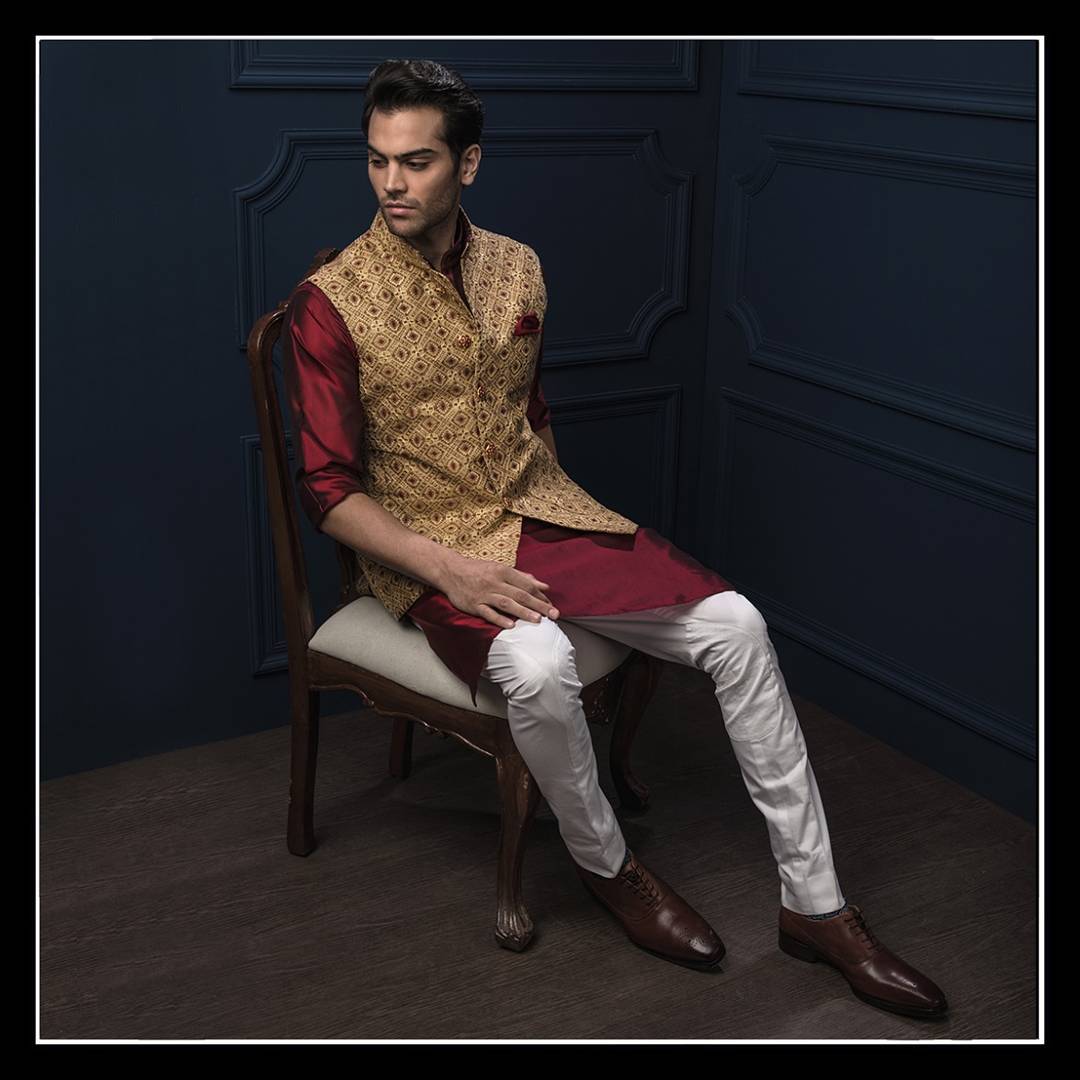 ↓ 23 – Sherwani With Embellished Stole
One can never undermine the importance of accessories. This beautifully embroidered sherwani by Rohit Bal accompanied by an embellished stole is the perfect outfit for your special event. A black sherwani will always make a style statement and designer Arjun Khanna takes this statement up a notch with his awesome motifs on the sherwanis!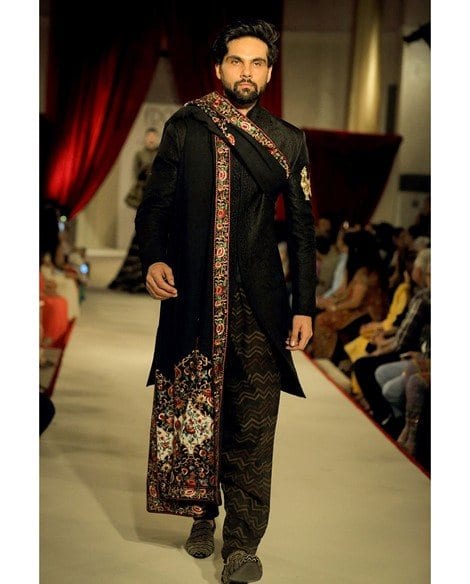 Black hand embroidered sherwani INR 1,74,990
↓ 22 – Celebrities Engagement Outfits
You can always take a hint or two from the celebrities and their outfit choices. A twist of both Eastern and Western wear might come handy and dominate the entire atmosphere.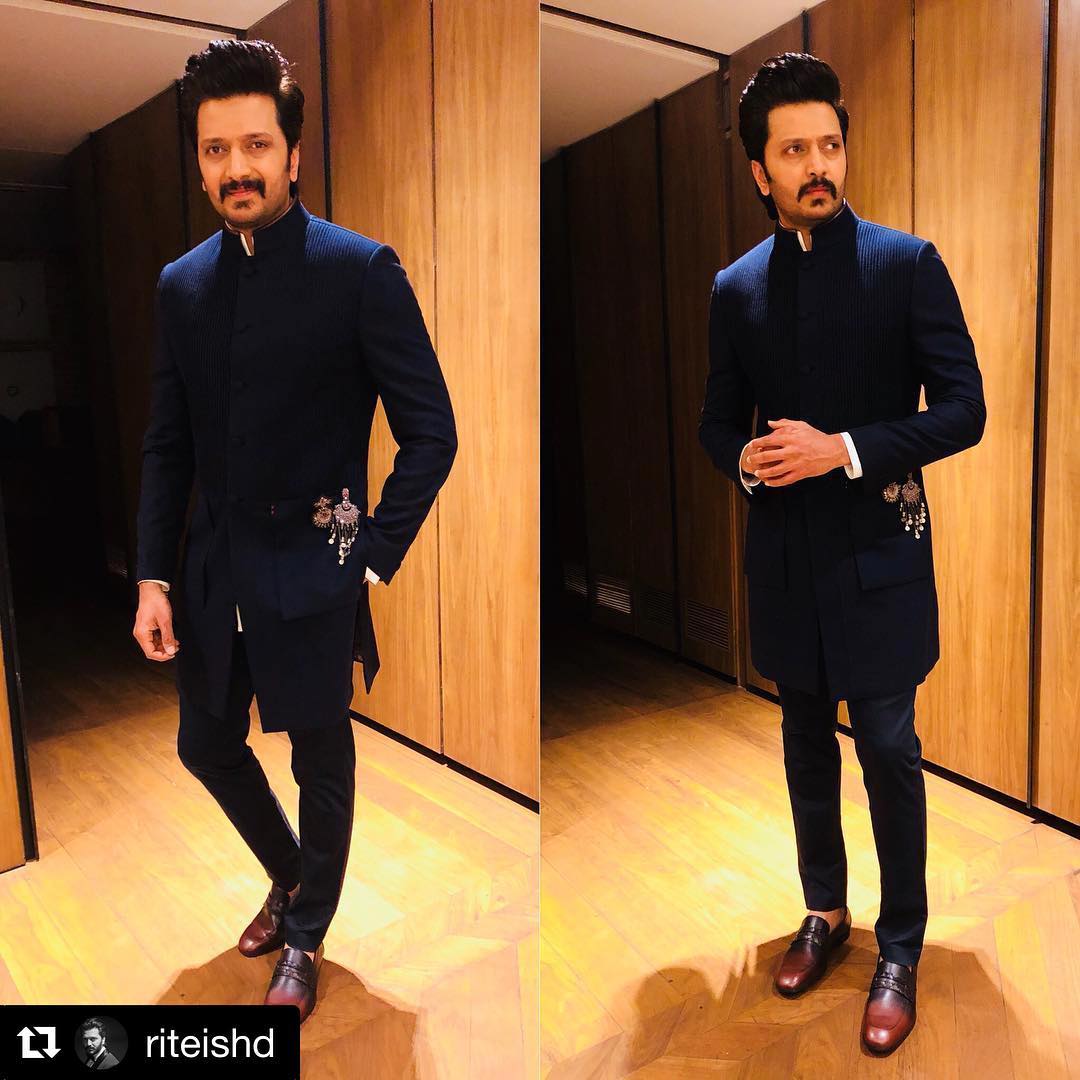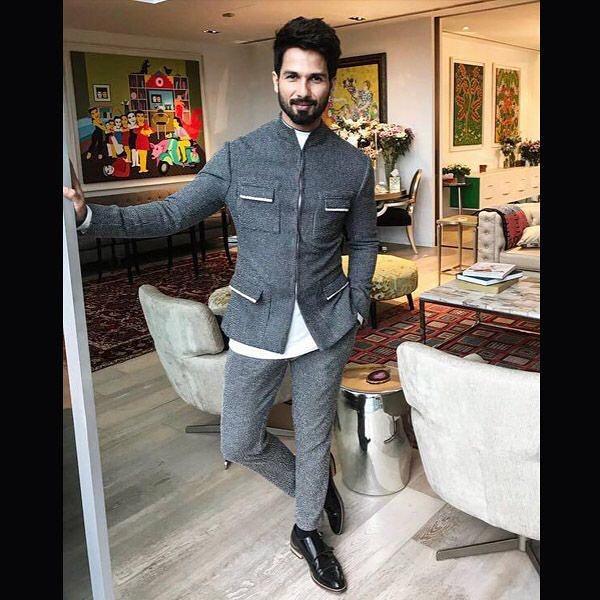 ↓ 21 – Metal Work Bundi By Kunal Rawal
With a beautiful salmon-colored Bundi with rolled-up sleeves and white churidars, you can be the picture of chic. This look will go well for evening events. Don't miss out on these Latest Style Wedding Sherwani For Men And Styling Ideas.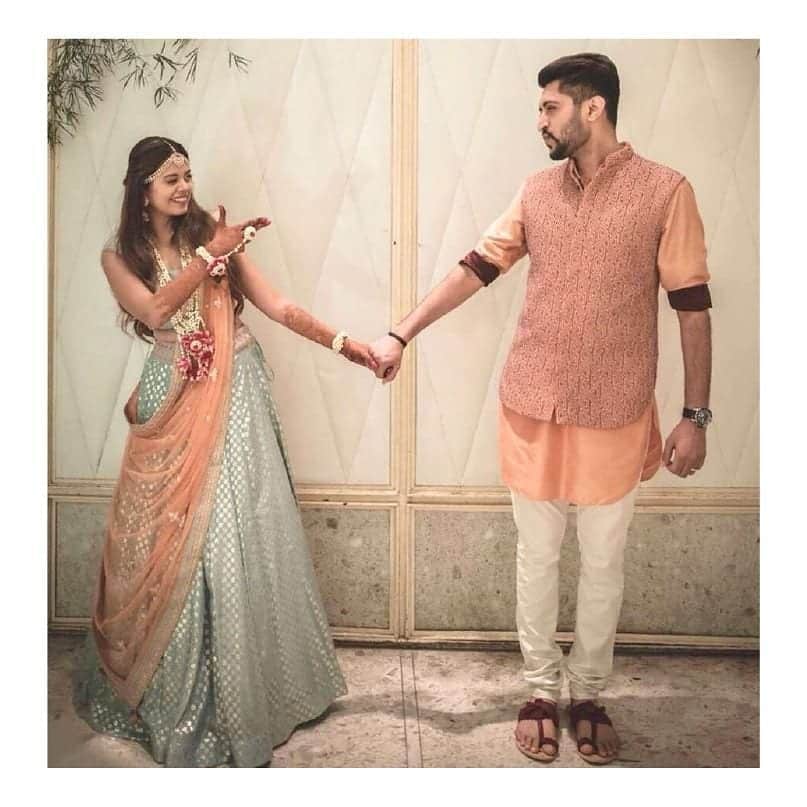 ↓ 20 – Motif Pants With Short Kurta
Going for a look that is very modern and urbane? Wear these motif pants by Varun Bahl that will accentuate your ensemble and match it up with a plain short kurta.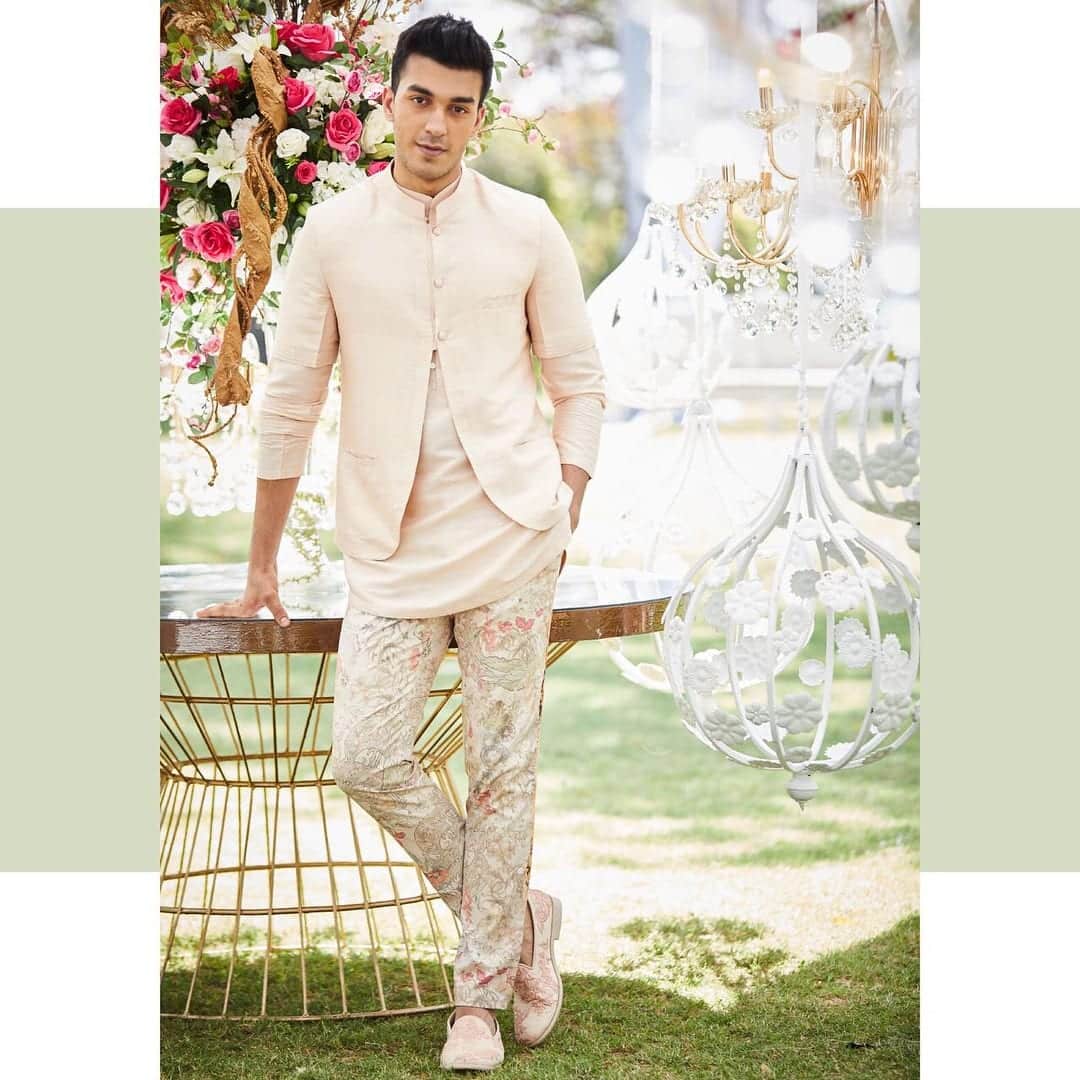 ↓ 19 – Keeping It Dapper
A dapper black-tie outfit can be the perfect selection and this piece by Troy Costa will make you look like the perfect gentleman. Talk about first impressions! You can get more ideas from these amazing men's suit combinations.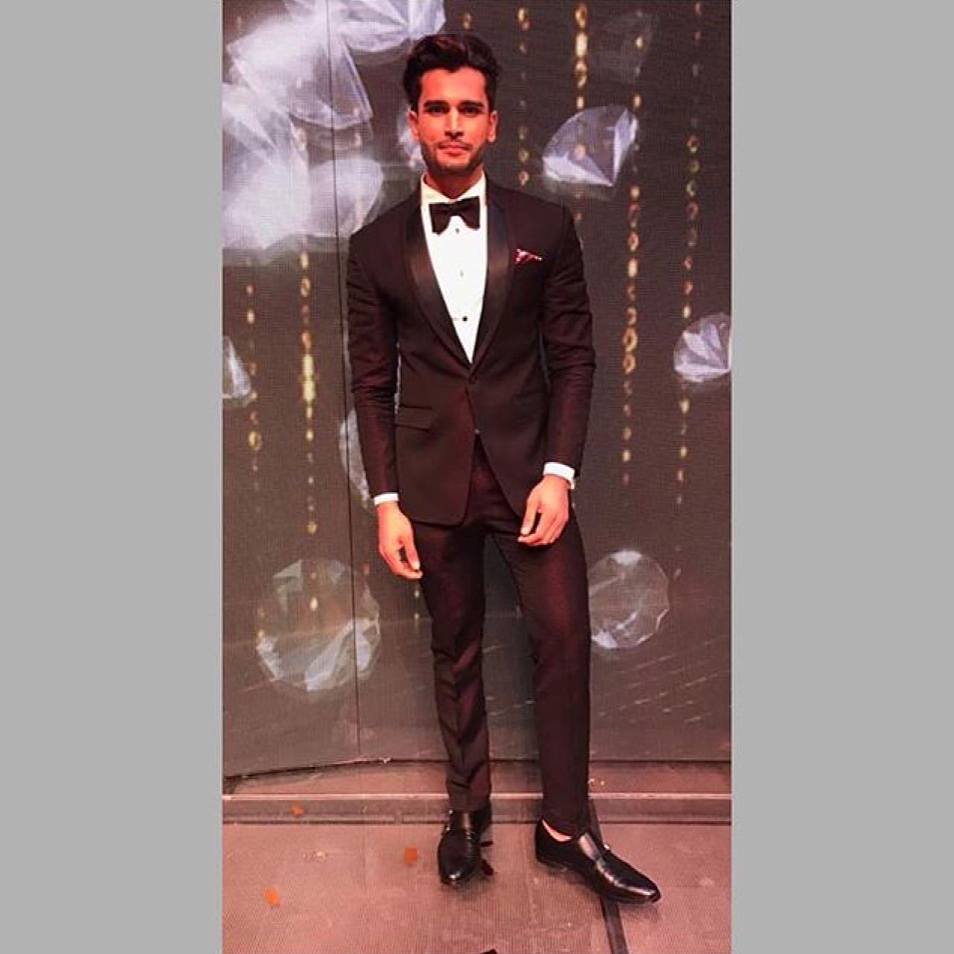 ↓ 18 – Floral Dreams
After women dominating the fashion trends with floral prints, sherwanis with these prints have set the fashion world on fire and have made it big into both the male and female couture. Sabyasachi has designed some beautiful and elegantly styled floral print sherwanis which can fit in any atmosphere.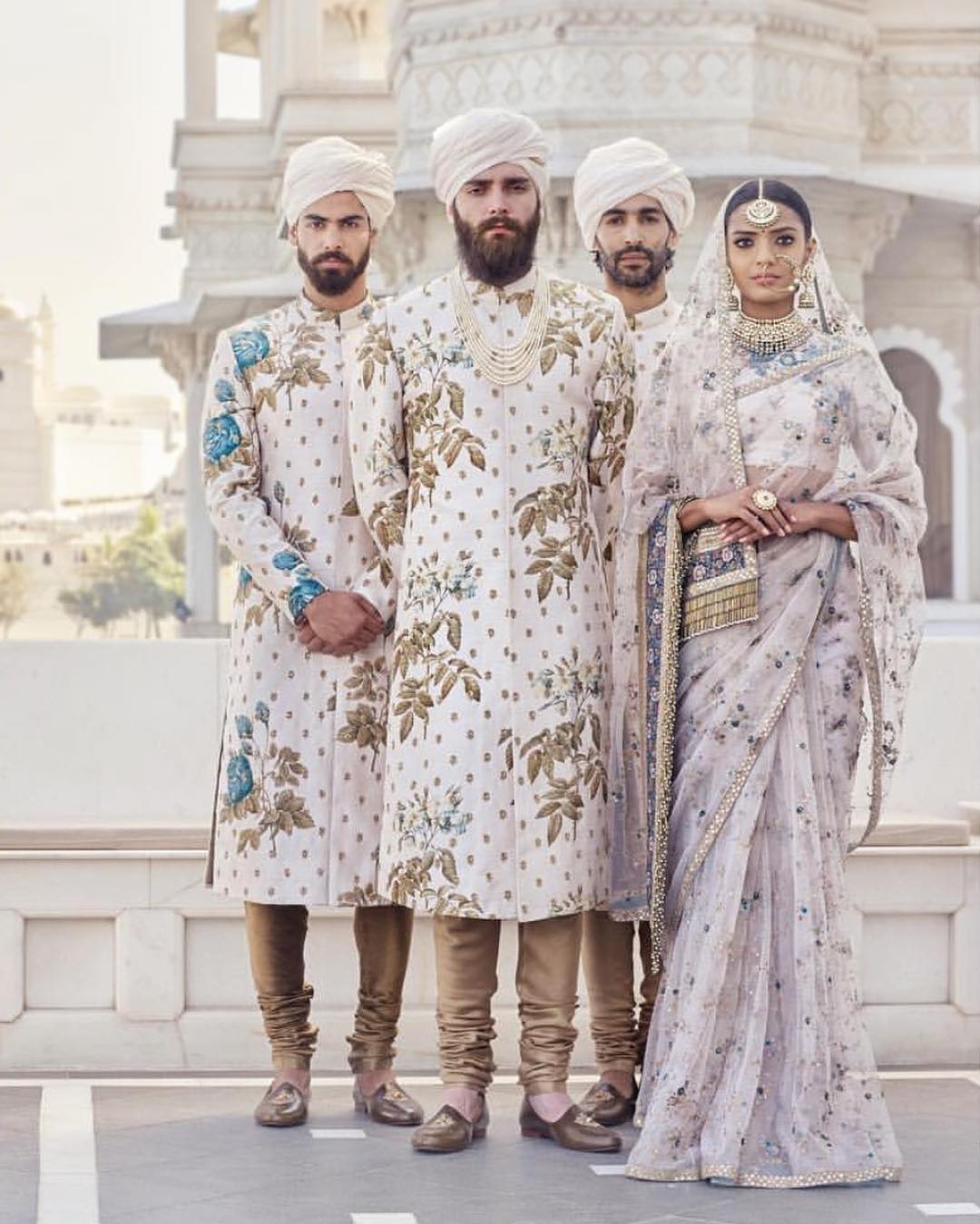 ↓ 17 – Front Open Sherwani
Sherwanis have seen improvements over the years, and front open ones peak them all with their comfortable fitting and unique grace. This fully loaded front open sherwani with cowl neck Ivory kurta by Manish Malhotra will give you that edgy look you are searching for. It comes with metal grey embroidered butterfly patches on the left cuff, silver twig, and pocket square accessories. And to top off all, a contrasting slim fit white checkered trousers fit with the sherwani.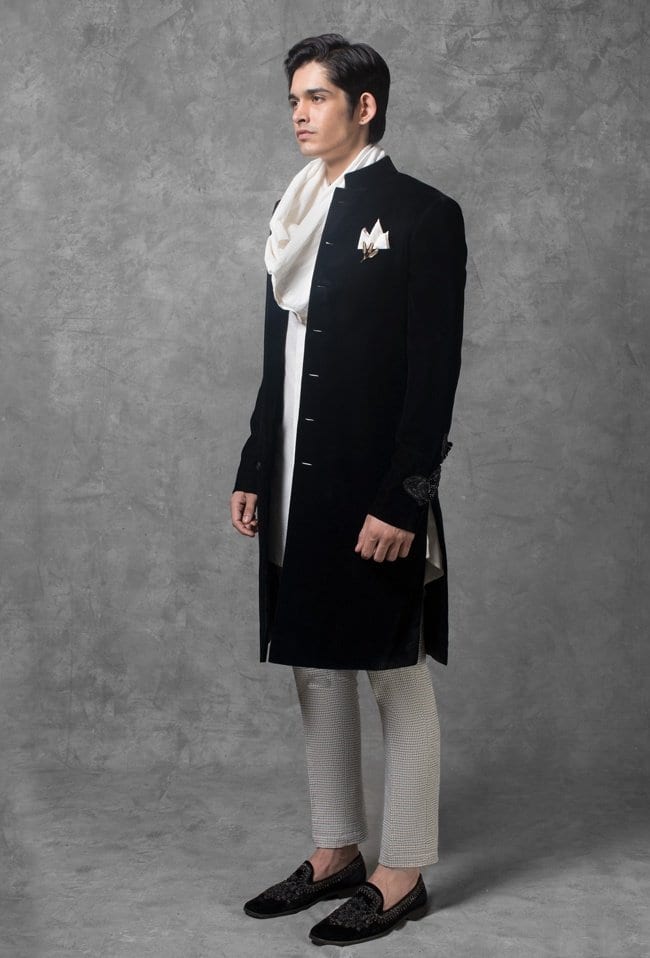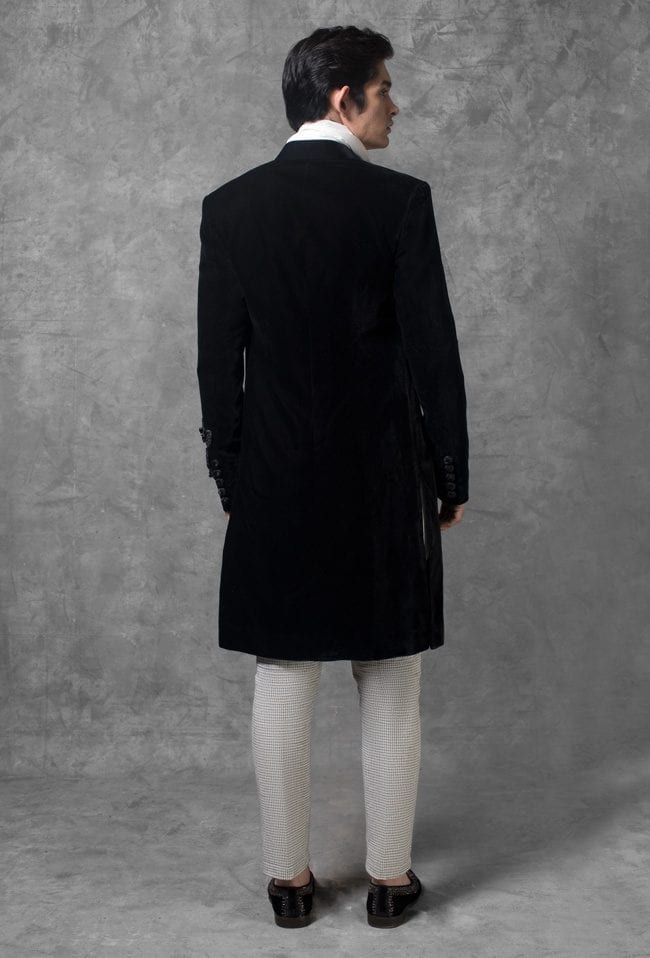 ↓ 16 – Sleeveless Sherwani With Dhoti
Looking for the Punjabi vibe and the patola swagger? Then you should be able to carry this Punjabi panache with grace along with embroidered sleeveless sherwani and dhoti outfit by Varun T.
↓ 15 – Drape Kurta With Jacket
If you've tried every combination and want to think out of the box, this drape kurta and embellished jacket by Shantanu and Nikhil provide the ultimate dressing finesse and a unique style that everyone is going to remember.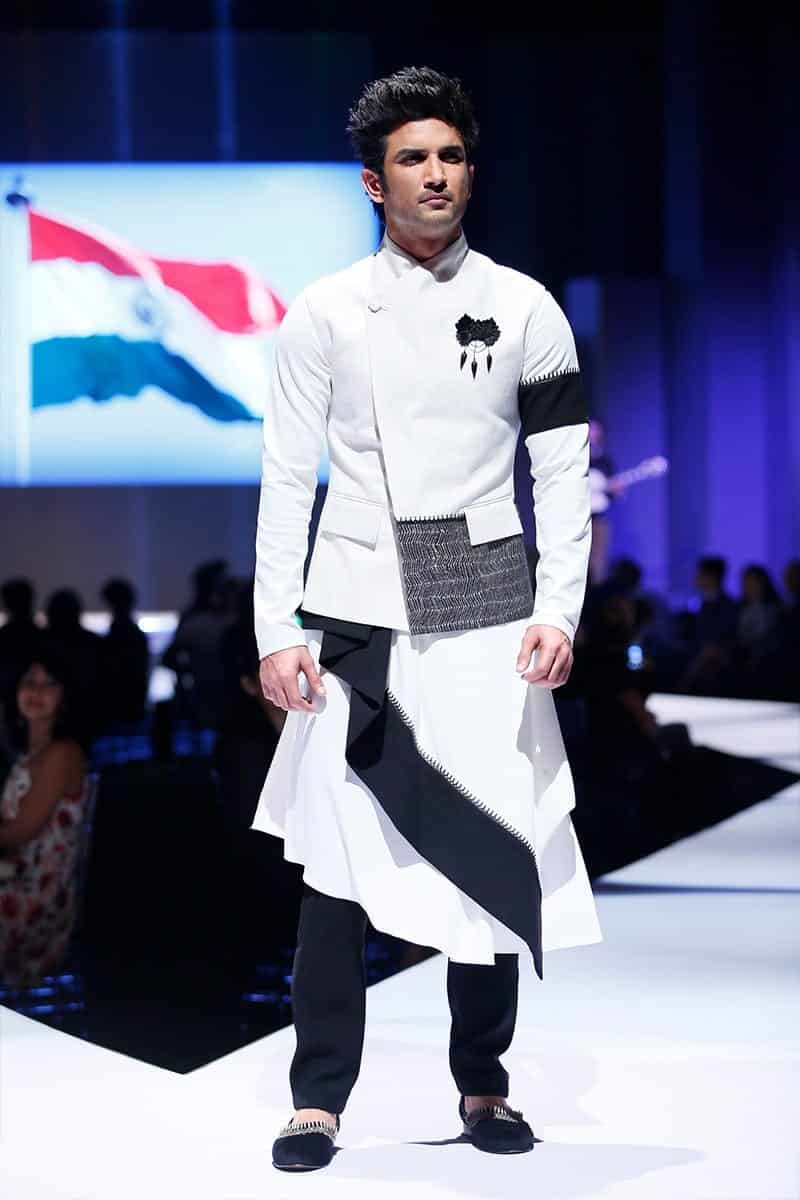 ↓ 14 – Tuxedo Outfit With White Sneakers
When you know bulky embroidered sherwanis are not your thing and you are all about the casual life, the perfect boy-next-door look is just for you. This dapper outfit by Gaurav Gupta suits this definition well.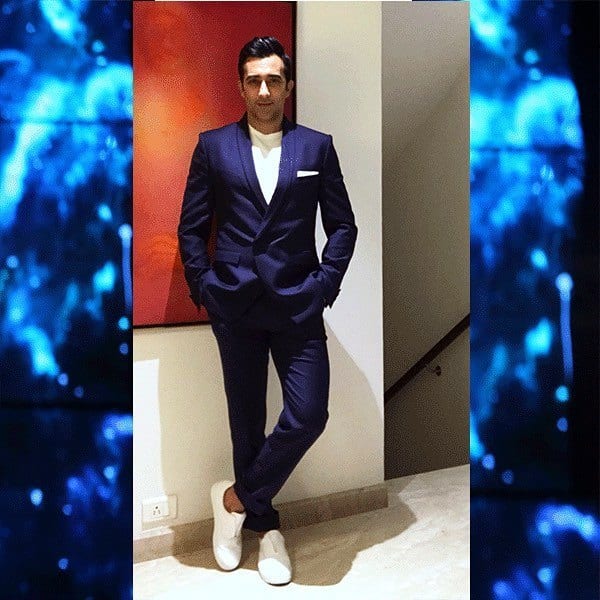 ↓ 13 – Pathani Suit
These stylish and macho Pathani suits that have their origin from Pakistan and Afghanistan are quite popular these days.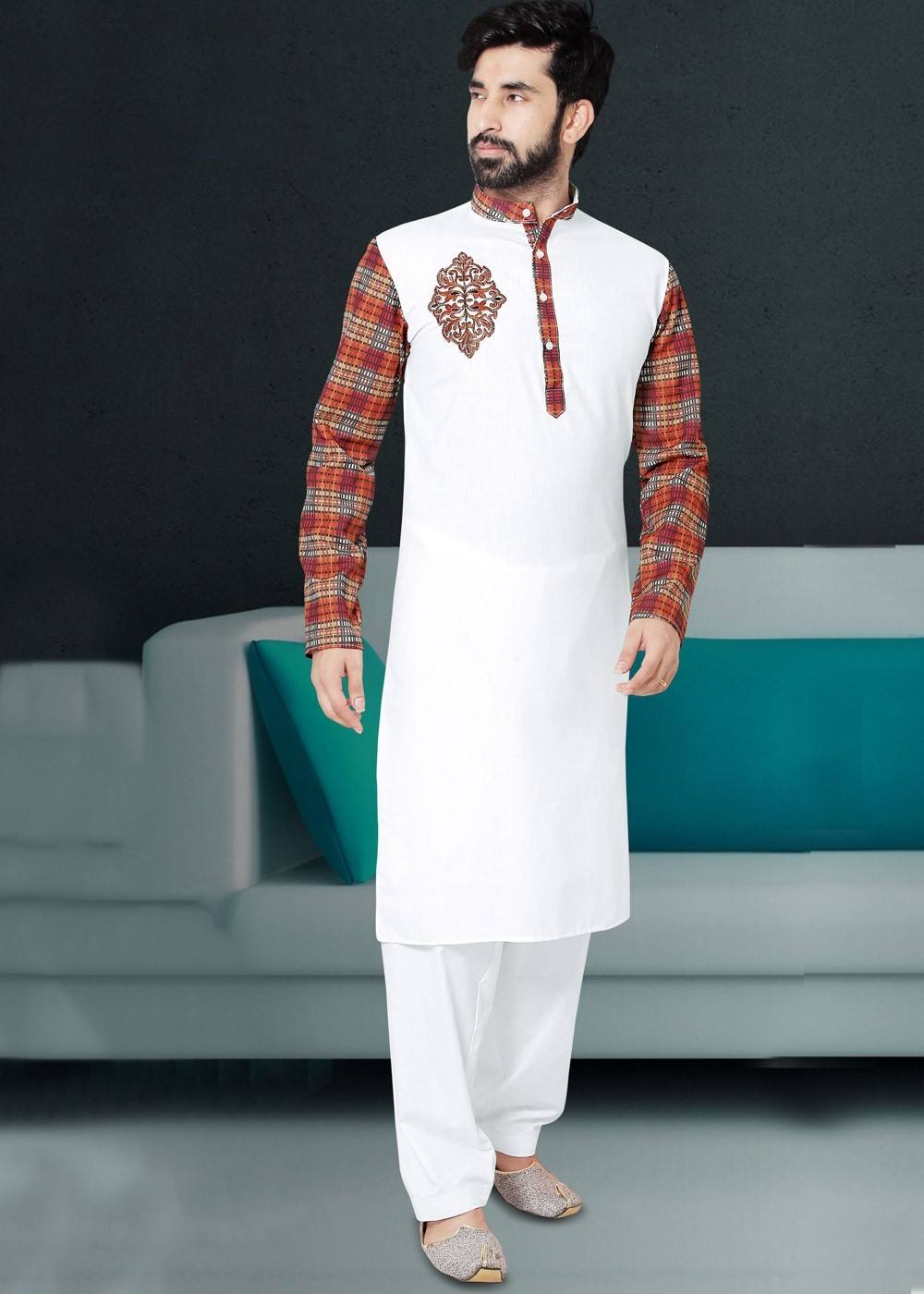 ↓ 12 – Kurta With Patiala
If you've been prepping for some patiala beats of bhangra, a simple kurta with elegant bundi and slim patiala can electrify the atmosphere with the moves that you are ready to roll out hard with.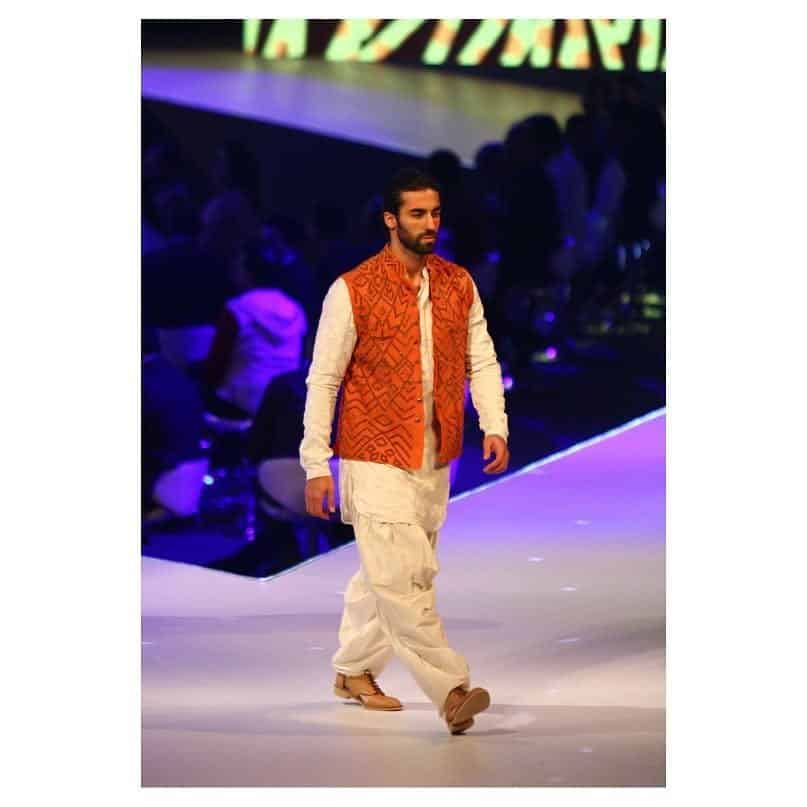 ↓ 11 – Front Slit Sherwani With Long Kurta And Pants
This new trend of front slit sherwani has been very popular and teaming it up with a similar color long kurta and pants will give you the best look. Here are some moresha Men's Kurta Pajama Styles for Wedding.
↓ 10 – Vibrant Colors For Day Time Function
No need to stress over heavily embroidered sherwani or three-piece tuxedo if you're not up for it. A breezy kurta in vibrant colors like Firozi, magenta, orange might be what you are looking for. Looking into the classic range of kurtas by Anita Dongre would surely answer your queries. If the weather is cold, you can get some ideas from our post on shalwar kameez and coat combinations for men.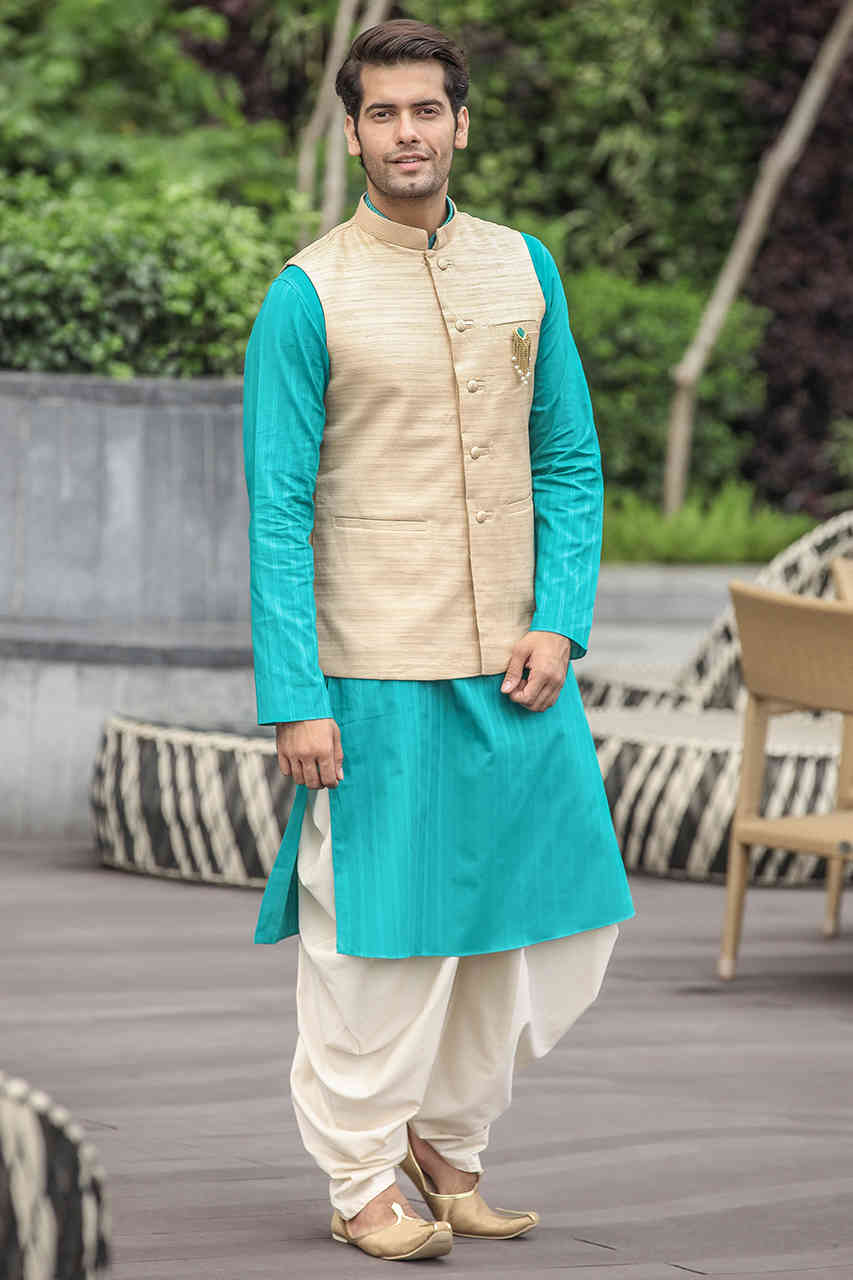 ↓ 09 – Traditional Black Sherwani
Are you confused about what to wear? Black is the answer to everything, and a traditional black sherwani has been the vogue for centuries, and this one by Sabyasachi is both graceful and elegant for your event.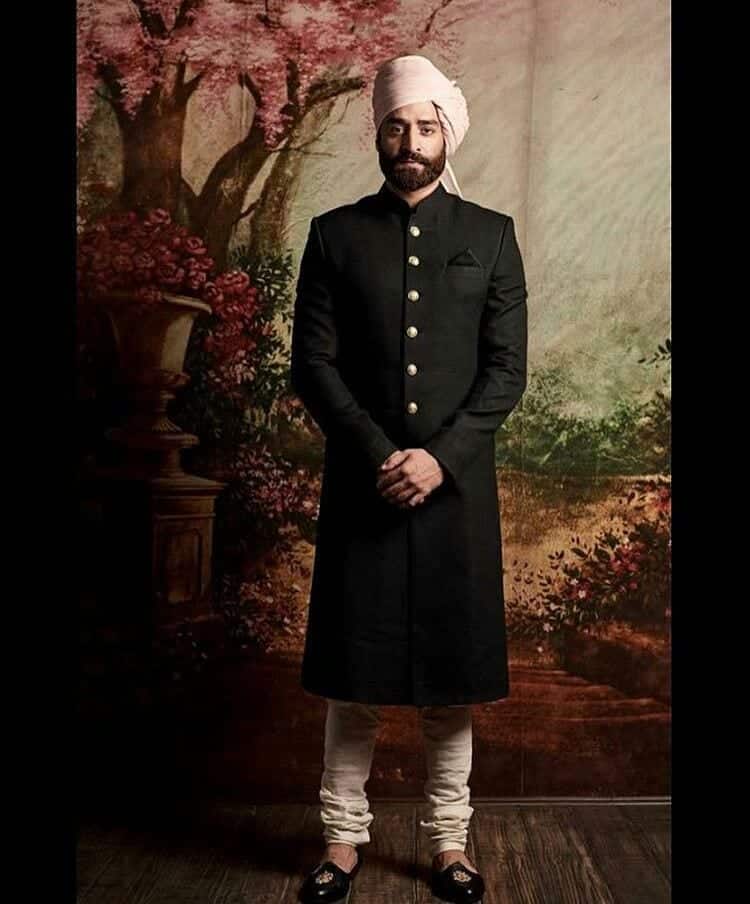 ↓ 08 – Jodhpuri Style Bandhgala
A bespoke Jodhpuri style Bandhgala in bright chrome colors with buttons detailing will be a classic engagement outfit.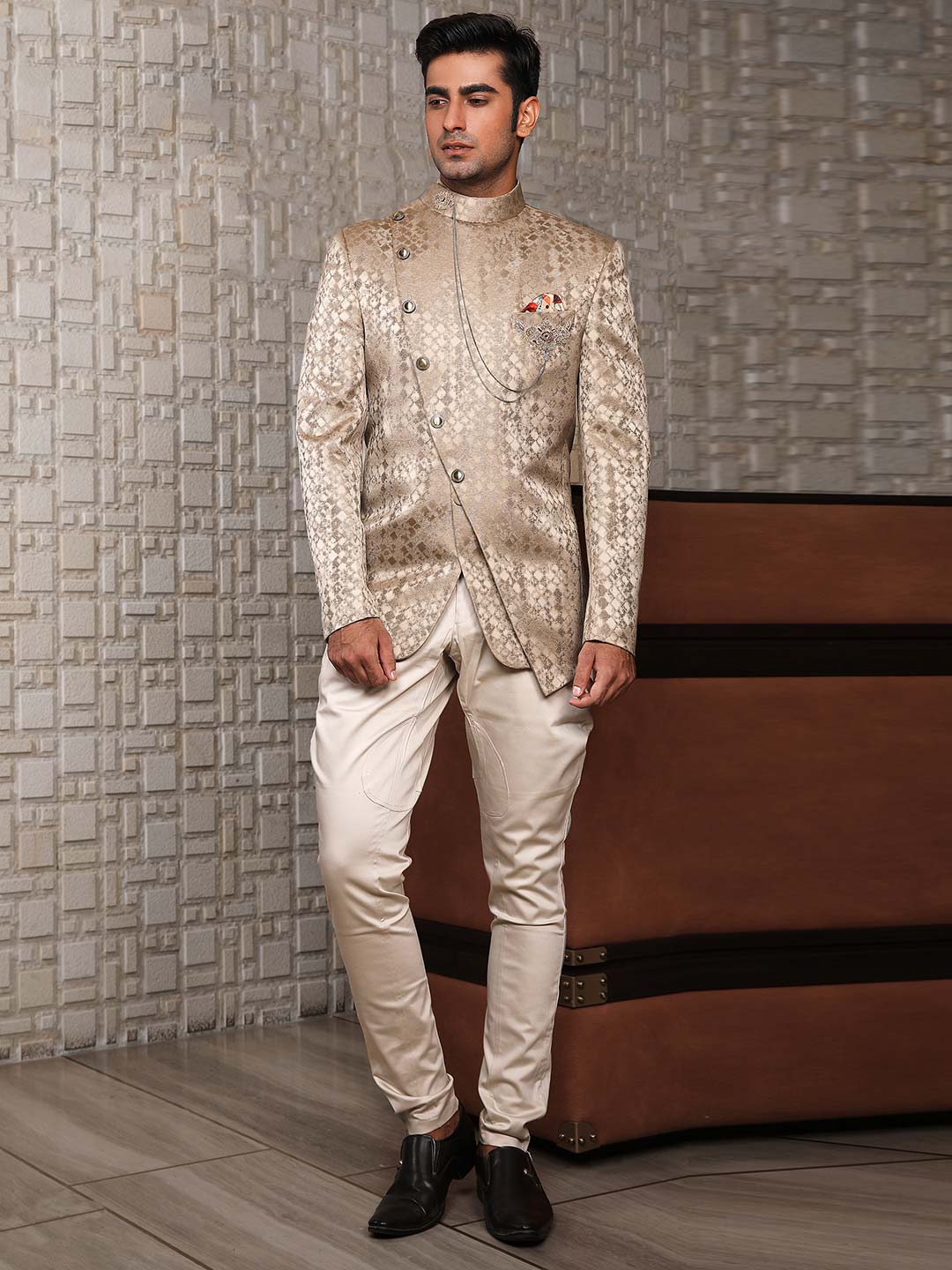 ↓ 07 – Funky And Unique Colors
What better way to enjoy your day than by standing out in a unique and funky color. Perhaps something that you've never tried before? After all, a true gentleman can rock any color while celebrating life to the fullest!
If you plan to enjoy and carry something with vibrant vibes, here is a great piece by Rohit Bal. Contrasting colors can amp up your look for the big day. Green dupion silk sherwani with block printed churidar. The set also includes silk kurta and brocade pajama. The brocade saafa and sash are only for styling purposes.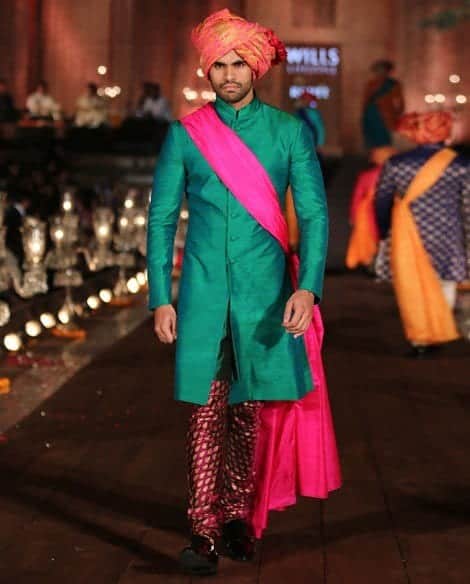 Green Dupion Silk Sherwani Set INR 82,990
↓ 06 – Cowl Kurta With Churidar
Cowl kurta with drapes on the side along with a thread-work embroidery bandh gala and churidars will be a stunning choice for your engagement.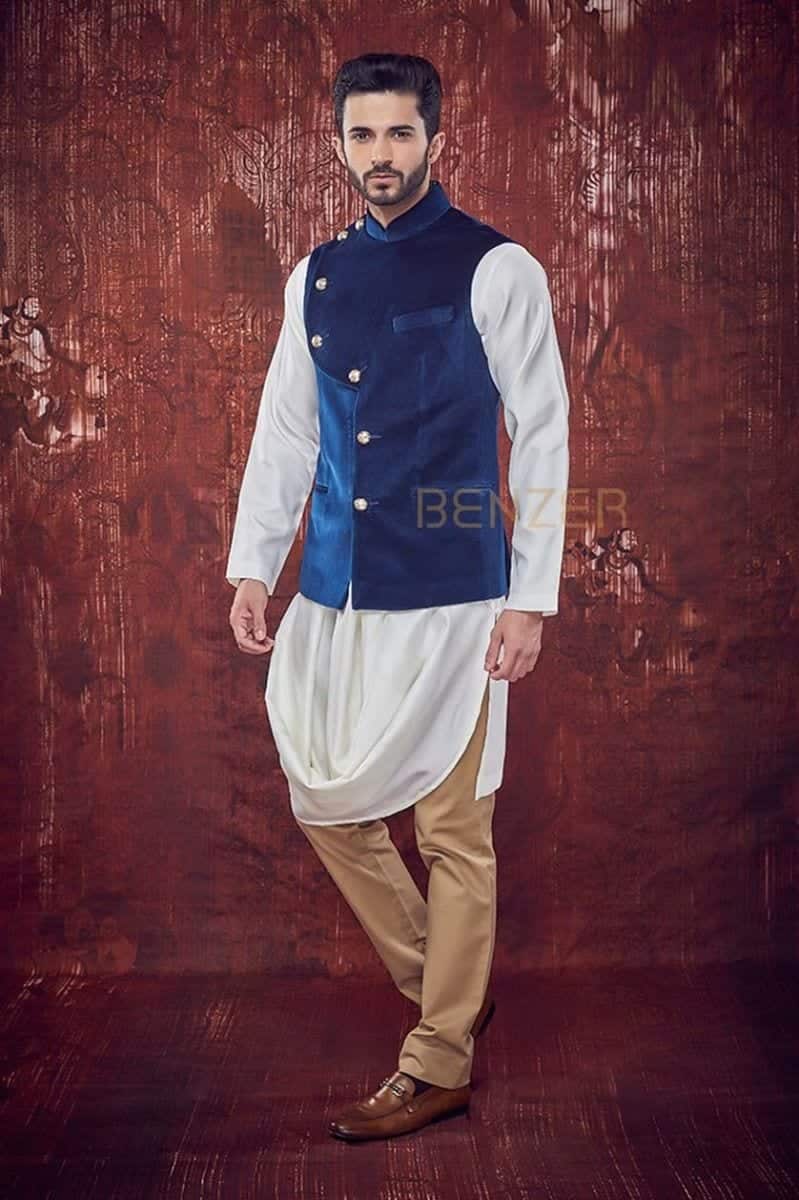 ↓ 05 – Custom Three-Piece Tuxedo
There's nothing better than a custom made three-piece tuxedo. Flaunting your tuxedo can throw a nice spin to your engagement party. This beauty by Troy Costa will give you the perfect idea of how to go about it!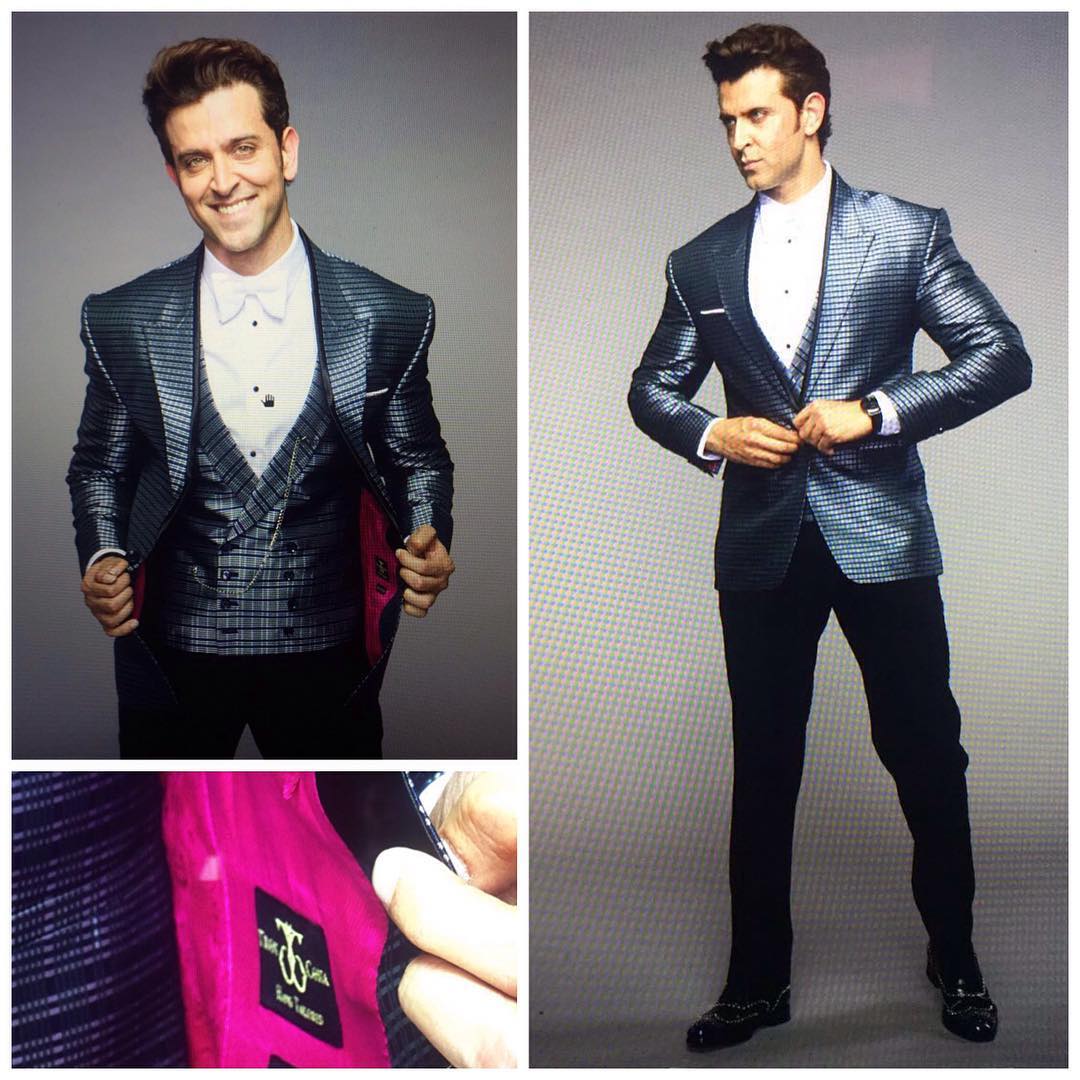 ↓ 04 – Double-Breasted Jacket
Keeping up with the fashion trends and opting for a western look, your answer might fall in a double-breasted jacket. For a refined matte look, ivory kurta and textured pants might be your chance to date back to the 19th Century fashion trends of the Royals of Rajasthan. With a high collar, contrasting colors of buttons, and a flower and butterfly patch, this is how you're keeping it "light and breezy."
↓ 03 – Matching Engagement Outfits for Couple
You can always take a cue from your fiancee's dress and you both can wear the same colors! That is taking your chemistry to another level!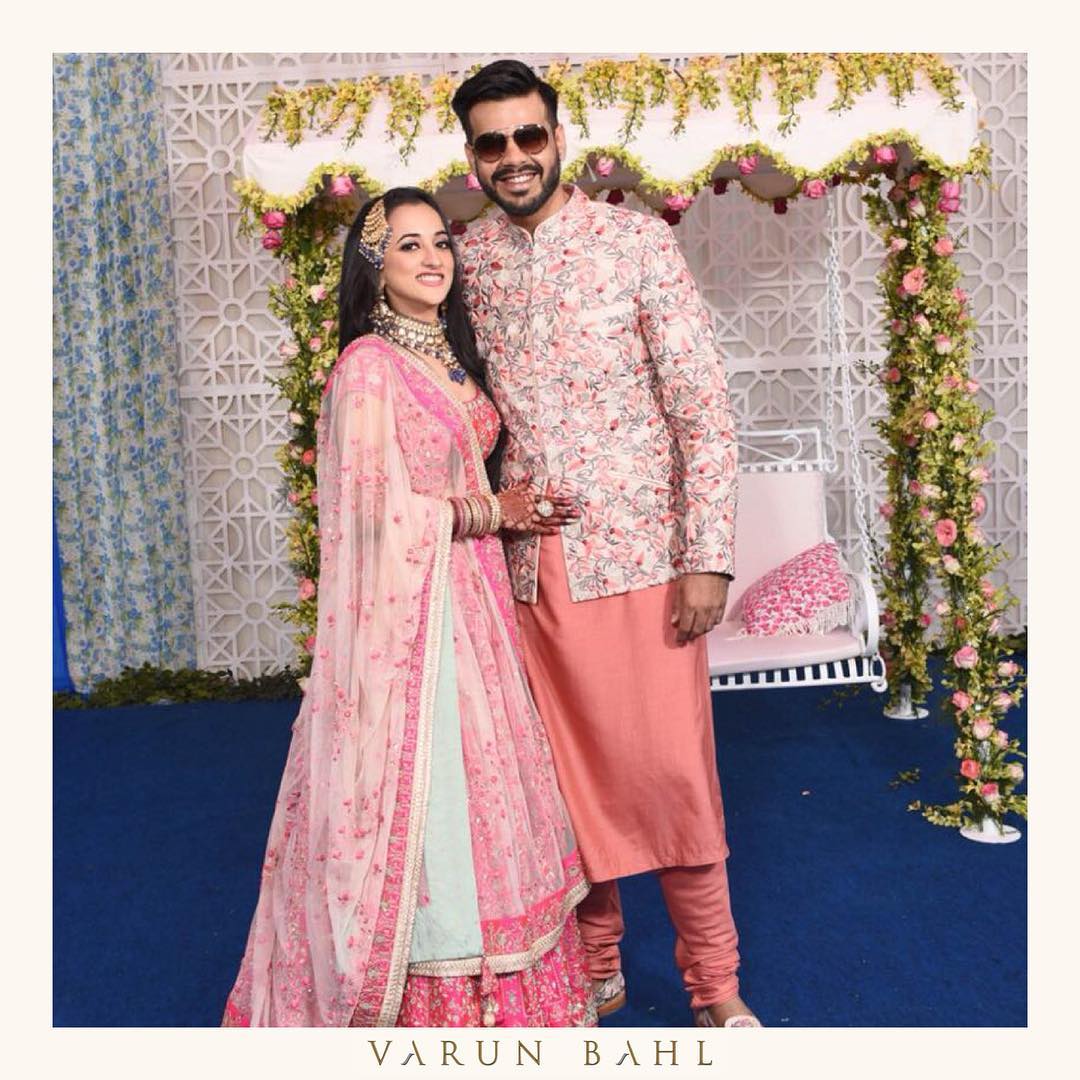 ↓ 02 – Winter Engagement Outfit
You can select bold colors in Winters and stand out from that usual black, grey, and blue family that most guys choose. Sabyasachi has played with a bold base color and toned it down with light color stole. Look into magenta, greens, and deep colors if this is the look you have planned all along. The shawl doesn't just add style but also keeps you warm.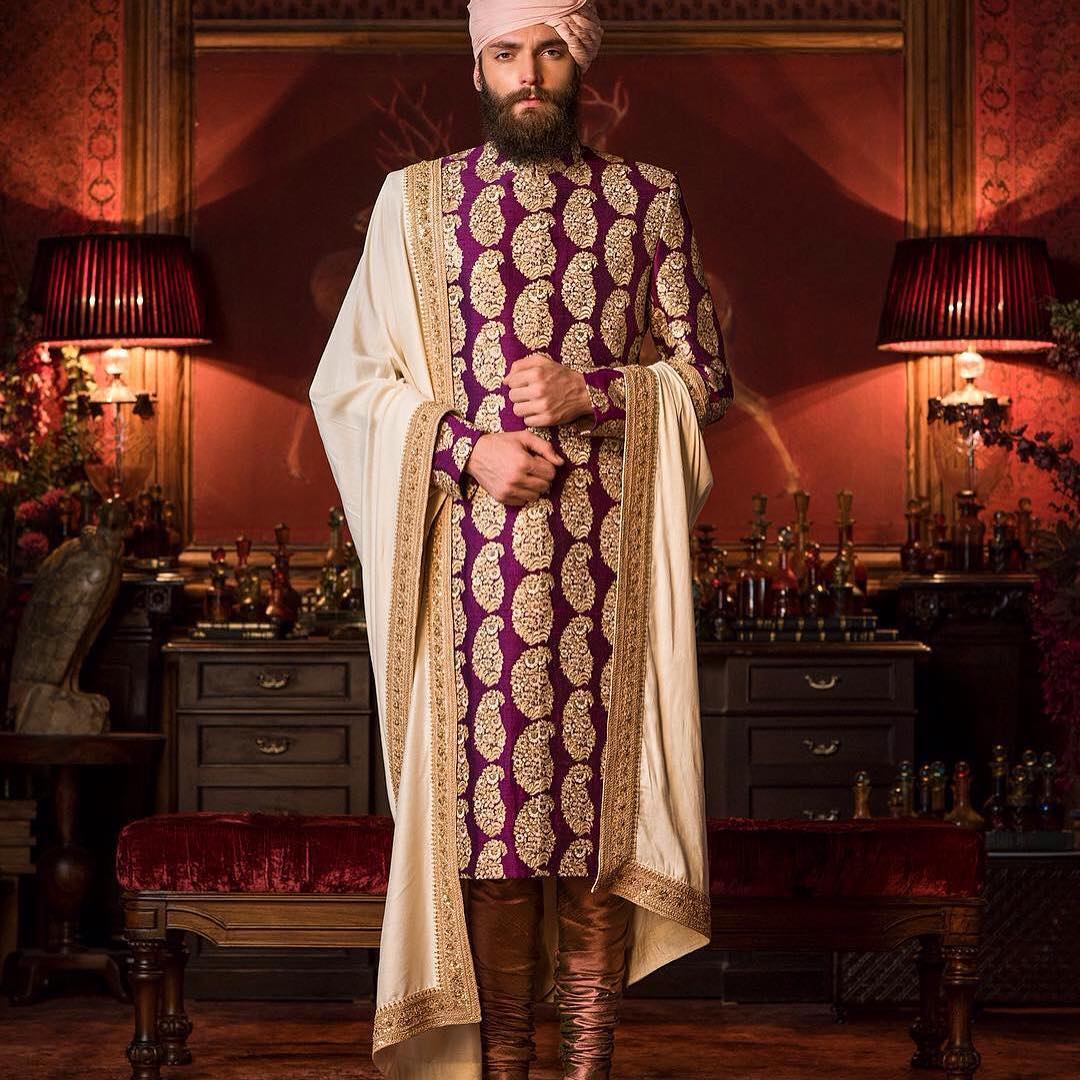 ↓ 01 – Pastels and Ivory for the Day Time Event!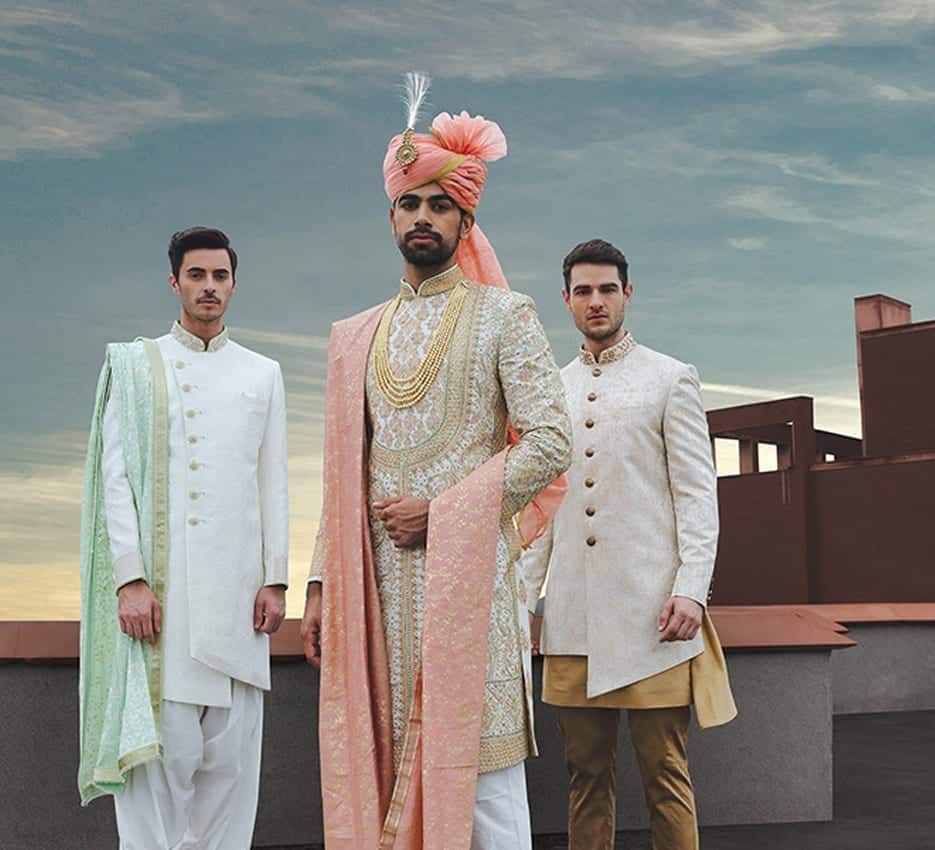 Frequently Asked Questions
Q. What should I wear for my engagement in India?
A. First of all, you need to decide whether you wish to wear a suit or go traditional in shalwar kameez and the sorts. For a traditional look, shalwar kameez with a waistcoat is timelessly trendy. Similarly, if you are more daring, you might even be able to pull off a dhoti look. And for the ultimate dapper and dashing look, I would advise opting for a very classy sherwani! It all comes down to your preference and comfort. After all, you will look the part when you dress the part too!
Q. Which color is best for engagement event in India?
A. This highly depends upon the time of the day and the venue! If you are having a daytime event, lighter colors would be exemplary, making you look right on brand with the decor and ambiance. Ivory, sky blue, pale pink, white, and pastels, in general, are the way to go. For a function during the night, black is endlessly classic. You can also go for navy bottle green or other deeper, rich colors which call out to you.
Q. What should a man wear on a friend's engagement in India?
A. I will tell you the foolproof outfit to dress in for your friend's engagement. A simple straight kurta paired with a churidar pajama or straight fitted pants according to your preference is the perfect pick for your friend's day. Top it off with a lovely long dupatta crossed the neck to get those Shahrukh Khan vibes from his Bollywood classic hits. If you are not that comfortable with that, then a printed or very lightly embroidered waistcoat can be the ideal addition to your outfit! And trust me, you can not go wrong with this regardless of the time of the day.
Q. Where can I buy dresses for engagement in India?
A. Who said shopping sprees are just for girls? We know girls start planning everything ahead of time, and guys leave it for the last moment. But gentleman, it is a matter of your engagement; you aren't compromising on anything at all. We want you to dress up like a perfect prince charming for your princess. Check out the following linked stores and grab an outfit for yourself, and in case you find them expensive, steal the style and get it stitched by your local tailor. After all, everyone deserves to wear something fancy and luxurious on their engagement. It is an equally important day for everyone, regardless of budget, lifestyle, and class. Here are all the top-listed designers of the year!