If you are a guy who seems to come off the edge when shopping for Christmas, you can not figure out what goes best on Eve, and whether formal or informal is the right option, you have come to the right place.
It does not matter whether you dress formally or informally; it comes down to your taste and what you feel comfortable in. We cater to men of all tastes, whether they cherish formality or a bit more of a costume style.
What to Wear on Christmas for Men?
If you do not plan on leaving the house, you can enjoy the Christmas spirit while staying casual. We suggest going for a nice tee-shirt with tailored (but comfy) plaid trousers and a nice warm sweater or cardigan.
This is the kind of outfit that would work even if someone comes over for a visit!
The formal dinner attire is pretty straightforward. You can glam things up in your sexiest suit or take things up a notch and go for a glittery red bow tie instead of the plain old black.
Outfits with a waistcoat, hat, and a unique pair of shoes will give you a vintage formal style on Christmas day.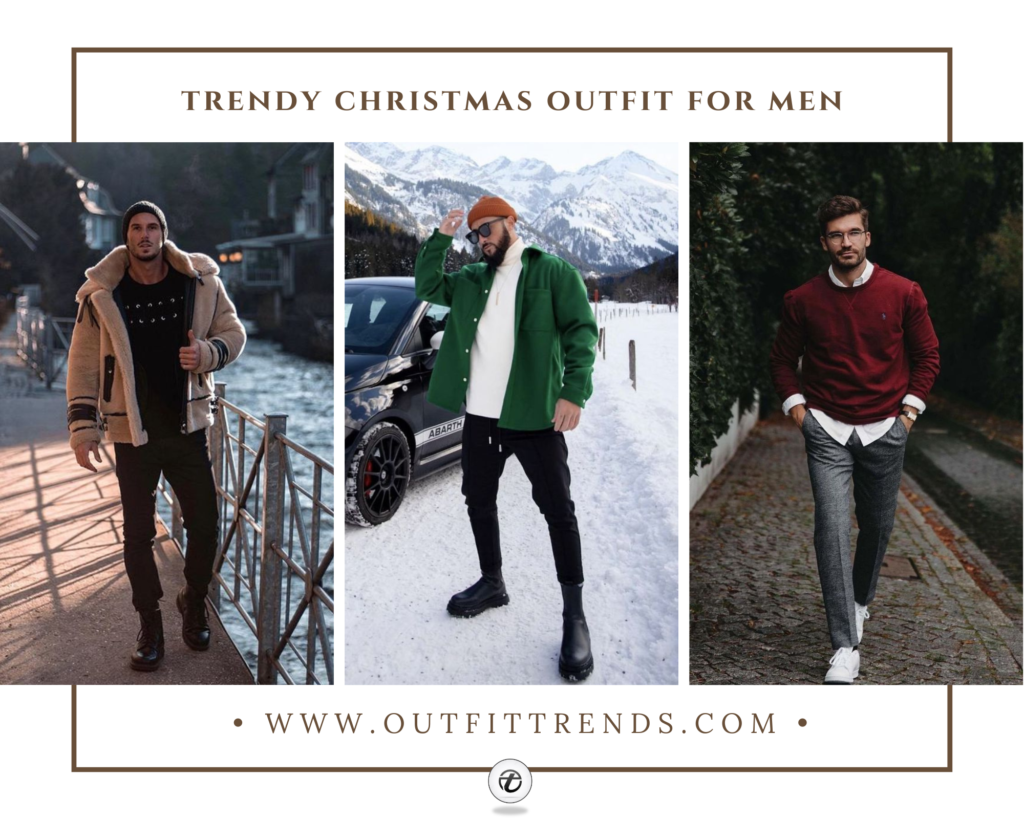 Tips for Dressing on Christmas
The sexiest color of the age – a sensual all-black outfit is perfect to create a lasting impact on the ladies. It is not entirely meant for Christmas gatherings, but it will serve as a good party outfit and will give you the extra bit of glamor you need.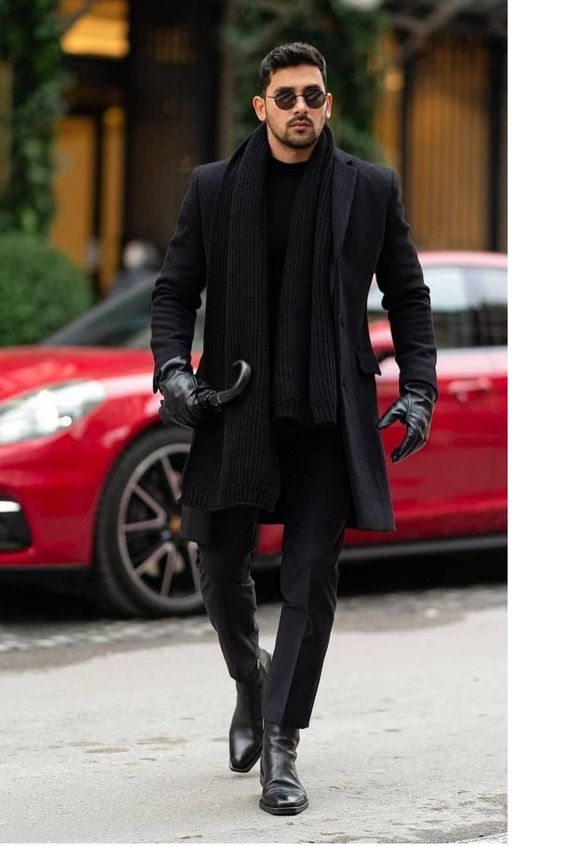 To survive this winter in style, you must get your hands on a 'pea coat.' The pea coat is usually worn with pin roll jeans, but for a more formal look (that you would usually expect on Christmas), you can easily pair this coat with corduroy pants.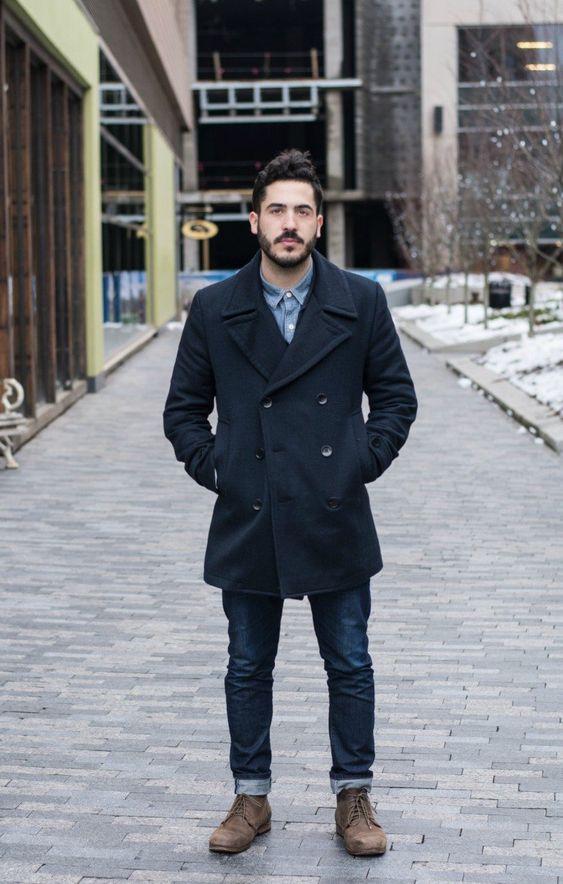 If you have a green layering item like a jacket or sweater, try styling it with blue and grey clothes because it is the best combination that suits guys of all ages.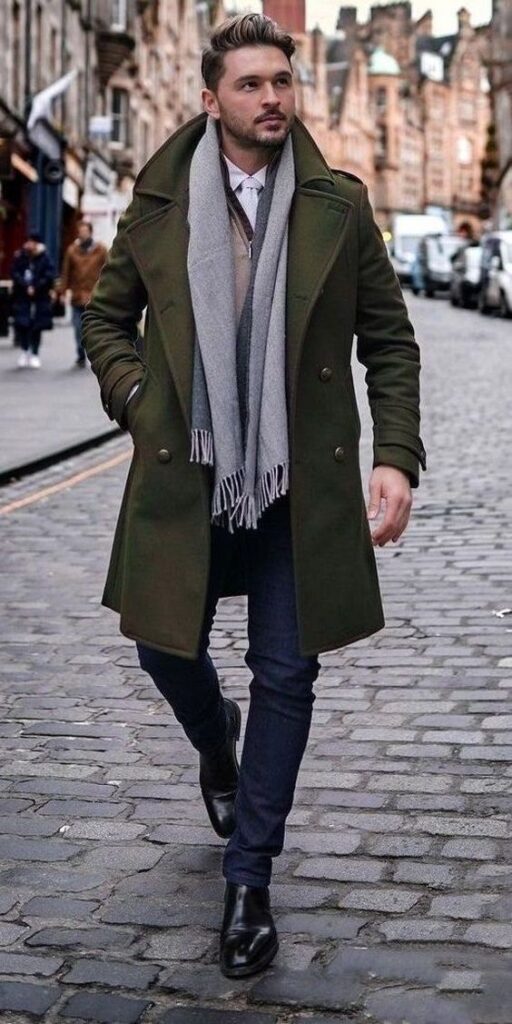 If you have a formal evening planned, we highly recommend a dapper outfit. Go for a classic tuxedo suit in a neutral color like blue or grey; opt for a shade lighter than your suit for the bow tie.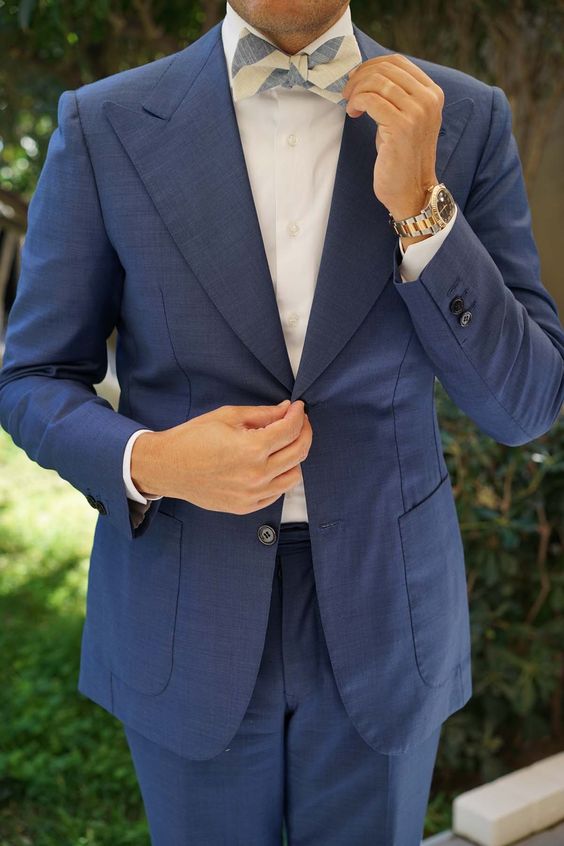 If you want to add a pop of color, add a red or green tie/pocket square to your neutral outfit.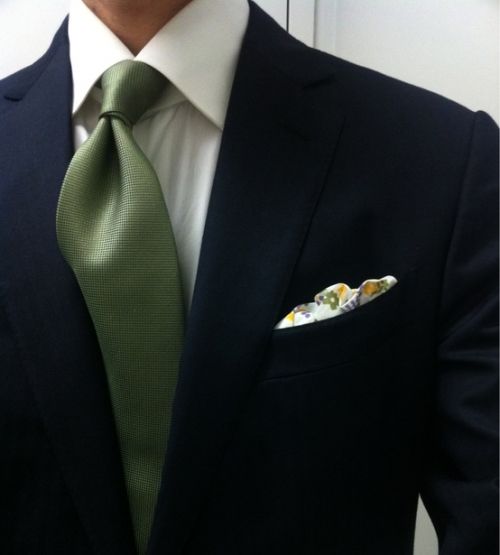 Create an attractive outfit with a patterned shirt, pants, and a matching pair of sporty shoes because sportive and formal are meant for each other.
Celebrity Edit
↓ 32 – Get Dapper in a Knit Sweater and Plaid Pants With Our Favorite Spiderman!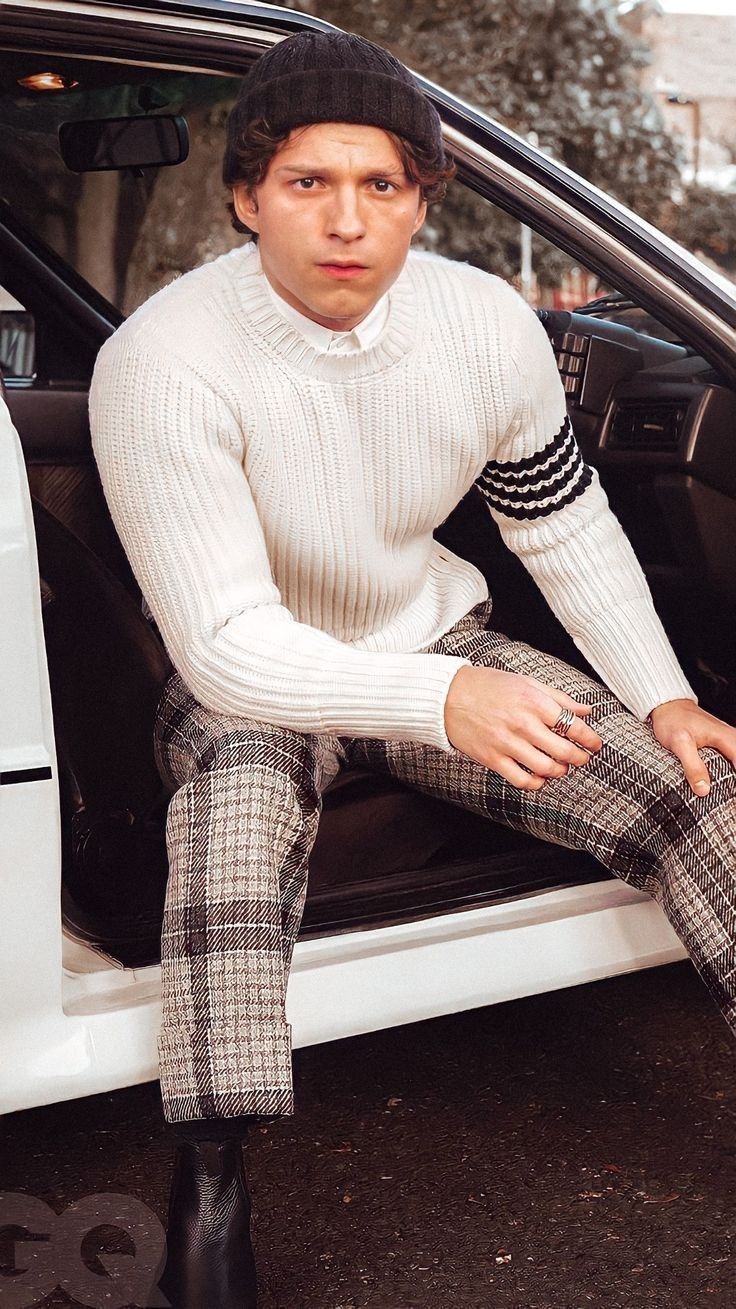 ↓ 31 – No One Does Green Better Than Henry Cavill!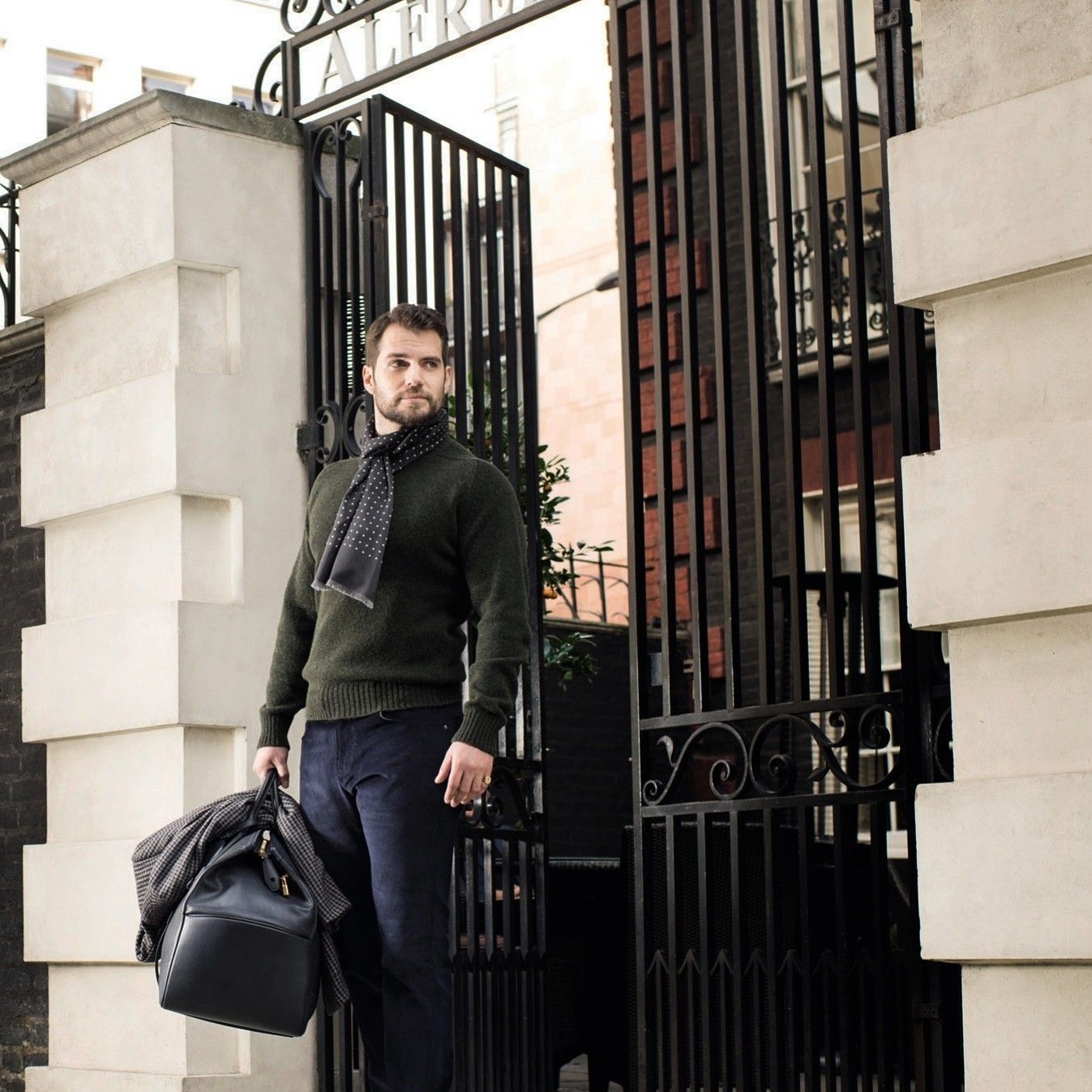 ↓ 30 – Colton Haynes Shows Us How to Step Up For Christmas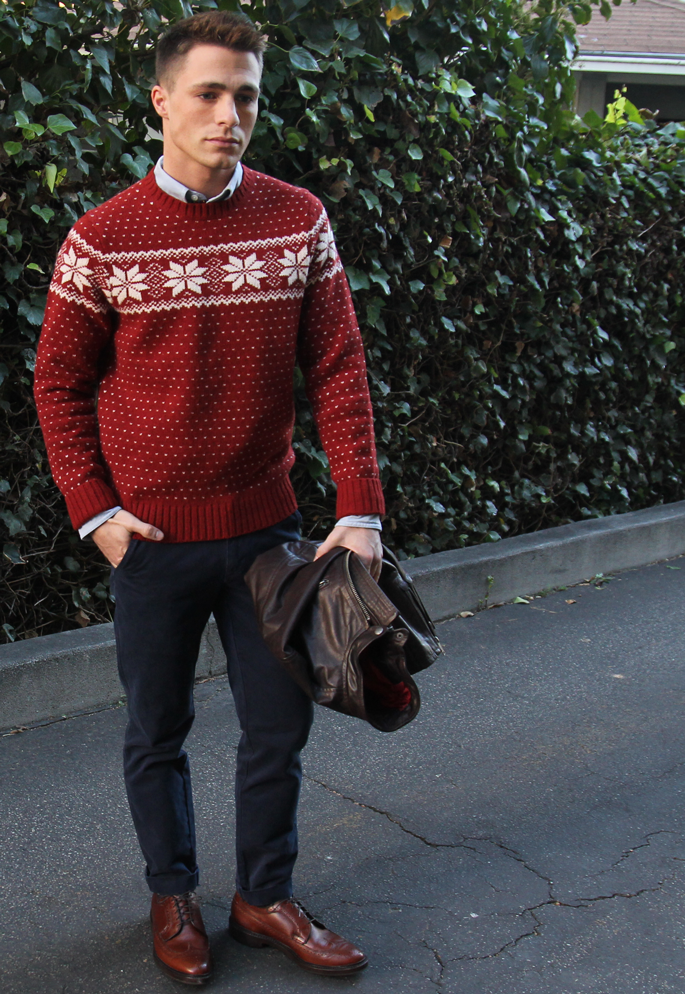 ↓ 29 – Opt for a Festive Beanie to Look Laidback and Stylish Simultaneously
Beanies look cute while keeping you warm and cozy. If you have never worn a beanie before, check out these tips on wearing one:
Try matching the beanie with an element in your look. In this case, it matches the jacket, which helps give a well-coordinated appearance.
You need to avoid hat hair if you plan on taking off the beanie. So style your hair before wearing it, use generous hairspray, and wear a well-fitted beanie that avoids excess static.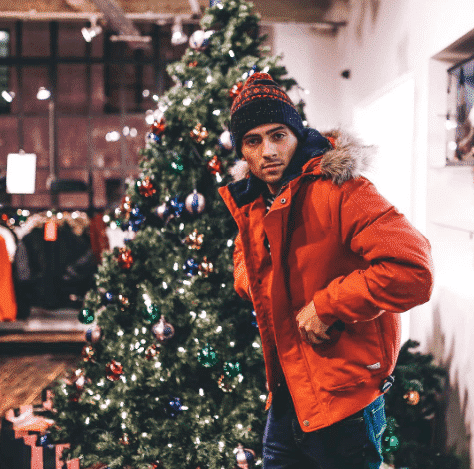 Formal Looks
↓ 28 – Match the Color of Your Tie to Your Lady's Dress
↓ 27 – Dress For A Formal Party in the Classiest Pairing of All-Time
There will be lots of mingling and moving about, so you must be prepared with the most comfortable shoes that you own. Slip-on loafers are a good option, as they keep your feet both warm and comfortable.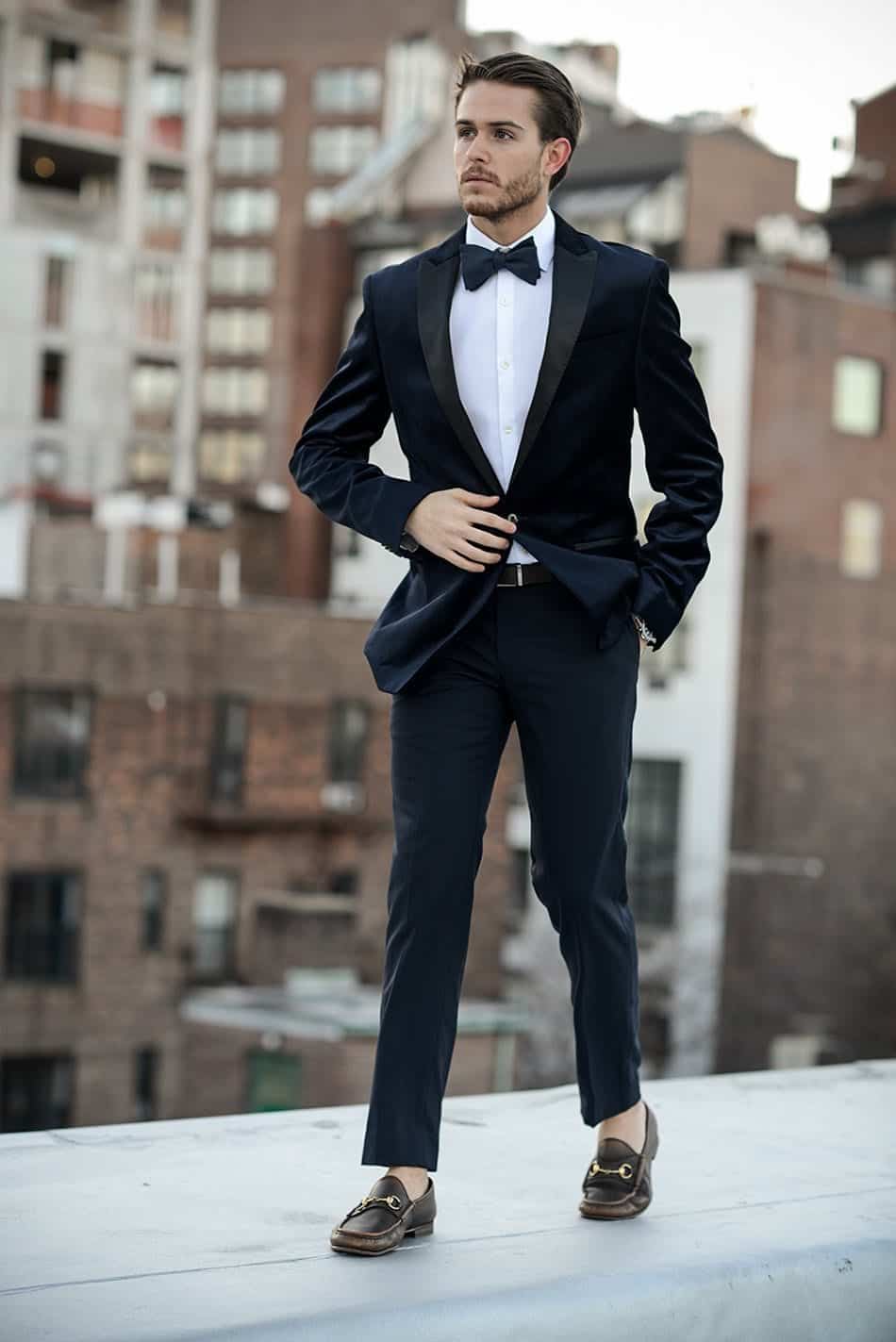 ↓ 26 – Festive Velvet Suit in Bold Colors is the Way to Look Exclusive
Suppose the festivities of Christmas day and planning a delicious dinner overwhelm you. In that case, a maroon/ burgundy suit with a velvety look will do the job of showing just how optimistic you are!
You also need to see these amazing Men Velvet Blazer Outfits & Best Ideas on How to Wear Velvet Blazer.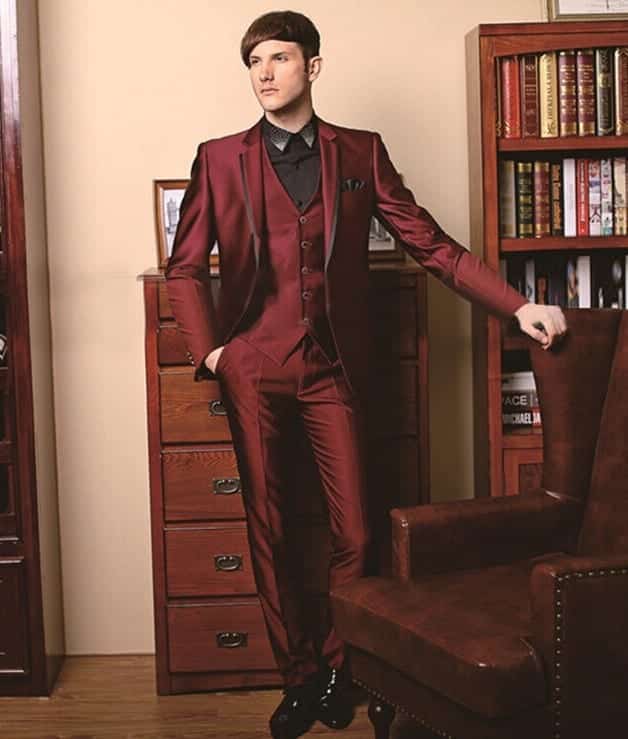 MY'S Men's 3 Piece Slim Fit Suit Set $81
↓ 25 – Opt for a Cultural Inspired Outfit this Christmas
Wearing costumes is always a good idea if you plan to make your celebration bigger rather than just a simple dinner. This eccentric vintage outfit is ideal to step off the edge and stand out from the rest.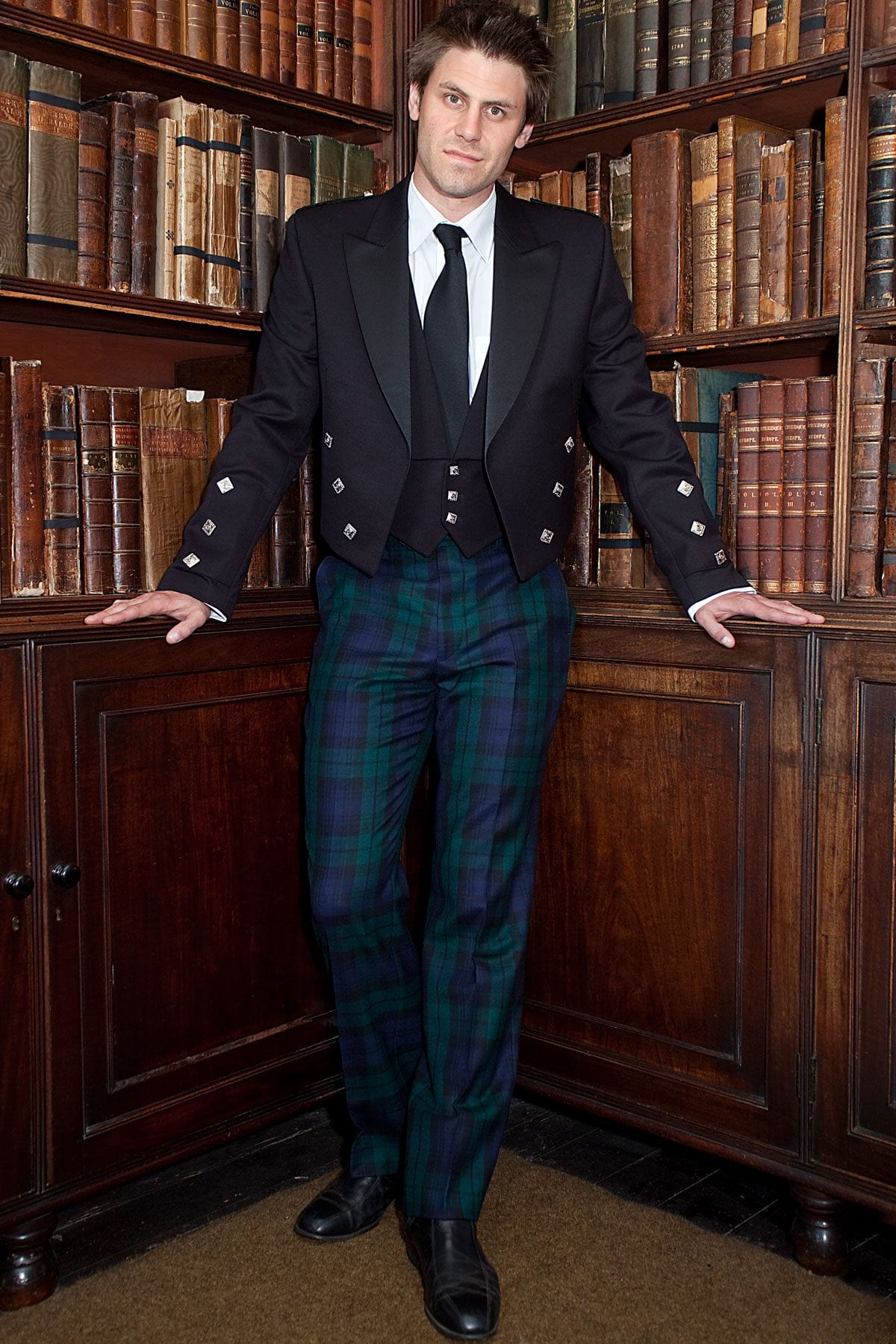 ↓ 24 – When in Doubt, Opt for a Sexy All-Black Outfit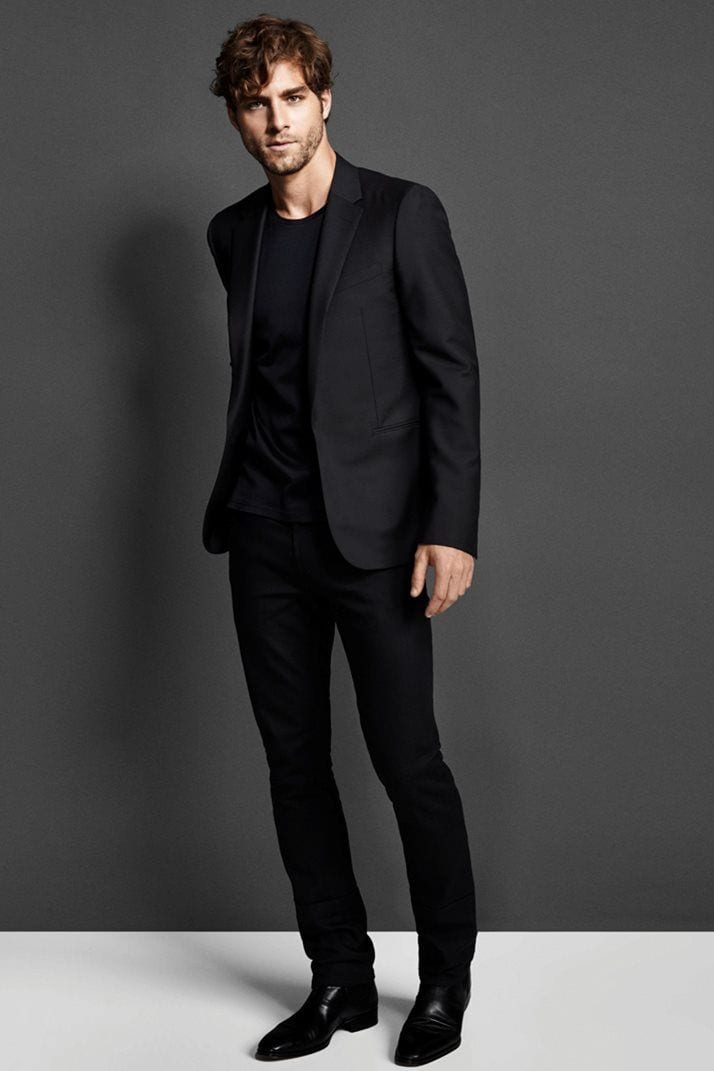 ↓ 23 – Pair Red and Black for the Perfect Formal Outfit
If formal is what you are meant to wear, this is for you. This semi-formal style with a checkered coat, maroon pants, and a formal pair of shoes looks effortless.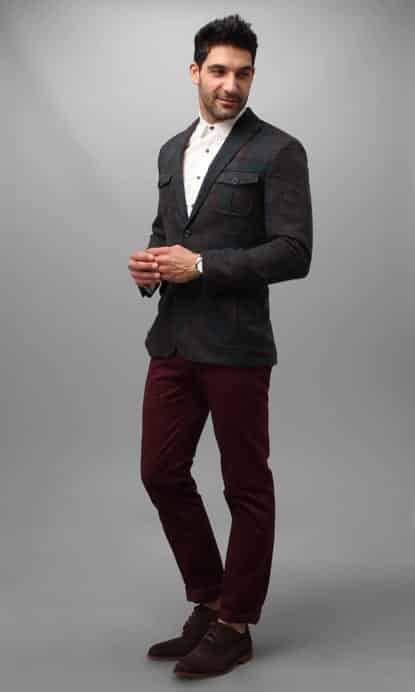 Semi-Formal Outfits
↓ 22 – The Red Shoes and Green Puffer Pair Effortlessly for a Festive Look!
Many of us are inclined towards wearing green for the Christmas season but get confused with the right color combinations to wear with it.
Here, we see a green nylon jacket paired with navy blue pants, a blue knitted sweater, and beautiful brown chukka boots.
↓ 21 – The Best Coat To Wear This Christmas
While the classic style of pea coats is the safest bet, you can find many interesting and new styles worth trying. Pair this shearling trim pea coat smartly with a denim jacket and white jeans.
The basic black roll neck is the innermost layer, which is always a smart choice as it gives you a good base for a decent outfit.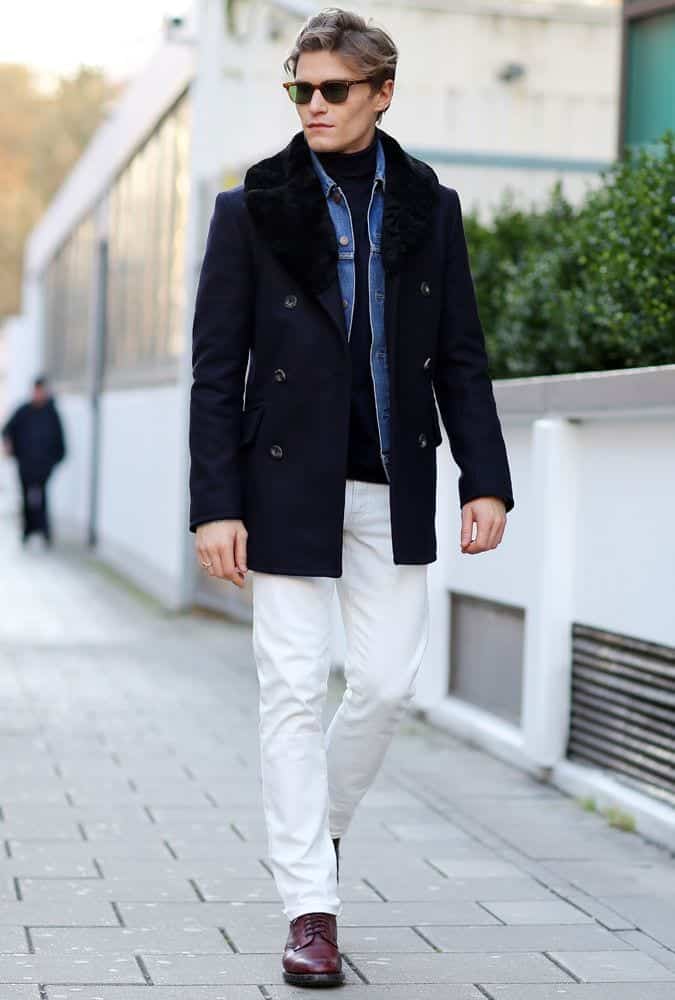 ↓ 20 – Nail the Preppy Holiday Look!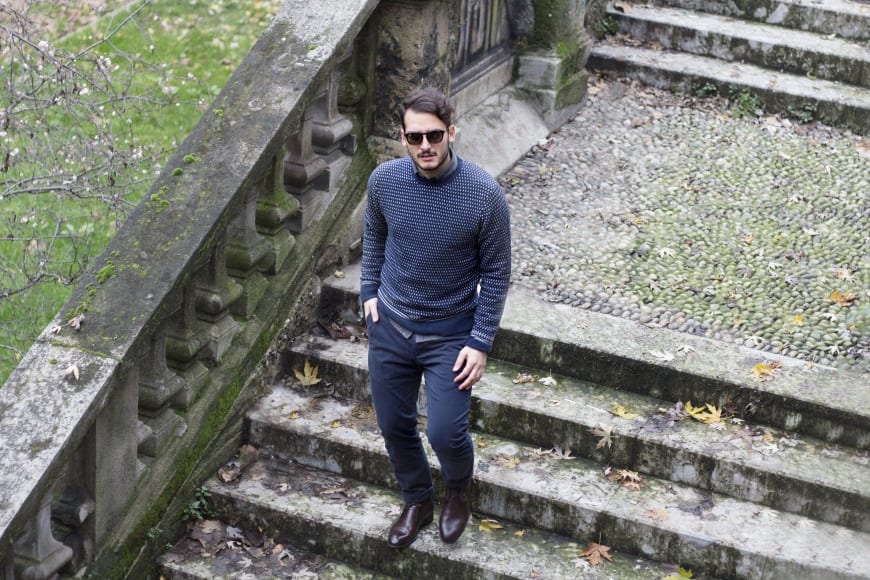 ↓ 19 – Go Daring by Opting for Red Pants to Style on Christmas!
Gear up to style the coolest red pants if you love to experiment! If you like this ensemble, here are 30 Ways for Guys to Wear Red Pants.
↓ 18 – Style Up Your Jeans With a Cashmere Sweater and Formal Blazer
Accessorize this outfit with a fitted blazer and boots. Match it with a nice muffler if the cold is getting the best of you!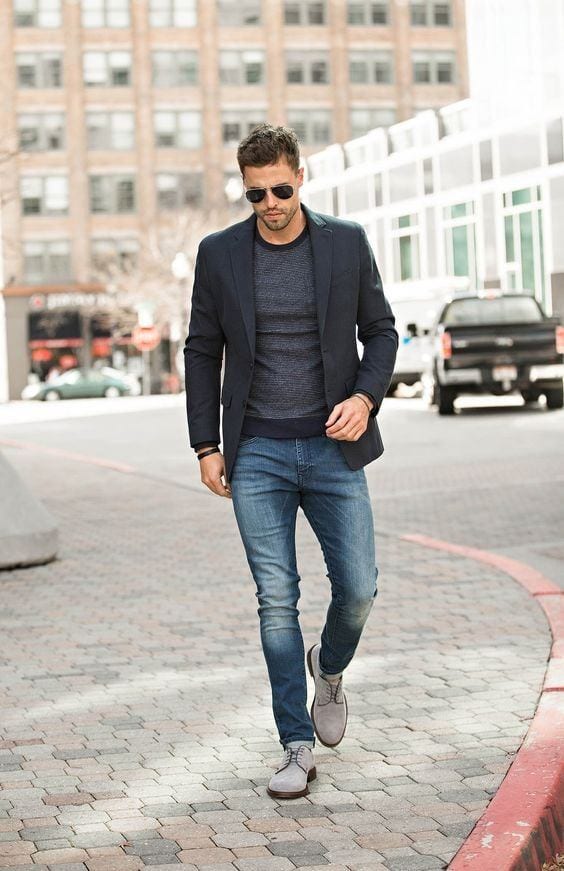 ↓ 17 – Perfect Christmas Shoes to Go With Various Outfits!
Below is a perfect example for you to dress smartly and never lose your edge. Match your classy pair of loafers with statement pants. Wearing sneakers with formal dressing is also a huge trend!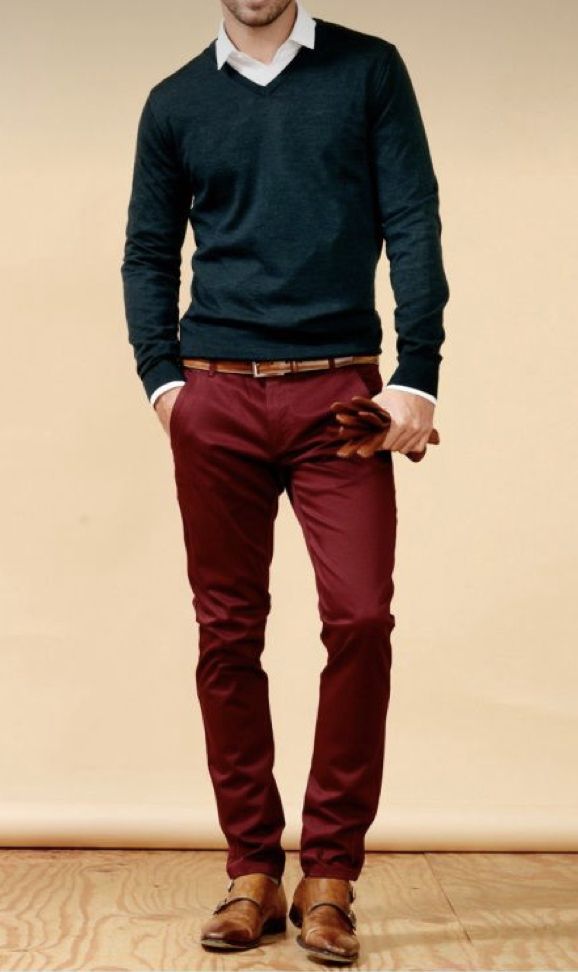 ↓ 16 – Add Texture to an All-Black Fit With a Printed Tie!
Christmas is a great time to take out your classy winter wardrobe and experiment with all the different pieces. Pair a classy outfit with a sweater coat and printed shirt.
Here are some of the best Men's Winter outfit combinations for Office/Work.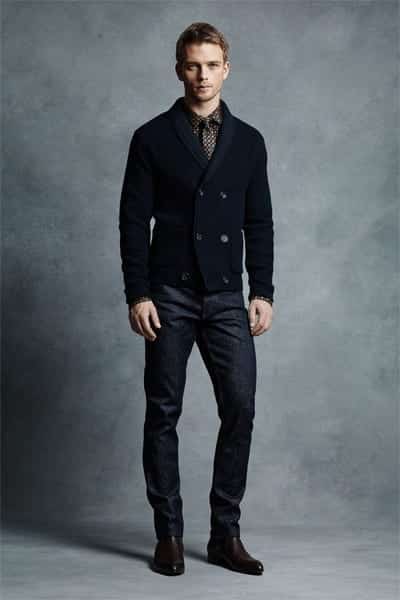 ↓ 15 – Add a Cardigan in Burgundy or Bottle Green to Make the Look More Festive!
You can create any cool look and match it with a nice pair of specs, stylish shoes, and a sophisticated shirt, and you are done!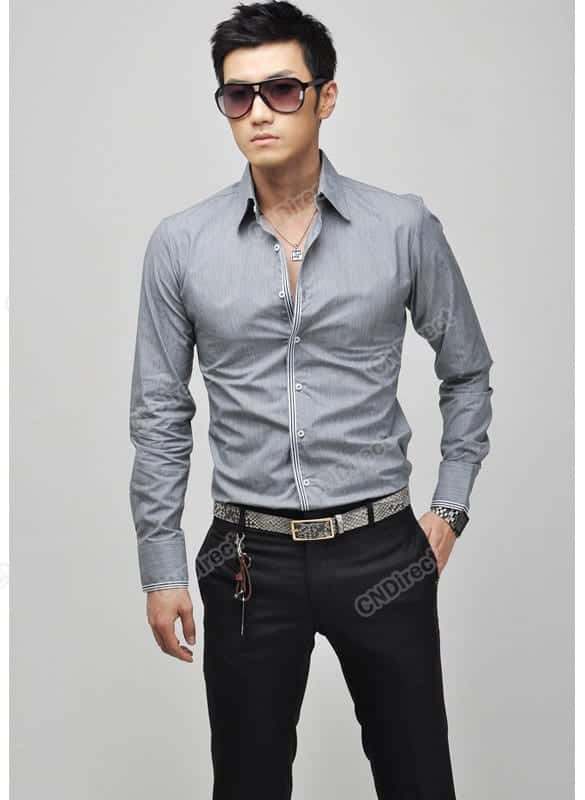 ↓ 14 – Step Out in a Dashing Look as the Party Host
Bow ties are just meant for a stylish touch. You can create one with a sweater and a pulled overcoat. Try wearing it with boots to make sure it gives you the look you want.
Here are 16 Amazing Men's suit combinations to get a Sharp look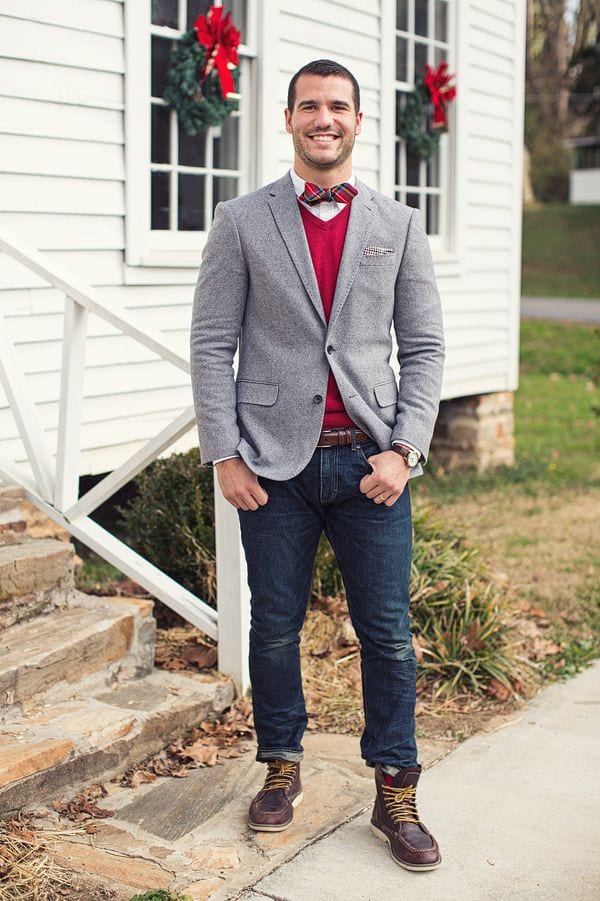 ↓ 13 – Exude Vintage Vibes With a Waistcoat And A Hat
Add a gold pin to make your look brighter!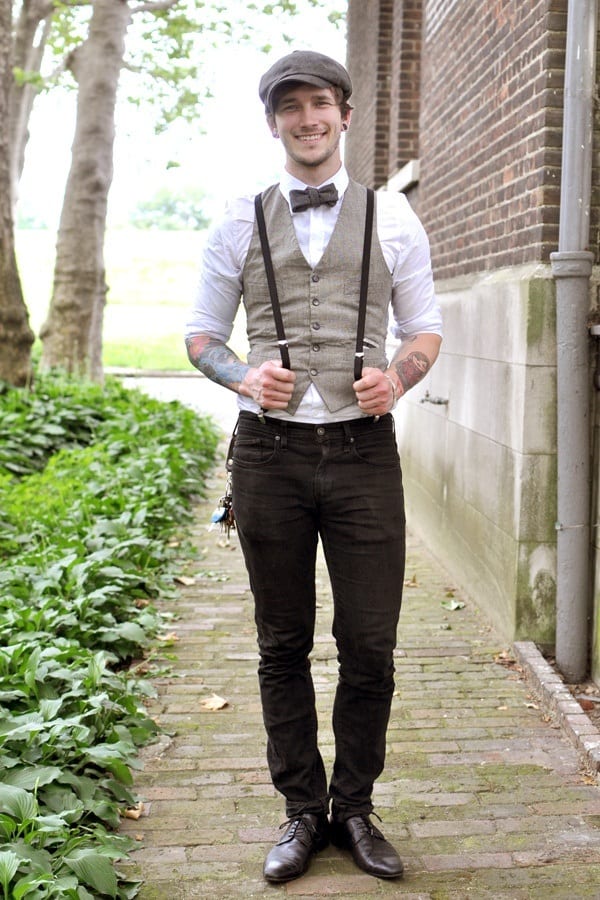 ↓ 12 – A Messy Yet Sweeped-Back is the Trending Hairstyle
Try matching your Western-style outfit with boots for the most appealing look. Style your hair into a messy, pushed-back hairstyle for a strong look.
Also, check out these 26 Cool Beard Styles for Short Hair Men for a Perfect Look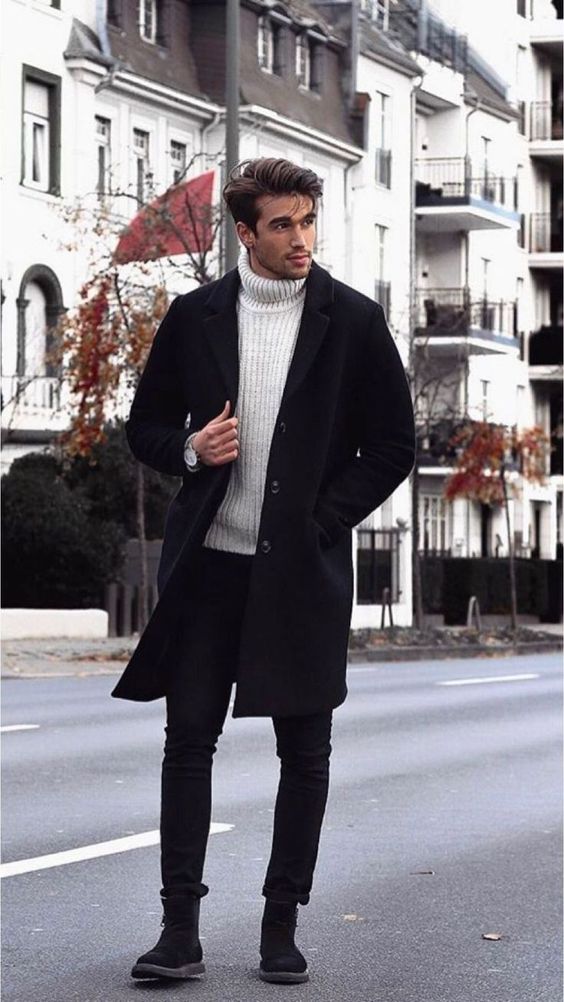 ↓ 11 – Opt for a Decent Yet Unique Ensemble For an Office Gathering
Here are the 30 Best Charcoal Grey Suits with Black Shoes For Men.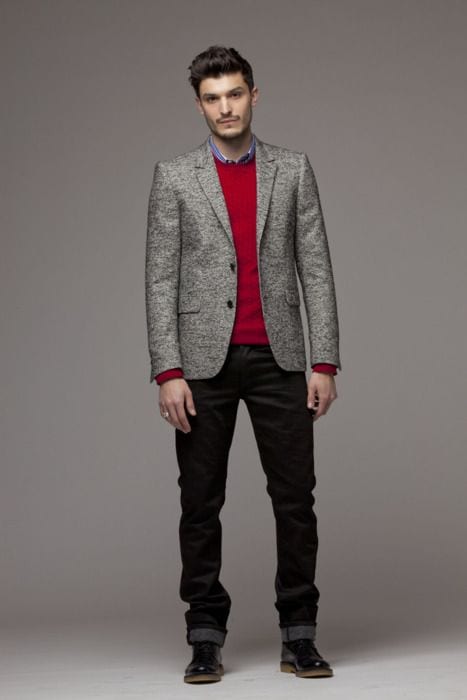 Casual Look
↓ 10 – Spice Up Your Look With an Overshirt Paired With a Sweater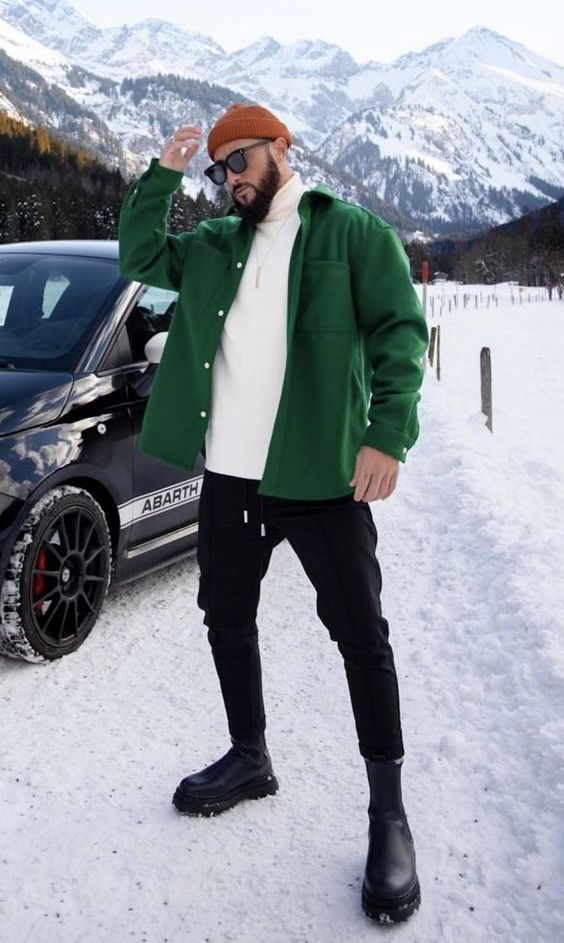 Buy similar:
↓ 09 – A Shearling Jacket is the Ideal Way to Make a Statement For Guys Above 30
The jacket is a statement, but paired with those boots and beanie, this look is elevated to an entirely different level! If street fashion is your cup of tea, this is the look for you!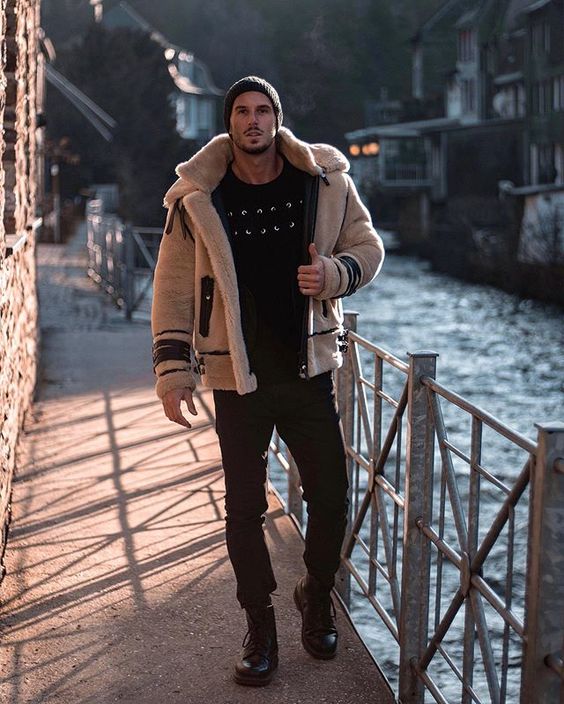 ↓ 08 – Pair Red and Grey for a Casual Get-Together With the Friends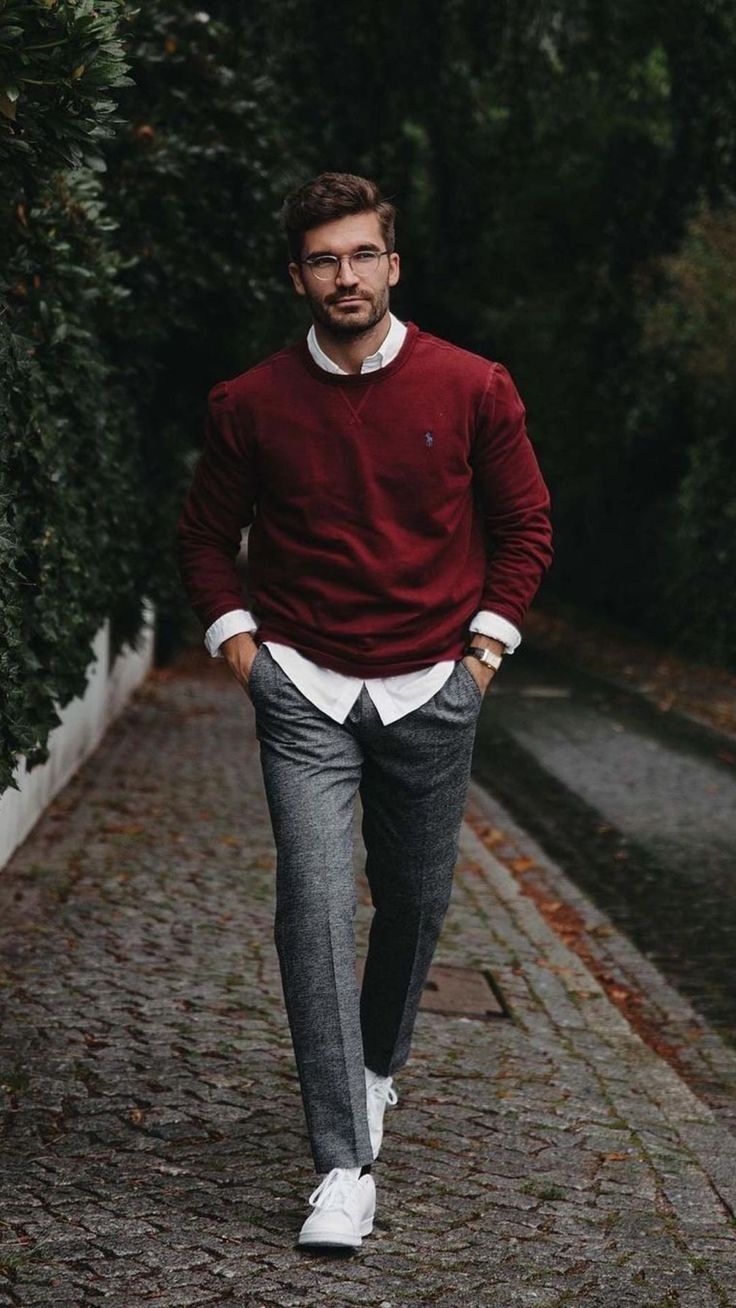 ↓ 07 – Opt for a Street-Style Fit With an Oversized Coat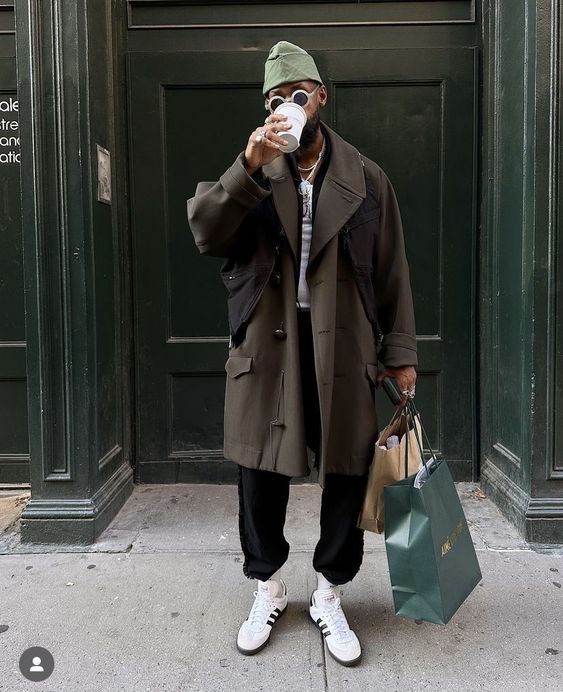 ↓ 06 – Keep The Outfit Conventional For a Lunch At The Pub
If your day starts with lunch at the pub with your guys, you do not need something dressy. A casual look will work, but for the Christmas feel, you can add a festive scarf.
You should also have a look at these Guy's Outfits with Scarves.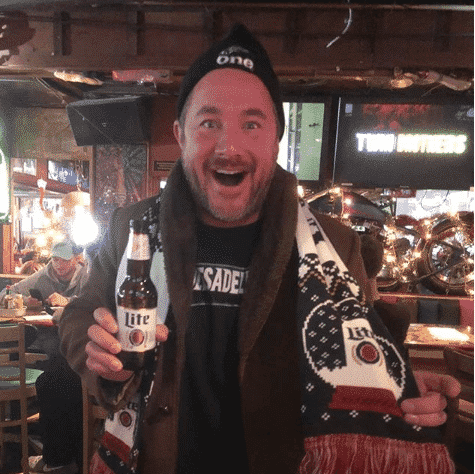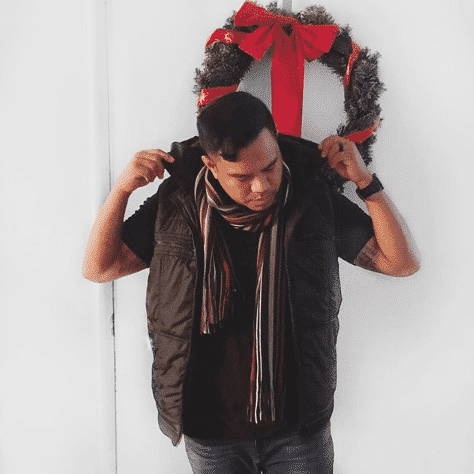 ↓ 05 – Nothing is Cuter Than a Cosy Christmas Family At Home
If you do not want a formal fit and want to go for the PJs, that is what you need!
Do not miss out on your comfort dressing. We recommend checking out these Men's Outfits For New Year's Eve.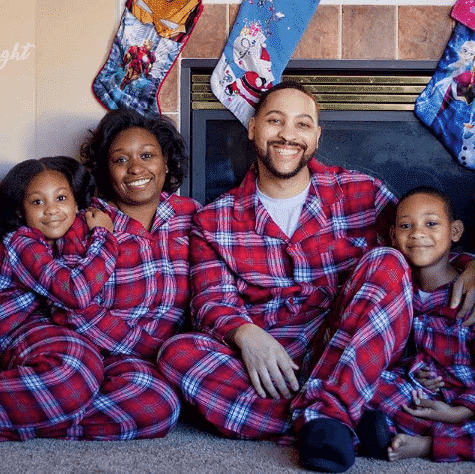 Buy Christmas pajamas below:
↓ 04 – Twinning With Your Significant Other for Major Couple Goals!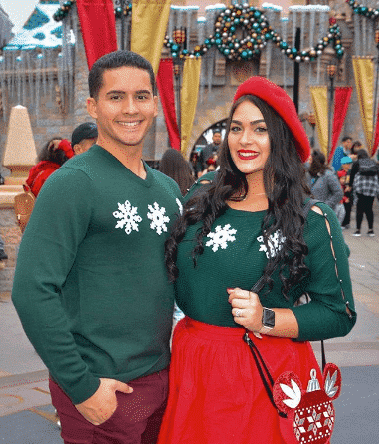 ↓ 03 – Make Your Outfit More Festive With a Green Cardigan and Scarf
↓ 02 – Add Contrast With a Red Sweater Styled With Jeans
Try layering your jeans with different combinations for a classic look; for instance, a brown leather jacket contrasts well with a red sweater.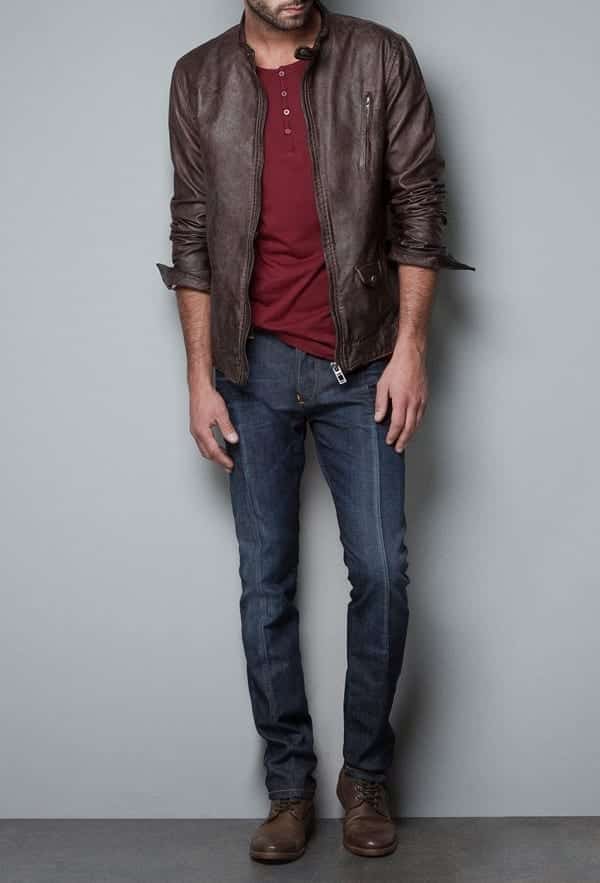 ↓ 01 – Opt for Earthy-Toned Outfits with a Jacket and Boots
What can be more comforting than your ideal winter style with a jacket and boots? Here is how to dress for a wintery Christmas and look most confident and classy.